Fez Morocco, the oldest of Morocco's imperial cities is a fascinating collection of urban centres built across the ages. It's not hard to find incredible things to do in Fez.
An authentic eighth-century walled city – Fes el Bali. The 13th-century New City – Fes el Jdid, and finally the French's 20th-century contribution- Ville Nouvelle.
An ancient breeding ground for scholars, artisans, and gourmands, Fez is often referred to as Morocco's spiritual and cultural capital.
Fez may have played second fiddle to the more touristy Marrakesh, but thanks to a growing appreciation of its authenticity, Fez is rising in popularity. For a truly authentic travel experience, Fez is a place like no other.
---
Plan Your Morocco Itinerary – Best Places to Visit in Morocco
---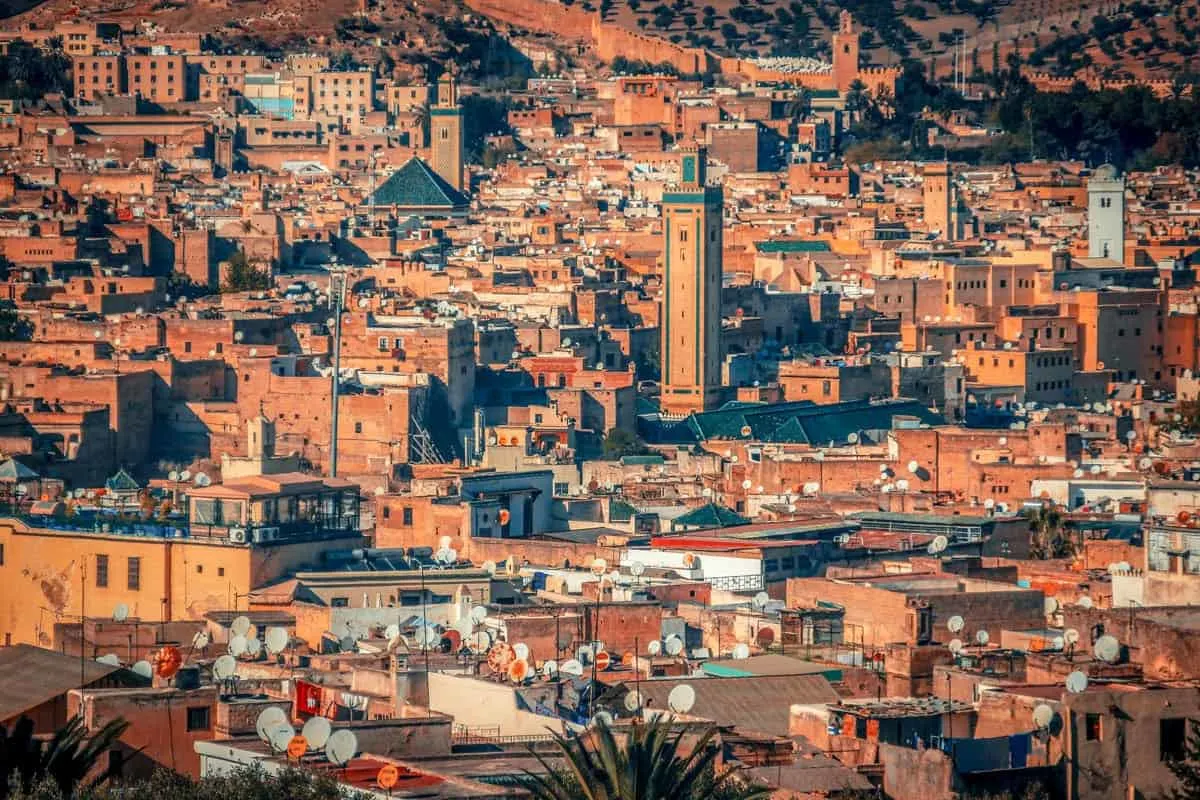 What is Fez Morocco Like
Fez is famous for its ancient walled city Fez el Bali, the best-preserved medina in the Arab world and home to the world's oldest university.
A city many compare to the old walled city of Jerusalem. Covering an area of approx 2.8 square km, with an estimated 9500 streets, it is one of the world's most significant car-free urban areas.
Unlike many other old cities around the world, like Dubrovnik in Croatia where locals have either been pushed out by tourism or moved to more modern urban developments, there is still a population of over 156,000 living in the Fez Medina.

There is an impalpable rawness about a place where more than 150,000 people still choose to live in the dark confines of an ancient, dense, and dilapidated medina.
A city where the donkey and hand-pulled cart is still the only means of transportation and ruinous pockets loom around every corner.
It is no wonder the entire Fez Medina is a designated Unesco World Heritage of Humanity Site.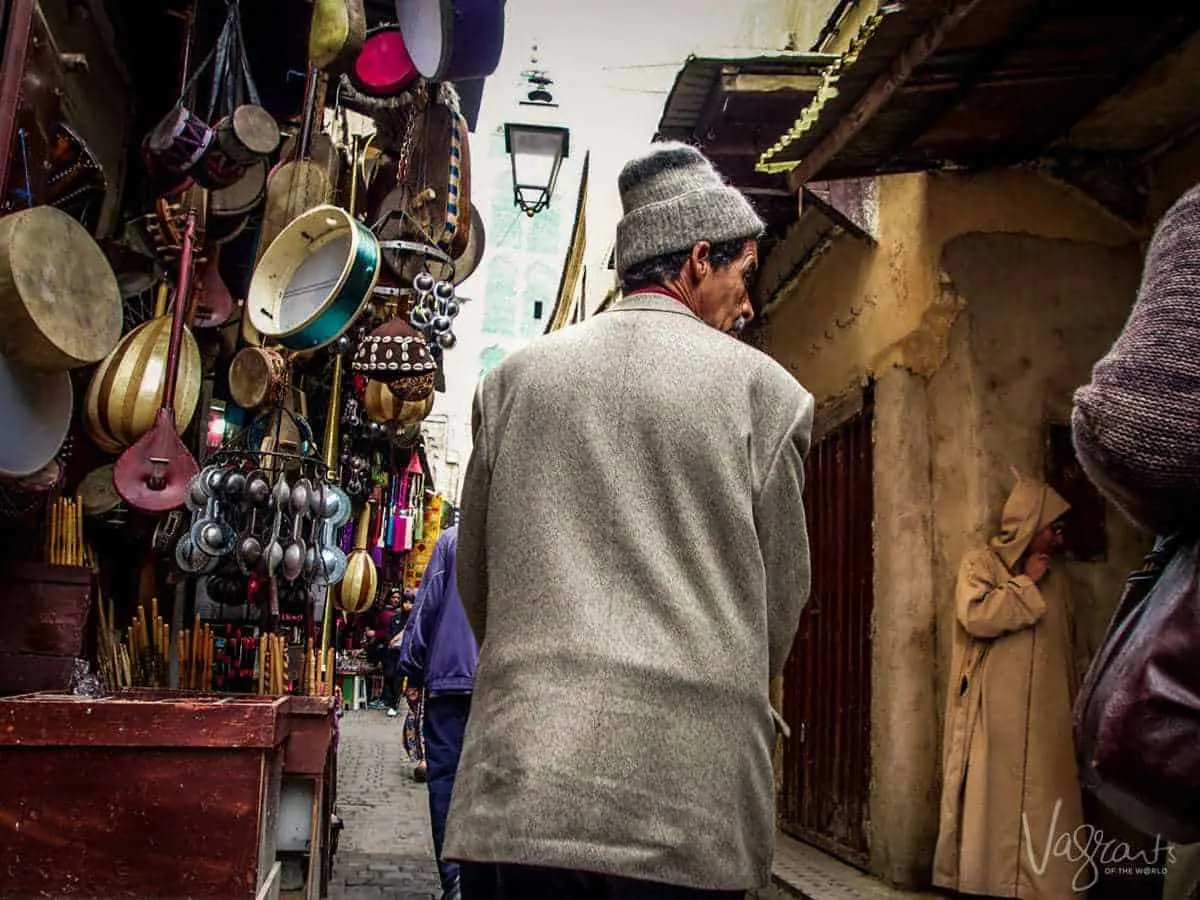 So, Should You Visit Fez?
Fez is a fascinating and overwhelming city. The locals of this ancient city are different from any others you will meet in Morocco, and constant references to things 'outside the wall' makes you realize people do live their whole lives in this medieval maze of commerce.
Fez offers a far more authentic and atmospheric experience than more popular Marrakech. A city now swamped with luxury hotels, designer shops, and tour buses.
So if you were to ask; Fez or Marrakech? Fez is the destination of choice for travellers seeking a genuine, donkeys, crowds, bad smells and all travel experience.
Fez is the Morocco you come to see.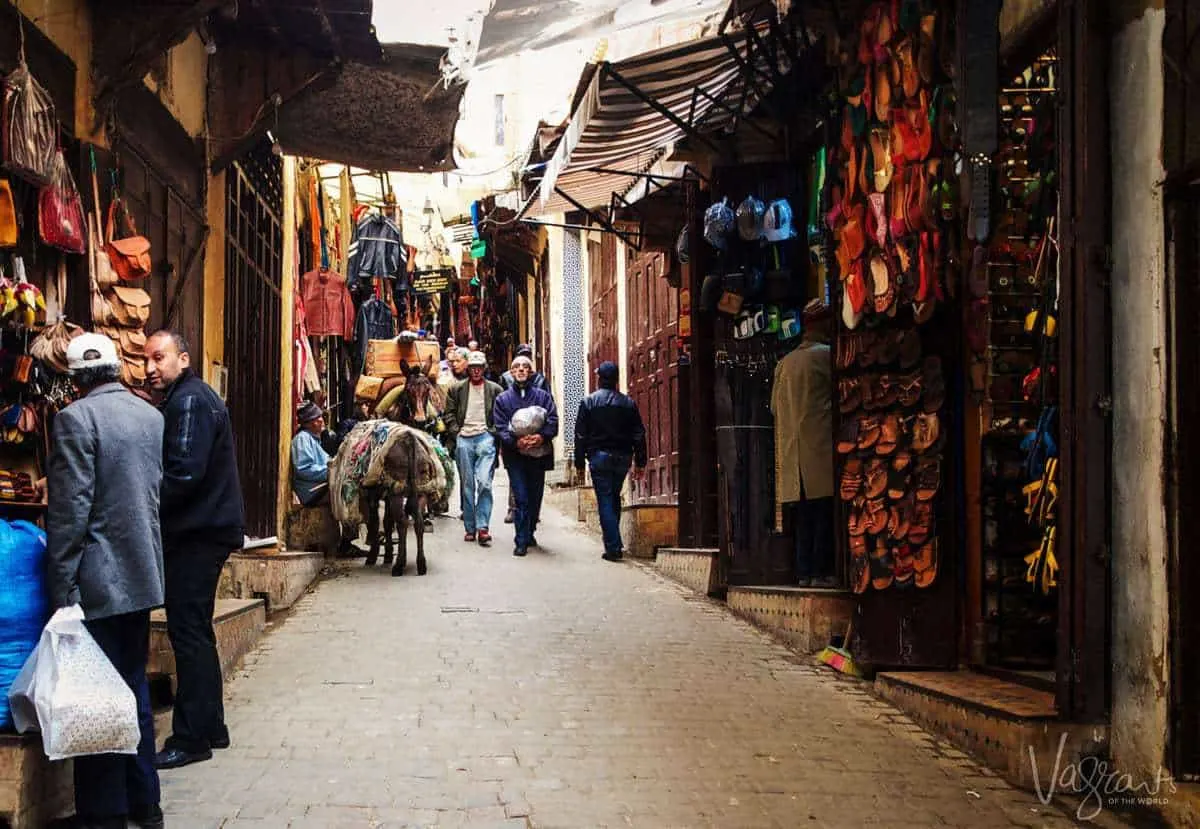 Where is Fez
Fez is in the northern inland region of Morocco, the capital of the Fas-Meknas administrative region.
Northeast of Atlas Mountains, Fez lies at the crossroad of Morocco's main cities – Tangier to the northwest, Casablanca and Rabat to the west, and Marrakesh to the southwest which leads to the Trans-Saharan trade route.
See Further On For Details On How To Get To Fez
---
You Might Also Like: Visit Morocco's Famous Blue City: Discover the "Blue Pearl of Morocco" with our 2 Days In Chefchaouen Morocco Itinerary.
---
Things to do in Fez Morocco
Here you will find some of the best sights in Fez as well as tips for getting around and making the most of your time in Fez. Especially in the medina.
The Fez Medina
The Medina, the medieval centre of Fez has not changed for centuries. A place where ancient traditions are still in everyday practice.
Vibrant souks ooze with exotic old-world atmosphere, the heady aromas of local cuisine and at times, an overwhelming intensity.
The narrow streets and alleys, some barely an arm's length wide are crammed with hundreds of merchants and skilled artisans, crowds of locals, livestock and tourists brave enough to find their way through the maze.
The medina's perpetual state of congested chaos either beguiles visitors or makes them recoil in horror. Regardless, its charms are many.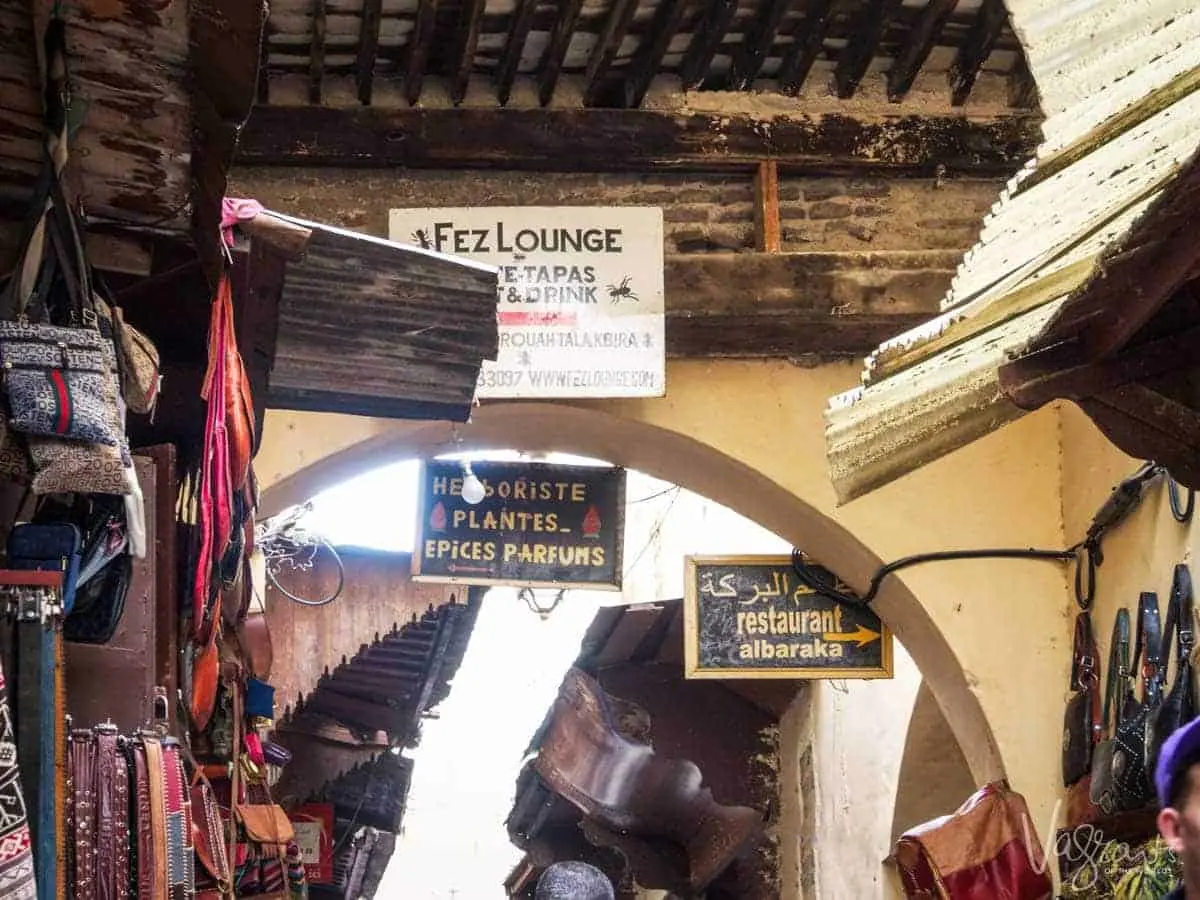 The Preservation and Restoration of Fez Medina
Unlike Marrakech, Fez was not always given to welcoming outsiders. And yet over the past few years, a handful of intrepid and daring ex-pats, along with a small but influential, well-travelled band of locals have begun to change Fez.
Not in a bid to transform the city but to preserve the living museum quality and to facilitate the changes needed overtime to retain the cities vitality. With this comes a few more flourishes along with some welcome comforts.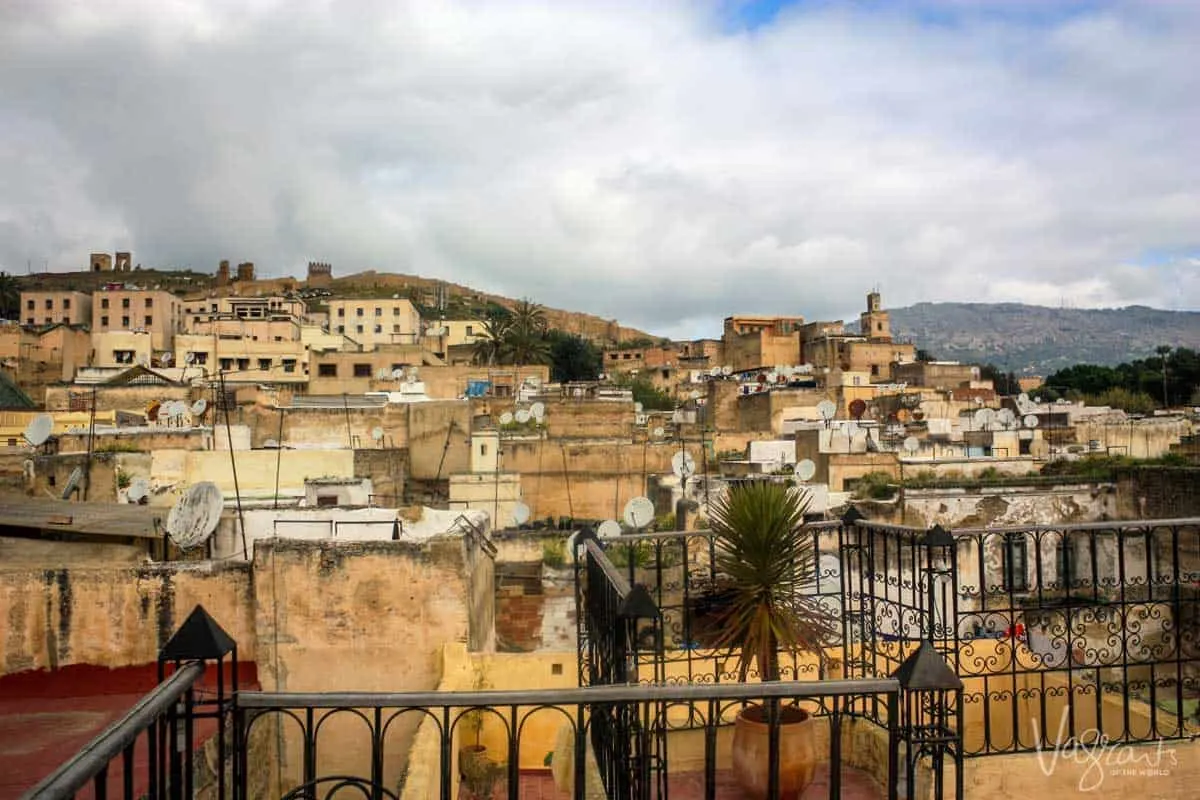 Along with new places to shop and eat. Cooking schools and tours honouring deeply rooted traditions, riads in the Medina are being bought up by Europeans and restored. Many as accommodation houses but also as private residences.
Many of the locals have no issue with this as the majority of locals still live in nearly medieval conditions in the Medina. They are happy to use the money to move to a modern apartment in Ville Nouvelle.
A government push to restore Fès el-Bali to ensure its survival is also encouraging changes. The Medina is incredibly vulnerable from the pressure of uncontrolled urban development, so any restorations assist the government's efforts with the preservation of the buildings in the over-populated area.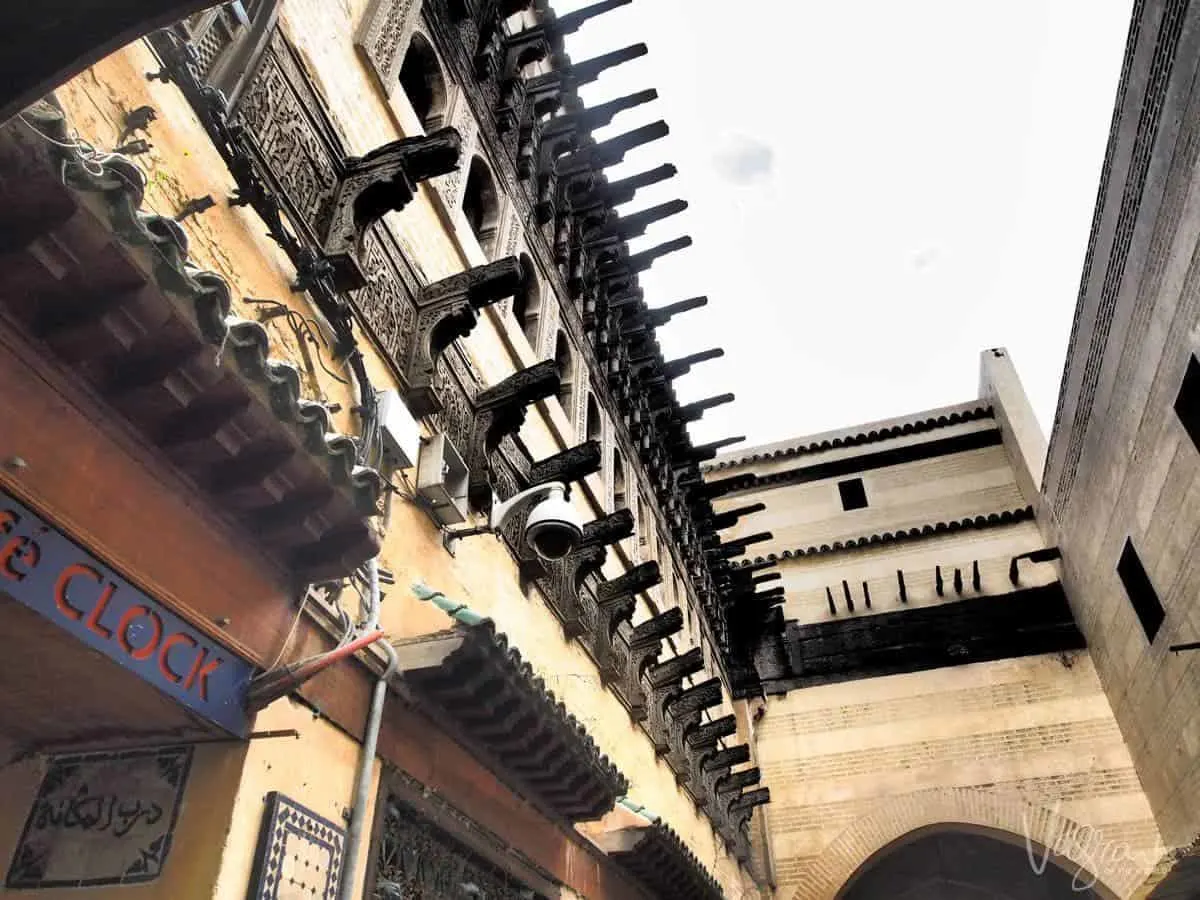 How to Explore Fez-el Bali
The only way to explore Fez el Bali independently is to throw yourself in and start exploring. You can try to take note of your route, but the Medina is a dynamic place. Your surroundings will continuously change.
A vibrant shop you used as a marker may close for the day and no longer be recognizable. Live produce stalls will saunter away under their own steam or simply be gone once every last head is sold.
The noise, the smells, the congestion. Once you are buried in the narrow alleys, you can no longer see the skyline for any landmark to guide you. It can be very overwhelming and disorienting.
Thankfully, the medina is not that big, so you are almost guaranteed to bump into the perimeter at some point.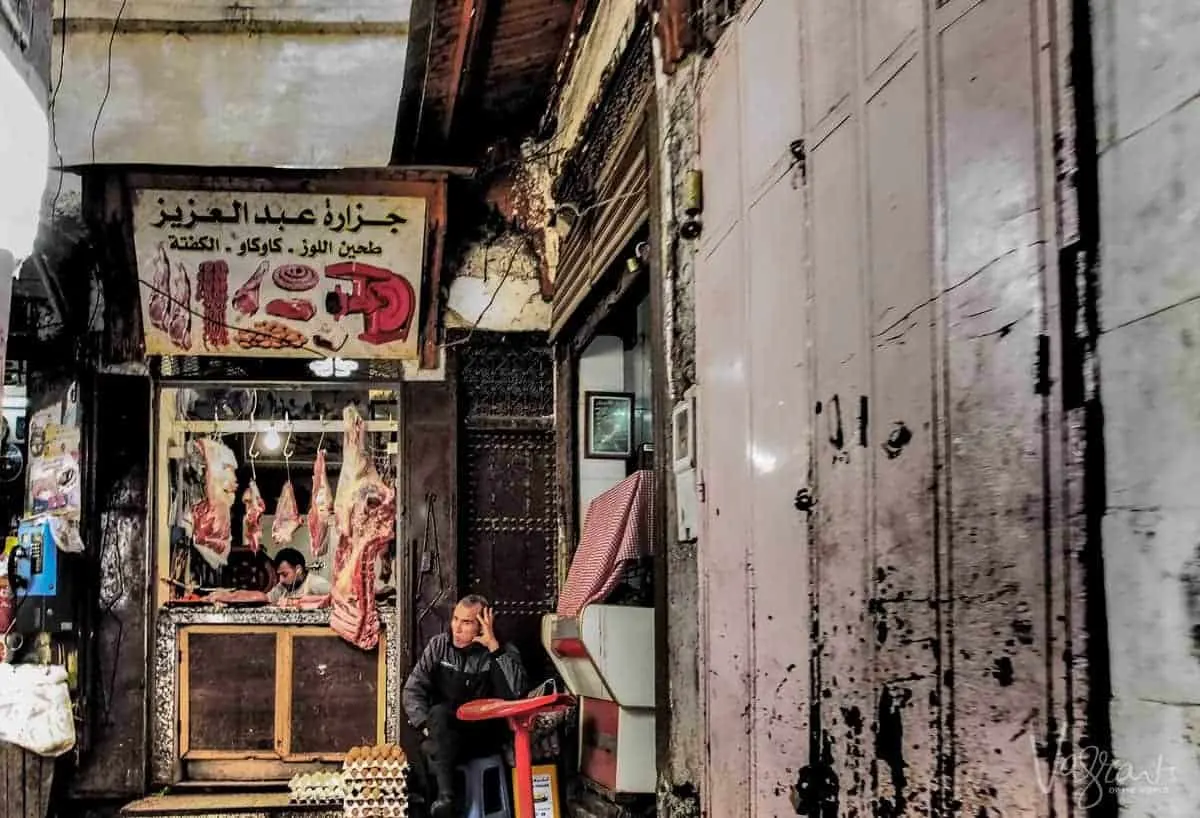 Fez Medina Maps
There are many downloadable Fez medina maps online, and you can pick one up from the Tourist Information in Fez.
It is hard to say how accurate the maps will be other than giving you a vague idea of where certain things are located. After all, no one can say for sure how many streets, lanes or shops there are in the medina.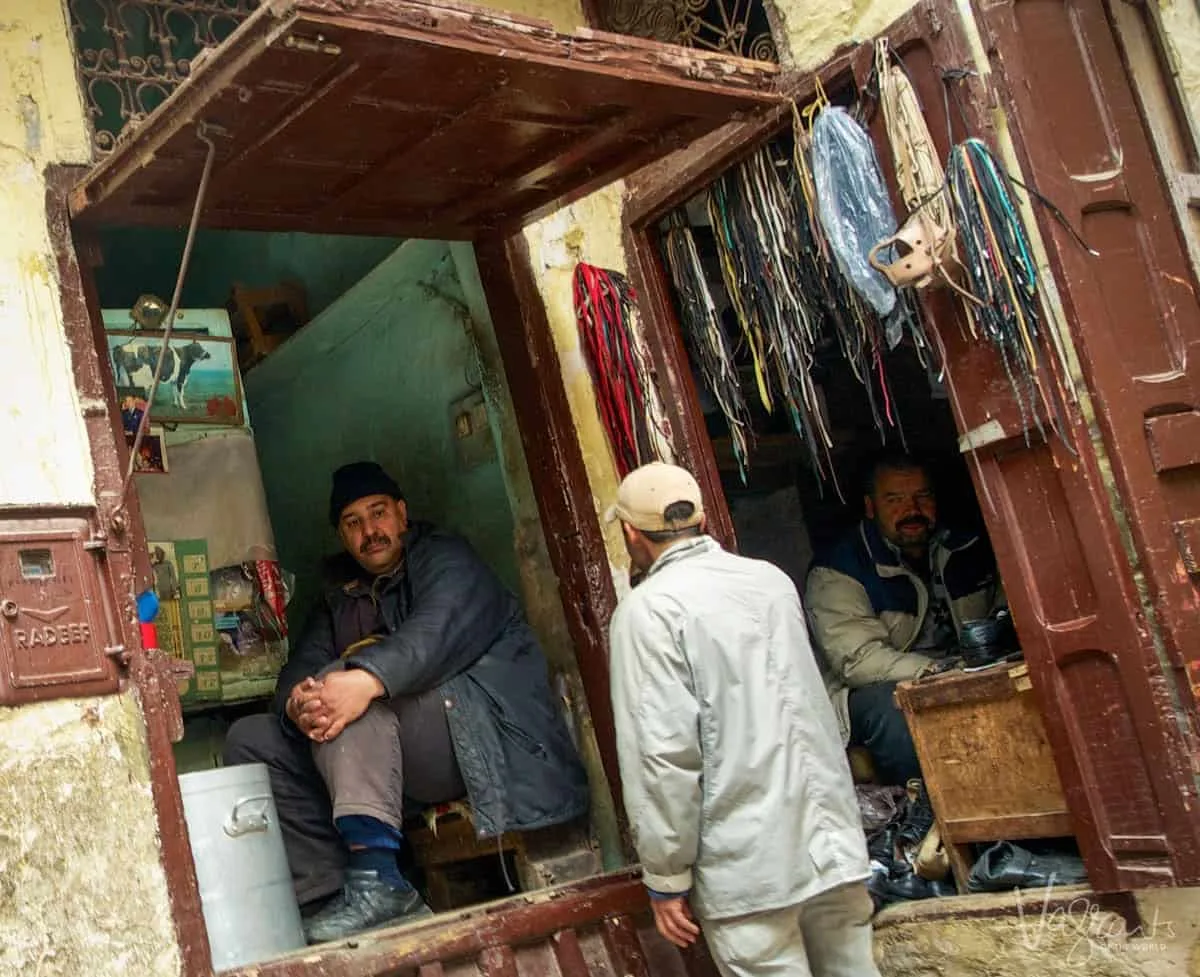 Fez Medina Tours and Guides
You can arrange for a guide to take you through the Medina to ensure you see all the highlights and don't get lost, but where is the fun in that? After all, this is Fez.
One of the great joys of this ancient city is letting go of the fear of getting lost and embracing the joy of unchartered exploring, albeit in a 2.8 square km area.
The Benefits of a Half or Full Day Medina Tour
However, a quality half or full-day tour of the Fez Medina can make an excellent introduction to places you would probably never find or gain entry to on your own.
The city's private palaces, enchanting secret gardens or the odoriferous tannery quarter to name a few. Although, it does not guarantee you won't still get lost on your own after the tour.
Fez Medina Tour Recommendation
Discover the ancient treasures and highlights of the Fez Medina without fear of getting lost on this 4 hours guided tour of Morocco's spiritual and cultural capital.
Visit the most important sites, including the medina's most famous tannery, the Royal Palace, and the Bab Fattouh Cemetery. You'll also learn about the cities traditional artisan crafts and rich history of craftsmanship at the Nejjarine Museum of Wooden Arts and Crafts.
You'll also get a great introduction on how to navigate the medina on your own.
Tour includes a professional guide, transportation and bottled water. Prices start at MAD 435 (~ USD$45) Get full tour details here.
Beware False Guides in the Medina
If you do decide to hire a guide; beware of the false guides lingering in the medina offering tours. Or the helpful folk who insist you are lost or offer to show you the way to a particular site.
Undoubtedly, their gestures are less than charitable; some will even divert you to another place where their uncle happens to own a shop. These exchanges can sometimes turn unpleasant.
Just be forceful and keep walking away; eventually, they give up and target the next tourist.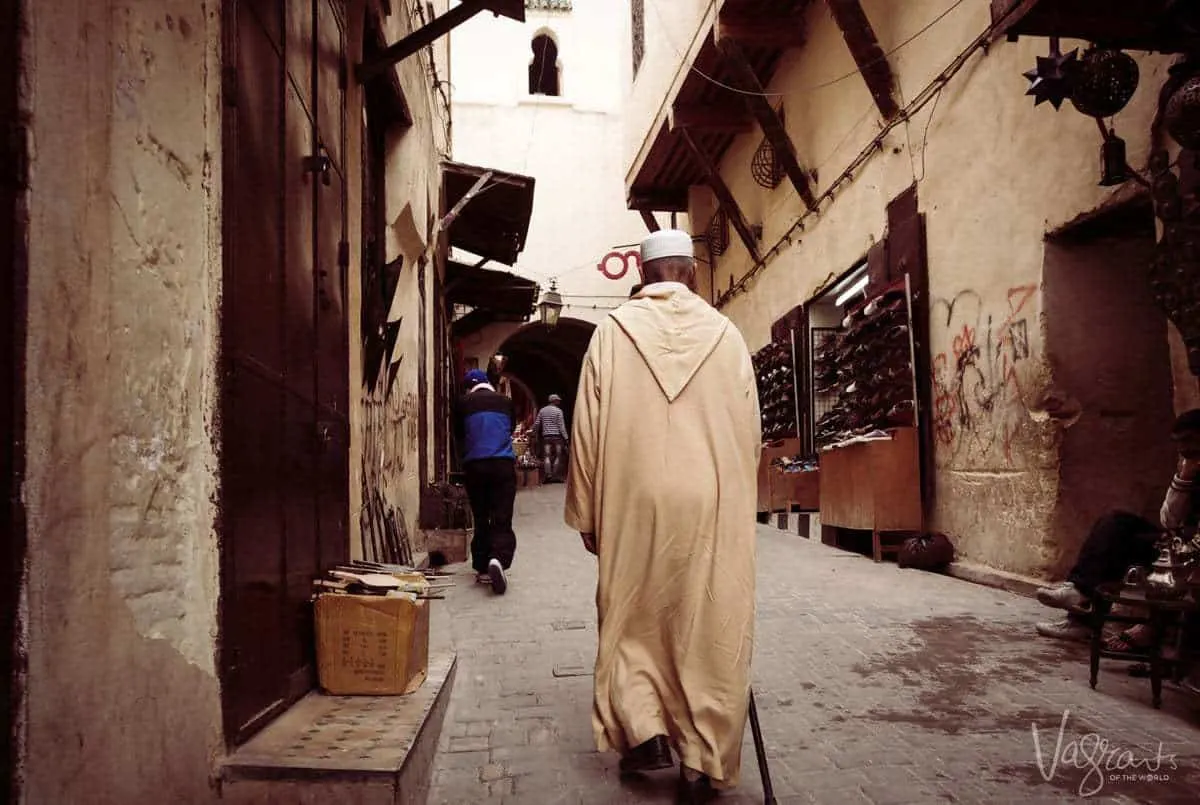 The Crowds in the Medina
By mid-morning, the alley's and lanes of this urban rabbit warren are congested and busy. People give way to people who give way to donkeys who give way to carts.
Watch your back and watch your toes; Donkeys have the right of way every time. In addition to the donkeys, there are hundreds of resident cats, mostly sitting patiently in front of the live chicken stalls or displays of fresh meat laid out in front of a tiny hole in the wall butcher shops.
Watch Your Belongings
When the Medina is crowded, be extra careful with your belongings and your bags. It is easy to be distracted, and crowded situations like the Medina are perfect for pickpockets.
Morocco is a country where a good anti-theft bag or, even some items of pickpocket proof clothing such as a jacket with hidden pockets can help make your trip less stressful when in crowded situations.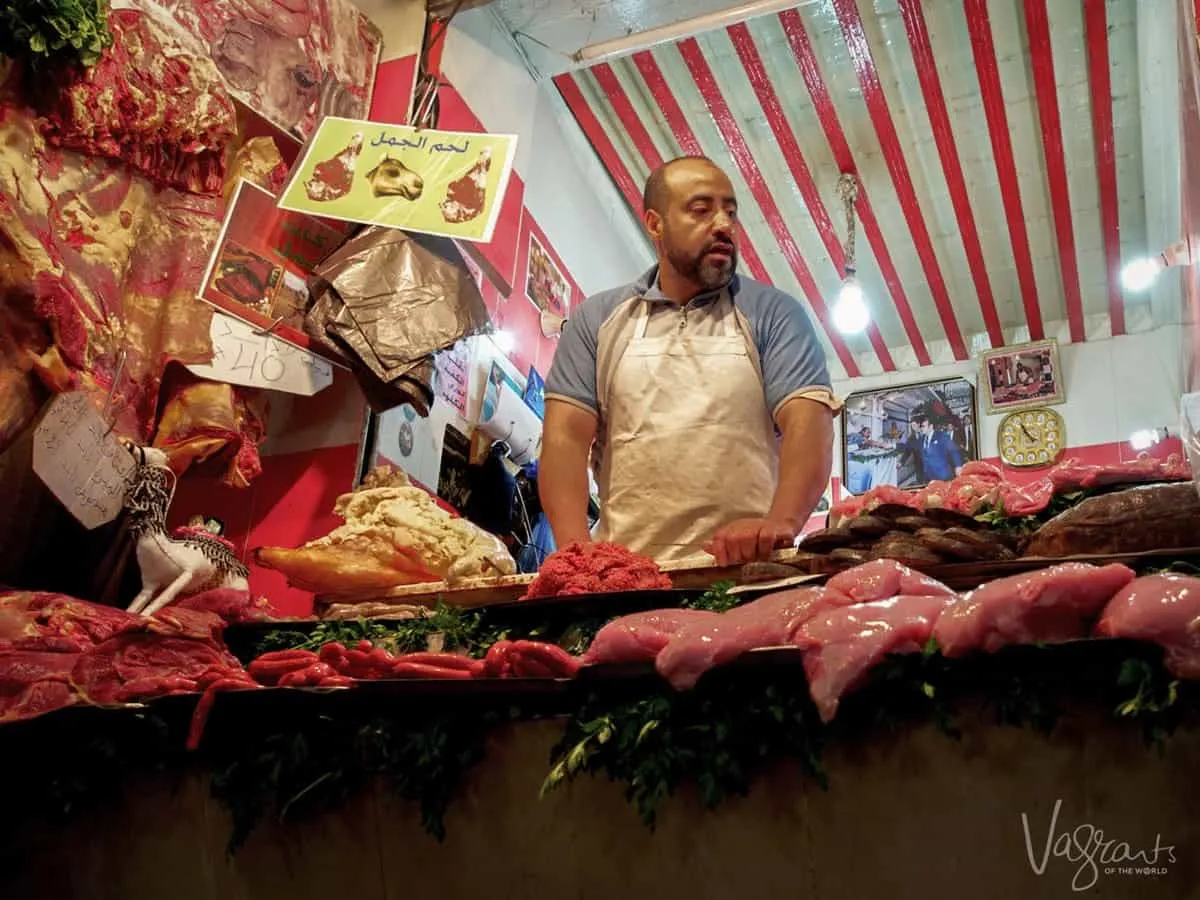 Visit the Tanners Quarter – The Chouara Tannery
Follow your nose to the Tanners Quarter. One of the ultimate olfactory medina experiences of medieval Morocco and the most interesting things to do in Fez. Barefoot workers dye skins and hides in a kaleidoscope of little stone pools. Shades of pink, brown, white, and yellow, colours will vary from day-to-day.
Hides are dunked in vats of cow urine and quicklime to remove any remaining remnants of hair before being softened in an acidic wash of pigeon droppings.
While you may not be able to enter the tanning pits themselves, there are plenty of terraces in the surrounding leather stores to observe the process. The smell alone may be deterrent enough for wanting to enter the pungent pits.
You will more than likely be handed a sprig of mint to hold under your nose to make the smell mildly more bearable. Do not always assume this is free.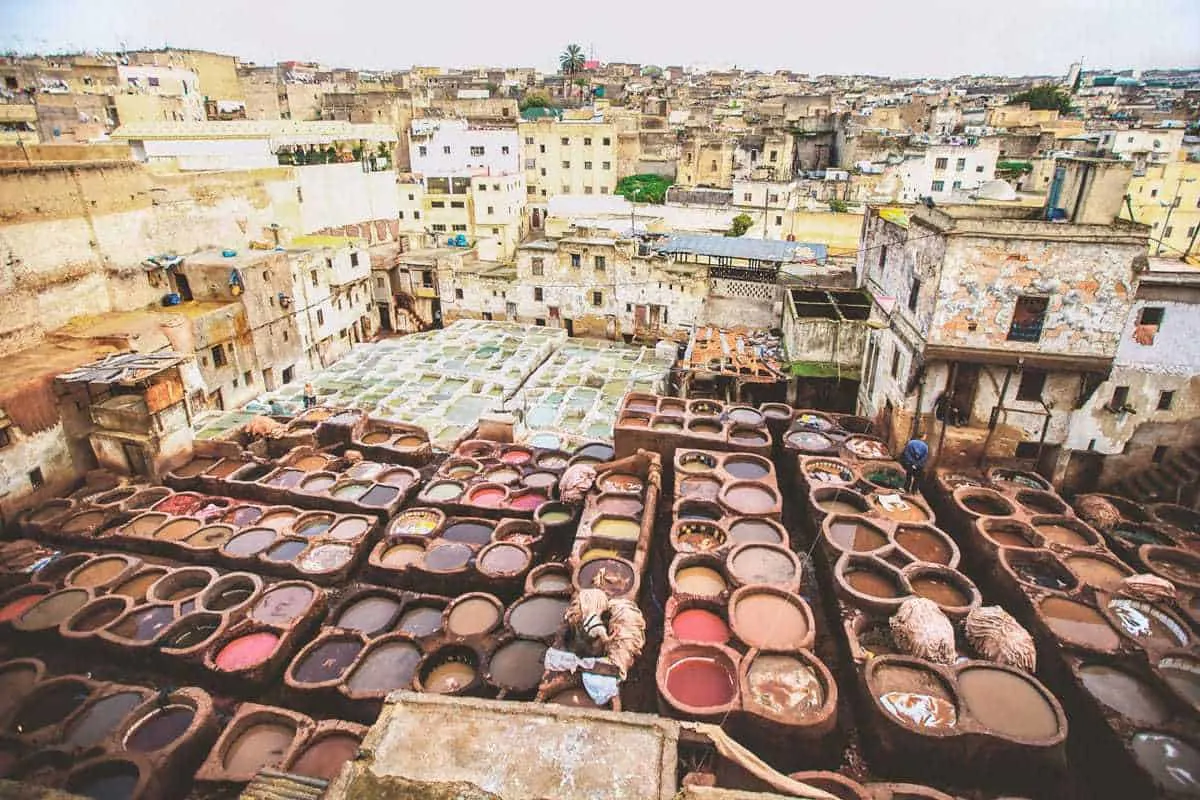 Visiting the Chouara Tannery
If choosing to visit the tanneries on your own; their location is by no means a secret but finding your way through the medina, possibly via an ill-marked passageway or two can be tricky.
When looking for the tanneries, be wary of touts promising to show you the way as a gesture of kindness. At best, they may want a fee for their service.
However, many will be looking to lead you to a particular leather store where the waiting shop owner will be ready to coerce you into making a purchase. Something they will make you feel obligation bound to do in return for the service of bringing you there.
Much like the fake guides, they can be exasperatingly tenacious. If you are in the market for leather products, have your best bargaining game at the ready. More on haggling in Morocco later.
Most Medina tours will include a visit to the tanneries. Otherwise, your riad or hotel accommodation could recommend a local guide to take you if you are not feeling adventurous.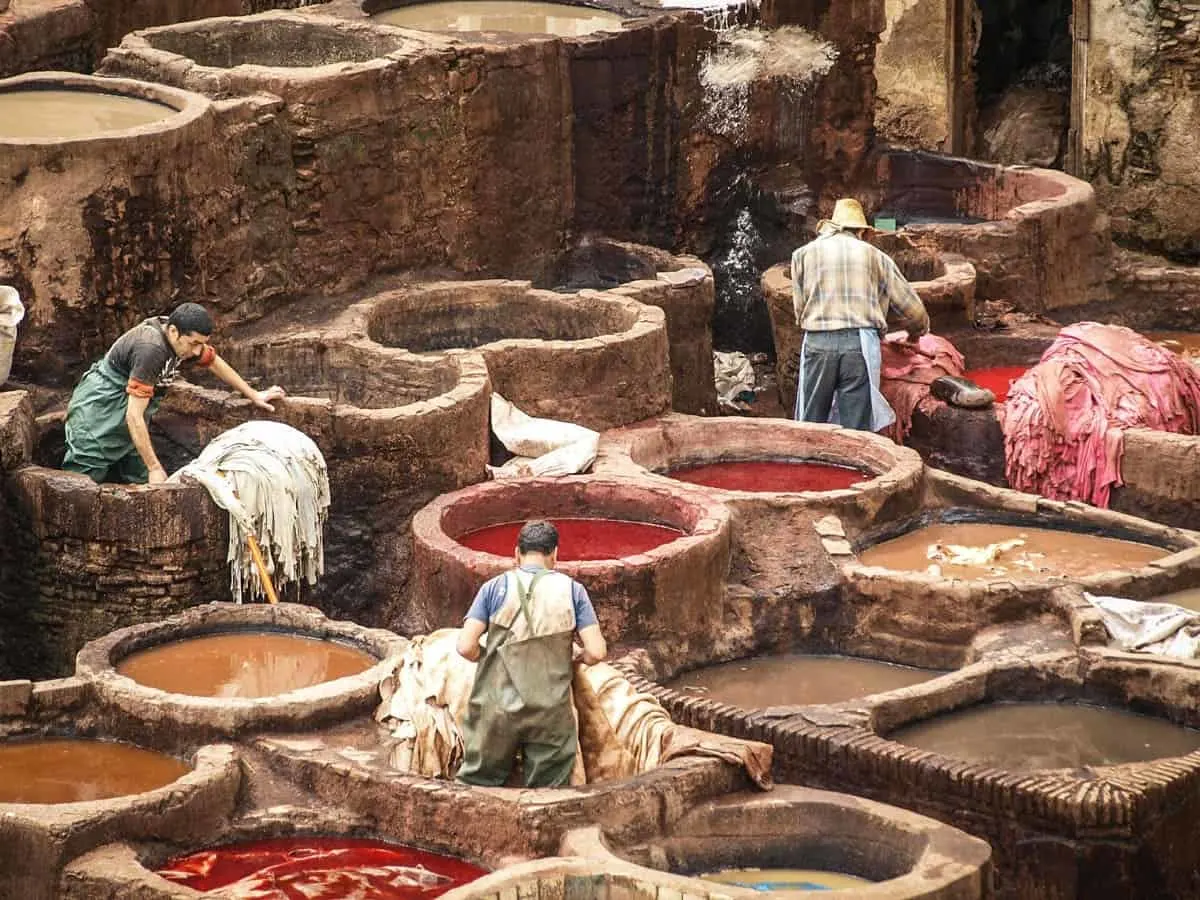 The University of Al Quaraouiyine – Al Quaraouiyine Mosque
The University of Al Quaraouiyine, one of Africa's largest mosques and the oldest existing, continually operating and the first degree-awarding universities in the world.
Established in 859 AD by a Tunisian woman refugee Fatima el-Fihria. It subsequently became one of the leading spiritual and educational centres of the historic Muslim world.
It now accommodates up to 20,000 people during prayer. In 1963, the university was incorporated into Morocco's modern state university system.
Visit the Al Quaraouiyine Library
Non-Muslims are not permitted to enter any place of worship in Fez, but a recently restored wing of the Al Quaraouiyine library is now open to the general public.
Visitors can also admire the architectural design from several points overlooking the medina.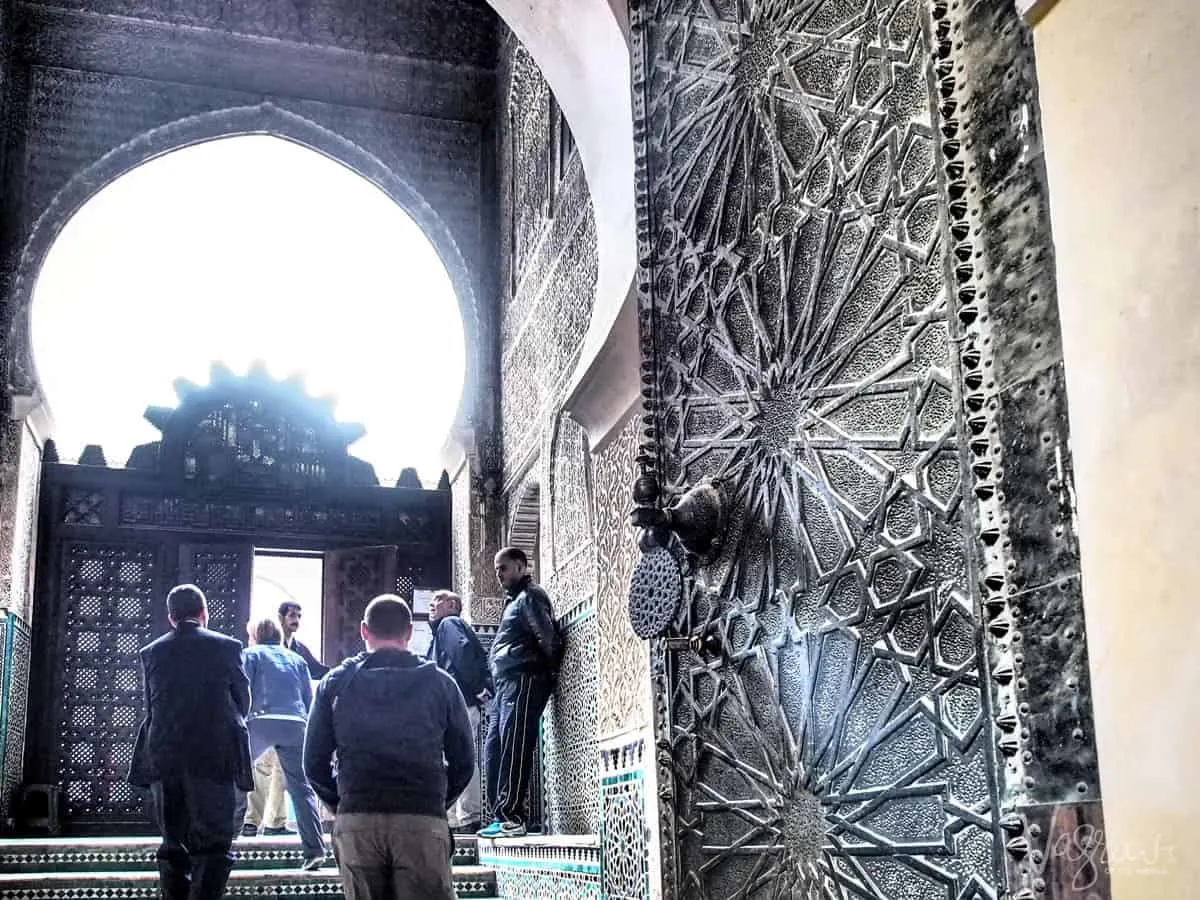 Visit
Medersa al-Attarine &
Medersa Bou Inania
Medersa al-Attarine
In Morocco, educational buildings are Medersas. Medersa al-Attarine is considered one of the finest in Fez. Built-in 1325 by Marinid Sultan Abu Said, Medersa al-Attarine was initially intended to house students from nearby Quaraouiyine Mosque.
It is one of the city's most impressive examples of Marinid architecture, a must-see attraction in Fez. From the roof, you have beautiful views of the Quaraouiyine Mosque's green-tiled roof.
Medersa Bou Inania
Built between 1351 and 1357 by another Marinid sultan, Medersa Bou Inania's purpose was a theological college. While Medersa Bou Inania is still used for religious purposes, it is the only religious building in Fez non-Muslims may visit.
Medersa Bou Inania boasts mosaics, stucco-work and beautiful lattice screens carved from fragrant cedar wood carefully restored to their original breathtaking beauty.
Uniquely, Medersa Bou Inania features a full mosque instead of the simplified prayer hall usual of most medersa's. The mosque itself is not open to the public.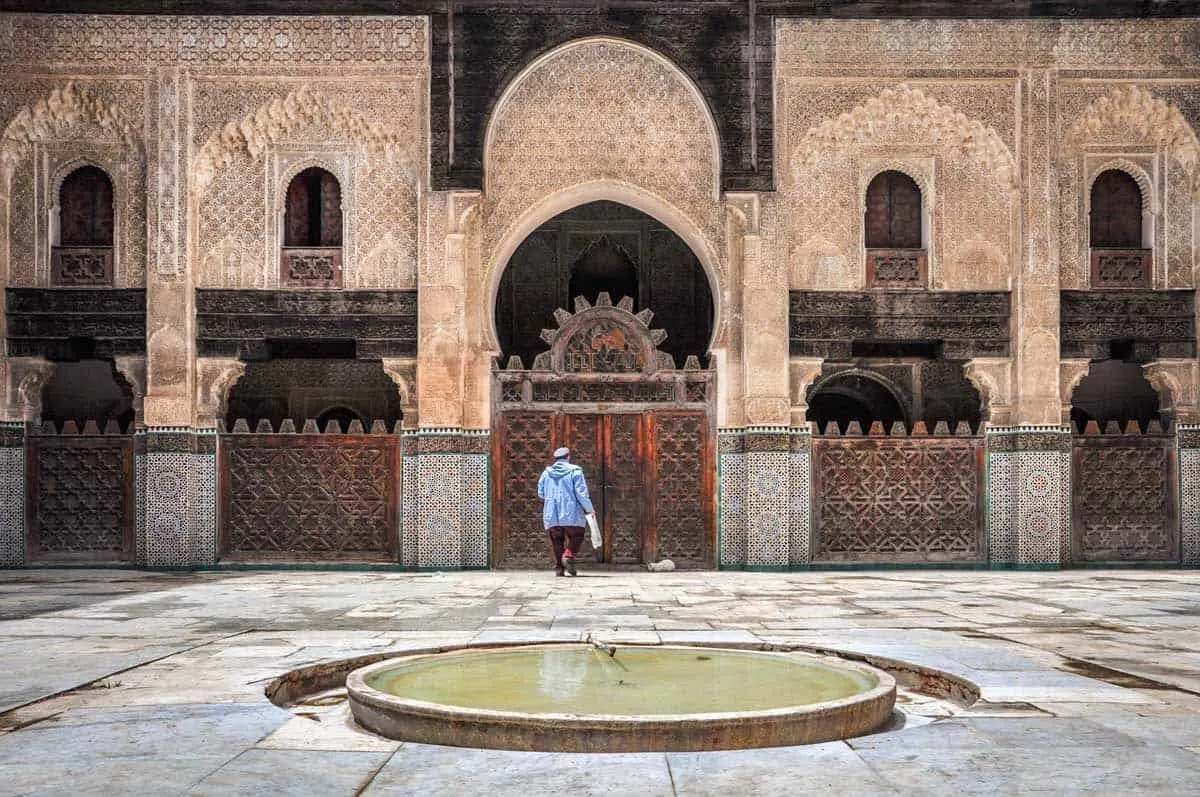 Built between 1351 and 1357 by another Marinid sultan, Medersa Bou Inania's purpose was a theological college. While Medersa Bou Inania is still used for religious purposes, it is the only religious building in Fez non-Muslims may visit.
Medersa Bou Inania boasts mosaics, stucco-work and beautiful lattice screens carved from fragrant cedar wood carefully restored to their original breathtaking beauty.
Uniquely, Medersa Bou Inania features a full mosque instead of the simplified prayer hall usual of most medersa's. The mosque itself is not open to the public.
The Gates of Fes – Bab Bou Jeloud
The iconic main western entrance to the Old Fes Medina – The imposing and ornate Bab Bou Jeloud, or Bab Boujloud gate grants you entry into the old city of Fes.
The Bab Bou Jeloud and the Bab Chorfa gates have significant importance and meaning to the history of the city as do the fortresses and towers that once protected the city.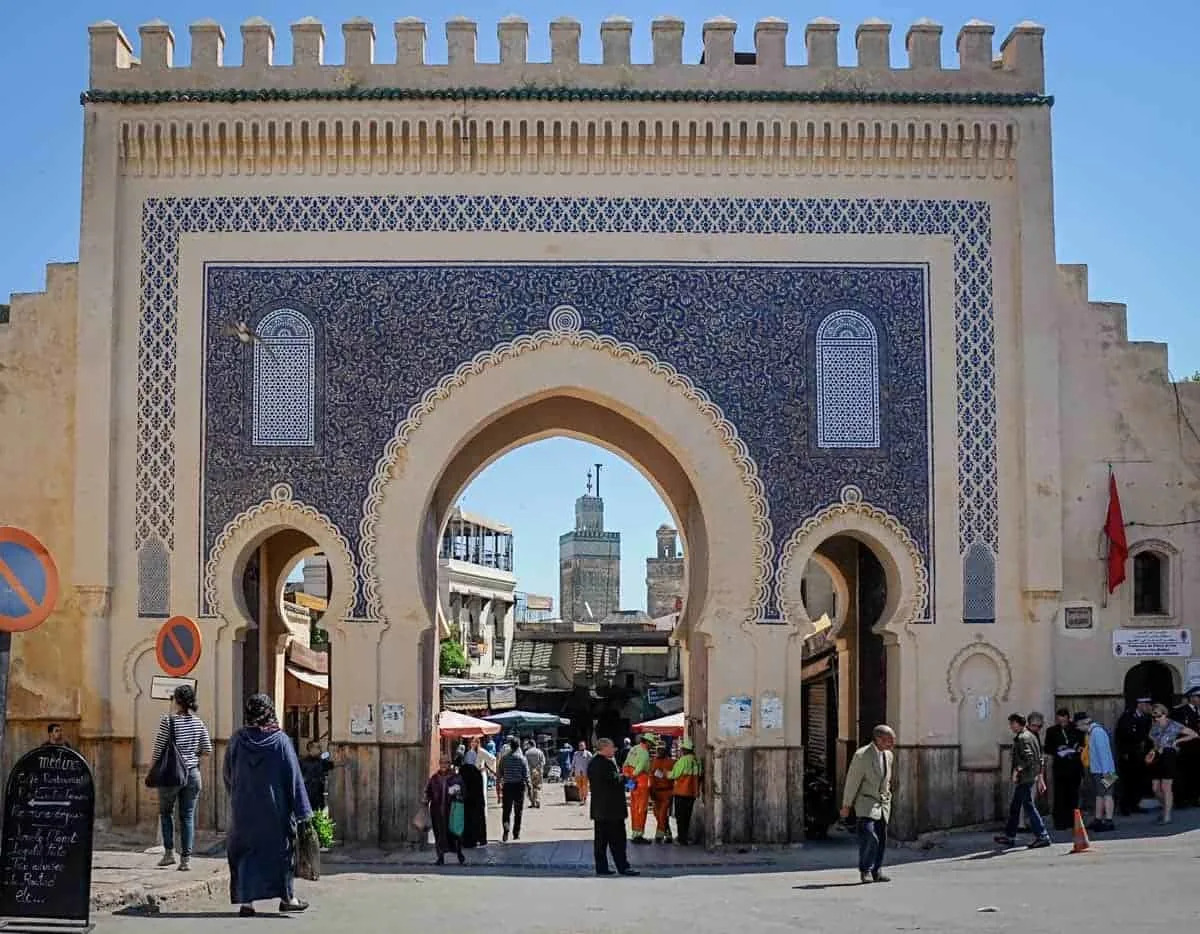 Escape to Jardin Jnan Sbil
Need a break from the heat and intensity of the medina, head to Jnan Sbil just outside the medina walls. Jnan Sbil, which roughly translates to 'garden escape' or 'garden refuge' is one of the oldest and most beautiful gardens in Fez.
The garden was a donation to the city by Sultan Moulay Hassan in the 19th century as a place of tranquillity and escape. Stroll the beautifully kept gardens around the lake and ornate fountains or relax in the shade of the many eucalyptus, citrus and palm trees. There are also several cafes near the entrance if you want a relaxed al fresco meal.

Dar Batha
Located in the Medina, Dar Batha, or Qasr al-Batha is a former royal palace. Commissioned by the Alaouite Sultan Hassan I and his successor Abdelaziz in the 19th century, in 1916 it was converted into a museum.
Dar Batha now houses around 6,000 collections of traditional artefacts including wood carvings, tiles, carpets, even a 14th-century ceramic collection.
The beautiful Andalusian-style garden at the entrance is worth visiting for alone. A beautifully tranquil space set amongst lush gardens with a mosaic courtyard and fountain.
Dar el Makhzen – The Royal Palace
Much like the Royal Palace in Casablanca, the public is not allowed to visit the Royal Palace of Dar el Makhzen but it is still worth seeing.
Located in Fes el-Jedid, "new city" on a property of over 80 hectares surrounded by citrus trees, Dar al-Makhzen is just one residence belonging to the royal family in Morocco.
The property is popular with tourists for its impressive facade. The famously enormous gates are made from brass and gold ornamented with zellige tilework and carved cedar woods.
The palace exterior is a truly impressive sight. You never know, you may even get a lucky glimpse inside should the gates open while you are there.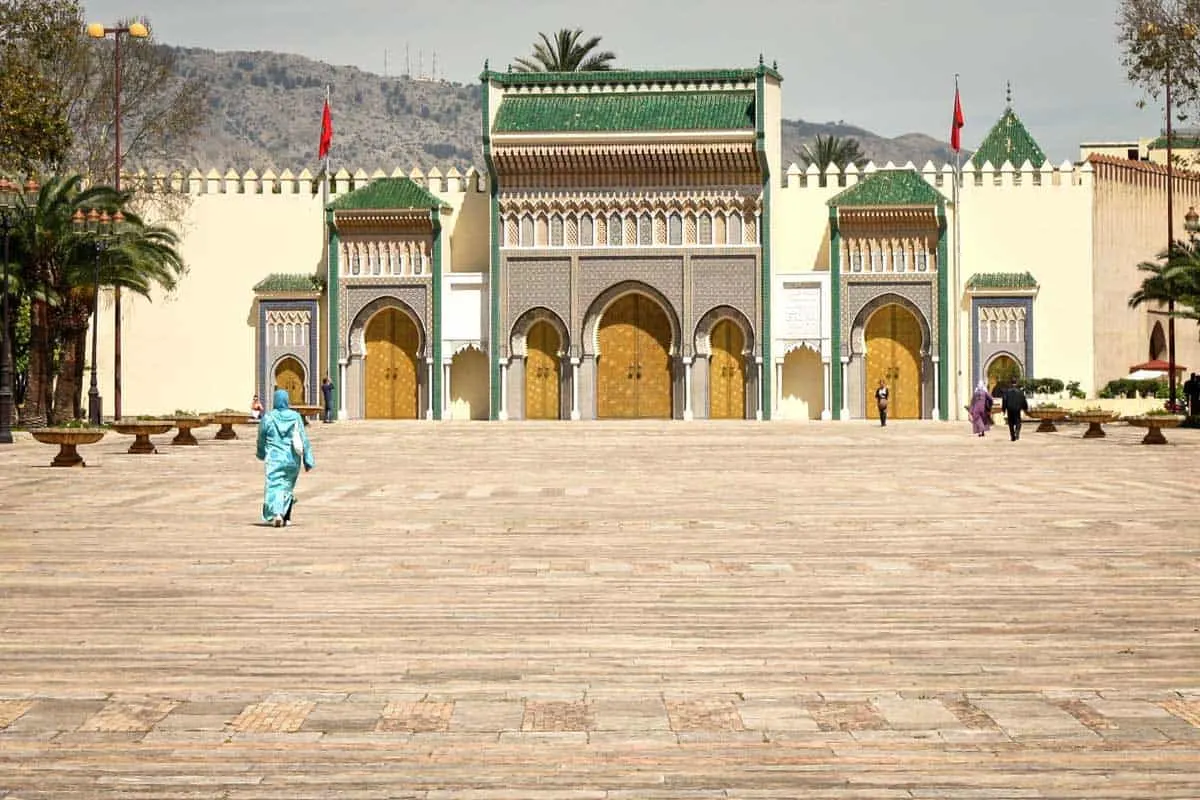 Mellah – Jewish Quarter
In the newer section of the old town, Fes el-Jedid, the old Jewish Quarter, or mellah, as it's known locally was founded in the 16th century.
A refuge founded by the Sultan of the time to offer protection to the Jewish community in recognition of their economic importance to the community.
Once home to over 250,000 Jews, the quarter was a place of wealth and status. Full of history and Jewish architecture, much of the area now comprises of streets lined with large, crumbling houses and vibrant marketplaces. Only a handful of Jews remain in the centre having either relocated to Ville Nouvelle or Israel.
Wander the bustling shops at the centre and don't miss the Jewish cemetery, or the 17th-century Ibn Danan Synagogue.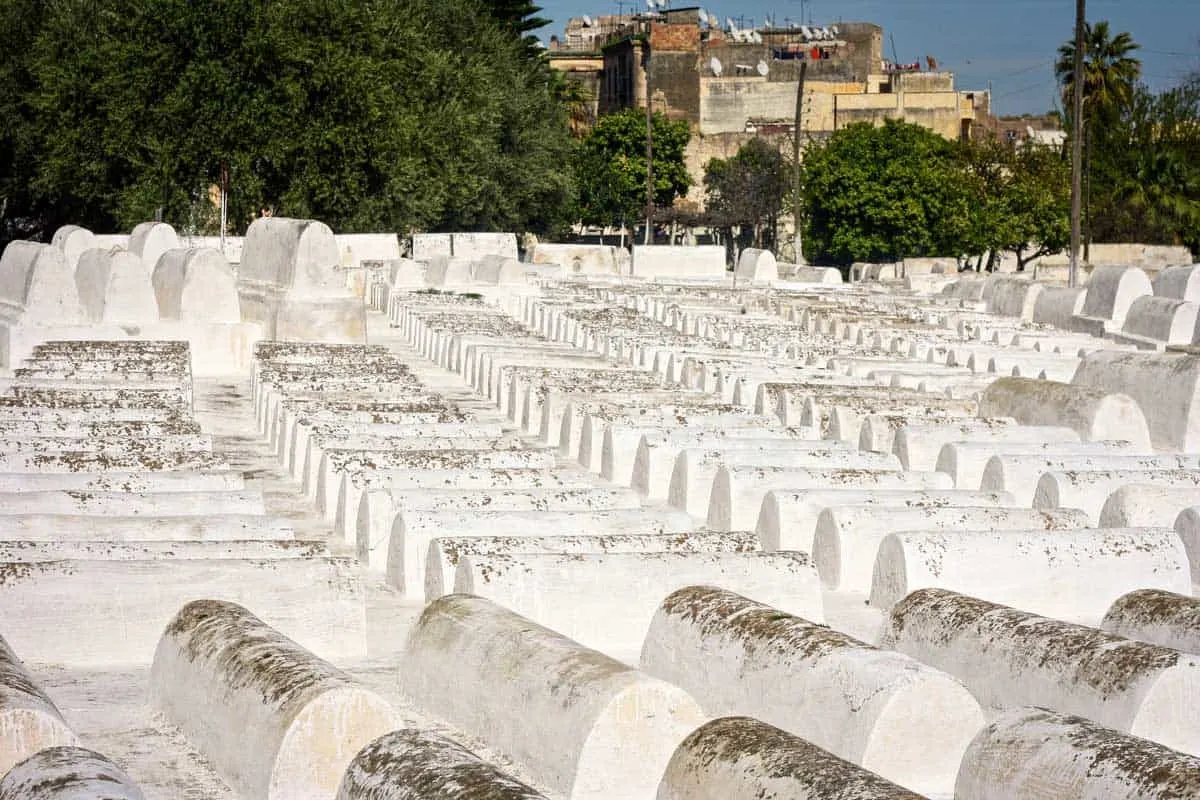 Img: Trevor Huxham Flickr
Borj Nord Arms Museum
Borj Nord or Burj al-Shamal is a fortress located above Fez el-Bali. Modelled after the Portuguese Forts of the 16th century, the fortress was built by Sultan Ahmad al-Mansur in 1582 so he could keep an eye on his disloyal population.
In 2016 it opened as an arms museum with an amazing collection of impressive artefacts such as ornate Arab daggers decorated with precious stones and jewels as well as exhibits on military history and traditions of Morocco.
Borj Nord Fortress is also a great place for incredible views of the Old Medina.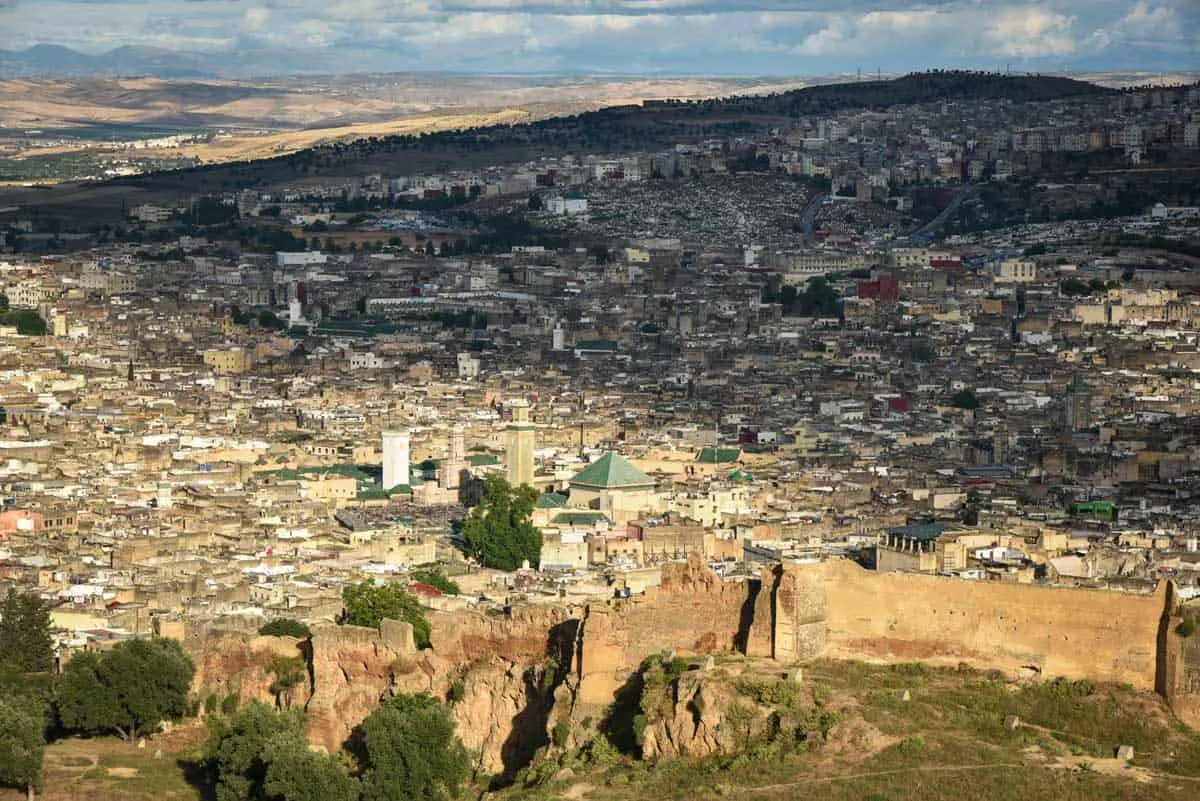 Take a Cooking Class
A popular thing to do when visiting Fes is to do a Moroccan cooking class. Go with a local chef on a shopping tour of the medina to pick out fresh ingredients and spices you will need to prepare authentic Fassi cuisine.
A cooking class tour will give you firsthand experience in preparing Moroccan cuisine and understanding Moroccan spices and flavours.
Fez Cooking Class Recommendation
Learn the secrets of Moroccan cuisine with this unique cooking workshop set in a traditional riad.
Choose to combine a tour of the souk before the class or, take the cooking class only for a hands-on culinary experience lead by an experienced Moroccan chef.
The tour is either 2 or 4 hours depending on your choice and includes guided tour on the souk visit, 2 hour hands on cooking class, relaxing dinner or lunch under the citrus trees in the riad courtyard, detailed take-home recipe sheet.
Prices start at MAD 512 (~ USD$53) Get full cooking workshop details here.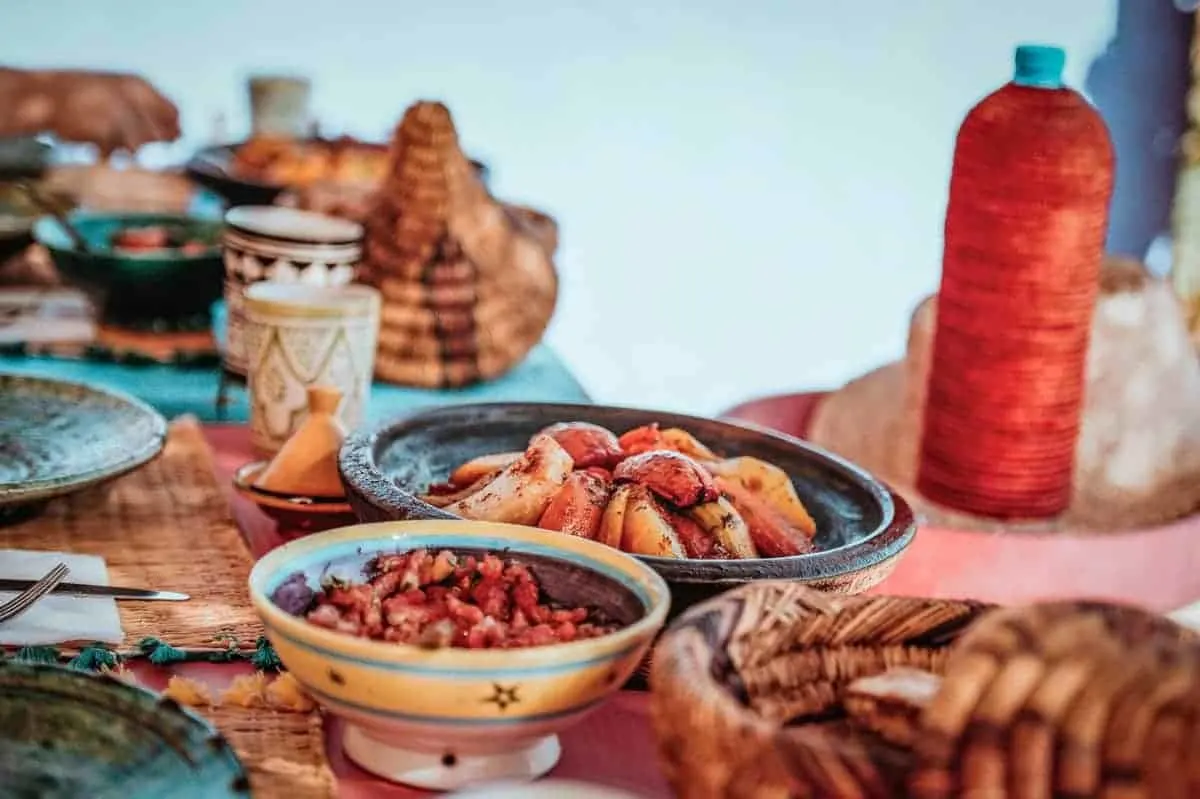 Shopping in the Fez Souks
Shopping in Morocco, especially in places like the Fes Medina is much more than idle retail therapy. It can be very daunting but it can also be a fun experience if you follow a few simple guidelines.
What to Buy in Morocco
Many will come to Morocco purely with shopping in mind. It is a veritable treasure trove of artisan products unique to Morocco. The beauty of Moroccan products is you are almost always guaranteed of goods being handmade locally and with natural products.
Moroccan shopping is much more than souvenir shopping for holiday trinkets – it's the real deal.
Leather
Leather goods in Morocco are a very popular purchase from handbags, belts, shoes, even full sets of leather luggage. You'll see from a visit to the tannery, Moroccan leather is still tanned in the same way it has been done for centuries so you know you're getting the real thing.
Rugs
Rugs are another big-ticket purchase for visitors to Morocco. In many shops, you can see the rugs being woven by traditional methods so you know they are handmade in Morocco.
Rug shops will have an enormous range of carpets for sale but can customize them if you don't see what you like. They will even ship them home for you.
Pottery, lanterns, slippers, zellige tiles, spices, argan oil, even antique jewellery are all great purchases to make in Morocco. In Fez, you'll find an abundance of original and handmade products for sale in the medina.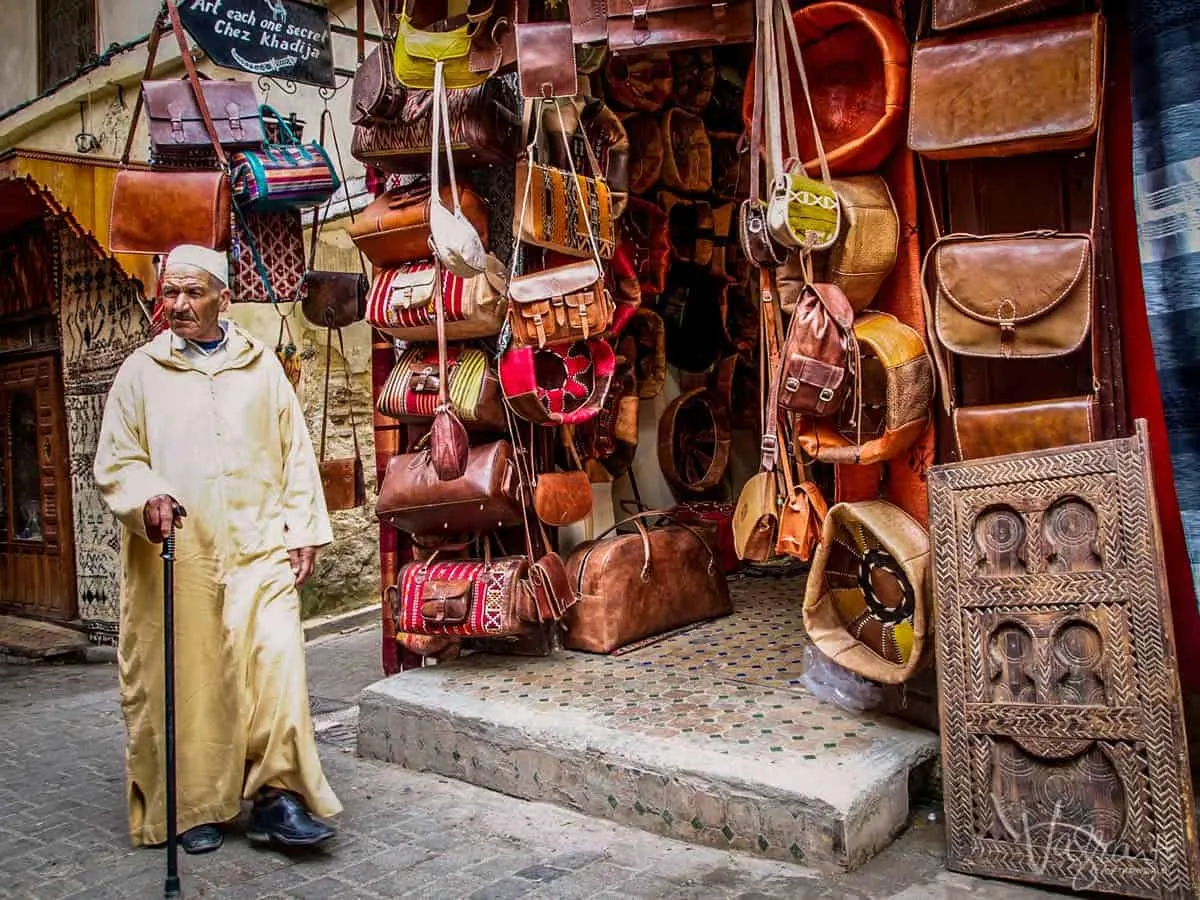 How to Haggle in Morocco
If you are planning to buy something in Fez, be prepared to bargain. It is expected so don't be shy just be ready to play the game. Expect prices to start quite high. Sometimes they will be ridiculously high to see what they might be able to get away with. Don't let this deter you.
For big purchases; Get A Starting Price From a Trusted Source
If you are looking to make a substantial purchase in Fez, such as a quality rug or leather goods, it is smart to do some research in advance. Even ask at your hotel what a typical price range for that item may be. Then you know what your bargaining parameters might be.
Be wary of the hotel manager who doesn't give you a price range. Instead tells you not to worry because he can take you to a shop where you will get a good deal.
Things to Consider When Bargaining in Fez
Vendors are expecting you to haggle so don't be scared or think you will offend. Many shop owners will start with a ridiculously high price to get a feel for what they can get away with. Start by making an offer much lower than the starting price and go from there.
Sometimes as low as 60% of the original asking price can be a good start depending on the product. Eventually, you will reach a middle ground. Often a long way from the vendor's starting price.
No matter how absurdly high the starting price, try to keep the bargaining friendly and don't be deterred if the vendor feigns offence. This is part of the strategy.
By the same token, don't actually offend the vendor by trying to be clever and undercut him too much. They are never afraid to say no and that is that.
We always like to end a good bargaining session on a light note with laughter and hopefully a good deal.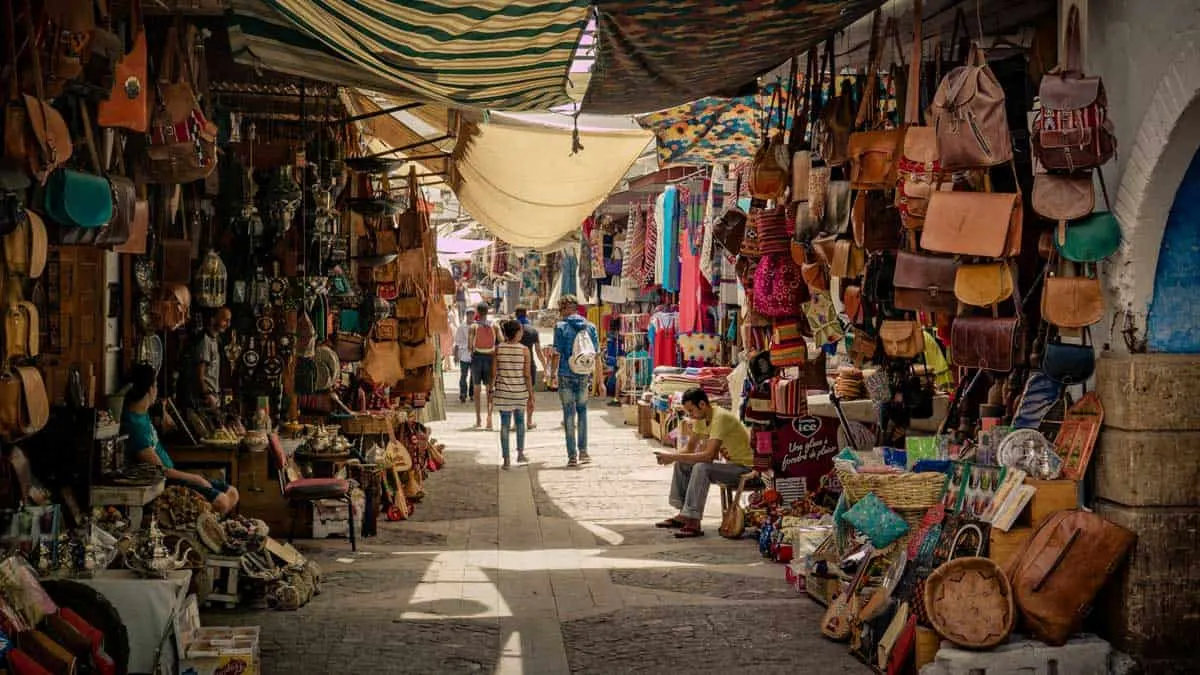 Where to Stay in Fez
We would always recommend staying inside the medina in Fez for the ultimate Moroccan, Fez experience. We stayed in a private Riad close enough to the heart of the Medina for us to get lost and overwhelmed en route to our accommodation.
In the narrowest of busy laneways, an imposingly heavy 12 ft wooden door with brass handles twice the size of your hand opens to reveal a startlingly quiet and calm sanctuary.
Five levels of light-filled mosaic patios lead to opulent bedrooms and bright, airy sitting rooms. The chaos and smell of the medina disappear entirely.
The Riad was hundreds of years old, five stories high with a narrow, narrow stone staircase that took us from street level to a serene roof terrace high above the medina. The perfect place to watch the sunset while the call to prayer carries across the medieval cluster of roofs from all directions.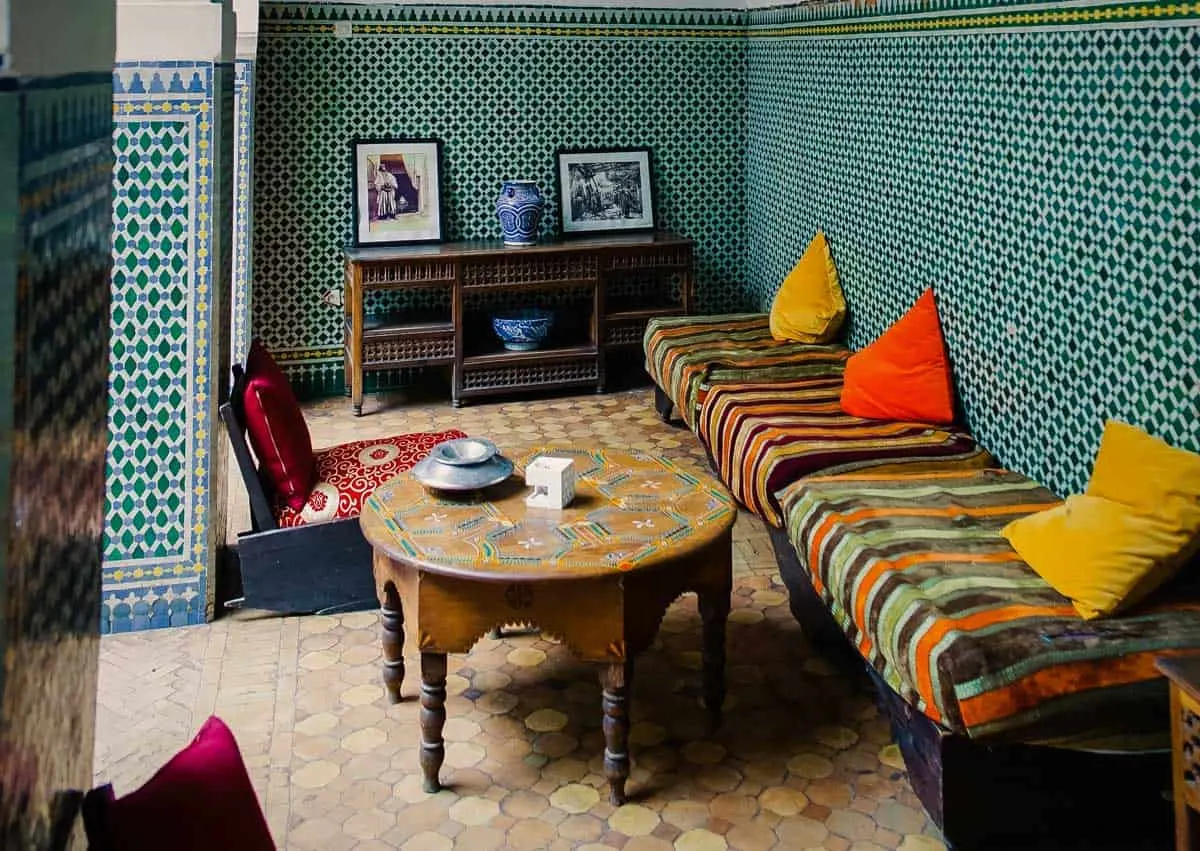 Stay in a Riad for an Authentic Moroccan Experience
Whether you choose a private riad or guesthouse, hotel-style, this is the typical riad experience you can expect. To stay in a medieval building restored to the highest standard.
A riad inside the medina is the best place to stay in Fez; it is one of the surprising contrasts to the chaos of life inside Fez el Bali.
Most good riads or hotels within the walled city will arrange chaperones to collect you for dinner reservations and guide you home again after your meal. Quite a comforting service, especially on your first night. It's also a good way to ensure you can find good restaurants with authentic Moroccan food.
We were charmed so much by a local man who was sent to guide us to our restaurant on the first evening; we met with him the following day for a locals guide to navigating the medina. An exercise that at first seemed futile but was not entirely lost on us. We managed to make it home on our own, albeit the long way.
Tips for Visiting Fez Morocco
How Long to Spend in Fez
Fez has so much to offer but three nights will be enough time for many visitors. Especially if staying in the Medina. Eventually, you will feel the need to escape the claustrophobic confines of the labyrinth and come up for air.
Day Trips from Fez
While Fez city is fascinating to explore, the nearby countryside is equally worth discovering. A welcome reprieve from the chaos of the medina with rolling hills, olive groves, and UNESCO World Heritage sites. These are just a few of the day trips available from Fez.
Volubilis, Meknes and Moulay Idriss
Visit the Roman ruins of Volubilis. Explore the medina in the imperial city of Meknes and the holy town of Moulay Idriss. While all of the sights can be visited in on a day trip from Fez, some might argue Volubilis is best visited in the morning and Meknes could easily warrant a full day.
Towns to Visit Outside Fez
Azrou
90 km to the south of Fez is the town of Azrou. Famed for its cedar forests, tourists come to the area for hiking and to see unique species of butterflies and the Barbary Macaque apes that inhabit the forest. The area also has various waterfalls popular with visitors.
Ifrane
The Little Switzerland of Morocco, Ifrane was established during the French protectorate era as a ski resort and summer escape from the heat for nearby residents of the Imperial Cities.
There are few sights in Ifrane, the area is still popular for skiing and hiking in the summer. The locally caught trout tajine is also worth a trip to Ifrane for.
This day trip from Fez takes in the highlights of Azrou and Ifrane including a visit to the cedar forest and observe the Barbary Apes.
Sefrou
Once home to Morocco's largest Jewish community, Sefrou, 30 km SE of Fez is also famed for its annual UNESCO endorsed cherry festival in June. Take an artisanal tour of the medina and see weavers preparing blankets on traditional looms.
Haggle with locals shopping for accessories for their djellabas in the bustling haberdasheries or simply sip mint tea in a cafe and learn about local Berber village life. Take a half-day trip to Sefrou and Bhalil, an area known for it caves with a professional driver to see more of the surrounding area.
You can find a range of day trips from Fez here to suit all budgets and interests.
---
Best Time to Visit Fez
The shoulder seasons of spring (March to May) or autumn (September to November) are the best times to visit Fez.
The weather is pleasant, the surrounding landscape is at its greenest, and there are fewer tourists than the peak months of July and August. Which ironically are the hottest and most unpleasant months.
However, some of Morocco's most iconic cultural festivals take place during the summer.
If you do find yourself in Fez during the hotter months, the narrow shaded alleys of the Medina are the perfect place to seek refuge from the heat of the day.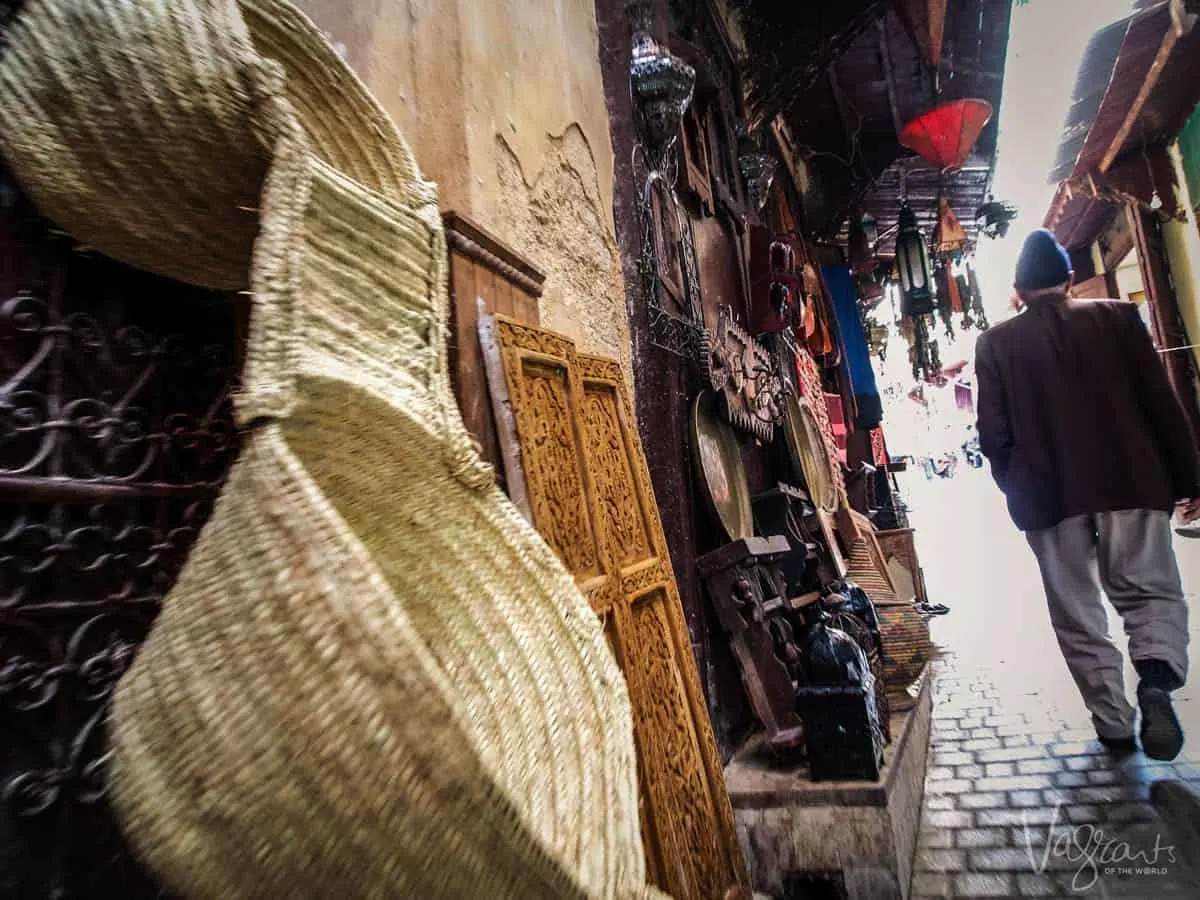 Dress Appropriately – How to Dress in Morocco
While you may find touristy Marrakesh to be a little more progressive, or tolerant, Fez is a much more traditional city. Especially in the medina.
Ladies especially should dress modestly at all times to avoid harassment or be denied access to specific sites. Be prepared so you don't have to shell out for additional clothing once you are there.
Men should also consider moderate dress such as longer shorts, t-shirts as opposed to singlets and cover any excessive tattoos or piercings as this will only draw unnecessary attention.
You'll find great tips here for both men and women on how to dress appropriately when you travel to avoid standing out. Especially in conservative countries.
Read our complete Packing List for Morocco to find out what to pack and how to dress for every Morocco situation.
---
---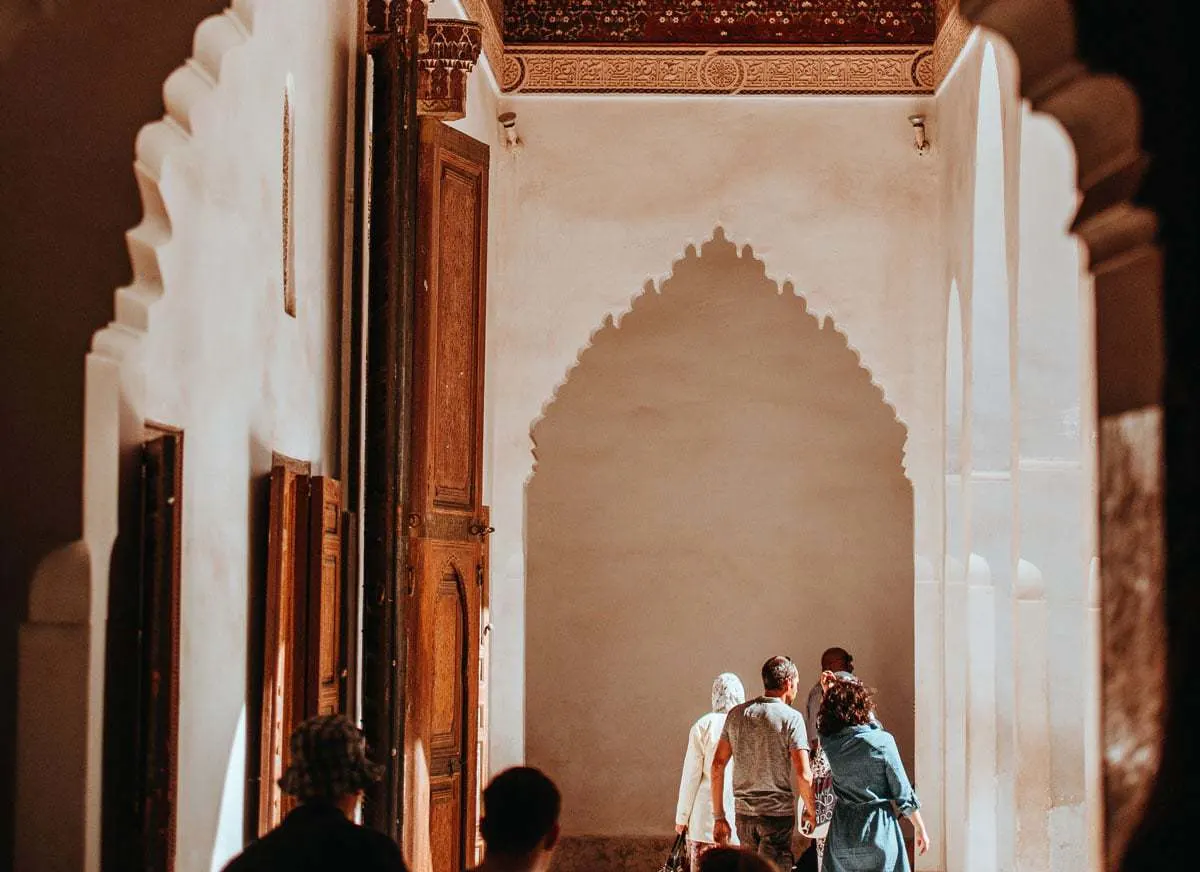 Is Fez Safe
Overall, it is safe to visit Morocco and Fez is safe for tourists. However, you do need to exercise some caution as is with the case in any travel situation.
While touts and fake guides may try to fleece you out of a buck or even your time, in Fez, you need to be very vigilant of thieves.
Petty theft is prevalent in the crowded Medina. Watches, wallets, cameras are all ripe for the picking, and often it's the children you need to be most wary of.
Always be mindful of your belongings, especially in crowded situations and be careful walking around at night. Avoid walking through the Medina at night alone if you can avoid it.
Women travelling on their own in Morocco may experience some harassment at one time or another although with some simple precautions you should have no issues. Amanda from MorocMama has some great advice on the topic.
Simple precautions can go a long way to ensuring you keep both yourself and your belongings safe. Here are some tips and ideas for both men and women on staying safe when you travel.
How to Get to Fez
We travelled from Marrakech to Fez by car via the Atlas Mountains and the Sahara Desert. You can read about this here.
By Air
The airport is about 15 km from the city centre. There is a bus from the airport to the main train station. If you take a taxi, there is a fixed price – 120 dirhams from the airport to the city and 150 to the Medina. Ensure you confirm the price before you get in.
By Train
Fes-Ville Train Station is at the northern end of Ville-Nouvelle.
Eight services per day from Marrakech. Approx travel time of about seven hours. Expect around 295 dirhams for a first-class ticket (recommended) 195 dirhams for second class.
Services from Casablanca run hourly. Approx travel time of about four hours. Expect around 165 dirhams for a first-class ticket (recommended) 110 dirhams for second class.
Five services per day from Tangier. Approx travel time 4 – 5 hours. Expect around 155 dirhams for a first-class ticket (recommended) 105 dirhams for second class.
From Rabat, services take about three hours. Expect around 105 dirhams for a first-class ticket (recommended) 75 dirhams for second class.
First-class is recommended, especially in summer. Second and third class carriages are not air-conditioned, are often overcrowded and do not have allocated seating. First is much more comfortable, especially for long journeys. Also, be aware of hustlers who frequently operate on the trains to Fez.
By Car
Fez is approx four hours drive from Casablanca, two hours from Rabat and four hours from Tangiers. The roads are very good. The toll highway from Rabat to Fez, in particular, is in excellent condition.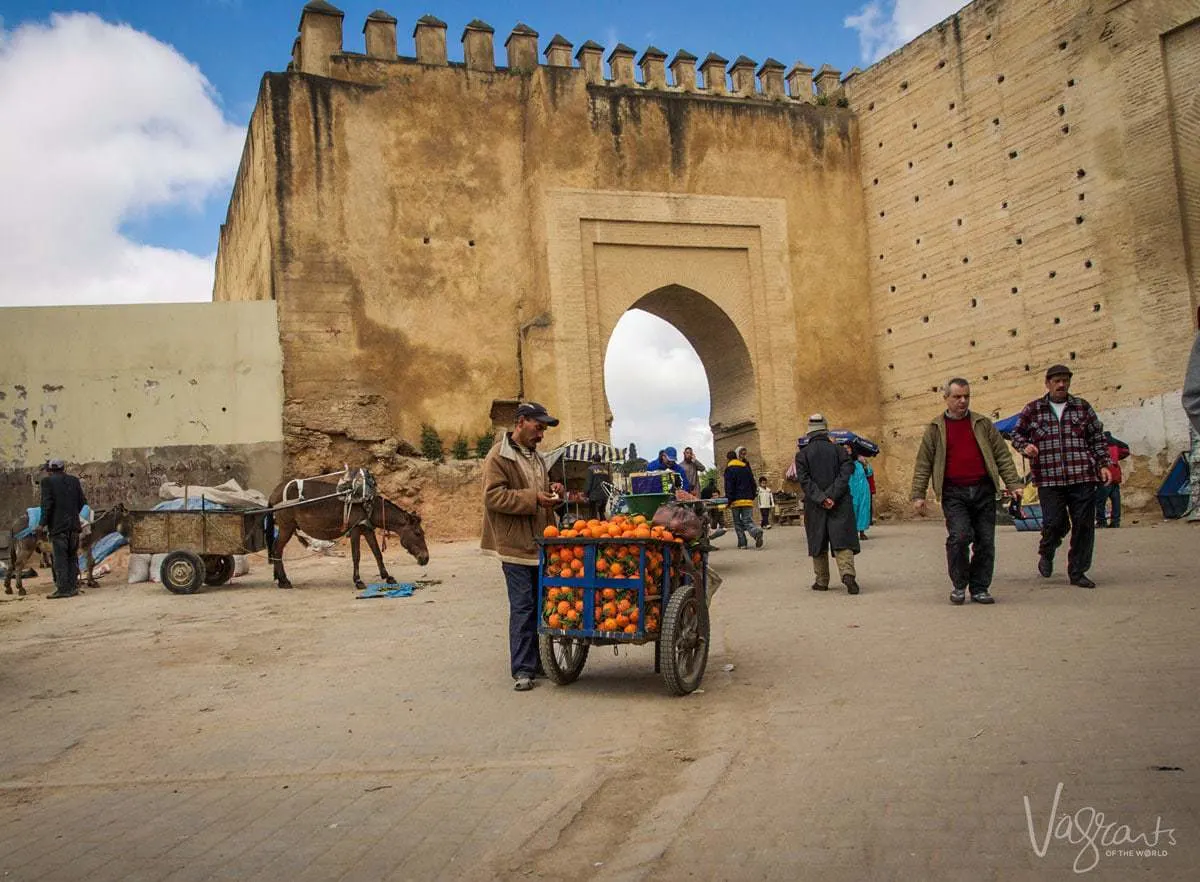 ---