Camel trekking in Morocco is one of the most iconic travel experiences you can have.
A Sahara Desert tour is a once-in-a-lifetime opportunity. Riding a camel into the Sahara Desert to spend a night under the stars in a desert camp will also be one of the most memorable experiences of your life.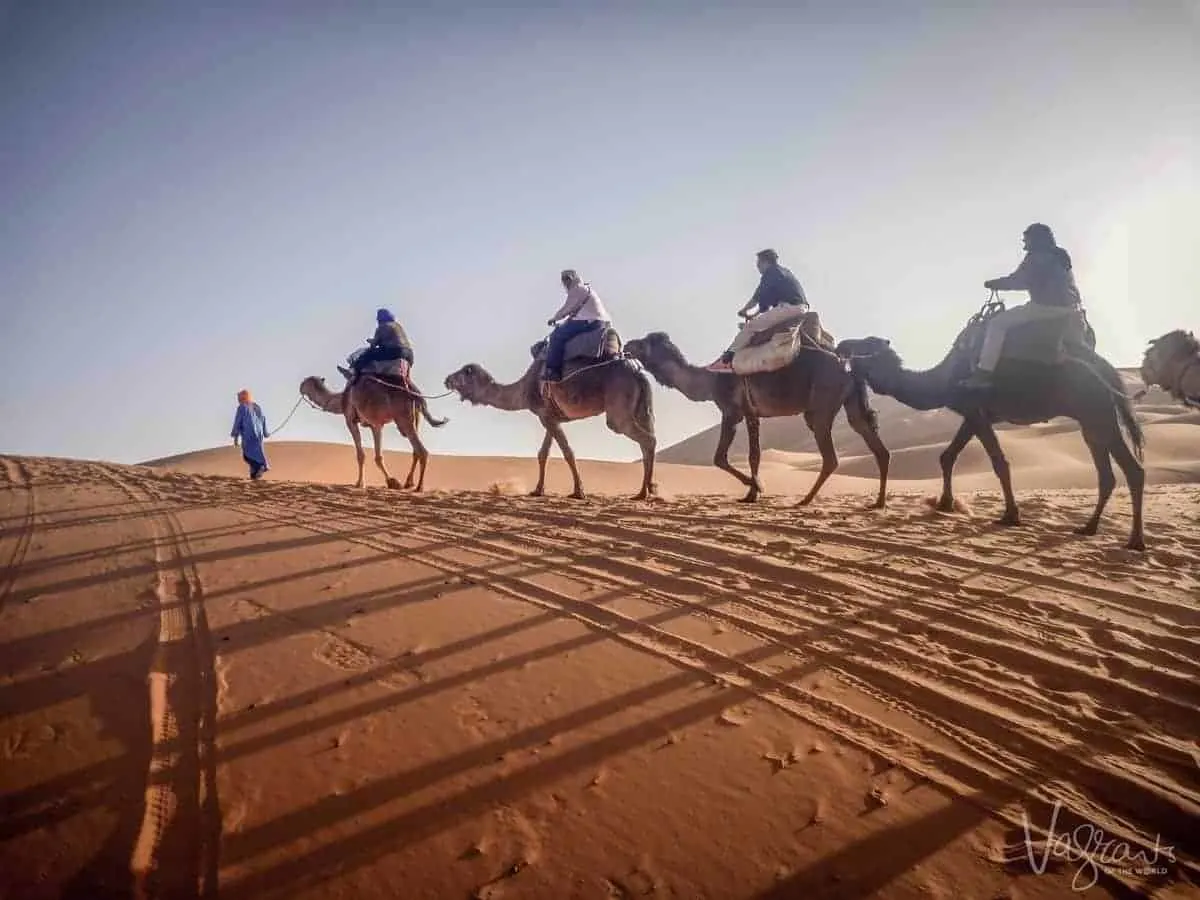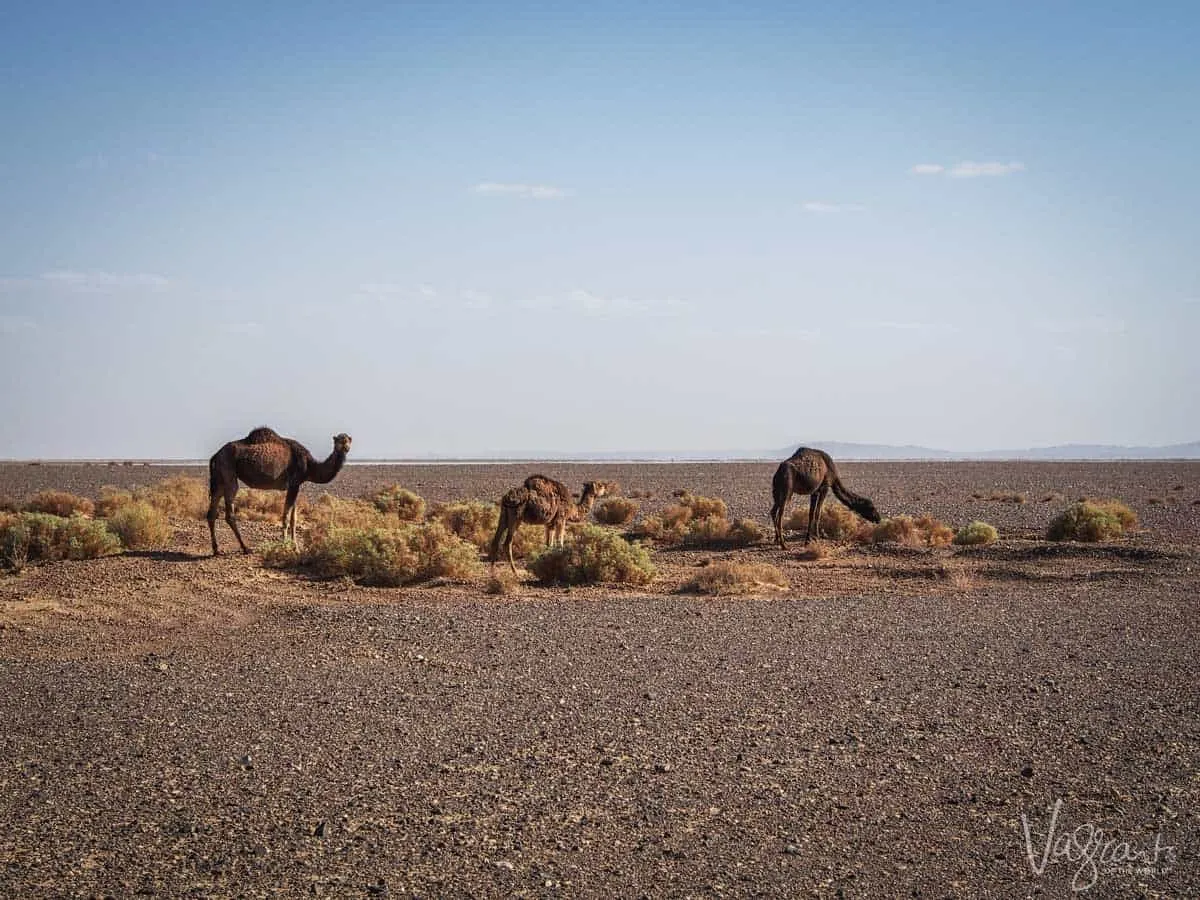 The Sahara region is also an exciting mix of scenic gorges and beautiful oasis towns. Many of these areas are set against the stunning backdrop of the Atlas Mountains, which you need to cross to get to the desert from Marrakech or Fez. It is a vast area, but worth it if you have sufficient time to travel the distances involved.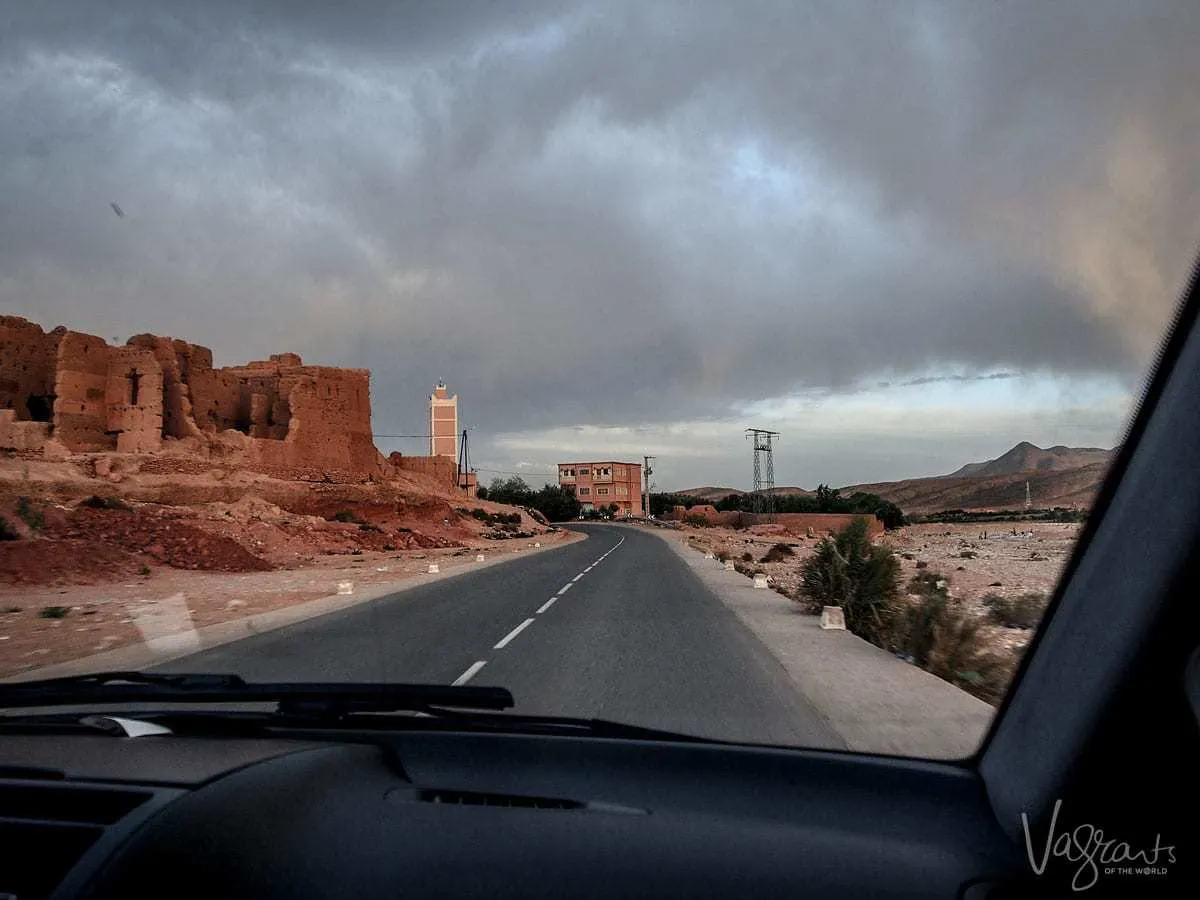 Where do Sahara Desert Tours Leave From
Covering an area of 9.4 million square kilometres, the Sahara engulfs most of North Africa. Few places in the world compare. The Sahara covers Morocco's western border.
The two main sand dunes tourists visit and where the Sahara tours leave from are Erg Chebbi and Erg Chigaga (erg meaning dune). While each offers a unique experience, the most popular is Erg Chebbi with dunes reaching over 520 feet high.
Erg Chigaga is a little more off the beaten track. As it is over 60km's from the nearest road, there are fewer facilities, so it offers a much more rustic experience. The trip there will be longer and more testing as well.
Erg Chebbi is more accessible, only 30 Km from the town of Merzouga, close to the border of Algeria. There are modern hotels and some small Auberge's (small inns or motels) dotted along the remote drive between Merzouga and Erg Chebbi for those who want to break the long trip up.
---
---
How far is the Sahara Desert from Marrakech and Fez
Marrakech is approx 600km from Merzouga near the Erg Chebbi dunes and approximately 360km from Zagora, near the Er Chigaga dunes.
Fez is approx 470km from Merzouga and 670km from Zagora.
While the distances don't seem that long, much of the driving is over mountain passes and on basic roads. Travelling from Marrakech or Fez to the Sahara will take a full day at best.
We travelled to the Sahara Desert as part of a 3-day road trip from Marrakech to Fez.
---
---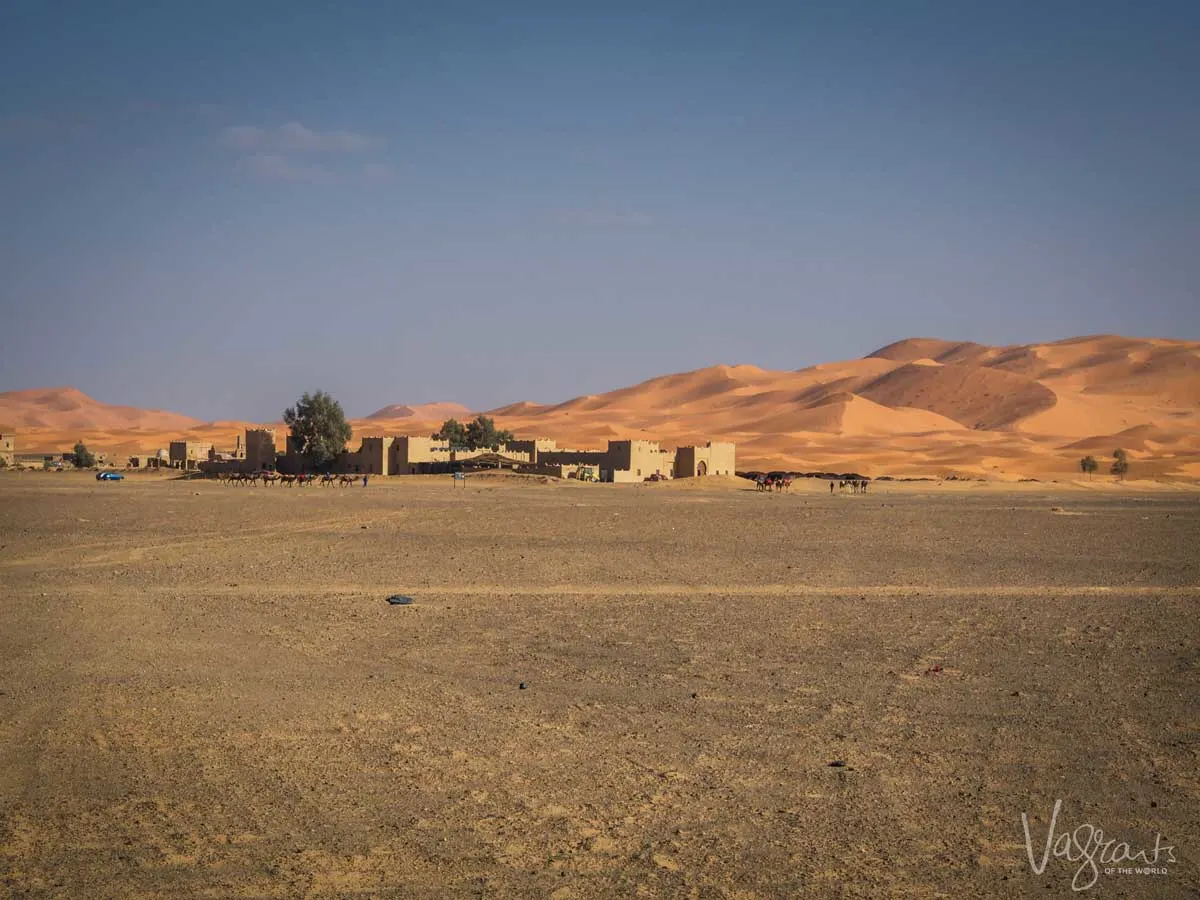 Plan Your Morocco Itinerary – The Best Places to Visit in Morocco
Preparing for Camel Trekking
When you arrive at Erg Chebbi, you will be asked to take ONLY what you need in a small bag as you must carry all of your belongings and required water for the night on your camel. Our bags were small as instructed. Although, no one said anything about heavy. Who said you couldn't enjoy a few cheeky reds in the Sahara?!
You will then be fitted with a camel and not so formally acquainted with your trusty steed. You will mount and try to stay mounted while the animal stands up. A very strange motion at first and not so graceful. Then, it's off into the dunes of the Sahara.
Note: There are in fact no camels in the Sahara Desert, only 'Dromedary'. This is the correct name for the one-humped mode of desert transport. Only the two-humped variety are called camels.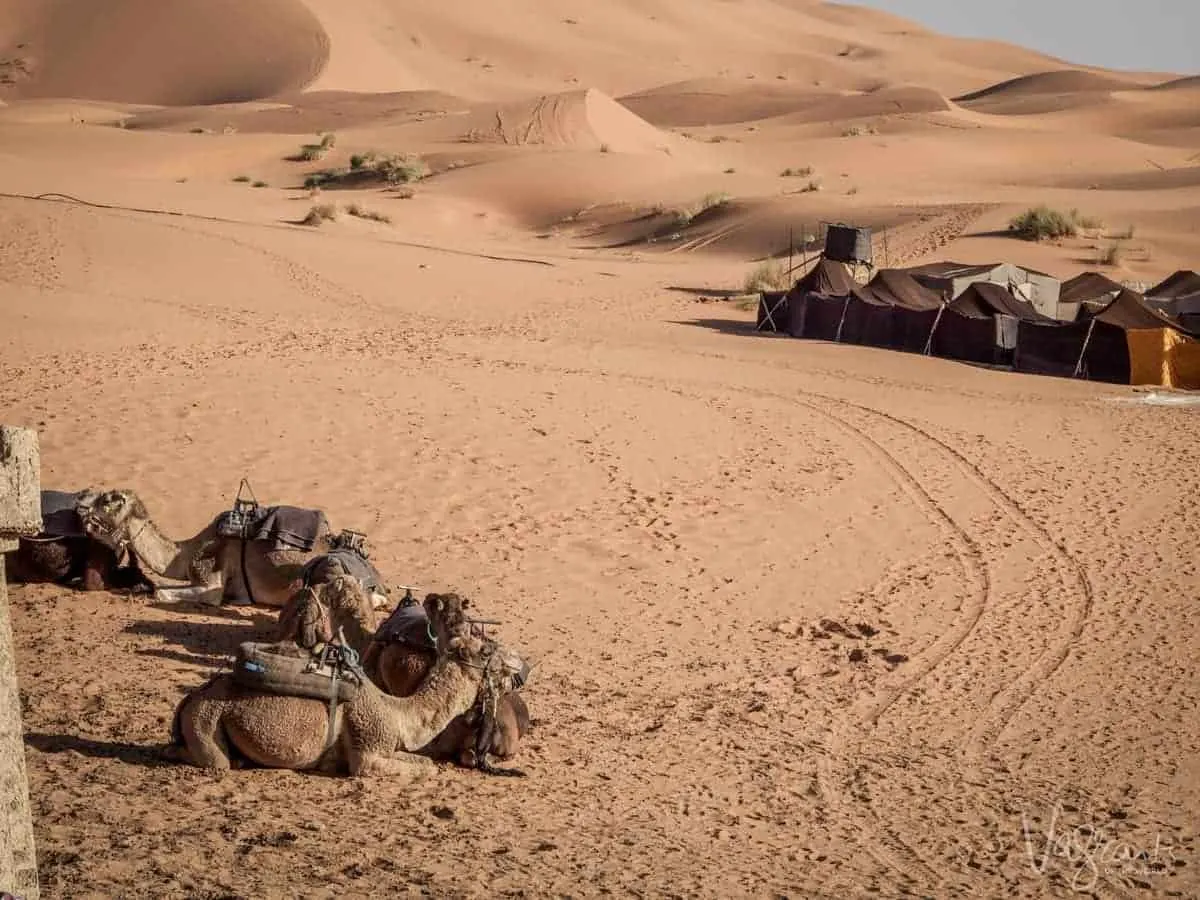 To our surprise (and slight relief) the camels are tied together with a rope and walk in line following a guide. Much like the camel caravans used on the historic trade routes. Some might find this comforting while others may have been expecting more of a solo affair. Nonetheless, this is not a failsafe system.
I watched as my camel expertly undid the knot in the rope with his teeth. Once freed, he slowed to ensure a good distance between us and the group and casually started heading in another direction. As the rest of the caravan dutifully followed the guide across the rolling dunes of the Sahara, my camel and I strayed further and further from the group. Thankfully my calls for help were eventually heard, and I was rescued and refastened to the group.
I am guessing this was not an isolated incident as they were sure to put my camel in the middle of the group from then on.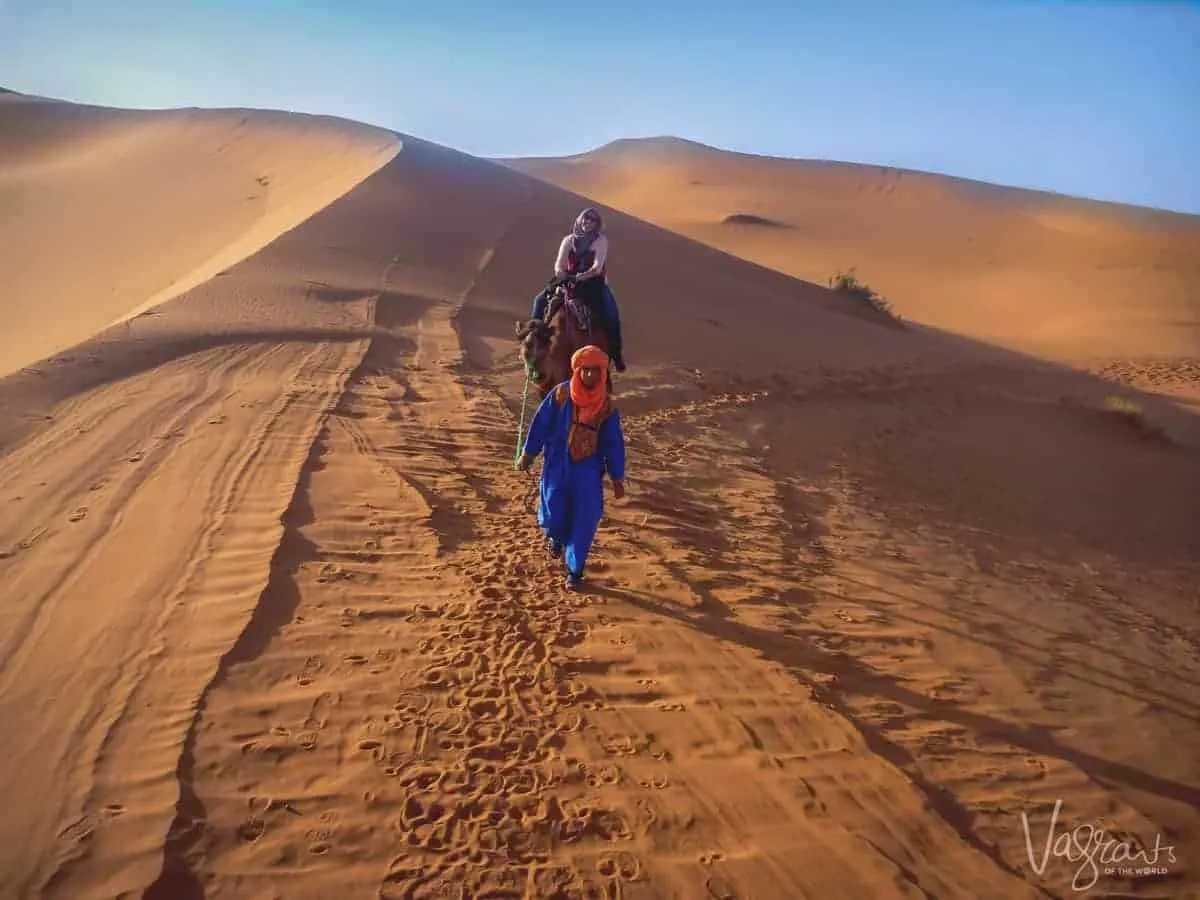 Camel Trekking in the Desert
When you first head into the desert, the enormity of the harsh terrain, the continually changing colours of the sand and incredible stillness is both overwhelming and peaceful. The same could not be said for my camel, there was no peace or silence just noises and smells coming from each end.
For a few hours, you can enjoy the surreal landscape and marvel at the existence of tiny Berber camps tucked away beneath the mountainous dunes. Once you start to get the feel of the ungainly motion of a camel, the ride is relatively comfortable. Although after the 2-3 hour ride to our overnight camp, we were all glad to stretch our legs.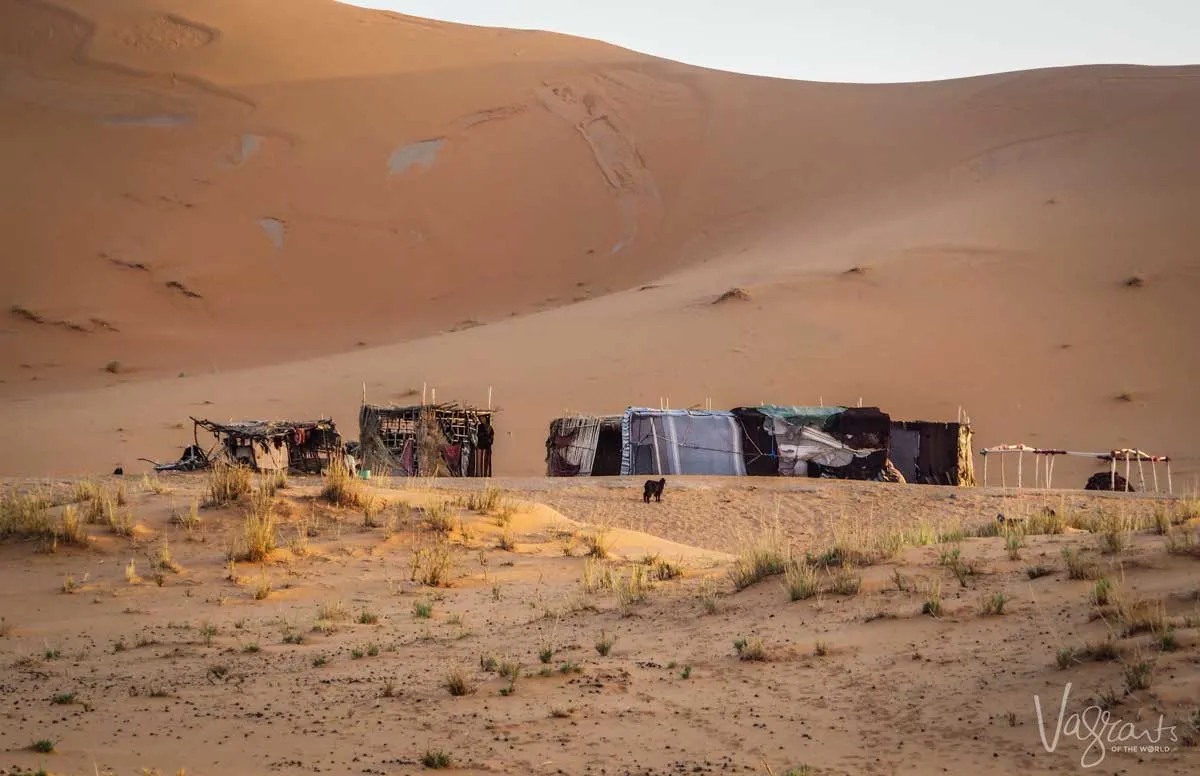 Overnight in a Sahara Desert Camp
A night in a desert camp, under the stars, experiencing the Sahara Desert at night is a truly unique experience.
Our accommodation was one of the Berber Nomad camps that dot the Sahara. The Nomad campsites are made up of a circle of traditional woollen tents with a central fire pit. It is a simple affair with basic sleeping and toilet facilities. Each tent is lined with woven rugs and small sleeping mattresses on the floor.
Blankets are provided which are usually sufficient. Although, the Sahara temperature plummets at night so be prepared with warm clothing. You may even like to bring a small sleeping bag for extra warmth, especially during the winter months between November and March.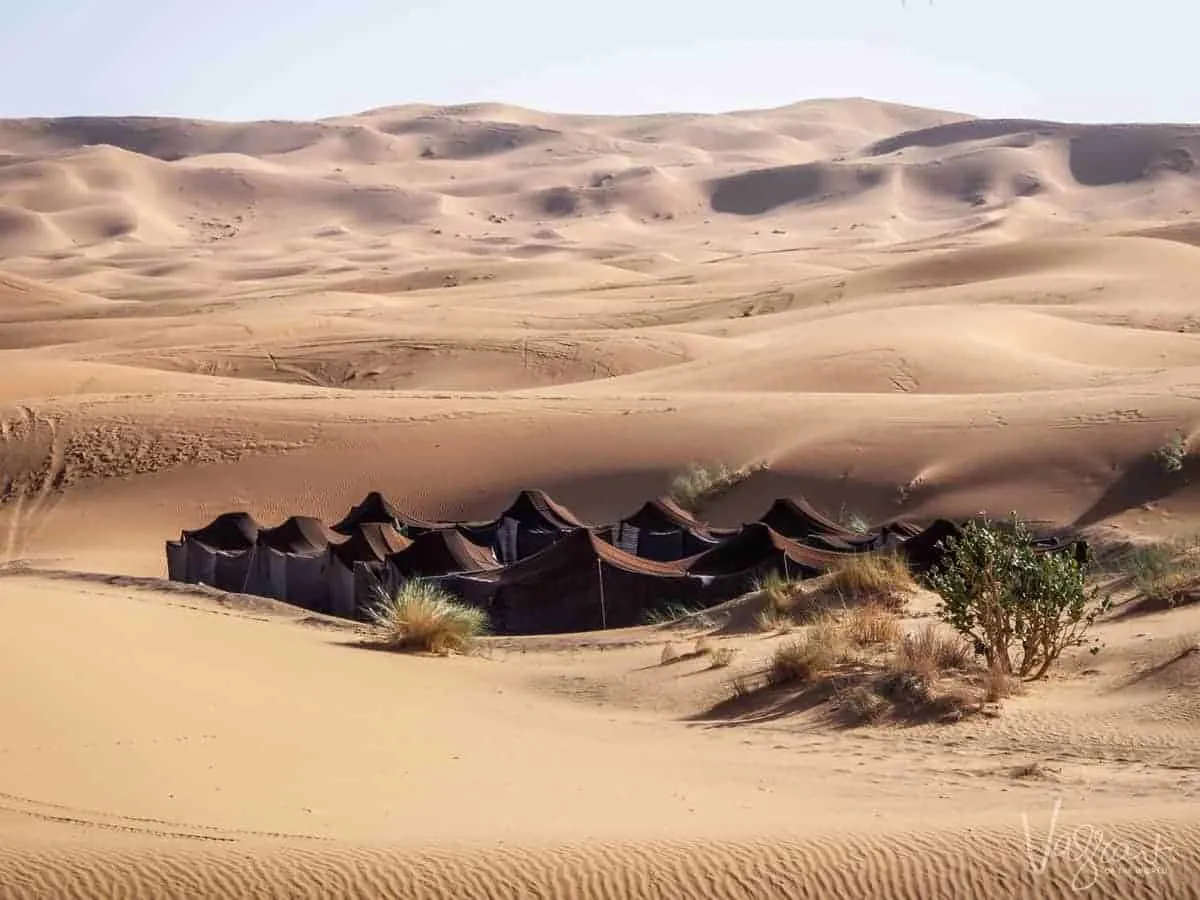 Your nomad guides will prepare a typical Moroccan dinner. Most likely a hearty Tagine served with mint tea around the central campfire. If you fancy a tipple with your meal, make sure you bring it with you. We were smart enough to pack a bottle of red wine.
After dinner, your hosts will entertain you with traditional Berber music which they will encourage you to try your hand at.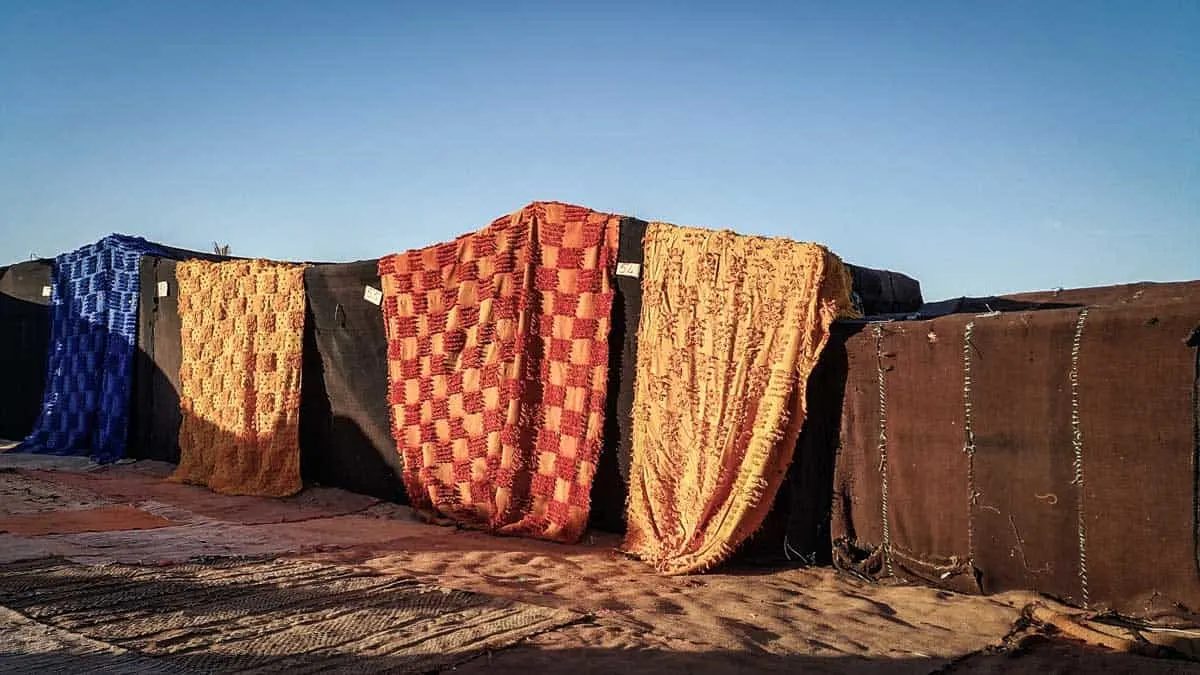 Sunrise in the Sahara
Believe it or not, the highlight of any Sahara Desert tour is sunrise.
If you only spend one night in the Sahara you will most likely head back to the main hotel early in the morning, so it's an early start and a cold one. The hotel will serve you breakfast and you can take a shower and use the pool before you head off.
At what feels like the middle of the night our trusted nomad guide wakes us by playing a small set of traditional symbols. We rug up and load our camels again to set off in complete darkness. In the cold and the dark, you start to wonder about the sense of it all and then the sun begins to rise.
You are suddenly grateful for the early start and for the long journey to get to the Sahara. The magnificent landscape of changing colours as the sun eases its way up over the Sahara dunes. The sunrise is even more spectacular than the sunset.
Tip: Don't forget to charge all of your devices before you head off on a Sahara Desert tour. Not many of the desert camps will have charging facilities.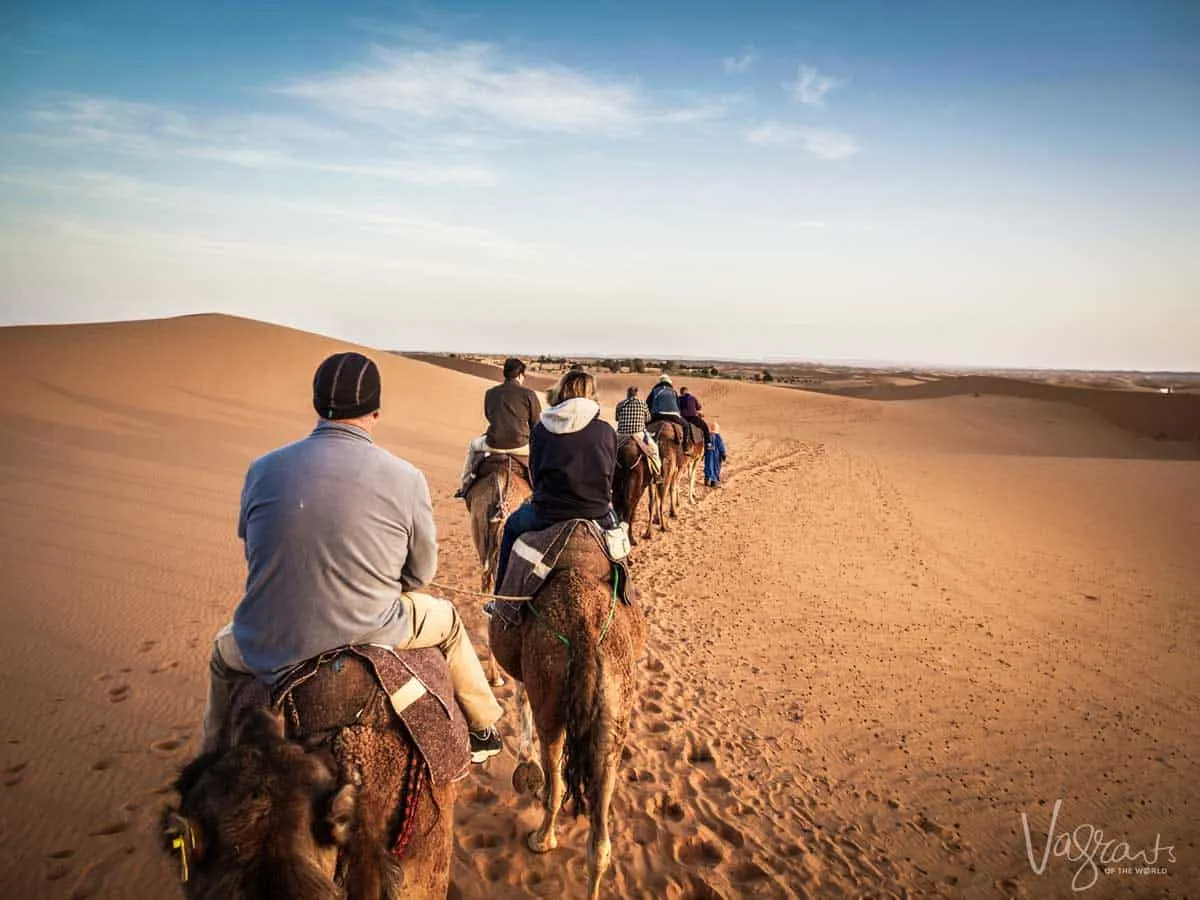 What to Pack for a Night in the Sahara Desert
A small backpack or bag – You can only take with you what you can carry in a small bag on your camel. We travel with a lightweight, foldable pack that can be shoved into our luggage when we are not using it, and it doesn't take up too much room.
Clothing
A windbreaker or light jacket for the cooler nights and mornings. If visiting between October and March, you may want a more substantial fleece and maybe some light underlayers.
Warm beanie – You may want to sleep in this too if it is really cold.
Comfortable pants or jeans to prevent chaffing while riding the camel. Leggings are also suitable for the girls as they are perfect for sleeping in.
Lightweight, breathable tops for the daytime. Tees and maybe a long-sleeved shirt for sun protection.
Remember, you are only staying one or two nights so will not need lots of changes of clothes.
Appropriate shoes – sneakers or hiking boots are best. Sandals or flip-flops are no good for riding the camels or for climbing dunes.
A headscarf to block the sun and dust. You may want to bring a cap or wide brim hat as well.
Sunglasses
Electronics and Gear
A small travel flashlight or even better a headlamp to use at night at the campsite. It is very dark after lights out, so it is helpful to be hands-free when you are packing in the morning and for the toilets during the night.
Camera Protection – sand is your camera gear's worst enemy so it would pay to have some ziplock bags keeping any electronics safe. A dry pack is also useful for this, especially when climbing the dunes. If you have expensive camera gear, a special casing might be worthwhile.
Extra camera batteries and a large capacity external charger. Especially if like us, you take a lot of photos and video. Don't forget your charging cords,
Personal Items
Water – Consider at least a couple of litres, if not more.
Basic toiletry kit – facial wipes, small sunscreen, chapstick with sunscreen, toothbrush, toothpaste, mini deodorant, antibacterial hand wipes.
Any medications you might require.
If you want to have a drink with your evening meal, you may have to bring your own alcohol. Check with your tour group in advance so you can be prepared. And remember, you can only bring what you can carry.
You can read our full packing list for Morocco here