Marrakech has a reputation for overwhelming first-time visitors with its heady atmosphere and sensory overload. We have put together a guide with travel tips on what to expect, and equally as important – what to avoid in Marrakech.
What to do in Marrakech for First-Time Visitors to Morocco.
A city with its own chaotic rhythm, Marrakech also has a surprisingly good dose of razzle and dazzle.
Unlike Fez where cultural authenticity is a concept held dearly by locals. Or, Casablanca, a city that surprises with a refreshingly modern and cosmopolitan side of Morocco.
Marrakech can feel more like a movie set. A Disney-esque version of its former self.
Regardless, there are still so many things to do in Marrakech.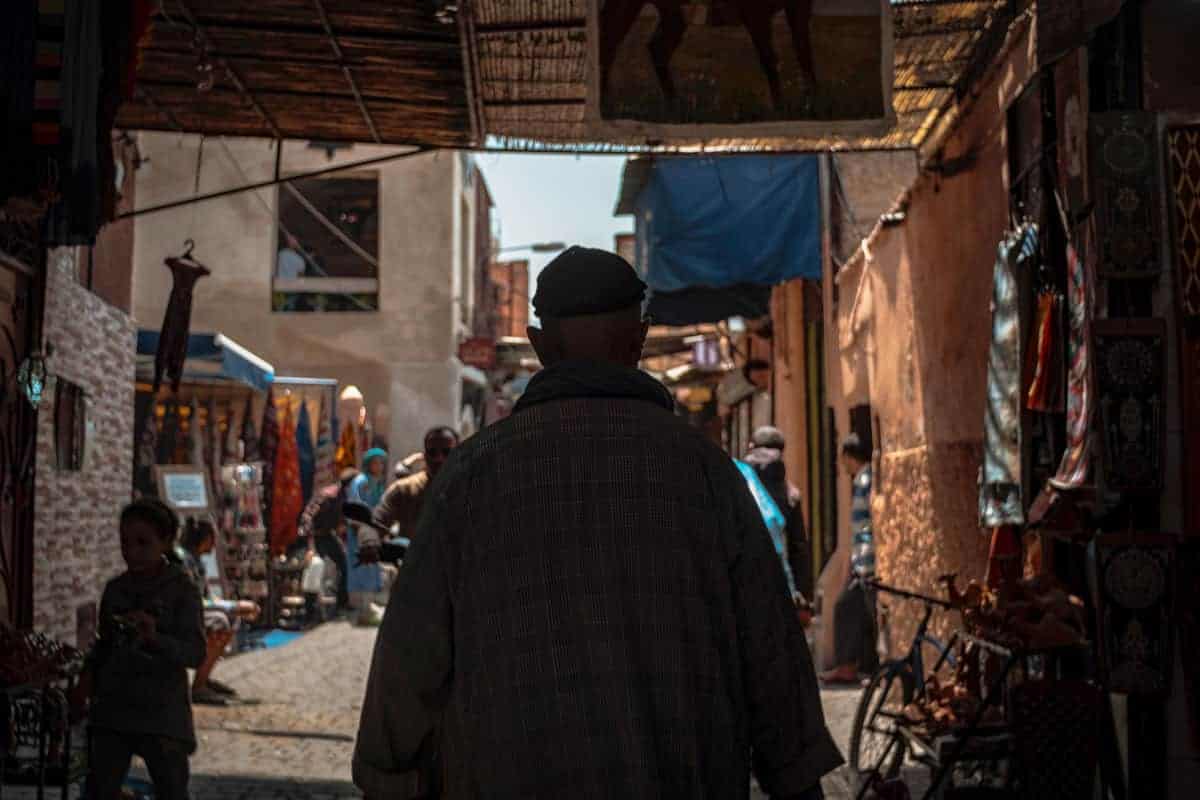 In places, Marrakech is what you would expect from an Arabian Nights or Indiana Jones movie. Right down to the snake charmers and potentially menacing touts in the darkened tangle of lanes of the souks and markets.
About Marrakech
The name Marrakech, or Marrakesh originates from Berber meaning "Land of God". It is the third-largest city in Morocco after Casablanca and Rabat.
Where is Marrakech
Marrakech has an enviable location with the contrasting landscapes of the snow-capped Atlas Mountains and the Sahara Desert within easy reach. It is the capital city of the mid-south-western region, Marrakech-Safi.
Marrakech is 150 miles south of Casablanca, 200 miles southwest of the Moroccan capital Rabat, 360 miles southwest of Tangier and 350 miles southwest of the famous blue city of Chefchaouen.
Thanks to its proximity to some of Morocco's biggest tourist drawcards, it is one of the most popular places to visit in Morocco.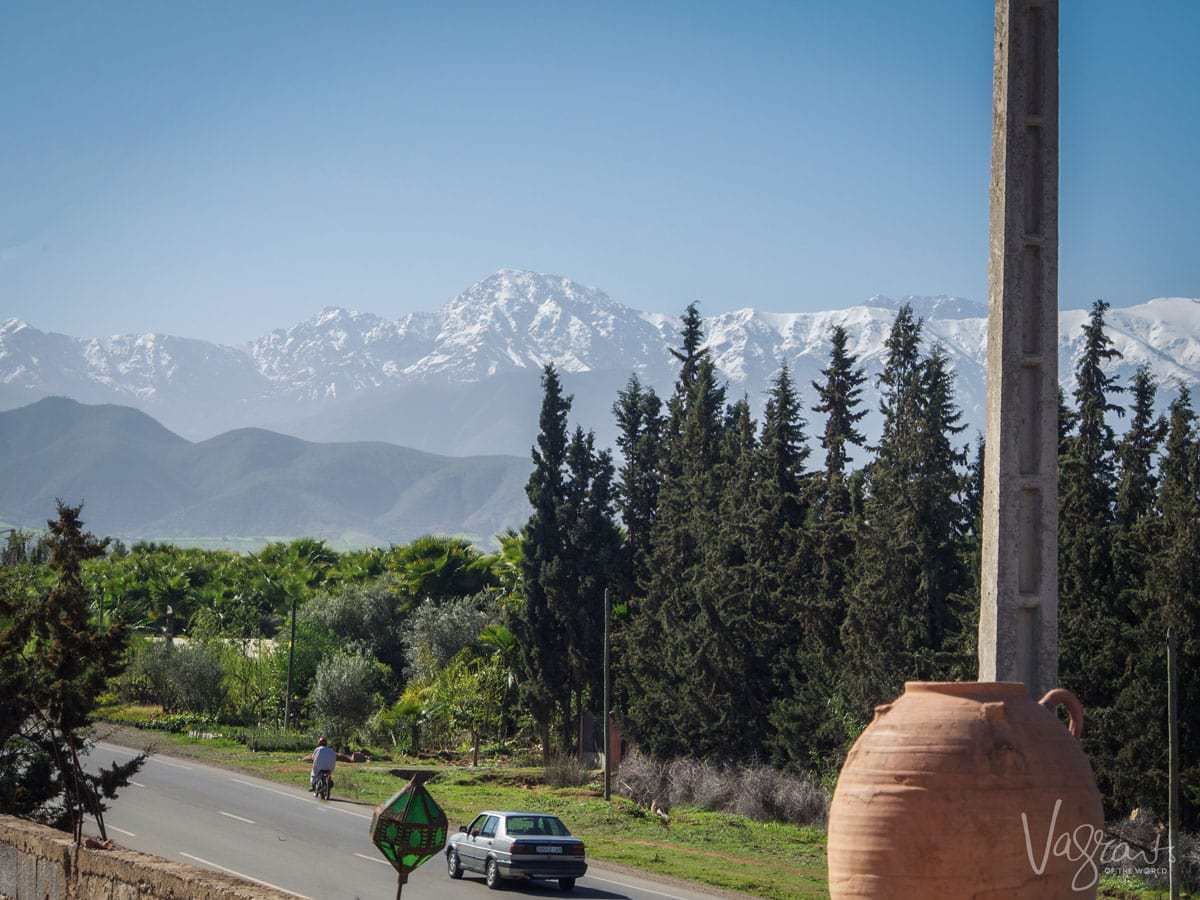 What to Do in Marrakech (Marrakesh)
Old and New Marrakech
Like Fez and Tangier; Marrakech is divided into two. The historical center and the new European styled modern district – Gueliz or Ville Nouvelle.
Experience the extremes of medieval life in Oldtown Marrakech and North African luxury and commercialism in Gueliz.
New Marrakech
New Town – Guiliez; in stark contrast to the historical center boasts clean, modern restaurants, fast food chains and big brand stores.
A legacy of the French protectorate of Morocco, areas outside the original city walls has a distinctly Parisian feel, with wide boulevards, beautiful gardens and booming cafe culture.
And much like Paris, Gueliz is not without its luxury hotels and high-fashion brand-name boutiques.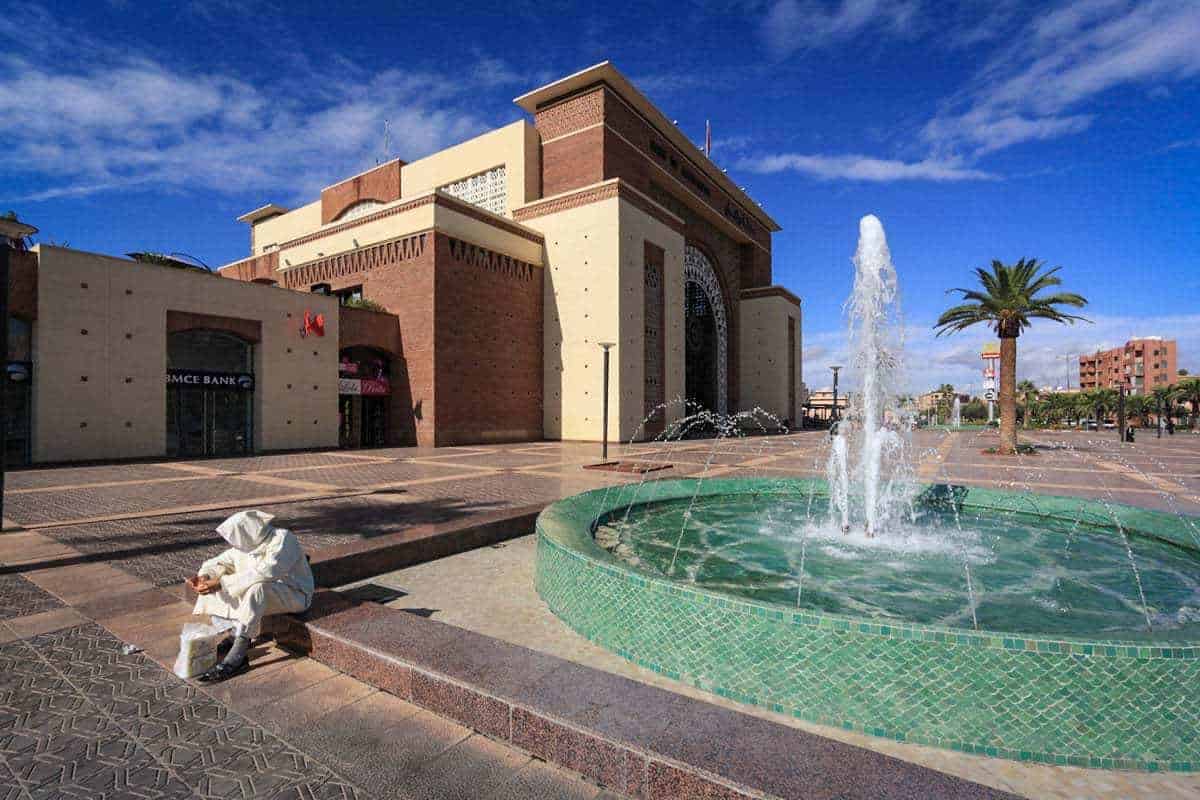 Visit the Yves Saint Laurent Museum
As if to reinforce the reputation Marrakech has for luxury and designer shopping, a new museum dedicated to French fashion designer Yves Saint Laurent has opened in the Gueliz district.
If you are interested in visiting the Yves Saint Laurent Museum, it is located at Rue Yves Saint Laurent 40090 Marrakech.
YSL Museum Opening Hours:
Daily from 10:00 am to 6:00 pm except for Wednesdays.
Be aware the last admission is at 5:30 pm and the busiest times are between 10 am and 2 pm.
Entry:
YSL Museum Marrakech tickets are 100DH pp (~ $10 USD).
See the Famous Marrakech Gardens
Jardin Majorelle
One of the most visited places in Marrakech is the Jardin Majorelle and museum. The Jardin Majorelle Gardens was a lifelong labor of love for famous French Orientalist artist Jacques Majorelle.
The two and a half acres of magnificent gardens took nearly 40 years to complete from 1923. Featuring a Cubist villa designed by Frech architect Paul Sinoir, the property was the residence of the artist and his wife until their divorce in the '50s.
Jardin Majorelle Yves Saint Laurent
The property was purchased and restored by Yves Saint Laurent and Pierre Bergé in the 80's. The garden and villa complex is now open to the public. The villa houses the Islamic Art Museum of Marrakech, the Berber Museum and, the Musee Yves Saint Laurent. Yves Saint Laurant's ashes were scattered in the garden after his death in 2008.
As with Musee Yves Saint Laurent, the gardens are located at Rue Yves Saint Laurent, Marrakech.
Jardin Majorelle Opening Hours:
October 1 – April 30: 8 am – 5:30 pm
May 1 – September 30: 8 am – 6 pm
During the month of Ramadan: 9 am – 5 pm.
Entry:
70 DH for the garden and 30 DH for the museum.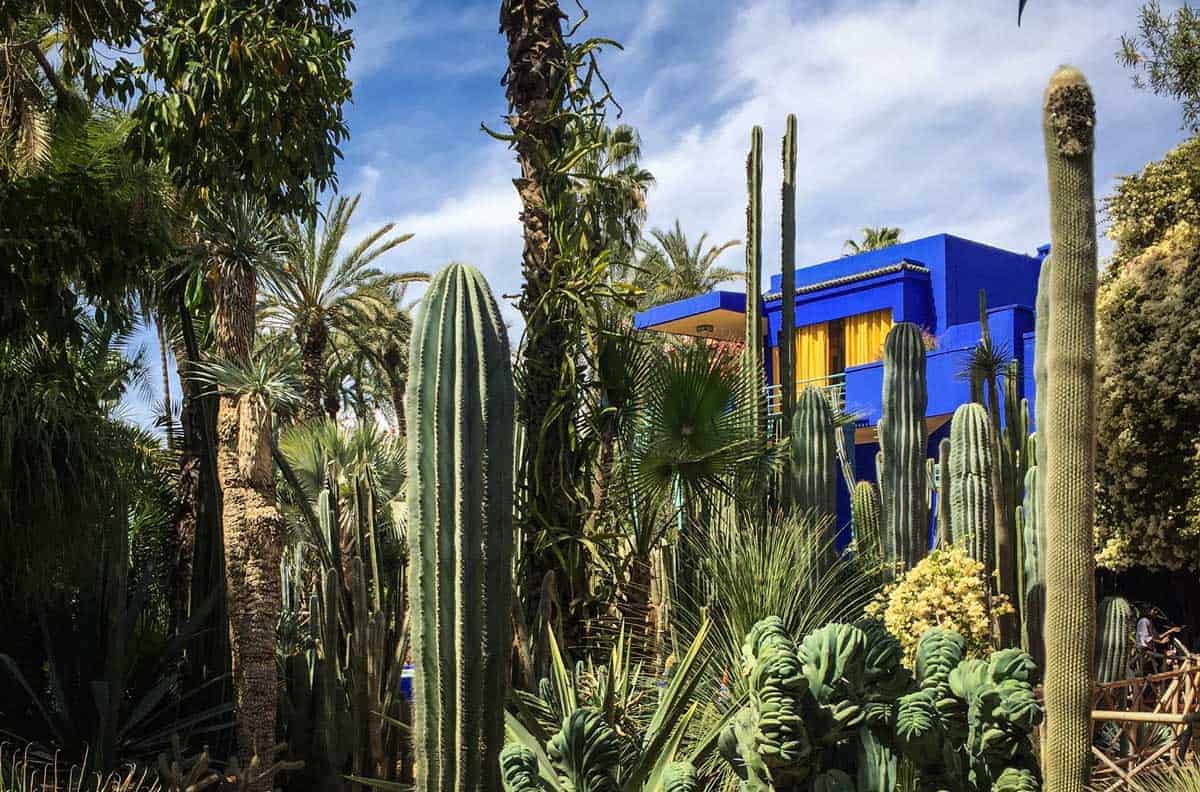 The Agdal Gardens
Located on the grounds of the Royal Palace, the Agdal Gardens are four hundred hectares of botanic gardens including orange, lemon, fig, apricot and pomegranate orchards, as well as lines upon lines of olive groves dating back to the 12th century.
The name Agdal means " Walled Meadow". After starting as an orchard, the garden was later renovated and walled by the Saadi Dynasty.
Some say they come away from the Agdal Gardens a little disappointed. There is no set walking trail as such nor is there a museum or tourist center on the site.
However, the views over the gardens certainly do impress as does the main interest point of the gardens – the highly sophisticated irrigation system.
The Agdal Gardens are a remarkable example of the architectural and landscaping skills of the time. A network of underground channels brings water all the way from the Atlas Mountains and the Ourika Valley to a vast water basin.
The underground irrigation systems then feed the orchards all year round from pools and large lagoons on the grounds. The largest lagoon is called the 'Tank of Health', a favorite swimming spot of the King's troops.
Together with the medina of Marrakech and the Menara Gardens, the Agdal Gardens are listed as a UNESCO World Heritage Site.
The Agdal Gardens are three km south of the Medina. Approx a half-hour walk or 15–20 DH in a Petit Taxi.
Agdal Gardens Opening Hours:
Closed on Sundays & Wednesdays

All Other Days: 7:30 am – 1 pm

The gardens may be closed at any time depending on what is happening in the palaces.
Free Admission
The Menara Gardens
Located west of Marrakesh at the gates of the Atlas Mountains is the Menara Gardens. Known as the little sister to the Agdal Gardens, Menara gardens were also established in the 12th century by the Almohad dynasty.
The name Menara translates as "Lighthouse" from the pavilion with its small green pyramid roof (Menzel). The name is not a reference to any history of an actual lighthouse but to the religious significance of the building.
Similar to the Agdal Gardens, Menara Gardens also has a large basin using a sophisticated network of underground channels which also serves to irrigate the surrounding groves and orchards.
Menara Gardens Opening Hours:
Monday – Sunday: 6 am – 6 pm
Entry:
10 DH pp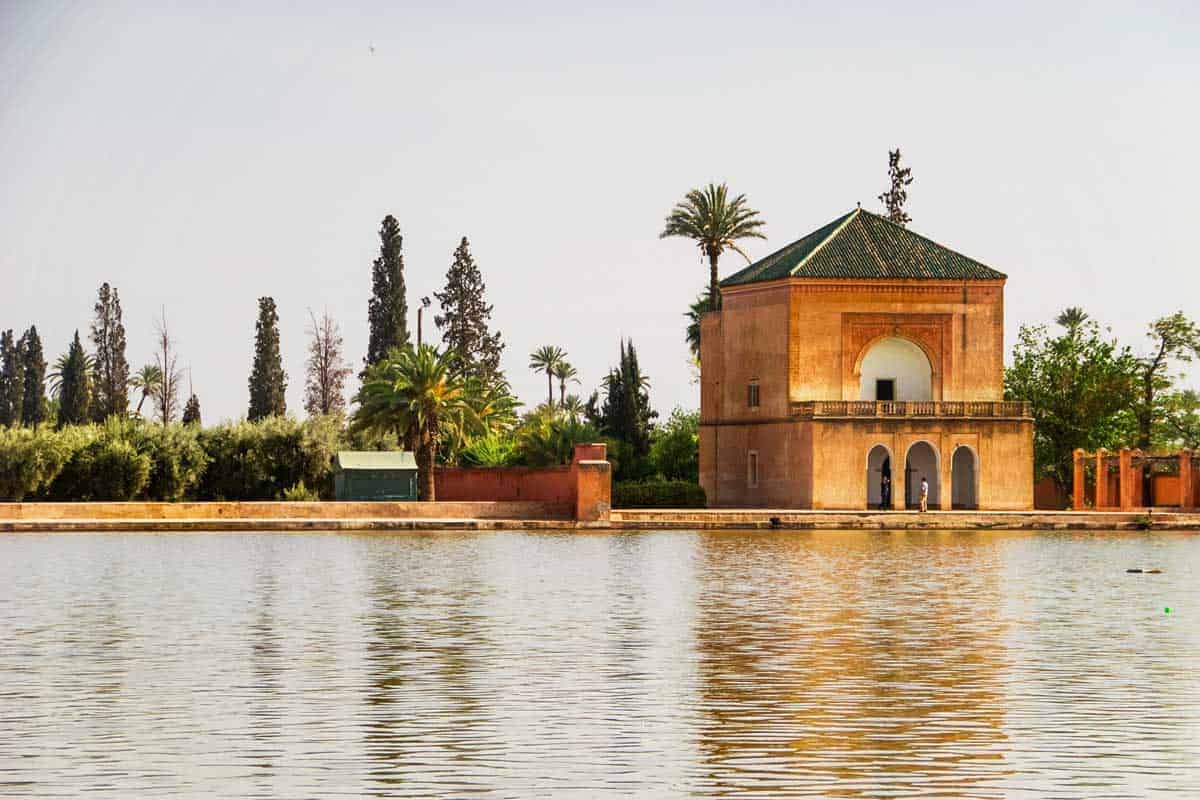 © Michal Osmenda via Wikimedia Commons
Koutoubia Mosque
The Koutoubia Mosque is the largest Mosque in Marrakech, famed for its magnificent minaret. It is known by many names including Jami' al-Kutubiyah, Kutubiyya Mosque, Kutubiyyin Mosque, and the Mosque of the Booksellers.
The mosque is located about 200 metres from the Djemaa el Fna Souk. Non-Muslims are not allowed entry to the mosque, but you can admire it from the outside.
The mosque is incredibly photogenic at night when it is all lit up. It's no wonder it's one of the most popular things to do at night in Marrakech.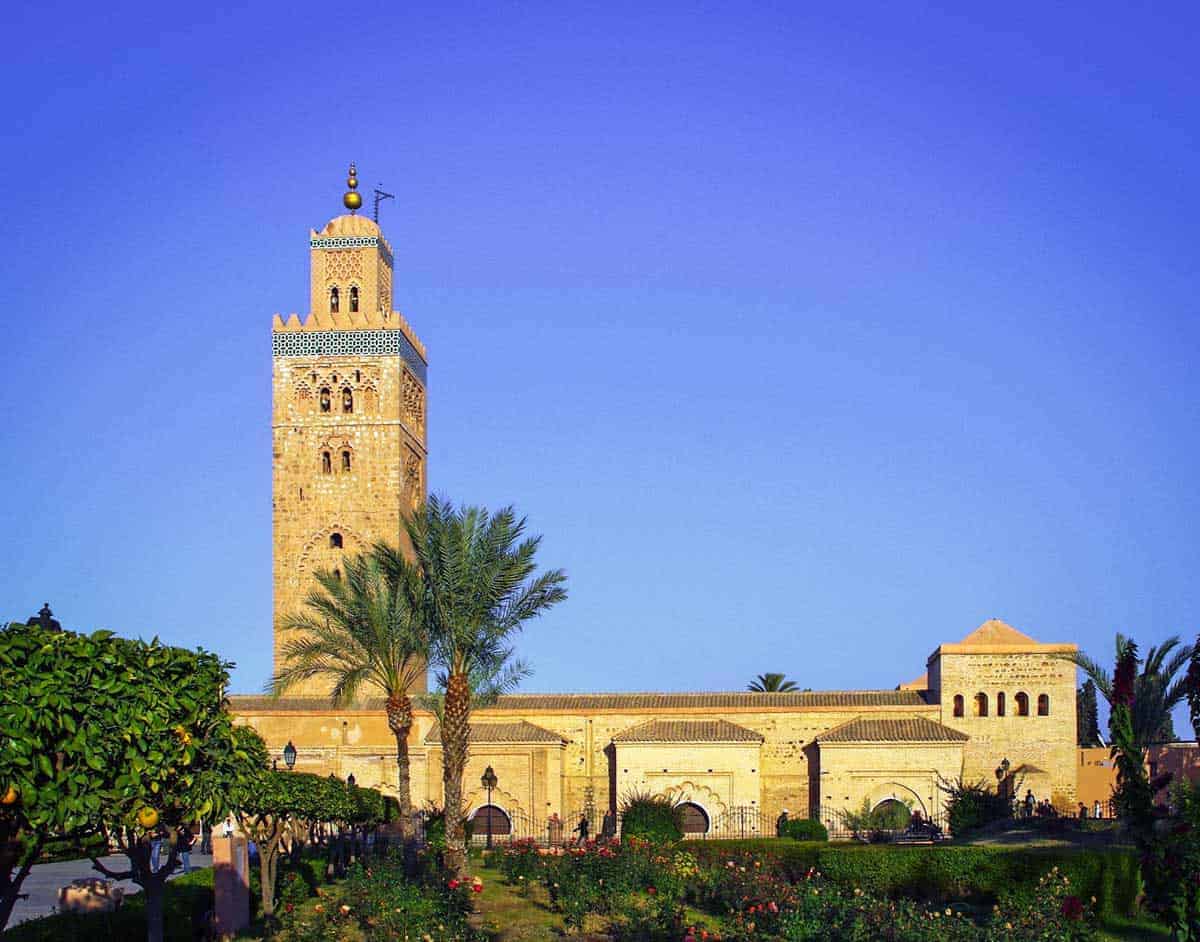 Marrakech Old City
Within the historical city, the Medina, a twisted maze of intertwining passageways is a whirlwind of modern trade in a medieval setting. A place where scents and stenches will entice and startle you at will.
Djemaa el Fna
The Old City is also where you will find Djemaa el Fna, the large square brimming with markets, hotels, and cafes where tourists, locals, and vendors congregate.
Here you will see snake charmers, storytellers, hawkers and plenty of vendors selling freshly squeezed Moroccan orange juice.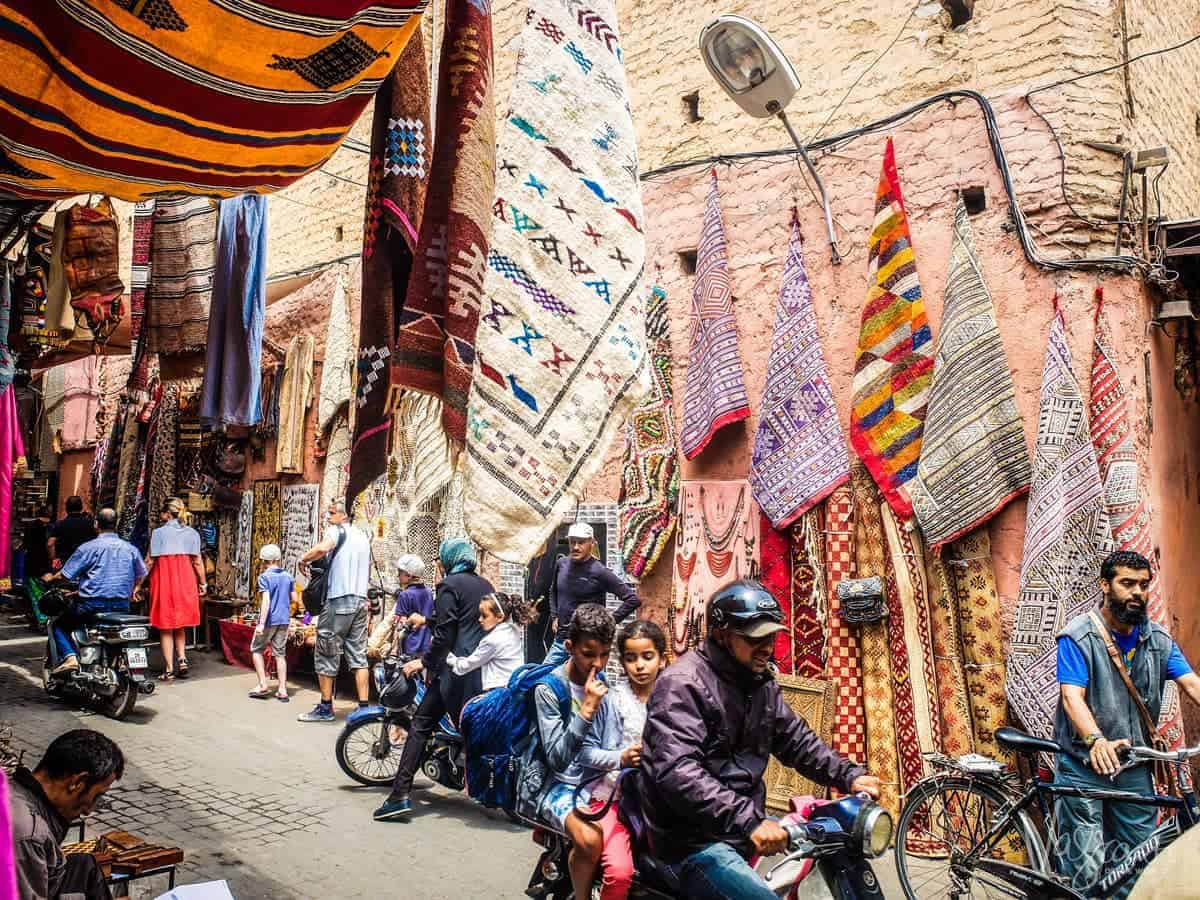 Witness the Exotic in Jemaa el Fna Square
Jemaa el-Fna is the pulse of Marrakech. The city's main square has been a hub of trade and entertainment since 1050 AD. The name Jemaa el-Fna has many translations, one being "gathering and congregation area".
Other translations give credit to the ongoing mystique and theatre of the square throughout the ages including "assembly of the dead", referring to public executions that took place on the plaza.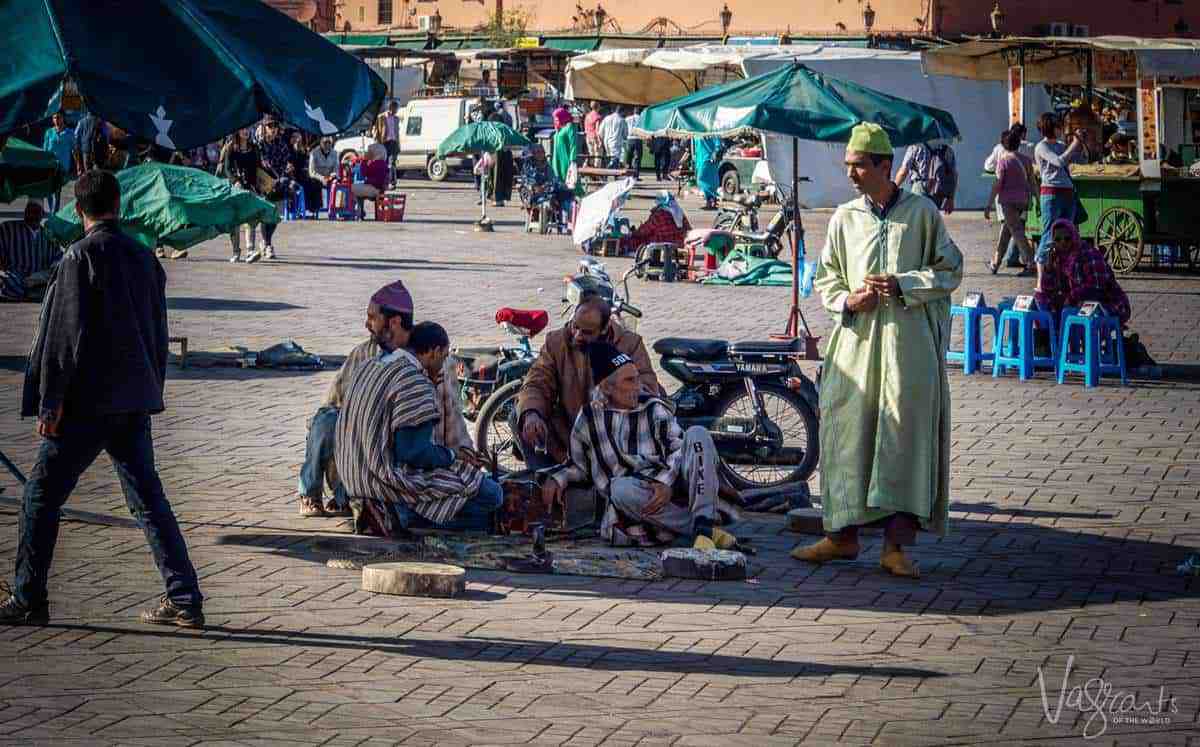 Each day, by mid-morning the is square abuzz with markets, typical Moroccan food vendors and an array of exotic exhibitions. A carnival that dazzles late into the evening when the Jemaa el Fna night market is in full swing.
It is thanks to this nightly display of traditional storytellers, musicians and performers, UNESCO declared the square a Masterpiece of the Oral and Intangible Heritage of Humanity.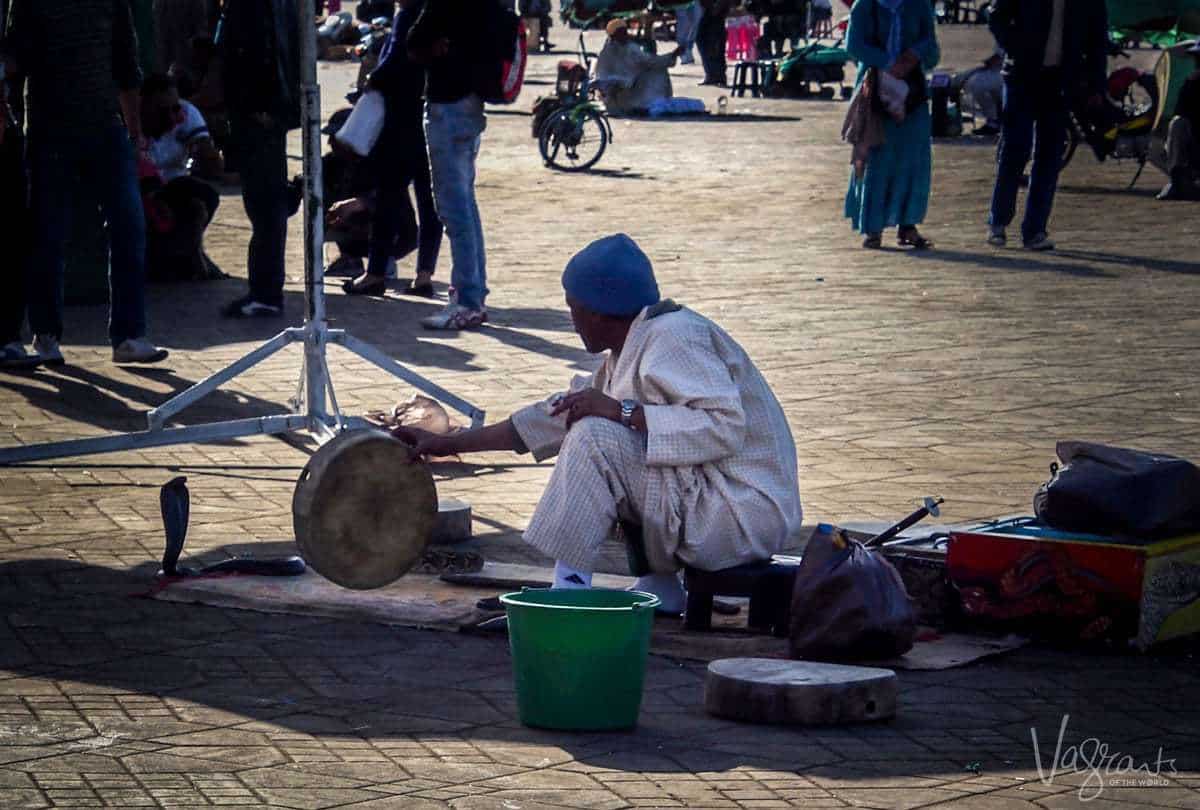 Tips For Travelling in Morocco
What to Wear in Morocco
Remember, Morocco is a conservative country, so it is important to dress appropriately to avoid any unwanted attention.
Read More on How to Dress Like a Local to ensure you blend in rather than stand out.
Morocco Packing List
See our full Morocco Packing List. A complete guide on what to wear and what to pack for Marrakech and Morocco for any season.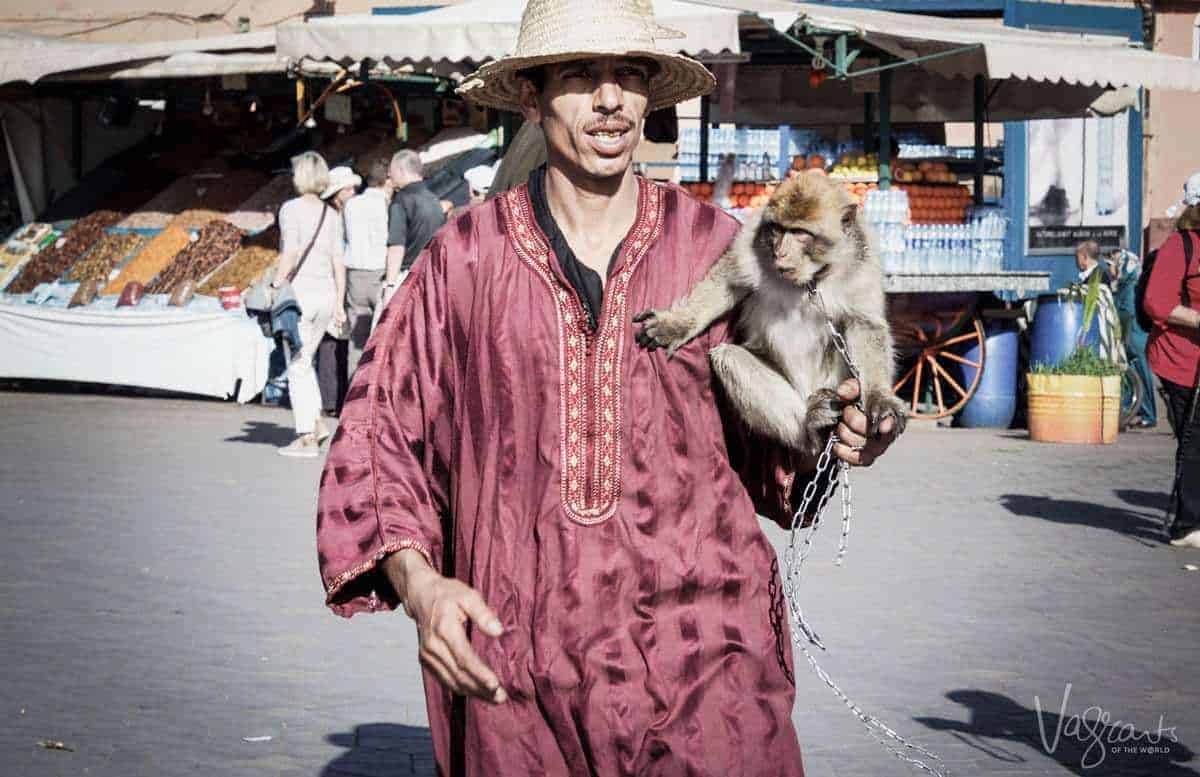 Beware the Darker Side of Jemaa el Fna Square
However, there is a cruel irony that the preservation of the squares historic and cultural identity has given rise to a darker side of Marrakech. Monkeys kept in cages or led around on chains, and snake charmers with less than ethical practices are a common sight.
For around 20 DH you can have your photo taken with a real-life vulture on your shoulder. Unsavory characters will harangue you to buy while scammers and pickpockets work for the crowds.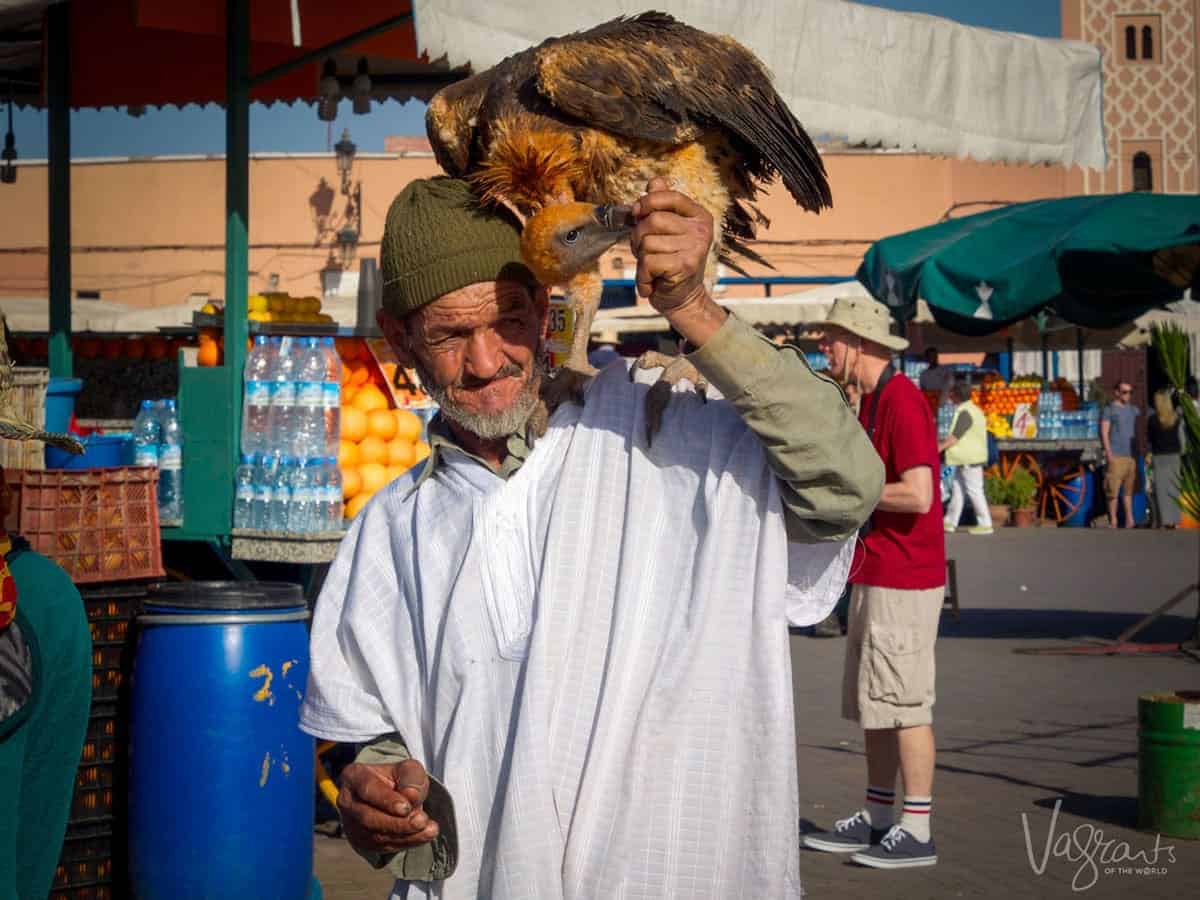 Enjoy the Sights From A Rooftop Cafe
Sadly, this is the side of Marrakech that tends to leave people with a love-hate relationship with the city.
And for this reason, for many, one of the best ways to enjoy Jemaa el-Fna square is looking down on the madness, sipping mint tea on the terrace of a rooftop cafe.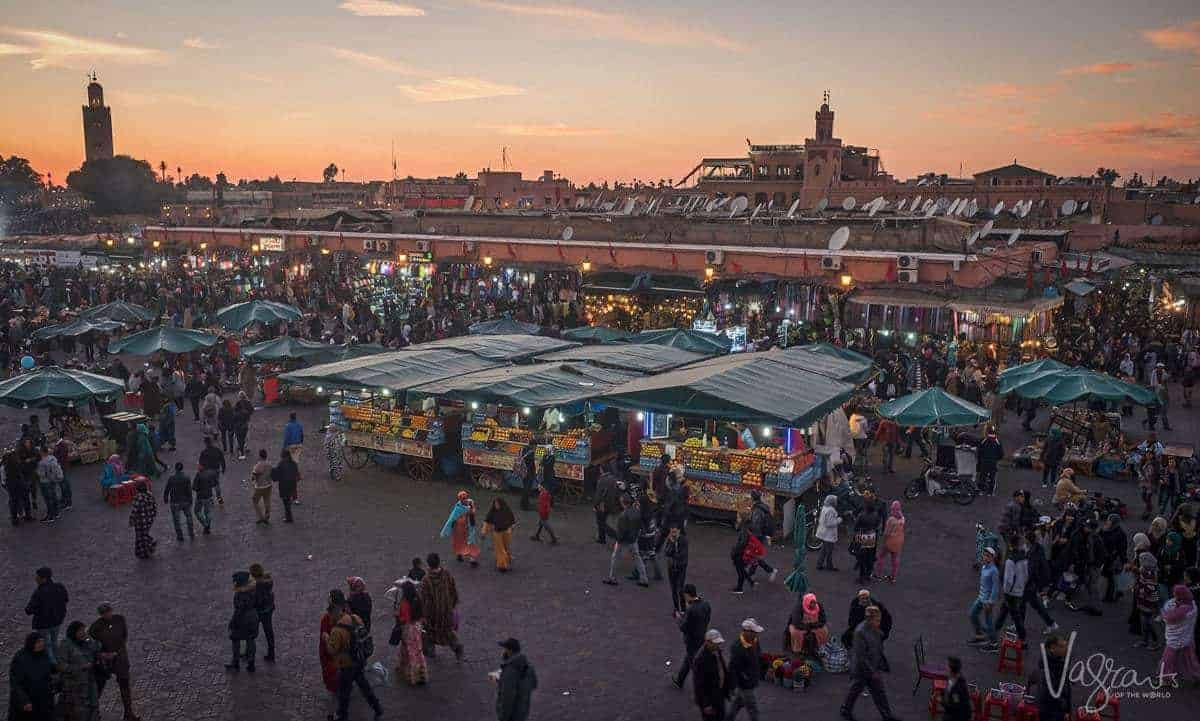 Free Things to Do in Marrakech
Lose Yourself in the Marrakech Souks
A Moroccan souk is one of those "must-see " in Morocco experiences and the souks of Marrakech certainly don't disappoint.
The souks run like tentacles from the central madness of Jemaa el-Fna Plaza. It is in these ancient marketplaces where you will find the business end of Marrakech.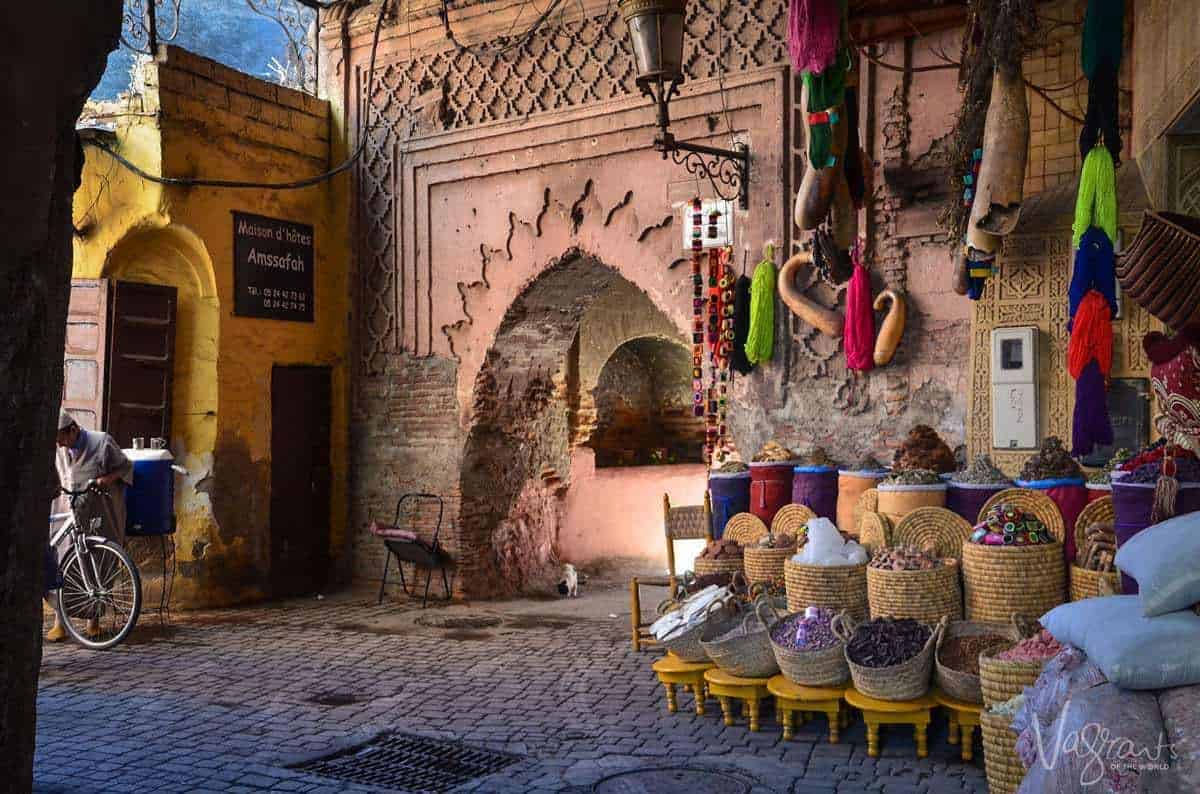 Winding lane-ways clogged with people, donkeys, and countless small businesses. Deep in the souk is the place to experience day to day life in Marrakech.
Whether you're shopping for clothes, shoes, handicrafts, or food, you'll find a street or an alleyway for everything.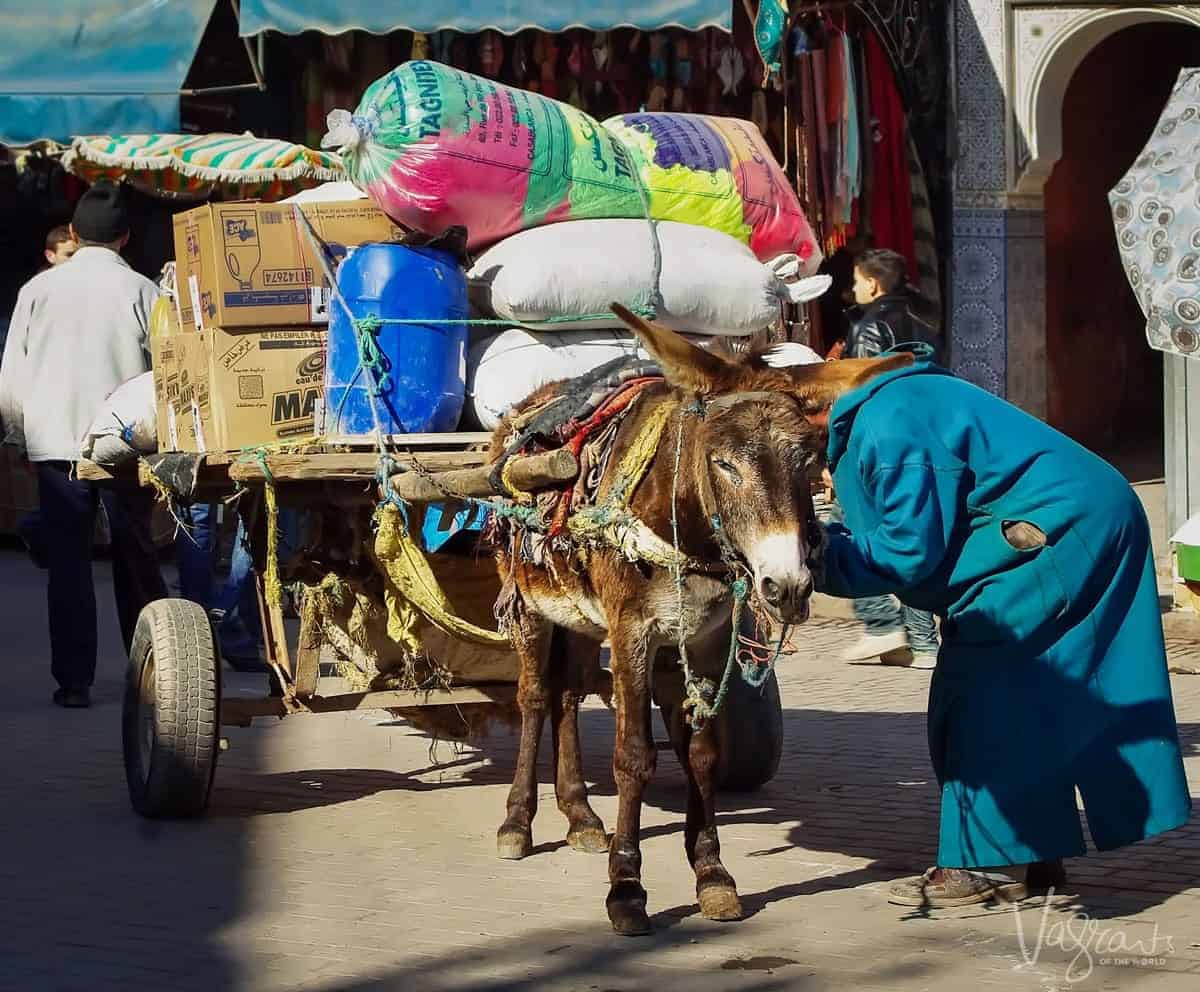 The Marrakech marketplace is the largest traditional market in Morrocco. Visitors can get lost for hours in the confusion of streets and lanes.
While this can be an intimidating prospect for first-timers; you are best to give in to the knowledge you will invariably get lost. Getting lost is part and parcel of the Medina experience. Just relax and explore, you will eventually find your way out.
Beware of Scams in the Souks
Beware the helpful child that offers, for a fee, to help you back to your starting point. One of two things can happen here.
They will either give you misleading directions for their amusement leading you further into the maze or, guide you in the wrong direction to purposely position you somewhere for a greater scam.
See Further on for More Scams to Avoid in Marrakech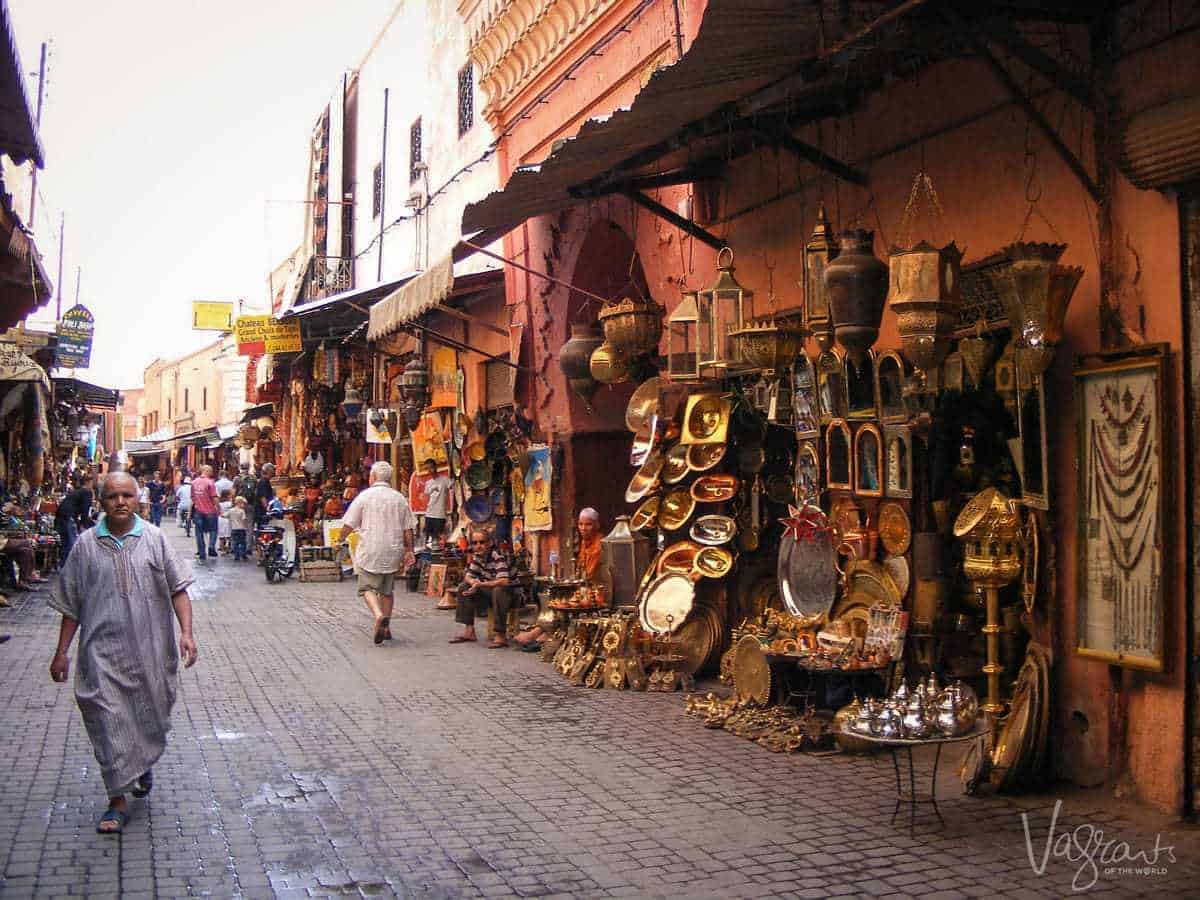 Visit the Tannery
Further on we will talk about the tannery scam, something we recommend you avoid. However, you don't have to avoid visiting the Tannery altogether.
There are traditional tanneries in several cities in Morocco. Many think the 11th-century Chouara tanneries in Fez are a more worthwhile visit that the one in Marrakech. But if you aren't heading to Fez, the Marrakech tannery still makes an interesting visit.
If you do visit the tanneries on your own; ask your hotel or some other trusted source for directions in advance or use a good city map of Marrakech. Be wary of any offers of help by "friendly" men on the streets and look like you know where you are going – even if you don't.
If someone offers to guide you on a tannery tour; as with everything in Morocco, agree on a price beforehand.
Hire a Guide for a Tannery Tour
You can hire a local guide for 2 – 6 hours for as little as $30 USD to show you the local side of Marrakech including the medina and tannery. Some people feel this takes the stress out of being hassled by touts and you get to see Marrakech from a locals perspective.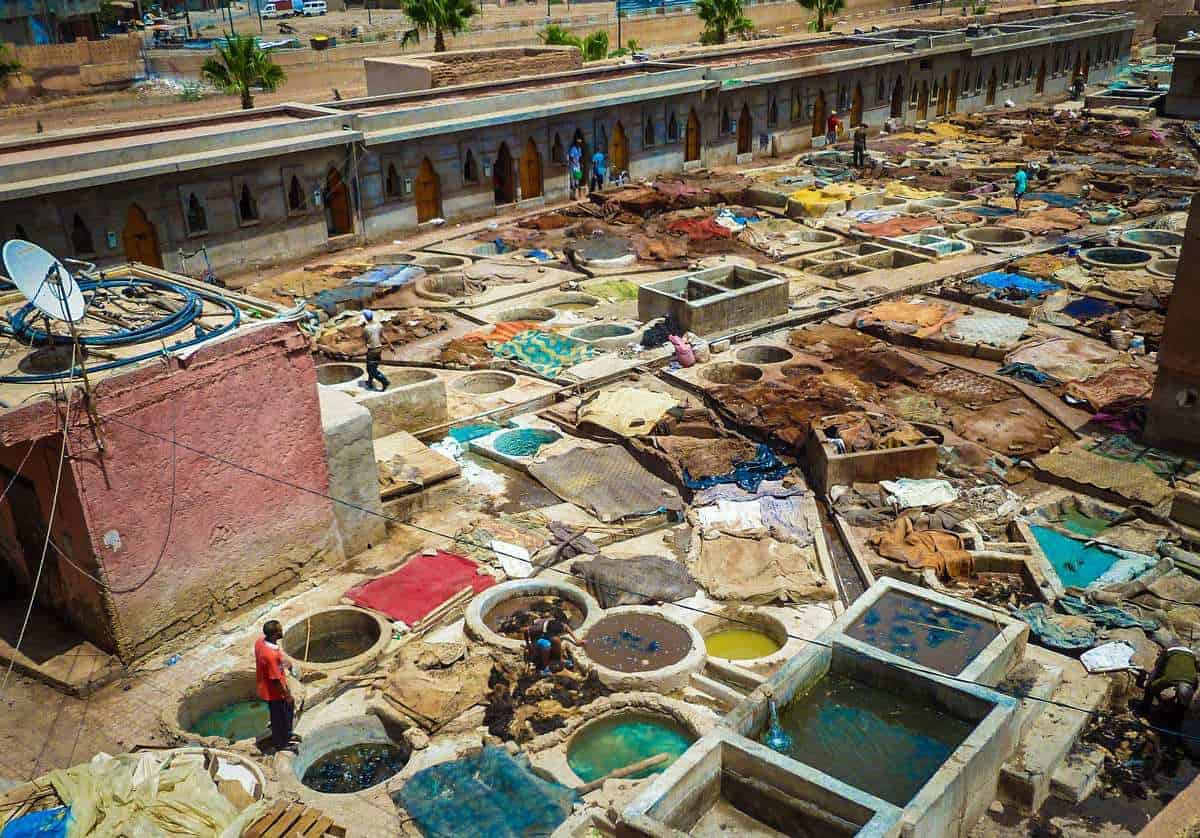 Ancient Sights and Museums
If your interest lies in visiting the Marrakech museums, The Ben Youssef Madrasa Islamic college, Badi Palace and Bahia Palaces, El-Mansouria Mosque or the Saadian Tombs, you may want to consider hiring a guide or taking a walking tour.
There is little information available at many of the sites, or little in English. A guide will help to provide some context.
Saadian Tombs
The final resting place of the rulers and members of the Saadi Dynasty, the Saadian Tombs, sealed for centuries were rediscovered in 1917.
While Saadian Sultan Ahmed al-Mansour Eddahbi spared no expense on his final resting place, a magnificent mausoleum decorated with bright tiles, Arabic calligraphy, and intricate carvings, he also constructed beautiful memorials to honor the lives of those close to him.
He built lavish mausoleums with imported Italian marble and gold, zellige tilework, and intricate woodwork. He created a resting place of beauty. Those who held the sultan's greatest favor were buried closer to the center of the complex. Others were buried throughout the extensive gardens of fragrant orange trees.
It is not surprising this serene place of incredible beauty is one of the most popular things to see in Morocco.
The Saadian Tombs are located just outside of Marrakech on Rue de la Kasbah, next to the Koutoubia Mosque
Saadian Tombs Opening Hours:
Daily: 9 am-4.45 pm
Entry:
10DH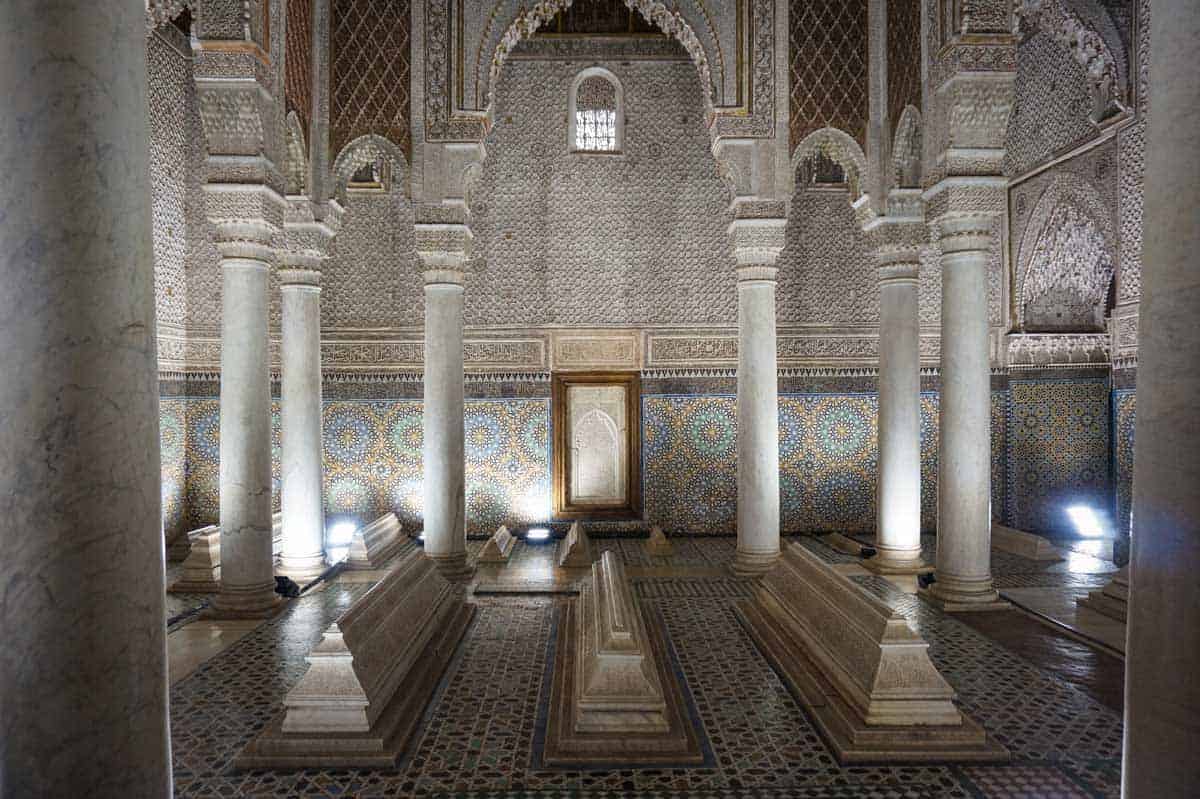 © Matt Kieffer via Wikimedia Commons
Ben Youssef Madrasa
A Madrasa is a place of education. The beautifully preserved 14th-century former Islamic theological college Ben Youssef Madrasa was once the largest in North Africa and one of the most splendid.
A stunning representation of Moroccan architecture, the school is affiliated with the nearby Ali ben Youssef Mosque. The college was once home to over 900 students; all living in the 130 tiny dorms arranged around the central courtyard.
Over time, the madrasa gradually lost its students to its rival college Medersa Bou Inania in Fez despite upgrades and renovations.
Regardless, the old seminary still manages to impress from the great courtyard to the richly decorated prayer halls, and after six centuries, the Madrasa is one of the most important attractions in Marrakech.
You will find the Madrasa Rue Assouel.
Opening Hours of Ben Youssef Madrasa:
Summer: 9 am-7 pm
Winter: 9 am-6 pm
Note: The Madrasa has been closed for refurbishment since March 2018. It is expected to open again by late 2019
Entry:
20DH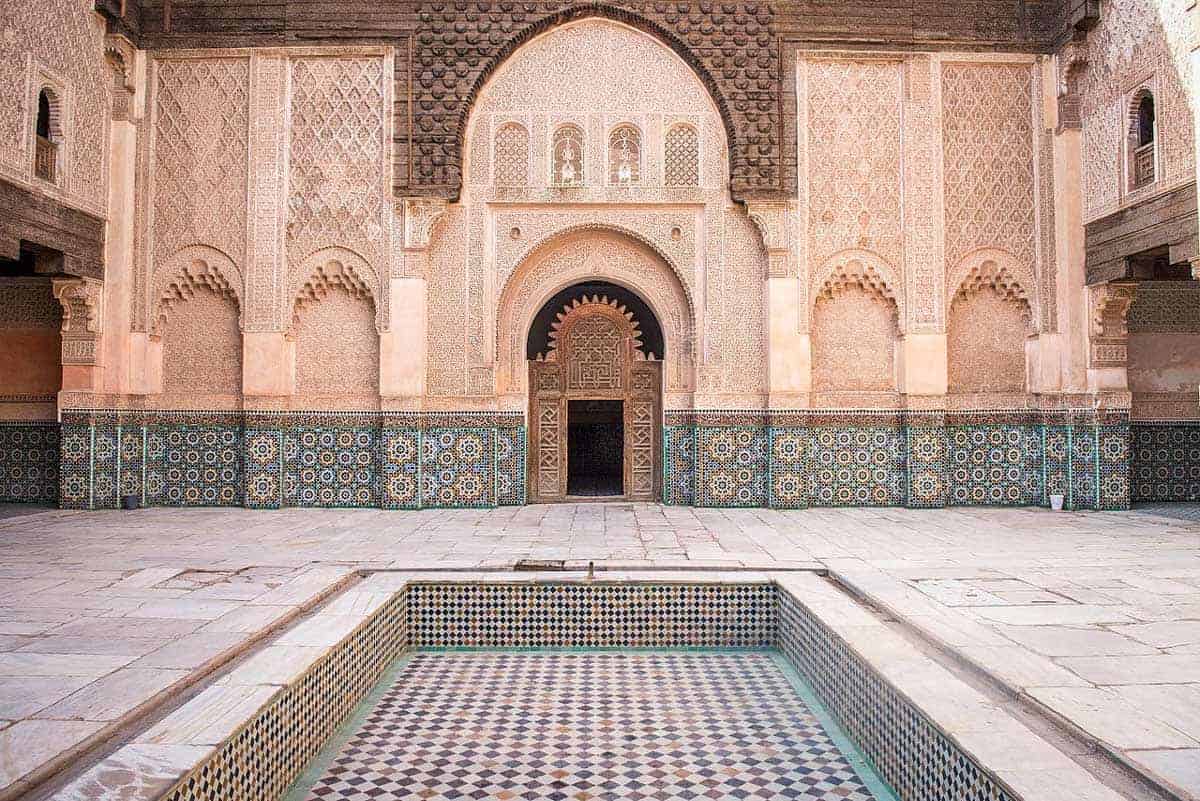 ©Nash Finley |Wikimedia Commons
El Badi Palace
"Incomparable Palace" is the rough translation for El Badi Palace. Commissioned by the Saadian Sultan Ahmad el Mansour towards the end of the 16th century the palace was indeed the most magnificent structure in the city.
Having been stripped of all it's value and beauty by the sultan's successor, the palace is now not much more than a magnificent ruin, yet it remains one of the most famous sights in Marrakech.
While the El Badi Palace is a shell of its former grandeur, the ruins are vast, so the sheer scale of the former palace is in itself a wonder.
Allow yourself at least an hour or two to take in the size of the grounds. You will also get some lovely views of the city of Marrakech.
Located to the south of the Marrakesh medina about a 15-minute walk from Koutoubia mosque or a 5-10 minute walk from the Saadian Tombs.
El Badi Palace Opening Hours:
Daily: 8 am – 5 pm
Entry:
10 DH pp | Additional 10 DH pp to enter the museum that houses the Koutoubia Mosque pulpit.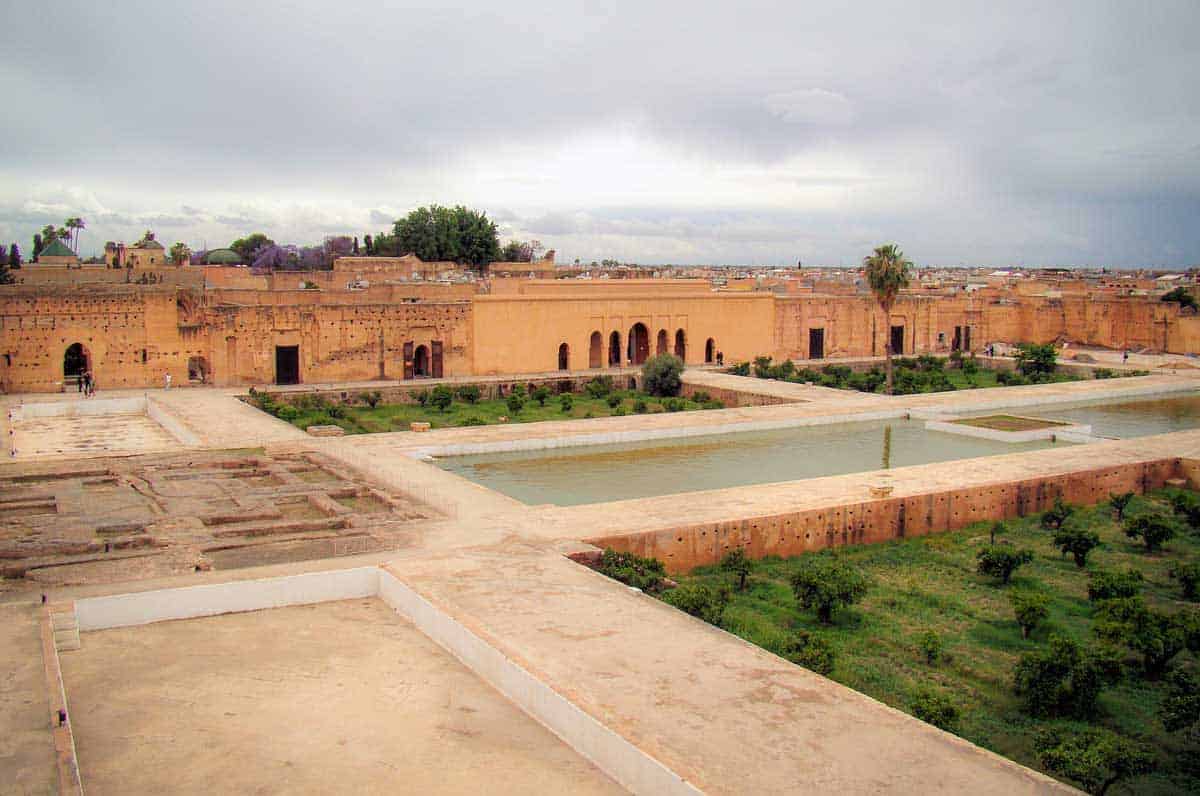 © Bjørn Christian Tørrissen via Wikimedia Commons
The Bahia Palace
Commissioned by the Grand Vizier Ba Ahmed ben Moussa in the late 19th century, the Palace of Bahia was intended to be the most impressive palace of all time. And herein lies the translation – "brilliance, palace of the beautiful, the brilliant".
The palace was designed in two stages and took over ten years to complete. Craftsmen from all over the country were bought to work on the building which eventually comprised of 150 rooms overlooking various patios and gardens, and a harem for Abu Bou Ahmed's four wives and 24 concubines.
Located on eight hectares, the palace is a masterpiece of Moroccan architecture. A monument of the country's cultural heritage and one of the most popular tourist attractions in Morocco.
When the vizier died, all of the artwork and furnishings were taken by his wives and the sultan leaving the palace empty. Even as a vacant building, the Bahia Palace is still a spectacular sight.
Bahia Palace Opening Hours:
Daily: 9 am – 5 pm ( times may vary on a Friday)
Entry:
10 DH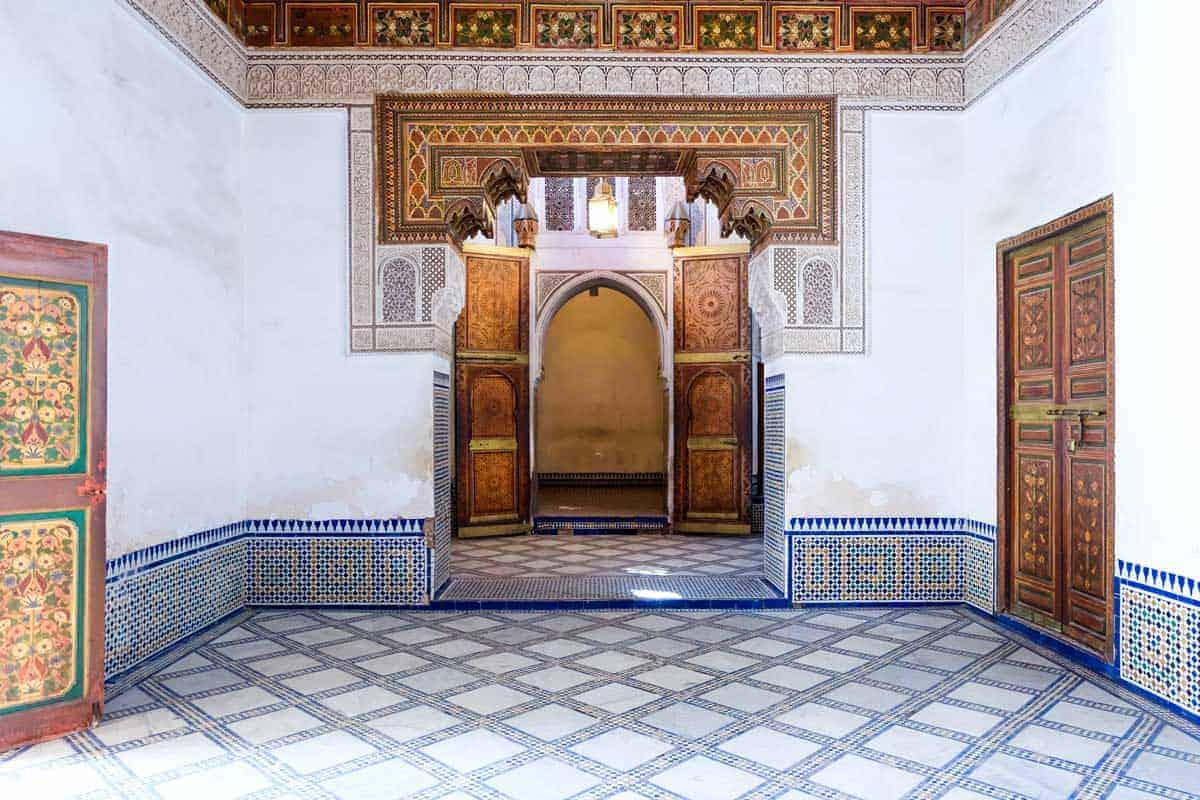 Shopping in Marrakech Souks
Shopping in Marrakech is more than just an exercise in retail therapy. It is a fun experience if you follow a few simple guidelines. If you are planning to buy something in the Marrakech souks, be prepared to haggle.
Prices will usually start quite high. Sometimes they will be absurdly high to see what they might be able to get away with.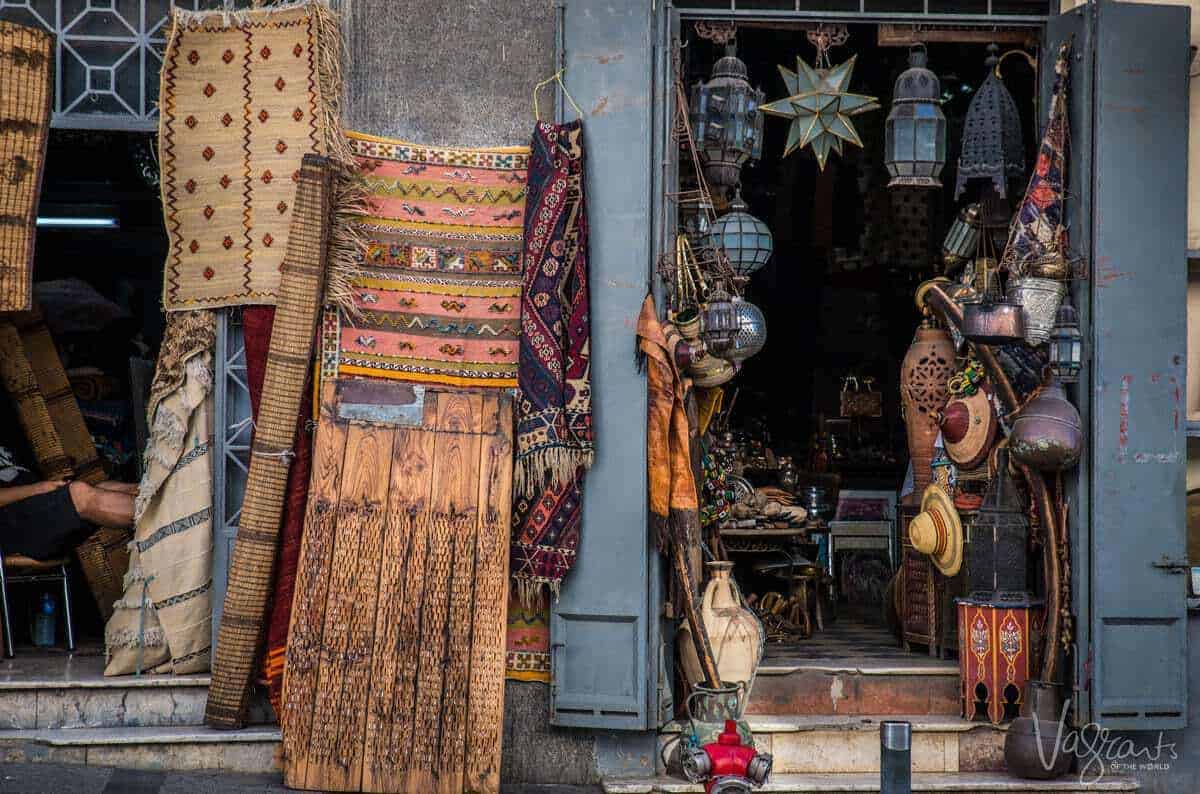 How to Haggle in Marrakech.
Vendors are expecting you to haggle so don't be scared to make an offer much lower than the starting price and take it from there. Around 60-70% of the vendors asking price is a good starting point for the negotiations to start at, especially if they start at a very high price.
No matter how high the starting price, try to keep the bargaining friendly. We always like to end a good bargaining session on a good note with laughter and a good deal.
Make the negotiation fun; it will soften the vendor and hopefully get you a good deal. We like to throw in a random bid halfway through the negotiation that is higher than the original asking price.
Create a moment of confusion and with that usually comes greater camaraderie and laughter before returning to the serious business of getting a good deal.
Get A Starting Price From a Trusted Source
If you are looking to make a more substantial purchase, such as a quality rug or leather goods, it might pay to ask at your hotel or research in advance what a typical price range for that item may be. Then you know what your bargaining parameters might be.
See further on for shopping scams to avoid in Marrakech
Is Marrakech Safe for Tourists
Marrakech is generally safe for tourists providing you take the appropriate precautions. Serious crime in Marrakech is not high however there is plenty of petty crime.
It is important that you keep your money, personal belongings and luggage locked and secure.
Remember, Morocco is a Muslim country so please be mindful and respect their Islamic customs and laws.
What to Avoid in Marrakech – Don't Get Scammed.
Aside from dodgy food, the most significant thing to avoid in Marrakech is getting scammed.
Marrakech is Morocco's leading tourist destination. Unfortunately, this also makes it a place where many try to make their fortune ripping off tourists.
It is such a problem now even Moroccans find themselves targets to the point they call the city Marrakech Arnakech – A rhyming nickname which translates to Marrakech Mafia. You need to be wary of some of the more prevalent scams in Marrakech and how to avoid them.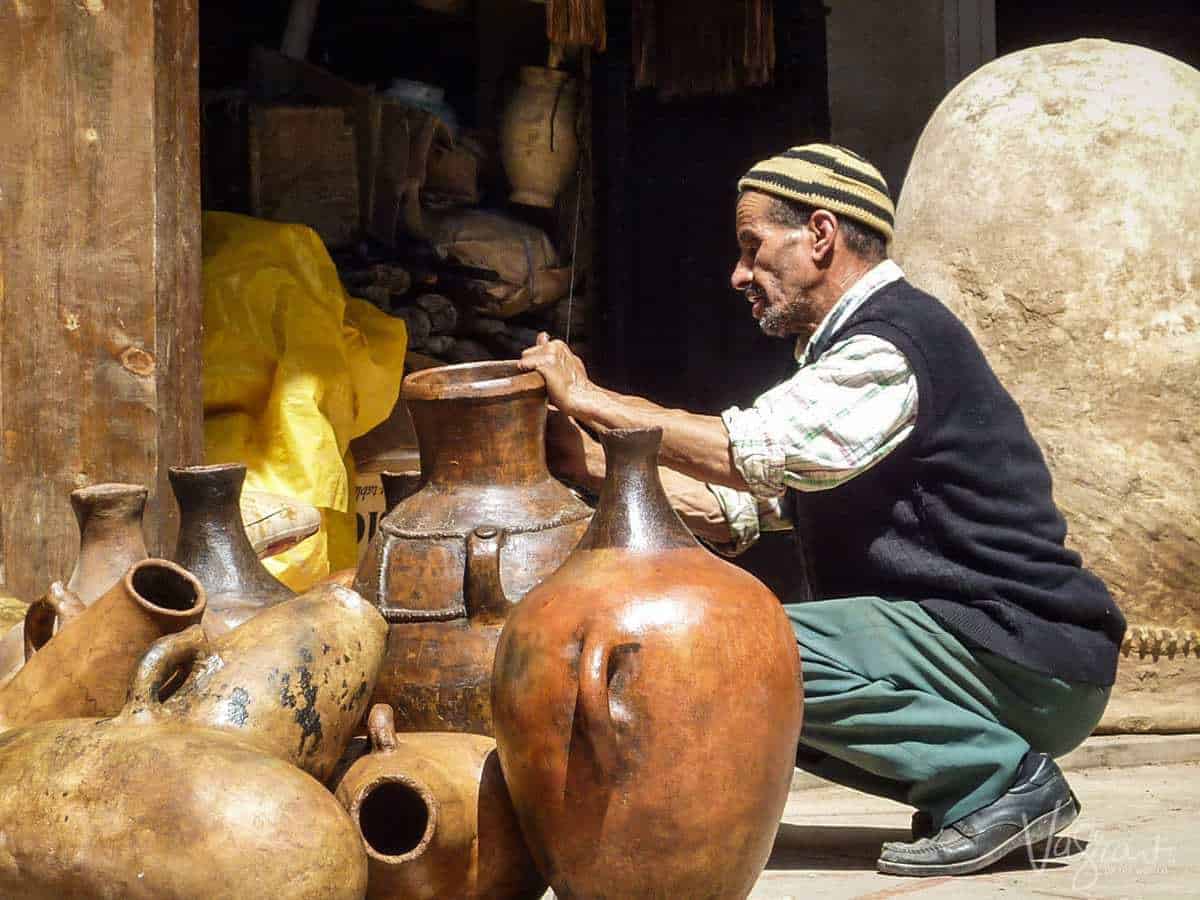 Beware the Shopping Scams in Marrakech
For the most part, vendors in the souk will be friendly and polite, but you will encounter some who can be quite aggressive. They may follow you insisting you visit their store. They aim to wear you down.
It is essential to be firm but still polite when you are not interested and keep moving. They should then leave you for the next possibility; time is money after all.
Vendors may offer you tea or to sample something for "free". Only accept if you are interested in making a purchase. Otherwise, they will try to harass you into buying something for payment of their hospitality or, demand you pay for the tea.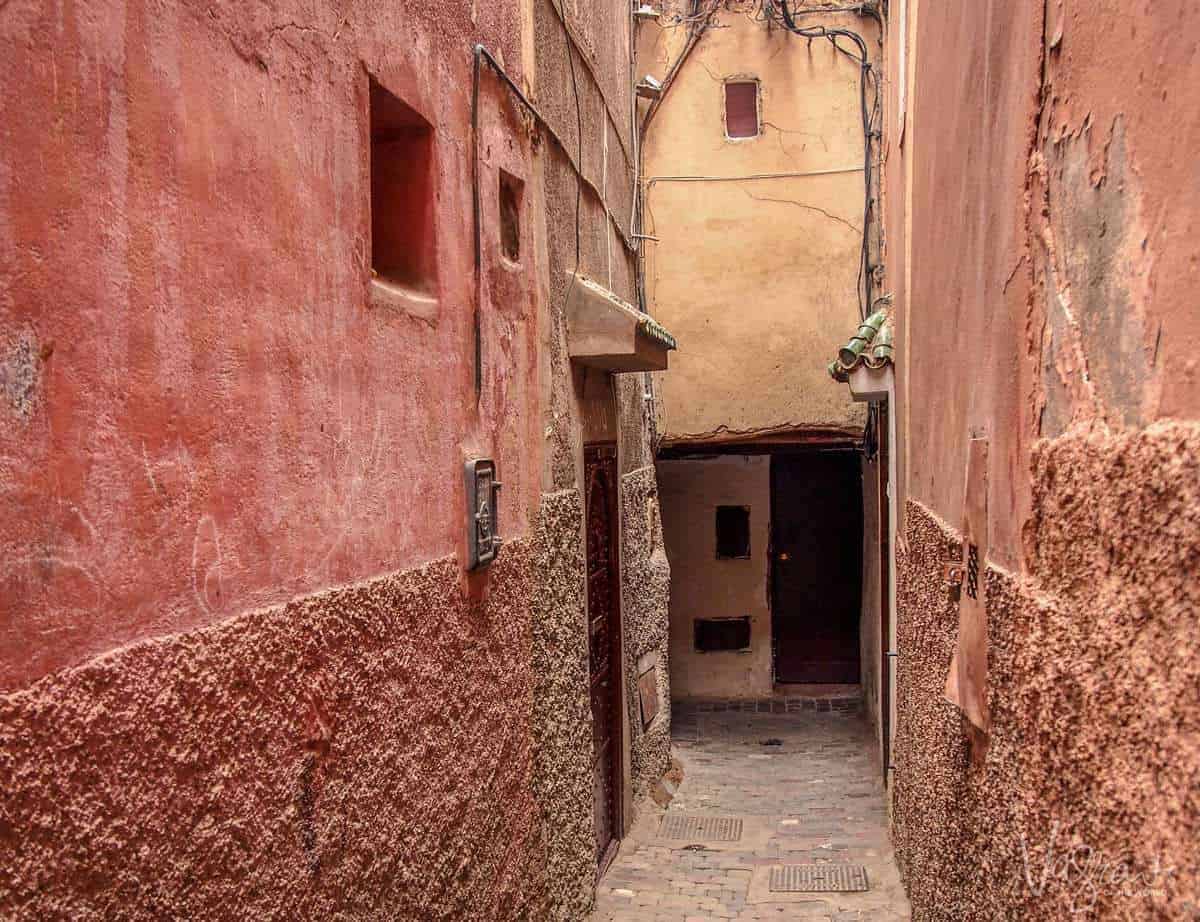 Most Common Scam in Marrakech – The Tannery Scam
Much like the helpful child, we warned about earlier; you will meet many charming men in the souks who will tell you not to go down that laneway; there is nothing there.
He will then direct you to another on the promise of something more interesting.
Soon another young man will appear, he too seems to know the way to something more interesting. Before long you will find yourself in the foul stench of the local tannery in the very very back blocks of the medina. It is at this point the demands for money will start.
The "tannery scam" is a common and well-orchestrated scam in Marrakech. It takes different forms but happens to dozens of tourists every day. By whatever means they get you to the tannery, once there you will be transferred to a guide from the tannery who will offer you a tour.
Beware the "Free" Tannery Tour
If you take the "free" tour, you will then be moved on to a leather shop where the pressure will be put on you to buy. If you refuse, you may be aggressively harassed to pay money for the guide, the tour, and the shop owner's time.
The tannery scam is just one of many scams in Marrakech and one of the things to avoid at all costs. Most take advantage of the visitor's disorientation in the busy city or confusion of the Souks.
You can read here about six of the more common scams in Marrakech and how to avoid them.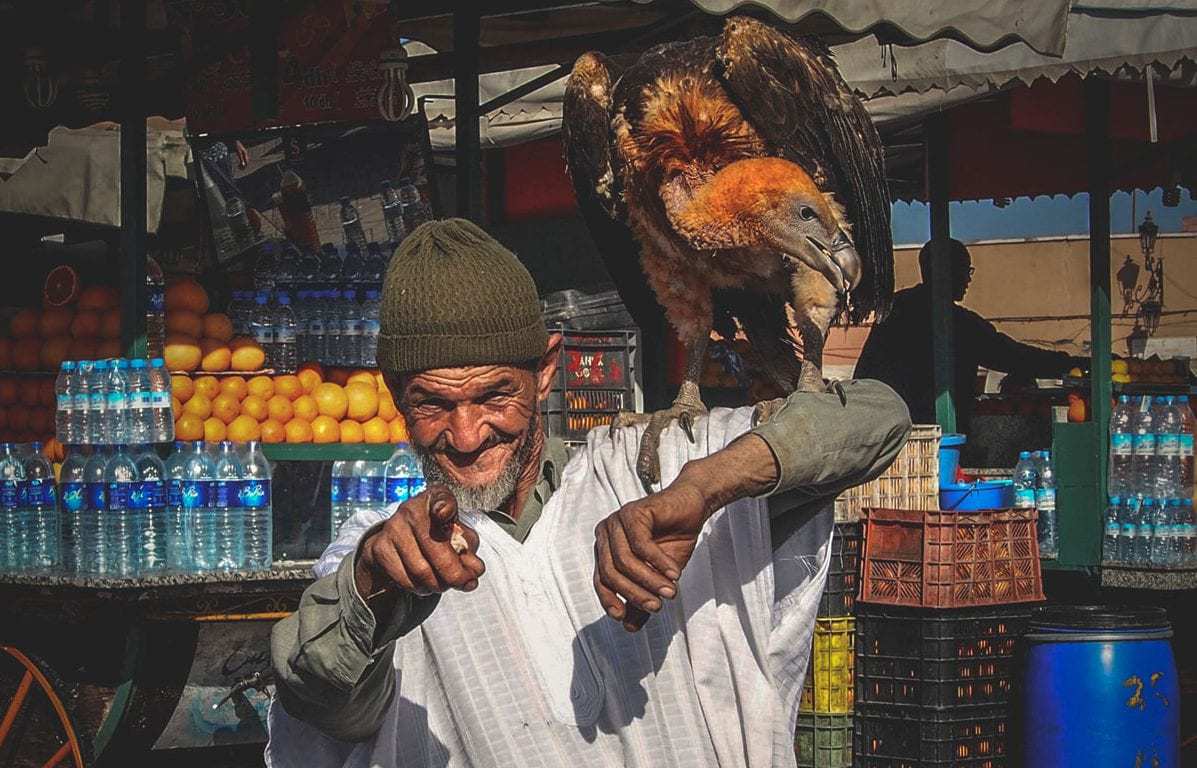 Petty Crime in Marrakech – Be Wary of Pick Pockets.
In addition to keeping your guard up for scams, you are always going to have to be wary of common pickpockets. Be mindful in crowded areas or in situations where people try to crowd you or distract your attention.
A vendor may start waving silk scarves in your face while his assistant keeps bringing more colors for you to look at. There is a chance under that rainbow of flowing scarves and distraction; someone may be in your pocket or purse.
The same goes for the streets. It is going to be hard to do but be aware of your surroundings and try and keep some personal space.
If you want to stop and look at a guidebook or map, find a place where you can have your back to a wall and some open space around you. Don't let anyone distract you, especially if you are paying for something and have your wallet/purse out or are looking in your bag or backpack.
Always have a good hold on your bag, a crossbody bag is best and ensures all zippers are securely closed. We always recommend a good anti-theft handbag or anti-theft backpack when visiting places like Marrakech.
You can read more here in our complete guide for anti-theft travel gear and how to keep your belongings safe while you travel.


Tips for Visiting Marrakech
How Long to Spend in Marrakech
Marrakech itself is relatively small but still has a lot to offer. Ideally, you would need to plan for three to four days in Marrakech to take in all of the sights (and smells) without rushing.
Day Trips From Marrakech
Marrakech is also an excellent base for accessing some of Morocco's best sites and activities such as the Atlas Mountains and the desert. You can find some of the best day trips from Marrakech here where you will discover a completely different side to Morocco.
Allow six to seven nights in Marrakech if you wish to take advantage of some of the great day trips in the area.
Exchanging Money in Marrakech
The currency of Morocco is the Dirham. The Moroccan Dirham is a closed currency so it cannot be traded outside of Morocco.
10 Moroccan Dirham equates to about 1 USD.
The best currency to take to Morocco, accepted by most vendors is the USD, Euro, and British Pound.
It is advisable not to use a money changer on the street. If you have to exchange money or get cash; use an ATM as you will get a better rate and less likely to be scammed. The airport has plenty of ATM's and is the most logical and safest place to get Dirham.
While not always advisable, taking cash with you is one alternative to using cards, but you must be careful. Ensure you have a secure safe in your accommodation and never keep all of your cash in one place.
Unless you plan to return to Morocco; remember to spend all of your leftover Dirham as it is worthless once you leave the country.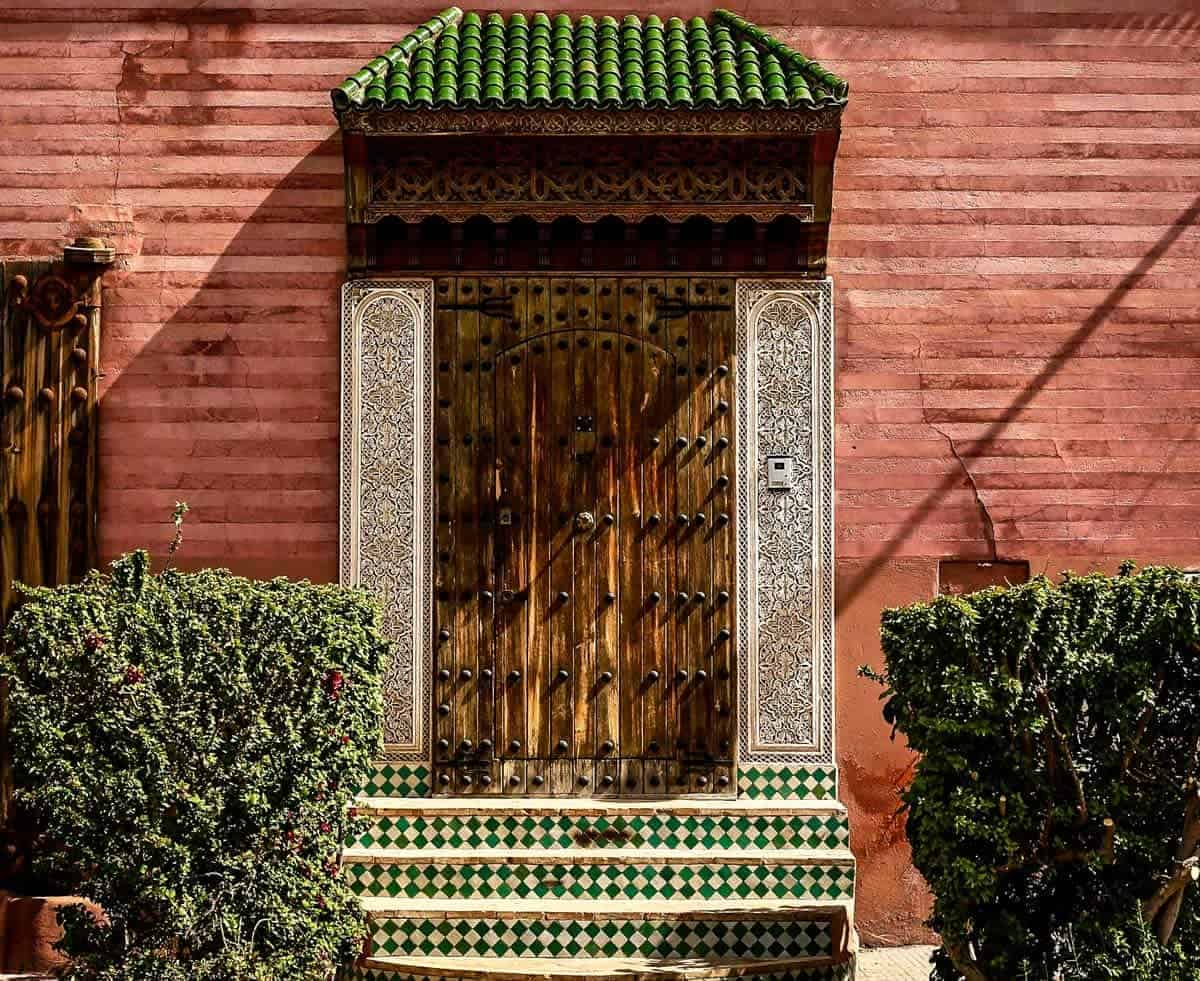 Where to Stay in Marrakech
Anyone in the know will tell you the best place to stay in Marrakech is in a Riad.
What is a Riad and Why You Should Stay in a Riad
A Riad is a traditional Moroccan house, generally with two or more stories around a central courtyard or garden containing a fountain. Riads are inwardly focused, to allow for privacy and protection from the weather.
Historically, Riads were the stately city homes of the wealthy such as merchants and courtiers. Today, however, as riads tend to be quite large, many have been renovated for use as guest houses, hotels, apartments, and restaurants.
Riads are available to suit all budgets ranging from homestay style, shared guest house to private rental with all the luxury amenities.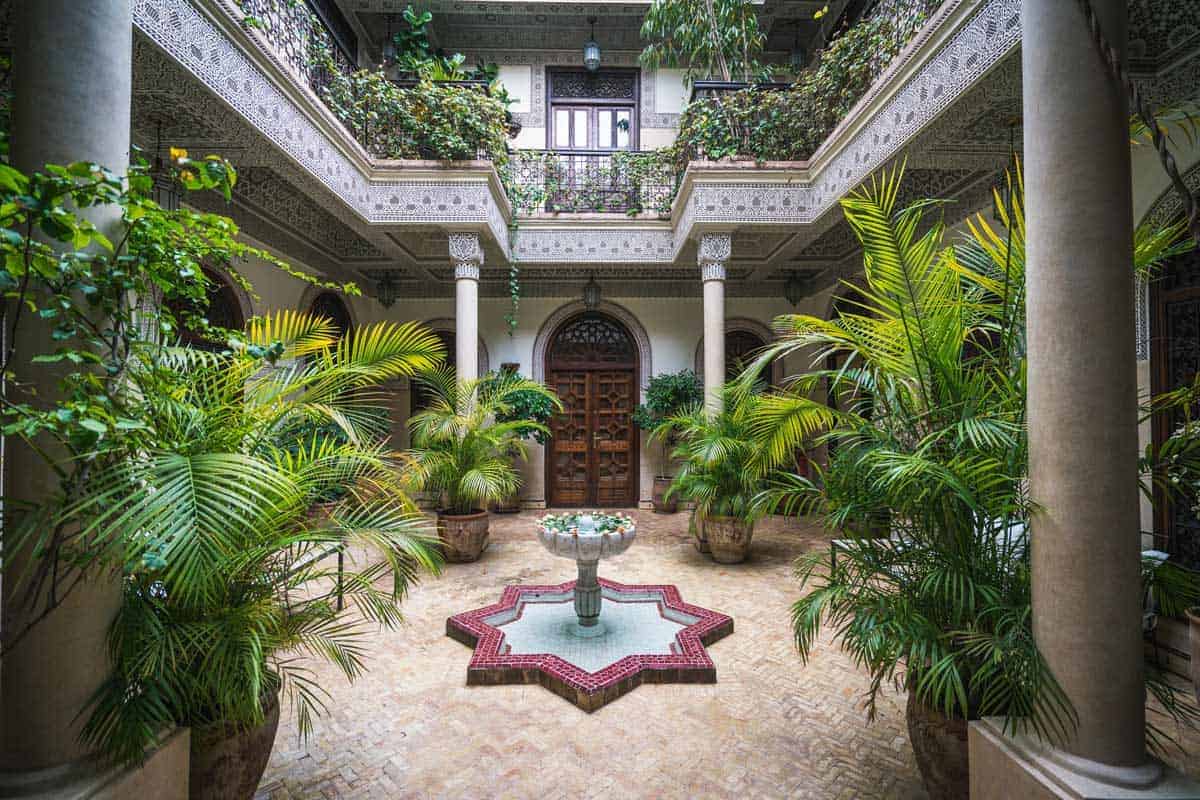 We rented a little three-bedroom Riad in a laneway in the heart of the Medina, a short walking distance from Jemaa el-Fnaa square through Airbnb for $100/night.
If you want to have a serviced or hotel-style riad with all the amenities, expect to pay anywhere as low as $50/night for something like Riad Luzia to upwards of $300/night for Palais Riad Lamrani. Whatever style you choose, you are always guaranteed that lovely opulence associated with a Moroccan Riad.
The beauty of a riad, their design makes it fell like someone turned the volume off when you enter. A quiet oasis amongst the madness.
Other than the call to prayer that echoes through the city five times a day, it is so peaceful you can't imagine the hustle and bustle going on outside.
You can search for more riad options here.
Marrakech is a testament each of the Moroccan cities has its own style and unique spin on a Moroccan adventure.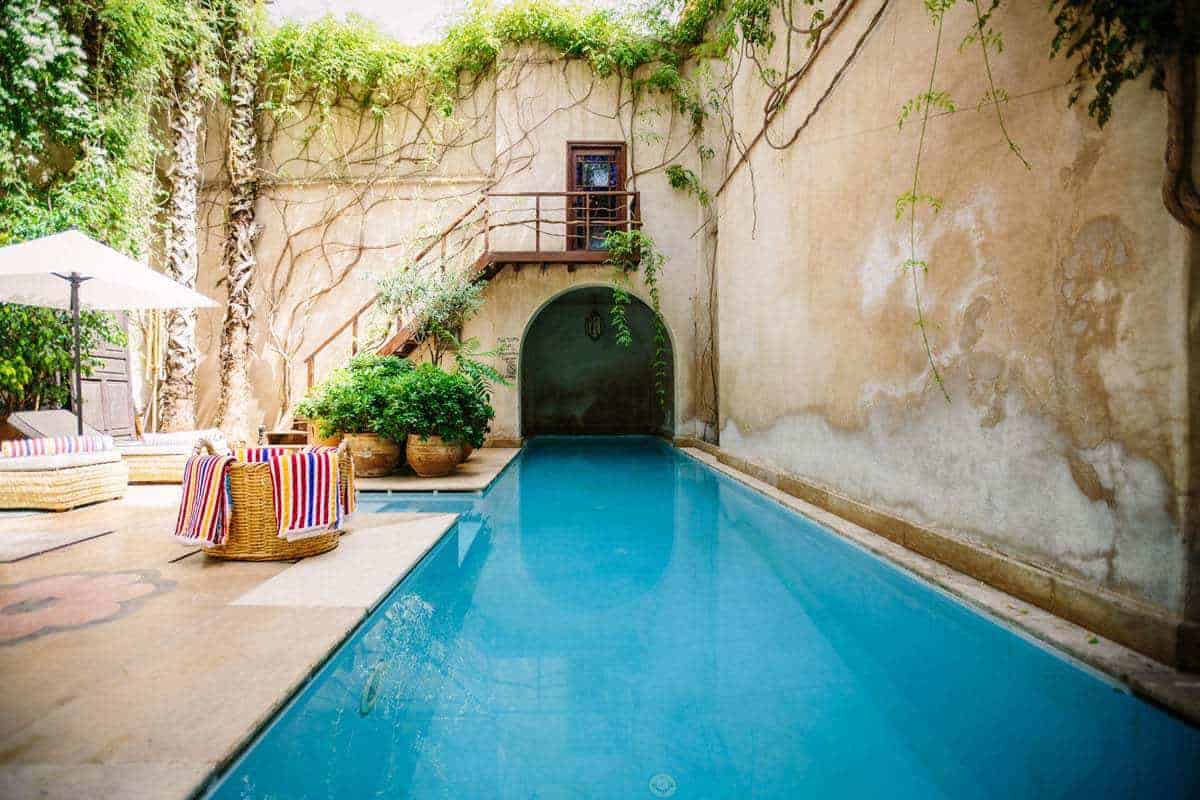 Plan Your Trip to Marrakech
What to Pack for Marrakech
This is by no means an extensive packing list for Marrakech; merely are a few items you may want to remember pack to make your trip more enjoyable. You can read or complete packing list for Morocco here.
For the ladies especially, a lightweight scarf is perfect for visiting mosques to cover your head, shoulders or even legs if caught wearing shorts or short skirts. It is also handy for both men and women for sudden changes in weather, keeping the sun at bay. In Morocco especially, perfect for keeping the dust and sand from your face.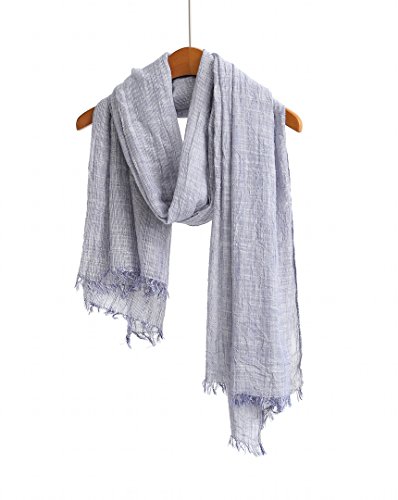 ---
No doubt; you are going to do a fair amount of walking in Marrakech. Make sure you have sensible, comfortable shoes appropriate for the season and the situation. These are some of our favourite shoes for travel.
If you want an all-round, breathable shoe for warm weather that will work for hiking, sightseeing, even swimming, we can highly recommend Tropicfeel's Monsoon shoe for Morocco. Read our full review of this fantastic travel shoe here.
---
We all know the obvious reasons for travelling with earplugs. In Marrakech, however, there's a reason for needing earplugs you may not consider. In a city with some of the biggest and most beautiful mosques in Morocco, the Call to Prayer will play over loudspeakers five times a day.
While there are few sounds more evocative, it may not be so welcome at four in the morning. We love these reusable earplugs because they also reduce aeroplane pressure and are more hygienic than the disposable foam variety.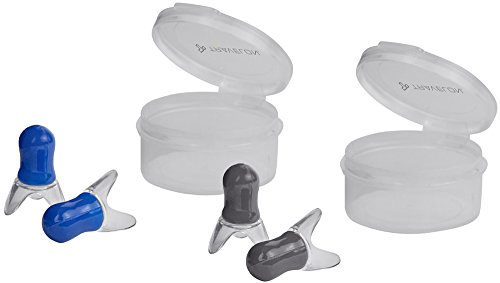 ---
No matter where you travel in the world, you need to be careful of both yourself and your belongings. The markets and souks of Marrakech are an ideal environment for pickpockets. With so many stylish anti-theft travel bags on the market these days; you don't have to stand out like a tourist while being safe.
---
In the same way, you would protect your bag or backpack; it doesn't hurt to protect your camera. An anti-theft camera strap can prevent your camera being snatched or accidentally dropped or lost due to inferior clasps or latches.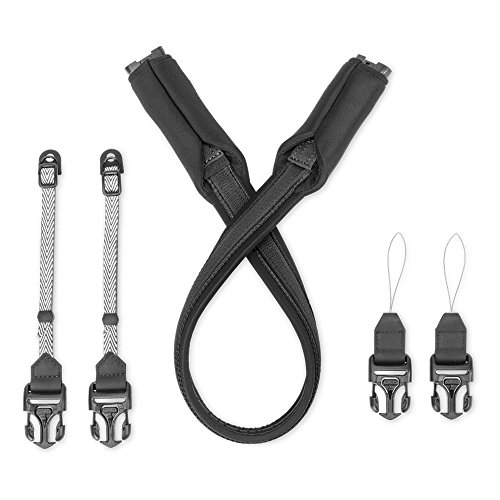 ---
Don't Forget Travel Insurance
The most important travel purchase you should make is travel insurance.
Get a Free Quote From World Nomads Travel Insurance.
---
How to Get to Marrakech
Flights to Marrakech
Marrakech has an international airport with flights from many major European centres, including flights operated by some low-cost carriers. Connections from other major ports may be via a connection in Casablanca.
The airport is approx 9 km from the city centre and approx 7 km from Jemaa el Fna square.
Domestic Flights Within Morocco
Royal Air Maroc operates domestic flights from all major cities in Morocco. This can be an expensive and inefficient way to move between cities.
The train is the most economical way to travel in Morocco.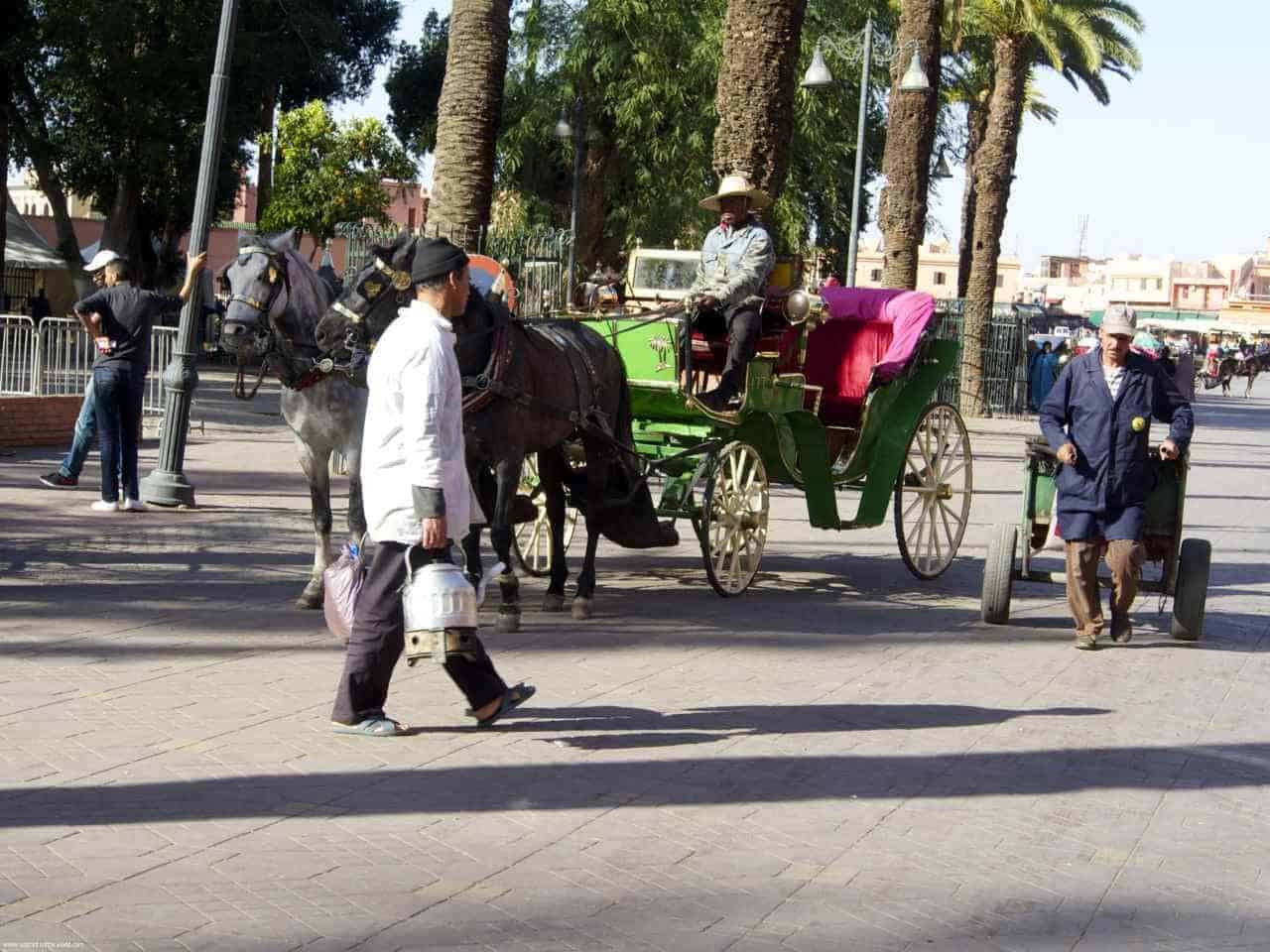 By Train to Marrakech
The train is the most convenient way to travel around Morocco. Overall, they are comfortable and relatively inexpensive.
First-class tickets are not that much more expensive than the standard fare but are recommended, especially for longer trips as they will be airconditioned, have more room and allocated seating. You may have to stand in Second-class compartments during peak hours until a seat becomes free.
For up to date timetables, you can check the official website of the national train operator, ONCF or visit The Man in Seat 61 for more on train travel in Morocco.
Driving to Marrakech
Marrakech is approx six hours drive from Fez, four hours from Rabat, nearly three hours from Casablanca and six hours from Tangier. The roads are very good.
Private transfers between Casablanca and Marrakech start at around $183 USD for a group of four and enjoy many things to do in Marrakech. Check availability here.