Morocco is such a unique destination. A country characterised by the diversity of experiences it offers the traveller.
Cosmopolitan and ancient cities. A rugged mountainous interior, vast expanses of unending desert and stunning coastlines along both the Atlantic Ocean and the Mediterranean Sea.
Morocco has many cross-cultural influences, and while more relaxed than some of its neighbouring Muslim countries, it is still a conservative nation. Morocco's climate is as diverse as its geography and with so many different experiences on offer; packing for Morocco needs to be both practical and respectful of local culture.
We have put together a practical packing list for Morocco that covers off on all the travel essentials beyond what you would pack for a typical trip abroad. These are the items we use ourselves and from experience, what we would pack for Morocco.
What to Pack for Morocco
---

What to Wear in Morocco
Aside from cultural considerations and the different activities you have planned in Morocco, you also need to pack clothes to cover you for a changeable climate. No matter what time of year, bring layers and prepare for both hot and cold weather at some point.
Even on a short visit to Morocco, you could go from breaking out a sweat in the markets of Marrakech to being very cold at night in the Atlas Mountains or the Sahara Desert.
Layers will serve you well in any season and cover you for all situations. Also, think lightweight, breathable and loose. Aside from wanting clothes that are comfortable in the heat and easy to wash and dry, overly tight clothing can attract unwanted attention.
Women
Compared to other Muslim countries, Morocco is pretty relaxed about how female tourists dress and rarely will you be required to cover your head. It doesn't mean you don't still need to consider the local culture with what you wear.
While the main tourist areas are quite accepting of how foreigners dress, some rural areas you visit may not be, so there is still a dress code for tourists to consider. Even in the more progressive tourist hubs, you need to think about any unwanted attention your dress may attract.
Basic Morocco Dress Code for Women –
Always keep shoulders covered – no strappy tops unless covered by a shawl or cardigan.
Shorts, dresses, and skirts should always come to at least your knees, if not over.
Full-length skirts or pants are always better. Lightweight, loose-fitting pants are best for Morocco, especially in hotter areas.
Always avoid tops that reveal cleavage. Wear a vest or camisole underneath if required.
If you wear jeans or tighter fitting pants such as leggings, mix with a longer top such as a tunic to cover your rear.
You don't need to cover your head on a daily basis; however, you will need to when visiting mosques. Some ladies choose to cover their head as a matter of course out of respect and as a way to blend in a little more.
A scarf is also handy for keeping the sun at bay and the sand from your face if you plan on visiting the desert. We were so thankful to have a scarf to cover our faces in the Sahara.


---
---
Men
Men do not have the same considerations as women when travelling in a conservative country such as Morocco. However, they still need to consider local culture so as not to offend or attract unwanted attention. Blending in can go a long way to enhancing your experience in any country.
Much like women, men in Morocco choose to dress relatively modestly and avoid looking untidy or too casual when they are in public. The idea of modest dressing also extends to any ostentatious displays of brand names, logos, jewellery or high end electronics. Also, consider covering any excessive or offensive tattoos.
Basic Morocco Dress Code for Men –
Generally, men should wear long pants with a shirt.
Jeans and t-shirt are fine although a collared shirt is considered more appropriate. Jeans should be well fitting and not torn.
Singlets or tank tops are rarely considered appropriate dress.
Avoid clothing with unnecessary branding, logos or designs that may not be appropriate or possibly offend.
Long shorts for male tourists are ok in the hot weather, although it is not really considered appropriate for adult men and not in religious sites. In some rural regions, shorts are considered underwear. Follow local cues on this.


---
---
Morocco Clothing Essentials for Both Men & Women
There are a few simple items both men and women will want to pack for Morocco.
A sun hat will be a must. You are in Africa after all.
Equally, a warm winter beanie if you are planning to visit the Atlas Mountains or the Sahara Desert. It gets very cold in the mornings and at night.
A hoodie or other warm, lightweight top will be necessary. We like a hoodie for the added warmth of the hood and the Smart Travel Hoodie because it has loads of Anti-Theft pockets for your valuables and it packs down small. Perfect for Morocco.
A lightweight travel scarf for both men and women. You will need one for keeping the sun at bay and the sand from your face in the Sahara. It is also handy for both men and women when visiting mosques and religious sites. Men wearing shorts will often be asked to cover up.
Pack a swimsuit. In addition to the many beach possibilities, many hotels and riads will have pools. We found the opportunity to cool off at the hotel pool at Ait Benhaddou very welcome after a full day sightseeing. You may also be able to have a dip at one of the hotel pools in the Sahara.
---
Best Shoes for Morocco
It goes without saying; bring shoes suitable for the activities you will be undertaking. The following will help you decide the best shoes for Morocco based on your itinerary.
Sandals are suitable for most casual occasions in warmer weather. Just make sure they are comfortable, especially for a long days sightseeing.
In cities and especially when exploring the Medina's, we would highly recommend a comfortable closed-toe walking shoe. Not only will you be doing some miles, the road conditions, in the medinas especially are not always pleasant. There will be many uneven surfaces, and your feet will get very dirty.
Unless you are doing some serious hiking, sneakers will be suitable for the majority of activities in Morocco such as the Atlas Mountains or Sahara.
Flip-flops are always a handy addition especially if you are planning to visit a Hammam.
Our Favourite Travel Shoes for Morocco
If you want an all-round, breathable shoe for warm weather that will work for hiking, sightseeing, even swimming, we can highly recommend Tropicfeel's Monsoon shoe for Morocco. Read our full review of this fantastic travel shoe here.
---

What to Pack for Morocco By Season
Summer – June to August
The Sahara Desert will be extremely hot. Cities on the Atlantic coast such as Casablanca and Essaouira will be warm but not uncomfortably so.
The north coast; Tangier and Chefchaouen in the Rif Mountains have a typical Mediterranean climate with hot, sunny days.
Loose, breathable clothing that will keep you cool.
Clothing for sun protection. E.g. large hat. Long sleeve light shirts.
Even though the weather will be hot, still allow for a light jacket for cool evenings in high altitude and desert areas.
It will be hot, but ladies still keep knees and shoulders covered and men; still stick with long shorts.

Winter – November to February
Temperatures in the south will still be mild during the day, although evenings can get surprisingly cold. If you're planning an overnight camel trek in the Sahara, the nights and morning get very cold. The north experiences wet winters. The High Atlas Mountains can be exceptionally cold. There will be snow on the mountains and even the possibility of skiing if you're keen. Snow can still be visible on its peaks as late as July.
Bring a warm jacket. A windbreaker will be welcome if heading to the coast, it can get quite windy.
Additional lightweight under layers for cold mornings and evenings. Easy to remove as the days warm up.
Closed-toe shoes and socks.
A wool beanie and winter weight scarf.
Shoulder Seasons – Spring -mid-March to May | Autumn – September to October
The best time to visit Morocco is the shoulder seasons of spring and autumn. Great times of year for hiking in the mountains. While the temperatures are very pleasant, the nights will still get quite chilly.
A jacket or windbreaker for evenings and mornings.
Still, pack comfortable clothes that will keep you cool during the day. Loose fitting pants, long skirt and breathable tees.
You may need both sandals and closed toe shoes for the shoulder seasons.

Take the Right Luggage
Consider practical luggage for a trip to Morocco. When we say practical, we mean easy to manoeuvre and carry. If you are planning to visit Marrakech or Fez, for example, one of the great experiences of these cities is staying in a riad in the Medina. As you can't get cars into the medina's, you must carry your luggage to your accommodation.
The streets of the medinas are very uneven. Fez, in particular, can be quite challenging with bags, often with stairs and narrow uphill streets. Some accommodation will send someone with a cart to meet you, but this is not always the case. The roads are also filthy, often with donkey droppings, so you don't want to ruin a good suitcase either.
We recommend a bag with good sturdy wheels. Preferably one that can be pulled on two wheels as opposed to having to be pushed on four. This helps with dragging bags up hills and stairs. A duffle style wheelie bag that can be picked up and slung over your shoulder or on your back is even better. A soft bag is also better than a hard case for fitting into the back of cars if you are planning any 4×4 tours.
We use a combination of Samsonite and Eagle Creek wheeling duffle bags as they are lightweight, no fuss bags with sturdy "off-road" wheels.
---
Daypack
You will also need a day pack. Other than for just day to day use, if you do an overnight camel trek in the Sahara, you will have to leave your main luggage for the night and only take what you absolutely need.
We use a lightweight, foldable daypack that we can shove in our suitcase when we are not using it. Whereas, some people like to take a multipurpose daypack. One that will work equally as well hiking in the Atlas Mountains as exploring the souks of Marrakech. For both, we recommend a pack with anti-theft features, especially for the busy city and tourist areas.
You can read more about the best anti-theft travel gear here.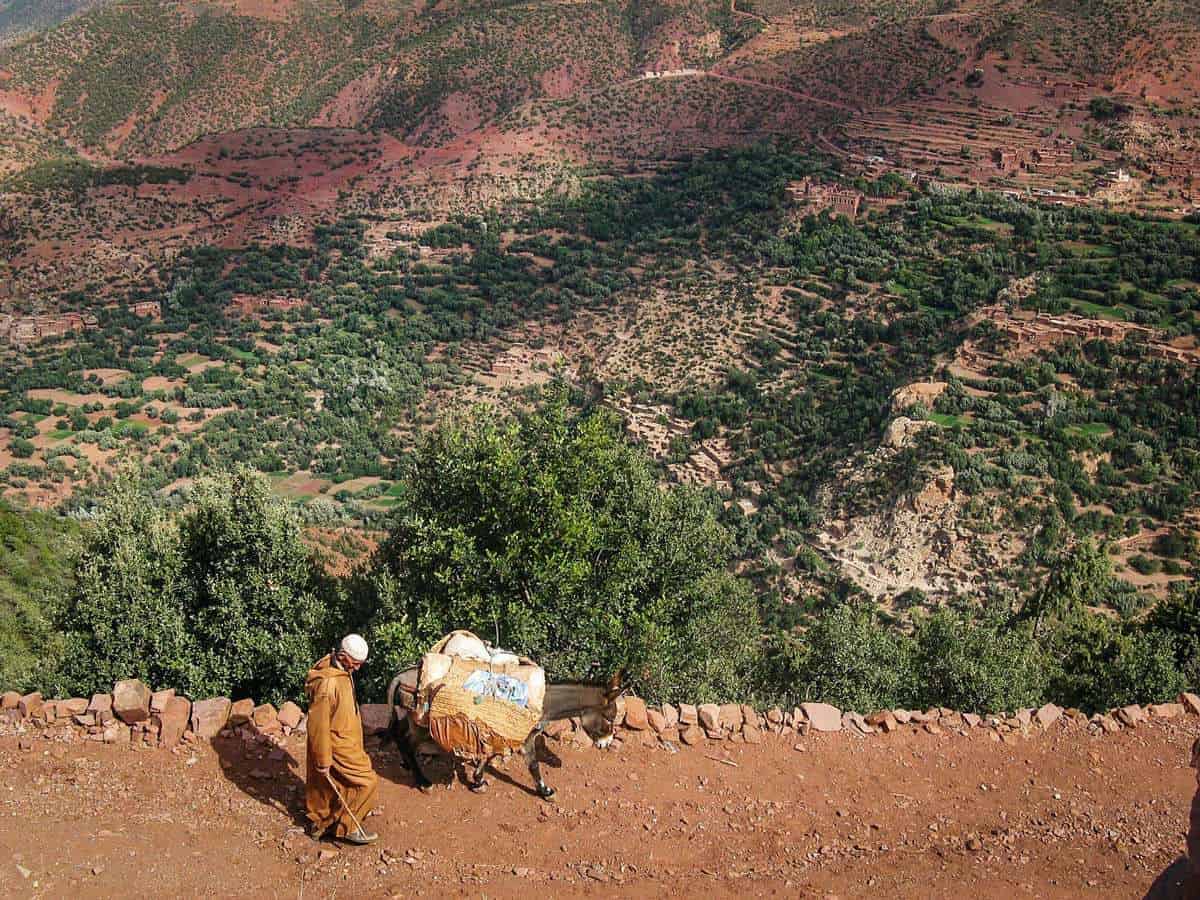 Lockable Luggage Cables for Trains and Hotels
In addition to luggage locks, we can highly recommend taking A lockable luggage cable. We used it when taking the train from Casablanca to Marrakech and again from Fez to Tangier by train. You may have to stow your luggage in an open area away from your seat. In our case, it was in front of the open carriage door, a long way from our compartment. We found it gave us peace of mind to be able to lock all of our bags together and to a fixed structure on the train.
If buying new luggage locks for a trip to Morocco, consider locks with a long shackle or better, a long cable shackle. It enables more flexible locking arrangements. Especially for bags that have outer pockets with only one zip head. A long or flexible cable shackle gives you the length to link to another zip or lock on the bag ensuring all pockets are secure.
Again, peace of mind on trains or situations like a night in the Sahara where all your luggage will be stored for you.
---

Power Adapters and Portable Chargers
Morocco operates on a 220V supply voltage and 50Hz, types C and E plug types which are two circular prongs. The same as what you would use in Europe. If you need to bring an adapter, we also recommend bringing a lightweight power board from your own country, so you only need to have one adapter for charging multiple things at once. A powerboard with USB ports is especially useful for this purpose. One powerboard can take less space and weight than numerous adapters.
Don't forget to bring a portable charger. It will come in handy for charging your smartphone or camera in situations where there is no power, such as camel trekking in the Sahara or travelling by train between cities.
---
Travel Purifying Water Bottle
One of the sad things we noticed about Morocco was the amount of plastic and rubbish on the roadside in the open desert areas and around the Atlas Mountains.
Unfortunately, in a country like Morocco, where the average traveller will not be used to local water, buying bottled water is instinctive. As more people are travelling now than ever before, bottled water is no longer sustainable for the environment.
However, you don't need to buy bottled to have access to purified water. As the Moroccan Government have started to implement ways to reduce the rubbish issue, many hotels now supply filtered water to refill bottles. Or, for convenience, you can carry reusable purifying water bottles.
A personal water bottle with inbuilt filtration system like a Lifestraw water bottle works very well. Or if you want something more compact, collapsible water bottles used with a stand-alone filtration straw work equally well.
---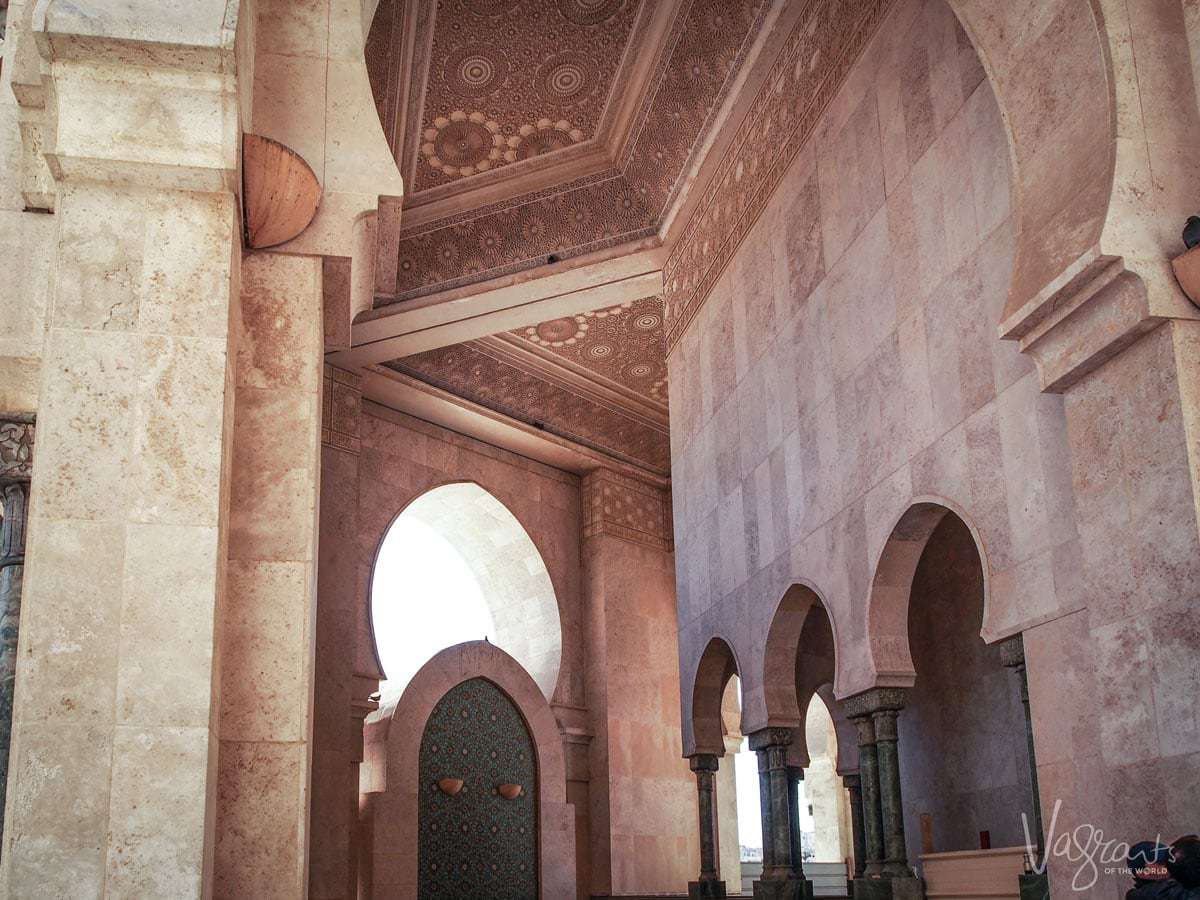 Travel Ear Plugs
We all know the obvious reasons for travelling with earplugs. In Morocco, however, there are reasons for needing earplugs you may not consider. Morocco has some of the biggest and most beautiful mosques in the world, the Call to Prayer will play over loudspeakers five times a day. While there are few sounds more evocative, you may not feel that way at four in the morning. Also, if you are planning to take the overnight train between Marrakech and Tangier you may welcome the quiet.
We love reusable earplugs. Many not only reduce noise, they also reduce aeroplane pressure and are more hygienic than the disposable foam variety. They are also less likely to get lost like the disposable foam plugs tend to do.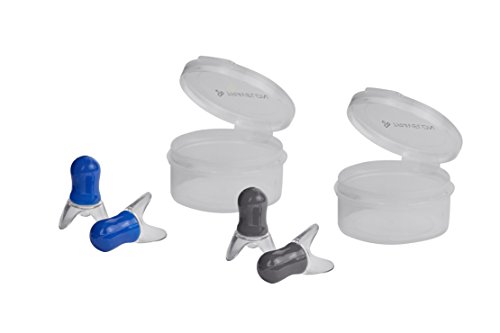 Medication and Personal Items
Medication
When travelling to foreign countries, it is always wise to prepare for the worst and hope for the best when it comes to health and personal requirements.
Obviously, you will need to bring any medications you require with more than enough to see you through your trip. It is also prudent to keep a copy of your prescription with you. While Moroccan Customs don't seem to keep a list of prohibited medications, they do advise anyone travelling with prescription medication to carry a copy of the doctor's prescription which covers the drug and quantity carried with you. It will also help if, for any reason, you require a refill.
As basic medications go, you should bring the usual suspects with you from home. Basics like Ibuprofen or aspirin. An antidiarrheal drug for precaution such as Imodium. And should you fall victim to a dodgy Tagine – Electrolyte tablets will go along way to keeping you hydrated and feeling better. Especially in the hotter months.
Personal Items
Consider bringing things like sunscreen or insect repellant from home as these items tend to be quite expensive comparatively in Morocco. Bring a quality, high SPF sunscreen – You'll need it.
We always travel with insect repellent wristbands. They are an excellent way to stay covered without having to use spray. You can throw them in your luggage without having to worry about liquids or aerosols when you fly.
Also, don't just assume you will be able to get certain things in the same way you would at home. You may not be near any stores that stock certain items or they won't have what you need. If it's something you can't do without, bring it just in case.
Ladies, this is especially important when it comes to sanitary products. Never assume you will have easy access to or be able to find the products you normally use at home. Be prepared.
Travel Size Wipes and Hand Sanitiser
Without a doubt, you will come across bathroom situations in Morocco that are less than ideal. The train springs to mind. Often, in Morocco, you will have to pay to use the bathroom which will include a small issue of toilet paper. Sometimes there will be no paper at all. A small pack of travel wipes in your bag will come in handy more often than you think.
A small bottle of hand sanitizer is an essential no matter where you travel. We like the ones you clip to your bag. In Morocco, however, you will be confronted with occasions where you will have to eat with your hands. The Central Markets in Casablanca is one instance where a piece of crusty flatbread is given instead of cutlery. Again, you will be glad you have some wet wipes after lunch.
---
Stay Safe in Morocco.
Get all the Best Travel Safety Tips & Anti Theft Travel Buying Guides here.
[/su_note]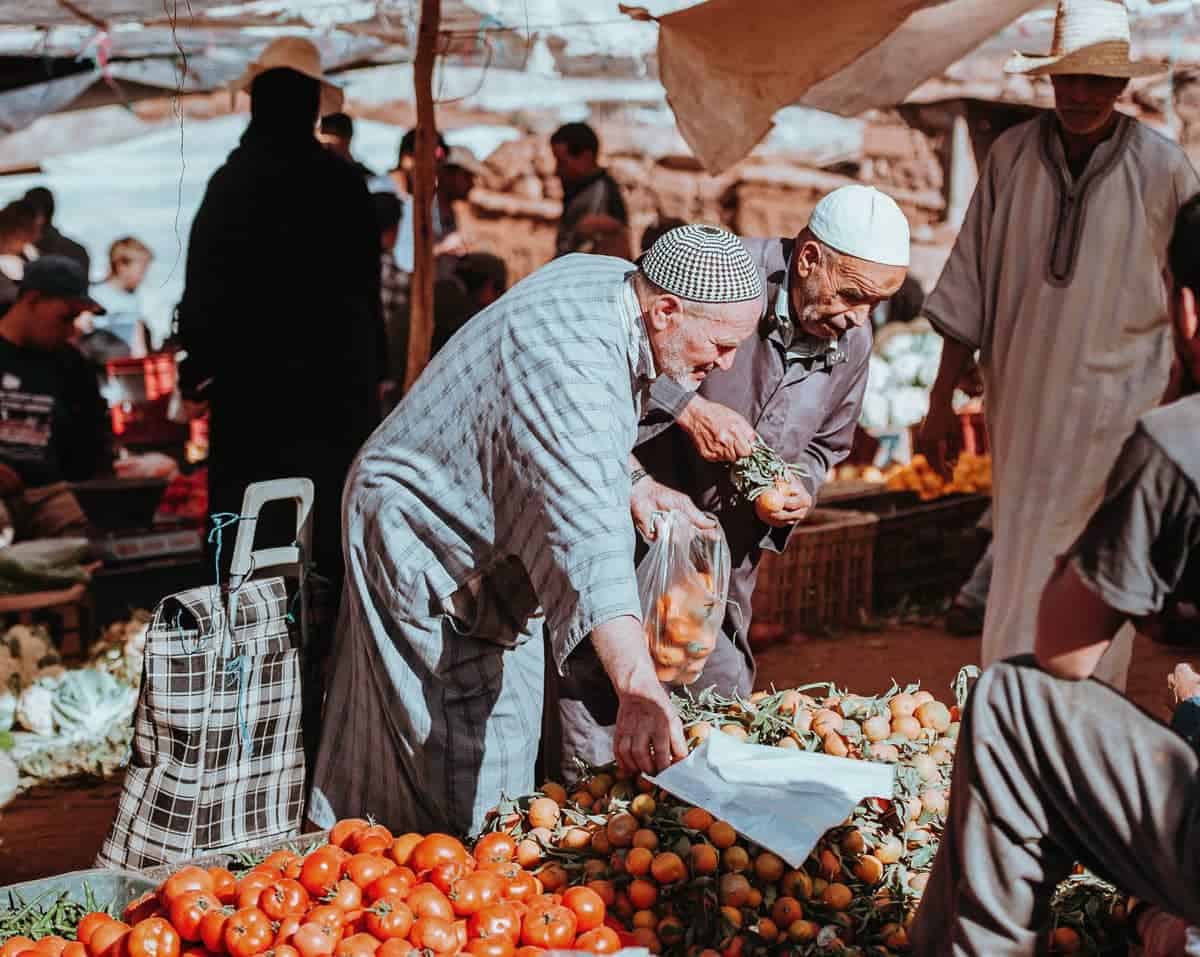 [/su_column]