The Best Way to Get from Casablanca to Marrakech.
The train is the most convenient way to travel around Morocco. For the most part, trains in Morocco are comfortable, reliable and relatively inexpensive.
Many visitors to Morocco choose the convenience of flying into Casablanca's international airport and then travel on by train from Casablanca to Marrakesh, Fez, and Tangier.
The train from Casablanca to Marrakesh takes approx. 2.5 hours depending on the service.
Find Out More About Travelling Through Morocco
First or Second Class Tickets for Train from Casablanca to Marrakech
Operated by Morocco's state-owned network; ONCF, all services feature both first and second class seating.
First Class
First-class tickets are not that much more expensive than the second class fare but are recommended, especially for longer trips.
First-class compartments will be airconditioned, have more room and allocated seating. If you get to the ticket office early enough, you can reserve a window seat in first class which will enable you to enjoy the beautiful scenery along the way.
Cost of a first-class ticket – Casablanca to Marrakech: 120 – 150 Dirham one way depending on the service. Mid-morning and evening services tend to be cheaper.
Prepare for Your Trip To Morocco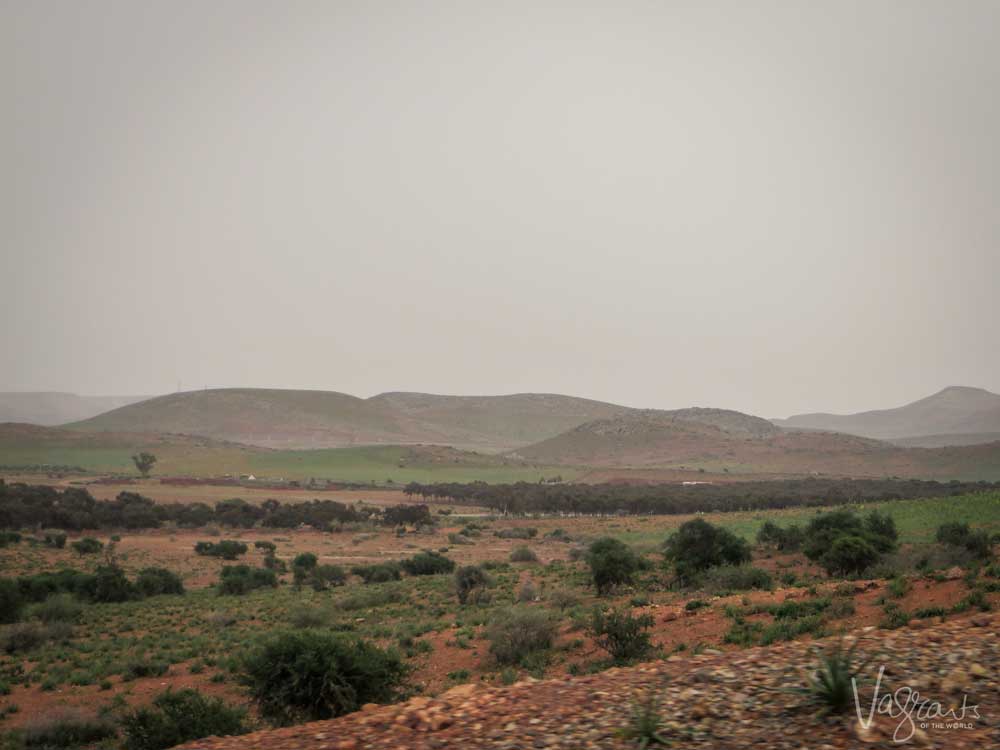 Second Class
A second-class ticket for travel from Casablanca to Marrakech is not such a problem. However, longers trips such as Marrakech to Tangier (8 hrs), especially on the overnight service, we recommend buying a first-class ticket.
Second-class compartments have recently been refurbished so now have air conditioning and are a lot more comfortable than in previous years. These improvements coincide with the new high-speed train service between Casablanca and Tangier – Al Boraq TGV.
however, the second class will be more cramped, accommodating as many as eight passengers per compartment on a first come first seated basis. During busy times, you may even have to stand in second class until a seat becomes free.
---
---
Storing Luggage on Second Class Trains in Morocco
Unless you get lucky, the compartments don't really enough room for all the people, luggage has to be stowed at the other end of the carriage in an open area opposite the entry.
We highly recommend carrying a lockable luggage cable in Morocco for times like this when you may have to stow your luggage out of sight in a non-secure area. You can lock your luggage to a fixed structure on the train
Tip For Train Travel in Morocco
They do have a food cart that will travel through the train once throughout the journey with basic drinks and snacks. We do however recommend you bring plenty of drinking water with you.
Approx. Cost of a second-class ticket – Casablanca to Marrakech: One-way fares vary depending on the service and type of ticket. Expect prices of:
49 Dirham one way No Flex
87-132 Dirham one-way Semi-Flex
106-139 Dirham Flex
| | | | |
| --- | --- | --- | --- |
| | No-flex | Semi-flex | Flex |
| Exchange before departure | Not exchangeable | Exchangeable for free once | Exchangeable unlimited free |
| Refund before departure | Non-refundable | 50 % refund | Refundable in full until D-1 of the travel date. Refundable with 20% withholding beyond |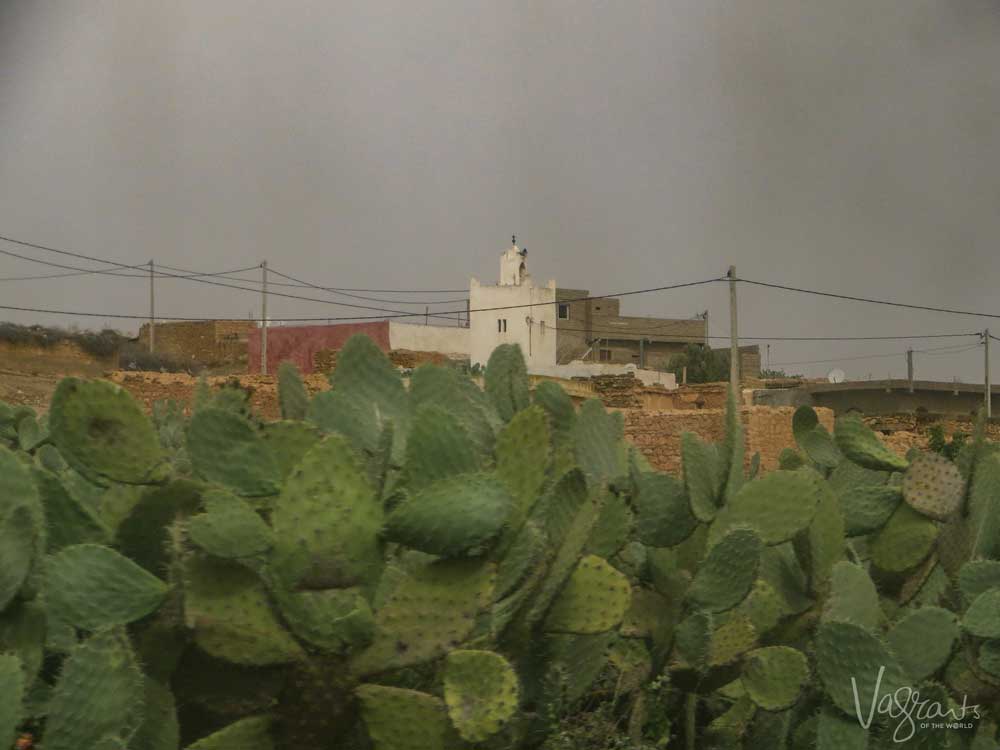 Buying Train Tickets in Morocco
In theory, you can book tickets for travel within Morocco online through ONCF. However, you can only do so with a Moroccan issued credit card. We don't believe this has changed yet.
You may ask a tour operator or Moroccan travel agent to purchase tickets for you in advance, but this is not necessary. The easiest way is to buy your tickets in person at the station.
When to Buy Tickets
You can purchase tickets on the day you are traveling as trains depart every few hours and are rarely full.
However, for first-class tickets on popular routes, especially during peak season and holidays, it may be best to go to the station a day or two before and purchase your tickets in advance.
First-class seats can be reserved up to a month in advance.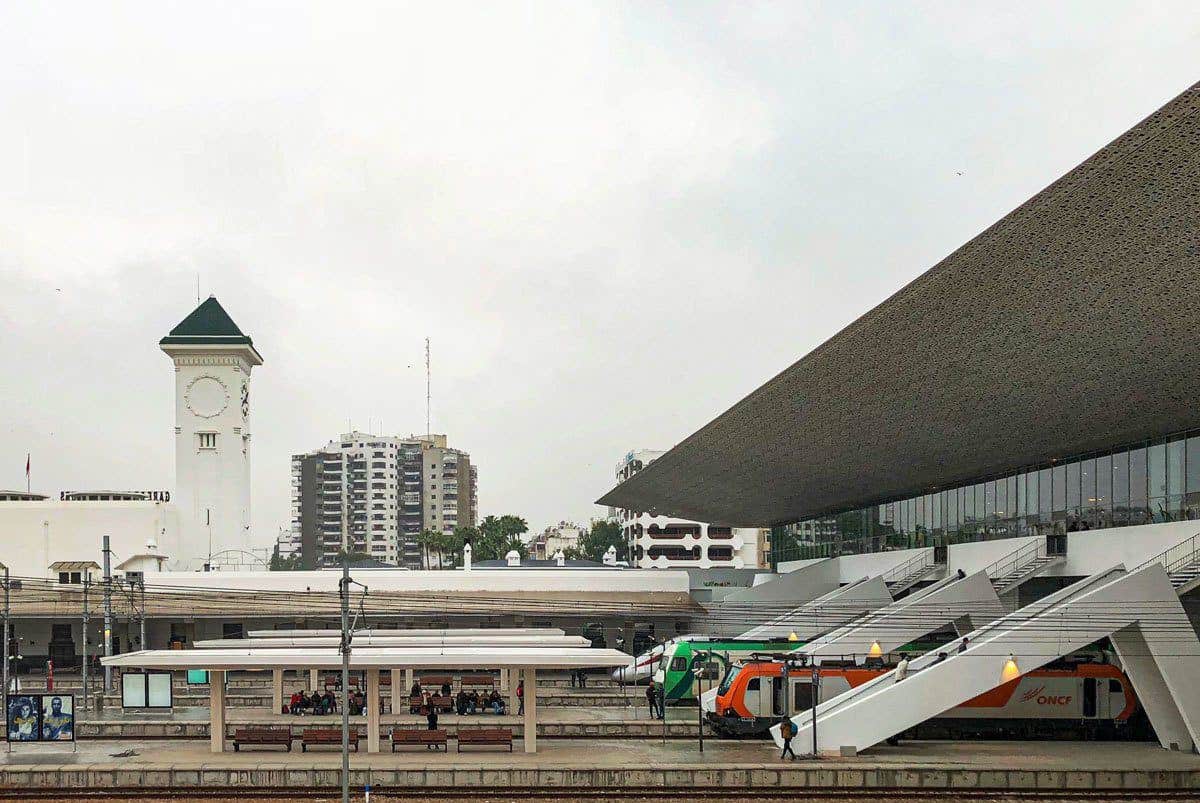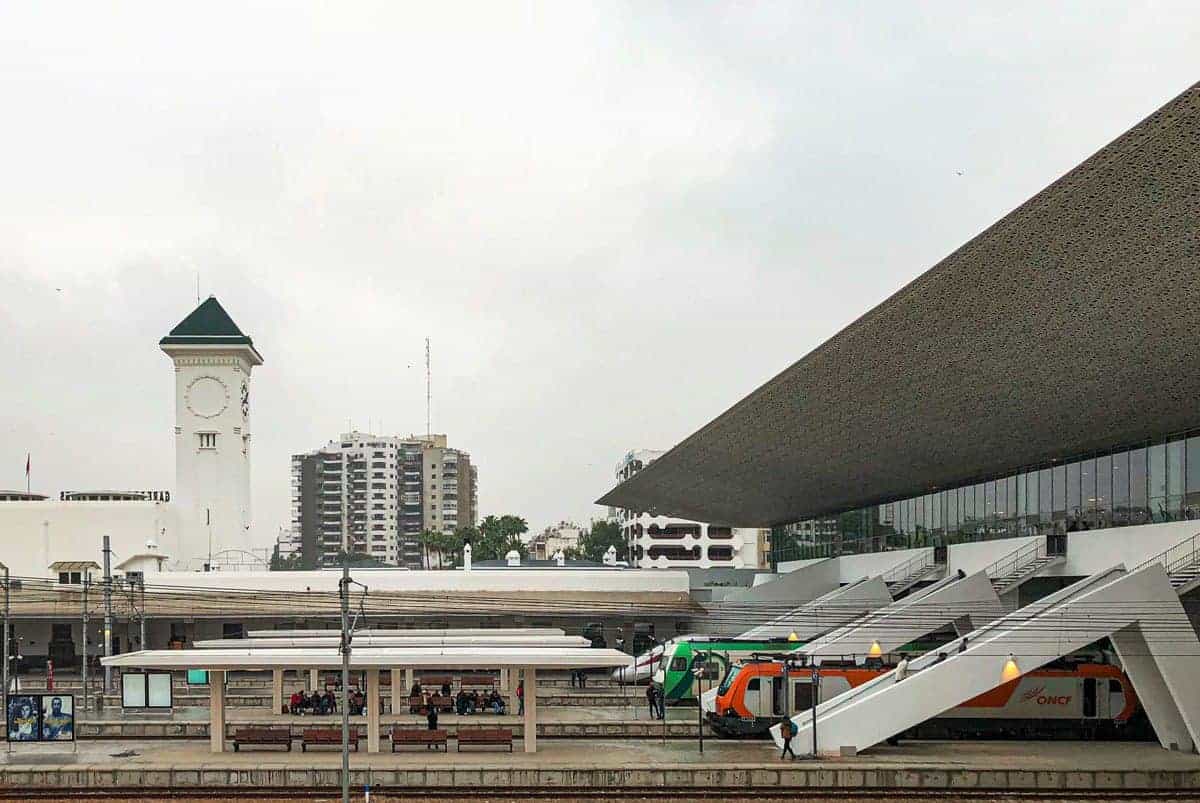 Casablanca Train Station
Casablanca has three train stations; Casa Voyageurs, Casa Port and Mohammed V International Airport.
The main train station in Casablanca is Casa Voyageurs. The white building is recognizable by its high clock tower above the entrance.
Passengers traveling from Casa Port, Casablanca's smaller station near the city's Atlantic port or Mohammed V International Airport, will connect to Marrakesh via a transfer at Casa Voyageurs.
Train Schedules from Casablanca to Marrakech
There are eight services per day between Casablanca to Marrakech departing every couple of hours. Travel time is around 2.5 hours.
Cost: 1st class – 120-150 Dh | 2nd class – 49-139 Dh depending on ticket type as explained earlier.
Check ONCF website for any schedule changes closer to your travel date.
Timetable Casablanca to Marrakech
| | |
| --- | --- |
| DEPART | ARRIVE |
| 06.15 | 09.01 |
| 09.35 | 12.14 |
| 11.35 | 14.14 |
| 13.35 | 16.14 |
| 15.35 | 18.14 |
| 17.35 | 20.14 |
| 19.35 | 22.14 |
| 21.35 | 00.14 |
Timetable Marrakech to Casablanca
| | |
| --- | --- |
| DEPART | ARRIVE |
| 06.00 | 08.38 |
| 08.00 | 10.38 |
| 10.00 | 12.38 |
| 12.00 | 14.38 |
| 14.00 | 16.38 |
| 16.00 | 18.30 |
| 18.00 | 20.38 |
| 20.30 | 23.18 |
Marrakech Station