From the waterfront, on a good day, you can see from Tangier Morocco to Gibraltar, where the Mediterranean Sea meets the Atlantic Ocean.
Discover the Best Things to do in Tangier Morocco.

Things to do in Tangier Morocco – Quick Discussion
Explore the Tangier Kasbah
See the Rock of Gibraltar from Bab Haha Gate
Visit Musee de la Kasbah
Sip Mint Tea at Cafe Baba's in the Kasbah and discover the small cafe's most famous customers.
Go Shopping in the Souks
Shop Up A Storm With a Private Tangier Shopping Guide
Explore the Tangier Medina
Soak up the Vibe at Gran Café de Paris
Indulge at the Famous El Minzah Hotel
Visit Cape Spartel and the Caves of Hercules
Take a Camel Ride on Tangier Beach
Enjoy Sidi Kacem Beach and Lunch at L'Ocean Restaurant
Take a Day Trip From Tangier to Chefchaouen
Tangier Morocco Travel Guide
Where is Tangier
Tangier is in northwestern Morocco on the Maghreb coast; the capital of the Tanger-Tetouan-Al Hoceima region, and the Tangier-Assilah prefecture of Morocco.
Guarding the western entrance to the Strait of Gibraltar where the Mediterranean Sea meets the Atlantic Ocean off Cape Spartel, Tangier has for centuries been Europes's gateway to Africa.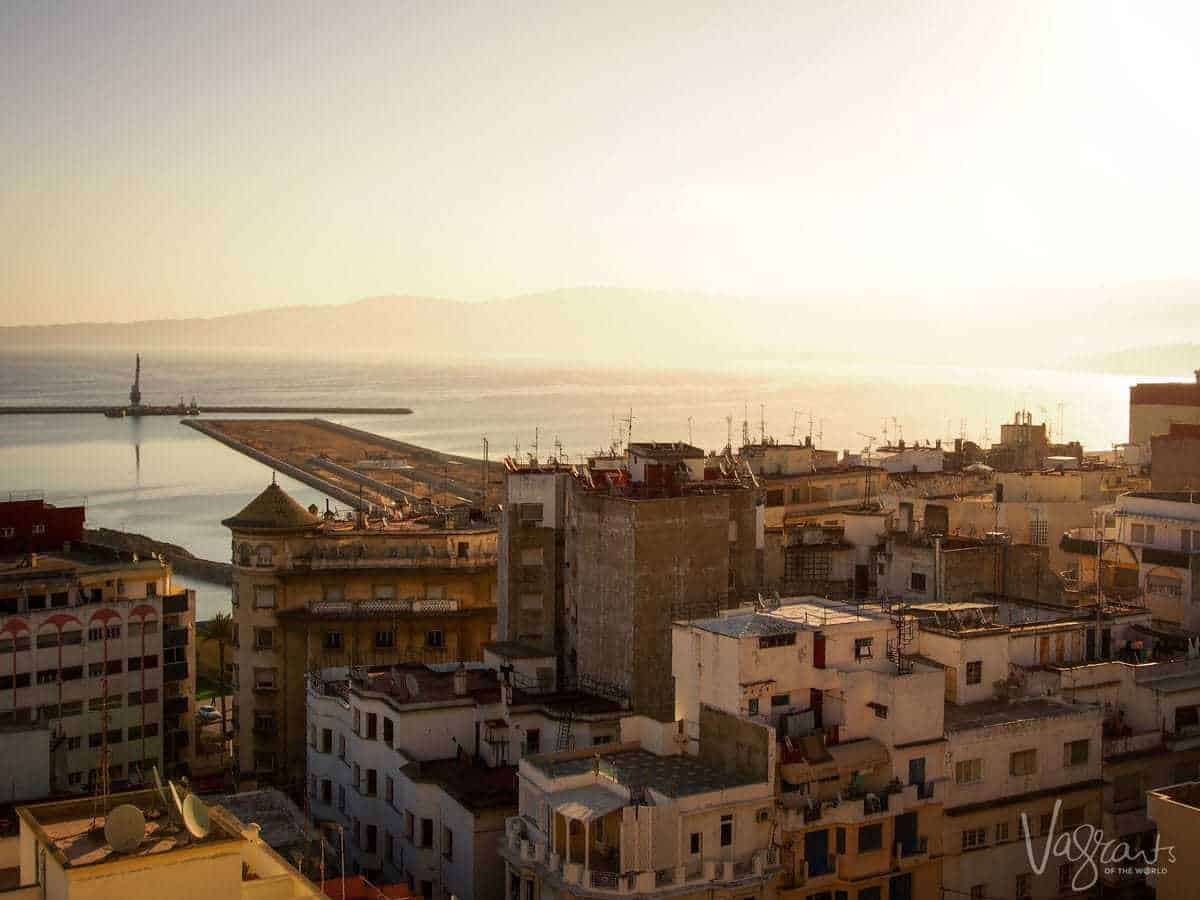 About Tangier Morocco
Europes' gateway to Africa; Tangier. A classic port town with an international, cross-cultural influence unique in Morocco. An interesting mix of North African, Spanish, Portuguese and French.
However, it's not just a fascinating cultural landscape that makes Tangier one of the best cities to visit in Morocco.
The allure of Tangier's literary and artistic past, coupled with a reputation for being an international haven for spies continues to invoke a sense of exotic mystery.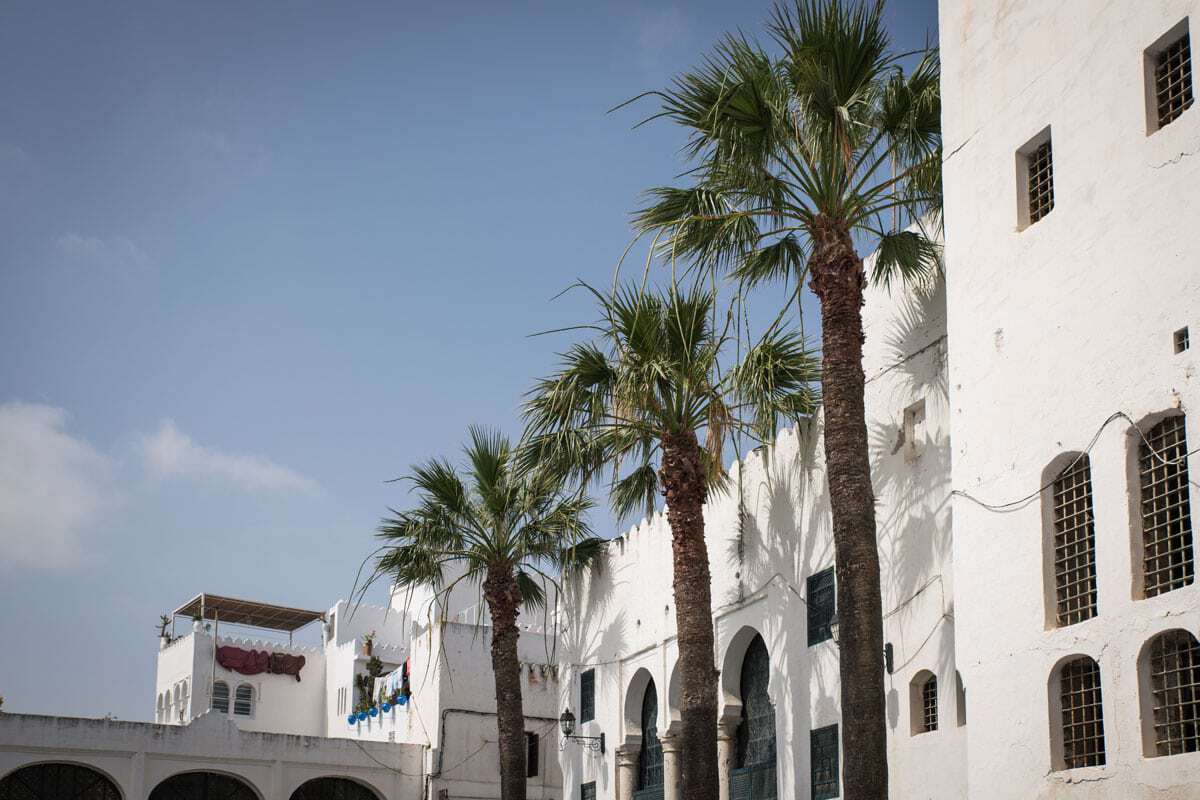 History of Tangier – The Tangier International Zone
Due to its position on the Strait of Gibraltar, Tangier was considered too significant to be controlled by any single country.
So, from the mid-'20s to the late '50s the city was deemed a semi-independent international zone.
Tangier became a cosmopolitan mecca for eccentrics, spies and artists.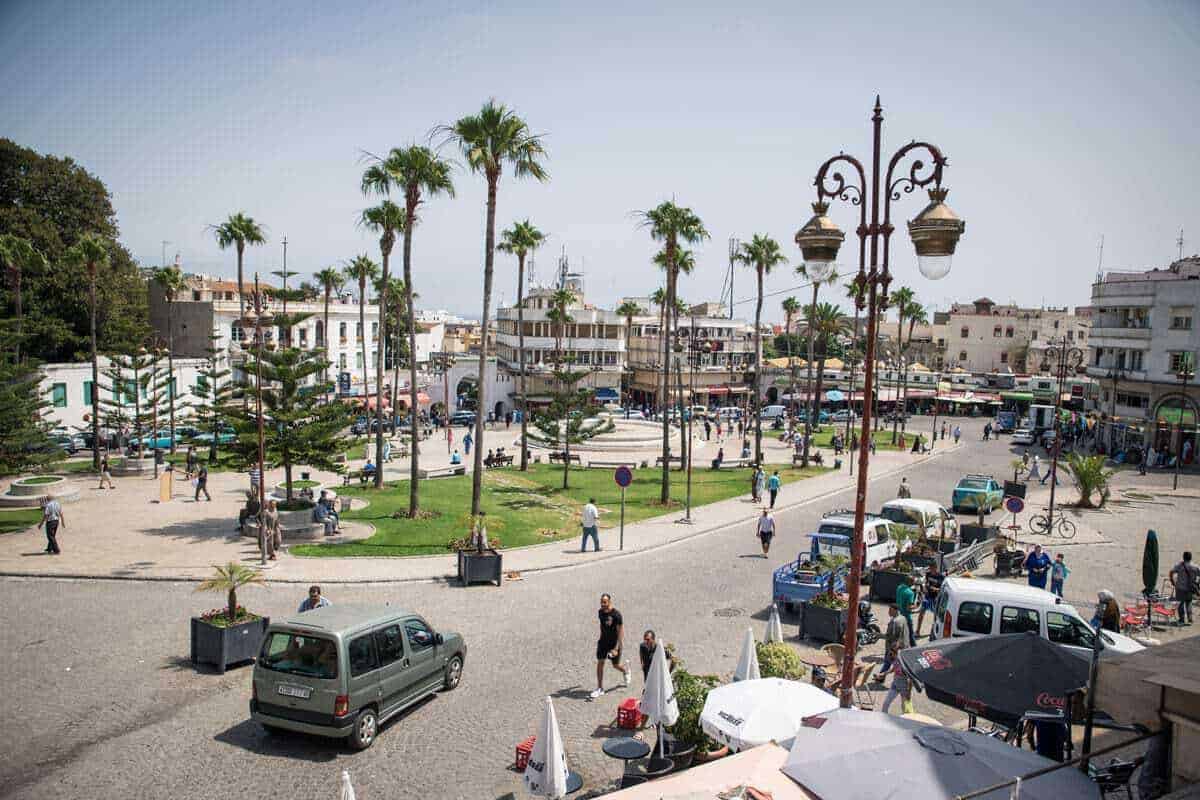 A Place of Pilgrimage for Famous Artists
The city was a place of pilgrimage for artists and Beat Writers during the '50s and '60s. William Burroughs wrote Naked Lunch in Tangier during the 1950s at the Hotel El-Muniria.
William S. Burroughs, George Orwell, Matisse, Tennessee Williams, Allen Ginsberg, and Jack Kerouac are just some of the famous artists who also called Tangier home at one time or another.
Not surprisingly, Tangier was also a playground for gamblers, crooks, and millionaires.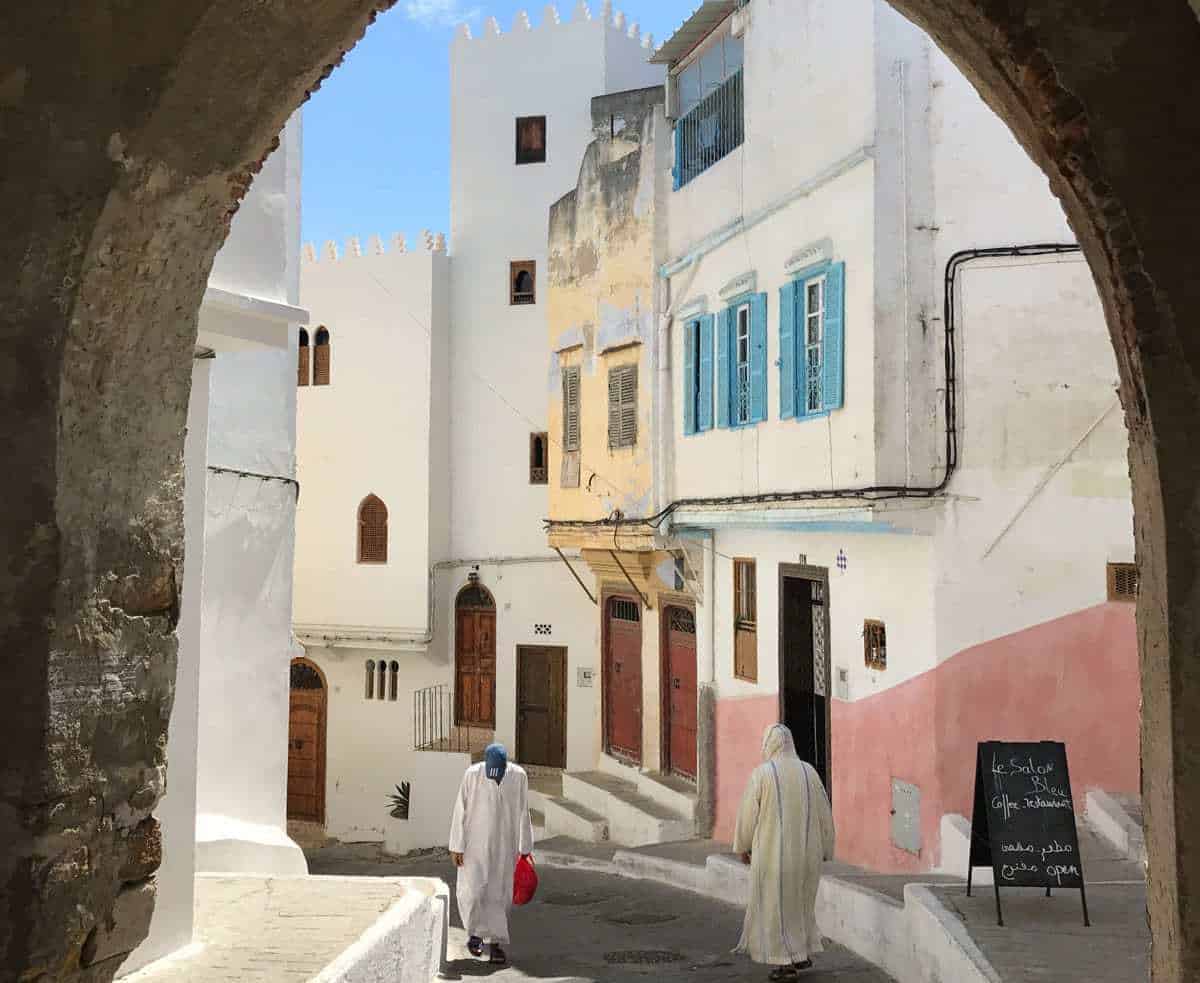 New Tangier
Far removed from its seedy past of international espionage, sleaze, and hustle, contemporary Tangier is reinventing itself.
In addition to foreign investment, King Mohammed VI has shown a keen interest in making Tangier a world-class, high-end tourist destination.
A new luxury port next to the ancient Tangier medina aims to attract the wealthy Mediterranean yachting scene.
Restoration of the old medina is taking place as well as beautification projects of the city boulevards.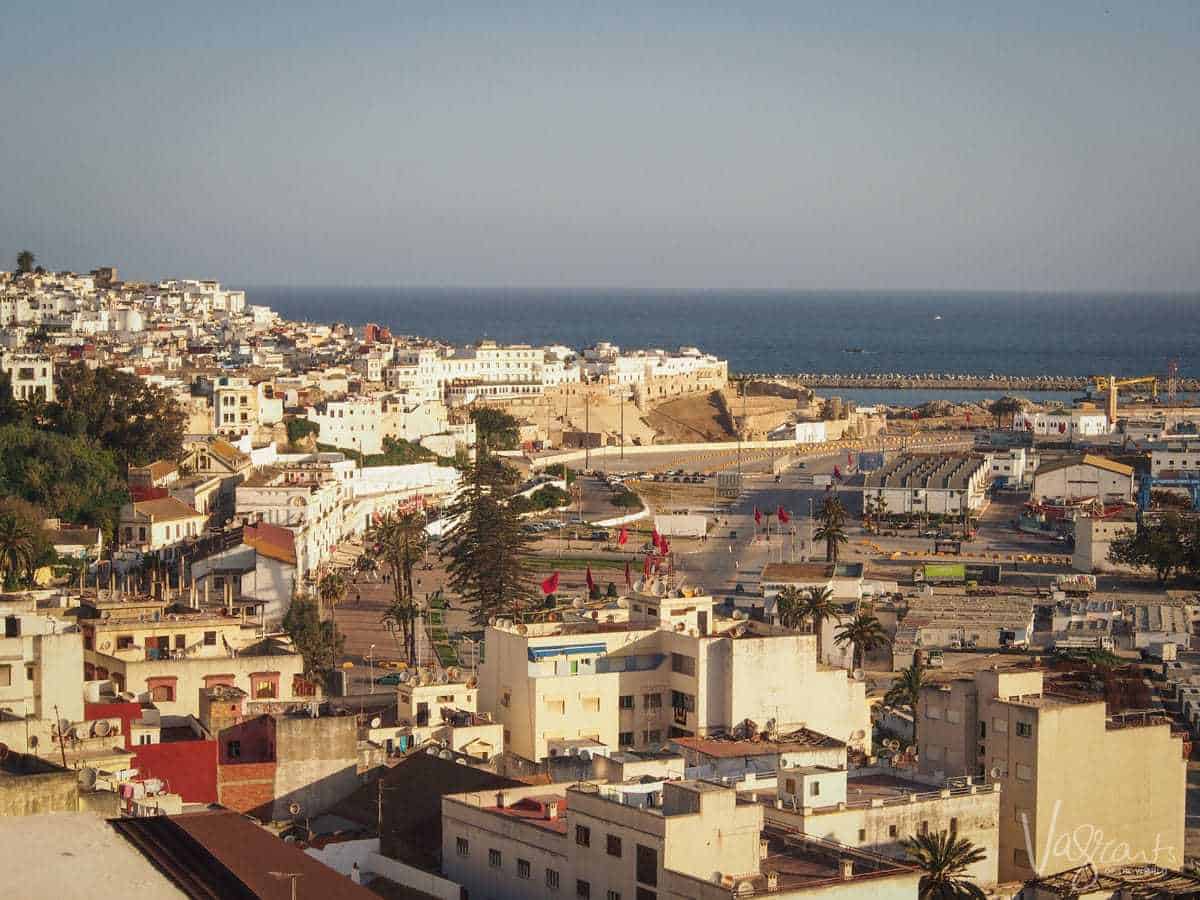 New shopping malls, hotels, and resorts are emerging, and new high-speed train service will reduce travel from Casablanca to Tangier from five to two hours.
Tangier is set to buzz and thrive again as it did during the heady times of the "Interzone".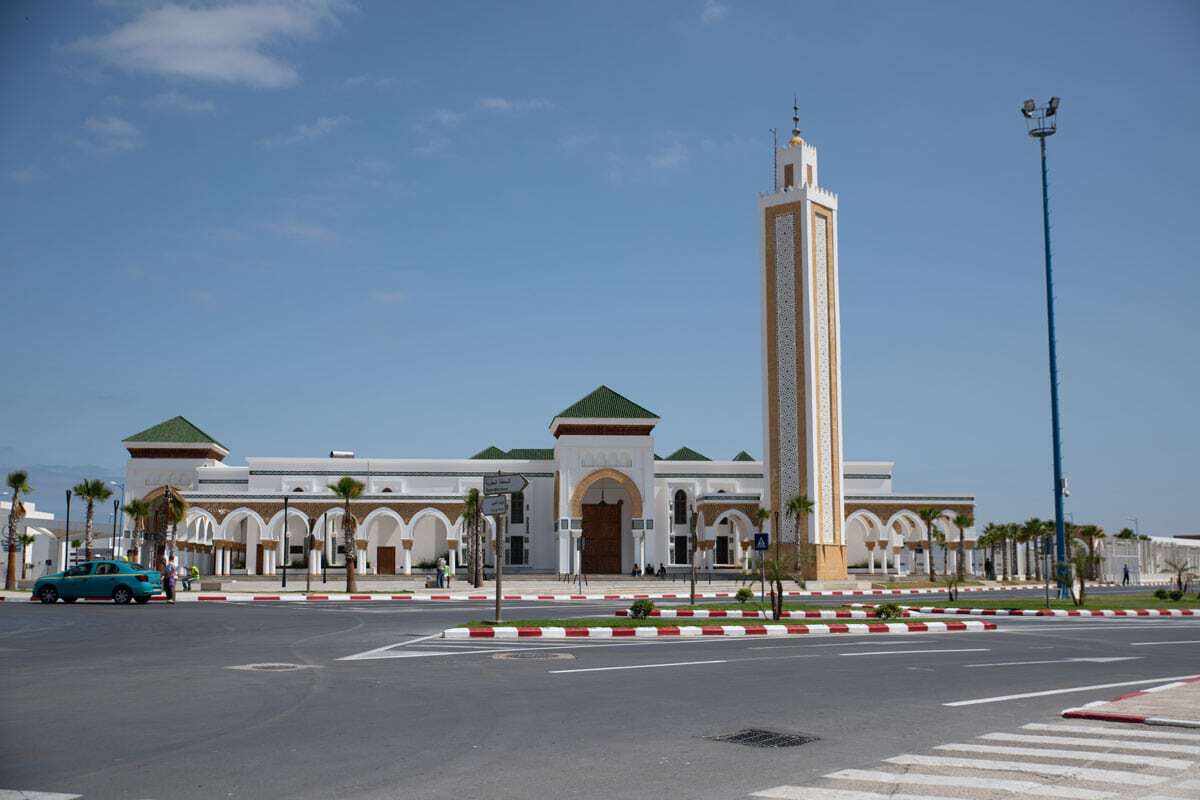 Is Tangier Safe
Overall, Moroccans are friendly and honest, and Tangier is a relatively safe city. Probably the biggest issue is tenacious touts and con-men trying to overcharge you.
You will mostly encounter this around the main tourist areas of the medina and along the beachfront promenade. Be firm but polite and move on.
Engaging with them will only encourage the touts to pursue you, and some vendors can become quite aggressive.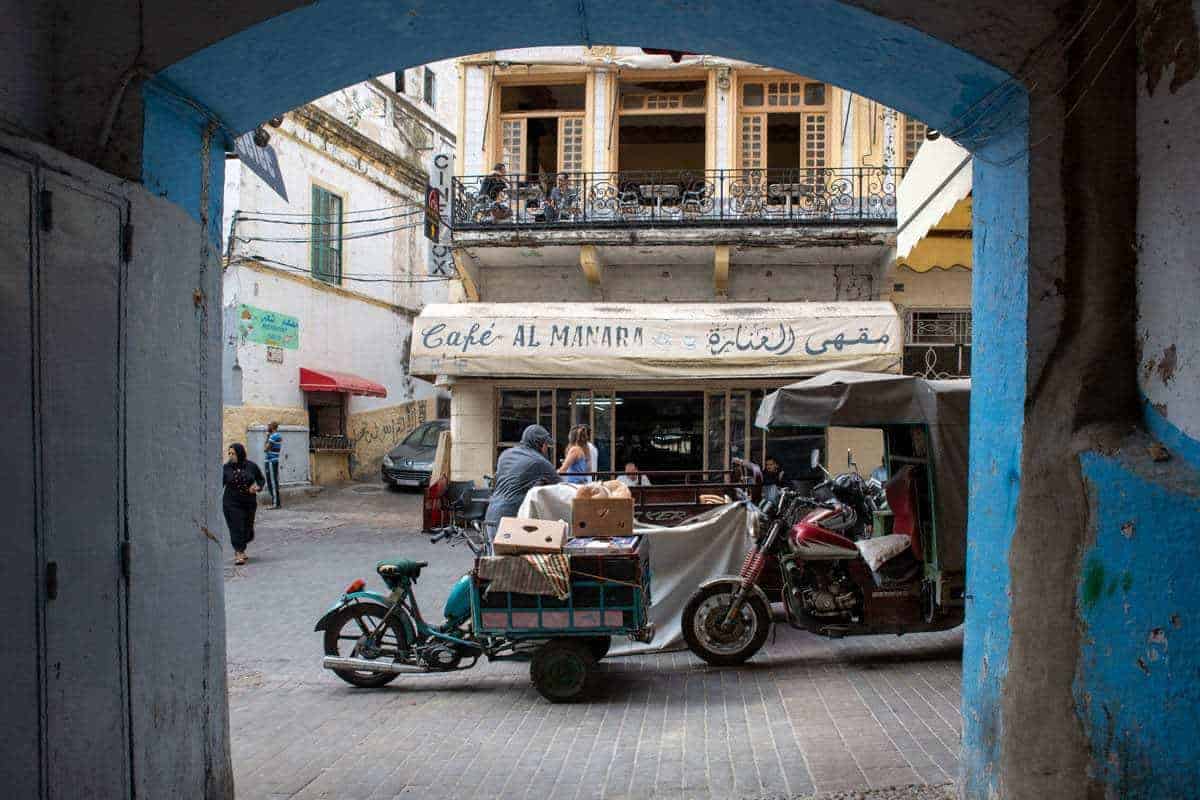 Beware of Fake Guides
As with Fez, be wary of fake guides. These friendly locals will start to accompany you and give you a tour of the town. They will stay with you for as long as you allow and then demand money for their time.
Some fake guides will take your money then leave you stranded. Always hire guides through reputable sources such as hotels or authorised tour companies.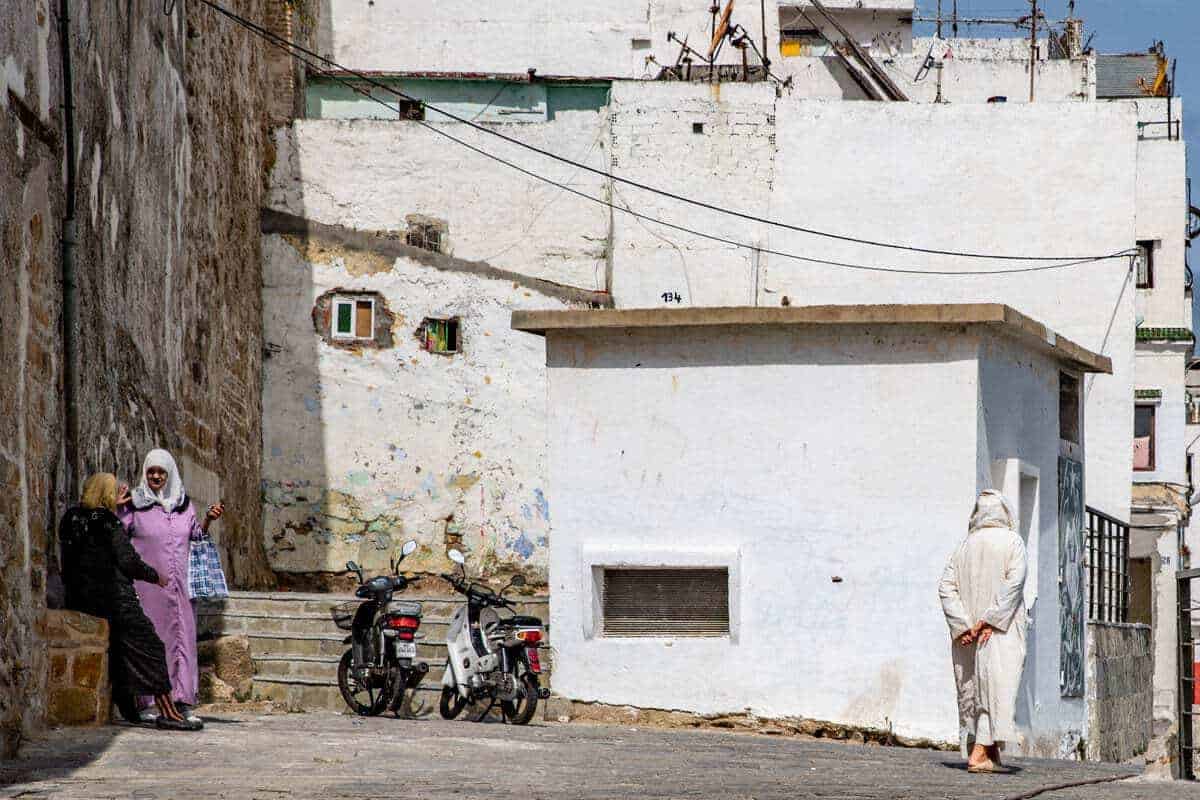 Pickpockets in Tangier
As with most crowded tourist areas in Morocco, pickpockets and petty thieves will be common. Try not to carry too many valuables and keep only a minimum of cash on hand.
What to Wear in Tangier Morocco
Much like Casablanca, Tangier is one of the more progressive cities of Morocco, so it is quite acceptable to see foreign women without head coverings.
However, it is not so acceptable to see foreign women in overly revealing clothing.
Trying to blend in will go a long way to getting a good reception from locals and staying safe by not drawing attention to yourself as a tourist.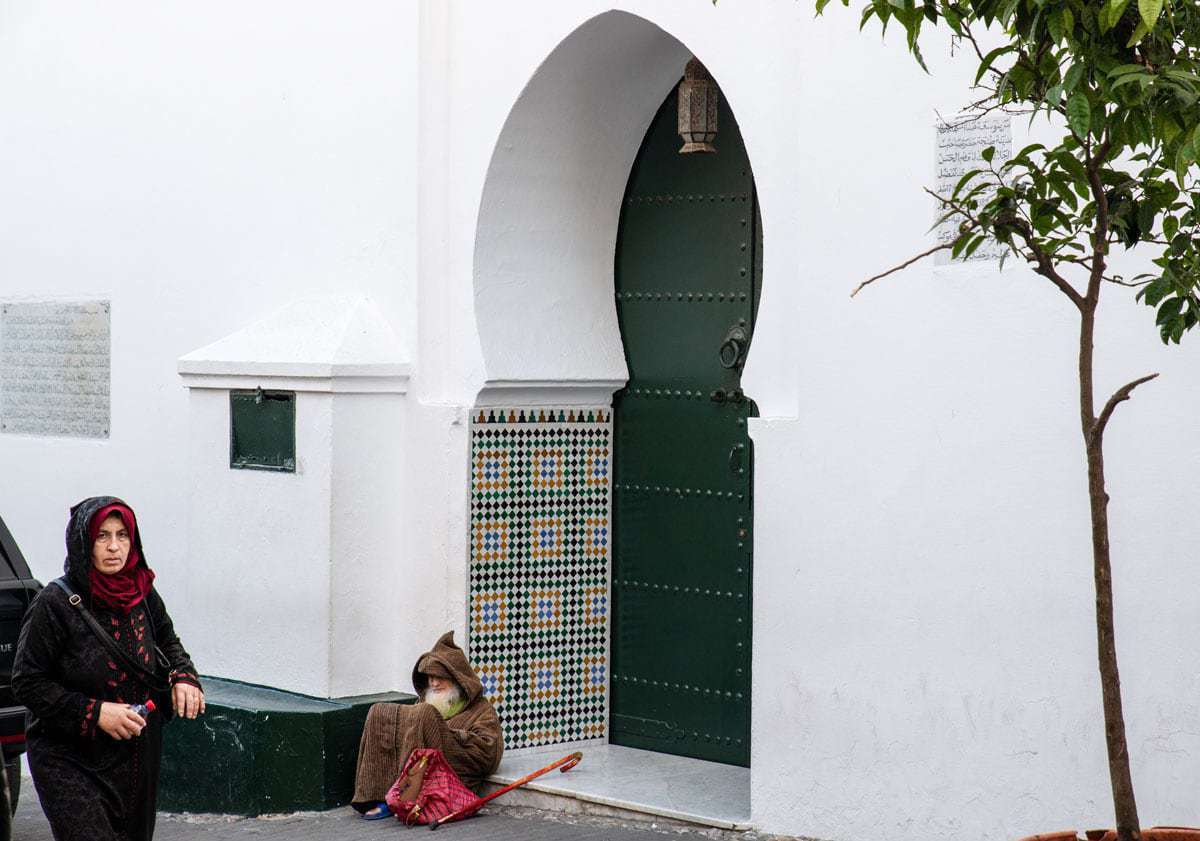 You can read more here about how to blend in and dress like a local when you travel.
Much like anywhere in the world, common sense is advised. Always consider what personal safety precautions might be appropriate for the situation such as crowded medina's or walking on your own at night.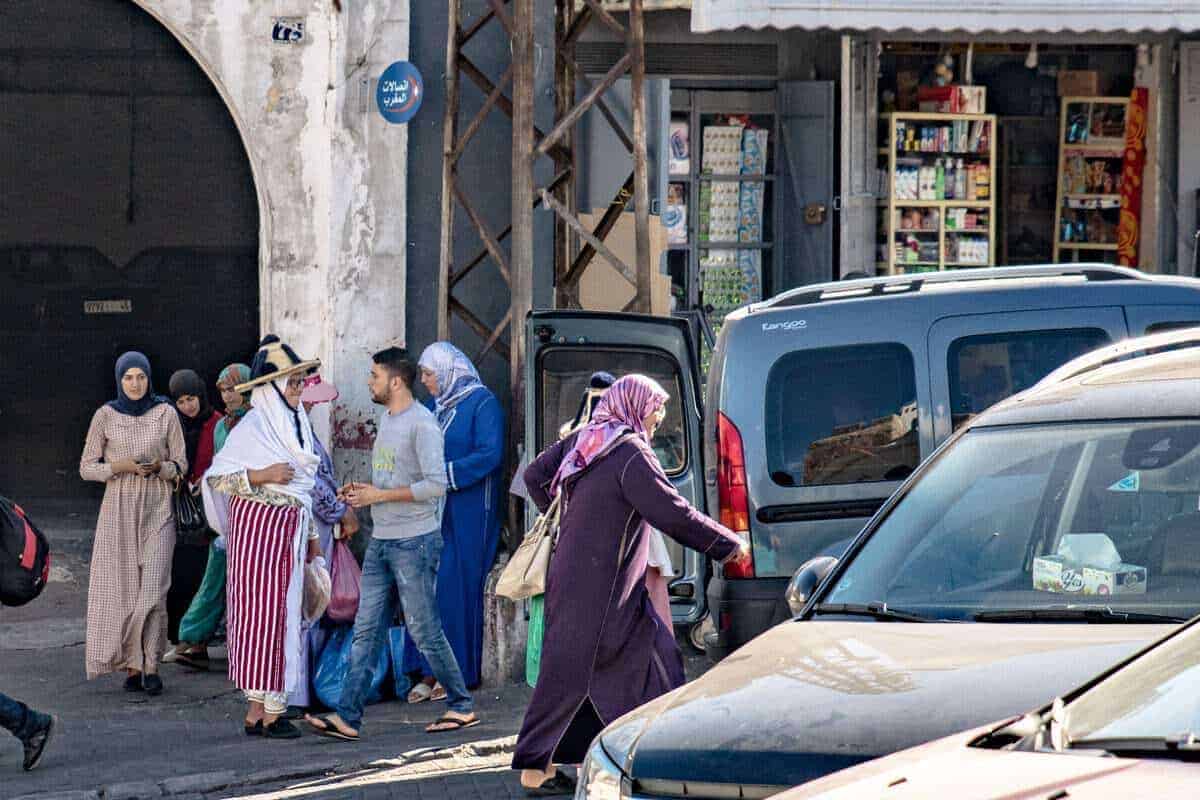 Where to Stay in Tangier Morocco
We have stayed in a combination of apartments as well as hotels and riads while in Morocco.
In Tangier, we stayed in a newly refurbished a two-bedroom, two bathrooms, self-contained apartment in the City Bleu Tanger Apartment complex overlooking the main port area.
Expect around €50/night for an apartment of this size.
We have also stayed with Riad Arous Chamel in the middle of the medina. In addition to the main hotel-style riad, Riad Arous Chamel offers a sperate self-contained riad style house which was two bedrooms, one bathroom with a roof terrace overlooking the beach, perfect for four adults.
Expect around €65/night for the self-contained house.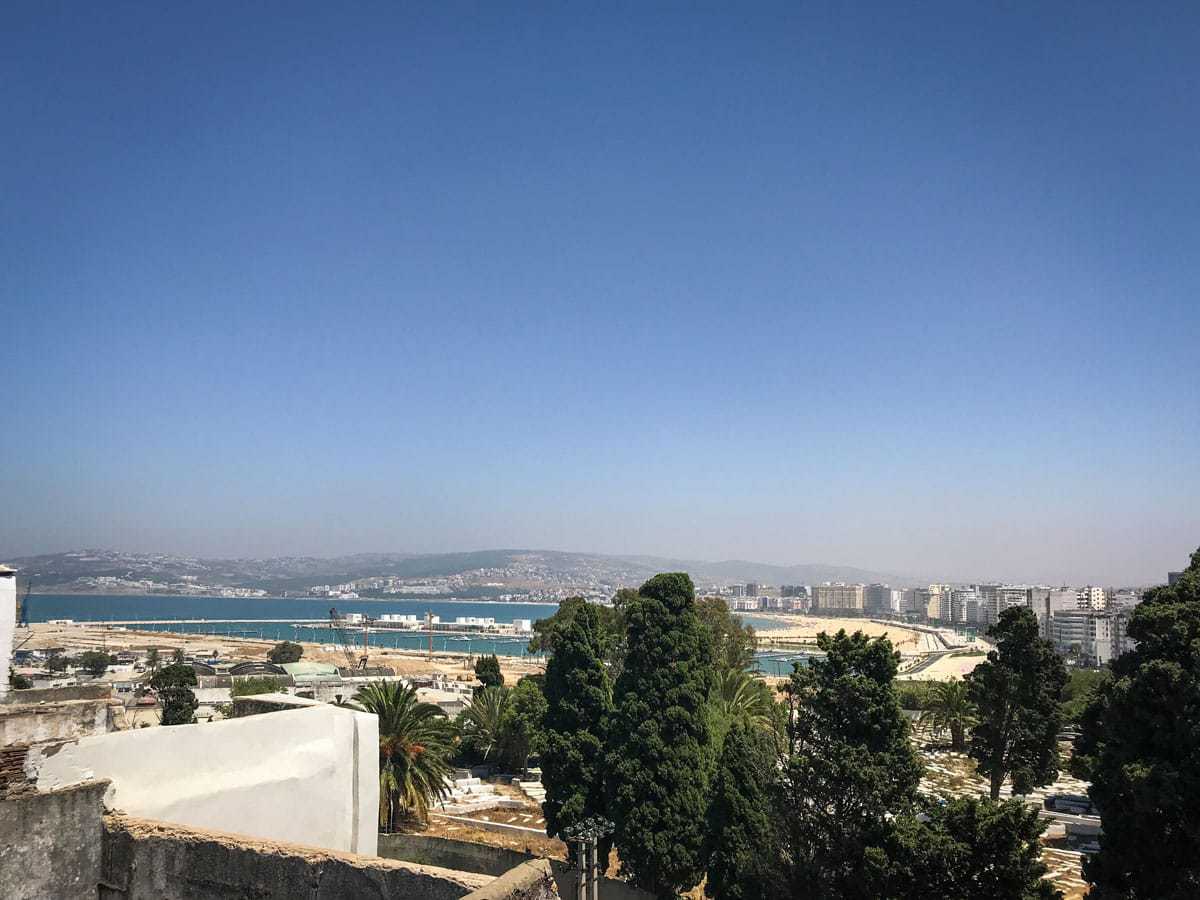 Accommodation in Tangier is very reasonably priced, and there are plenty of well priced self-contained apartments for rent as an alternative to a traditional hotel.
There is also a good selection of hotels and resorts to suit everything from budget to luxury.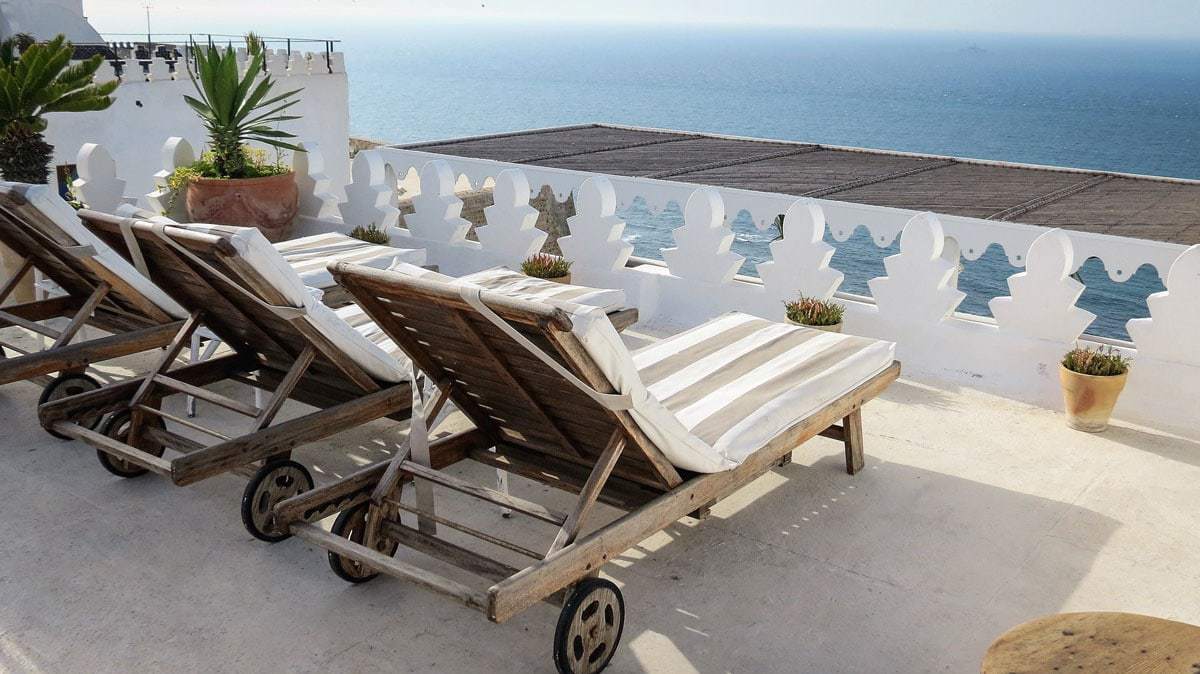 Best Things to do in Tangier Morocco
Whether you've caught the ferry from Spain to Tangier for a day trip, or, are on your last stop in Morocco en route to Europe. There's plenty to do and see in Tangier.
Here are some of the best things to do in Tangier Morocco.
Visit the Tangier Kasbah
At the highest point of Tangier, overlooking the city and the bay of Tangier is the Tangier Kasbah. One of the oldest districts of Tangier, the Kasbah is a picturesque area of whitewashed houses and stunning panoramas.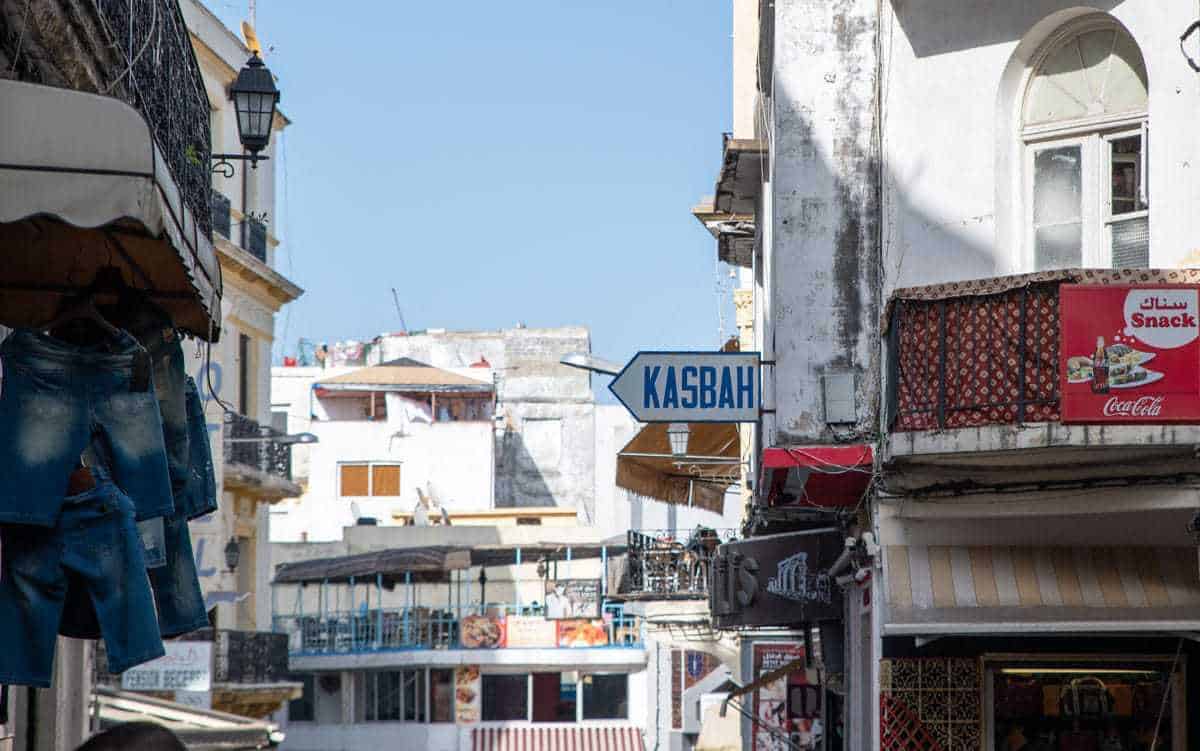 Spend an hour or so wandering around the Kasbah, exploring its brightly coloured tangle of streets. A map near the Bab Haha gate highlights the best self-guided walking path.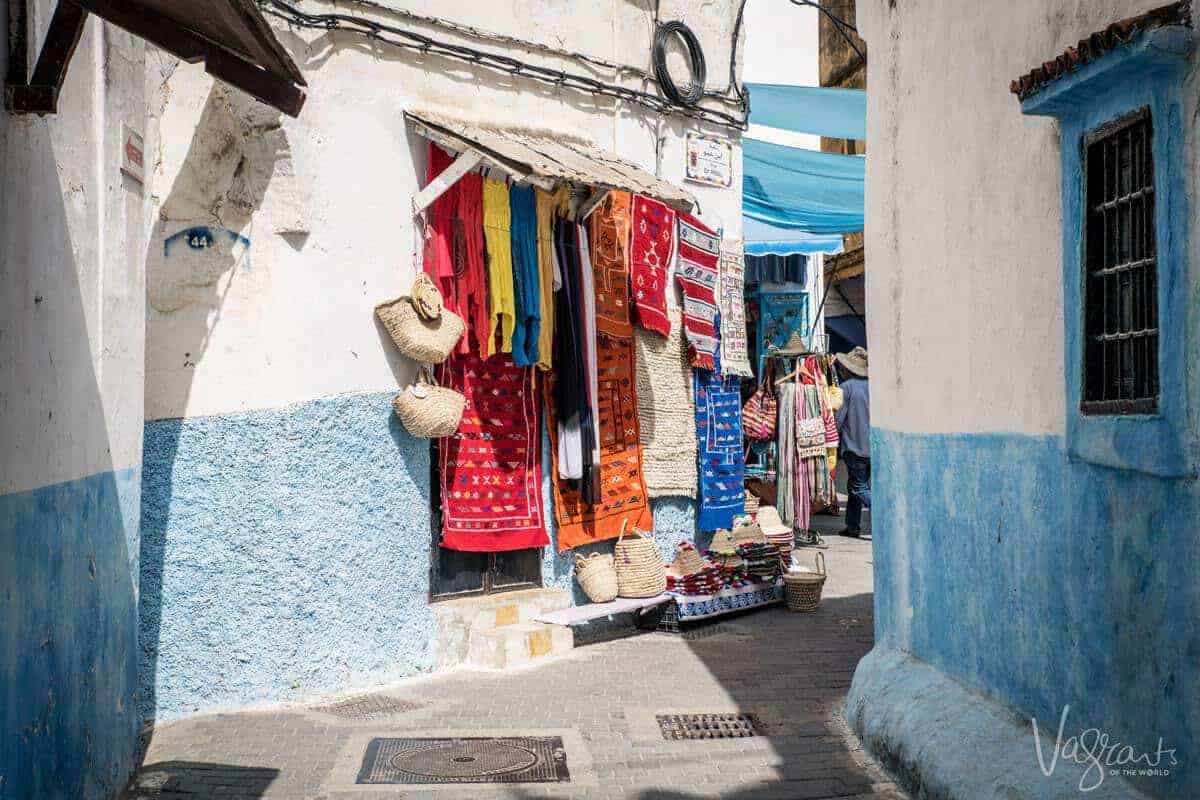 See the Rock of Gibraltar from Bab Haha Gate
From the Bab Haha Gate on a clear day, you can see the famous Rock of Gibraltar.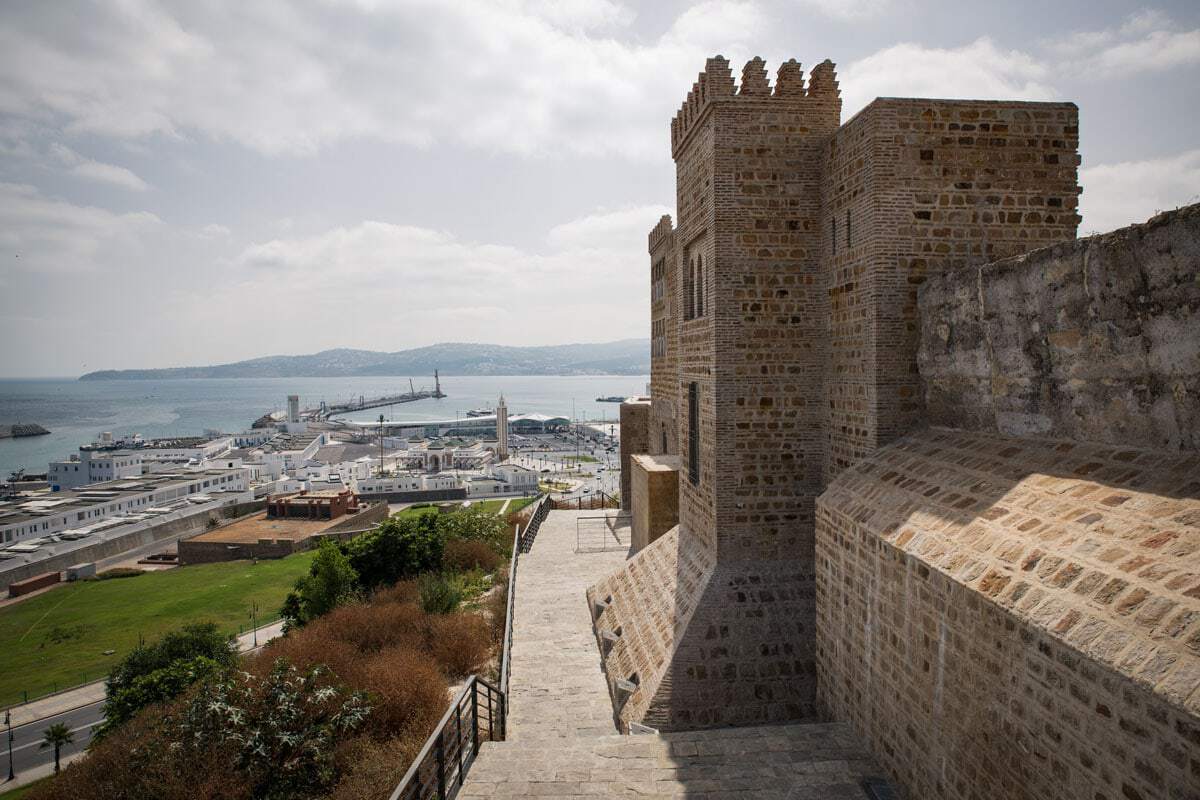 Musee de la Kasbah
Visit Musee de la Kasbah; the 17th-century former Sultans Palace; Dar el Makhzen. The museum boasts a selection of mosaics, Moroccan artworks and artefacts. It is also worth a visit for the beautiful buildings and gardens.
Entry: Approx 20 Dirhams. Opening times vary according to the season.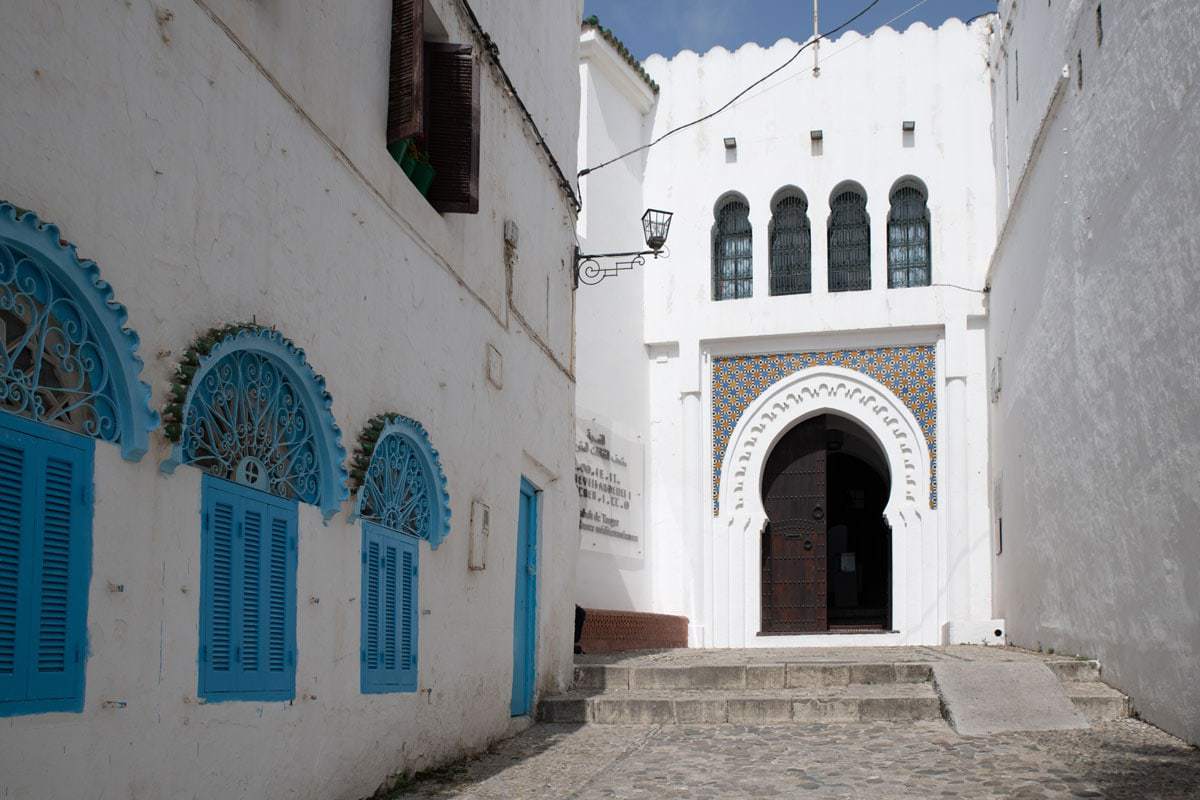 The Famous Clientele of Cafe Baba in the Tangier Kasbah
For over 75 years, the unassuming Cafe Baba in the Tangier Kasbah was the place where many high profile visitors to Tangier went to sip tea or smoke hashish.
The Rolling Stones were customers when they holed up in Tangier while awaiting a verdict of drug charges in the UK.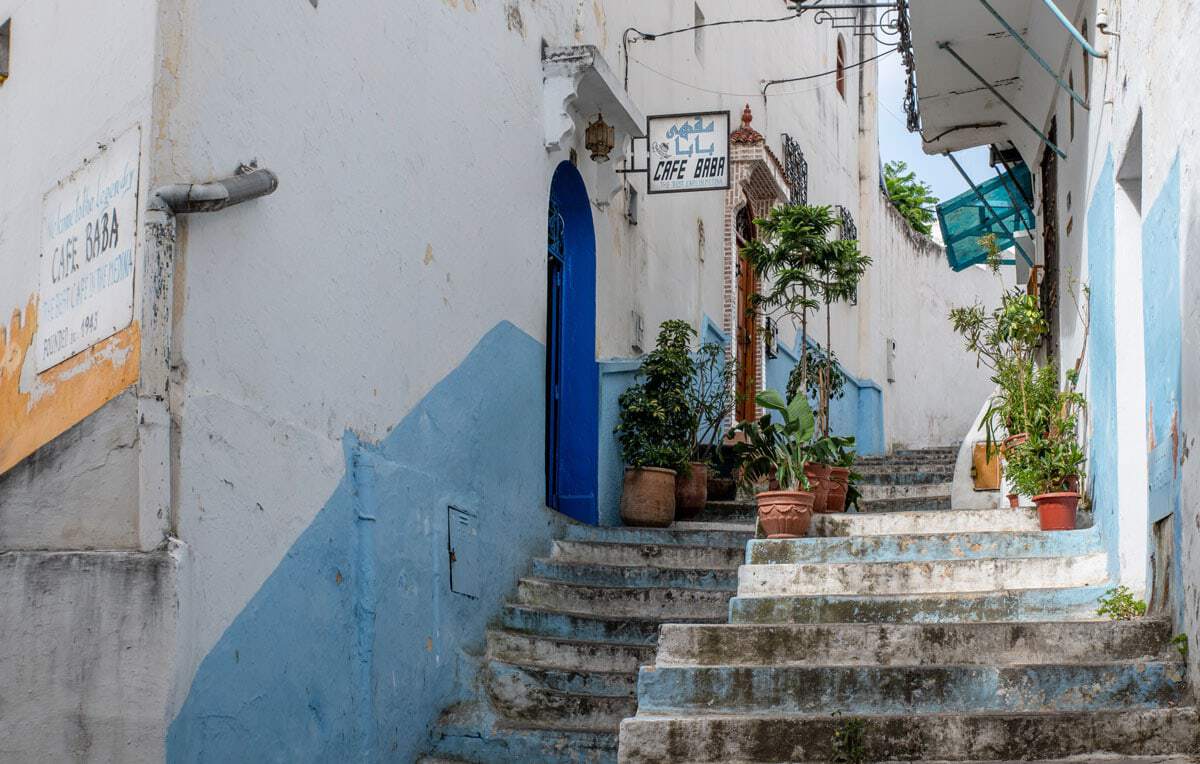 Cafe Baba's smoke what you like policy and the international clientele of expat intellectuals, artists and rock stars appealed to the band who frequented the old fisherman's cafe. A scene the owner referred to as "Clever Hippies".
The Tangier Kasbah and Cafe Baba's has been a hangout for all walks of life including royalty, dignitaries, rock legends and famous filmmakers.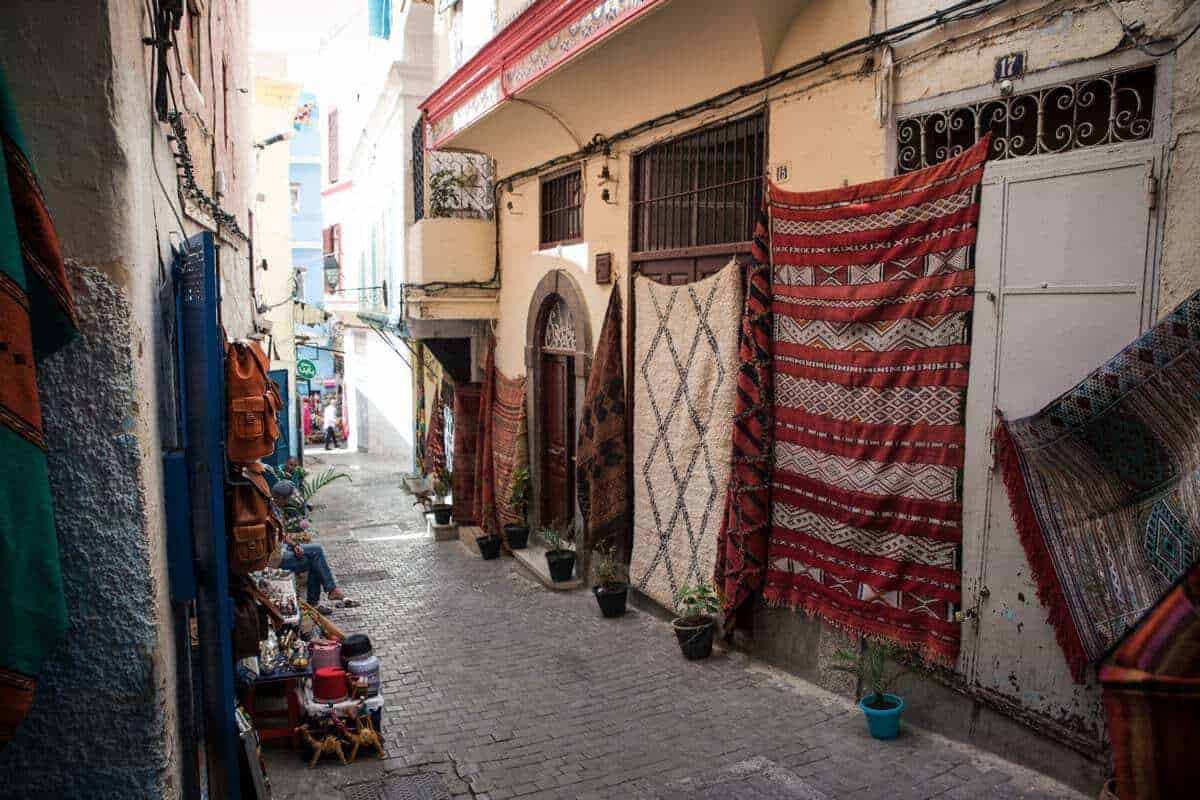 Shopping in the Souks
Souk shopping is an essential activity in Morocco. Understandably, anyone who has been to Marrakech may feel they have shopped the souk of all souks, but this doesn't mean you should miss the Tangiers souks.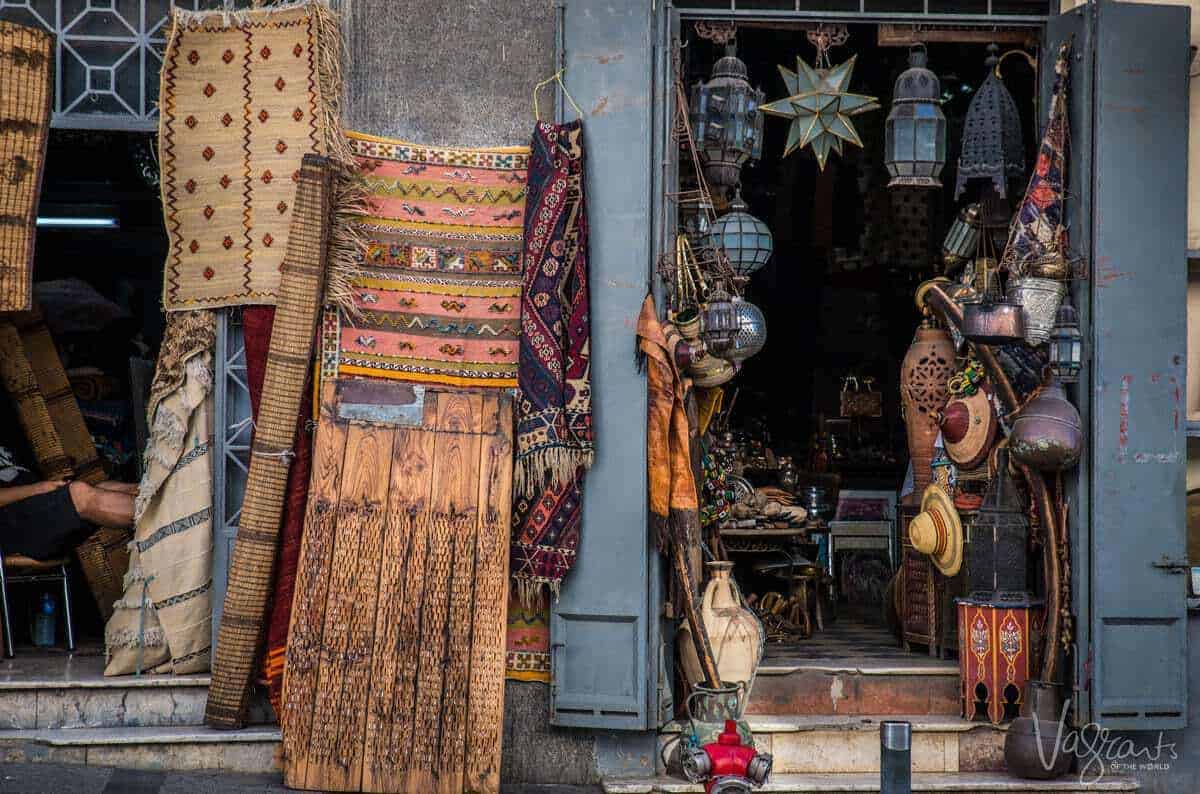 Thursdays and Sundays are the most popular days for locals to shop at the souks.
In addition to the usual sensory overload of fresh produce and livestock one expects from a souk, these are the days traditional Berber women will come to the city from the Rif mountains to sell their fresh produce and homemade wares.
The perfect time to be on the lookout for a unique keepsake from Tangier.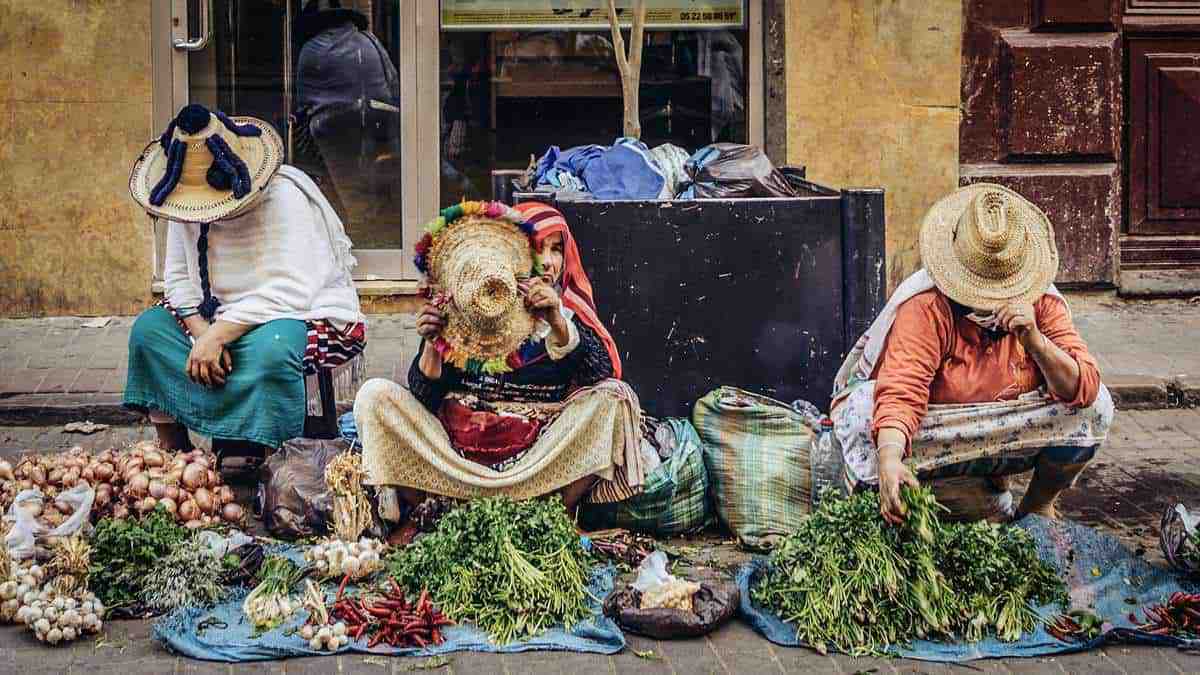 Benson Kua Flickr
Explore the Tangier Medina
While the Tangier medina may not be in the same league as Fez el Bali or even Marrakech, it has an interesting mix of architectural styles that make it unique.
It is here you see the first European influences on Africa in the mixed European colonial, Andalusian and Moorish Architecture.
Much like any Medina, expect a complex maze of streets with an assortment of bazaars, shops, and restaurants.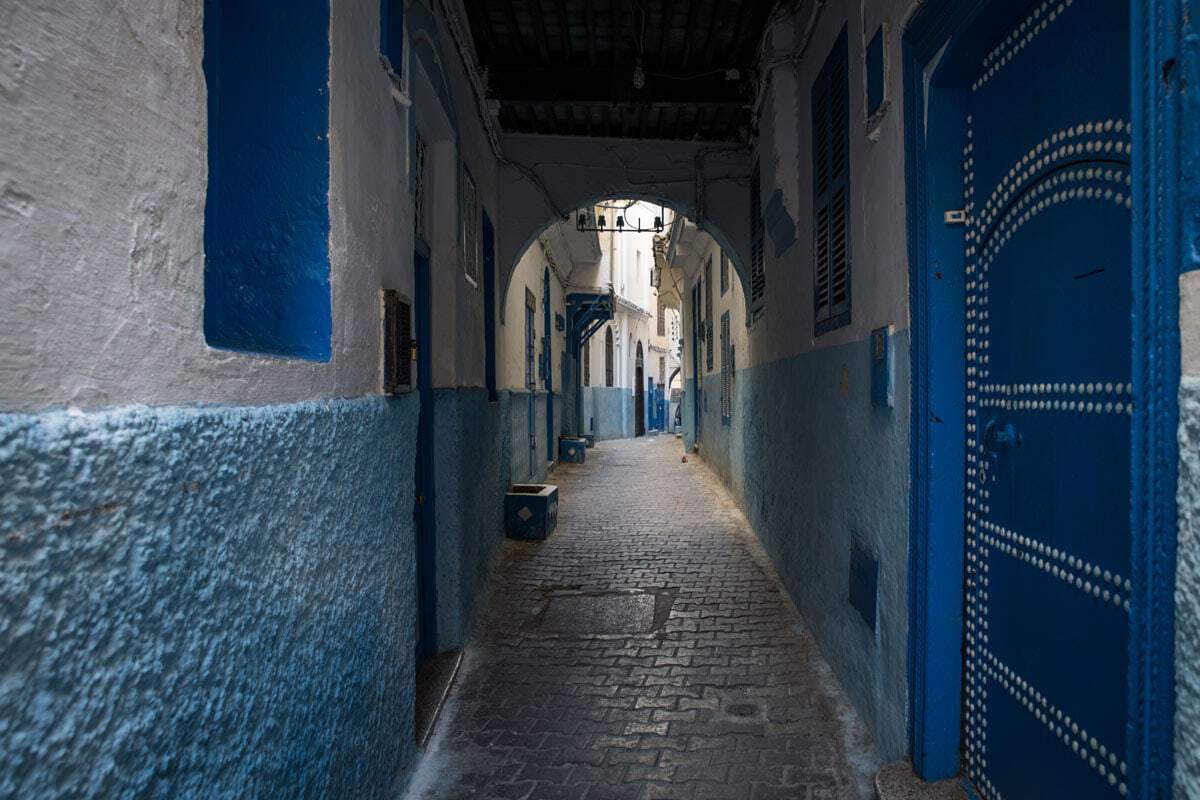 More than likely you will get lost, but unlike Fez or Marrakech, helpful locals will usually point you in the right direction without too much fear of falling victim to a scam.
That's not to say you don't have to be wary of the tout bearing a Rolex for sale.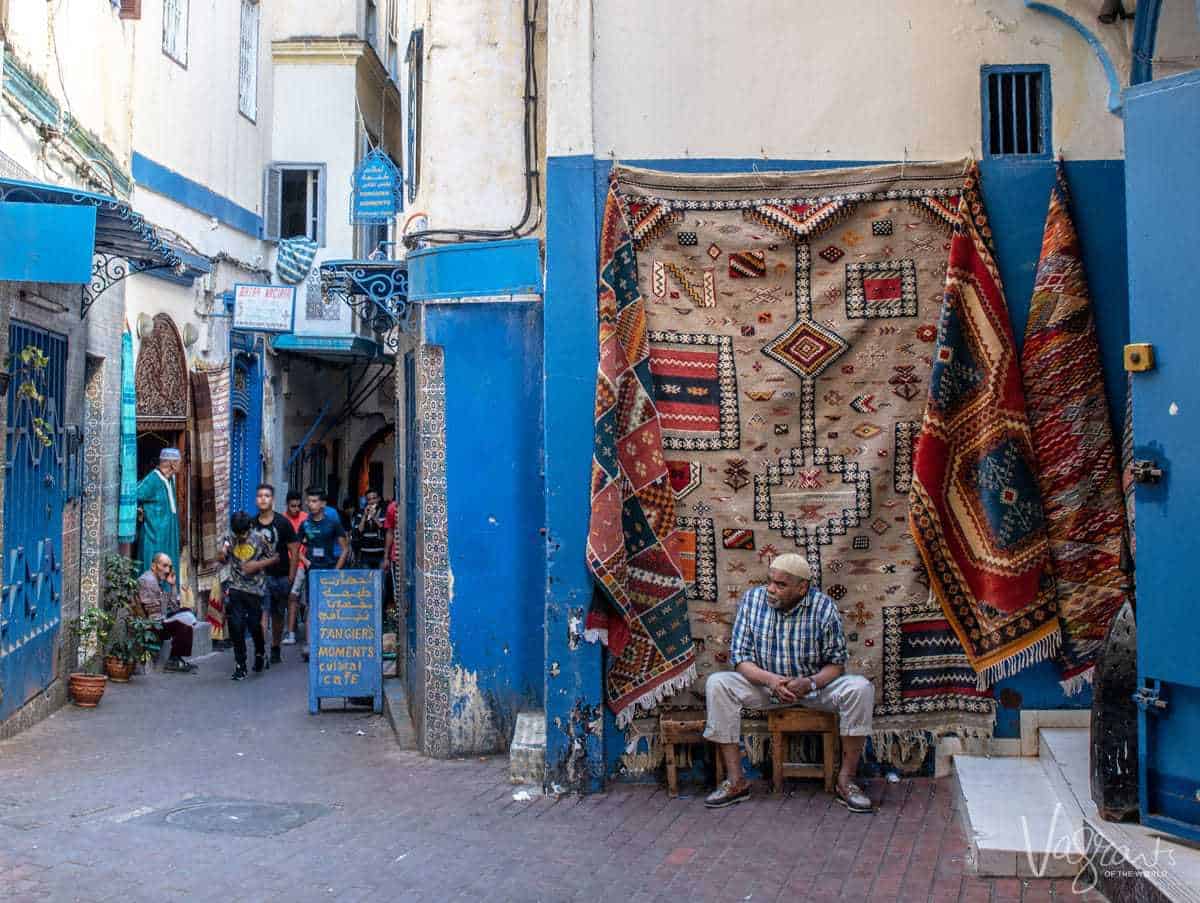 Get a Tangier Shopping Guide
You can buy almost anything in the souks and Medina from antiques, fabrics, even doors and most shopkeepers will ship internationally.
If you are unsure about shopping in the medina on your own or wish to make a purchase without fear of being overcharged; hire a guide to help you navigate the shops and show you how to negotiate.
Most hotels will be able to recommend a reputable guide for a reasonable cost. You can also hire a private guide for the day and combine sightseeing with some shopping and bargaining guidance from a local.
Private full-day Tangier tours start at approx. $40 USD. Get more details here.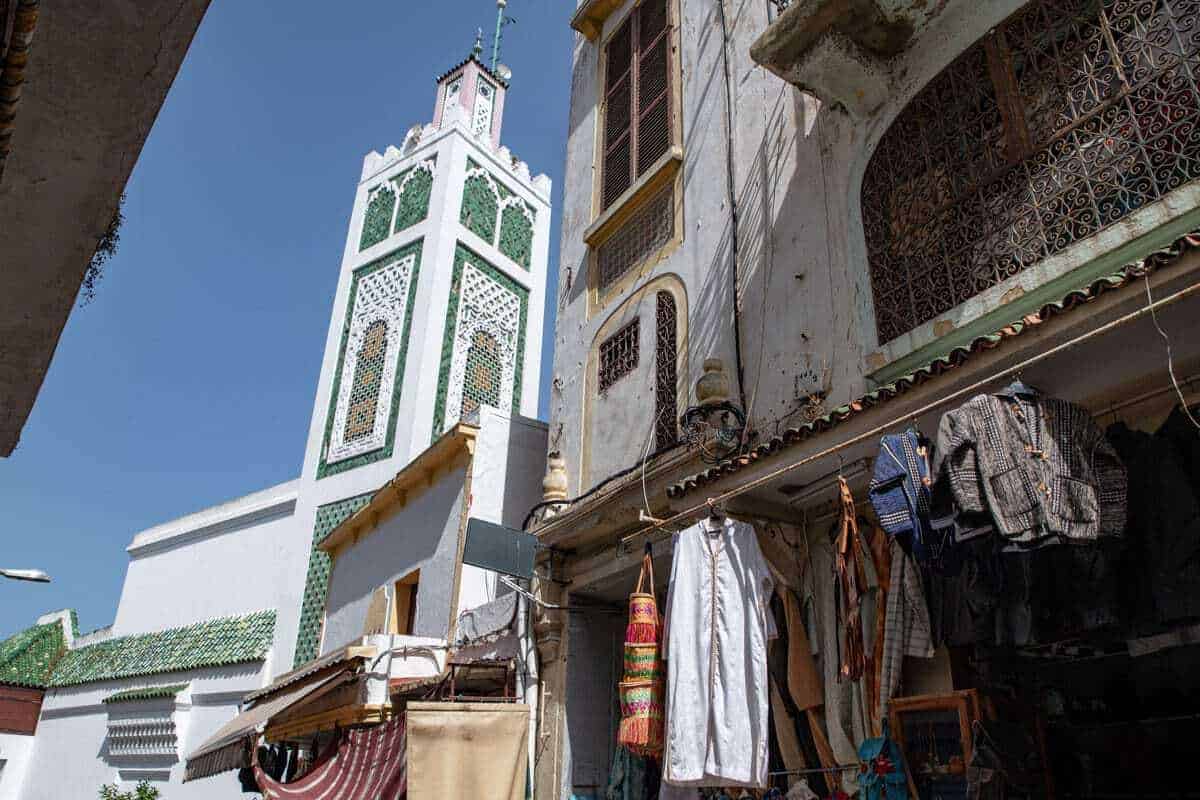 Soak up the Vibe at Gran Café de Paris
Stop in for coffee at Tangier's most famous cafe; Gran Café de Paris. Relax in an oversized leather chair while waiters in sharply pressed suit coats deliver impeccable service reminiscent of the 1950s.
The cafe was a favourite hangout of the famed Tangier literati during the time of international rule. Burroughs even used it as a place to write while mingling with double agents and diplomats.
An iconic landmark, the cafe was most recently featured in the movie The Bourne Ultimatum.
Gran Café de Paris is the perfect place to get a feel for Tangier, it's past and it's present. As it did in Tangiers heyday, the cafe still attracts an eclectic mix of clientele.
Order a café au lait and soak up the atmosphere of the infamous Gran Café de Paris as you watch the daily trade on the Petit Socco.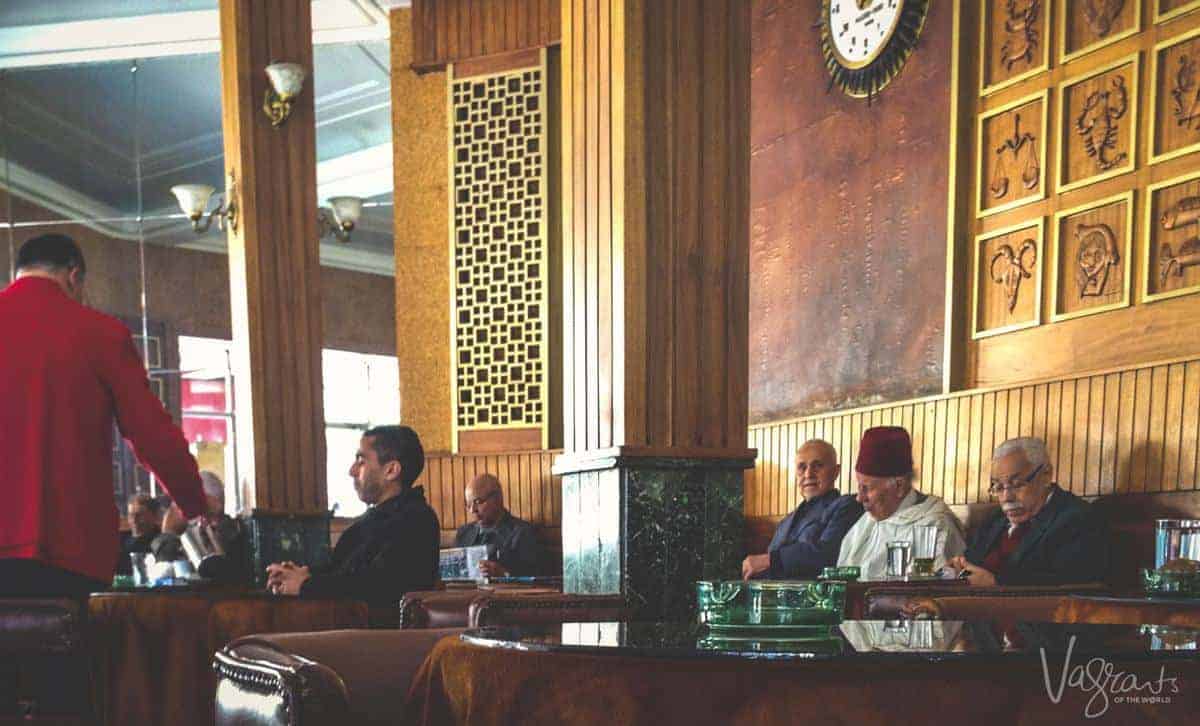 Indulge at the Famous El Minzah Hotel
For another iconic Tangier experience, treat yourself to a stay at one of the most historic and best hotels in Tangier – The El Minzah Hotel. Or, if this lovely waterfront establishment is not within your budget, pop in for a long poolside lunch.
The service and food are what you would expect from a hotel of this calibre.
Set in lush gardens surrounding the pool; Hotel El Minzah is the perfect place to relax and indulge.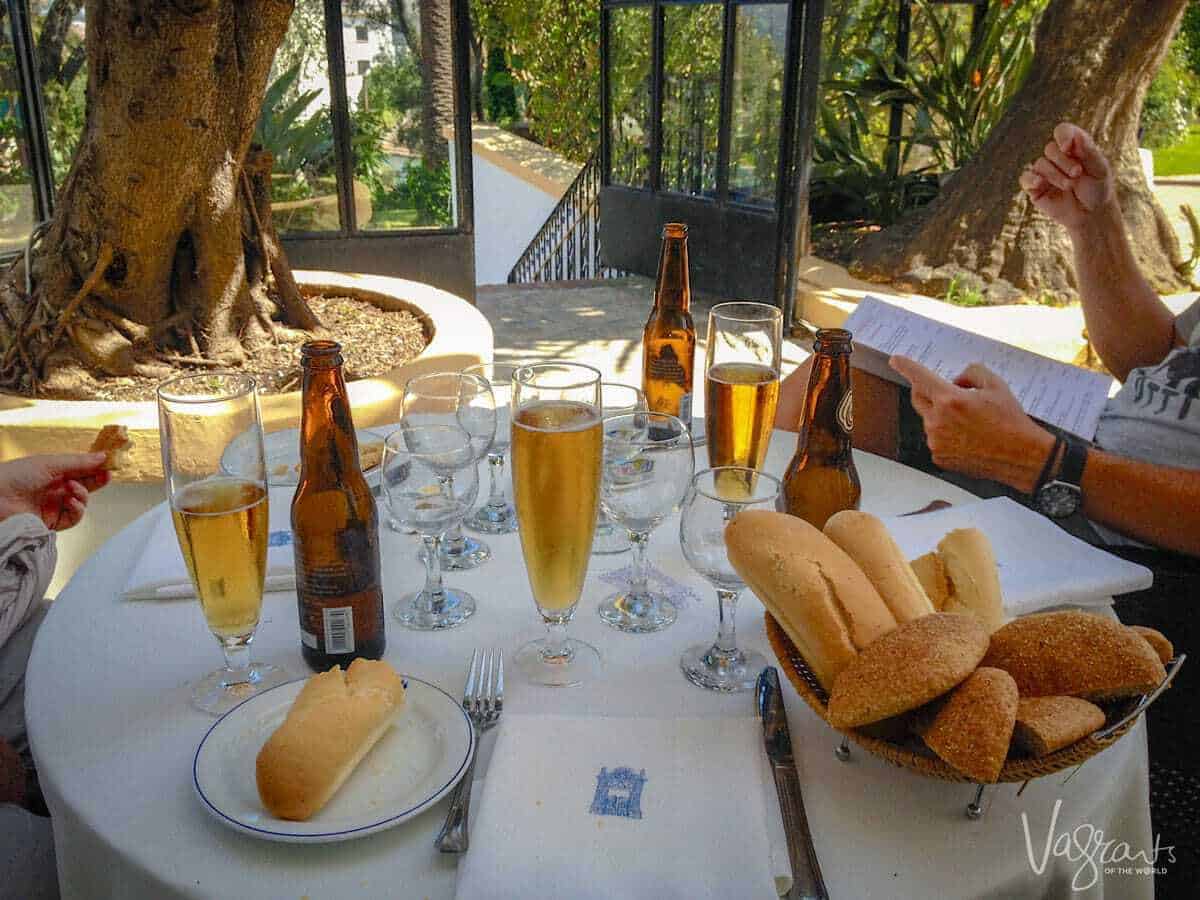 Opened in 1930; the luxurious hotel has been a favourite with dignitaries, politicians, and Hollywood stars. T
he walls just off the foyer are lined with photographs of famous guests such as Sir Rex Harrison, Rita Hayworth, Rock Hudson, Prince Albert of Monaco, Jacques Cousteau, Yves Saint Laurant, and many others.
Everyone from Winston Churchill to John Malkovich has stayed at this iconic establishment.
If you want to stay at El Minzah Hotel, rooms range from €130/night to upwards of €400 for a suite. El Minzah is currently undergoing a significant refurbishment so rates may increase.
You must book well in advance as it is often booked out. Check Latest Rates for El Minzah Here
Cape Spartel and the Caves of Hercules
15 kilometres, approx 30 minutes west of Tangier are Cape Spartel and the Caves of Hercules. Both considered as Tangiers' top attractions and one of the more popular day trips from Tangier.
Cape Spartel
Cape Spartel is the most North Western point of mainland Africa. From the lighthouse, you have views across the Strait of Gibraltar, where the Atlantic meets the Mediterranean.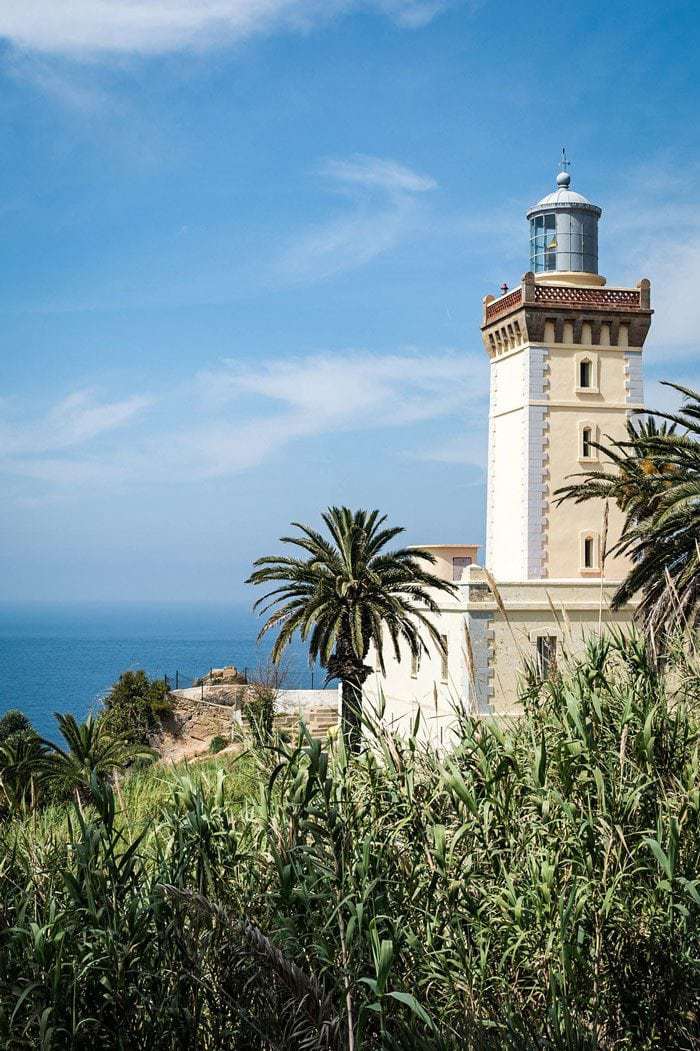 Caves of Hercules
It is said the Greek hero Hercules once spent time in the cave after completing the 12 labours that guaranteed his immortality. The cave has two openings. One to sea and one to land.
The opening facing seaward ironically resembles the shape of the African continent.
As you descend the stairs and enter the vast cavern, you will pass vendors who will try to sell you fossilised seashells or take your picture in front of the cave. As with every situation like this in Morocco, be firm and move on if you don't wish to make a purchase.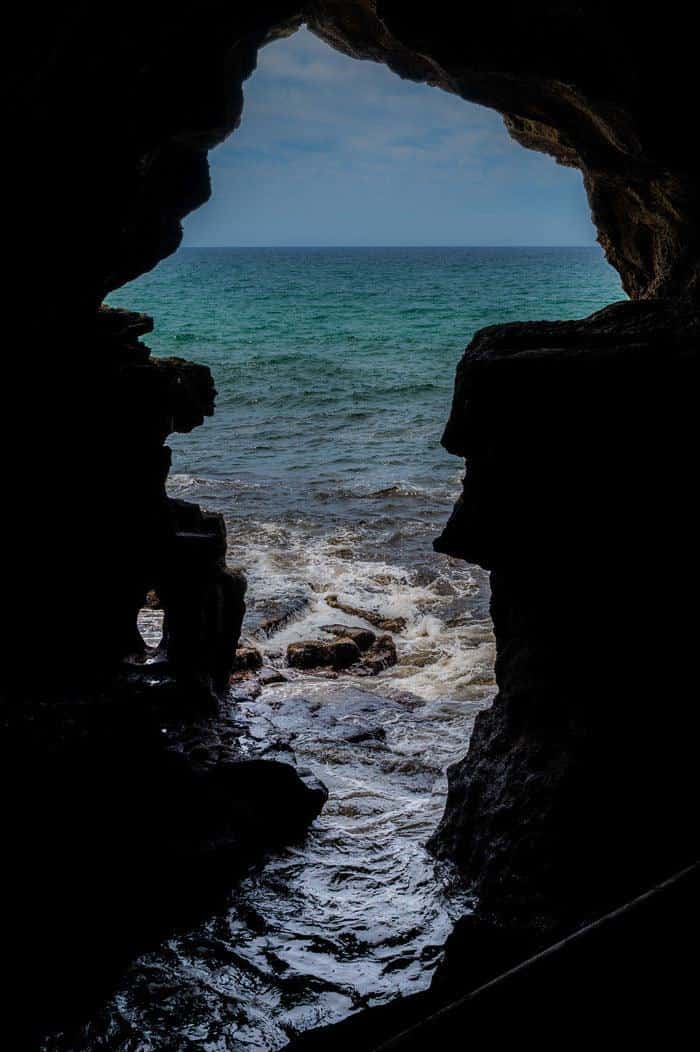 Enjoy Tangier Beaches
Tangier is not short of stunning beaches. The most popular is Tangier Beach, a short walk from the Medina.
The beach will be quite crowded during the day with people lunching along the seashore and tourists taking advantage of the chance to take a camel ride in Morocco.
A popular photo opportunity for those who don't get the chance to make it to the Sahara Desert.
Cost of Camel Ride in Tangier
Expect around 10 Dirhams for a bumpy ride down the beach.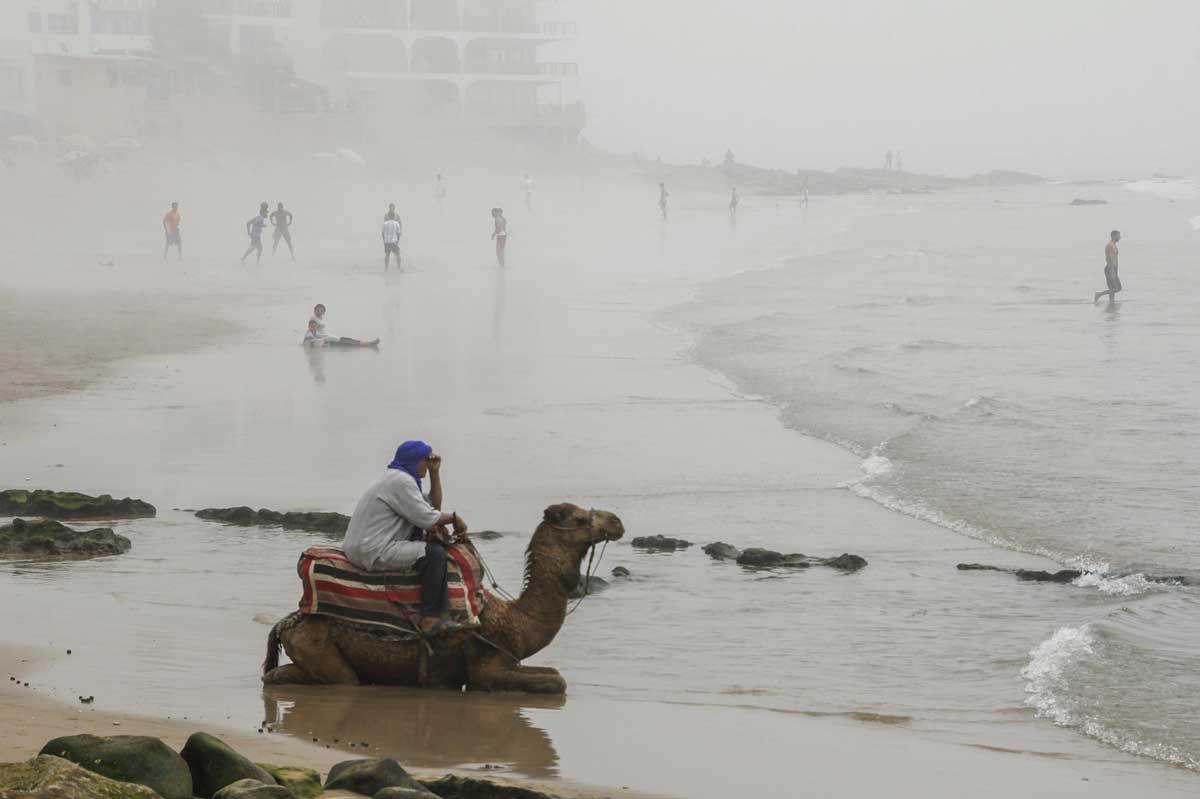 Sidi Kacem Beach
For an escape from the beach vendors and tourists on day trips to Morocco from Spain; head to Sidi Kacem beach, one of the best beaches in Tangier.
Not far from the caves of Hercules, Sidi Kacem beach offers miles of idyllic golden sandy beaches on the Atlantic coast.
One of the best features of this beach is the L'Ocean Restaurant situated right on the beachfront.
Seated on the terrace, in the shade of a fig tree, you can sample some of the best seafood and Mediterranean cuisine in Morocco while overlooking the Atlantic Ocean. L'Ocean is mostly frequented by locals so expect weekends to be busy, especially in the summer months.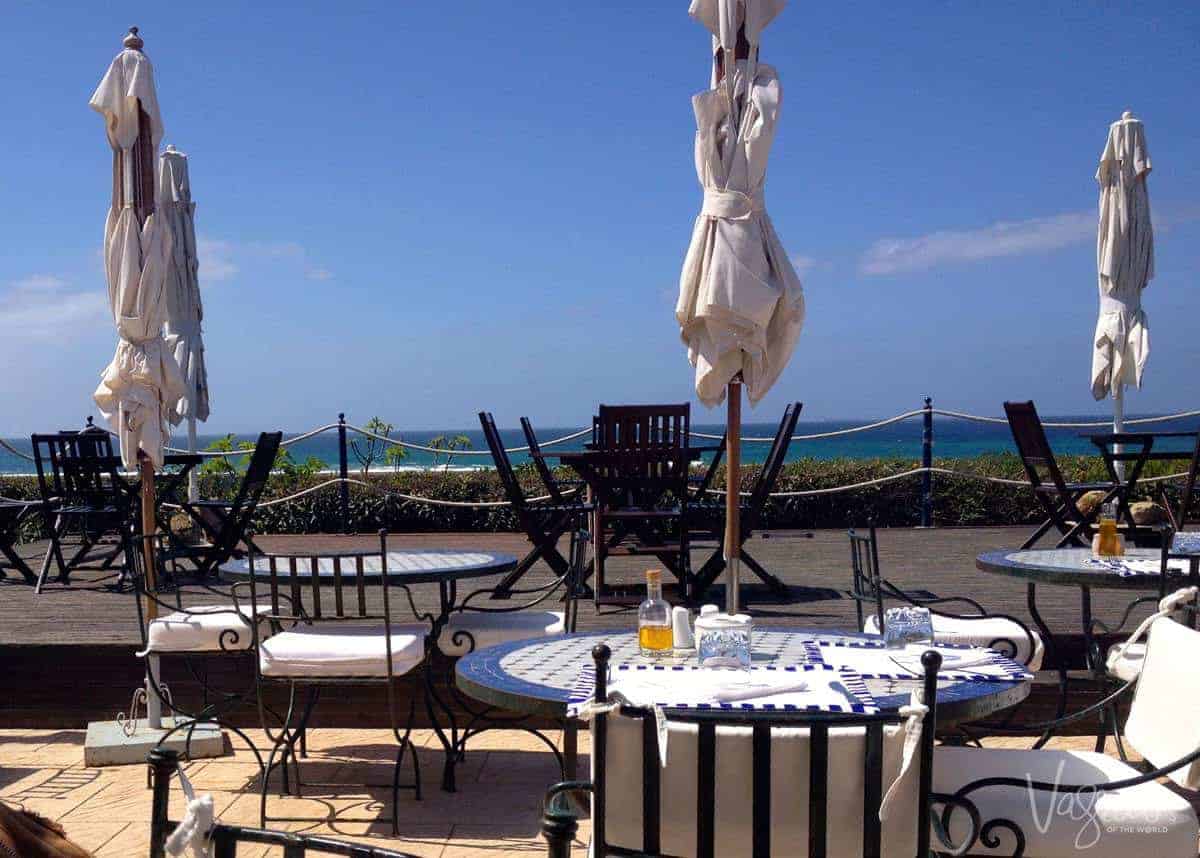 Day Trip From Tangier to Chefchaouen
Morocco's Blue City, Chefchaouen is considered one of Morocco's most beautiful towns. The blue-washed mountain village perched beneath the dramatic peaks of the Rif Mountains is where people go to chill and unwind from the rigours of travel.
While tourists now flock to the incredibly photogenic village, its authenticity isn't entirely lost – yet.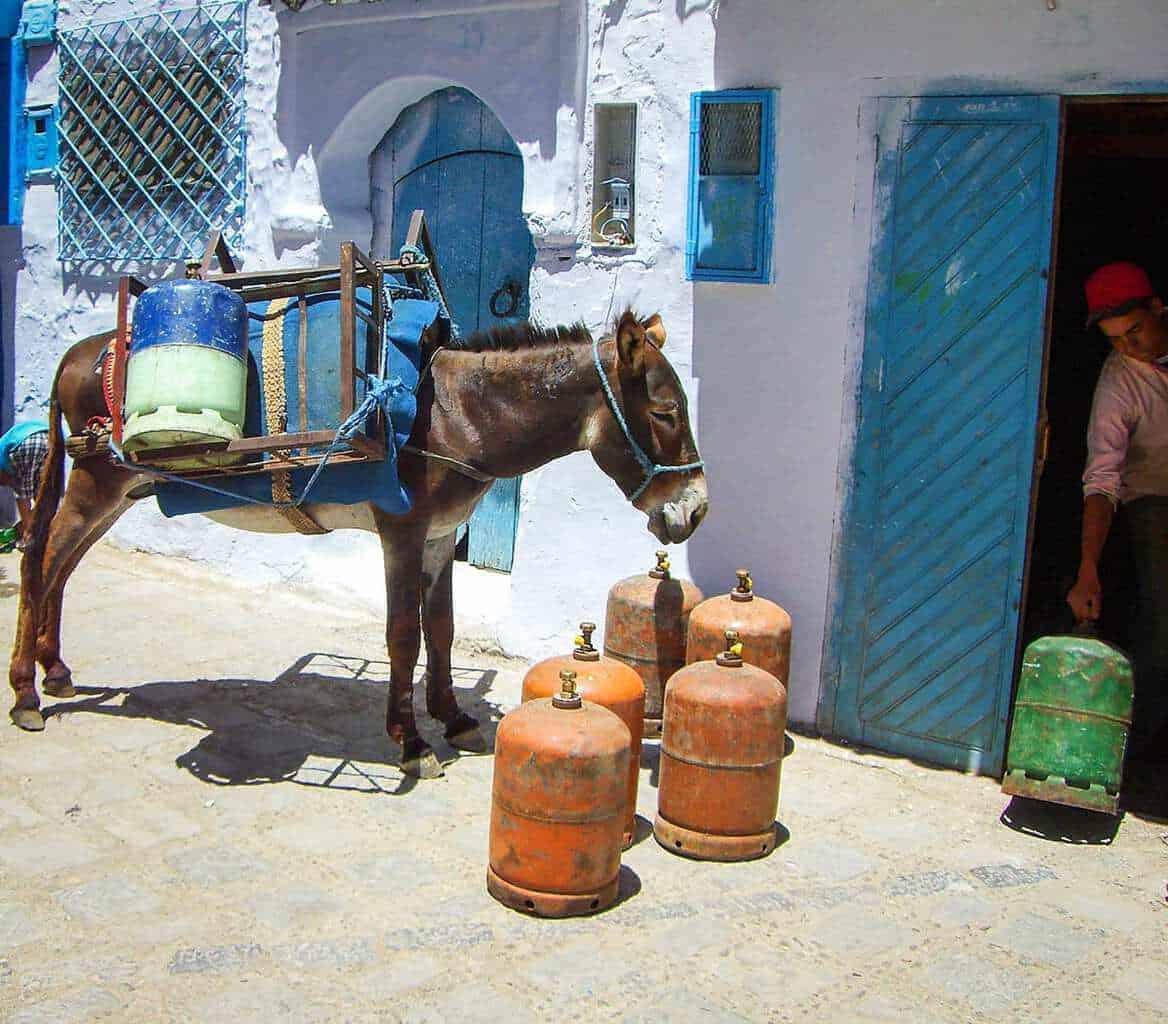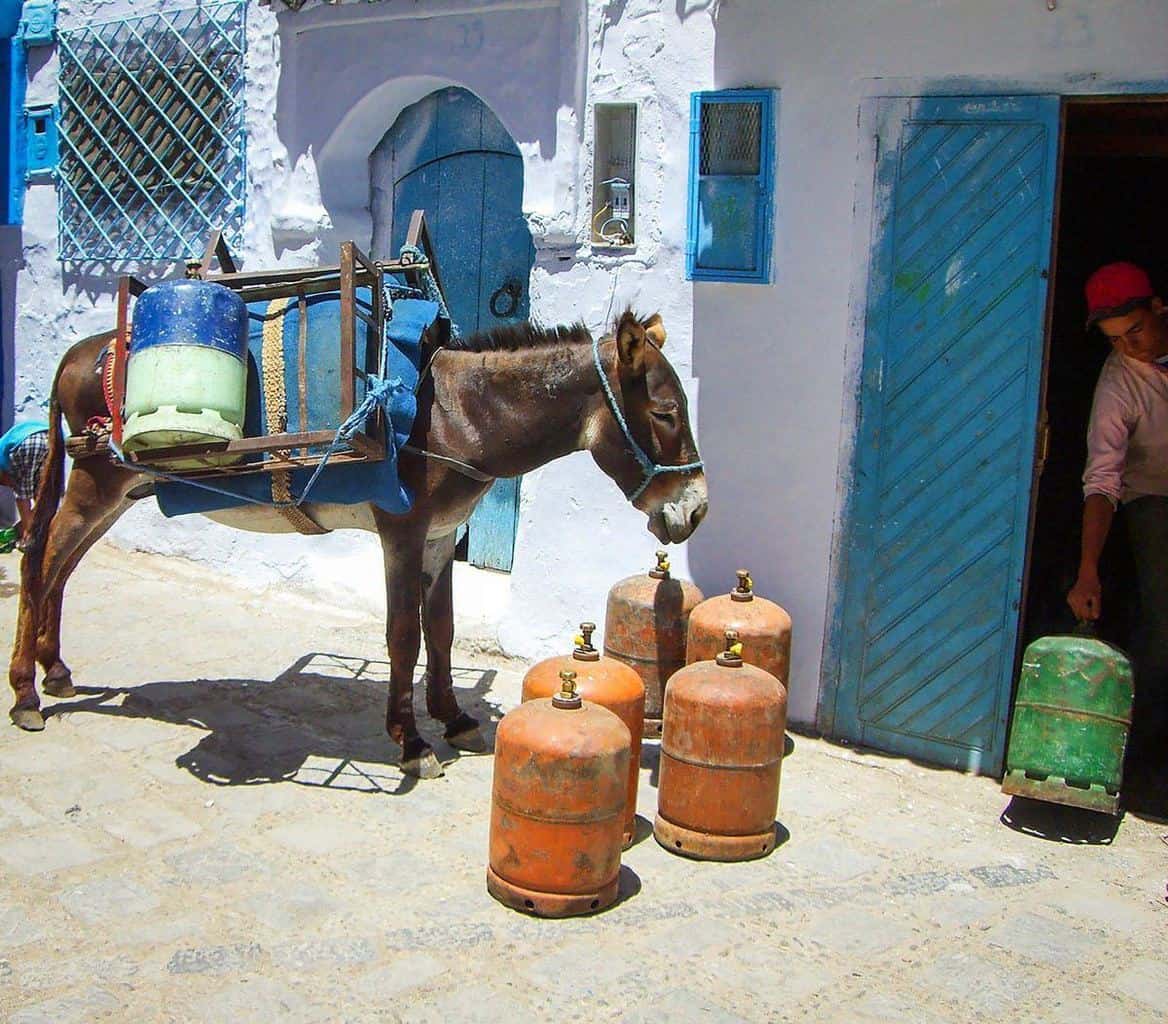 Chefchaouen also has a reputation for being the centre of the marijuana growing region of North Morocco. One reason the city has been on the backpacker radar for some time.
While the ease of availability seems to be widely accepted in the city; with this lapse in law comes to the annoyance of touts trying to peddle weed to tourists.
Regardless, this is a mild hassle compared to the constant haranguing in places like Marrakech.
With the rise in tourism, Chefchaouen is rapidly experiencing a kind of renewal. With it comes a range of quality accommodation and plenty of good food options.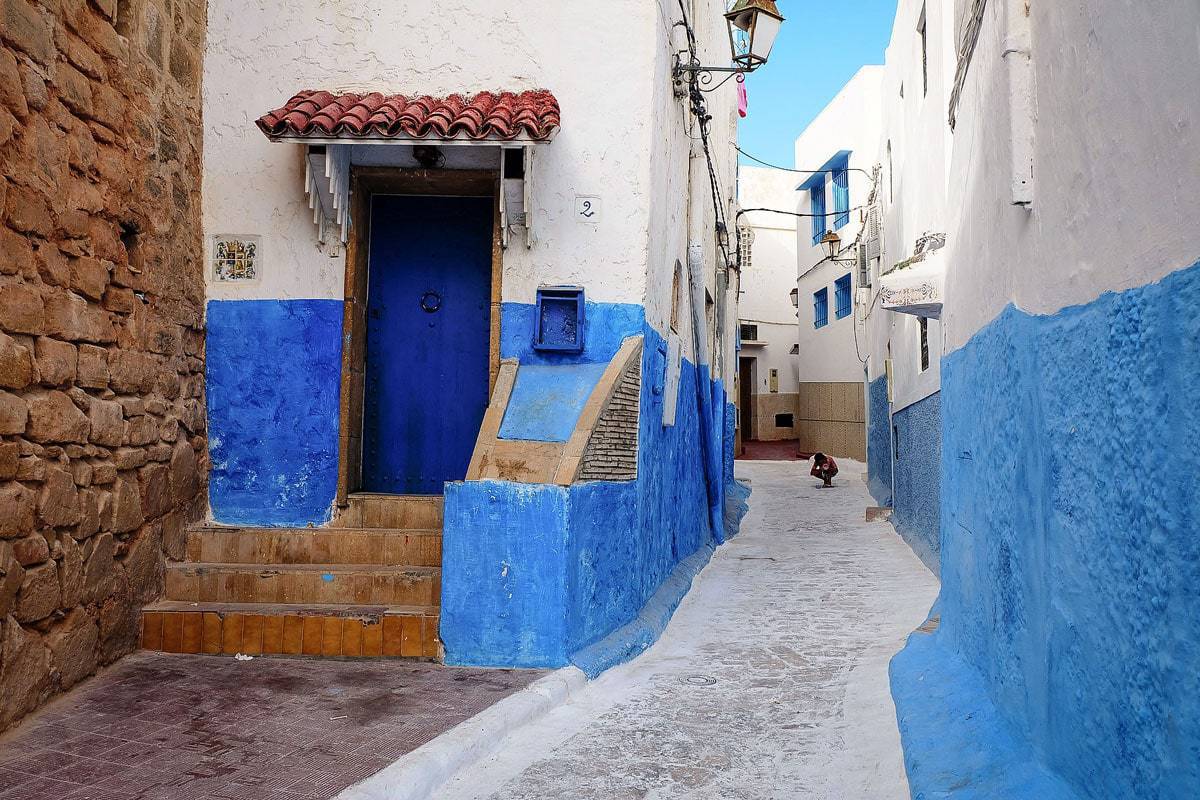 Where is Chefchaouen
It is 119 kilometres from Tangier to Chefchaouen. A little over an hour by car, so it is a perfect day trip from Tangier.
Getting from Tangier to Chefchaouen
Grand Taxi
A Grand Taxi which is a shared public taxi will cost about 850dhs/€85 each way. As it is shared, it may not always take the most direct route.
Also, make sure you agree on a price with the driver at the beginning of the journey.
Local Bus
Local buses running from Fez to Tangier stop at Derdara which is approx 8 km from Chefchaouen centre. From here you can grab one of the passing grand taxis for approx 5 Dh or, there are usually petit taxis at the bus station. Don't pay more than Dh 10 to get to the medina.
Guided Day Tour
Full day, guided Tangier to Chefchaouen tours start at approx €89 pp. You can find out more here.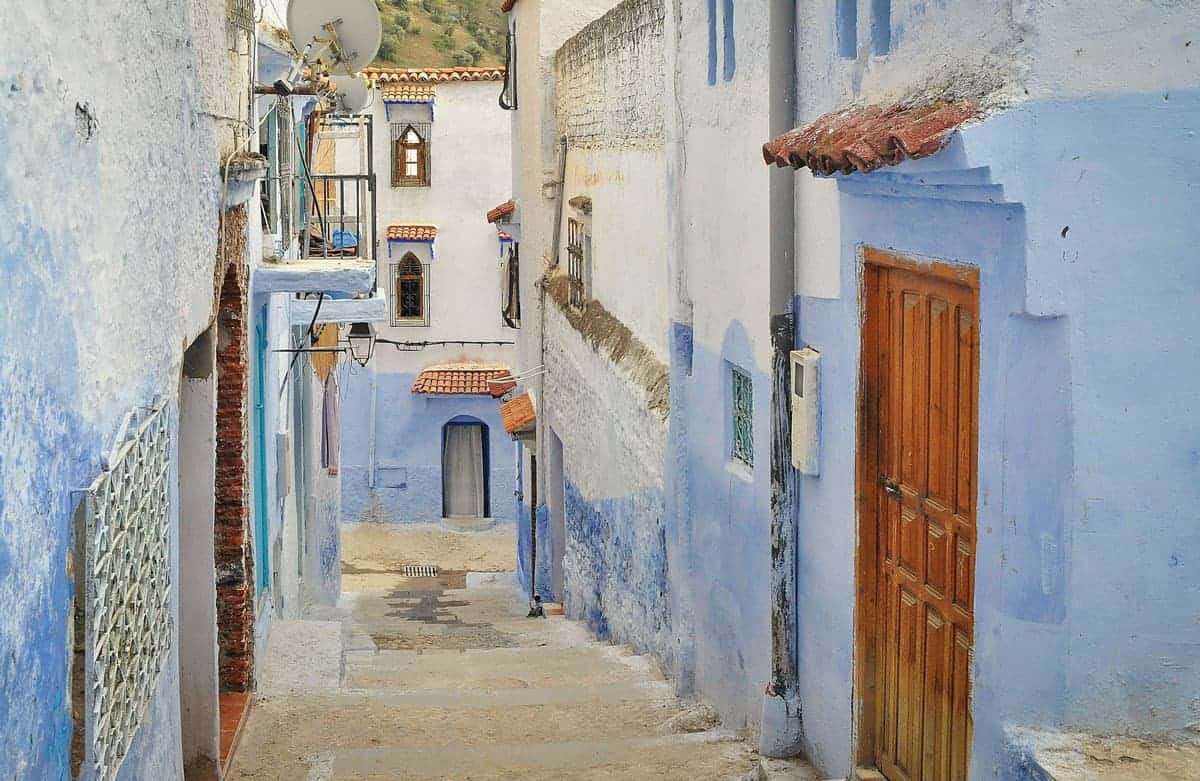 Plan Your Trip to Tangier
---
Travel Essentials for Tangier and Morocco
---
Don't Forget Travel Insurance
The most important travel purchase you should make is travel insurance.
Get a Free Quote From World Nomads Travel Insurance.
---
How to Get to Tangier
Flights to Tangier
Not all major airlines fly in and out of Tangier. Connections in Casablanca or Europe may be necessary from major international ports.
Low-cost airlines such as Ryanair also fly into Tangier.
Tangier-Ibn Batouta Airport (TNG) is 12 km, about 20 minutes from the city.
Travelling from the airport is very hassle-free as the government has set fixed taxis fares – Expect to pay –
100 Dh.
150 Dh at night.
120 Dh from the airport to the Tangier Ville train station.
You can catch a grand taxi (public shared taxi) from the roundabout for around 10 Dh to the city.
A private airport transfer will cost approx €70 for a group of three. You can find out more here.
When looking for cheap flights to Tangier from abroad Expedia and Google Flights are the best sites to compare airfares and look at the cheapest times to travel.

Domestic Flights within Morocco
Royal Air Maroc operates domestic flights from all major cities in Morocco. Flying can be an expensive and inefficient way to move between cities.
The train is the most efficient and economical way to travel in Morocco.
Ferry to Tangier
Only 20 miles separate Tangier from Spain, so there are frequent ferries that make the short crossing from Spain across the Strait of Gibraltar each day.
There are also many cruise ships sailing between the Mediterranean and the Atlantic that will include Tangier as a port of call.
The main ferry from Spain to Tangier runs between Tarifa and Tangier with a second route between Algeciras and Tangier.
The ferry from Gibraltar to Tangier is currently only running one day a week.
Tarifa to Tangier Ferry
The Tarifa to Tangier ferry route is mainly operated by two ferry companies – FRS and Inter Shipping. The ferry from Tarifa docks in Tangier Ville port in the City.
Expect to pay around €75 return / €41 one way.
FRS runs a one hour transfer up to eight times per day.
Intershipping runs a two-hour service up to seven times per day.
Algeciras to Tangier Ferry
There are seven ferry services per day from Algeciras to Tangier. Travel time approx. 90 minutes.
Expect to pay around €65 return / €36 one way.
Note- the ferry from Algeciras to Tangier arrives at the Tangier new port – Tanger-Med about 40 KM, one hour travel time from Tangier.
Tip: Check ferry services for ticket specials or savings on combined routes.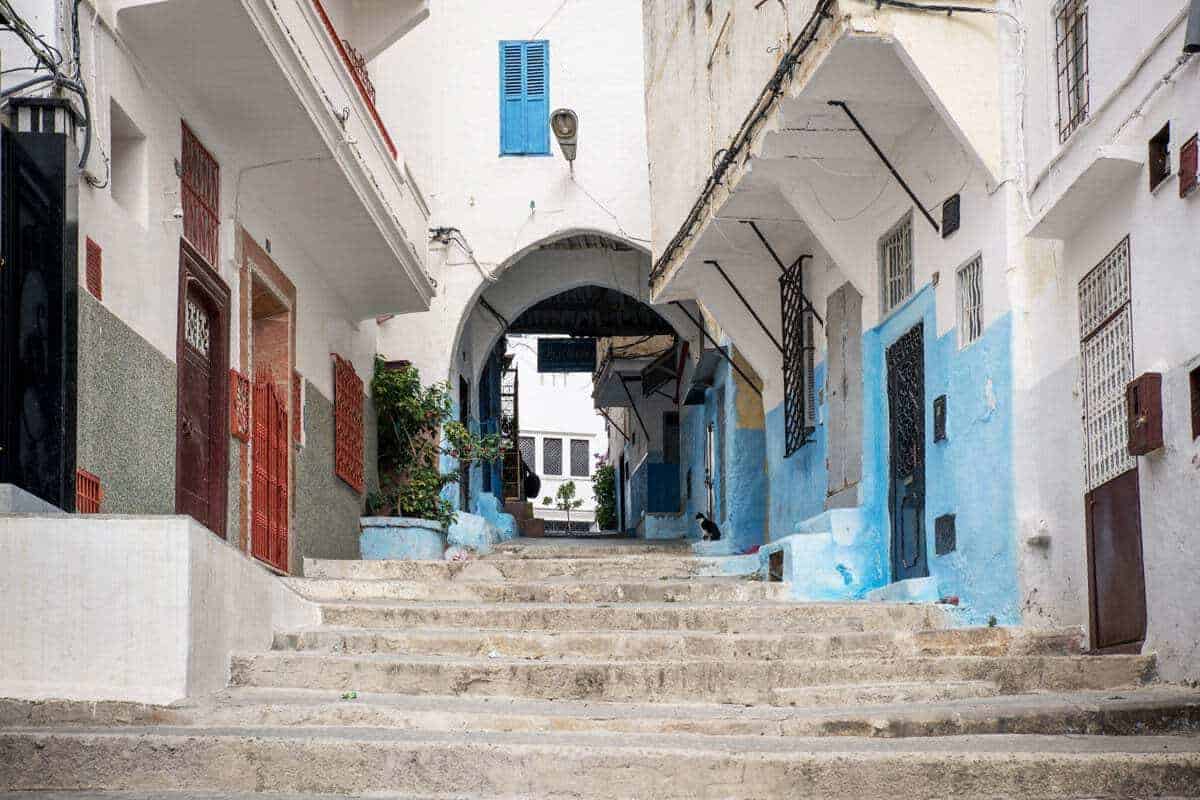 Day Trips to Morocco From Spain
Train to Tangier
The train is the most convenient and cost-effective way to travel between major cities in Morocco. Overall, the trains in Morocco are fast, comfortable and relatively inexpensive.
All services offer first and second-class fares. First-class is recommended, especially for longer trips as they will be airconditioned, have more room and allocated seating. It is also not that much more expensive than the second class so worth it.
There are approx. 15 services per day from Casablanca to Tangier depending on the day. Up to four of these services are on the old rail line. Approx travel time of about five hours. You will need to change trains at Sidi Kacem. Expect around 195 dirhams for a first-class ticket (recommended) 132 dirhams for second class.
The new Casablanca—Tangier high-speed rail line has now been completed and offers around 10 services a day between the two cities. Travel time is a little over two hours. Expect to pay between 99-299 dirhams depending on carriage class and type of ticket.
The Tangier to Fez service runs five times per day. Approx travel time five hours. Expect around 155 dirhams for a first-class ticket (recommended) 105 dirhams for second class.
Seven services depart Marrakech for Tangier each day and four from Tangier to Marrakech. One of these services is an overnight train. Some of the day services require a change of trains at either Sidi Kacem or Casa Voyageurs. Approx travel time 10 hours. Expect around 195 dirhams for a first-class ticket (recommended) 132 dirhams for second class.
Expect to pay 350 Dirhams for a sleeper compartment on the overnight trains which is usually cheaper than a first-class ticket.
The train from Marrakech to Tangier also stops in Casablanca and Rabat.
For up to date timetables, you can check the official website of the national train operator, ONCF or visit The Man in Seat 61 for more on train travel in Morocco.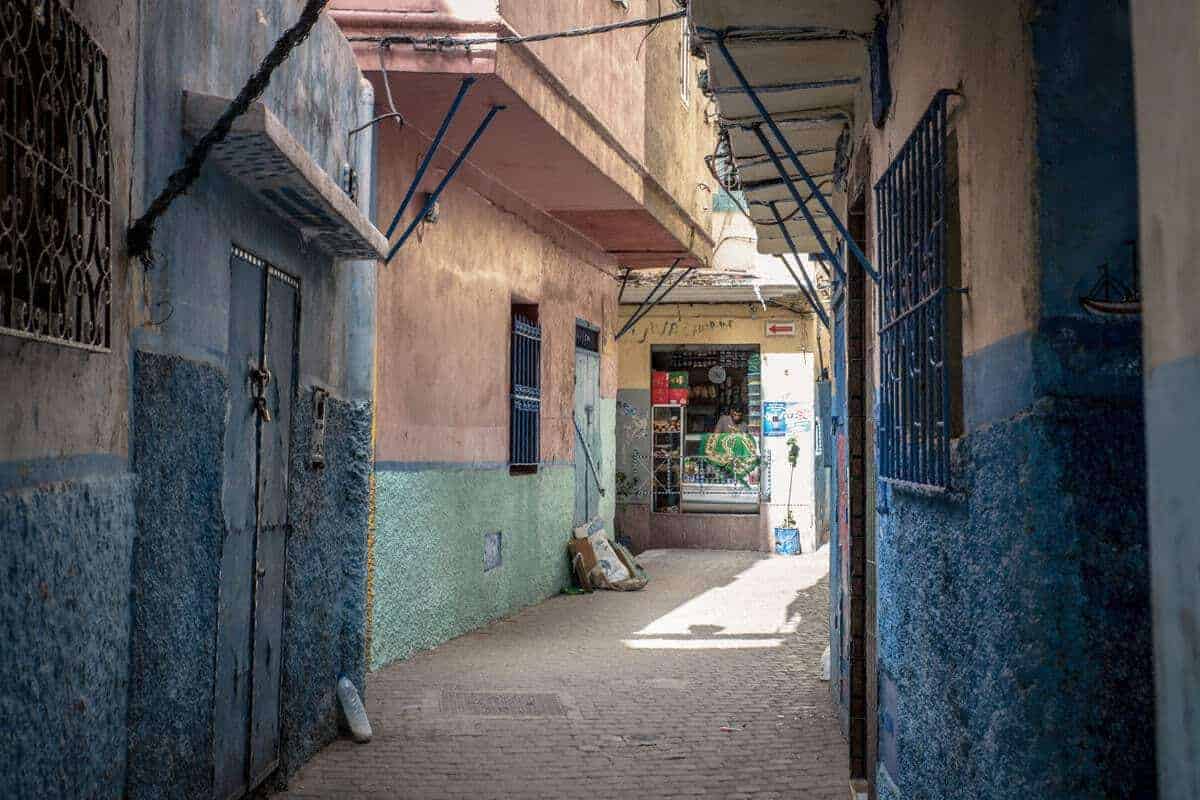 By Car to Tangier
Tangier Morocco is an approx 3.5 hours drive from Casablanca, nearly three hours from Rabat, almost six hours of Marrakech and four hours from Fez.