Casablanca is often overlooked in favour of the more exotic souks of Marrakech, Fes, and Chefchaouen, or the adventure of the Atlas Mountains and the Sahara.
Why You Should Add Casablanca to Your Morocco Itinerary
Ironically, Casablanca is where many visitors first land in Morocco. Instead of immediately hopping on a connecting flight or train to Marrakech, spend a day or two in Morocco's biggest city.
You might be surprised at what you find as there are so many things to do in Casablanca. Casablanca is so much more than a transit hub.
There are also plenty of places to visit in Casablanca to make a few days stay worthwhile.
Related: Plan Your Morocco Itinerary – The Best Places to Visit in Morocco
It may not be as evocative or atmospheric as other Moroccan cities, but Casablanca is the cosmopolitan, economic heart of Morocco.
A city where businesses and creatives thrive and where Moroccans come to seek their fortune. Casablanca is the real Morocco of today.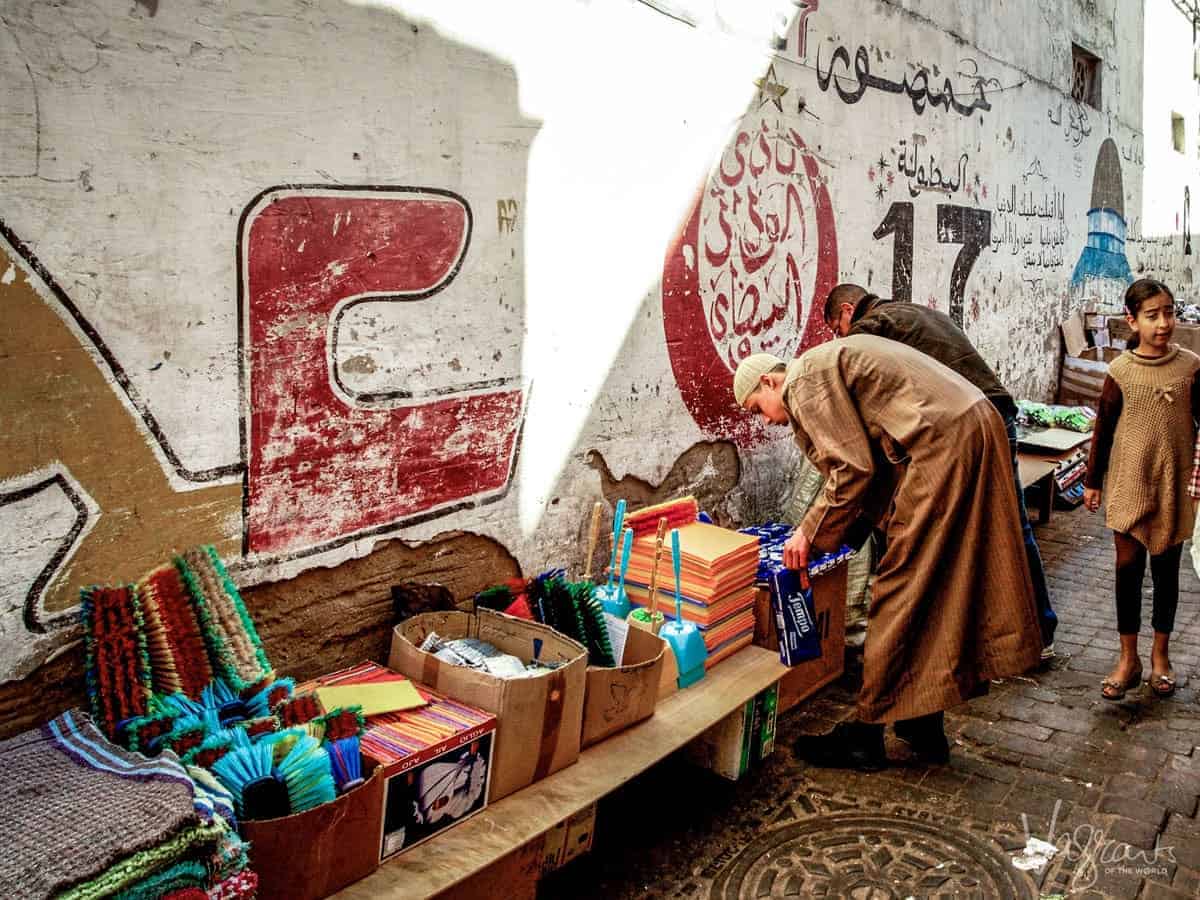 ---
Wondering What to Pack for Morocco? Whether you are exploring the souks in Marrakech, riding a camel through the Sahara or hiking the Atlas Mountains. We've got you covered with our complete Morocco Packing List.
---
---
Casablanca feels like a once glamorous and sophisticated city on its way back. Beautiful French Colonial architecture, grand old hotels, and crowded European cafes line the sidewalks.
Restorations and beautifications are taking place all over the city while the old walled Medina remains unchanged with the hustle of traditional Moroccan trade.
Locals apologise for Casablanca (Or Casa as they call it) not being as touristy as Marrakech. The fact there are few tourists is part of the cities appeal.
Casablanca has an authentic big city vibe whereas Marrakech comes off as a Disney version of what we believe Morocco should be.

Best Things to Do in Casablanca
From experiencing modern Morocco to discovering the cities' ancient heritage, there are enough things to see in Casablanca to keep the average traveller busy for a few days.
Visitors may have to make an effort to discover Casablanca's less obvious gems, but once you get going, you'll find including Casablanca on your Morocco itinerary can be very rewarding.
Here you will find some of the best places to visit in Casablanca.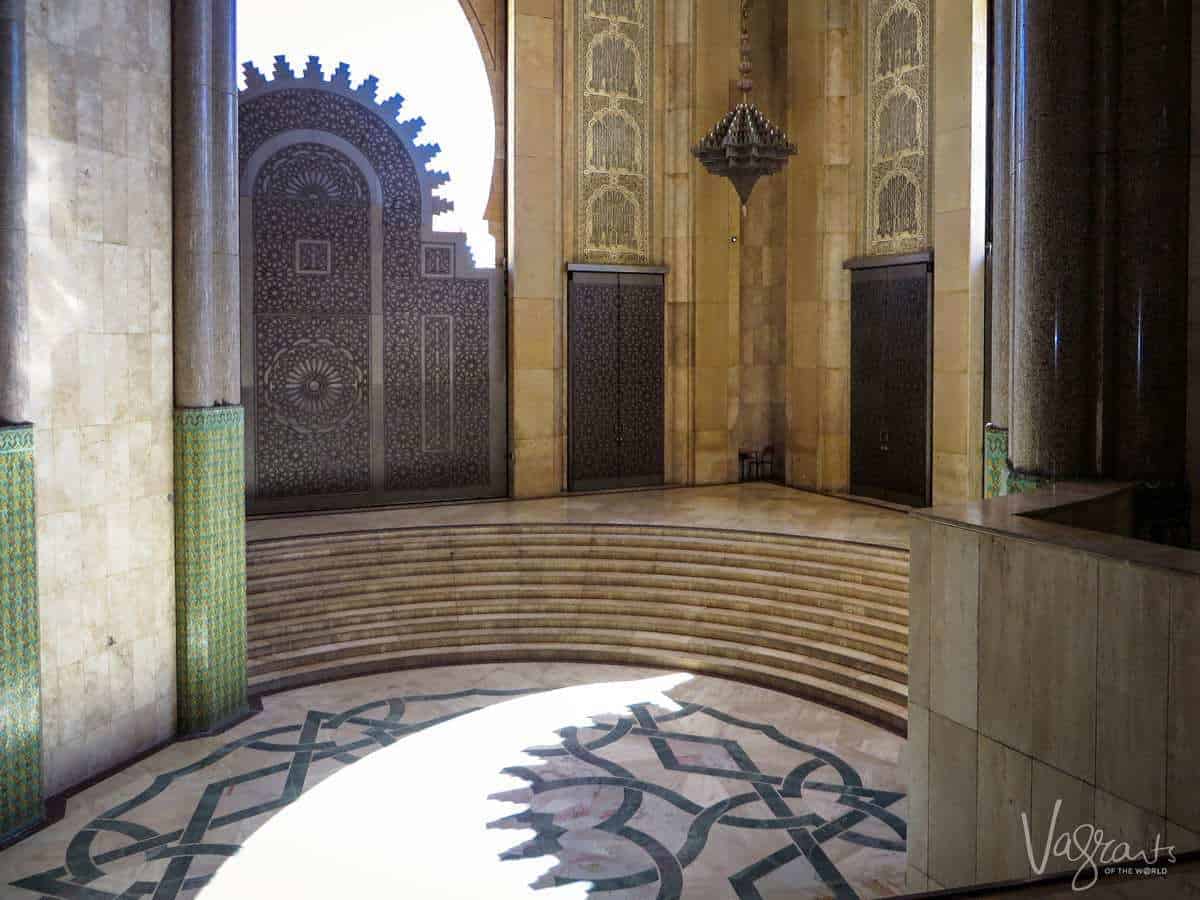 Visit the Hassan II Mosque
The big drawcard in Casablanca is the Hassan II Mosque. Commissioned by King Hassan II, it is the tallest building in Morocco and one of Morocco's top architectural wonders.
The third-largest Mosque outside of Mecca, it took seven years to build and can accommodate 25,000 worshippers inside and an additional 80,000 outside.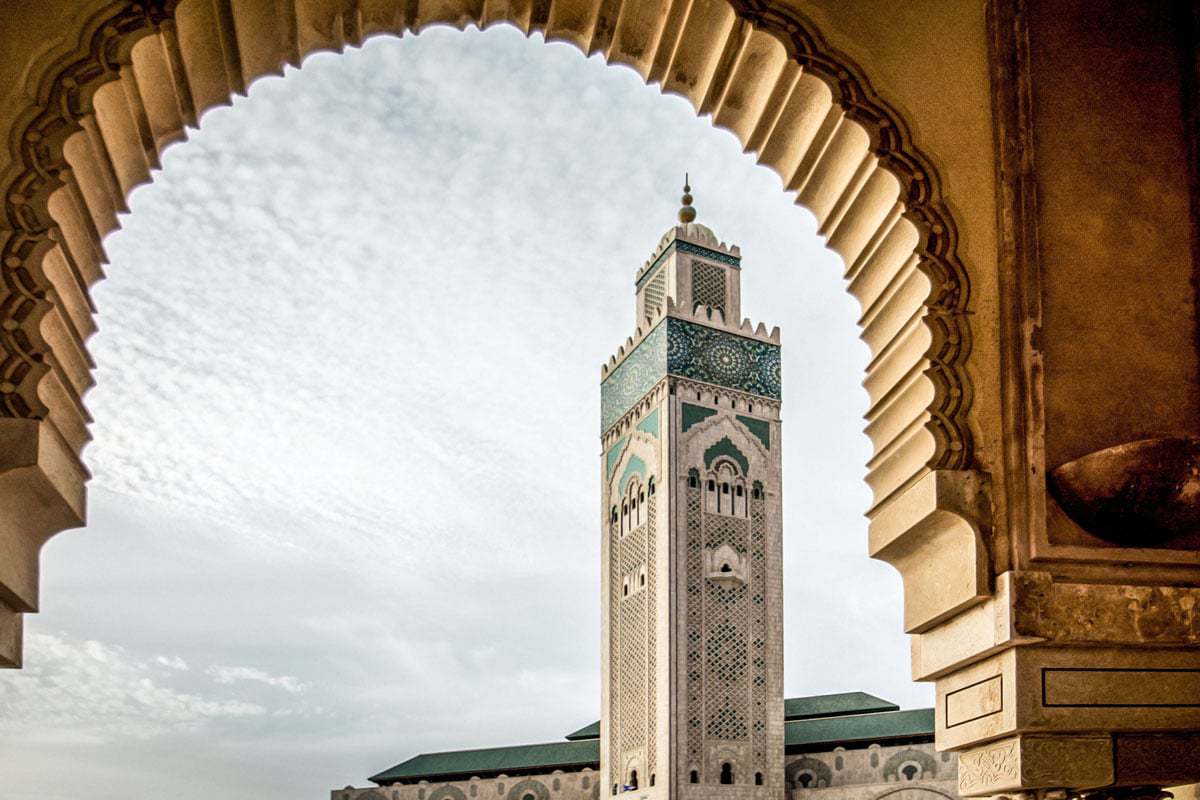 Most mosques in Morocco are closed to westerners and tourists, but Mosque Hassan II is one of the few in Morocco that welcomes visitors outside of prayer time.
Take advantage of this rare opportunity to take a tour. Tours are offered at set times daily, except on Fridays.
If you visit the Hassan II Mosque ensure you dress respectfully and conservatively. Also bring a pair of socks, as you'll be required to remove your shoes for part of the tour.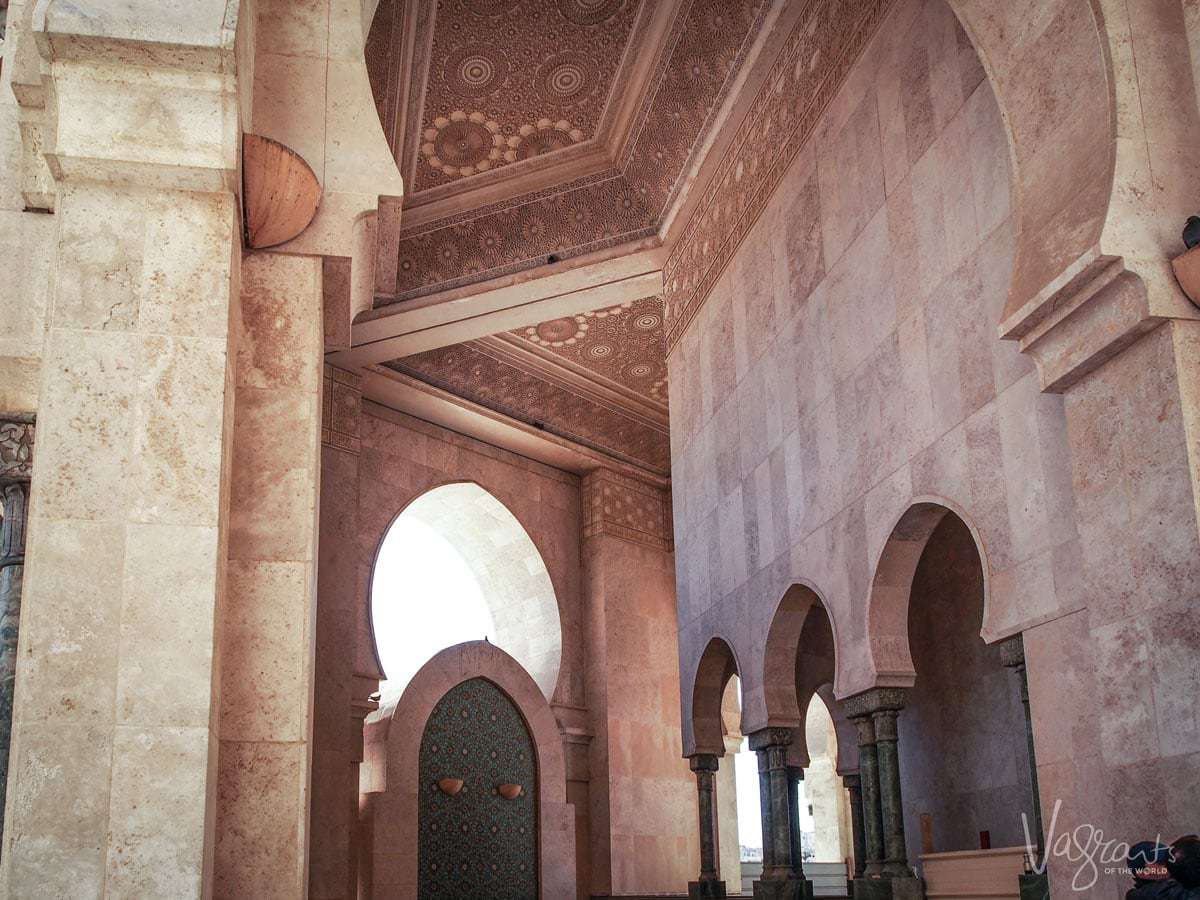 The Hassan II Mosque sits right on the shore overlooking the Atlantic Ocean.
The promenade that runs along either side is filled with families, food hawkers and enthusiastic boys playing soccer and diving into the ocean from the highest walls that surround the mosque.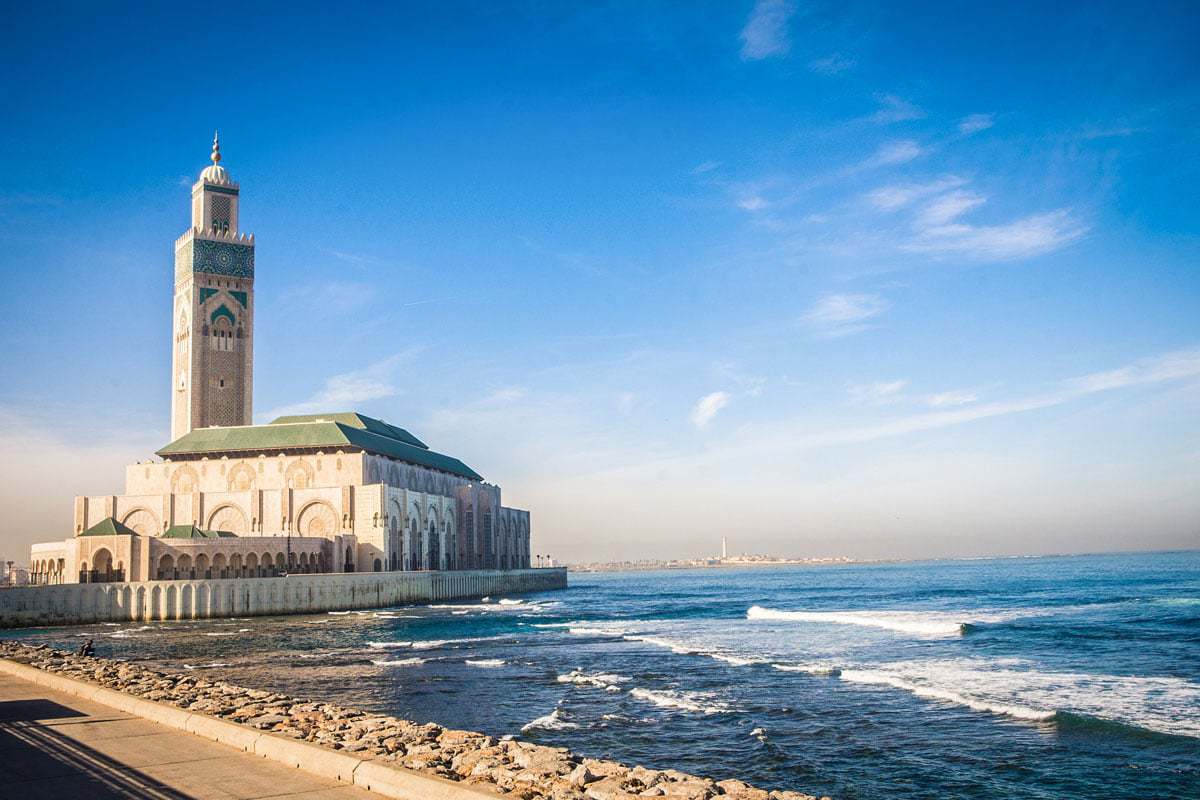 It's a lovely place to sit and soak up the atmosphere of Casablanca. You could not visit Casablanca without visiting this magnificent mosque.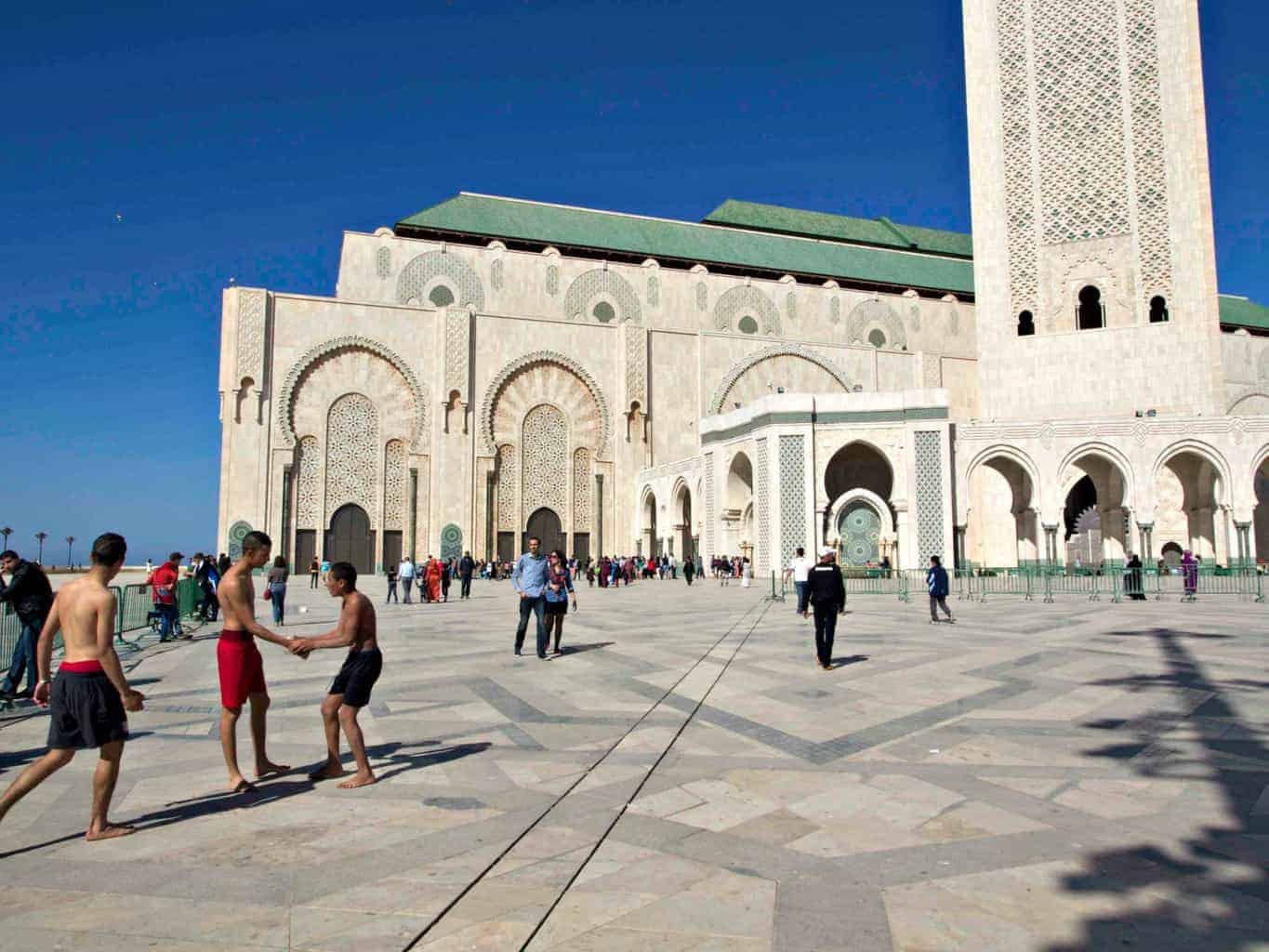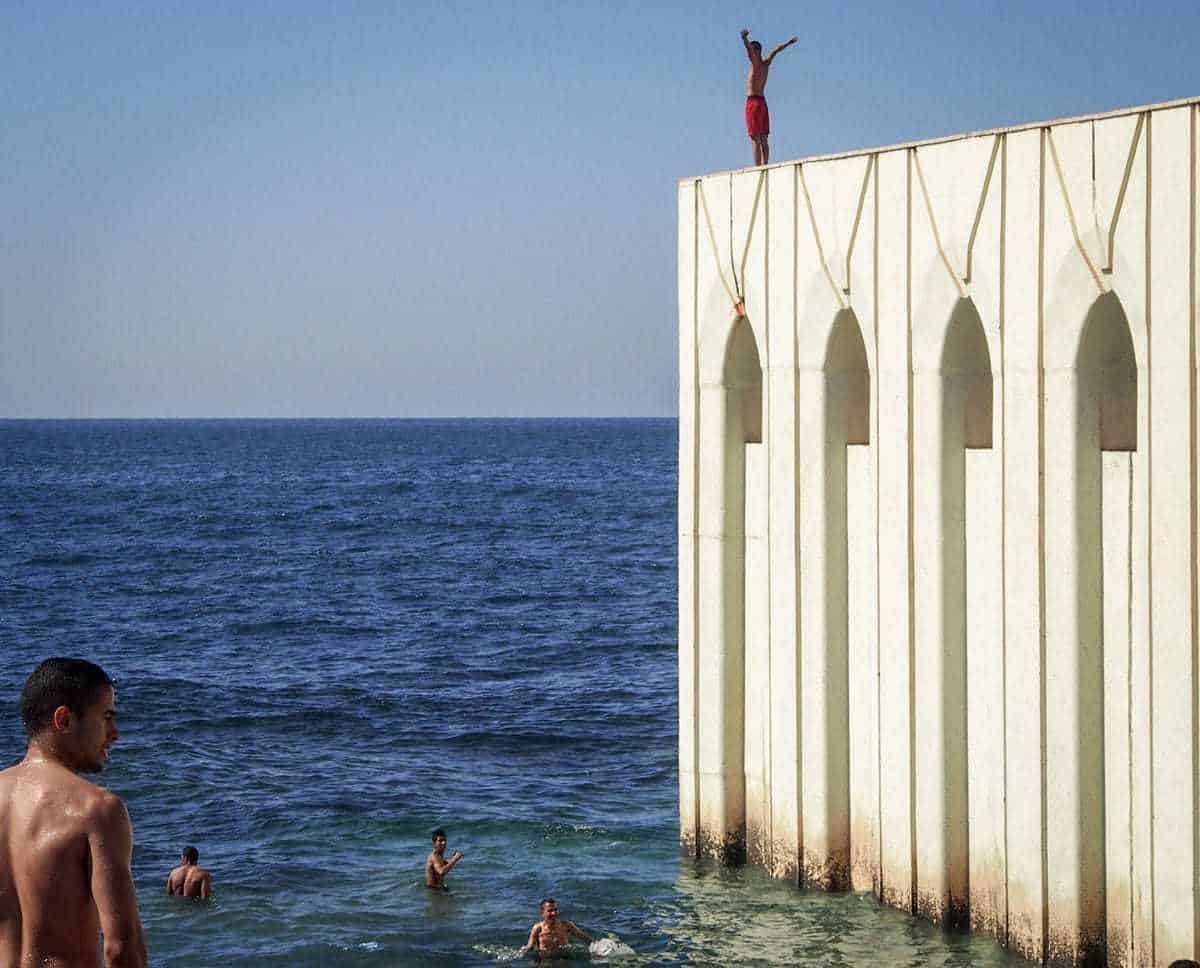 Get Lost In the Casablanca Medina
Though lacking some of the medieval characters of other Moroccan medinas, Casablanca's compact 19th-century marketplace is still worth a visit.
The Medina in Casablanca is actually one of our favourites in Morocco.
Unlike a lot of other tourist destinations such as Marrakech, you can wander the maze of tiny laneways in the Medina and not be hassled to "buy, buy, buy" and unlike Fez, very few will try to hustle you, apart from the occasional rug salesman.
The Casablanca Medina is busy with people going about their daily business, vendors are not relying on the tourist dollar to make a living.
It is really quite relaxing in a hustle-bustle kind of way.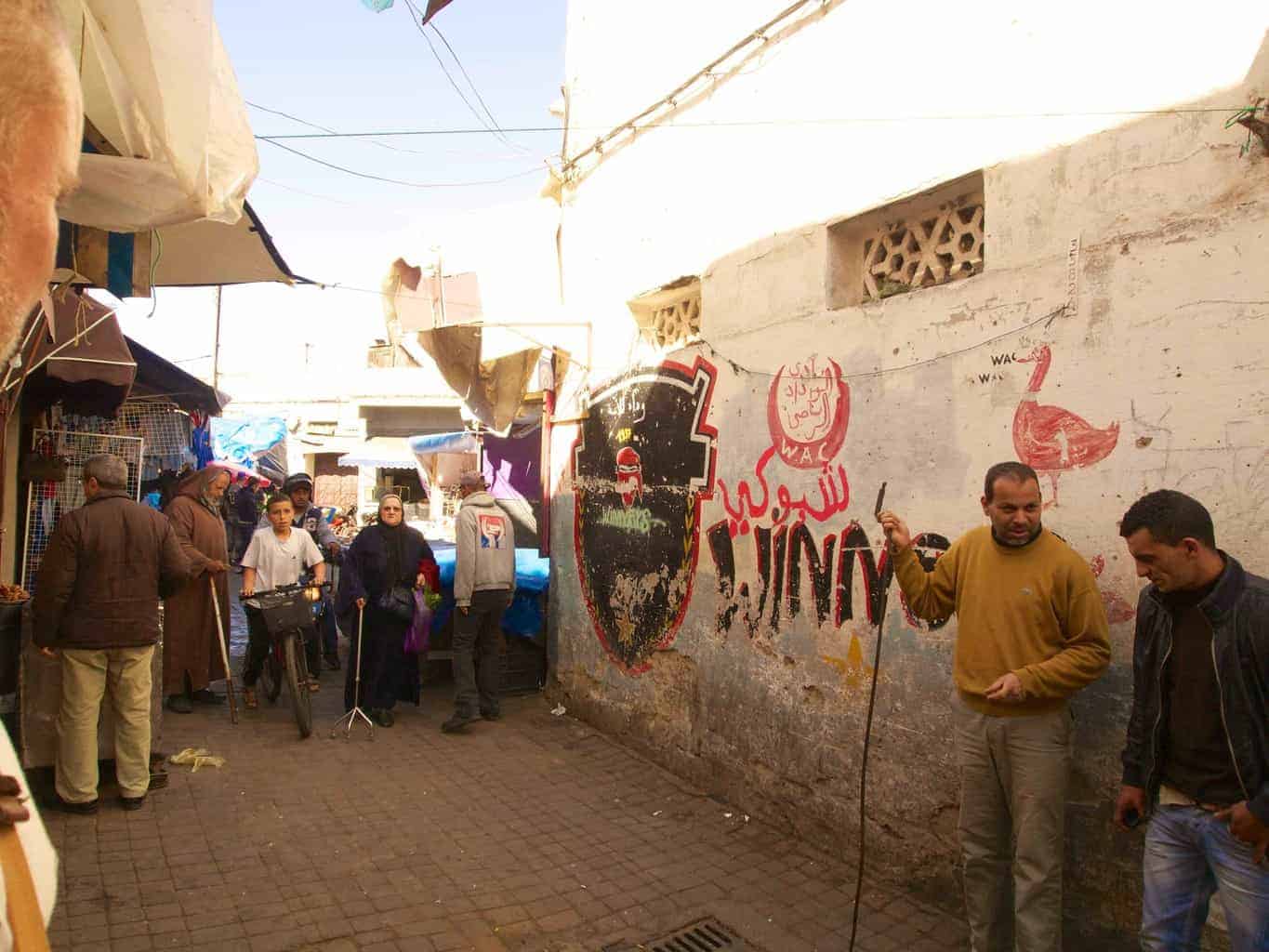 Until 1907 when the French took over Casablanca, the entire city was contained within this small 18th century fortified area.
Modern Casablanca has since spread in all directions, leaving the historic walled quarter hidden in the city bustle. A maze of dark, narrow alleyways, sprawling souks, and decaying buildings.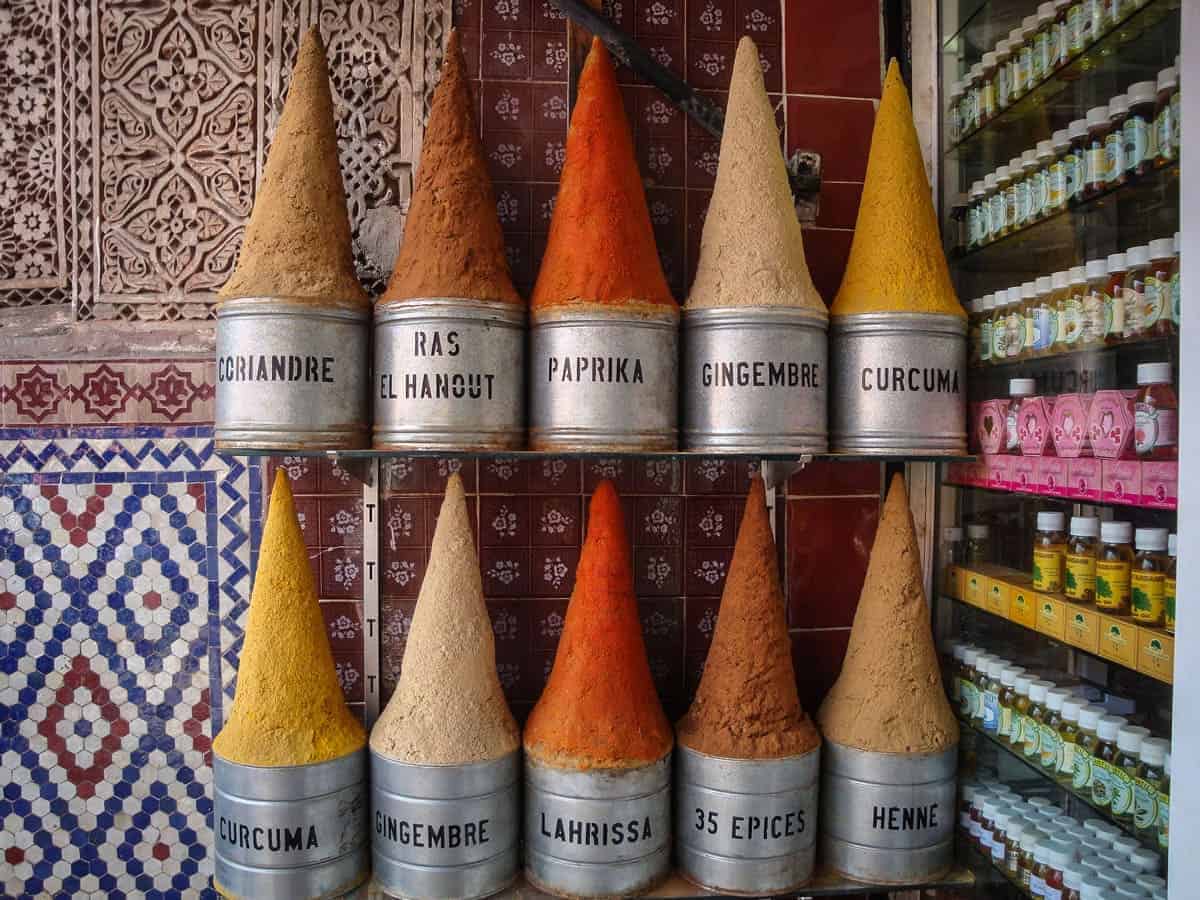 Strolling through the Old Medina, you're unlikely to find any real treasures in the fairly non-descript array of shops selling clothing, hardware, and day to day necessities.
However, around the narrow lanes and tree-shaded squares, you will find colourful spice stalls and lively butcher and fishmonger markets.
Busy local cafes and Boulangerie's brimming high with cakes and pastries so sweet; honeybees literally swarm over them are the perfect spots to sip mint tea and watch the world go by.
The lively local atmosphere makes the medina a lovely route for those walking between downtown Casablanca and the Hassan II Mosque.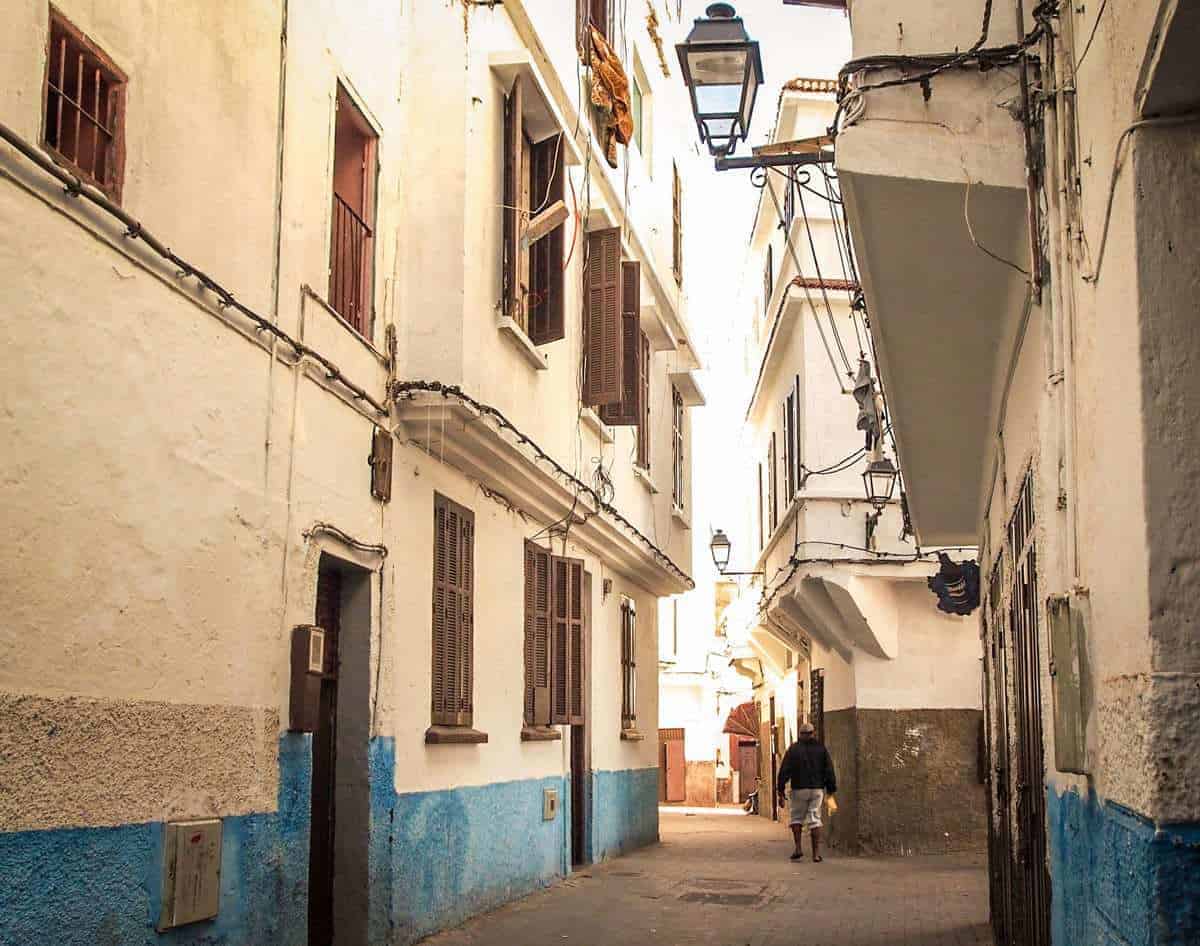 Walk The Streets – Street Art & Casablanca Architecture
In addition to some striking street art throughout the city, Casablanca boasts a fabulous mix of traditional Moroccan style and French Colonial architecture.
A style is known as Mauresque architecture. A walk around Central Casablanca is an activity in its own right.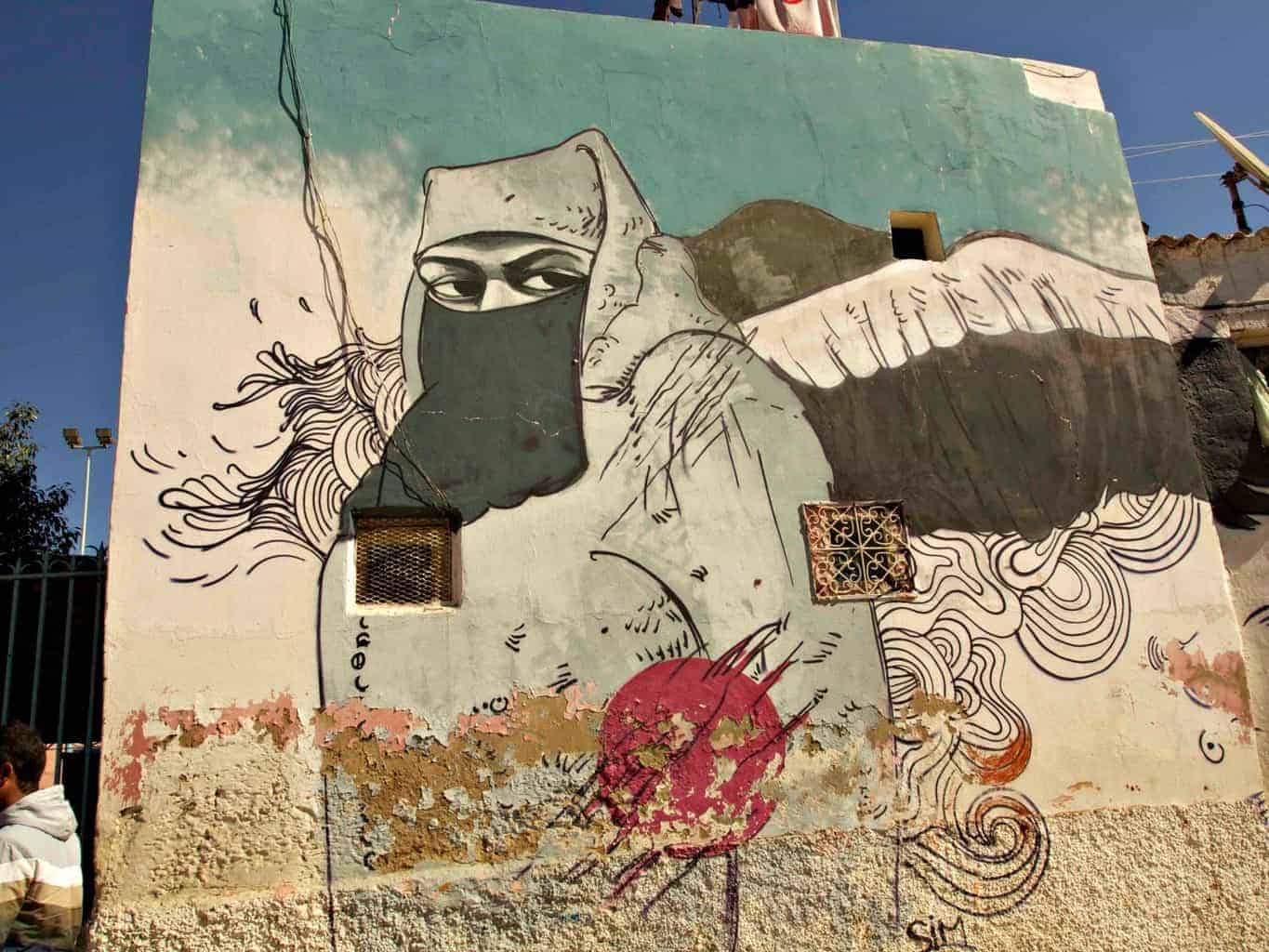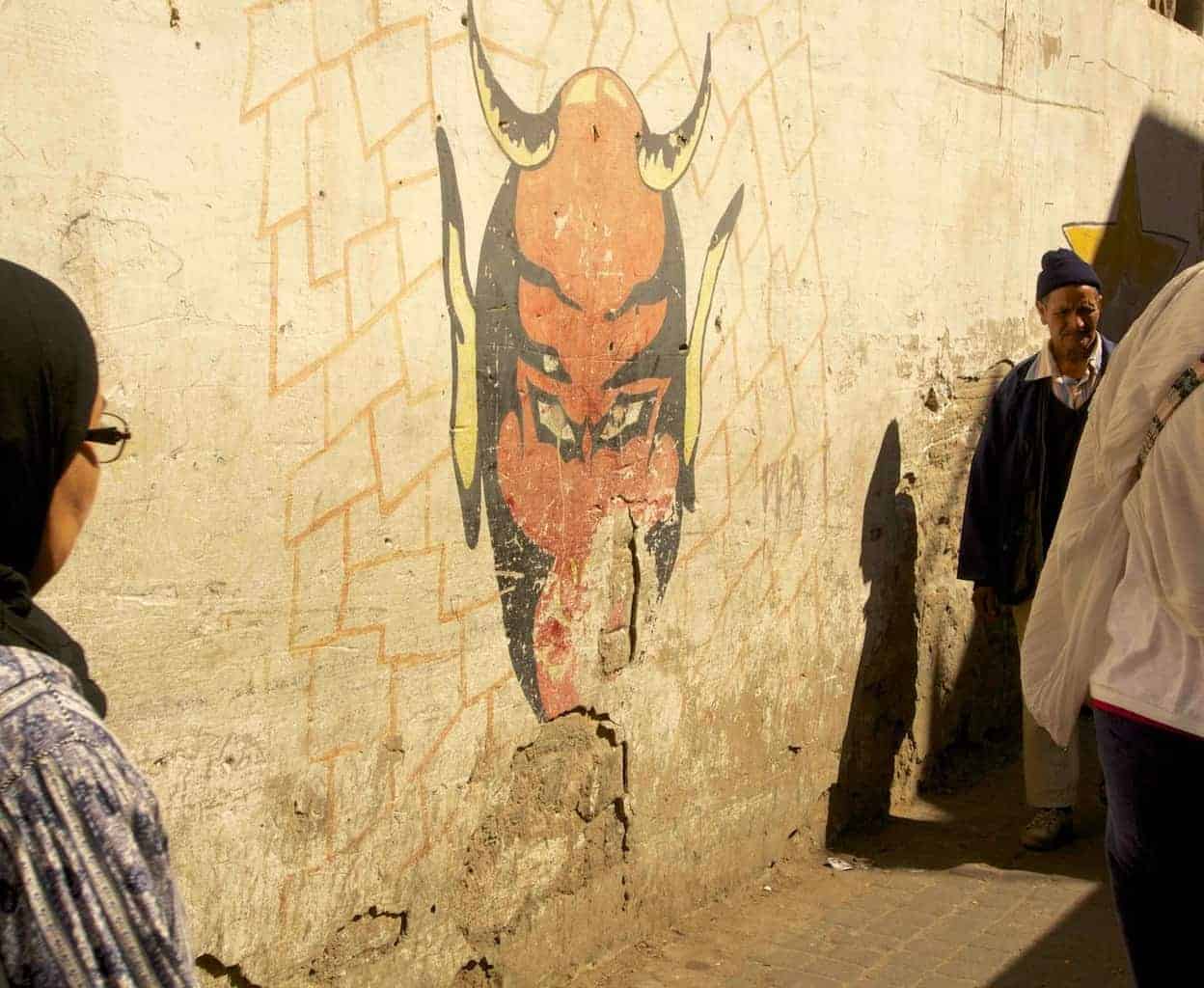 Moroccan Art Deco
Casablanca is the Art Deco hub of Morocco. A breath fresh air in contrast to the traditional and medieval architecture of Morocco's other top destinations.
French architects enthusiastically embraced the Art Deco movement in the early 20th century leaving Casablanca with a distinctly unique style.
A reminder of the European-flavoured urban sophistication that has underpinned life in Casablanca for the past century.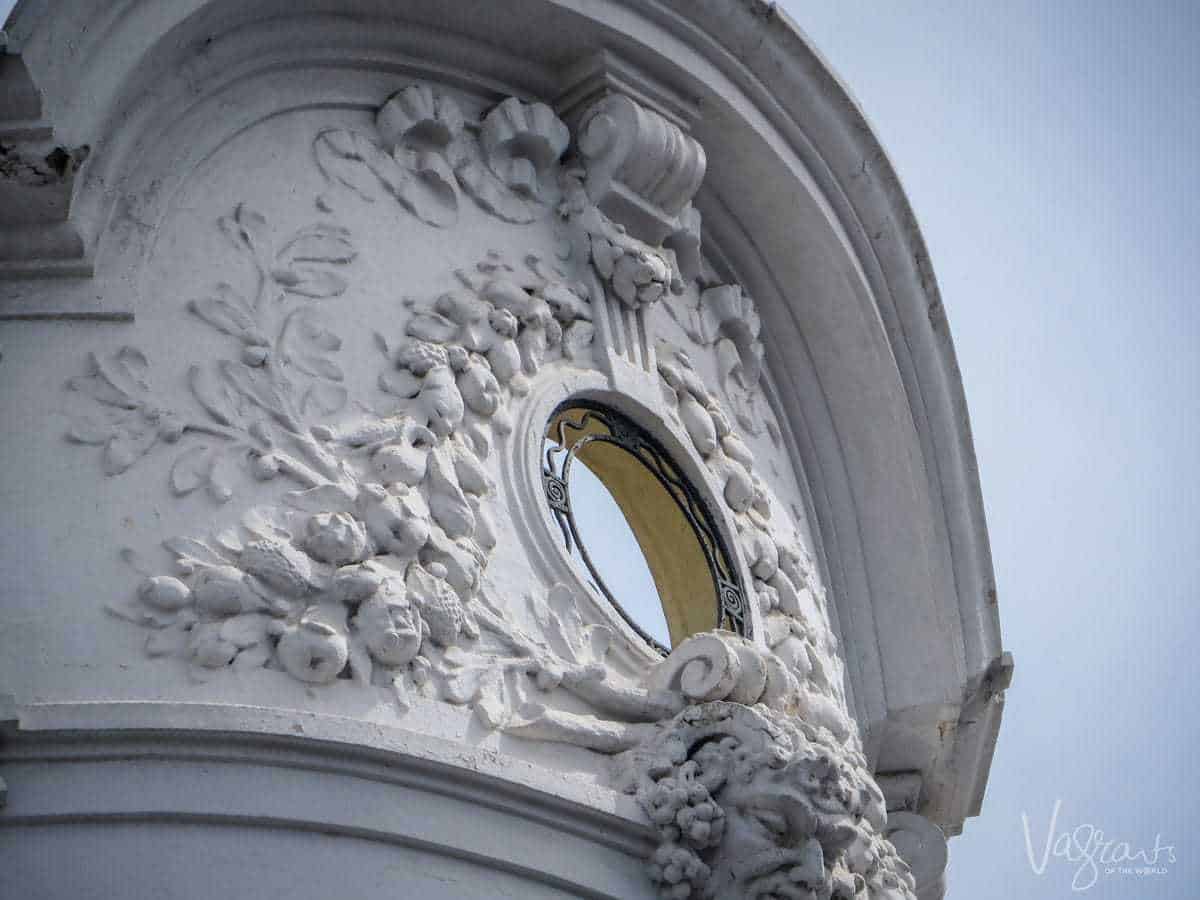 There are plenty of beautiful buildings to see in the downtown area.
While some are unfortunately in crumbling disrepair, several elegant buildings have been carefully restored and renovated into hotels and restaurants.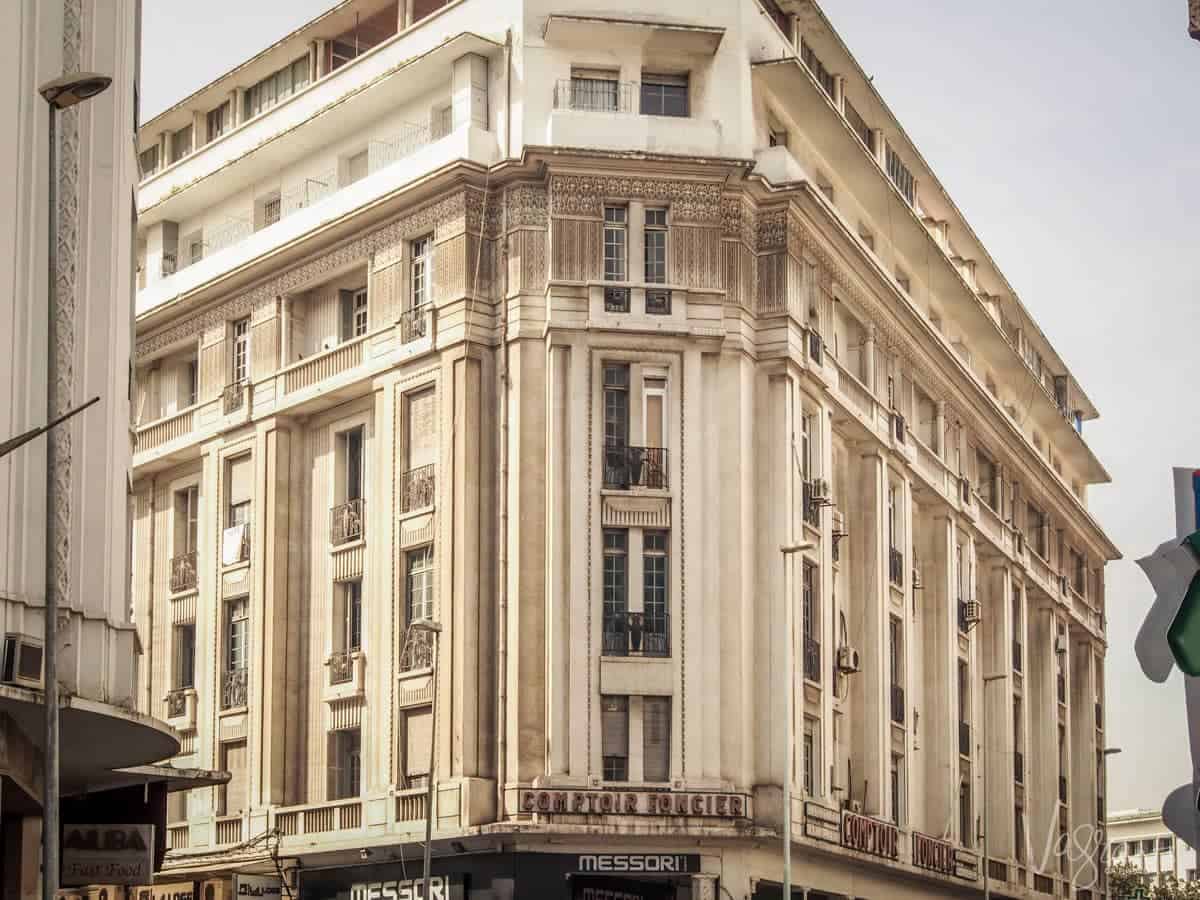 Lunch at Marche Central
Right in the heart of the city is Casablanca's main market-Marché Central.
Much smaller and less hectic than the Old Medina, in the small marketplace you will find flowers, cheese and deli meats, fresh honey, fish and an array of very quaint butcher shops.
The Marché Central is also a great place to go for lunch. Small cafe style restaurants serve up basic French and Moroccan food to the local lunch trade.
Tables in the central courtyard are crammed with diners feasting on cheap but filling platters of fish, grilled vegetables, bread, and salads.
Stop for a tagine with the lunch crowd and be prepared to use your hands. No cutlery here, just a piece of delicious, crusty flatbread. It is a great place to get a feel for the local culture.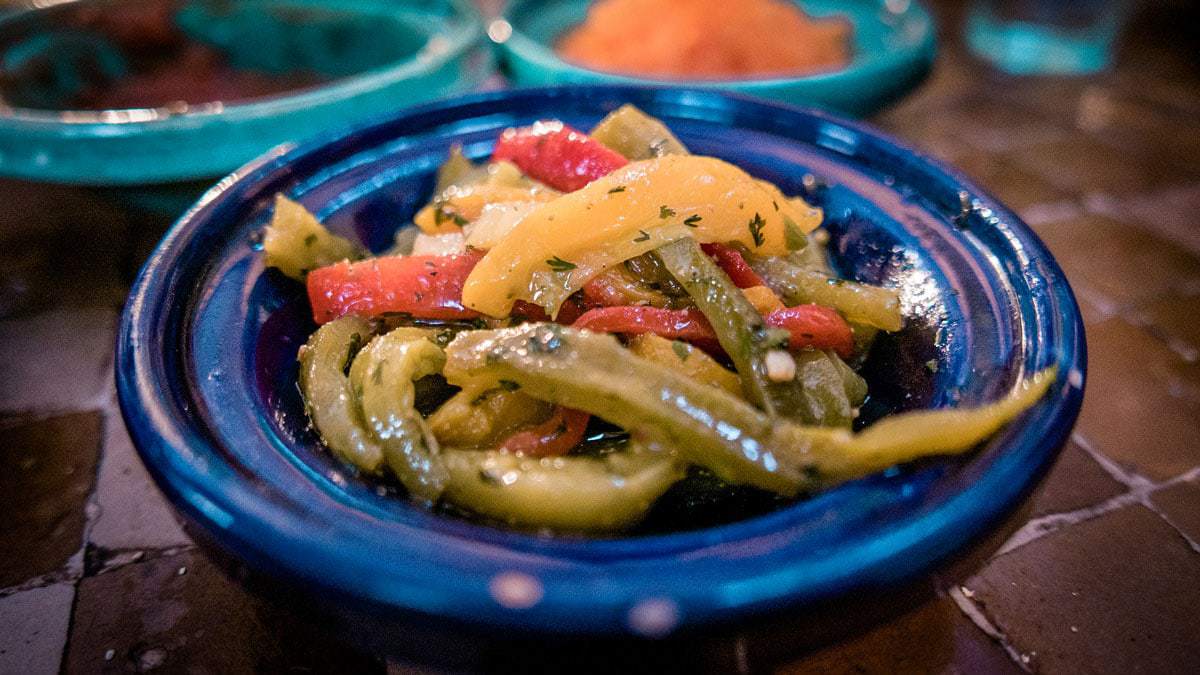 Visit The Royal Palace
The King's Palace in Casablanca is said to be an Islamic architectural masterpiece.
Surrounded by fragrant orange groves and ornate water features it is nothing short of true royal opulence. However, the only way to get a glimpse inside is to wait for the heavily guarded gates to open to let someone in or out.
The palace serves as the residence of the king and his family while in Casablanca. The king has equally luxurious residences all over Morocco, and while you may not be able to go inside, the exterior is certainly worth seeing with the hope of a glimpse inside the gates.
Take the View from The Sacre-Coeur Cathedral ( Casablanca Cathedral)
The Sacre-Coeur Cathedral built-in 1930 is an architectural masterpiece designed by French architect Paul Tournon. Neo-Gothic style with Moroccan Muslim and Art Deco influences it is a surprising sight in Casablanca.
The cathedral was an important landmark in Casablanca during French Catholic rule. After the independence of Morocco in 1956, the Cathedral ceased its religious function and was abandoned.
It has since been used as a school, a cultural centre and now it hosts exhibitions and fairs.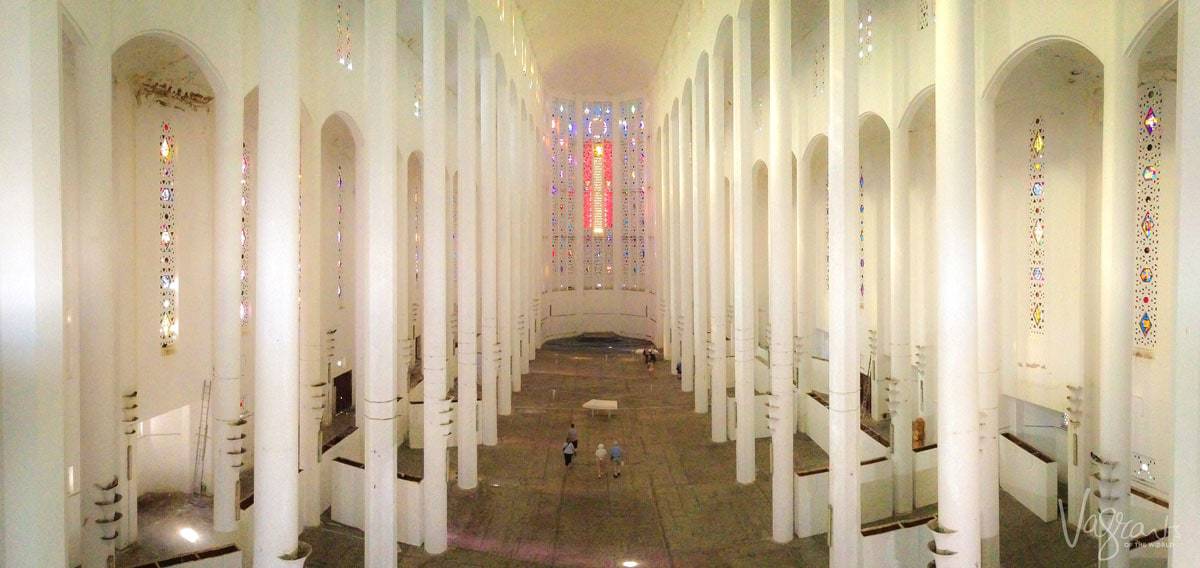 The cathedral is open to visitors which includes access to the towers. The views from the towers over Casablanca to the Atlantic Ocean are spectacular.
The tower stairs are very much in a state of disrepair. Crumbling concrete and brick covered in feathers and deposits from nesting pigeons.
Although there are no railings, it seems safe enough and is worth the climb for the views from the top. A donation will be expected if you decide to climb the towers.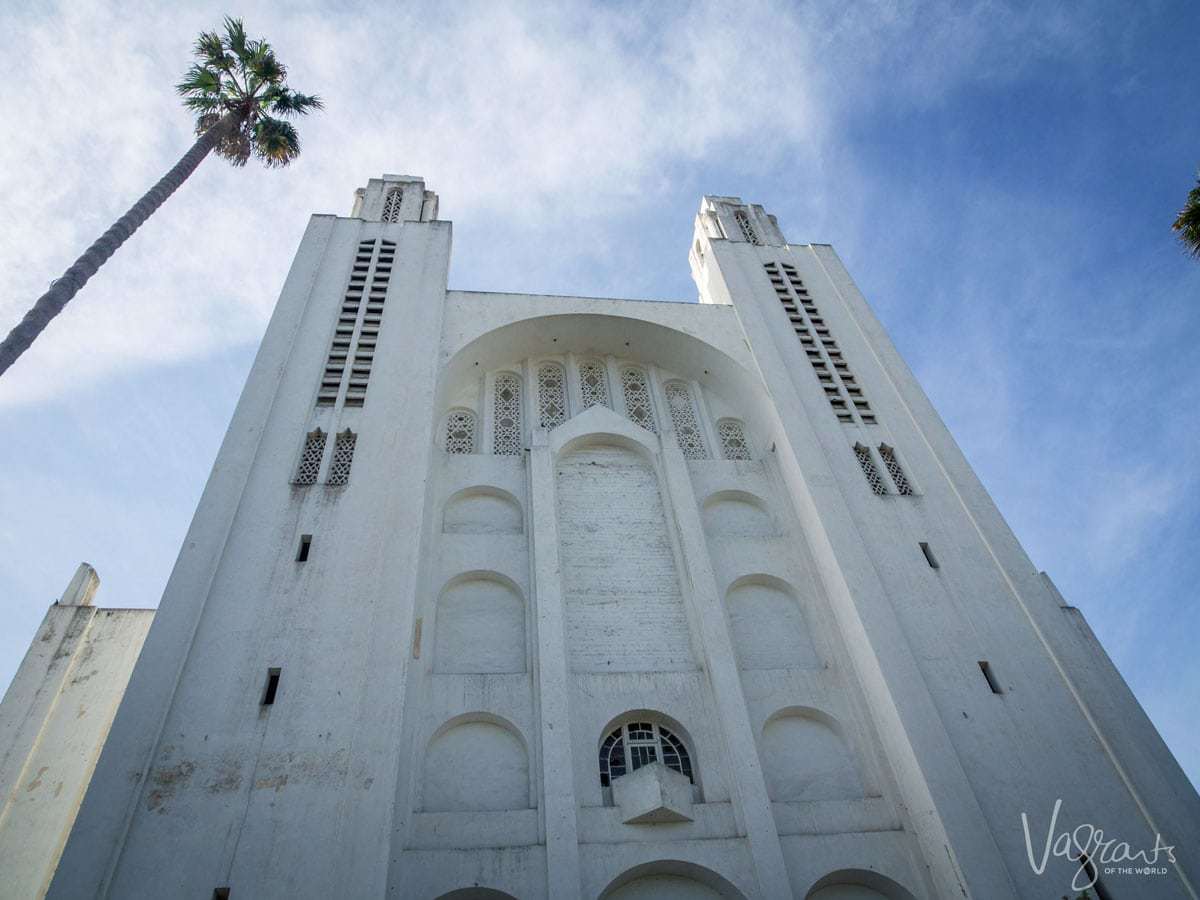 Stroll the Atlantic Coast at La Corniche
Further along the coast, not far from Hassan II Mosque, La Corniche is Casablanca's fashionable beachfront district.
The city's waterfront boulevard, lined with umbrella-shaded beach cafés, oceanfront restaurants and chic lounges offering pool and beach access is Morocco's version of the French Riviera.
With warm weather all year round, the area is popular with both locals and tourists.
On a good day, the area will be busy with different people doing different activities such as:
surfing
swimming
sunbathing
volleyball
other applicable recreational sports
La Corniche offers the chance to go for a refreshing walk on the beach and a glimpse into the less traditional and more holiday side of Morocco.
Enjoy Casablanca's Cosmopolitan Nightlife and Dining Scene
While Marrakech may be the destination of choice for the fashionable set, Casablanca has an exciting nightlife and restaurant scene fueled by both locals and visitors.
A constant stream of new, more affordable and on-trend restaurants are shaping Casablanca as a culinary destination in its own right.
Even tourist traps like American owned Rick's Cafe inspired by the bar in the iconic film Casablanca hit the mark with a sultry atmosphere and a recently elevated culinary experience.
A Taste of the Place menu comes with a four-course wine-paired menu featuring the freshest local ingredients and a private tour of the restaurant with the owner.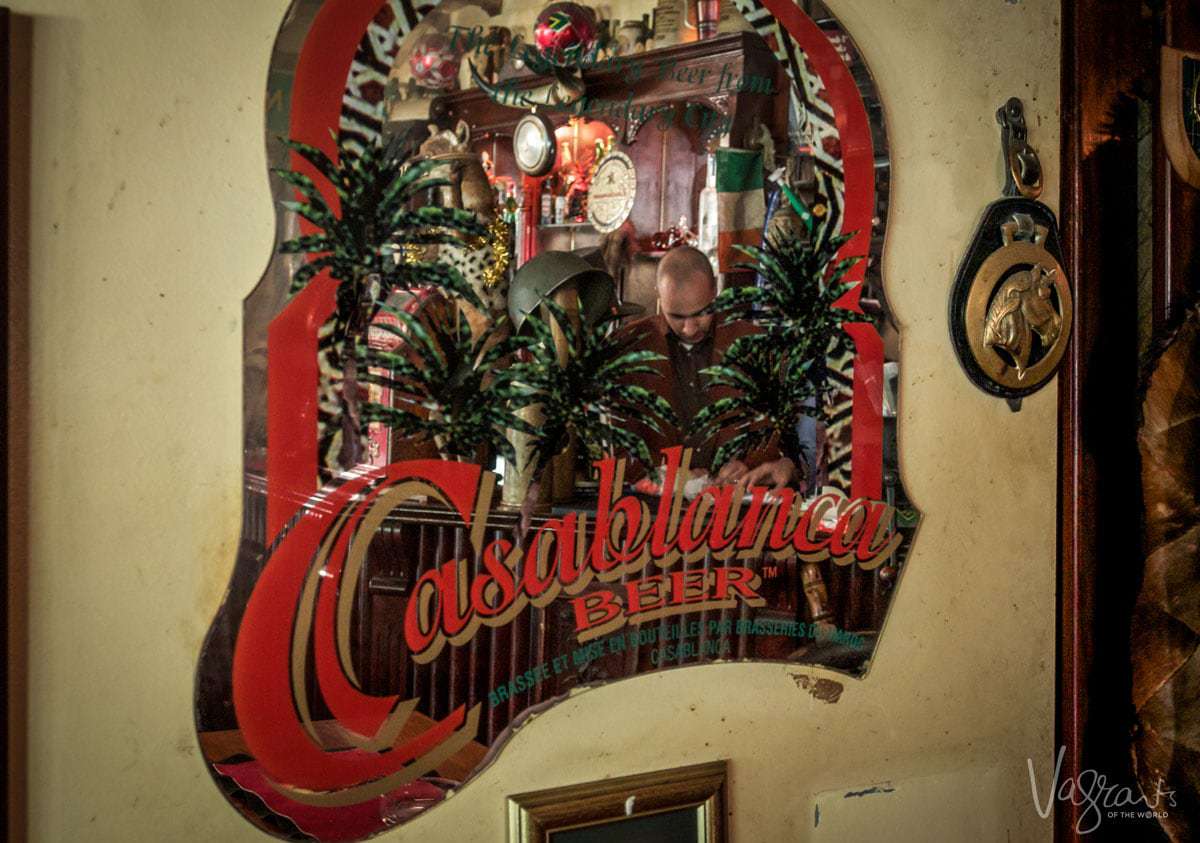 In a predominantly Muslim country like Morocco, drinking isn't common except for in the most tourist-dense areas. Casablanca is the exception.
Casablanca is the most liberal and progressive of Morocco's cities.
Brazenly flirtatious young men, scantily-clad women and designer labels are the norm in many of the chic neighborhoods such as the beachfront district of 'Ain Diab.
Sophisticated cocktail bars attract the glamorous but there are also other places that draws a good crowd of locals and tourist such as:
jazz clubs
piano bars
live music venues
street performance
When the sun goes down, Casablanca is to Morocco what Tel Aviv is to Israel – Babylon, a city brimming with a modern outlook and a vital social scene.
These are just a few ways to experience this exciting city without even scratching the surface. Don't miss Casablanca just because it doesn't rate high on the tourist lists.
It is a charming and fascinating city that offers a very different view of the well-trodden Morccocan tourist trails.
---
Plan Your Trip to Morocco
Vagrants of the World Travel are a World Nomads affiliate, meaning we receive a fee for any quotes generated via this site at no extra cost to you.
---
Accommodation in Casablanca
We used Booking.com for apartments as well as hotels and riads while we were in Morocco.
Accommodation in Casablanca is very reasonable and there is an abundance of reasonably priced self-contained apartments for rent as an alternative to staying in a traditional hotel.
We stayed in a lovely large inner-city self-contained apartment for about the same cost as a hotel.
Best Time to Visit Casablanca
Casablanca has a moderate climate, meaning you can visit the city all year round.
Winter – December through February are the coolest months with daily temperatures around 65°F. You may get some rain in December and January.
Summer – July to September are the hottest months of the year with average temperatures of 80-90°F.
As always the shoulder seasons of Spring and Fall are the best times to visit Casablanca. The weather will be nice with fewer crowds.
How to Get to Casablanca
Flights to Casablanca
The Mohammed V Int'l Airport is the busiest gateway to Morocco with plenty of direct flights to Europe, the USA, and Canada. The airport is about 30 km from the city centre.
Roughly a 40-minute drive.
When looking for cheap flights to Casablanca from abroad Kayak and Google Flights are the best sites to compare airfares and look at the cheapest times to travel.
The most efficient way to travel to and from Casablanca Airport is to take the ONCF train.
Trains depart hourly to the city starting from 04:00 to 23:45 and from the city to the airport – 03:00 to 22:00.
A single 2nd class ticket is ~43 dirhams. The journey takes approx 45 min.
Private transfers with a meet and greet from the airport to the city centre are available starting from $30 USD for up to four people. Check availability here.
Trains in Morocco, including airport the line often experience delays so leave yourself plenty of time when leaving for the airport.
Buses also leave regularly to the centre. ~4 dirhams.
Domestic Flights within Morocco
Royal Air Maroc operates domestic flights from Casablanca to all major cities in Morocco. Generally, this is an expensive way to move between cities.
The train is the most economical way to travel in Morocco.

By Train
The train is the most convenient way to travel between major cities in Morocco. They are reliable, comfortable, fast, and efficient.
Overall, the trains in Morocco are comfortable and relatively inexpensive. All services offer first and second-class compartments.
First-class tickets are not that much more expensive than the standard fare but are recommended, especially for longer day trips as they will be airconditioned, have more room and allocated seating.
You may have to stand in Second-class compartments during peak hours until a seat becomes free.
Trains for Rabat leave half-hourly. Approx travel time for one hour. Expect around 69 dirhams for a first-class ticket (recommended) 37 dirhams for second class.
Trains between Casablanca and Fez roughly every hour. Approx travel-time is five hours unless you catch the morning express which takes only three hours. Expect around 174 dirhams for a first-class ticket (recommended) 116 dirhams for second class.
Services from Casablanca to Marrakech run every two hours. Approx travel time 3.5 hours. Expect around 148 dirhams for a first-class ticket (recommended) 95 dirhams for second class. You can read more about the trains from Casablanca to Marrakech here.
There are approx. 15 services per day from Tangier to Casablanca. Up to four of these services are on the old rail line. Approx travel time is about five hours. You will need to change trains at Sidi Kacem. Expect around 195 dirhams for a first-class ticket (recommended) 132 dirhams for second class.
The new Casablanca—Tangier high-speed rail line has now been completed and offers around 10 services a day between the two cities. Travel time is a little over two hours. Expect to pay between 99-299 dirhams depending on carriage class and type of ticket.
For up to date timetables, you can check the official website of the national train operator, ONCF or visit The Man in Seat 61 for more on train travel in Morocco.
By Car
Casablanca is approx four hours drive from Fez, just over an hour from Rabat, nearly three hours from Marrakech and 3.5 hours from Tangiers. The roads are very good.
Private transfers from Casablanca to Marrakech start at around $175 USD for a group of four. Check availability here.
These are all just a few of the many wonderful things to do in Casablanca, we do hope for you to have plenty of memorable day trips