Welcome to Sri Lanka
Due to years of turbulent politics and civil war, Sri Lanka was all but closed off to the outside world of travellers save for cricket – Sri Lanka's other religion.
A destination, due to either personal views or just an ethos of safe travelling was not on the agenda of the average traveller or tourist.
Sri Lanka, having cast aside its differences and somewhat tidied its political house, is moving on at a rapid pace. They have never been keener to start showing off their beautiful country and it's more sophisticated and polished than you may think, at a very reasonable price!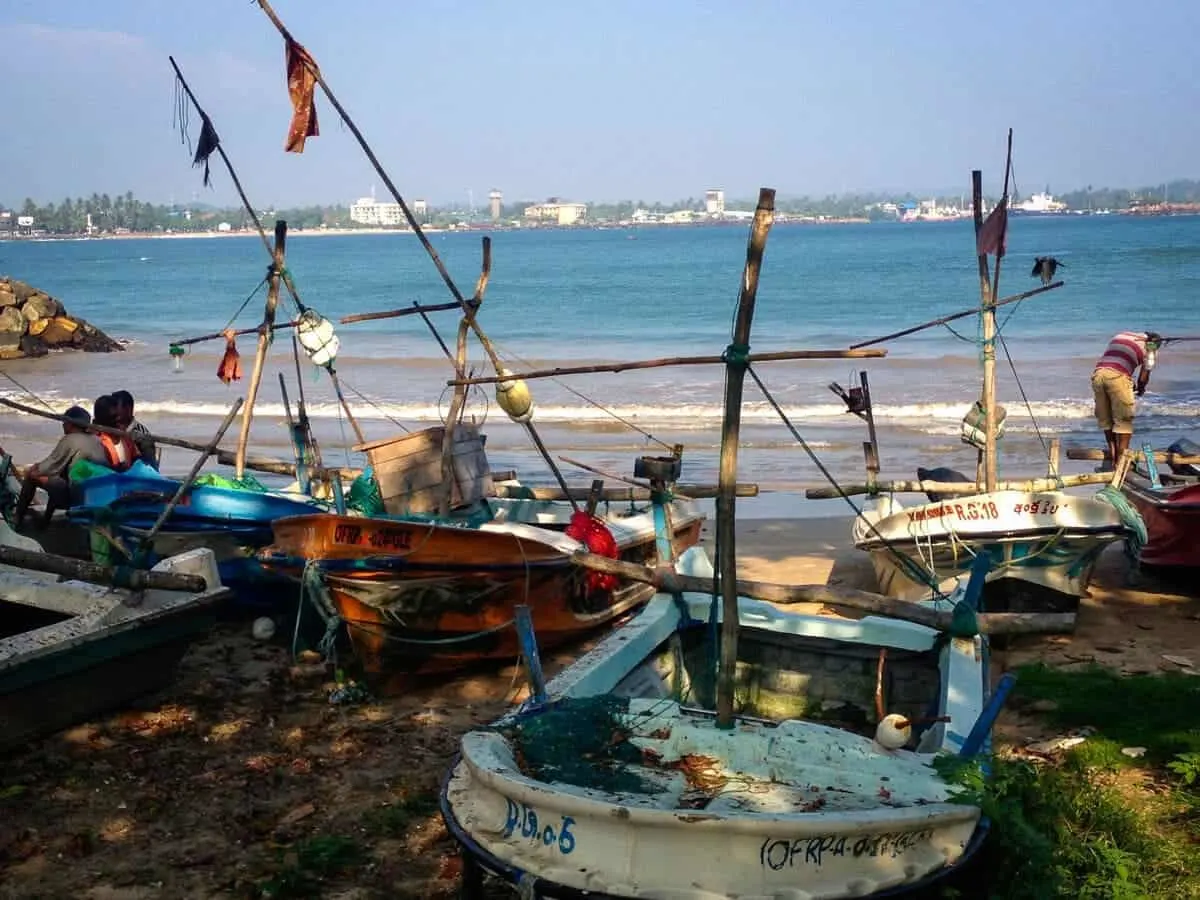 This attitude is almost contagious; people just want to chat with you in the street. They are eager to impart some wonderful little gems about Sri Lanka you must know or see. They just seem very happy to have you there and are always keen to chat about the cricket.
Highlights of Sri Lanka
The People
The diversity of the landscapes and climates.
Amazing food (especially if you love curry).
Hoppers and String Hoppers for breakfast!
Beautiful Beaches.
The History.
---
The Best of Colombo
Colombo is a charming city, loaded with history, culture, you'll find loads of museums and galleries, beautiful gardens, great food and a very friendly vibe.
Visit Fort
Sri Lanka has a very strong Dutch influence including some damn good forts and the area known simply as 'Fort' is the central area of the city named for the fort that once protected it. The beautiful promenade stretches around the seaward sides of the city and is being refurbished back to its old colonial glory.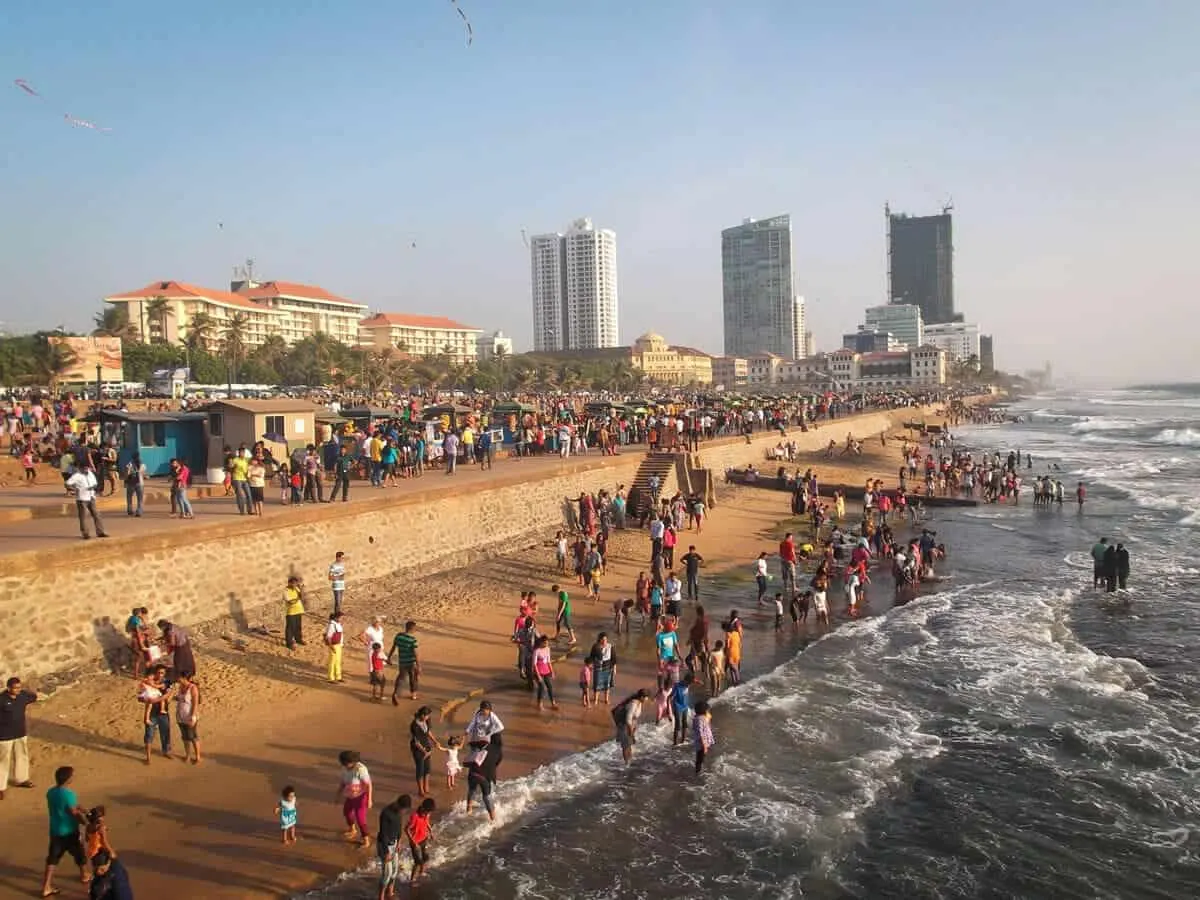 The Old Dutch Hospital
One of our favourite places in Fort is the Old Dutch Hospital. This beautiful old colonial building has been restored and now houses some of Colombo's best restaurants, shops and spas. Within the central courtyard area, you will find a wonderful social atmosphere for alfresco dining or a casual drink.
Eat at The Ministry of Crab
The Old Dutch Hospital also houses one of Sri Lanka's most famous restaurants- The Ministry of Crab. The only reason you have for not visiting this restaurant while in Colombo is being allergic to Crab! And on this we are serious, so prepare to don the bib, hone your crab cracking skills and make sure you have a booking. It is very popular.
Enjoy High Tea
When in Sri Lanka, drink tea. Cricket and tea are the two things Sri Lanka is best known for. Good thing we like tea (we are not so good on the cricket!). There are some really lovely spots for high tea in Colombo but the Old Dutch Hospital won't disappoint for the lovely atmosphere and a delightful array of cakes and tea.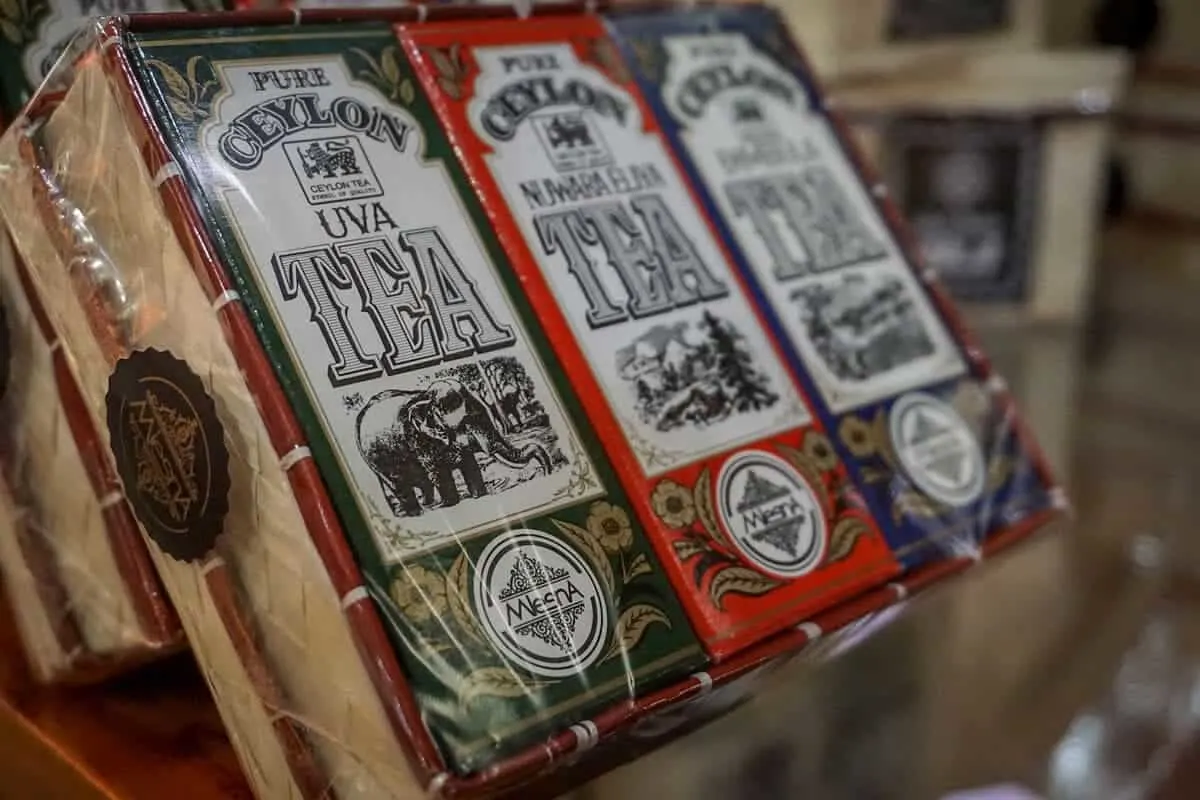 Sunset on Galle Face Green
Just south of Fort is a lovely stretch of lawn that continues along the waterfront. This is a very popular place for people to come and chill out, watch the sunset and grab a bite to eat at the food stalls line that The Green in the evening.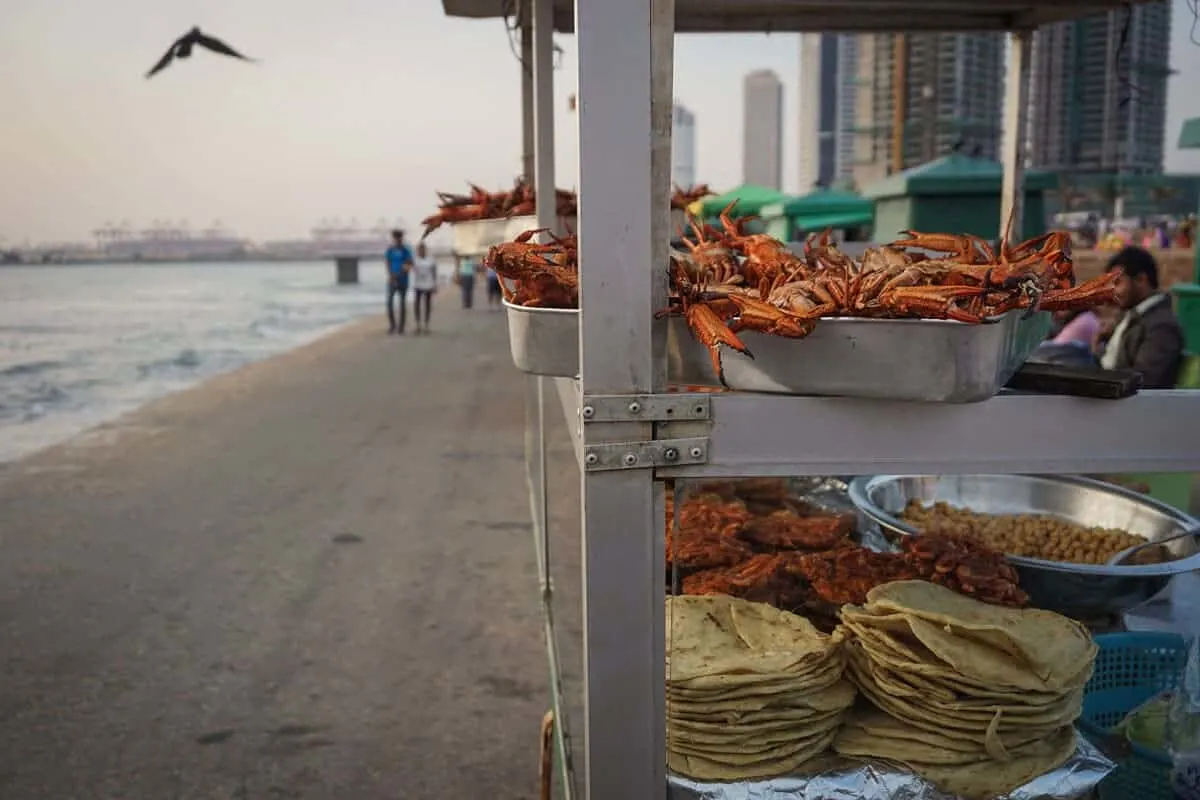 Adjacent to Galle Face Green is the grand old Galle Face Hotel. This luxurious old waterfront hotel has also gone through extensive restoration and refurbishment. We went for a poolside lunch of; you guessed it – Rice & Curry and were very impressed.
The food was beautiful, the atmosphere and service what you would expect from such a grand old hotel. Make a point of indulging in a meal or a sunset drink here. It's actually very reasonably priced.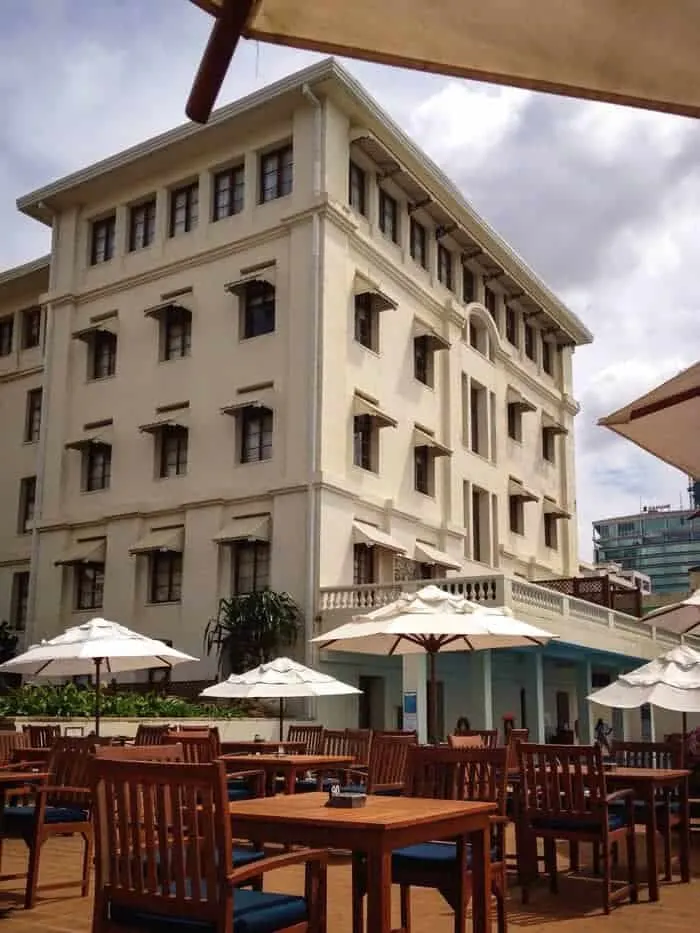 Wander Through Colombo Markets
Colombo has an incredible maze of markets not far from the train station in the area of Pettah. It is so big you may not realise when you had moved from one market to the next.
The markets are worth spending a few hours wandering around, just try not to get run over though, the traffic around the markets is pretty hectic.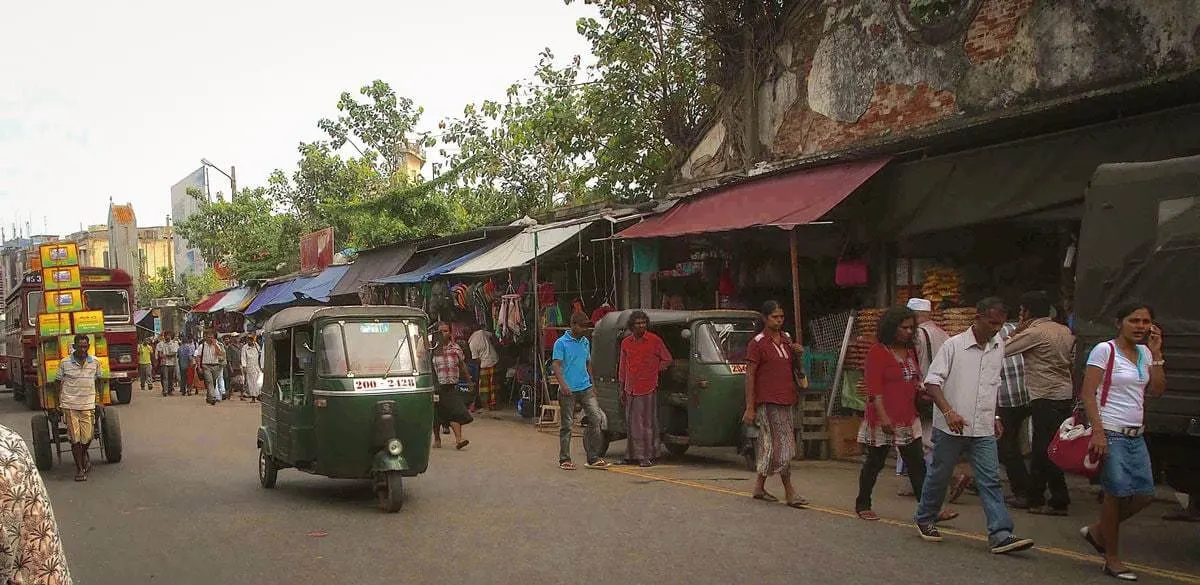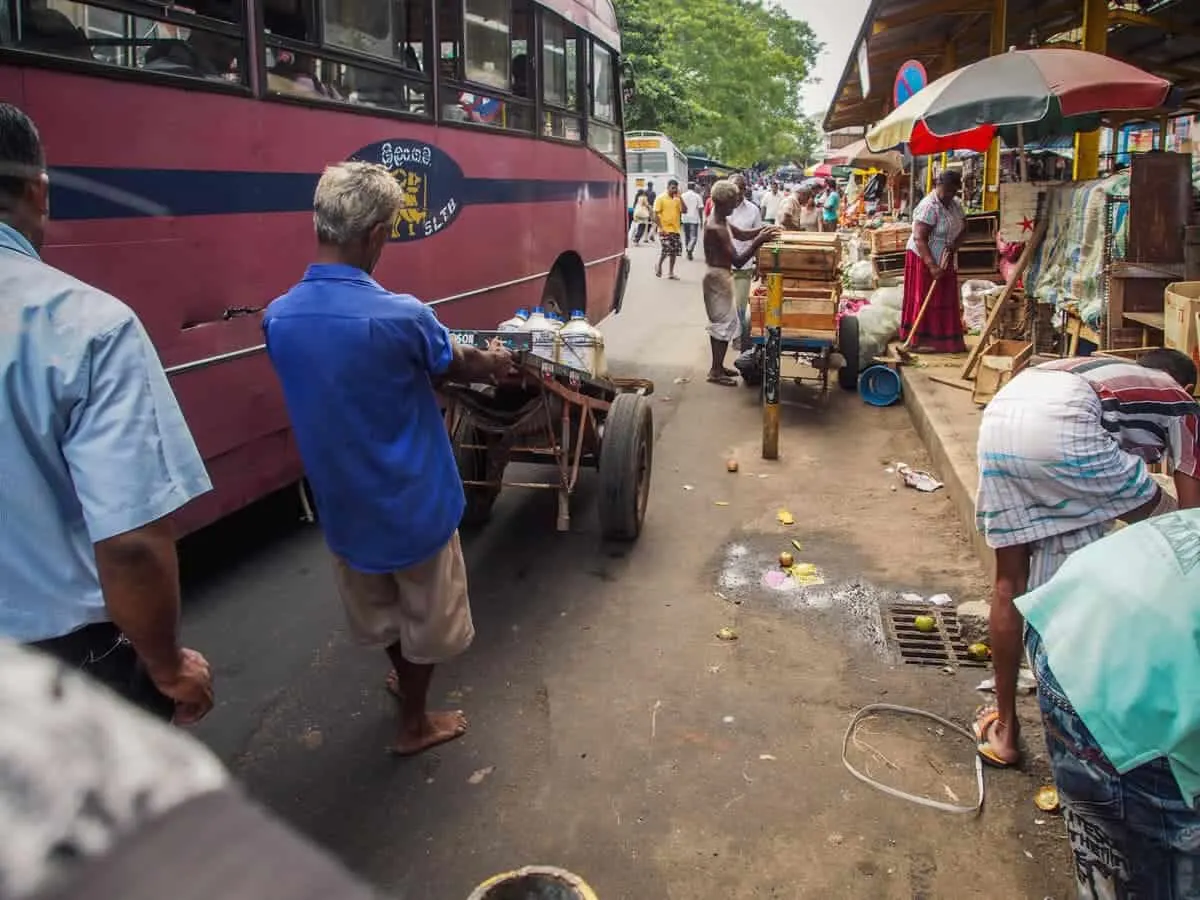 Getting Around Colombo
Tuk Tuk's are a great cheap form of transport but save yourself any arguments and only get the metered Tuk Tuks. And, make sure they turn the meter on.
It is also worth having a fair idea the direction you are going so you don't end up doing a long loop. In general, the tuk-tuk drivers are very friendly and for the most part honest although you may encounter one or two who may try to scam you. Just be a little prepared.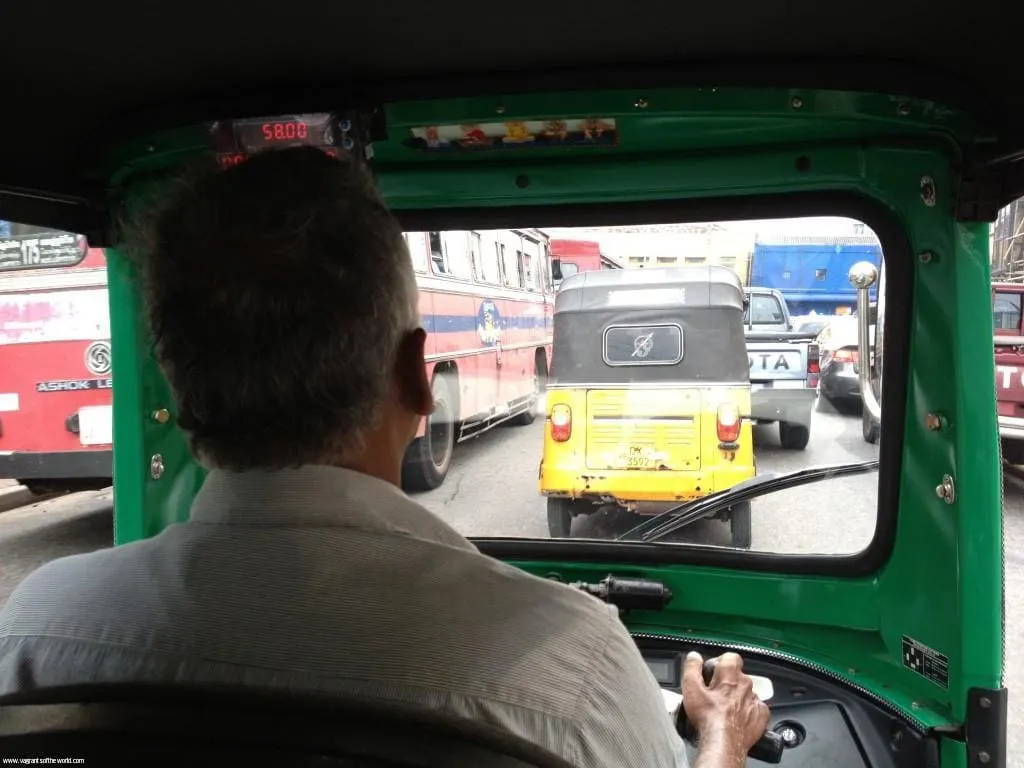 Catching the Train from Colombo to Kandy
When in Sri Lanka, the third thing you must do other than drink tea and talk enthusiastically about cricket is travel by train. Other than it being the best way to get around the country it is also a lovely experience.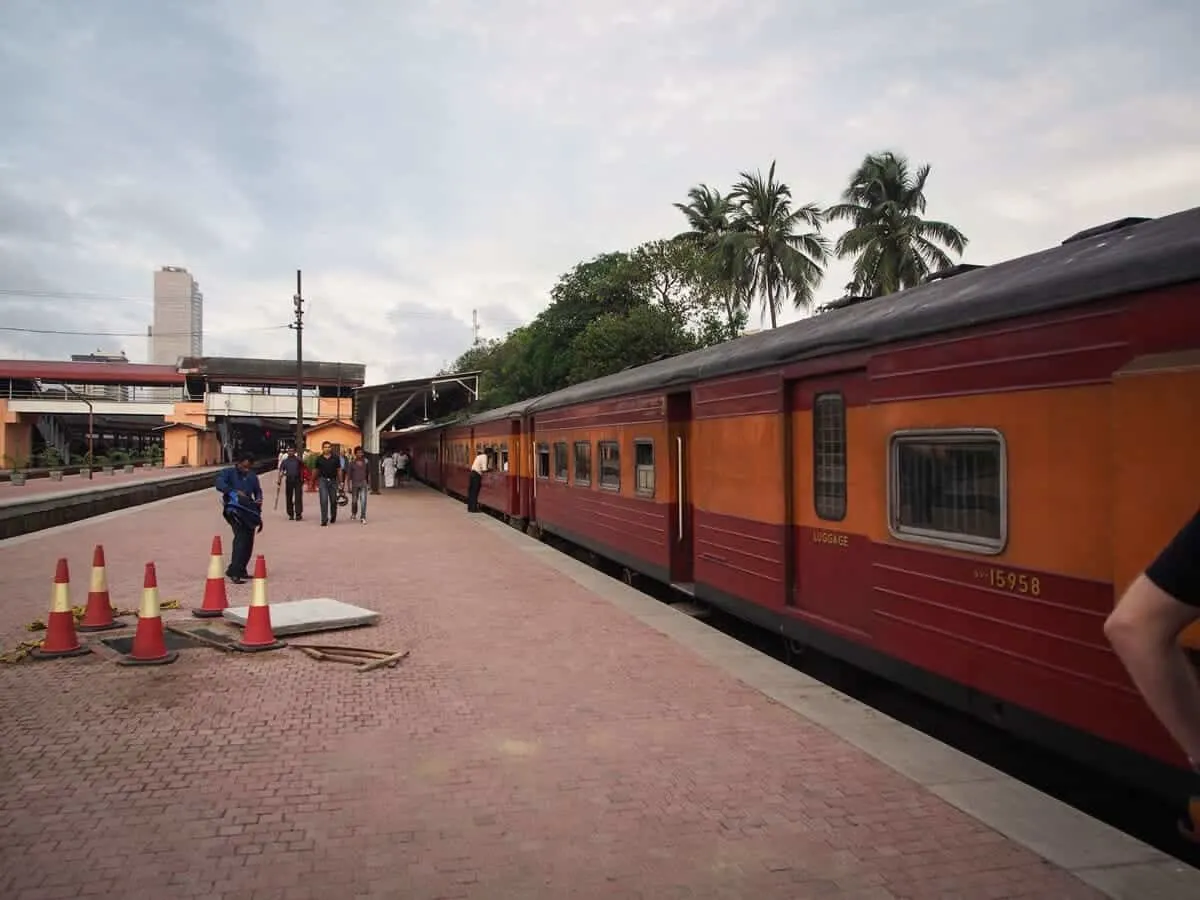 Tips For Train Travel in Sri Lanka
Train travel is very popular and the trains become very crowded so it's best to book a ticket in advance.
The trains in Sri Lanka are very old but you can still book three different classes of travel 1st, 2nd & 3rd. Some trains will also have sleeping cars.
We would recommend always opting for first class. It is very cheap and best of all – air-conditioned. When booking your ticket, you can also select your seat in advance guaranteeing a window seat.
There is a complimentary food service in First Class serving what is known as "Short Eats" ( hot finger food type snacks) and of course tea!
And don't stress if your train is late. It more than likely will be.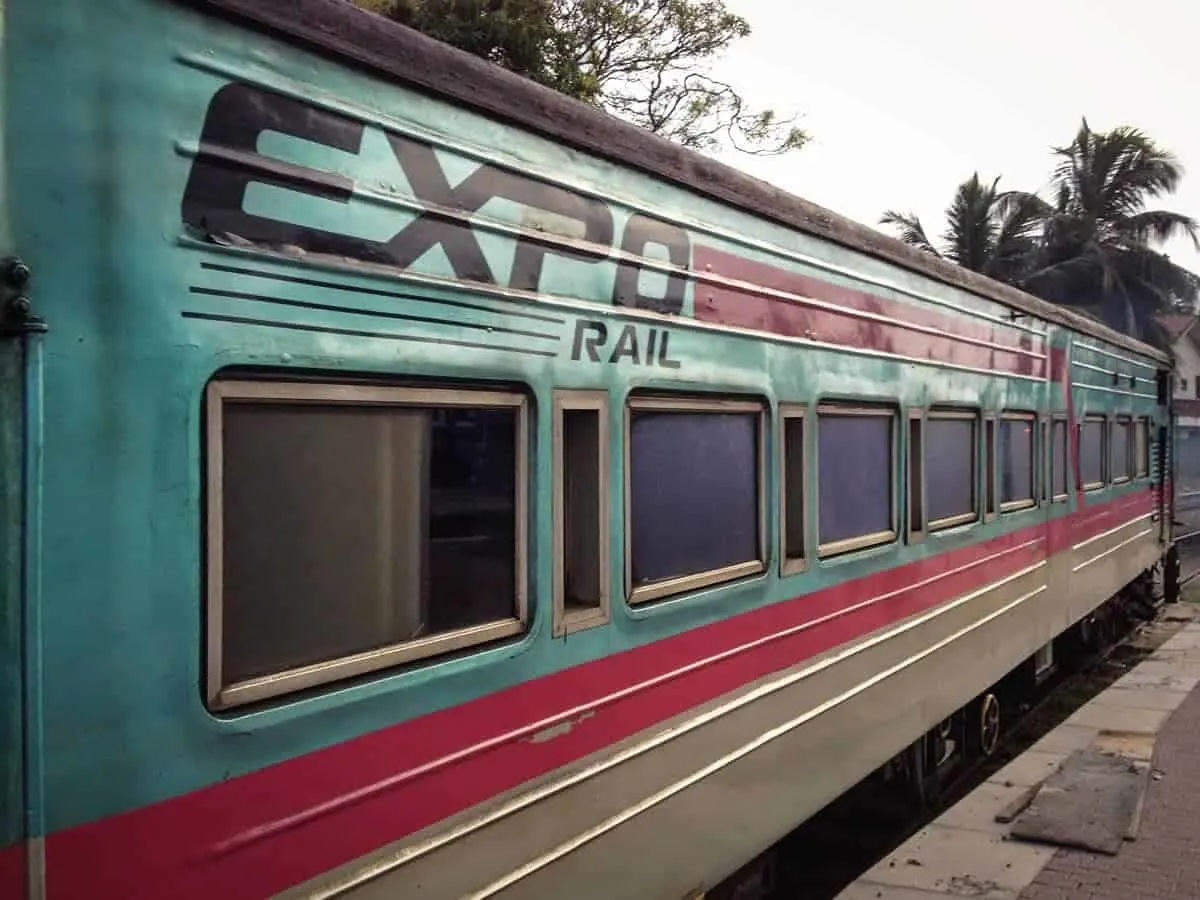 The train ride from Colombo to Kandy is considered one of the prettiest in the world. Based on some extensive research; a seat on the right side of the train on the way to Kandy will guarantee the best views of the tea plantations and countryside.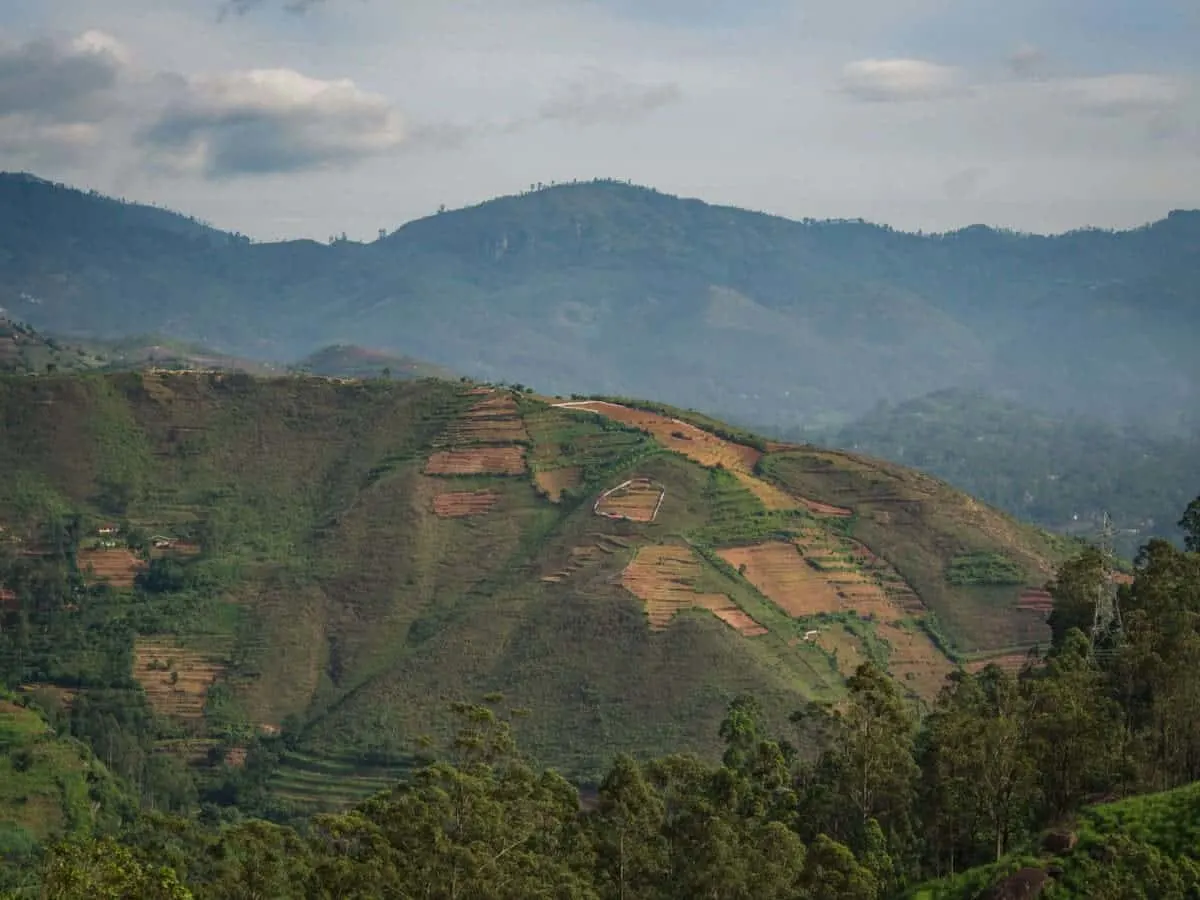 This rule applies when the seats are facing the front of the train. Ours were not! The carriage was obviously turned around along with the seat numbers so we were travelling backwards. The old switcheroo! Thankfully the train was not full. Bear this in mind when booking tickets.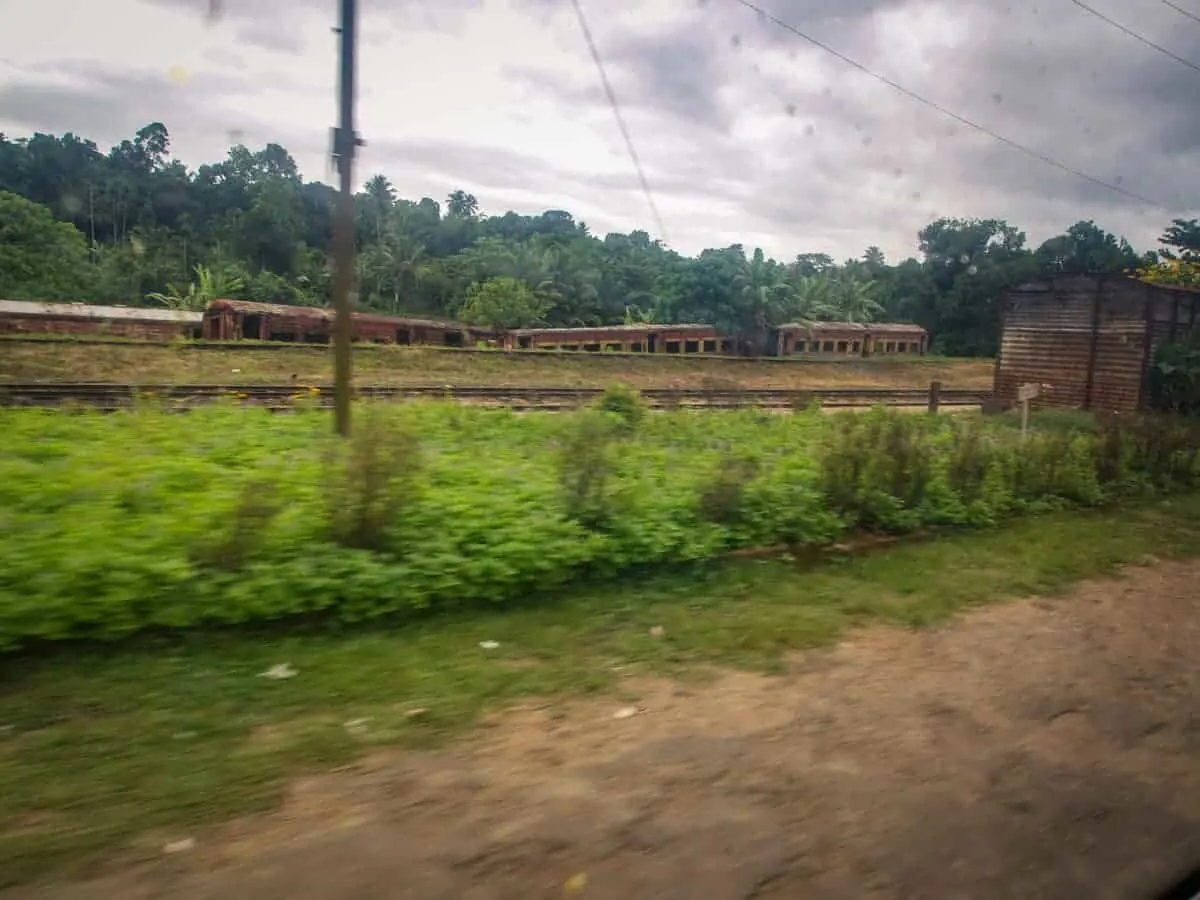 ---
The Hill Country
Kandy
Once the capital of the ancient kings, Kandy remains one of Sri Lanka's most significant cultural and religious centres. The highlights of Kandy are the country's most holy relic, a tooth of Buddha and Kandy Lake as well as the picturesque tea plantations and spice gardens of the highlands.
Tip:
Being in the highlands, Kandy is noticeably cooler than Colombo, even cold at times but very picturesque. The city is also a lot bigger and busier than most envisage.
Temple of the Sacred Tooth
The Temple of the Sacred Tooth houses Sri Lanka's most significant Buddhist relic – a tooth of the Buddha.
Twice a day during prayer times, the room housing the tooth is open to worshippers and tourists. You may join the long queue to have your two seconds in front of the tooth. You will not actually see the tooth as it is housed in a golden casket and you will literally only have a few seconds in the heavily guarded room. The temple is worth visiting during this time even if you decide not to visit the tooth. The temple and grounds are very beautiful and you will be able to witness the accompanying ceremony that takes place during the prayer times.
Make sure you dress appropriately when visiting the Temple of the Tooth. You will also be asked to remove your shoes before entering the Palace grounds. they will be returned to you when you leave.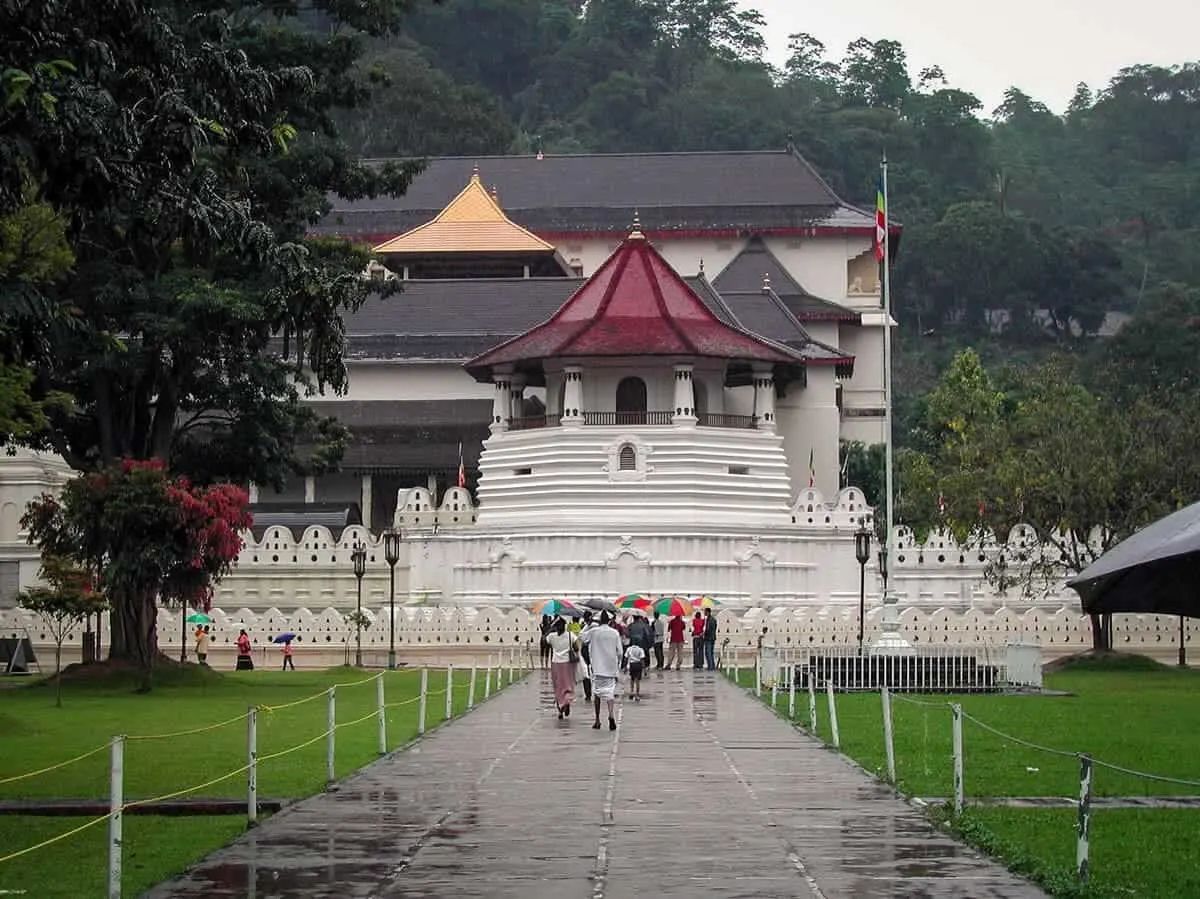 Visit The Kandy Royal Botanical Gardens
On advice from a local, we headed to the botanical gardens. This is something we probably wouldn't have done ourselves but glad we did. Established by the English, these well-maintained gardens are worth spending an afternoon exploring. And of course, you can stop for tea at the restaurant set on the main lawn in the middle of the gardens.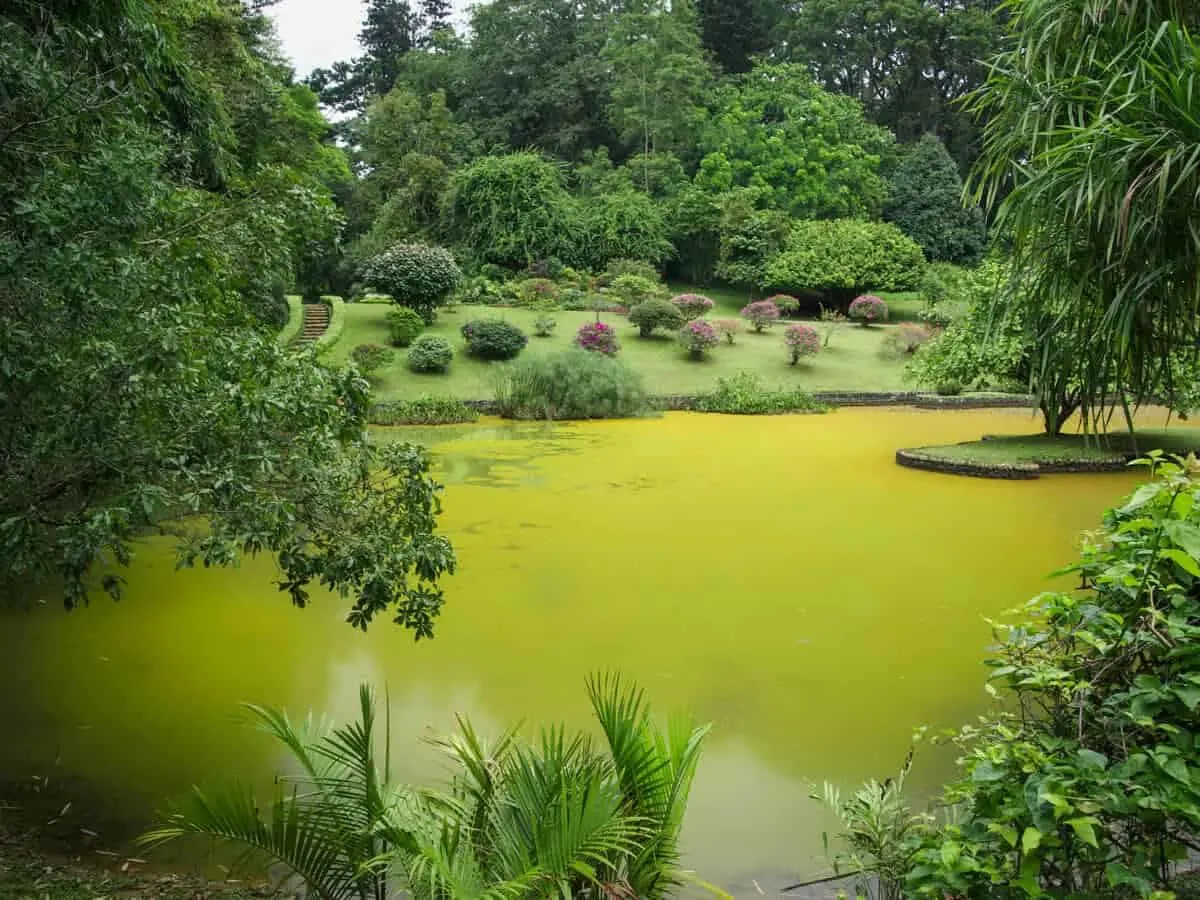 Getting from Kandy Train Station
Kandy train station is quite quaint. At the entrance, you will find more than enough tuk-tuk drivers, be aware though, the metered tuk-tuk had not really caught on in Kandy when we were there, so you will have to negotiate a price. Make sure you do this before you accept the ride.
Where to Eat in Kandy
You must stop at the Kandy Muslim Hotel for a meal. This was possibly the best value meal we had in Sri Lanka. For approx. $5 you can enjoy an enormous plate of really good rice and curry, Naan bread and drinks. The Kandy Muslim Hotel is a bit of an institution in the area.
Tip:
If you feel like a refreshing ale or a glass of wine after a long walk and big lunch, note that Kandy's liquor licencing does not allow the sale of alcohol (unless you are the guest of a licensed hotel) before 5 pm.
Be Wary of Scammers and Thieves in Kandy
A walk around the Lake Kandy which should have been a nice way to spend the afternoon turned into a game of cat and mouse and the first warning signs that you need to have your guard up in Kandy.
Thanks to Marks finely tuned detective skills (30 years of chasing bad guys) he became aware that we were being 'tailed' by a dubious looking man and we knew we had to be very wary of him.
We knew he was following us, so we stopped. He became aware that we knew he was following us, so he stopped. We changed direction. So did he. We both stopped. We caught him looking for us. He caught us looking for him. We hid behind a tree. He pretended he was looking at the temple.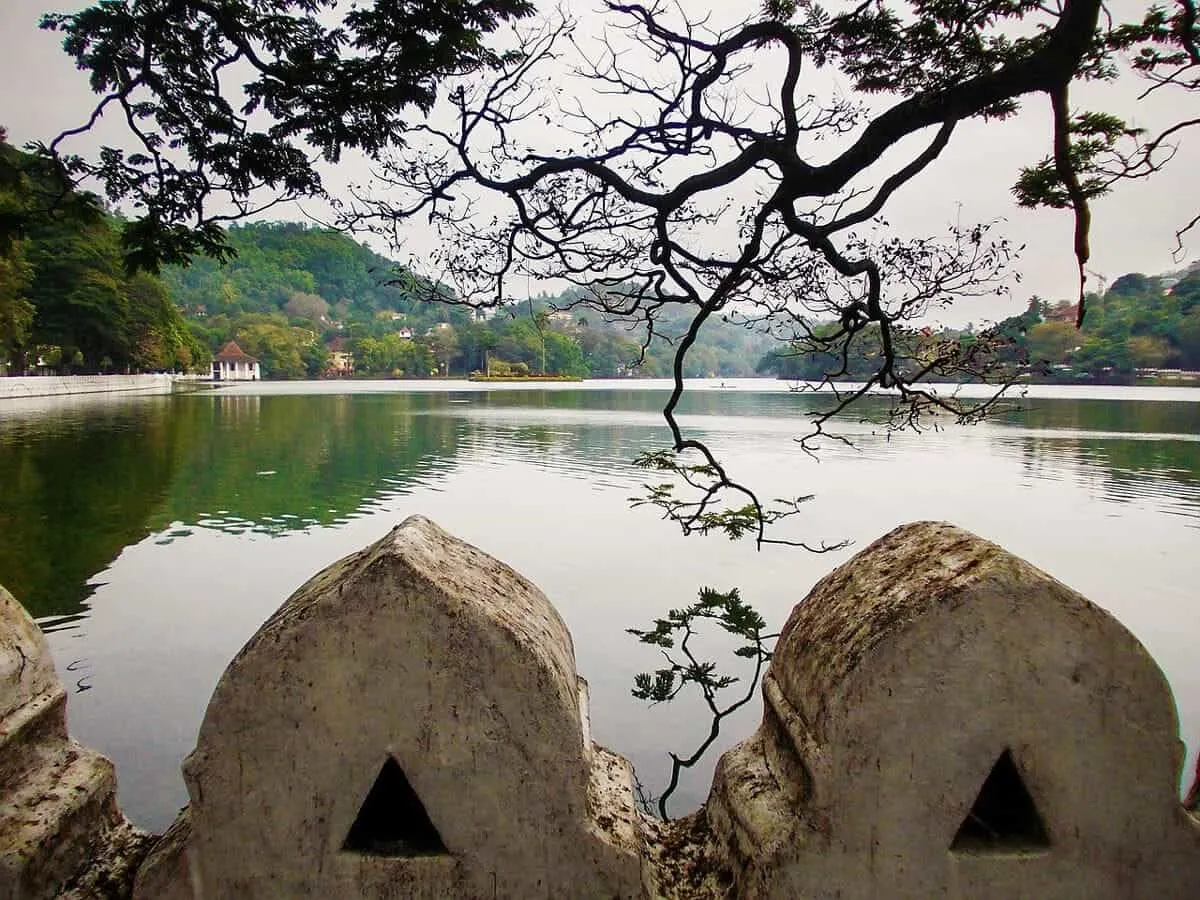 We then realised it had been the "friendly" policeman who had randomly called us up for a chat earlier that had picked us out as potential targets. As soon as we were far enough away from the man and back in a busy area, we left the lake as fast as we could.
We returned to the lake area at the Temple of the Sacred Tooth later that night for the daily ceremony of the Sacred Tooth. After the ceremony, we left to get a Tuk-Tuk home and were suddenly surrounded by a group of men who appeared from the darkness. Needless to say, we got out of there very quickly. Moral of the story; be careful in Kandy.
Where We Stayed in Kandy
We stayed at The Clove Garden in the hills of Kandy. Set in beautiful gardens against the backdrop of the mountains, the property has two homes offering two levels of accommodation.
The Clove Garden was the cheaper of the two at $39 US/night for a double room with en-suite and breakfast. The house was large, bright and airy and they greeted us with tea and cake on arrival!
Uda Walawe
From Kandy, we decided we wanted to head to Uda Walawe National Park. Uda Walawe offers more than just elephants, it offers lots of elephants!
It is a big trip if you are relying on public transport. We secured a very reliable driver for two days to take us from The Hill Country to Uda Walawe and through all the way to Ahangama on the south-west coast.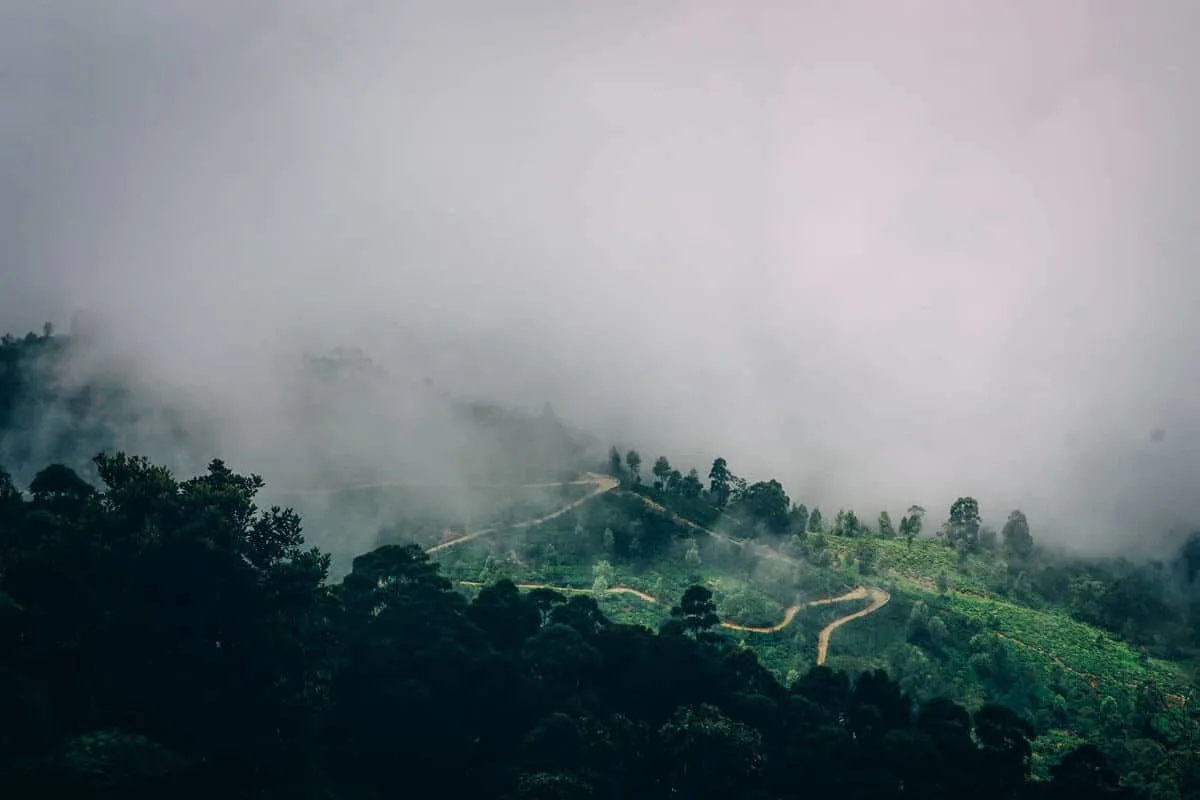 The drive from Kandy takes you through beautiful countryside and mist covered tea plantations. There are waterfalls to stop at along the way as well as plenty of tea outlets and tea factories that offer quick tours, and, of course, a pot of tea!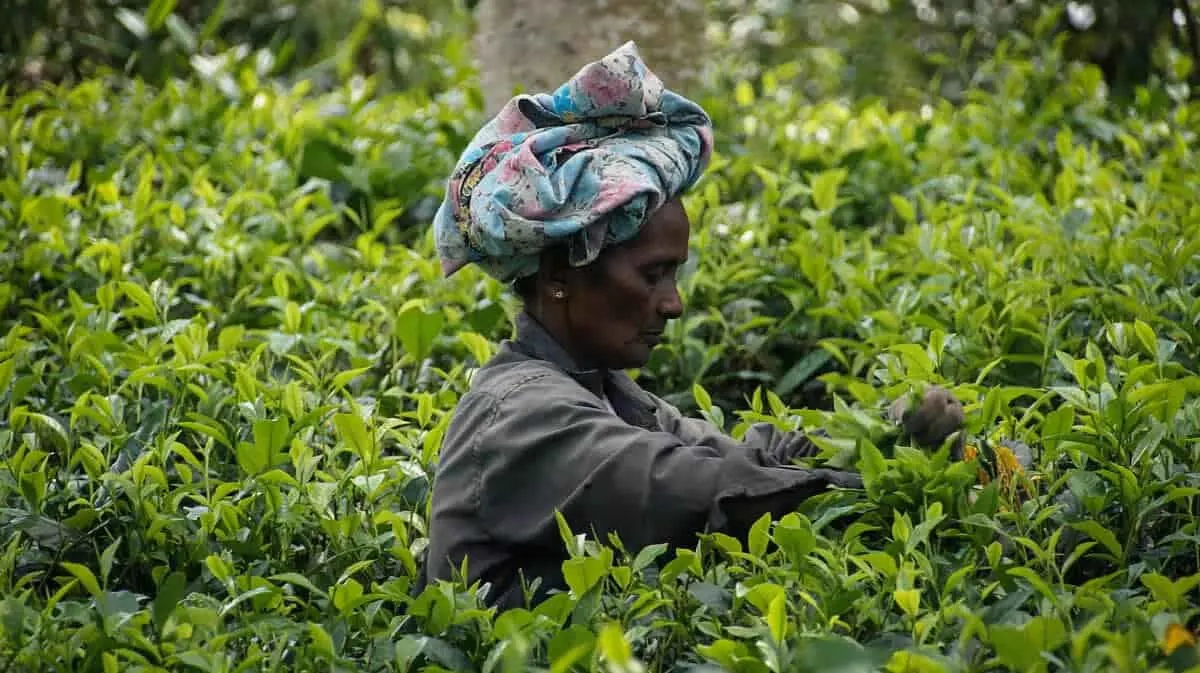 Nuwara Eliya
We decided to bypass the usual tourist stop of Ella and stopped for our first night on the road at Nuwara Eliya.
Nuwara Eliya is more akin to an English country town, dotted with beautiful old colonial homes and hotels. A legacy of the English and Scottish who pioneered the tea industry in Sri Lanka.
Nuwara Eliya was favoured by the English as a holiday destination as the cool climate of the hill country was a reprieve from the heat and humidity of the low land areas.
We were fortunate to stay at the famous Nuwara Eliya Golf Club. This is Sri Lanka's oldest golf club, dating back to the late 1800's. The club epitomises old colonial charm with sweeping verandas around the old clubhouse overlooking the manicured greens. A beautiful spot to sit for tea. Aged timber lines the member's bar with open fireplaces and richly upholstered lounges.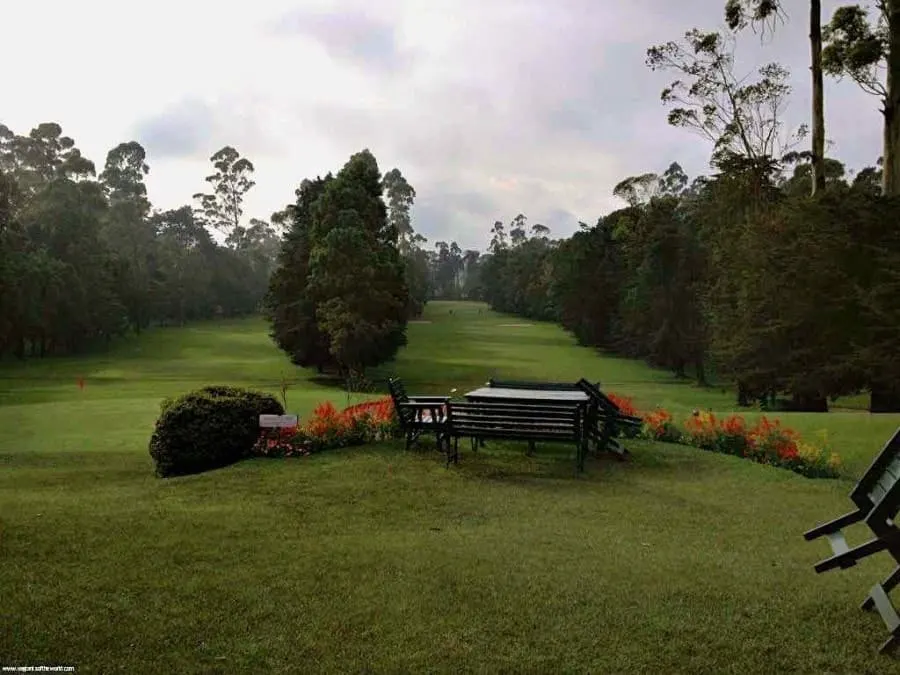 This was a special experience for us for many reasons. When you stay at Nuwara Eliya Golf Club you will find comfortable rooms and all the charm of a club steeped in English tradition. In saying that, remember Sri Lanka has just emerged from war and probably a decline in the affluence required to maintain the sophistication of other world-renowned golf clubs.
Expect the service to be very courteous, extremely friendly and respectful and with the staff dressed in traditional Sri Lankan service uniforms, quite old world. Be prepared to sit back and relax because the service will definitely not be fast and may even be a little quirky at times, but this is part of the charm. It is almost as if the staff have been lost in time. This was one of the most delightful evenings we had in Sri Lanka.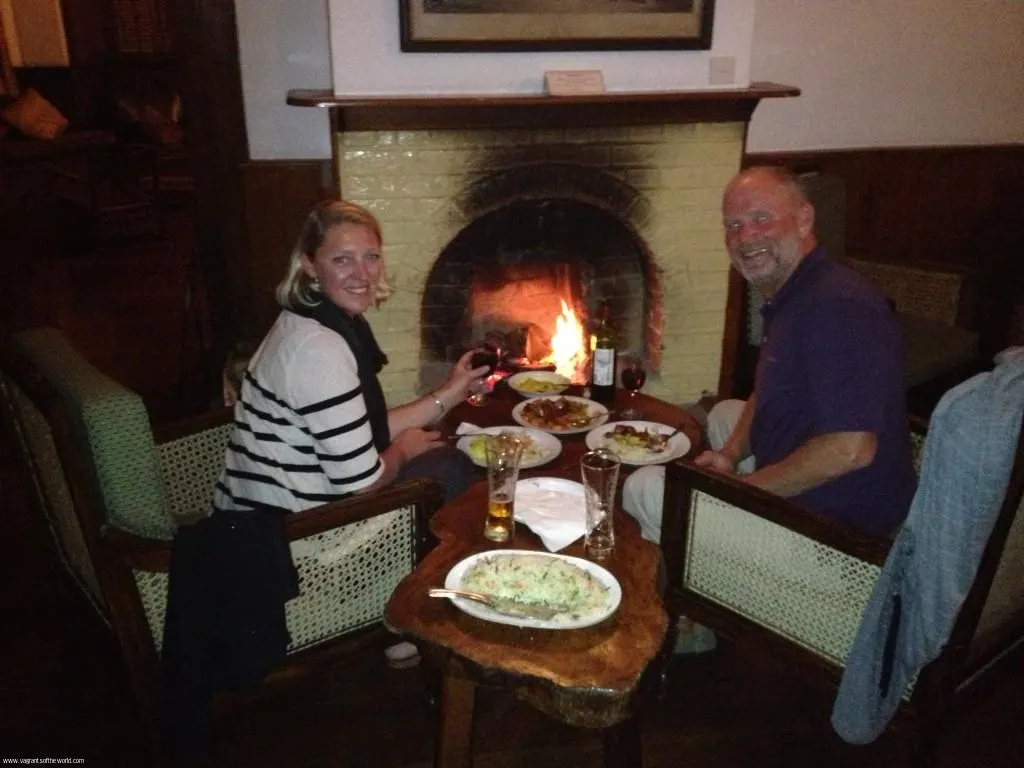 Travelling from Nuwara Eliya to Uda Walawe you can enjoy some stunning scenery and a few nice stops including waterfalls on the roadside on the way past Ella.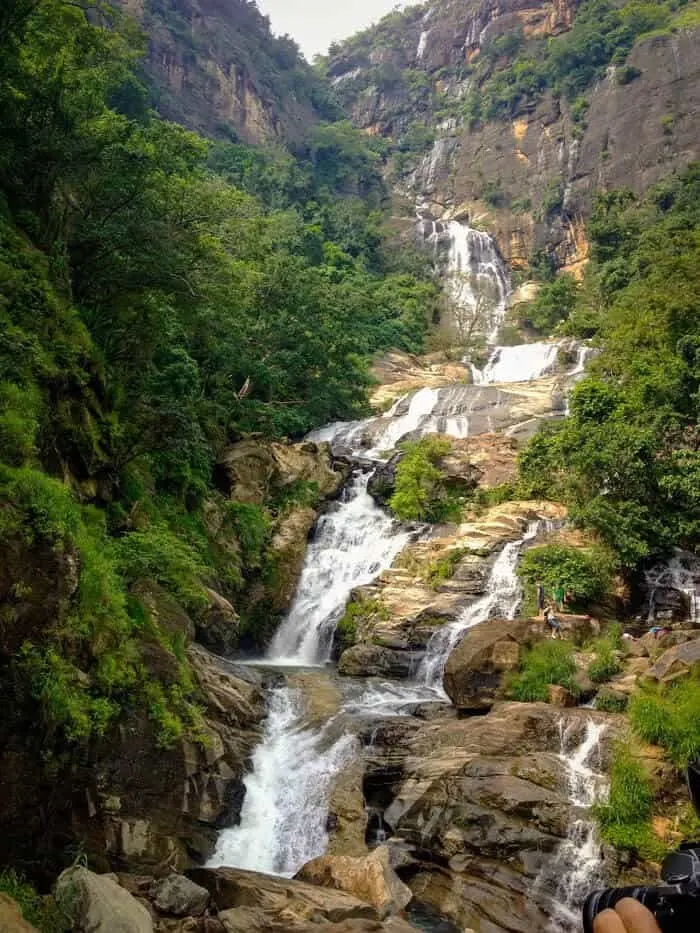 Uda Walawe National Park – Elephant Safari
Either early morning or late afternoon is perfect for seeing the animals at Uda Walawe. If you arrive around midday, there are some lovely restaurants at the park to have a relaxing lunch. Within about 5 minutes of entering the national park, we were side by side with a large female elephant and calf.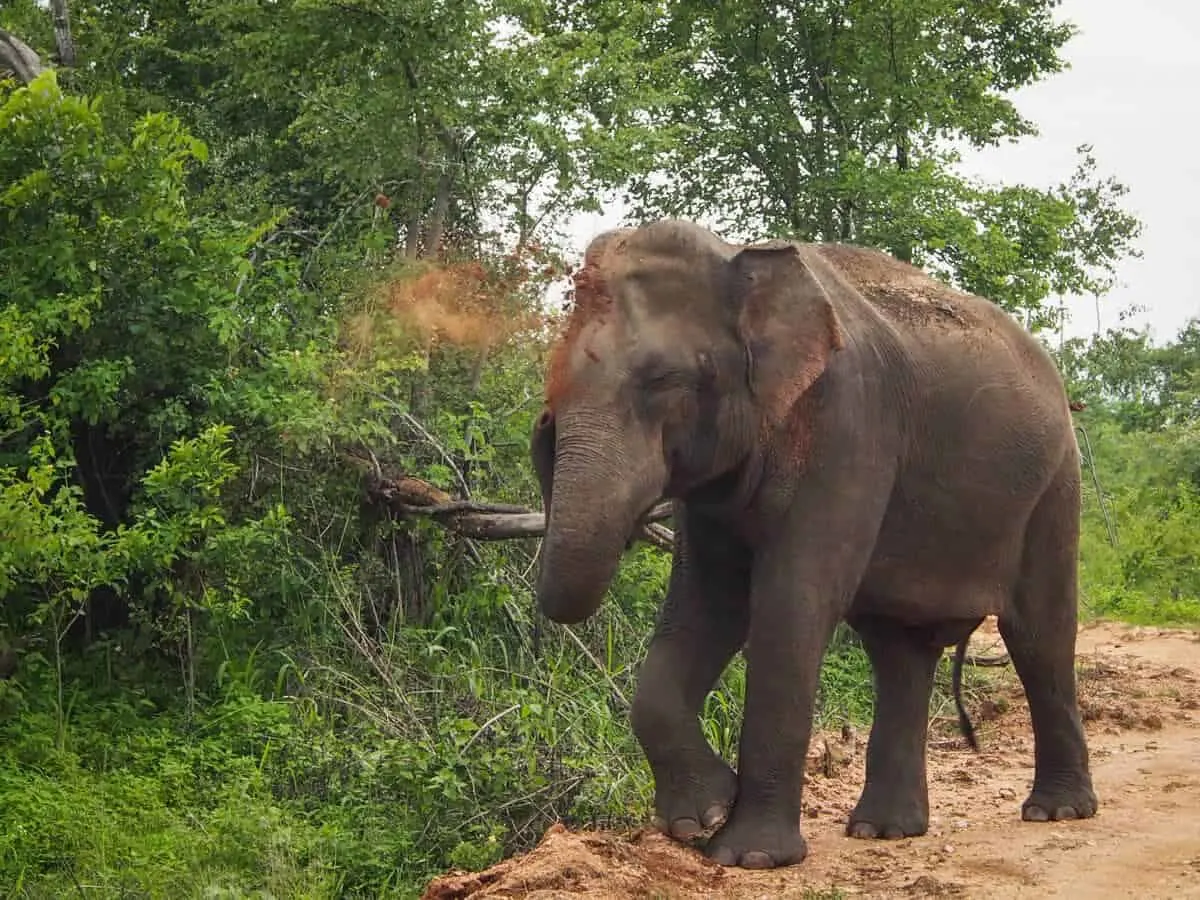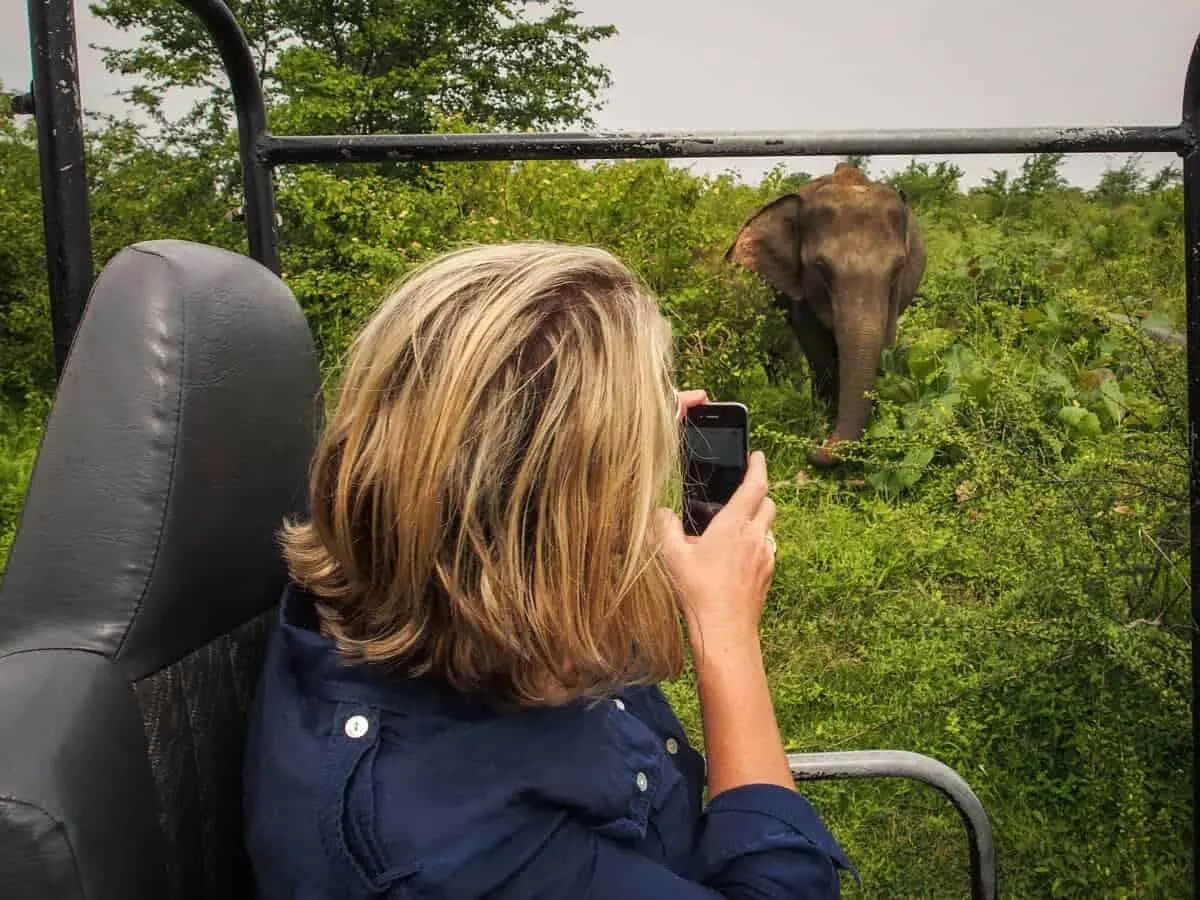 Uda Walawe National Park will not disappoint. The number of wild elephants roaming free is a beautiful sight. Stunning birdlife and countryside, this little safari delivered more than we expected.
The South West Coast of Sri Lanka
Ahangama
We decided on the sleepy coastal town of Ahangama as our base for day trips to all the best of Sri Lanka's south coast.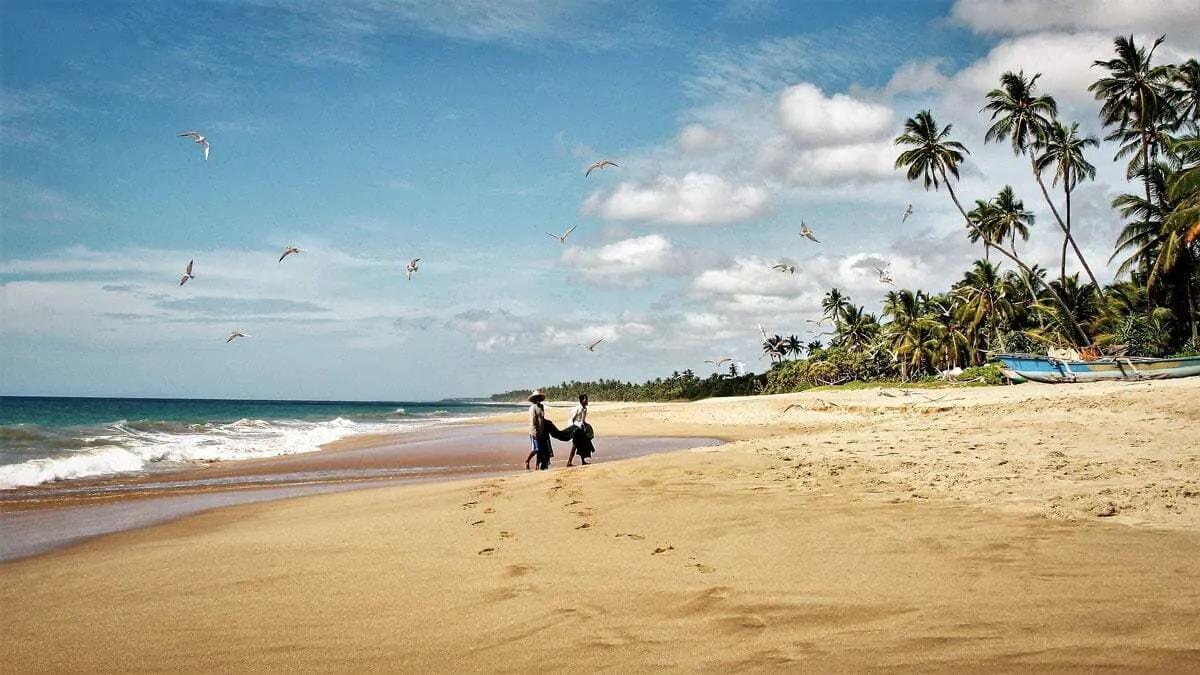 Unawatuna
Unawatuna is probably one of the better-known tourist beach destinations and not unlike Kuta in Bali, not really our cup of tea (excuse the pun).
In its heyday, it was a secret surfers paradise. Now, this small beachside town is aimed squarely at the tourist and is far removed from the nicer more low key beach spots dotted along the coast such as Ahangama & Marissa.
Unawatuna has all the usual trappings of a tourist destination, hawkers combing the beach selling cheap souvenirs, backpacker bars, western style restaurants, noisy water sports and, obnoxious tourists.
Galle
A trip to Galle is as important as talking cricket and drinking tea, the city is after all home to the famous Galle Cricket Stadium. Galle is another testimony to the diversity Sri Lanka offers. Allow yourself at least a few days to discover all the wonderful things to do in Galle.


A city inside a city. The old city now has a wonderful arts influence with small galleries popping up everywhere and some wonderful rooftop cafes offering a stunning view of the old city.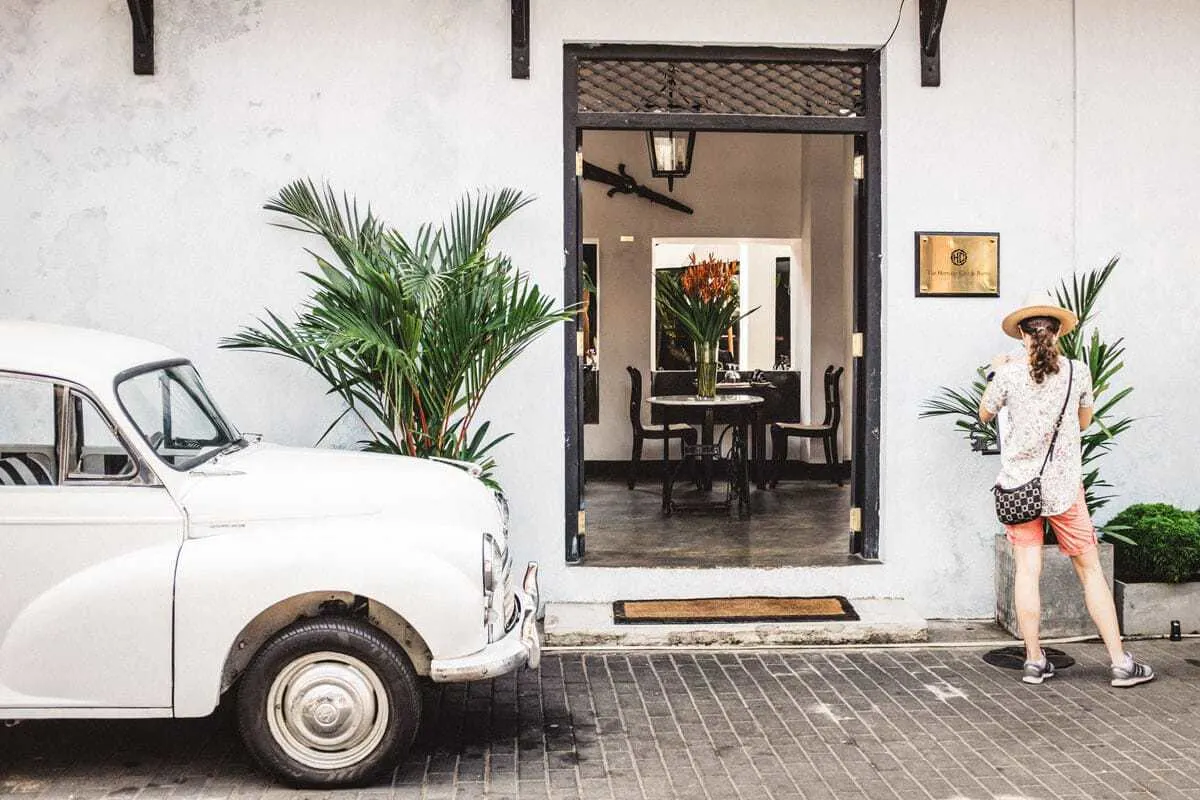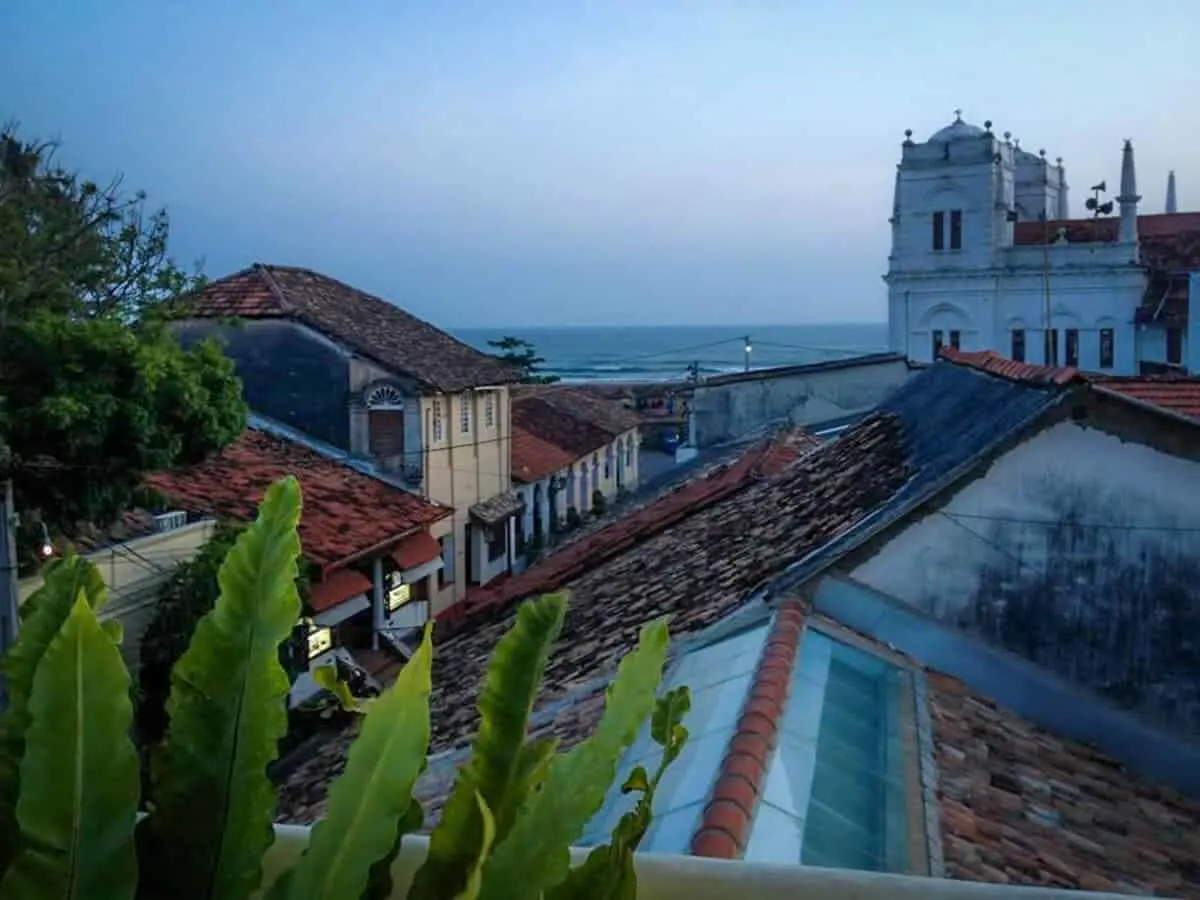 Things to Consider
Certain conveniences you would normally be able to purchase at a normal convenience store may not be available outside of the major cities.
Women should be mindful when travelling alone, especially on public transport. The menfolk can get a little touchy, feely if you aren't careful.
While the majority of the country has a tropical climate, it can get very, very cold up in the hill country. We were a little unprepared for this.
Always be careful of your belongings in crowded areas. Pickpockets can be a problem.