Introducing Pogradec on Lake Ohrid Albania.
As a child, did you ever take one of those summer holidays in a small sea or lakeside town? The kind where faded plastic paddle boats with umbrellas dotted the horizon?
Where the carnies came for the entire summer with just enough rides and lights to make a child wriggle with excitement.
People would take a siesta after a sun-drenched day at the beach and a stroll along the promenade at sunset was a daily social affair.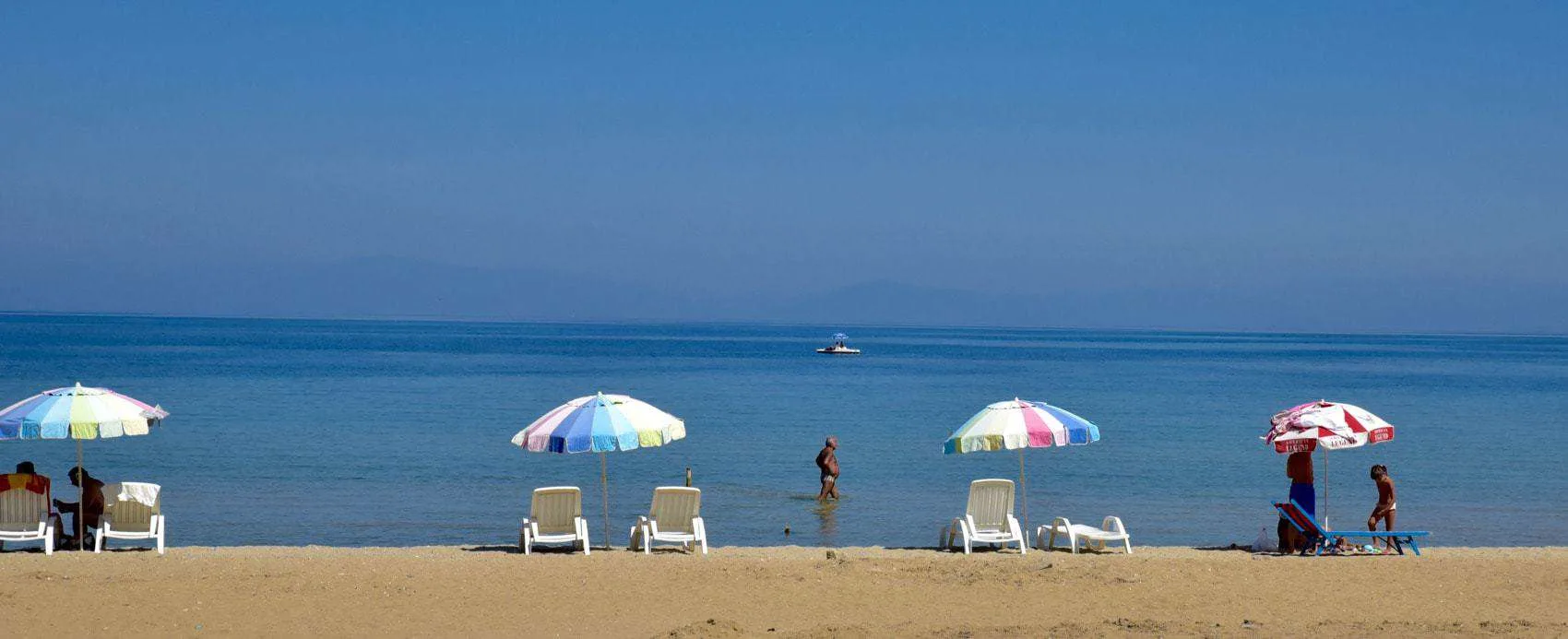 Beach Holidays in Albania
Well gather your childhood summer holiday memories and prepare to transport yourself back to the '70s and 80's beach holiday of your past. Pogradec Albania is straight from a retro postcard and best of all, it's still at 1970's prices!
Travellers in the know are starting to sing the praises of the Albanian Riviera. The virtually undiscovered pristine strip of coast along the Adriatic between Vlora and the more popular Saranda.
But Albania has another beautiful and slightly quirky tourist destination. A place where you can chill alongside vacationing Albanians with barely a tourist in sight. Best of all, it's at a very reasonable price.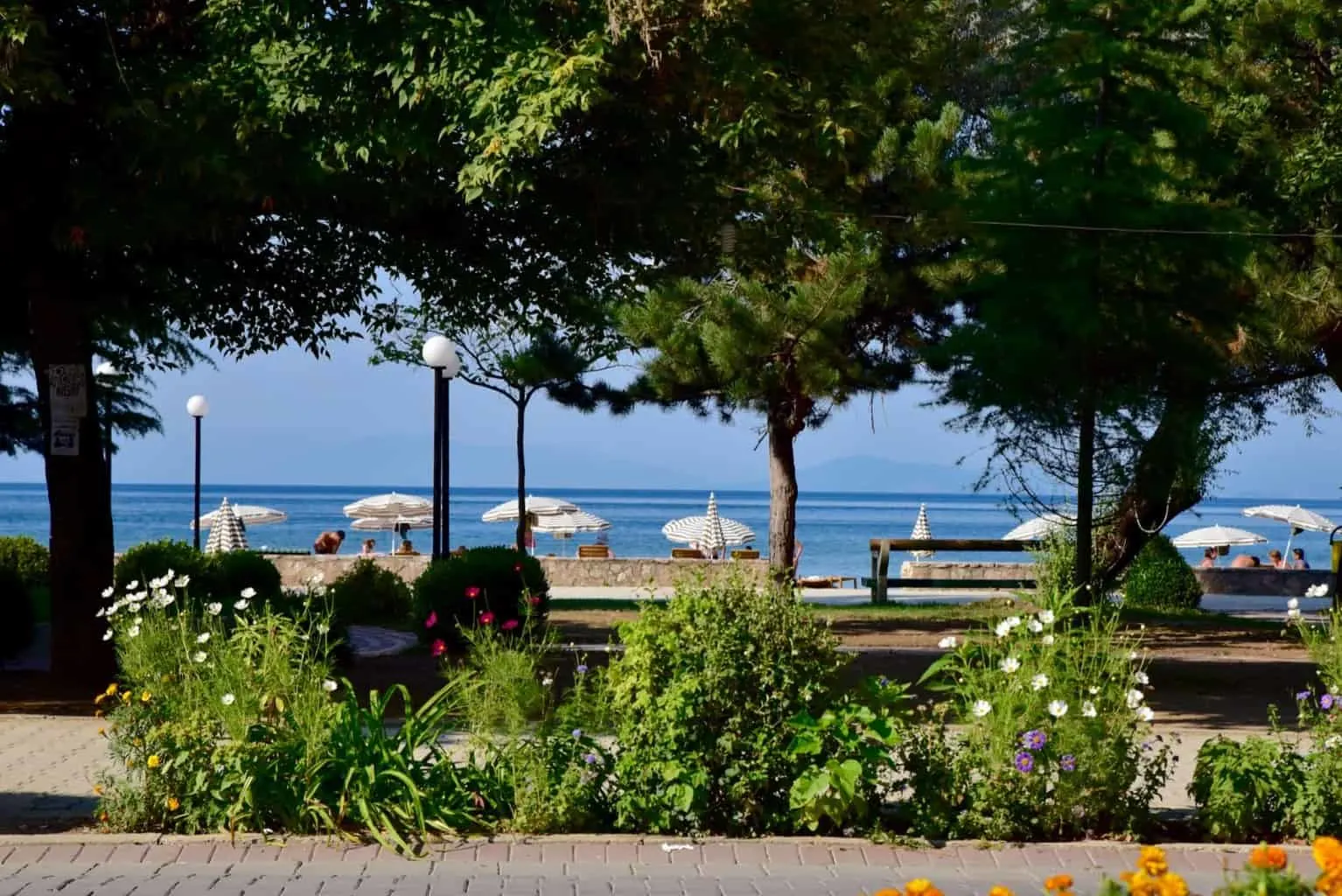 Lake Ohrid Albania
Beautiful Lake Ohrid is most known for the quaint little town of Ohrid in Macedonia. Ohrid is Macedonia's premier holiday and tourist destination and rightly so.
But across the other side of the lake, a short drive from Ohrid lies Albania's holiday resort town – Pogradec on the other shores of Lake Ohrid.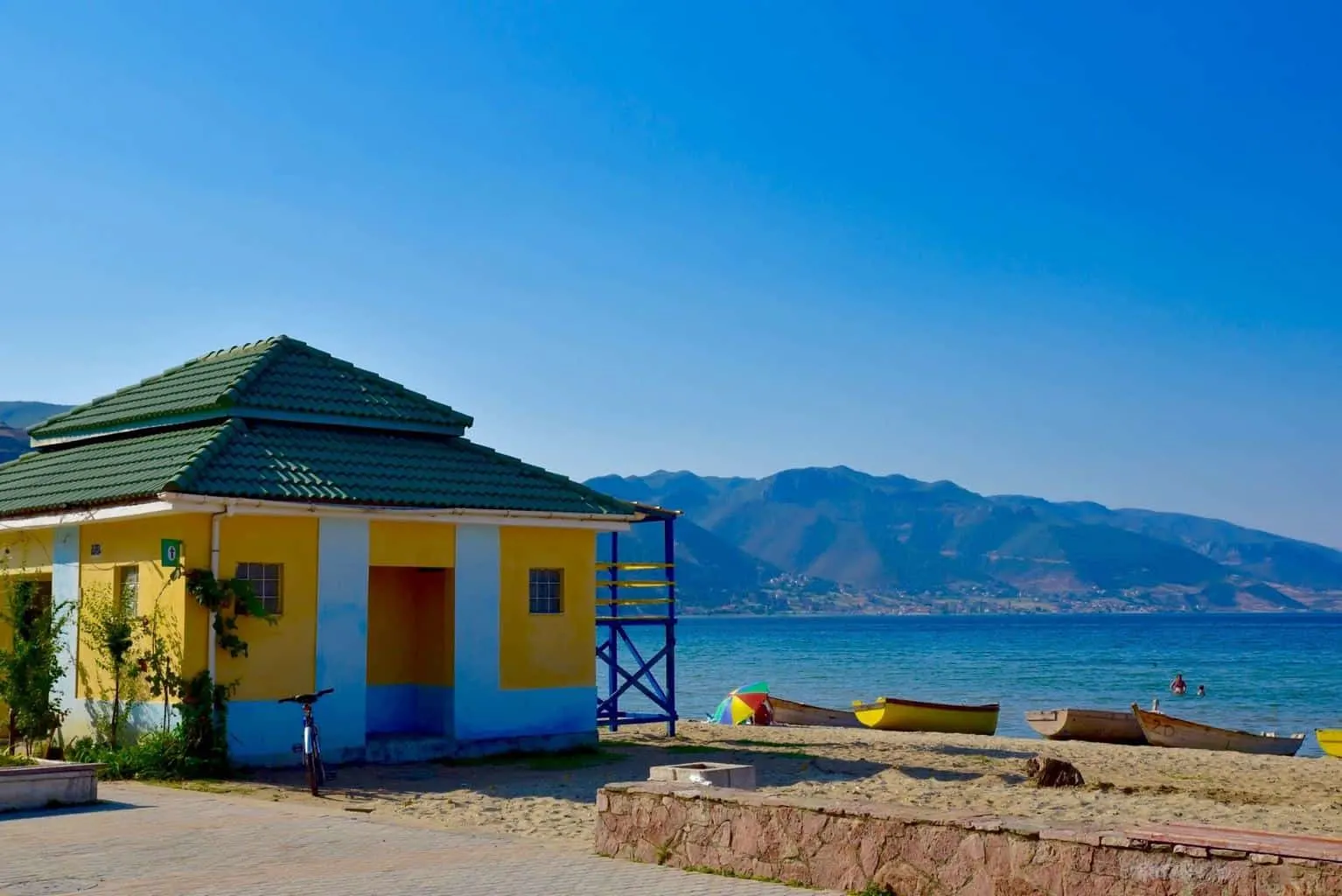 Pogradec Albania
While Pogradec may be viewed by some as Ohrid's uglier cousin, we must remember, Albania has not long emerged from a long period of isolation under communist rule.
A completely self-sufficient, albeit slightly paranoid country may find itself in a state of stagnation after such a long period shielded from the rest of the world. However, Albania is doing it's best to catch up.
After the fall of communism, the once popular lakeside resort town of Pogradec fell into disrepair. Albania's drive to encourage tourism has seen an interest in returning Pogradec to its former glory, bringing investment and government funding into the town.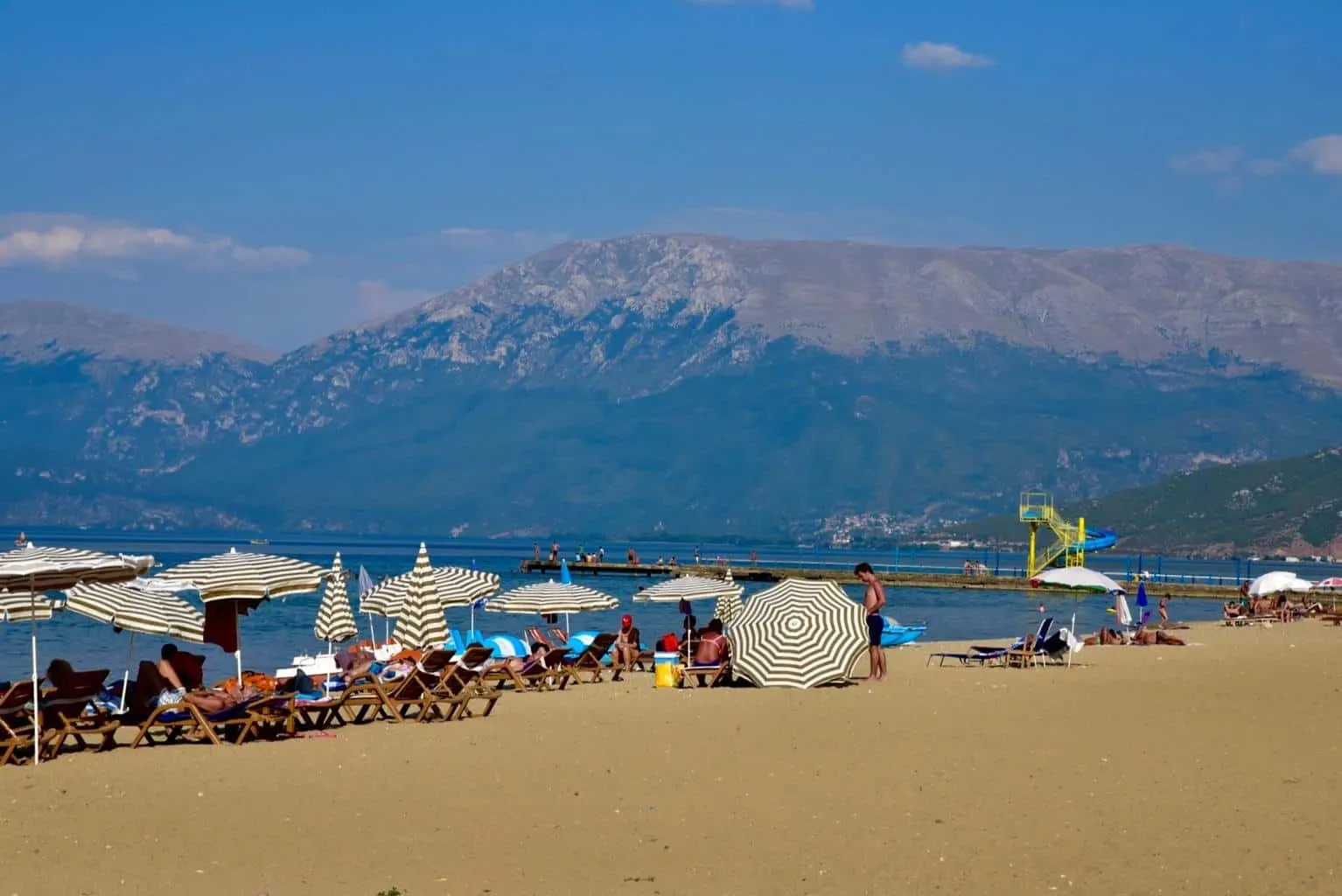 The Albanian Side of Lake Ohrid
The Albanian side of Lake Ohrid boasts more sandy beaches than the Macedonian side. The sleepy lakeside town has a wonderful, laid-back seventies style holiday beach vibe mixed with a late eighties, early nineties modern refurb.
Fun, bold primary colours feature along the waterfront and hotel lobbies set a sophisticated tone with soft feature neon lights and highly polished metallic finishes against peach and grey hues. Think Albanian Miami Vice.
These are the style nuances of a country trying to cram so much lost time into less than two decades.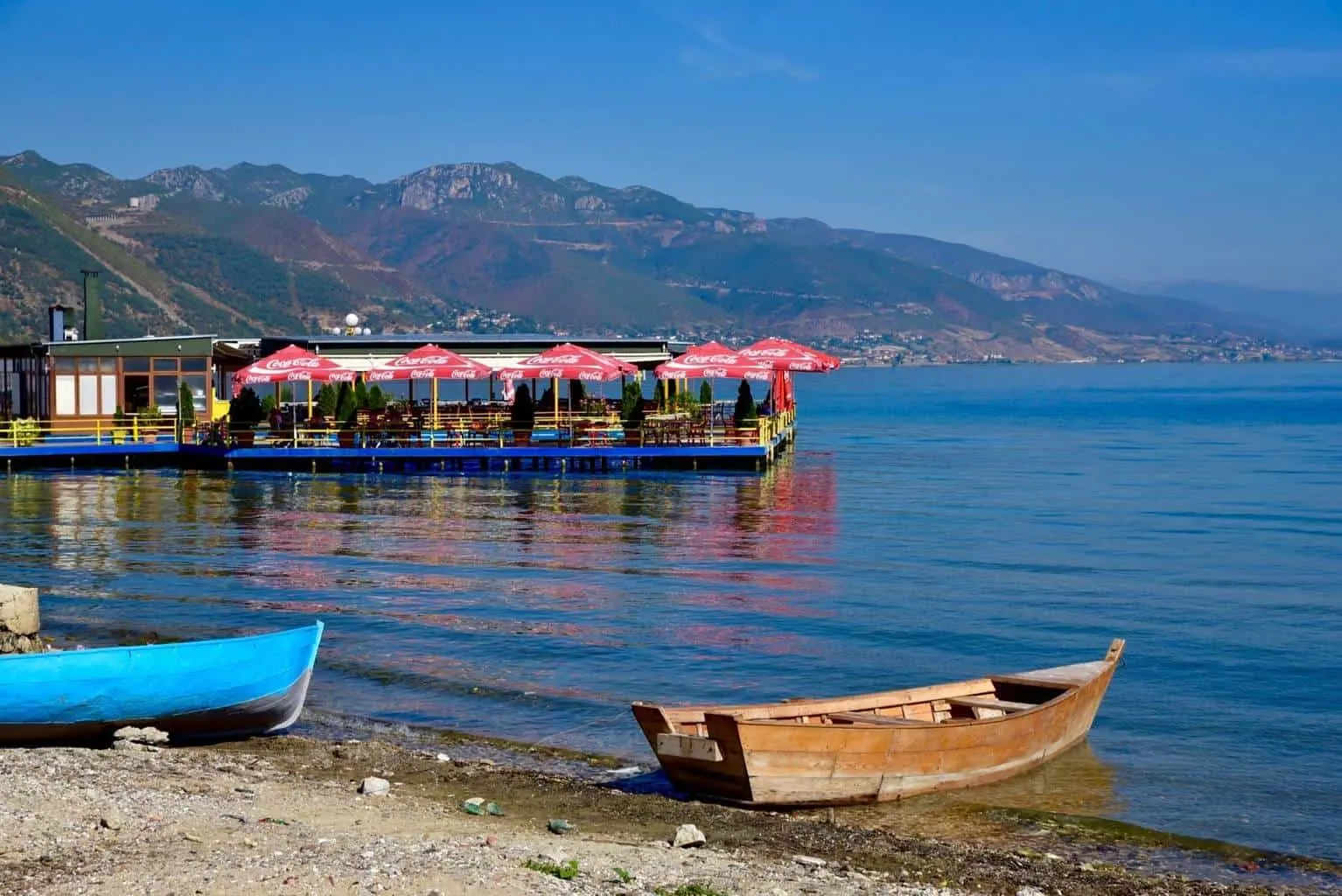 Indulge in Fresh Ohrid Trout
While holidaymakers indulge in the crystal clear waters of Lake Ohrid and the temperate weather, colourful dingies line the shore, ready for local fisherman to slip out in the evenings in pursuit of the lakes prized Ohrid trout.
People will pop over the border from Ohrid in Macedonia for a meal of fish because it is so much cheaper on the Albanian side of the lake. Prior to visiting Albania, Macedonia was one of the cheapest places we had been.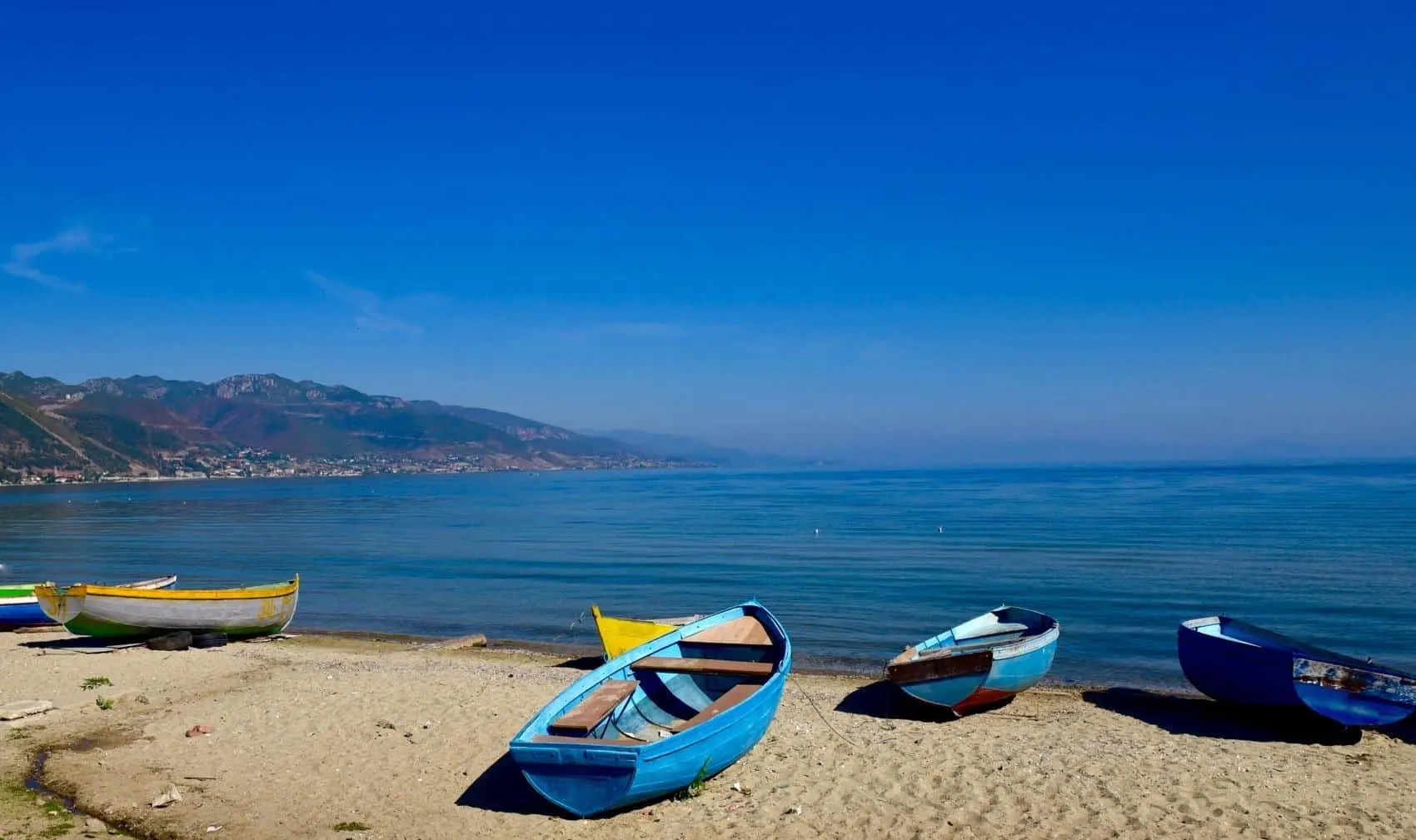 Restaurants in Pogradec and Albanian Cuisine
Restaurants line the promenade of Lake Ohrid serving Balkan fare with an Albanian flavour. Much like Macedonian cuisine, Albanian food is simple but very good and plentiful.
Grilled meats and homemade Albanian sausages served with salads and dips. Red peppers are a prominent feature as with all Balkan countries – Roasted, grilled, smoked or in a salad we fell in love with; roast pepper with curd served with fresh crusty bread.
Whole grilled Ohrid trout fresh from the lake was one of the best meals we had in the Balkans, washed down with good helpings of local wine and beer.
Cost of Eating Out in Pogradec Albania
A 2-course meal for two people, including a whole fresh trout and wine in a nice restaurant will set you back between €10- €15.
A half litre of beer in a restaurant or bar, less than €1.00.
Expect only a few euro for a good homemade pizza for two or light restaurant lunch.
It is hard to beat Albania when it comes to value for money when eating out.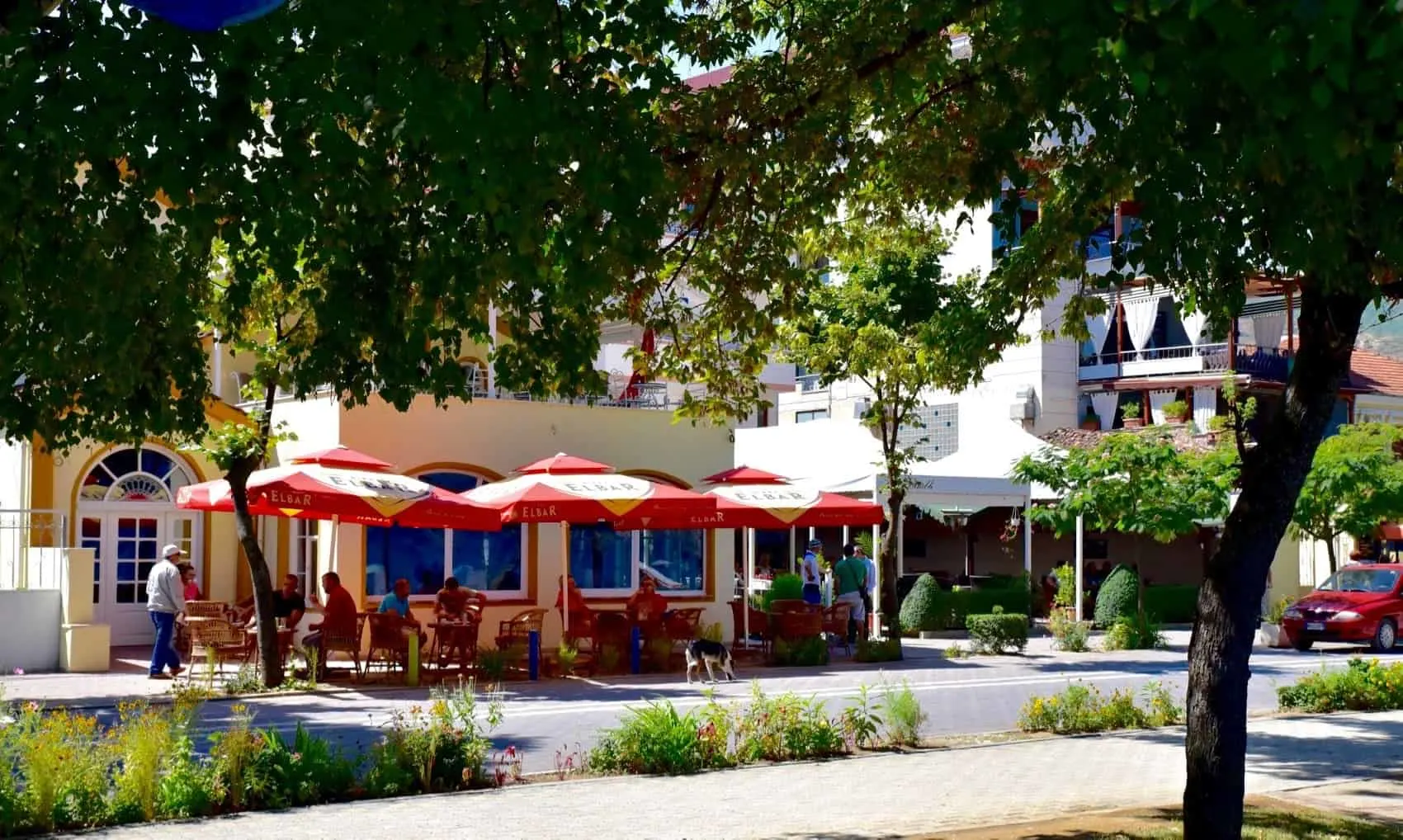 The Town of Pogradec
Set back from the main tourist drag of hotels, cafes and restaurants, the town it'self is quite unremarkable save for a few quaint little streets and some dedicated pedestrian malls.
But everything you need can be found here including a daily street market with vendors of all types selling everything from fresh produce to knock off T-Shirts.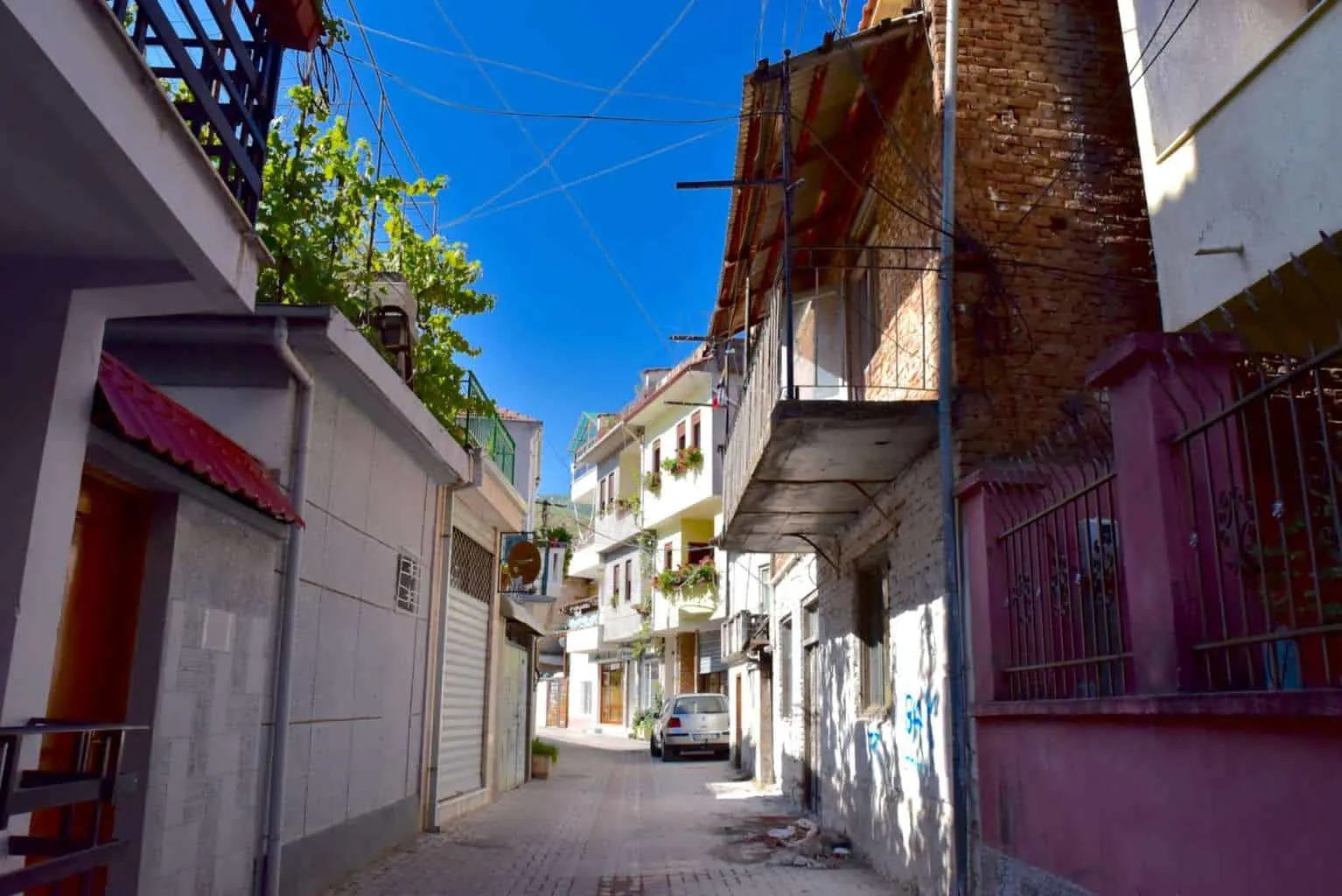 Enjoy The Laidback Lifestyle in Pogradec
The pace in Pogradec is slow and easy. The main Promenade is closed to cars in the evening to allow pedestrians to stroll unencumbered.
Locals will sit for hours in parks and by the lake to just chat. Men will meet to play chess and cards on the lawns and long and lively lunches are the norm. People are active and very social, perhaps even in a slightly old-fashioned way. It's nice.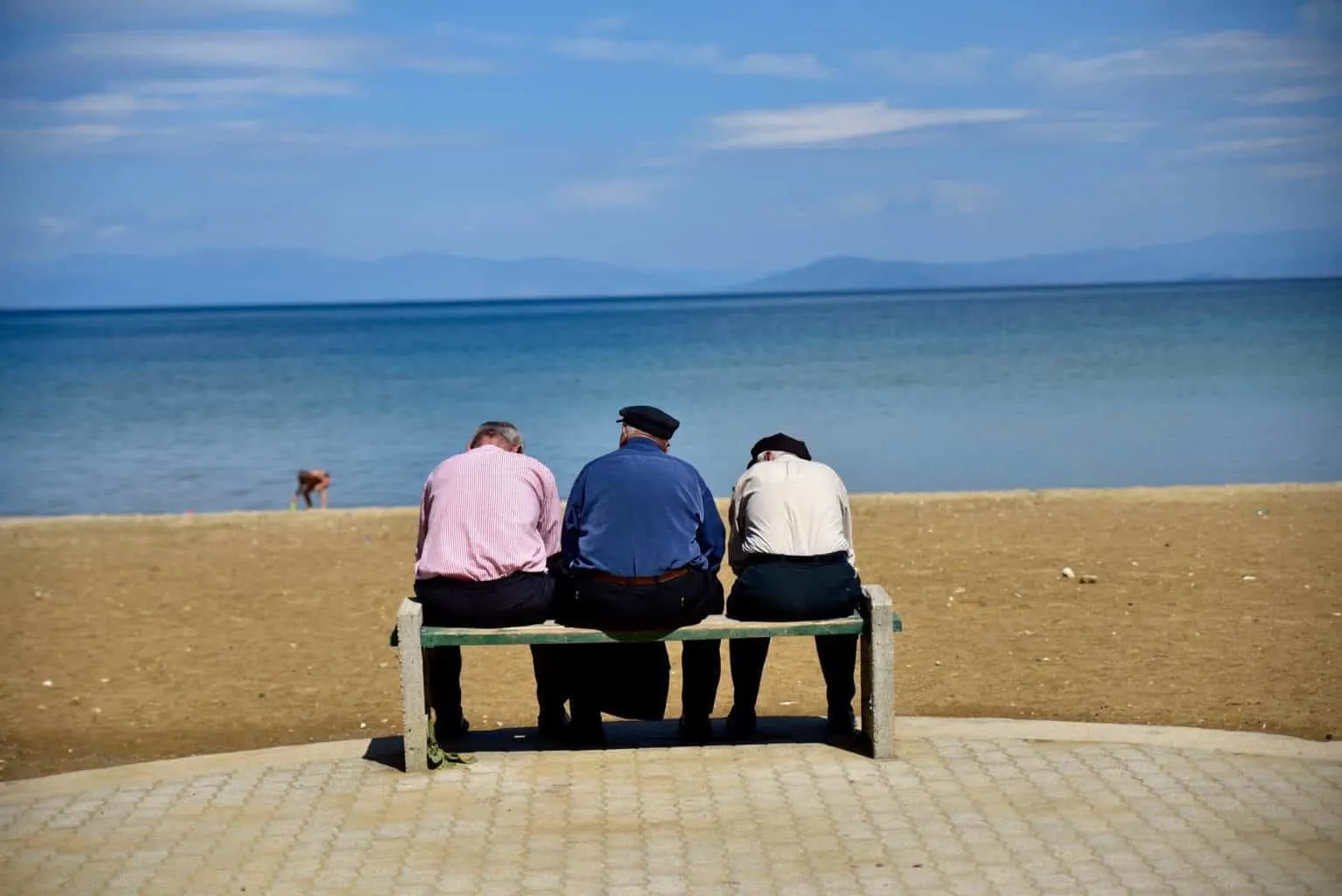 What is Albania Like for a Holiday?
People have described Albania as a little weird. On that front, we don't disagree, but we found it to be delightfully weird. In a quirky kind of way.
What else are you to expect from a country who only put the open for business sign back on the door in 1991? They are still getting used to having visitors, so don't be offended if people stare a little or seem a tad aloof.
Pogradec is a lovely place to relax for a few days. It's a charming town that reminds you people do still talk to each other in restaurants instead of being distracted by technology. The simple pleasure of an evening stroll is embraced wholeheartedly by young and old, and being social is as simple as a chat in the park.
Add Albania to a Macedonia Itinerary
Pogradec may not be on your Albanian itinerary, but it certainly could be added to your Macedonian itinerary. It is lovely to see the contrast of culture between the two towns that share Europe's oldest lake.
We never intended going to Albania, it was just a place for us to hold up for a week on the cheap (not in an "on the lamb" kind of way) but we will be back. The country has loads to offer in beauty and value for money and it won't be long before word gets out.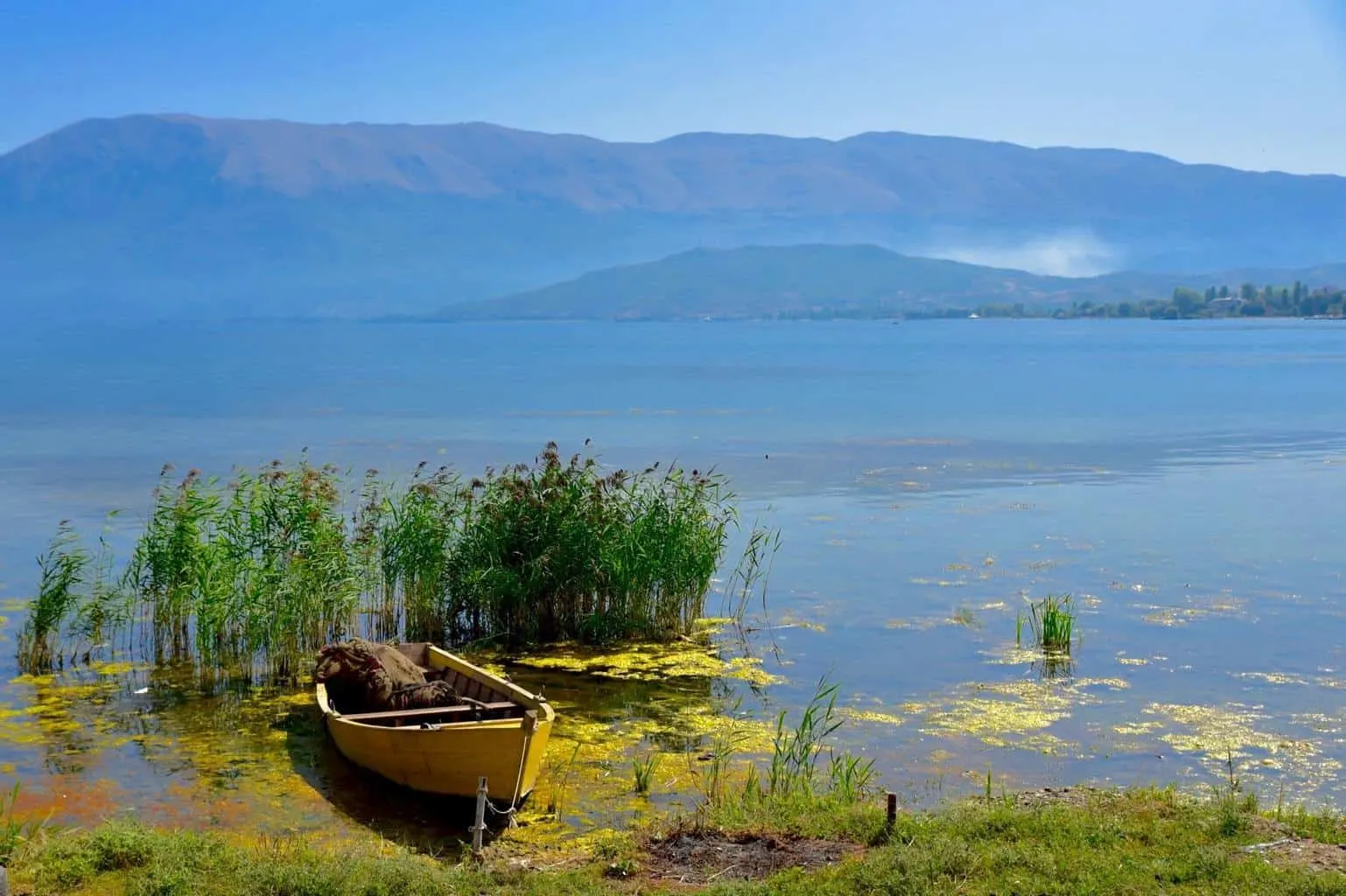 ---
Facts about Pogradec
Hotels in Pogradec
We stayed at Hotel Pogradeci on the waterfront overlooking Lake Ohrid. It is a relatively new hotel opened in 2014. This modern hotel has spacious, balcony rooms with air-con and WiFi starting at €25 / night incl. breakfast.
The hotel restaurant has wonderful lakefront dining, a 2-course meal for two including wine will not set you back more than ~ €12.00.
A half litre of beer from the bar – no more than €1.00. It's not often a hotel restaurant is equal in value to the local tavernas and cafes.
Pogradec has many accommodation options in this range although the newer hotels tend to be booked out with vacationing Albanians during the high season, so book if possible.
Getting to Pogradec Albania
Travelling from Ohrid to Albania
As with most Balkan border crossings, Taxi is best. We took a taxi from Ohrid, Macedonia to the Macedonian border (~€11.00 Approx. 32 km drive) and simply walked across to the Albanian Border.
Be aware, there is approx. 1.5km no mans land between the Macedonian and Albanian borders so best not done with a lot of luggage. We were travelling relatively light.
Travelling from the Albanian Border to Pogradec
People will tell you when you reach the Albanian side there will be plenty of taxies and buses. This is not true and Pogradec is a further 5kms from the border checkpoint of Tushemist.
Some taxi drivers will happily take you all the way across from Macedonia as we did crossing from Greece to Macedonia. Or you could negotiate with your hotel to have a cab waiting. Fortunately, we were offered a ride with two nice lads from Kosovo. They had come for the day for a feed of Ohrid trout.
Travelling from the Greek Border to Albania
If coming from Greece, there are buses from Athens and Thessaloniki which pass Pogradec en route to Tirana. We travelled back to Athens this way.
13 hours Pogradec – Athens. Three hours of this was at the Albanian / Greek border. Always allow for delays here, especially on the Greek checkpoint when entering Greece.
You develop a certain camaraderie with your fellow travellers after 13 hours on a bus, even if you don't speak Albanian.
Getting Around Albania and Lake Ohrid
Unfortunately, much like Macedonia, Albania is pretty poor on tourist information. There are plenty of bus services running around Albania but getting accurate information on timetables may require some work. Although we didn't experience it, people claim scheduled buses can just simply not arrive.
Like the rest of the Balkans, taxis are a very affordable means of transport for short to medium trips although people still advise it is wise to get your hotel to recommend a reputable driver.
While Albania is safe, you will hear stories of old-school taxi drivers who still scam tourists (or worse). Our advice on Albania, and the Balkans in general, be patient, be prepared to do your own research, wing it when necessary and just go with the flow. While tourism is on the rise, they just don't quite have their shit together yet, bless em.
Want to Know More About Travelling in Albania?