It is not surprising Lake Ohrid is considered the "Pearl of Macedonia"
After a hot summer in Athens, we didn't realise how much we needed to get out of the city for a good dose of fresh air until we crossed the border from Greece into the Republic of Macedonia.
Driving into Ohrid the air was cool and fresh, the streets clean and uncluttered. The magnificent mountain ranges set a dramatic backdrop to the tranquillity of Lake Ohrid.
This is the appeal that makes Ohrid Macedonia's most popular summer destination.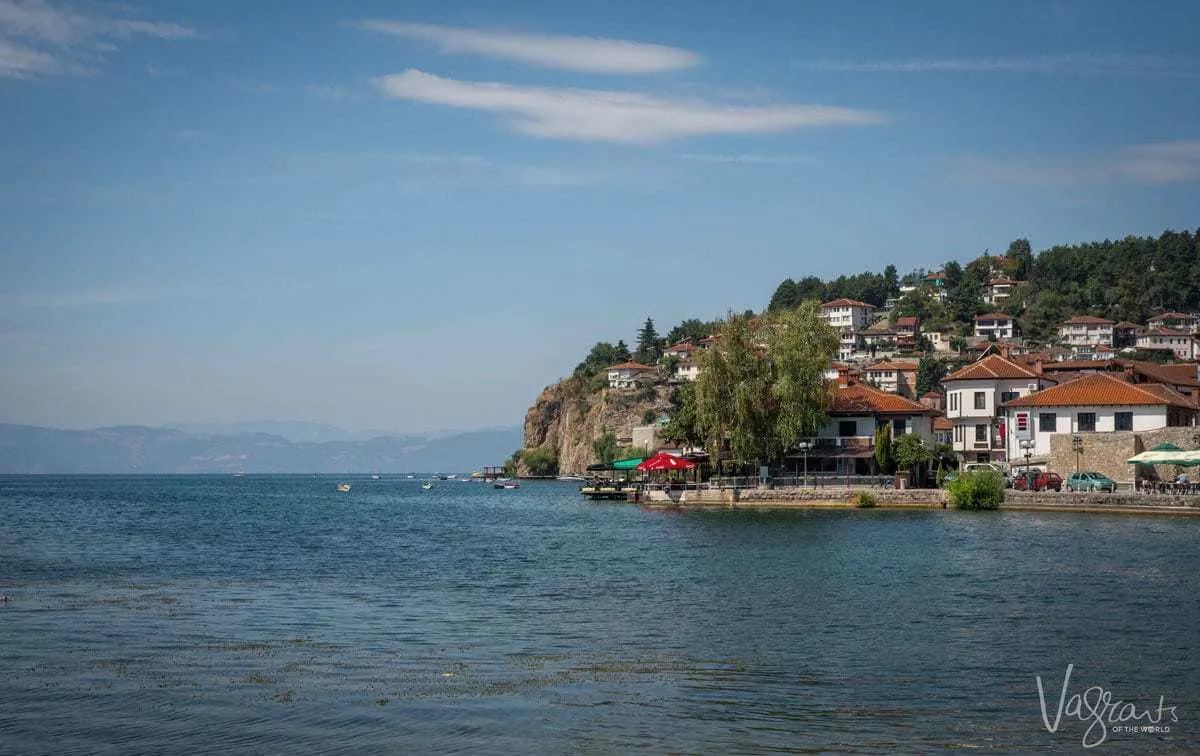 Reasons to Visit The Lake Ohrid
A UNESCO listed World Heritage site, Ohrid dishes up a quaint summer holiday vibe. Lazy days spent swimming in the crystal clear waters of the lake.
Street tavernas and cafes abuzz with local holidaymakers soaking up the alfresco weather while the atmospheric Old Town weaves a fairytale path to a medieval castle standing watch over town and the lake.
Add to this national parks and magnificent hiking trails with ancient churches and villages dotted throughout the surrounding mountains, this region is nothing short of sublime.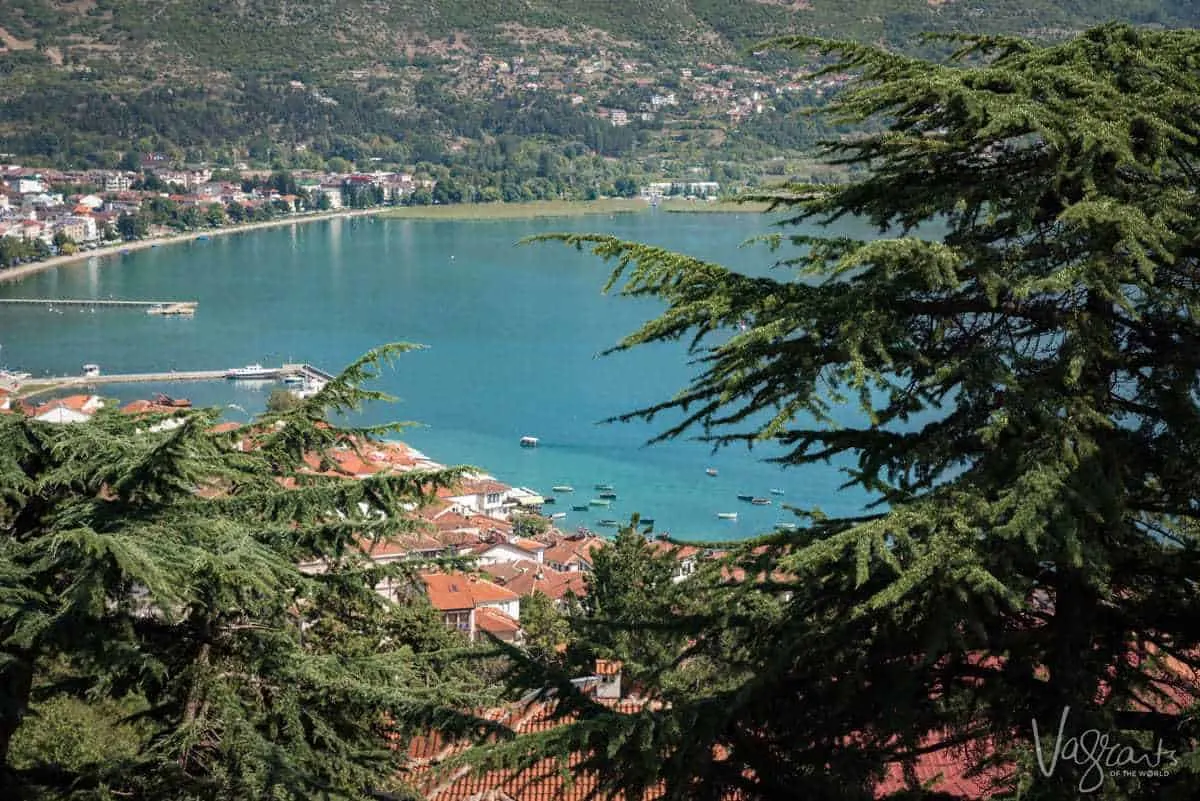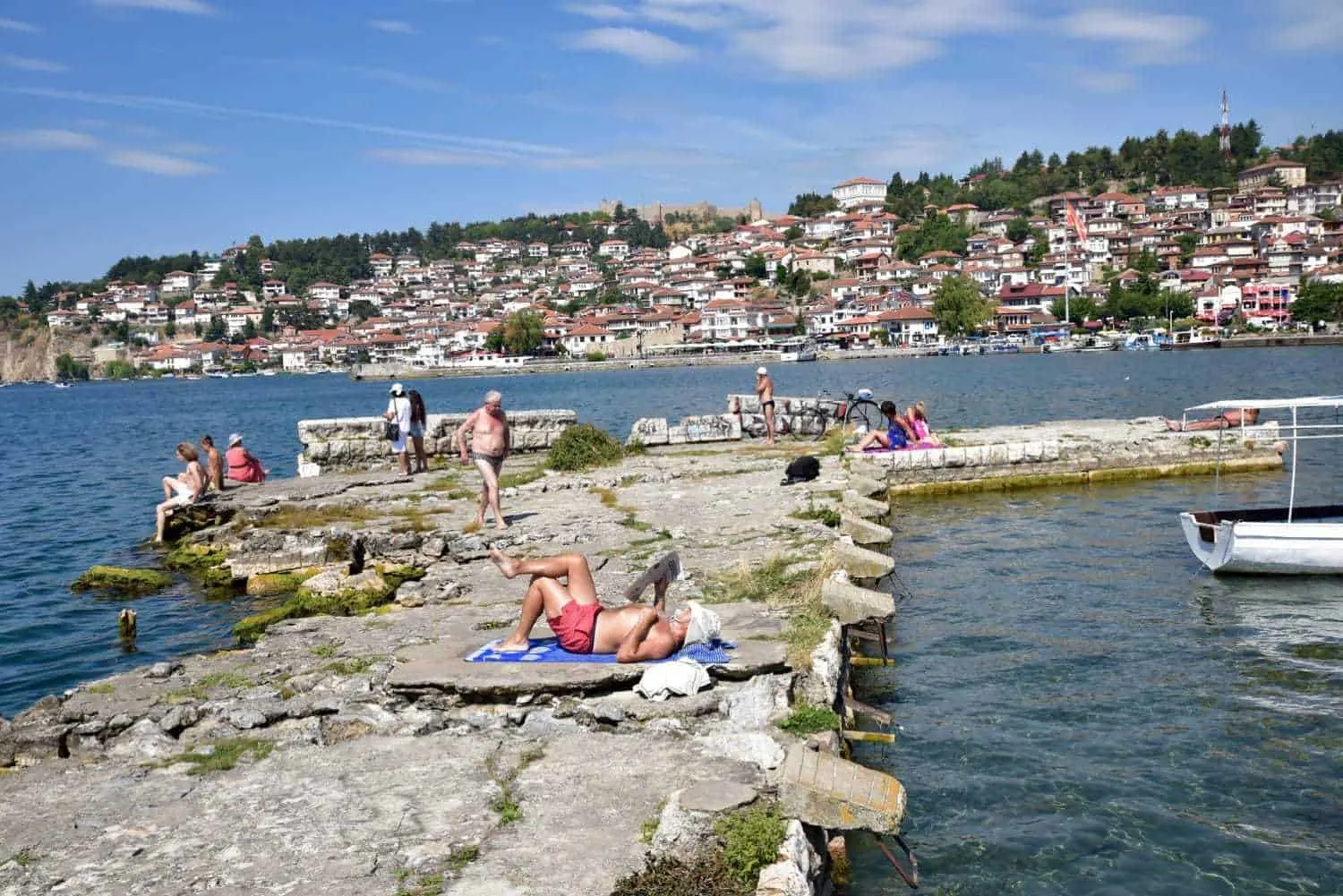 What to Do In Ohrid
Climb Samuel's Fortress
Head up past the old Roman Theatre, an amphitheatre used during Roman times for gladiatorial battles for the best views in Ohrid.
Named after Tsar Samuel, the fortress was the capital of the First Bulgarian Empire and one of the greatest strongholds in the Balkans.
Thanks to ongoing restoration and preservation, the fortress continues to dominate the Ohrid skyline. The climb to the fortress is steep but worth it for the views from the ramparts.
Cost:
Entry to the fortress is 30 Denar. (~ €0.50)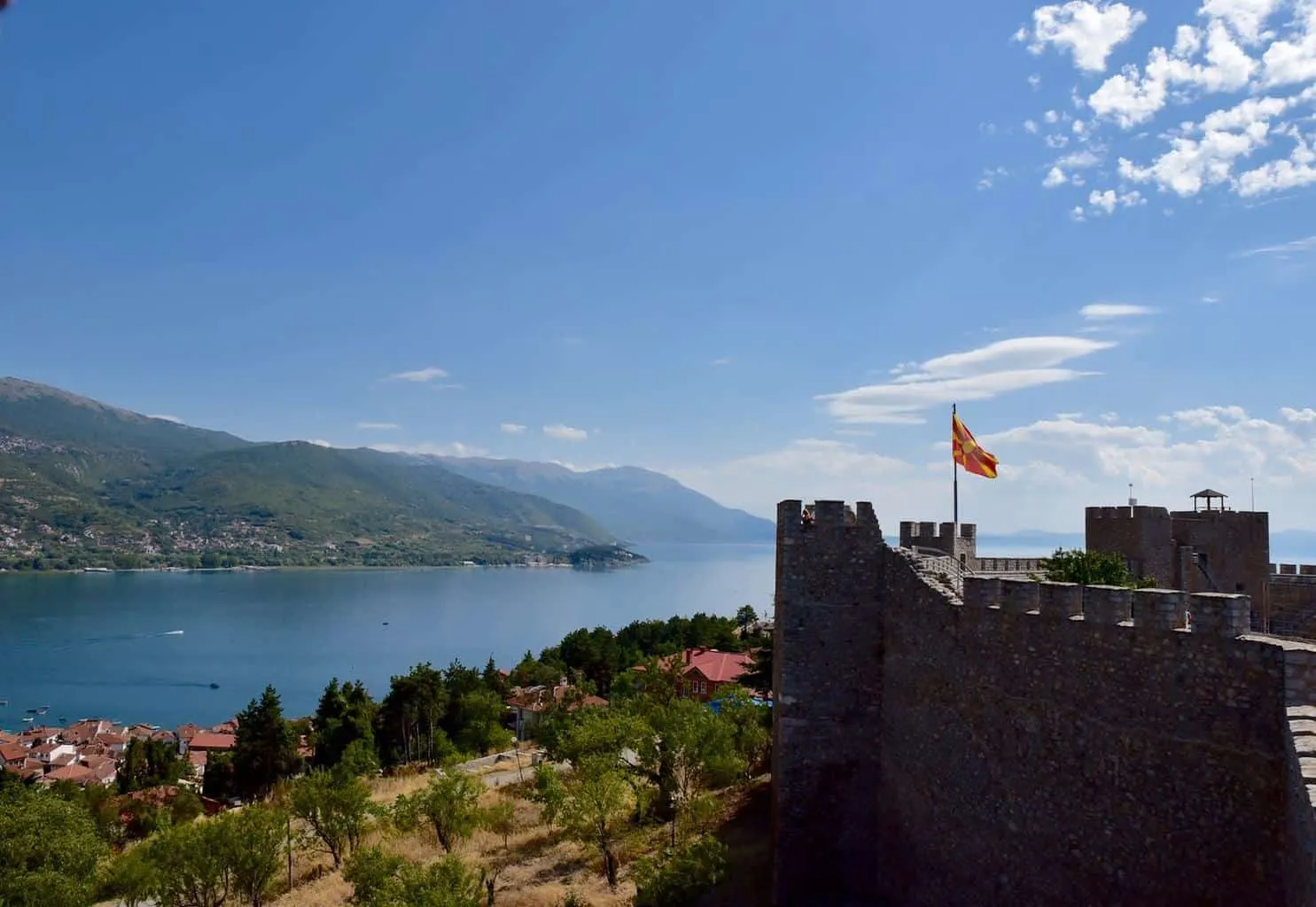 Explore Old Town
Ohrid's charm lies in the city's Old Town. The old Ottoman houses and narrow cobbled lanes remind us of Sozopol in Bulgaria.
Not just a quaint reminder of the past, Old Town has plenty of historical landmarks; ancient churches, remnants of the old city fortifications and several remaining gates. It is near Upper Gate, the best preserved, you will find the Ancient Theatre.
You will also find plenty of lovely restaurants around Old Town, many either right on the water or with views of the lake. Make sure you try the prized Ohrid Lake trout, a dish people travel from neighbouring countries to enjoy.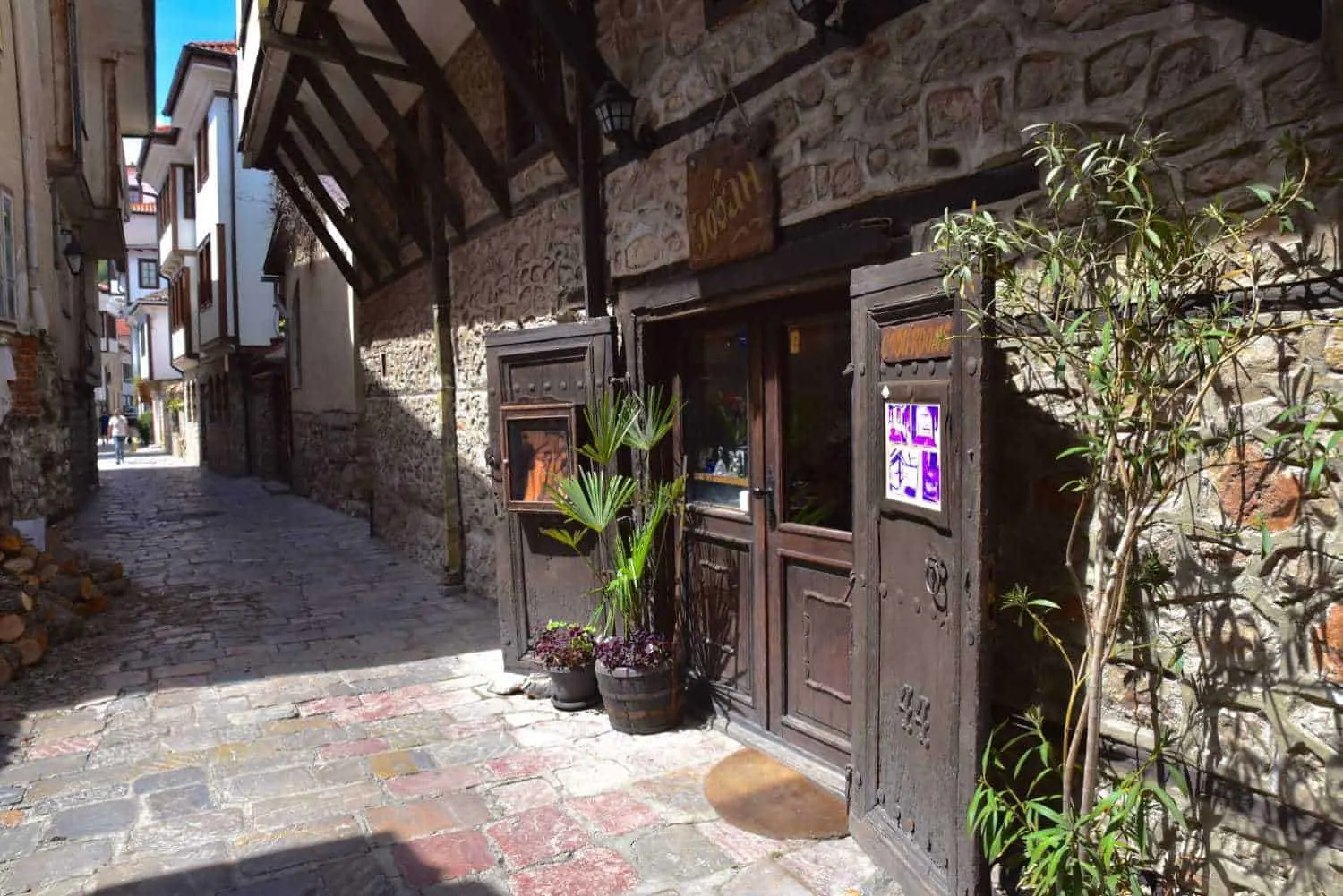 Robevci Family House Museum
The Robevci Family House Museum is a dominant feature of Old Town Ohrid. A fantastic example of 19th century traditional Macedonian architecture built in 1863 for the wealthy and noble Robevci family.
This famous merchant family lived in the house for 35 years before it burned down. Two years later it was rebuilt but divided into two separate home for the brothers Konstantin and Atanas Robevci.
The house is now a is now a protected cultural monument displaying memorabilia from the Robevci family and ancient Roman and Greek artefacts from Ohrid.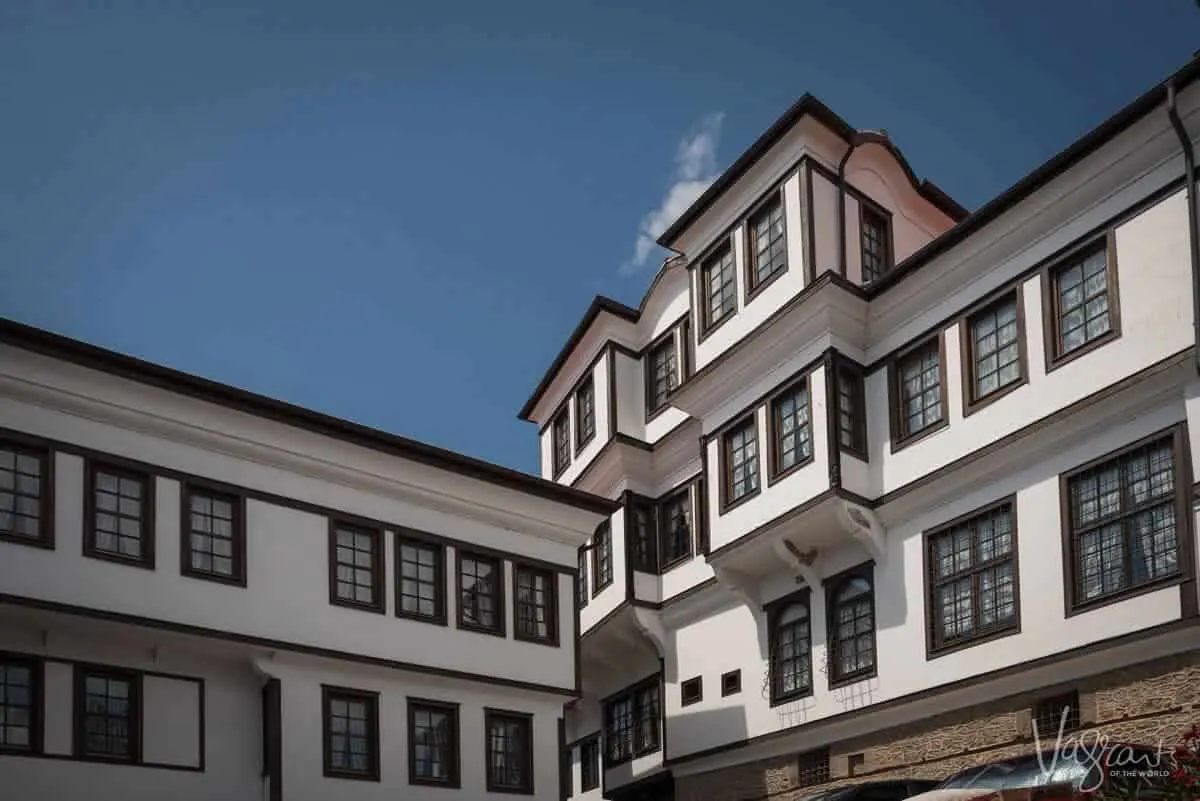 Take A Boat Ride on Lake Ohrid
Lake Ohrid is one of Europe's oldest and largest lakes. Along with the city of Ohrid, Lake Ohrid has also been declared a UNESCO site for its natural significance.
And, with so many charming boats at your disposal, it makes sense to take a boat ride on the lake.
You can take a boat tour from the Ohrid Marina or strike a deal with any of the water taxis lined up along the waterfront in town.
Cost:
A one-hour lake tour will cost you around €5.00 pp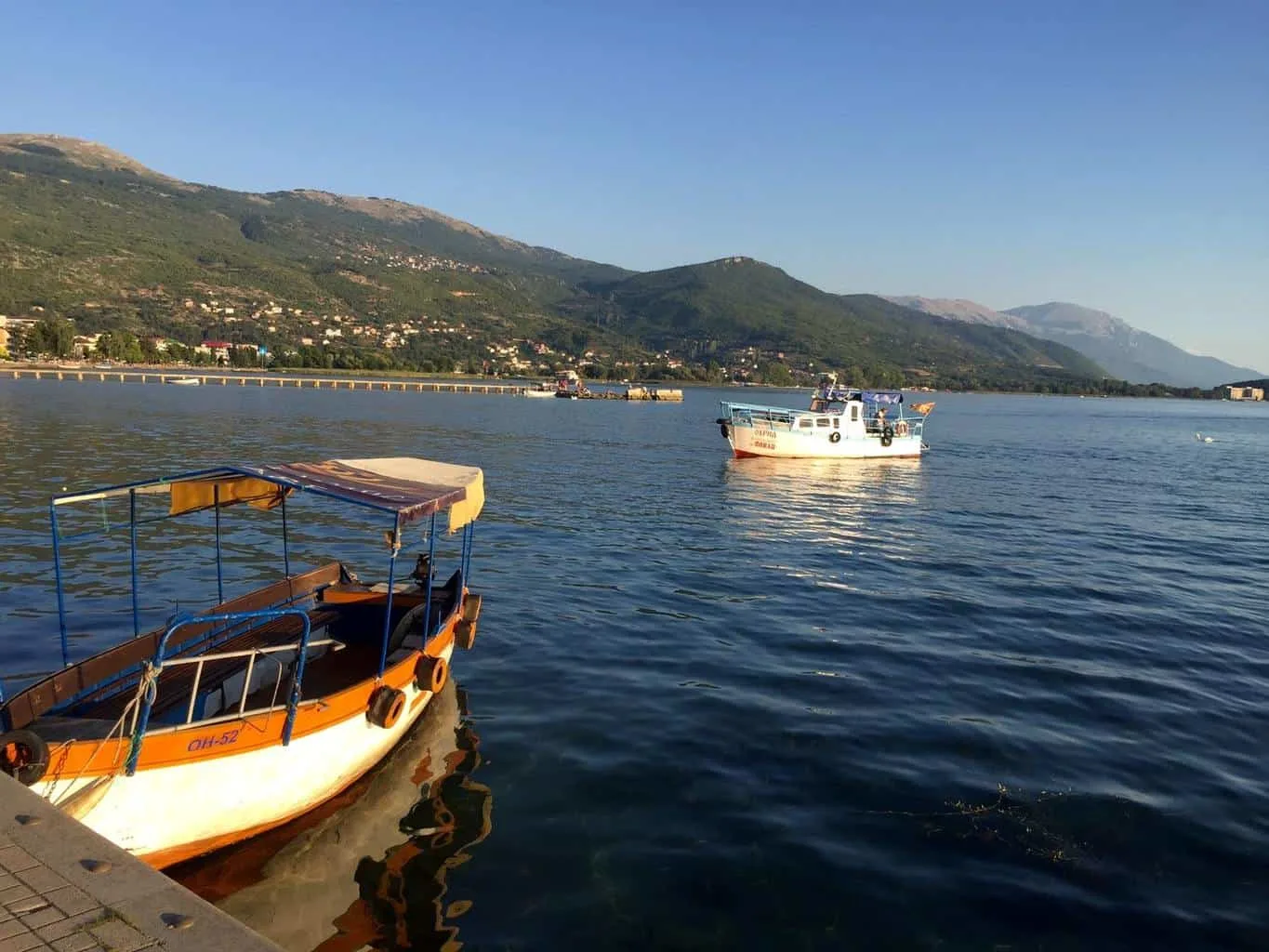 Cross Lake Ohrid To Sveti Naum Monastery
Water taxis around the lake are also a great way of getting out of town. Water Taxis and tourist boats operate day trips to the popular Monastery of Saint Naum 30km south of Ohrid near the Albanian border. Sveti Naum Monastery is a place of pilgrimage and play.
If you don't want to take a water taxi, there is a regular ferry service running from Ohrid to Sveti Naum Monastery.
The round-trip ferry from Ohrid to Sveti Naum takes approx 2 hrs each way.
A return ticket costs around €10.00 pp.
Check the ferry timetable at the marina.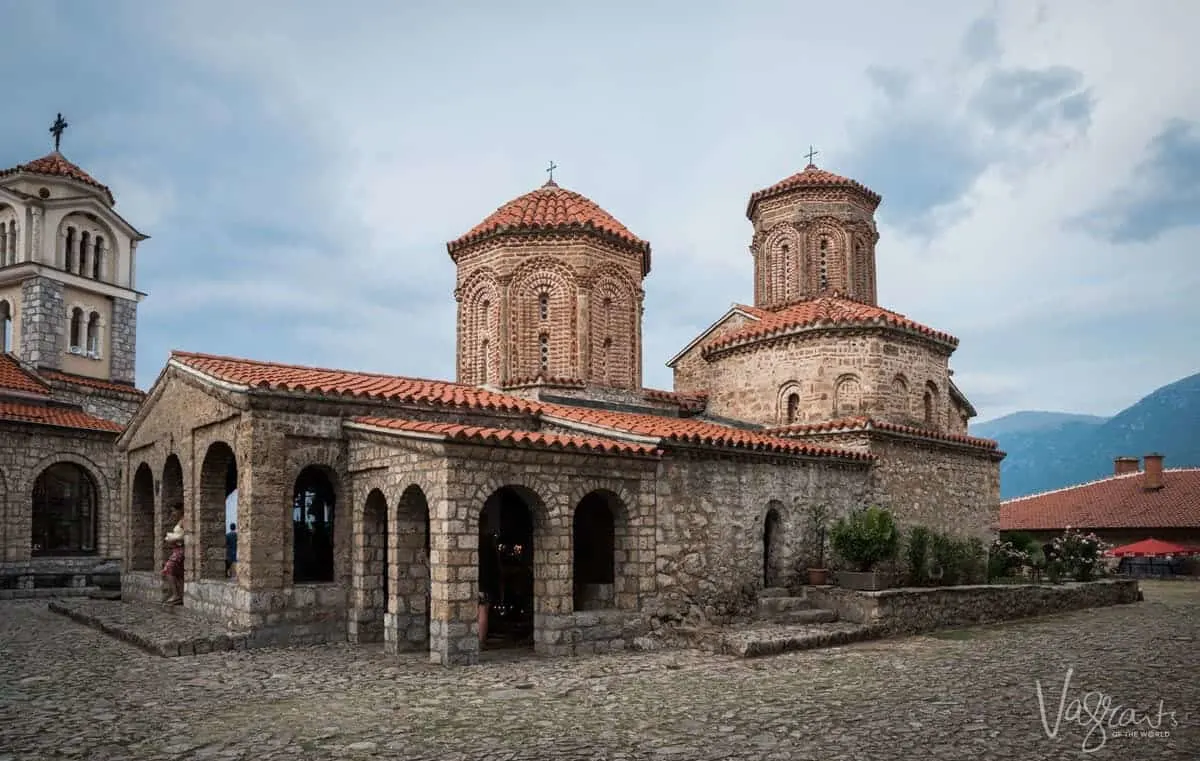 Sveti Naum and Black Drim Springs
The Sveti Naum Monastery can also be reached by car. Parking will cost approx 50 denar (~ €0.80).
Once inside the complex, you can pay your respects at the ancient monastery, then relax by the lake over lunch at one of the many restaurants, relax on a sun lounge or row your cares away on the natural spring waters that feed Lake Ohrid.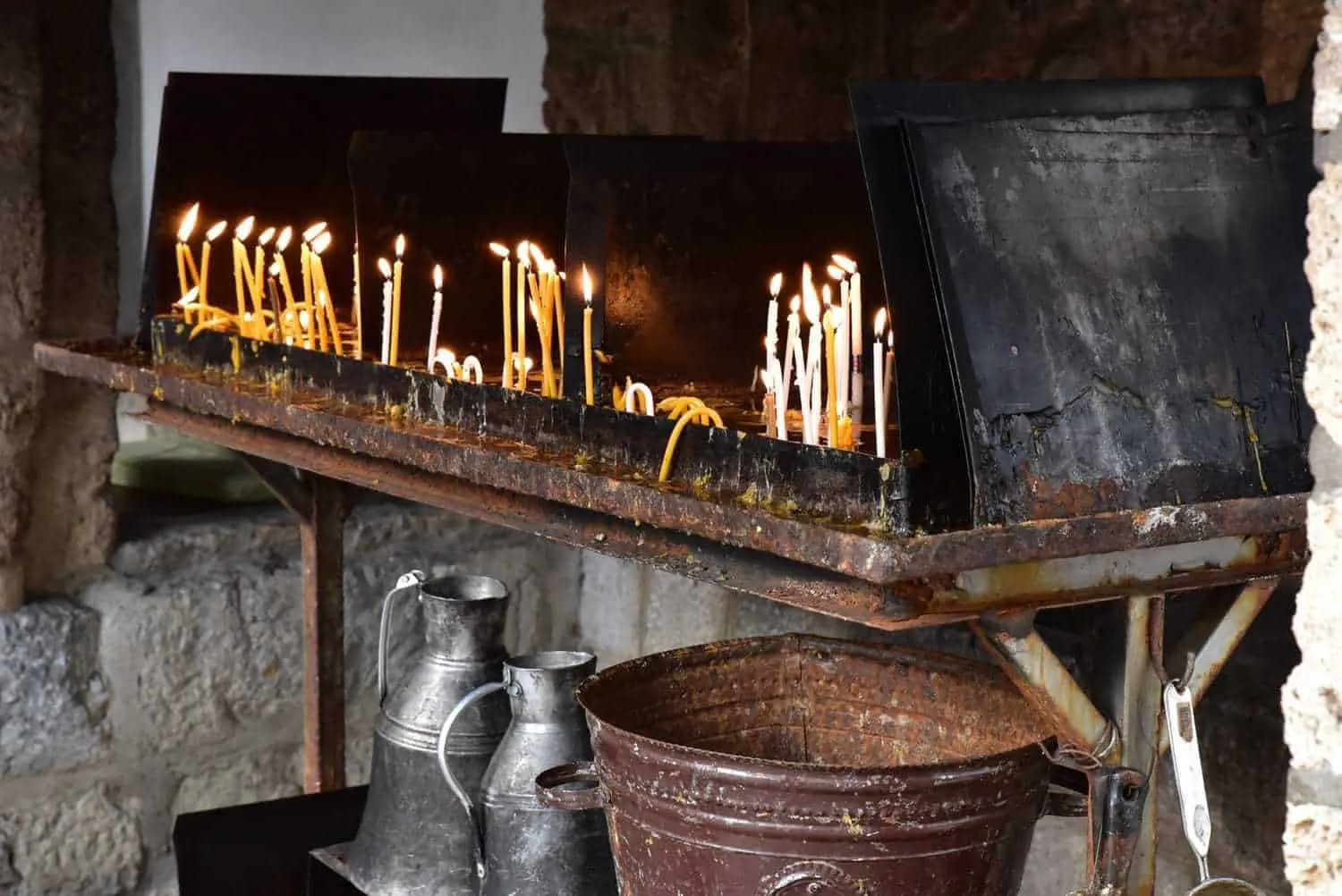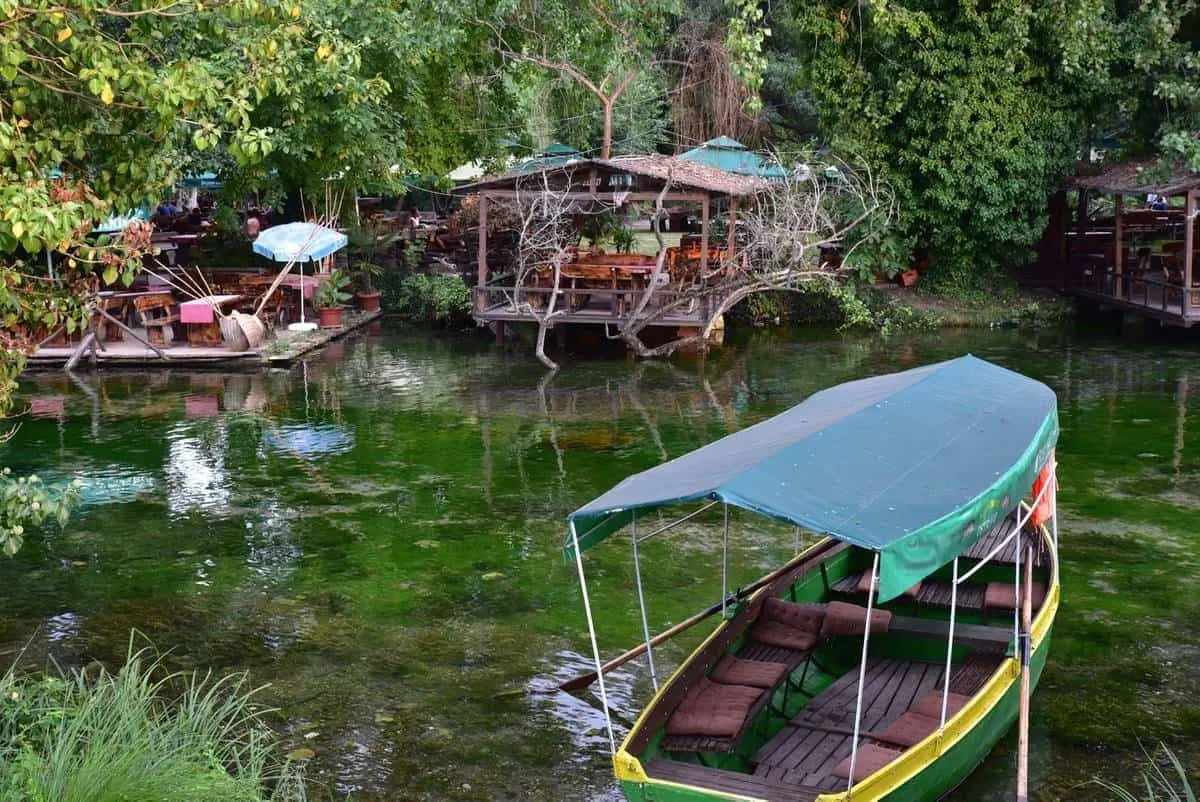 You will find the only sand beach on the Macedonian side of Lake Ohrid here so it is a popular place for beachgoers. The Albanian side of Lake Ohrid does have the advantage of long stretches of sandy beaches around the lake.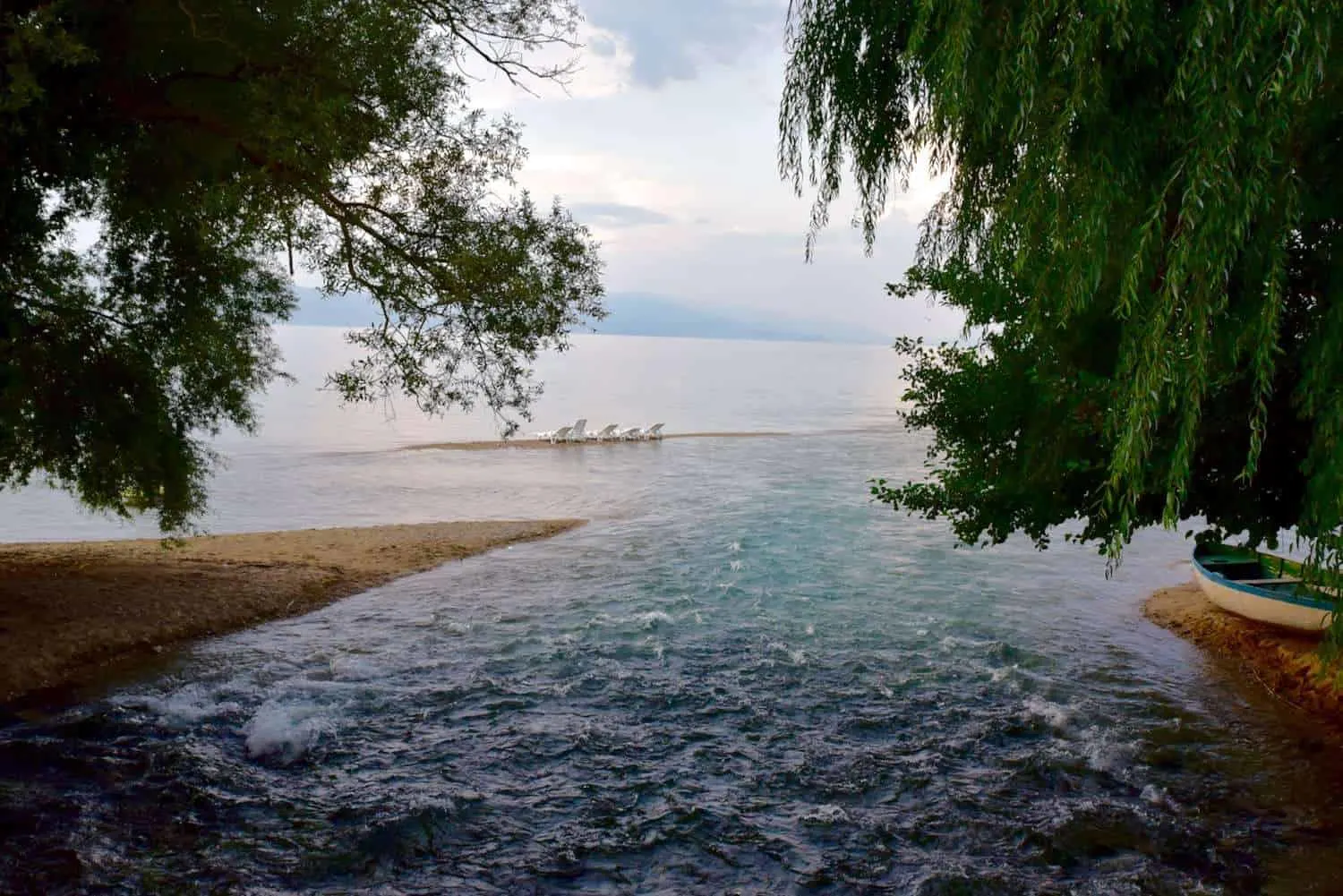 What to do Around Ohrid
Driving through the mountains we encountered some of the most stunning landscapes we had seen anywhere in Europe. Head a little out of Ohrid and explore the small mountain cities and towns around Ohrid. Most are easy to reach and give an insight into the region's culture away from the tourist scene of the lake.
Visit the Villages of The Aromanians (Vlachs)
Head a little further off the bus route to mountain villages where small populations of Vlachs or Aromanians still exist as they have since the Ottoman period, preserving their language and customs.
Some of these centuries-old villages now have ageing populations as small as sixty. There is little hope for the future survival of these villages as children have moved away in favour of work opportunities with no reason to return to live.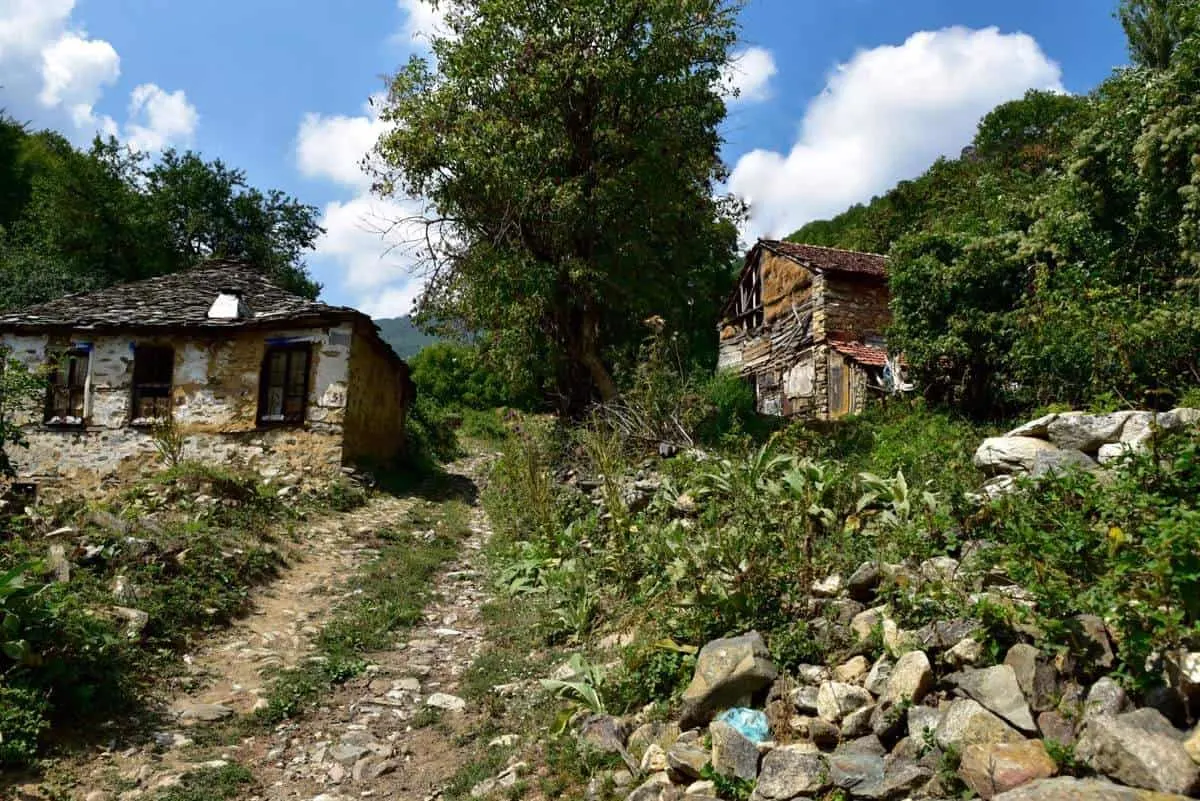 Visit the City of Bitola
The city of Bitola to the south of Ohrid has all the amenities of a large modern and cosmopolitan city. It also still has the original Ottoman Bazaar where trade continues as it has done since the 16th century.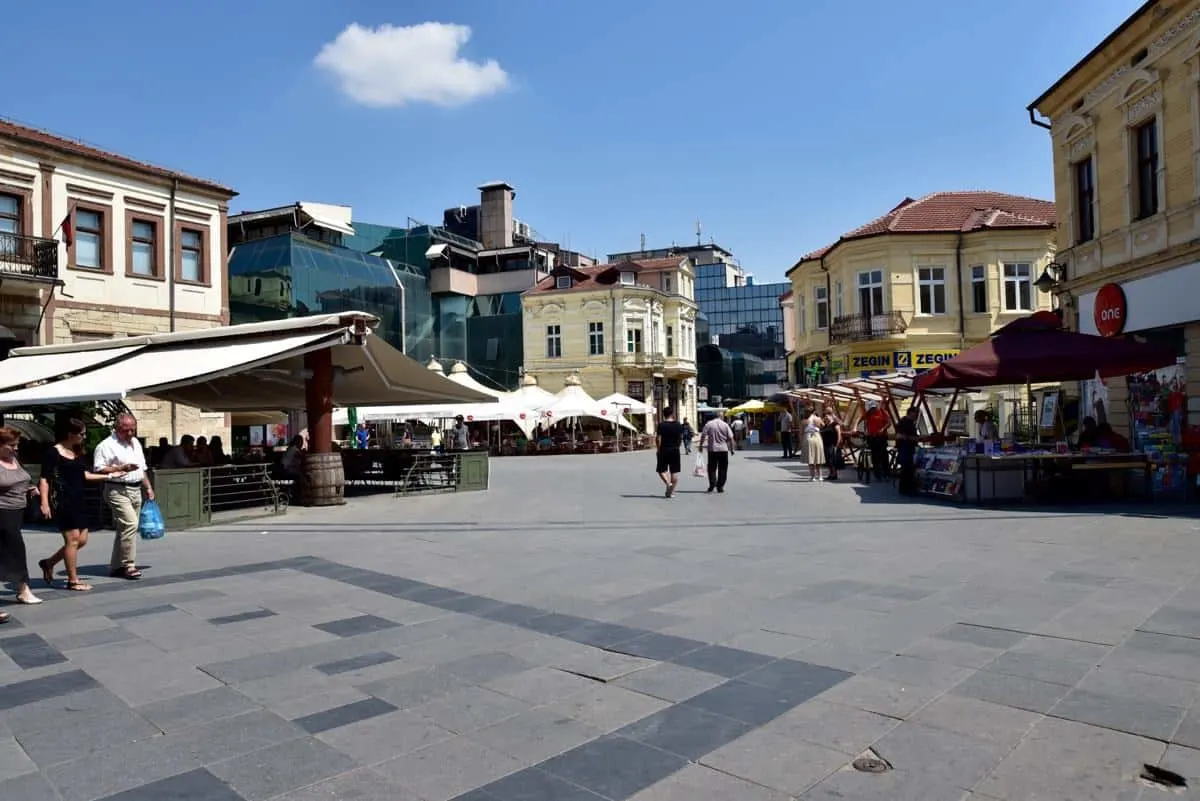 Bitola is a fascinating city to stroll around and is also a great place for lunch. There is no end of cafes and traditional Macedonian tavernas, many serving local dishes specific to this city.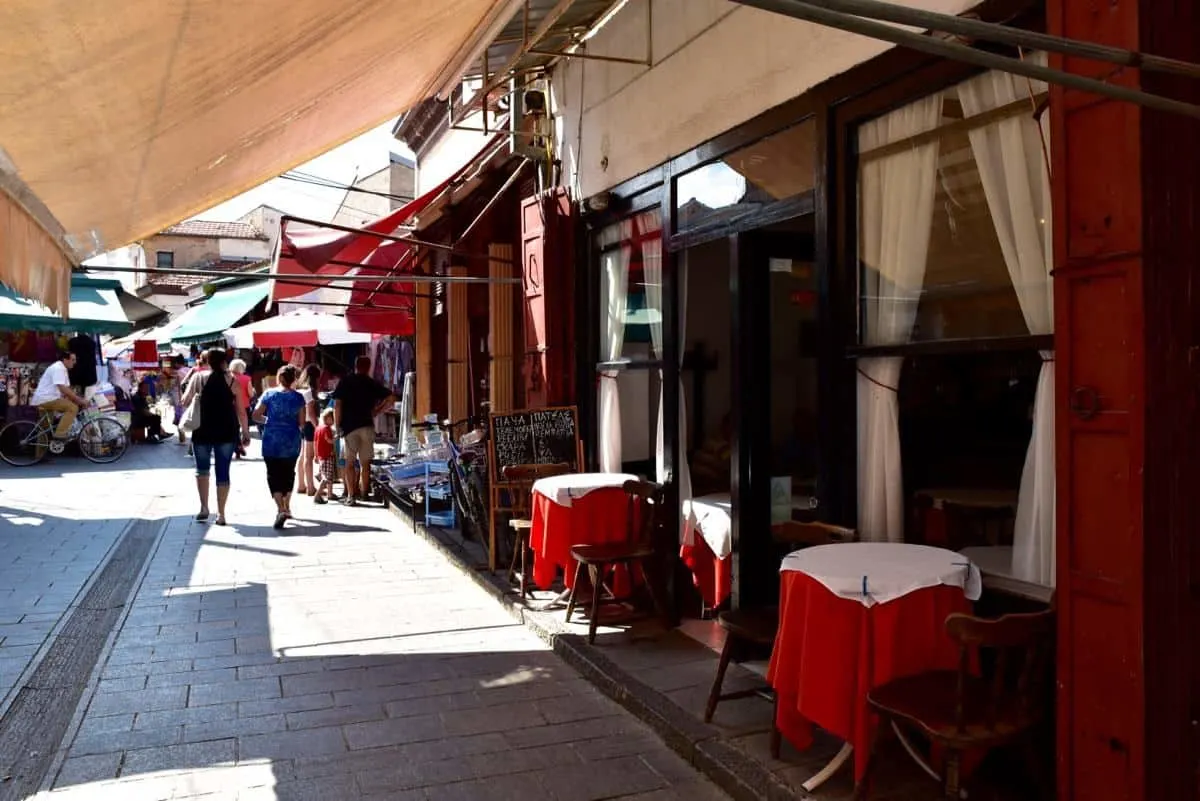 Visit Lake Prespa
If you thought Lake Ohrid was special, just over the mountain range lies Lake Prespa. Unlike Ohrid, there are few tourist facilities, save for a small camping ground and a couple of guest houses like the modest yet quaint Lakeview Hotel and Resort.
Sandy beaches line the shores of the lake, with an abundance of unspoilt natural beauty. It is so surprising that more people, including locals, do not utilise this gorgeous spot. We just cannot imagine Lake Prespa will stay this way forever.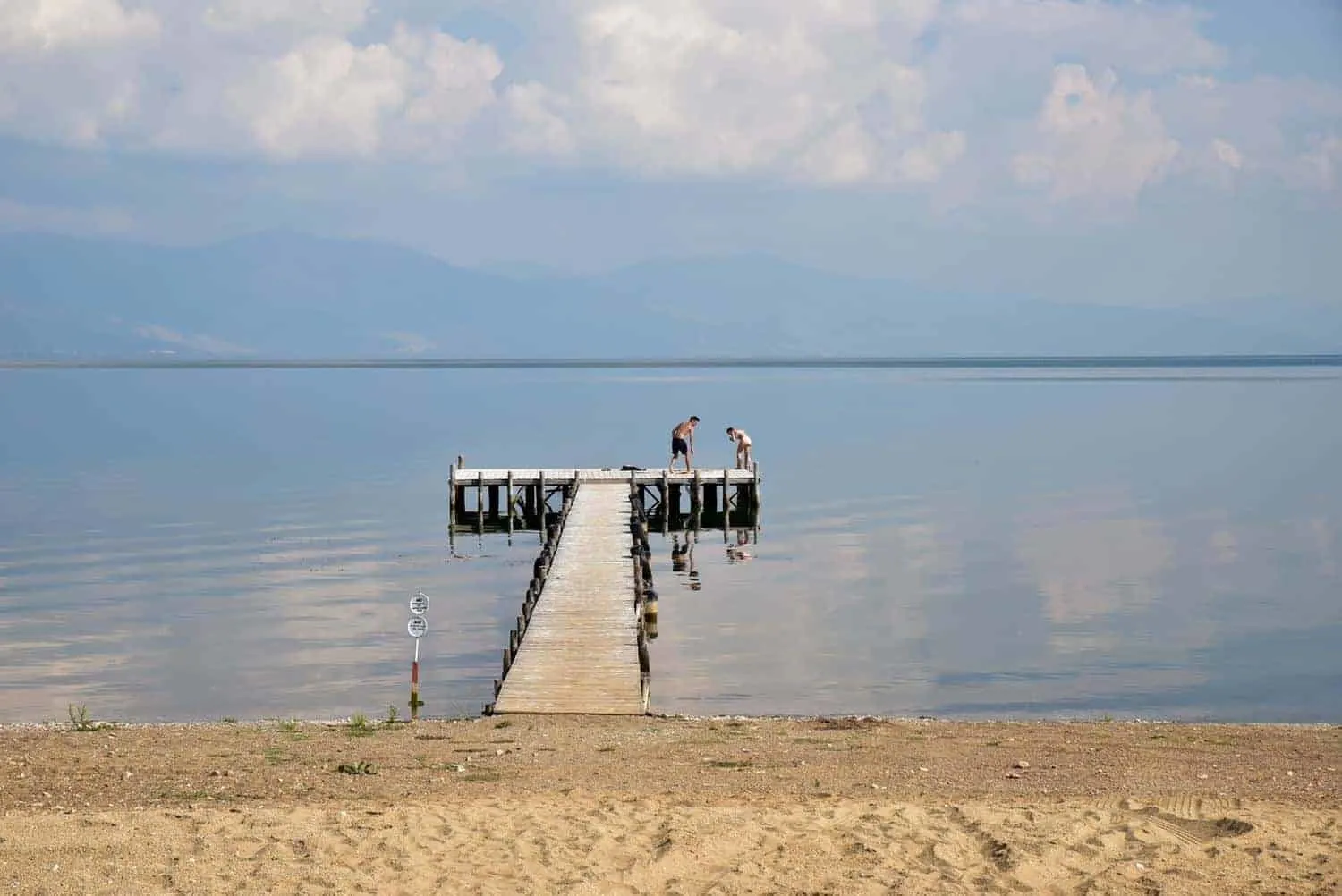 Whether it's hiking, paragliding or relaxing lakeside, Ohrid has so much to offer in an unspoilt, pristine environment. Whatever your pleasure, we highly recommend taking the time to get a little off the bus route and explore the stunning, fascinating and sometimes largely unexplored surrounds of Ohrid, before things change too much!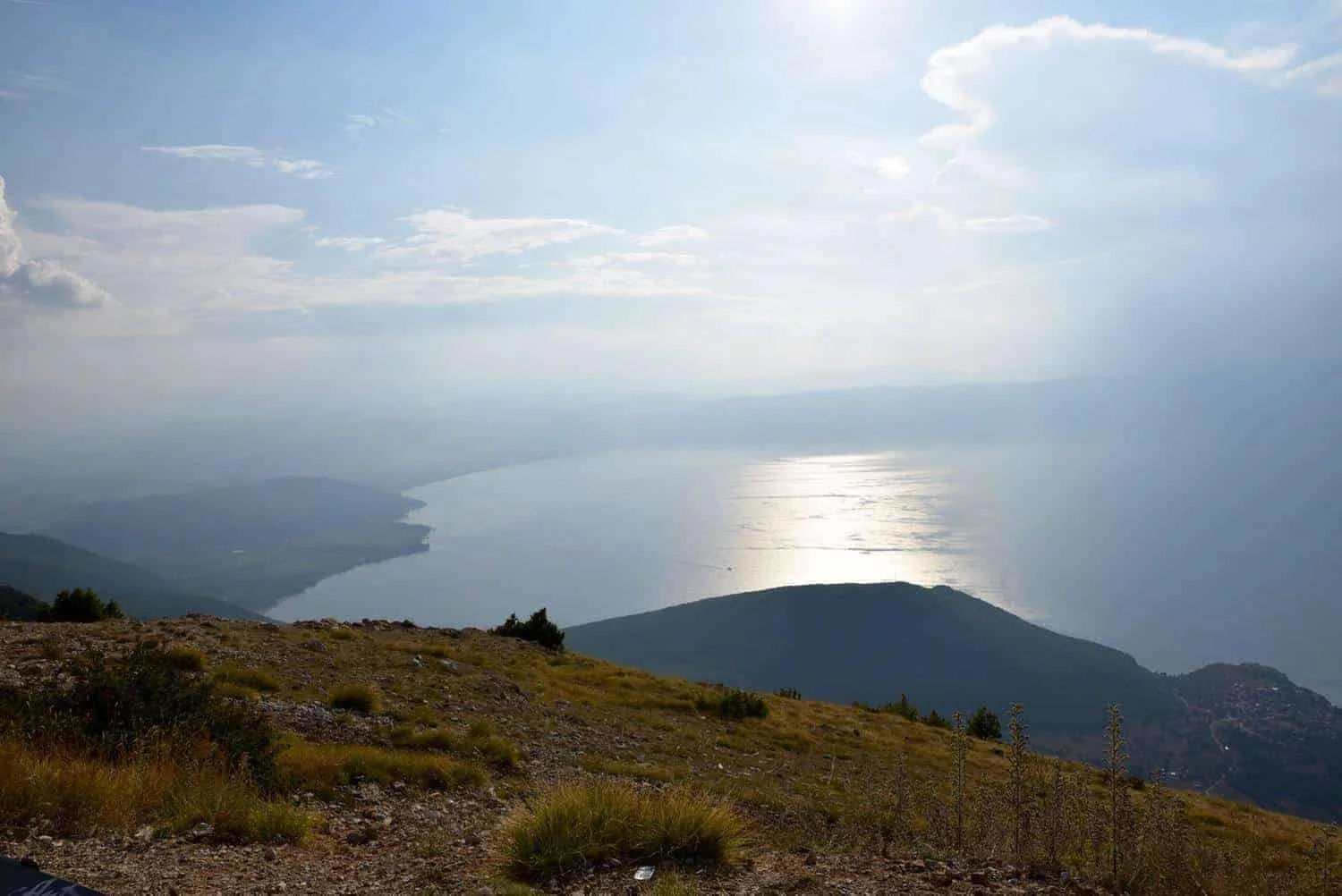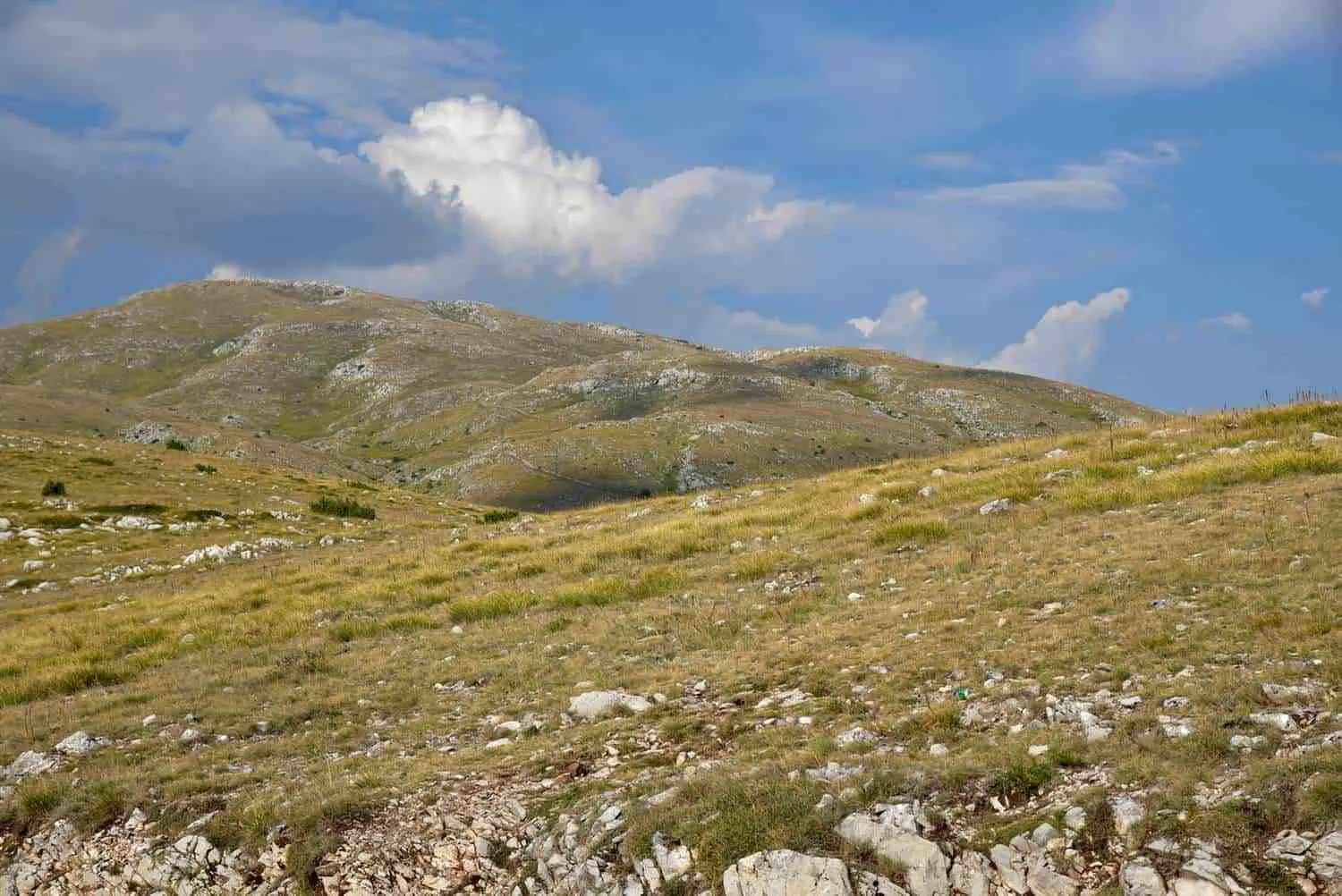 Getting Around Lake Ohrid
For all it's endearing charm and beauty, Ohrid presents some quirks for the non-domestic traveller.
There is little, if any, good tourist information. Other than a few local buses, there is not much in the way of reliable transport to get you around the region if you don't have a car. While there is enough to keep you amused in the centre of Ohrid itself, there is much to be seen a little off the main drag.
Use Taxis
One popular way to get around Ohrid is by taxi. They are cheap and rates can be negotiated to take you to some of the outlying sights or towns. This is also a popular method for border crossings as getting to Macedonia from some neighbouring countries can be a bit of a headache.
Taxi is how we crossed from Greece, a trip that took quite a bit of research and to neighbouring Albania.
As our trip to Ohrid was initially about getting out of the city and having a few days of the quieter life, we didn't really know what to do in Ohrid, other than the town and lake itself. This is how we found out about the hit and miss tourist information.
Take a Private Tour Around Ohrid
If you want to explore the region around Ohrid, a private tour can be good value. We managed to find a tour guide at Cultura 365 gallery in Old Town.
For around €100 for the two of us for the entire day including the guide and car, this was great value as we were able to see all of the highlights of Ohrid as well as many sights further afield from Ohrid.
Itineraries and local experiences can be tailored to your needs. This can be anything you want to do, from hiking to exploring the highlights and hidden gems.
Getting to Ohrid
Ohrid has an airport receiving direct flights from various ports in Europe including, but not limited to the UK (Luton), Basel and Zurich.
Buses run daily from the Macedonian capital Skopje. Expect around 3 hours travelling time.
Taxis can be booked for border crossings from most neighbouring countries. We travelled from Florina train station in Greece to Ohrid, Macedonia (FYROM) approx. 105km for €65. Let us know if you would like the taxi contact.
We also travelled by Taxi to the border crossing into Albania.
Accommodation in Ohrid
Peak season is between July and August. It is advisable to book in advance during these months. There are great accommodation options available from hostels through to luxury villas all at very reasonable rates.
We stayed in a lovely new 4-star villa on the lake a short distance from Old Town for €40/ night.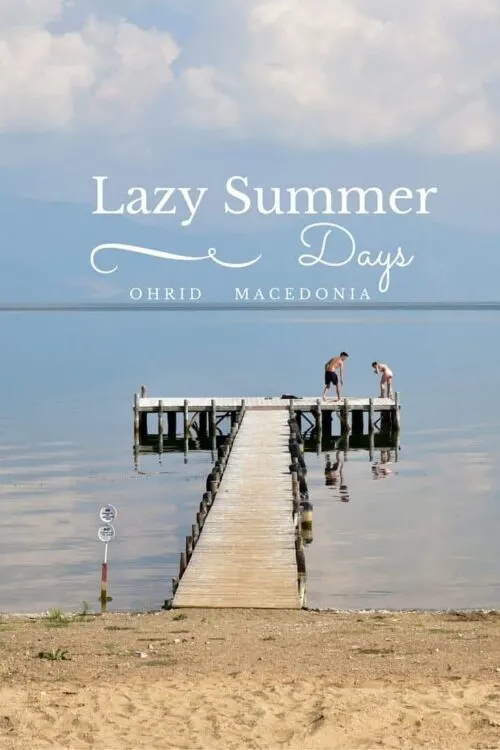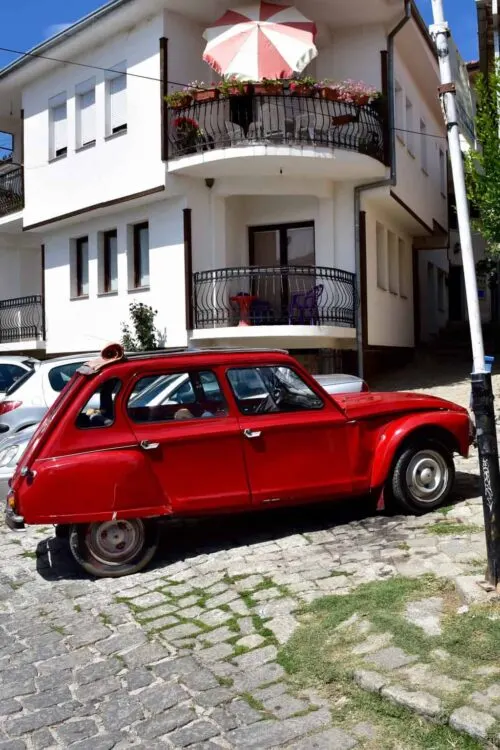 Best time to Visit Ohrid
Summer is a very busy time in Ohrid. It is a very popular holiday destination for Macedonians and attracts many from neighbouring Balkan countries. We find the shoulder seasons and just outside of the peak summer months of July and August to be the best times to visit Ohrid.
The weather is still nice enough to enjoy the lake and the crowds have thinned a little. You will also find accommodation options and prices better.