Oxford is one of the most recognisable cities in Britain next to London. The oldest university in the English-speaking world and one of the most prestigious.
Oxford holds high celebrity status not only for its long and impressive list of famous graduates from around the globe but also as the backdrop for many films and TV series. The most famous, of course, is Harry Potter.
Steeped in history and privilege, Oxford is still a university town at the end of the day. So, regardless of its stunning historical and slightly 'stiff upper lip' academic exterior, the town still has vibrancy and youthfulness.
There is no denying that Oxford is beautiful; this alone is reason enough to visit. What impressed us most about this city, though, there is so much to see and do in Oxford for free, and we are talking about the best stuff.
Obviously, not everything is free, but unlike so many other places in Britain, Bath springs to mind (although it is possible to visit Bath on a budget). You won't leave Oxford feeling stripped of your hard-earned £s at every turn.
Top Things to do in Oxford on a Budget.
---
Take A Walking Tour
Head down Broad Street, and you will find many operators on the sidewalk offering free walking tours. Don't bypass these young folk in favour of the more expensive tours at the Tourist Information Centre.
University students offer free Oxford walking tours to make a quid. How do they make a quid if they are free? Well, the tours are free, they make a buck by way of donations or tips based on how you value the tour, which means they work hard to make sure you enjoy yourself.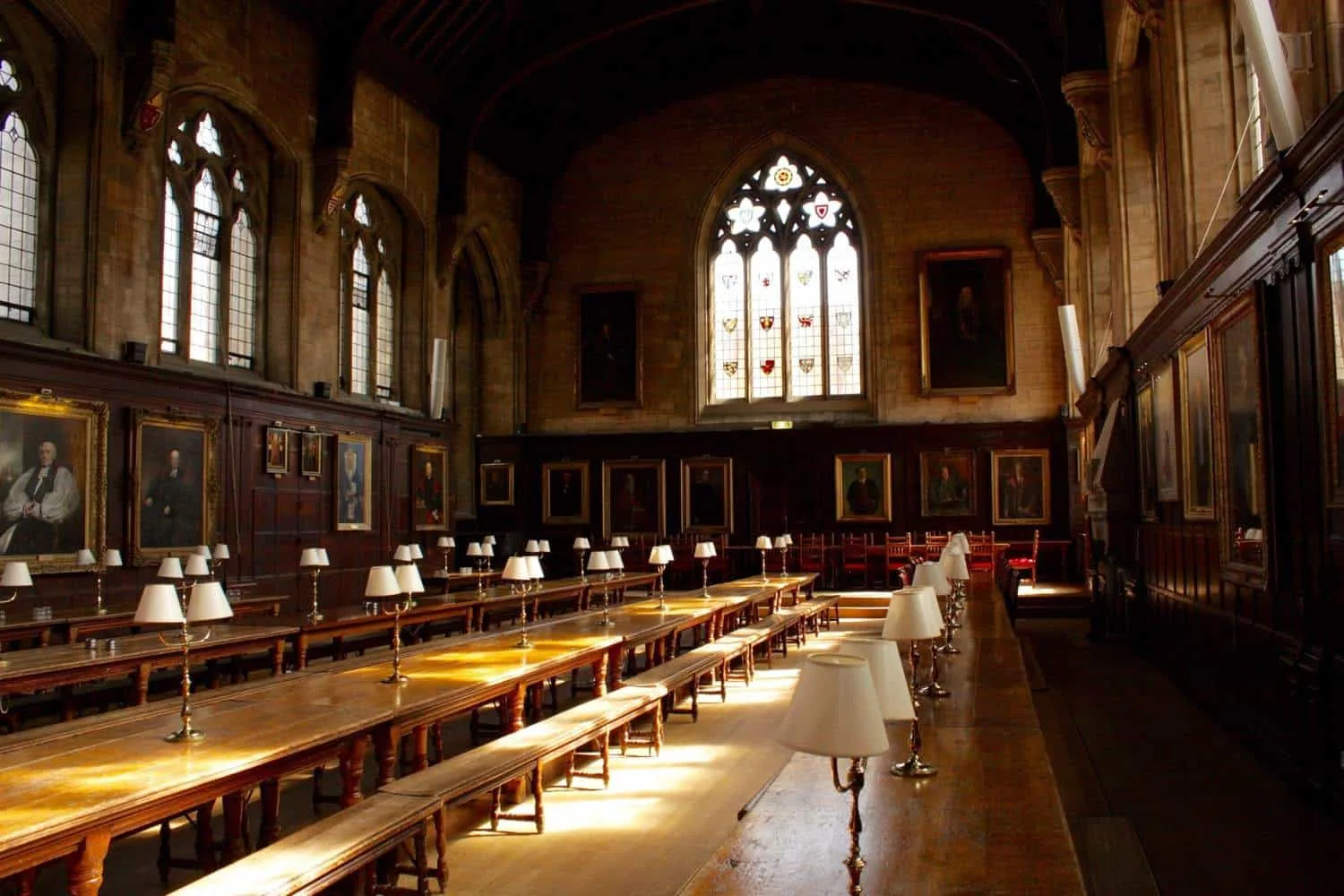 Of course, you don't have to tip them at the end, but these tours are such great value you won't have any qualms in slipping them a fiver.
The tour lasts for around an hour and a half and only covers a couple of blocks so is suitable for all walking tour fitness levels. What you learn about Oxford in a few blocks with these students is more than you would learn in a full day on your own.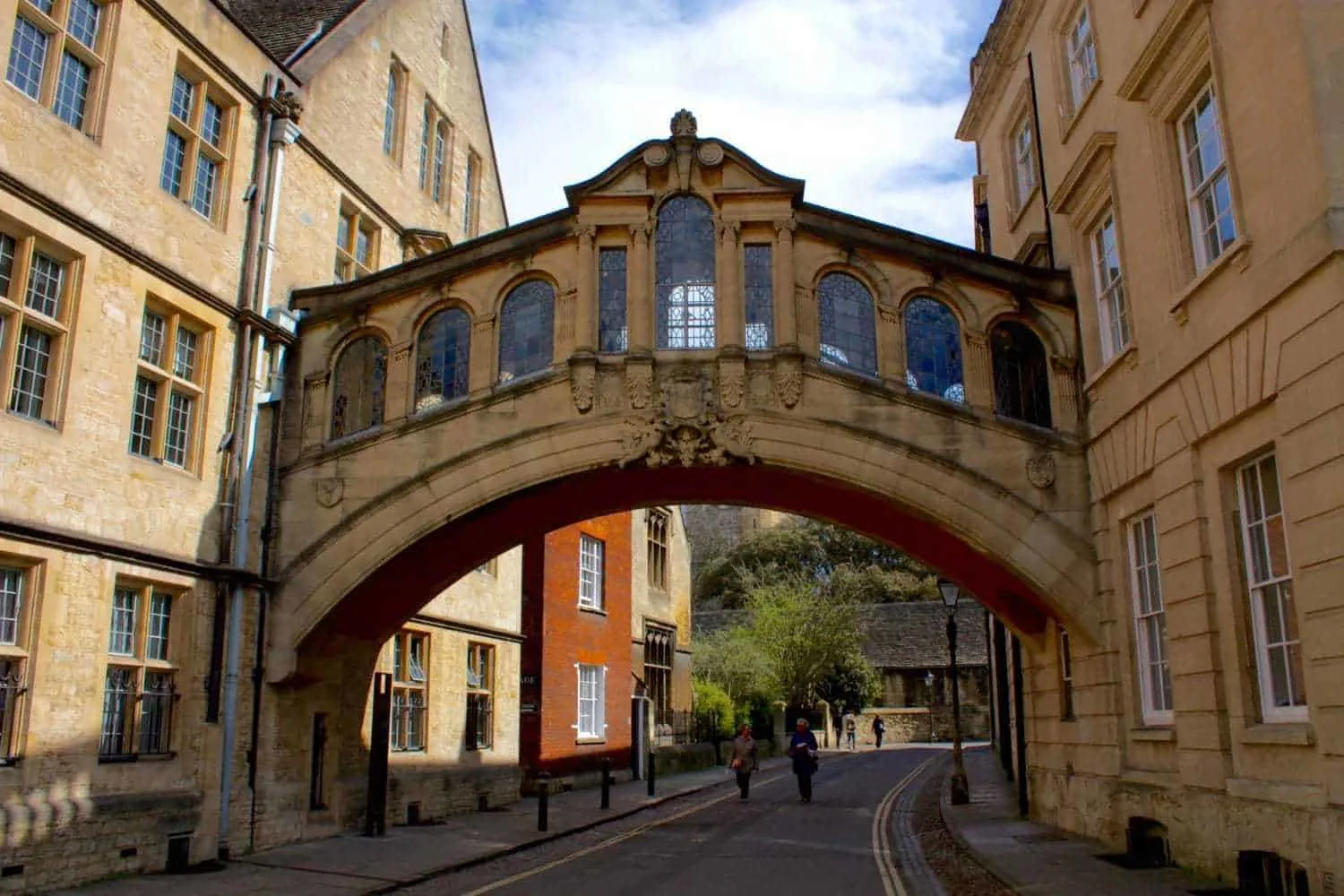 Visiting different colleges, you will get an insight into the daily life of Oxford University students. They will guide through a thousand years of history and tradition of one of the world's most famous university towns, in an engaging and entertaining way.
They will take you around various significant buildings explaining their importance in the scheme of the University. They will regale you with tales of students past, both famous and infamous as well as some of the universities more unusual traditions. This is a history ladened tour that is anything but boring.
Take a Walking Holiday in the UK: We've got the Best Self Guided Walking Holiday Itineraries.
Visit The Bodleian Library
Looking for Harry Potter things to do in Oxford? The Bodleian Library is a must. The main research library of the University is also one of the oldest in Europe. Housing over 11 million items, it is only second in size to the British Library.
The Divinity School is the most popular building for visitors because of the ornate ceiling and its role in Harry Potter as the hospital room. Just £1.00 to visit.
You can take "mini" tours of the rest of the library for £5.00. The mini-tour is a 30 min highlights tour taking you to the most beautiful parts of the library.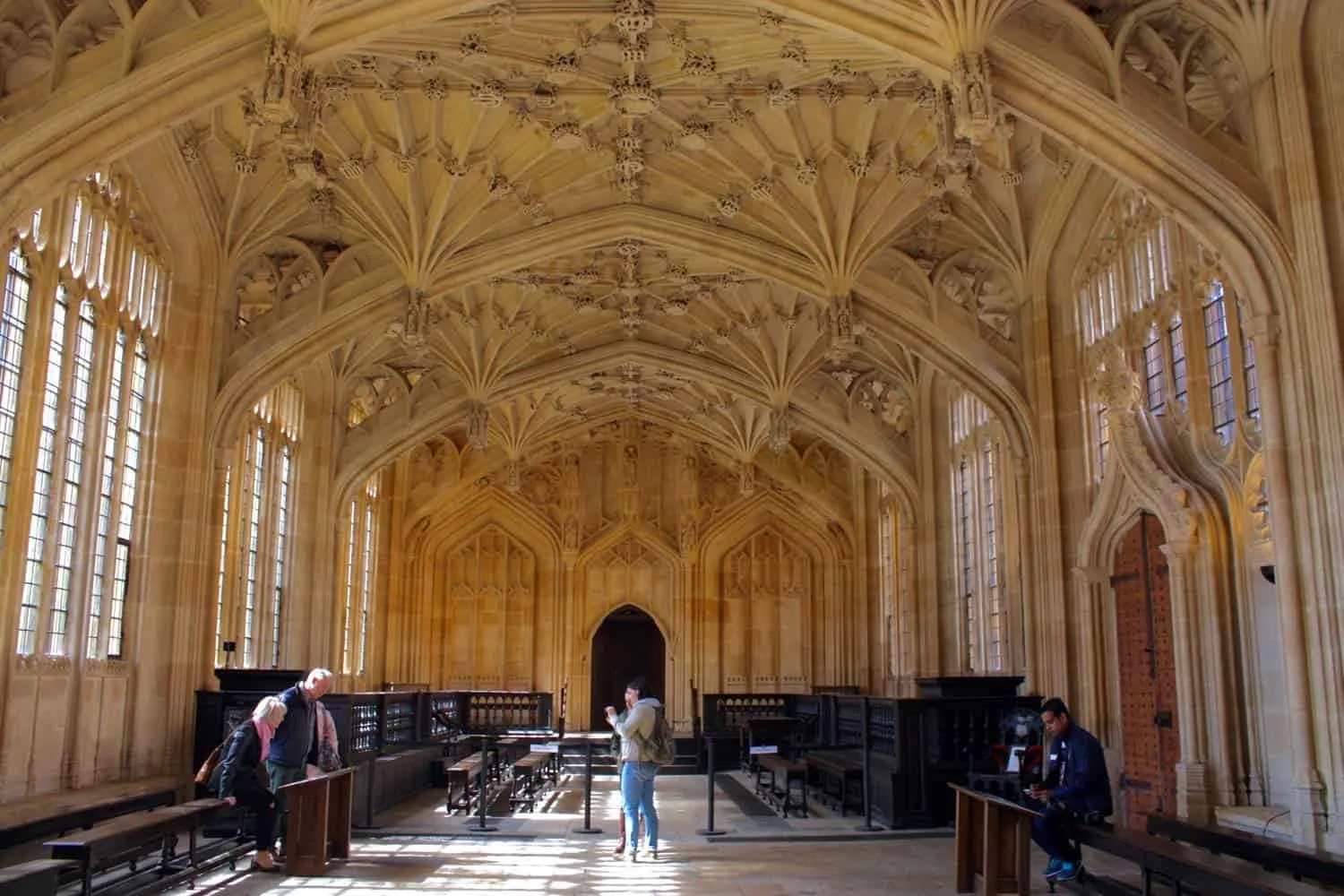 Bodleian Library Tours
If you wish to splurge more than a fiver, there are also extended tours starting at around £13.00 which incorporate underground tunnels and other cool stuff. We recommend going on a Sunday when there are no students around; you will get to see more of the library than on any other day – book well in advance, these are booked out weeks prior. You can find out more on the Library Website
The University Church of St Mary the Virgin
While Oxford has no shortage of notable chapels and cathedrals, this church welcomes visitors free of charge throughout the week, whether just for a look around or to attend a service. For an impressive view of Oxford, tours of the tower can be arranged for £4 / adult. Visit the University Church website for times and up to date information.
Oxford Pubs
Oxford, like the rest of England, has no shortage of pubs but when in Oxford we suggest you head to their most famous pub for a pint – The Turf Tavern. The original bar dates back to the 17th century although its foundations are dated as far back as the 13th century, this is not why it is so famous.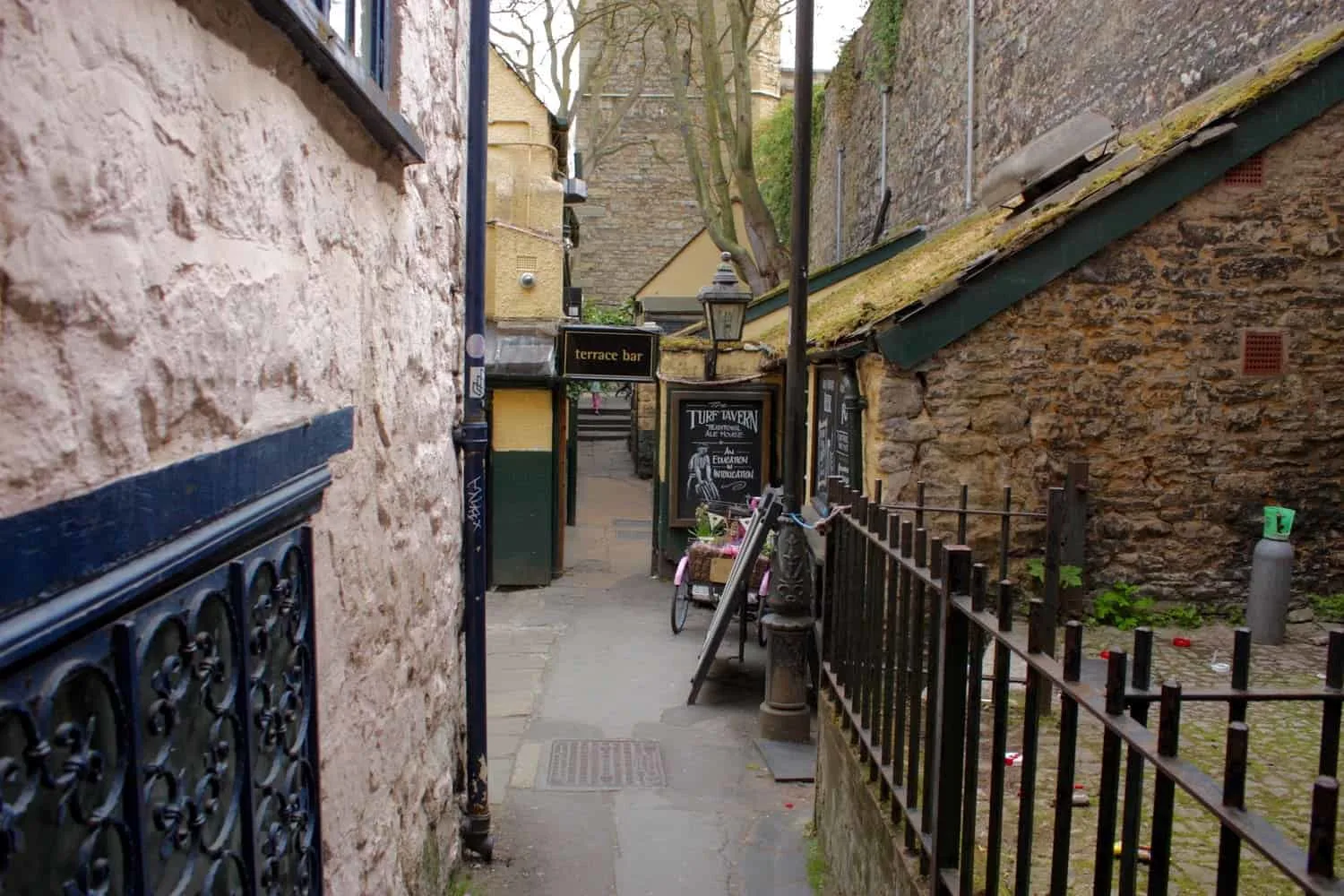 "The Turf" as it is known, is most renowned as the pub where former Australian Prime Minister Bob Hawke set a Guinness World Record for drinking a yard glass of ale in 11 seconds. Bravo Bob. It is also the pub where U.S. President Bill Clinton apparently 'did not inhale' while attending Oxford as a Rhodes Scholar. University days well spent.
If you want to stay for more than a pint or a classic British pub meal, you will have to cough up a bit more dough but you will still get change from a fiver for a pint. You will find the Turf down a series of narrow laneways near the Bridge of Sighs.
Oxford Museums
Oxford is loaded with Museums, but it is the best that are free. The famous Ashmolean Museum, the oldest in the UK and one of the oldest in the world. The Museum of The History of Science, here you will find the world's finest collection of scientific instruments, as well as scientific calculations chalked by none other than Einstein himself. But our favourites – The Oxford University Museum Of Natural History and the Pitt Rivers Museum.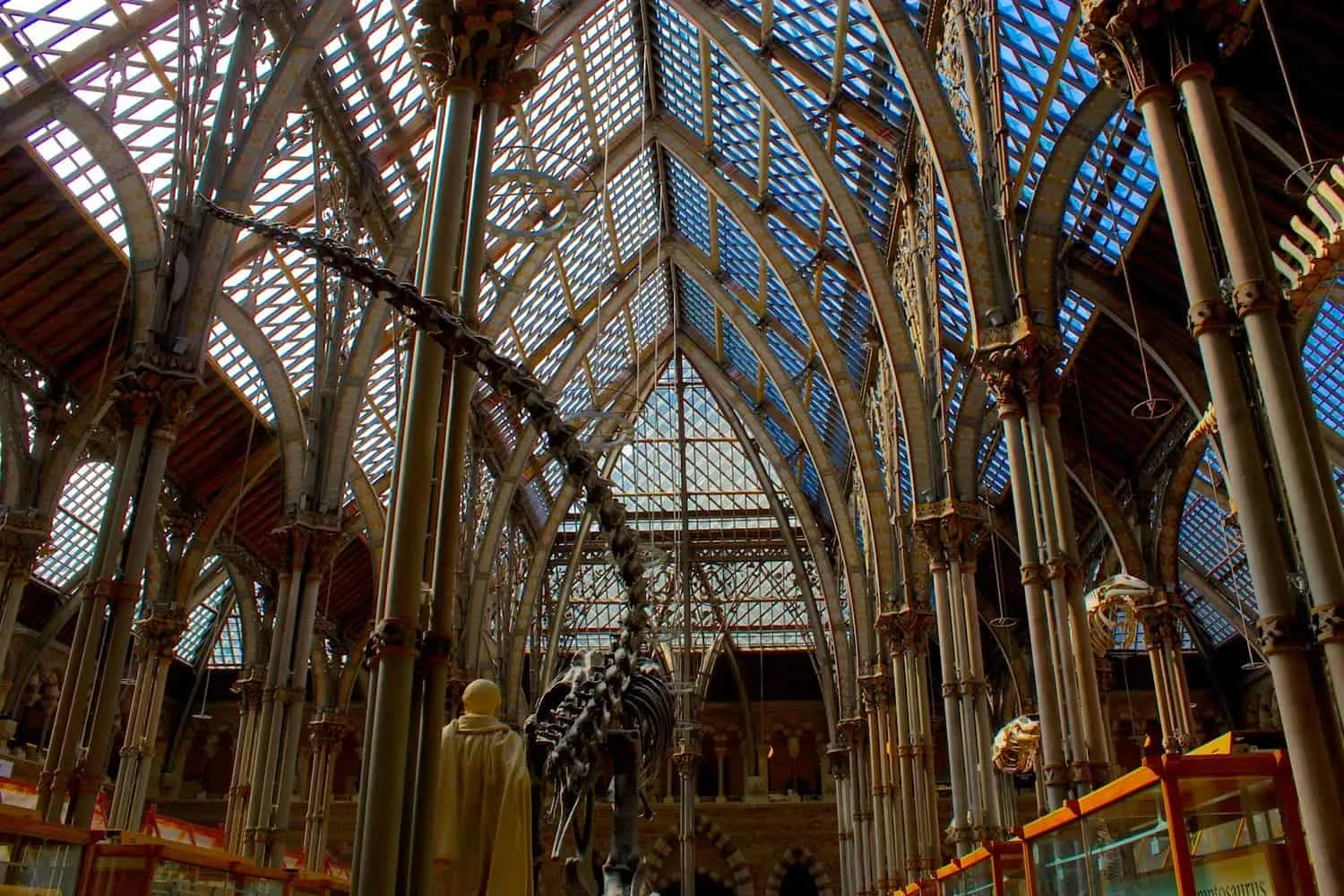 The magnificent architecture of the Museum Of Natural History is just the beginning as you wander through to the Pitt Rivers Museum where you will find floor upon floor of curiosities. This is the world's finest collection of anthropology and archaeology from every continent throughout human history. Prepare to while away an hour or two here.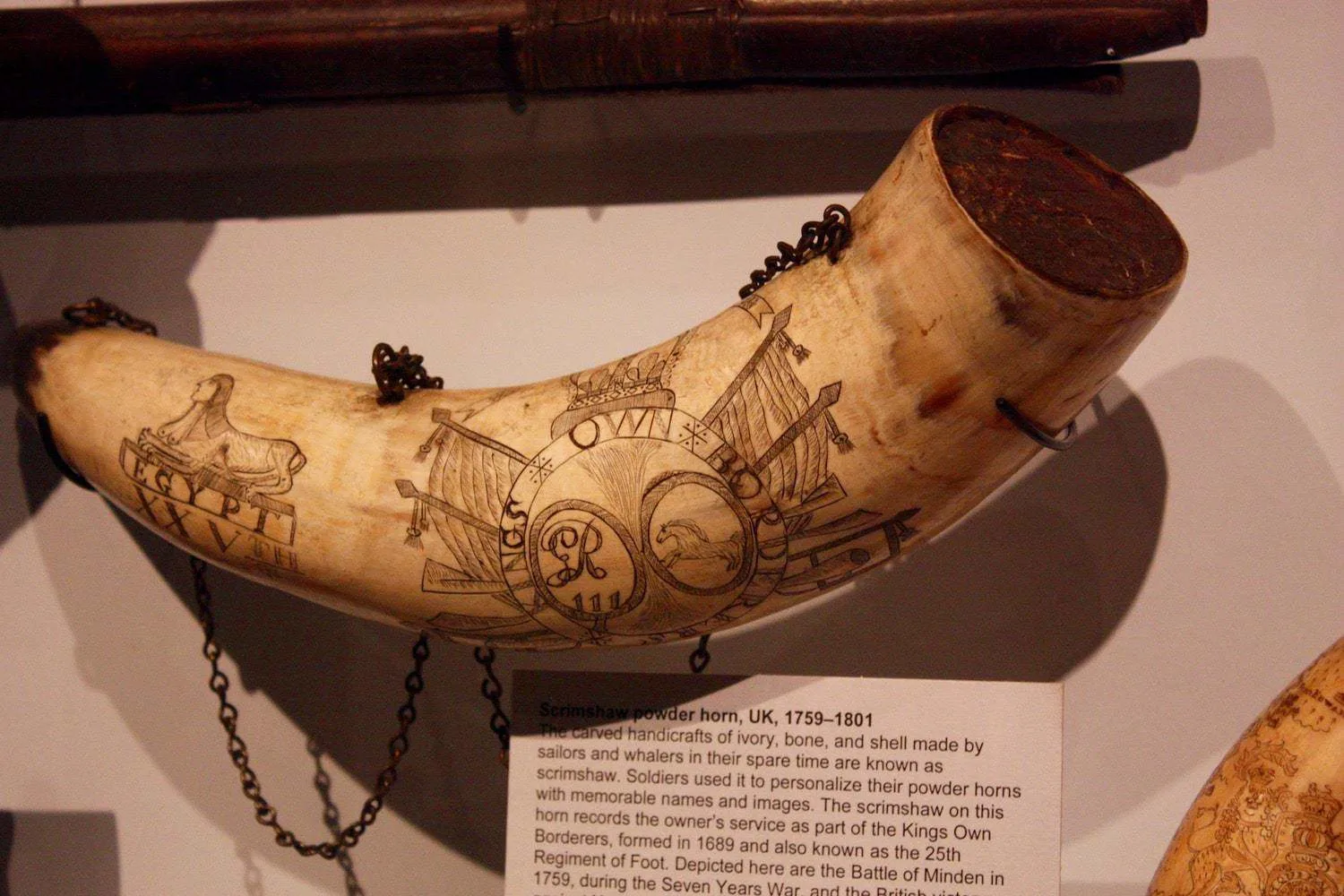 Hit The Streets
Finally, wander the streets, lanes and college lawns. Soak up the ambience of the historic buildings, the undercover markets, cafes and shopping strips. Oxford is an exhilarating city to be in, the youthful university vibrancy coupled with its privileged historic facade make for a great city to stroll and enjoy the architecture and atmosphere.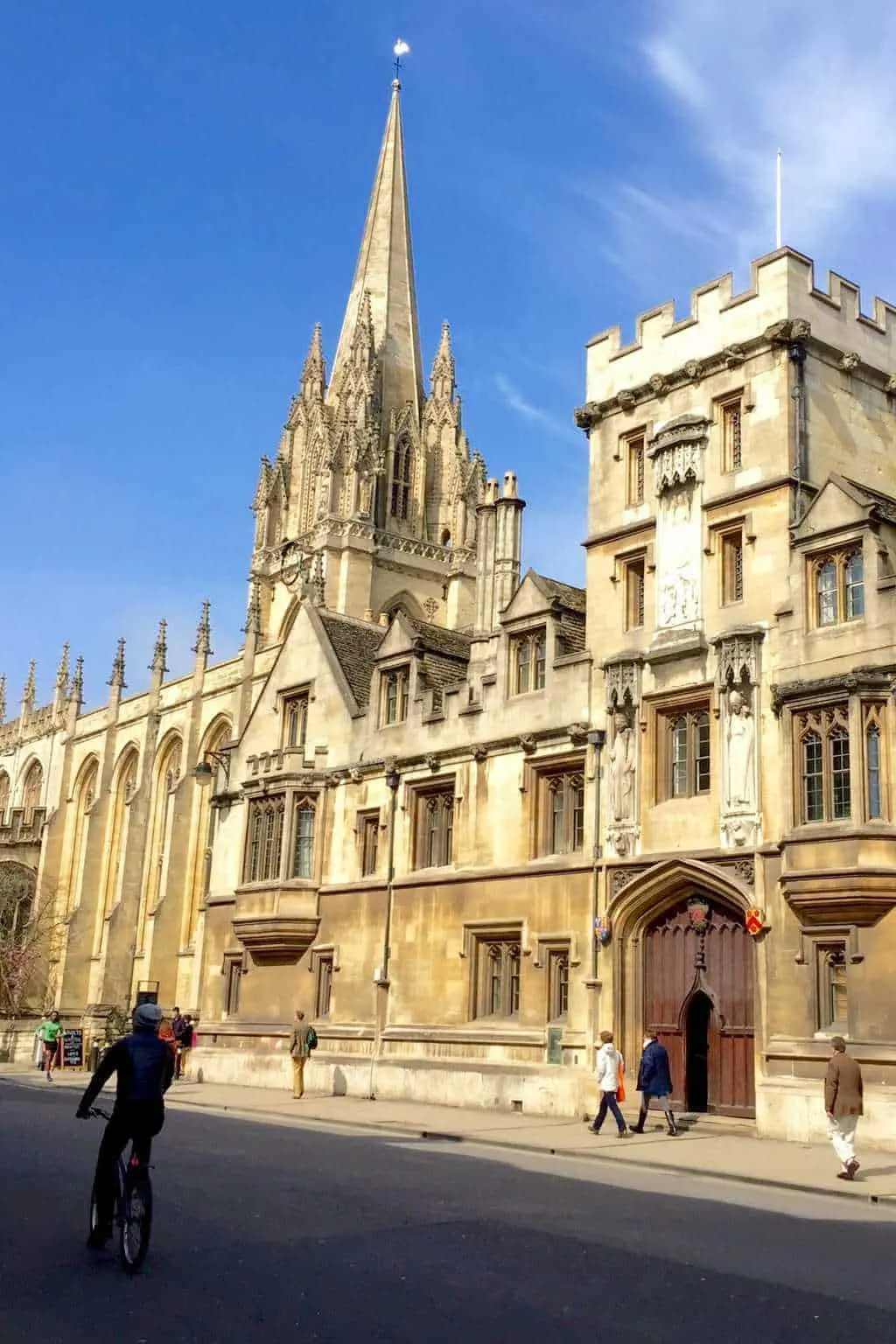 ---
Getting To Oxford
Train: Direct trains operate every 30 mins between Oxford and London Paddington and between Oxford Birmingham New Street.
Bus: Frequent 24-hour services run between London and Oxford. Every 10- 25 mins in peak times.
By Car: Utilise the various park and ride services located around Oxford city as parking is almost non-existent in the city centre.