With its grand Georgian architecture and fascinating stories spanning centuries, Bath is one of the best places to visit in South West England.
However, much like the city of Oxford, it is also one of the most expensive cities in the country. Its prestigious status has meant it has always been a city of wealth, which has only caused prices to continue to inflate.
That said, it is possible to visit Bath on a budget. So if you're planning a weekend in Bath but don't want to spend a fortune, here are our best tips.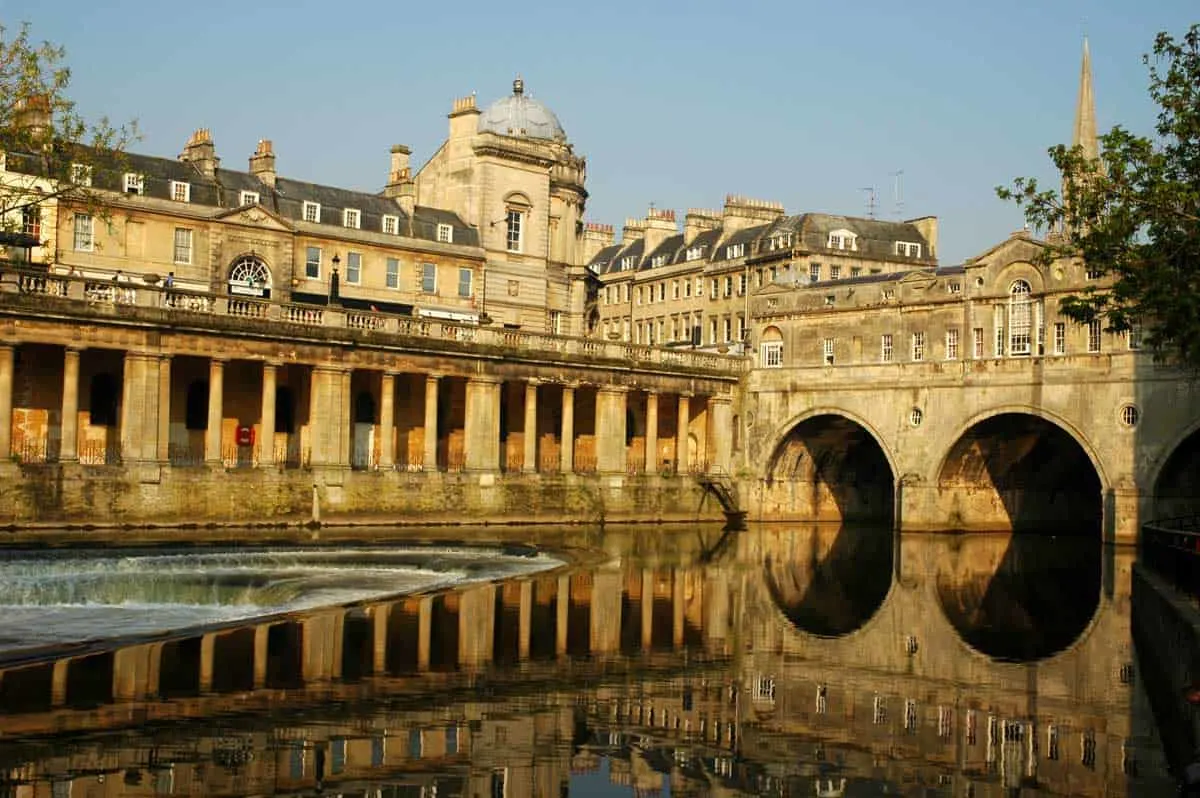 Getting to Bath on the Cheap
Bath is easy to access from Bristol and London – visiting from other cities may require a change. From Bristol, you can take local buses – the X39 connects the two cities. The train takes just 11 minutes but it is a bit more expensive.
By National Express Coach
From London, it's best to take a National Express Coach. These take around 2 hours 30 minutes, and prices start at just £5. Book your tickets as soon as you know your dates for discounts on tickets.
By Rail
If you want to take the train, be aware, British rail is expensive. Book your tickets as early as possible and use the Trainline website, which often has discounted fares for pre-booked tickets. If you are British, you may be able to apply for a railcard to save ⅓ on train travel.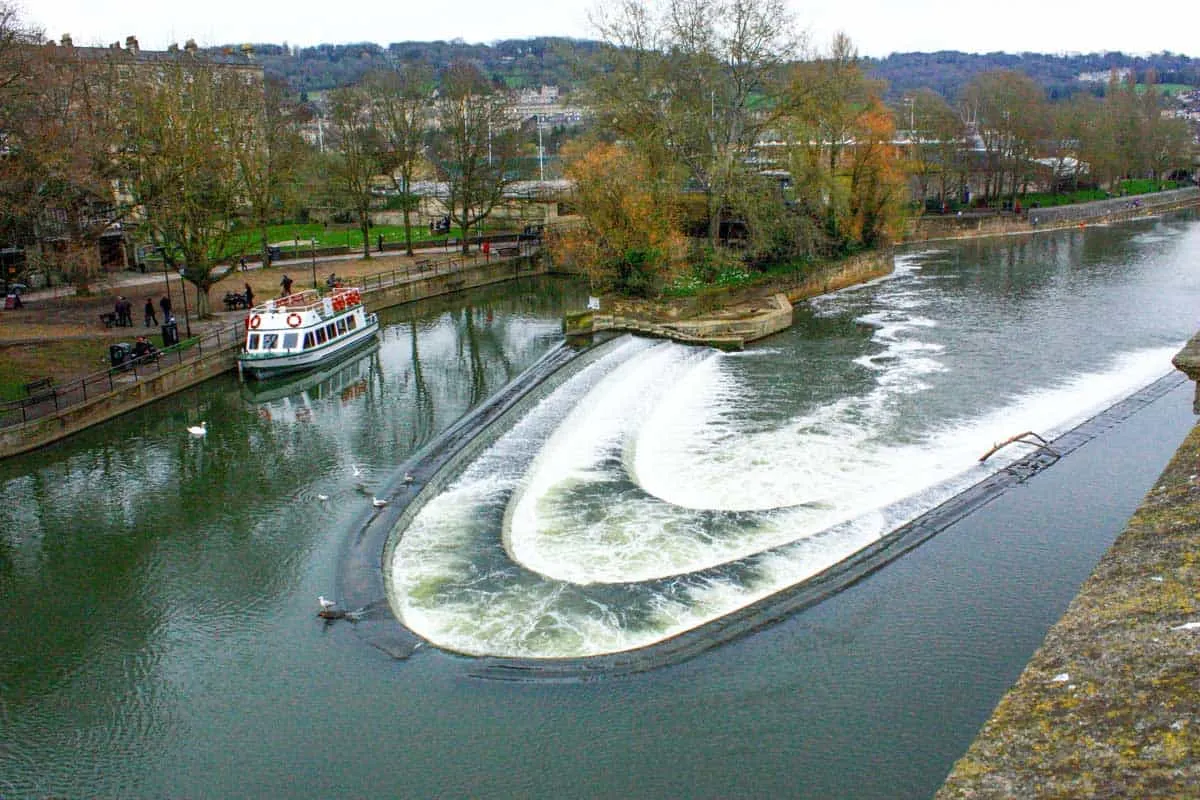 Budget Friendly Tours in Bath
If you want to take a tour on the cheap, these are some very budget-friendly tours to help you get your bearings in Bath and learn some of the city's history. Each tour is under £15.
Free Things to do in Bath
Bath Abbey
Bath Abbey is the centrepiece of the city. It was where the first king of all of England, Edgar, was crowned – look for the plaque commemorating him as you walk around outside.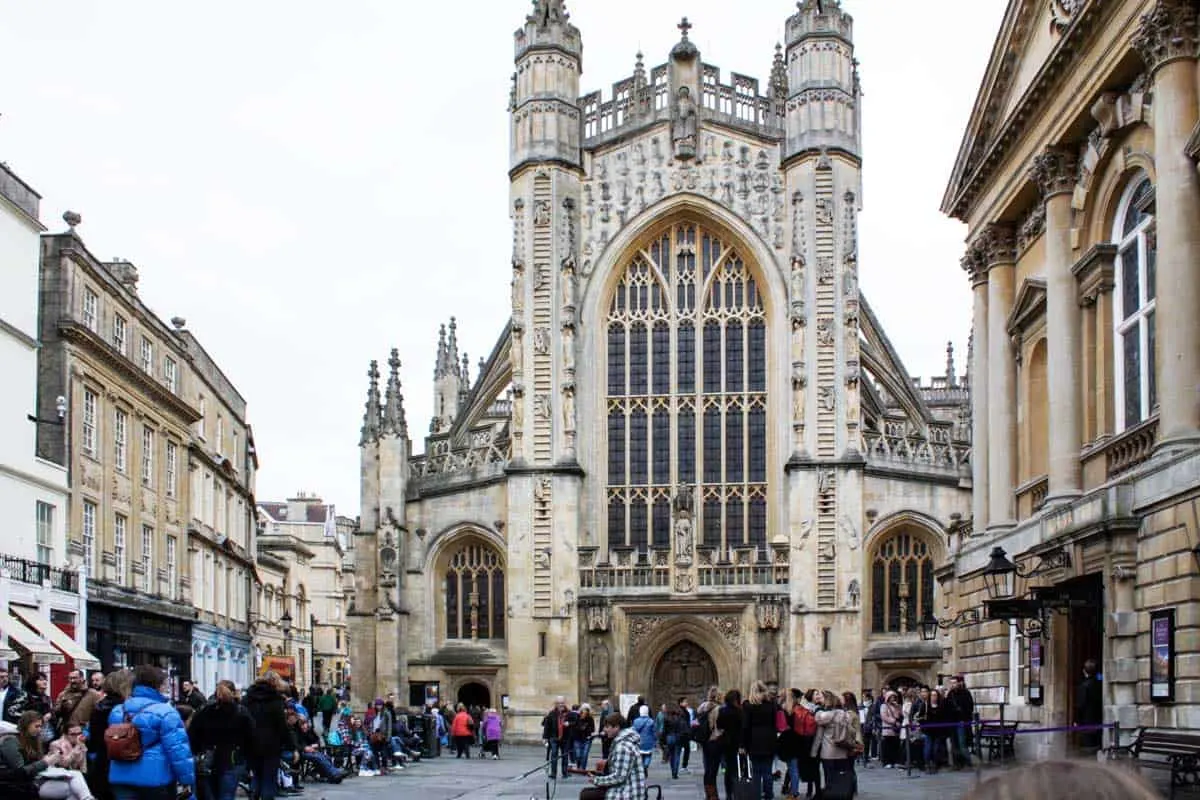 The site of the abbey has been a place of worship since the 7th century; however, it fell into disrepair in Medieval times. In 1499, Bishop Oliver King had a dream about angels descending to earth down an olive tree and took this as a calling to rebuild the abbey.
However, due to the Dissolution of the Monasteries, Henry VIII halted the rebuilding. It was finally reconstructed when Elizabeth I was on the throne.
This is arguably Bath's grandest building – and it's free to enter. A donation to help with the abbey's upkeep is appreciated. You can explore both inside and outside, learn about its history, and see some of its impressive features.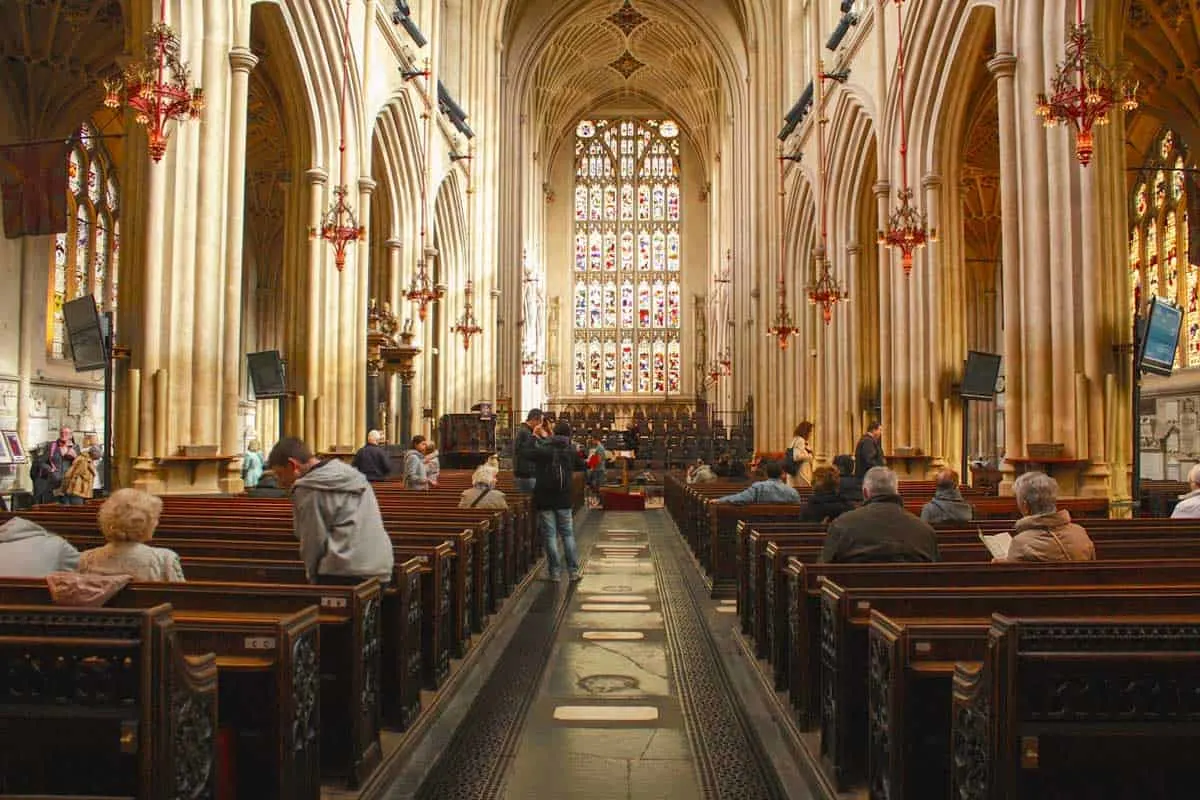 The Circus
Bath is full of iconic streets, but The Circus is unique and a must-see attraction in Bath. Many roads in Bath are in a crescent layout (like The Crescent, which we will talk about below), but The Circus is a perfect circle of terraced houses.
The Circus was constructed by John Wood the Elder in the Georgian period. He was interested in prehistoric stone circles and wanted the terrace to mimic The Colosseum in Rome and Stonehenge in Wiltshire.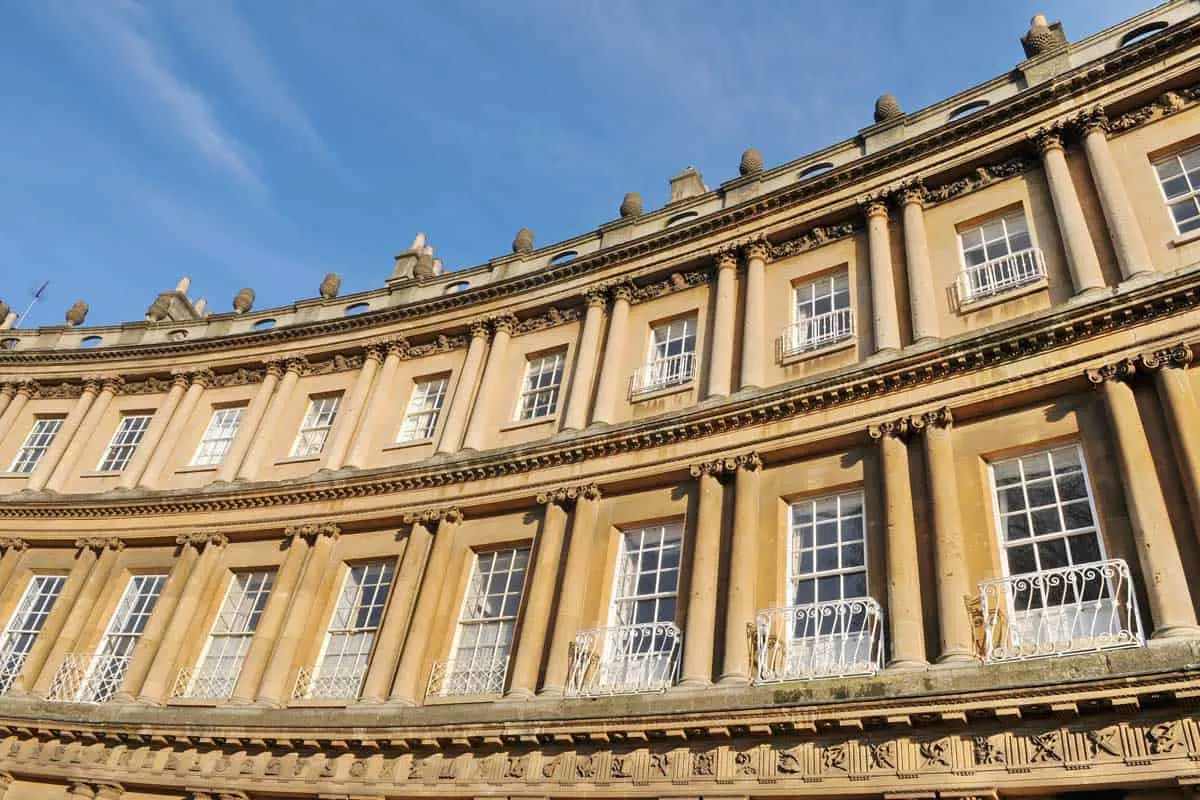 The Crescent
Down the road from The Circus is The Crescent. This is one of the most famous buildings in Bath. Also constructed by John Wood the Elder, it has been used as the film set of many movies and TV programmes – including the recent period drama Bridgerton.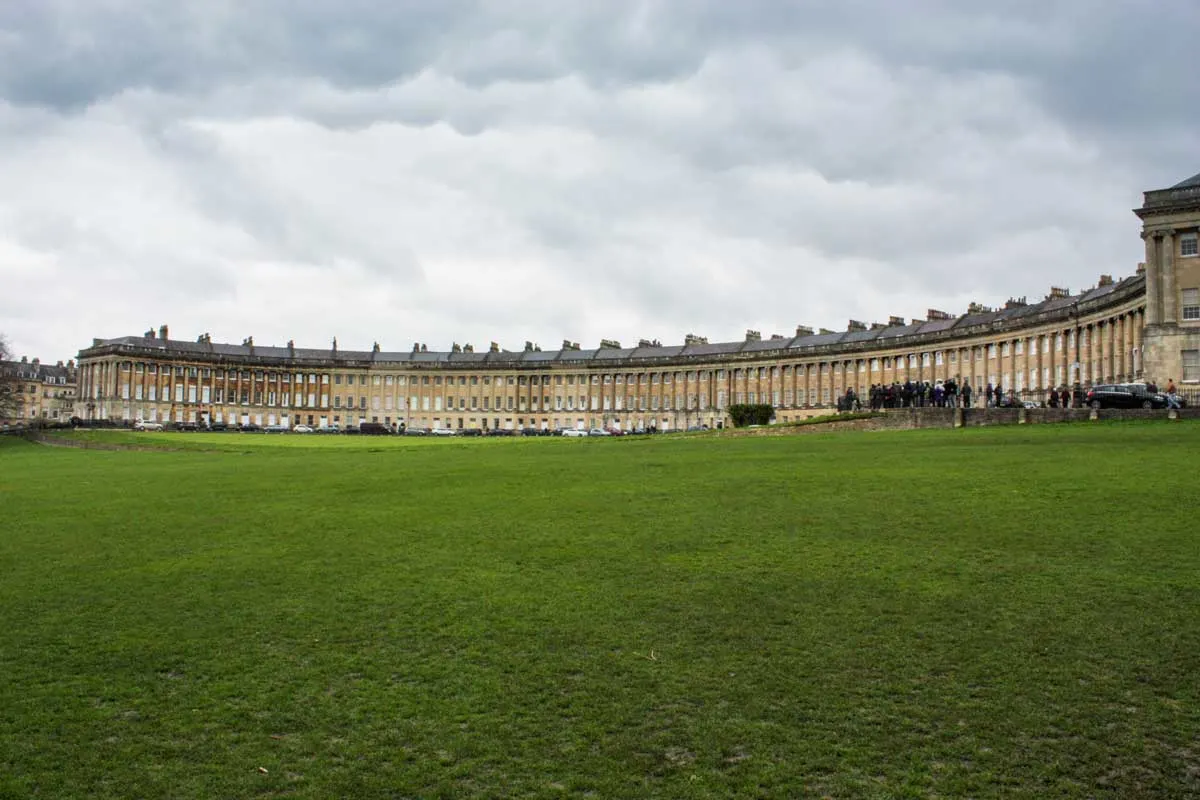 Sydney Gardens
Sydney Gardens are a beautiful place to get a slice of nature in Bath city centre. You can stroll around and admire the beautiful plants and take in the exterior of the famous Holburne Museum – a Grade I listed building that now serves as an art gallery. Unfortunately, the gallery is not free to enter – see below for an alternative budget option.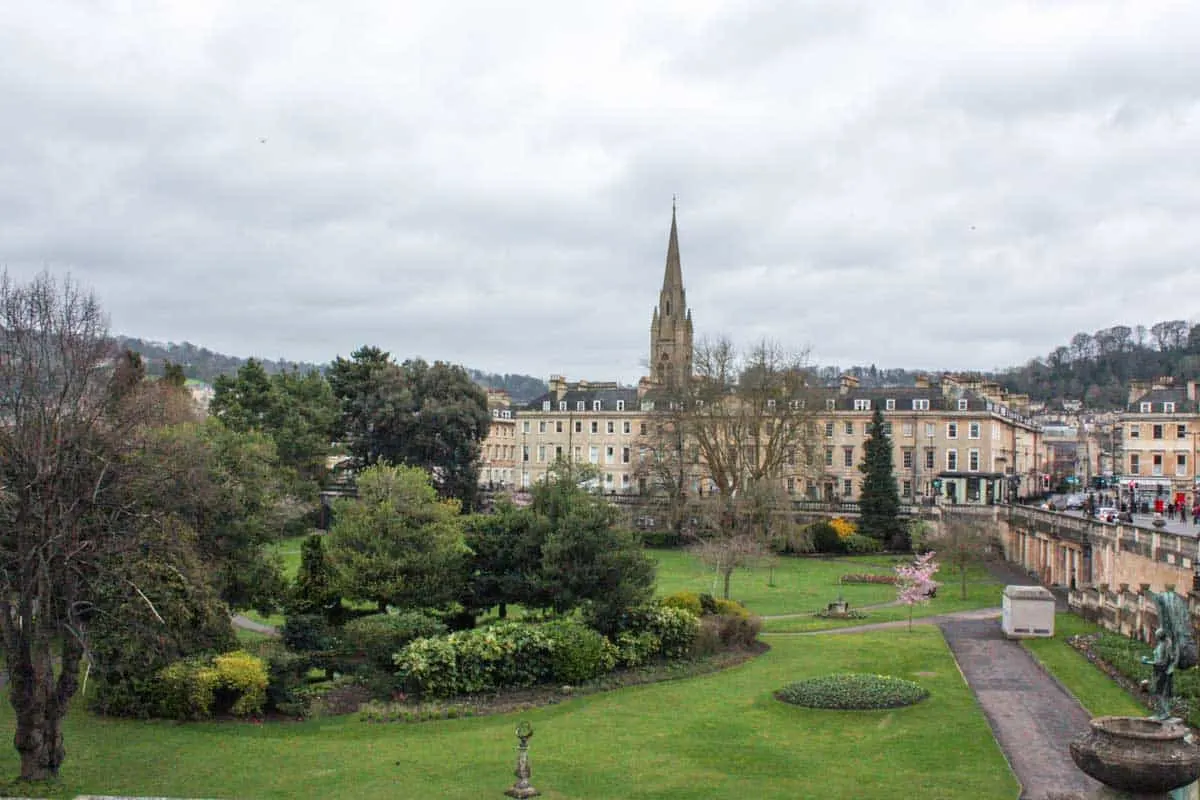 Victoria Art Gallery
Victoria Art Gallery is a public art museum in Bath city centre. With exhibitions focusing on Bath's most prestigious artists, this is a fantastic place to visit if you are looking for budget activities and the weather isn't so kind.
Kennet and Avon Canal
The Bath section of the Kennet and Avon canal is a beautiful place to go for a walk, run or bike ride near the centre. The flat stretch is home to many colourful canal boats and has a friendly atmosphere.
The canal system stretches all the way to Reading, so you definitely won't do the entire thing – but if you want a challenge, you could cycle or walk to Bristol (13 miles) or Bradford on Avon (10 miles) and get the train back.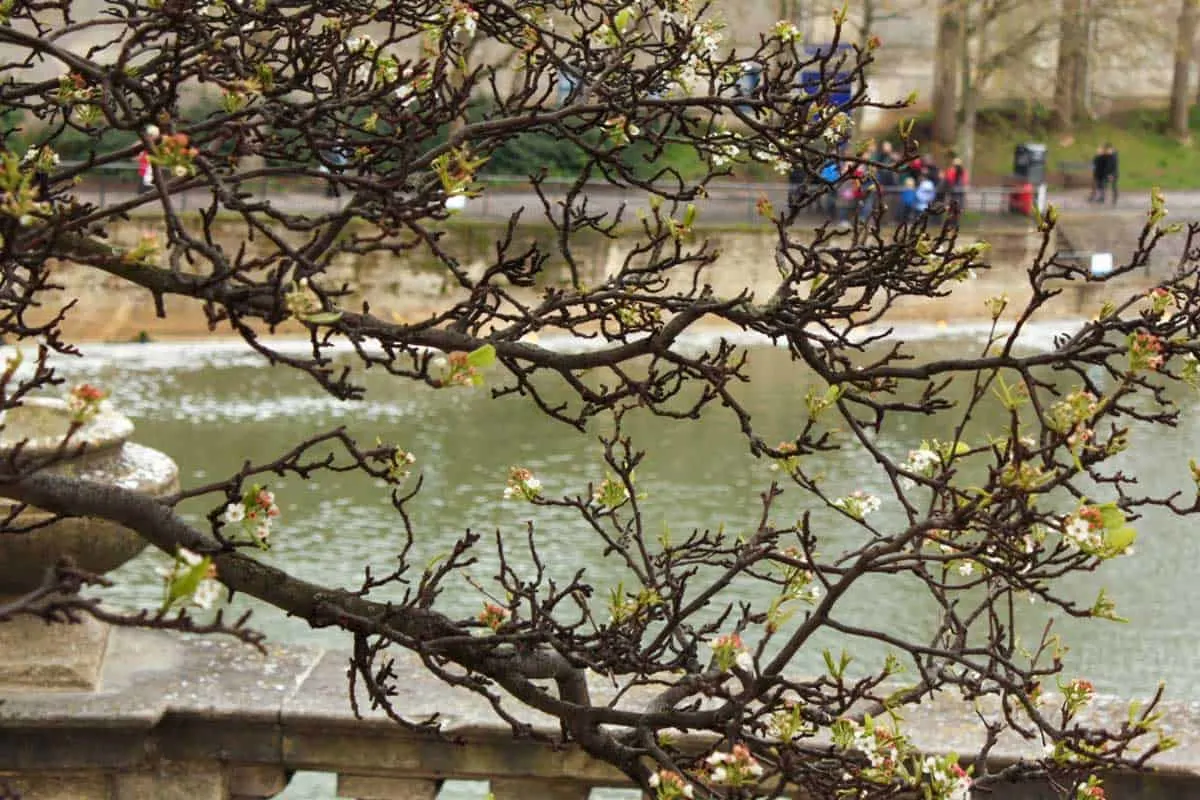 The Bath Skyline
Another great place for a walk is the Bath Skyline. This walk involves a hill, but worth the effort as you'll be graced with an incredible panoramic view over the city centre including the historic abbey, Georgian buildings and surrounding scenic countryside. It is definitely one of the best walks near Bath city centre.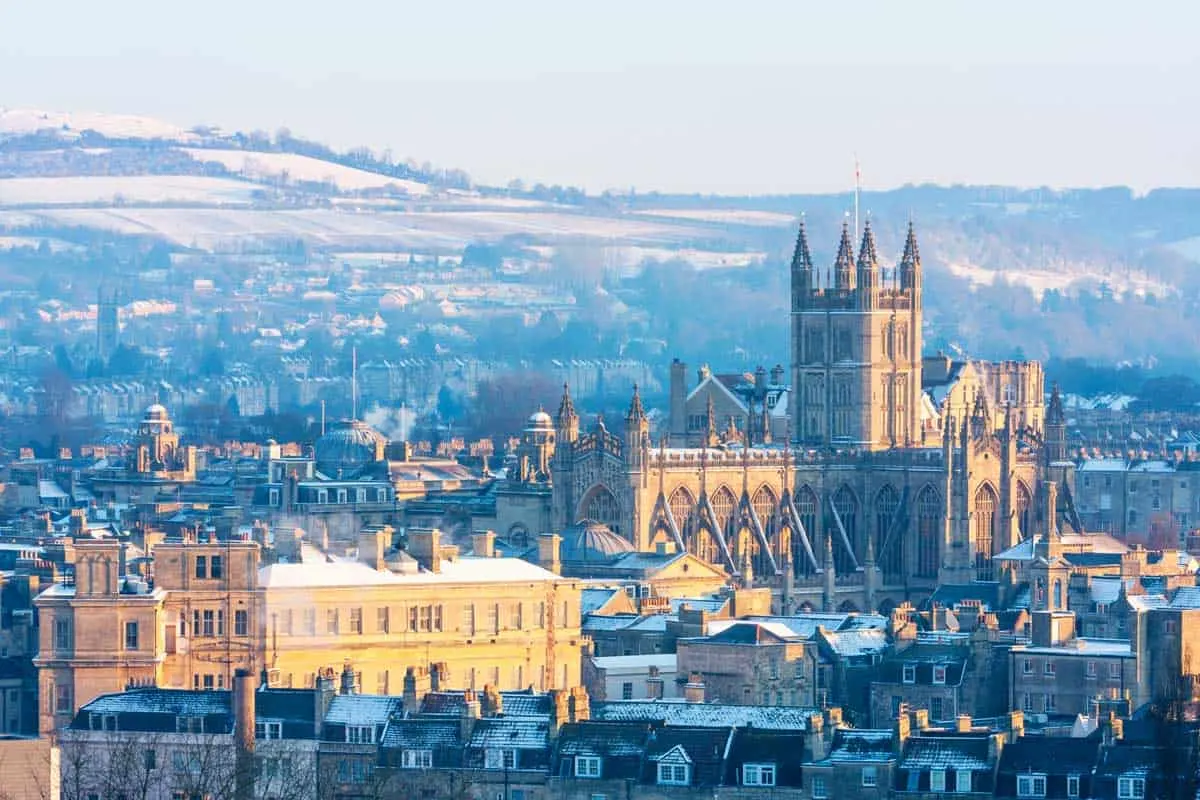 Pulteney Bridge and the Weir
Pulteney Bridge is one of the best spots to visit near the city centre. One of the only covered palladian bridges in the world, the entire length of the bridge has shops built on it. Constructed by William Johnstone Pulteney, he wanted to create a rival city to Bath on the other side of the river. He wasn't successful in city building, but the bridge is still a famous Bath landmark.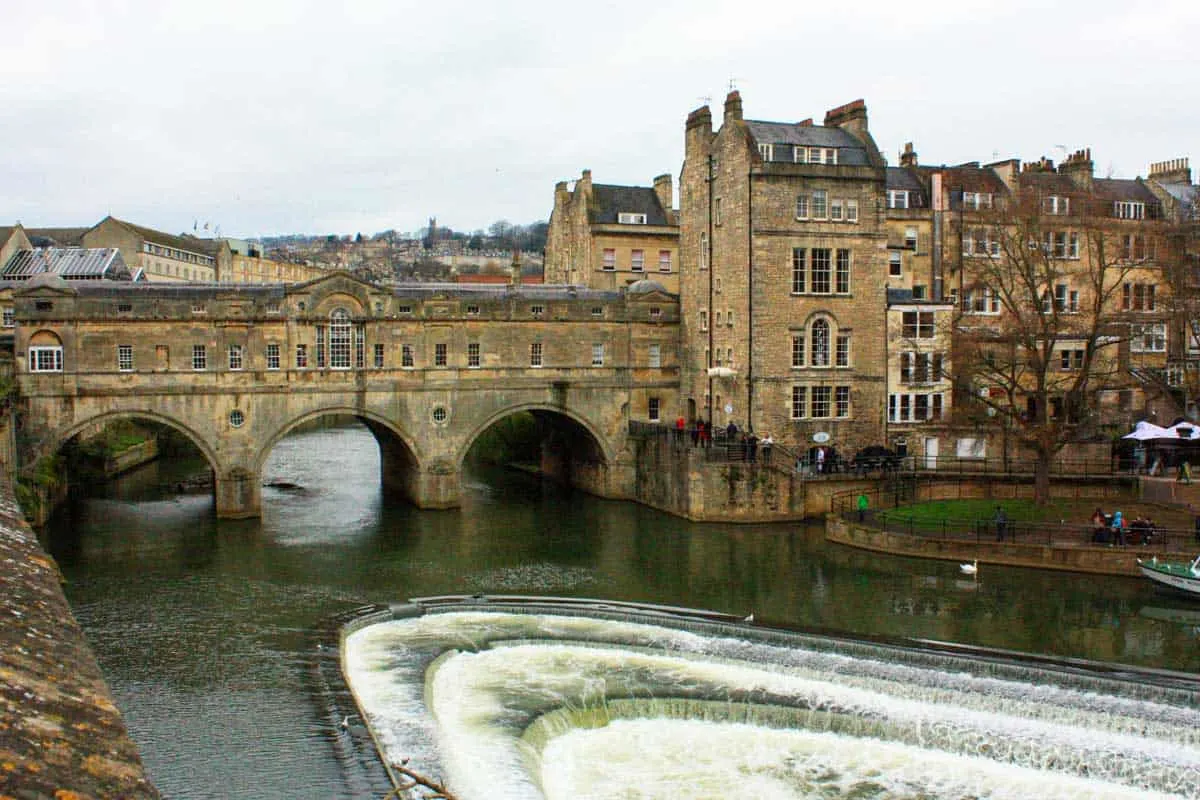 Are the Roman Baths Worth Visiting?
Bath's main attraction is arguably its Roman Baths. The incredible historic bathhouse is what gave the city its name, after all. However, if you're visiting Bath on a budget, you might baulk at the cost.
The price includes the baths themselves and the attached Roman Museum, and while they are expensive, they are incredibly impressive. If you only book one paid-for attraction in Bath, I would make it the Roman Baths.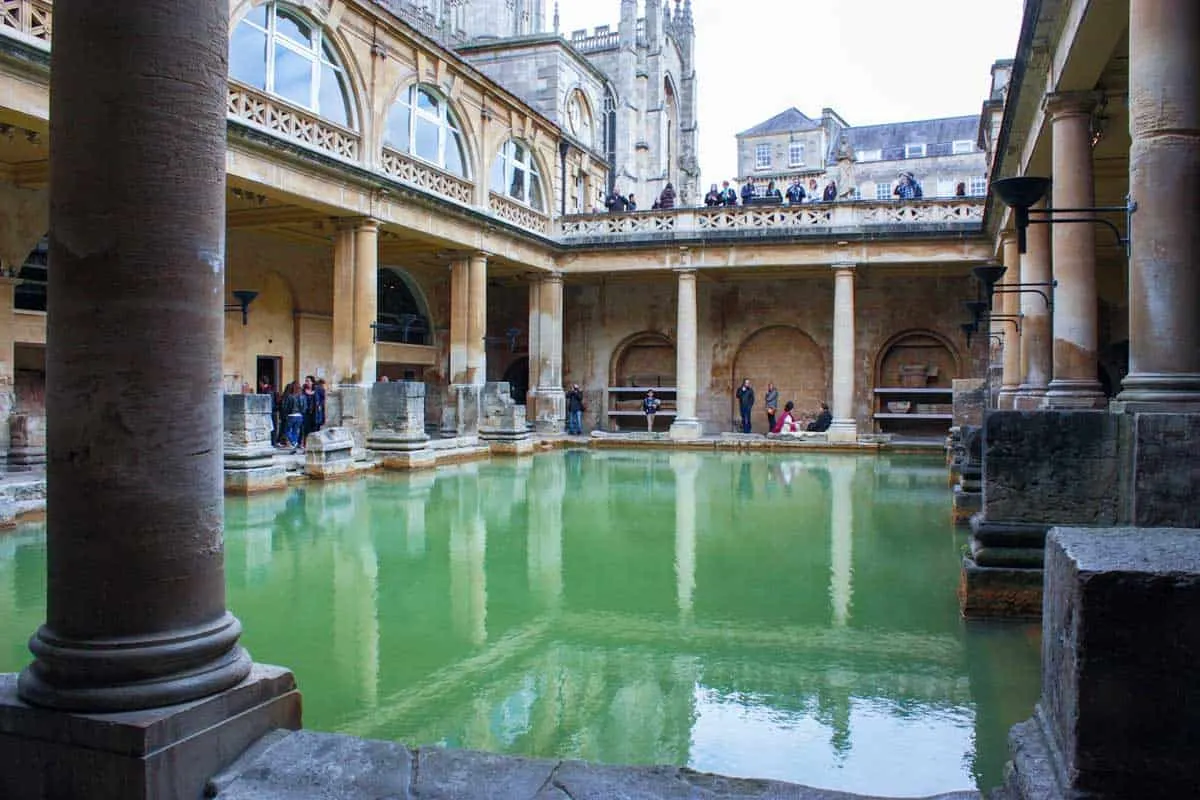 Ticket prices are lower on weekdays ( £25 pp for adults as opposed to £27 pp on weekends), and if you are visiting as a family, you can purchase a family ticket.
The only way to get cheap tickets for the Roman Baths is if you are a Bath and North East Somerset Resident – if you are, you can apply for a discovery card which gets you into the Roman Baths and other attractions in the city for free.
Is Bath Thermae Spa Worth Visiting?
The other main paid-for attraction in Bath is Bath Thermae Spa. Again, this isn't always cheap. However, unlike the Roman Baths, you can get better value deals for the spa. Try Groupon for these.
The spa has two swimming pools, including the famous heated pool on the roof where you can catch a fantastic view over the city and various steam rooms and treatment rooms. Each session lasts for around two hours.
Where to Stay in Bath on a Budget
Although Bath is famous for its luxury hotels in historic buildings, there are plenty of hostels and budget guesthouses in Bath.
St Christopher's Inn is a popular hostel in Bath city centre, with a bar (which has quiz nights) and restaurant on site. You can choose from dorms or private rooms, and there is free WiFi, cooking and laundry facilities on site. See rates and deals here.
YHA Bath is a 10-minute walk from the city centre and is set in a gorgeous historic house. This is a family-friendly hostel and has cooking facilities as well as dorm and private rooms. See here for rates and deals at YHA Bath.
If B&Bs are more your thing, Cornerways B&B is one of the cheapest in town. Rates start at just £55 for a room, making it a great deal for couples. Breakfast isn't included in all rates, but residents who don't have breakfast are invited to purchase it at a discount. See here for rates and availability for Cornerways.
Queensberry Hotel is a little more upmarket – it's a 4* boutique, historical hotel – but it's still reasonably affordable for couples, with rates starting at just £84 per night. There is also a great restaurant on site. See here for rates and deals for Queensbury Hotel.
Budget Places to Eat in Bath
If you are visiting Bath from abroad, there are a few general tips I can give you about eating in the UK on a budget.
For lunch, go for a meal deal. In most supermarkets, you can purchase a sandwich/ salad, drink and a snack for £3. If you opt for the more expensive individual items, you can make some serious savings here. My favourite place to buy meal deals is Tesco (click here for Bath Tesco Express location).
If you want a sit down meal, Wetherspoons is a UK pub chain that serves budget meals and drinks. You can get a meal and drink for £6-£7 here. The Bath Wetherspoons is called The King of Wessex.
Many local restaurants will have lunch deals – so it may also be best to have your main meal at lunchtime.
Some restaurants to try that won't break the bank are:
Belushis for burgers (this is a student favourite that also has drinks deals)
Garricks Head for traditional pub grub
The Raven, which serves up delicious pies made by the famous chain (and Bristol local!) Pieminister.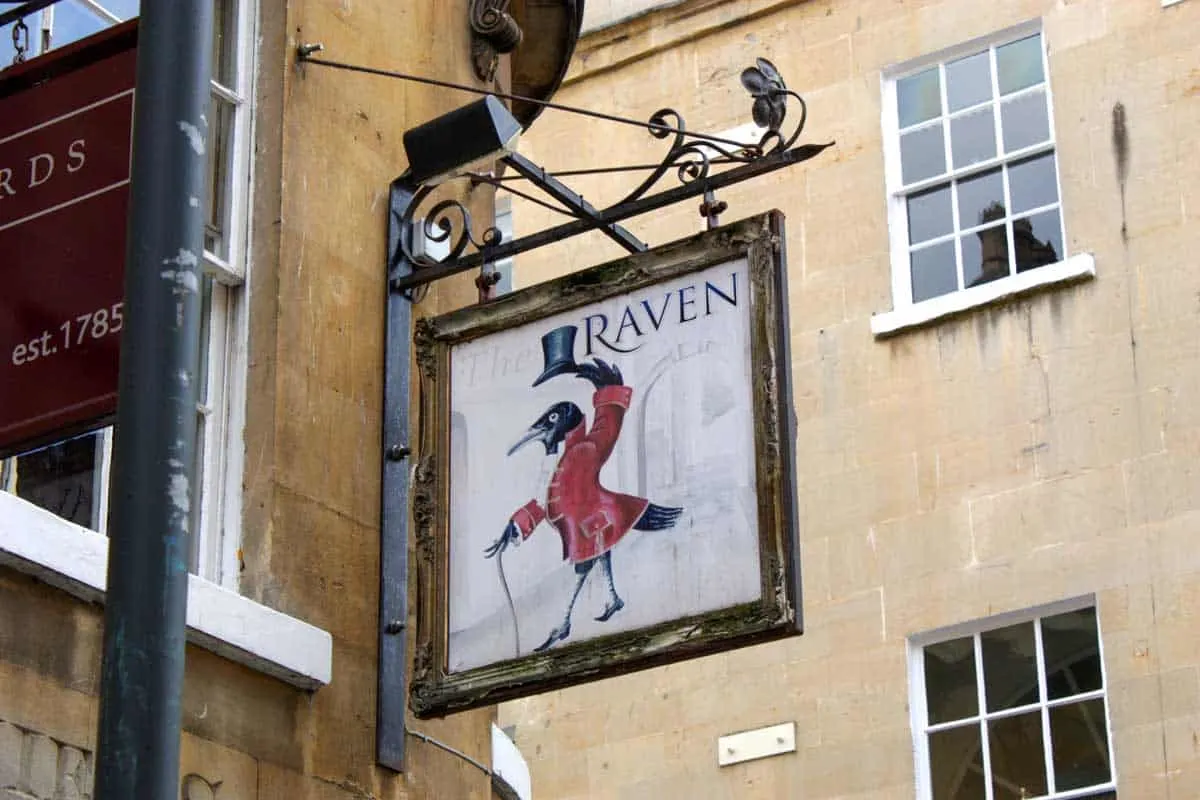 Bath is a must-visit UK city. With charming historic buildings, fascinating history, and a fun atmosphere, it's well worth visiting even if you don't want to spend too much money!
If you pick your accommodation wisely, favour cheap attractions and follow my advice for eating out, you'll be able to have a fun, budget-friendly time in Bath.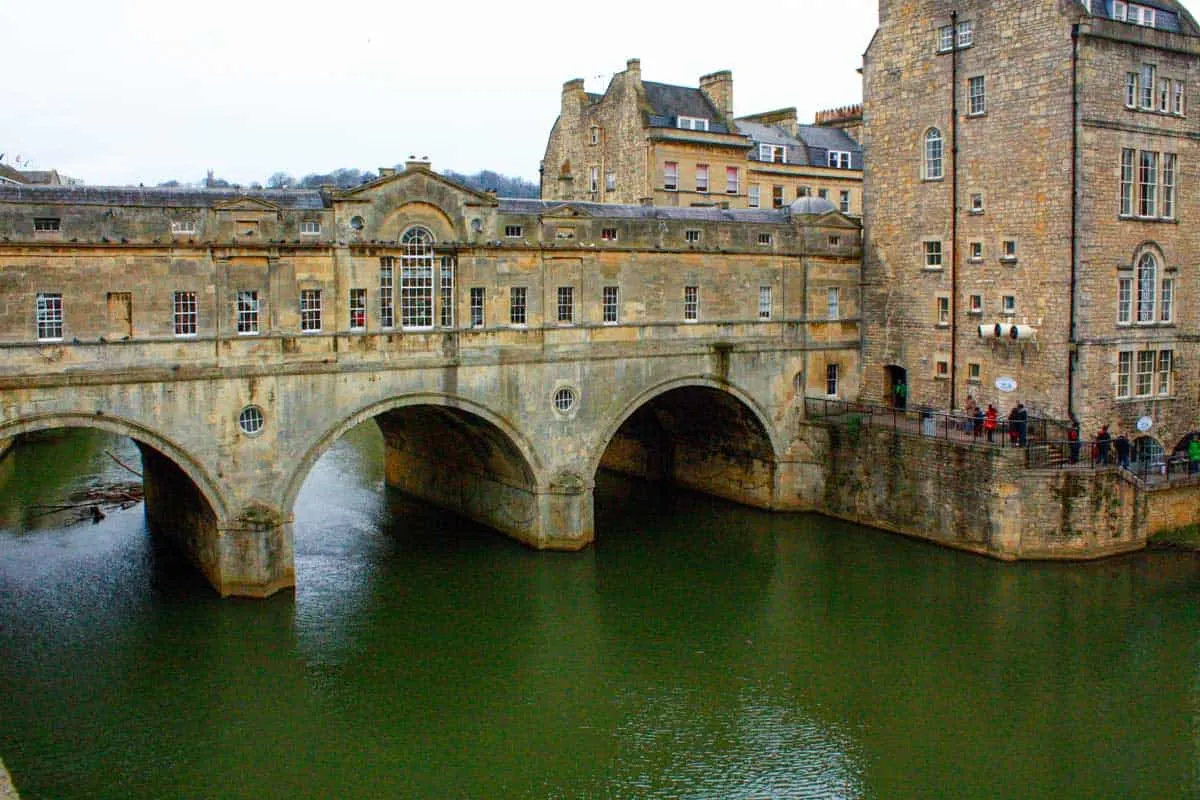 About the Author
Claire Martin
Claire is a South West England travel expert. She writes about Bristol, Somerset, Cornwall and Devon on her blog, Go South West England. When she's not blogging or travelling, she is cooking, hiking, or reading.