Scotland's capital, Edinburgh, is the second most visited city in the United Kingdom behind London. It's easy to see why with its striking UNESCO World Heritage architecture and dramatic skyline governed by the castle cresting the hill above it.
Despite its popularity, Edinburgh remains an ideal city break for budget travellers. There are plenty of free things to do in and around the city, including a whole range of attractions, galleries, and museums.
What's more, the city centre is very walkable, so you'll save a fair bit on transport. In fact, it's recommended that you do walk around the city. Walking around Edinburgh, you get a good feel for the difference between its famous Old Town and New Town that gives the Scottish capital its unique character.
Even the hilly nature of Edinburgh alone rewards you with views you don't have to pay a penny for – that in itself is priceless.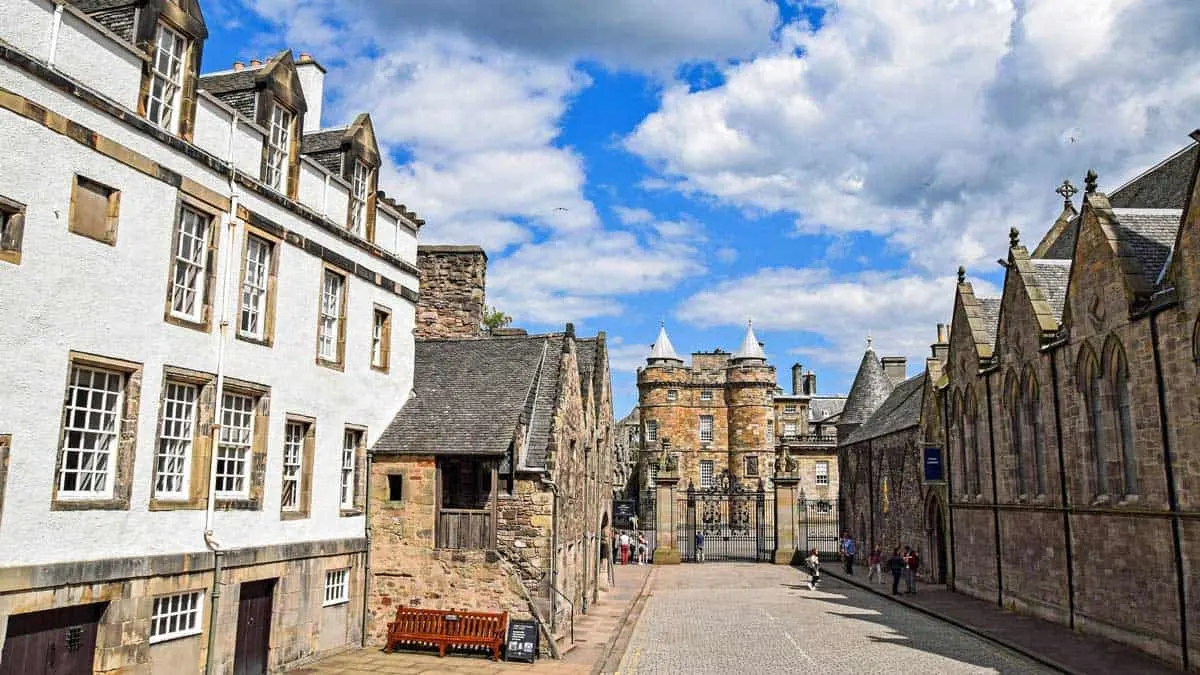 Top Free Things to do in Edinburgh
There are plenty of free places to visit in Edinburgh rain or shine.
Whether you're planning a trip on a budget or want to see a different side to what the city has to offer, here are 10 free things to do in the Scottish capital.
Take a Self Guided Walking Tour
Being a very walkable city, walking tours are popular in Edinburgh. But if tours aren't in your budget or you want to avoid crowds, you can easily plot your own self guided walking tour.
It's an ideal way to get your own personalised perspective of the city all for free. It's also a sustainable option if you want to make your trip more eco-friendly.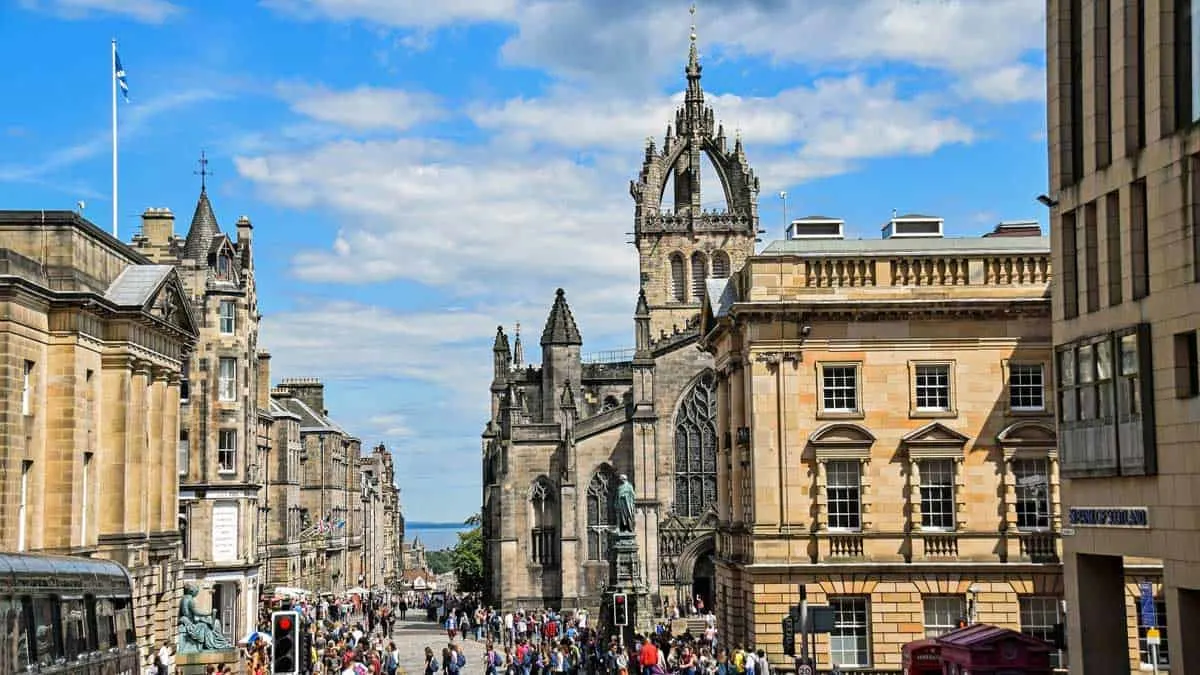 Start at the famous Royal Mile, a mile long cobblestone street that connects Edinburgh Castle with the Palace of Holyroodhouse to experience Edinburgh's iconic historic centre with its striking architecture.
It runs straight through the city's Old Town with a tight warren of narrow streets fanning away from it to form a 'fishbone' pattern. These little alleys are ripe for exploring with their bounties of secret courtyards, passages and wynds.
Next, walk down the hill to Edinburgh's Georgian New Town with its grand neo-classical buildings and wide green spaces. Although very different from Old Town, this part of the city is still a harmonious juxtaposition. In fact, the seamless styles of both Old Town and New Town have earned them UNESCO World Heritage titles.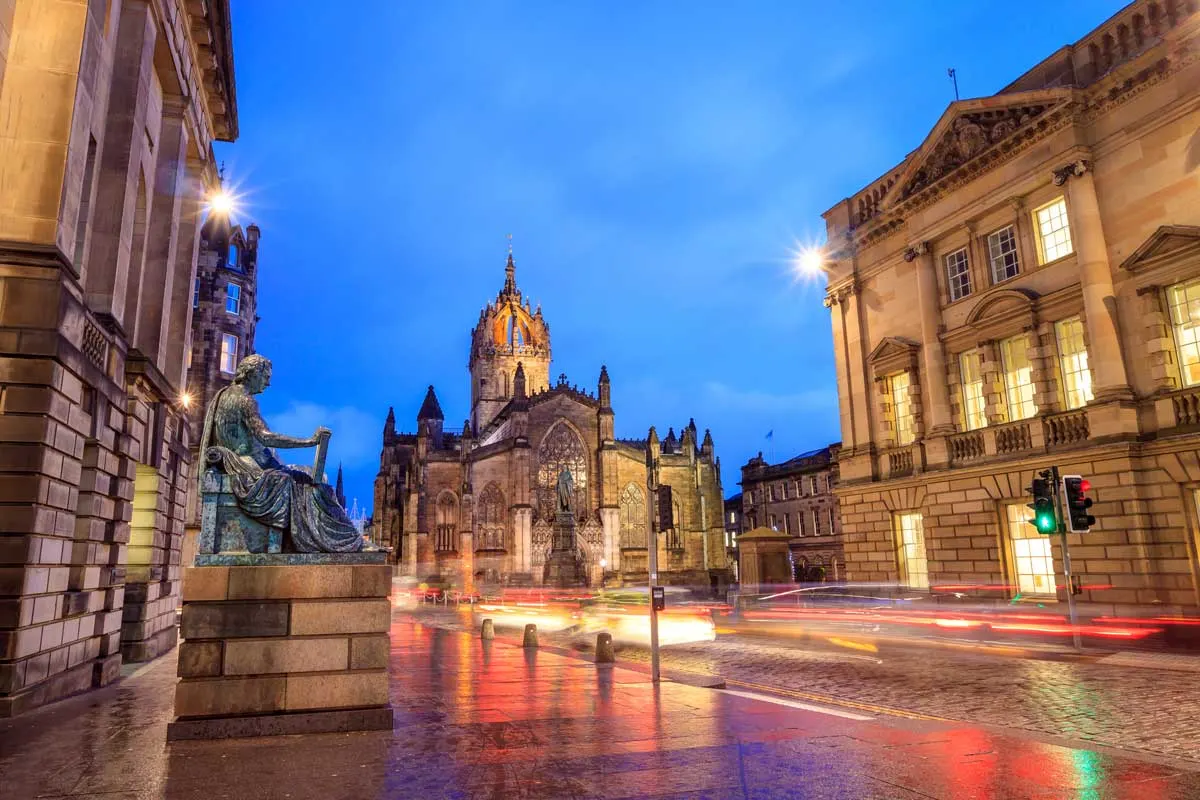 Other must-see stops on your self-guided walking tour are the Elephant Cafe where JK Rowling wrote Harry Potter chapters over tea and cake; Greyfriars Bobby, a 19th century statue of a Skye Terrier that guarded his master's grave for fourteen years; and Dunbar's Close and Chessel's Court which both have secret gardens within.
Explore Carlton Hill
One unusual fact about Edinburgh is that it's nicknamed 'the Athens of the North'. You'll notice why when you venture up Carlton Hill. On top of the mound sits the Edinburgh Acropolis, a free attraction that's otherwise known as the unfinished National Monument of Scotland.
It was built as a monument to the Scottish soldiers and sailors who died fighting in the Napoleonic Wars. Based on the Parthenon in Athens, construction started in 1826 and finished abruptly in 1829 when the project ran out of funds.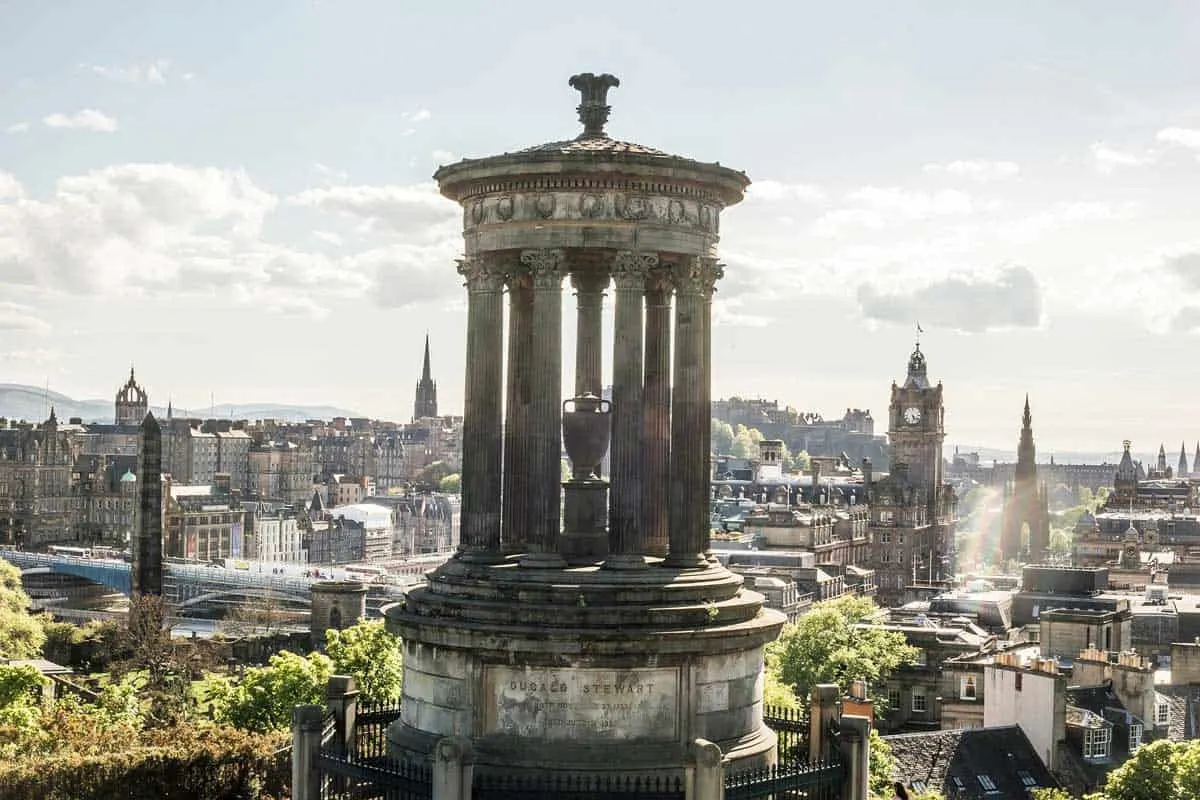 The monument also has other rather unflattering nicknames – 'Scotland's Folly' and 'Edinburgh's Disgrace', among others. You can judge for yourself. It's still a striking piece of architecture and cuts a dramatic picture when bathed in the light of golden hour.
Other landmarks on Carlton Hill include the Dugald Stewart Monument, the City Observatory and Nelson's Monument, a tall tower with opportunities to climb to the top for £3. There you're treated to panoramic views of the city below, although you can still get almost the same effect wandering the circumference of Carlton Hill. Plus, it's free.
Climb Arthur's Seat
One of the best things to do in Edinburgh for free is climbing up Arthur's Seat. Located in Holyrood Park, the volcanic hill dominates the skyline and offers panoramic views of the city below and out towards the sea. This attraction can get busy so try to go fairly early in the morning if you want to escape the crowds.
Beautiful as it is, the climb is not without effort and sturdy shoes that you don't mind getting a bit muddy are recommended. The steep ascent is a little scrambly nearer the top but you're certainly rewarded.

An especially good activity if you don't have time to venture out towards the Scottish Highlands where you'll find some of the best hiking in Scotland, if not the UK. The Arthur's Seat climb gives a brief snapshot of what the Highlands are like with its purple heather, mini lochs and rolling hills.
Once you've made it to the top, head down towards the picturesque ruins of St Anthony's Chapel which stands on a rocky outcrop overlooking St Margaret's Loch.
---
You Might Also Like: Discover some of the UK's Best Self Guided Walking Holidays including some fantastic Scottish walking itineraries.
---
The Royal Botanic Garden
One mile from Edinburgh's city centre are the Royal Botanic Garden. Seventy Two acres of stunning landscape with perfectly pruned gardens dating back to the 17th century which you can visit for free. From the gardens you have views out towards the Edinburgh skyline with Edinburgh Castle above it.
You can also spot plants from around the world in gardens such as the Chinese Hillside, the Rock Garden, the Alpine Houses and the Scottish Native Plants Collection.
The Royal Botanic Garden is also home to dedicated research centres covering topics including Tropical Diversity, Genetics and Conservation, Cryptogamic Plants and Fungi and Major Floras.
This research has made them a world leader in botanical science. Work that has been critical to understanding the effects of climate change on biodiversity loss across the globe.
St Giles' Cathedral
You can hardly miss the striking St Giles' Cathedral located on the Royal Mile. Founded in 1124, it predates most of Edinburgh's Old Town and has a rich history to match.
It's still a working church today but visitors can still take a tour at their own pace to see its intricate wooden interior, gold-leaf ceiling and high stained glass windows.
Entry to St Giles' Cathedral is free but for £6 you can visit the cathedral rooftop for surrounding views of the Royal Mile below. These small-group tours usually run at the weekend and all bookings are taken on the day.
Visit Free Museums in Edinburgh
There are many free museums in Edinburgh and one of the best is the National Museum of Scotland. An excellent choice on a cold, rainy day or if you want to soak up some Scottish and world history. The museum has exhibitions on natural history, design, fashion and more.
Another popular museum is the Writer's Museum and Makars Court. Here you'll find exhibitions dedicated to the lives and works of Scottish literary figures. Featured literary giants include the likes of Robert Burns, Sir Walter Scott and Robert Louis Stevenson as well as rare book collections, personal possessions and manuscripts.
Head to the Museum of Childhood for a treasure trove of retro toys from the mid-19th century to the present day. One highlight you can see is a Steiff teddy bear which travelled out of Vienna with its owner on the last kindertransport train which rescued Jewish children from Nazi Germany in 1939.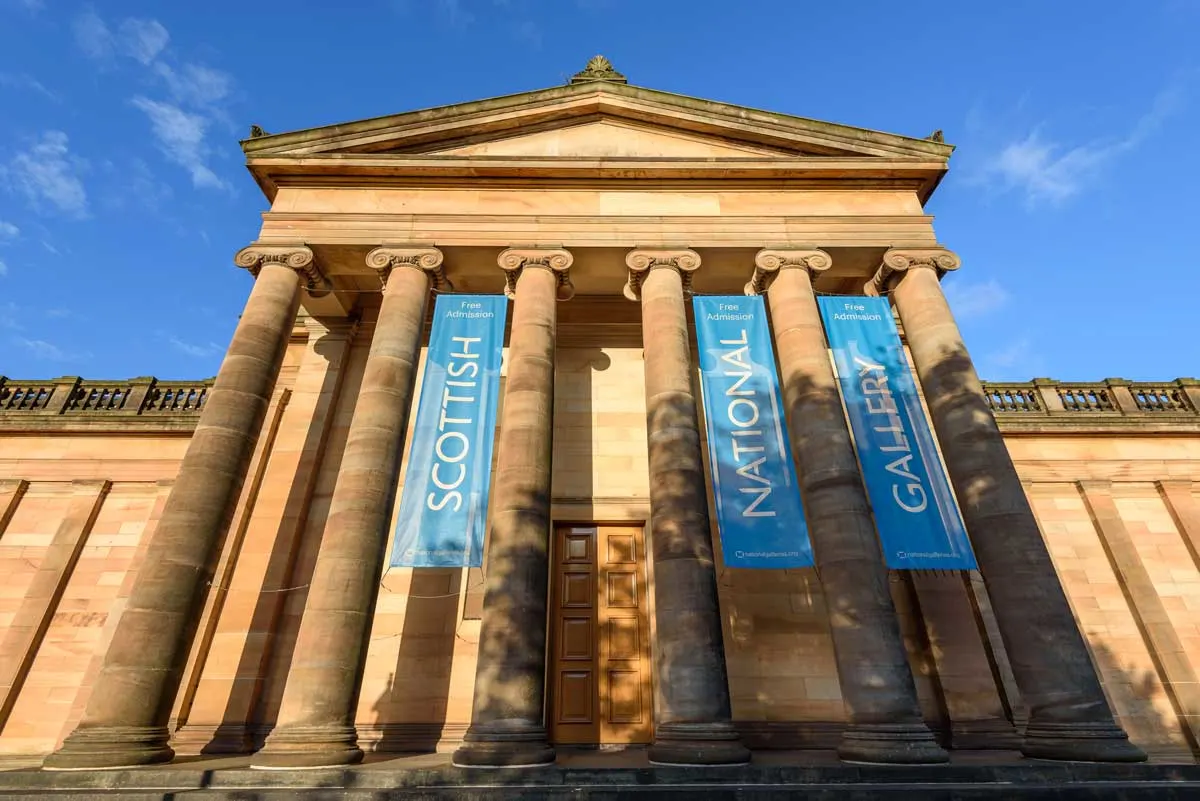 Visit the Scottish National Gallery
If you're an art lover, visiting the Scottish National Gallery in the heart of Edinburgh is a must. Inside you'll find a fine art collection that dates back to the early Renaissance through to the 19th century.
Stroll through its three galleries and spot collections from the likes of Raphael, Vermeer, Monet, Cézanne and Van Gogh. You can also observe the history of Scottish painting with works from Raeburn, Ramsay, McTaggart and Wilkie.
There's also an on-site shop and award-winning cafe and restaurant. Enjoy sweet treats and dishes made with ingredients from some of Scotland's finest producers.
Entrance to the gallery is free but you might need to book time slots in advance due to pandemic restrictions.
---
You Might Also Like: Navigate the world of British food including Scottish specialties such as Haggis, Neeps, and Tatties with our guid to 10 Classic Meals to Try in the UK.
---
Visit Victoria Street and Grassmarket
Just off the Royal Mile is the gently curved Victoria Street. Sloping downwards, the cobblestone street is lined with brightly coloured shop fronts and Flemish-style architecture.
This street has an intriguing history. Most notable is the story of one of its most infamous residents, Thomas Weir, who was executed for it in 1670 for voluntarily confessing to witchcraft.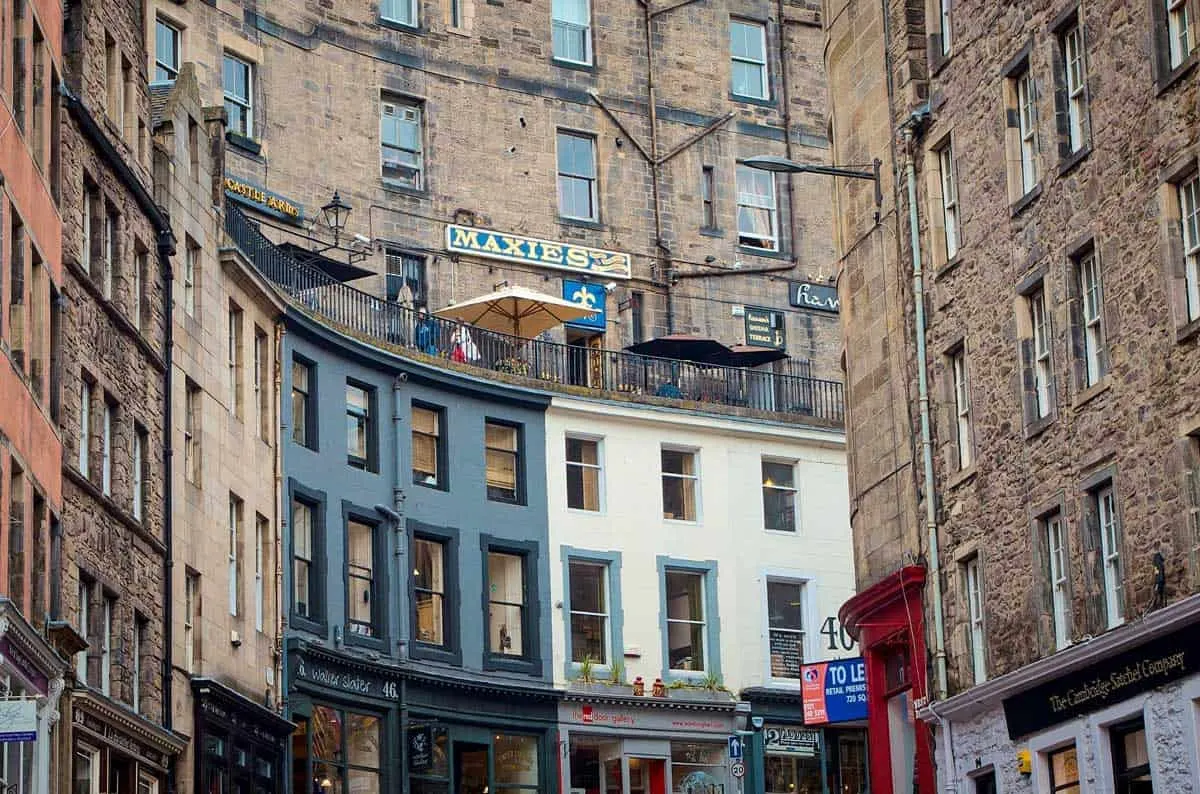 Magic is still a modern day feature of Victoria Street and its quirky, colourful style is said to be the inspiration behind Harry Potter's Diagon Alley. There's also a dedicated Harry Potter merchandise shop which is well worth a look.
As you walk down Victoria Street, you come out on to Grassmarket, a historical neighbourhood with a medieval marketplace that was once the site of public executions. You can also get spectacular views of Edinburgh Castle from here.
If you want to learn more about Grassmarket while you're there you can pick up the Edinburgh Greater Grassmarket Historic Trail map for free from any shop in the area.
Admire Edinburgh Castle and the Palace of Holyroodhouse
A visit to Edinburgh is incomplete without dropping by Edinburgh Castle and the Palace of Holyrood House. Both have admission fees to get inside, but don't let that stop you from admiring their perimeters up close for free.
Edinburgh Castle is a military fortress that watches over the city below and guards the Scottish Crown Jewels. It allows visitors during the day and lights up at night so you can always feel its presence.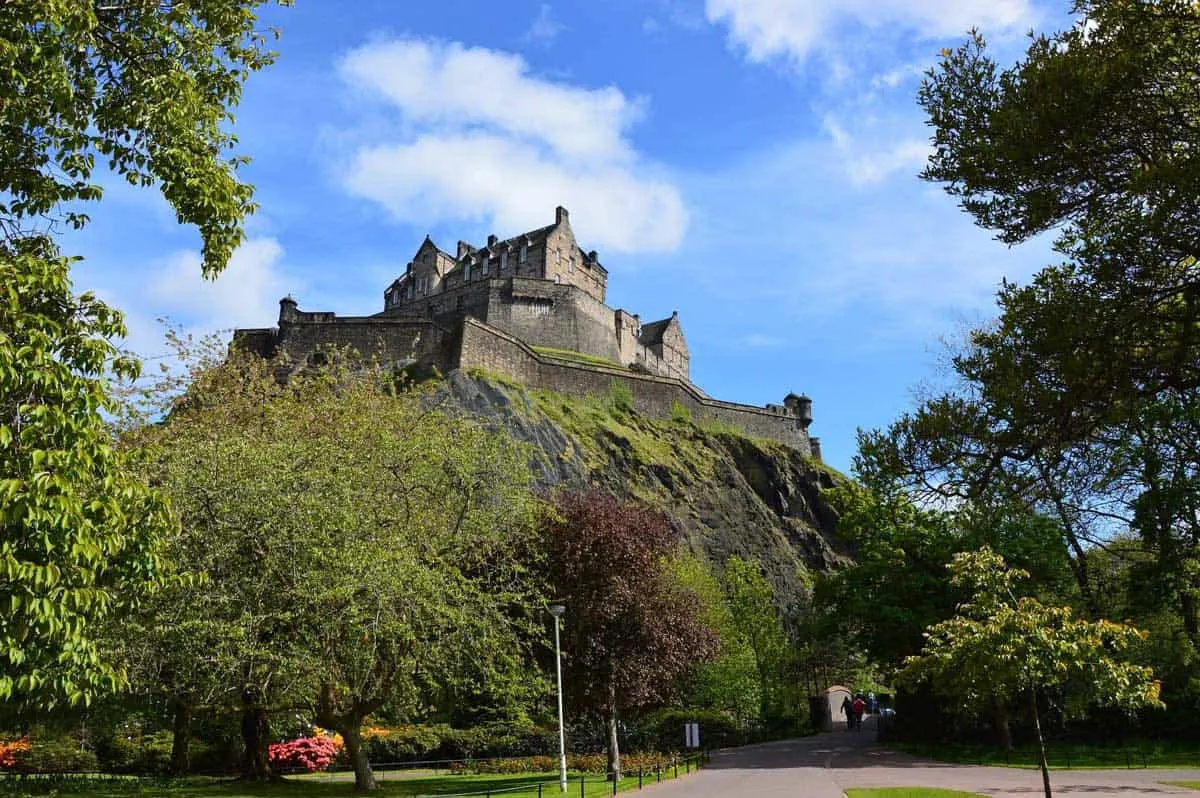 Located on Castle Rock, the walk up to the castle takes you up the Royal Mile, past sweet little shops and street performers. If you want to get a good photo of it, one of the best places is Vennel, a staircase that leads from Grassmarket to Lauriston Place. The perfect setting for the money shot – all for free.
Situated at the other end of the Royal Mile, the more modern Palace of Holyroodhouse is the official residence of the British monarch on her visits to Scotland.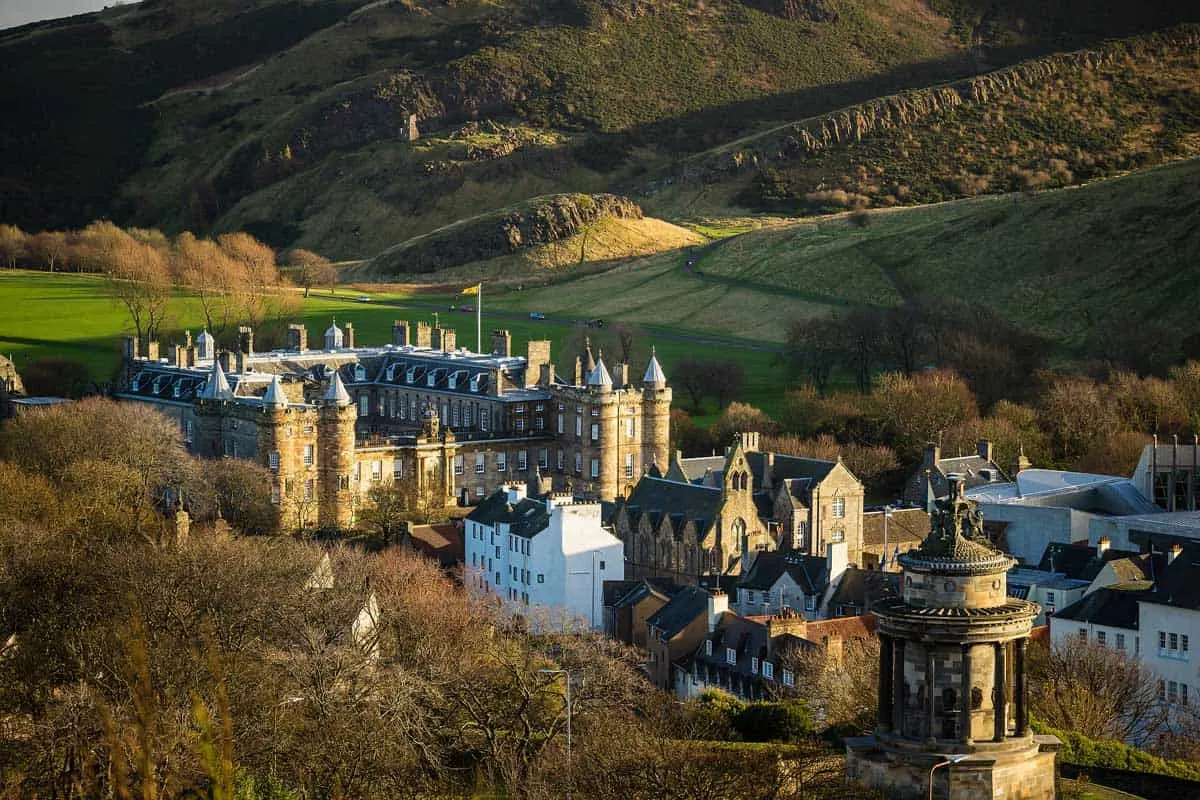 Founded as a monastery, it was turned into a palace in the 16th century during the reign of James IV and became the home of Mary, Queen of Scots during her tumultuous lifetime.
Dean Village
One of the most remarkable things about Edinburgh is that parts of it feel like you've wandered into a quintessential village rather than the capital of Scotland. Once such a place is Dean Village.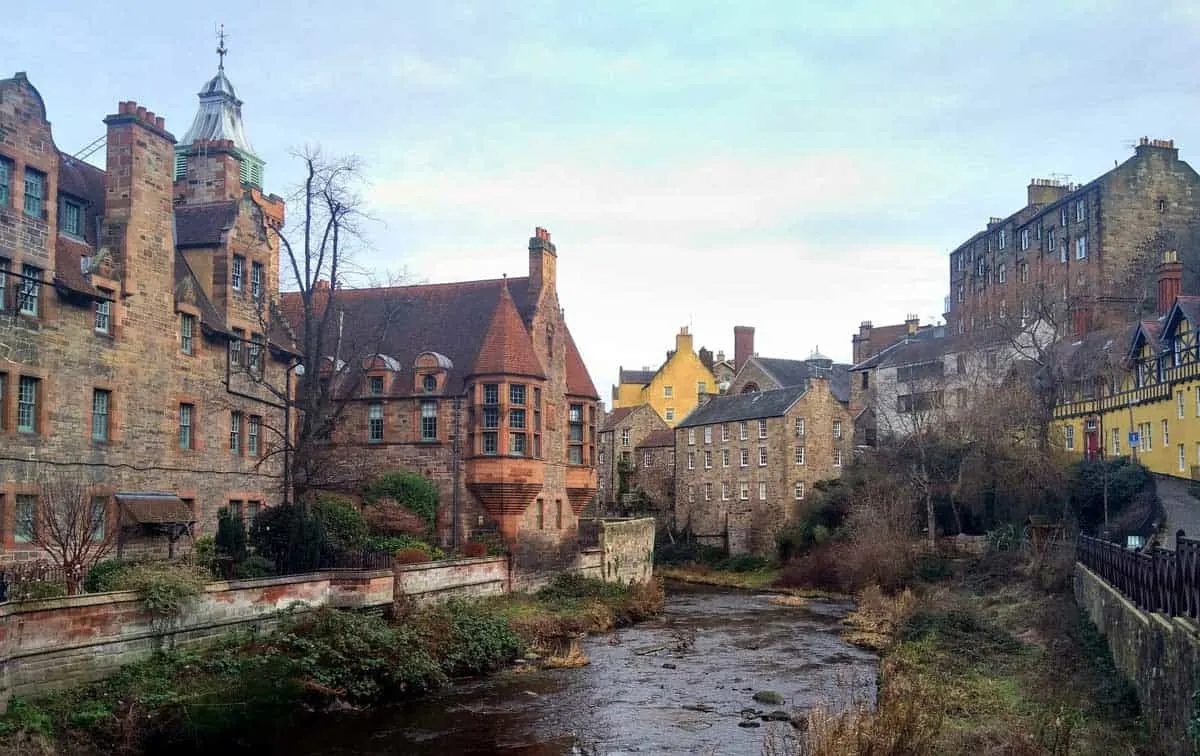 Just a five minute walk from Princes Street, Dean Village is a peaceful setting by the Water of Leith. This site was once the home of water mills and you can still see remnants of its past in the form of mill stones and stone plaques with symbols of bread and pies hidden throughout the village.
In the heart of the village is the iconic Well Court. Built in the 1880s to house local workers, the building is one of the most photographed spots in the city.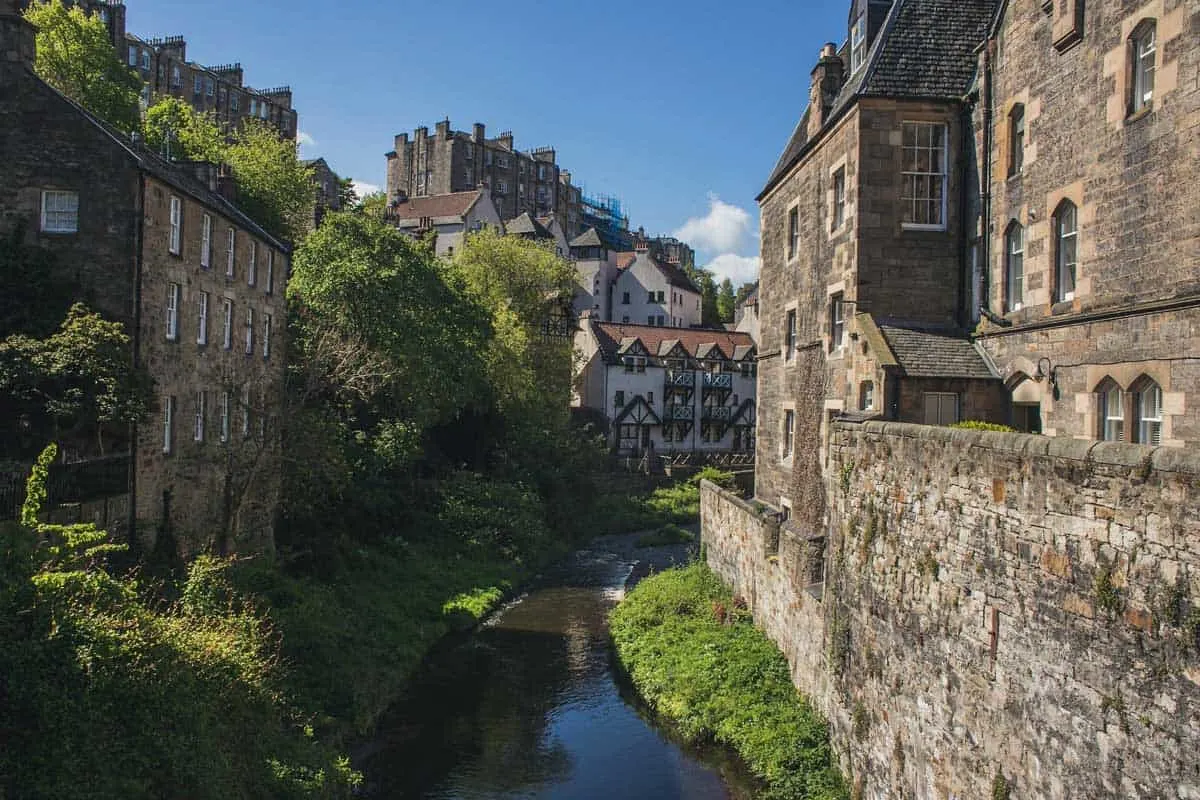 While you're there, take a short walk to the Dean Gallery and the Scottish National Gallery of Modern Art which are both free entry.
As you can see, there's plenty to do and see in Edinburgh for free. Whether it's admiring spectacular architecture, following hidden passages to secret gardens or taking in the art and culture, a visit to Edinburgh can be as budget-friendly as you like.
About the Author
Francesca Brooking
Francesca is the founder of Little Lost Travel, a sustainable travel blog about finding ways to travel more responsibly and authentically without breaking the bank. She writes about eco lodges, ecotourism destinations and people doing their bit for the environment any way they can.