Hiking in Scotland is very popular thanks to the world-famous Munros. Munros, by definition, are mountains in Scotland over 3000 feet (914 meters).
The beauty of Scotland's Munros is they are all unique. Towards the east of Scotland, most of the mountains are broad, round, gradual, slopes. Some of the easterly Munros feature arctic tundra – the only instances in the whole of the UK. In the west, the Munros tend to form more jagged peaks.
Hiking Destinations in Scotland
Five of the best destinations for hikers visiting Scotland are Ullapool, Fort William, Aviemore, Skye and Crianlarich.
In this guide to hiking in Scotland, we've compiled some fantastic 2-day hiking itineraries for each of these destinations to help you experience the best hillwalking in Scotland.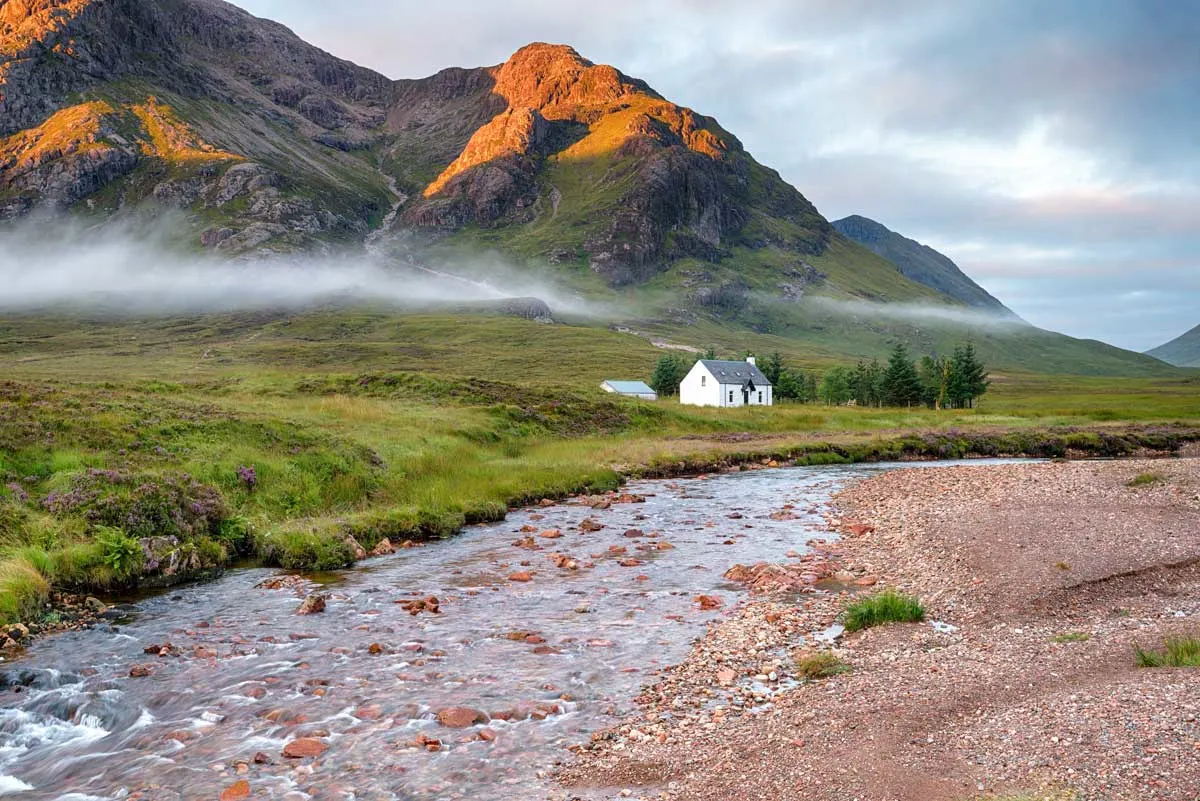 Hiking Safety
Be aware that hiking in Scotland during the winter months can be extremely dangerous. Weather conditions can deteriorate rapidly, and some hikes mentioned in this article are in remote areas where help may not always be available in emergencies.
Always make sure you are fully prepared and appropriately dressed for the season's weather conditions. In winter make sure you carry an ice axe and crampons. All year round make sure you have a map and compass, and the knowledge to use them. Walking or trekking poles are also a welcome addition on some trails.
---
Best Hikes and Hill Walking in Scotland
2 Day Ullapool Hiking Itinerary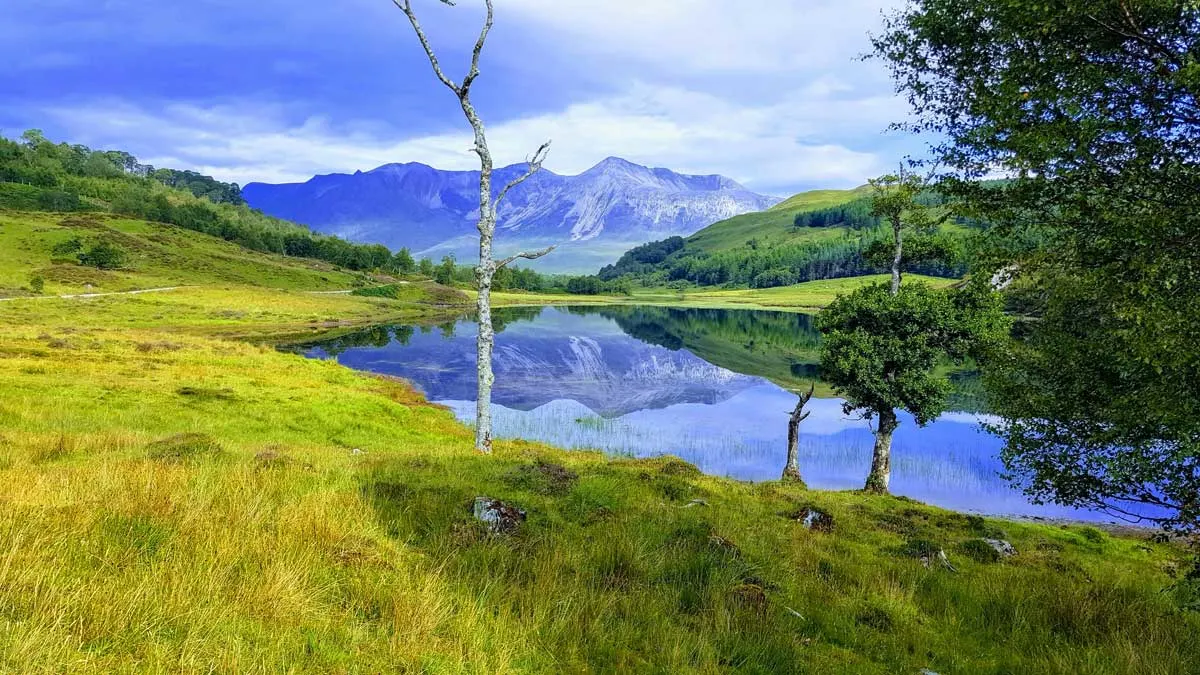 Ullapool is a quaint fishing village in the North West of Scotland. There are plenty of things to do in Ullapool itself, but hill walking is one of the main attractions. From Ullapool, you can scale the Torridon Hills, Liathach, Beinn Eighe, Beinn Alligin and Slioch.
Ullapool is also a great base camp for climbing An Teallach, a mountain whose name in Gaelic translates to "the anvil of the gods".
However, on its doorstep, Ullapool has access to the Ben Dearg group; Ben Dearg, Cona Mheall, Meall nan Ceapraichean and Eididh nan Clach Geala.
Day 1 Ullapool Hiking Itinerary Torridon: Liathach or Beinn Eighe
Make the hour and a half drive from Ullapool to Torridon. You have a long day ahead of you so best to steer clear of the pub the night before and get an early start.
The Torridon Munros, at over 500 million years old are some of the oldest and most spectacular mountains in the world. We have picked Liathach and Beinn Eighe hikes for you to choose from as they are by far the most beautiful.
Beinn Eighe
Allow 7-9 hours depending on your fitness level.
Beinn Eighe is slightly easier than Liathach and not as exposed – a fine Munro with two tops; Ruadh-Stac Mor and Spidean Coire nan Clach.
Liathach
Allow 10 hours for this hike.
Liathach is by far the most impressive Munro in Torridon. Many hillwalkers rate Liathach as Scotland's finest Munro.
The Liathach Munro is not for the faint-hearted as traversing the Am Fasarinen pinnacles leaves you significantly exposed. However, there is a bypass route that avoids overexposure.
Day 2 Ullapool Hiking Itinerary An Teallach or the Ben Dearg Group
Make sure you roll out of bed bright and early for another full and exhilarating day of hiking in Ullapool.
Depending on your fitness level, and mood, take the 30-minute drive to An Teallach or the 10-minute drive to Ben Dearg.
To help you decide – If you are an experienced hiker, feel free to choose An Teallach. If you are not as skilled or feeling a little shy from the day before, Ben Dearg may be a better choice.
An Teallach
Allow a good 11 hours for the An Teallach hike.
An Teallach holds a reputation as Scotland's most stunning Munro. The traverse includes several ridges, views of the Scottish Isles and will leave you with memories to last a lifetime.
However, An Teallach is only suitable for competent navigators and those with a stomach for heights. There are several exposed sections of the ridge. To hike Bidein a Ghlas Thuill and Sgurr Fiona, the two Munros that make up An Teallach, you will need the best part of 11 hours so make sure you set off in time.
Ben Dearg Group
Allow 11 hours for the Ben Dearg hike.
Driving into Ullapool, you will most likely come from the South and as you do, pass a truly spectacular Munro. A Munro begging to be climbed – the majestic Ben Dearg.
The Ben Dearg hike makes up no fewer than four Munros: Beinn Dearg, Cona Mheall, Meall nan Ceapraichean and Eididh nan Clach Geala with a genuinely spectacular traverse offering views over Loch Broom and Loch Glascarnoch. Again, if you choose this hike, leave early enough to allow sufficient daylight.
---
2 Day Fort William Hiking Itinerary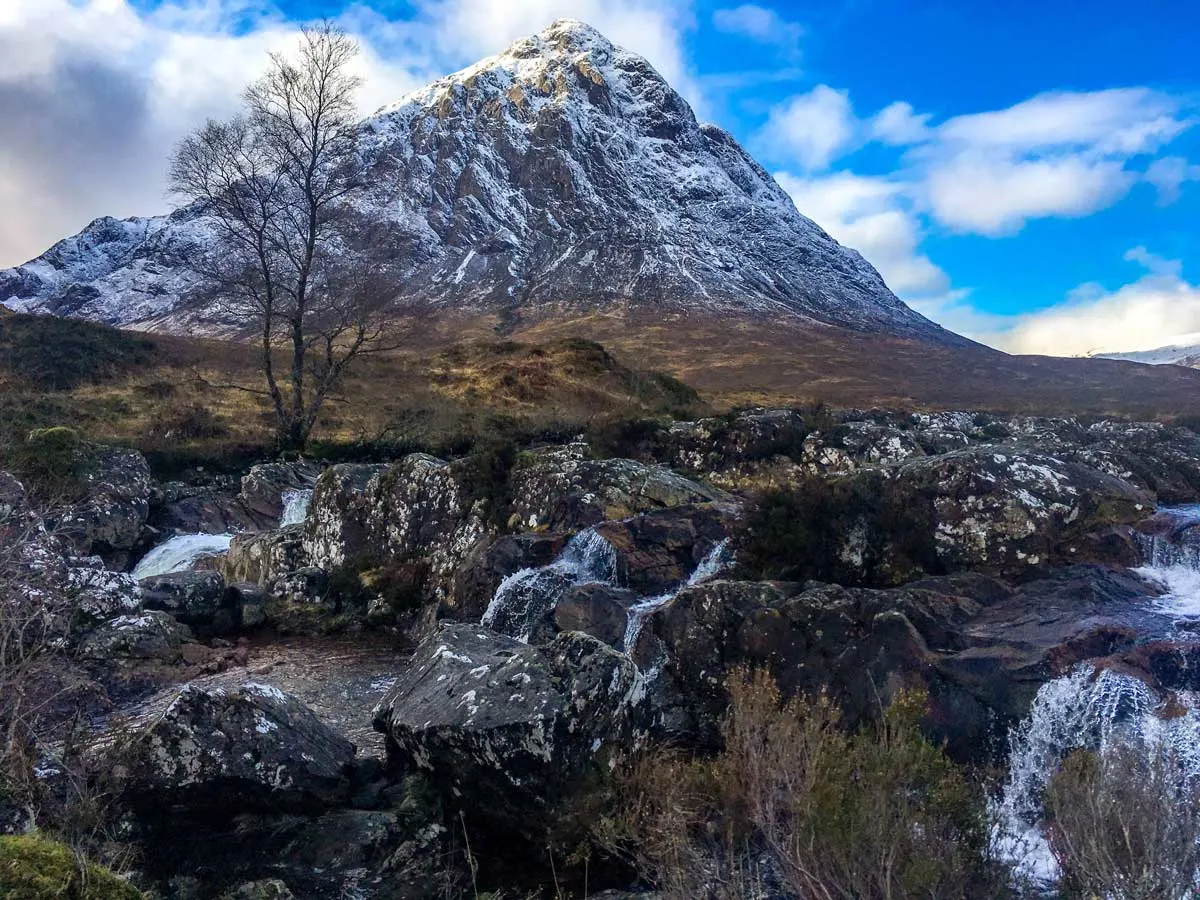 Fort William holds the crown as the outdoor capital of the UK. It's easy to see why with access to the Nevis Range, Glen Coe and The Mamores.
If you are visiting Fort William and planning on having a hike-free day, check out this guide to things to do in Fort William. Also, if you are planning to camp in Fort William, you might want to check these tips for wild camping in Scotland first.
For your two days in Fort William, we have had to work hard to eliminate several strong contenders and keep your itinerary as focused as possible.
Our Top Tip for Fort William
Avoid Ben Nevis. Yes, it's the highest point in the UK, and yes, the views are great. However, it's far too busy, and there are much better options closer at hand.
Day 1 Fort William Hiking Itinerary: Bidean Nam Bian or Buachaille Etive Mor
Take the spectacular drive through Glen Coe – one of Scotland's most picturesque locations. To your right, you will see the jagged peaks of the Aonach Eagach, a notoriously difficult ridge that begins south of the Pap of Glencoe.
Today you will be climbing either Bidean Nam Bian, a technical Munro and the highest around, save the Ben Nevis range. Or, Buachaille Etive Mor, which is still a technical Munro, but is slightly easier, save one section before the bleach is reached.
Bidean Nam Bian
Set aside 9 hours for this hike.
From the road, Bidean Nam Bian looks like a magnificent, unassailable wall of rocks with three tremendous ridges on its northern side known as the Three Sisters.
The hike includes Bidean Nam Bian itself, the highest point in the old country of Argyll, and Stob Coire Sgreamhach. The traverse also includes the famous Lost Valley. It is here the clan Macdonald was known to hide their sheep in a large depression in the mountain formation unnoticeable from the road.
It's worth a walk up here just to reach the Lost Valley itself – the place is truly enchanting.
From the summit; the views include Glen Coe, across to the Nevis range, and a peek into the Knoydart Peninsula.
Buachaille Etive Mor
Set aside 9 hours for this hike.
Made up of two peaks; Stob Dearg and Stob na Broige, Buachaille Etive Mor translates to "The Great Herdsman of Etive", and is probably Scotland's most icon Munro. If there is one mountain in Scotland that will take the "I climbed that" pride of place in the years to come, Buachaille Etive Mor is it.
The Munro sits at the head of Glen Etive, a glen that runs off Glen Coe. Immediately in front of Buachaille Etive Mor, the dramatic southern cliffs give way to the vast expanse of the Rannoch Moor.
Across this flat expanse of moorland, hikers are treated to views of Schiehallion ("Hill of the Caledonian Fairy Queen in Gaelic) and down Glen Etive.
Buachaille Etive Mor, Glencoe Guided Hike Recommendation
Prefer to tackle this hike with an experienced mountain leader? It is possible to experience the majesty of one of the most iconic mountains in Scotland with a friendly and experienced mountain leader. Guided hikes start from as little as €49 and will take 7-9 hrs. See here for full guided hike details.
Day 2 Fort William Hiking Itinerary: The Ring of Steall or the South Glen Shiel Ridge
After exploring Glen Coe in all her majesty, you could be forgiven for feeling like your hiking experience in Scotland had reached its climax. Fear not, day 2 has a couple of absolute 'belters' in store for you, no matter which one you pick.
Both hikes include fantastic ridges and unrivalled views. The Ring of Steall is the more technical and exposed ridge of the two. The South Glen Shiel Ridge is hours of fairly straightforward ridge, knocking Munro after Munro off the to-do list.
The Ring of Steall
Set aside 12 hours for this hike.
The Ring of Steall is a fantastic 15 km east to west ridge walk that includes four Munros:
An Gearanach
Stob Coire a' Chairn
Am Bodach
Sgurr a' Mhaim
Walking up the initial ascent you will pass by the Falls of Steall, a spectacular hike in itself. The ridge itself would be pretty straightforward if it weren't for An Gearanach, the first Munro.
The lead up to this top features a 5-10 minute section which is moderately exposed. Apart from that, the rest of the ridge is relatively straightforward.
Throughout the majority of the ridge, hikers get excellent views of the Grey Corries, Ben Nevis and the spine of the Mamores that make up the ridge itself.
The South Glen Shiel Ridge
Allow 9-11 hours for this hike in good conditions.
Nowhere else in Scotland can you climb 7 – Yes, 7 Munros in one day by the book. The South Glen Shiel Ridge is 25km of fairly straightforward Munro bagging.
The ridge includes seven Munros:
Creag a' Mhaim
Druim Shionnach
Aonach Air Chrith
Maol Chinn-dearg
Sgurr an Doire Leathain
Sgurr an Lochain
Creag nan Damh.
Those who are lucky enough to cross the ridge are treated with views of the ridge the full way, as well as other peaks and Glen Shiel below.
Important South Glen Shiel Ridge Tip
Bear in mind; this hill walk finishes 9 km away from the start point. It's a good idea to book a taxi when descending the final Munro Creag nan Damh.
---
Want More Walking Holiday Ideas for the UK? We've got some of the UK's Best Self Guided Walking Holidays
---
2 Day Aviemore Hiking Itinerary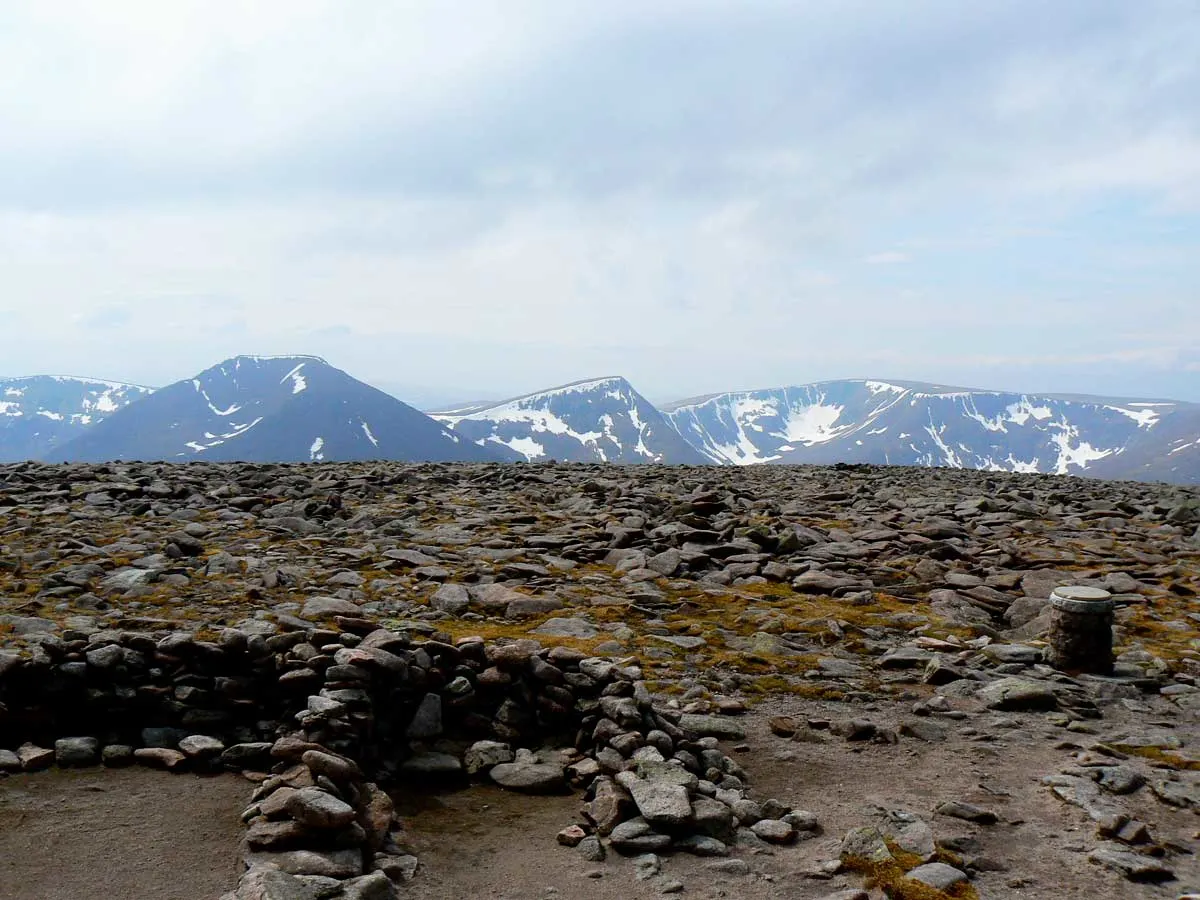 Aviemore is the gateway to The Cairngorms; Scotland's largest national park. Within the Cairngorms are five of the six highest mountains in the British Isles:
Ben Macdui
Braeriach
Cairn Toul
Sgor an Lochain
Cairn Gorm.
The Cairngorms also features the only Arctic Tundra in the whole of the UK. This vast mountain range has won the hearts of many an avid hiker. One of the big pluses is many of these high Munros are relatively easy to climb as you start from a high vantage.
Every Munro in the Cairngorms is special. However, we have narrowed it down to two fantastic hikes in the Cairngorms.
Day 1 Aviemore Hiking Itinerary: Ben Macdui and Cairngorm
Set aside 8 hours to hike Ben Macdui and Cairngorm.
Ben Macdui is Scotland's 2nd highest Munro, while Cairngorm is the 6th highest. From Aviemore, drive towards Rothiemurchus and continue until you reach the Cairngorm Ski Centre which puts you beyond 600 meters – a great head start.
Completing both Ben Macdui and Cairngorm in one day is relatively easy thanks to the head start setting off from the ski centre gives you.
Good navigation skills are needed for this walk as the terrain can be bleak walking from the east of the Fiacaill Buttress across to Ben Macdui and from Ben Macdui across to Cairngorm.
Hikers are rewarded with striking views across the Lairig Ghru towards mighty Braeriach and Cairn Toul as well as a close-up view of the impressive Fiacaill Buttress.
Cairngorm itself isn't very impressive. However, hiking Cairngorm after Ben Macui offers the added benefit of a funicular railway to take you part of the way down the Cairngorm plateau.
Day 2 Aviemore Hiking Itinerary: The Braeriach Traverse. Braeriach, Sgor an Lochain, Cairn Toul and The Devil's Point
Set aside at least 13 hours for this hike. (option of overnight stay and break into two days)
Day two is a big one on this Scottish hiking itinerary. Scale the 3rd, 4th, and 5th highest peaks in the British Isles with The Devil's Point (ranked 131 by height) thrown in for good measure.
The Cairn Toul – Braeriach Traverse is by no means an easy hike. Hikers must be extremely fit to complete the traverse in one single, epic day.
Those who brave the hike are rewarded with unrivalled views into the Lairig Ghru, as well as spectacular views of the greater Cairngorm Plateau.
You can break the hike up into two days by staying in the Corrour Bothy or pitching a tent in the Lairig Ghru.
---
2 Day Crianlarich Itinerary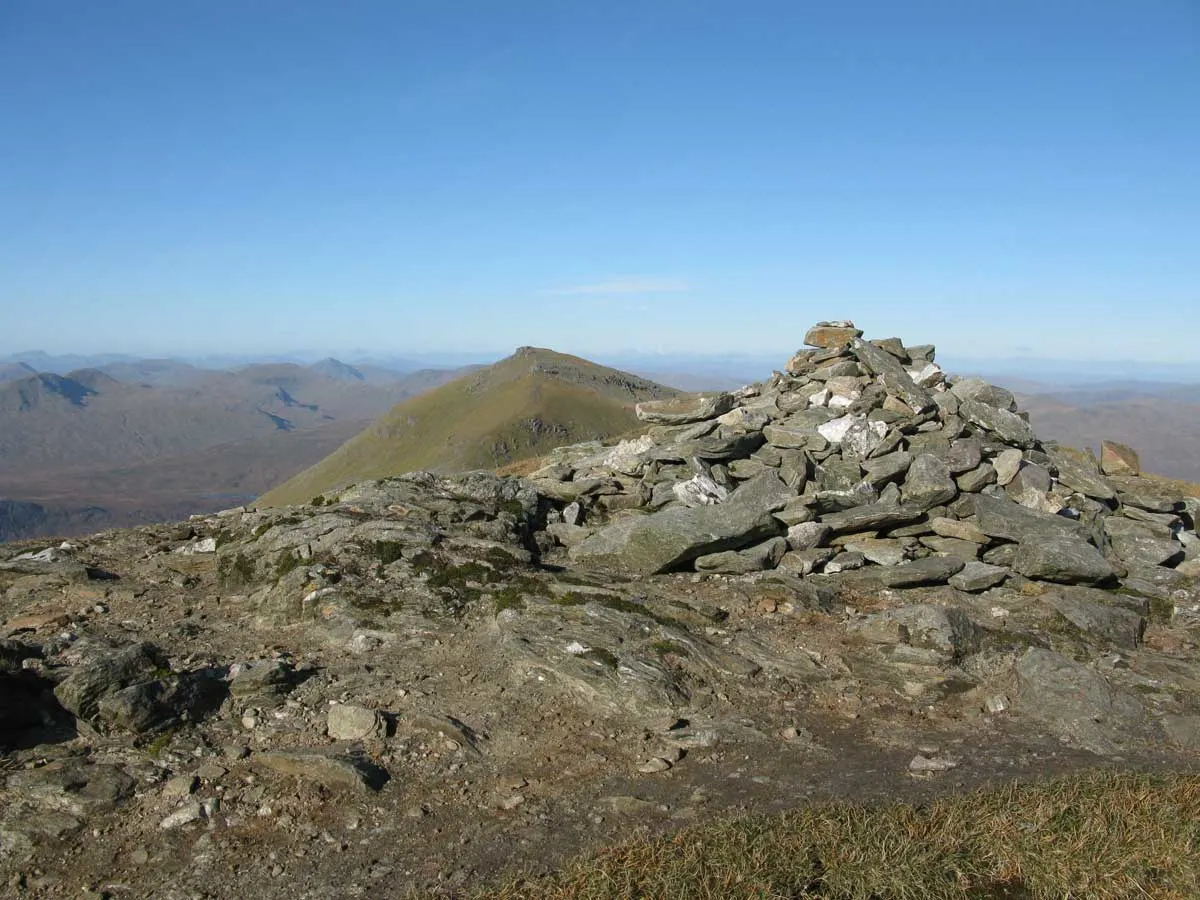 Crianlarich is surrounded by dozens of tempting Munros and gives easy access to the Ben Lawers Group, The Crianlarich Hills, and the Tyndrum Hills. It is even a pretty good base for conquering the Glen Lyon group.
Day 1 Crianlarich Hiking Itinerary: Meall nan Tarmachan or Ben Lawers via Beinn Ghlas
Both of these hills start a 25-minute drive away from Crianlarich in the Ben Lawers Nature Reserve. The drive up to the starting point takes you above 400 meters, which gives you a great head start for both hikes.
Meall nan Tarmachan
The Meall nan Tarmachan hike will need at least 7 hours
Meall nan Tarmachan is one of the easiest and best ridges in Scotland. The walk up to the summit of Meall nan Tarmachan isn't special, and many Munro baggers leave the mountain after reaching the summit. Poor souls.
The best part of this Munro is the easy to walk Tarmachan Ridge that stretches on past the summit. From the summit and throughout the ridge, hikers are rewarded with unobstructed views of the Ben Lawers group, Glen Lyon, Ben More and Stob Binnein and even as far as Ben Vorlich (Loch Earn) and Stuc a'Chroin.
Ben Lawers via Beinn Ghlas
Allow 4-6 hours for this hike.
Ben Lawers is the 10th highest Munro in Scotland, but the high start makes it one of the easiest and quickest Munros to climb if you bypass Beinn Ghlas.
Beinn Ghlas, a Munro in its own right, is often forgotten due to being dwarfed by Ben Lawers. Many hillwalkers don't realise that they have climbed a Munro already when standing atop Beinn Ghlas as the natural route leading up to Ben Lawers includes Bheinn Ghlas.
Hikers are rewarded with views of Glen Lyon, Loch Tay, the rest of the Ben Lawers group and the Tarmachan Ridge stretching off behind Meall nan Tarmachan.
Ben Lawers Hike Tip
If you are looking for a more challenging hike, An Stuc, Meall Garbh and Meall Greigh can be traversed after you reach the summit of Ben Lawers. It is much more of an intense day, only suitable for those of a higher level of fitness.
Day 2 Crianlarich Hiking Itinerary: Ben More and Stob Binnein or Ben Lui and Beinn a'Chleibh
On day two, pull yourself away from the beauty of the Lawers Range. You have the choice of two excellent and challenging hikes.
Ben More and Stob Binnein
Allow 8 hours for this hike
Give yourself a lie in if you are tackling Ben More and Stob Binnein as the hike begins only 10 minutes away from Crianlarich at Ben More Farm.
The walk up Ben More is steep and a little relentless. However, once summated, the hike from summit to summit is much easier when traversing towards Stob Binnein.
Hikers who tackle these two Munros are rewarded with stunning views across Loch Tay towards yesterday's Munros. You will also have excellent views towards Cruach Ardrain and Beinn Tulaichean to the immediate west, and Ben Vorlich (Loch Earn) and Stuc a'Chroin to the South. On a clear day, you can also see Ben Lomond.
Ben Lui and Beinn a'Chleibh
Allow 7 hours for this hike.
A slightly further drive than Ben More and Stob Binnein, Ben Lui and Beinn a'Chleibh are two fantastic Munros.
Hikers are rewarded with expansive views across to Ben Oss and Ben Dubhchraig, as well as spectacular views south of the Arrochar Alps. Ben Cruachan dominates the skyline to the northeast.
---
2 Day Skye Hiking Itinerary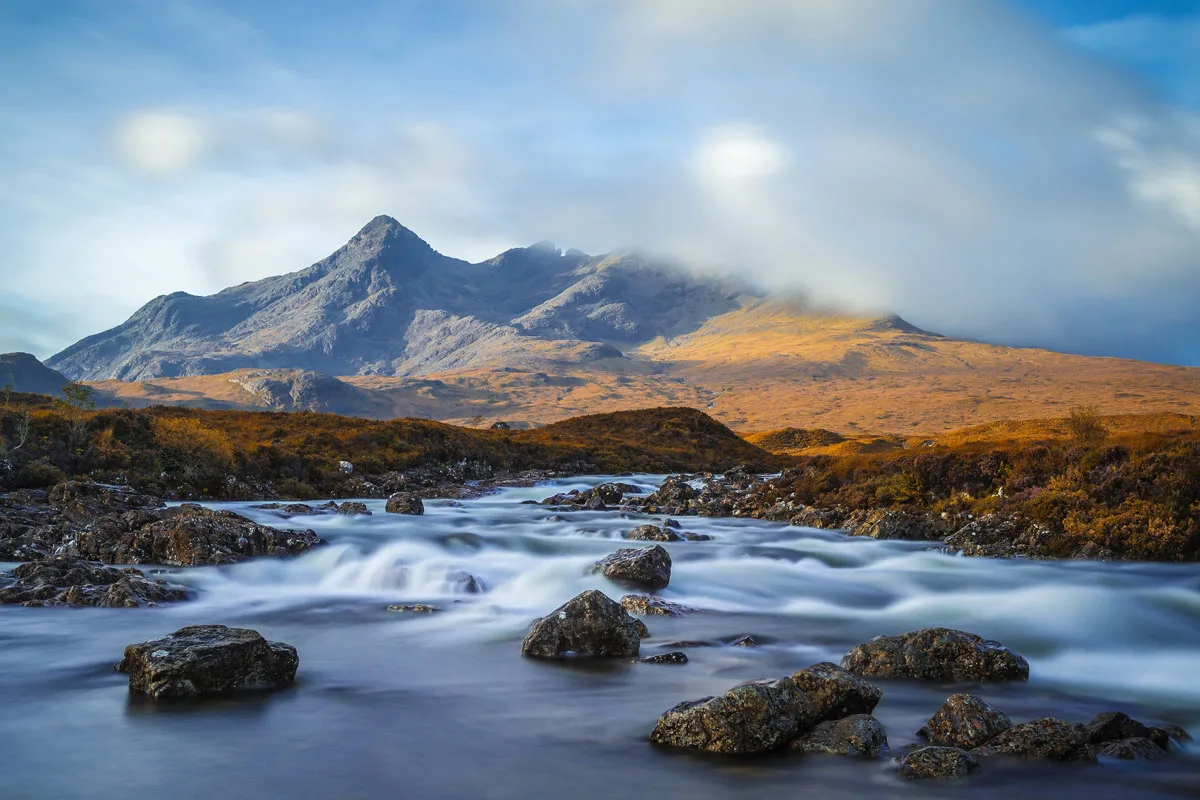 Before we take a look at some of the fantastic hikes Skye has to offer, we need to talk quickly about safety.
The majority of the peaks in Skye, including the infamous Cullin Ridge, are notoriously tricky. The author of this post is a semi-experienced hiker, but would only venture onto the Cullins with a local hiking guide.
It's not Mount Everest, but there are many long stretches of extremely exposed sections of ridge in the Cullins. Bring a head for heights with you.
Day 1 Skye Hiking Itinerary: Bla Bheinn
Allow 6-7 hours for this hike
Bla Bheinn is a large rock formation that looks pretty much unassailable from the road. However, with careful scrambling skills, this hike is do-able.
One of the more accessible Munros in Skye, it still poses a challenge for experienced climbers. The mountain stands somewhat apart from the Cullin Hills. Hikers get some of the best views of the Cullin ridge alongside near panoramic views of the Hebrides, Skye and the mainland. You can even spot some of the Torridon hills on a clear day.
Day 2 Skye Hiking Itinerary: Sgurr Alasdair or Sgurr nan Gillean
Brace yourself. While this hike offers a fun-filled, exciting day, both walks have several airy exposed sections.
Both Munros form part of the Cullin Ridge staring ominously at one another from opposing ends of the ridge. Sgurr Alasdair is the highest Munro in the Scottish Islands, whereas Sgurr nan Gillean was recently voted best Munro to climb by Walkhighlands users.
Sgurr Alasdair
Allow at least 7 hours for this hike depending on skill level
Ascending Sgurr Alasdair, you will have to wrestle your way up the Great Stone Chute. The going here is pretty tough. Over the years, the footfall up the Great Stone Chute has pushed a lot of smaller stones to the bottom of the scree chute, making it pretty hard going. Walking poles are advised.
The views from Sgurr Alasdair are second to none. The Sgurr Alasdair summit has a near-vertical drop which yields perfect, dramatic views of the rest of the Cullins.
Sgurr nan Gillean
Sgurr nan Gillean features an excellent south-east ridge leading up to the summit. From here hikers get a magnificent view of the whole Skye Ridge.
The going is quite tricky, and you should have a good head for heights, but it will be worth it when you arrive at the tiny summit, the views are fantastic!
About the Author
Graham Grieve
Graham has spent the past 26 years climbing the Scottish Munros. His favourite places in Scotland are the Cairngorm Plateau and Torridon, though anywhere where a decent day on the hills is on the cards will do.You will find him in Ullapool during the summer or planning his next hike in his home town of Glasgow during the colder months. Still too 'feart' to solo hike in Skye.You can tap into more of Graham's knowledge of all things Scotland at My Voyage Scotland.