What to Pack For a Walking Holiday
In some ways, deciding what to pack for a walking holiday is no different than what you might pack for any holiday – the destination, expected weather and planned activities usually determine what we take.
Sightseeing in a European city mid-winter requires a different wardrobe than relaxing at a Mediterranean beach resort in summer.
A walking or hiking holiday is no different. Our hiking packing list for walking in the Cotswolds in October wouldn't be quite the same as the walking gear we needed to explore Cyprus' sun-kissed Akamas Peninsular in May or hiking in Boulder Colorado in January.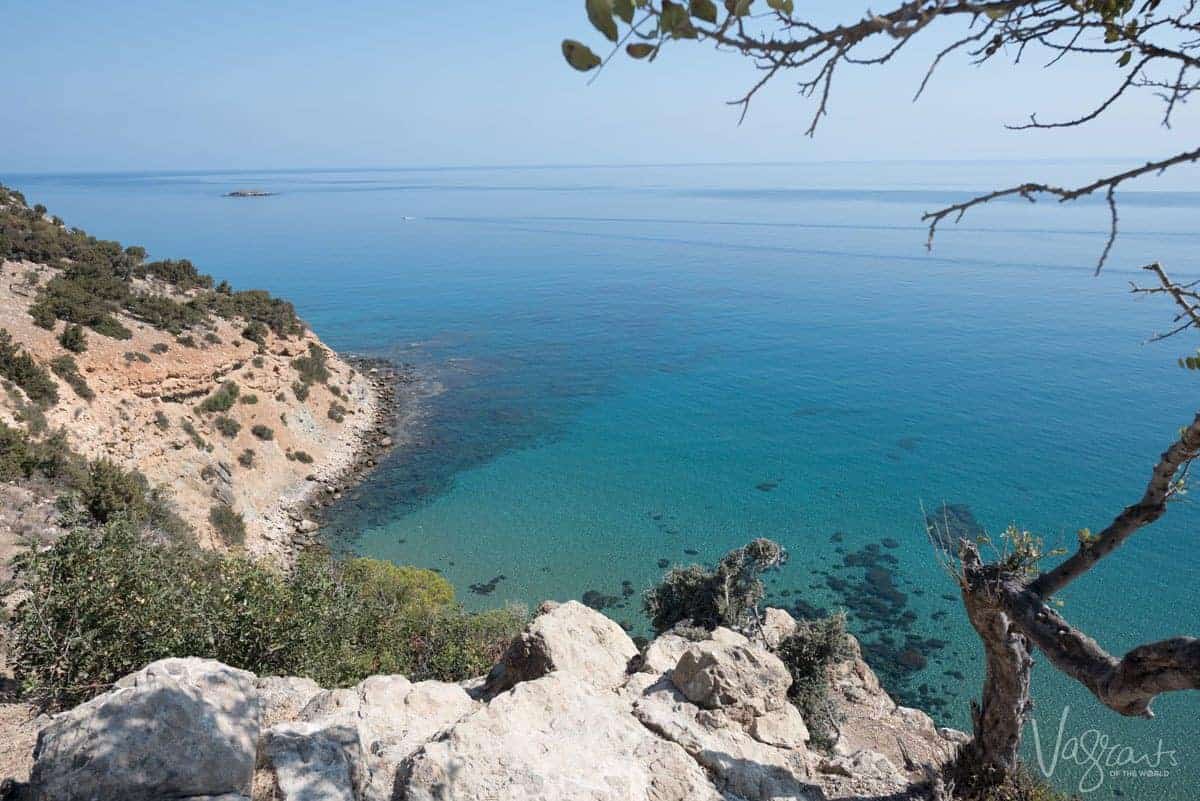 That said, there are always essential items we would pack on any walking holiday irrespective of location and time of year.
Based on our experiences, we have put together this walking holiday and hiking packing list to take the guesswork out of what to pack for your next walking adventure.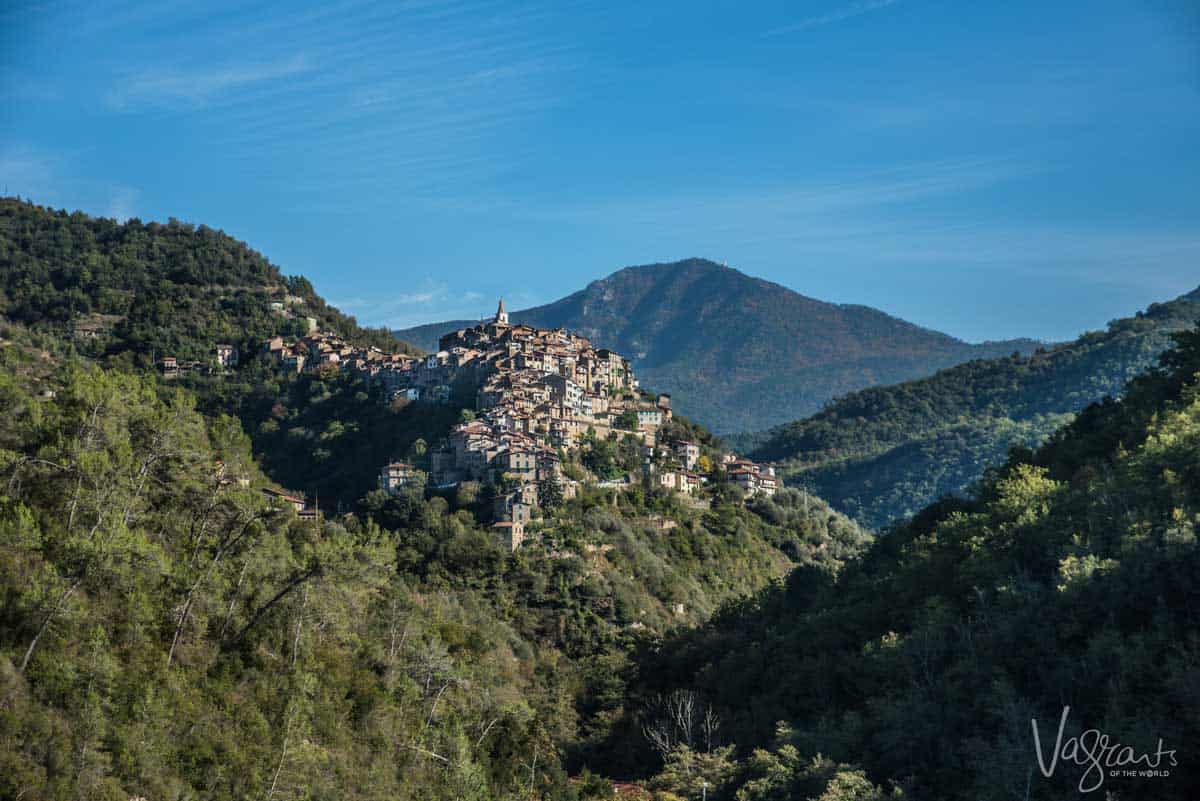 Essential Walking Gear for Your Next Walking Holiday
A Detailed Walking Map
A good map of the area in which you're planning to walk with the walking trails marked is a must. In some locations, especially throughout Europe, walking routes are generally well signposted.
In others, as we found when hiking in Sapa Vietnam, they aren't. This is why a good map is the most important piece of walking equipment.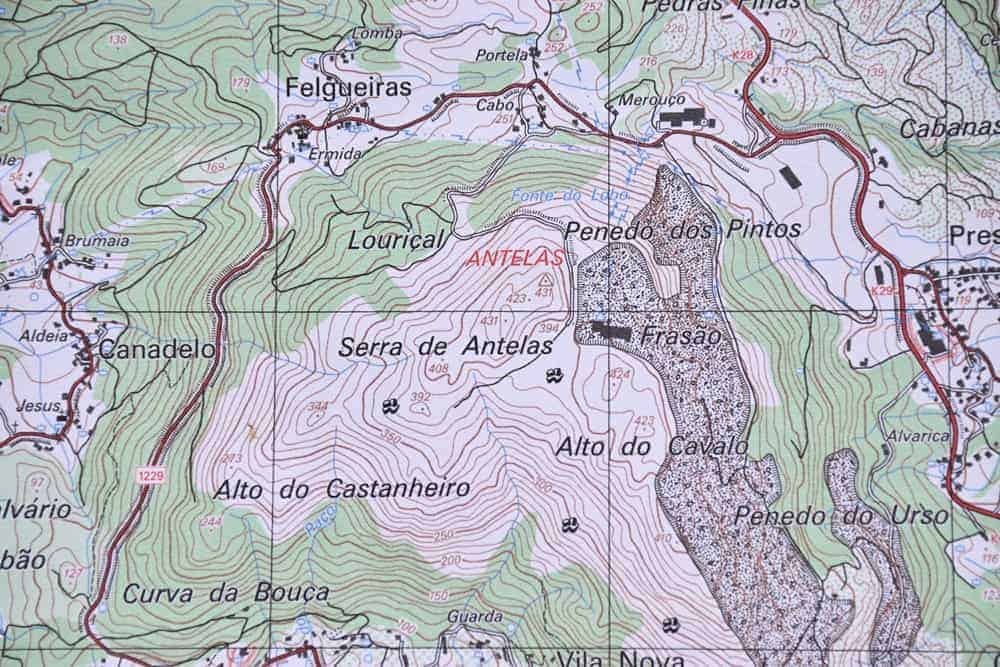 Even Well Established Trails Can Change
Even established walking routes can be compromised at any time. In popular subtropical walking destinations like the Canary Islands, short monsoon-like downpours in winter months can affect sections of paths overnight.
In any given location signposts can be changed, or damaged. We've even come across ancient routes which have been blocked by farmers trying to 'gain' a few metres of land.
When faced with these unexpected obstacles, it will be the map you reach for to reorient yourself on your route.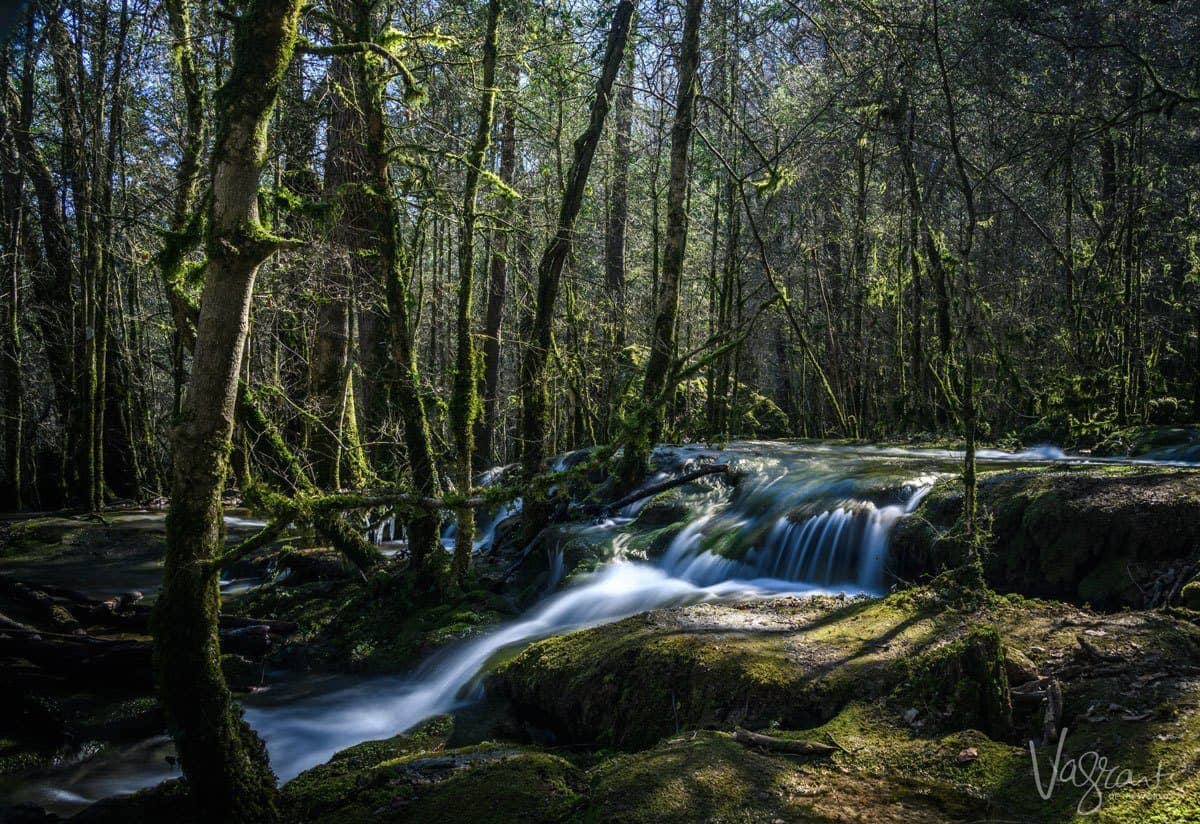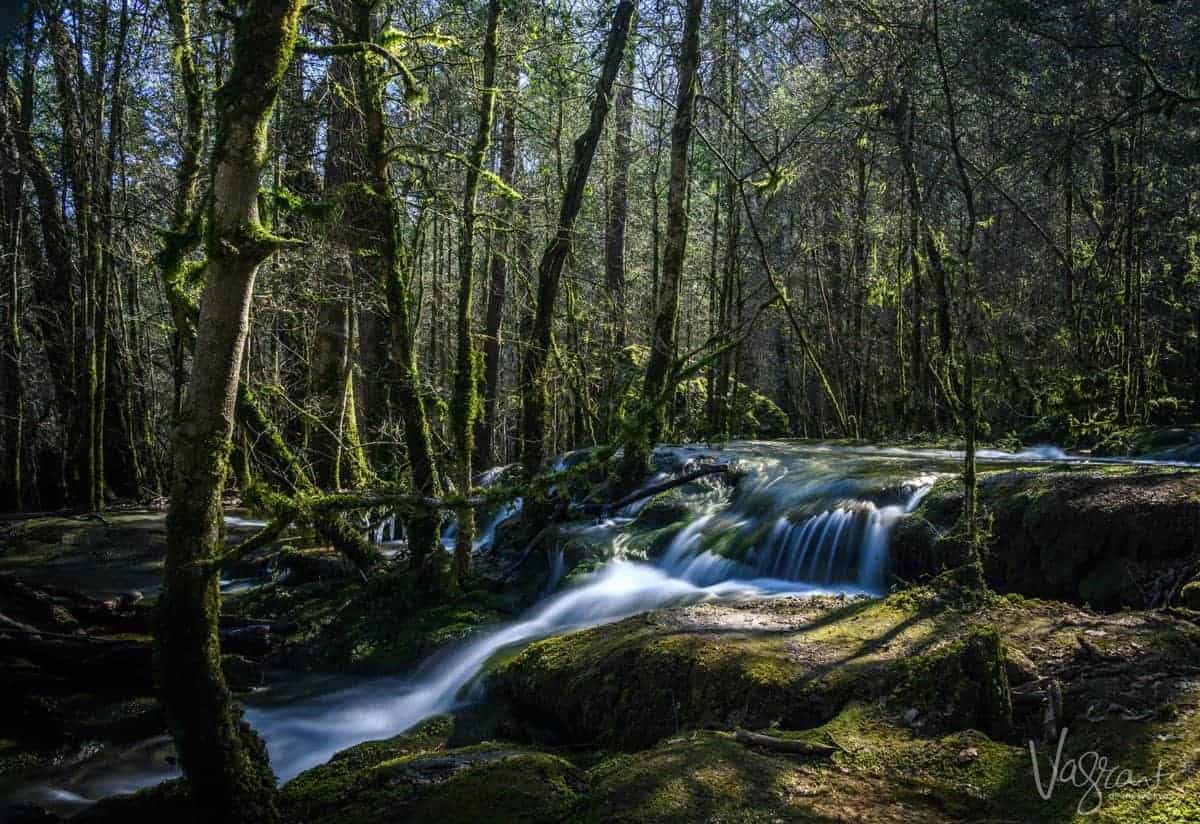 On self-guided walking holidays, you can take the guesswork out of which map is best for a specific area.
Walking holiday specialists like Inntravel provide tried and tested maps for all their trips while offering additional support while you're away. An excellent solution for those new to walking holidays.
The Right Walking Shoes or Boots
Walking boots seem like an obvious thing to pack for a walking or hiking holiday, but for the most comfortable walking, you need to consider the terrain and temperatures you'll encounter and pack the appropriate footwear. So, what are the best walking shoes or boots for your walking holiday?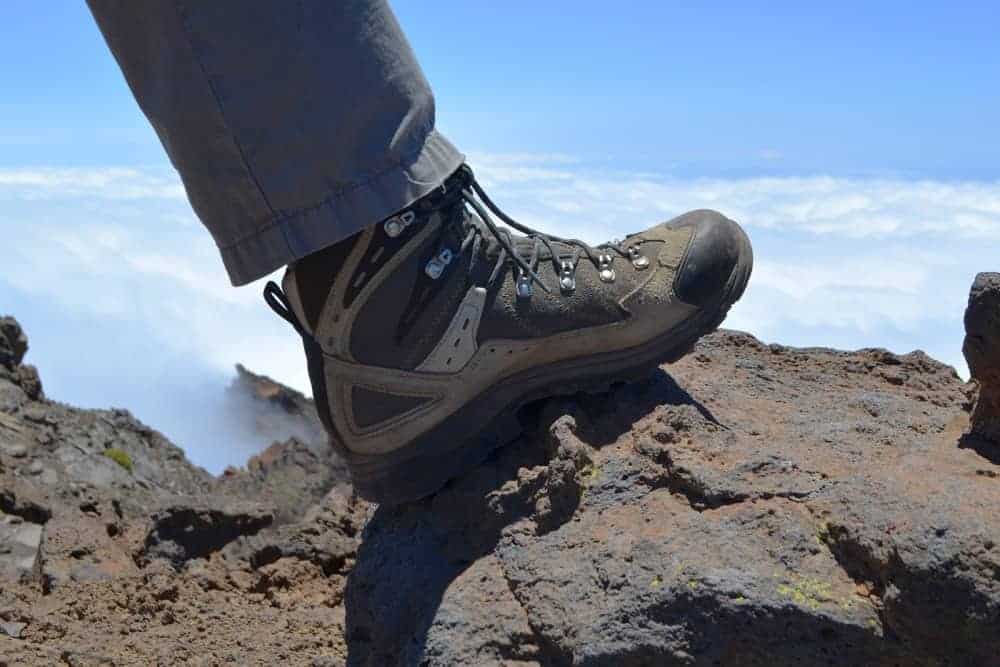 We have numerous pairs of walking boots and shoes for all kinds of walking and hiking. From water shoes or waterproof boots for good support, grip and warmth to lightweight walking shoes and walking sandals for warm climates and unchallenging landscapes.
Tip
Always break in any shoes, especially hiking or walking shoes before you leave on your trip.
If walking and hiking is something you only do occasionally, then a good, lightweight, waterproof pair of boots or shoes are usually suitable for a diversity of walking landscapes and situations.
Modern synthetics and vegan hiking boots are now favoured above the traditional heavy leather boot, so it's possible to find a versatile walking shoe or boot that can double as a very comfortable travel shoe for long days of city sightseeing.
---
Take a Lightweight Hiking Shoe or Boot That Can Double as a Casual Shoe
Need a water shoe that can double as a hiking shoe and still looks good enough for day to day wear?
Read our review of Tropicfeels 4 in 1 travel shoe that ticks all the boxes. Perfect for hiking and walking holidays.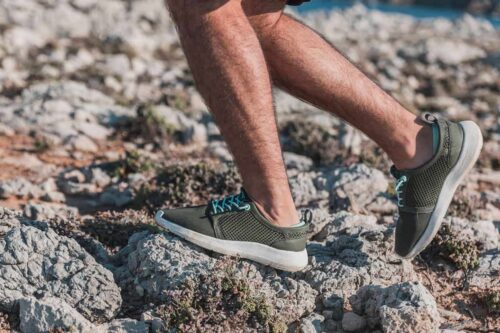 ---
Socks, Socks, and More Socks
It goes without saying; you are going to need socks. Make sure your socks are breathable and well fitting, and, most importantly, you have more pairs than you need.
If your feet get wet or you develop blisters, you are going to need extra pairs (wearing double socks can significantly reduce blisters developing or worsening). Always carry a spare pair in your day pack just in case.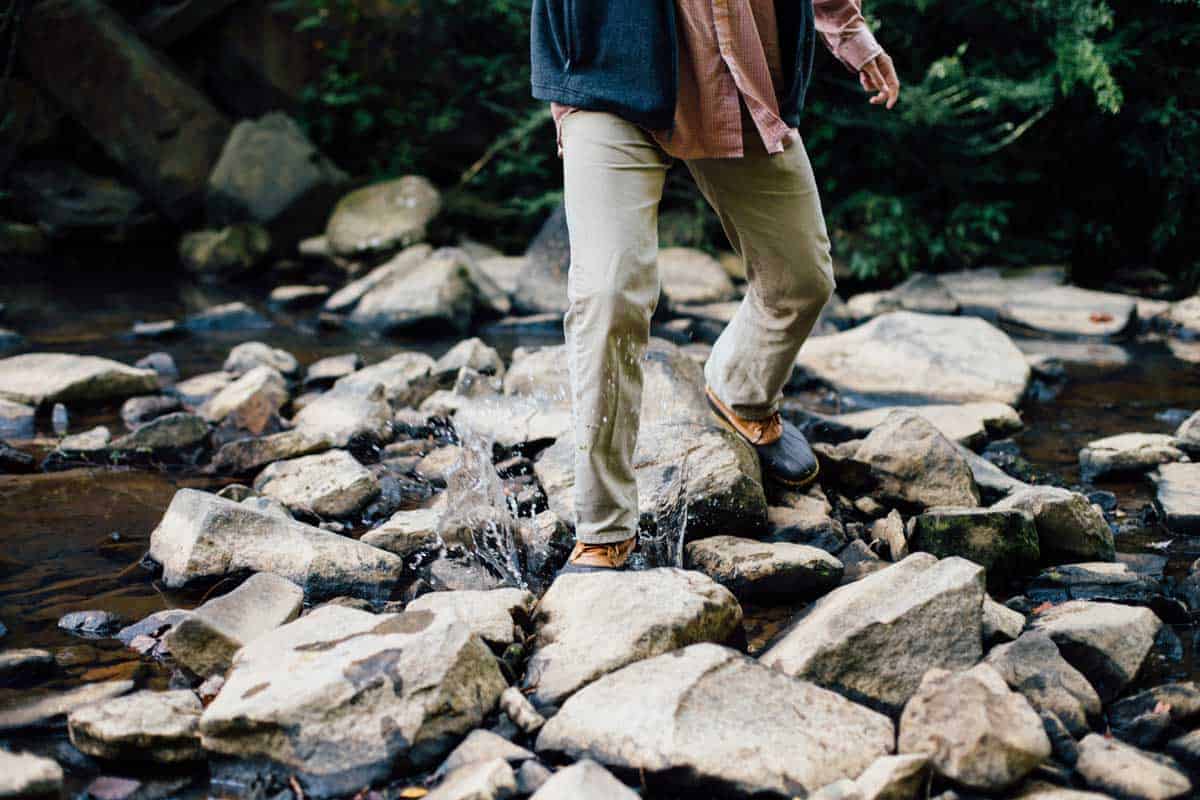 A Comfortable Daypack
A comfortable and practical daypack is very important for any walking or hiking holiday. You want a backpack that will be comfortable throughout the day, even with a little weight, is waterproof, or at least water-resistant. It also needs to be practical for the rest of your travel arrangements.
We love this lightweight, foldable daypack. It is water resistant and has concealed pockets and lockable zips which is excellent if you want to use it for city sightseeing as well.
Best of all, it folds down into itself into a small 8×8″ pouch when you're not using it. It's great for lightweight travel and perfect for the casual hiker who wants versatility in their gear.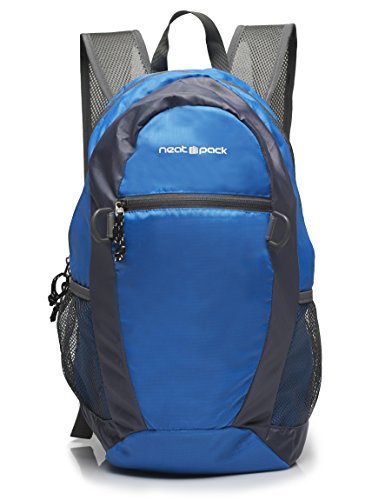 Foldable 20L Daypack with Security Zippers
Lightweight Walking Poles
Sometimes I pack walking poles, sometimes I don't. It depends on the destination and terrain. If I'm planning on walking somewhere like the Pyrenees, where there's a lot of relatively steep ascending and descending, then the sticks come along. If the land is only going to be gently undulating such as many of the great day hikes near Nashville, they stay at home.
Consider your walking ability, fitness and the terrain you plan to walk. If in doubt, pack the poles.
A good set of lightweight collapsible walking poles don't take up much room and can significantly enhance your walking holiday.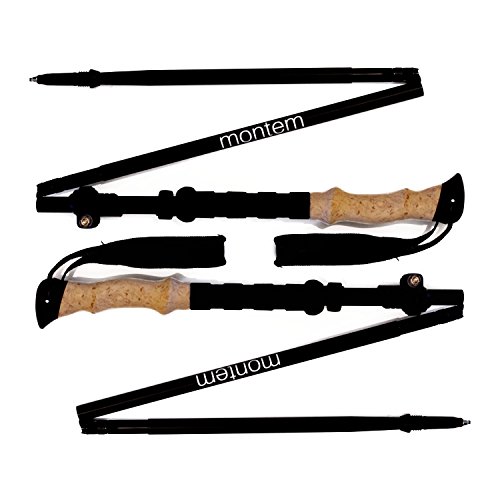 Light Weight Collapsible Walking/Trekking Poles
Knee Supports
Again, depending on topography, knee supports might be a handy addition to any walking or hiking packing list. Long descents can be a killer on the knees, as I found hiking down a volcano on Ometepe Island in Nicaragua. My knees have never been the same.
While a little support could have gone a long way to making that hike easier, knee supports are an excellent investment for the future when joints may not be so pliable.
Water Bottles
A sufficient supply of drinking water to keep you hydrated for the length of the route is paramount especially on hikes in places like Joshua Tree NP. You can't rely on being able to buy water along the way so must carry enough for the day plus extra even for short hikes.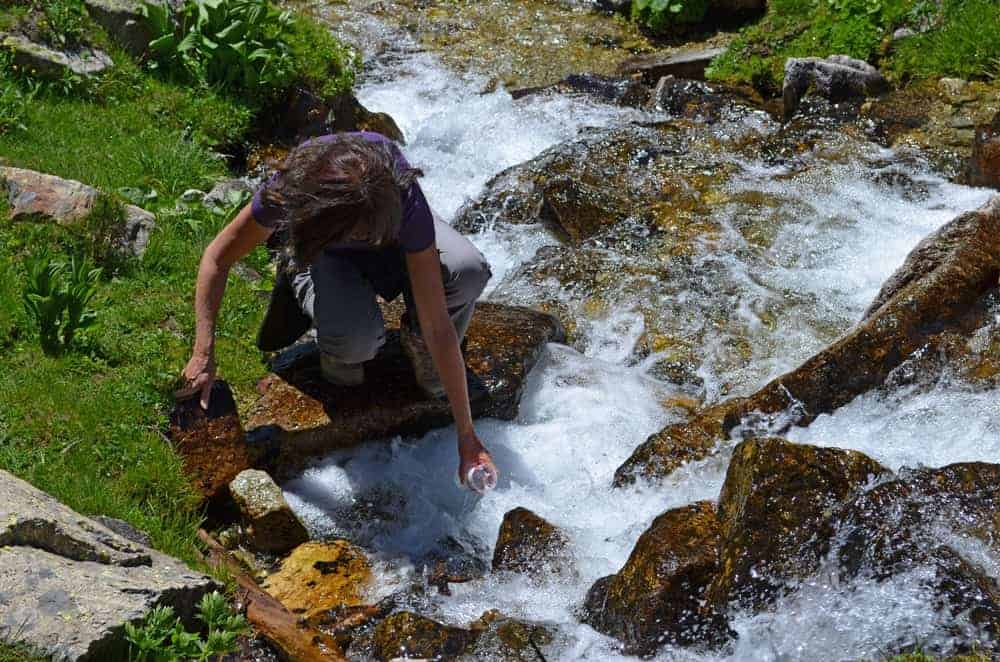 We like to carry collapsible silicone water bottles when we travel as they take up very little room and are lightweight. Perfect for walking holidays and hiking trips and a better solution to single-use plastic.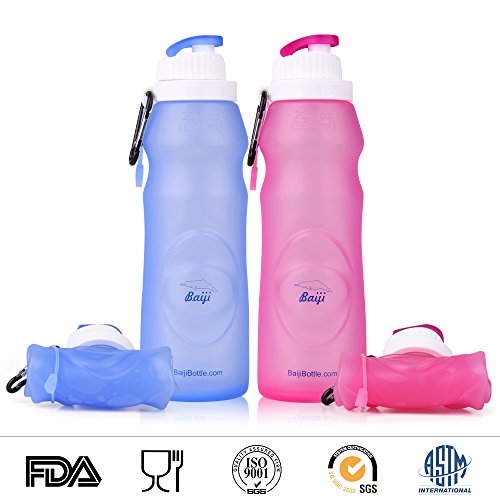 Collapsible Silicone Water Bottles
First Aid Kit
Nature isn't always friendly; insect bites, a clumsy fall and a grazed knee or an encounter with a spiky plant can result in a bloody scratch or two. Even a basic first aid kit of antiseptic cream and plasters should be standard on any walking holiday packing list.
For long walks or extended hikes, we always advise a good travel first aid kit in case of a more serious injury. There are some great travel first aid kits on the market that are around the size of a smartphone. Perfect for hiking. Or, you can DIY your own travel first aid kit to include any specific medical needs.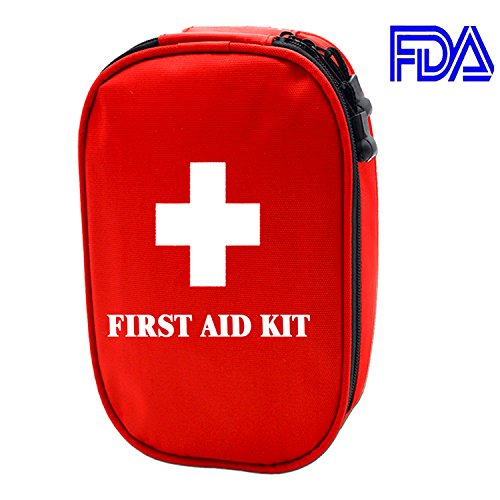 Mini and Light Bag First Aid Kit for Hiking, Camping, and Travel
Don't Forget Your Medications
Don't forget to take essential prescription medications with you, even on day walks. You never know when you may need them
.
A Good Hat
A hat keeps the heat in on chilly mountainside trails in northern Europe in November, whereas on long, sun-sizzled stretches across the shadeless southern plains in September, a hat is a godsend against the sun.
Don't throw any hat in as an afterthought though. Think about the climate you will be walking in and the protection you will need.
Even on cold weather walking holidays, while you may just consider a beanie style hat for warmth, sun protection is also a consideration, especially if walking at altitude such as hiking Mount Etna in Sicily.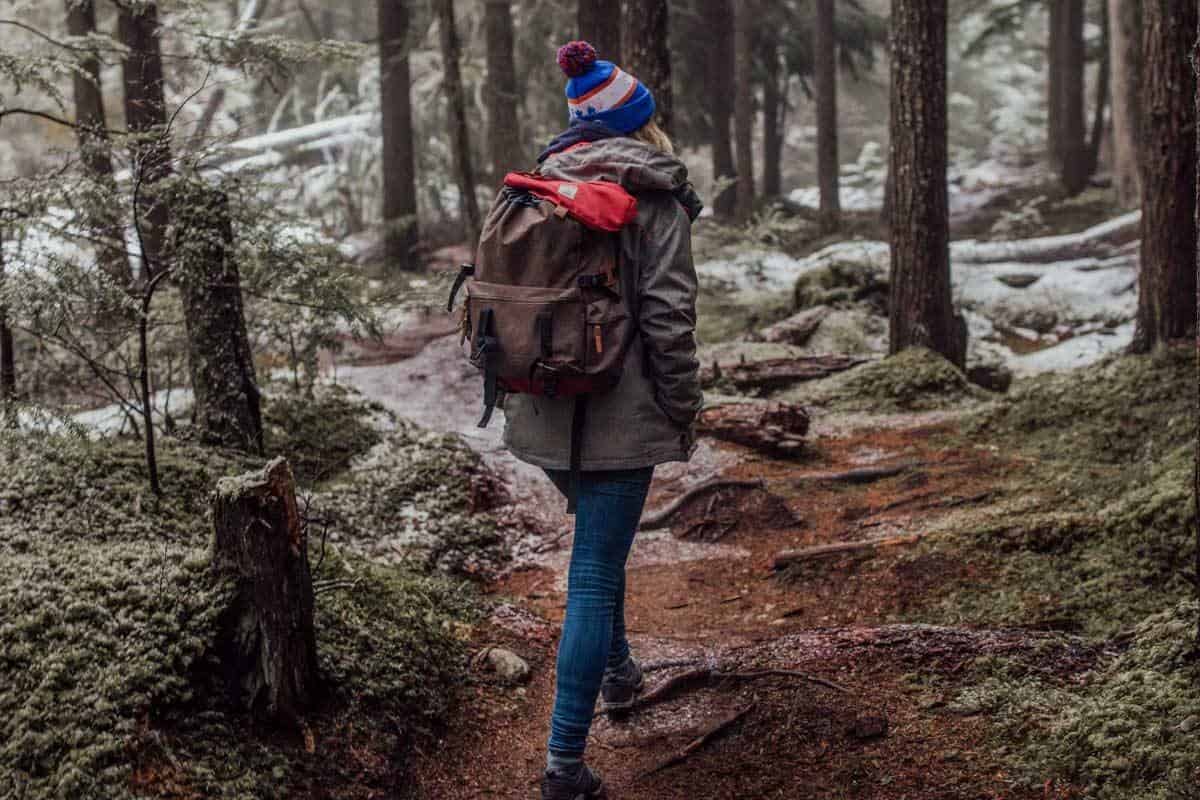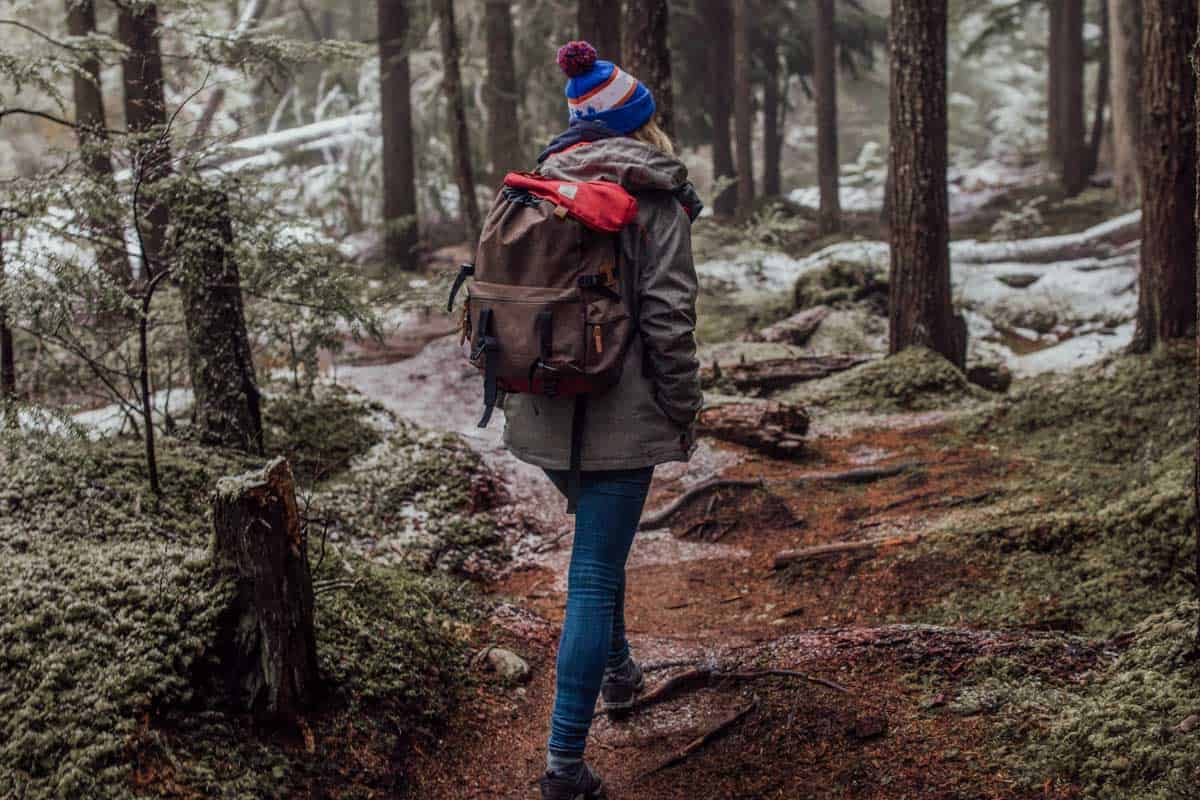 In summer, a wide brim is a must but also consider lightweight, quick-dry fabrics. Your hat should keep you shaded and cool.
You also want a hat you can wash at the end of the day if need be and will be dry, ready to go again in the morning.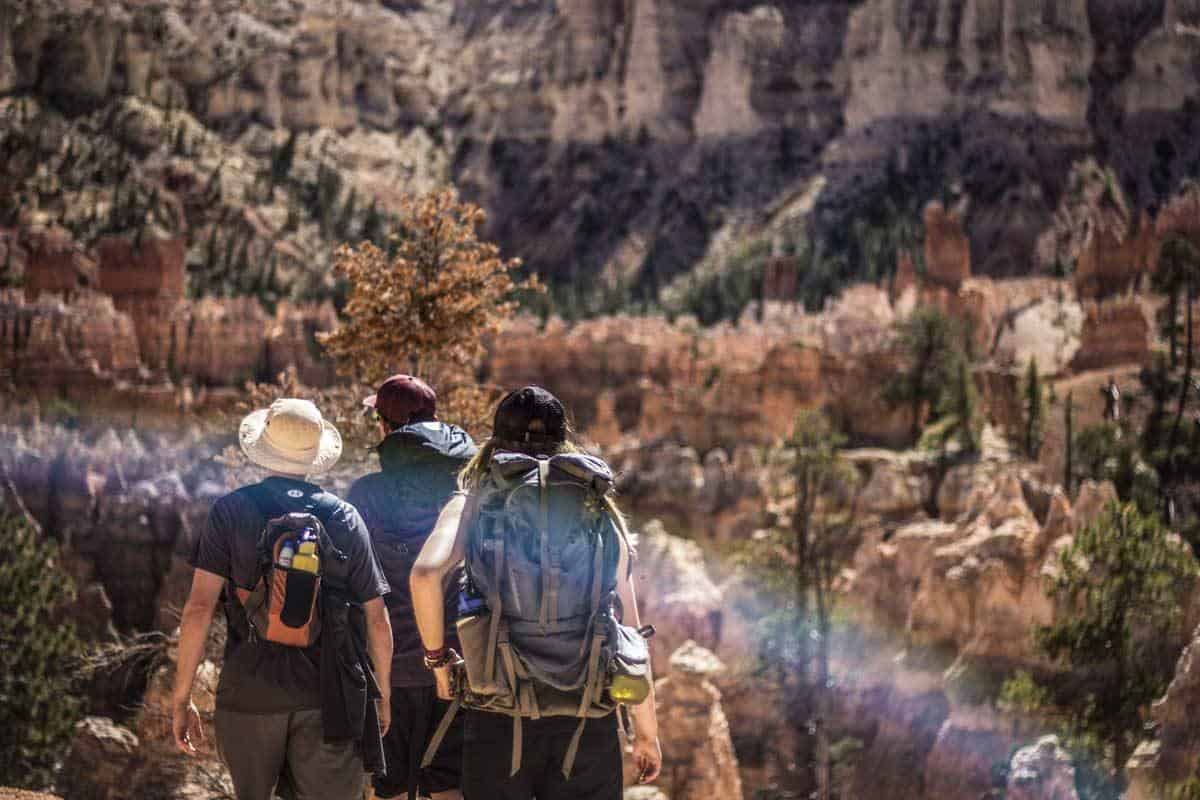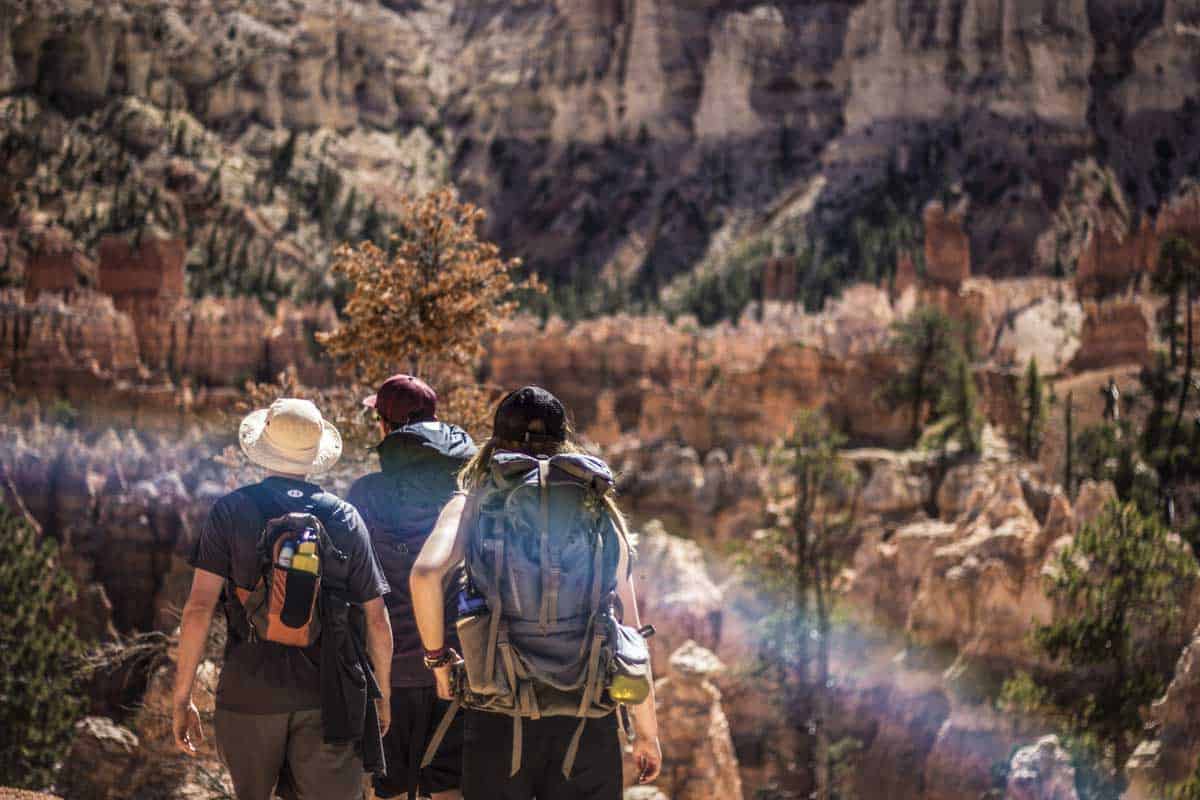 Sunglasses
Sunglasses are essential for any outdoor activity in any climate. For a walking holiday, choose a practical pair of sunglasses that sit well on your face and protect your eyes from the sun and wind.
Leave your fashion sunglasses for sightseeing around cities. Polarised sunglasses are best for hiking for added protection and better vision.
Sunscreen
It goes without saying; sunscreen is a must any time of year. We like those small bottles that clip to your bag. They are great for hiking as they are lightweight, always handy so you don't forget to reapply and won't leak in your pack.
SPF Lip Balm
Cold weather, dry climates, and wind can all result in cracked lips. For example, walk at over 2000m in Teide National Park on Tenerife, where the sun beats down relentlessly most days, a good SPF lip balm is a saviour.
It doesn't take long, even when wearing a hat and sunscreen for lips to suffer. Left too long, wind or sunburn on the lips can be quite severe and very uncomfortable.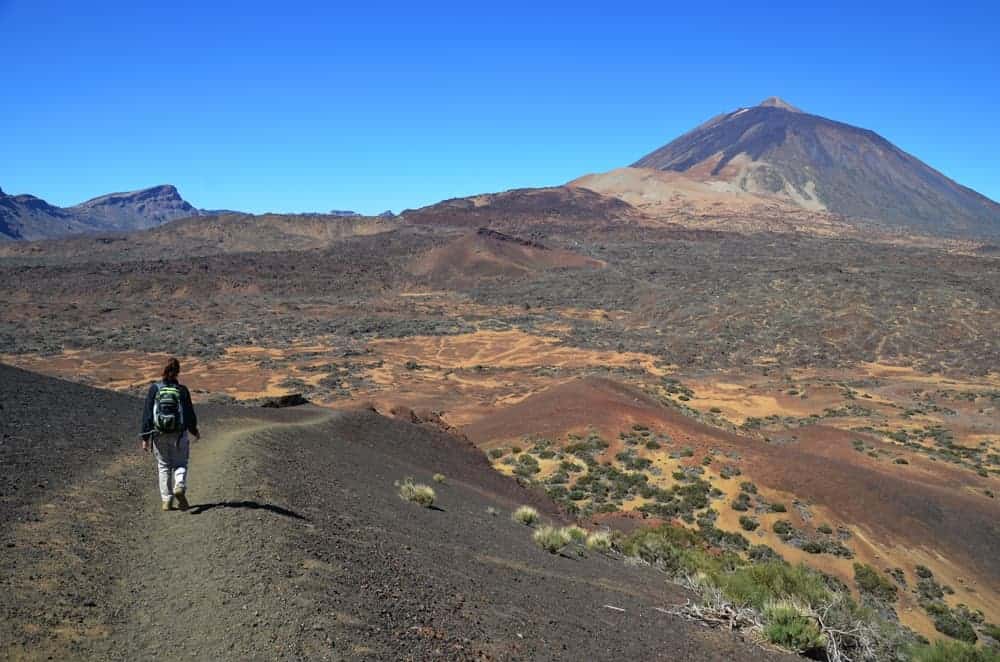 Insect Repellant
Insect repellant is very handy, especially in the early mornings and late afternoons in warmer climates. It is so easy to get caught out and find yourself covered in mosquito or worse, sandfly bites. Not to mention; the prospect of annoying flies buzzing around your face all day.
We tend to find either insect repellent bands or even the insect repellent patches you can stick on your hat or clothing perfect for travel.
They are lightweight, and you can pop them on in the morning and not worry about having to carry and apply lotions or spray during the day.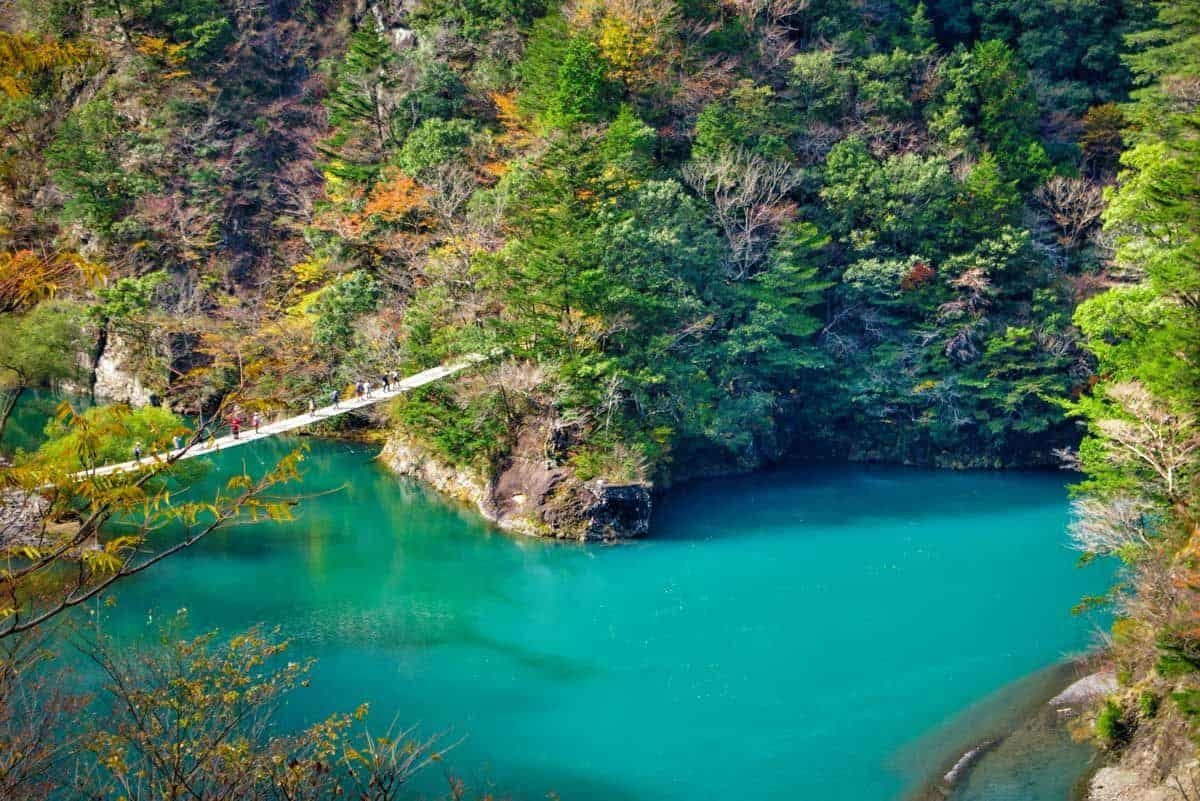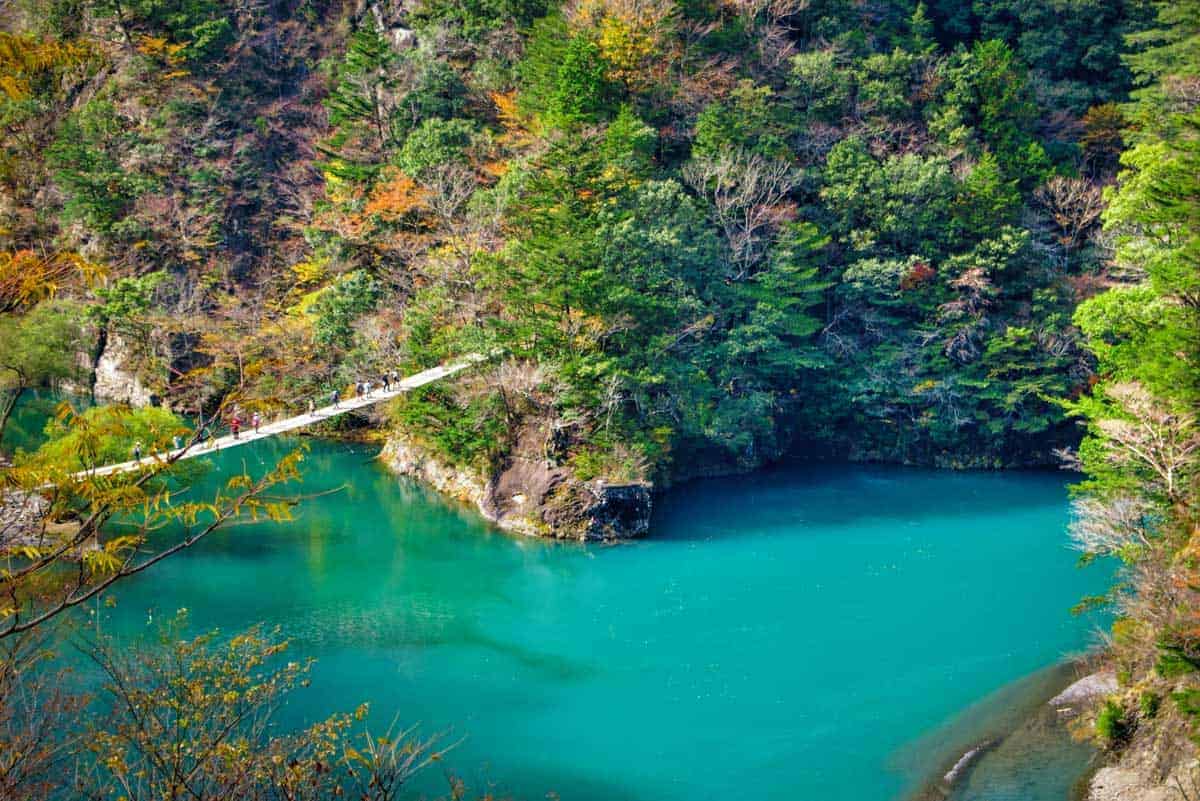 Travel Tissues
Tissues in your daypack will prove their worth on any hike or walking holiday. Especially when nature calls which, on long walking routes, it invariably does.
While I always carry normal tissues, we have also become quite fond of these biodegradable wipes for travel and not just for walking or hiking.
Stall Mates are flushable, individually wrapped wipes that slip into a pocket of your daypack or even your pants pocket. We have found these a godsend in airports, cities and definitely when hiking.
Epic Wipes are a towel size, residue-free shower substitute made from natural bamboo. While mostly suited to more long-range hiking or where you will be camping overnight on long walking itineraries, they have also come in handy on very hot or dusty walks where you need to freshen up during the day.
---
We love These Handy Additions to Our Day Pack for Hiking or Handbag for Everyday Travel.
---
Plastic Bags
See above. Don't leave tissues behind. Carry a plastic bag to store 'used' tissues and any other rubbish for dumping later.
A plastic bag or two always comes in handy in case of a sudden downpour. We also carry large reusable ziplock bags for things such as phones and a generic lightweight, foldable dry sack for my camera.
Hand Wash
Also connected with the previous duo, a travel-sized bottle of hand wash keeps fingers feeling fresh all day long. We wouldn't travel anywhere without it.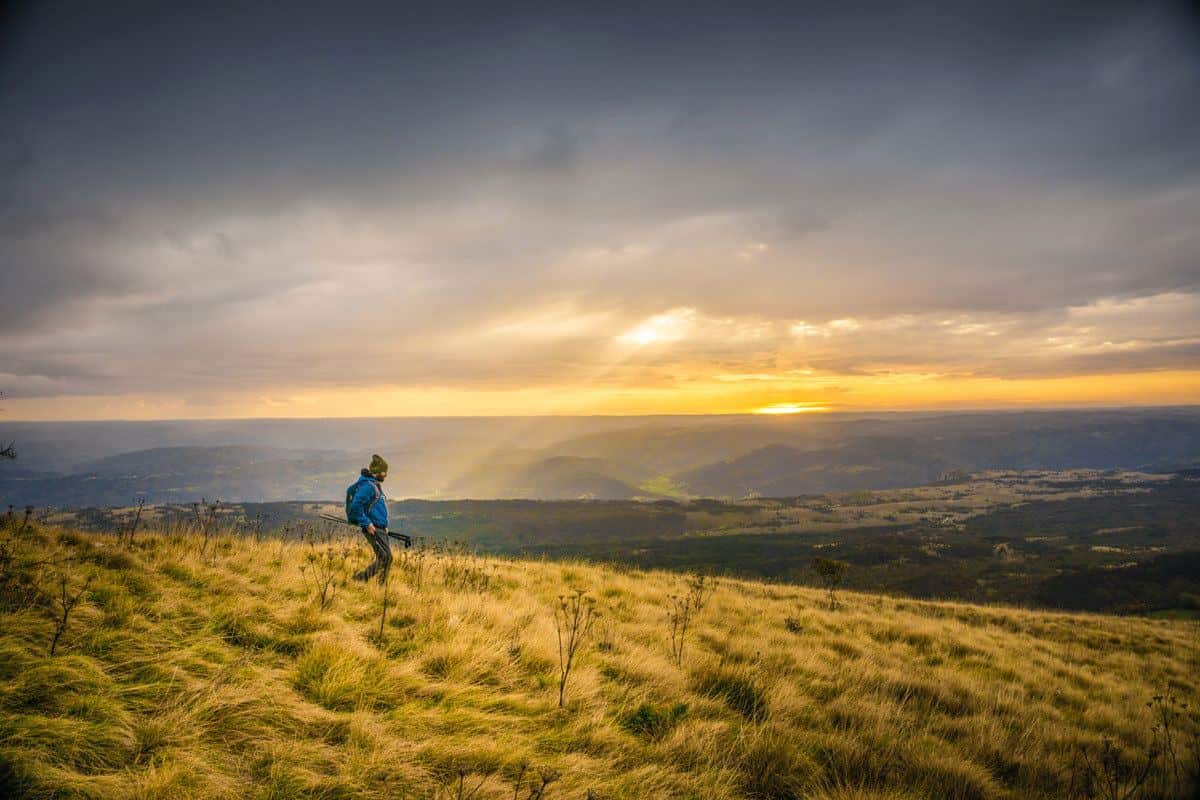 Walking Trousers
People often assume walking in warm weather destinations means shorts are the order of the day. Sometimes shorts are appropriate walking apparel.
However, a warm sunny day on the coast doesn't necessarily guarantee warmth at an altitude where a hot, sunny day can quickly become damp and chilly with a little cloud or unfavourable wind. Hiking in Scotland is a perfect example of how changeable conditions can be.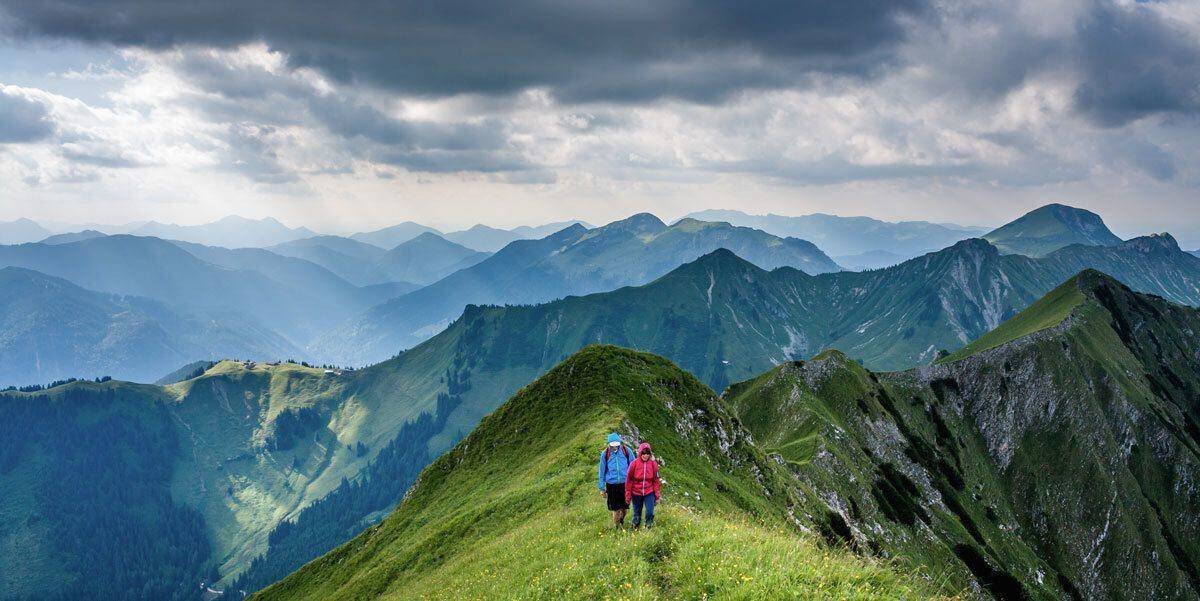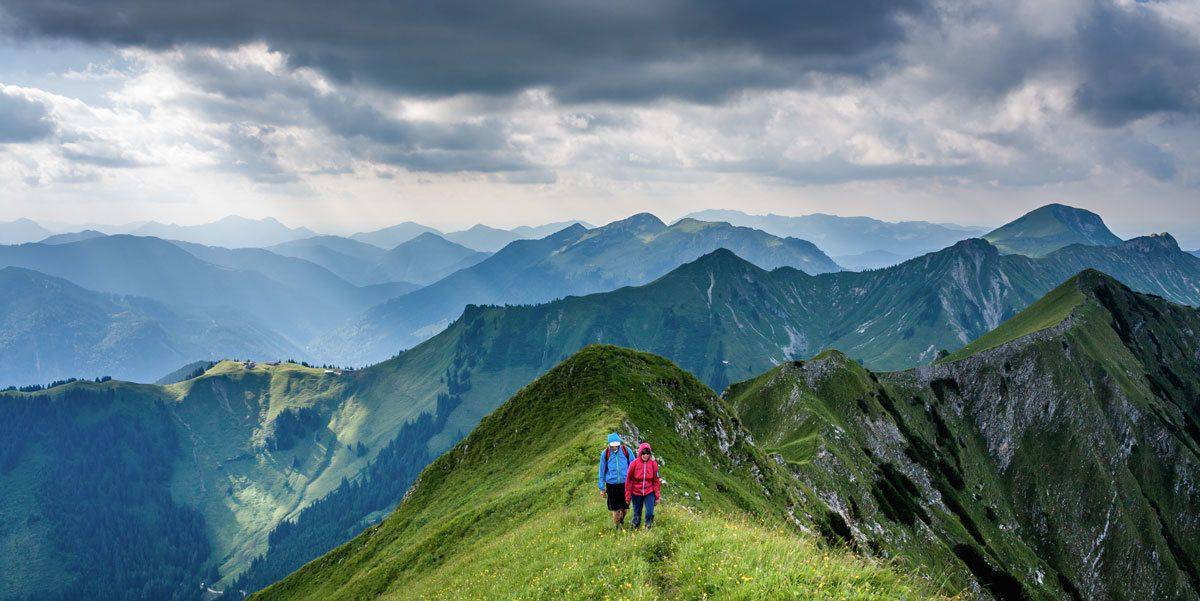 Shorts may not be suitable for the landscape either. Prickly low-lying or thick shrub can make life unpleasant for bare legs as can insect bites in long grass.
For that reason, we favour lightweight, quick dry walking trousers when walking in summer or warmer climates such as southern Europe. Some people prefer to opt for zip-off walking trousers, so they have the best of both worlds should the need arise.
For winter walking, ensure you have the right type of trousers for the climate. You may want to consider waterproof walking trousers with warmer liners for very cold climates where rain or snow might be possible.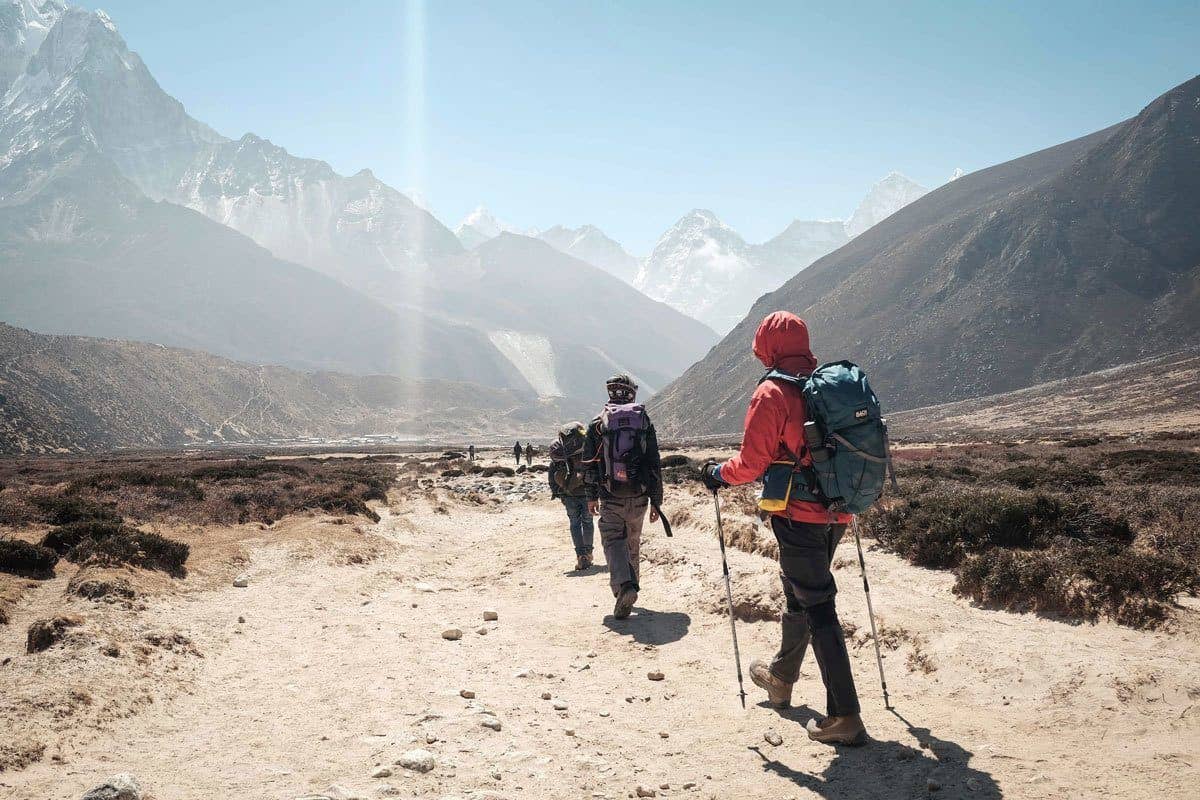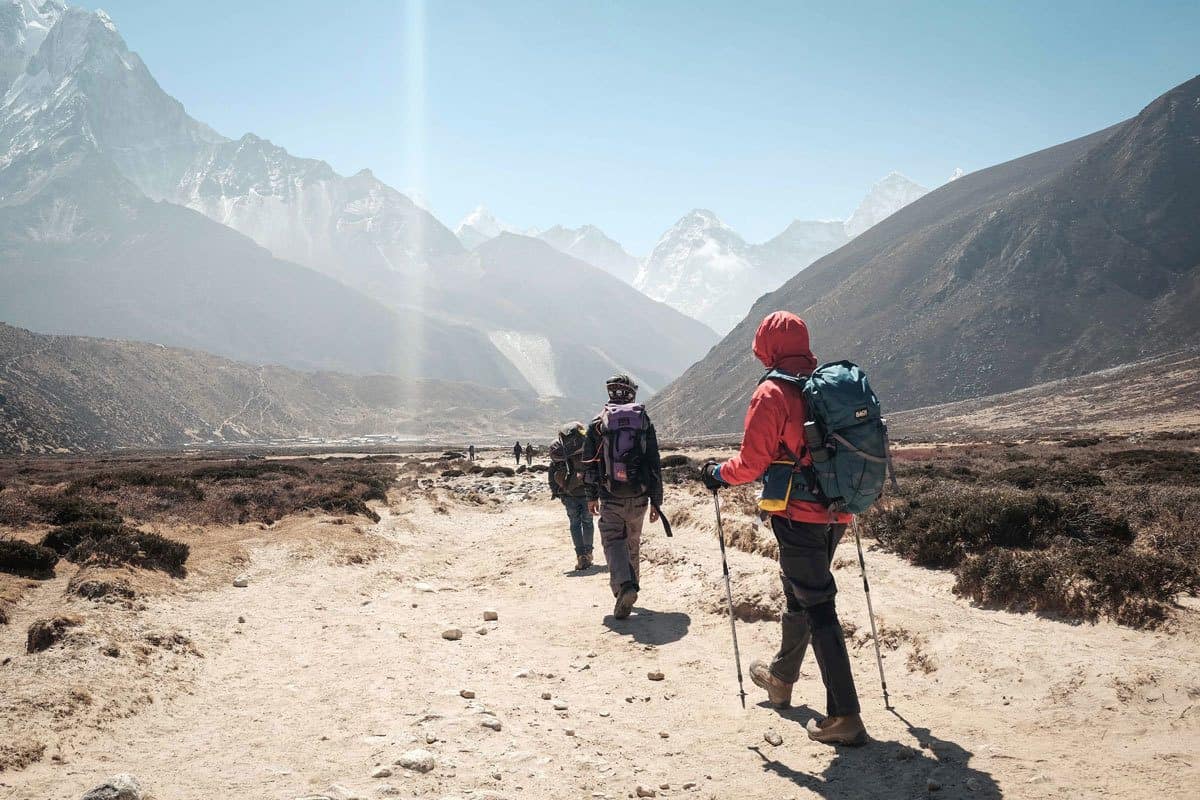 Waterproof Jackets
It's rare to find anywhere in Europe where rain isn't a possibility during peak walking periods (i.e. spring and autumn), even in destinations known for their sunshine and agreeable climate.
We always carry a lightweight waterproof jacket in our daypack. It doesn't weigh a lot and will be a welcome addition should you get caught in a shower. Even a good quality disposable rain poncho is a great option to throw in your day pack.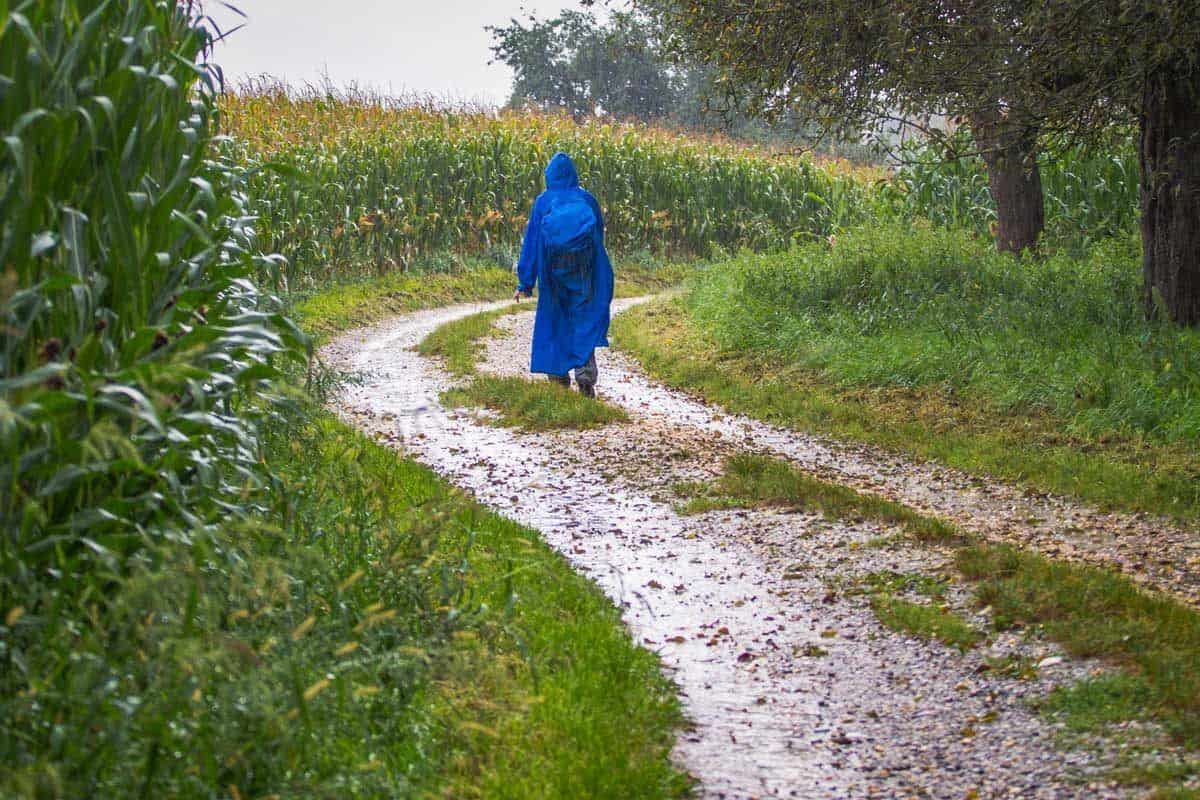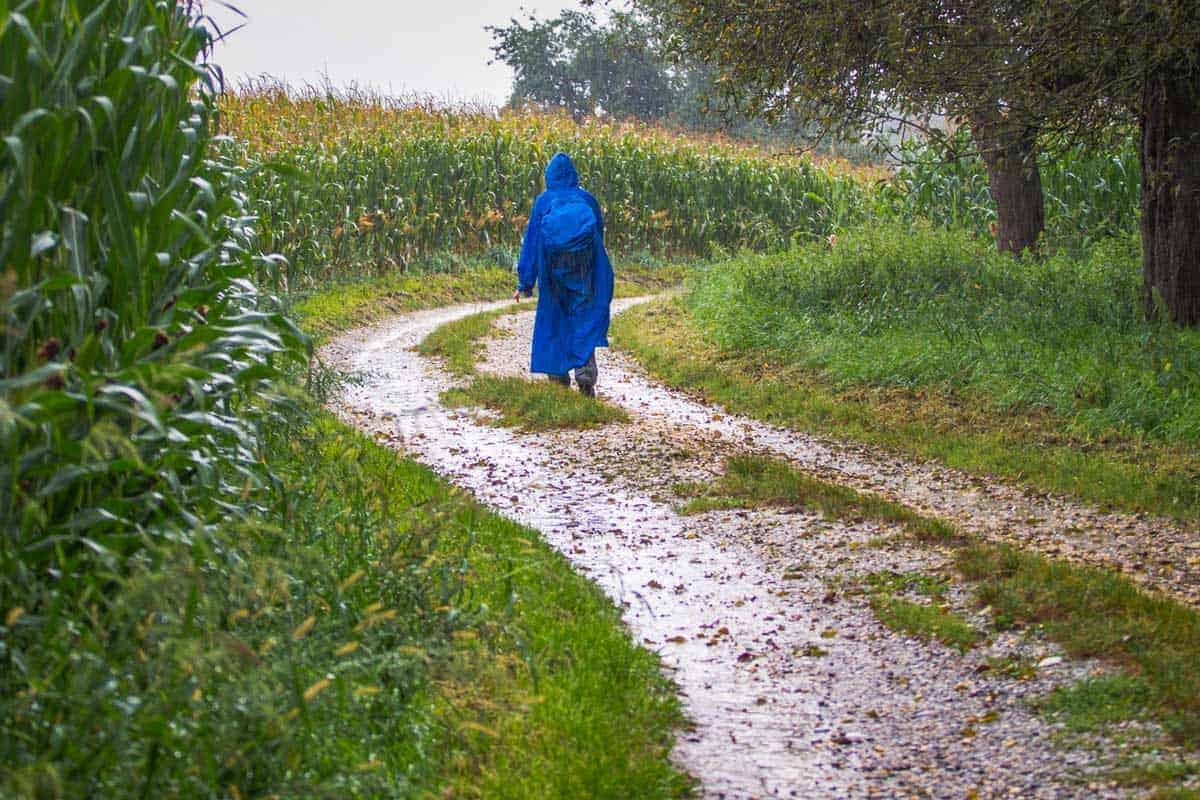 When walking in colder, wetter climes, a heavier jacket is required. We tend to opt for the waterproof jackets with a secondary fleece or down jacket that zips inside. It is a versatile option for lightweight winter packing and fickle weather.
Layered Clothing
"Wear layers" is the mantra of experienced hikers. It doesn't matter what destination, having a base layer such as a good quality, breathable thermal tee-shirt, a mid layer such as a fleece, as well as an outer layer – preferably a wind and waterproof proof jacket, allows walkers plenty of options.
As an example, walking in Arrabida Natural Park in Portugal in January, the temperature can be a nippy 3°C /37.4℉ early morning. By mid-afternoon, a tee-shirt friendly 20°C /68℉ is not unusual. By late afternoon temperatures slide quickly downwards again. It is these situations layers come into their own.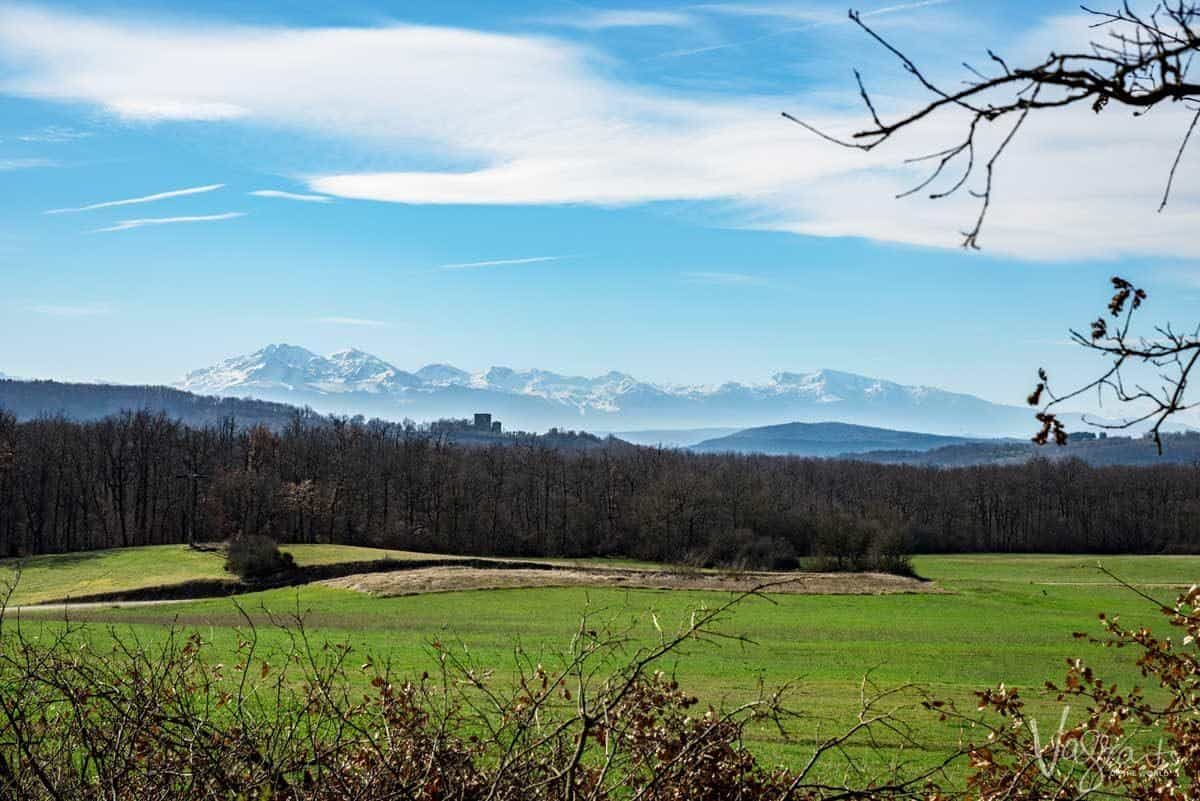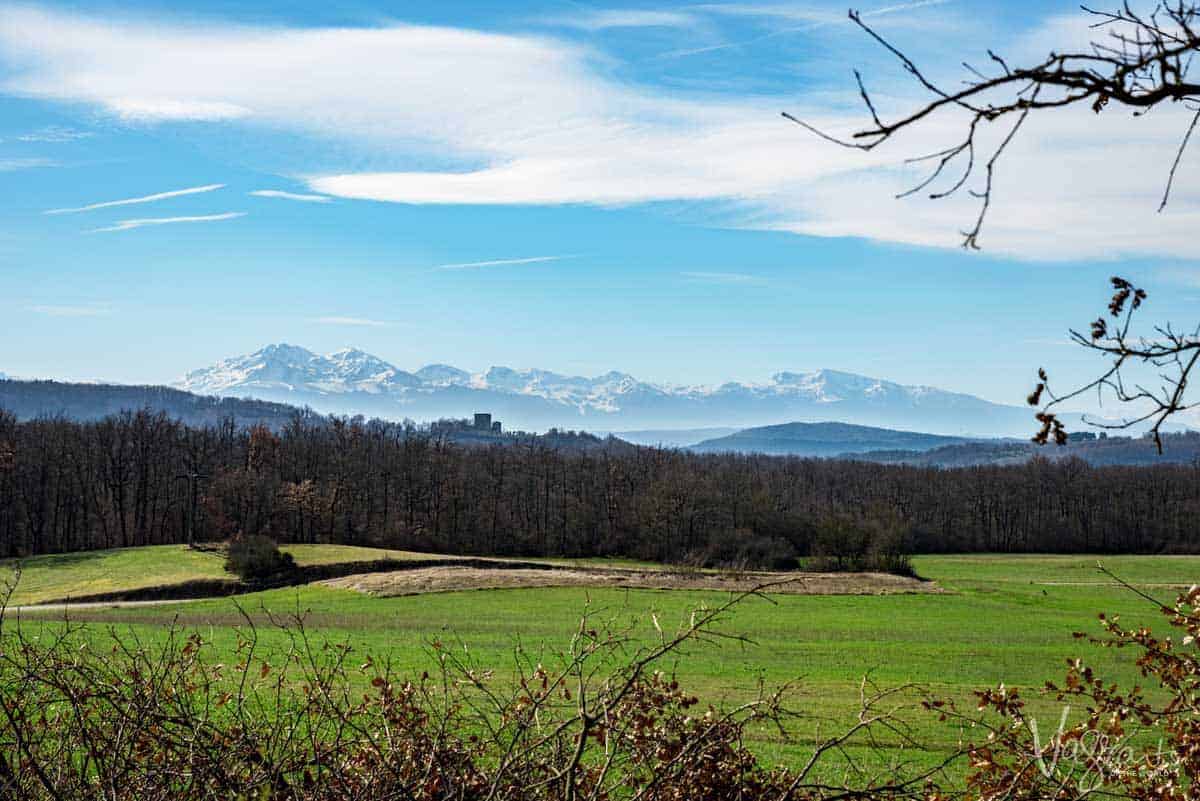 Energy Bars or Snacks
I'm a huge fan of packing a couple of energy bars or even a bag of nuts and dried fruit on walking routes. Even ones which are likely to be done and dusted by lunchtime.
A mid-morning snack of a fruit or cereal bar often provides a welcome energy boost. As they are light, they don't add extra weight to your pack.
GPS/Smartphone
We often carry a Garmin GPS device in addition to our smartphones. An essential piece of walking gear, your phone gives you access to Google Maps, which can be very helpful for reorienting yourself against the map if the track becomes confusing or has changed, even when offline.
A phone is also your contact with the outside world in case any problems arise. It can also be your primary camera on your walking holiday.
Don't Forget Chargers & Adapters
Remember to pack chargers and adapters, if required for all your electronics. We always take a quality, fast charging bank for our phone. They are not expensive and can be a lifesaver when you really need that bit of extra battery.
Do You Have All Your Chargers and Cords?
Always do a final check of all your devices, cameras and electronic equipment to make sure you have all the right cords, batteries and chargers. You may not be able to get a replacement should you forget one.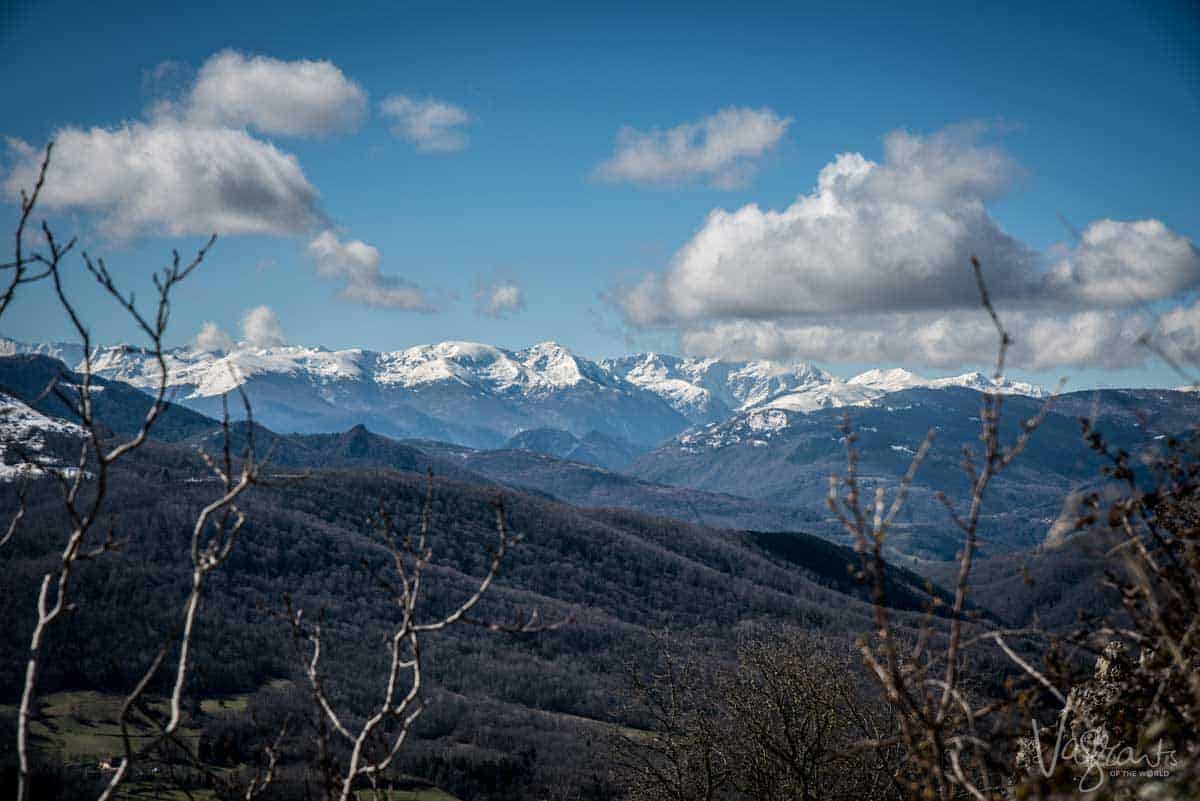 A Camera
Finally, whether it's your phone, a compact point and shoot, or a fully-fledged DSLR, you couldn't go on a walking holiday without someway to capture the unique experiences.
While I rarely travel without a large, albeit heavy DSLR, we find a GoPro or similar action camera is fantastic for walking and hiking holidays. They fit in your pocket, are lightweight and waterproof. You also have the ability to capture both photos and excellent quality video.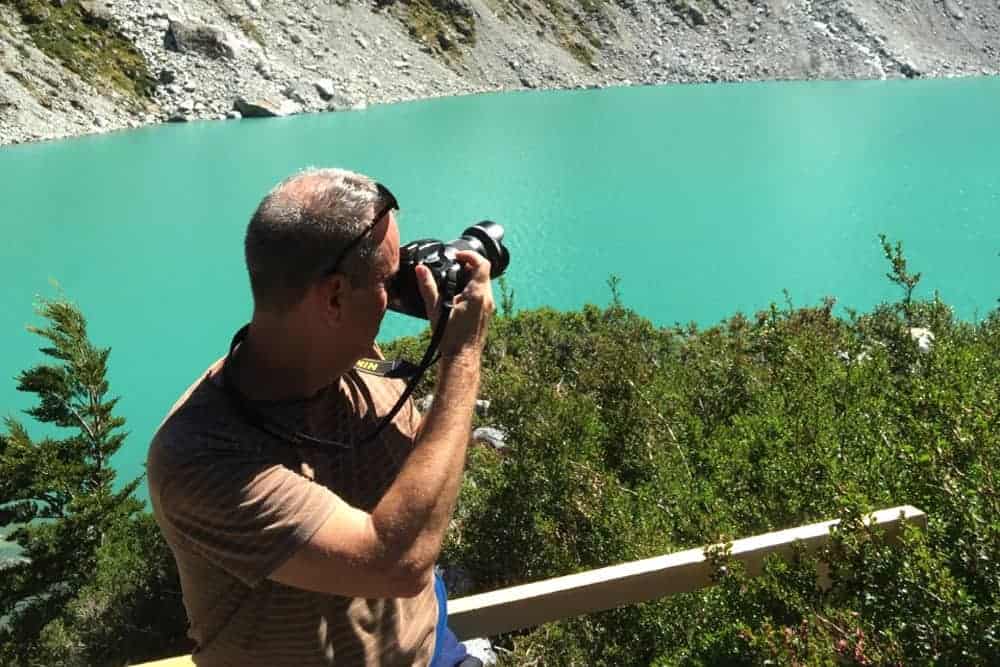 Don't Forget Travel Insurance
Last but not least – travel insurance. For us, travel insurance is the first thing we buy as soon as we book a trip. Aside from possible cancellations, we like to know we are covered, especially in medical emergencies.
Get a Free Quote From World Nomads Travel Insurance.