Established in 1976, the Joshua Tree Wilderness Park covers nearly 800,00 acres of California desert. So what are the best hikes in Joshua Tree for first-time visitors?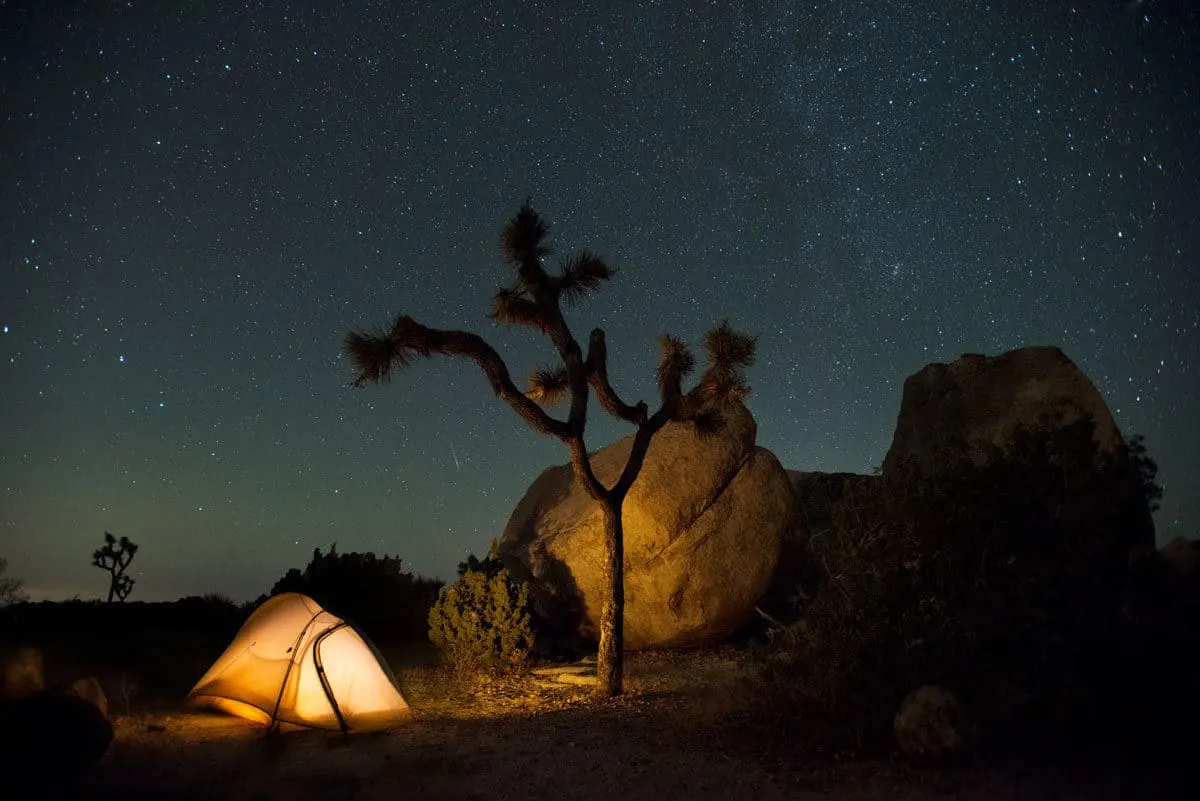 Named after the twisted tree-like succulents that dominate the park's desert landscape – early Mormon settlers believed the trees resembled the outstretched arms of biblical Joshua. Considered one of the best national parks in the US, the Joshua Tree National Park offers one of the most beautiful and unique landscapes for hiking.
---
Discover More Incredible Hiking Destinations in the United States
---
The proximity of Joshua Tree National Park to LA, only a few hours (approx 130 miles) or an hour from Palm Springs, makes it a very attractive escape from the city.
You can find our guide to making a day trip to Joshua Tree from Los Angeles here.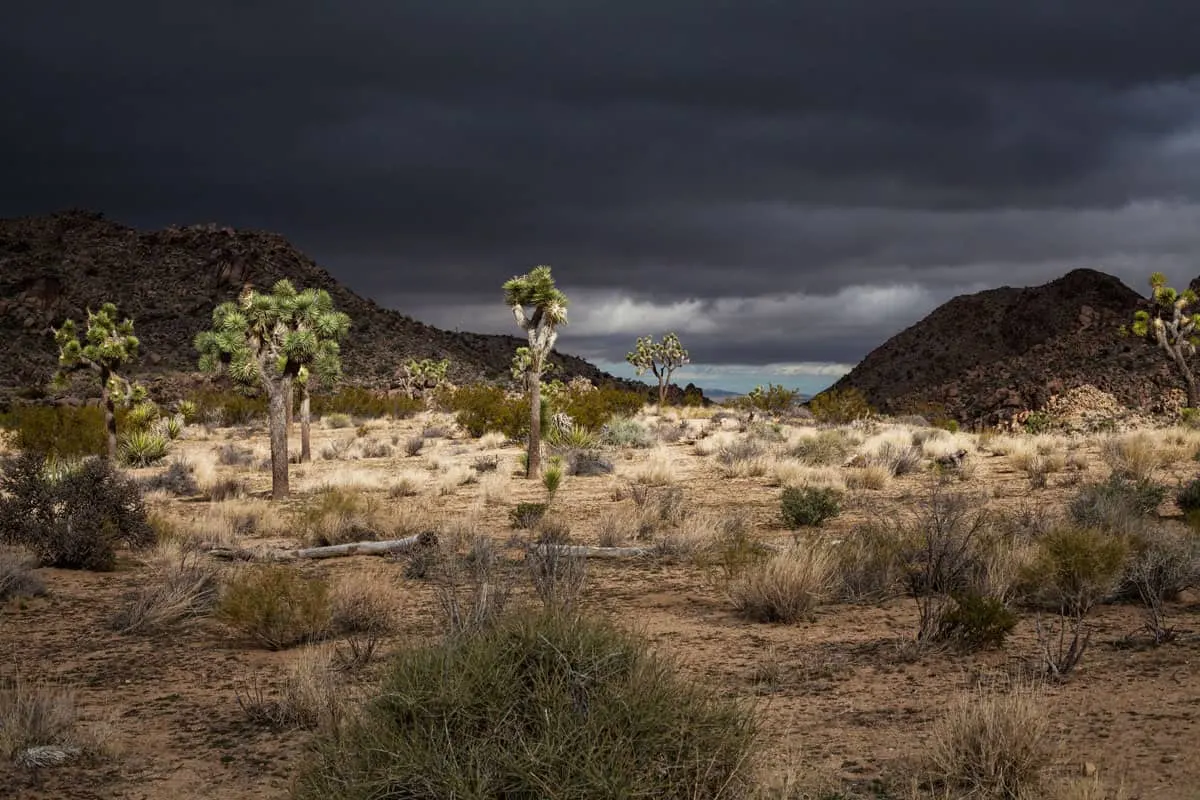 A drive through Joshua Tree National park will astound with the vastness of the desert and intriguing vistas, flora, and fauna. However, the unique nature of the area is best appreciated on one of the many hikes through the park.
We have partnered with Hotels.com to bring you some of the best hikes in Joshua Tree National Park, especially for first-time visitors.
Where to Stay in Joshua Tree
While a national park conjures images of camping under an endless desert sky, thankfully for some, camping is not the only accommodation available in Joshua Tree. Although a night camping in Joshua Tree is a magical experience.
---
Want More Great Hiking Vacations in California? Try these 5 Beautiful Lake Tahoe Hikes For Nature Lovers and these Yosemite Day Hikes & Activities to Beat The Crowds.
---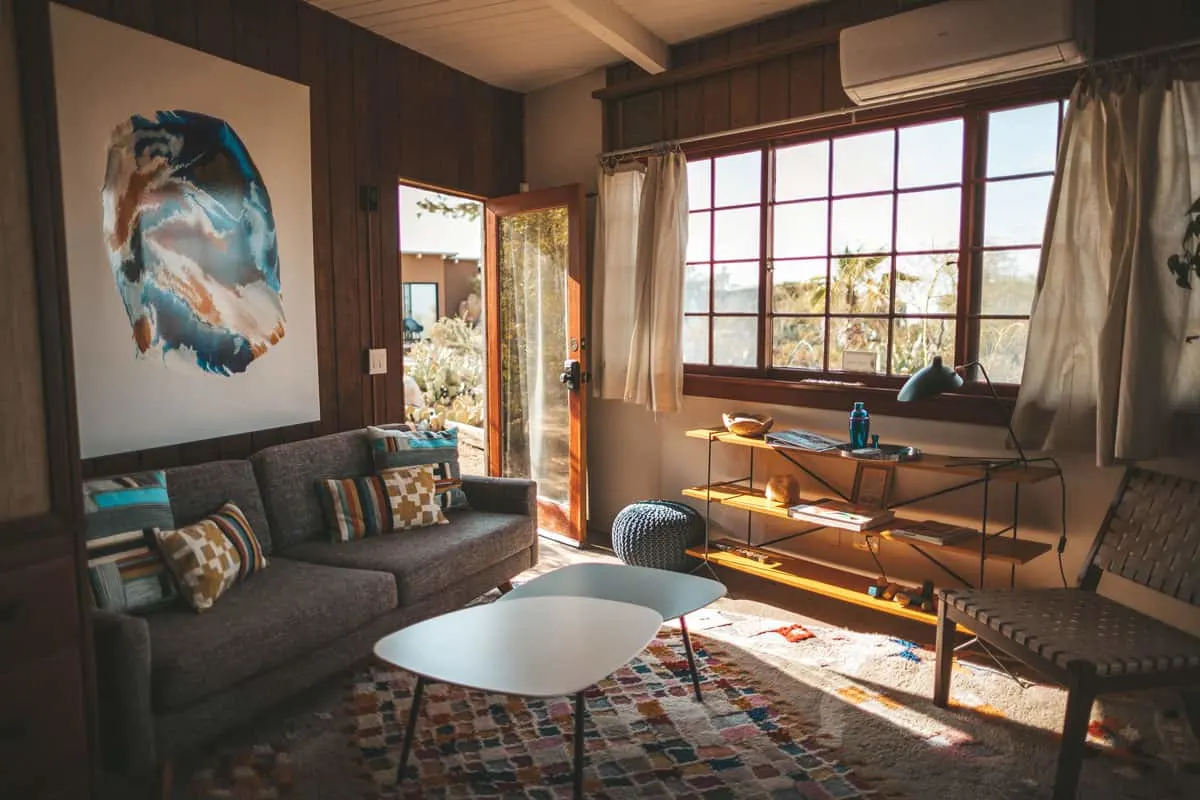 From tastefully restored roadside inns, (think roadside retro-chic) to small refurbed 50's hotels oozing modern eco minimalist decor with a back to nature, desert retreat vibe to luxurious desert spa hotels.
And of course, you'll find all the tried and trusted hotel chains. You'll have no problem finding the perfect base for your Joshua Tree getaway.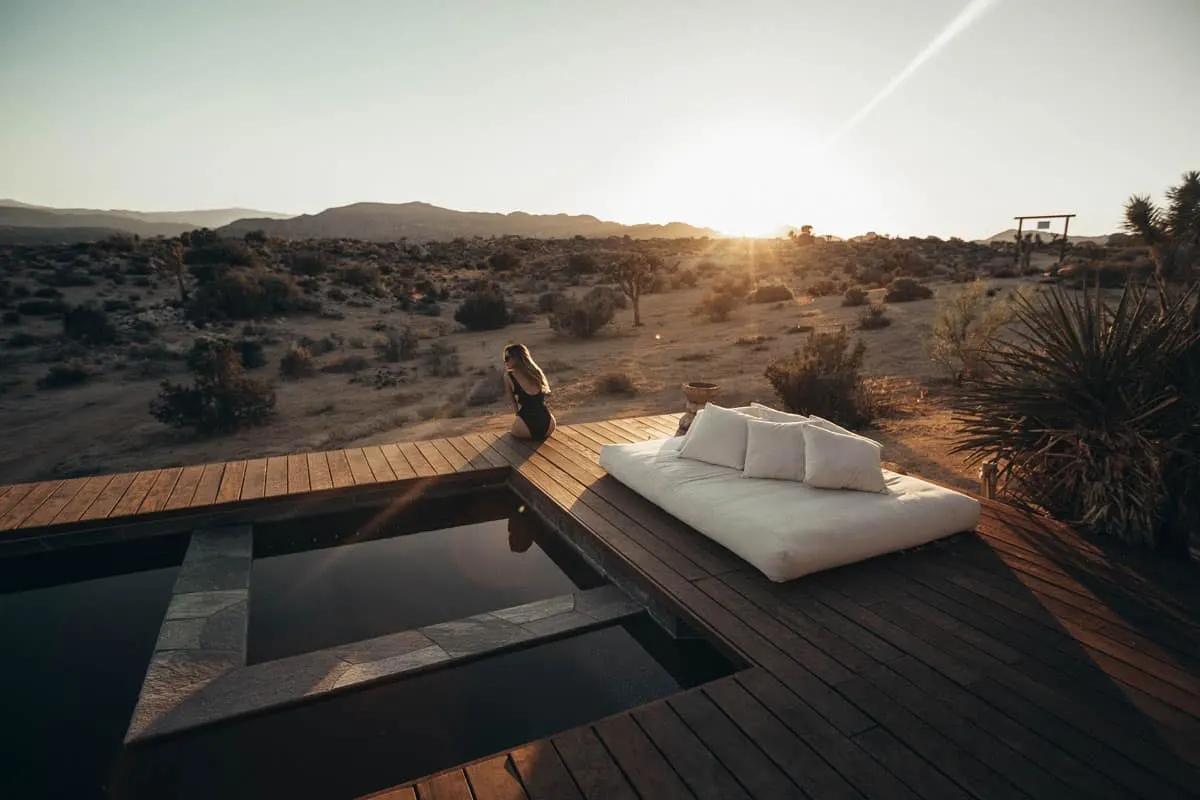 Best Time to Visit Joshua Tree National Park
Spring & Fall
The shoulder seasons of March – April and October – November are the best time to visit Joshua Tree. The weather is pleasant, and spring is particularly beautiful when the desert is blooming with wildflowers.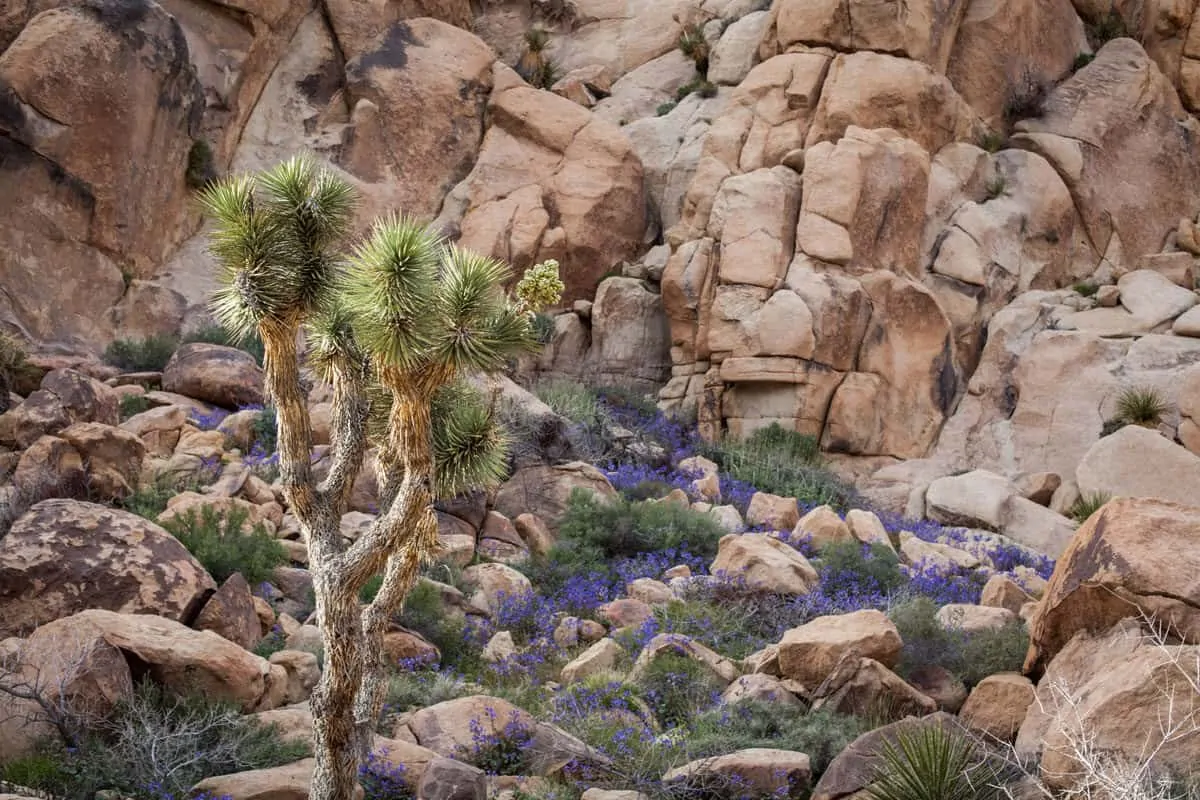 Winter
Winter can also be a great time to visit Joshua tree as there are fewer crowds and daytime temperatures are still pleasant. Nights will be very cold, but crisp, chilly evenings are perfect for beautiful night skies. After all, Joshua Tree is one of the best places in the world for stargazing.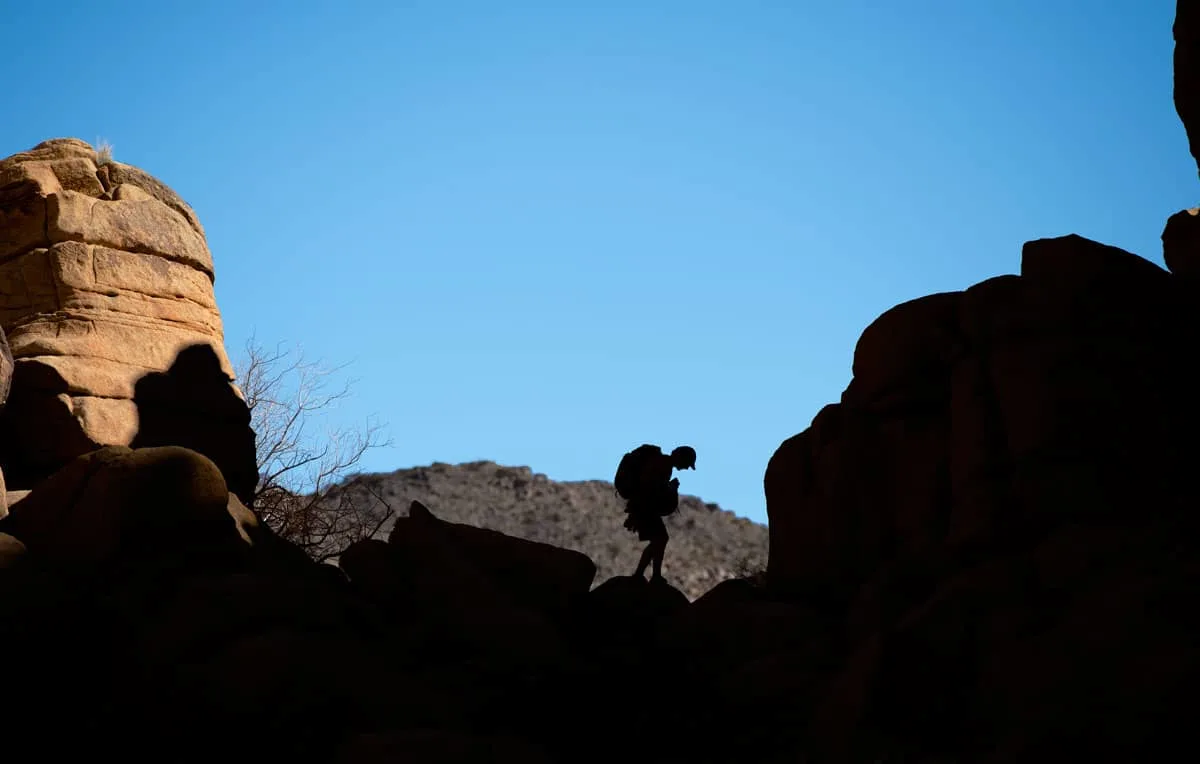 Summer
Summer is probably the least desirable time to visit Joshua Tree. Daytime temperatures can be in the high 100's (38℃) dropping to as low as 50℉ (10℃) at night. From June through August, severe lightning storms are not uncommon so you should always check the forecast before heading out on a hike.
Stay Safe When Hiking in Joshua Tree
Joshua Tree is a unique and beautiful place but it is also a wild and unforgiving desert wilderness. It is important to remember a few simple safety precautions even when setting off on a short hike.
Take more water than you need – in summer the temperatures are extreme and in winter the dry, arid air can cause dehydration. Always turn around when you have consumed half your water no matter what.
Bring enough food or snacks to keep you going for the expected duration of your hike. Especially on challenging hikes.
Make sure you have adequate sun protection. Not all hikes will offer shade.
The same goes for winter – make sure you have adequate layers to stay warm. Freezing temperatures and even snow are not uncommon in winter.
The park has a variety of wild animals. Do not approach or provoke any animals encountered on your hike. Visit the Joshua Tree Visitor Centre for information about wildlife encounters in the park.
Check the forecast before heading out. Lightning storms and flash floods are not uncommon. If you get caught out, move to a safe area and wait it out.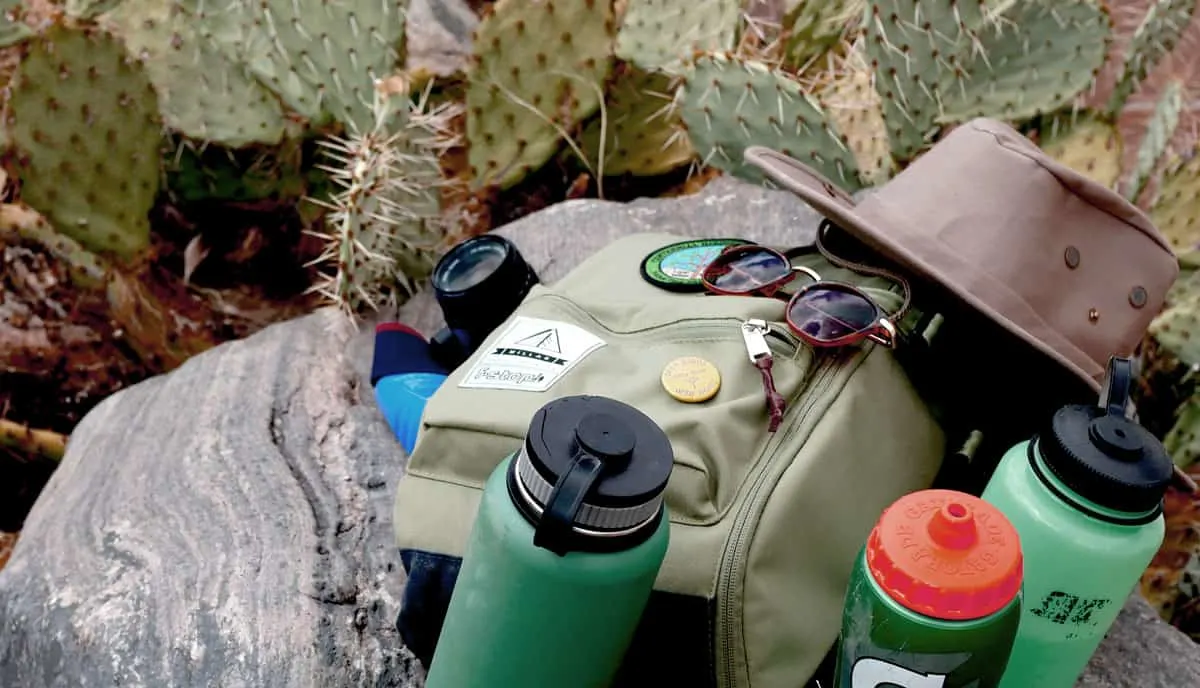 Best Hikes in Joshua Tree National Park
The beauty of Joshua Tree National Park is its accessibility. There are so many different hiking trails for all hiking abilities.
From short, circular walks and nature trails that can be done at any time of year (some are even wheelchair accessible) through to challenging hikes and multi-day treks that should only be considered at certain times of the year.
Here is a selection of hikes that will appeal to the first-time visitor of all hiking abilities. All are perfect for day adventures from your accommodation in Joshua Tree.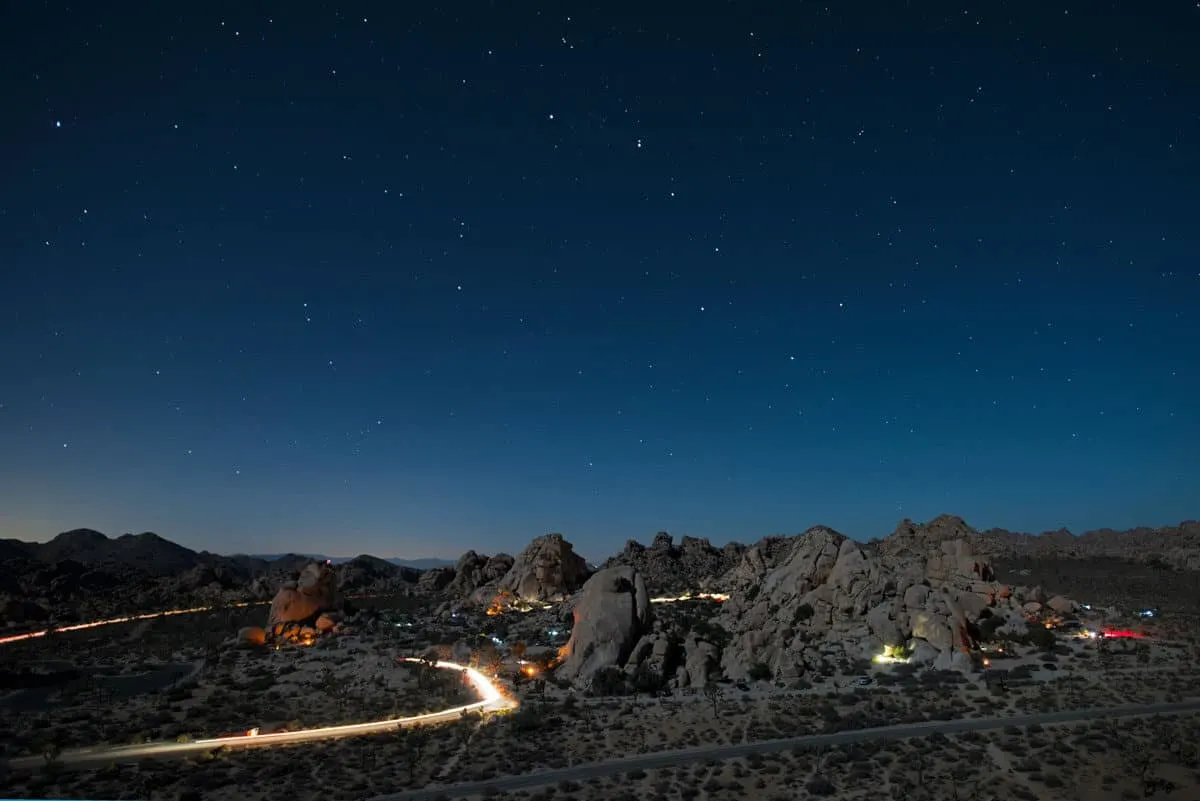 Distance: 1 mile (1.6km) – Loop
Time: 1 hr
Terrain: Flat
Difficulty: Easy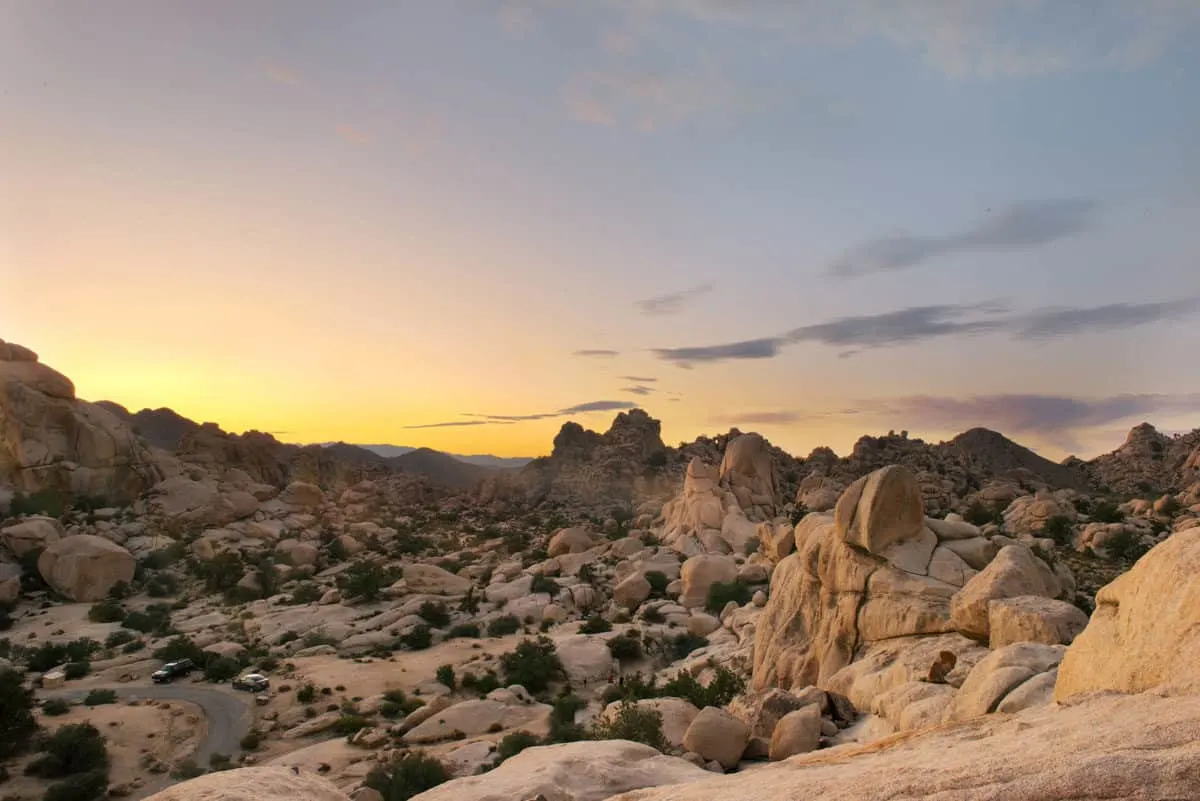 A short, flat, one-mile loop walk, perfect for a relaxed first-time hike in Joshua Tree. Hidden Valley, one of the most popular hikes in Joshua Tree National park, is a classic hike offering quintessential Joshua Tree landscapes of massive rock formations and Joshua trees.
The rock-enclosed valley was once rumored to have been used by cattle rustlers. The best time for this hike is either early in the morning to catch the sunrise and avoid the midmorning crowds. Or, aim for late afternoon when dusk gives the area an almost film-set worthy lunar landscape ambiance.
The trail leaves from next to the Hidden Valley picnic area.
Barker Dam
Distance: 1.1 mile (1.8km) – Loop
Time: 1 hr
Terrain: Flat – minimal elevation
Difficulty: Easy

An easy circular hike, Barker Dam Trail is excellent for wildlife, especially after the rains when the area transforms into a desert oasis.
The signed trail offers insight into the cultural history of the area and the cowboys who built the dam to water their cattle in the early 1900s.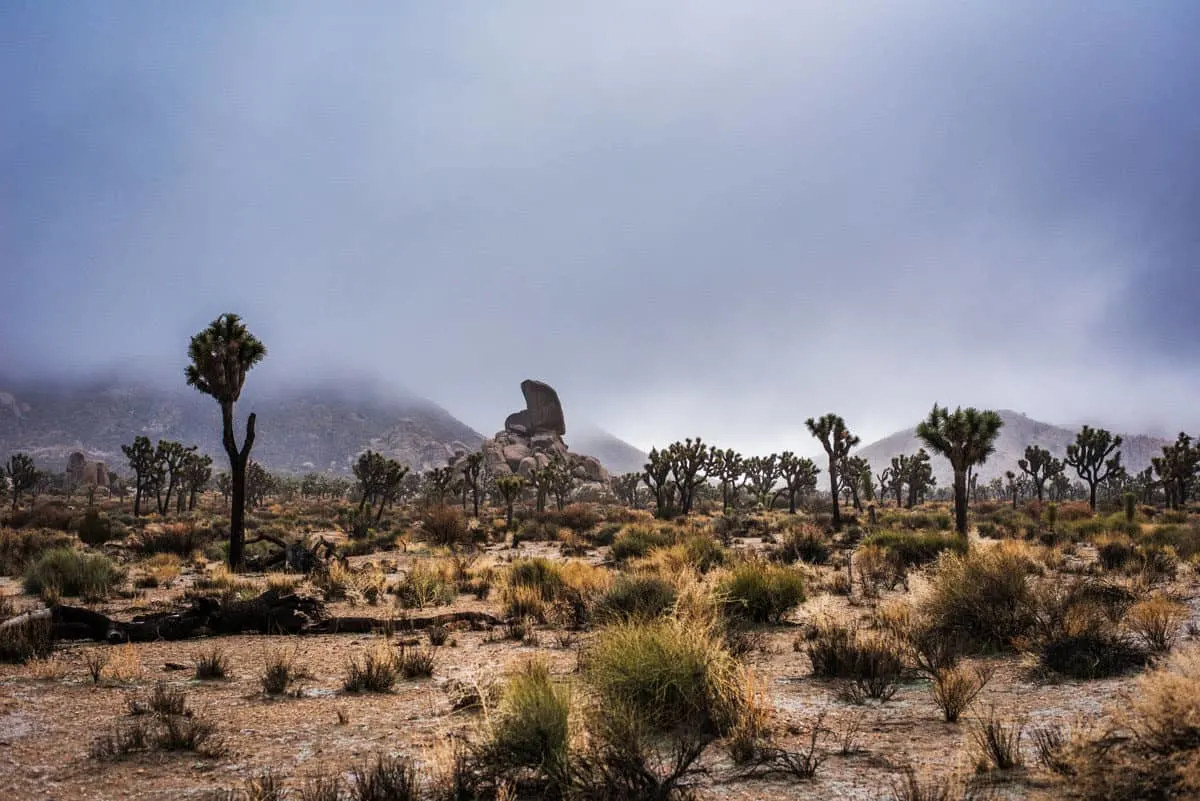 Look out for bighorn sheep in the area as well as jackrabbits and a myriad of birdlife. The dam offers a wonderful photo opportunity with spectacular reflections of the rocky outcrops and Joshua trees.
The Barker Dam parking area is only two miles from Hidden Valley. There is also a trail that connects the two if you wish to join the two hikes.
Arch Rock
Distance: 0.5 mile (0,8km) – Loop
Time: 0.5 hr
Terrain: Flat
Difficulty: Easy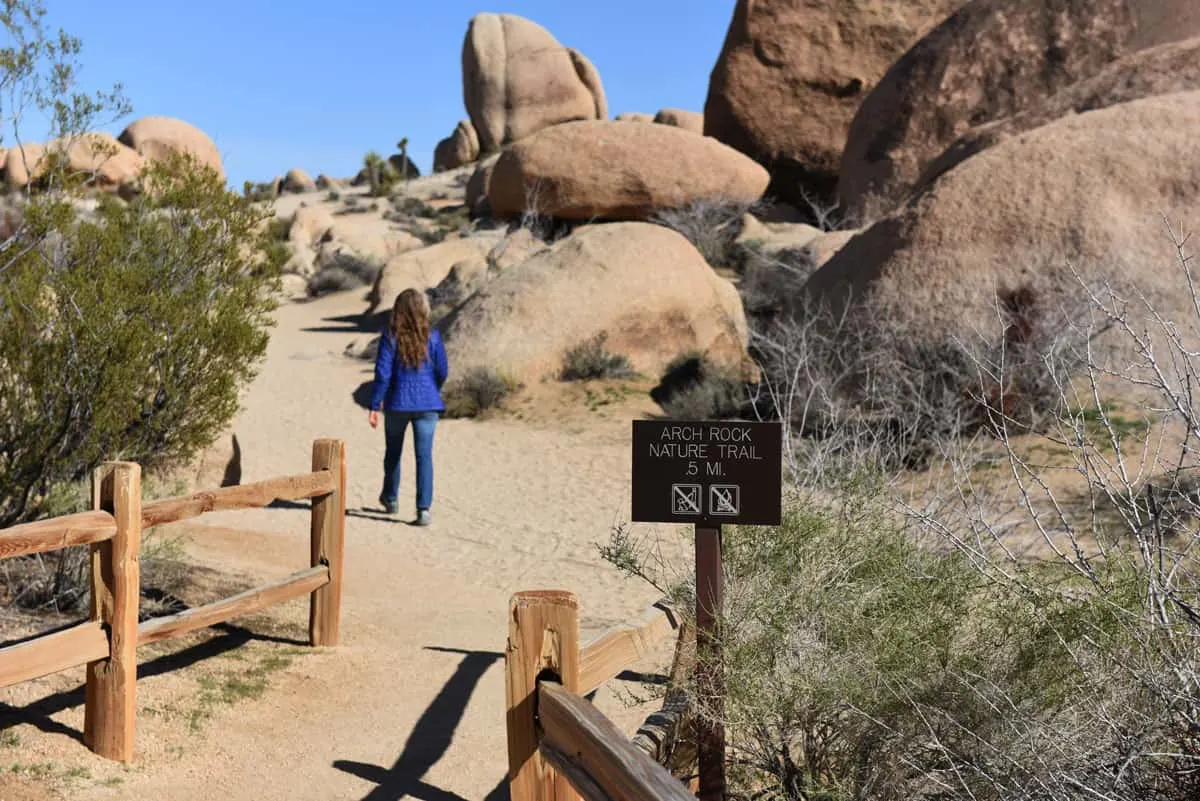 Arch Rock is a short trail within the White Tank Campground that leads to a spectacular rock arch spanning roughly 30 feet in length.
The joy of this hike is exploring and scrambling over the rock formations in the area. Climb to the top of the arch for some incredible views over the desert.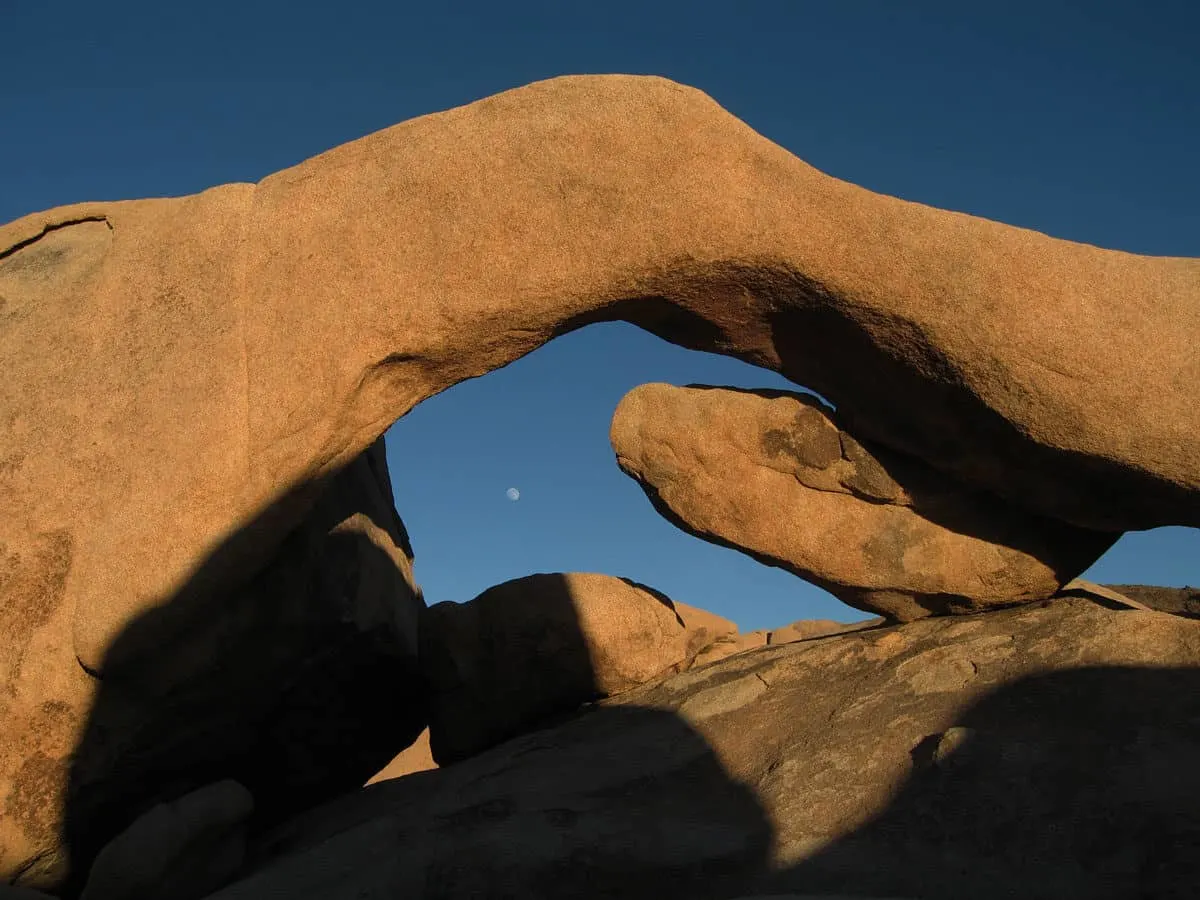 Understandably, this hike is very popular so can become quite crowded during the day. Head there at night for a completely different experience, and you'll see why the location is very popular with Astro Photographers.
Ryan Mountain
Distance: 3 miles (4.8km) – Out and back
Time: 1.5-2.5 hrs
Terrain: Steep
Difficulty: Moderate
One of the most popular hikes in Joshua Tree, this short but steep hike pays off with the most beautiful 360° views of the park from the summit.
The climb starts right from the get-go on this hike, but the trail gradient eases off as you near the top.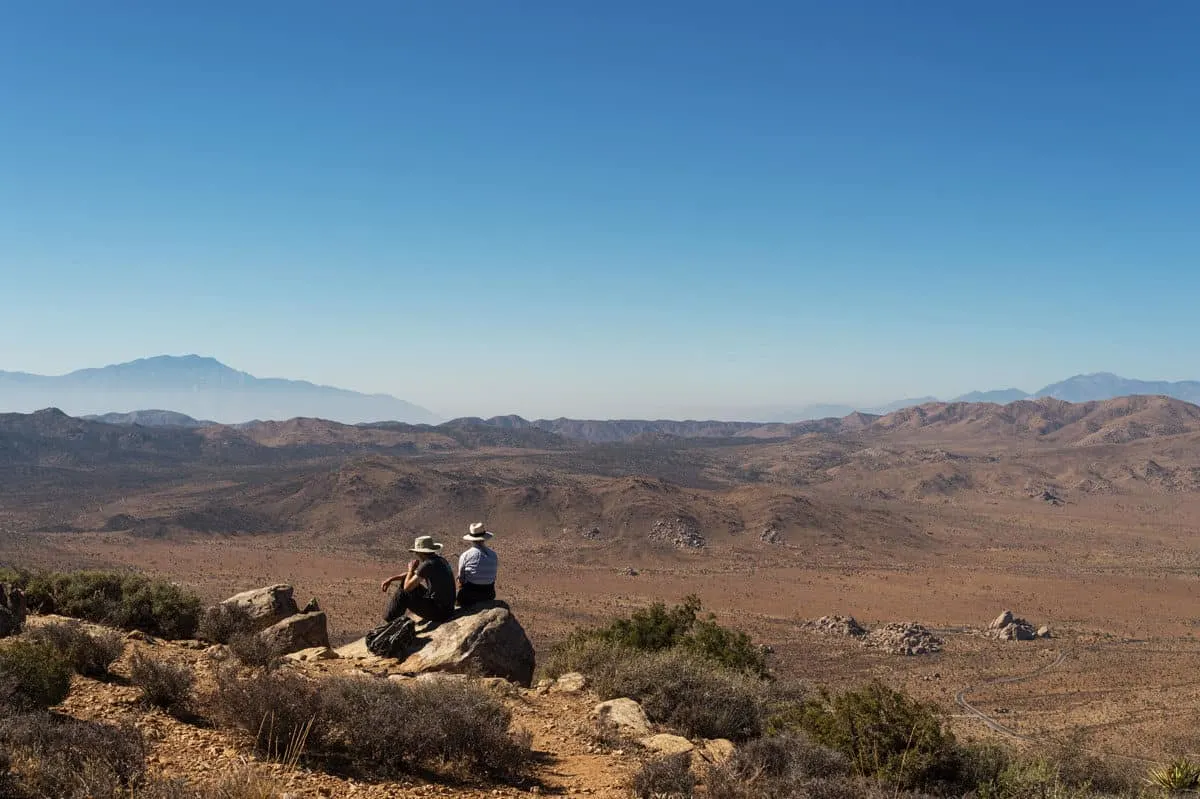 The well-maintained track is steep and exposed to the sun and wind. But the views are worth the small effort and provide a great excuse to stop and catch your breath.
In summer, this hike should not be attempted after 11.00 am as the temperatures are simply too hot for such a climb.
The trail starts from the parking area between Sheep Pass and Ryan Campground. The Ryan Mountain Trail map is here.
Lost Horse Mine
Distance: 4 miles (6.4 km) Out and back ( or 6.6 miles (10 km) if you choose the full Lost Horse Loop hike).
Time: 2-3 hrs
Terrain: Mostly flat. Full Lost Horse loop is slightly elevated.
Difficulty: Moderate – Hard
One of the most successful gold mines in Joshua Tree NP, this popular hike offers hikers such varied sights and a fascinating insight into the Lost Horse mining history.
Along the trail, you are treated to landscapes of California wildflowers, large Joshua trees and the remains of the Lost Horse Gold Mine.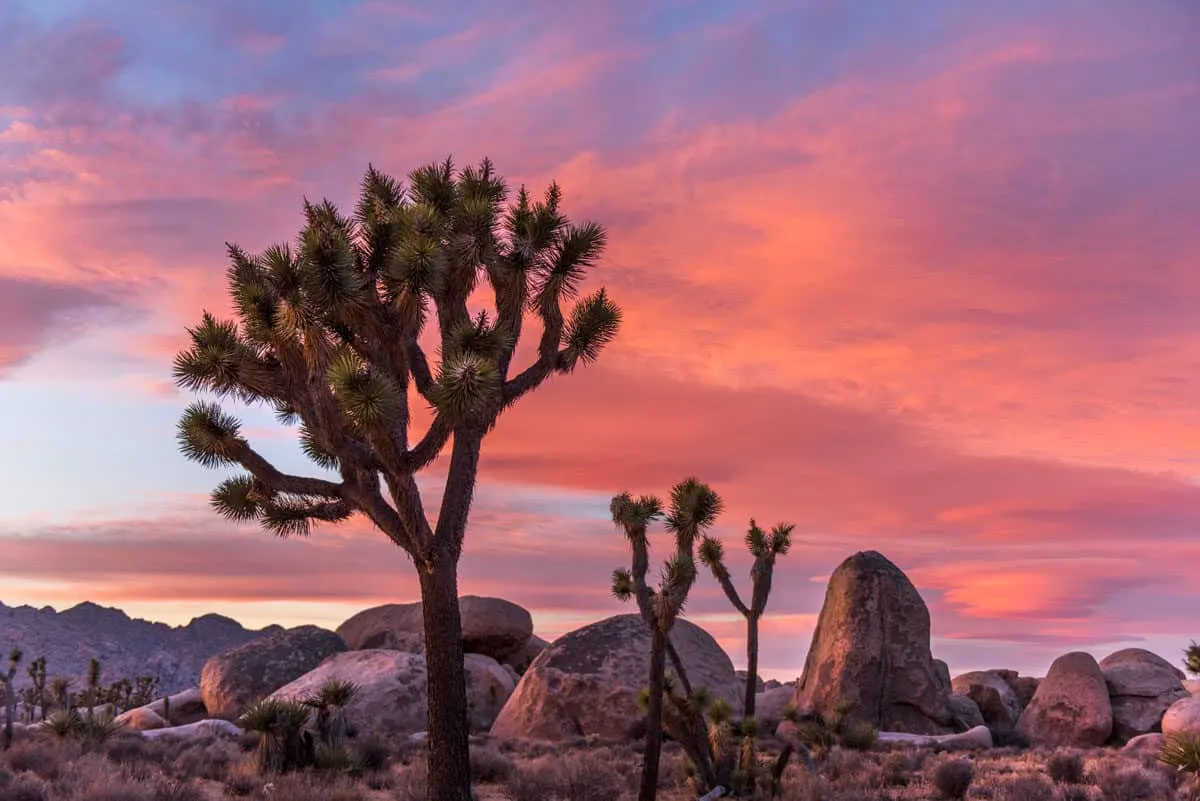 Follow the old winding trail once used by miners to transport mining supplies by horse and wagon.
Once you arrive at the mine site, be careful to stay outside of the fenced area as the ground around the old mine shafts is unstable. Keep an eye out on the trail and around the mine for discarded rusty treasures from the mine operations.
Take the extra walk to Lost Horse Mountain from the mine site for spectacular views.
Depending on the season, you can extend the hike by doing the full Lost Horse Loop Hike which is approx. 6.6 miles round trip and slightly more elevated. A hike not recommended in the peak of summer after mid-morning.
The Lost Horse Mine Hike starts from a well-maintained dirt road off Keys View Road. You Can find the Lost Horse Trail map here.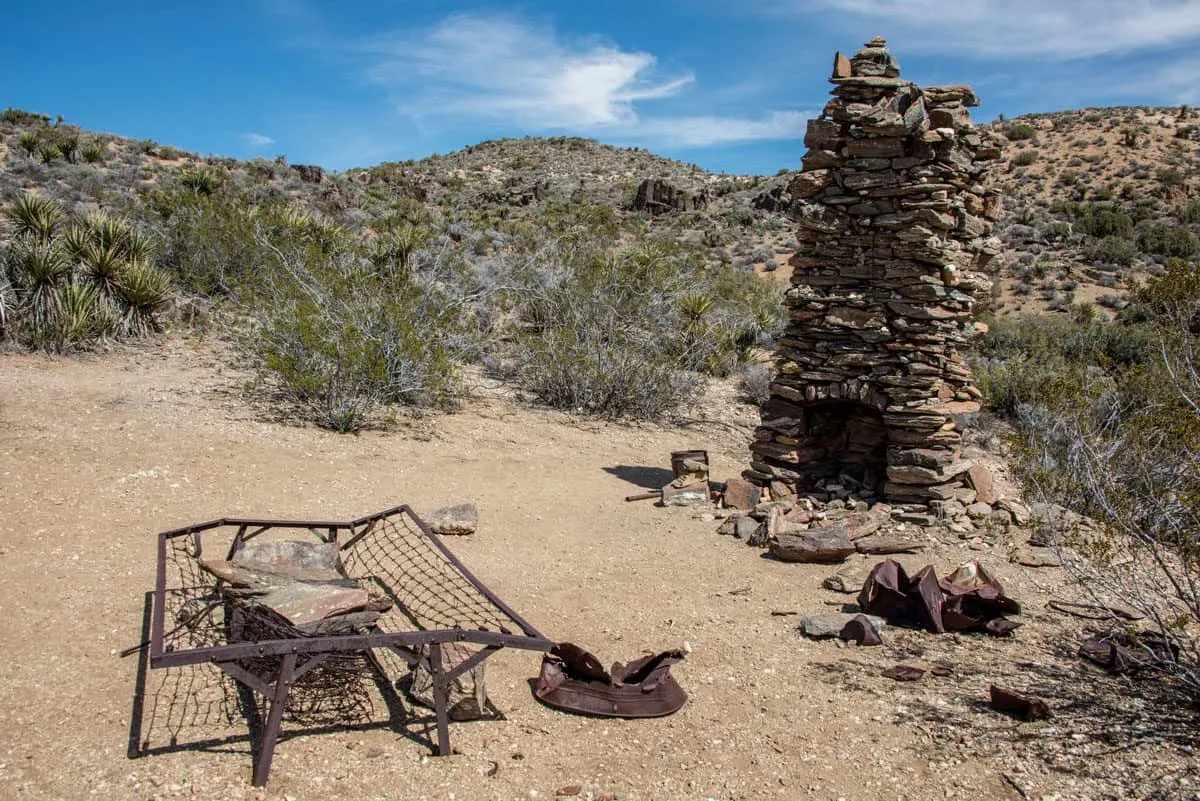 Split Rock Loop
Distance: 2.5 miles (4 km) – Loop (Includes trip to Face Rock)
Time: 1.5-2 hrs
Terrain: Flat
Difficulty: Easy
Close to Skull Rock, the Split Rock hike doesn't attract as much attention which makes it even more appealing. While the name may be less exciting, the rocky landscape and unique scenery are just as appealing, and the lack of people offers a much more peaceful experience.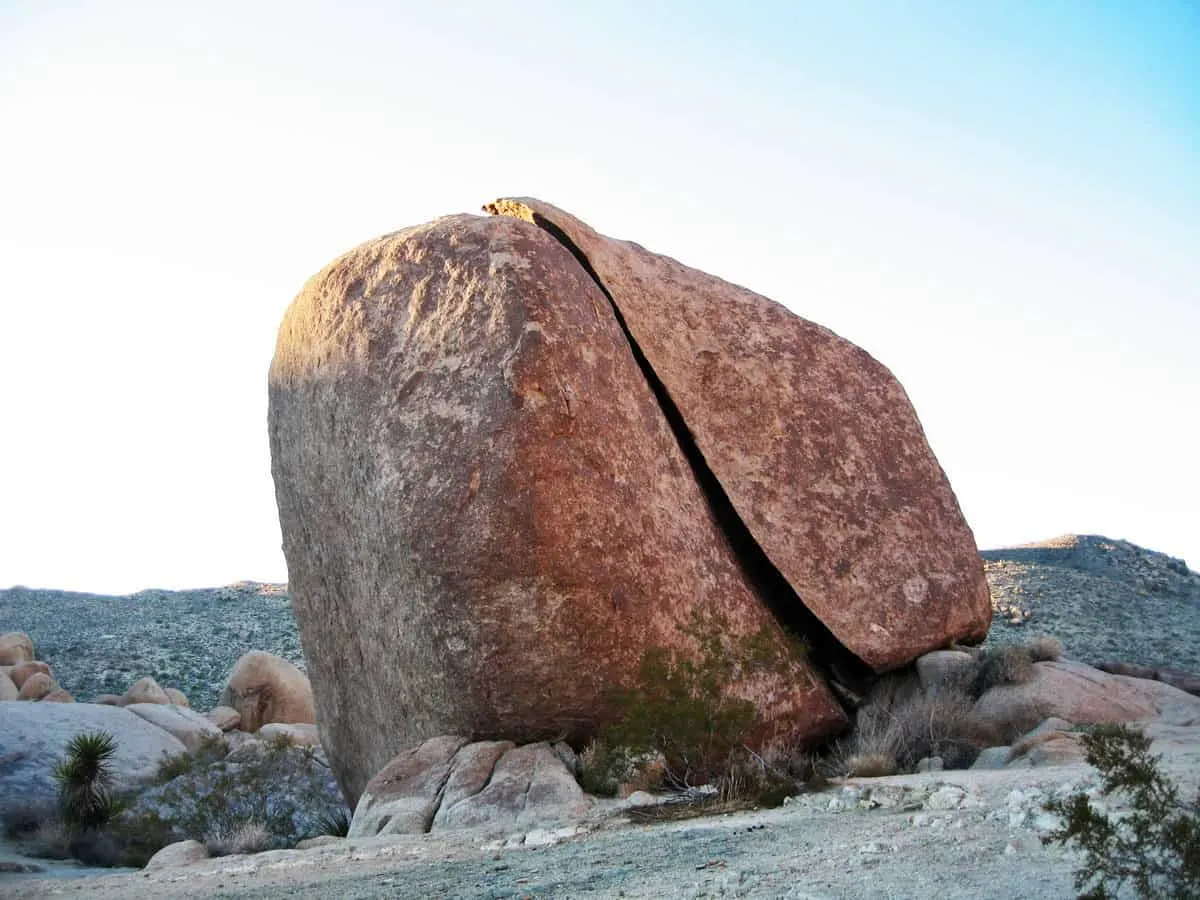 The Split Rock Loop is excellent for all skill levels and even families with young children. Roughly halfway along the loop, you will find a short marked detour to Face Rock as a bonus side trip.
If you want to extend your hike, a little distance down the road is the Jumbo Rocks / Skull Rock Loop trail.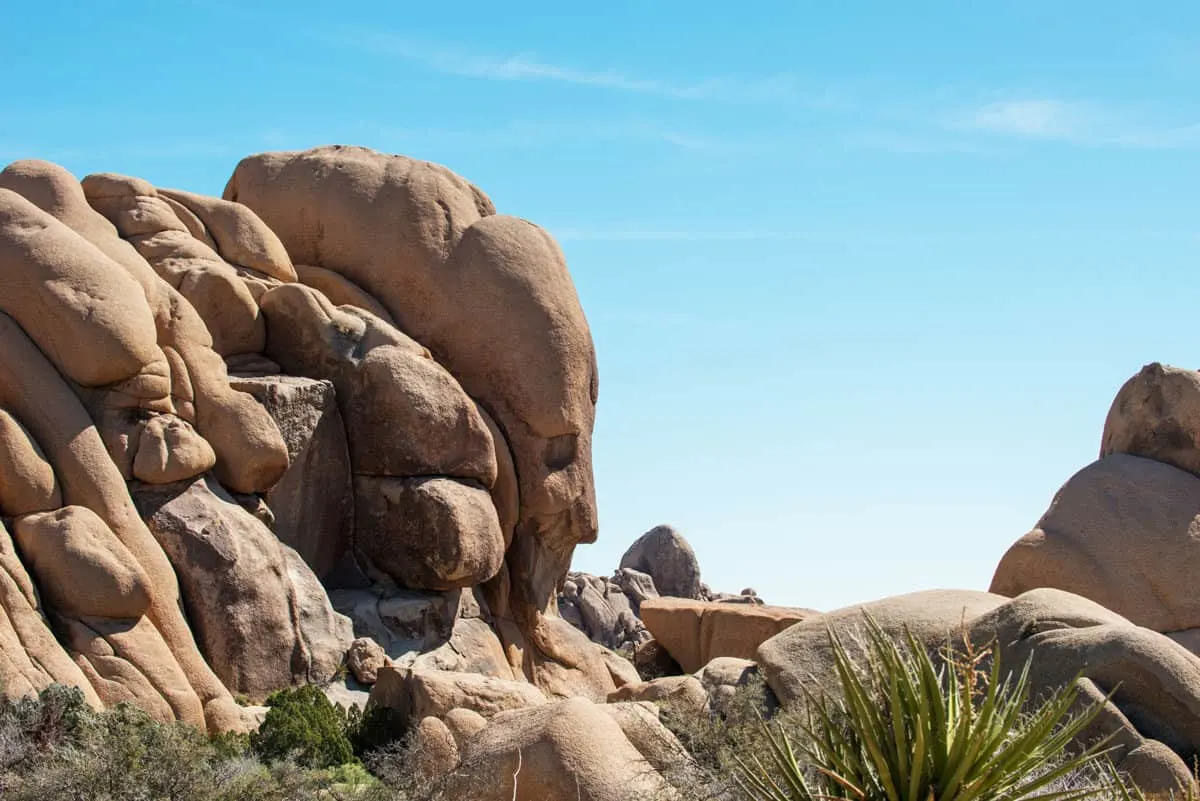 Willow Hole & The Wonderland of Rocks
Distance: 7.2 miles (11.5 km) – Out and back
Time: 4 hrs
Terrain: Flat
Difficulty: Easy-Moderate
The Willow Hole Trail has a reputation with serious hikers as being one of the best hikes in Joshua Tree National Park. The trail takes you over the mostly flat sandy desert and rocky valley's following the edge of the Wonderland of Rocks.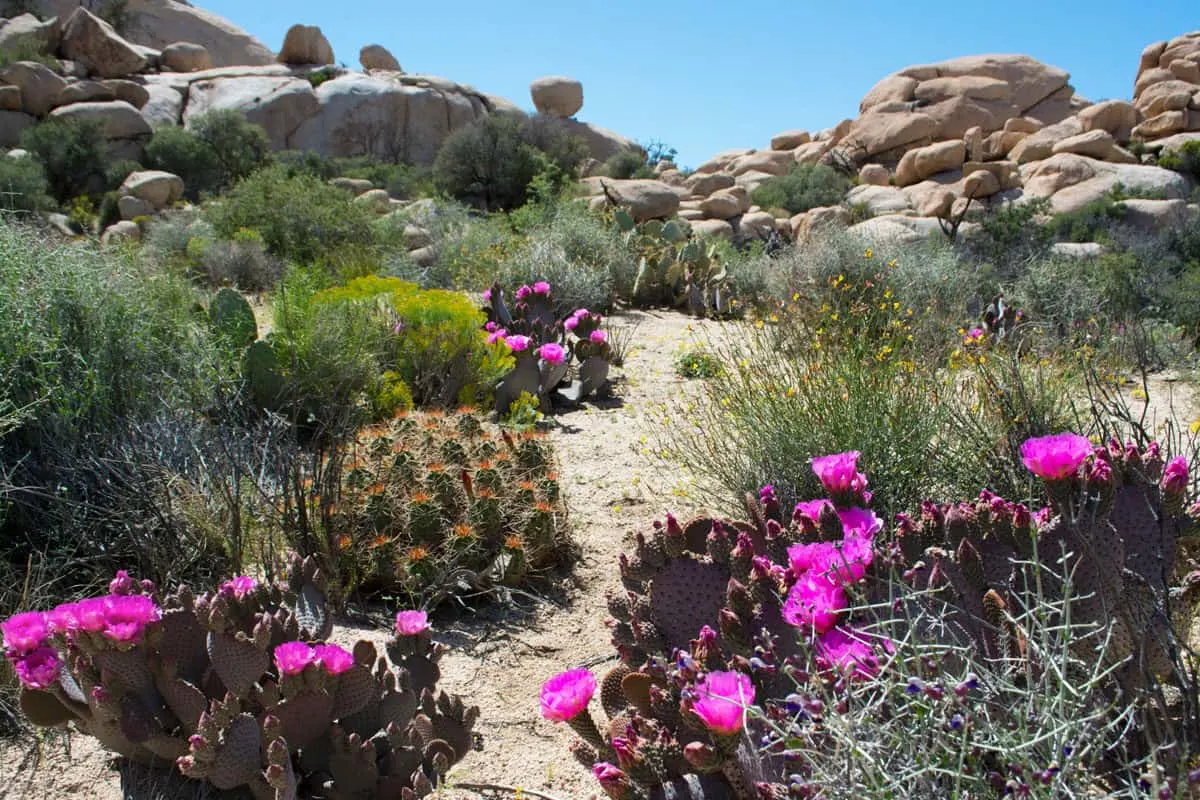 You'll be treated to Joshua tree forests, a variety of desert wildlife, stunning views and wildflowers on this hike. After the rains, the creek along the trail will also attract bighorn sheep.
The trail ends at Willow Hole, a beautiful oasis of lush willow trees, and naturally forming springs that attract wildlife and create a microhabitat for water-loving flora.
The Willow Trail starts 1.2 miles into the Boy Scout Trail.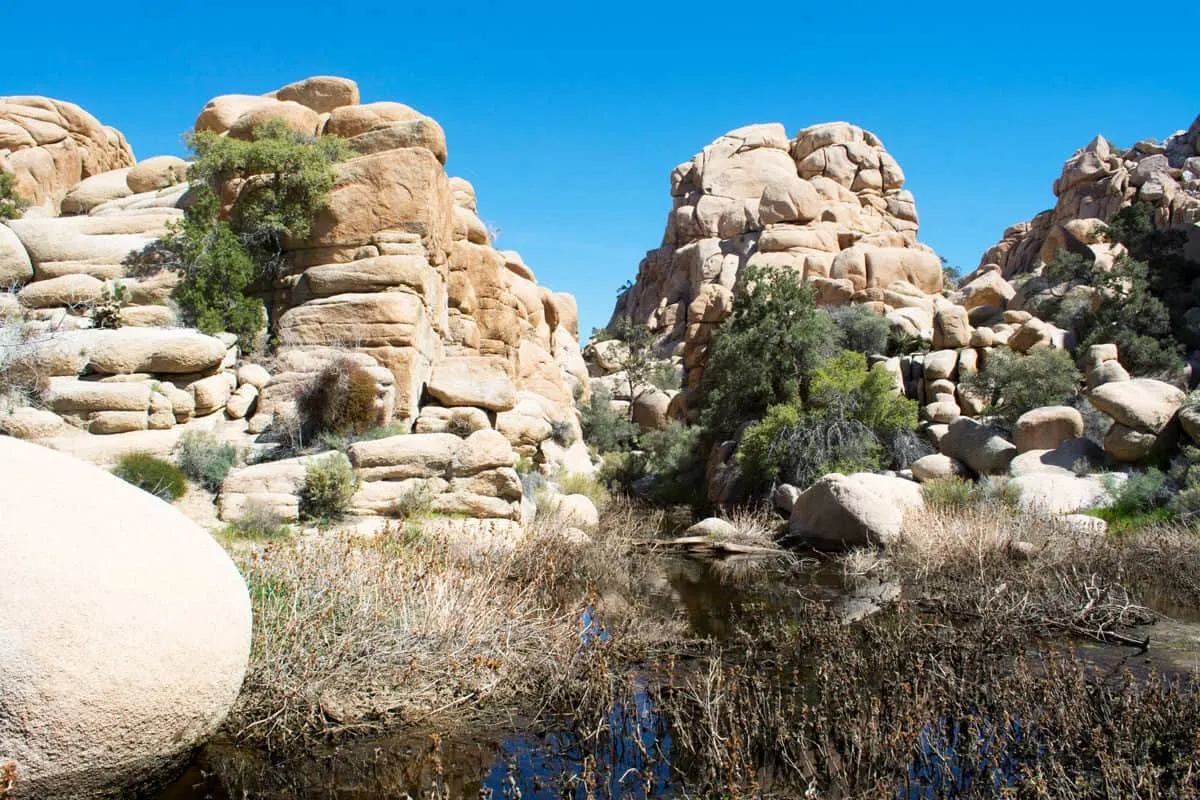 These are just a few of the many hikes in Joshua Tree but all perfect for first-time visitors or those only planning a short visit. There is so much to see in Joshua Tree, especially for avid hikers, Joshua Tree is a destination that can easily be visited again and again.