Tucked away in the Sierra Nevada mountain range, pine forests, sandy shores, and snow-capped mountains surround beautiful Lake Tahoe.
Split down the middle by the California and Nevada state line, Lake Tahoe is arguably one of the most incredible lakes in the United States and one of the best places to visit in California. There is also an incredible number of stunning Lake Tahoe hikes to keep every nature lover happy.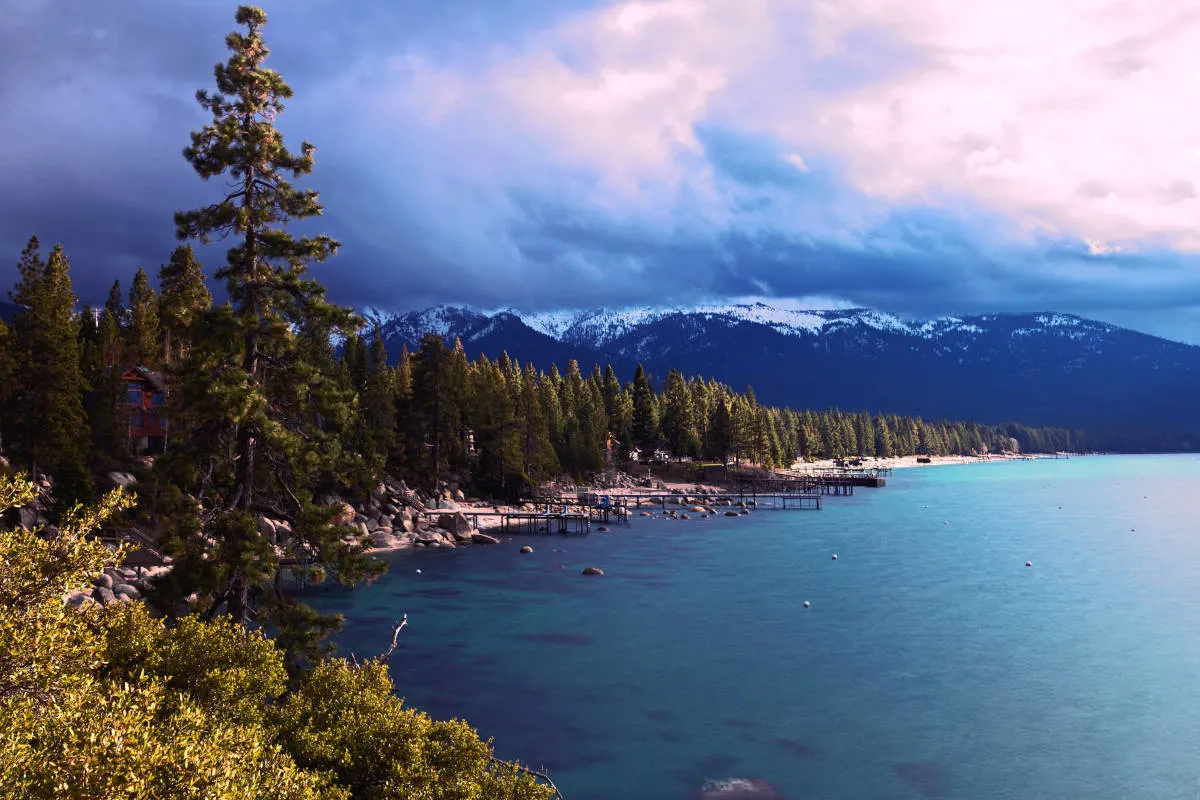 Hiking in Lake Tahoe
A wonderful all-year-round destination, the is so much to do in Lake Tahoe in the summer and it's one of the most beautiful places in the US to visit in winter. It's not surprising Lake Tahoe is a popular hiking destination any time of year and popular inclusion on a northern Californian road trip itinerary.
With a range of great hiking trails for all levels, whether you're a casual hiker or an adventurous mountain climber, a trip to Lake Tahoe isn't complete without hiking.
Some hikes offer amazing views of the turquoise lake, while others take you deep into the forest where you can reach fantastic lookouts.
These are five of the most epic Lake Tahoe hike trails, both in the South and the North.
---
Discover some more incredible hiking destinations in the US
---
Where To Stay In Lake Tahoe
The surrounding area of Lake Tahoe offers travelers completely different experiences depending on the village or town you choose.
Lake Tahoe is a popular destination for hiking enthusiasts and travelers worldwide. There is a great range of accommodation including plenty of budget-friendly options, but you'll also find some gorgeous boutique hotels in Lake Tahoe for something special.
South Lake Tahoe
There is a lot do in Lake Tahoe which is why the South Side of the lake has experienced a lot of development, with big resort hotels and casinos bringing in plenty of tourism. There's a vast selection of restaurants, spas, and outdoor activities for those who want a livelier pace.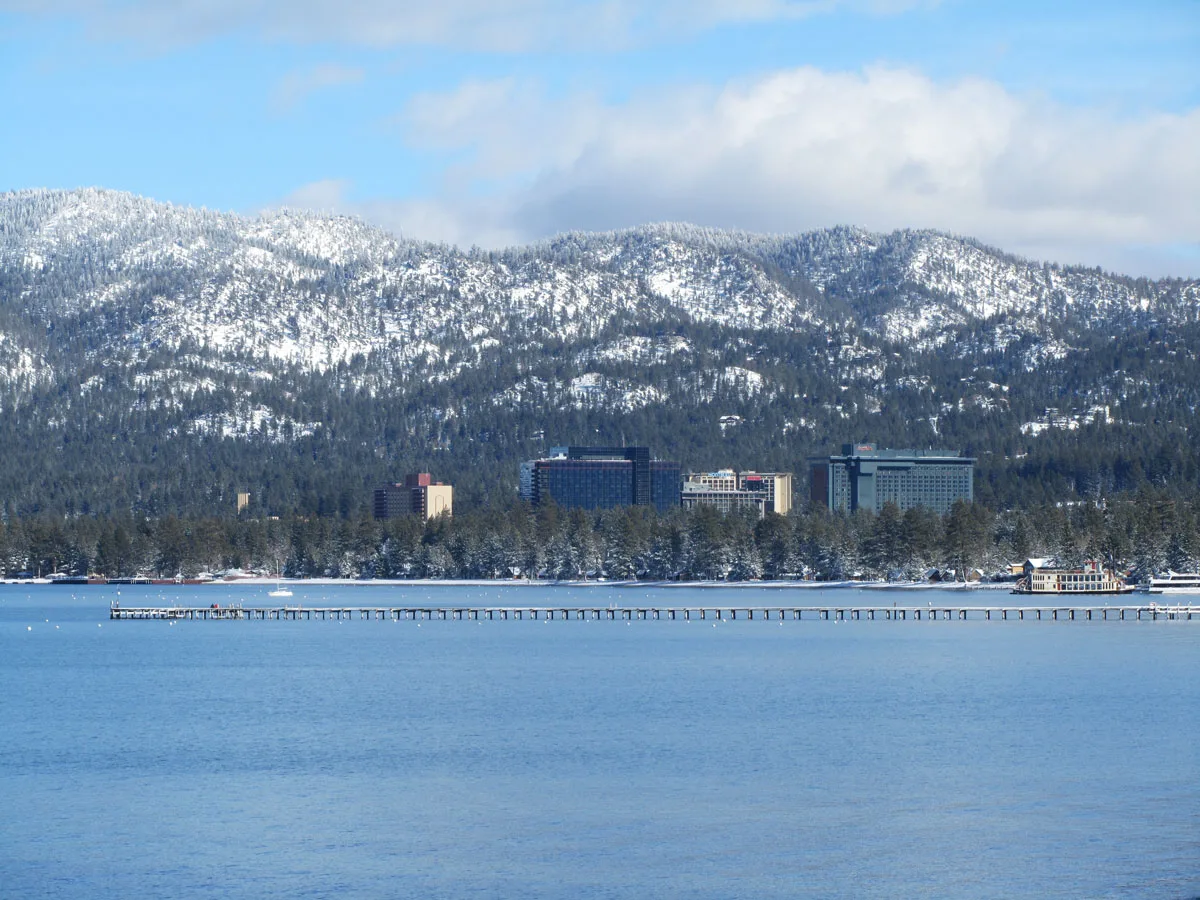 North Lake Tahoe
In contrast, the Northside sets a quieter pace, with more tranquillity including some more luxury options. The north is home to picturesque towns, such as Incline Village and Olympic Valley. You'll also find some pretty good ski runs in winter.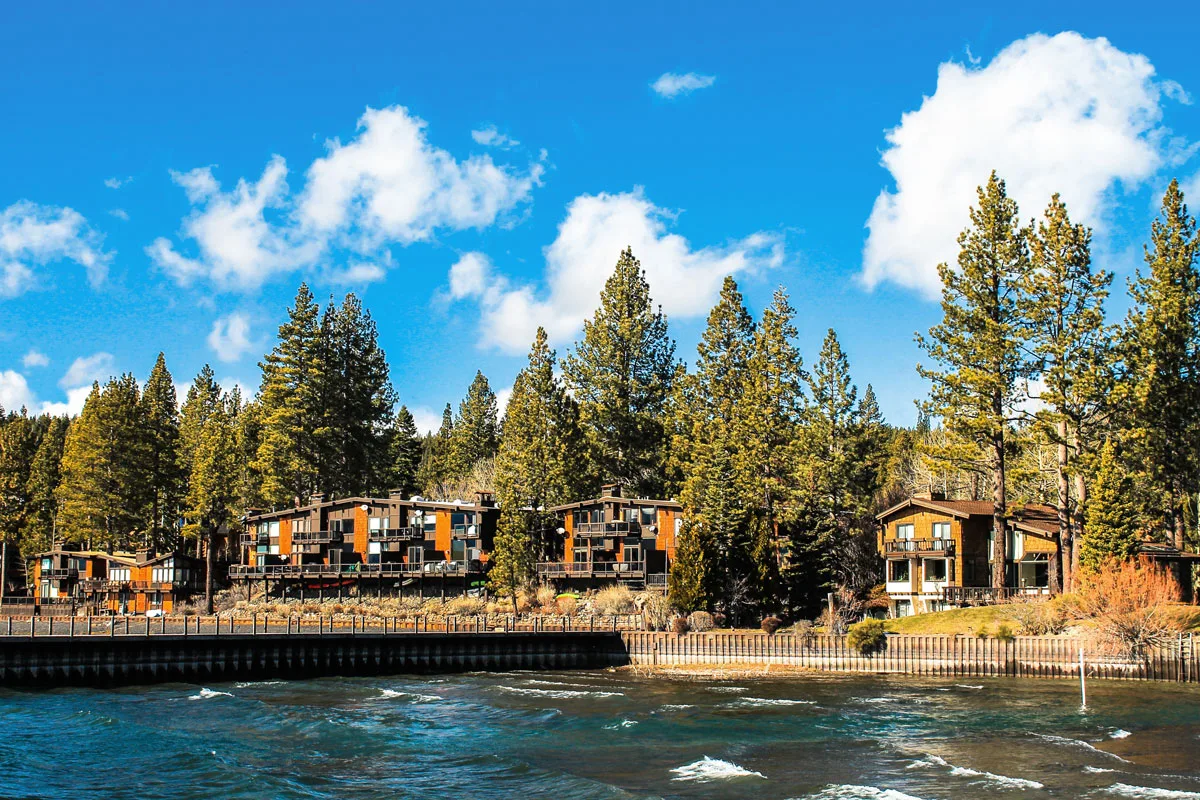 South Lake Tahoe Hiking Trails
With over 83 trails in the south, there is bound to be a trail to suit your hiking style. Below are three of the best hikes in South Lake Tahoe.
If you're looking for more great hiking destinations in California, there are unique and beautiful hiking trails in Joshua Tree to discover.
Mount Tallac
Distance: 10.2 miles (16.5km) – Out and back
Time: Full day
Terrain: Rocky
Difficulty: Difficult
One of the more challenging, but most scenic routes in Lake Tahoe. Mount Tallac is also considered one of the best hikes in Lake Tahoe.
The peak provides enough adventure to satisfy even the most experienced hikers. The enchanted peaks reveal glimpses of the Desolation Wilderness area with snowy trails still possible in August.
The hike begins through a light forest and continues along the shores of Fallen Leaf Lake. The majority of the hike reveals views of the surrounding mountain range.
Mount Tallac Hike Tip: Register your day hike in the Desolation Wilderness area and receive your free permit at the start of the hike.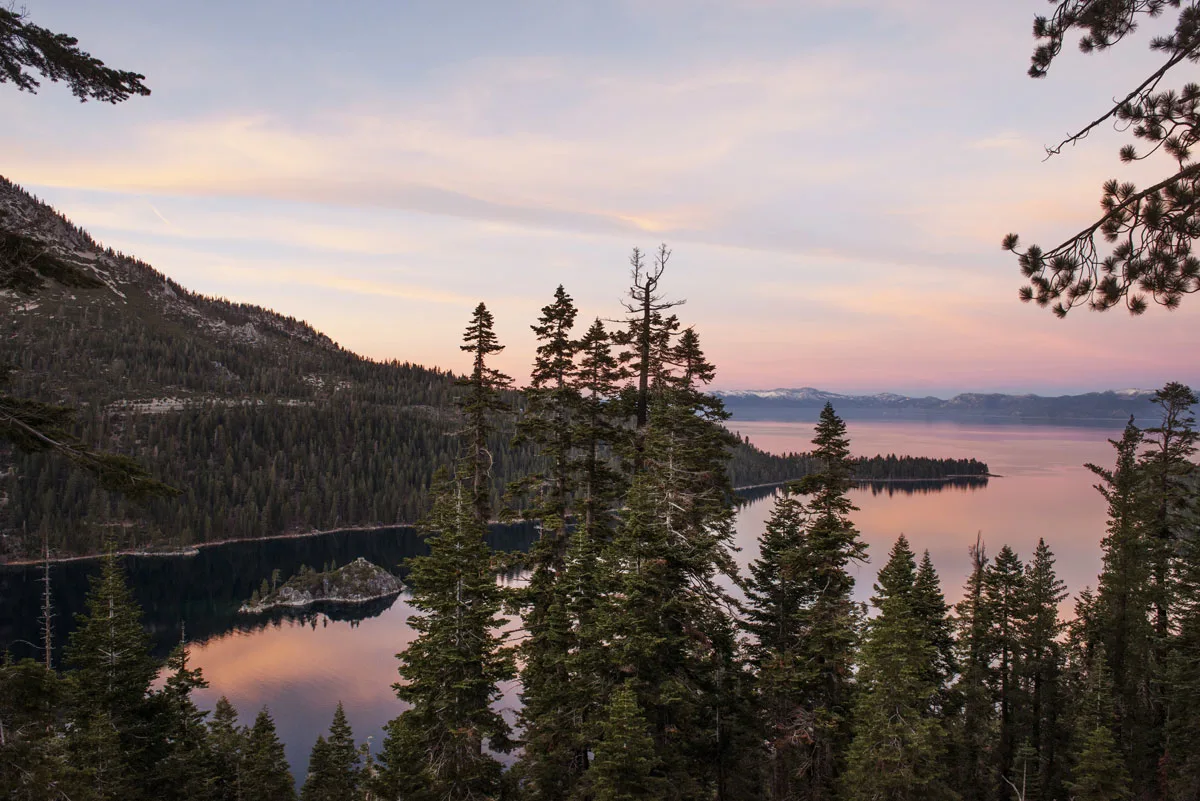 Eagle Lake
Distance: 1.8 miles (2.8km) – Out and back
Time: 1-2 hrs
Terrain: Gentle slope
Difficulty: Easy
Eagle Lake hike is an enjoyable and moderately easy trail, and popular among all hiking levels. As the name suggests, the hike that takes you to Eagle Lake. Expect to see mountain bikers, dog walkers, and even horse riders along the trail.
In the summer, the trail is lined with beautiful wildflower meadows, and during the hotter summer periods, the forest of trees offers welcome shade.
Eagle Lake Hike Tip: This trail is very popular so it can get hectic over the weekends and holidays. If you're bringing your dog on a hike, be sure to keep them on a lead.
Rubicon Peak
Distance: 3.5 miles (5.6km) – Out and back
Time: 6 hours
Terrain: Steep
Difficulty: Difficult
The trail is popular for hiking, running, dog walking, and nature trips. It's even considered a family-friendly hike – with older kids more than capable of tackling the terrain. It's open all year round, making it an awesome hike to do during the snowier parts of the year.
Enjoy scrambling up the rocky paths as the trail leads you through dense pine forests, which reveal magnificent views of Lake Tahoe.
Rubicon Peak Hike Tip: Permits are needed to enter the Desolation Wilderness area, but these aren't available at this trail. They'll need to be collected from either the Lake Tahoe basin management unit, the Lake Tahoe visitor's center, or the pacific ranger district.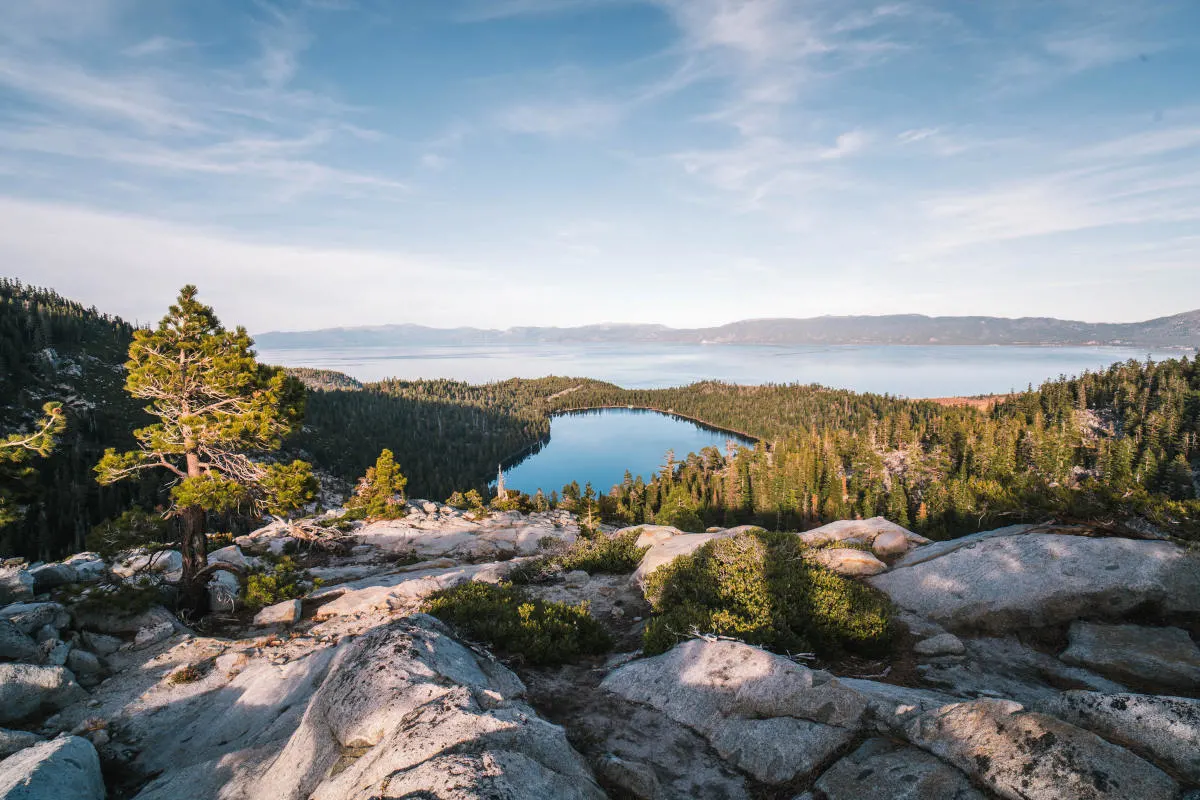 North Lake Tahoe Hiking Trails
The hikes in North Tahoe reveal a gorgeous landscape of hidden waterfalls, wildflower meadows, and granite slopes that will delight any nature lover or hiker.
Wondering What to Pack For Hiking in Lake Tahoe? See our Hiking Packing Guide
Five Lakes
Distance: 5 miles (8km) – Out and back
Time: 6.5 hrs
Terrain: Steep at times, but mostly flat
Difficulty: Intermediate
Among the Granite Chief Wilderness, this is a beautiful hike that features, as the name suggests, five alpine lakes. The hike is quite challenging to begin, but get past the first part, and the rest is easygoing.
Building-sized boulders and wildflowers dot the trail as you make your way from lake to lake. At each of the lakes, you'll find many spots which are perfect for picnicking and taking a dip in the fresh, clear waters. The massive granite walls, which are impressive to look at allow the freshly melted water to stream down into the lake.
Five Lakes Hike Tip: If you wish to plan an overnight hike, you have the option of camping by the lakes (although not within 600 meters of the water). So in the warmer summer months, bring along a backpack with some basic gear to camp next to one of the beautiful lakes.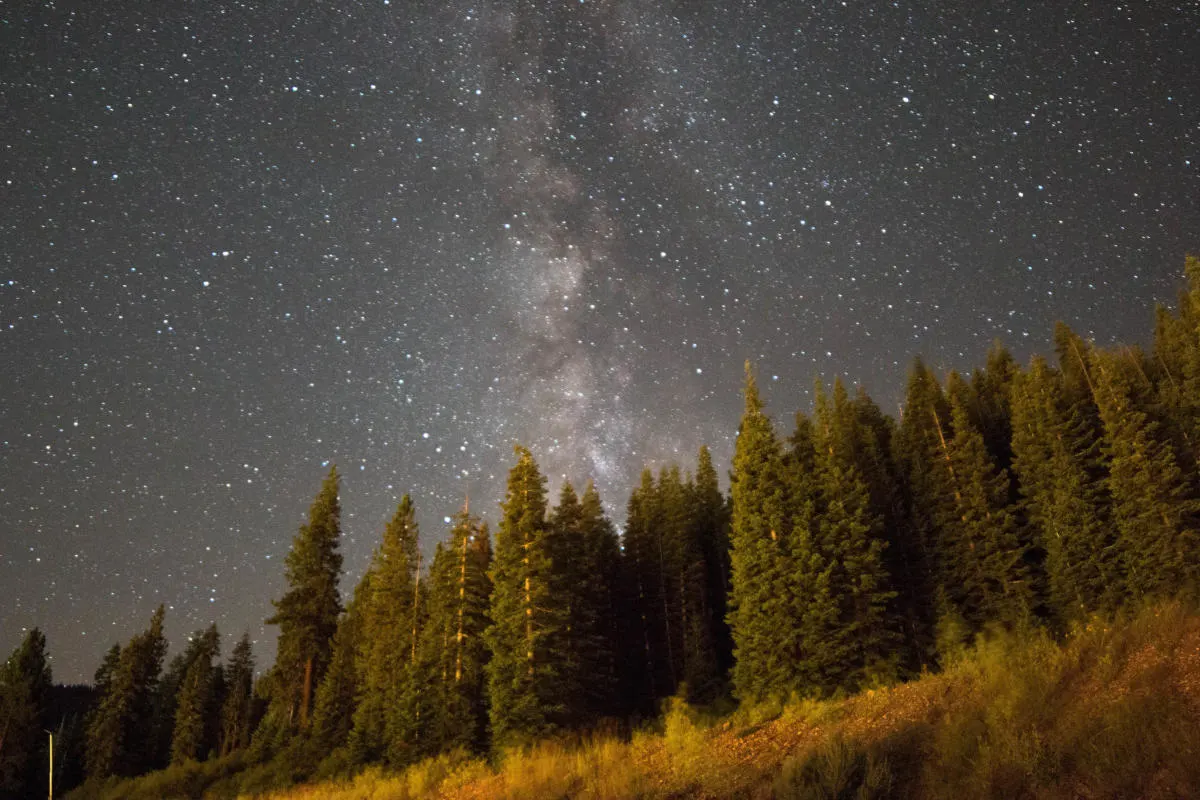 Shirley Lake Trail
Distance: 5.8 miles (9.4km) – Out and back
Time: 7 hrs
Terrain: Rocky
Difficulty: Intermediate/difficult
With ever-changing views of Squaw Valley, Shirley Lake Trail is a fun and challenging hike. The trail takes you from flowing waterfalls to Shirley Lake and then across scenic meadows and large granite boulders.
The trail boasts lush greenery, flowing creeks, and granite rock slabs, an ever-changing landscape that makes it a great option for nature lovers and outdoor adventurers.
Shirley Lake Hike Tip: Although it's an amazing trail, it can be quite difficult to follow, especially when the trail crosses over the large granite faces. If you get lost, look out for cairns (rock piles) which direct the way.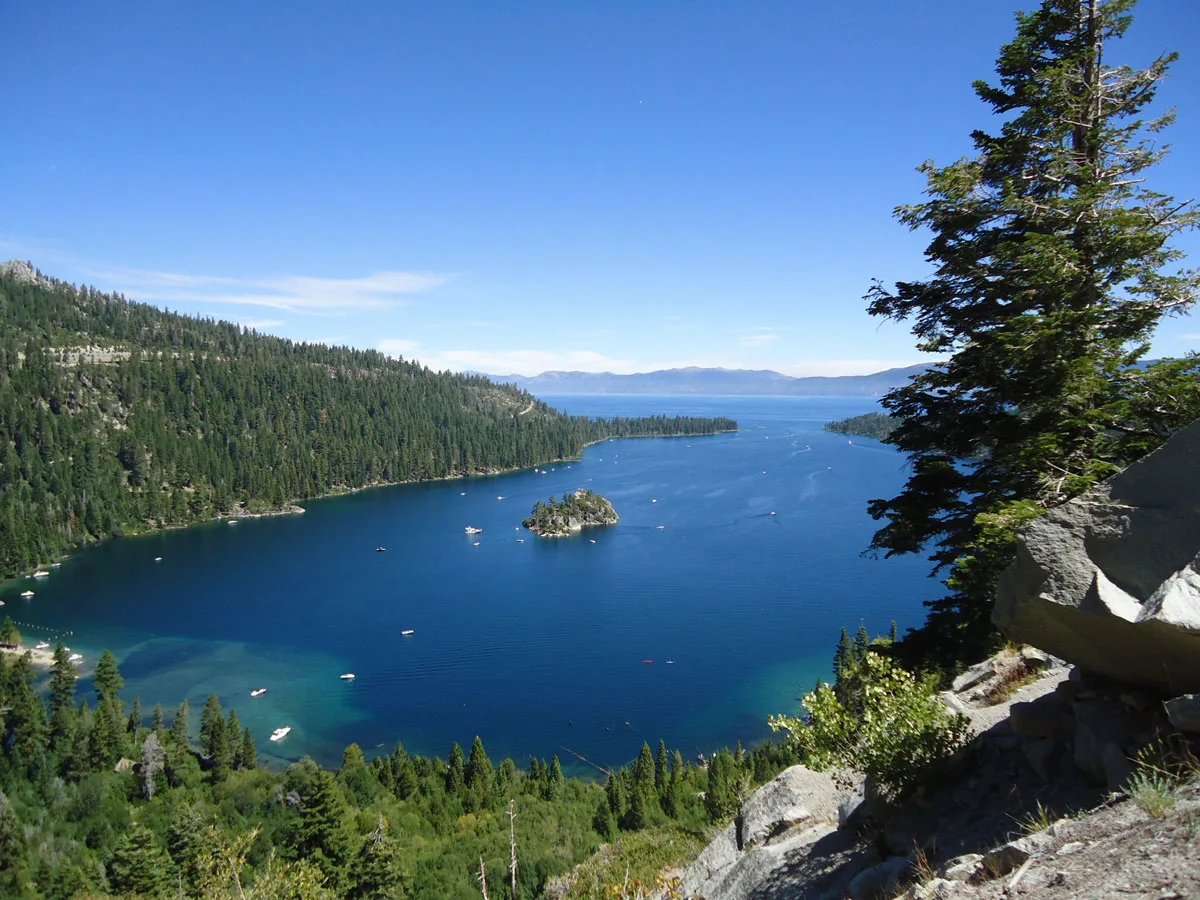 Ready to Plan Your Lake Tahoe Hiking Vacation?
Hiking in Lake Tahoe is a nature lovers' dream, a hiker's paradise, and an outdoor playground for adventure seekers. The hikes are accessible no matter your experience level; advanced hikers will be surprisingly challenged, while beginners can enjoy the casual trails.
These are just some of the great hikes in Lake Tahoe; there are still so many more trails to discover. Whether you're hiking solo, with a group, or even your pets, hiking in Tahoe is a fantastic escape.
Want More Great Hiking Vacations? Try these great hiking guides.