"The Music City", Nashville is known for country music, home of the Johnny Cash Museum, and good old Southern cooking.
While the non-stop smorgasbord of live music and quality Southern food is reason enough to add Nashville to your bucket list, many may be surprised to know Nashville has plenty to offer outdoor enthusiasts as well including some fantastic hikes near Nashville.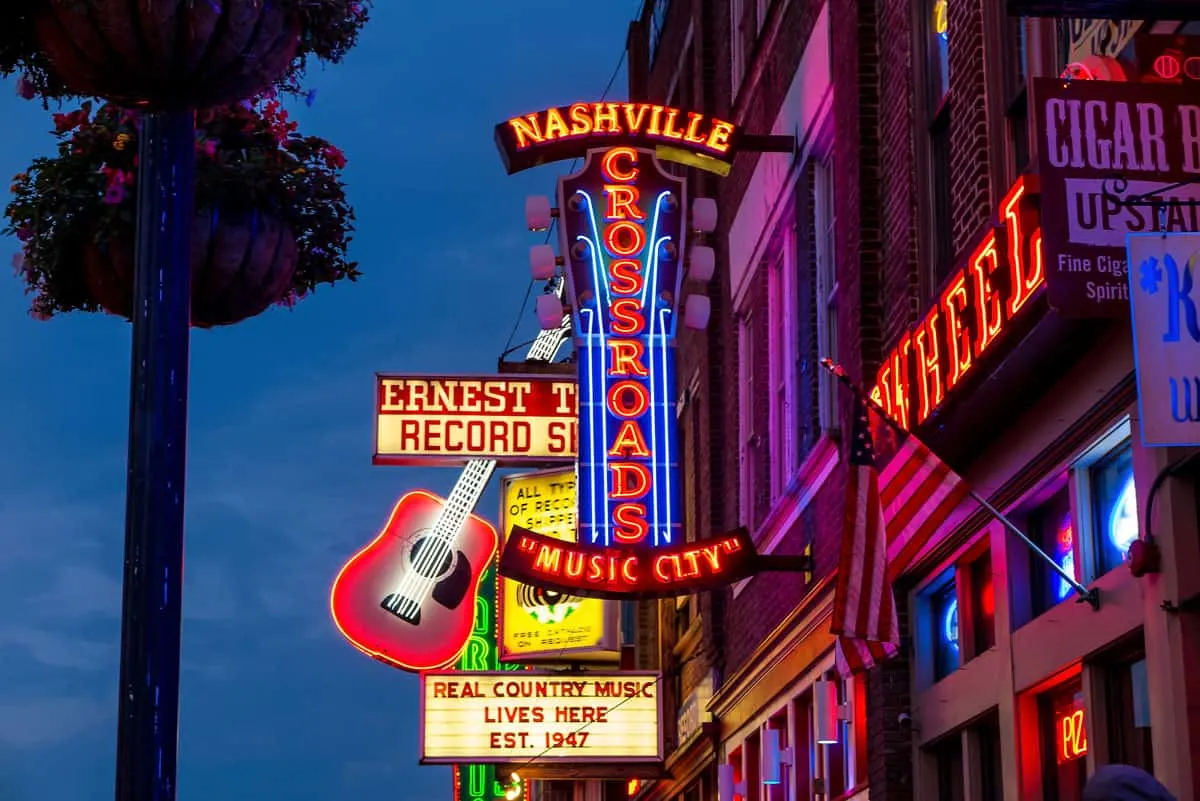 Best Hikes Near Nashville
Some of the best hiking near Nashville is less than half an hour from the city. And, much like the hiking trails in Joshua Tree NP, the landscape around Nashville offers a variety of quality hiking opportunities for all hiking abilities all within easy reach of the city.
From short, half-day walking trails – perfect for a day out with kids in Nashville, to strenuous overnight camping hikes for the adventurer. There are some excellent campgrounds near Nashville for those who want more than a day hike.
We've put together some of the best hikes near Nashville for those who want to escape the Music City and enjoy more of Nashville's great outdoors.
---
Plane more vacations outdoors with these fantastic hiking destinations in the United States.
---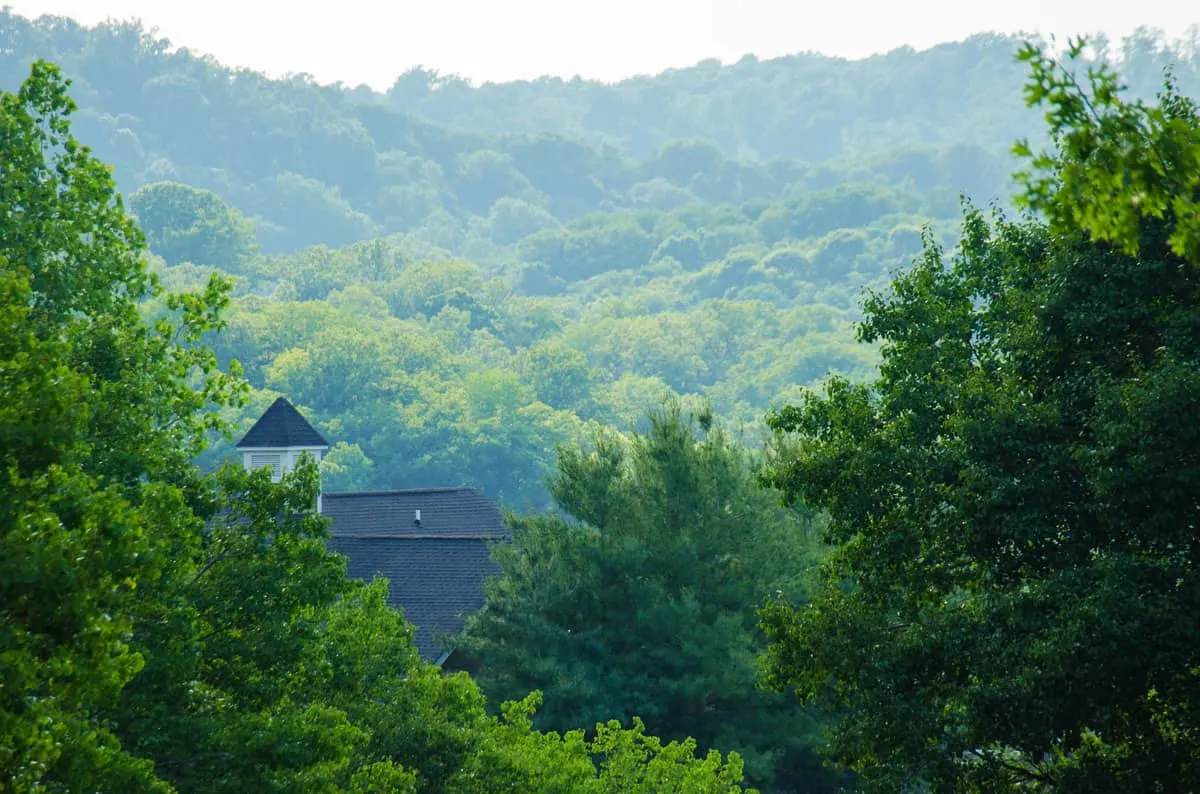 Wondering what to pack for a hiking trip to Nashville? See our complete hiking and walking holiday packing list.
Where to Stay for the Best Hiking Near Nashville
The beauty of hiking in Nashville is the ease of access from the city. So, if you're not the roughing it type, whether it's budget accommodation in Nashville, something for a group or family, or, even a romantic hiking getaway, there are a myriad of fabulous accommodation choices in Nashville to compliment a hiking holiday.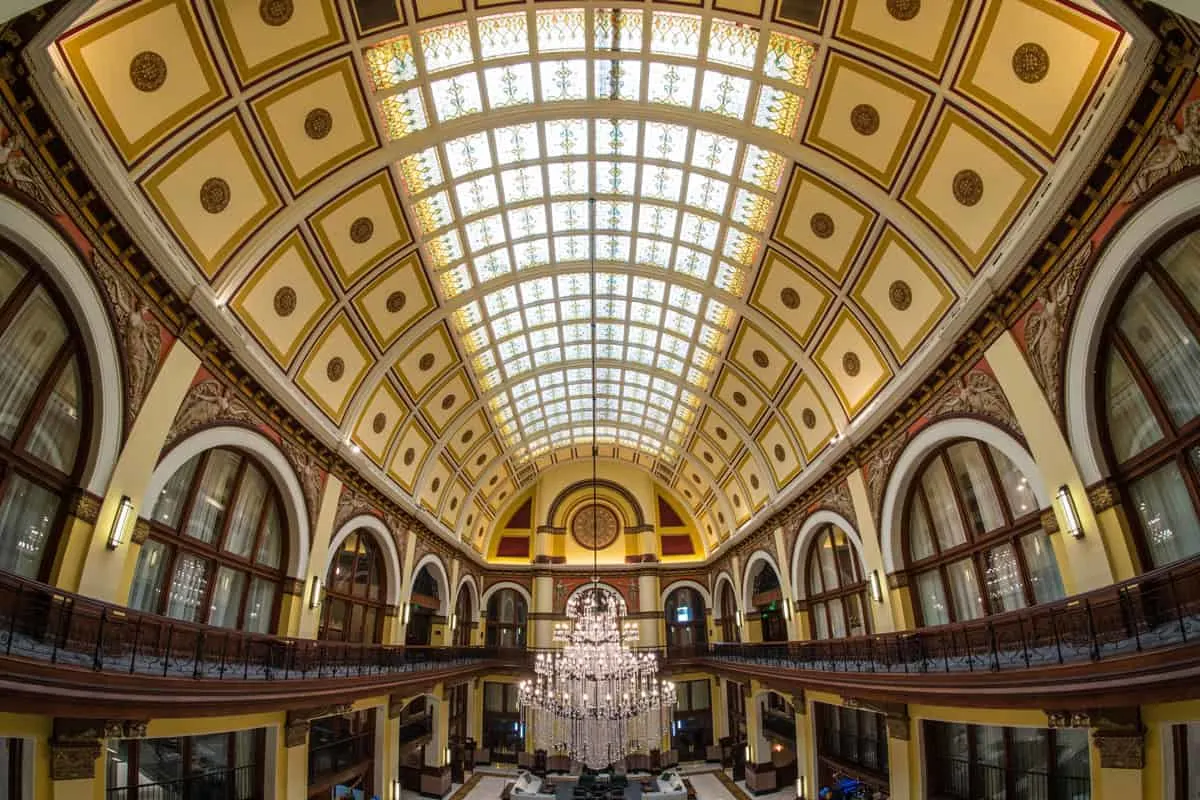 Nashville offers all the tried and trusted hotel chains, local upscaled Old Town inns and motels with a unique Nashville vibe to a historic museum-hotel hybrid. There are plenty of hotel choices to make sure you wake up refreshed and ready to take on the stunning Nashville scenery.
Best Hiking Trails in Nashville
Tennessee offers some of the country's best areas for hiking. Here are a handful of unmissable places to hike near Nashville.
Radnor Lake
Distance: 3.7 miles (6km) – Loop
Time: 2-2.5 hrs
Terrain: Gentle slope
Difficulty: Moderate
Located just outside Downtown Nashville, Radnor Lake State Park is the most popular option for hiking in Nashville and the busiest. Due to its popularity, you'll find this urban oasis a hot spot with local walkers, cyclists, joggers, and dog owners.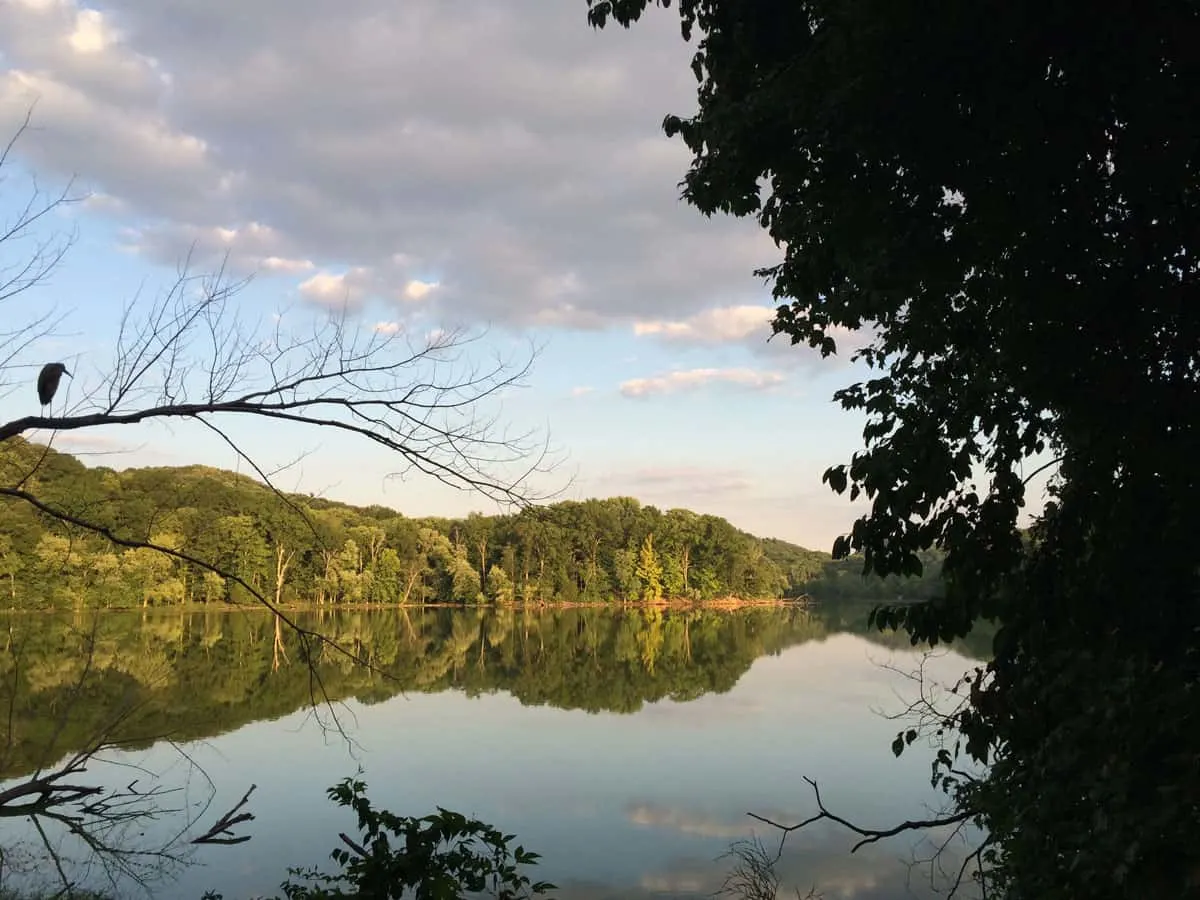 A hike through Radnor Lake will take you on a loop through a beautifully wooded landscape of old-growth trees and thick shrubs. If you're looking for an uncomplicated, convenient and versatile trail, then this hike is perfect.
Plan your hike with the Radnor Lake Trail Map here
Volunteer Trail
Distance: 10.7 miles (17km) – Out and back
Time: 4.5-5.5 hrs
Terrain: Strong slope at times
Difficulty: Moderate
Percy Priest Lake dominates the Long Hunter State Park and rimming its shores, you'll find the 10-mile (17km), out-and-back Volunteer Trail. Undoubtedly one of the best hikes near Nashville.
Also known as the Day Loop Trail, this bridge-laden, scenic route is stunningly wild and beautiful any time of year with loads of wildlife.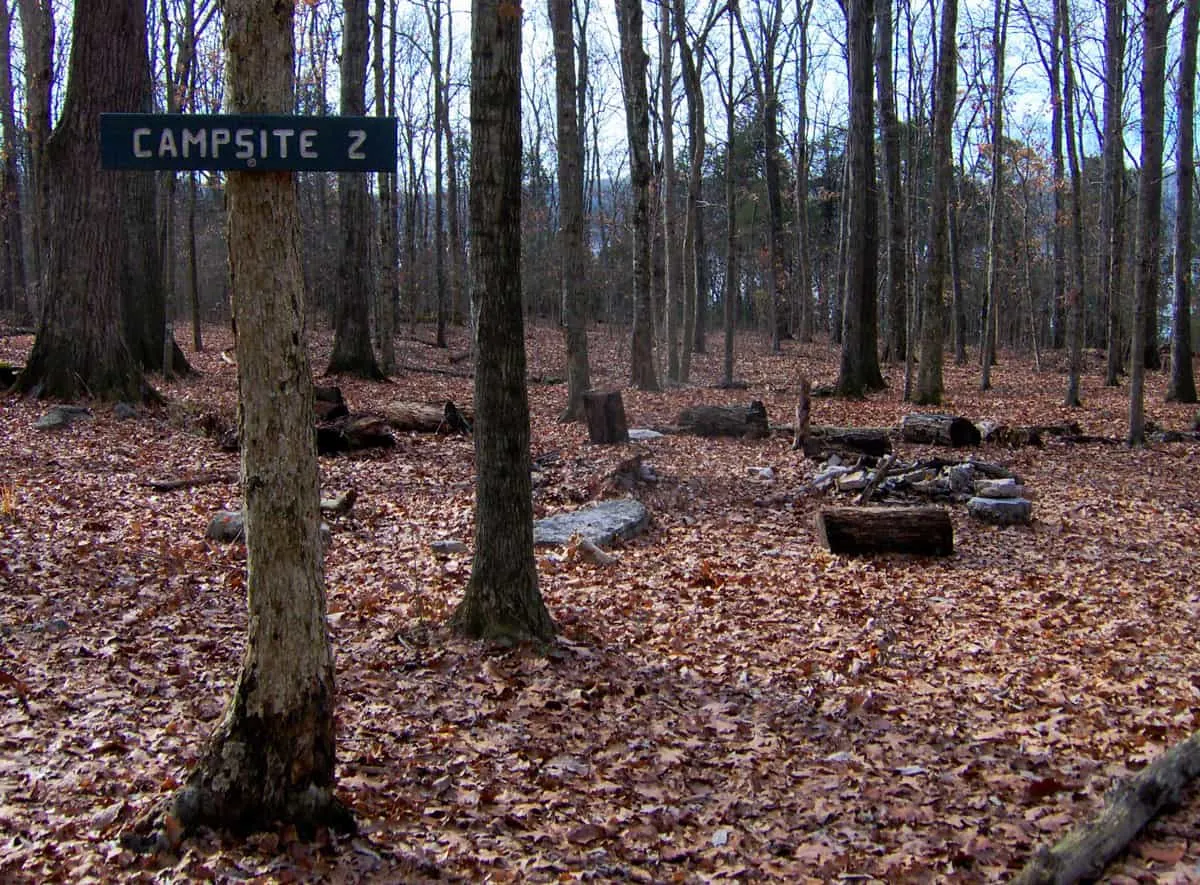 Whether you choose to tackle the whole 10.7 miles or take a short walk along part of the route, Volunteer Trail is perfect for all hiking abilities or even a simple picnic on the shores of the lake. Pick up the start of the hike at the end of Granny Wright Lane.
Mossy Ridge | Percy Warner Park
Distance: 4.5 miles (7.2km) – Loop
Time: 2-2.5 hrs
Terrain: Gradual slope
Difficulty: Moderate
When it comes to hiking near Nashville, many locals will tell you a hike through Warner Park is a must. Moderately strenuous, the 7-mile loop is popular for both trail runners and casual strollers.
Old Hickory Boulevard will lead you straight to Percy Warner Park, and the Mossy Ridge Trail. Starting at Deep Well, with its ornate entrance, you'll follow the well-marked trail around the loop.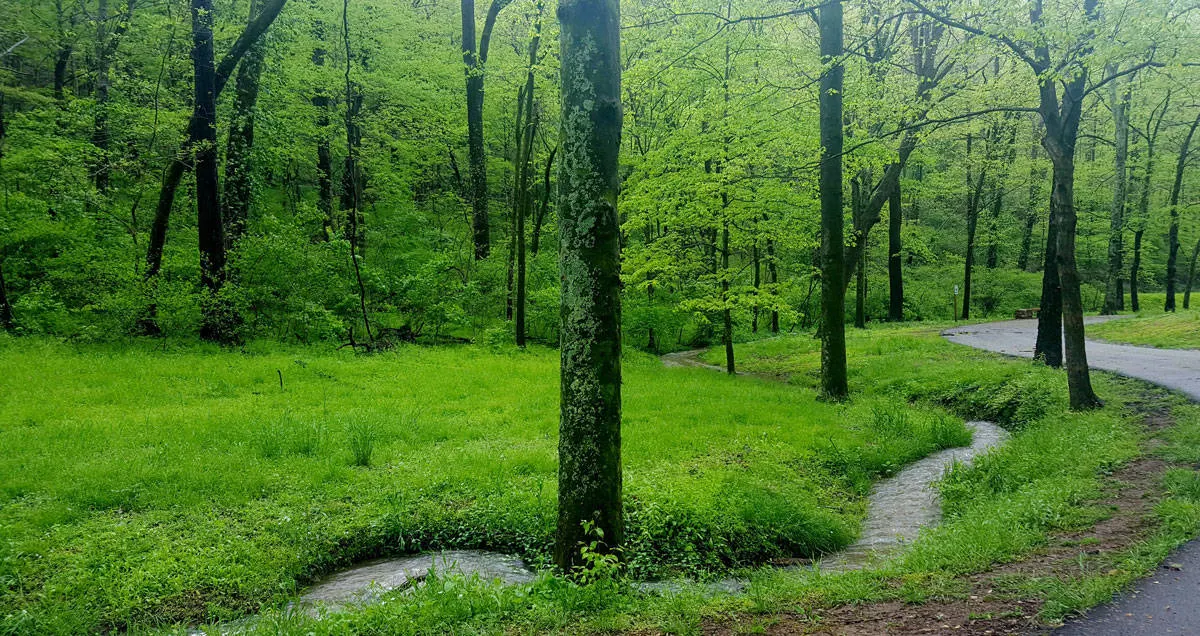 You'll pass lovely little waterfalls, thick forests, and some of the most beautiful natural springs. While not one of the longer Nashville hikes, still plan your route with the Mossy Ridge Trail map here.
Hidden Lake
Distance: 1.87 miles (3km) – Double loop
Time: 30 mins – 1 hr
Terrain: Flat
Difficulty: Easy
Harpeth River State Park spans over 40 miles (64km) of beautiful Nashville countryside. While boasting a couple of quaint day trails, by far its most popular trail is the hike to Hidden Lake.
Located on the right side of the I-40, this historic trail offers scenic hiking and fascinating history. There's a reason why they call it "Hidden" Lake. You can read about Hidden Lakes fascinating history here.
The trail is accessible throughout most of the year, but locals recommend hiking during fall and winter periods. The leaves are falling, the air is crisp, and there isn't thick overgrowth to disrupt your walking.
Your hike begins at Highway 249. From there, you'll trek into the wilderness of Harpeth River Park. So you don't get lost, the Harpeth River State Park trail map is here.
Beaman Park
Distance: 5 miles (8km) – Loop
Time: 1-3 hrs
Terrain: Gentle slope
Difficulty: Moderate
Despite the fact Beaman Park is known to stay frigid long after the rest of Nashville has thawed, you can still expect beautiful wildflowers running along the trails throughout most of the year. Locals love this hike late winter to enjoy some of the last snow days of the year in Nashville.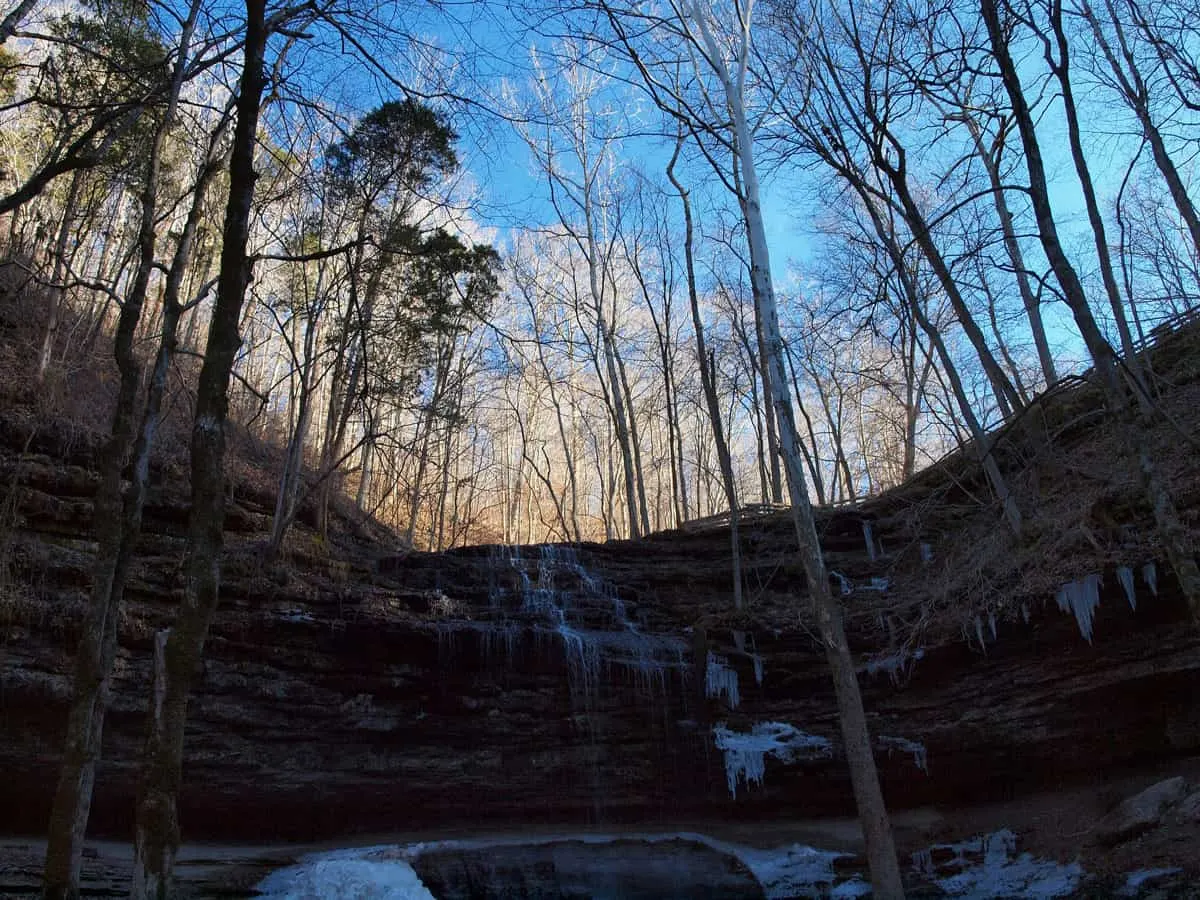 With an educational nature centre, the 1,700-acre nature reserve is considered one of Nashville's hidden gems. A place of rugged solitude, you'll enjoy interesting rock formations and creeks with small cascades along the routes.
The park trails are designed so you can also choose varying hikes to suit your mood or ability. You can see the Beaman Park Trail map here.
Burgess Falls Trail
Distance: 1.1 miles (1.7km) – Out and back
Time: 1-1.5 hrs
Terrain: Moderate incline at times. Slippery towards the end.
Difficulty: Easy
There are plenty of incredible waterfalls near Nashville, and the Burgess Falls Trails is up there with the best.
At around 1.5 hours from Nashville, Burgess Falls State Park on the Falling Water River is a great day trip with family-friendly hikes.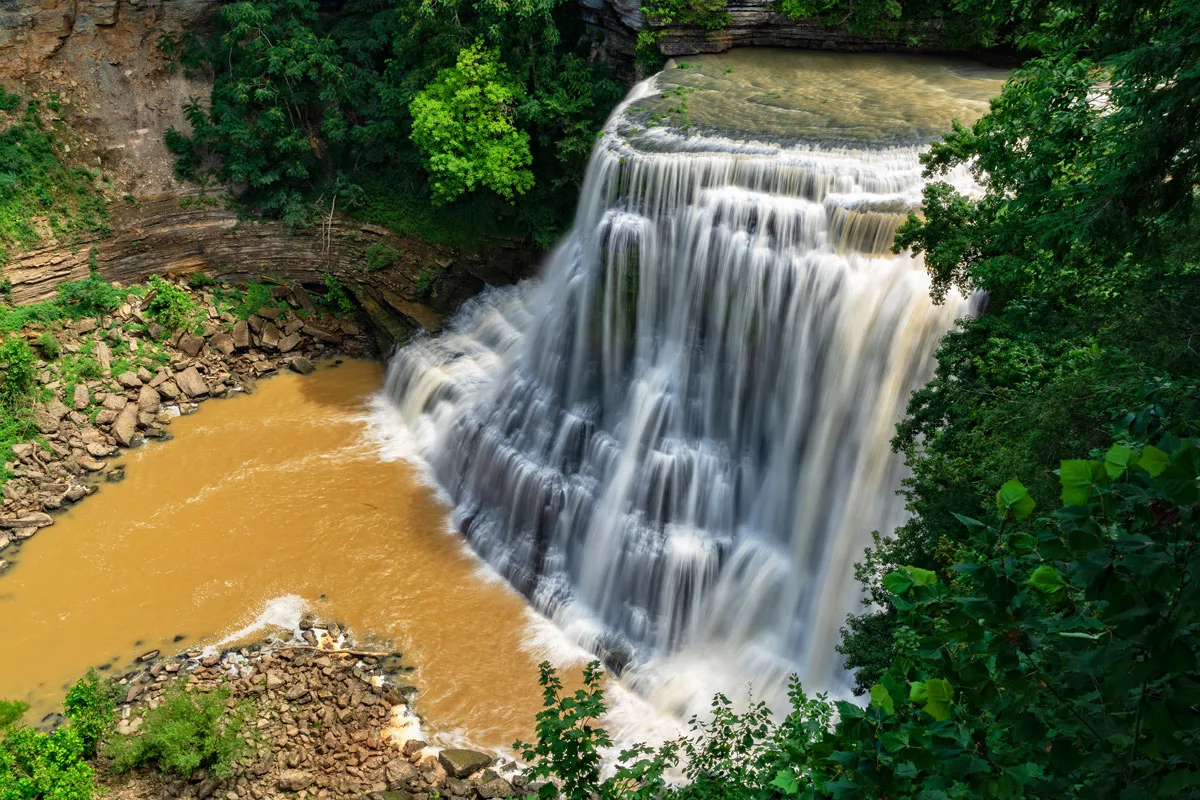 The easy mile and a half Burgess Falls hike takes you past an array of waterfalls building in size as you go. You will pass the 20 ft Falling Water Cascades, the 30 ft Little Falls, Middle Falls at 80 ft, finally finishing at the magnificent Burgess Falls at 136 ft. There are swimming holes along the way, which is perfect for a warm-weather hike.
Fall Creek Falls
Distance:2.6 miles (4.2 km)
Time: 2-3 hrs
Terrain: Steep if you choose to go to the base. Loose edges in places.
Difficulty: Easy to Moderate
As the name suggests, Fall Creek Falls State Park is home to a 256-foot waterfall, one of the tallest in the eastern US. The park is also one of the largest and most visited in Tenessee.
A little further from the Nashville city centre at around 2 hours, Fall Creek Falls State Park is worth the trip, maybe even for a weekend. There are loads of gorgeous wooded trails for hiking – a total of 34 miles of hiking trails, rock climbing, swimming holes, camping and lodges, and, of course, waterfalls.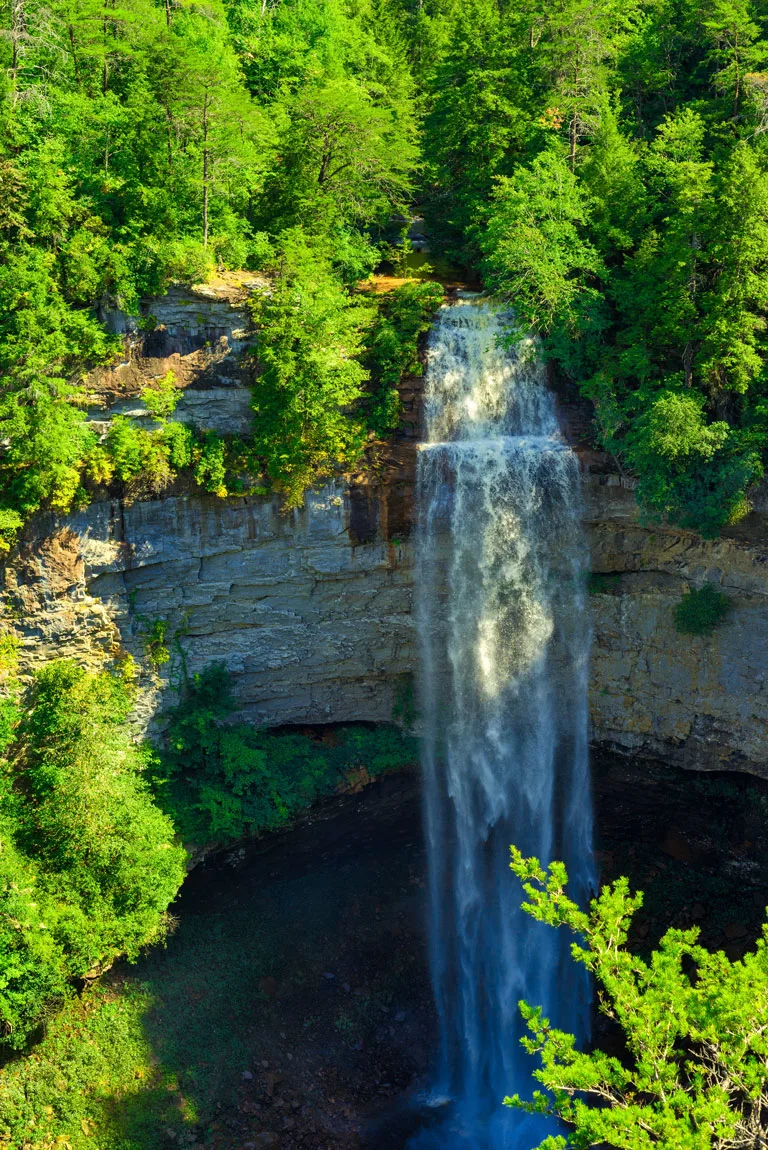 It is an easy to moderate trail where you can get a birds-eye view from the rim trail or explore the base of the falls.
Fall Creek Falls is also a great hiking trail in winter when you can see the falls suspended in frozen motion.
Continue along the trail to see five other waterfalls in the park, including Cane Creek Cascades from the park's swinging suspension bridge over the falls.
The park and trails can be very busy on weekends and holidays. It is also a dog-friendly trail on-leash only.
Hiking in Nashville
Tennessee is filled with natural beauty which is why it boasts some of the best hiking trails in the country. Whether you are heading to Nashville and want a reprieve from the hustle of Downtown, or are looking for a new way to see Tennessee, these are just a few of the fantastic hiking opportunities Nashville has to offer.
Looking for More Great Hiking Vacations? Try Lake Tahoe for Incredible Hiking or a 3 Day Sedona Hiking Itinerary.