The never-ending sunshine, tall palm trees, and unique dry deserts of Southern California make it a beautiful place to visit, and of course, the beaches are on just about everyone's bucket list.
Malibu, CA, is well-known for its beach culture and excellent surfing, but you might be surprised to know Malibu is also home to some of the best hiking in Southern California.
We've rounded up some of the best Malibu hikes including a hike to an old M.A.S.H filming location in the Malibu Creek State Park, hiking trails with views of the Pacific Ocean and gorgeous Malibu waterfall hikes. You'll also find some great tips for hiking in Malibu to keep you safe and enjoy your time on Malibu's best hiking trails.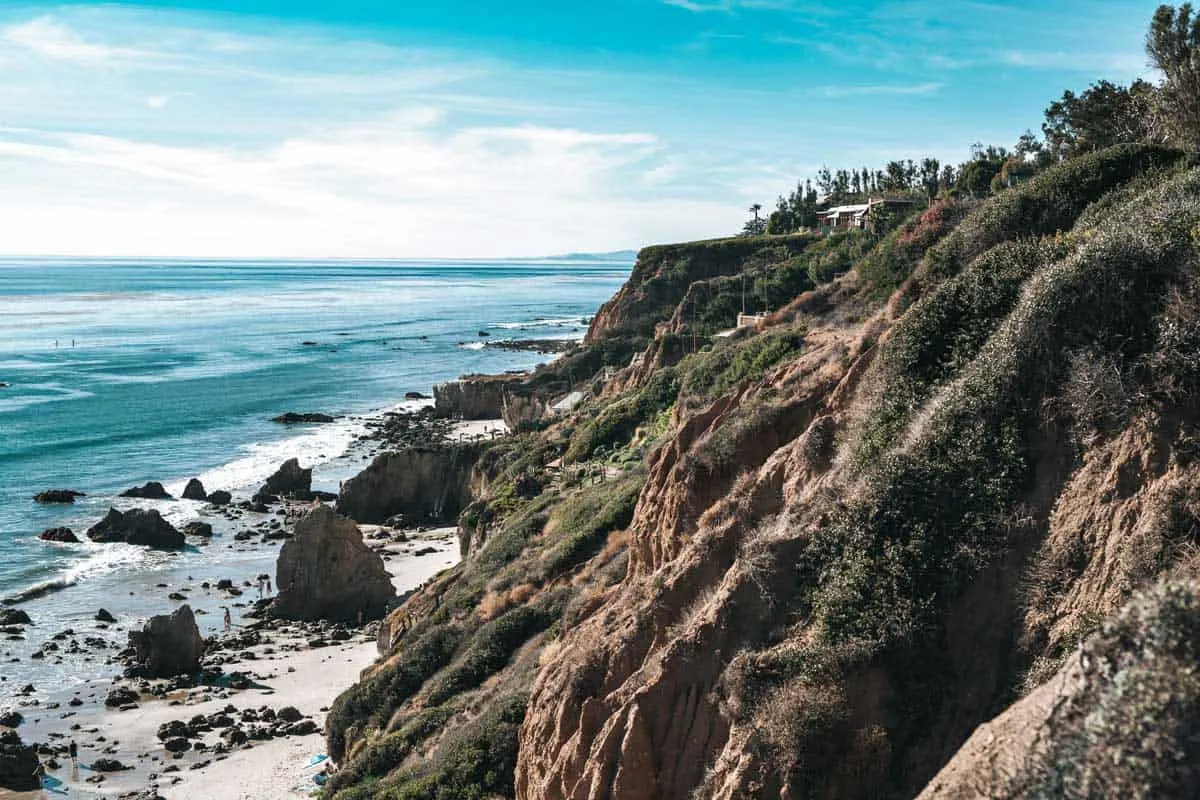 ---
Discover More of the Best Hiking Destinations in the USA
---
While hiking in the deserts of California will undoubtedly showcase unique and exciting landscapes as in the famous Joshua Tree National Park, hiking in Malibu, near the ocean during the summer months can be much more comfortable thanks to the pleasant ocean breezes. Not to mention, as you gain elevation, you will be rewarded with some of the best panoramic views of the Pacific Ocean you will find anywhere, hands down.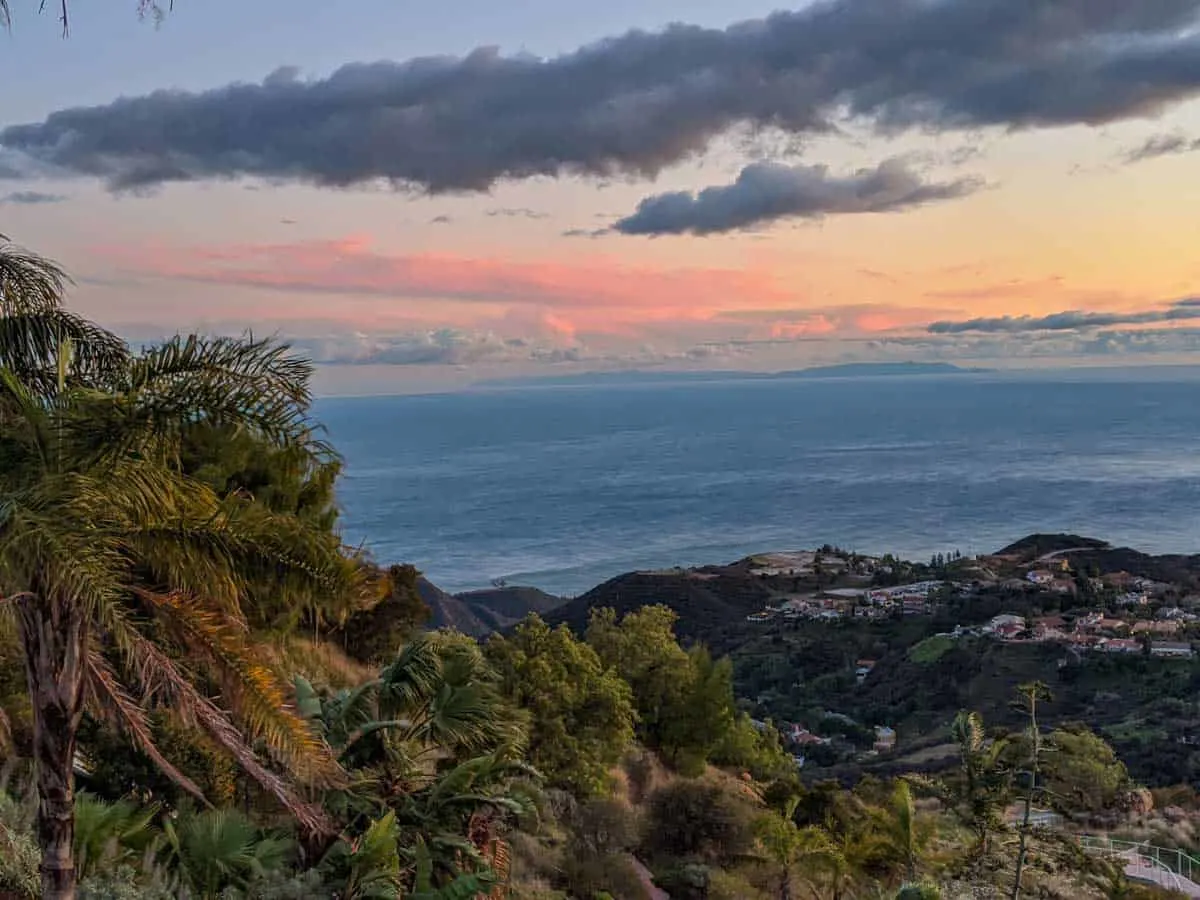 6 Hikes in Malibu For Every Hiking Ability
With many great trails in Malibu to choose from, these are the top 6 Malibu hiking trails you shouldn't miss. They cover varying levels of difficulty and terrain, so there is something for every hiking ability.
In addition to the best hiking trails in Malibu, we've also included a few additional post-hike suggestions of things to do in Malibu.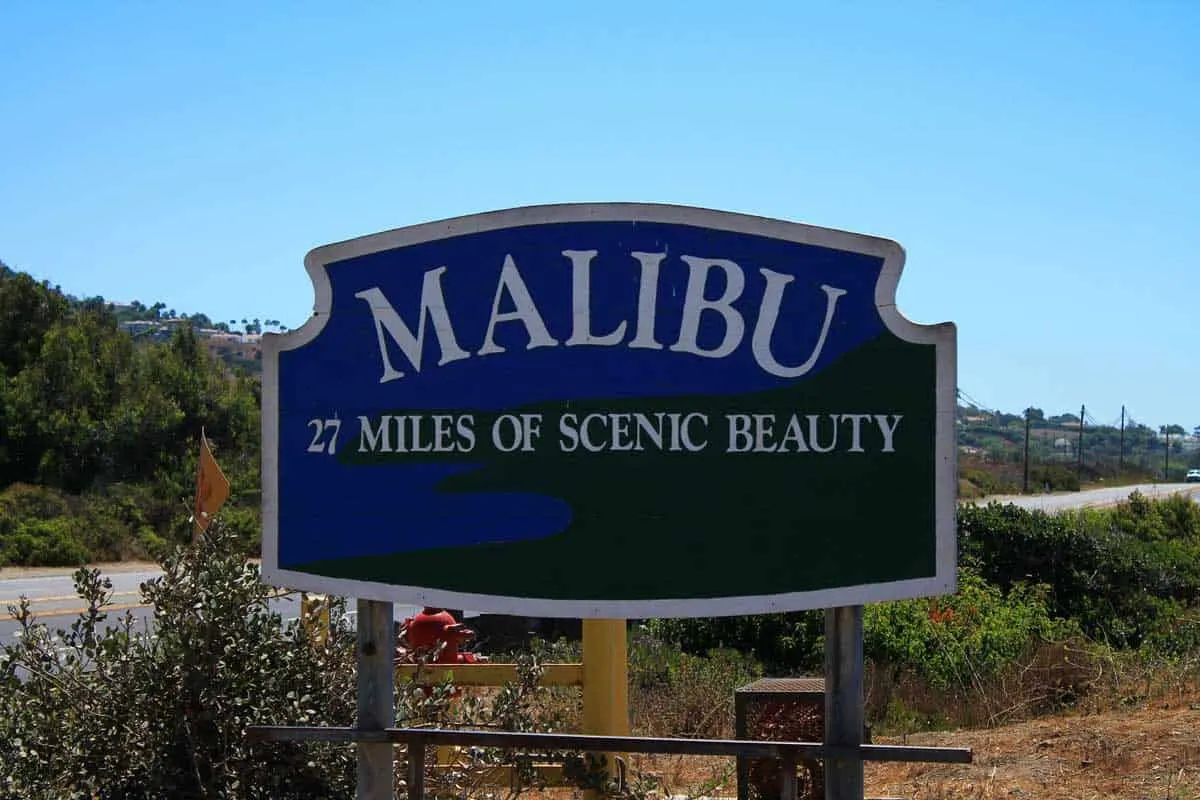 Escondido Canyon Trail to Escondido Falls
Distance: 3.7 miles
Time: ~2 hours
Terrain: Mostly flat with some rocky hills
Difficulty: Moderate
As the name suggests, the Escondido Falls trail in Escondido Canyon Park leads to a stunning waterfall – it depends on the time of year though. If you hike this trail in the middle of summer, the falls are likely to be dried up.
One of the most popular hikes in Malibu, we suggest an early morning start. Not only will you beat the crowds and heat, but you will grab one of the few free parking spots (which usually fill before noon).
The parking is on the corner of Pacific Coast Highway and Winding Way. To get to the official trailhead, you have to walk through Winding Way Road, past many beautiful Malibu mansions, until you get to the sign marking the trailhead.
The trail itself is fairly easy, with trees offering shade along the mostly-flat path. About 1-mile into the hike, you will come to your first waterfall, which is steep and has a small pool on the bottom. To continue on, follow the rocky trail to the right (carefully – as the rocks can slide under your feet!).
The falls become more impressive the further you hike, with the third waterfall being the most spectacular at approximately 150 feet high. The pools are quite shallow, so swimming is not really possible, but it's a great place to stop and cool off.
Know what to pack with our Hiking Vacation Packing Guide.
Temescal Canyon Trail
Distance: 3.8 miles
Time: ~2 hours
Terrain: Some steep inclines. mix of shaded forest and arid on the ridge.
Difficulty: Easy – Moderate
Temescal Canyon Trail is considered one of the best hikes in Topanga State Park, but that doesn't mean you shouldn't do it.
It's a relatively easy hike, although it can be moderately challenging at times.
Temescal Canyon Trail offers stunning ocean views and views of Malibu, Santa Monica, and Los Angeles, waterfalls, and a beautiful landscape of wildflowers in the season.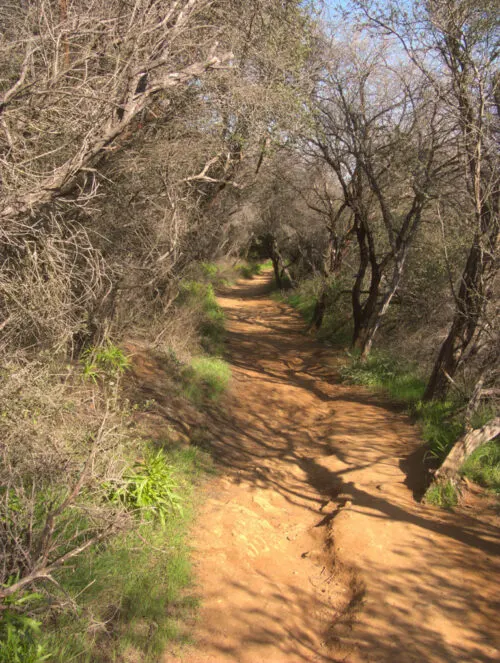 There are several ways you can tackle this hike. It can be an out and back hike, or it can be a complete loop. A counterclockwise hike (taking the right trail) can involve some steep inclines, but the views are far more rewarding on the way down.
It's advisable to do this hike early for both lack of crowds and some shade on the way down. The waterfall will be a lot more impressive after rain but you can also expect it to be a little muddy on the trail
Los Liones Trail to Parker Mesa Overlook
Distance: 7.8 miles
Time: ~4 hours
Terrain: Lots of hills; some shade
Difficulty: Moderate to Difficult
If you are looking for another great hike near Pacific Palisades with breathtaking views of Malibu and the Pacific Ocean, then this is your hike.
The Los Liones Trail is fairly popular and draws a bit of a crowd on weekends. Luckily the hike is 8 miles roundtrip and the number of people thins out the further you go.
The hike begins under shady tree-lined trails as you ascend on the route. A little bit over 1 mile into the hike, you will come to a bench with 180 degrees Pacific Ocean views. A lovely spot for a rest, a drink of water. You can see a long stretch of the Pacific Coast Highway (PCH) and Malibu from here, but this is not the end of the hike.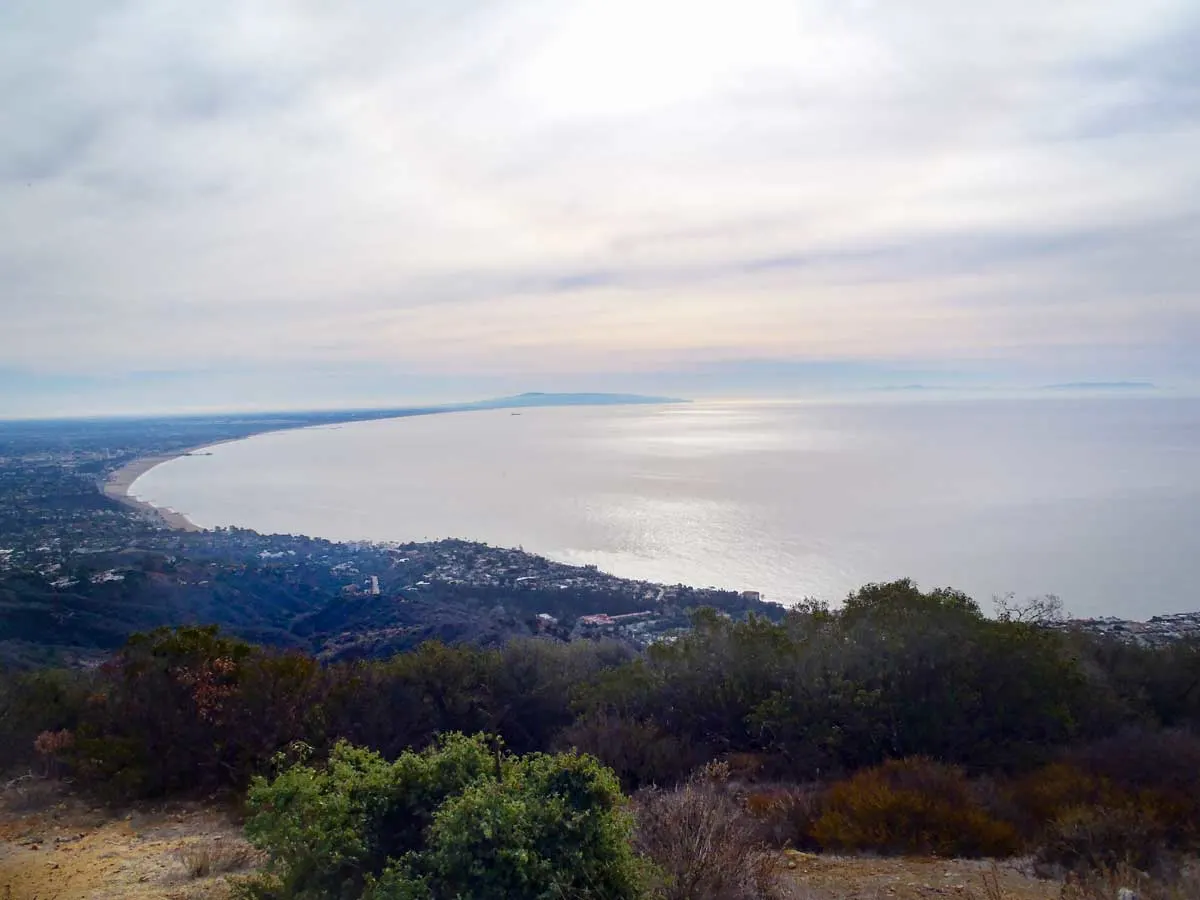 Continue winding up the trail, which, depending on the time of year might be dry brush or might be lush green (typically in February). Though the trail starts in shade, this quickly turns to sunny uphill terrain as you leave the forest area. There are several amazing viewpoints as you gain elevation.
Parking is free if you begin at the Los Liones trailhead. This hike holds a Moderate to Difficult rating as it can be customized with various offshoots, and the sun can be intense.

Solstice Canyon Loop Trail
Distance: 3.2 miles
Time: 1.5-2 hours
Terrain: Shaded canyon with small incline and ocean views
Difficulty: Easy to Moderate
Solstice Canyon Loop is a gorgeous hike with many exciting things to explore along the route. It's definitely one of the more interesting hikes in Malibu. A mostly shaded canyon hike, you can choose your style with this one. Take the clockwise route where you will encounter a moderate incline up to a ridge, but you will be rewarded with incredible ocean views in front of you as you advance to the top of the ridge. Take the anti-clockwise route, and you won't have a steep climb, but the most spectacular views will be behind you.
Some of the highlights of this loop trail are several ruins, including a mansion, a small waterfall and stream and a hidden statue of the Virgin Mary.
The first part of the hike heads up the shady Solstice Canyon Trail, where you'll find the first lot of ruins. From here, take the Rising Sun Trail up to the ridge, where you will get magnificent Pacific Ocean views. The trail then drops down into a tropical terrace, where you'll find the ruins of a home built in the 1960s.
On the lush tropical terrace, there are lovely pools and a waterfall. Just before you cross the creek heading into the ruins is the hidden statue of the Virgin Mary.
The Solstice Canyon trail is incredibly picturesque and quite enjoyable. The popular and well-maintained trail can be pretty busy on weekends. Try for a weekday for fewer people.
The Zuma Ridge Hike
Distance: 5.4 miles
Time: 2 hours
Terrain: Hills and dry brush
Difficulty: Moderate
Because Zuma Trail is a bit farther north of Los Angeles than most of the other Malibu hikes, this trail tends to be less crowded. You'll enjoy peace and quiet while you break a sweat and take in the ocean and mountainous scenery.
The trail offers free parking, which can be reached by taking the Pacific Coast Highway (PCH) to Busch Drive. The parking lot is at the end of Busch on the right side of the road. Be sure to follow the path marked "Zuma Ridge Trail" as you have two trail options when you begin.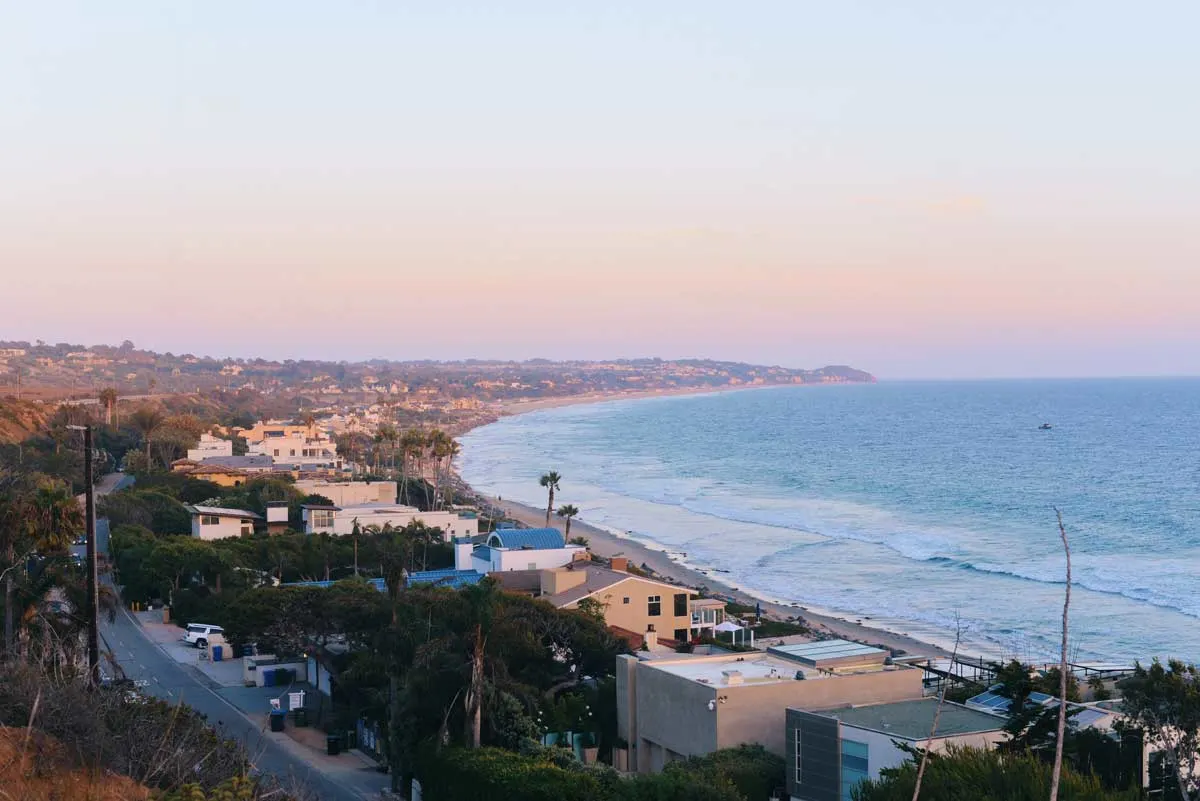 There is an often-missed lookout spot offering 180-degree views of the Pacific Ocean which can be found about half a mile into the hike. The unmarked path to the lookout can be spotted by keeping your eyes on the ground and watching for the mostly-cleared path on the left-hand side of the trail. The view is incredible and makes you understand why Malibu is a world-famous destination.
The Zuma Ridge trail is an out-and-back hike totaling 5.4 miles, but there are additional offshoots if you want a longer trek. Dogs and horses are allowed on the trail and there are no restrooms. This hike is in full sun much of the time, so a hat is a great idea.
Want more Great Hiking Vacations in California? See these hiking guides:
Corral Canyon Loop Trail
Distance: 2.5 miles
Time: 1.5-2 hours
Terrain: Mostly flat with lowlying shrub. Muddy in parts after rain.
Difficulty: Easy
An easy, family-friendly hike ( it is also dog friendly on leash), the Corral Canyon Loop Trail in Corral Canyon Park is one of the most accessible hikes in Malibu. Other than the accessibility, the highlights are the beach and ocean views, a river, wildflowers in spring, and a seafood restaurant, which makes it a great morning hike with lunch option.
Start this trail clockwise for continual coastal views on the descent. There are some moderate inclines with a 500-foot elevation gain, but this is an easy trail overall.
There is no shade on this hike so bring a hat, sunscreen and water.
There is parking at the trailhead, shared with the restaurant. To avoid the $15 parking fee, park on the Pacific Coast Highway (PCH).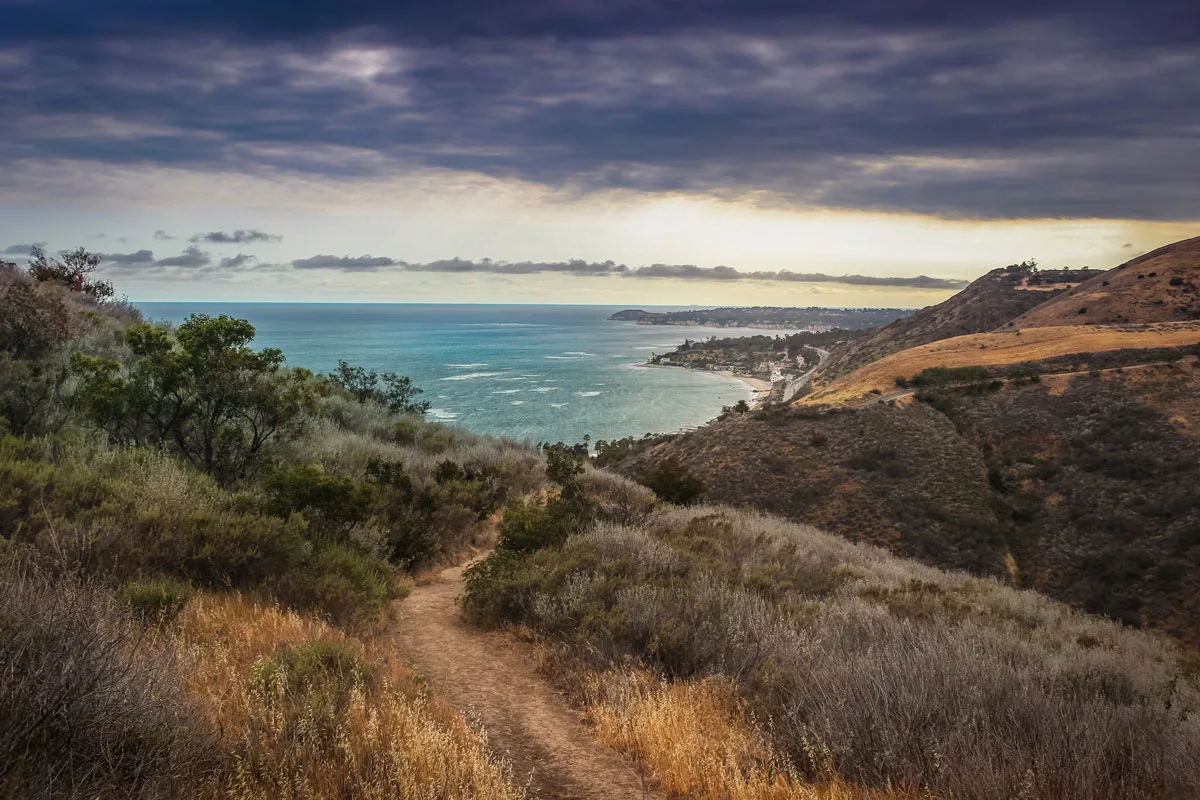 Backbone Trail to Sandstone Peak and Mishe Mokwa Trail Loop
Distance: 6.2 miles
Time: 3-4 hours
Terrain: Sandy, rocky trail with some steep inclines and scrambling in parts. No shade.
Difficulty: Moderate
Backbone Trail to Sandstone Peak and Mishe Mokwa Trail Loop is a beautiful, sometimes challenging, but rewarding hike. Expect 5.7 miles of overall moderate hiking with some steep inclines and light scrambling at the peak. Although it is very exposed, it is also a dog-friendly (on leash) hiking trail, so be mindful of the heat before taking your dog.
The highlights of this hike are impressive sandstone formations, canyons and spectacular views from Inspiration Point and Sandstone Peak, the highest peak in Santa Monica. From the top, you can see over Catalina and Channel Island.
Taking the clockwise route with a 1075 feet elevation gain is recommended as the counterclockwise start on the Mishe Mokwa trail means a much longer uphill trek. The last quarter mile up to Sandstone Peak is quite steep, with some climbing/scrambling. If you're not up for a bit of a climb, bypass the peak and head straight on to Inspiration Point, where you also have an excellent viewpoint.
The trail is rocky, so wear good hiking boots. Downloading an offline trail map is also recommended, as some of the tracks can be confusing in parts. Ensure you have plenty of water, as this trail can be very hot if you head off too late in the morning.
If you are not up for the entire Sandstone Peak Loop Trail you can do a 3.2 mile Backbone Trail to Sandstone Peak out and back hike for something easier. This is a popular hike for those wanting to enjoy the sunset from Sandstone Peak or Inspiration Point.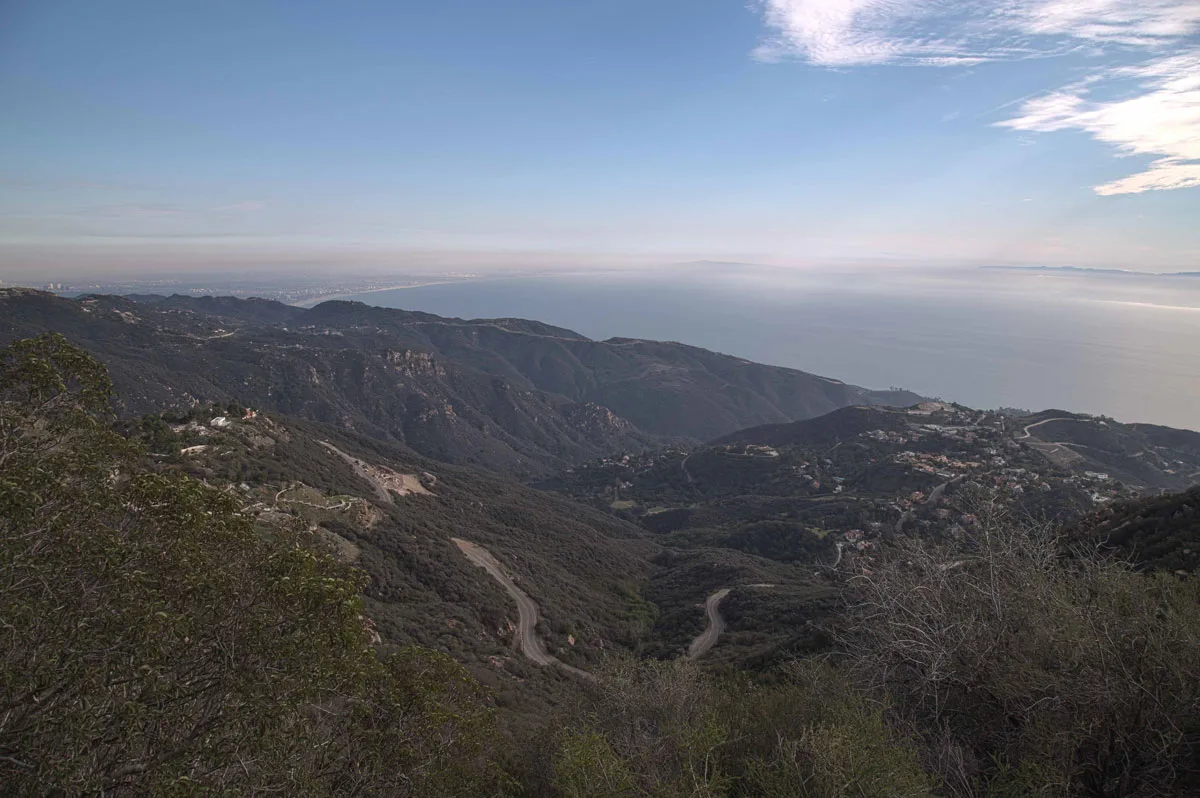 The MASH Hike
Distance: 4.85 miles
Time: 2 hours
Terrain: Mostly flat with some hills
Difficulty: Easy
Last but not least, one of my absolute favorite hikes. Malibu Creek State Park lies somewhat inland, on the border of Malibu and Calabasas. Though I've never even watched the show, the MASH hike is a great experience.
First of all, the hike itself offers enough shade so that even on an inland hike, you can stay relatively comfortable. There are sun-drenched rolling hills too, but with several stretches of shade, you will never overheat.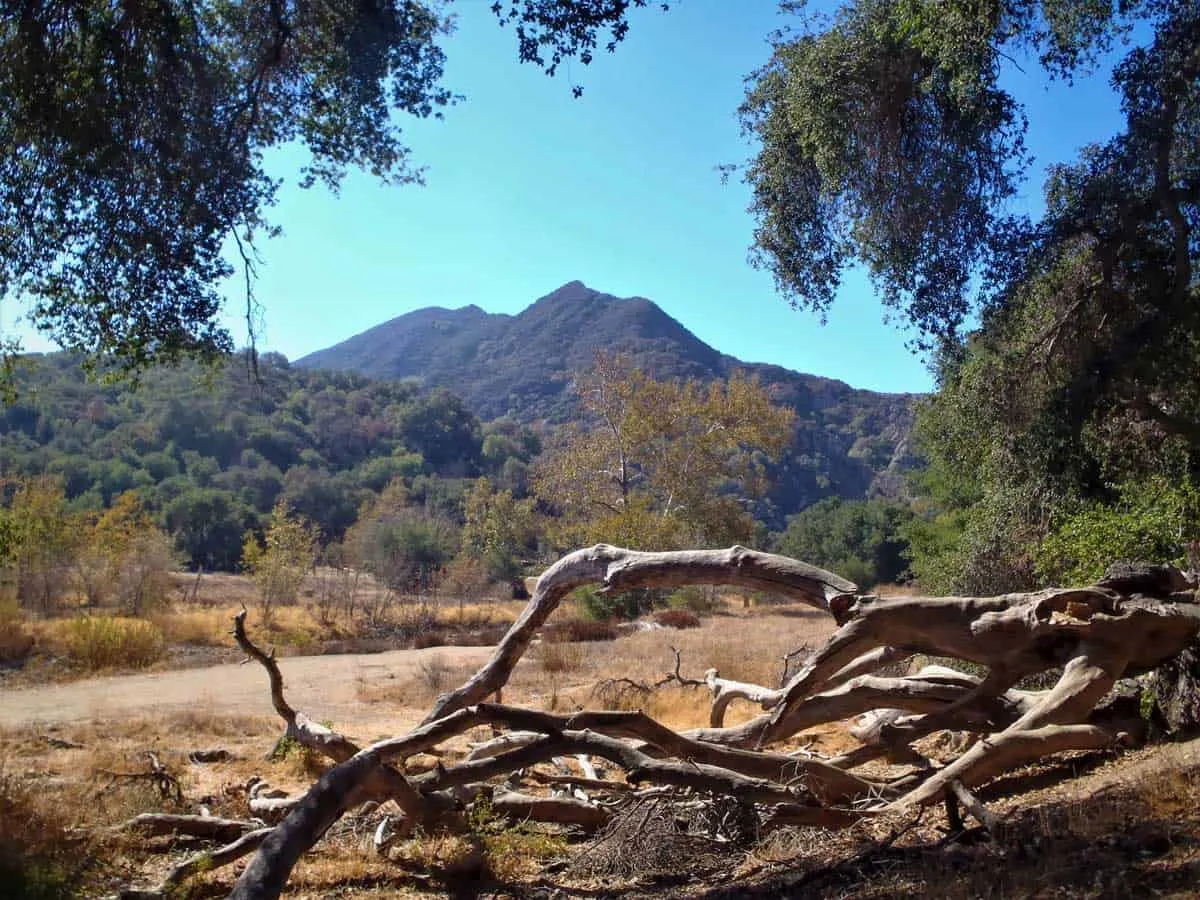 The trail itself is well-trodden. The shaded areas offer a very wide trail for traffic moving in both directions while the hilly areas are a bit narrower. Midway through this out and back trail, you have reached a filming location for MASH – complete with set and show paraphernalia that has been left behind since the 1980s.
A placard points out several locations of significance and rusted old trucks remain on site. There are even picnic tables near the set site, making it a great location to stop and eat a packed lunch before turning back.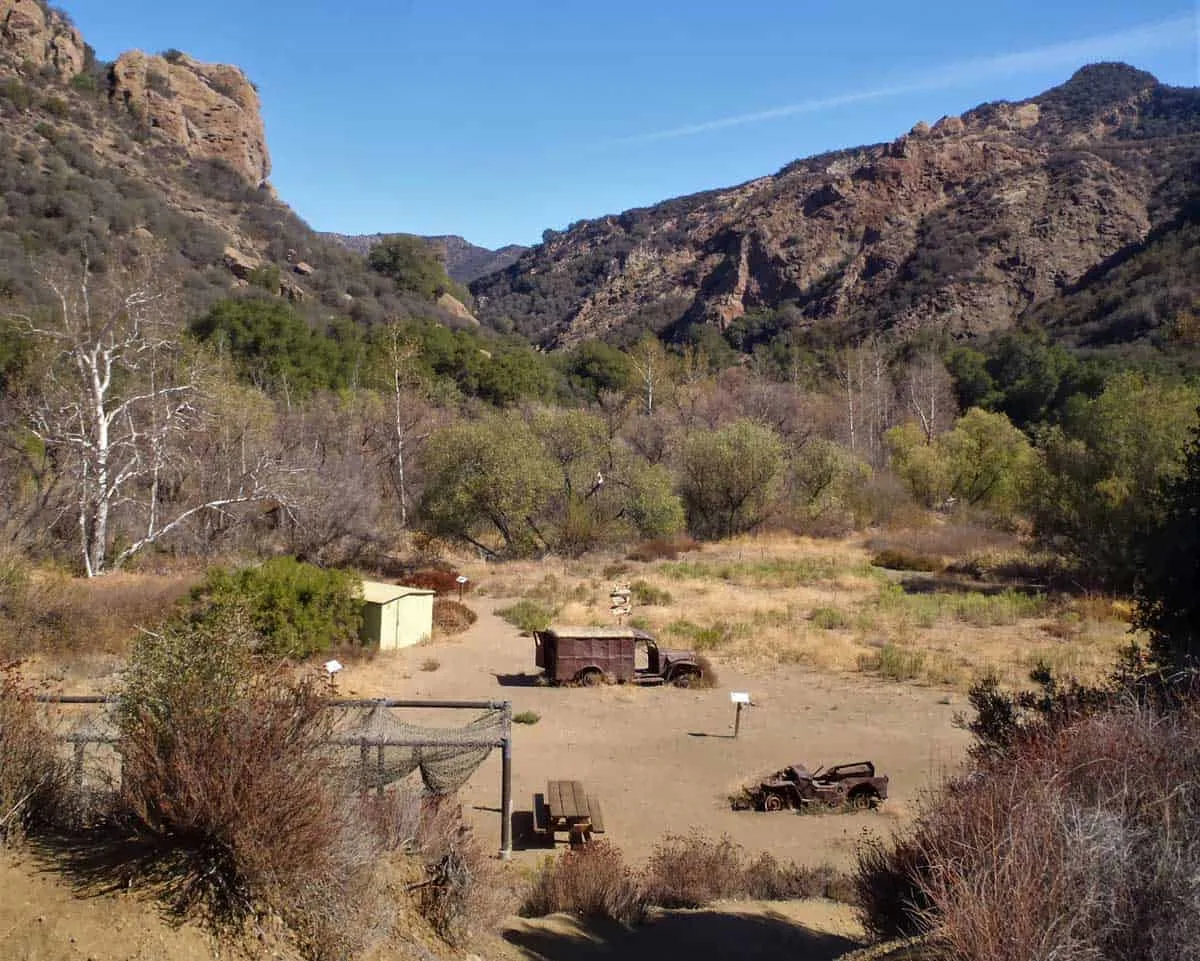 Parking is free from Mulholland Highway and the start of the trail is inconspicuous – look for a break in the wooden fence to mark the path.
After your hike of choice, a great lunch or dinner stop on the pier, called Malibu Farm, serves fresh and local organic food directly over the water.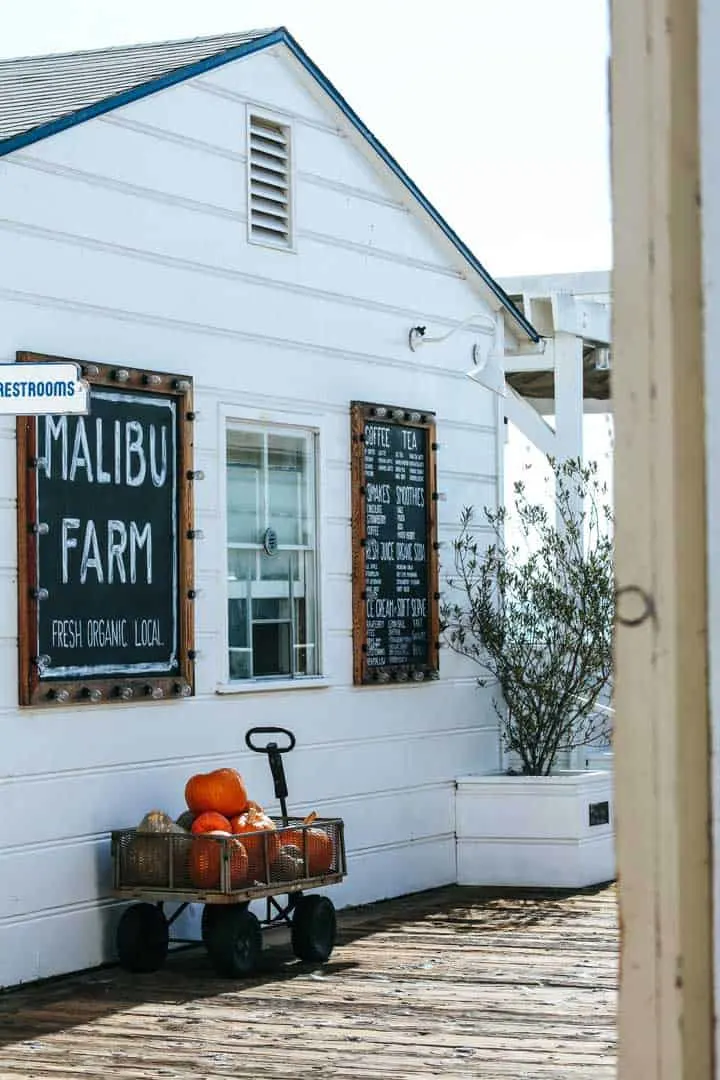 The best sunset spot can be found on the cliffs at El Matador State Beach, and the best surfing is undoubtedly found in Zuma Beach.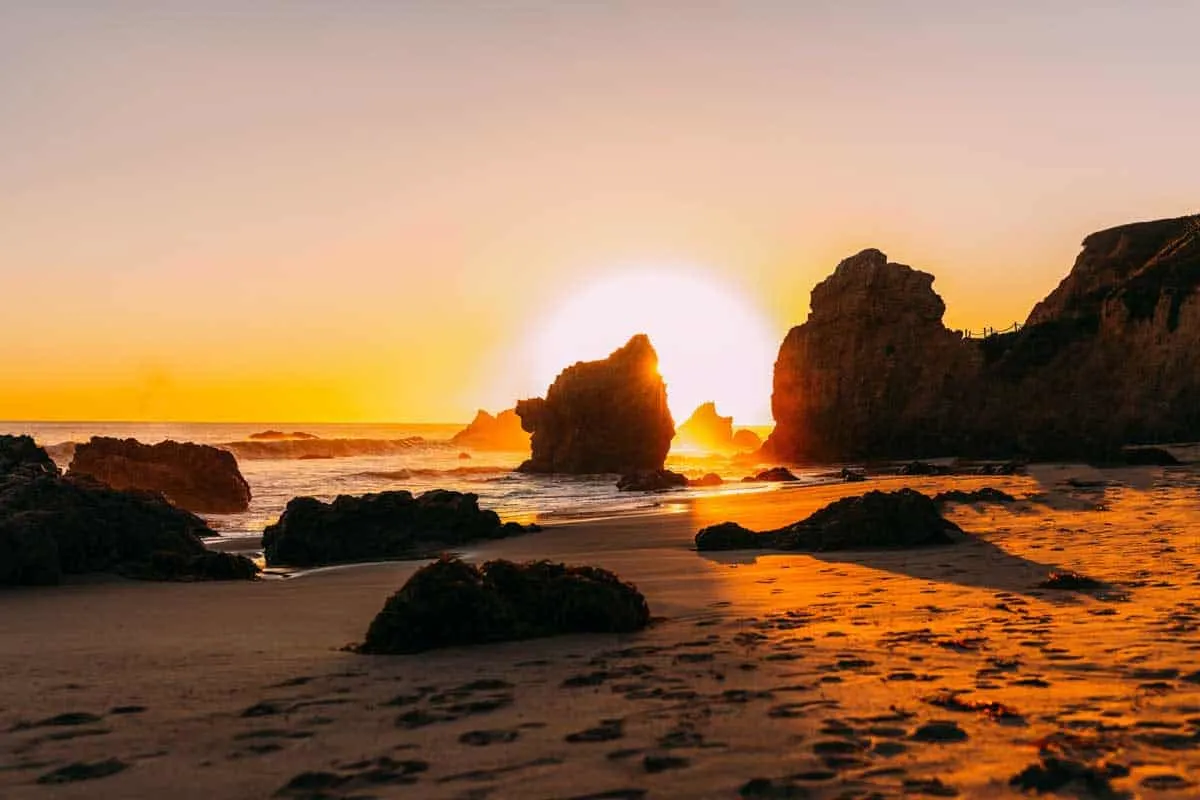 Tips for Hiking in Malibu
Download an Offline Trail Map: Don't always assume you will have cell recetion on a hike. Download an offline map before you head off to ensure you don't get lost. Some trails are not that easy to follow. AllTrails is a great resource for hiking maps and detailed trail instructions.
Be Sun Smart: Even if you set off early morning, the sun is very hot. Wear breathable layers, always hike with a hat and sunglasses, and throw some extra sunscreen in your pack.
Bring More Water Than You Need: Hydration when hiking is essential no matter the climate. In warm temperatures, hikers should carry at least 1-2 litres of water for every two hours they are out—more for hotter weather or challenging hikes.
Always use reusable water bottles to avoid rubbish on the trails. A Camel Back Hydration pack is an excellent investment for regular hikers, or collapsible water bottles are another handy option.
Hiking With Dogs: Make sure you know which trails are dog friendly and keep your dog on a leash at all times on the trail.

Consider if the weather is too hot for your dog – dogs can overheat trying to keep up in the heat and risk burnt paws.
Always check your dog for ticks after your hike.

Don't Hike After Dark: Try to keep your hikes timed to coincide with daylight hours. Other than the potential of getting lost or hurt, you increase your chances of unwanted wildlife encounters after dark.
Respect Wildlife: Don't be surprised if you run into deer, snakes, mountain lions, coyotes or other animals on your hike.

If you encounter any wildlife, give them space and remain calm.
Never run from larger animals such as coyotes or mountain lions – Slowly back away while keeping an eye on the animal. You can contact Santa Monica Park Ranger Services for more information on how to handle animal encounters on your hike safely.

Stay on the Marked Trails: Protect the wilderness and yourself by staying on the marked trails. You can avoid ticks (on both you and your dog), encounters with Pacific Poison Oak, as well as scratches and scrapes. Long pants are always a good idea for overgrown trails.
Be Fire Aware: Southern California is prone to terrible wildfires thanks to dry conditions in some of the best hiking areas. Make sure you don't inadvertently start fires with stray cigarette butts or anything that could ignite a spark. Also, wildfires can start and spread very quickly. Check any potential or active fire situations before you head off on your hike so you don't find yourself in a fire situation.
Hiking in Malibu
This round-up of the 8 best hikes in Malibu offers something for everyone – from difficult 8-mile treks near the ocean to shaded inland hikes under 5 miles. Whether you choose one or every hike, you are bound to have an enjoyable and scenic time hiking the best trails of Malibu.
About the Author
Monica Chapon
Monica is the founder and creator of This Rare Earth, a travel blog focusing on offbeat adventures and learning about the local way of life in less-visited destinations. She has been to over 45 countries, primarily solo, and is on a mission to prove that you can travel the world safely as a solo female.