Niagara Falls is always in season, but it is the winter months the natural wonder really shines.
If you've ever dreamed of visiting Niagara Falls, visiting in winter might be the breath of fresh air you are looking for. With fewer crowds and loads of exciting outdoor activities, winter is one of the safest and most exhilarating times to visit Niagara Falls.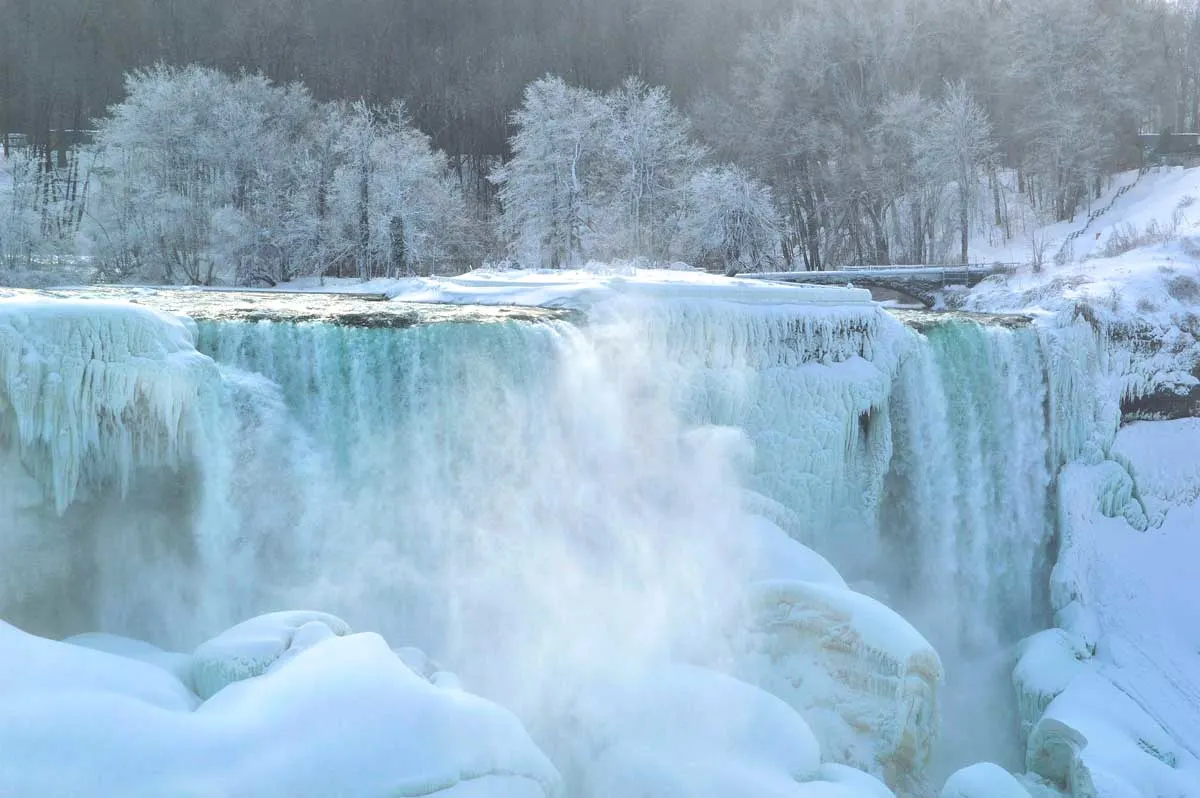 There are so many things to do in Niagara Falls in winter, as well as unique experiences missed by the summer crowds.
The extreme weather means some of Niagara's more popular tours and attractions will close. However, there are a surprising number of winter events, attractions, and things to do in Niagara Falls when the chill hits.
We have put together some of the best things to do in Niagara Falls in winter to help you plan a unique winter escape.
Niagara Falls Winter Specific Tour Recommendation: Tale an all-inclusive Cave of the Winds Winter Wonderland Tour. This small-group tour takes you to the famous Cave of the Winds and includes magnificent snow-covered landscapes and icy glaciers of Bridal Viel Falls, Whirlpool St Park, The American Falls, Horseshoe Falls, Terrapin Point, and much more. All activities, entries, and transport are included. See here for full tour details and inclusions.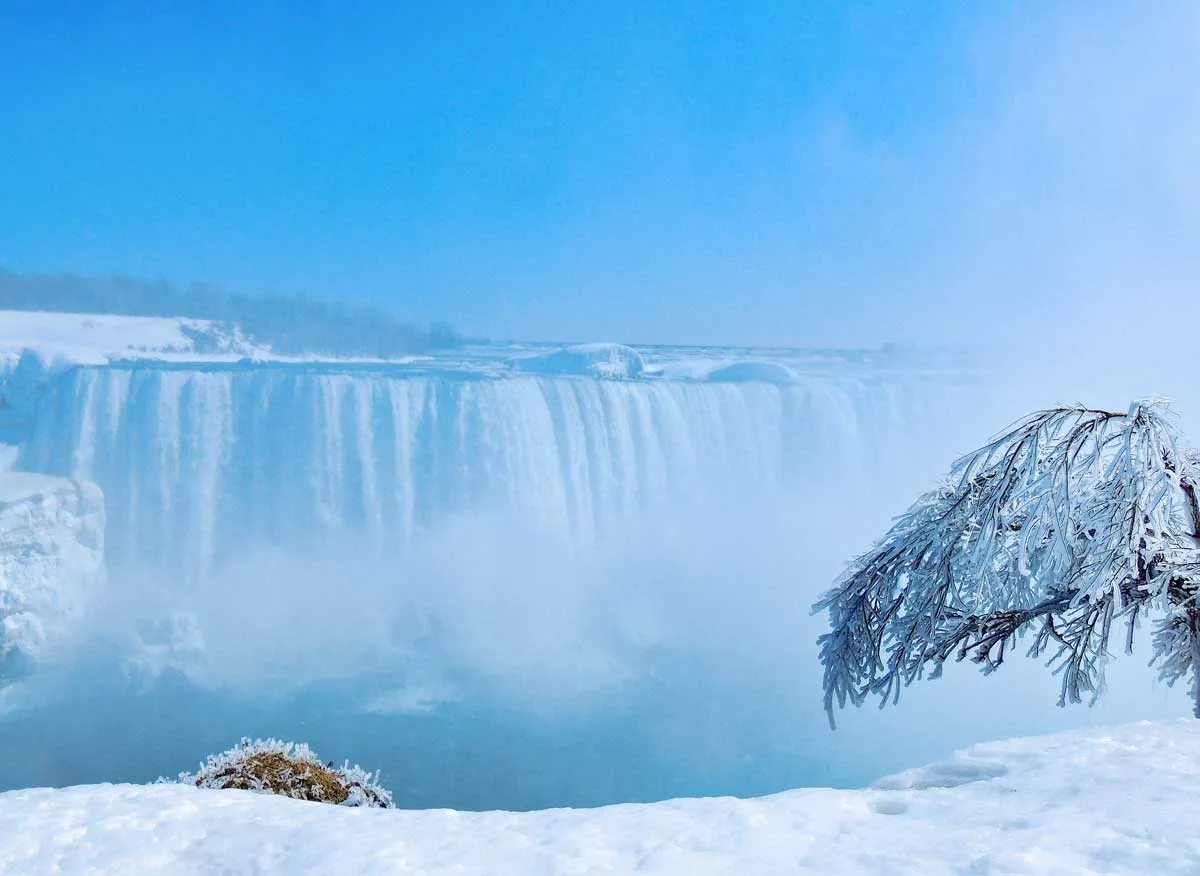 Reasons To Visit Niagara Falls in Winter
Miss the Crowds
One of the main reasons we love off-season travel is the lack of crowds, and there has never been a better time to dodge the crowds. Niagara Falls attracts around 14 million visitors each year, most of these in the spring and summer months.
Visiting Niagara in the winter will not only mean fewer crowds and queues, but you may have the place nearly to yourself.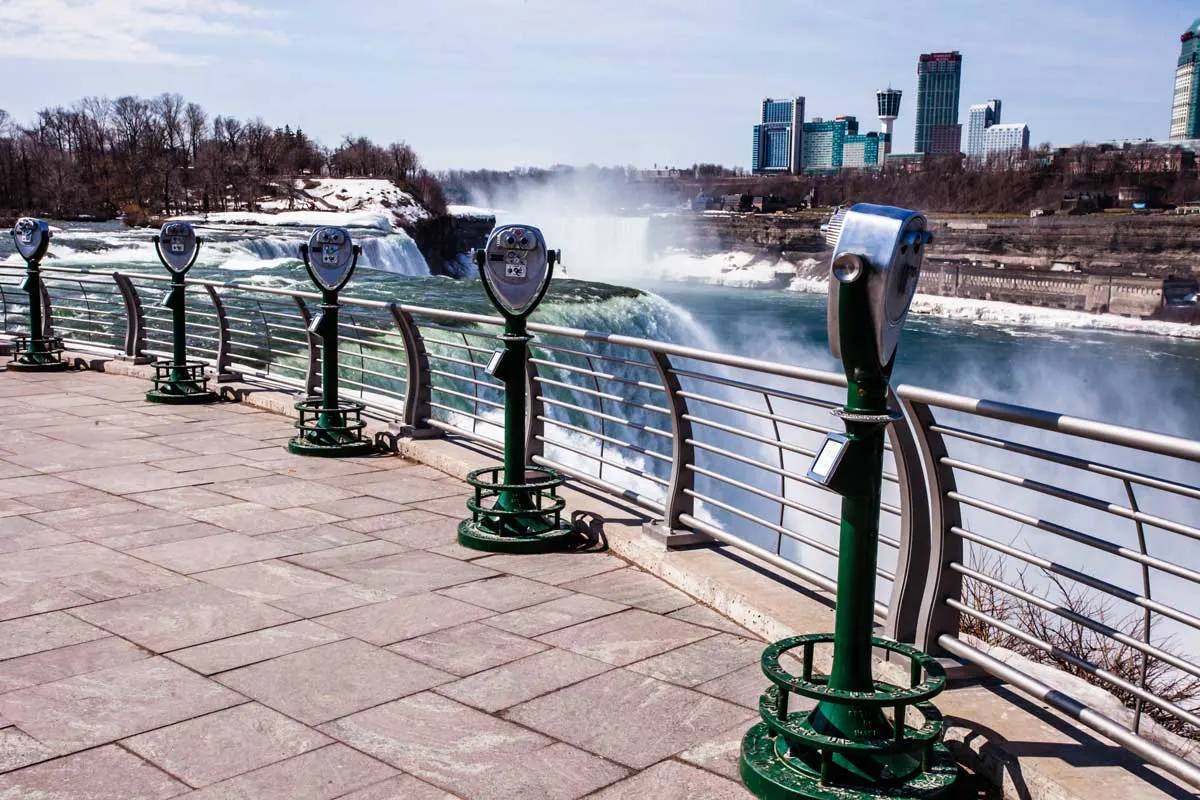 Get Better Hotel Deals
Winter in Niagara Falls is also the time to snag a great hotel deal. There is such a vast range of accommodation available in Niagara Falls catering to families through to honeymooners.
Thanks to the popularity of Niagara Falls in summer, accommodation will cost a premium in the peak season. Shoulder season rates – spring and fall are generally more forgiving on the budget, but winter is when prices will be at their lowest.
As well as low winter hotel rates, be on the lookout for Niagara Falls Winter Hotel Deals – There are lots of great inclusions available in winter hotel packages, and many will guarantee a room with a view of the falls.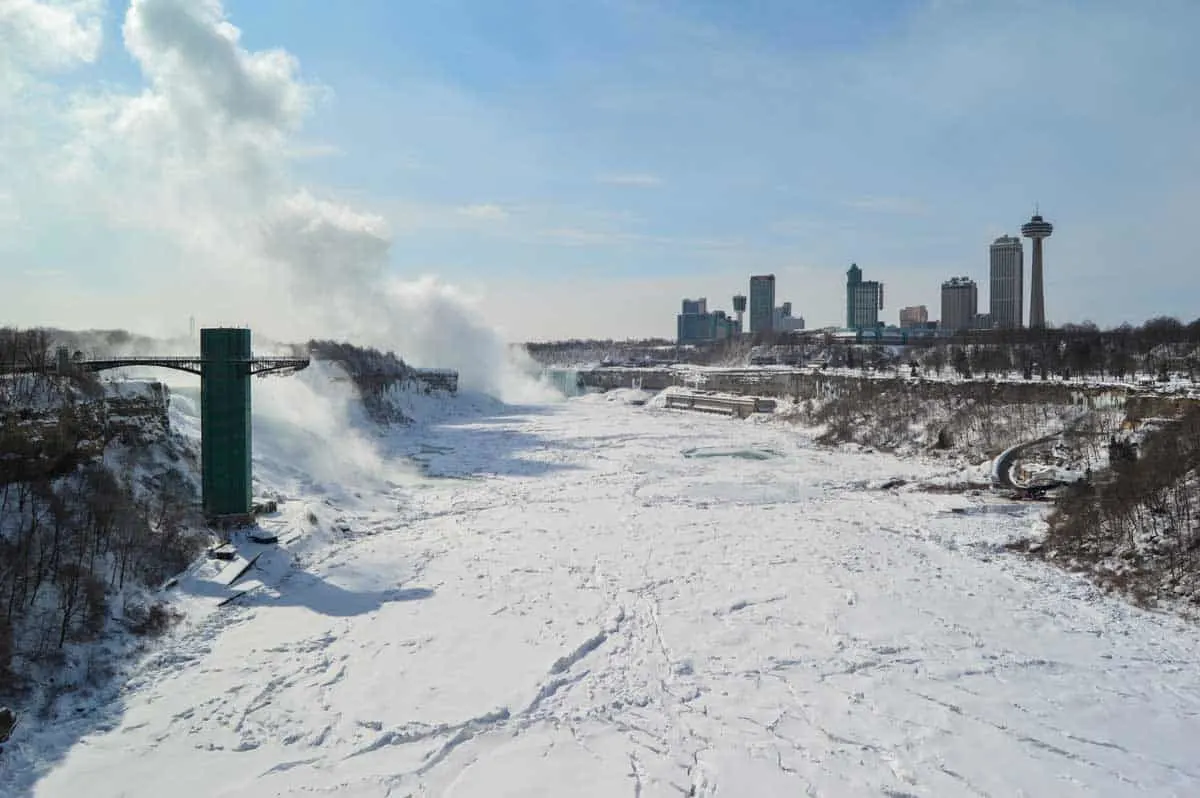 See Niagara Falls Differently
Winter offers a unique view of the magnificent falls. The silent wonder of ice and snow, glistening icicles and mini glaciers create the illusion of frozen falls and a unique winter landscape. The falls tremendous natural power temporarily subdued by the winter chill. While it is rare, you may even experience a full freeze.
It's also a unique experience to visit one of the world's most famous natural attractions unencumbered by the peak season crowds. This alone offers an entirely different experience.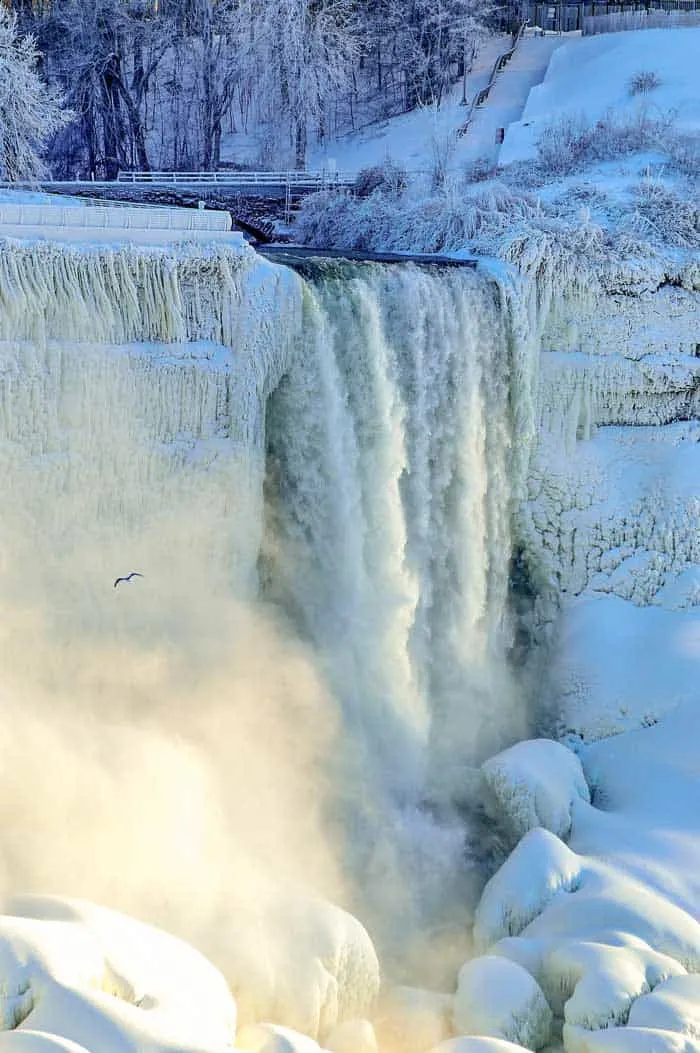 ---
Crossing Between the U.S. and Canadian Side of Niagara Falls
Experience everything there is to do in winter in Niagara by visiting both sides of the falls.
There are four International bridges between the U.S. and Canada; three are within 6 miles (9.6 km) of the Falls.
All four bridges provide a convenient crossing into Niagara Falls, Canada, the Niagara wine country and southern Ontario and Toronto. It's not surprising Niagara is one of the most popular day trips from Toronto.

The most popular and convenient crossing for tourists is the Rainbow Bridge (500 yards/ 457 m from the American Falls) which also offers some of the most spectacular views of the falls.
You can walk, cycle or drive across and as there is no commercial traffic allowed, wait times are often less.
Tip: Park on the U.S. side and walk across as parking is cheaper than on the Canadian side.
There is a toll for crossing the bridge –
$4.00 U.S. or $5.25 Canadian round trip for cars collected when leaving the USA.
$1.00 crossing fee for pedestrians collected when departing Canada.
As you are crossing an international border, you must have the appropriate border crossing paperwork or required visas. You can get more information about the U.S. Canada border crossing here.
---
Things to do in Niagara Falls in Winter
Walk the Falls
Walk the pathways along the falls and enjoy a front-row view to the thundering wonder dressed in its winter finery. Winter brings the beautiful spectre of natural ice sculptures framing the falls.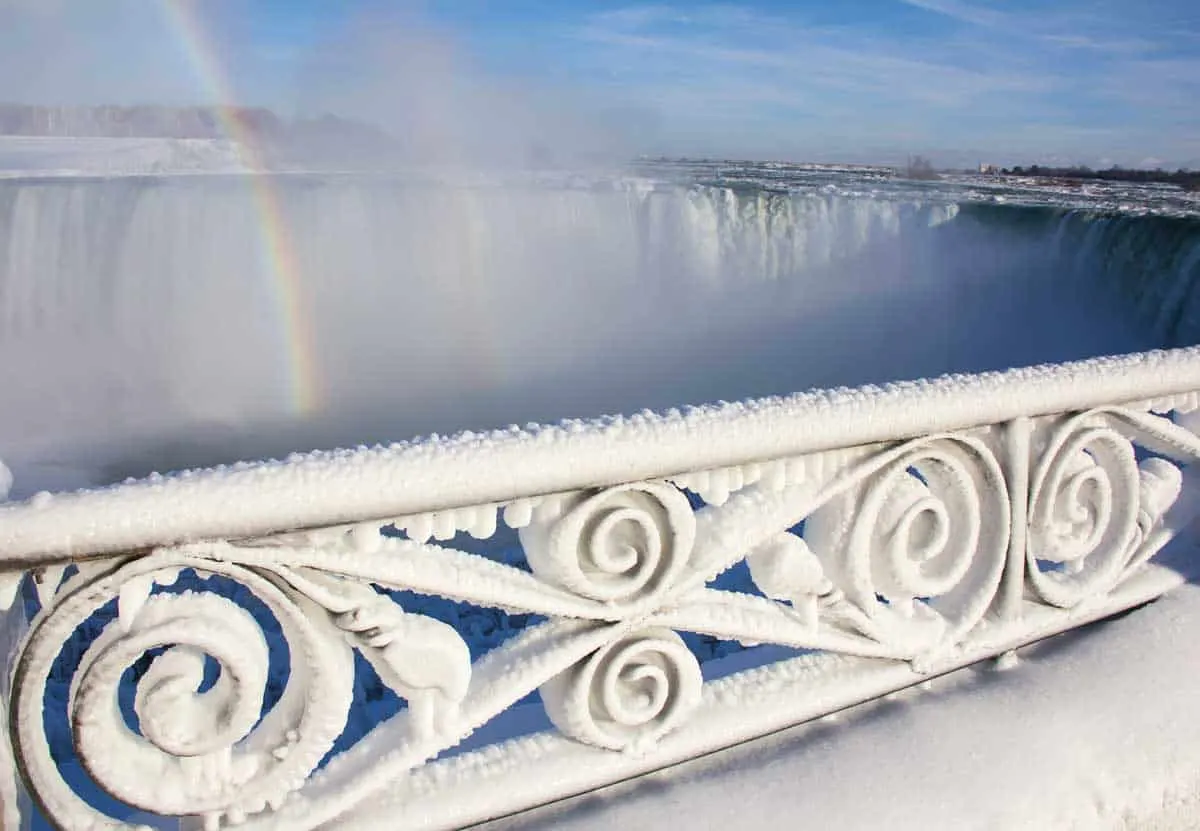 Nightly Illumination Show
Since 1925, the Niagara Illumination Board has been providing free of charge a nightly spectacular.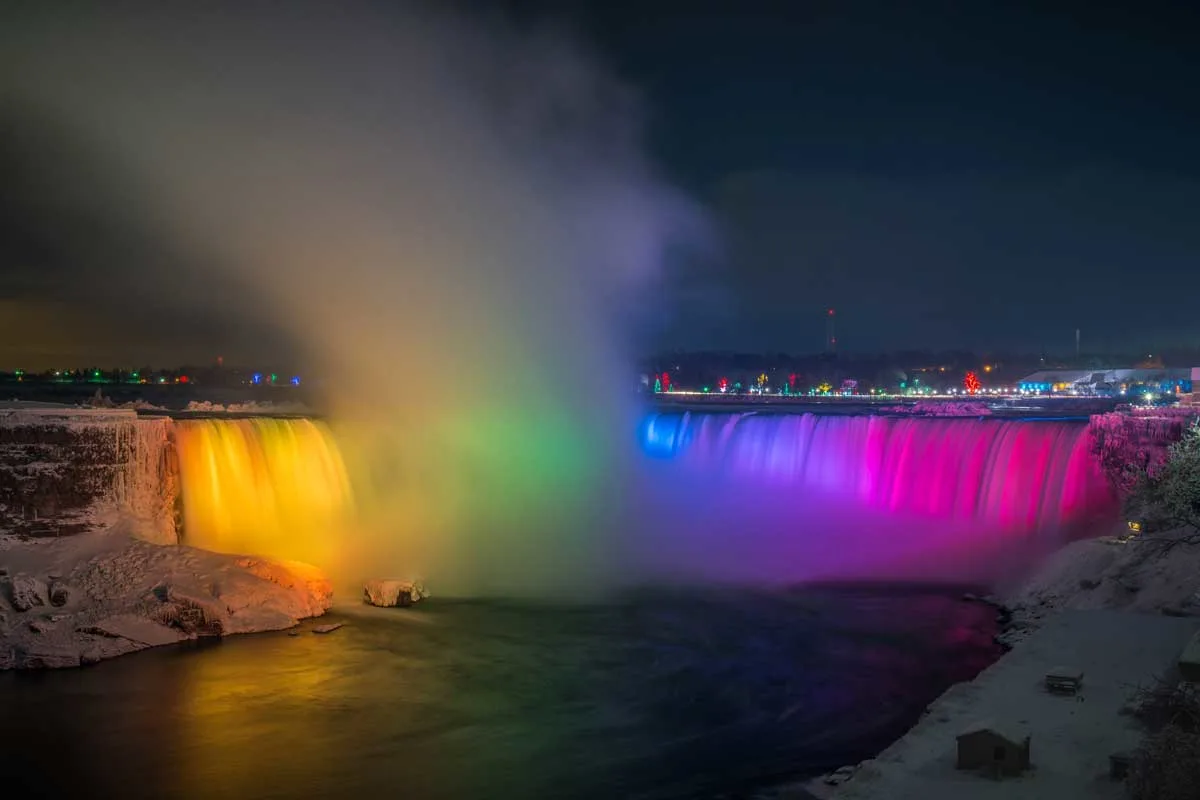 Every evening, the three waterfalls are illuminated in glowing colours to create a stunning spectacle. The bright water against the night sky set a scene, unlike anything you've ever experienced.
See the lights dance off the icy facade of Niagara's winter ice formations, and you have one of the most unique experiences in the world. The early nights of winter also allow the spectacular to be enjoyed longer.
Winter Illumination Hours:
Nov 5 – Dec 30: 4:30 PM – 1 am
Dec 31: 4:30 PM – 2 am
Jan 1 – Jan 31: 5 PM – 1 am
Feb 1 – Feb 29: 6:30 PM – 1 AM
March 1 – March 11: 7 PM – 1 am
March 12 – March 31: 8:30 PM – 1 AM
Experience Niagara Falls Legendary Fireworks Shows
Niagara Falls is not just famous for its illumination displays. Niagara holds seasonal fireworks displays in front of the American Falls set against the backdrop of the Horseshoe Falls.
The winter fireworks season coincides with the Niagara Falls Winter Festival Of Lights which runs from mid-November until the end of January. Each fireworks show runs for around 5 minutes.
See here for full fireworks schedules.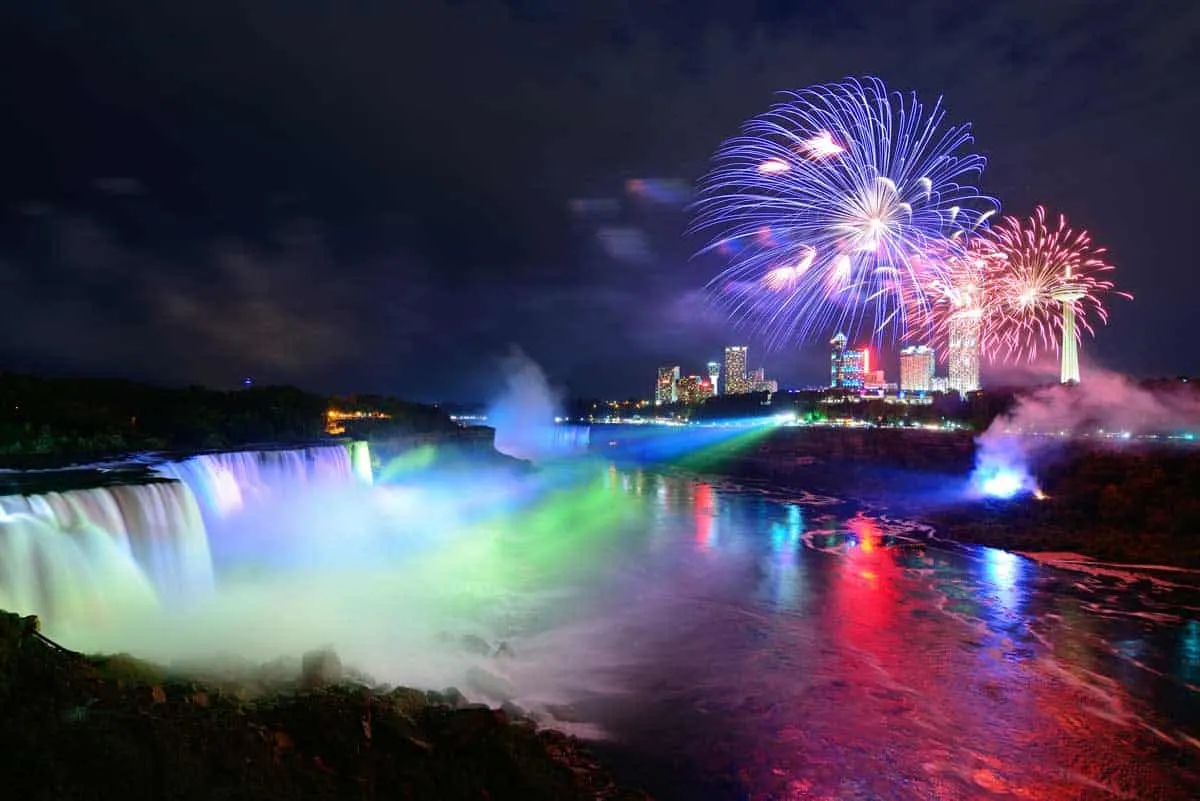 Winter Hikes in Niagara Falls
Niagara Falls is a favorite destination for avid hikers any time of year and winter is no exception. With some exceptional hikes for all skill levels, winter is a great time to have the trails all to yourself.
The Niagara Gorge offers trails for serious hikers who want to get into the heart of the gorge as well as some lovely top trails for casual hikers.
A few miles from downtown is the Devil's Hole State Park where you can find one of the area's most iconic trails which takes you down to the Niagara Whirlpool.
Find More Incredible Hiking Destinations in The States Here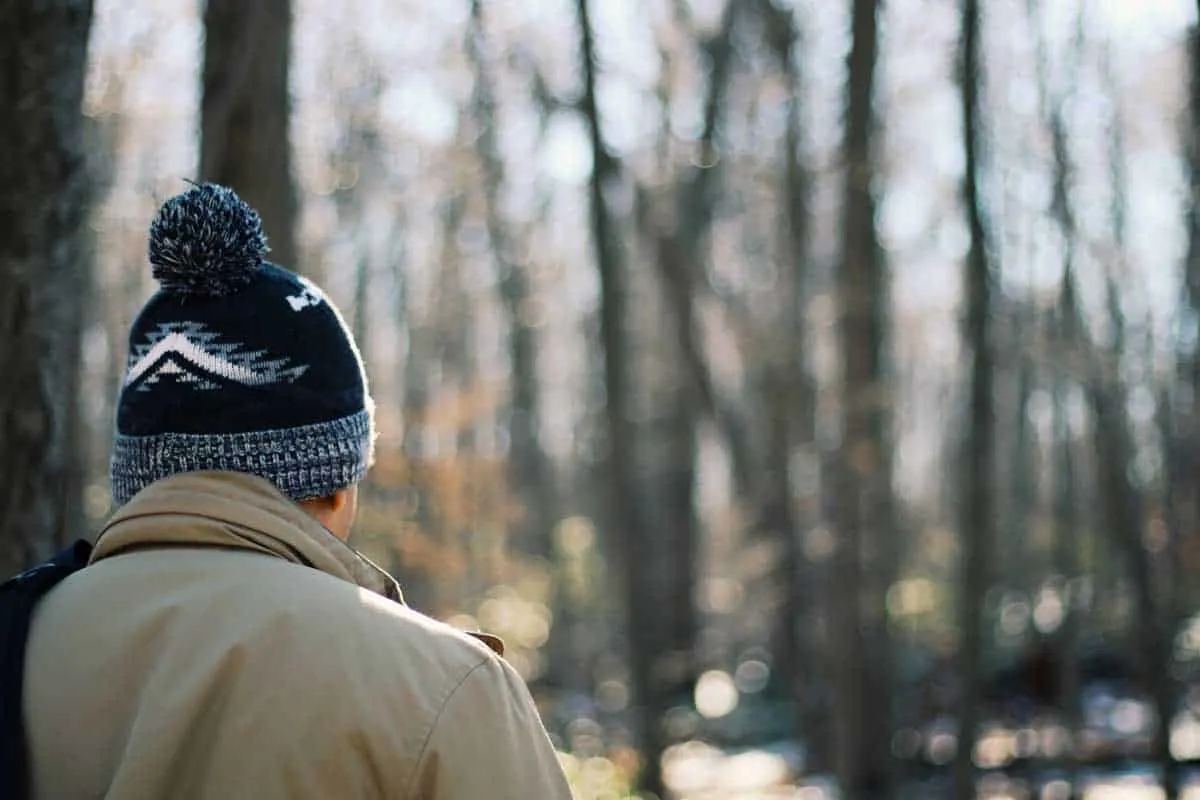 If you are planning on hiking in Niagara Falls in winter, make sure you pack the appropriate hiking gear, bearing in mind the cold weather.
Some basics to pack:
See Niagara Parks for trail maps and hiking information as well as information on guided hikes.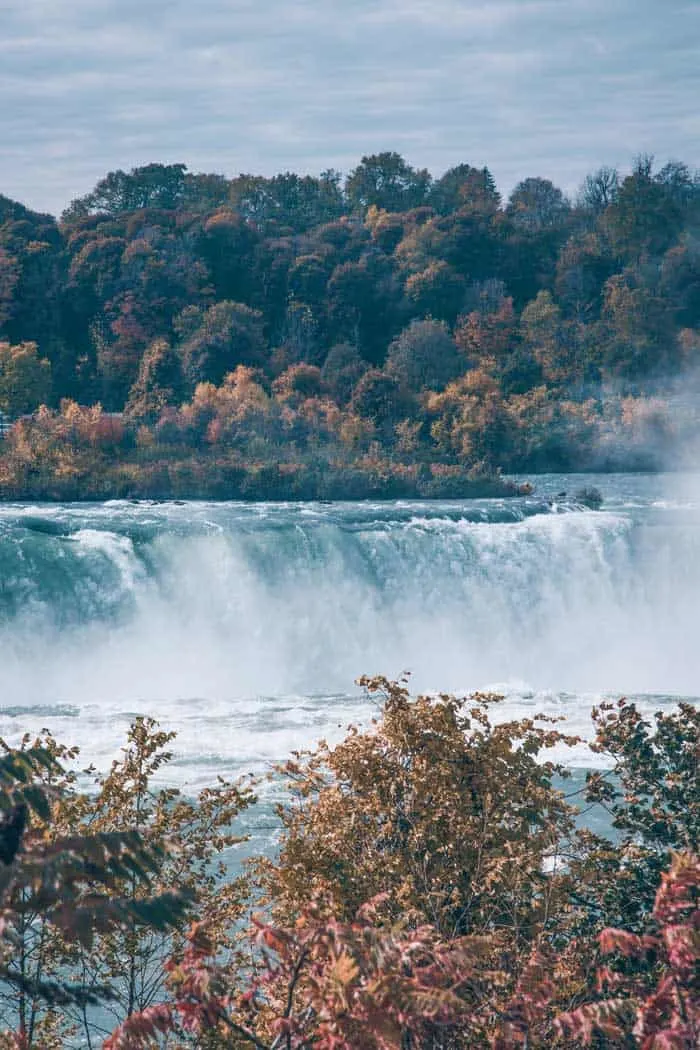 Winter Festivals In Niagara Falls
Winter in Niagara is also a time for some of the area's best festivals. It may be cold outside, but there are plenty of events to keep you entertained.
Niagara Falls Winter Festival Of Lights
Head to the Canadian side to experience one of the most popular festivals of the winter calendar – the Niagara Falls Festival of Lights.
The famous festival, one of the largest light festivals in Canada, runs from mid-November to the end of January. There are displays of more than two million lights covering over 8 km of the city.
The route takes you through several of the Niagara Parks such as Dufferin Island which is especially popular, along Niagara Parkway and around the town of Niagara Falls. A self-guided walking or driving tour of the lights is a great way to explore the area.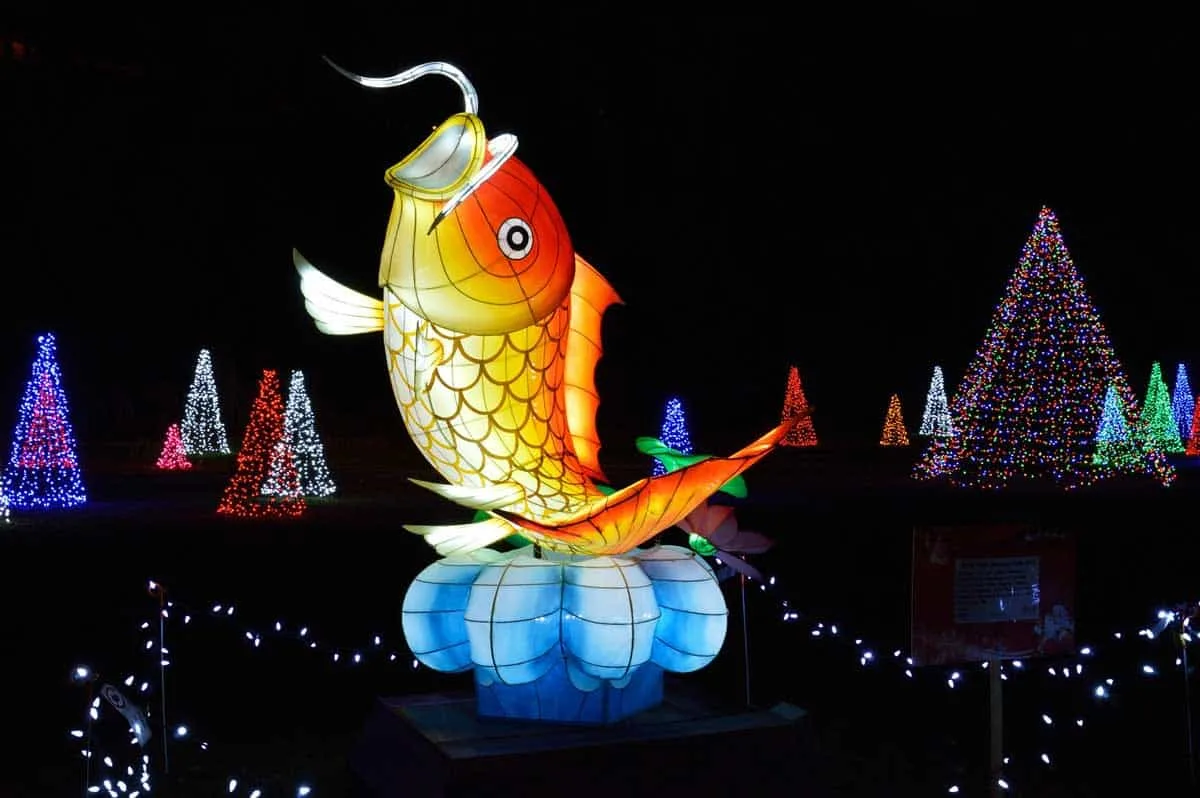 New Years Eve at Niagara Falls
Niagara Falls puts on such a great show each evening throughout winter; you think it would be hard to make a splash on New Year's Eve.
Each year Niagara Falls manages to blow it out of the water with bigger and better displays and entertainment.
Rug up for the outdoor celebrations which usually start around 8.00 pm with two family-friendly fireworks displays, one at 9.00 pm and midnight. As with entry to the park, New Years celebrations are free of charge.
Niagara Icewine Festival
Head to Niagara-on-the-Lake to explore the 26 wineries nestled below the Niagara Escarpment and indulge in a local tipple at the Niagara Icewine Festival.
The family-friendly festival is not just a celebration of the local ice wine but also showcases local gastronomy and Niagara's great outdoors along the picturesque Niagara River Parkway.
The Niagara Icewine Festival runs from Jan 10-26 with additional events from January 16 – February 16. Find out more here.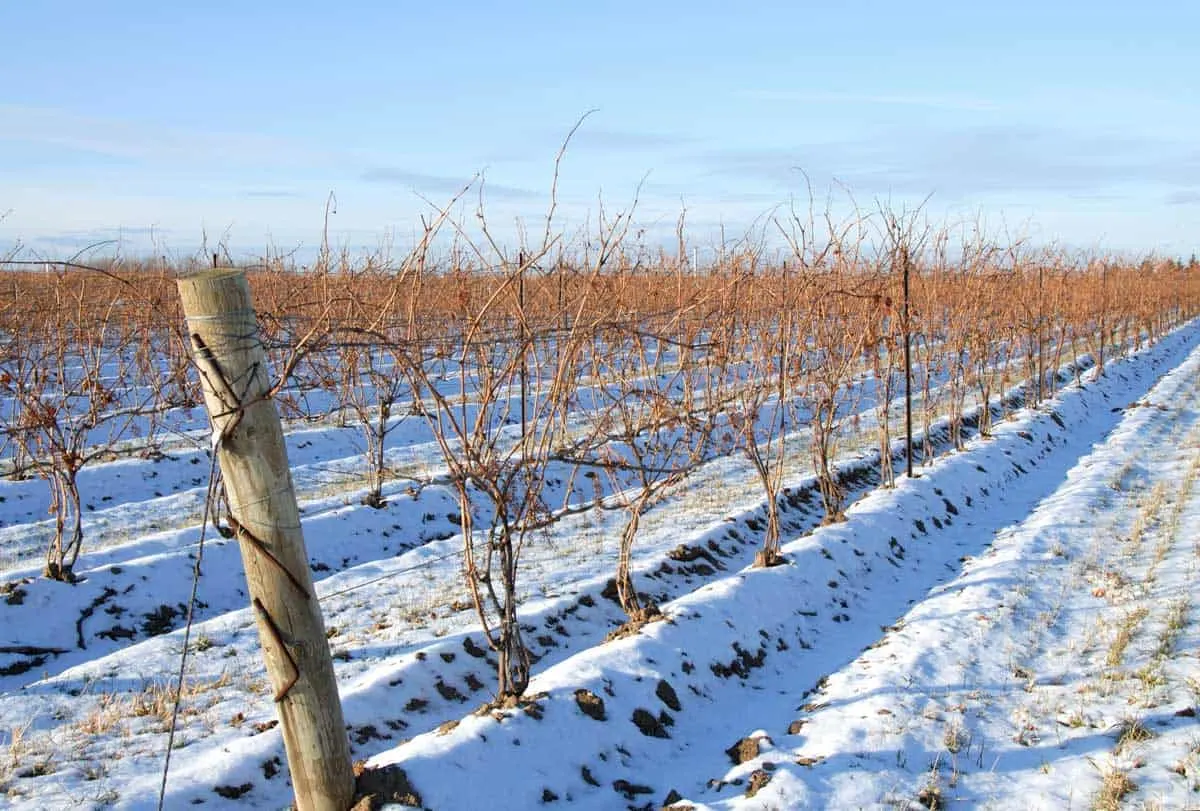 The Niagara Wine Trail
Discover the diverse range of award-winning wines, meads, and ciders along the picturesque Niagara Wine Trail, USA, just minutes from Niagara Falls.
Situated between the Niagara Escarpment and Lake Ontario, the area offers a host of things to see and do including charming towns, excellent cuisine, historical sites, farm markets, and antique shops.
There is also a full calendar of winter events to warm things up during the cold season. See the Niagara Wine Trail USA for the events calendar.
Journey Behind the Falls
Due to the harsh winter conditions, many popular Niagara Falls attractions close for the winter: the Cave of Winds, the Niagara Falls boat tours such as the Maid of Mist, the Zipline, White Water Walk, Whirlpool Aerocar, and the Whirlpool Jetboat.
However, Journey Behind the Falls is open all year round for a unique perspective of Niagara Falls. Descend 125 feet to the 130-year-old tunnels to get up close to the roaring falls.
Winter presents the opportunity to possibly see the thundering curtain of water beautifully framed by icicles. It also offers a rarer chance to take this tour without having to battle the peak summer crowds. In summer it is not unusual to be given a designated tour time due to such long delays. For a bonus, during the winter season, rates for this tour are reduced.
Your admission price includes a poncho as you may get a little wet. Be extra careful with any electronics that are not waterproof. If using a cell phone for photos, you may even consider a waterproof case or holder.
Helicopter Tour of Niagara Falls
Get a real perspective of the size and force of Niagara Falls from the air. Helicopter tours run all year round (weather depending, so you need to be flexible) and offer dramatic aerial views of the turbulent Whirlpool Rapids and massive cascades of the American, Bridal Veil, and Horseshoe Falls.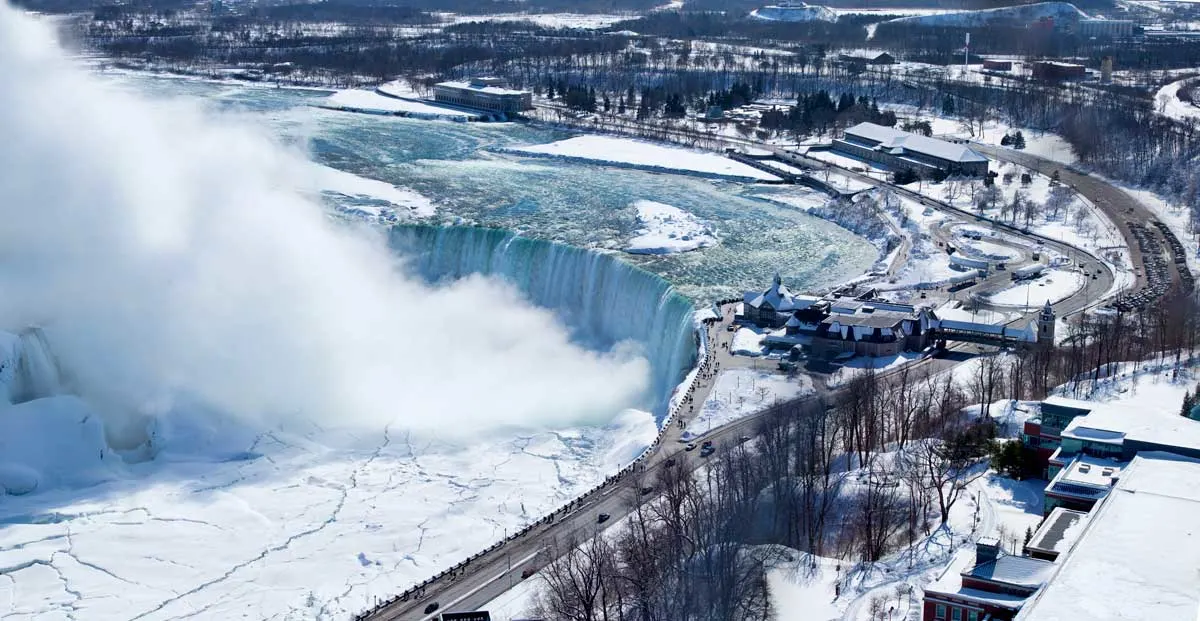 The scenic flight lasts for around 12 minutes. Scenic flights cannot run in low light, low cloud, or windy conditions so call in advance if the weather looks dubious.
See here for full scenic flight details and rates.
Visiting Niagara Falls in Winter
These are just some of the Niagara Falls winter highlights. There are also a host of other classic winter activities in winter in Niagara Falls such as ice skating and snowshoeing as well as plenty of indoor attractions in the area.
While Niagara Falls will always remain a popular summer destination, there are so many reasons Niagara Falls is one of the best winter destinations.