Have you ever considered visiting Toronto in March?
One of the most vibrant cities in Canada, you may question if March is the best time to visit Toronto – Isn't it too cold, the streets full of snow, attractions closed and the locals still in winter hibernation?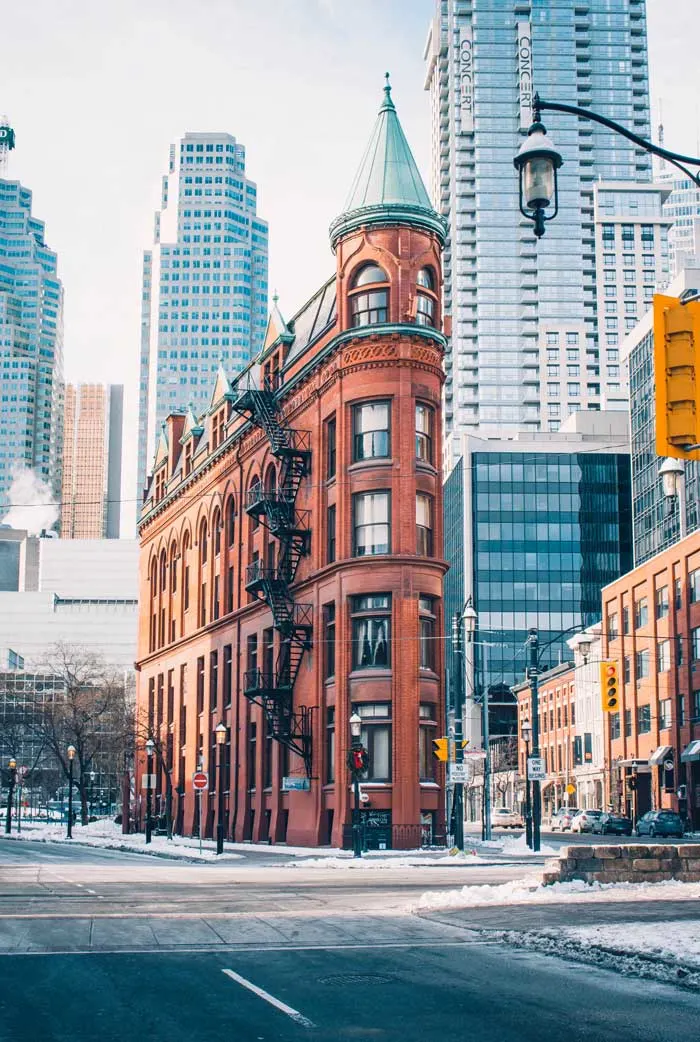 The short answer is it's a great time to visit. There are plenty of things to do in Toronto in March.
Yes, March in Toronto is colder than New York or London, but like any city, visiting outside of peak season opens up other opportunities.
The possibility to enjoy a city the way locals do rather than tourists. It is one of the real joys of travel.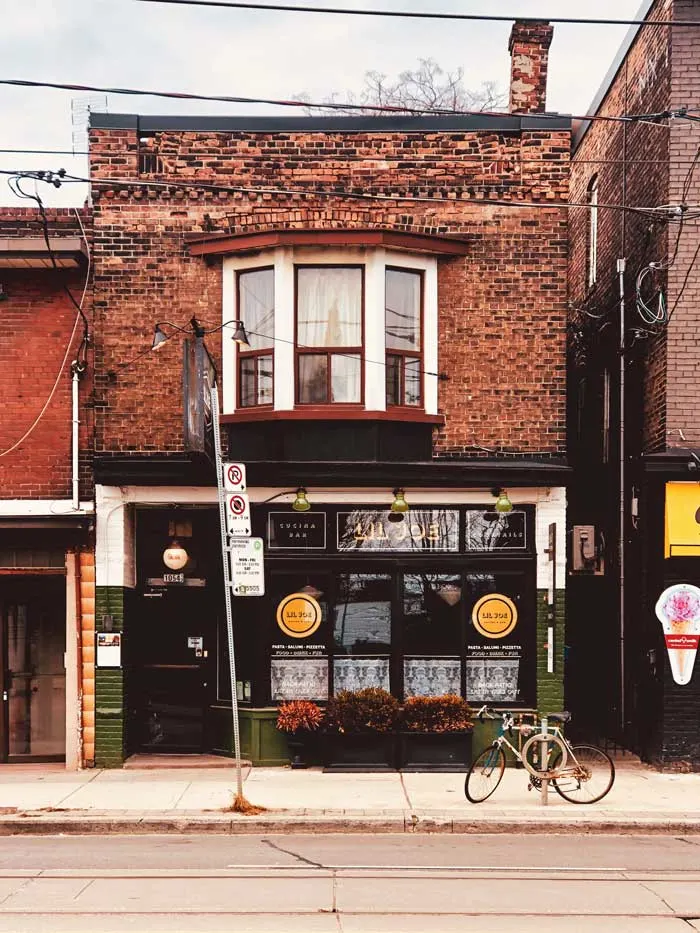 Visiting Toronto in March
Visiting Toronto in March allows you to explore the city and its many attractions at a fraction of peak season prices – not to mention the lack of crowds.
The shoulder seasons, especially late winter, is when you will find exceptional travel and hotel deals. And with good connections from the UK and US, there are always great flight and package deals, such as a Toronto 4 night city break.
As with visiting Canada in late Fall, visiting Toronto in winter is not only great for travel deals, it also provides the opportunity for some very unique and memorable experiences not possible in the peak tourist months.
Weather in Toronto in March
During March Toronto starts the transition from the harsh Canadian winter to the warmer spring months with the promise of summer on the horizon.
Although the weather is warming up slightly, you can still expect freezing temperatures, particularly in the early part of the month.
Where to Stay in Toronto
For first time visitors, Downtown is probably the best place in Toronto to stay. It's convenient and has something for everyone. But if you want to discover the diversity of Toronto, each of the districts surrounding Downtown offers a unique experience of the city.
You can find a full rundown on the best areas to stay in Toronto here for your style and budget including hotel recommendations.
---
Find the Best Hotel Deals in Toronto
---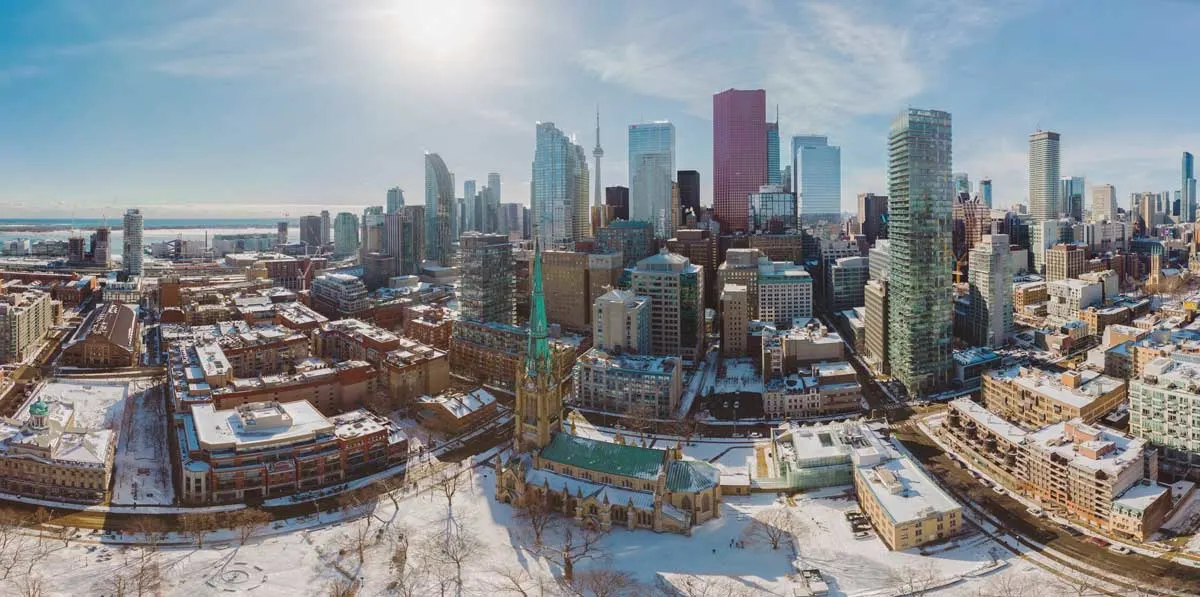 For the whole of March, expect average high and low temperatures of 4.7˚C and -1.9˚C (40.46°F | 28.58°F) respectively.
On average, you can expect at least six days of snowfall as well as days with as much as six hours of sunshine.
What to Wear in Toronto in March
Given the low temperatures and general unpredictability of the weather, visitors to Toronto in March will need to pack for all possibilities.
Ensure you have warm and waterproof clothing, hats, gloves, warm shoes or boots and thick socks. As Toronto caters very well for its winter conditions, removable layers are key to good cold weather packing.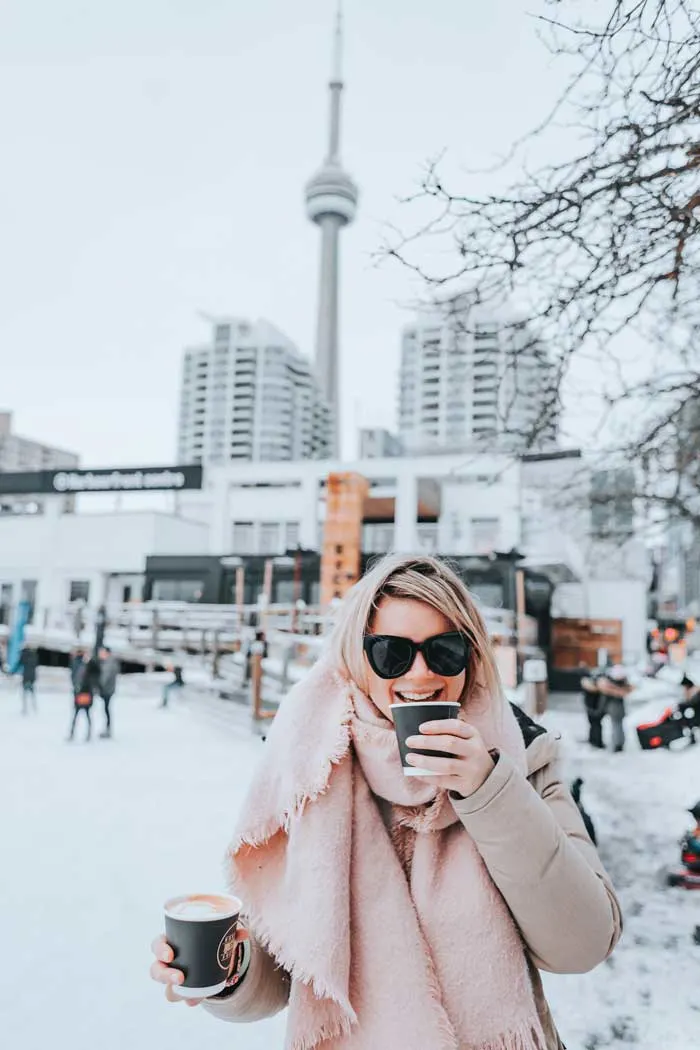 A compact, yet sturdy travel umbrella is always a good travel investment.
There is no such thing as bad weather – just bad clothing.
---
Looking for the Perfect Travel Jacket? – 7 Top Women's Travel Jackets and Best Men's Jackets with Hidden Pockets – Practical & Stylish Options for all Seasons.
---
Getting Around Toronto
Visiting a city like Toronto in March, you will need to know how to get around to avoid adverse weather conditions and of course, stay warm and dry.
Toronto has more than got you covered – both metaphorically and literally.
The Toronto Transit Commission (TTC) network of subway, buses and streetcars connects all parts of the city. Unlike many other cities, it is easy to navigate. One ticket will cover you for one journey allowing you to transfer between the networks freely.
City taxis are also everywhere as are Uber or Lyft services.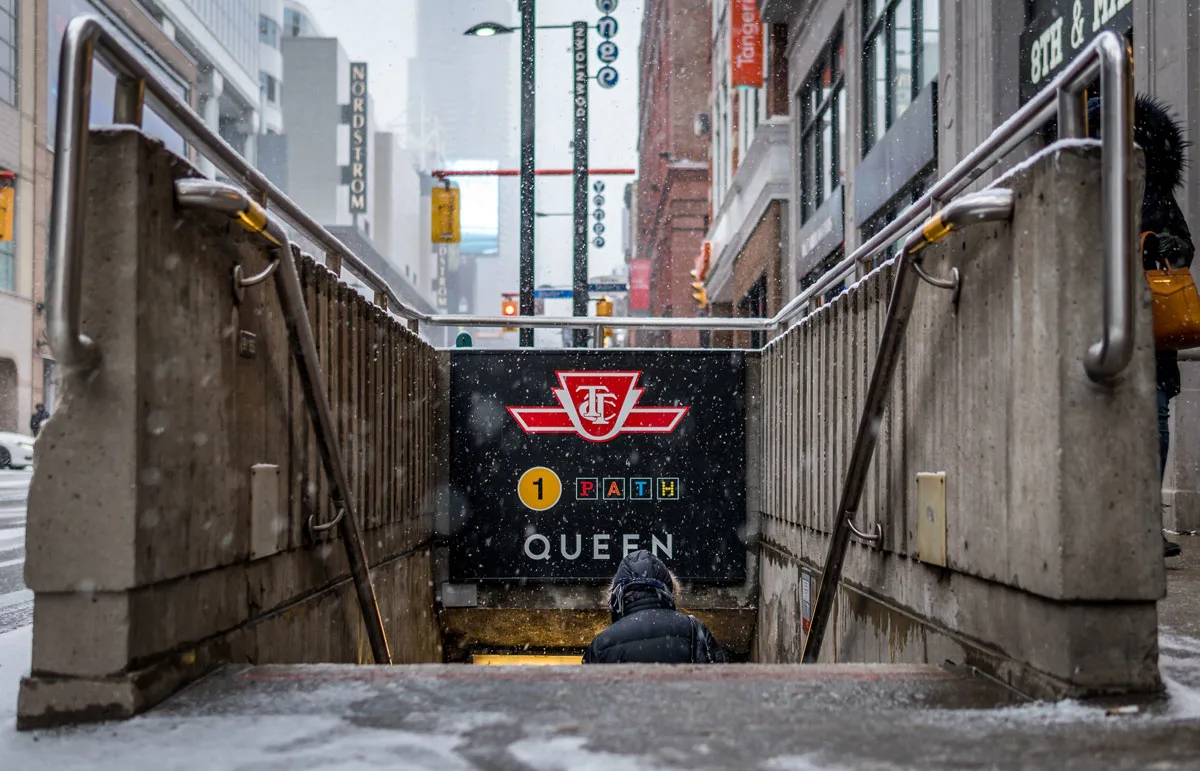 Toronto PATH
In addition to the regular transport systems, Toronto also has a fabulous underground network known as PATH.
PATH makes it possible to walk between the waterfront district in the south to downtown Yonge and the entertainment district all without exposure to the elements.
Over 30 km of subterranean walkways linking the city – it's perfect for winter conditions. The PATH network serves more than 75 buildings, six subway stations, an incredible 1,200 restaurants, retailers and services and Toronto's Union Rail station.
Things to do in Toronto in March
It may not be possible to enjoy popular summer activities such as a relaxing promenade along the shore of Lake Ontario or take a ferry to famous beaches on the nearby islands. However, Toronto still boasts a plethora of things to do in March.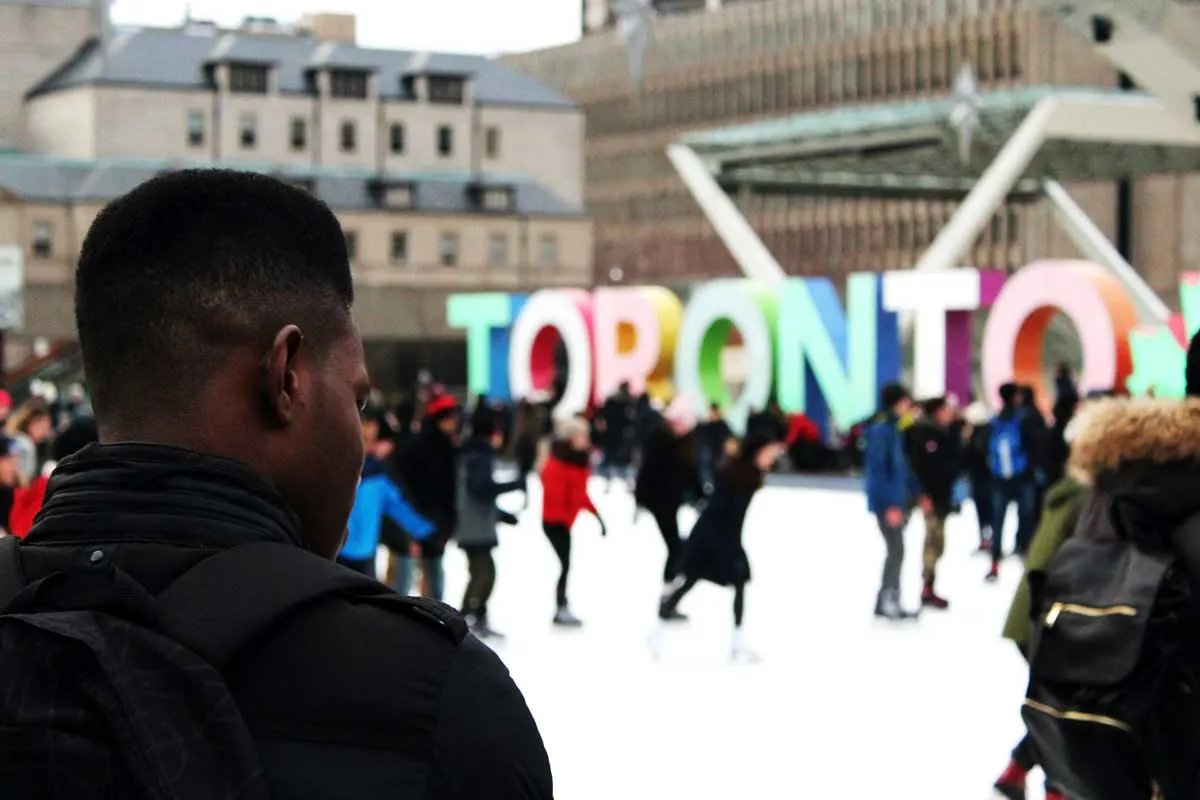 CN Tower
No world city is complete without an architectural wonder—an iconic symbol of the city which often provides some of the most magnificent panoramic views.
Toronto's CN Tower standing 553 m tall was completed in 1976 and remains the tallest free-standing structure in the Western Hemisphere. Visiting Toronto in March means you will miss most of the 2 million people visit each year and the accompanying queues.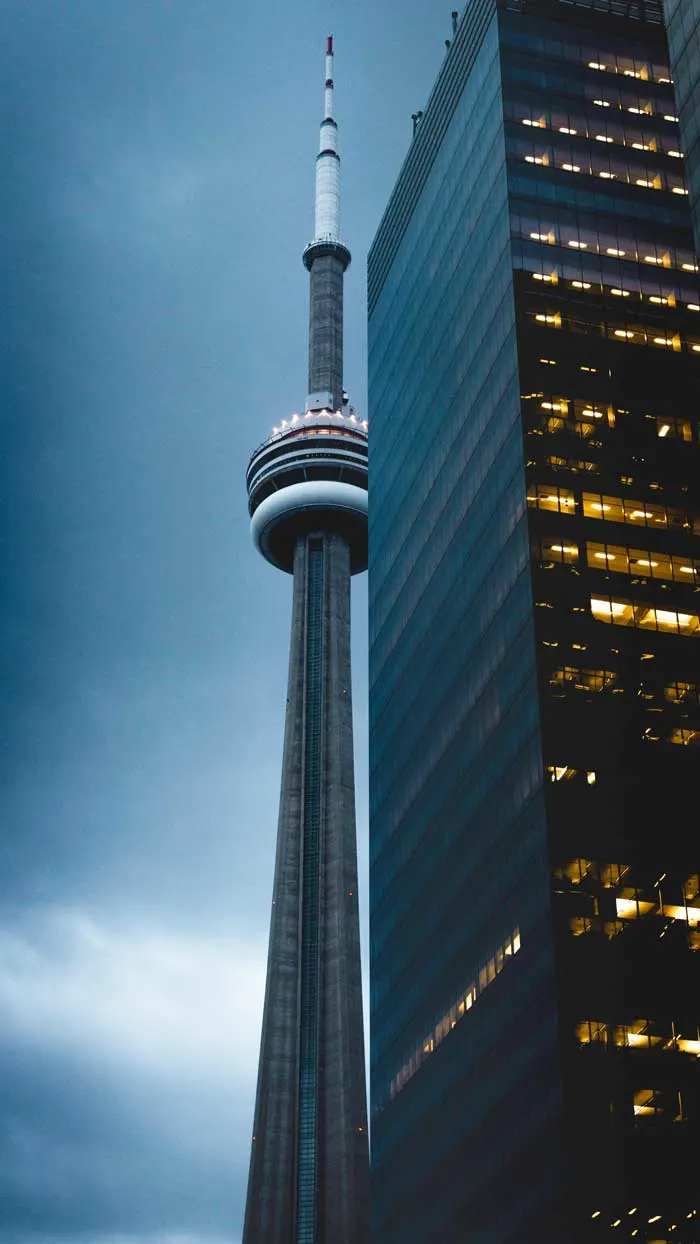 As well as breathtaking views through the floor to ceiling glass windows, visitors to the CN Tower can enjoy the 360 Restaurant and weather permitting the Edge Walk – at 116 stories high, it is the world's highest hands-free external walk.
St. Lawrence Market
St. Lawrence Market on Front Street East and Jarvis Street to the east of the Old Toronto district has been the city's culinary hub since 1803.
Open to the public each day from Tuesday to Saturday, the market complex has more than 120 speciality vendors as well as restaurants, an authentic Saturday farmers market, exhibition space and the Market Kitchen which runs cooking classes and demonstrations.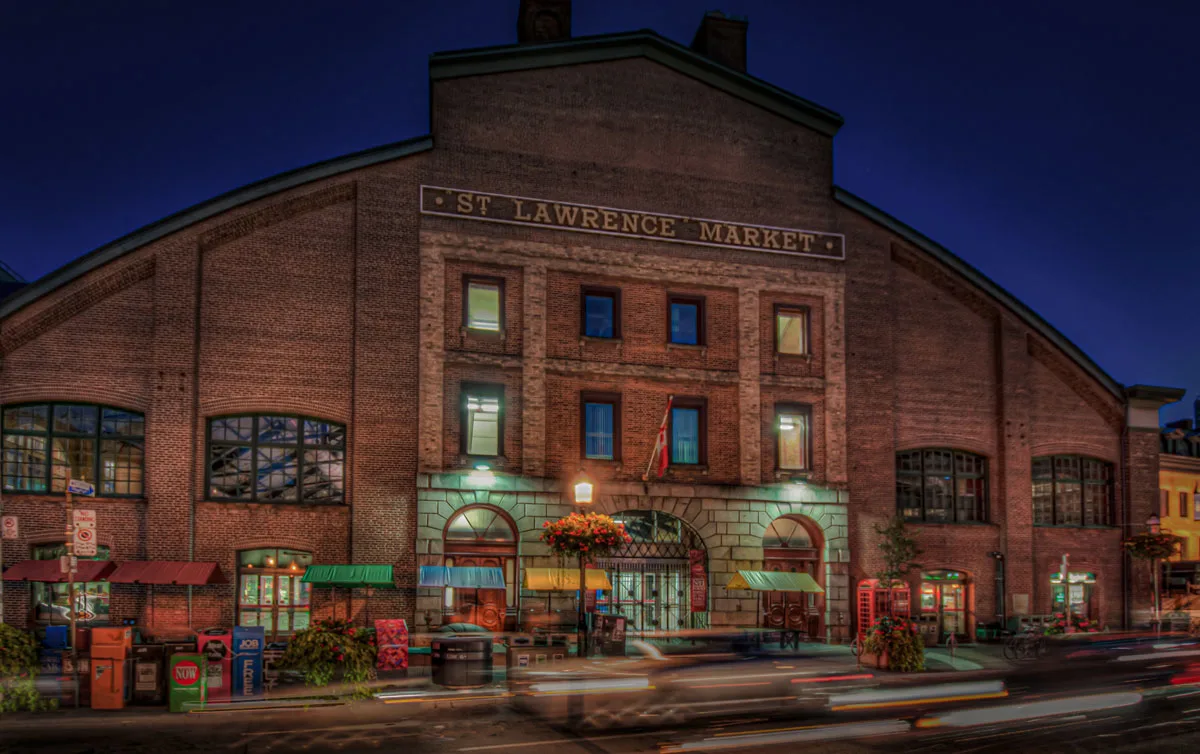 Peameal Bacon Sandwich
On a chilly March day, St. Lawrence Market is the perfect place to sample Toronto's famous peameal bacon sandwich.
Named after the dried yellow peas that were packed around the bacon to preserve it, the peameal bacon is served on a kaiser roll and topped with mustard. It is no ordinary bacon sandwich and a must-try in Toronto.
Distillery Historic District
Located to the east of downtown Toronto in and around the 47 buildings of the 19th century Gooderham & Worts Distillery, the historic district is now one of Canada's premier arts, culture and entertainment destinations.
You'll find some of Toronto's best boutiques, a great selection of bars, restaurants and cafes together with the city's most exciting galleries and artists studios.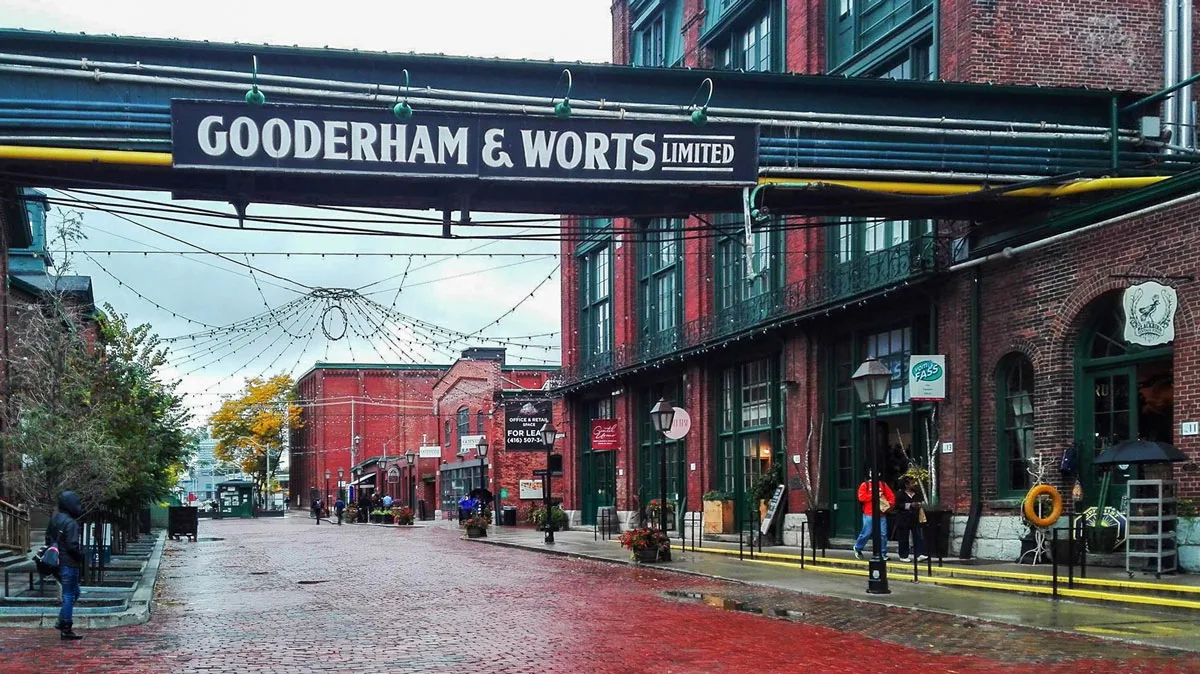 CF Toronto Eaton Centre
On a cold day in Toronto, retail therapy is always a good idea, and undoubtedly, the CF Toronto Eaton Centre is where you will end up.
With over 2 million sq ft of retail space, the Eaton Centre, at the junction of Queen Street West and Yonge Street can be accessed via Queen subway station or the Toronto PATH network.
It is home to over 230 retailers and restaurants including some of Canada's largest retailers such as Roots and Hudson's Bay Department Store.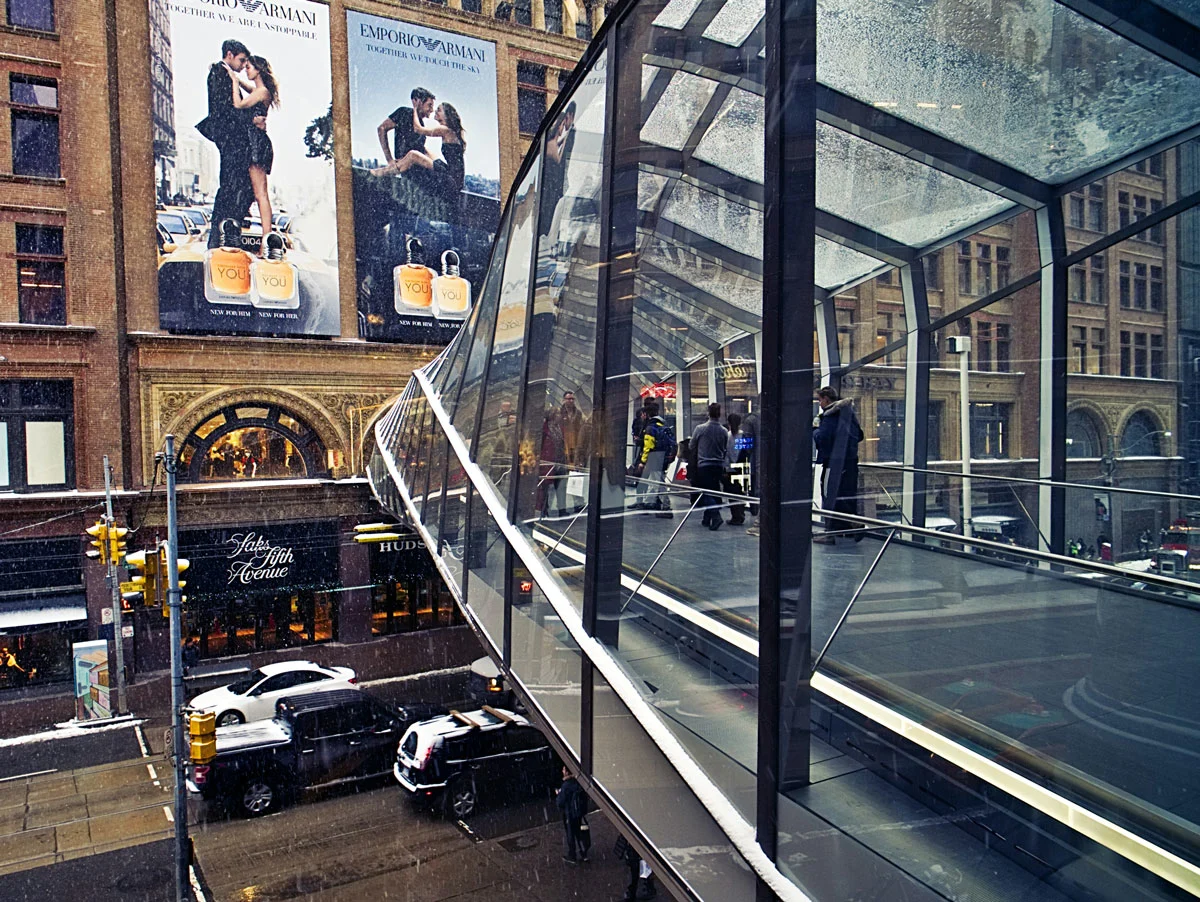 Niagara Falls
Any visit to this area of Canada or North America must include a trip to nearby Niagara Falls. It is after all one of the most popular destinations to visit in the USA and Canada, especially in summer.
One of the most popular day trips from Toronto, on the border with the United States, it is only a 1.5 hrs drive from Toronto city to witness the power of the world-famous Niagara Falls. Providing the falls are not frozen, of course.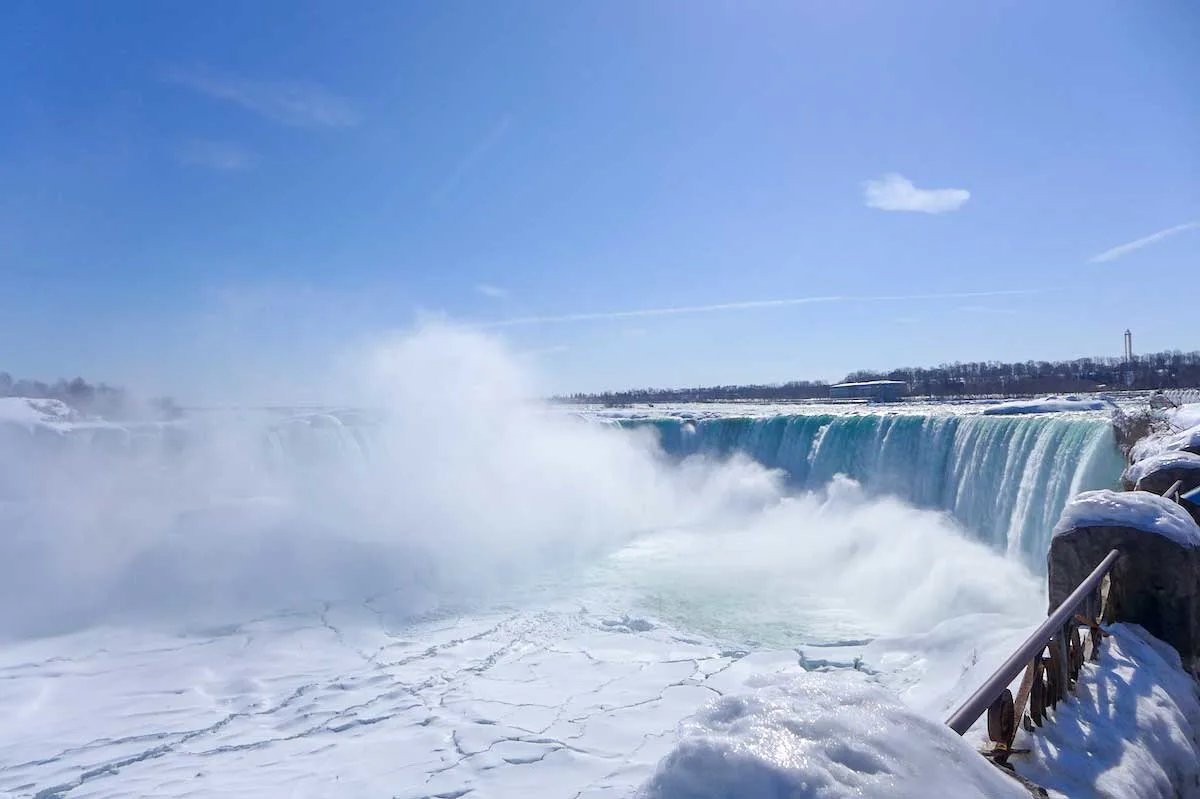 A visit to Niagara Falls in March will mean a trip on the iconic Lady of the Mist is highly unlikely, but you will avoid the crowds of people of the busier spring and summer months.
It is also likely that you will see Niagara not actually falling but instead frozen, which is a unique sight missed by so many.
Frozen, Niagara Falls is a silent wonder, its tremendous natural power held back by the cold of winter straining to be unleashed again.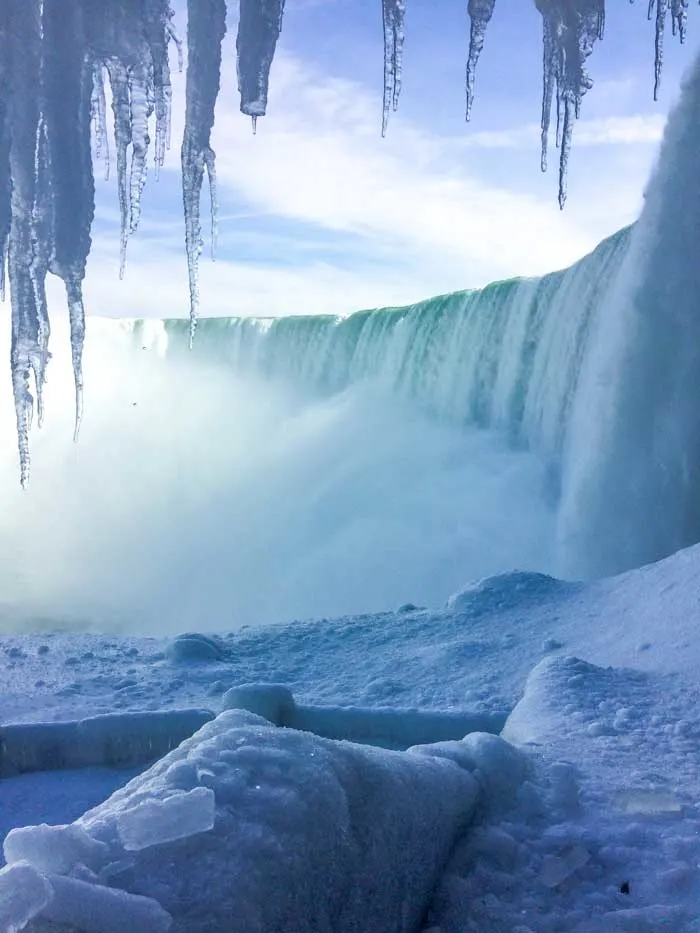 The still flowing river waters are a tantalising, almost fluorescent blue displaying a crisp freshness not visible at any other time of the year.
No matter the season a visit to Niagara Falls is a true bucket list item – in winter, a unique wonder.
Niagara Falls Day Trip Recommendation
If you don't want to self drive to Niagara Falls from Toronto, take a full day Niagara Falls day trip by coach.
The tour includes a visit to Niagara Falls with an experienced guide and driver, the possibility of optional experiences and a visit to Niagara on the Lake with wine tasting included.
See here for full tour details
.
Niagara on the Lake
After you visit Niagara Falls, a visit to the charming small lakefront town of Niagara on the Lake makes for a fascinating afternoon. Characterised by its colonial buildings, this quaint town is a world away from the modern metropolis of Toronto.
Rich with natural splendour and gorgeous local products, lookout for opportunities to sample the local ice wine.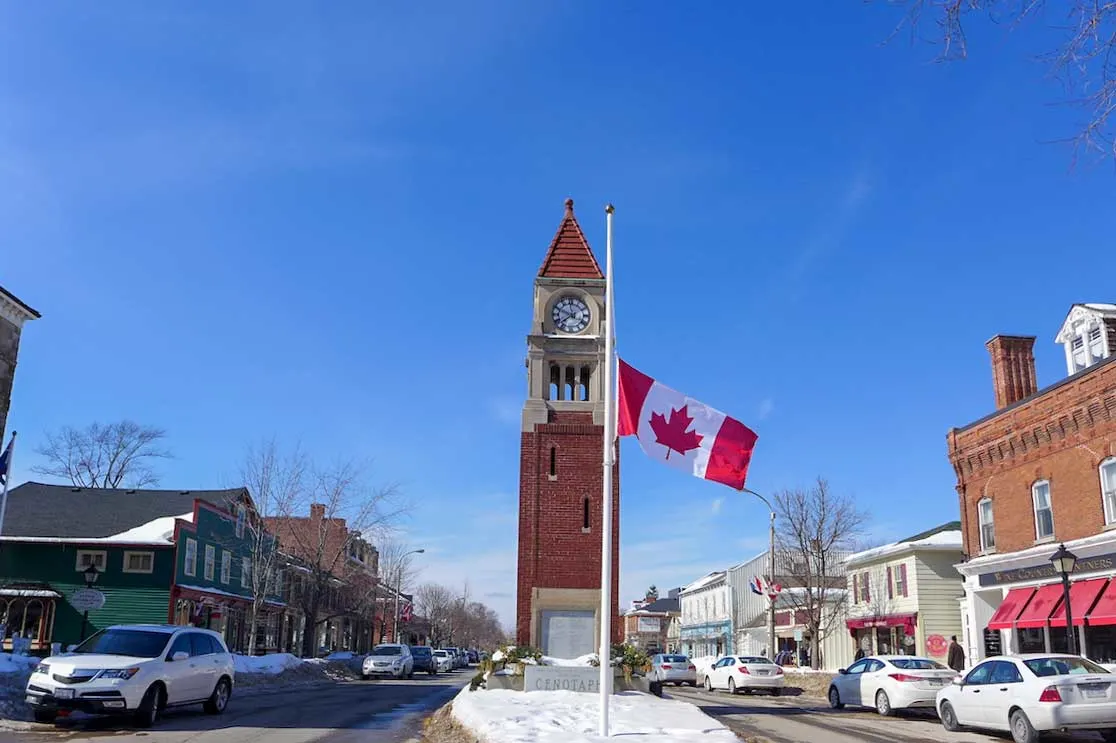 Toronto Winter Sports
Any list of things to do in Toronto must include catching a game of Ice Hockey, Canada's national sport and hugely important part of daily life. If Ice Hockey is not your sport, then how about basketball and the NBA's Toronto Raptors?
Both teams play their home games at the Scotiabank Arena, in the entertainment district of Toronto between the CN Tower and Union Rail Station.
Pay a pre-match visit to the Real Sports Bar on the arena's western side which has over 200 TV's and possibly the world's largest screen.
Toronto Maple Leafs
The Toronto Maple Leafs may be Ice Hockey's most hated team, but they remain hugely popular in Toronto with over 15,500 season ticket holders.
The 'Leafs' as they are more widely known are the sports most valuable team despite their over 50-year drought since their last Stanley Cup Title. Even with little or no knowledge of Ice Hockey, a night with the boisterous crowd of the Toronto Maple Leafs will leave you thirsty for more.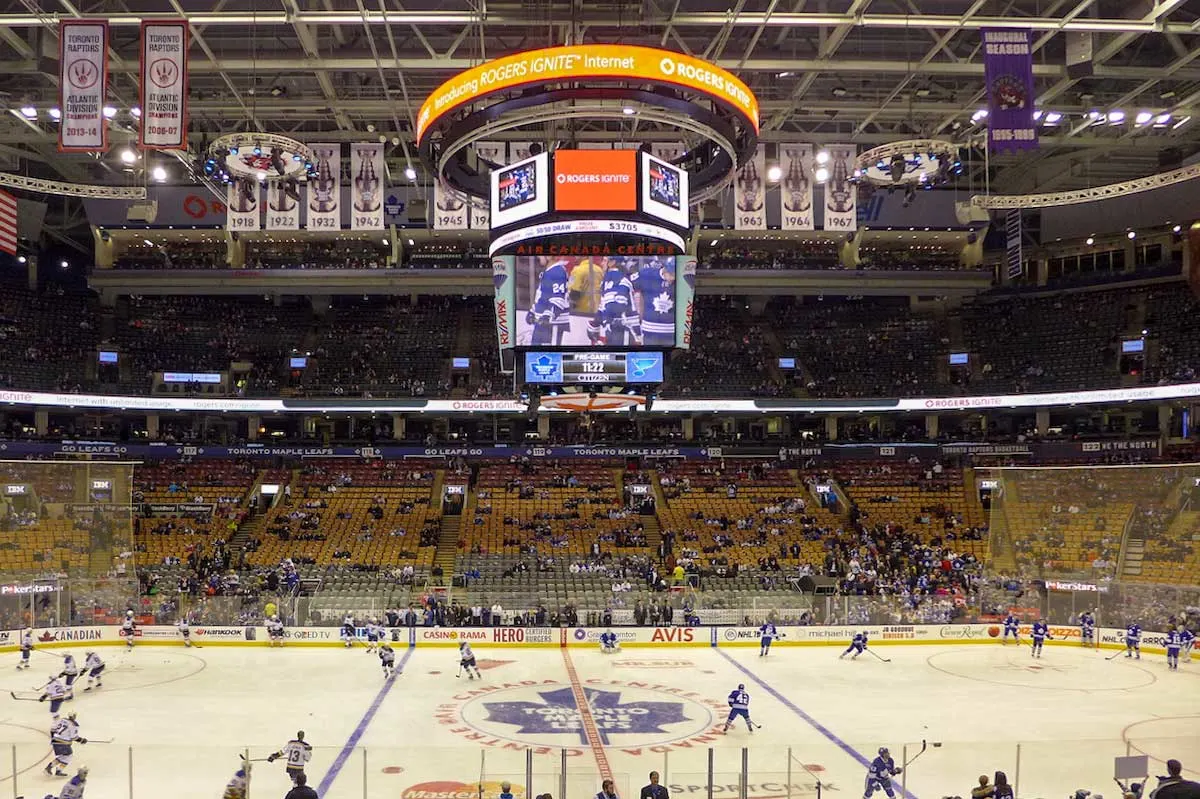 Toronto Raptors
The United States may be the home of basketball, but the Toronto Raptors founded as recently as 1995 were crowned NBA champions in 2019.
Raptors tickets are more readily available than the Leafs, but those wishing to attend are still likely to need to use secondary ticket sites.
Hockey Hall of Fame
For Ice Hockey aficionados, the Hockey Hall of Fame on Yonge Street in Downton Toronto is a must-visit destination. The museum is a celebration of all that is Ice Hockey with displays of memorabilia and equipment used by Hall of Fame inductees as well as the Stanley Cup itself.
Royal Ontario Museum
Should your visit to Toronto coincide with a spell of extra cold weather, then head to the Royal Ontario Museum in Queens Park, north of the city centre.
Accessed via Museum subway stop, it is Canada's largest museum with 40 separate galleries displaying an astonishing 6 million pieces of art, cultural objects and natural history specimens.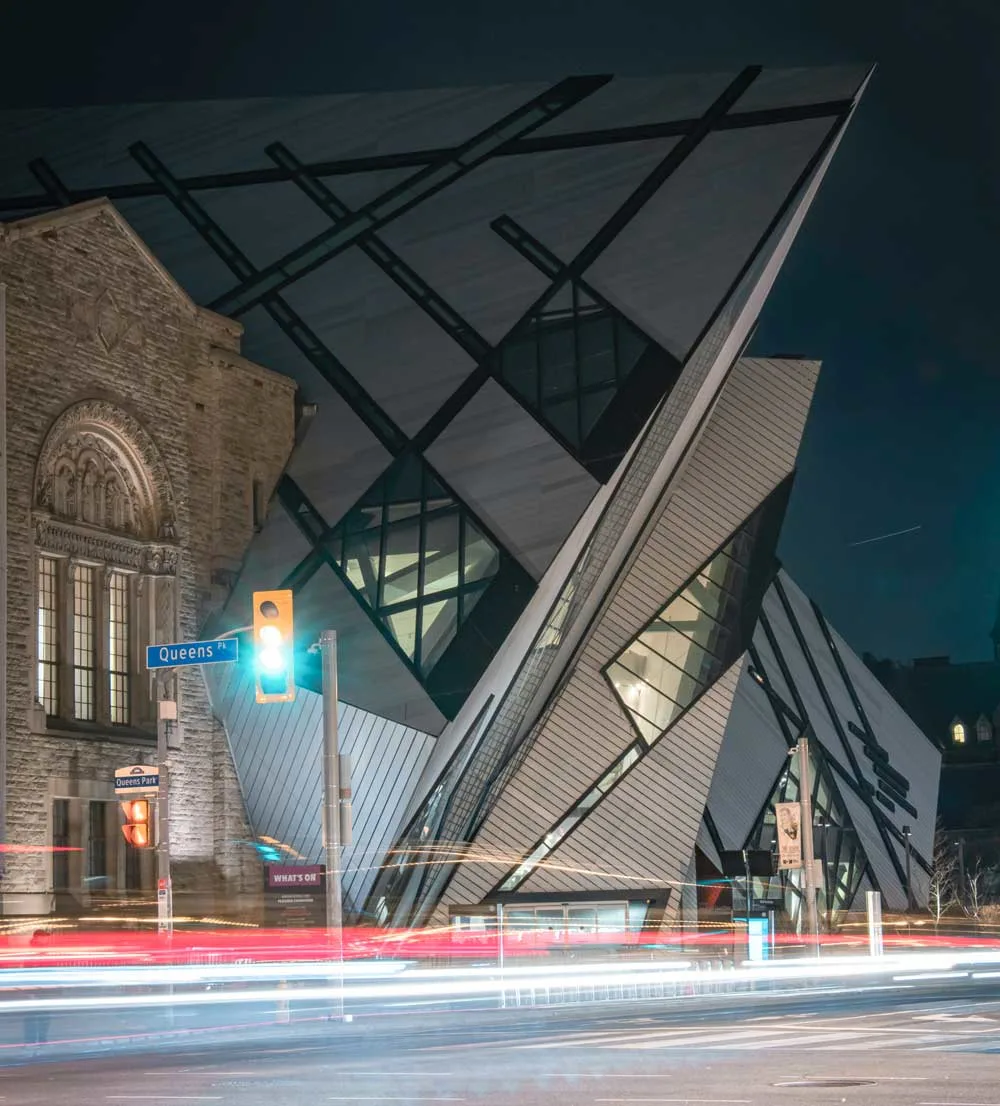 Entertainment District
For nights out, anyone visiting Toronto in March should head to the city's Entertainment District. Centred around King Street West, the district is home to theatres, restaurants and bars as well as the Scotiabank Arena and the Aquarium of Canada.
Events in Toronto in March
As well as the many things to do in Toronto that are available all year round, the month of March sees several annual events and celebrations.
Celebrate Toronto
Celebrate Toronto is the annual festival celebrating the founding of the city of Toronto in 1834.
Held in Nathan Phillips Square, over one weekend in the first week of March, the celebration has over 90 local market stalls, food trucks and live music.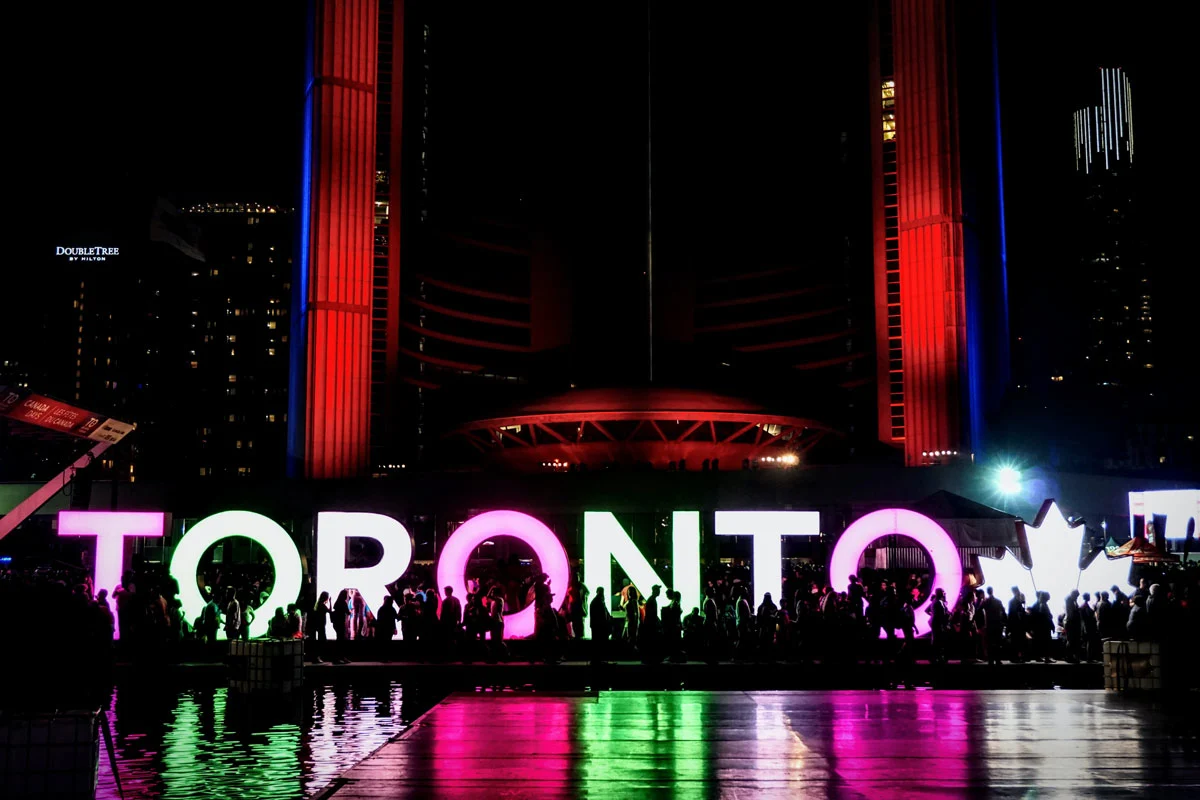 Sketch Comedy Festival
Traditionally held in the first two weeks of the month, the Toronto Sketch Comedy Festival has for 15 years been a Canadian comedy highlight. Over 200 comedians from across North America perform at venues across the city.
St Patricks Day Parade
Toronto's St Patrick's Day Parade is traditionally held on the Sunday closest to 17th March.
The parade route starts in Queens Park, runs down Yonge Street and ends at Nathan Phillips Square at the junction of University Avenue and Queen Street.
Things to do in Toronto in March
Toronto, Canada's largest city and the 4th largest in the whole of North America, is undoubtedly one of the world's most multicultural cities.
The city's extensive list of things to do is by no means confined to the warmer summer months. Toronto warrants your attention all year round but certainly visiting Toronto in winter will provide some unique and memorable experiences.
---
---
About the Author
Paul Rought
Paul's earliest travel experiences were family holidays to the Mediterranean although a school cruise to Greece, Egypt, Turkey and Israel was a childhood highlight.

Concentrating on a move to London after university, his next travel adventure was much later – a backpacking trip to Thailand and Hong Kong. He was immediately enthralled by Hong Kong – the skyscrapers, the city buzz, the food and the language.

His love for Asia continues, although Japan has overtaken Hong Kong in his affections.
Paul is definitely a city person who would ideally visit New York, Tokyo, Sydney and London every year. Just don't ask him to pick a favourite.
Find out more on travel from Paul at The Two That Do.