Famed as a winter playground, there are many things to do in Banff in summer. It's no wonder it's one of Canada's best travel destinations.
Why Visit Banff in the Summer
There are so many reasons to head to Banff in summer. Once the snow clears, the world-renowned scenery is brimming with natural attractions. Waterfalls are flowing, the glacial lakes take on a brilliant hue of blue, fishing is bountiful, and wildlife is on the move – you may even see a grizzly or two.
There are also plenty of festivals and events to make the most of the beautiful weather. There's so much to do in Banff in the summer you may want to stay longer than planned.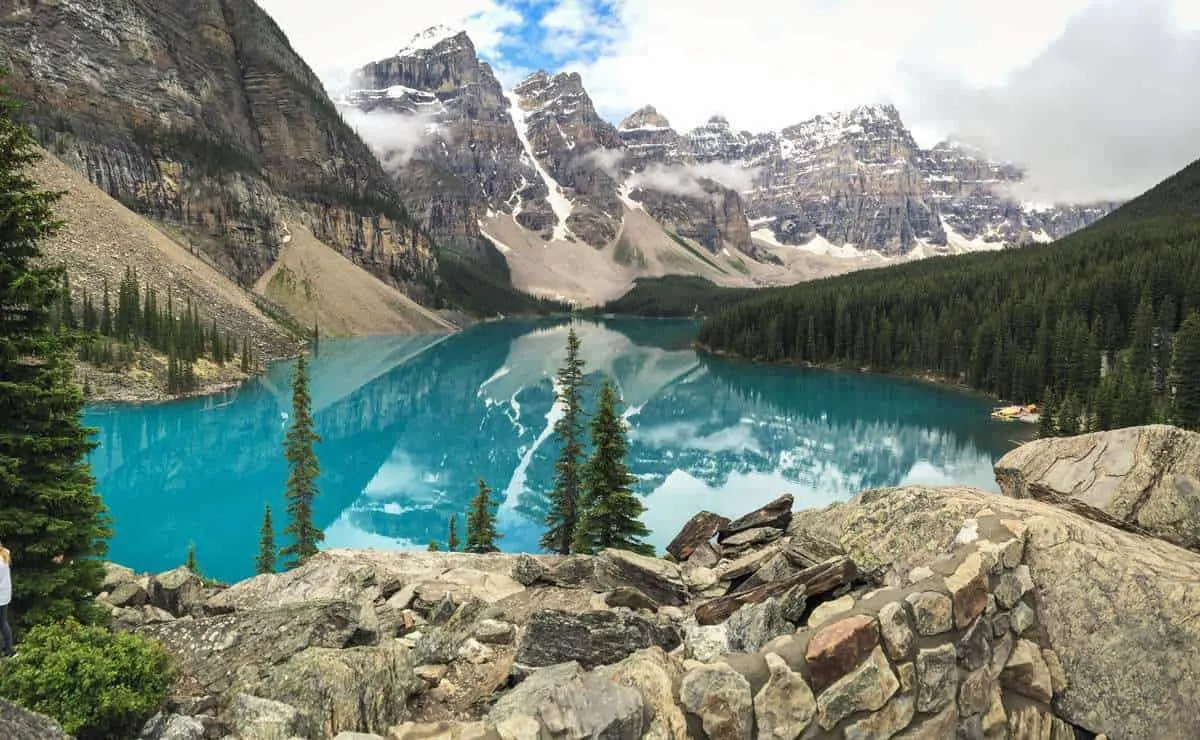 Best Things to do in Banff in Summer
Banff National Park
The town of Banff only has a population of less than 9,000, but the Banff National Park, a designated World Heritage site since 1985, attracts over four million visitors each year. It's not surprising Banff is rated as one of the best national parks in Canada.
There is no doubt with so much to do in Banff in winter, the hype is warranted. But summer is the best time to visit Banff National Park. The extended daylight hours, warm summer days and cool evenings from June through September are perfect for the many summer activities in Banff.
Whether part of a greater Canadian road trip, canoeing, hiking, camping, or just taking the opportunity to dine alfresco while enjoying the spectre of the Canadian Rockies, you'll be able to make the most of any Banff itinerary.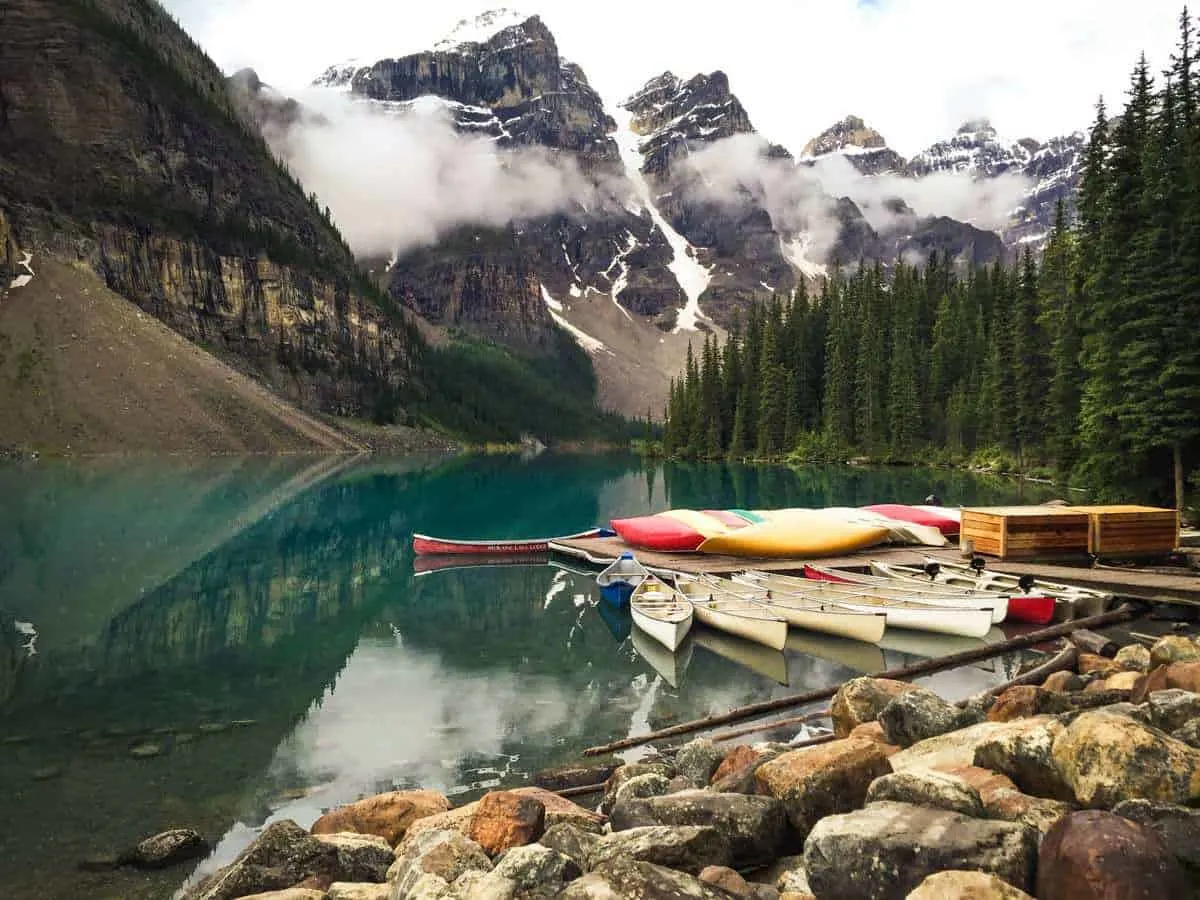 Canoeing and Kayaking in Banff
Canoeing and kayaking in Banff are one of the most quintessential Canadian activities. A tranquil paddle offers some of the best vantage points for the most beautiful scenery in the park and excellent opportunities for wildlife encounters.
Rent a Canoe from Banff Town or Lake Louise
Any level of paddler may rent canoes at the canoe docks at the north end of Bow Avenue. From here, you can choose to explore the Bow River and the possibility to follow Forty Mile Creek into the Vermilion Lakes.
For more experienced or adventurous canoeists, there are three popular legs of the Bow River you can explore:
Lake Louise to Castle Junction
Castle Junction to Banff
Bow Falls to Canmore
You may also take the scenic drive to Lake Louise, approx 40 min and grab a canoe from there. There is nothing more spectacular than canoeing on the serene blue waters of Lake Louise.
Rafting and Canoeing Tours
If you want to experience a guided kayak or canoe tour, there are loads of great ways to explore the waterways of Banff.
Try a 1.5 hr guided "Big Canoe" Tour up the stunning Bow River. Spot wildlife and learn about the history and heritage of Banff – Get Big Canoe tour details and prices.
Enjoy an exciting morning on a 4 hr white water rafting tour through the stunning Horseshoe Canyon section of the Bow River – See here for tour details and reservations.
Fishing in Banff National Park
What better environs than the Canadian Rockies in summer for some of the most exceptional fishing in the world.
Fishing in Banff National Park offers anglers of all types superb opportunities to catch some unique fish while surrounded by the world's best scenery. Lake Minnewanka is a spectacular spot for novices to expert anglers. You can rent boats on the lake or fish straight from the shore. The Bow River just south of Banff is a favourite of both local and visiting anglers.
Extended and Adventure Fishing Trips
Suppose you're looking to plan a more serious fishing trip. In that case, there is the possibility of extended fishing adventures through the backcountry by horseback, so you can also enjoy the mountains and a spot of camping. There are even helicopter tours for the high flying fisherman that can take you to lakes where very few people have fished before.
Fishing Permits for Banff National Park
Banff is a National Park, so you will require a permit and make sure you are familiar with the national park's fishing regulations, possession limits, and open season. You can check Parks Canada site before planning your trip.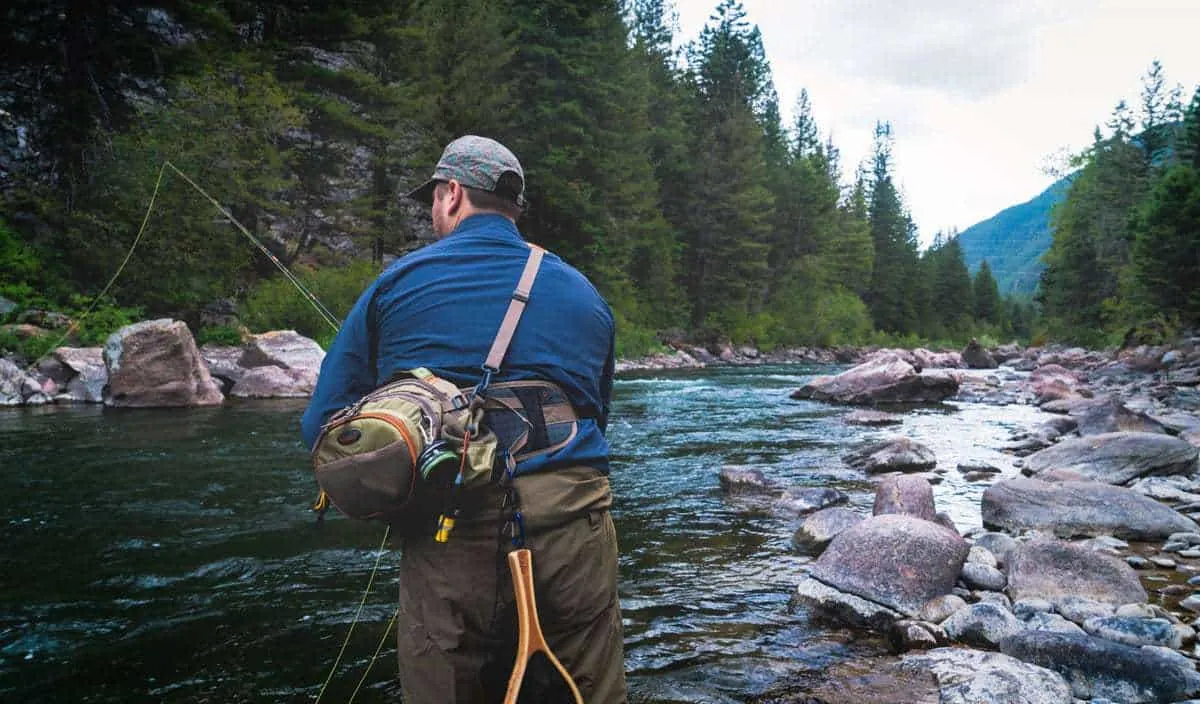 Drive the Stunning Icefields Parkway
Continually named the most scenic drive in the world and one of the best road trip routes in Canada, it will be hard to miss even a short trip on the Icefields Parkway. It is the road between Banff and Jasper which takes approximately 3 hours. Icefields Parkway definitely makes the list of things to do in Banff in summer.
The route passes ancient glaciers, cascading waterfalls, blue lakes, and stunning canyons. It's also a great place to see some of Canada's best wildlife, with over 50 species of mammals in the area, including bears, bighorn sheep, mountain goats, and elk.
Icefields Parkway Tours
If you'd rather not drive and enjoy the epic scenery, you can take a guided tour along the Icefield Parkway to the Columbia Glacier Skywalk in Jasper National Park. Experience the thrill of the Glacier Sky Walk suspended high in the Rockies for the most incredible views of the Athabasca Glacier that is thousands of years old. See here for full details of this tour.
Or, take a full-day Lake Louise and Icefield Parkway tour, stopping at incredible Banff attractions such as Bow Falls, Mt. Norquay, Lake Minnewanka, Moraine Lake, Crowfoot Glacier and Peyto Lake. See here for full tour details.
You can also download an Icefields Parkway Audio guide for a self-guided drive of the most beautiful road trip in the world. See here for smartphone audio guide download.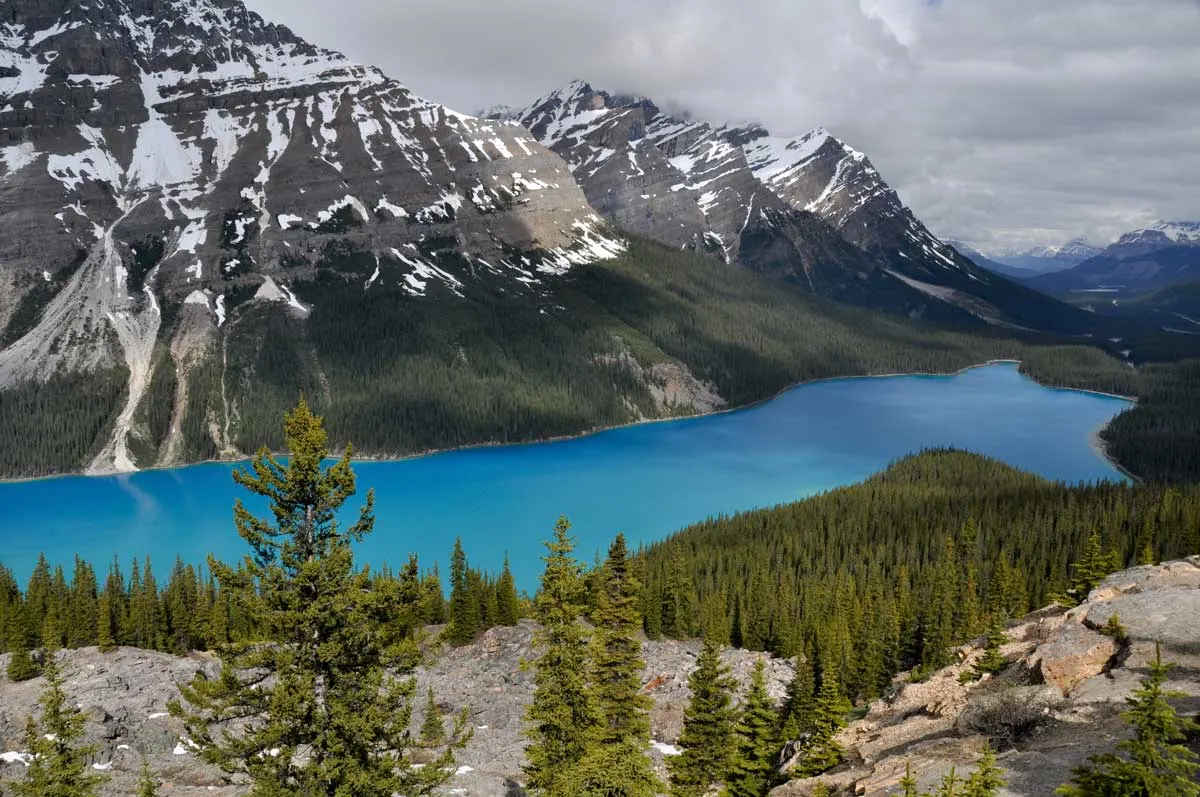 Ride the Banff Gondola
Banff National Park is practically unrivalled worldwide for spectacular scenery. The best way to enjoy it without any distraction is on the Banff Gondola.
The eight-minute chairlift ride climbs to an elevation of 7,486 ft providing visitors with magnificent views of the Canadian Rockies and the town of Banff without the strenuous hike up to the top.
You will also pass over grizzly and black bear habitats. You can hike the 2-hour trail up Sulphur Mountain and catch the gondola down if you're feeling active.
---
---
Related: Discover Canada's Best Places to Visit on a Canadian Road Trip
Banff Sightseeing Chairlift
For an extra thrill, take a ride on the open-air chairlift on the Banff Sightseeing Chairlift at Mt Norquay, just 5 minutes from downtown Banff. You will find view-decks and the Summit Ridge interpretive boardwalk at the upper gondola terminal. There is also a bistro where you can have lunch and sample some local craft brews or a glass of wine.
Lake Louise Gondola
The Lake Louise Gondola offers a 14 glorious minute ride climbing to 6850ft, the highest lift-accessed sightseeing elevation in Banff National Park. Take either an open chair or a fully enclosed gondola for one of Banff National Park's most magnificent views.
Enjoy the panorama of the famous Lake Louise, Victoria Glacier, and beautiful displays of alpine wildflowers. There are also many wildlife viewing opportunities. As Lake Louise is one of the best places in the world to see wild grizzly bears, you can often see bears roaming below during the summer months.
At the top, you will find a Wildlife Interpretive Centre, hiking trails, guided walks and a range of dining options, including a contemporary bistro and a new smokehouse with a patio dining area.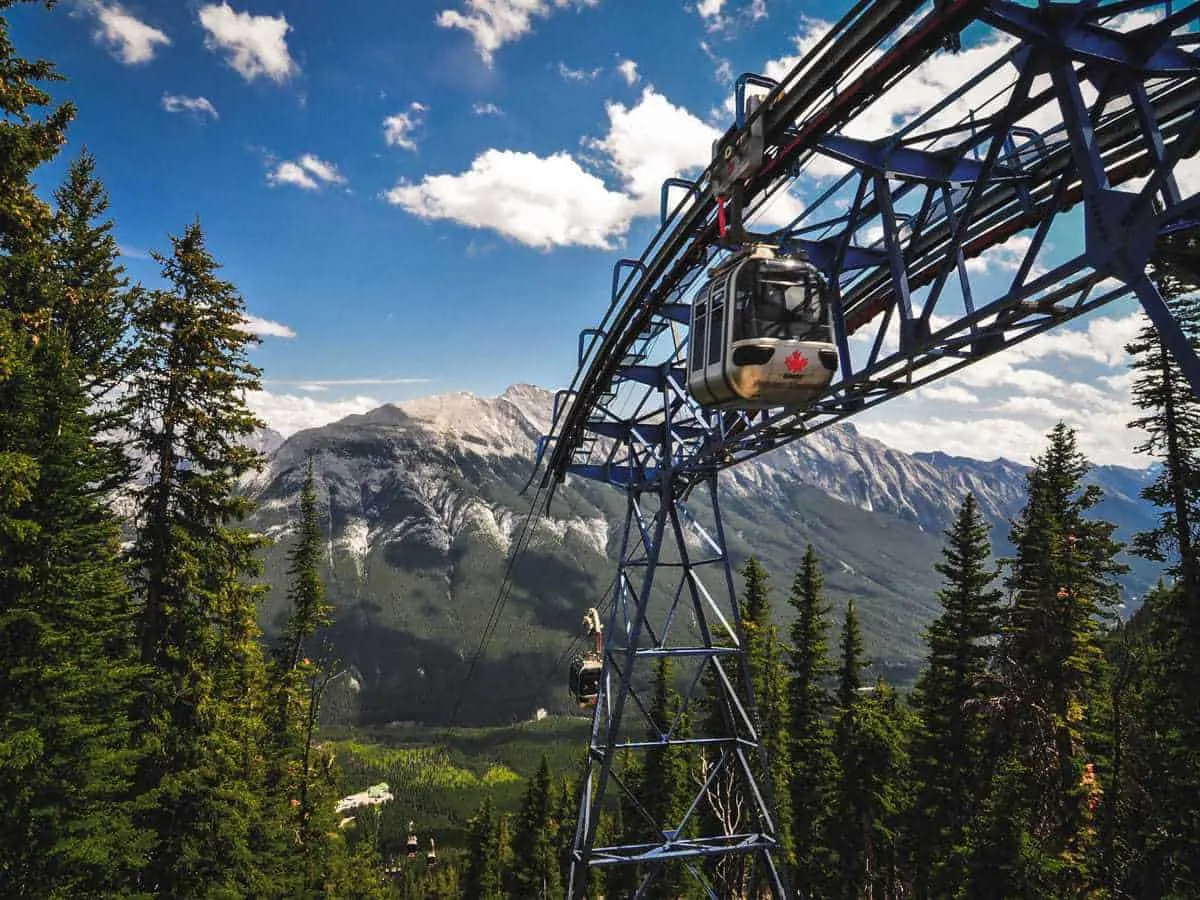 Banff National Park Wildlife
The Banff National Park is home to a myriad of iconic wildlife. Elk, bighorn sheep, moose, and black and grizzly bears are usually high on most visitors' wildlife sighting wish list. And then there's mountain goats, coyotes, wolves and the elusive big cats, lynx and mountain lion.
While some of the big-ticket animals may take more luck than skill to find, you should have no problem sighting elk, deer and bighorn sheep and plenty of the smaller residents such as Columbian ground squirrels, chipmunks and pikas. For bird watchers, expect easy sightings of Clark's Nutcrackers, Stellar Jays, Ravens, Falcons and White-tailed Ptarmigan.
Best Times to See Wildlife in Banff
To optimise your chance of good wildlife sightings, you need to plan ahead. The best times for wildlife is early in the mornings and late afternoon or early evening when animals tend to come out to feed.
Most importantly, always be on the lookout; you never know when or where you will see something in Banff. You could have the best wildlife encounters during a hike or on a scenic drive. Just remember to follow park guidelines for any wildlife interactions.
Banff Wildlife Tours
There are also plenty of wildlife tours aimed at specific areas of the park or to target particular species. Experienced guides will know how to maximize the possibility of seeing wildlife and give you tips on what to look for during the remainder of your stay.
Take a 2-hour dusk Wildlife spotting tour with an experienced guide – See here for tour details and reservations.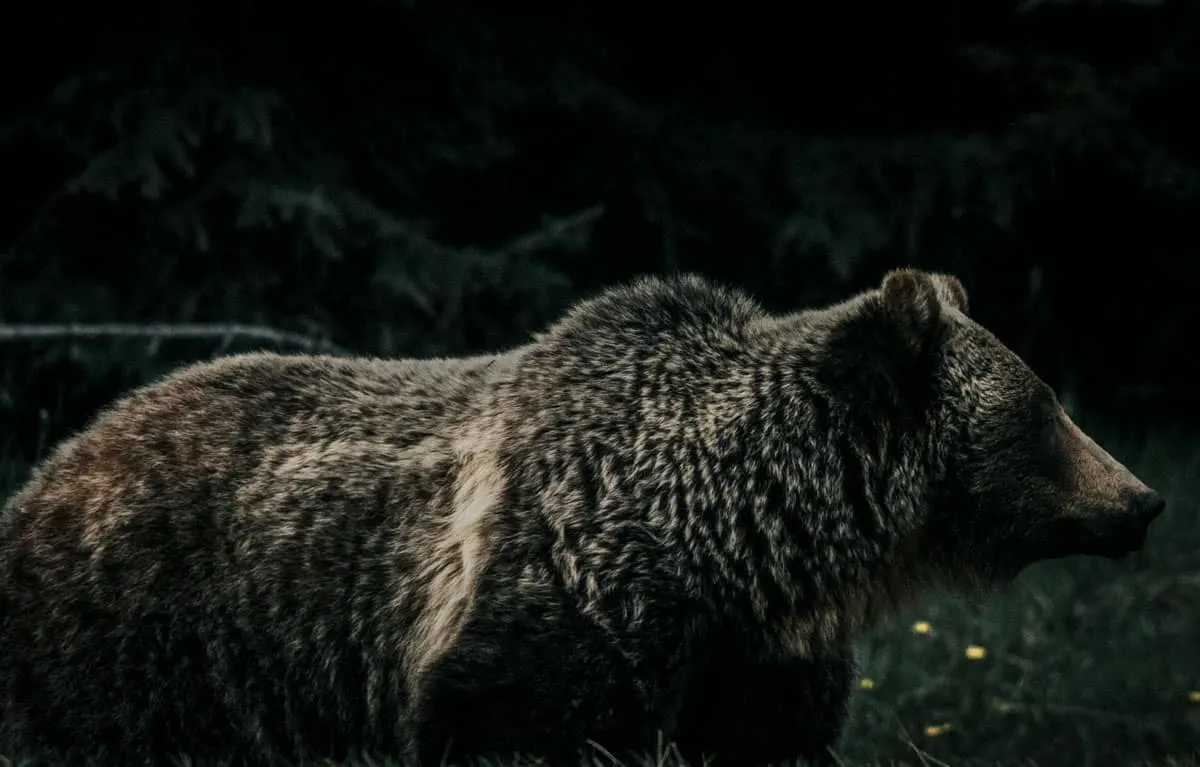 Hiking in Banff
Banff National Park boasts some of the most spectacular hiking in the world. Banff has the lot from scenic strolls to epic hiking adventures through the rugged backcountry.
Hikes Near Banff Town
There are many great hiking trails within walking distance from Banff townsite, including the 2hr Sulphur Mountain hike for one of the best views in the Banff area and the Rockies.
Try the Johnston Canyon 12km hike for a great half-day hike from Banff. Parks Canada provides a shuttle bus from Banff to Johnston Canyon.
Moraine Lake Hikes
About an hour's drive north of town, Moraine Lake is a must-see of any Banff trip. Situated in the Valley of the Ten Peaks, Moraine Lake offers postcard views of the surrounding snowcapped peaks mirrored in crystal clear water. Backcountry hiking trails surround the area. The easiest, the flat Moraine Lakeshore path, is a 45-minute round-trip that starts near Moraine Lake Lodge. This hike will give you stunning views of Mount Fay and the Fay Glacier.
Consolation Lakes Hikes
Consider the 3.2 km Consolation Lakes trail for something a little more active. The round trip will take approx 2 hrs and will reward you with views of the high alpine meadows, talus slopes and the Quadra Glacier.
Best Time for Consolation Lakes Hikes
Mid to late summer is the best time to go as the Moraine Lake Road is closed from mid-October to mid-May due to avalanche risk.
Self Guided and Guided Hikes
You can pick up a free trail map at the visitor centre for self-guided hikes, but guided hikes are also great. A local guide can take you on the best trails for your abilities, show you the best viewpoints, and teach you all about the area's natural history.
If you opt for self-guided hikes, check the trail reports with Parks Canada before going for a trail conditions report and any bulletins that list bear warnings or area closures.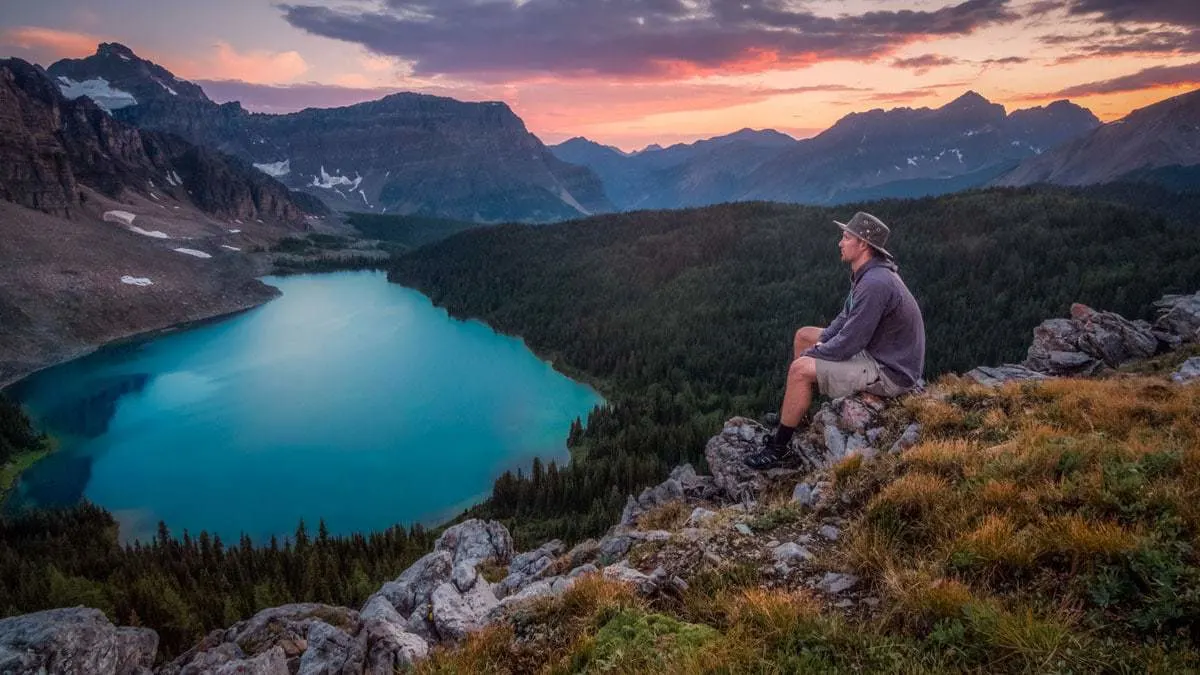 Visit the Banff Upper Hot Springs
Visitors have come to take the waters at the historic Banff hot springs spa and bathhouse for more than a century. Set against a backdrop of spectacular alpine scenery, you can luxuriate in the steamy hot mineral water of the Banff Hot Springs.
At an elevation of 5,200 feet, Banff Upper Hot Springs is Canada's highest operating hot spring. The thermal waters are pushed vertically over 6,500 feet through a big crack in rock layers, called the Sulphur Mountain Thrust Fault.
Hot Springs in Banff
Each Rocky Mountain Hot Spring has a unique blend of minerals, gases and temperature. The different hot springs on Sulphur Mountain show variations in mineral content and temperature. With a soothing blend of Sulphate, Calcium, Bicarbonate, Magnesium and Sodium, Banff Upper Hot Springs is the hottest of these springs. The Banff Upper Hot Springs is an all-year-round authentic heritage experience. A favourite with both visitors and locals.
Explore the Town of Banff
Downtown Banff instantly endears visitors. Banff Avenue has a fabulous selection of restaurants, cafes, shops, galleries and craft breweries surrounded by the stunning mountainous vista of Banff National Park. It is a unique and exciting place to be.
The long days of summer are perfect for enjoying the Banff patio scene. Many of the restaurants and cafés in town have patios to soak up the sun and the view. Take the opportunity for a long lunch or enjoy a beer after a day hiking.
Take a Distillery Tour at Park Distillery
Try the popular Park Distillery on Banff Avenue for house-made spirits, and wood-fired, spit-roasted, campfire inspired meals. Take a free distillery tour while there to see the process behind their award-winning spirits. Tours run daily at 3.30 but book in advance.
Have a Brew at Banff Ave Brewing Co
Stop at the popular Banff Ave. Brewing Co for some premium handcrafted beer and "thoughtful pub fare."
Banff Farmers Markets
Every Wednesday from May to October, you can enjoy the Banff Farmers Market in Banff Central Park. You'll find fresh local produce and foods, locally made arts-and-crafts and a fabulous local atmosphere.
Discover The Best Cities to Visit in Canada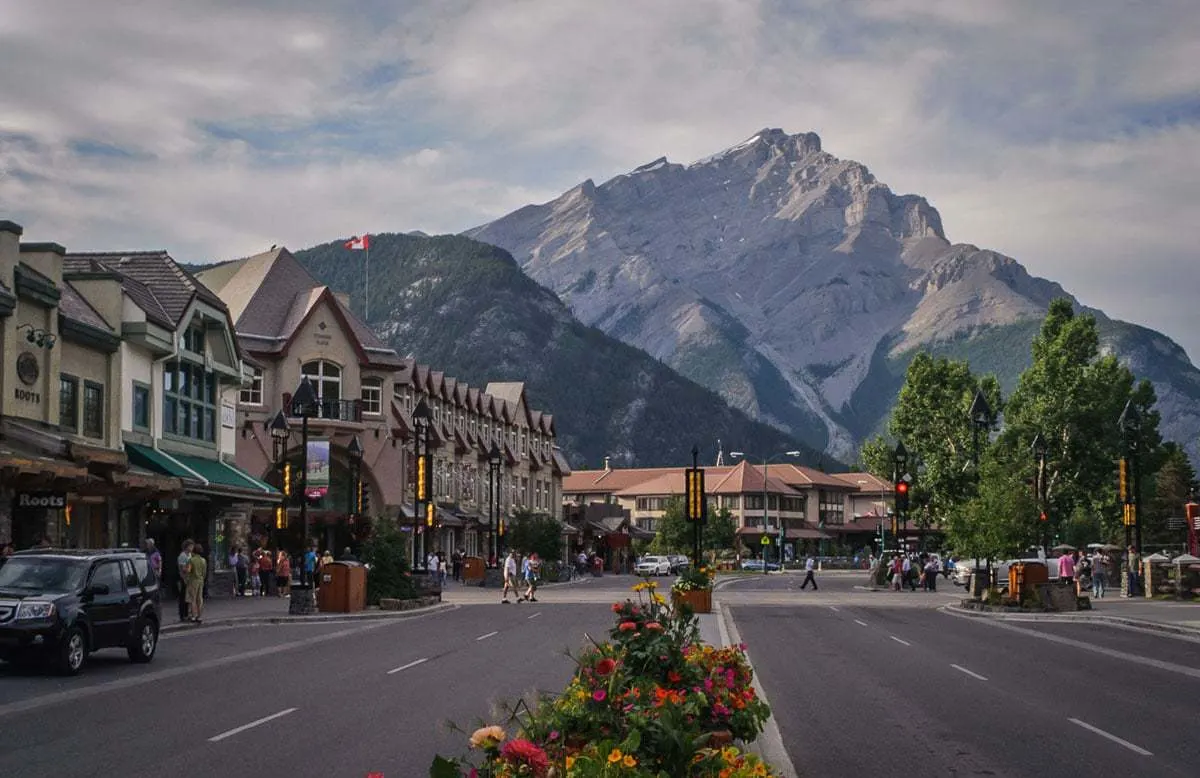 Accommodation in Banff National Park
You can find a full range of accommodation options in the town of Banff and the small hamlet of Lake Louise for all budgets.
Choose from the luxury of the Fairmont Banff Springs with views of the famous Bow Falls or The Fairmont Chateau Lake Louise on the shores of the famous Lake Louise. Charming boutique hotels, romantic B&B's or a family size condo or chalet.
Perhaps a cosy log cabin might be more your style? There are plenty of options to suit any style of Banff itinerary and budget.
Related: 10 Reasons to Splurge on the Fairmont Banff Springs Hotel
Camping in Banff
Camping in Banff is a unique experience. There is an extensive network of campsites in Banff National Park so you can experience the park's natural wonders not seen by most park visitors.
Campsites Near Banff Townsite
For those who want to stay close to town, there are camping spots close to the Banff townsite such as Tunnel Mountain Village and Two Jack Lakeside.
Banff Backcountry Camping
Or, if you want to get back to nature and have a genuine wilderness experience, consider a hiking and camping combo. The beauty of camping at one of Banff's backcountry sites is there are lots of backcountry trails to choose from, so you don't have to hike too far to get away from the crowd.
Permits Required for Camping in Banff
You will require a Banff National Park permit and a camping permit to camp in Banff National Park. You will also need a separate fire permit if you want to have a fire.
Be aware that during summer, campsites book up quickly, especially on weekends, so book early or look for dates midweek.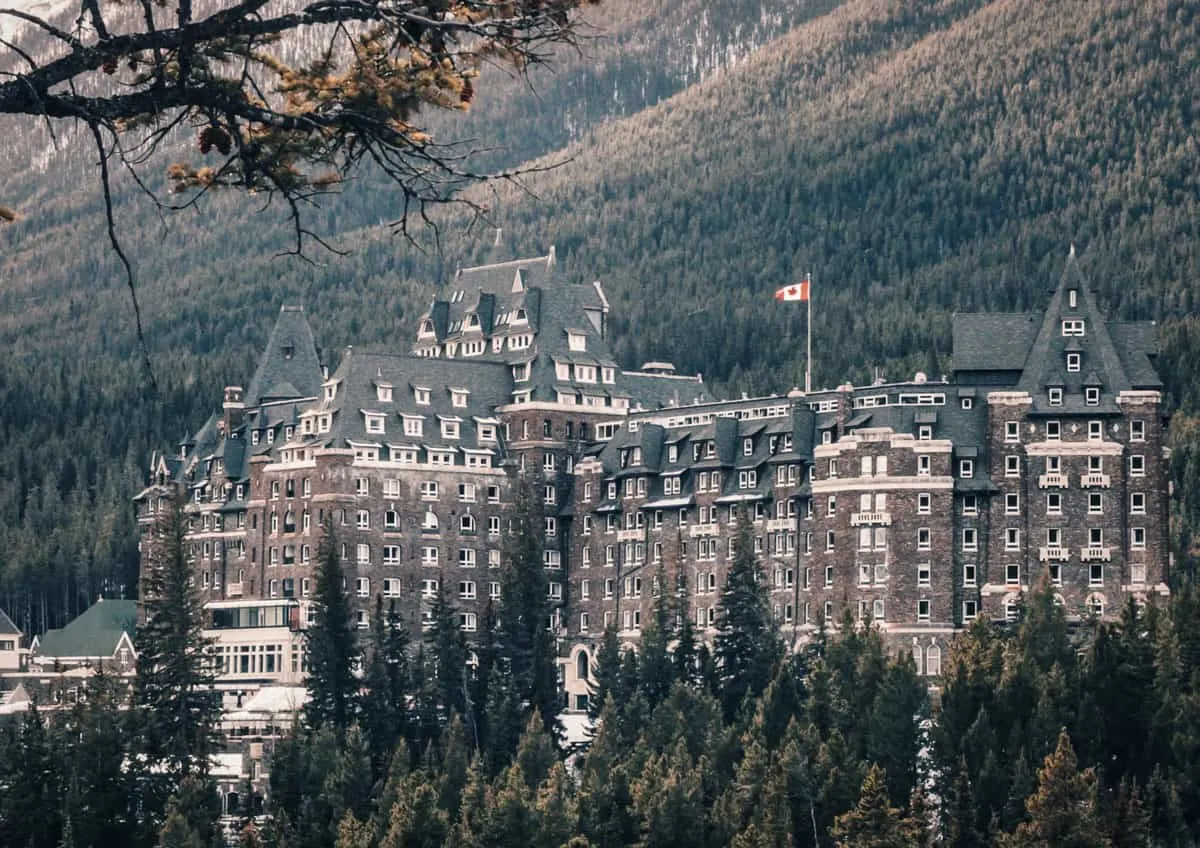 Other Things to do in Banff in Summer
It goes to show, summer really is the best time to visit Banff. This is just the tip of what there is to do in Banff in summer.
If none of this tickles your fancy, how about the full calendar of summer events – outdoor music concerts, sporting events, and special Canada Day celebrations. Horseback riding, climbing, scenic drives, whitewater rafting, skydiving, caving… The list goes on. There is so much to do in Banff in the warmer weather.
Getting to Banff
Driving
Banff National Park is located on the TransCanada Highway. The TransCanada is a well-maintained road that winds its way through the Canadian Rockies and is open all year round. If you are driving, you will need to purchase a Parks Pass to enter Banff National Park.
Car Rental is available from Calgary Airport.
Flying
Banff National Park is best accessed from Calgary International Airport. From the airport, it is 90 minute, 140-kilometre drive to Banff & Lake Louise. Regular shuttle buses run from the airport to Banff and Lake Louise.
Bus
There are scheduled bus services from Calgary International Airport and downtown Calgary to Banff and Lake Louise.
Rail
The Rocky Mountaineer has regular train services that stop at Banff.