Don't take off on your next trip without a stylish and functional travel jacket in tow.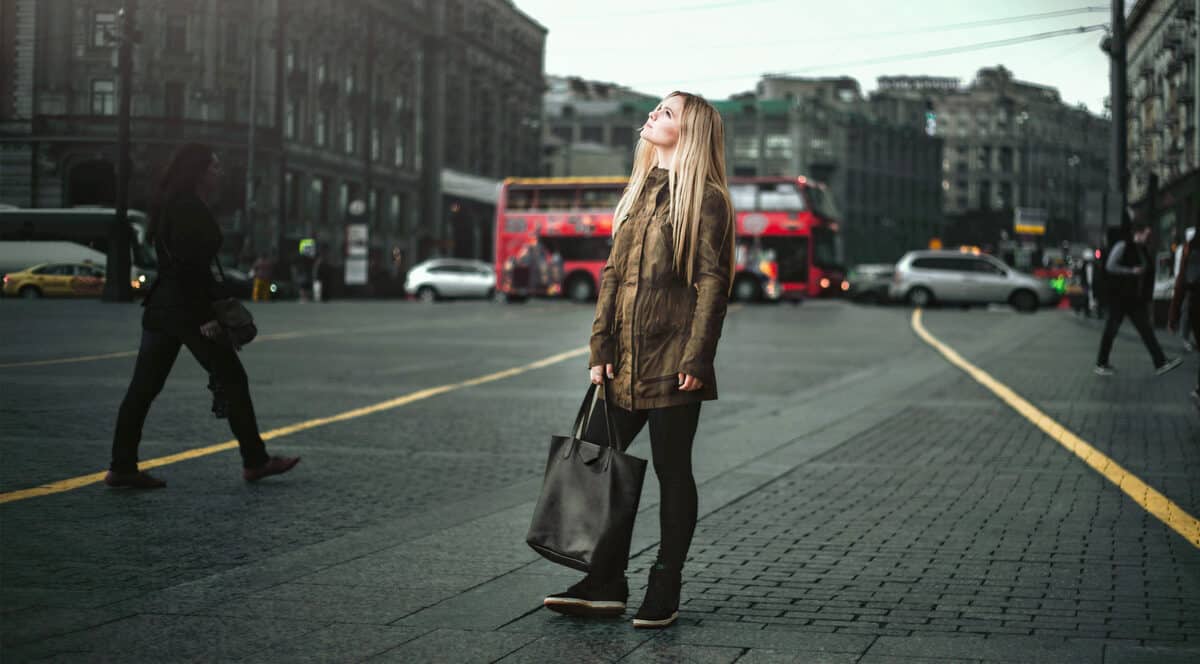 Need the perfect travel pants? We've got those too. See my top 5 Best Travel Pants for Women that are comfortable and stylish.
Quick Guide: Compare the Best Travel Jackets for Ladies
You can read a more in-depth review of each travel jacket below.
What to Look for in a Good Travel Jacket for Women
If you want to travel light, then you need to be smart about what you pack. The more uses a single garment can fulfil, the better.
For example, if you are travelling to Rome in winter, then you'll want to be both stylish and warm.
If you're visiting Bruges; in the rainy season, then you'll want a jacket that can keep you dry and cosy. If you taking a road trip along the Maine coast, you might want a lightweight windbreaker.
Ideal Features of Good Travel Jackets
When deciding on the best travel jacket to pack, there are a few features to keep in mind to help you make the best choice.
Weight: Jackets and coats can take up a lot of space, and can be quite heavy. When trying to pack like a minimalist, a packable, lightweight travel jacket is your best option. Ideally, look for a light, warm jacket that won't weigh you down.
Pockets: A jacket without pockets is like a car without a boot. Nifty little pockets can be a huge bonus when travelling. Even though you may have an anti-theft travel handbag; to store your things for the day, a well thought out travel jacket with pockets is always a good idea.
Warmth: There's no point in wearing a jacket if it doesn't keep you warm – even a light summer jacket. The perfect jacket will still be lightweight while keeping you adequately toasty when the air outside is crisp.
Style: The ultimate travel jacket will be both stylish and practical. When choosing an all-purpose jacket for women, consider where you'll be wearing it. Look for a jacket that can be worn confidently in a variety of different circumstances.
Packability: A packable jacket can make a world of difference. There's nothing worse than a badly folded jacket that emerges creased after a long-haul flight. Or worse, takes up your entire suitcase. The packability of a jacket is a key feature to consider.
What to Consider When Choosing a Good Travel Jacket for Women
With the key features of the best travel jacket in mind, let's consider other factors that will help you choose from the many options out there.
The following questions will help you decide on which jacket best suits your needs and style of travel.
Where are you travelling to?
Your choice of destination will determine the type of jacket you will need. Research the temperature and climate of your destination at the time that you will be visiting.
Be mindful that the weather in some destinations can vary wildly in just one day. More reason for a packable jacket that stores easily in your handbag or backpack.
Even if you're heading to a warm destination, such as Vietnam, then you probably won't need a heavy-duty, lined jacket to keep you warm.
However, you may want to find a packable, lightweight waterproof travel jacket to take with you. Anti-theft features may also be a consideration in this instance.
ExOfficio specialises in lightweight jackets for travel that are wind and water-resistant with loads of useful hidden pockets and anti-theft features.
Do you need jackets with hidden pockets?
The safety of the destination will also have a role to play in the jacket you pack.
Women's travel jackets with hidden pockets provide a safe way to store items you need to access easily throughout the day. Perfect for popular tourist destinations where pickpockets tend to operate.
---
You Might Also Like: A Guide to the Best Pickpocket Proof Clothing For Travel and the Best Jackets with Hidden Pockets for Men.
---
What is your luggage allowance?
All airlines have luggage restrictions, which means that you need to consider how much you can pack. Some will even have restrictions as to what you can carry onboard.
On some airlines; a coat is considered a personal item and can account for part of your total allowance.
If you are travelling for business and only carrying hand luggage, then a small, lightweight jacket such as a travel blazer or ultralight down jacket in a pouch may be the right choice.
Heading to a winter destination? A packable down jacket makes a great space-saving option in your luggage. Especially if you don't want to be carrying a bulky coat on the plane. A down jacket in a bag also makes a great travel pillow.
---
Related: Find The Best Anti-theft Backpack for Travel Before Your Next Trip
---
What is your travelling style?
Different styles of travelling can influence how you pack for a trip. If you are backpacking through a region, then you'll want to find a warm, lightweight jacket for travel that's easy to carry around.
If you're exploring a city, then you want a versatile jacket that works from day to night and has a functional pocket configuration for belongings you need on-hand.
The Best Womens Travel Jacket Reviews
Now that you know what to look for in the perfect travel wear, here are our top choices.
---
---
We all know North face make great puffer jackets but, The North Face Thermoball jacket is warm and very compact, which makes it perfect for winter travel.
A trending item of clothing on its own, the North Face puffer jacket is also one of the best lightweight jackets for women travellers.
One of the best features of this jacket is the innovative insulation technology which delivers warmth equivalent to 600 fill goose down and offers wet weather insulation without being bulky.
It is also one of the best packable jackets as it folds into a pouch for easier transport.
The classic slim-fit cut and design of the jacket will work for most travel situations whether it is hiking or city sightseeing which makes it a great lightweight winter jacket for women on your next trip.
While this jacket is designed for all-weather warmth, it is still a lightweight jacket, so makes a perfect 3 season jacket.
---
---
---
---
---
---
The Best Women's Travel Jackets For All Seasons
These top choices for the best travel jackets for women promise to keep you warm, dry and stylish while keeping your belongings safe in every season.
Whether it's a lightweight spring jacket you're after for city sightseeing, a waterproof jacket for hiking or a stylish winter packable jacket, these jackets are proof you don't need to compromise style for practicality when it comes to a good women's travel jacket.