One of the most popular cities to visit in Belgium, many consider the medieval fairytale town of Bruges one of the prettiest cities in Europe. Even if you only have one day in Bruges, a day trip is very rewarding.
Bruges is known for the pretty canals that wind through the city, where swans and boats glide effortlessly past ancient bell towers, historic churches and storybook houses. Quaint cobbled lanes sprawl from market squares where horse-drawn carriages trot purposefully through town.
Beyond the picturesque facade, Bruges invokes thoughts of beer, waffles, chocolate and the black comedy In Bruges. These are the things Bruges is famous for.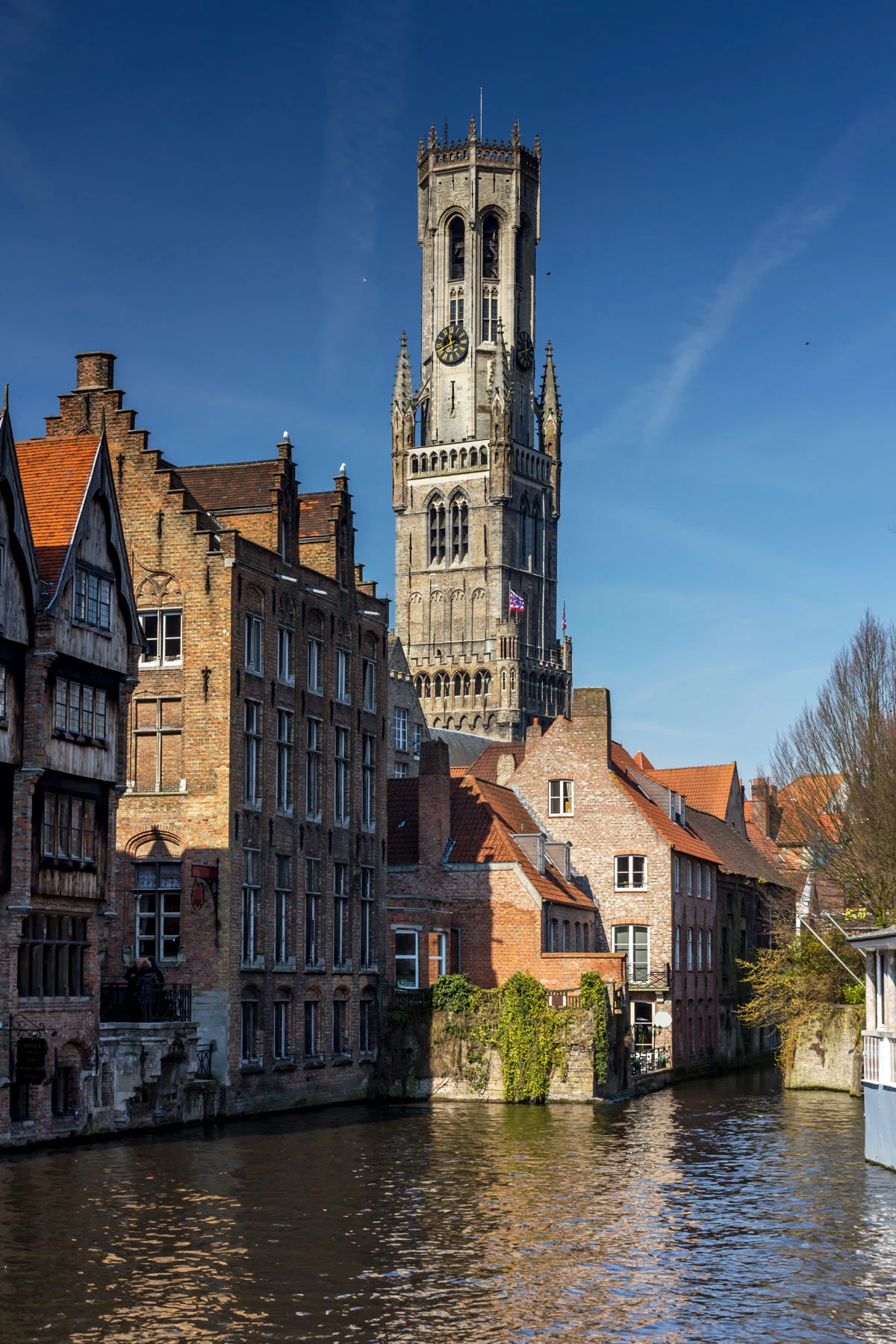 Visiting Bruges
Floods of tourists arrive each day to see the pretty city of Bruges. Especially in the peak summer months, to experience the medieval fairy tale charm of Bruges.
With so many visitors to Bruge each year, you may wonder if the quaint city has fallen victim to its own unique quality, like Venice and Cinque Terre. Its authenticity and charm lost to tourism. In some ways, it has, but like many popular cities in Europe, there is always the good and the bad. Thankfully, there are still plenty of good reasons to visit Bruges.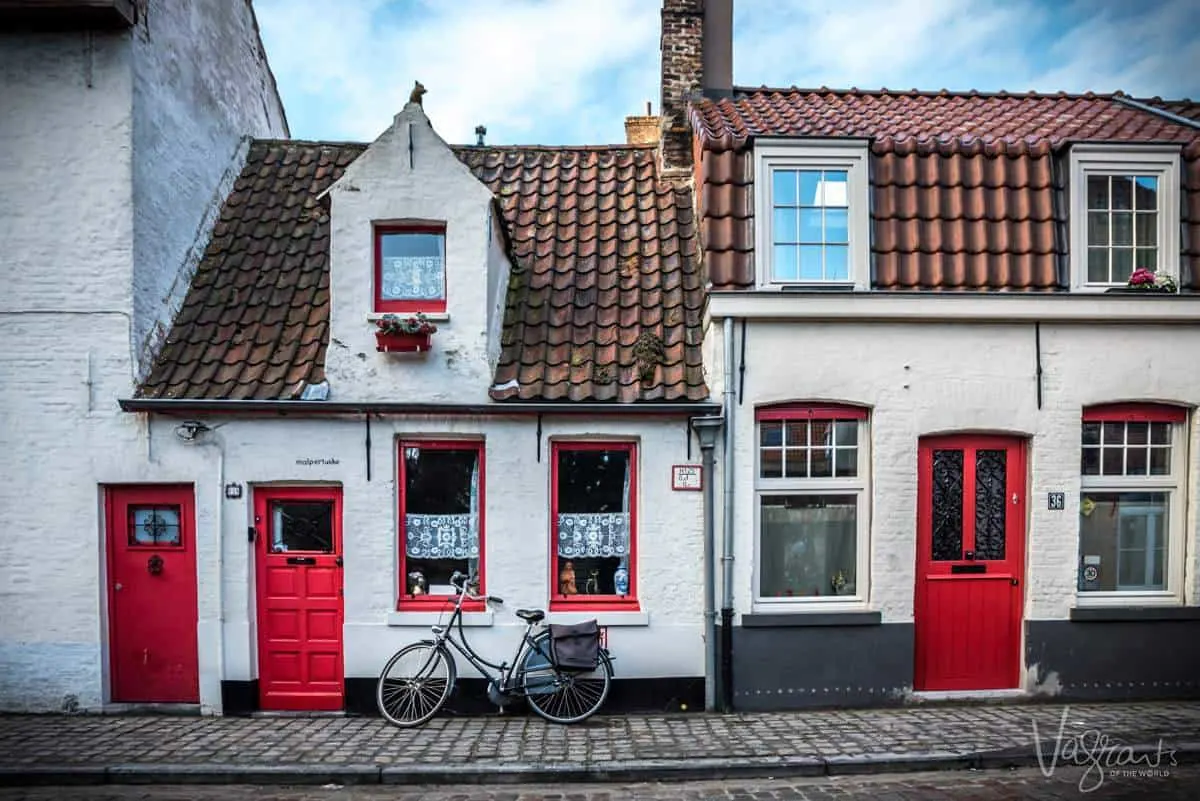 So, Is Bruges Worth Visiting?
In short, if you are in Belgium – Yes, even if you only can only spare one day in Bruges.
The big question with travel in Belgium these days is – should we visit Bruges or Ghent? Easy – both.
Whether it be a weekend in Bruges or just a day trip, Bruges is very beautiful and easily accessible from Belgium's major cities, so why not.
There is a great day trip from Brussels that includes the best of both Ghent and Bruges on a day trip starting at €48 pp – see here for full tour details.
Belgium is a very small country, so it is possible to see a lot even in a short visit. Like all Belgium cities, the city of Bruges is very walkable, with most of the attractions close to each other. So one day in Bruges is perfect to see all the highlights and enjoy the city's charm.
We've put together some of the best things to do in Bruges, including some additional fun ways to explore the historical centre, all possible in a day trip to Bruges.
---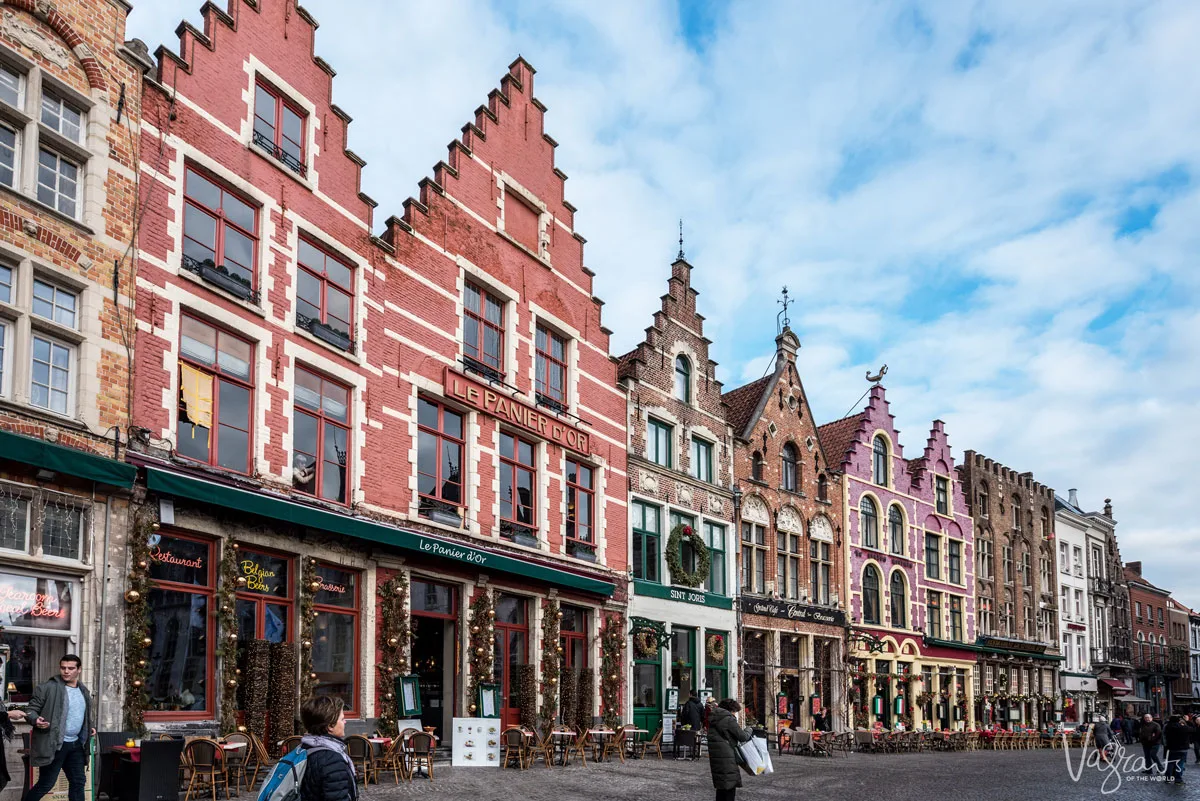 Things to do in Bruges in One Day
Explore Bruges Old Town
Take a stroll or go for a ride. There is a lot to see and do in central Bruges, but the central town is so scenic, it is worthwhile allowing a little time just to explore and enjoy the architecture everyone comes to see. The streets are very bike and pedestrian-friendly, so it is safe and easy to get around.
Best Ways to See Bruges Old Town
Take a Bruges Walking Tour
Make the most of your day and discover the best of Bruges Old Town on a quick 2 hour Bruges Highlights Walking Tour. It's a cheap (around €15 pp) and fun way to get your bearings in Bruges. It's also a great opportunity to use the knowledge of a local guide to make the most of the rest of your day.
Take a Horse Drawn Carriage Tour
Don't feel like walking? Hire a horse-drawn carriage from the central Market Square for a more authentic tour of Bruges. An especially nice way to see Bruges at night.
There are fixed prices for the carriage rides as set by the City of Bruges; expect to pay €50 per carriage (max 5 persons) for a half-hour tour.
Bruges Bike Tour
You will find plenty of bike rental places around the main squares if you want to explore on your own. Otherwise, take a guided bike tour. Visit Bruges has a list of bike tour companies.
A quick spin around Bruges Old Town on a guided bike rickshaw tour is another fun way to see the city. The bikes can take groups of up to three people at a time.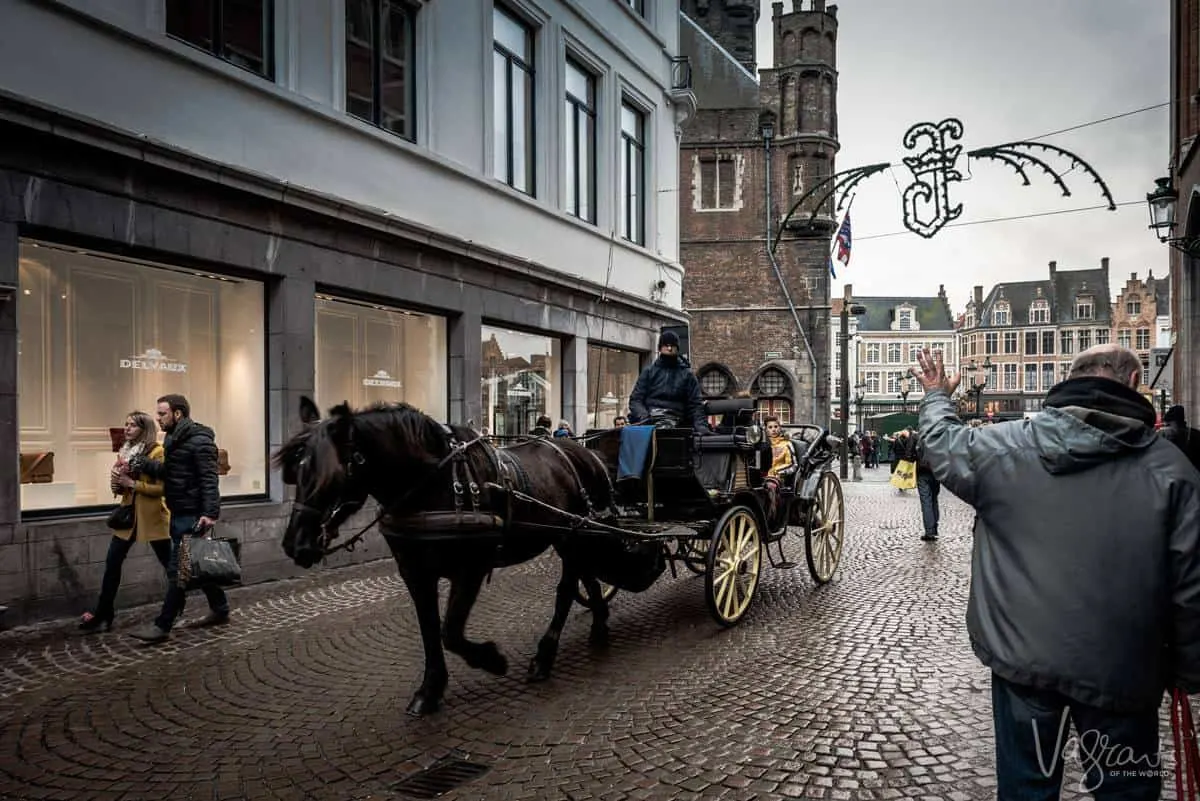 Market Square (Grote Markt)
Since 958, Market Square (The Markt) has been used as a marketplace. A place for medieval festivals, fairs, tournaments, uprisings, and even executions. The Markt is the historical centre of Bruges.
Today, the traffic-free square is still a meeting place for locals and the millions of visitors who come to see the beauty of Bruges each year. It also makes the perfect setting for the annual Bruges Christmas markets.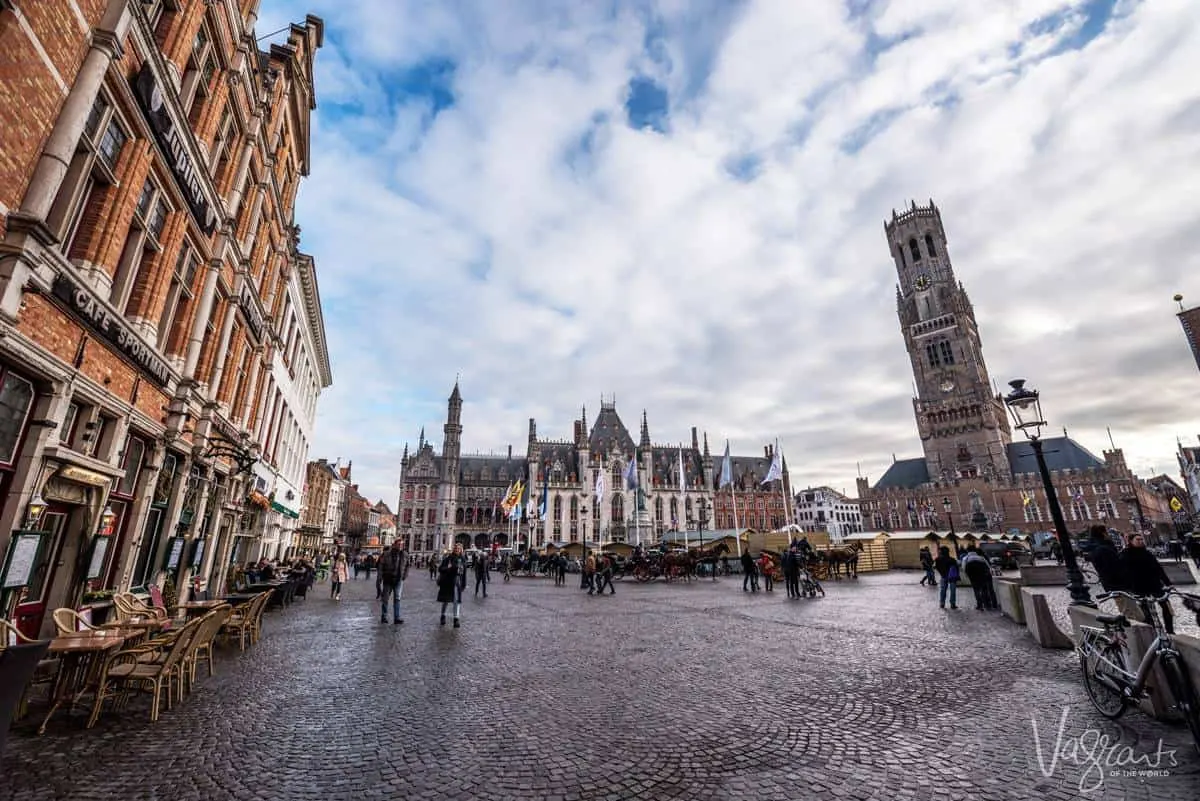 There is plenty to explore in The Market Square, from cosy Belgian Cafes to "Historium", a historical experience attraction that takes you back to 15th century medieval Bruges.
Experience Historium
Historium offers a fun, interactive multimedia experience of medieval Bruges for all ages.
One of the most popular experiences is the Historium Virtual Reality experience that places you back to the year 1435 – Sail virtually into the port of Bruges. See how Bruges looked in the past and fly over the Market Square to the former St. Donatian's Cathedral for a bird's eye view of medieval Bruges. The Historium is open every day from 10 am – 6 pm. You can pre-book your Historium entry and VR experience here.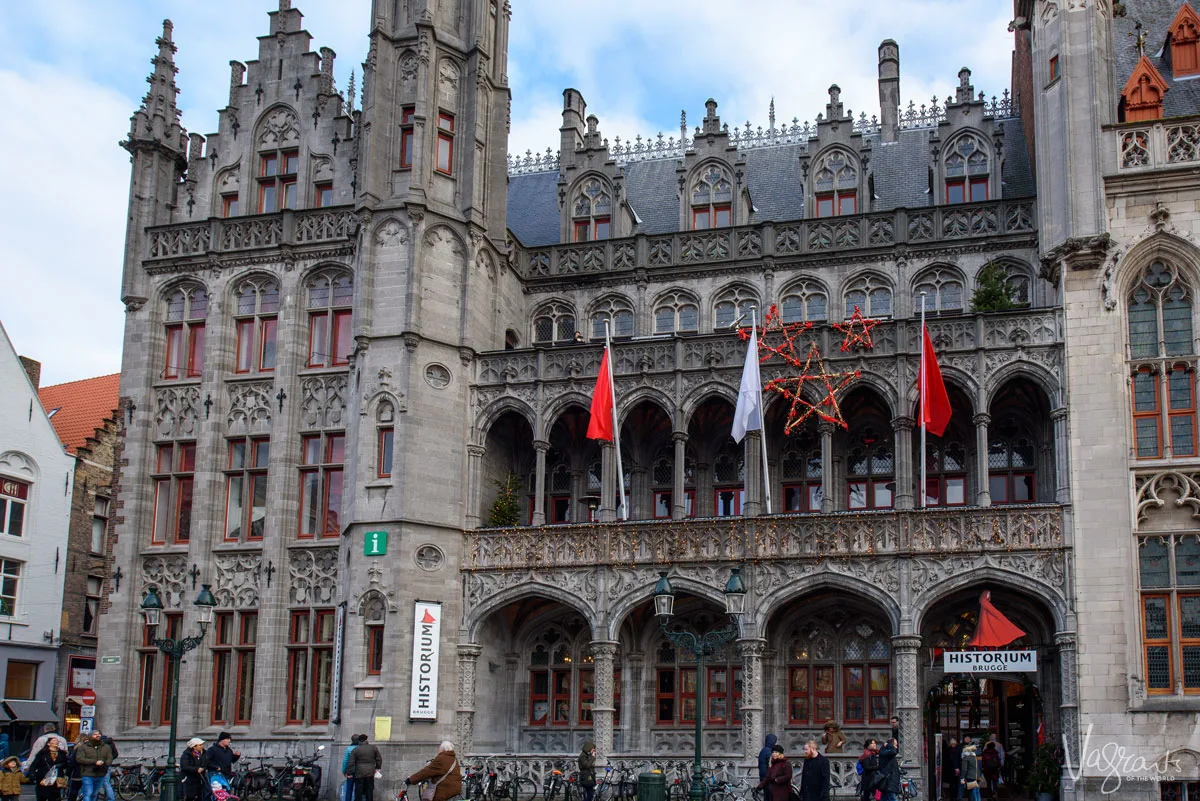 Bruges Market Day
Wednesday is Market Day in the Square, where you will find stalls selling an array of fresh produce, flowers, meats and cheeses. You'll also find plenty of quick hot snack options. The perfect opportunity to try some traditional Belgian Frites or waffles.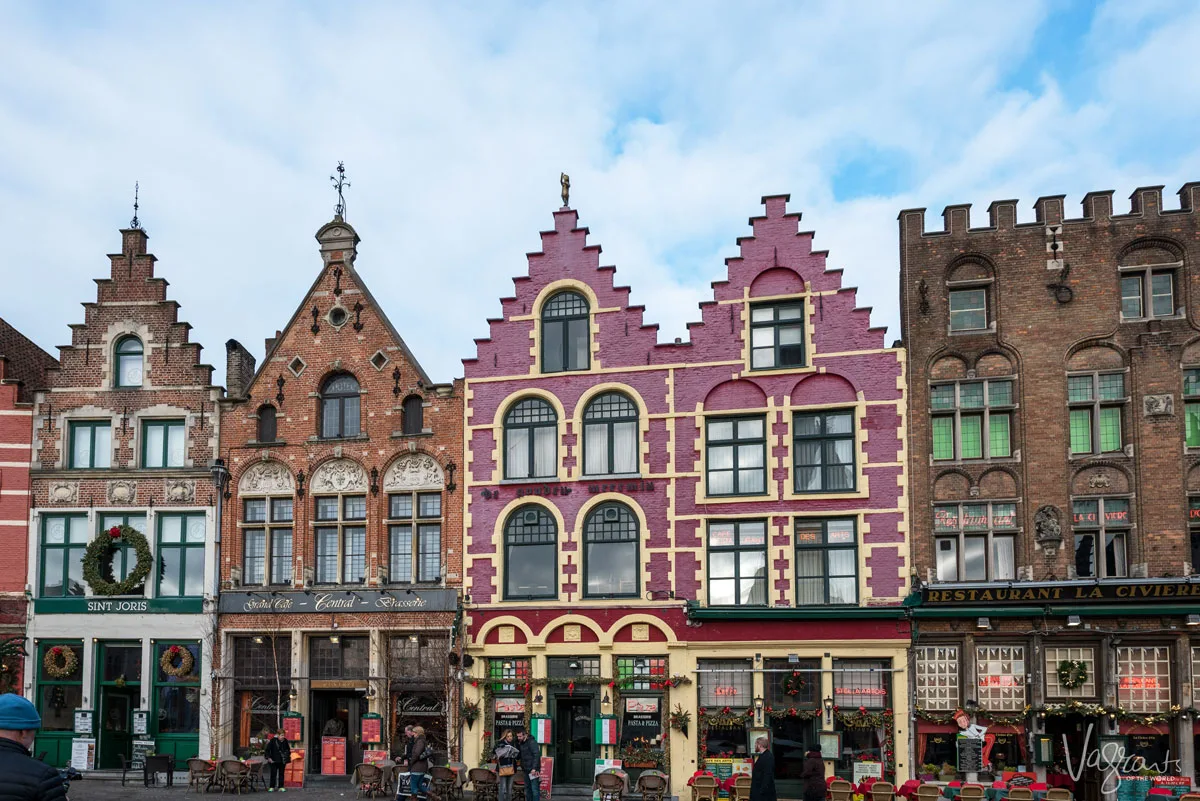 Take a Bruges Canal Tour
Canal tours are one of the most popular things to do in Bruges. While it may come across as a bit of a tourist trap, much like the boat tours in Ghent, it allows you to see the main attractions in Bruges from a different perspective.
You will also get some insight into the history of Bruges and see some canal areas the streets don't follow.
A half-hour guided canal tour will cost around €12 for adults. A great way to experience Bruges is on a combined 2hr boat cruise and guided walking tour.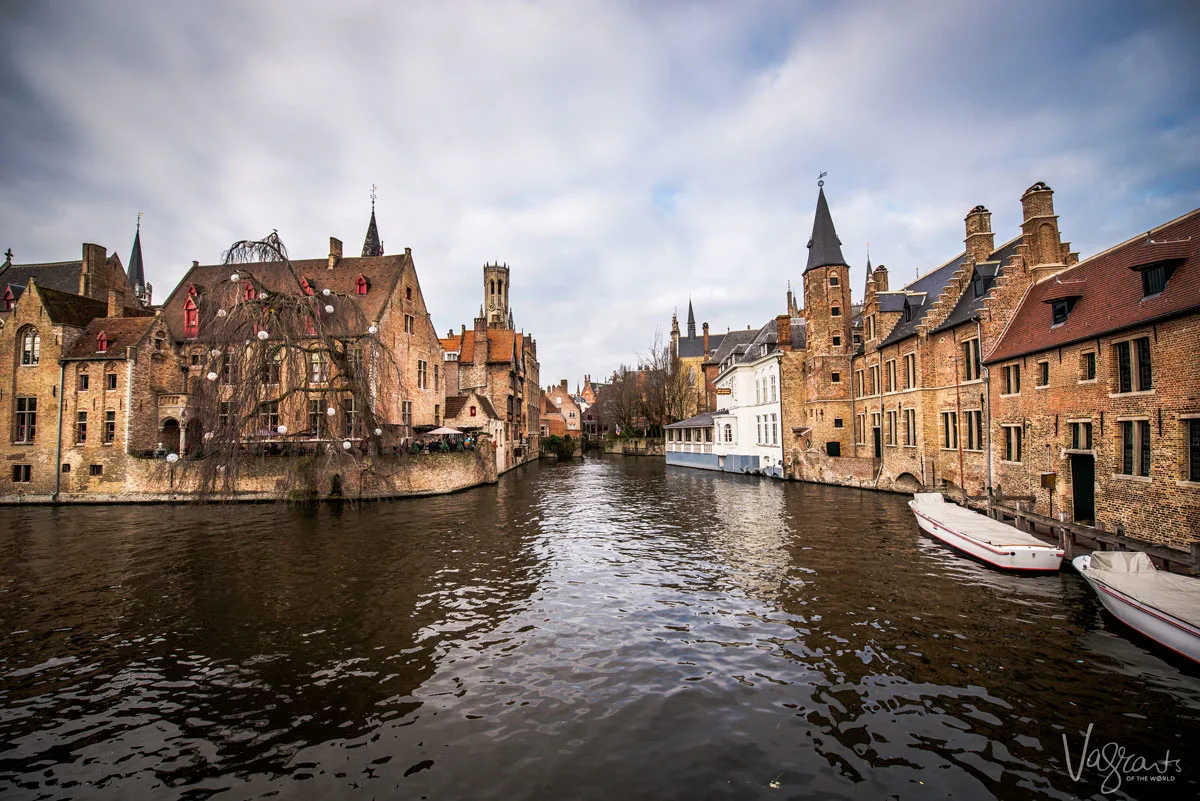 Skyscraper the Bruges Whale
Another reason to explore the canals by foot or boat is to see the magnificent Bruges Whale – the giant blue whale breaching from the canal towards Jan van Eyck square. The magnificent four-storey sculpture called "Skyscraper" is constructed from five tons of plastic waste pulled out of the Pacific Ocean. Read more about the Bruges Whale here.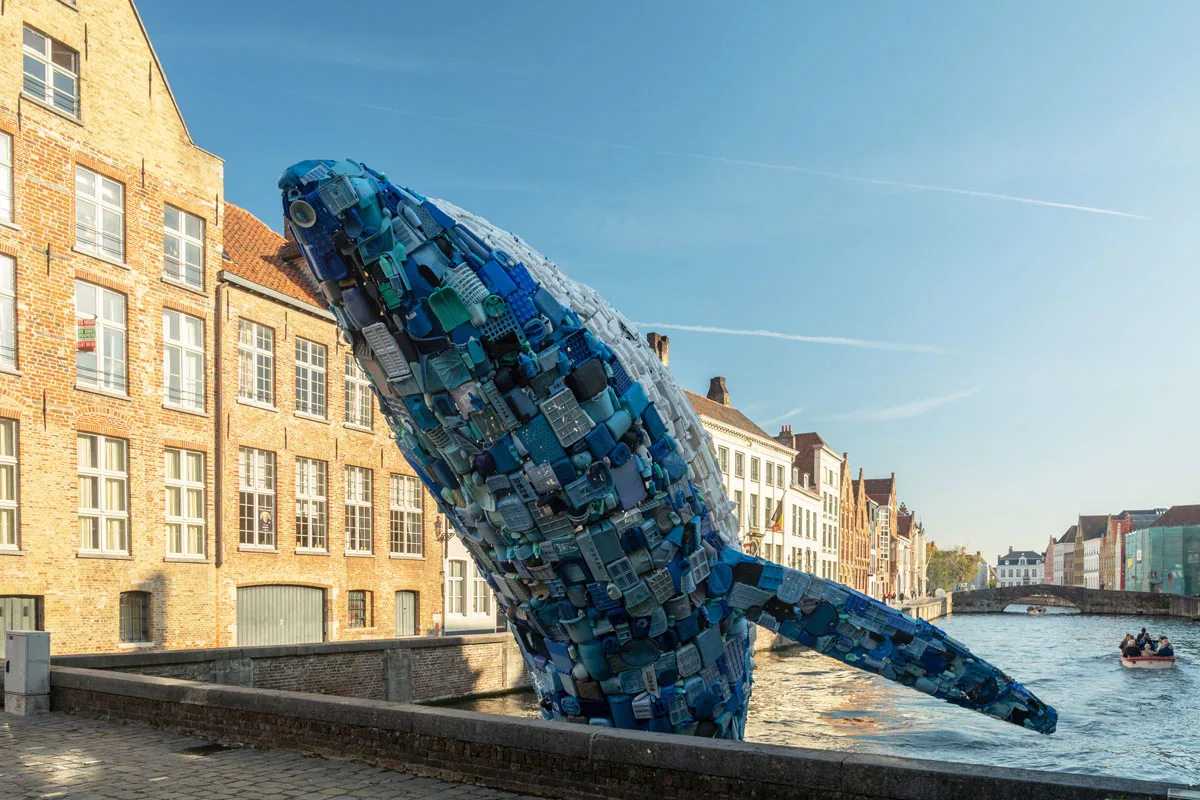 Climb the Belfry
The Bruges Belfry towers majestically over the market square. At 83 metres high and with 366 steps winding to the top, a climb may not sound that appealing. But as with Ghent, it is one of the best things to do in Bruges because the view is magnificent.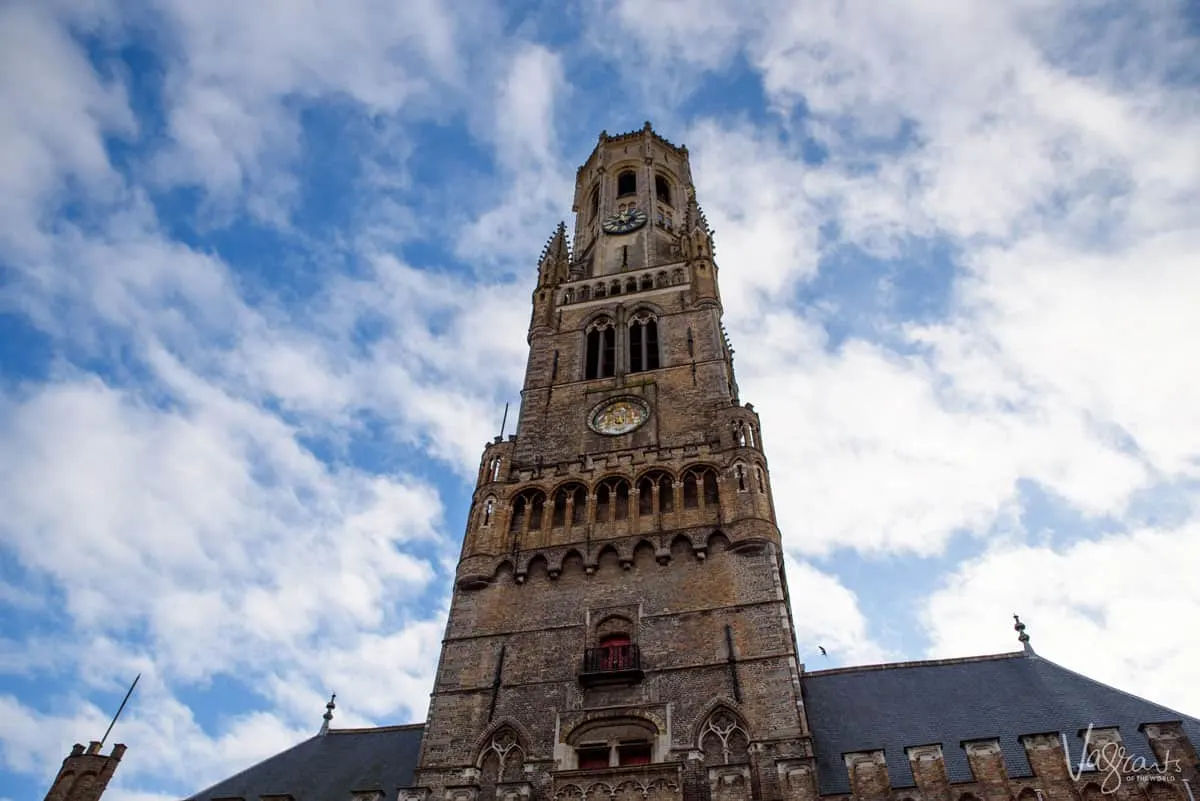 Burg Square
Burg Square is the other iconic medieval square in Bruges. Believed to be the oldest inhabited place in Bruges, it has its fair share of attractions worth visiting.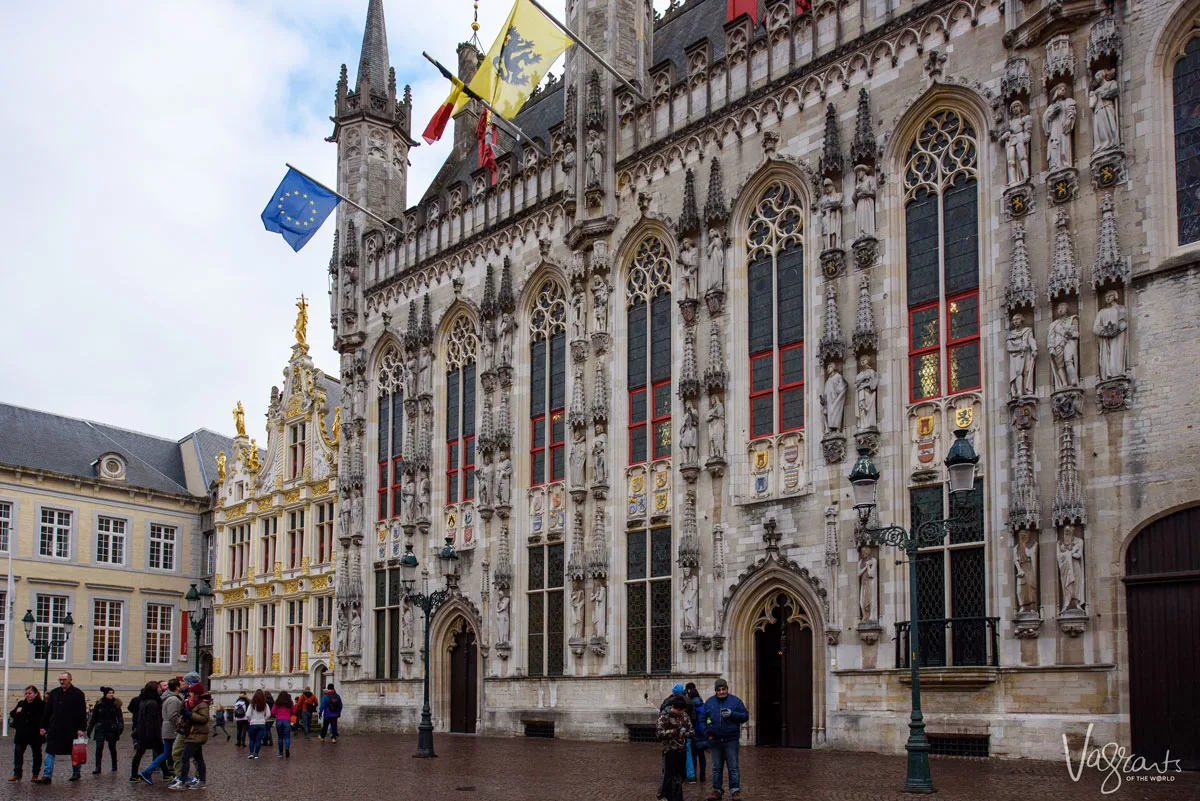 Bruges City Hall
City Hall (Stadhuis) is the most impressive building in Burg Square. While the exterior is outstanding, the interior is worth a visit.
The highlight is the Gothic Hall adorned with intricate murals depicting the history of Bruges and the 600 years of the City Hall administration.
Many statues depict biblical figures and rulers of Flanders on the facade of the building. These are replicas of the originals destroyed in 1792 during the French occupation.
There is a free exhibition on the ground floor but a small entry to visit the great hall and museum upstairs.
Liberty of Bruges
Brugse Vrije is where the Liberty of Bruges (the countryside in a wide area around the city) was once governed. The building, which functioned as a court between 1795 and 1984, now houses the city archives preserving the city's written memory. You can visit only the Renaissance hall, which houses the 16th century Charles V chimneypiece – a massive timber, marble and alabaster fireplace. Purchase tickets for Liberty of Bruges from the City Hall.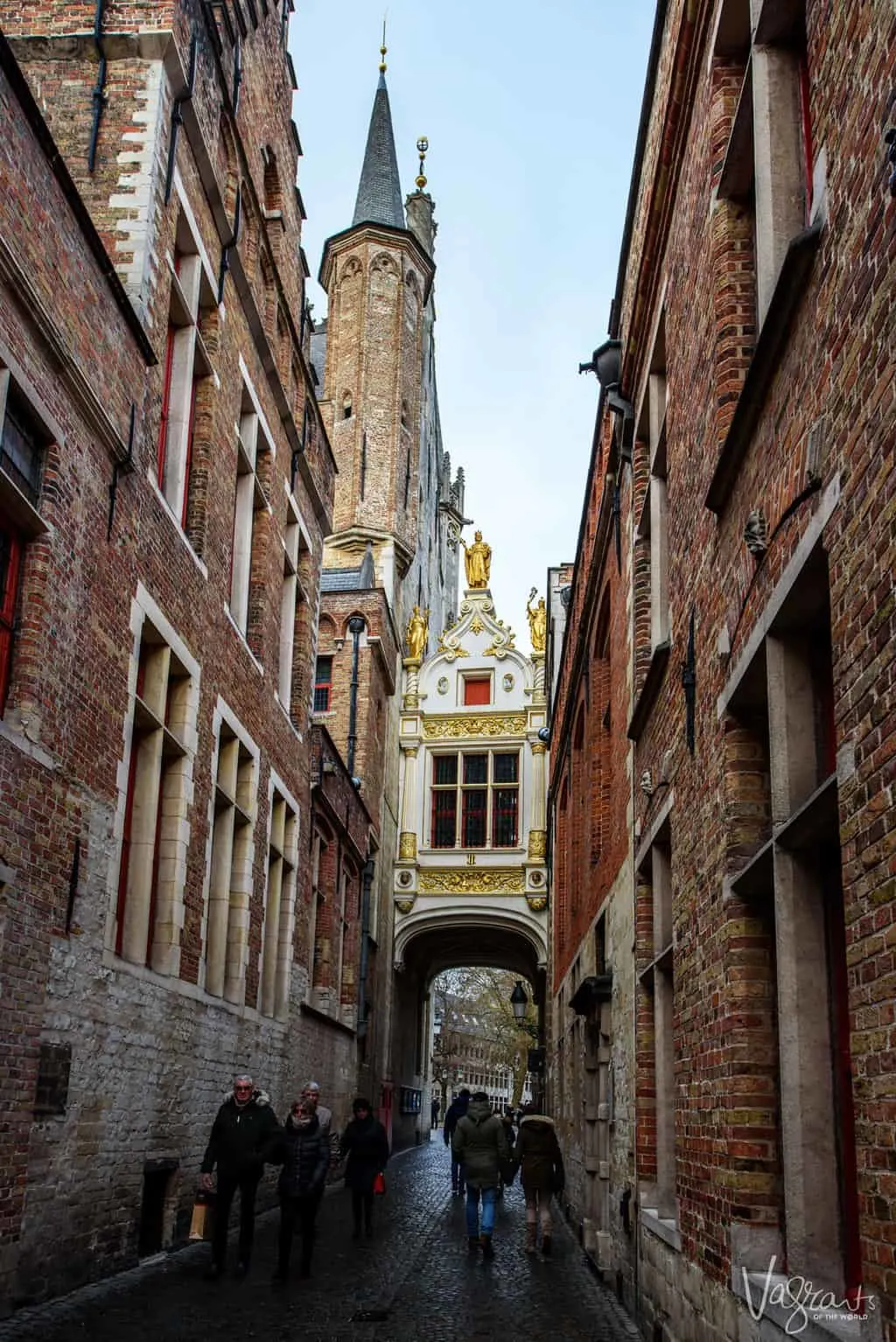 The Basilica of the Holy Blood Of Jesus
One of the more interesting buildings in Burg Square is The Basilica of the Holy Blood. It is a double church dedicated to Our Lady and Saint Basil – a lower Romanesque church and an upper Gothic church.
This building's two stand-out features are the richly decorated facade, including gilded statues – which is actually a 16th-century staircase connecting two underlying chapels. The other is The Basilica of the Holy Blood houses a venerated phial containing a small piece of cloth stained with the blood of Jesus, allegedly collected by Joseph of Arimathea.
You can visit the church and attend mass if you choose; this is free. Entry to the museum is €5. You can find details at the official Church of the Holy Blood Site about times the public can view the relic, mass times and information about the colourful Procession of the Holy Blood held on Ascension Day in the spring.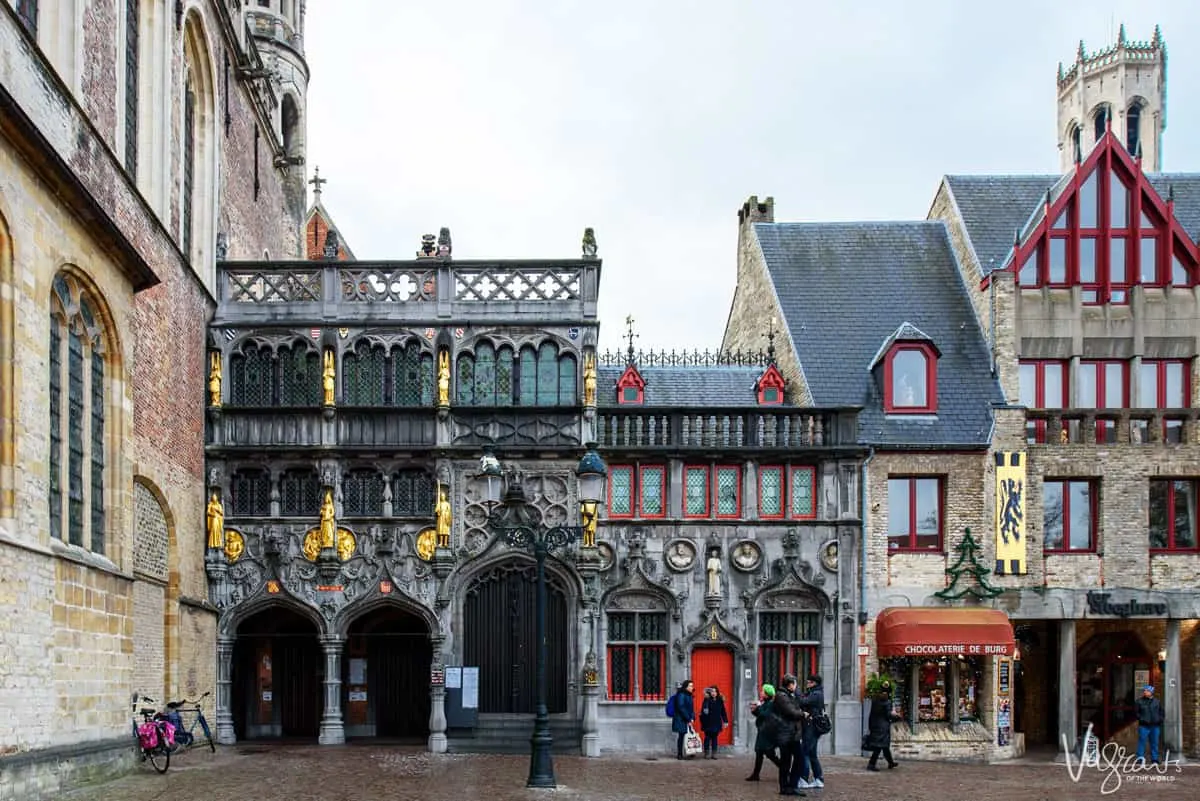 Take a Self Guided In Bruges Movie Tour
Take yourself on a tour of the In Bruges film locations. This handy In Bruges film locations map will take you to both the famous film locations and the best attractions in Bruges.
Churches and Museums
Museums, churches and galleries in Bruges are not in short supply, so it's easy for the culture vulture to fill a day.
The Church of Our Lady
BrugesProvinciaal Hof
Gruuthuse Museum or the Groningen Museum.
These are just a few of the historical and cultural offerings in Bruges.
Drink Beer and Eat Fries, Waffles and Chocolate
Sure, in Bruges, you can get your fill of beer, waffles, frites and chocolate, but you can also learn about them. Some of the more interesting museums in Bruges are –
The Frietmuseum – Fries Museum
Choco-Story -Chocolate Museum
The Bruges Biermuseum -Bruges Beer Museum.
Take a Belgium Beer Tour
The De Halve Maan Brewery Tour is a highlight. 45-minute tours run daily between 1.00 and 16.00. There's also a tasting included, of course.
Or, you could do a 3-Hour Beer and Chocolate Tasting Private Tour. This tour is an excellent value as it includes a tour of the historic centre, entry and samples at the Choco-Story museum and a 3-course lunch at the De Halve Maan brewery.
Learn how to make waffles and sample Belgian beer in the process. This Waffles and Beer Workshop includes beer tasting, waffle making and a take-home waffle recipe.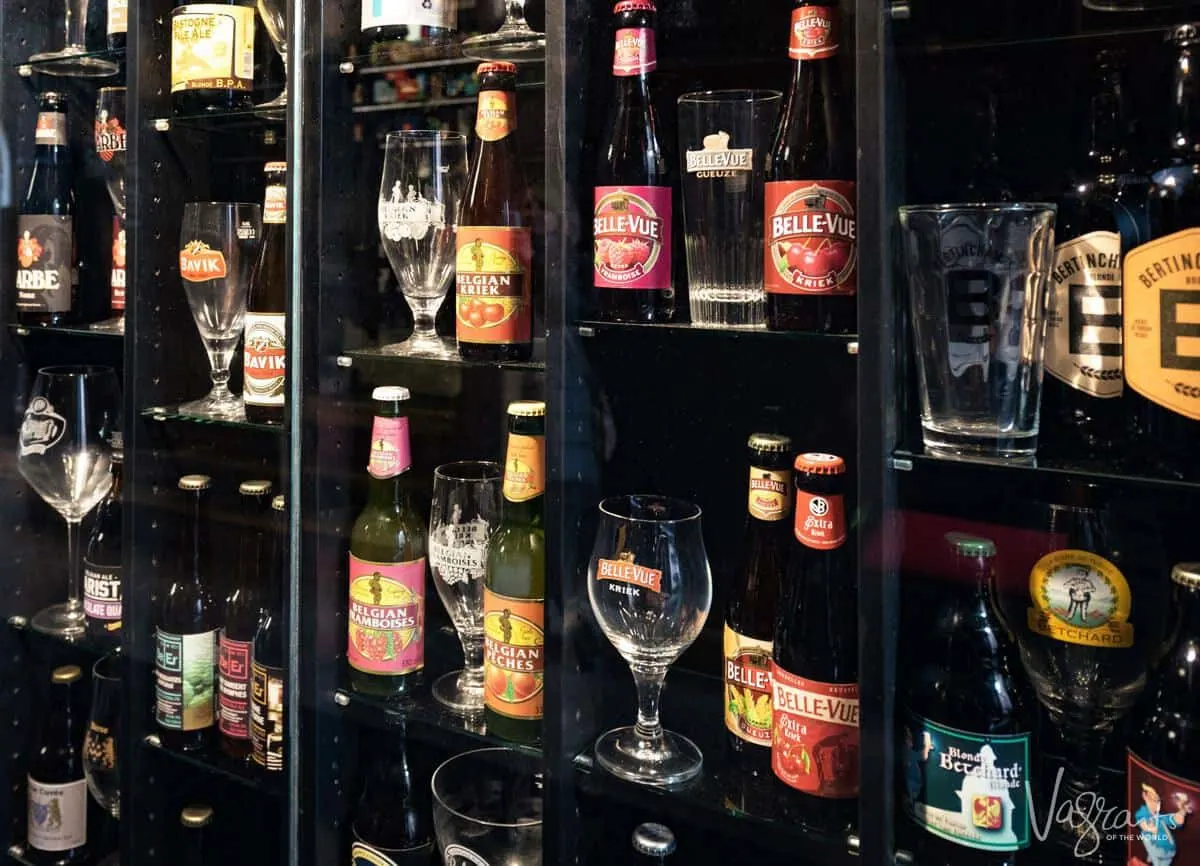 Getting to Bruges
You can travel from Brussels to Bruges in just over an hour on a local train.
The train from Ghent to Bruges is approx. 40 minutes.
Train from Antwerp to Bruges takes approx 2 hours.
Bruges train station is about 2 km from the historic town centre. It is easily walked.
Local buses leave from next to the station to Markt Square.
A day trip to Bruges from Paris or Amsterdam is also very possible. The trains from Paris and Amsterdam to Bruges both take around 3 hrs each way. For convenience, there are also a number of day tours from Paris and Amsterdam. See tour details for day trips to Bruges from Paris and Day Tours from Amsterdam – both include transport, guides and much more.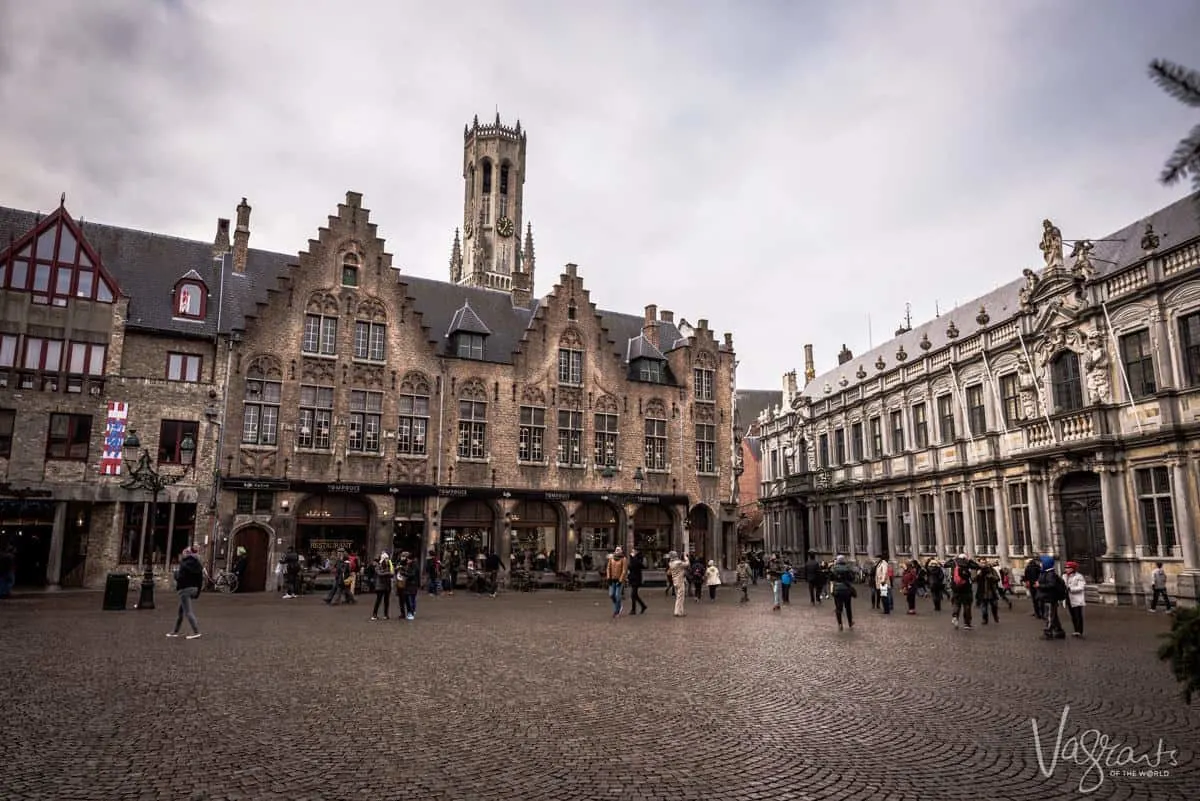 Time for More Than One Day in Bruges?
A day trip is a great way to see Bruges and more than enough time to see the highlights. However, at least one night is recommended if you want to get a better sense of Bruges' charm. The night is when Bruges reveals her true beauty – when the tour groups have left for the day, and the city is lit to highlight the medieval facade.
Bear in mind, though, that in the peak summer months, even the evenings will be busy in Bruges. Although, in summer, you could combine a day/night in Bruges with a trip to one of Belgium's best beaches. Most people don't know, but there are at least three beaches within 15 minutes of Bruges.
Thinking of Staying Longer? Check the Latest Deals For Hotels in Bruges
Best Time to Visit Bruges
We believe the shoulder seasons of early spring or late autumn are the best time to visit most places in Europe. The same applies to Bruges, whether for one day or a few nights. December is also an excellent time to visit Bruges, or anywhere in Belgium for that matter, thanks to the incredible Christmas markets.
If you do only have time for one day in Bruges, aim for midweek for a less tourist-dense experience. Sure, you will still have tour groups but fewer local, European visitors.
High Season: April – October
Low Season: November to March.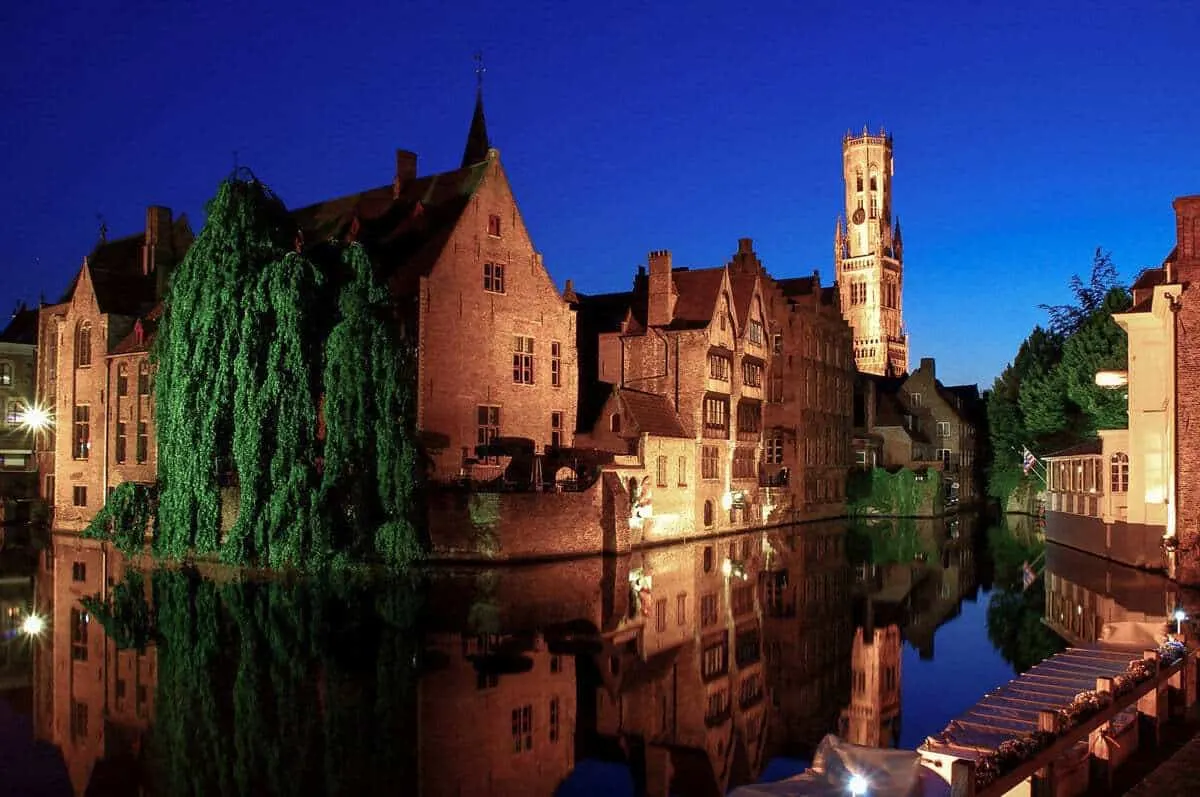 Christmas Markets in Bruges
Christmas is one of the best times to visit Bruges as there are not as many tourists about and the famous Bruges Christmas Markets fill the central Market Square. Bruges Christmas Markets usually run from around 25 November to 2 January.
Got more than one day to spend in Bruges? Find out what to see in Bruges in two days

Visiting Bruges from Antwerp? Here are some great tips for things to do in Antwerp.