Many consider the medieval fairytale town of Bruges in Belgium one of Europe's prettiest cities. Find out for yourself on a day trip to Bruges.
Things To Do In Bruges in One Day – Quick Guide
Explore Bruges Old Town

Take a Bruges Walking Tour

Take a Horse Drawn Carriage Tour

Bruges Bike Tour

Bruges Canal Tour

Culture and History

Market Square

Climb the Belfry

In Bruges Movie Tour

Beer, Fries & Chocolate

Belgium Beer Tour
Read on for Details
Beyond the picturesque facade, Bruges also invokes thoughts of beer, waffles, chocolate and the black comedy In Bruges. After all, this is what Bruges is famous for.
Pretty cobbled lanes sprawl from central market squares where horse-drawn carriages trot purposefully through town. Swans and boats glide effortlessly down charming central canals past bell towers, historic churches and storybook houses.
Bruges, one of the most popular places to visit in Belgium is one of those brochure ready destinations people flock to. And flock they do!
Visiting Bruges
Floods of tourists arrive each day to visit Bruges. Especially in the peak summer months to experience the medieval fairy tale charm that is Bruges.
Has Bruges fallen victim to its own unique quality, much like Venice and Cinque Terre? Its authenticity and charm lost to tourism?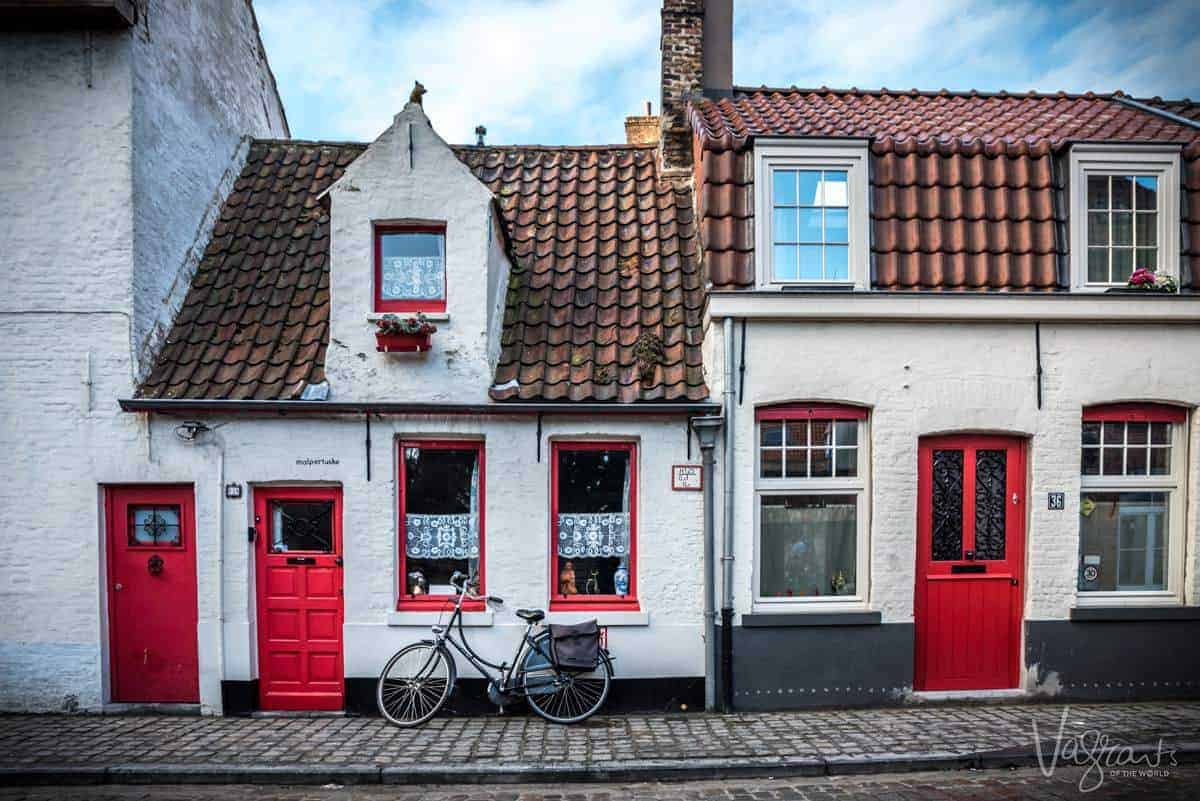 As one would expect with any major tourist drawcard, all that charm and atmosphere doesn't come cheap. The restaurants in Bruges, especially in the central market area are fairly overpriced and the food average at best. Especially compared to Brussels and Ghent.
People expect to find the best waffles in Bruges. Unfortunately, many of these have also fallen victim to mass tourism. Much like the beer and chocolate Belgium is famous for, these iconic items have been packaged and priced for the busloads of visitors arriving for the day. Although, it's not to say you can't still find a great waffle in Bruges.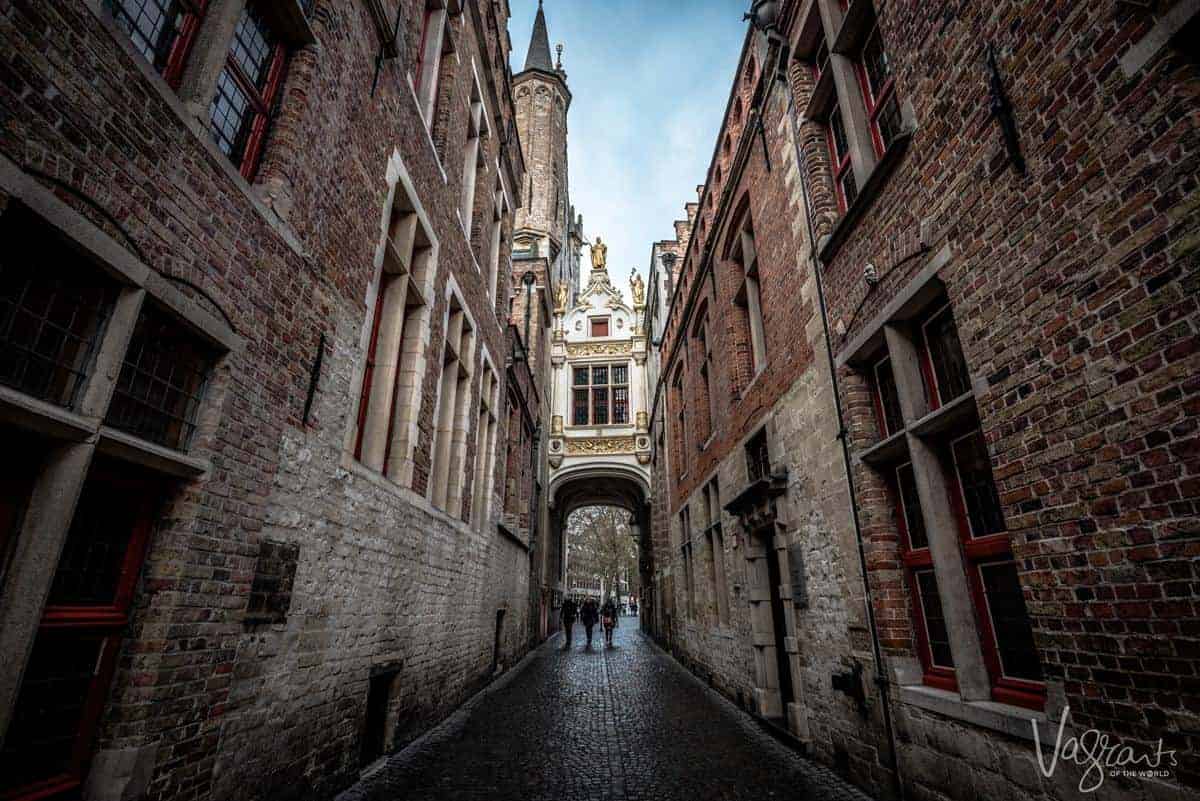 So, Is Bruges Worth Visiting?
In short – if you are in Belgium, Yes!
The big question with travel in Belgium these days is Bruges or Ghent? Easy – both. Whether it be a weekend in Bruges or just a day trip, Bruges is very beautiful and is easily accessible from Belgium's major cities so why not.
Belgium is a very small country. So much so, it possible to see a lot even with only 4 days in Belgium. Like all Belgium cities, the city of Bruges is very walkable with most of the attractions close to each other. So a day trip to Bruges is very much a reasonable prospect.
Where is Bruges – Getting There
You can travel from Brussels to Bruges in just over an hour on a local train.
Ghent to Bruges in under an hour.
More detailed information on day trips and getting to Bruges at the end of the article.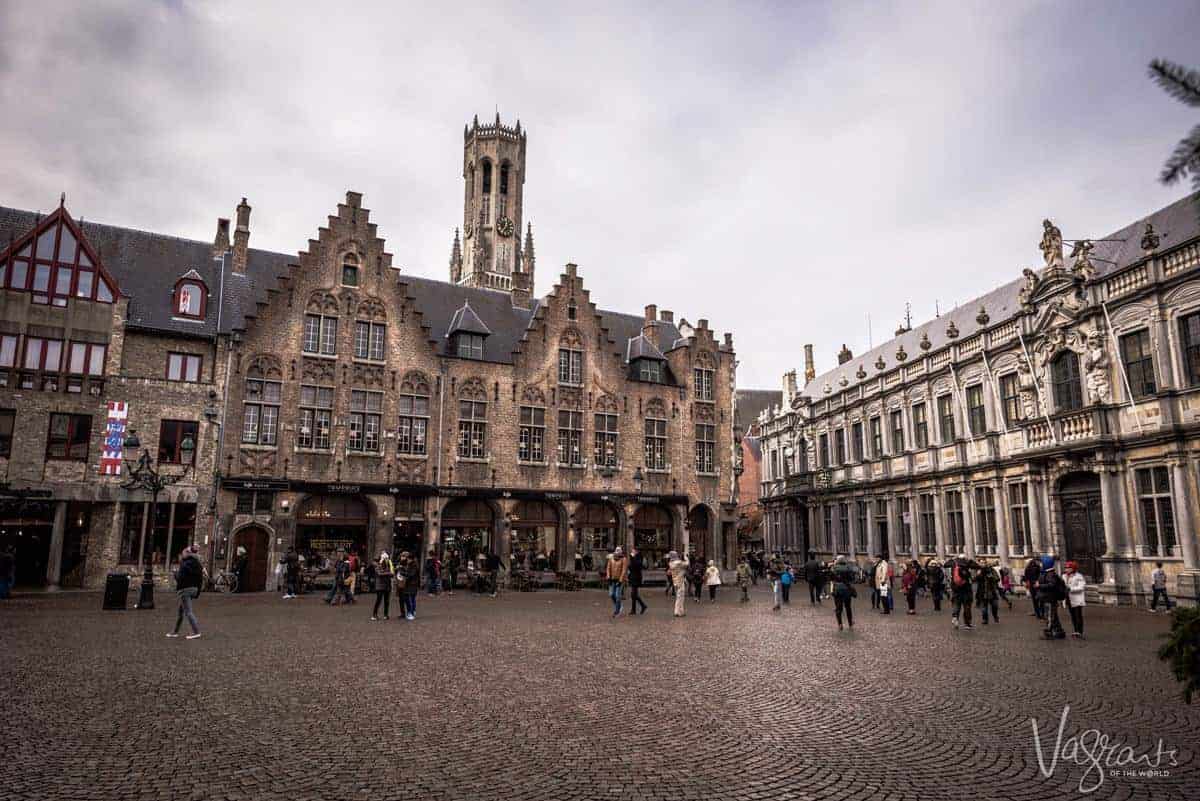 Best Time to Visit Bruges
We believe the shoulder seasons of early spring or late autumn are the best for most places in Europe and this applies for Bruges, whether for one day or a few nights. Christmas is also an excellent time to visit Bruges, or anywhere in Belgium for that matter.
While a day trip is entirely possible, at least one night would be recommended if you want to get a better sense of Bruges' charm. The night is when Bruges reveals her charm, when the tour groups have left for the day, and the city is lit to highlight the medieval facade.
Bear in mind though, in the peak summer months, even the evenings will be busy in Bruges. Although, in summer, you could combine a day/night in Bruges with a trip to one of Belgium's best beaches. Most people don't know, but there are at least three beaches within 15 minutes of Bruges.
If you do only have time for one day in Bruges, aim for midweek for a less tourist-dense experience. Sure, you will still have tour groups but less local, European visitors.
Discover The Most Beautiful Autumn Destinations in Europe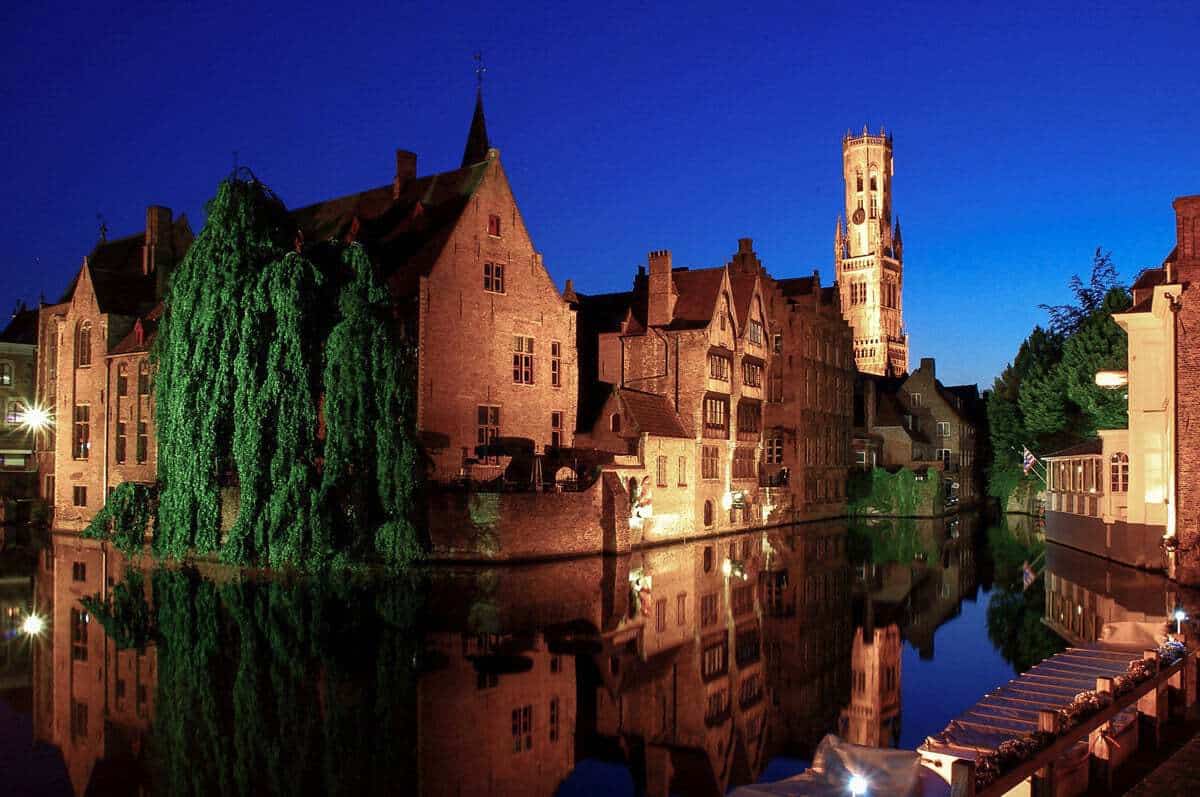 Christmas Markets in Bruges
Christmas is one of the best times to visit Bruges as there are not as many tourists about and the famous Bruges Christmas Markets fill the central Market Square. Bruges Christmas Markets usually run from around 25 November to 2 January.
Thinking of Staying Longer? Check Latest Deals For Hotels in Bruges
---
What to do in Bruges in One Day
Explore Bruges Old Town
Take a stroll or go for a ride. The central town is very scenic, so spend some time just exploring and enjoying the architecture everyone comes to see. The streets are very bike and pedestrian-friendly, so it is safe and easy to get around.
Take a Bruges Walking Tour
Make the most of your day and discover the best of Bruges Old Town is a quick 2 hour Bruges Highlights Walking Tour. It's a cheap (around €10 pp) and fun way to get your bearings and use the knowledge of a local guide to make the most of the rest of your day.
Take a Horse Drawn Carriage Tour
Don't feel like walking? Hire a horse-drawn carriage from the central Market Square for a more authentic tour of Bruges. An especially nice way to see Bruges at night.
There are fixed prices for the carriage rides as set by the City of Bruges, expect to pay 50 € per carriage (max 5 persons) for a half-hour tour.
Bruges Bike Tour
You will find plenty of bike rental places around the main squares if you want to explore on your own. Otherwise, take a guided bike tour. Visit Bruges has a list of bike tour companies.
A quick spin around Bruges Old Town on a guided bike carriage tour is another fun way to see the city. Expect prices from around €25 for a group of 3.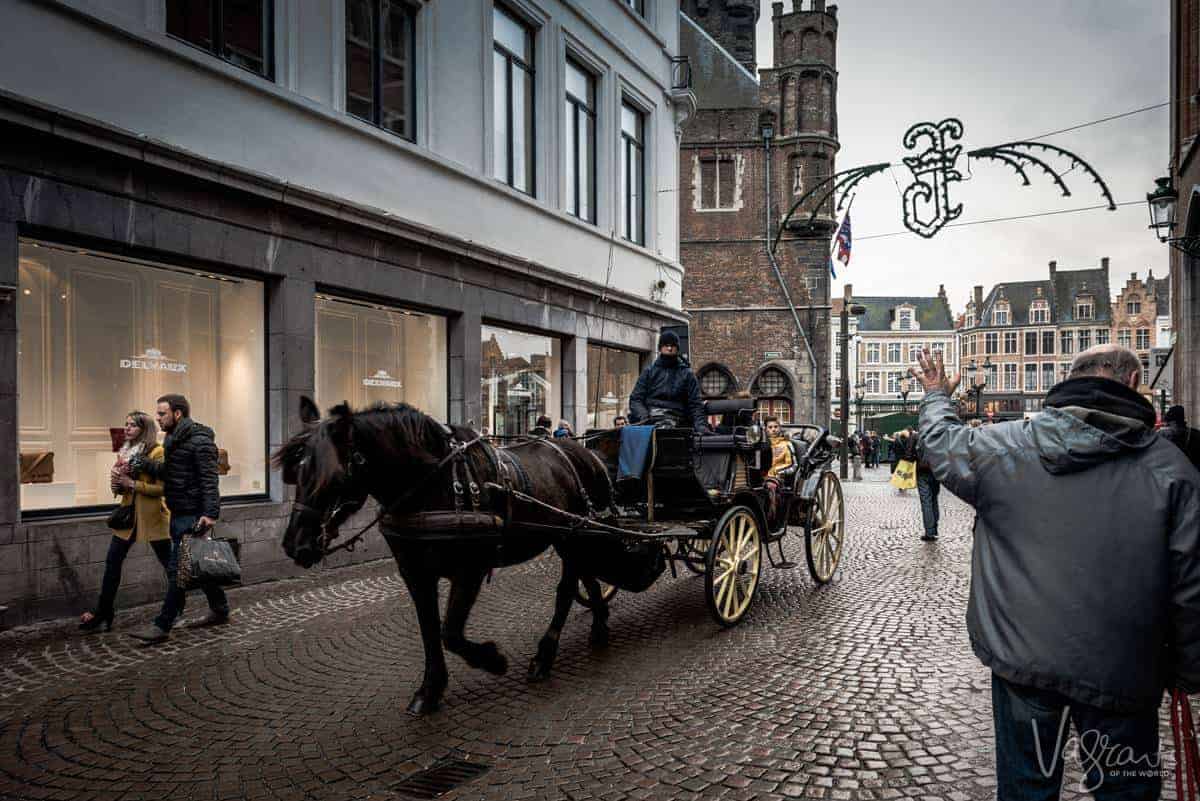 Market Square (Grote Markt)
Since 958 Market Square (The Markt) has been used as a marketplace, a place for medieval festivals, fairs, tournaments, uprisings, even executions. The Markt is the historical centre of Bruges.
Today, the traffic-free square is still a meeting place for locals and, the millions of visitors who come to see the beauty of Bruges each year. It also makes the perfect setting for the annual Bruges Christmas markets.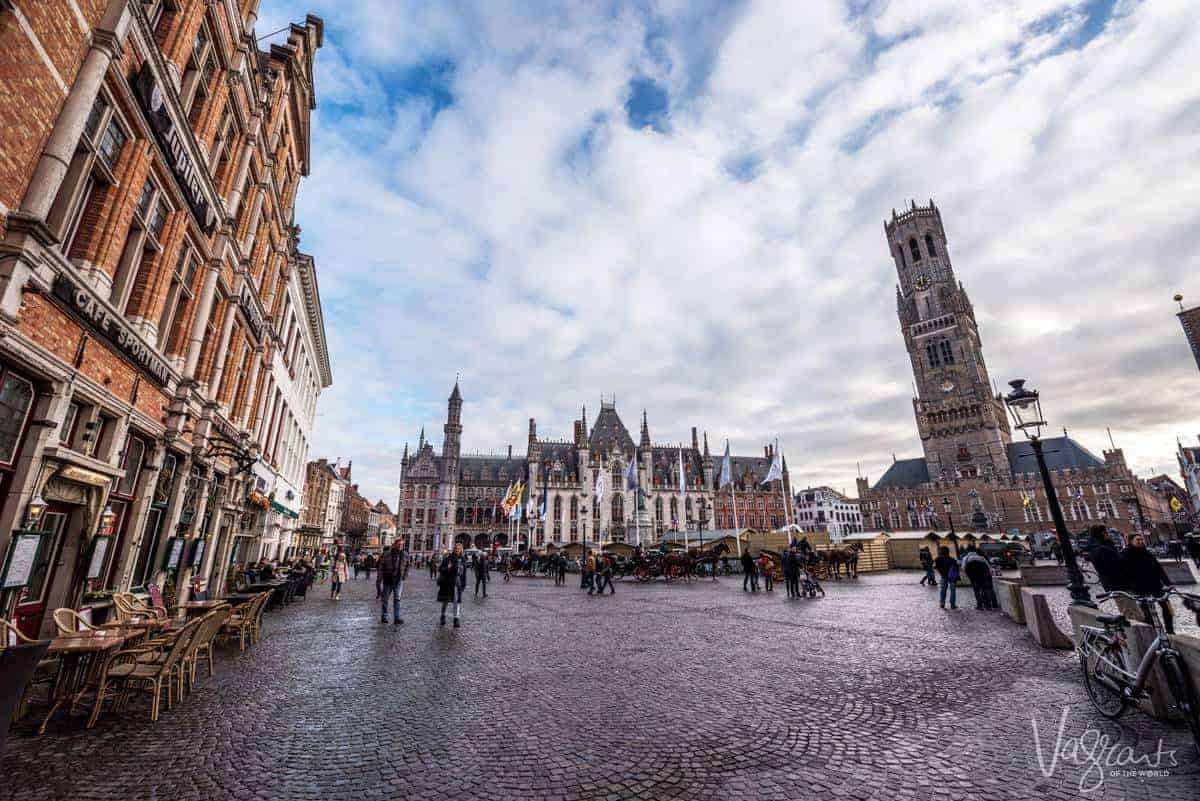 There is plenty to explore in The Market Square from cosy Belgian Cafes to "Historium" a historical experience attraction that takes you back to 15th century medieval Bruges.
Bruges Market Day
Wednesday is Market Day in the Square where you will find stalls selling an array of fresh produce, flowers, meats and cheeses. You'll also find plenty of quick hot snack options. The perfect opportunity to try some traditional Belgian fries or waffles.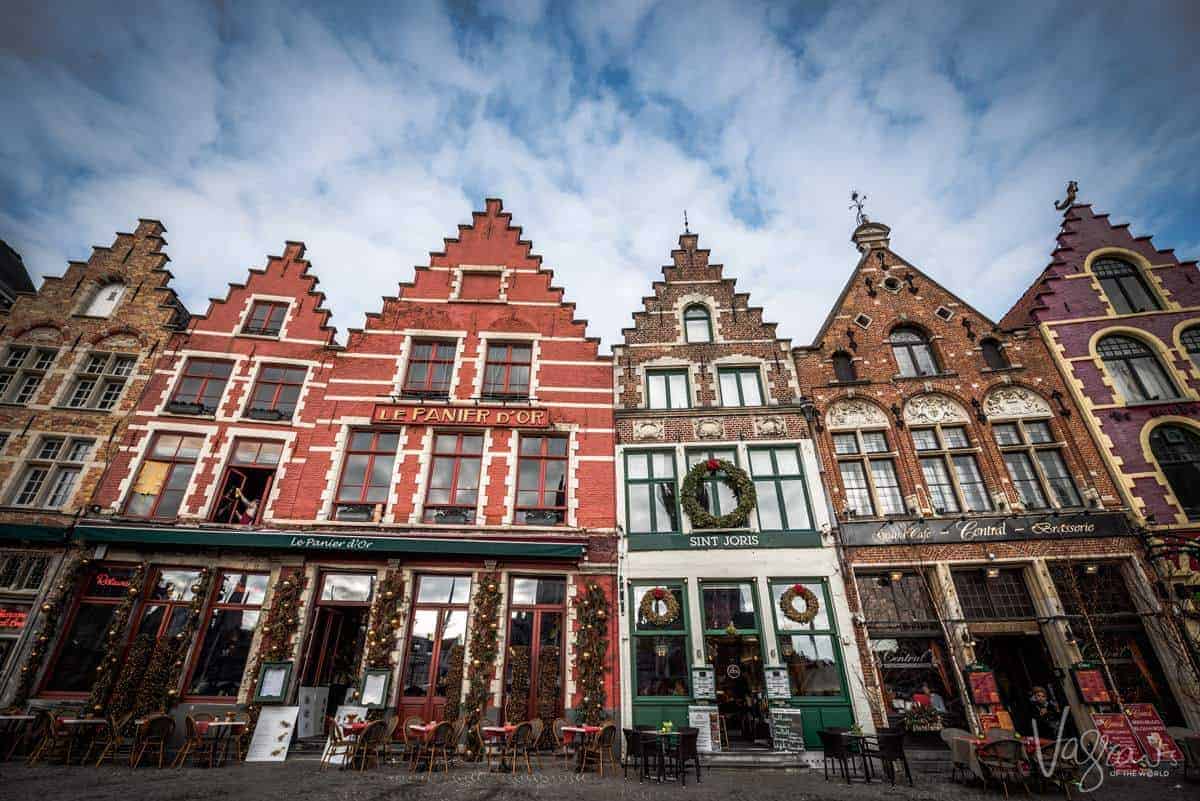 Take a Bruges Canal Tour
Canal tours are one of the most popular things to do in Bruges. While it may come across as a bit of a tourist trap, much like the boat tours in Ghent, it allows you to see the main attractions in Bruges from a different perspective.
You will also get some insight into the history of Bruges and see some canal areas the streets don't follow.
Cost: A half hour guided canal tour will cost €8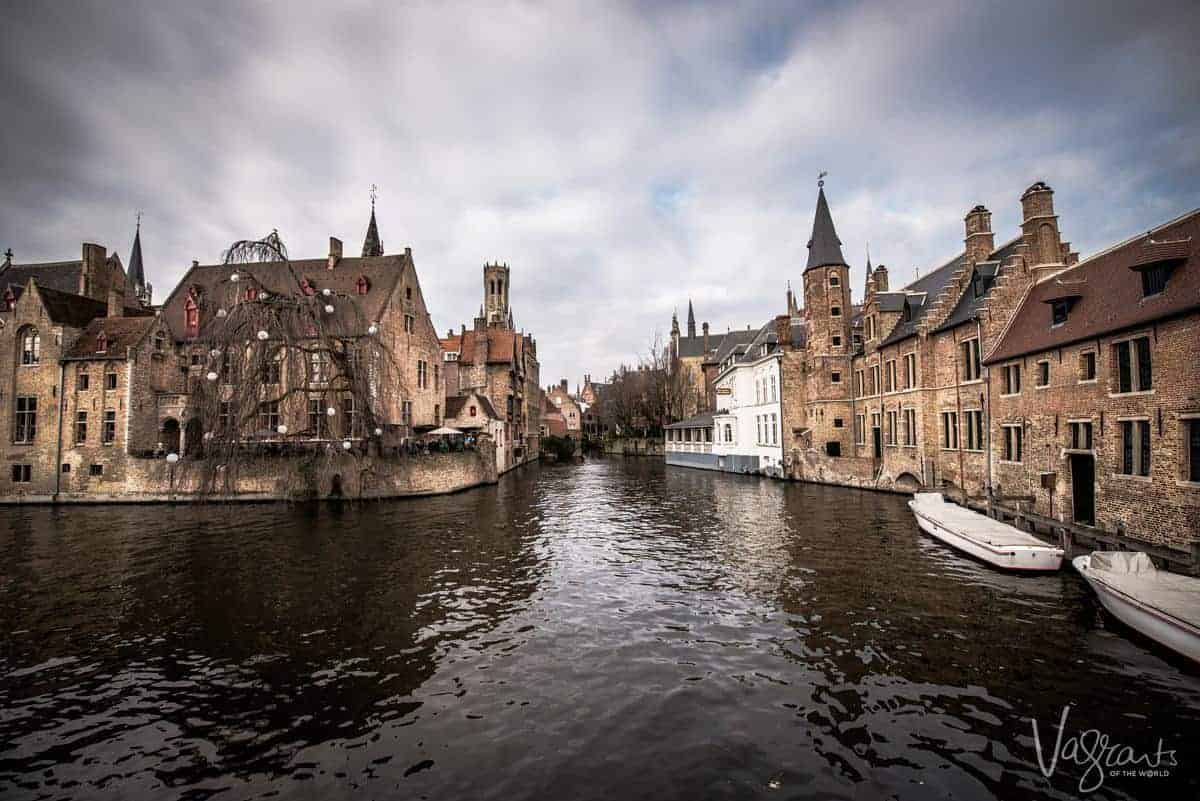 Climb the Belfry
The Bruges Belfry towers majestically over the market square. At 83 metres high and with 366 steps winding to the top, a climb may not sound that appealing. But as with Ghent, it is one of the best things to do in Bruges because the view is magnificent.
The Belfry is open from 9:30 – 17:30 pm and costs €8.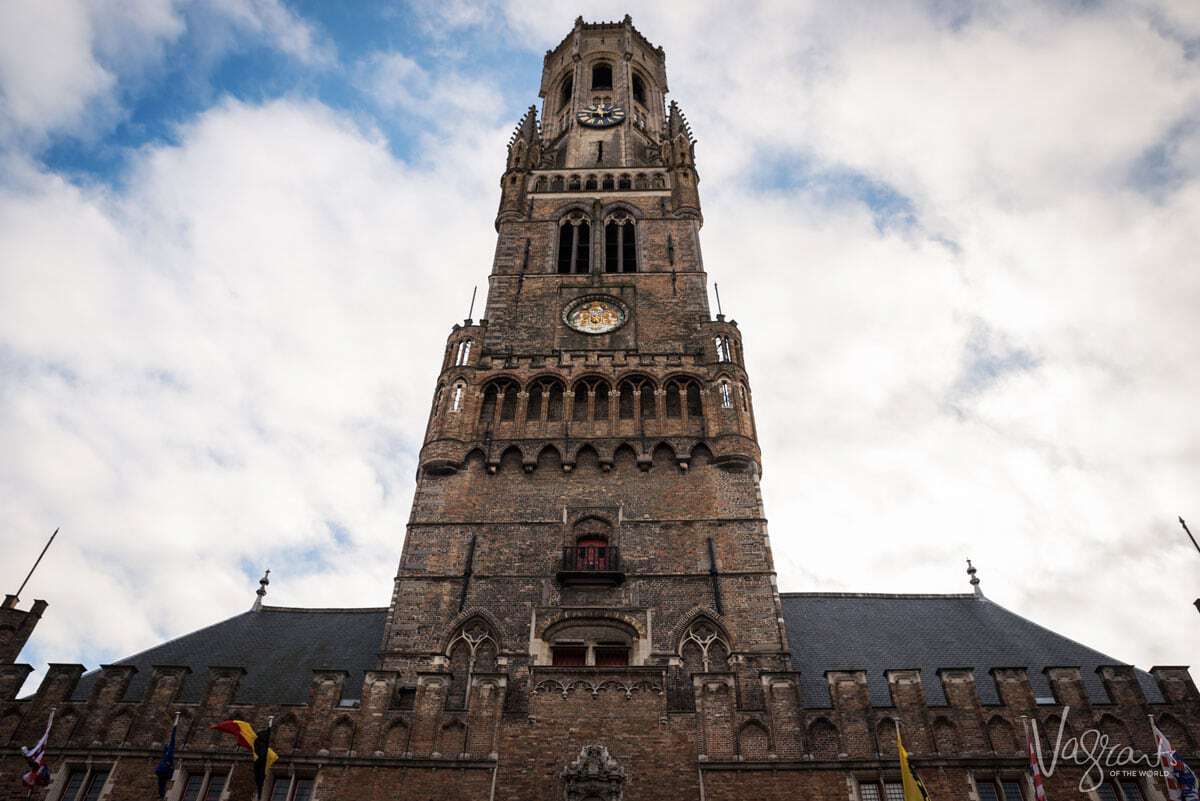 In Bruges Movie Tour (Self Guided)
Take yourself on a tour of the In Bruges film locations. This handy In Bruges film locations map will take you to both the famous film locations and the best attractions in Bruges.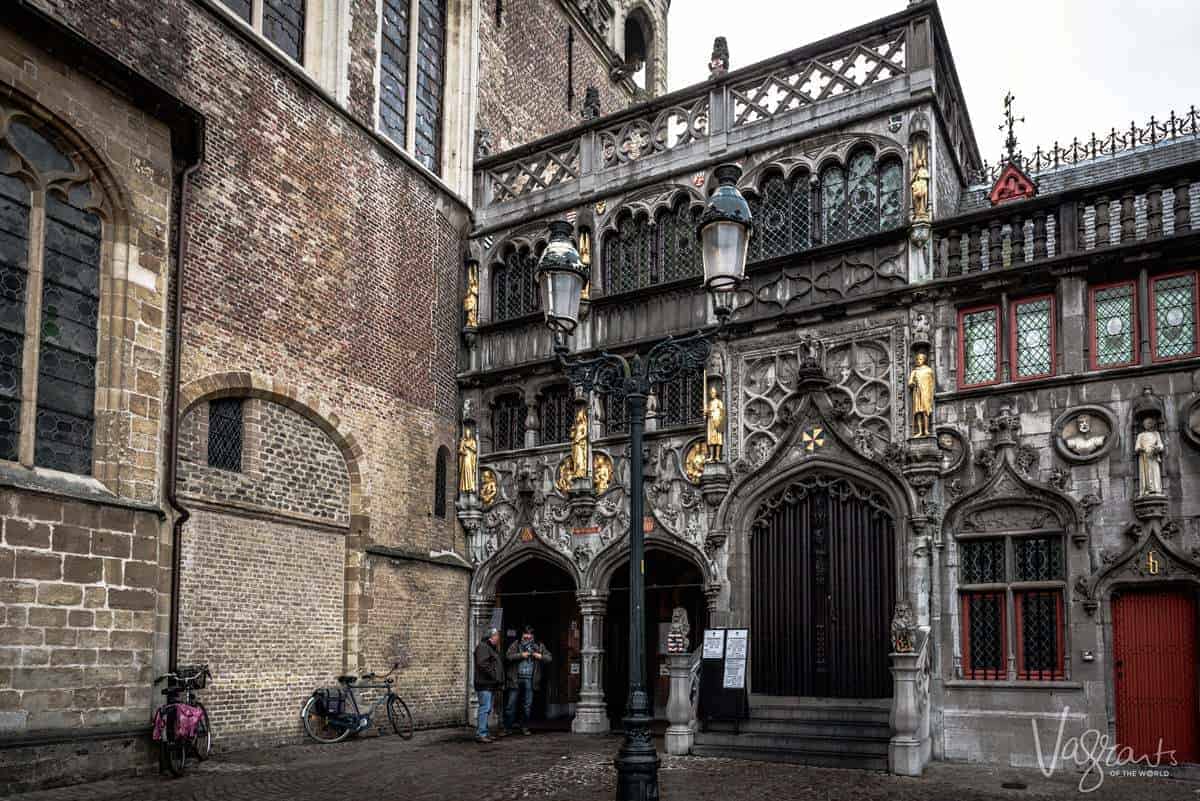 Culture and History
Museums and galleries in Bruges are not in short supply, so a day is easy to fill for the culture vulture.
The Basilica of the Holy Blood
The Church of Our Lady
BrugesProvinciaal Hof
Gruuthuse Museum or the Groningen Museum.
These are just a few of the historical and cultural offerings in Bruges.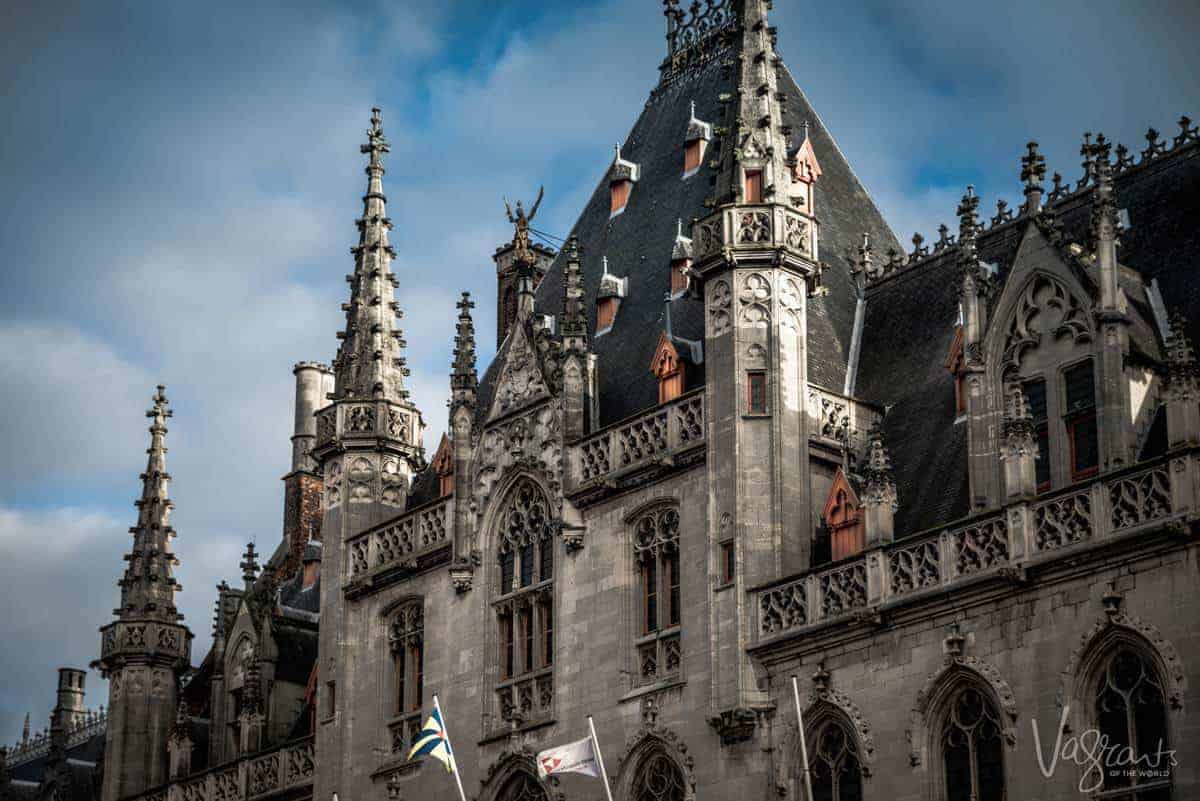 Drink Beer and Eat Fries and Chocolate
Sure, in Bruges you can get your fill of all of these things, but you can also learn about them. Some of the more interesting museums in Bruges are –
The Frietmuseum – Fries Museum
Choco-Story -Chocolate Museum
The Bruges Biermuseum -Bruges Beer Museum.
Take a Belgium Beer Tour
The De Halve Maan Brewery Tour is a highlight. 45-minute tours run daily between 1.00 and 16.00. There's also a tasting included of course.
Or, you could do a 3-Hour Beer and Chocolate Tasting Private Tour. At around €85 pp this tour is excellent value as it includes a tour of the historic centre, entry and samples at the Choco-Story museum and a 3-course lunch at the De Halve Maan brewery.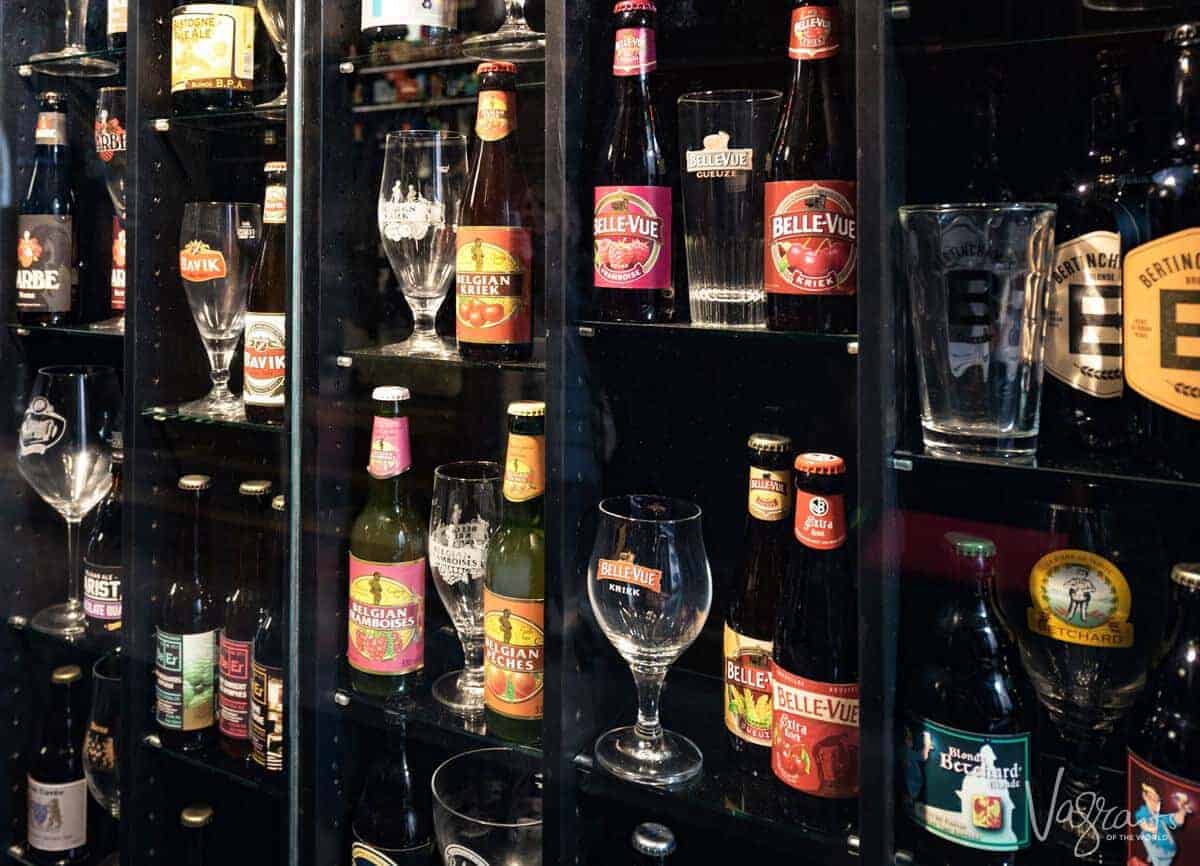 Bruges Travel Facts
When to Visit Bruge
High Season:
April – October
Low Season:
November to March.
Where is Bruges
Bruges is situated in the north-west, the Flemish region of Belgium.
Belgium is part of the EU and in The Schengen Area
Getting To Bruges
Bruges is just over an hour from Brussels. There are two main airports Brussels International and Brussels South Charleroi Airport.
Train from Brussels to Bruges will cost between €14 and €16 depending on the service and class.
Train from Ghent to Bruges takes approx 40 mins. Fares are between €6 and €8 depending on the service and class.
Train from Antwerp to Bruges takes approx 2 hours. Fares are between €15 and €16 depending on the service and class.
Bruges train station is about 2 km from the historic town centre. It is easily walked.
Local buses leave from next to the station to Markt Square.
Visiting Bruges from Antwerp? Here are some great tips for things to do in Antwerp.
Paris to Bruges Day Trip
The Paris to Bruges train takes approx. 3 hrs depending on the service you take. Tickets cost between €45 and €106 for second class and €56 and €126 for first class depending on the service and company.
Paris to Bruges Day Tour
Paris to Bruges day trips can be done with either group or private tours. Expect around €165 pp for a group tour which includes a guide, transport and canal cruise.
Tours should include a canal cruise in the ticket cost.
Amsterdam to Bruges Day Trip
The Amsterdam to Bruges train takes approx. 3 hrs depending on the service you take. Tickets cost between €42 and €89 for second class and €64 and €106 for first class depending on the service and company. Most services will require a train change.
Amsterdam to Bruges Day Tour
Language:
Dutch is the main language spoken in Bruges and the northern parts of Belgium. French is also widely spoken throughout. You will find most people speak excellent English.
Currency in Bruges: Euro