Cinque Terre, a picturesque coastal area in Liguria, Italy, is one of the most iconic, beautiful and romantic regions in Italy.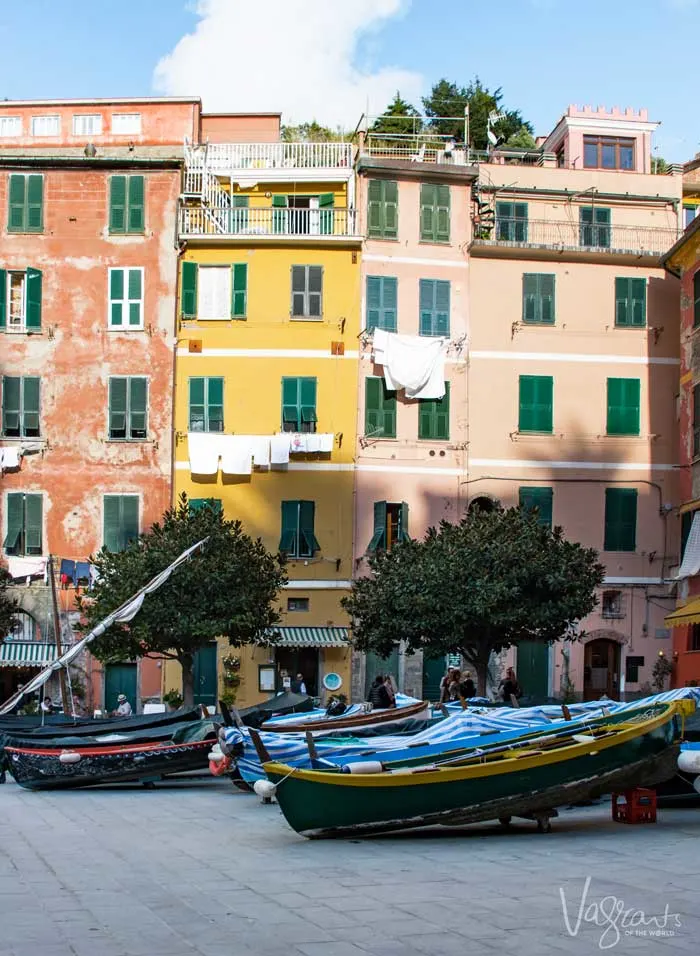 The name Cinque Terre means "five lands", which are the five villages of Riomaggiore, Manarola, Corniglia, Vernazza, and Monterosso. The area is a designated a national park and a UNESCO World Heritage Site.
Cinque Terre attracts around 2 million visitors each year- each looking for their little taste of La Dolce Vita. You could happily spend an eternity in the charming seaside Cinque Terre towns.
As the average visitor does not have such a luxury when planning their Italian itinerary, we have put together a two-day Cinque Terre itinerary to help you experience the highlights of the area. This itinerary is a great addition to our recommended Italian road trip itineraries.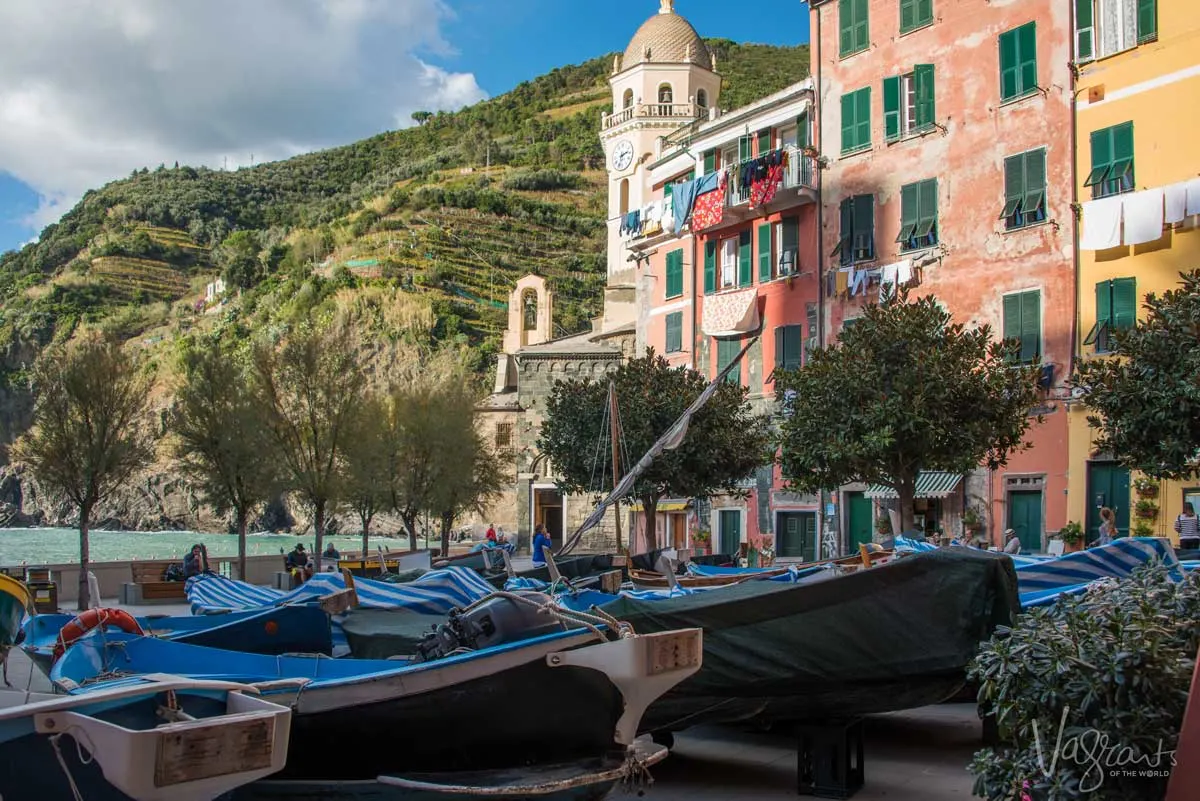 ---
Discover Two of Italy's Most Beautiful & Historic Islands: The two largest islands in the Mediterranean, the islands of Sicily and Sardinia are some of Italy's most beautiful destinations. Plan your visit with our 10 Day Sicily Road Trip Itinerary and Sardinia Travel Guide.
---
Practical Information
Trains to Cinque Terre
Depending on where you are coming from, take a local train to La Spezia where you can connect with the Cinque Terre Express line on the La Spezia – Cinque Terre – Levanto line.
How to Get Around Cinque Terre
Trains
Trains run all day (every 15 minutes) between La Spezia and the five villages. A single journey ticket will cost €4. Whereas purchasing the Cinque Terre Card from La Spezia station allows unlimited train travel between the villages for the period you purchase.
The Cinque Terre Card also gives you access to all of the hiking trails in the National Park. These are currently priced as follows:
Two-day ticket: €29
One Day Adult (everything): €16
One Day Child (everything): €10
One Day Family (everything) (2 adults 2 kids): €42
You can find out more about the Cinque Terre Card here. You can only buy the Cinque Terre Card at the train station, not the machines.
We strongly recommend purchasing your ticket the evening before or as early as possible as the ticket office gets swamped, especially with day-trippers. You should also write your name on the card, and you'll need to validate it before use.
The tickets are only valid until midnight on the day it is validated (obviously excluding 2-3-day cards).
ESSENTIAL ADVICE: Make sure you validate your ticket every single journey in the machines at the stations. We forgot on the very very last train ride of the day- and were fined €100 – Each.
Hiking Around Cinque Terre
You can just buy your train ticket from La Spezia to Cinque Terre (€4 each way) and then a separate ticket for hiking if you prefer. In which case, the tickets just for hiking currently cost:
Adult (hiking only) €7.50
Child (hiking only) €4.50
Family (Hiking only) €19.60
Of the 48 hiking trails in Cinque Terre, you only need the Cinque Terre Card for the two most famous trails – Monterosso to Vernazza and Vernazza to Corniglia. All others are free, and all trails are free in winter between November and Easter.
You can find more information about the Cinque Terre footpaths here.
You used to be able to hike between all five villages, but several trails are now closed due to landslides, and there is no specific information on when or if they'll open again. The rough estimate is around 2021-2022 for some of them.
So, for now, you can only hike between Monterosso al Mare, Vernazza and Corniglia. The other villages you will need to take trains.
2 Days in Cinque Terre
Day One-Getting to Cinque Terre
The closest big cities with airports are Genoa and Pisa- each about an hour away by car.
That said, it is NOT a good idea to drive to Cinque Terre. The roads are so small it is practically impossible to drive there safely. Also, there is little in the way of parking (unless you have a permit) and fines of up to €100 for entering restricted traffic zones.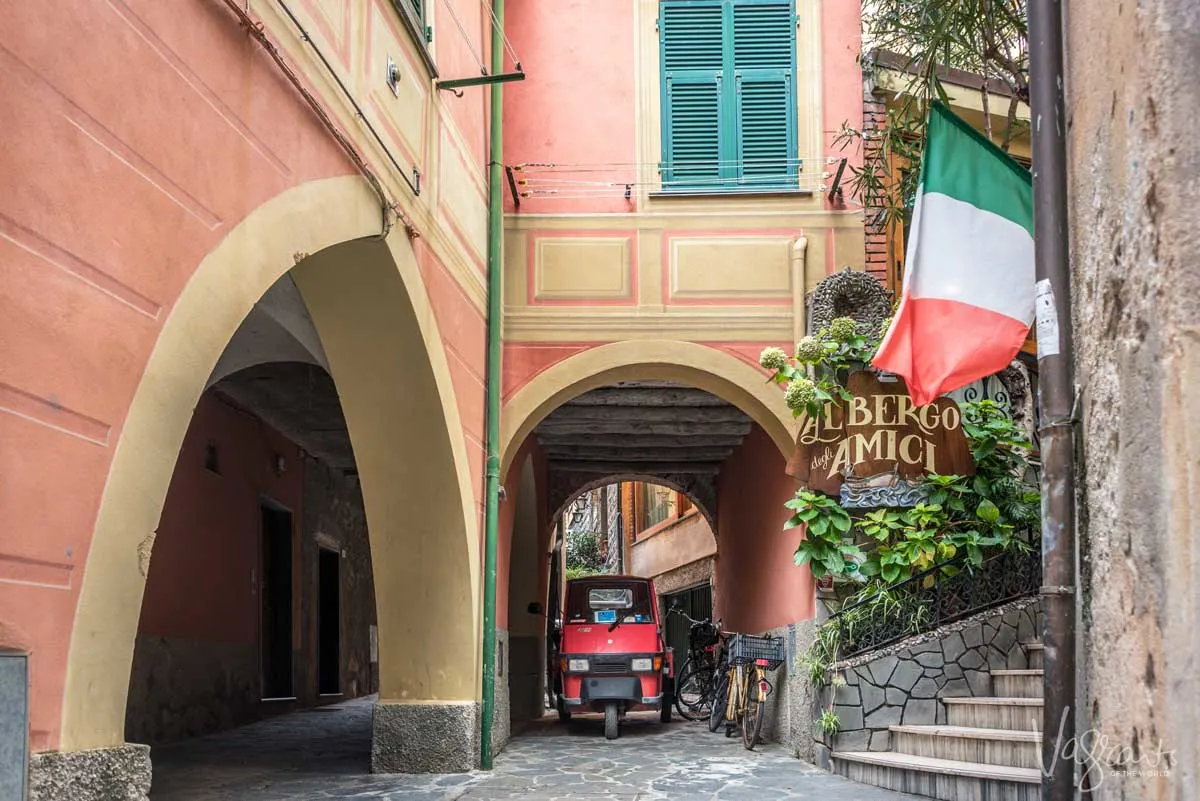 TIP: If you are on a road trip, this can cause problems. We were campervanning through Italy and were warned numerous times about taking a motorhome or camper into Cinque Terre.
Our advice is to find a campsite or hotel with parking outside of the National Park and take the train into Cinque Terre.
La Spezia is the closest city and accommodation in or around La Spezia will be cheaper than in the five villages. Alternatively, find somewhere safe to park your vehicle for a couple of nights (such as La Spezia) and leave it there while you enjoy a stay at a hotel in one of the prettiest places in Italy.
Once you've arrived in Cinque Terre (hopefully in time for sunset), relax at your hotel and enjoy a well-earned glass of local wine on the terrace. You have a lot of walking to do over the next couple of days, so take the first night to relax.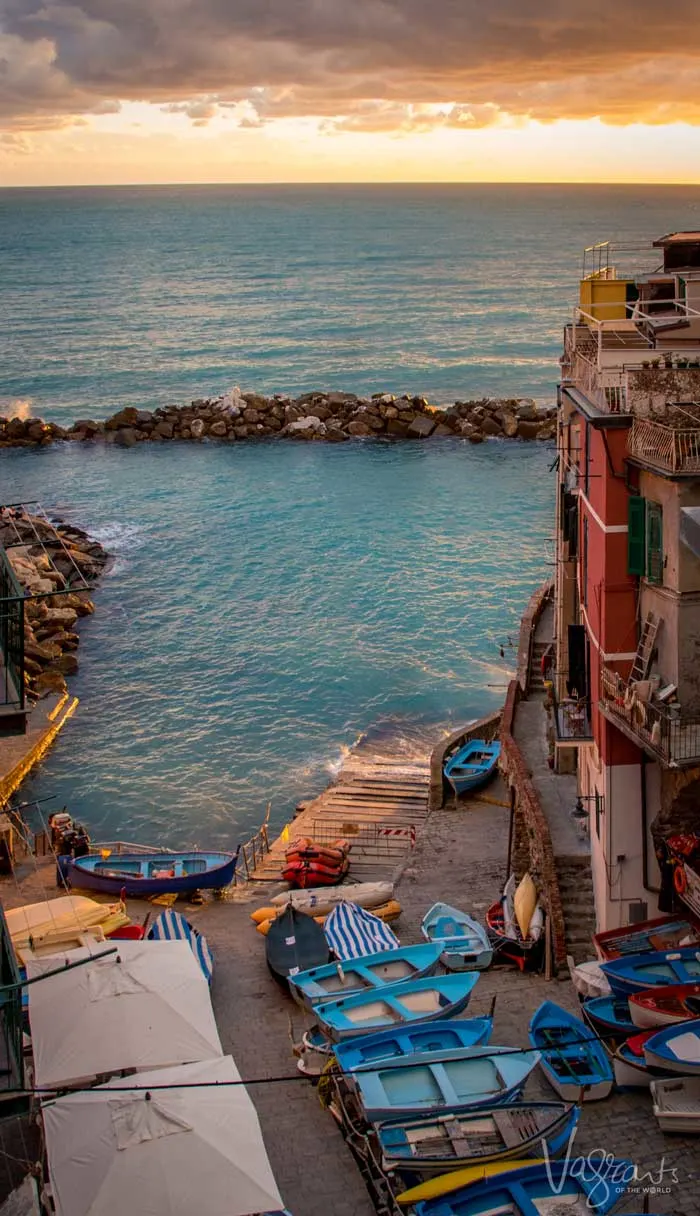 Day Two
Our itinerary starts in Monterosso so, if your hotel is elsewhere, you will need to take the train to Monterosso.
Enjoy breakfast at your hotel or grab a delicious bite from the Wonderland Bakery in Monterosso and eat on the seawall.
Monterosso is one of our favourite villages in Cinque Terre. There are charming shops on every corner and so much to explore. So, if you don't fancy hiking, there's plenty in Monterosso to amuse you.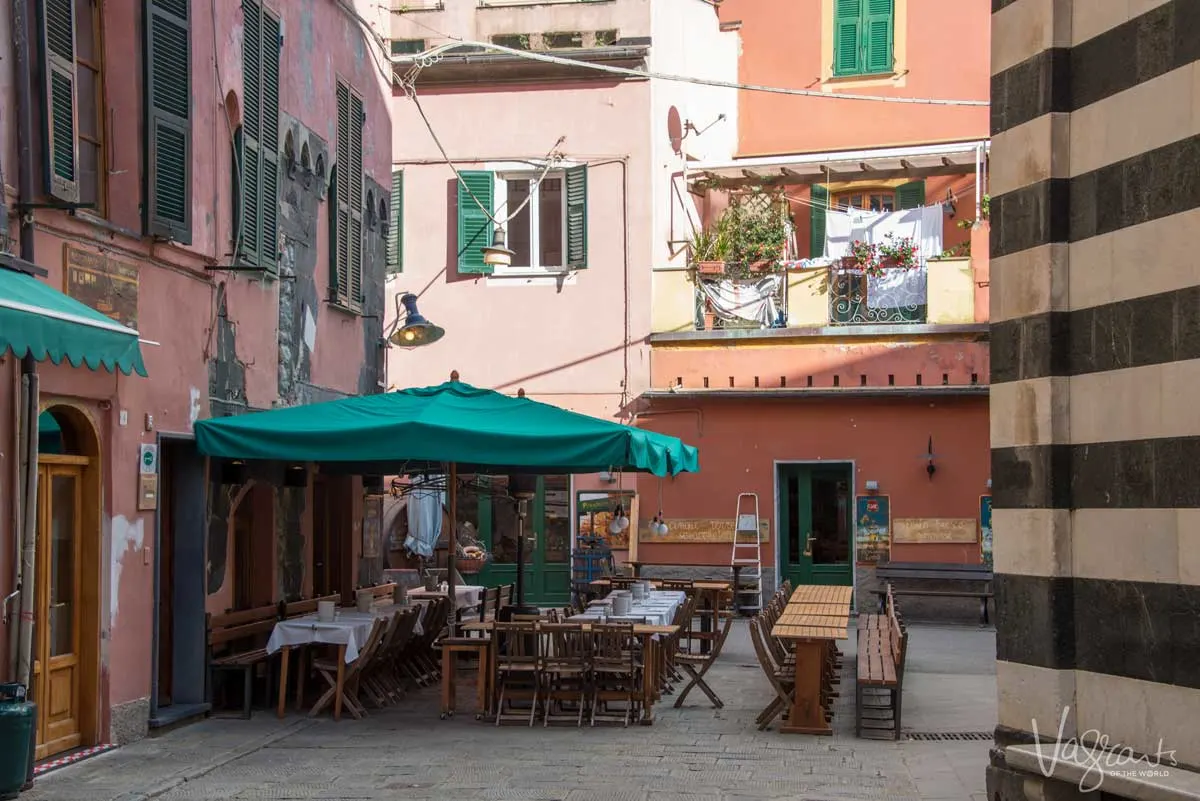 Hiking Itinerary
Morning-Hike to Vernazza
If you do fancy the exercise (more guilt-free gelato for you), enjoy the hike from Monterosso to Vernazza (about 2 hours), where you can enjoy lunch and incredible views.
Hiking Tips for Cinque Terre
Bring water. The trails have no rest facilities.
Take sun protection, even if the day is overcast. The Mediterranean sun is hot.
Wear appropriate footwear. These trails are often steep and take a couple of hours each. This is not the time for flip flops.
The best time is early morning or evening when the trails are quieter, and the sun is less aggressive.
Kids and dogs may find the heat exhausting- be especially aware of their health.
Afternoon
In the afternoon, you can either continue the hike to Corniglia (another 1.5 hours) or explore by train. All the villages are unique in as far as character, atmosphere, shops, restaurants and cafes and things to do.
Tip: If you want to prioritise your time in Cinque Terre and wanted to miss one of the villages, Corniglia is the one to miss.
Evening
If the weather is favourable, book a sunset boat cruise– it's ridiculously romantic and a fantastic way to see Cinque Terre from the water. During peak season it is advisable to book in advance.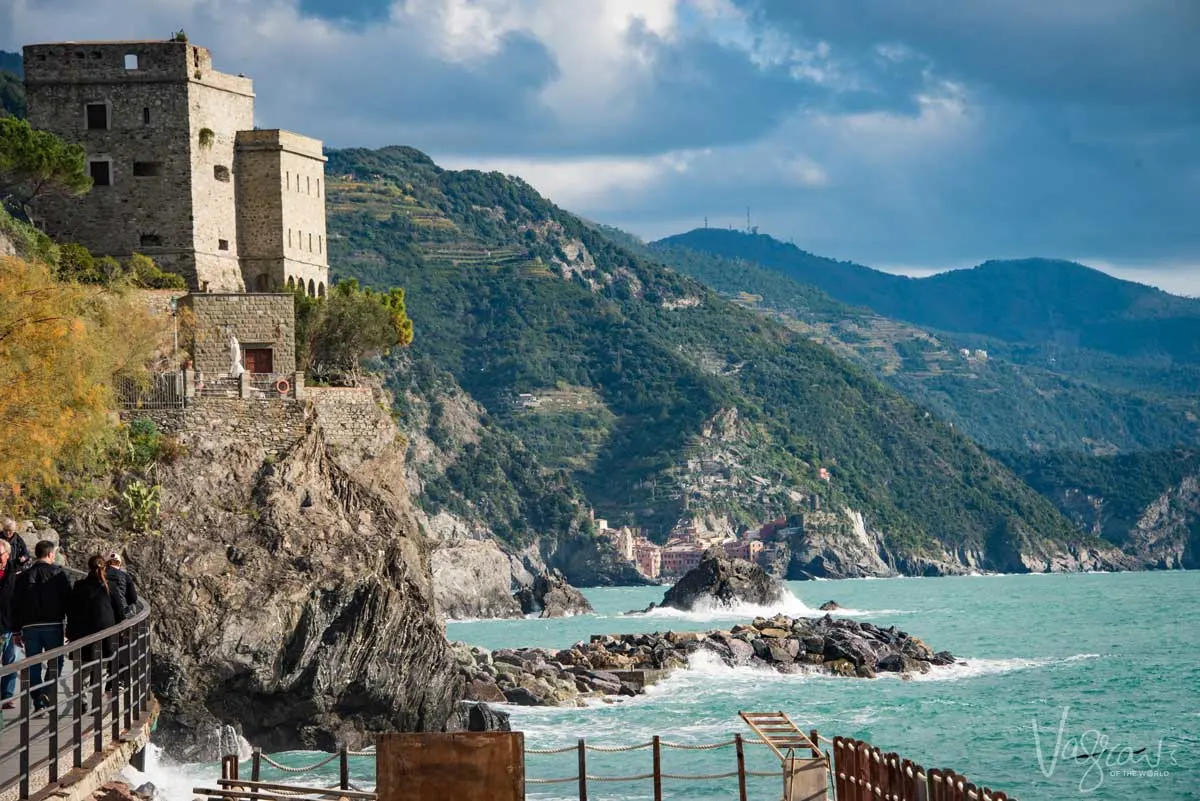 Non-Hiking Itinerary
Day
If you aren't hiking, use the train to explore Monterosso, Vernazza and Corniglia. From Monterosso, you can also kayak, sail, fish or book a dive trip. Or, relax on one of the few sandy beaches in Cinque Terre where you can rent a sun lounge and umbrella and enjoy the Italian Riviera atmosphere.
In Vernazza, make sure to visit Castle Doria; the medieval defensive site on top of the hill. Below Castle Doria is Belforte Bastion- also worth a visit.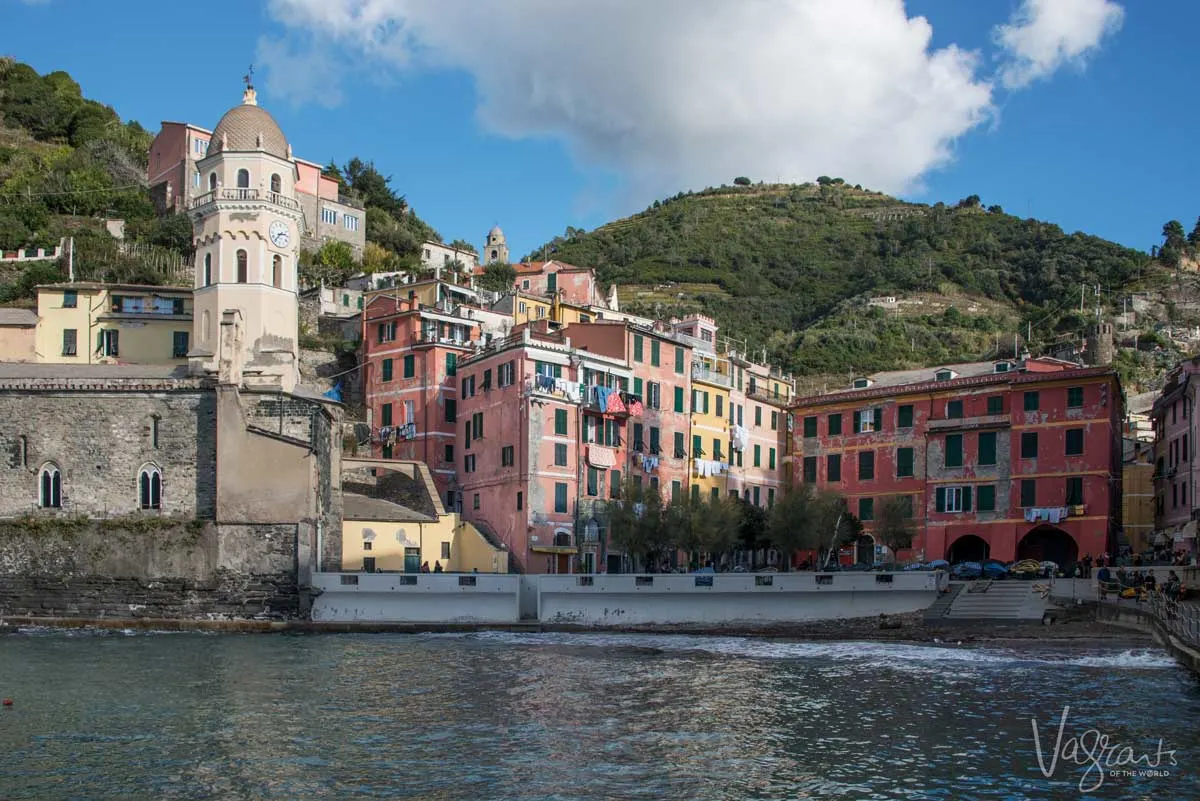 Corniglia is the only village without water access. But it does provide a gorgeous scenic outlook, an excellent spot to see the town awash in a beautiful orange glow at sunset.
It also enjoys a reputation as one of the quietest villages and least commercial of the five, making it an ideal place to escape the tourist crowds, especially in peak season.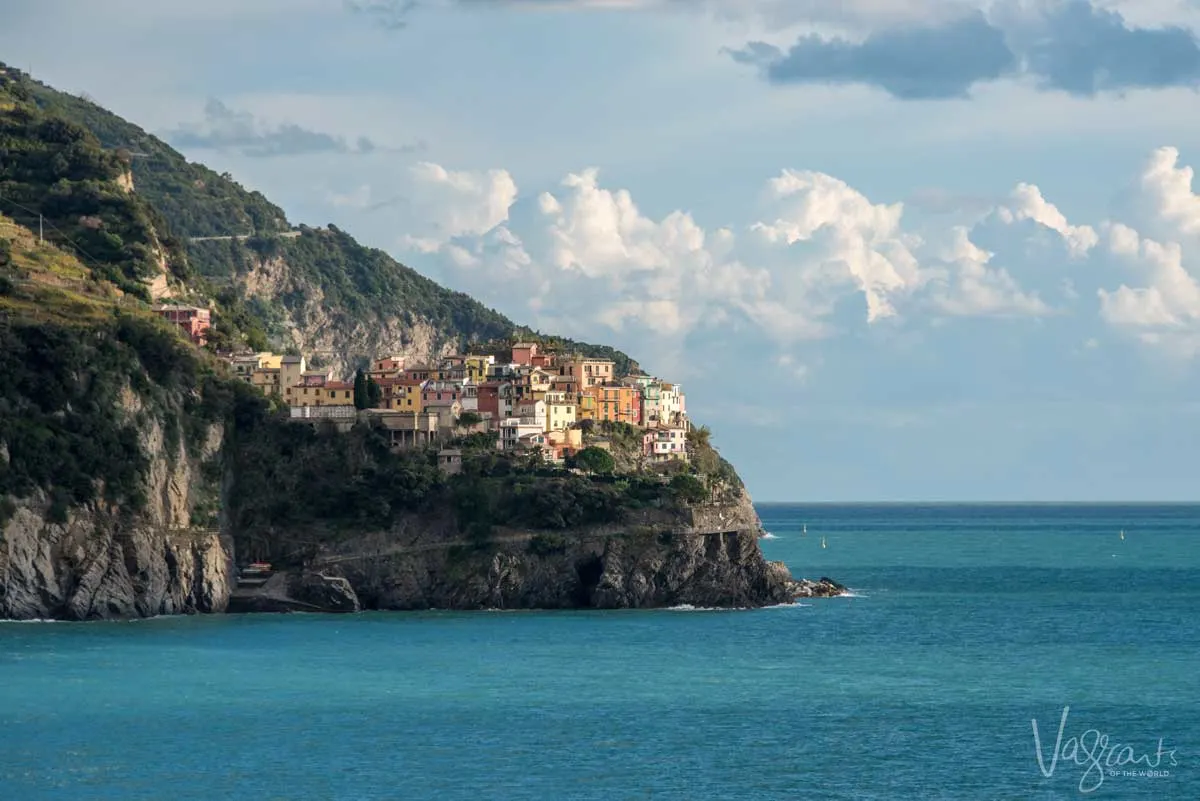 Evening
Once you've explored Corniglia, take a train back to your hotel and prepare for an evening boat tour from Monterosso (al Mare.) You can also do this from Riomaggiore if you prefer.
The cruise usually has 8-10 people and is a very romantic trip. Tapas, champagne, wine and Antipasto are provided. Times and availability do vary (and it doesn't run out of peak season), so please do check in advance.
Cinque Terre Sunset Cruise Recommendation
Take a gorgeous 3-hour sunset cruise to see the beauty of the five villages from the sea at the most romantic time of day. Relax on the deck while enjoying an aperitif of prosecco and local snacks.
A short stop in Vernazza offers the opportunity to taste some local specialities at a restaurant on the square and in the summer months, a sunset swim in the clear waters of the national park is possible. Included: Snacks, alcoholic beverages, bottled water, snorkel equipment, and beach towels. See here for full cruise details and prices.
Day Three
After a big day, enjoy a lie-in, before exploring the other two villages.
If you enjoyed your sunset cruise, it is possible to take a daytime cruise to four of the five villages by boat (excluding Corniglia which is on a high hill and has no water access). Again, the boats only run in high season and stop running at the beginning of November, so this is something to consider when planning your trip to Cinque Terre.
Also, it takes a lot longer to get places by boat than by train, so bear that in mind when deciding your mode of transport for the day.
You do not need to book in advance for these boat trips, just show up at the harbour and buy your tickets there.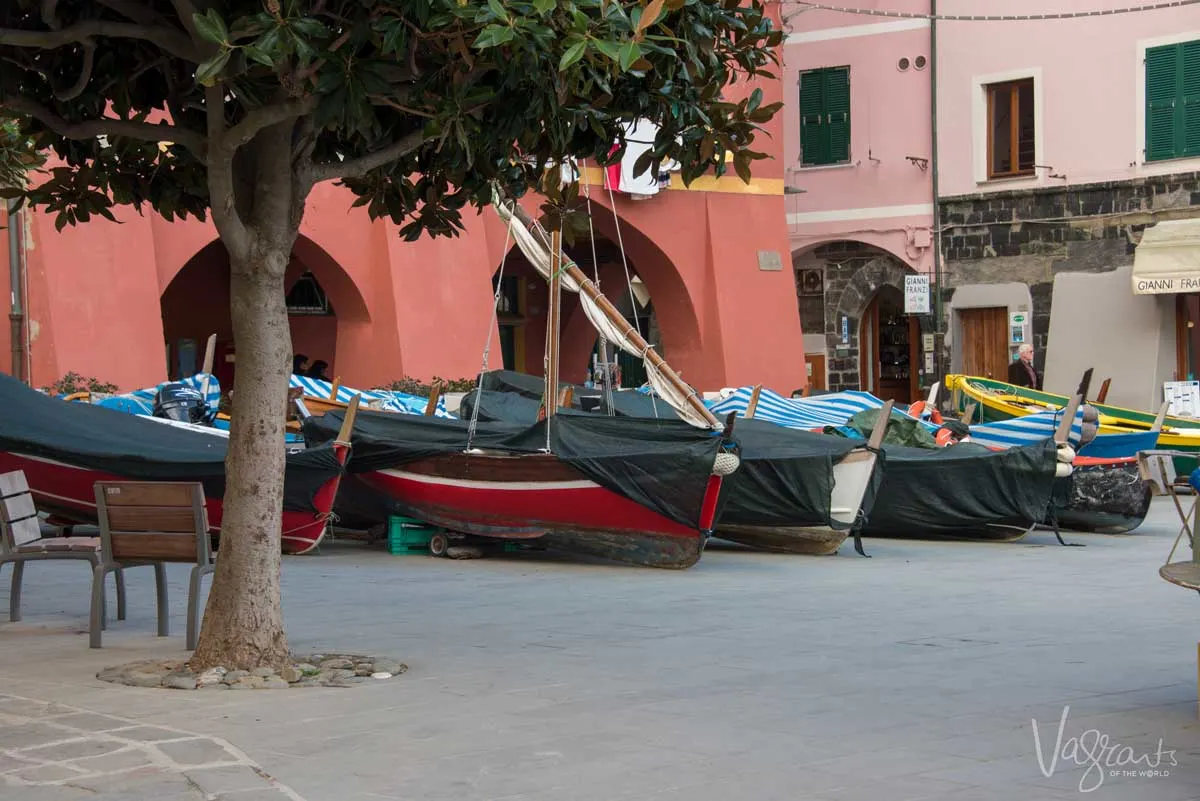 Day
Start your day in Riomaggiore. Depending on where your hotel is, take either the train or a boat.
Riomaggiore
There are plenty of places to enjoy lunch in Riomaggiore when you arrive. The harbour is cute and worth a photograph but, honestly, you don't need to spend a lot of time here.
Once you've explored Riomaggiore, head to Manarola.
Manarola
Manarola is famous for being one of the best places to see the sunset in Cinque Terre.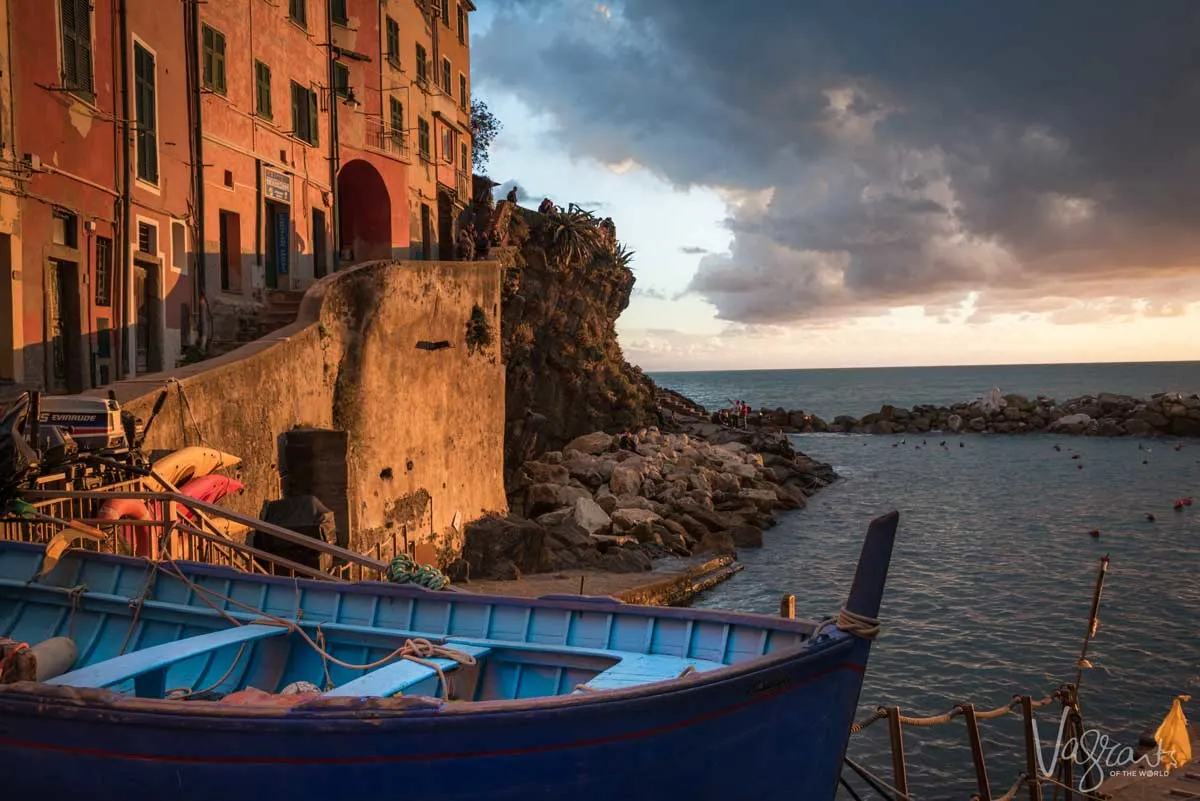 If you're interested in local wine, then you should book a wine tasting tour or even a pesto making class. For the more adventurous, you can also go paragliding over Cinque Terre– something you'll never forget.
There is a beautiful harbour where you can swim if it's warm enough. Enjoy an ice cream from Gelateria Enrica, browse the pretty shops and pick up some souvenirs (including authentic limoncello).
Then, climb the trail to St Francesco for one of the best sunset views over Cinque Terre. Hopefully, you can spend the night here for one last taste of Cinque Terre before you need to depart.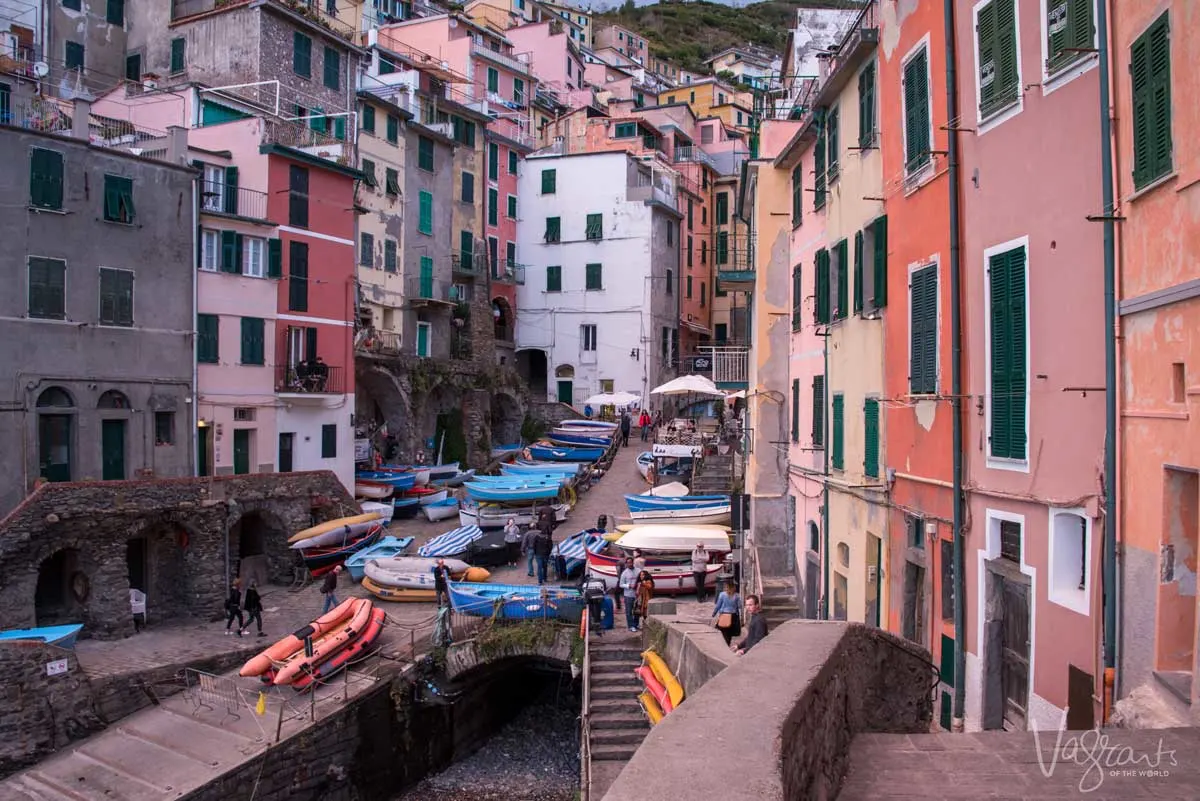 ---
---
About the Author
Kathryn Bird
Together with her husband and cocker spaniel puppy, Kathryn explores Europe by motorhome and motorbike, sharing her experiences on the award-winning travel blog Wandering Bird. In two years, they have visited 19 countries and driven nearly 50,000 miles in their motorhome- not including the times they got lost.
She is passionate about inspiring others to have their own adventures and experience the freedom of life on the road, whether it's a long weekend or a month away. You can find more of their tips, advice and free guides for travelling by motorhome or camper on their website or Youtube channel.