A Sicily road trip is not just a bucket-list-worthy tour. It's an experience connecting travellers with the heart of Italy.
A road trip through Sicily is discovering some of the most delicious food in the world. Getting lost in the heart of a street market, asking for directions, only to have 20 people shouting directives at you.
It's the warmth of its people, the beauty of nature and discovering the story of ancient history. It's also the simple pleasure of balconies covered in freshly cleaned laundry in quaint narrow alleyways. Sicily is one of those surprisingly romantic Italian destinations that will steal your heart.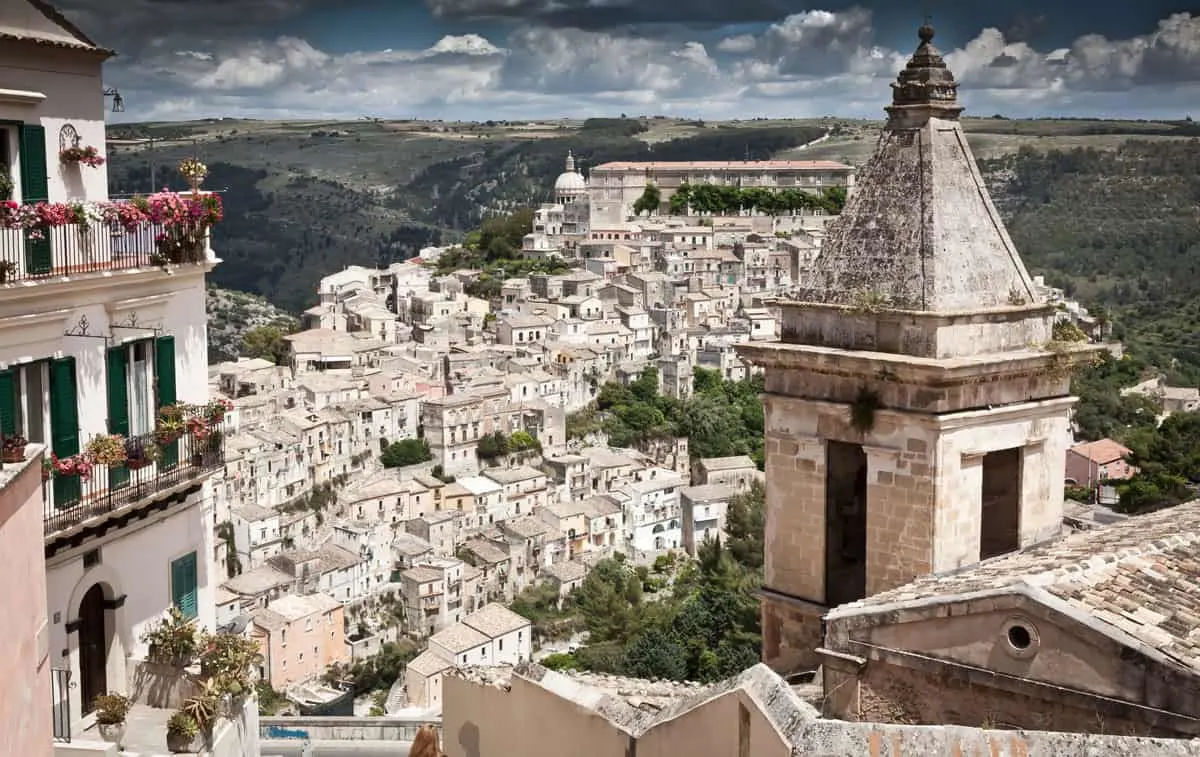 All these experiences make Sicily not just Italy's most famous island but the big sis of the Mediterranean. A unique connector between Africa, Europe, and all things in between. Step into this generous land, and plan an epic Italian road trip, Sicilian style.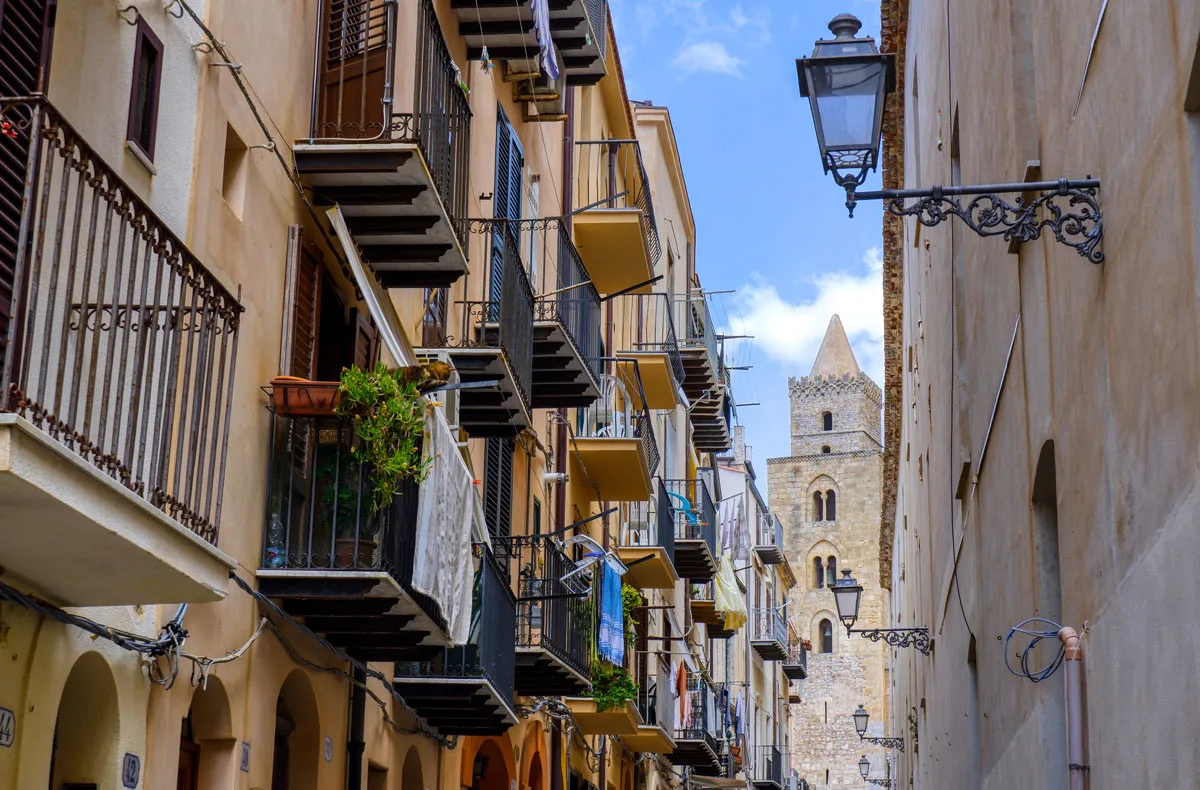 A Guide to the Ultimate Sicily Road Trip
All your Sicily road trip planning is covered in this guide. It has all the information you need to circle the island by car, camping tips, a look at costs, and optional side trips.
Learn how to get there, what to eat, and how to make the most of your Sicilian adventure.
This tailored map covers all the stops in this guide to road-tripping Sicily.
A Little About Sicily
Sicily is located south of Italy and is the largest island in the Mediterranean. Its history dates back thousands of years, with evidence of human settlements from 10,000 BC, and Greek temples and villas established around the 8th century BC.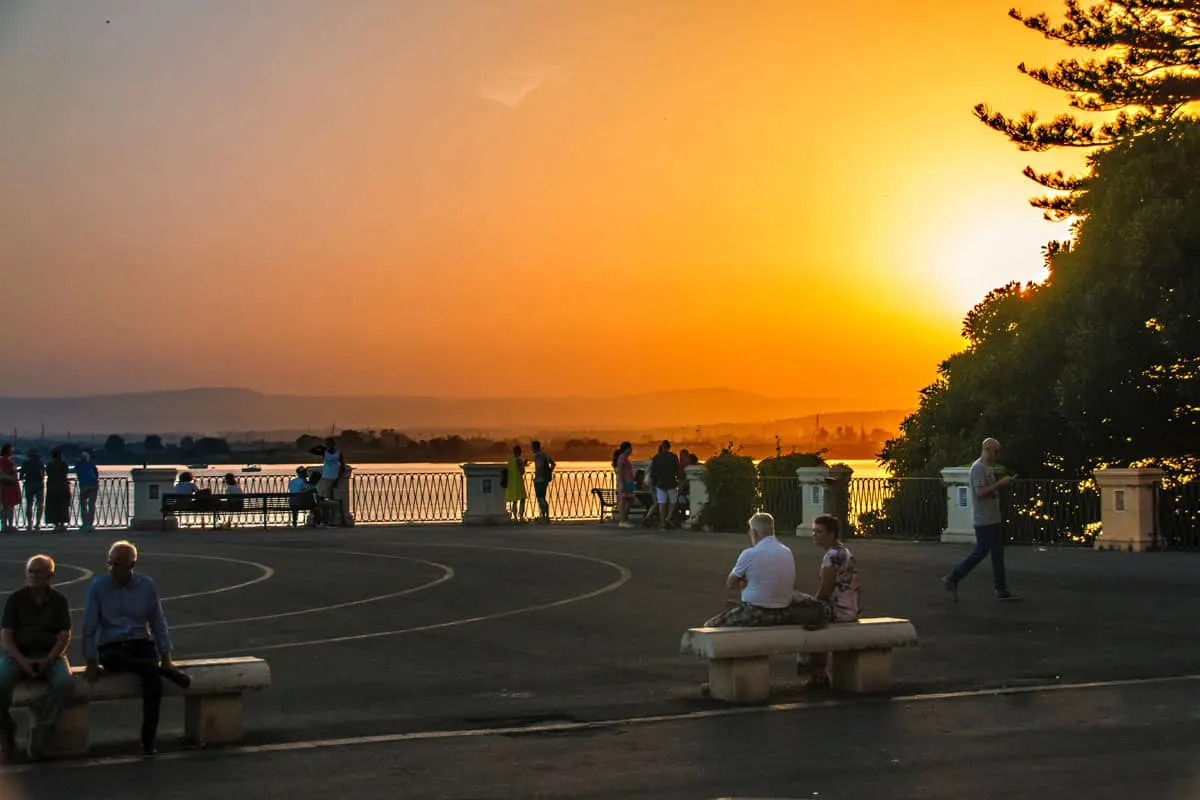 Sitting close to Africa, only 96 miles from Tunisia, the island also has strong historical influences (or was ruled by) from Arabs, Normans, and Byzantines, to name a few. So, it's fair to say, Sicily has come a long way to become the melting pot of cultures the island celebrates today.
---
You Might Also Like: Discover Italy's most beautiful cities – The Perfect Five Day Venice Itinerary and The Best Things to do in Rome
---
How to Get to Sicily
Ferry
There are many ways to get to Sicily. The most popular is to cross the Strait of Messina by ferry from Villa San Giovanni -mainland Italy. The trip takes 20-40 minutes.
The costs vary – if you are crossing with a car, the season, and the time of your departure. However, you can expect to pay about 30-40 EU one way, with a standard-sized vehicle.
You can book your trip online or at the counter.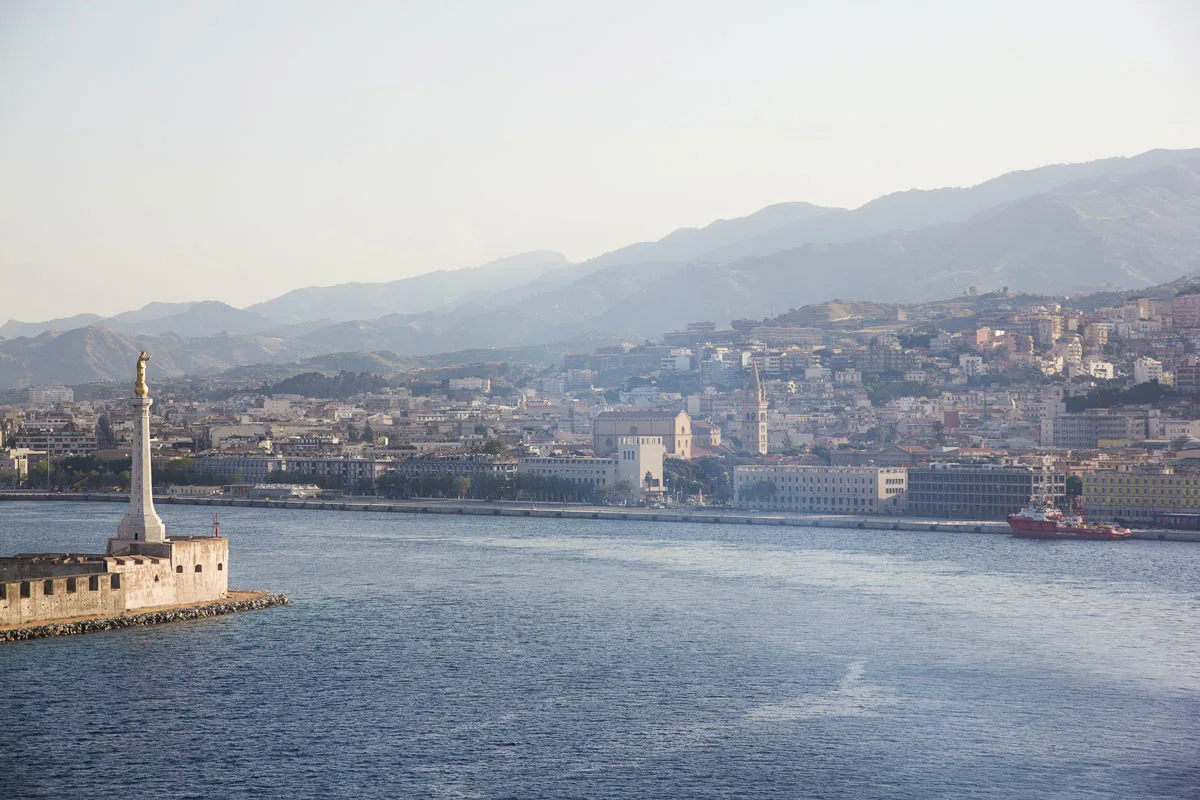 Train
If you choose to cross by train, you'll still need to take the ferry, and then reconnect with the train once you reach the island. If, for example, you hop on a train in Napoli, the journey would take just over 6 hours and cost 20-30 EU.
You can book your trip online or at the station.
Fly
Another option is to fly. There are two international airports in Sicily. One in Palermo -Sicily's capital- and one in Catania. You can fly in pretty much from anywhere.
---
Discover Italy's Beautiful Liguria region: 2 Day Cinque Terre Itinerary and The Italian Ligurian Coast
---
How to Plan Your Sicily Road Trip
The main challenge of planning a road trip across Sicily is to pick between a slew of stunning places. That's also a huge perk. Regardless of where you go, you will undoubtedly enjoy the unique experiences of every spot you visit.
With this in mind, this guide offers an itinerary covering many of Sicily's main sights, plus additional and optional stops. The aim is to give you the most comprehensive experience of Sicily in 10 days.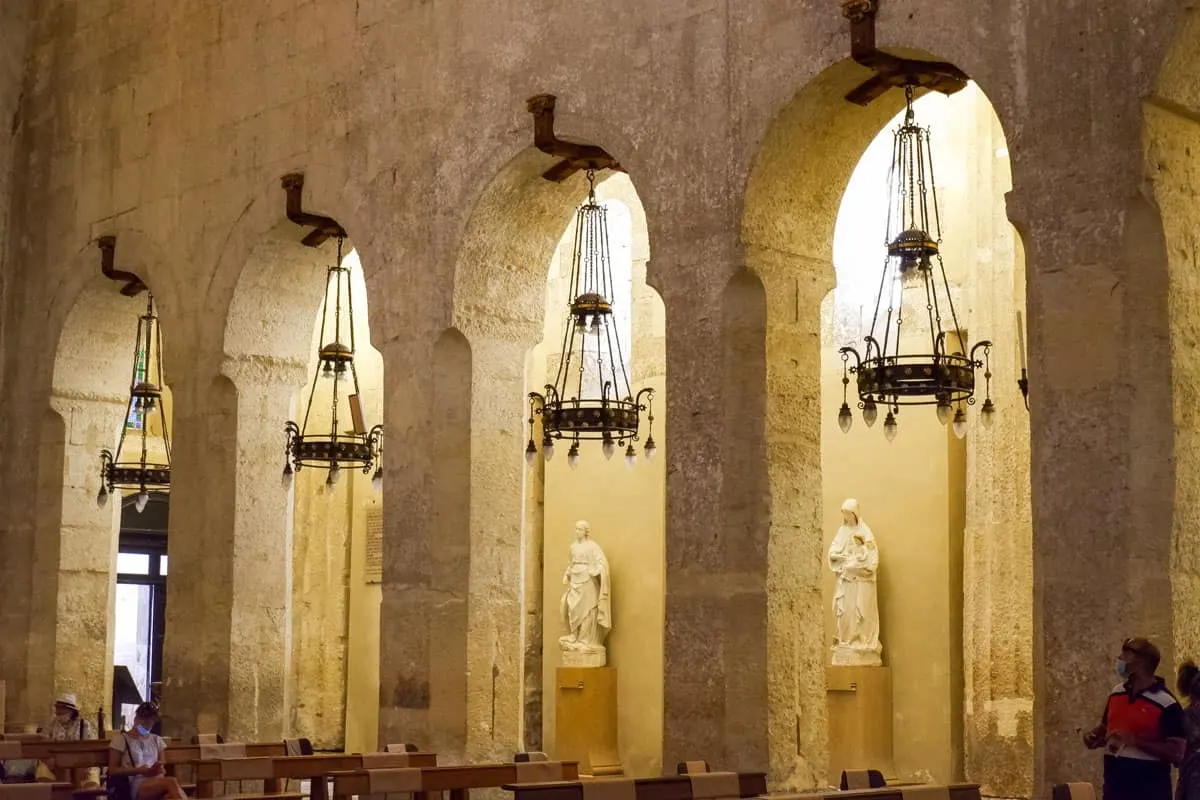 Where to Start Your Sicily Road Trip
If you are crossing from mainland Italy, you'll start your journey in Messina. The big decision to make here is whether to begin clockwise or anticlockwise. As most of the main sights sit on the coastline, you'll loop and finish in Messina. Or, if you are flying out – Palermo, or Catania.
Stops like Mount Etna, one of the most active volcanoes in the world, and Ragusa will take you away from the coast of Sicily and across the countryside.
It's important to know there will be a lot of driving involved on this trip.
Where to Stay in Sicily
If you choose to stay in hotels, then you could easily spend a few nights in the main city hubs. However, if you are looking for a camping experience, it's best to stick to small villages. Finding campgrounds around cities like Palermo, Catania, or Taormina can get complicated.
Sicily is well-developed for tourists, but finding parking in crowded city areas can be a curse. With narrow and tangled streets, many hotels don't have designated parking so you will have to find your own.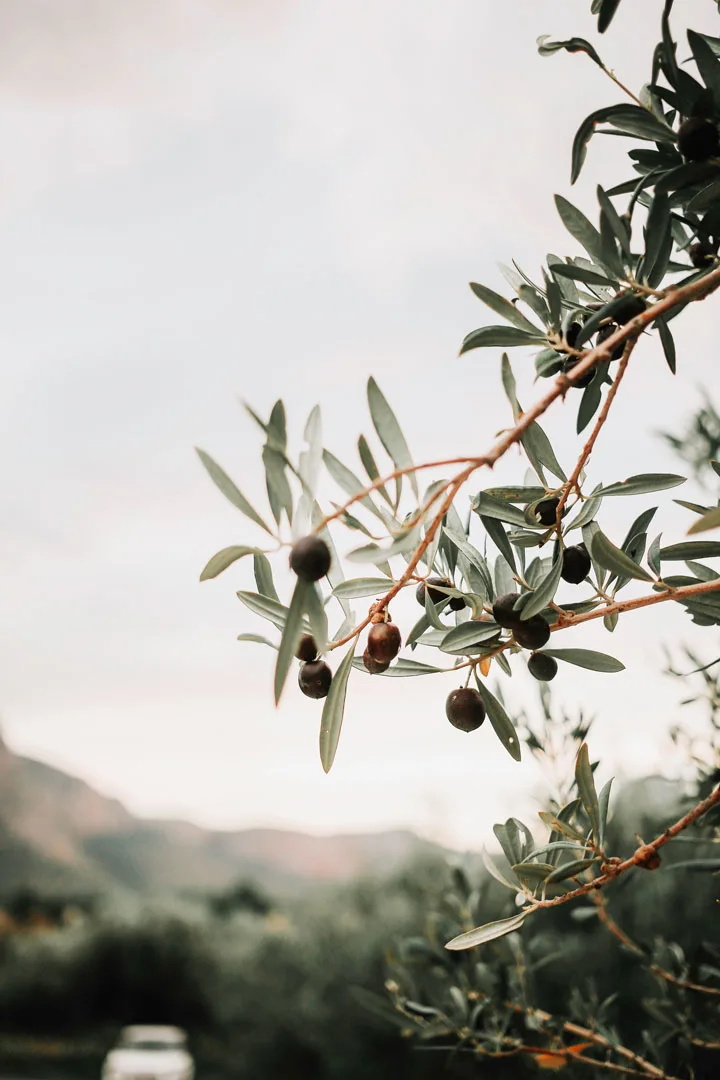 Camping in Sicily
Camping, if done right, can be such a fantastic way to experience Sicily.
There are plenty of campsites all around and across the island, especially if you are not fussy about quality. So it is possible to just turn up and claim a spot for the night. Camping this way takes all the hassle out of bookings, check-in times, and most importantly, parking. Although, can be hit and miss, especially during peak season.
Wild Camping In Sicily
In the case that you don't find a campsite, it's important to have an understanding of the rules regarding wild camping in Italy.
Wild camping in Italy is forbidden by law. Yet, it's not enforced equally across the country.
In the case of Sicily, the island is quite populated, so it can be hard to find a suitable area that's off the road and not within private land. Of course, again, this is not legal, so only resort to wild camping if you have no other choice or are tired of driving and desperately need to catch some sleep. Although, in this case, it would be recommended to check locally for a hotel for the night.
If you want to experience nature in full and decide to camp in Sicily, even if for only a few nights, make sure you plan and bring your camping and hiking gear with you.
Search Accommodation in Sicily Italy
If you decide to take the hotel option, you can search current hotel rates in Sicily here or use the map to see the best rates by region.
Always check to see what each hotels cancellation policy is before booking.
Be Prepared for Driving in Sicily
It may seem quite obvious, but driving in Sicily will demand 100% of your attention. Always prepare for the unexpected.
You'll see everything from kids jumping on the front seat without a seat belt to cars without doors, and folks trying to intimidate you on the road. Try to relax, enjoy the experience, and go with the flow. Be careful, but also be assertive – stand your ground and don't let other drivers fluster you.
Also, be mindful of the number of kilometres you'll need to drive from spot to spot and plan your daily itinerary to allow for delays.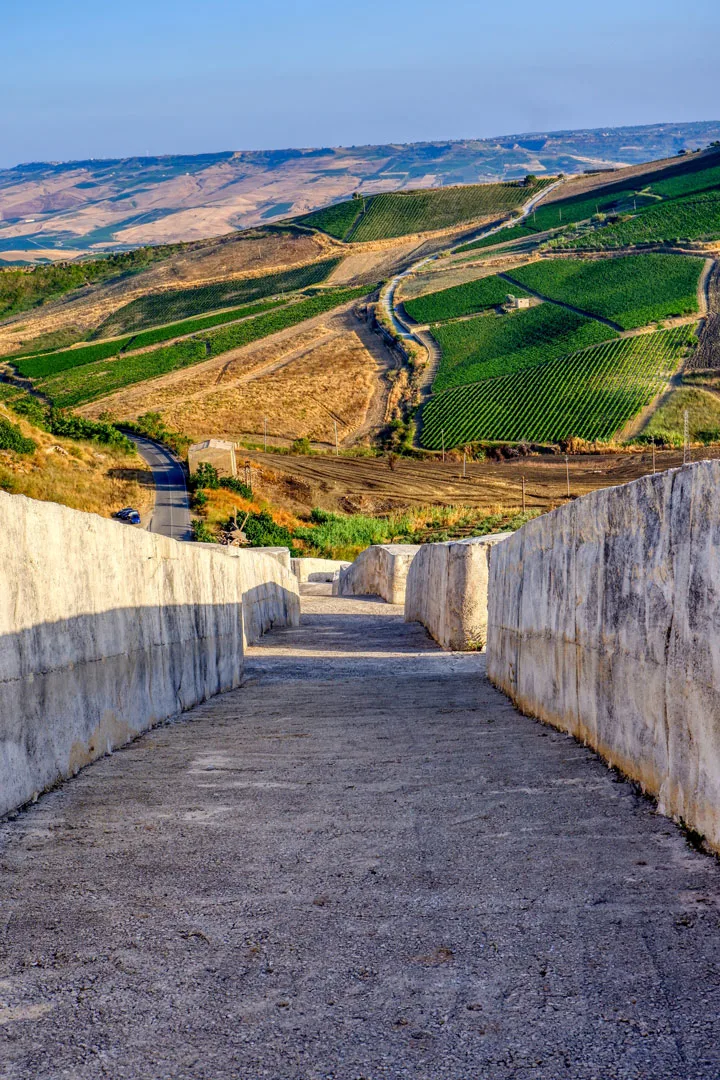 Tips for Driving in Sicily
Driving in Sicily can seem chaotic, but there is a particular flow to it. A kind of organised chaos. Road rage can happen, but it's merely a matter of how "expressive" people get on the road. Find a balance between not being carried away but holding your ground. Otherwise, other drivers may not respect you.
The roads connecting the main sights along the coast are not great. Keep an eye on bumps and locals skipping road signs.
Local coastline, inland, and southern Sicily roads are toll-free, except for the A20 and the A18 that are part of the freeway.
You could indeed connect many towns with the freeway, but where the magic happens is on the local roads.
When it comes to speed limits, it's essential to know; even though many people don't seem to respect them, you can get hefty fines if caught on camera.
The same goes for parking. It can be hard to figure out if you can or cannot park in some areas. The worst part is, you may end up receiving a ticket at your residential address, and you'll have to pay it. So, even if it seems no one is watching, try not to test your luck.
Urban areas have a speed limit of 50 km per hour. State, provincial, and local roads range between 110 and 90 km per hour. Highways top it up at 130 km per hour.
Tips for Renting a Car in Sicily Italy
Always rent from a trusted agency. Some local agencies have sort of 'unwritten' rules that could catch you out.
Some agencies may try to accuse you of damaging the vehicle. Always take photos when you pick up your rental and when returning it.
Take your international driving license with you -required for renting a car in Sicily.
Read your contract, and be aware of the excess fees and type of insurance.
If possible, rent a small car. Streets are narrow, and parking spots are extremely limited in crowded areas. In most cases, it is better (and less stressful) to park just outside town and walk or hop on a bus.
Rental Car Recommendations in Sicily
If you don't want to rent a car on the mainland and take it on the ferry, you have various options for renting a car through reputable rental car companies once in Sicily.
We always use Discover Cars as they aggregate the best local deals and have no fees and free cancellation.
From Messina: If you arrive by ferry, you can collect a rental car from Messina – Compare car rental rates here for Messina.
If you are flying in, you can collect cars from all the main airports. This is the cheapest option if renting once you arrive in Sicily as there is a greater choice of companies.
Check car rental rates for Palermo Airport here.
Check car rental rates for Catania Airport here.
Tip: Always check if you have car rental insurance included on your travel insurance or with your credit card company before paying any additional to the rental car company.
What to Eat in Sicily
When travelling around Sicily, eating is just as important as sightseeing. Sicily is a big island, and each region boasts its typical cuisine and fresh produce. With this in mind, you will need to allocate some time to experiencing culinary Sicily.
While Sicilian food deserves an article of its own to cover all the incredible food you can discover, here are five delicious traditional foods to try during your visit to Sicily.
Cannoli
Going to Sicily and not trying a cannoli should be considered a crime. If you could try only one thing, this would be it. Why? It's tough to find proper cannoli anywhere else in the world. This cheap bite deserves a place in heaven. Cannolis consist of a fried tube-shaped pastry that's filled with sweet ricotta.
Granita
Semi-frozen sugar and water in a range of flavours make up for a perfect summer treat. The Sicilian Granita is notable because it's not a sorbet, nor an ice-cream. It's more of a slushy, with crispy ice-flakes.
Arancini di Riso
An essential Sicilian snack. These fried crispy rice balls come filled with Ragu -minced beef tomato sauce-and peas, or mozzarella cheese. You'll find these everywhere around Sicily.
Pane con la Milza
A locals' favourite in the area of Palermo, the Pane con la Milza is a sandwich made with soft bread -like a burger bun- and stuffed with spleen. A delicious treat if you are into offal.
Pasta alla Norma
Moving to the other end of the island, the Pasta Alla Norma is a traditional pasta dish from Catania. It consists of eggplant, basil, tomatoes, ricotta, and macaroni: a real belly and heart filler suited for vegetarians.
10-Day Road Trip Itinerary Sicily
Now that you are well on the way of becoming an expert on all-things-Sicily, it's time to get the wheels turning.
This itinerary will start from Messina. After your arrival, you'd be heading East and do a full loop around the island, finishing on day 10, again in Messina.
It's also possible to do it the other way round. The reason for starting toward the East is to tackle a bit of adventure at the beginning and catch some relaxing beach fun in the last few days.
Day 1
Arriving in Messina, and Driving to Taormina with a Night by the Etna Volcano
You've made it to Sicily – Benvenuti. As soon as you leave the ferry in your rental car, start driving south on the coast of Eastern Sicily. If possible, try to cross in the morning so you can spend the day enjoying your first stop, Taormina.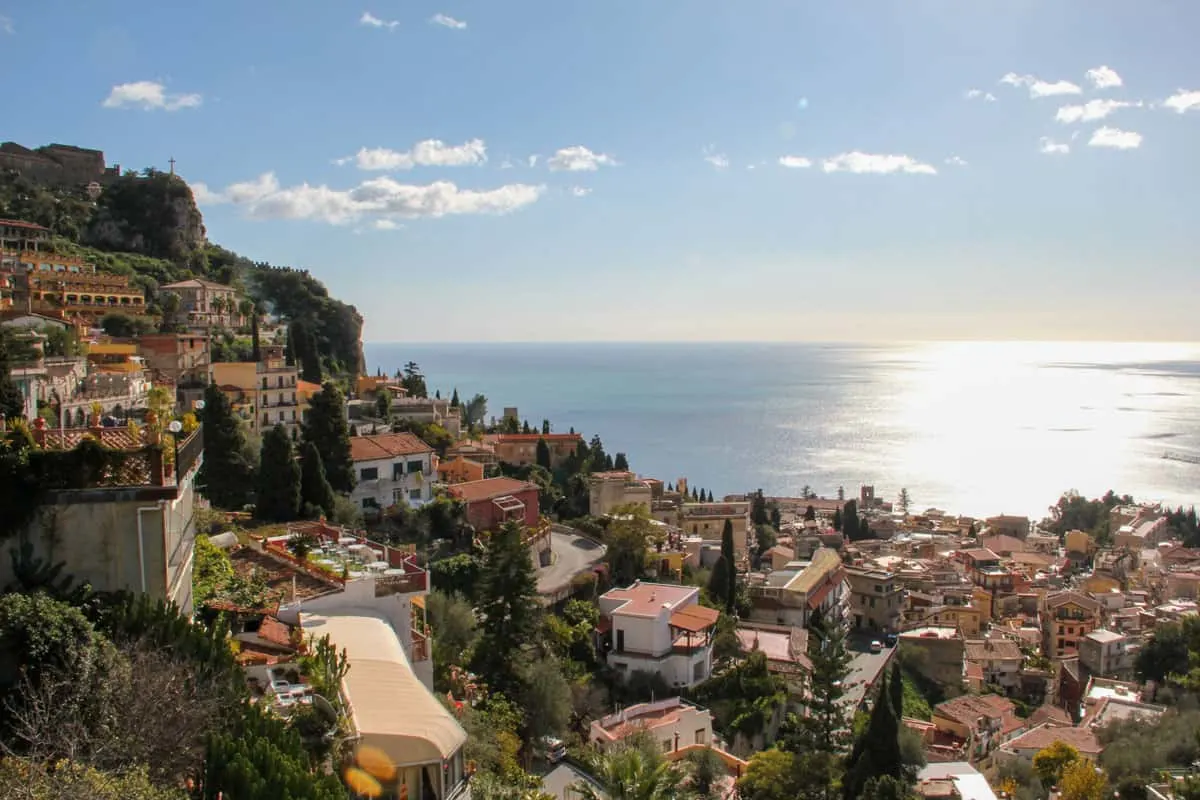 Taormina is one of the most touristic spots in Sicily. Known as the Sicilian St. Tropez, the hilltop village is an excellent starter for your Sicilian tour. It's worth spending about half-day there, but it's not the best overnight option if you are on a budget.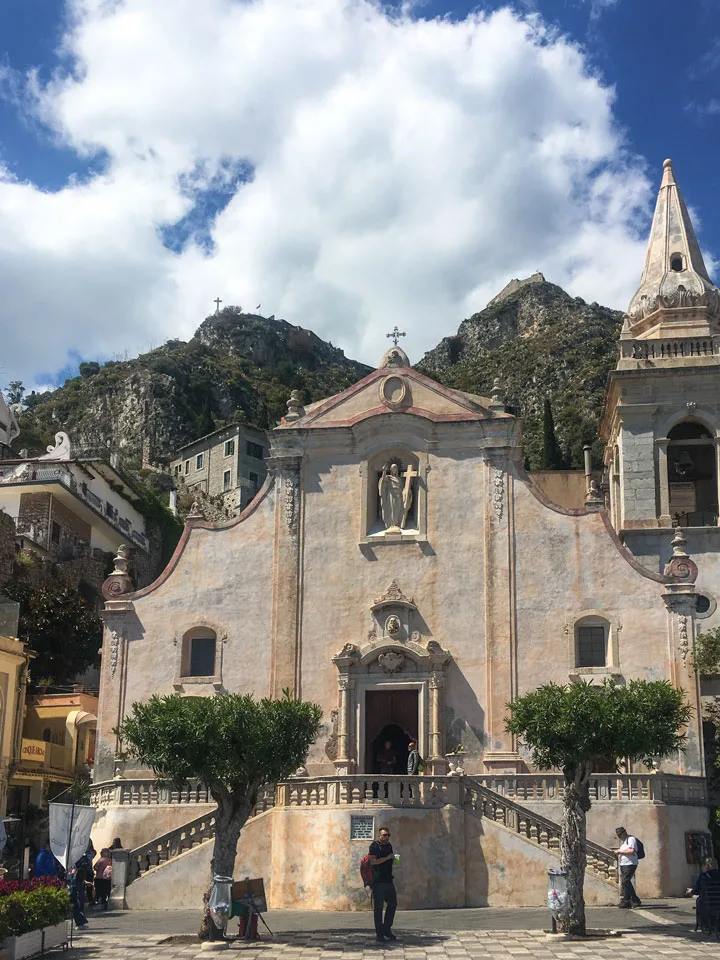 Walk along the main street – Corso Umberto, sit at the Piazza Aprile and contemplate the incredible panoramics from the top.
Greek Theatre of Taormina
Head to the Greek Theatre of Taormina for your first dose of Sicilian ancient history.
Tickets cost 10 EU, and the visit takes just under 1 hour. The theatre's opening times change throughout the year – As a reference, during the summer season, it stays open until 6:30/7 pm.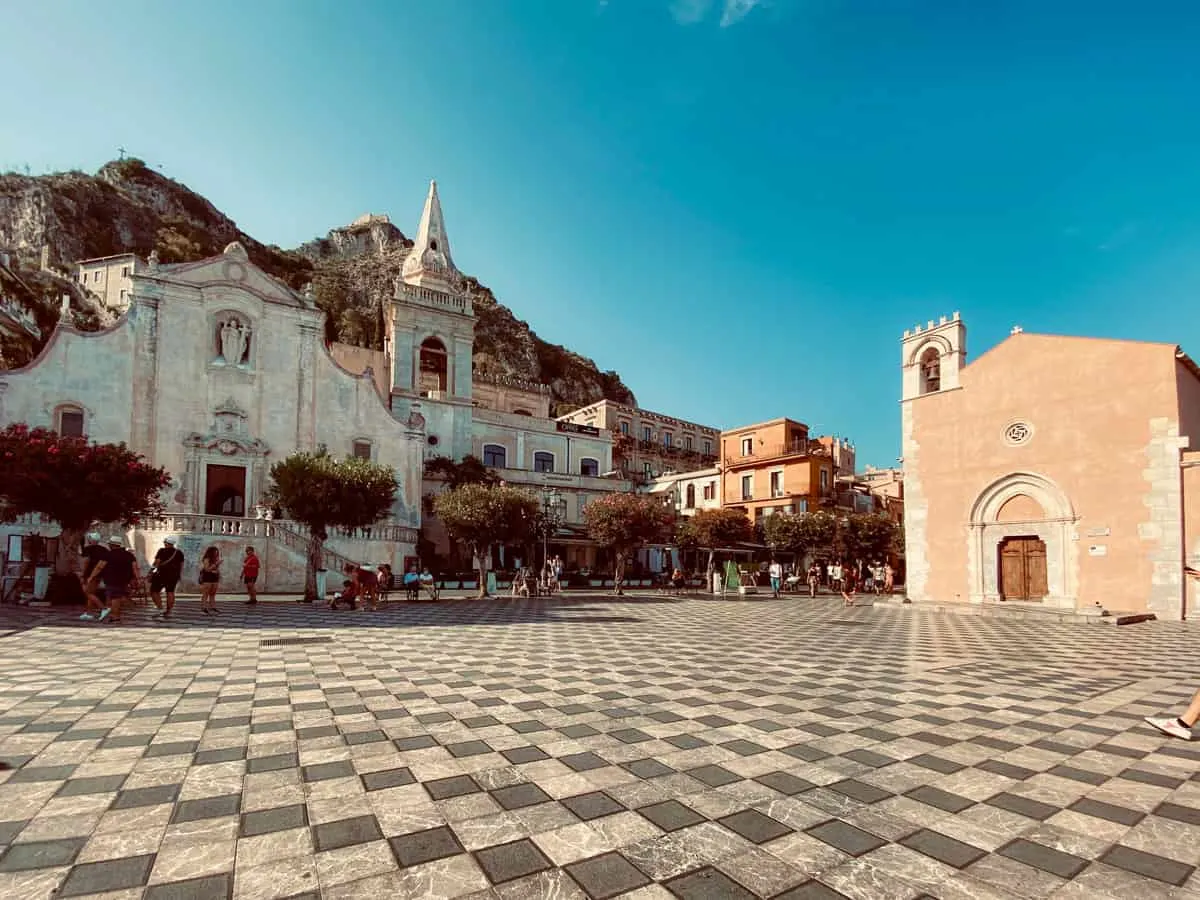 Overnight
There are quite a few options you can consider for the night. You could either stay around Taormina or drive a bit more and stay closer to Mount Etna. On day 2, you'll be visiting the mighty Sicilian volcano so it might be worthwhile positioning yourself the night before if you have time.
Another option is to spend the night anywhere near the East side of Mount Etna -which is enormous. If you'd rather be close to your starting point on day 2, then Nicolosi, Linguaglossa, or Zafferana Etnea should be your go-to's. These villages are about 40 minutes to a 1-hour drive from Taormina and provide easy access to Mt Etna's Funivia.
In the end, it will depend on whether you feel like driving a bit more, and if you are planning to devote a full day to exploring the Etna.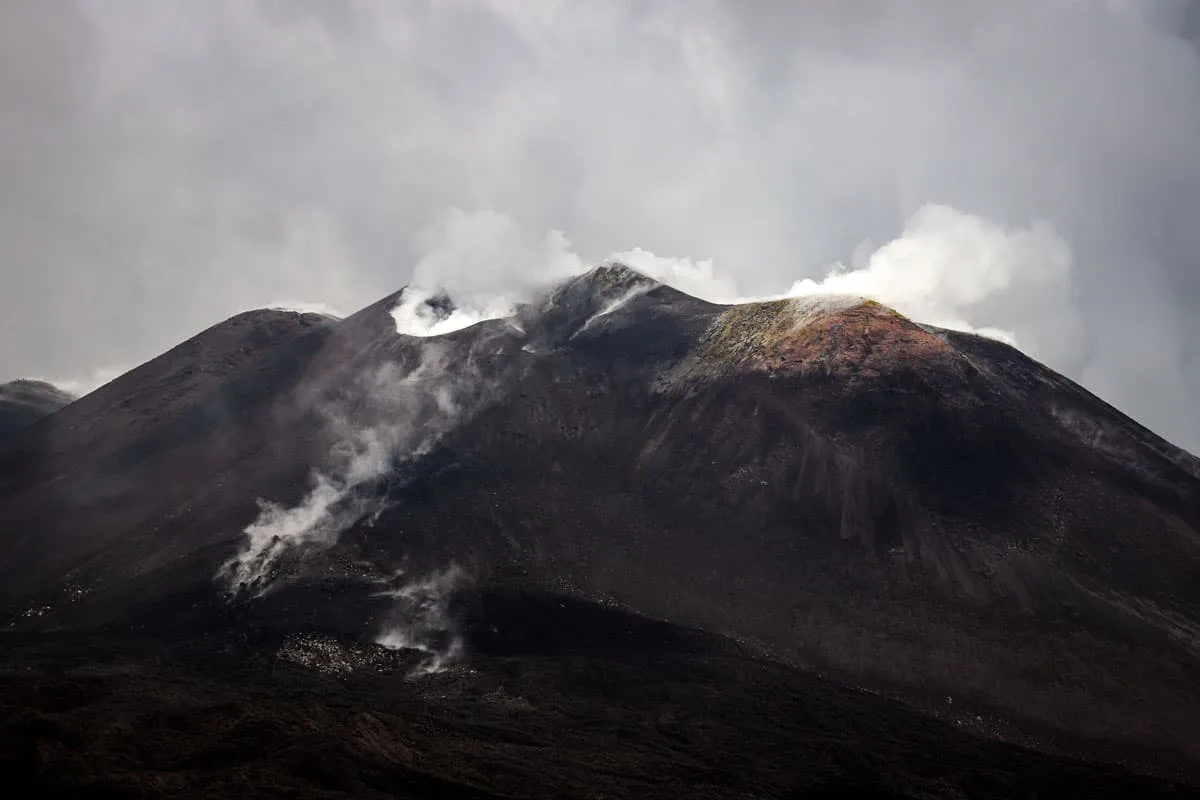 Get to Taormina from Messina
Messina to Taormina via Highway A18/E45 – Just under 1 hour, 53 km.
Messina to Taormina via local route SS114 – 1.5 hours, 51 km.
Day 2
Exploring Mt Etna with a Night in Nicolosi
On day 2, you should aim for an early start. There are different ways to explore Etna, so get your research together and map out a day to suit your preferences.
You can walk up, take the Funivia and then hike for about 1.5 hrs to the summit. Or you can book a tour. You can find numerous half and full-day tours here for all activity levels.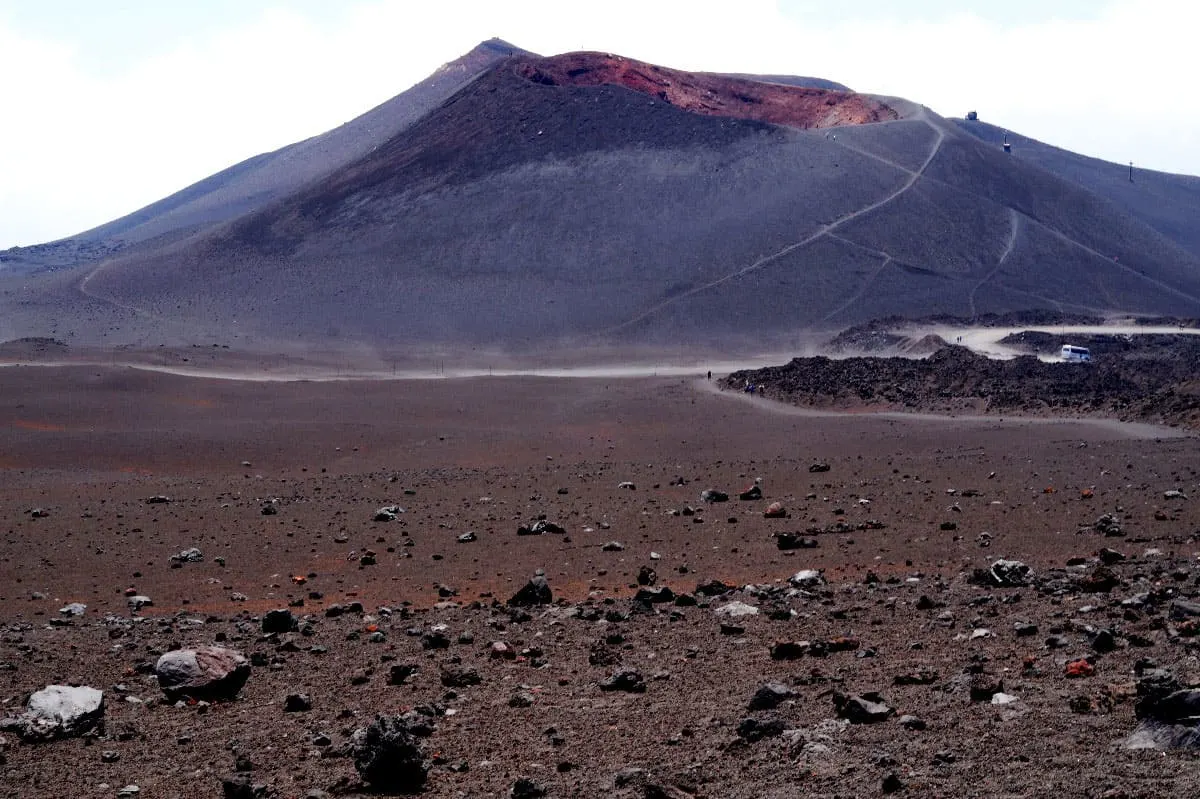 It's important to know, once you get to the Rifugio Sapienza, you'll be approached by tour guides telling you it's not possible to hike up on your own. Don't listen to them. Go to the gondola station, and they'll give you the latest information.
As Mt Etna is always active, conditions may change from day-to-day.
A great way to explore without sweating bullets on the ascent is to drive to the Rifugio Sapienza, take the gondola, and then hike up for about 1.5 hrs. Take your time to explore and enjoy the incredibly unique landscapes.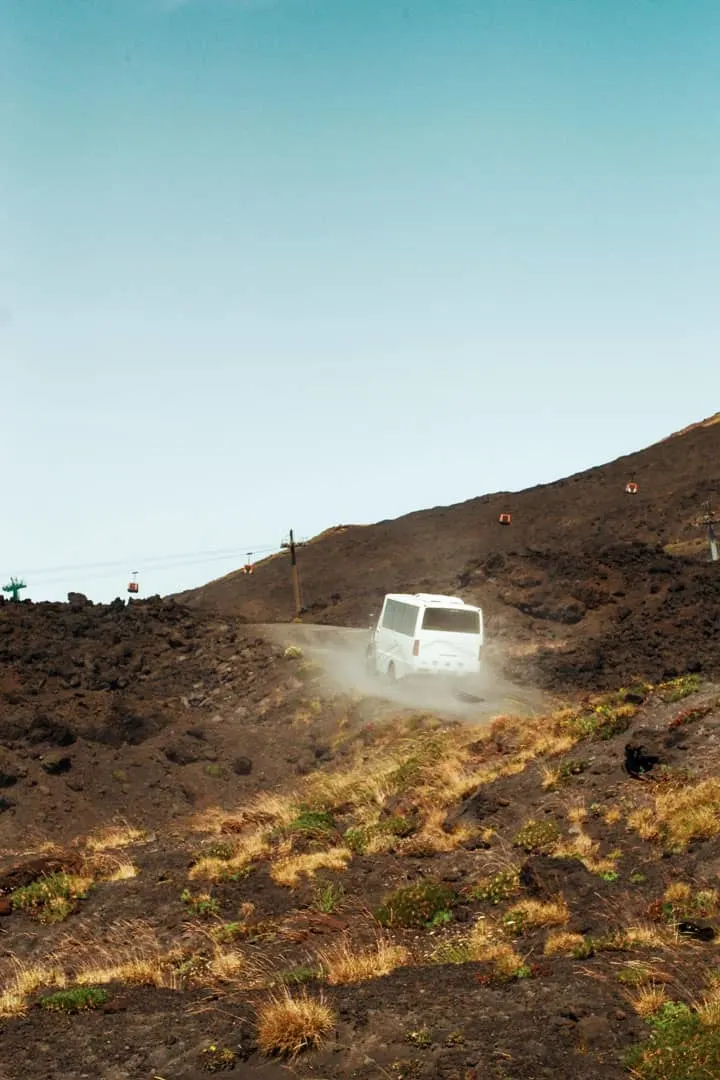 If, after your hike, you still want more, drive towards Etna Nord and stop by one of its 'rifugios,' which are like huts or B&Bs, with restaurants -like the Rifugio Citelli.
The areas surrounding the huts also offer hiking. Etna Nord isn't next to the main crater, but it's still beautiful and worth exploring if you want to get a bit off-the-beaten-path.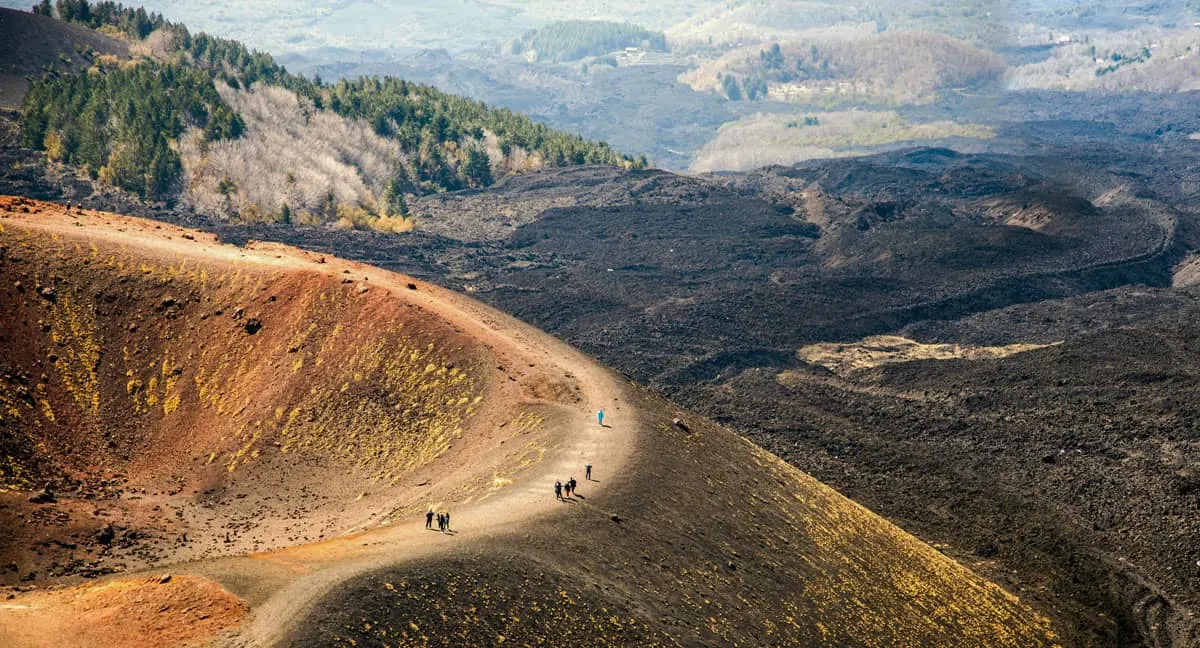 Overnight
Try to spend the night in Nicolosi or any of the villages on the way to Catania.
Getting to Rifugio Sapienza from Nicolosi or Zafferana Etnea
From Nicolosi – 25 minutes' drive, only 18 km.
From Zafferana – 30 minutes' drive, 19 km.
Day 3
Nicolosi to Catania and Syracuse
On day 3, you will make your way back to the Sicilian Coast. A quick drive from Nicolosi, Catania offers quite decadent sights, baroque gems, and great markets.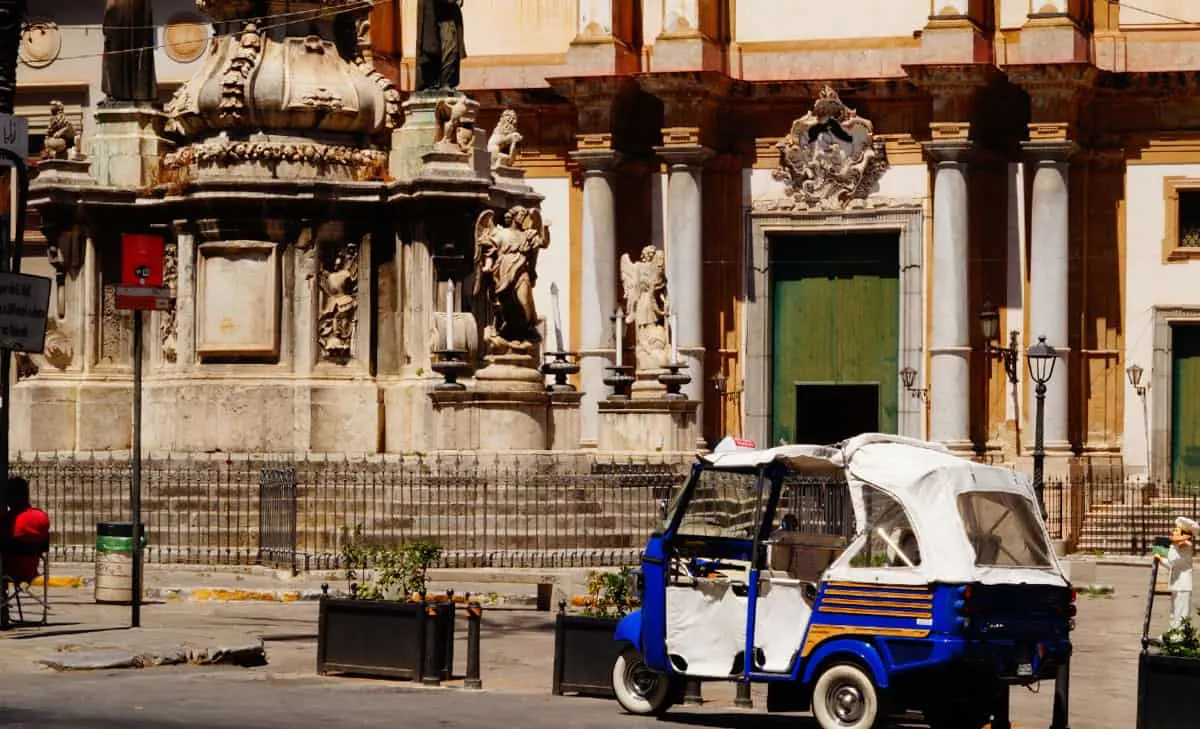 Catania is the 2nd largest city in Sicily. Often overlooked by those favouring Palermo, Catania has its own identity and is excellent for spending either a half or a full day.
Focus on walking along the city's main square and streets from where you'll see the cathedral. Spend some leisure time at the Piazza Duomo and then make your way to the Castello Ursino.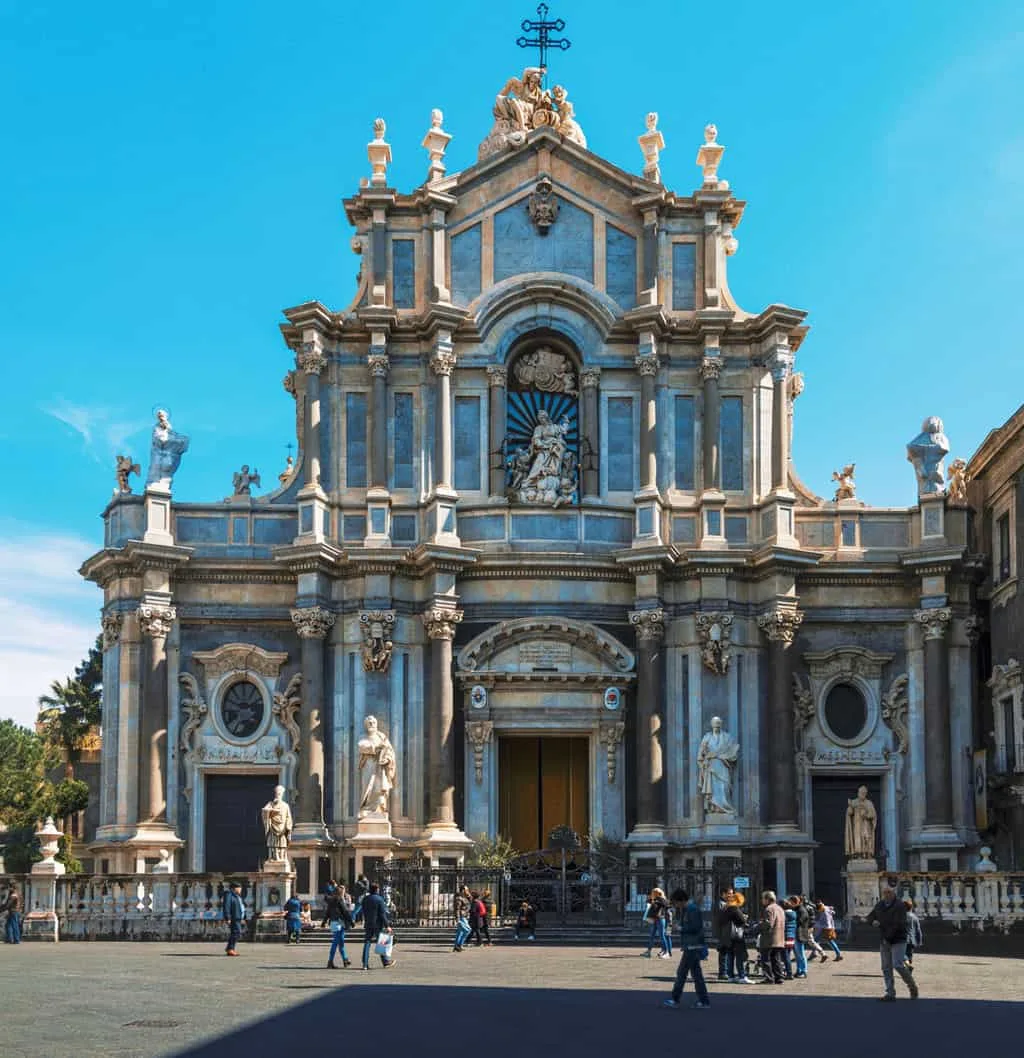 Market lovers should head to the Catania Fish Market and the Piazza Carlo Alberto market. Vendors start selling their goodies around 7 am or 8 am every day and finish around 1 pm or 2 pm. The main market stays open till 7 pm on Saturdays.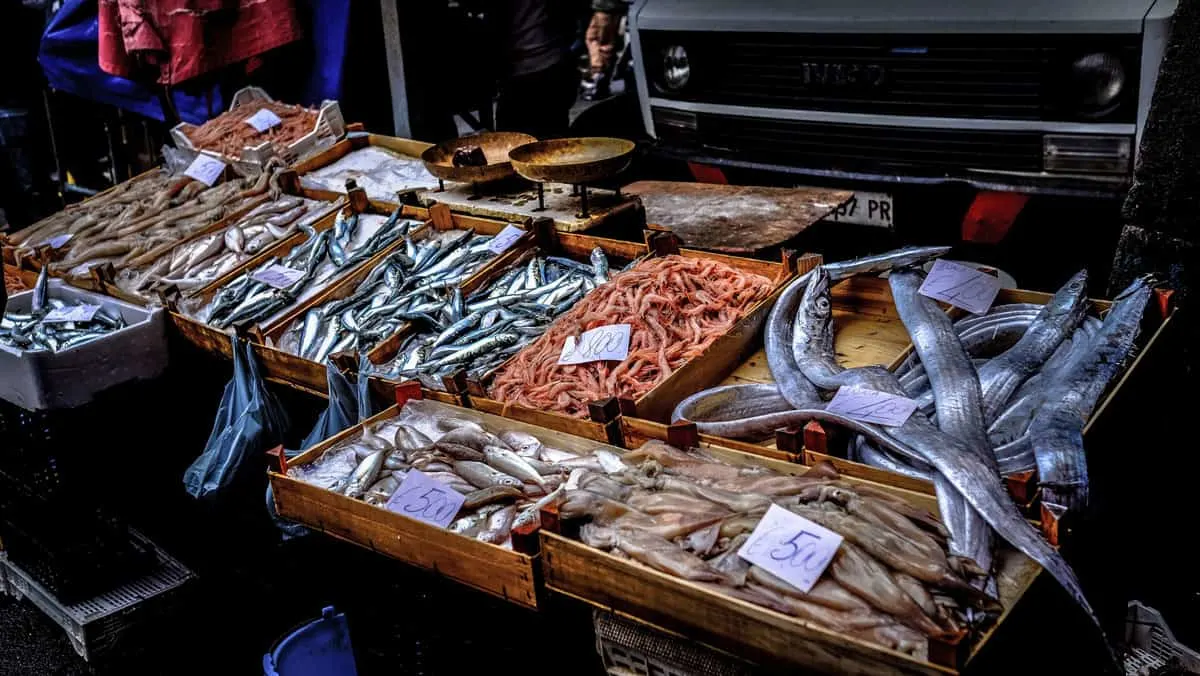 Overnight
Finish your day in Syracuse, about a 1-hour drive from Catania.
Getting from Nicolosi to Catania and Syracuse
From Nicolosi to Catania – It's a 30-40 minutes' drive, 16 km via SP10 or SP42.
Catania to Syracuse – Just over 1 hour, 65 km via E45 and SS114.
It's also possible to drive along the SS114 all the way from Catania to Syracuse along the coast.
Day 4
Syracuse to Ragusa
Spend the morning wandering the streets of Ortigia, the tiny island next to Syracuse. The city is over 2500 years old and was one of the most important centres of the Mediterranean. If Magna Grecia is your thing, then Syracuse is well worth a stay.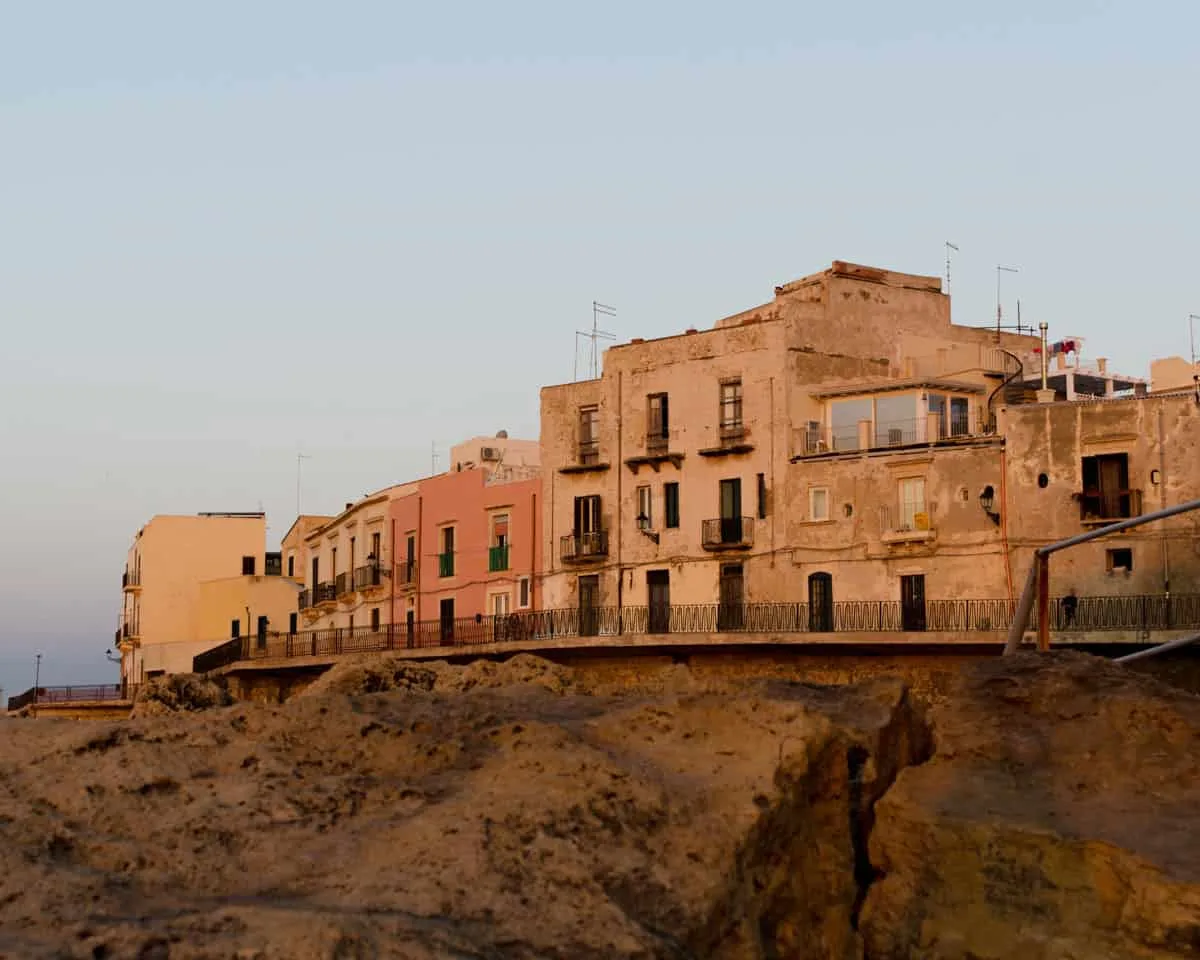 Visit the Temple of Apollo, the Piazza Duomo, the Fountain of Arethusa, and walk to the Castello Maniace -on the southern tip of the tiny island.
Avoid driving into Ortigia, as it's pretty much impossible to find a parking spot where you won't get fined.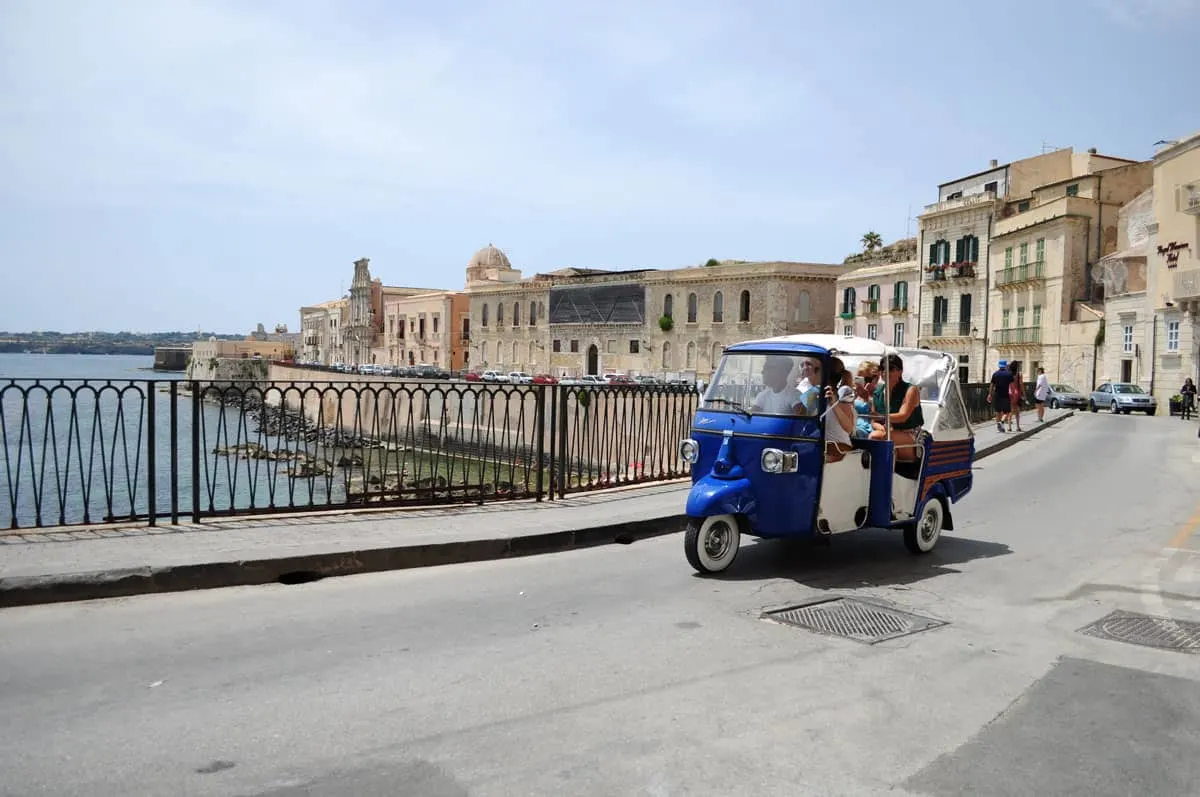 After exploring the ancient jewels of Syracuse, head towards one of the most beautiful countryside villages on your road trip around Sicily– Ragusa Ibla.
Ragusa Ibla is about 1.5 hours from Syracuse. The town is divided in two – Ragusa, and Ragusa Ibla. Ragusa Ibla, the historic baroque village, is where you'll spend the afternoon.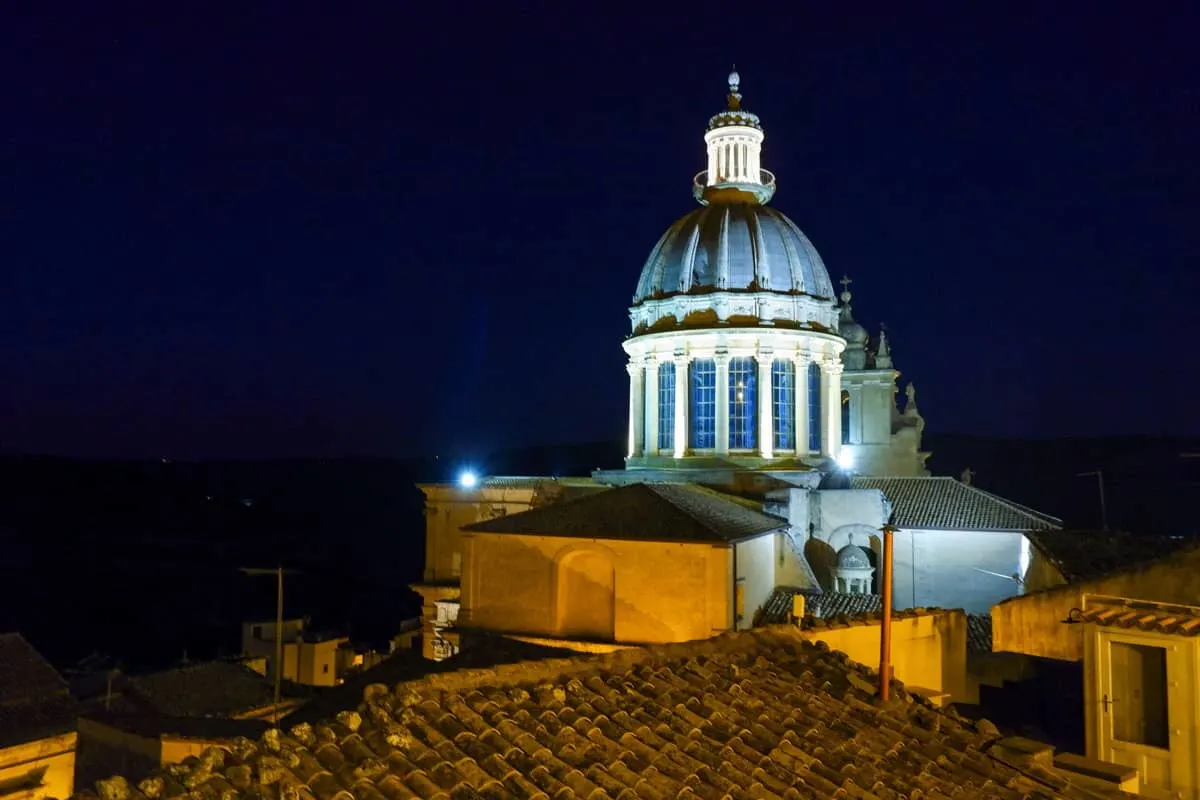 What's particularly special about Ragusa is the trip from Syracuse and how it characterises the Sicilian countryside. You'll drive up and down hilly roads lined with olive trees, lemon trees, and distant farms.
Ragusa is a beautifully preserved baroque village on a hilltop. With countless stunning houses and churches, the best way to see Ragusa is to simply wander around up and down its pebbled maze of streets.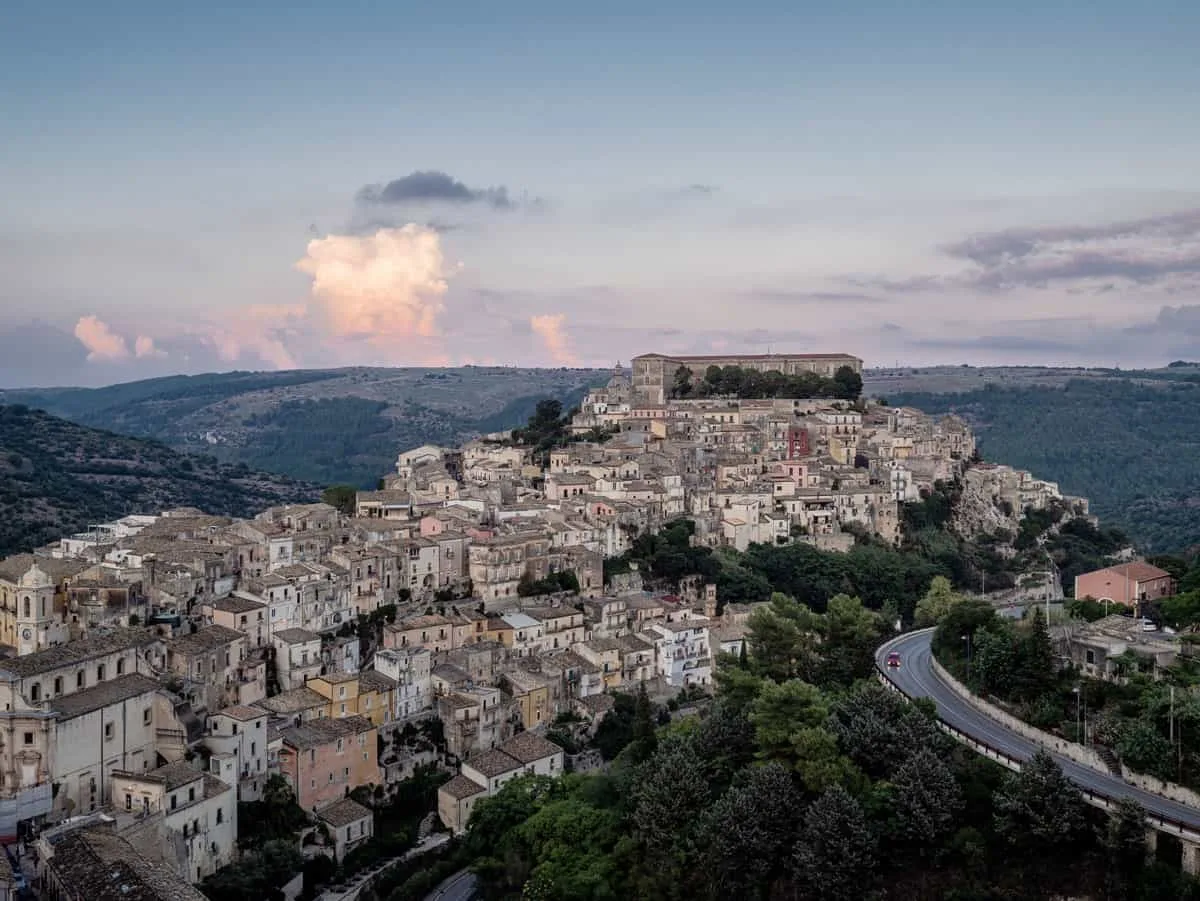 Overnight
It'd be best to spend the night in Ragusa. On day 5 of your Sicily road trip, you'll be heading to Agrigento, which is nearly a 3-hour drive. Of course, another option would be to stay half-way in between if time allows.
Getting from Syracuse to Ragusa
Via SS194 – It's an 80 km drive that takes about 1.5 hours.
If you wish to add an extra stop in Noto, take the E45 and then the SS115. It's also about 1.5 hours – 89 km.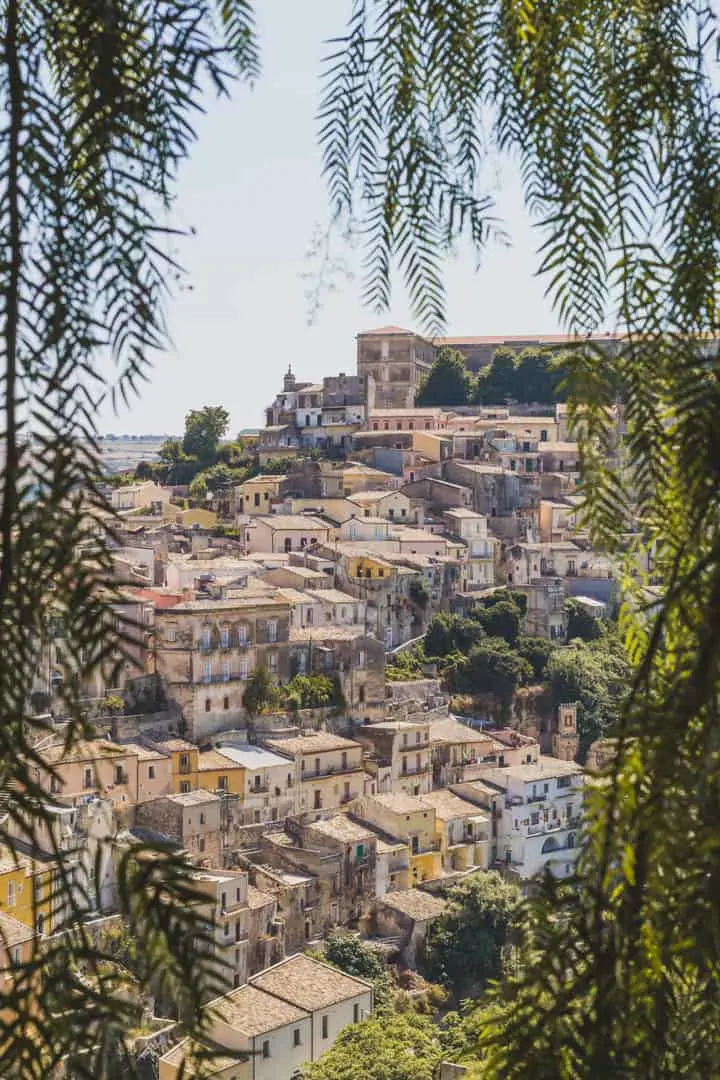 Day 5
Ragusa to Agrigento and Valley of the Temples
On day five you'll head to Agrigento, where you'll spend a half-day touring the Valley of the Temples. The drive takes between 2 to 3 hours depending on traffic.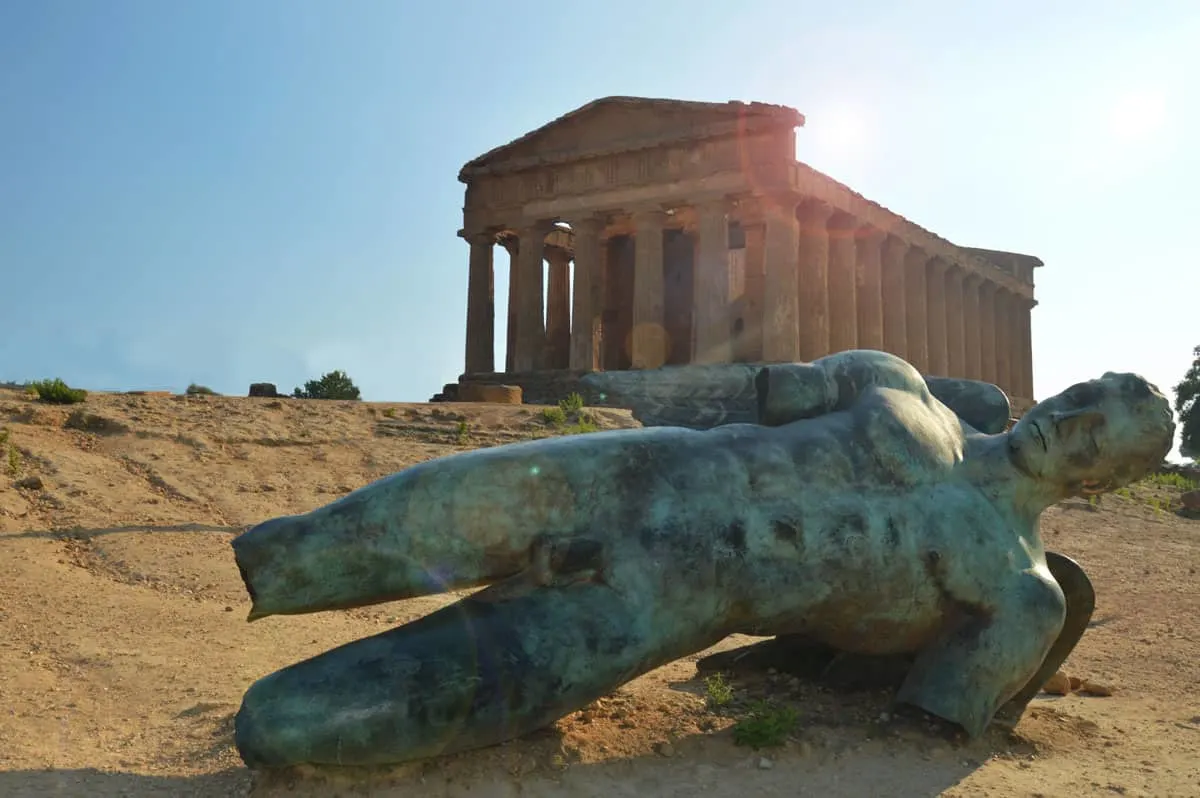 The Valley of the Temples, 2 km off Agrigento's centre is a UNESCO Heritage site where you'll get to experience the best of ancient Greece. Some say if you want to learn about the Greeks, you need to visit Sicily.
The Valley of the Temples is enormous. One thousand three hundred hectares of pure history. You'll be visiting the main areas where massive Doric temples still stand proud. Agrigento was originally called Akragas, founded in the 6th century BC.
As with Syracuse, Akragas was a significant colony that saw the construction of this massive complex of temples during the 4th and 5th centuries BC.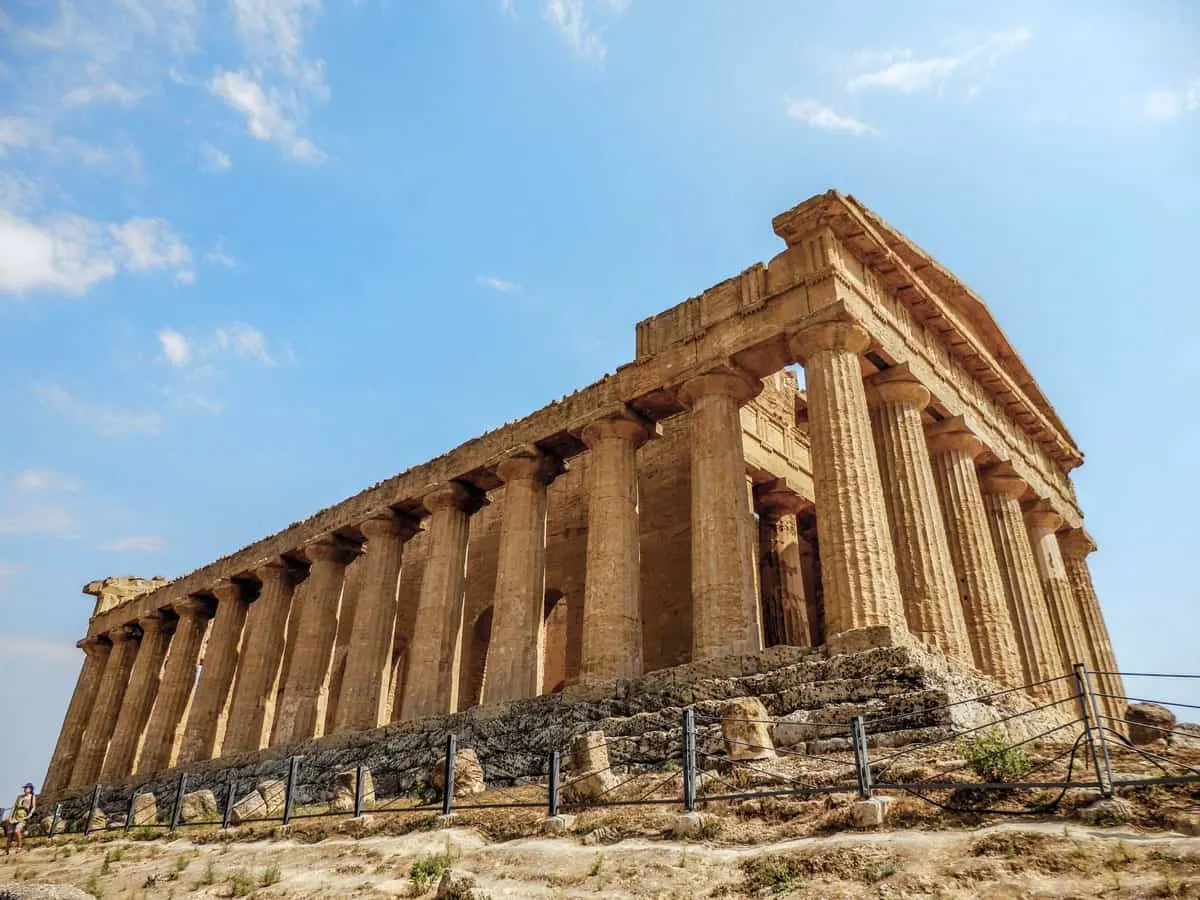 Visiting Valley of the Temples
The visit to the temples takes between 3 to 5 hours. Visitors should be prepared for a day under the blazing Sicilian sun as there's not a lot of shade to save you from the heat.
The complex is open from 8:30 am to 8 pm, so you could easily check into a hotel or hostel, enjoy the town's cute historic area, and head to the temples later in the afternoon.
Tickets cost 12 EU and can be purchased online or at the Valley's entrance.
Getting from Ragusa to Agrigento
Between 2 to 3 hours on route SS115 – 132 km.
Day 6
Agrigento to San Vito lo Capo
Ready for some downtime? San Vito lo Capo is a cute tiny town blessed with crystal clear waters, a beautiful beach, and a lively pedestrian street.
The pool-like waters, white sand, and stunning landscapes are ideal for some proper beach time of sunbathing, swimming, snorkelling, and paddleboarding.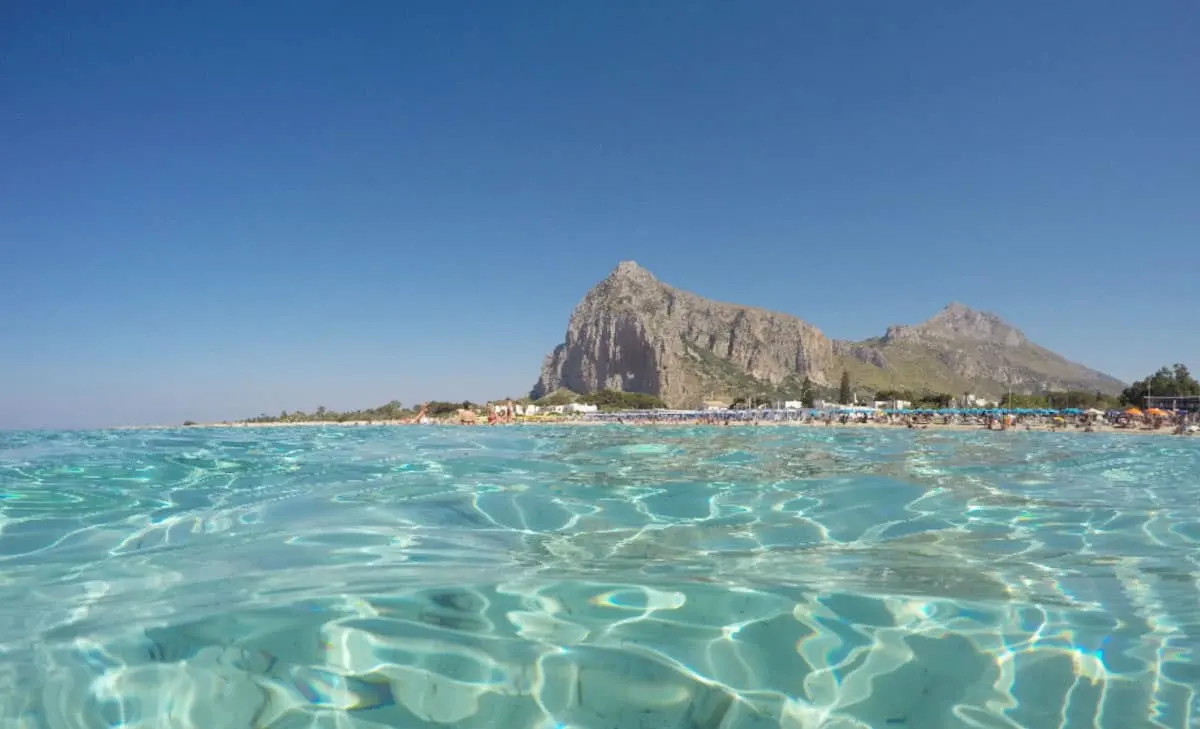 Take it up a notch and visit the 'Riserva dello Zingaro' for more splendid nature and summer vibes. Although, before heading to this natural reserve, check the official website -it can be closed due to fires or other reasons.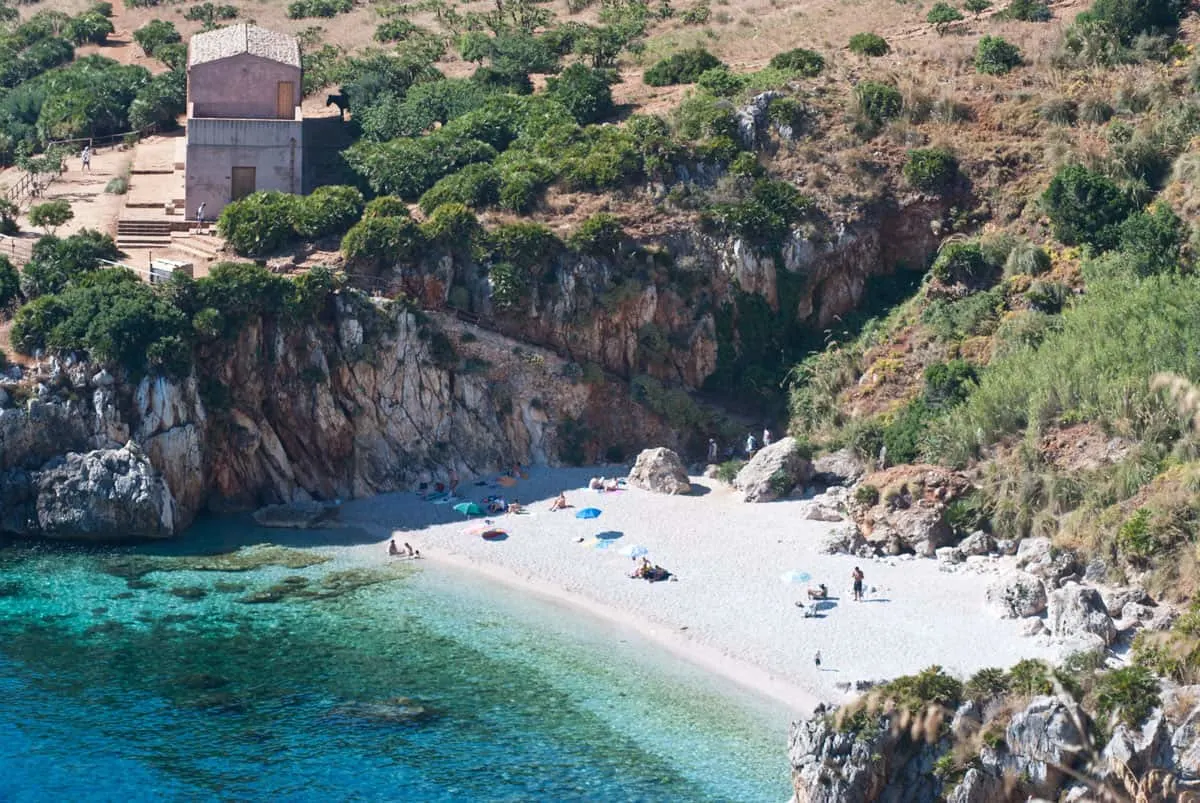 Getting from Agrigento to San Vito lo Capo
Between 2.5 to 3.5 hours -depending on traffic- on route SS115 and SS119.
For a drive on the coast and a side-trip to Trapani and Erice, stay on route SS115 all the way to San Vito.
Day 7
San Vito lo Capo
Keep the chill going; you deserve it. If you haven't visited the Riserva dello Zingaro, this would be a great day to do so.
However, if only one day of beach time and sun-basking is enough for you, you could spend half of day six exploring more of Agrigento -and head to San Vito later in the afternoon.
Alternatively, check out the beautiful old town of Erice and visit the Norman Castle.
If you are more of a city-seeker, then head to Palermo for a head start in this fabulous city.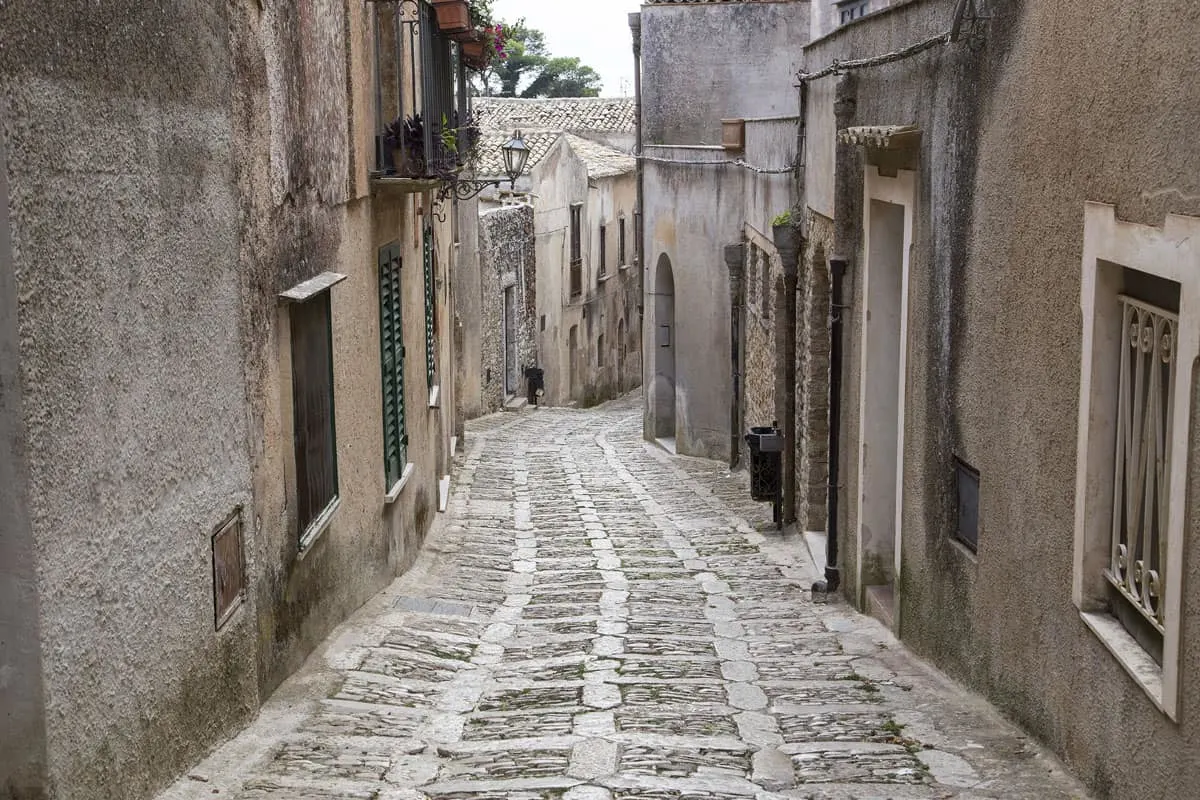 Day 8
San Vito lo Capo to Palermo
There's A LOT to see and do in Palermo. You could easily spend 2 or 3 days wandering its streets and tuning into Sicily's capital.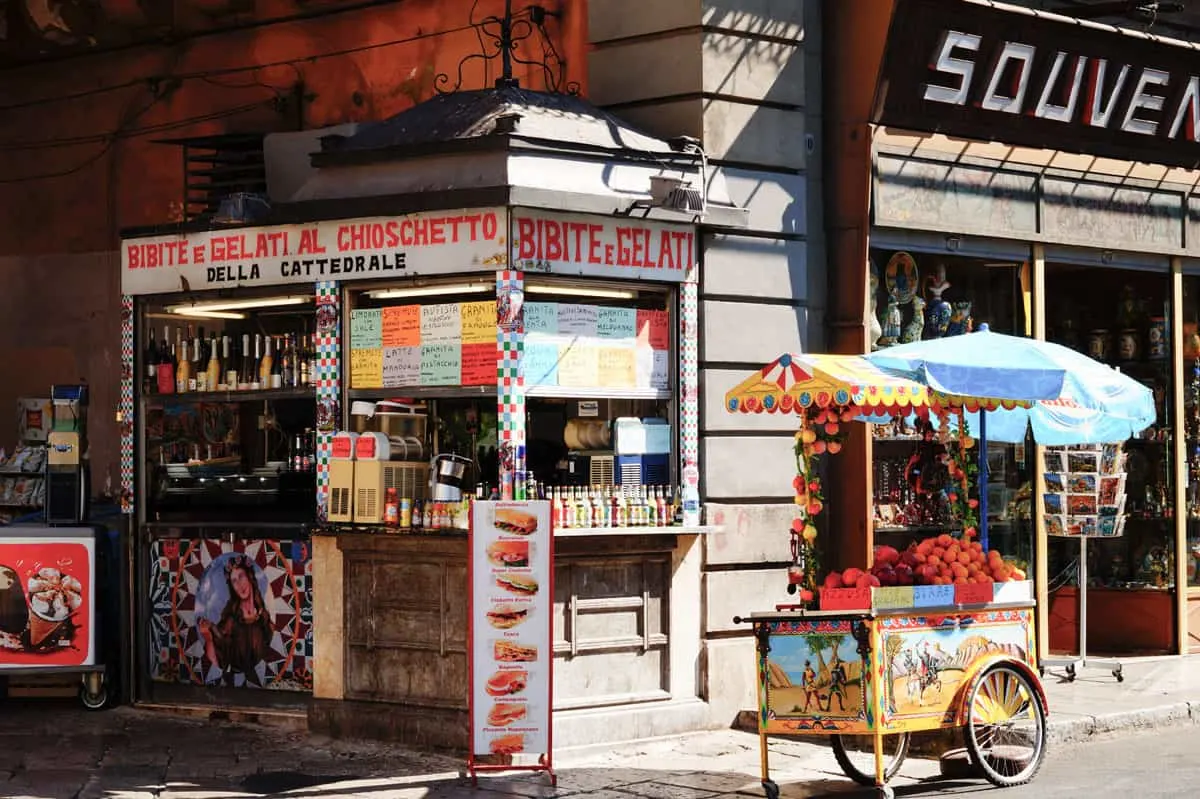 Palermo is truly a tale of many cultures. It belonged to the Greeks, the Romans, the Byzantines, to the Arabs, and the Normans. It was under the Arabs' rule that Palermo flourished and surpassed Syracuse as the main trading hub.
Visitors can see the legacy of all these great cultures by visiting some of Palermo's main sights. The 'San Giovanni Degli Eremiti' church, the 'Palazzo dei Normanni' castle, the 'Capella Palatina,' and the 'Teatro Massimo,' to name just a few top spots.
However, merely walking Palermo's streets and observing people go by is already a traveller's treat.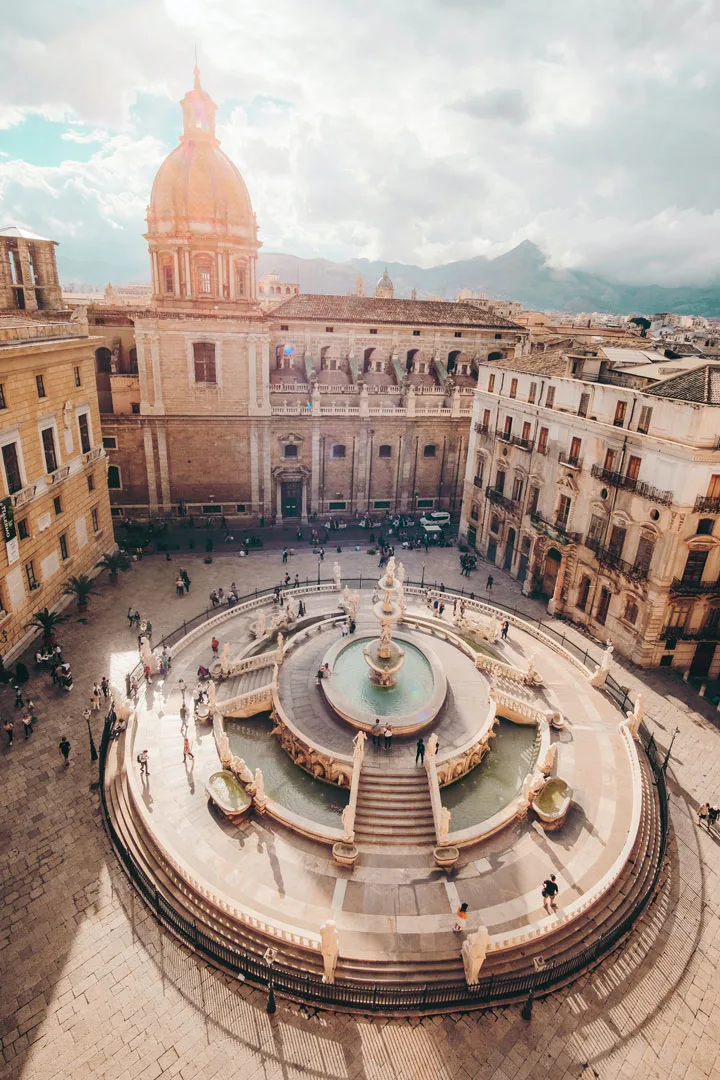 When it comes to markets, Palermo rules, the main markets are Vucciria, Ballaró, and Capo. They are all around the historic districts and kick the day off around 7-9 am, remaining open until 7 or 8 pm. The 'Mercato del Capot' closes at 1 pm on Wednesdays and Sundays.
Overnight
You can spend the night in Palermo, or head to a campsite outside town.
Getting from San Vito lo Capo to Palermo
The trip takes between 1.5 to 2 hours on route E90, or over 2 hours if travelling on route SS187.
Day 9
Palermo to Cefalú
Prepare for the last stop of your Sicily road trip. On this day, you'll head to Cefalú, one of the most famous villages in Sicily. Cefalú may have a little bit of everything – views, beaches, hiking, and great food, but the best of it lies in a golden glare lighting up just before sunset.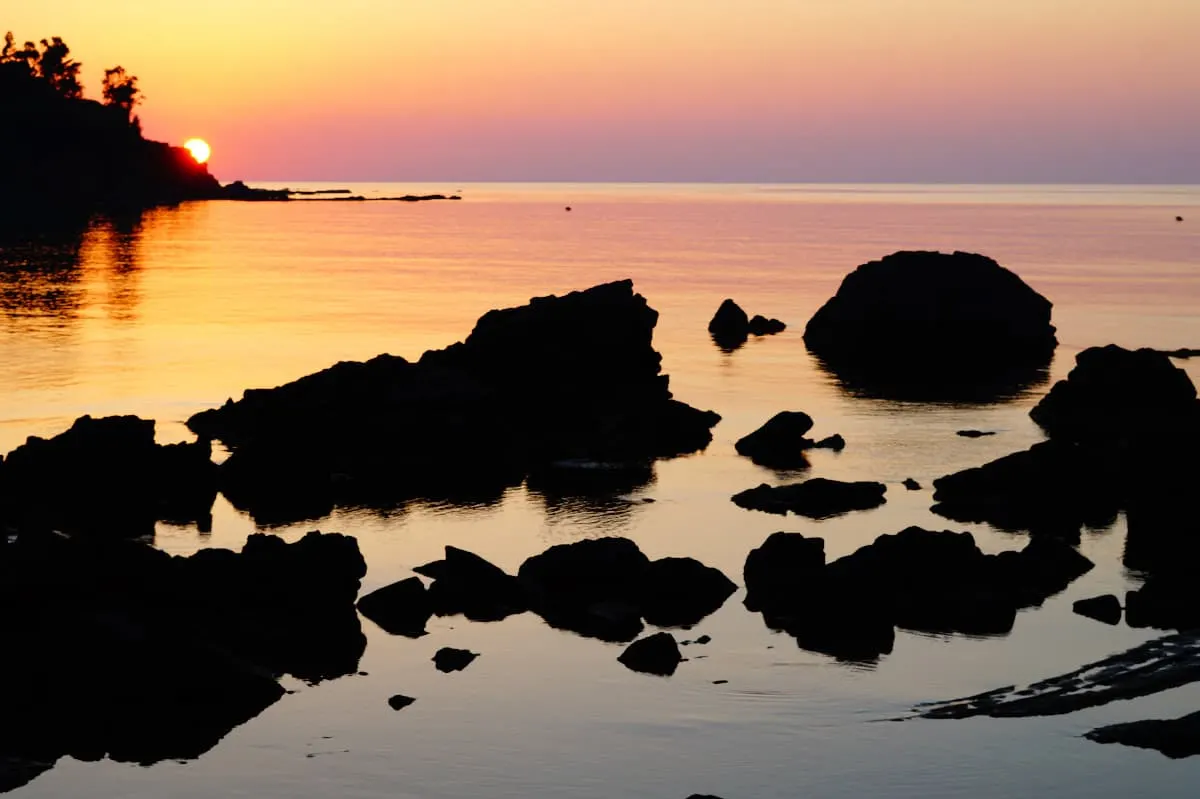 Cefalu has a beautiful historic centre and one of the most charming beaches you'll ever see. If you are keen to work out a little bit, there are also some nice hikes as well as enjoying top views of the Tyrrhenian Sea from the 'Rocca di Cefalú.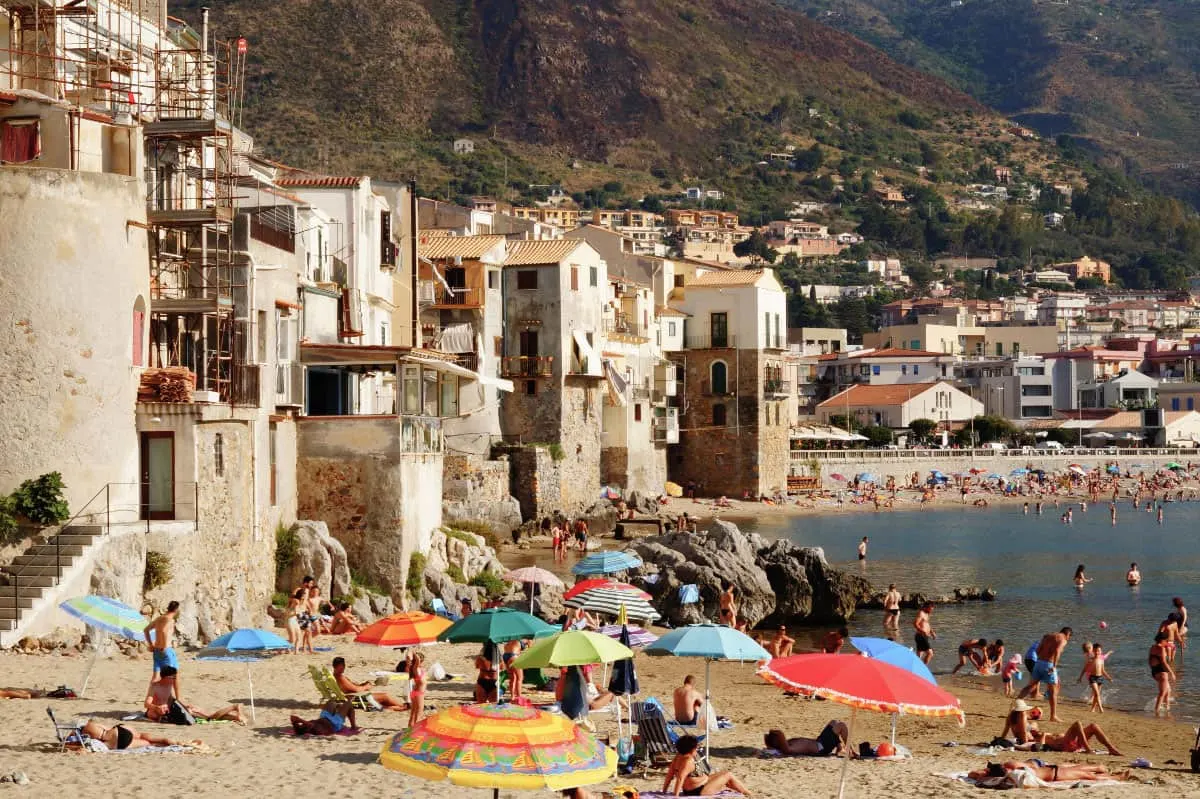 Overnight
Try to spend your last night in Sicily in Cefalú, as this is truly a charming little town.
Day 10
Palermo to Messina
It's day ten, and it's time to wrap up and head back to Messina to catch the ferry. The drive takes between 1.5 to 2.5 hours, so make sure to check your ferry's schedule beforehand and allow for delays.
By now, you've eaten the best fresh food, mingled with the locals, sunbathed, connected with nature, and learned about the ancient cultures that thrived in Sicily's abundant land. If you feel like weeping while you farewell the golden island, don't blame yourself – it only means it's time to plan your second Sicilian trip.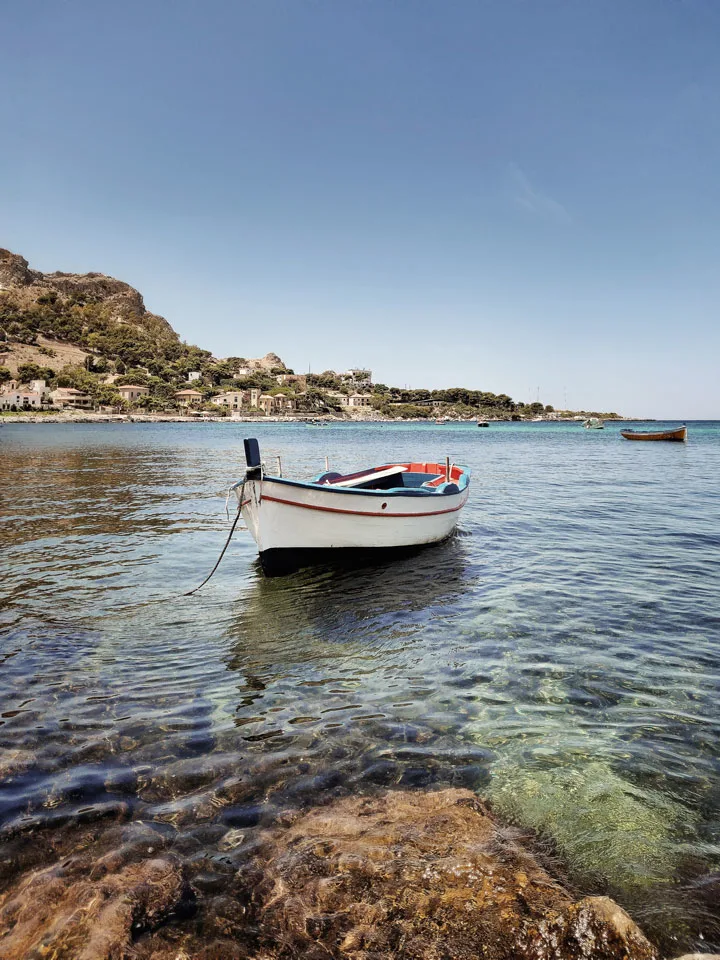 ---
Know the Best Time to Visit Europe before planning your trip
---
More Towns and Islands Around Sicily
If you have more time to spare, or the energy to add more stops to your Sicily itinerary, then check these spots:
Favignana
The main of the Egadi Islands, Favignana is a small paradise located off the coast of Trapani. There's only one ferry operating the trip.
It's possible to book the tickets online, and over the summer you'll find many services throughout the day. The cost of a round-trip is about 23 EU -11.82 one-way, 30 minutes.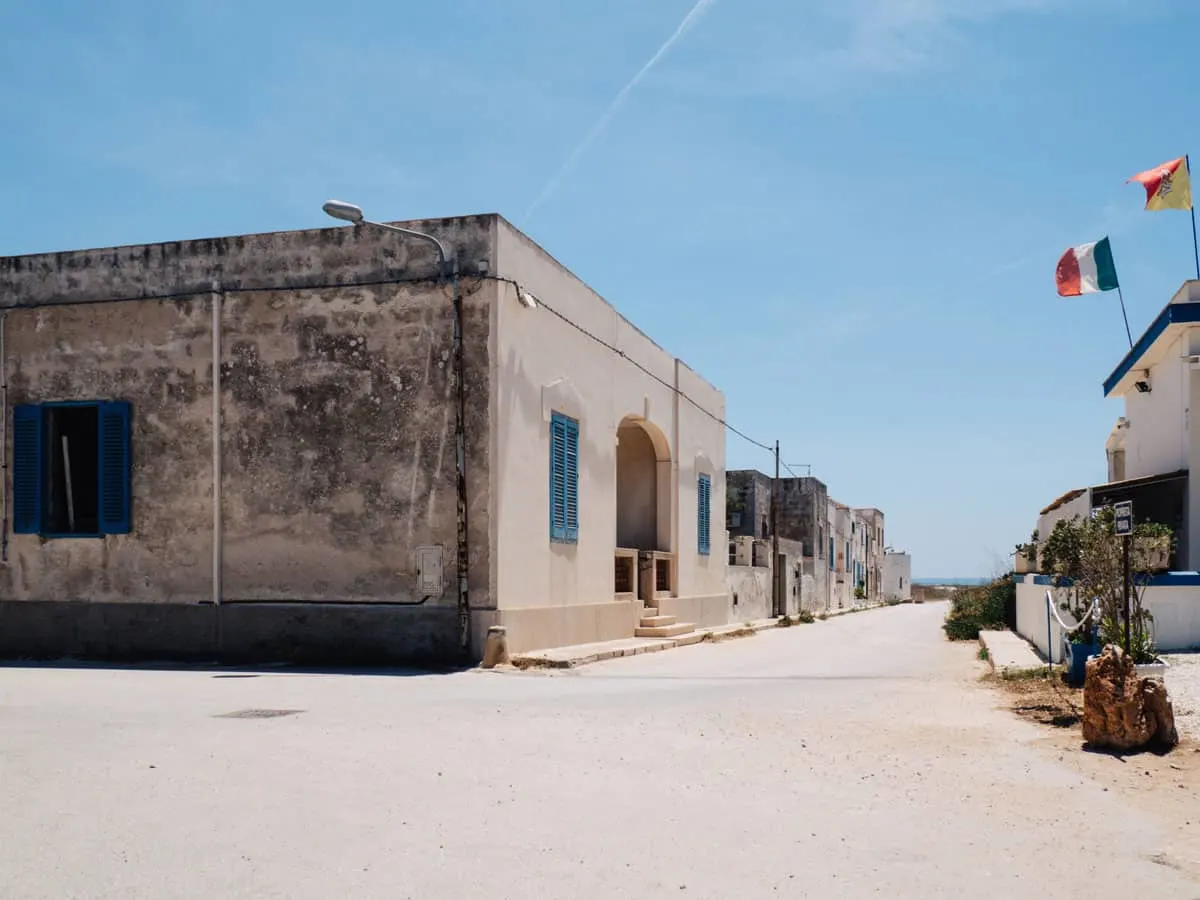 The Aeolian Islands
Visiting any or all of these 7 Unesco volcanic islands scattered along the Tyrrhenian Sea can easily become a trip in its own right. You could spend a week island hopping, hiking volcanoes, drinking sweet wine, and slowing down to match the islands' flow.
Located off the coast of Sicily's Northwest region, Messina, it's also possible to visit the islands as a day trip departing from Milazzo – about 38 km from Messina.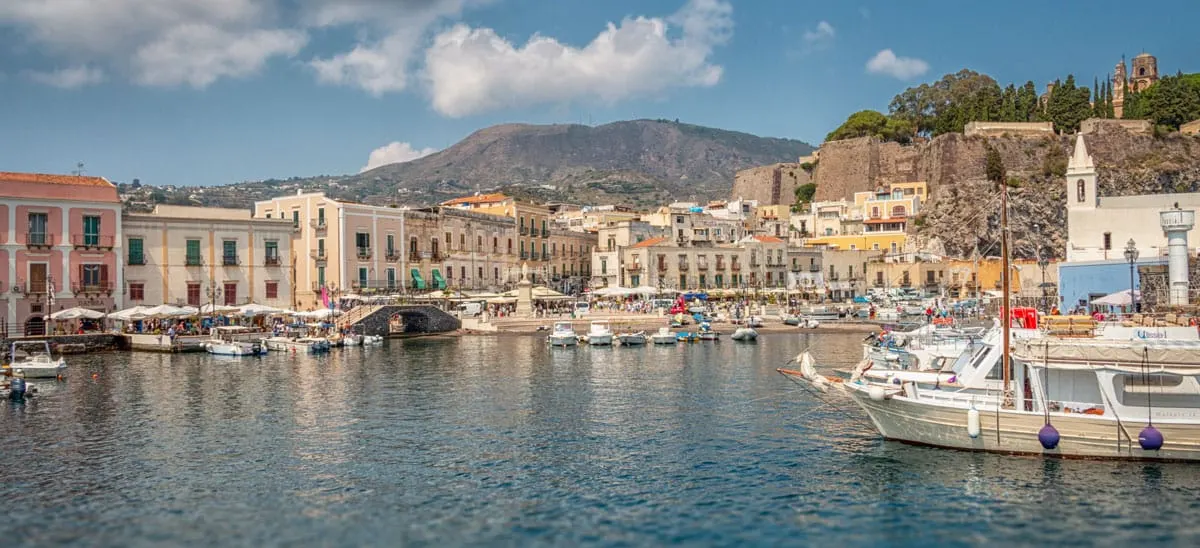 As the departure points to the islands are between Palermo and Messina, this is a great way to finish your Sicily road trip or get it started if you decide to tour the island anticlockwise.
The Aeolian Islands are highly seasonal. If you visit over the winter months, you'll find most shops and restaurants are closed. Check the islands' ferry schedules and plan your itinerary. There are plenty of hydrofoil ferries heading there over the high season.
Noto
You'll find Noto posted 38 km south of Syracuse. Noto is, just like Ragusa, a Sicilian Baroque gem. If you enjoy this architectural style, Noto should definitely be on your Sicily itinerary.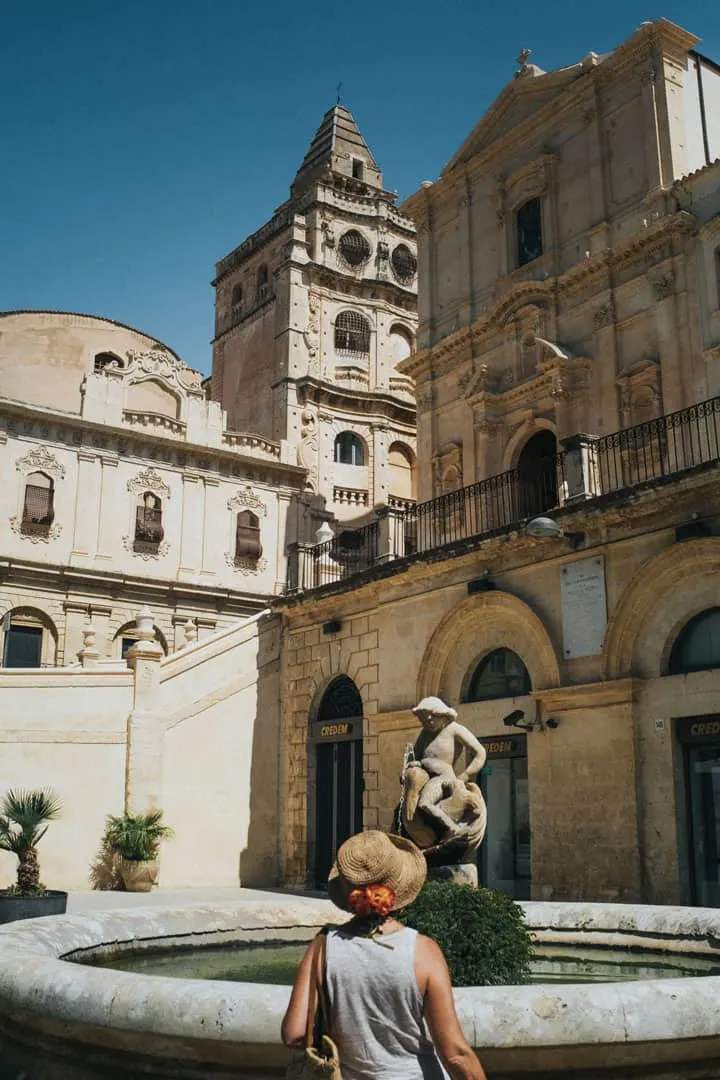 Savoca and Forza D'Agro
Attention Godfather fans. Do you remember Michael's days in Sicily? Even though the story is set in Corleone, the actual scenes were shot in the medieval towns of Savoca and Forza D'Agro. One of the most remembered locations of the movie takes place at the Bar Vitelli, where Michael Corleone meets Apollonia's father.
Both towns are only a 12-km drive from each other and can be visited within a half or a full day.
Bringing It All Together for the Ultimate Road Trip Around Sicily
You could easily spend two or even three weeks experiencing Sicily's many villages, beaches, nearby islands, foods, and outdoor activities. The best way to plan your Sicily itinerary is to prioritise what resonates with you the most. Try to keep a balance between the main attractions and off-the-beaten, heart-filling little places.
As a last tip to make your stay in Sicily the most enjoyable, stay flexible. Don't worry if you feel like changing plans last minute; some places will conquer your heart. Road tripping Sicily will be, in many ways, an intense adventure cloaked by the beauty and charm of the Mediterranean's magic. Ci vediamo dopo, viaggiatori.
---
Discover Sardinia, Italy's other most beautiful island.
---
About the Author
Martina Grossi
Martina is a travel writer and SEO Specialist from Argentina based in New Zealand. Like many Argentinians, Martina has Sicilian ancestors, which has taken her to explore the island in depth not once, but twice. Lover of road-tripping, camping, hiking, and nature, her travels focus on connecting with a destination's vibe, other than ticking items off a bucket list. Find out more about Martina at The Global Curious.