From the sophisticated shores of Lake Como to the Tuscan countryside and the kaleidoscope of colourful seaside towns on the Ligurian and Amalfi Coasts. Italy has some of the most romantic destinations in Europe.
Whether planning a romantic week in Rome, the perfect Italian road trip, or a honeymoon on one of Italy's most beautiful islands, Italy will steal your heart.
These are some of Italy's most romantic destinations for couples. From romantic cities in Italy to authentic Italian escapes in some of the country's most beautiful towns and villages. There's something for every kind of romantic in Italy.
Romantic Places for Couples to Visit in Italy
Verona
The city that gave us one of the most romantic tales of all time, Verona in northern Italy's Veneto region, is The City of Love.
The medieval old town built between the meandering Adige River was the setting for Shakespeare's "Romeo and Juliet". The play was based on a collection of poems and stories written in the late 1500s about feuding families and star-crossed lovers. Stories loosely based on actual events and real families of Verona.
A 14th-century residence with a tiny balcony overlooking a courtyard is said to be "Juliet's House."
Despite the fictional tragedy that cemented Verona's fate, the city has an air of romance perfect for an Italian couple's escape.
Verona is also famous for its Roman ruins. So much so that the city is often called Little Rome. The most famous is the massive 1st-century Verona Roman Arena which dominates Piazza Bra.
Once the venue for Roman gladiator battles, the historic amphitheatre currently hosts concerts and large-scale opera performances.
Lake Maggiore
Lake Maggiore, on the southern side of the Alps, is the second-largest lake in Italy and the largest in southern Switzerland. The lake and its shoreline cover Piedmont and Lombardy's Italian regions and Ticino's Swiss canton.
The main attraction of Lake Maggiore is the spectacularly romantic gardens of the Borromean islands.
An ideal destination for couples to enjoy a romantic holiday in Italy, set against beautiful blooms and magnificent palaces. Its tranquillity shines as a simple charm.
The Borromean islands consist of three islets easily reached by ferry from the lovely towns of Stresa, Verbania, or Intra – Isola Madre, Isola Bella, and Isola Superiore dei Pescatori. (Entrance to Isola Madre and Isola Bella requires an additional ticket).
Villa Taranto also offers a fabulous world of gardens. Lying between Intra and Verbania, its special charm is the seasonal tulips and rhododendrons.
Recommended by: Gabi Zec – Under Flowery Sky
Positano
One of the most romantic getaways in Italy is the village of Positano on the Amalfi Coast in the Compania region of Italy.
One of the most famous Amalfi Coast towns, the iconic seaside village on the steep slopes overlooking the Tyrrhenian Sea is the perfect Italian escape for couples.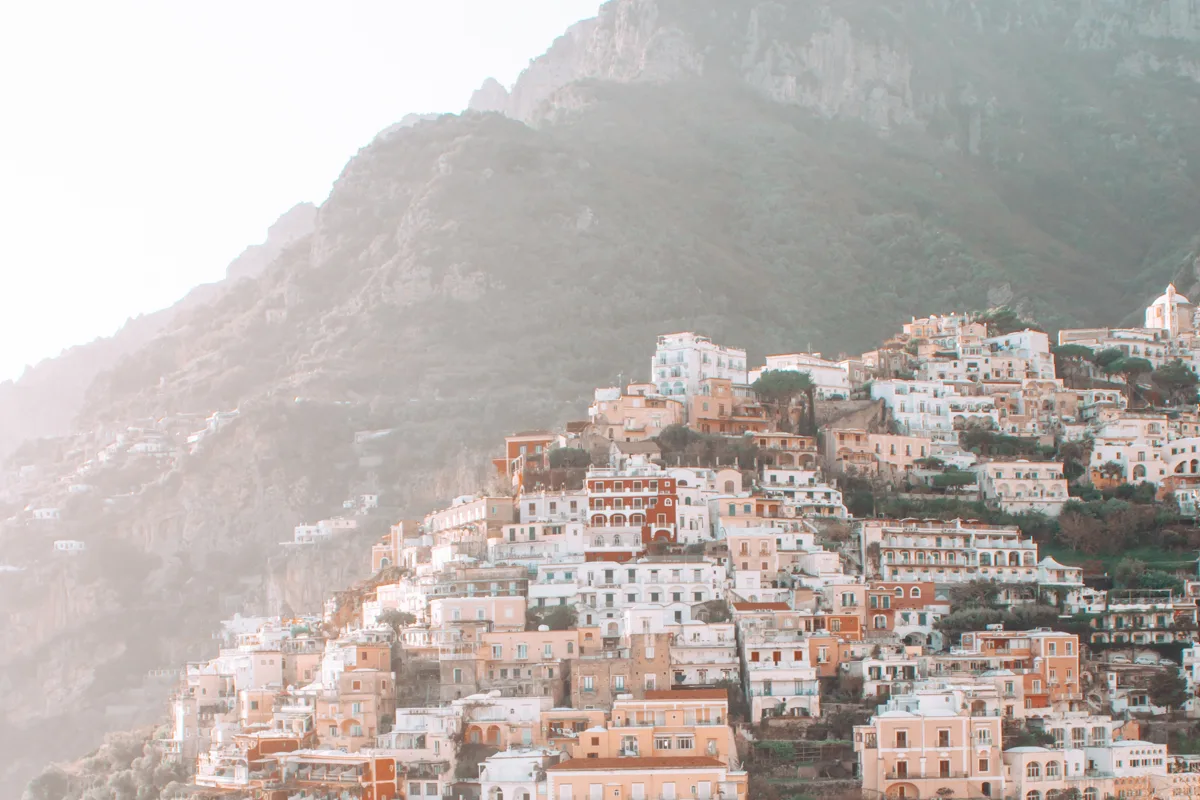 Just south of Naples, the pretty village is a world away from the hustle of Italy's cities. Colourful houses cascade down the hill, offering spectacularly romantic views – there seem to be unending photogenic possibilities in Positano. Unsurprisingly, it's one of the most popular day trips from Naples.
Along with staggering vistas, Positano has some of the best beaches on the Amalfi Coast, such as the main Spiaggia Grande, famous for its clear waters and incredible views, and the slightly less crowded Arienzo Beach.
Recommended by: Dymphe Mensink – Dymabroad
Bassano del Grappa
Bassano del Grappa is in the province of Vicenza of the Veneto region and is possibly one of the most romantic places to visit in Italy.
A medieval town with a rich historical and artistic heritage, it's easy to get to Bassano del Grappa from Venice. Couples love its intimate atmosphere and romantic views from around town. With its quaint cobblestoned streets and small piazzas, Bassano is a place to explore slowly.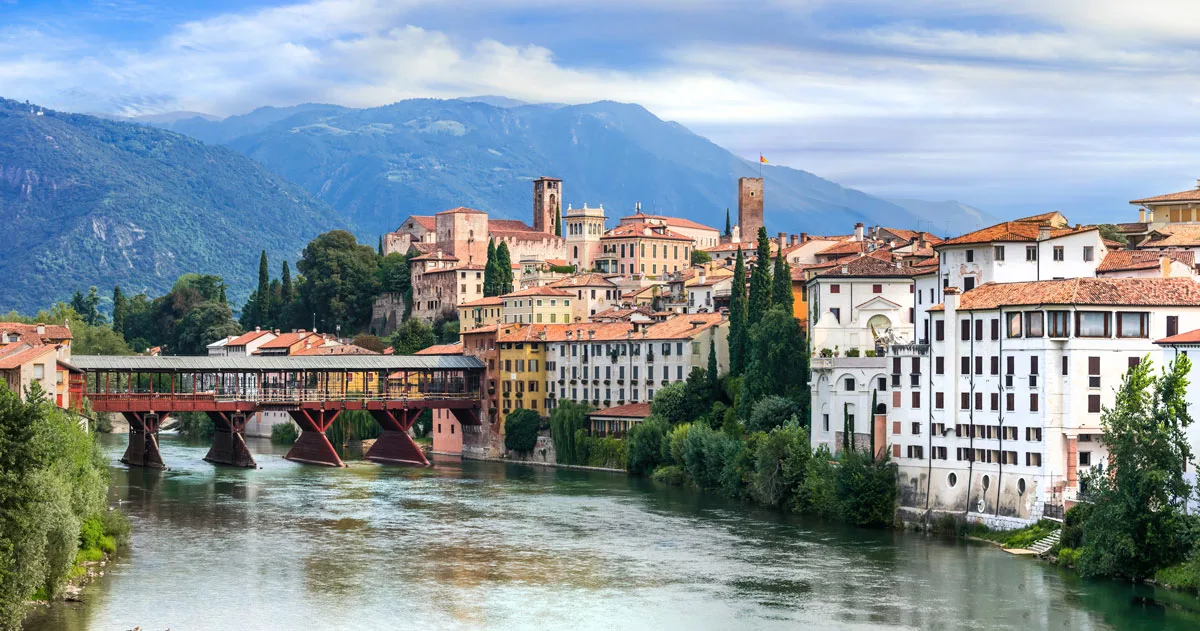 The most romantic place in the city is Ponte Vecchio. Designed by famed architect Andrea Palladio, the bridge is an icon of Bassano del Grappa.
According to legend, those who kiss on this bridge will never leave each other. Whether the legend is true or not, the views of the Brenta river and the Alps from the romantic bridge are worth the visit alone.
After crossing the bridge, you'll find the monument of the two lovers by the versatile sculptor Severino Morlin.
Recommended by: Maddalena Visentin – Venice Travel Tips
Cinque Terre
Cinque Terre is a big contender if you are looking for the best places for couples in Italy.
Cinque Terre means "five lands" in Italian. It comes from the five small towns that appear to be carved into the mountain.
Colourful old houses perched on the side of the mountain overlooking the mediterranean sea. Narrow winding lanes lined with traditional trattorias and local shops lead to the small beach, where fishermen tend boats. Cinque Terre is the quintessential Italian postcard.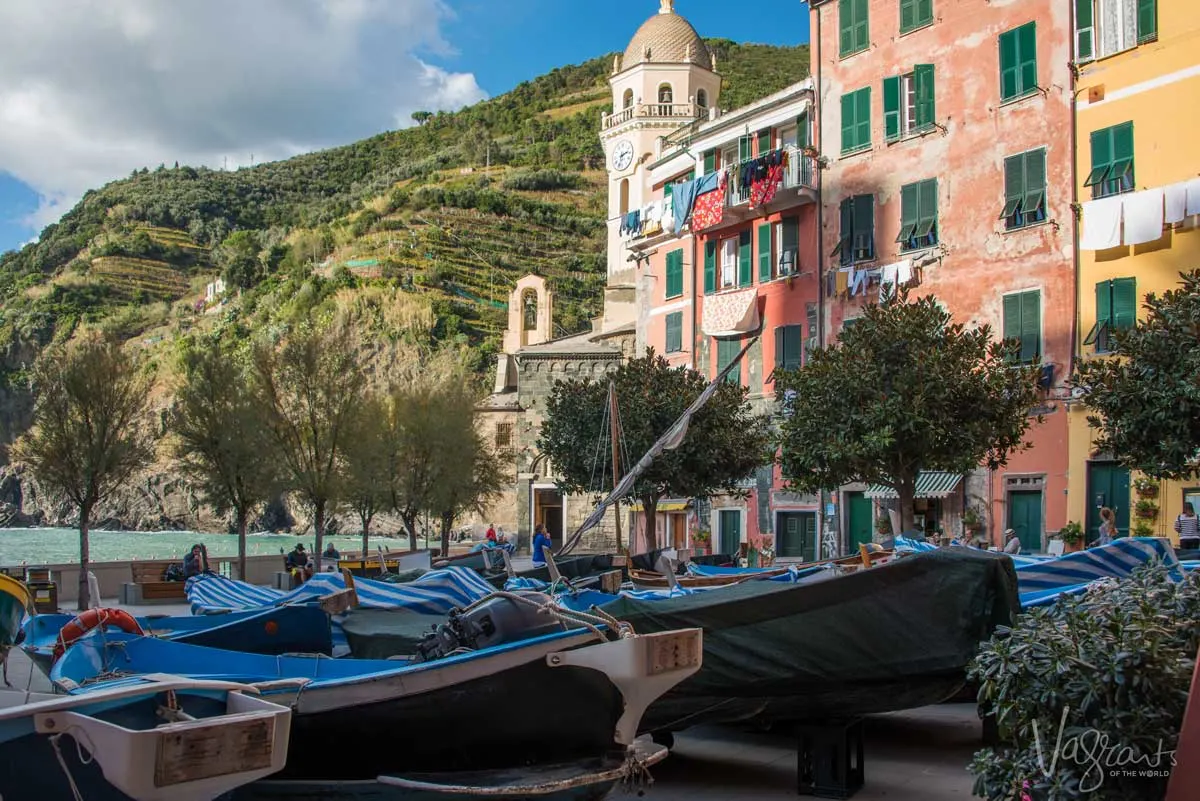 Enjoy quiet early morning strolls through the historic villages with the aroma of fresh baked focaccia and coffee before the day tourists arrive.
Spend a few days in one of the charming hotels with views of the Ligurian Coast, such as Porto Roca in Monterosso, where you can enjoy spectacular views from the cliff top and the tranquillity of the surrounding nature.
Each of these towns is in a separate bay on the rugged northeast coast of Italy, in the Liguria region. They can be explored by car, train, or the well-organised trail system within the Cinque Terre National Park – perfect for couples who like to combine culture and nature.
The easiest and most popular trail was the Via dell'Amore, (lane of love), a 0.7-mile-long scenic paved road connecting Riomaggiore and Manarola. The trail was closed a few years ago due to landslides, but sections have since reopened and works to restore the entire route are scheduled for completion in 2024.
Recommended by Isabella Biava – Boundless Roads
Cefalu Sicily
Cefalù is a coastal beach city on the island of Sicily. This romantic little city is just a one-hour drive or train ride away from Palermo, Sicily's largest city with an international airport.
Cefalù is small and easy to get around, which makes it the perfect place to spend a few romantic days.
The best time to visit Cefalu is in spring or fall. The weather is sunny and warm during these months, and the city is less crowded. The summer months are also beautiful but can be very hot and crowded.
Cefalu is known for its beautiful Norman cathedral, Duomo di Cefalù. The cathedral overlooks the small and charming Piazza Duomo, a charming spot for couples to enjoy a morning coffee or pre-dinner aperitivo.
For culture and history, head to the Mandralisca Museum for the fascinating archaeological exhibits. For beach-loving couples, head to Cefalù Beach, where you can lounge, swim, or rent a kayak.
Recommended by Erin Hynes – Pina Travels
An incredibly historic city, there are lots of great attractions in Palermo. From the Palermo Cathedral to the Norman Palace, the lovely Pretoria Fountain and the lively Quattro Canti.
Couples who enjoy exploring local cuisine are sure to love Palermo's market culture. For a local experience, head to the vast and labyrinthine Mercato di Ballaró. Or, for something a little less hectic, the Mercato di Capo has tons of Sicilian street food favourites on offer.
For a romantic evening out, Palermo has several unique things to offer. The night market La Vucciria is a lively place for drinks and food in the evening. There are also countless cosy bars – especially in the Kalsa neighbourhood that have great aperitivo deals and are perfect for an intimate drink.
Recommended by: Maggie Turansky – The World Was Here First
Favignana Island
Italy is known for stunning cities like Venice and the picturesque towns of Cinque Terre, but it also boasts one of the most romantic islands in Europe, Favignana Island.
Favignana Island is a small island located a few kilometres from the northwestern coast of Sicily.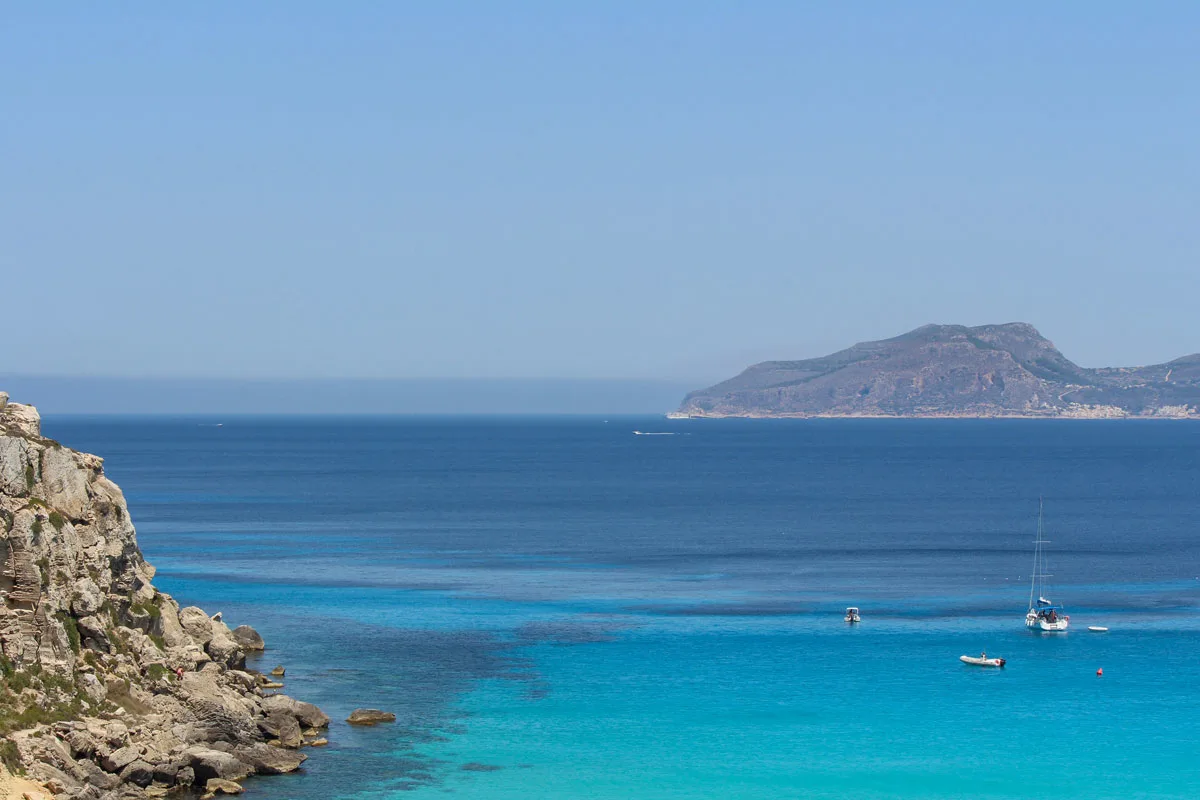 Favignana Island is the perfect romantic getaway for couples looking to spend some time in the sun and reconnect away from life's daily hustle. Favignana offers a slow and leisurely pace with a laid-back village vibe, set against some of the most beautiful scenery in the world.
This quiet island offers stunning white sand beaches with clear waters perfect for snorkelling. Couples can also enjoy a day cruise to a nearby island and observe wildlife, such as dolphins.
Some top places to visit in Favignana include the gorgeous Cala Azzurra beach and the Castle of Santa Catarina.
Spring and summer are the best times to visit Favignana for a romantic getaway. The weather is warm, and there is just enough activity on the island to keep things interesting.
To reach the island, you will need to fly or train to Trapani and take a shuttle boat from Trapani port to the island.
Depending on the time of the year, you may not be able to bring a car to the island as there are restrictions on the number of vehicles allowed on the small island. But, true to the laid-back style, bicycles are a popular form of transport, as are scooters, which are available for rent.
Recommended by: Mary Kathill– Be Right Back By Mary
Lucca Tuscany
The charming little Italian town of Lucca in Tuscany in central Italy is the perfect addition to any travel itinerary for couples seeking an authentic and romantic Italian getaway.
As the municipality's capital of the same name, the picturesque city is well-visited by locals and foreigners throughout the year. However, the best time to visit is spring and fall for milder temperatures and fewer crowds.
Known as one of the Italian Arts Towns or "Cittá d'Arte", Lucca has an impressive historic centre filled with magnificent plazas and charming alleyways. The intact city wall dating back to the Renaissance is a highlight of the city.
Located in a lush valley close to the Tyrrhenian sea, Lucca offers many interesting destinations outside the city. Day trips to cities like Parma or Pisa are easy, and plenty of charming coastal towns are within easy reach.
Recommended by: Josephine Remo – josephineremo.com
San Gimignano
One of the most romantic places to visit in Italy as a couple is the hilltop town of San Gimignano.
A popular day trip from Florence, the beautiful Tuscan town is often called the Manhattan of the Middle Ages because of the numerous towers that once served as houses. Of the 72 towers built between the 11th–14th centuries, only 14 are left.
Enjoy the authentic Italian atmosphere as you explore the medieval streets. Take in the breathtaking Tuscan landscape from the 54-m high Torre Grossa, or watch the sun set behind the rolling Tuscan hills from one of the restaurants along the old city walls.
Don't miss a gelato stop at one of Italy's most renowned ice cream parlours, Gelateria Dondoli.
Recommended by: Daniela Koleva – Ipanema Travels
Bari Puglia
The second-largest city in southern Italy, Bari is the capital of Apulia and a gorgeous gem to explore with a loved one.
Located on the Adriatic Coast, Bari has a compact yet charming Old Town (Bari Vecchia) dotted with historical buildings and sites.
Stroll through the maze of streets in the Medieval neighbourhood, stopping to visit the many historical churches or to grab a drink at one of the bars. Explore the traditional trattorias and try the local speciality orecchiette with turnip greens.
Bari is also an ideal base for exploring the region. The picturesque town of Polignano a Mare is less than an hour's drive from Bari.
A little further from Bari, the town of Alberobello is right out of a fairytale. The town is famous for its Trulli, a traditional Apulian dry stone hut with a conical roof built without using mortar.
Recommended by: Cris Puscas – LooknWalk
Polignano a Mare Puglia
Polignano a Mare is one of the most picturesque small towns on Puglia's coast, perfect for a romantic getaway. Wander through the charming streets of the Old Town past whitewashed buildings and stop to sip a coffee or try a new gelato flavour, like the local Apulian fig flavour.
Don't miss spending a few hours on Polignano's gorgeous little cove beach, Lama Monochile. The sparkling turquoise waters and stunning cliffs are a little slice of paradise. It is quite popular in the summer, so get there early to grab a good spot and spend time lounging, sunning, swimming, and people-watching.
One of the top attractions in Polignano a Mare is the Museum of Contemporary Art, featuring many works by Polignano-born artist Pino Pascali. For a one-of-a-kind dining experience, don't miss eating at Grotta Palazzese, a high-end restaurant with a terrace inside a cave with front-row sea views. Make sure you book in advance to enjoy an elegant dinner at this exclusive restaurant.
Recommended by: Megan Starr – Megan and Aram
La Maddalena Archipelago Sardinia
La Maddalena is an archipelago of seven main islands and about 60 islets off the northern coast of Sardinia, Italy's second-biggest island.
Entirely protected as a UNESCO national park, this archipelago is one of the Mediterranean Sea's most untouched and wild regions.
What makes La Maddalena famous, especially among couples, are its pristine beaches of fine sand and turquoise waters surrounded by rose-hued rocks typical of the archipelago.
La Maddalena is where you can lose yourself amid incredible and unique nature. There are nearly no human constructions outside the town of La Maddalena, the port of entry to the island. But don't worry; you'll still find everything you need in La Maddalena for a perfect romantic getaway.
To make the most of La Maddalena beaches and hiking trails, it is best to visit in summer (from June to September). You shouldn't miss the most heavenly beaches: Cala Coticcio, Cala Napoletana, and Testa del Polpo.
Recommended by: Nes Chebbi – Kevmrc Travel
Como
Como city is one of the most romantic destinations for couples in Italy and the gateway to the stunning towns on Lake Como.
Situated on the south side of Lake Como in the Lombardy region, Como is just an hour's drive or train from Milan.
The picturesque mountainous lakeside setting is the perfect backdrop for a romantic getaway. Couples can stroll along the lakeside promenade, enjoy a boat ride on Lake Como, or explore the quaint shops and cafes.
There are also plenty of opportunities for romance away from the hustle and bustle of city life, with several secluded gardens and parks. Jump on the ferry and take a day trip to beautiful Lake Como towns such as Bellagio and Tremezzo or visit famous villas such as Villa Del Balbianello.
While in Como, plan a few hours to go up the Como-Brunate funicular for amazing town views from above. There you can go even further and see Faro Voltiano – a lighthouse on the top of a mountain with breathtaking lake and Alps views.
Recommended by: Una – Wandernity
Menaggio Lake Como
For a romantic, idyllic location in Italy, consider spending time at Menaggio, a village in the heart of Lake Como. This little village has everything you need for a few romantic days away.
For couples, Menaggio is a great village to stay in as it tends to be less busy than other areas of Como. It also has great connections to other villages by boat and boasts some of the best restaurants on the lake.
You can take a direct ferry from Menaggio to the famous villages of Varenna and Bellagio across the water. Head to the Spiaggia Lerai beach area to swim, sunbathe and relax with a book.
It is also well positioned for visiting nearby Switzerland if you wish to, such as a day trip to the small village of Ascona or the beautiful city of Lugano.
Menaggio is also lovely for relaxing indulgences such as lazy mornings enjoying the lake views over a coffee at Caffè Centrale
The best time to visit is in Spring and Summer when the village is the prettiest with flowers, sunshine and the warm heat of the season.
Recommended by: Zoe Elliot – Together In Switzerland
Panzano in Chianti Tuscany
If food, wine, and the rolling hills of the Tuscan countryside appeal to you, Panzano in Chianti is a dreamy romantic escape.
The quiet hilltop wine town, exactly halfway between Florence and Siena, is located in the Chianti Classico wine region of Tuscany.
Lees then 1000 people live in the medieval village overlooking sweeping vineyards, but they say the whole world passes through Panzano, as it is the heart of Chianti.
Rent a Vespa or car to visit the local wineries. Learn about the famous Chianti wine through tastings and lessons from local winemakers.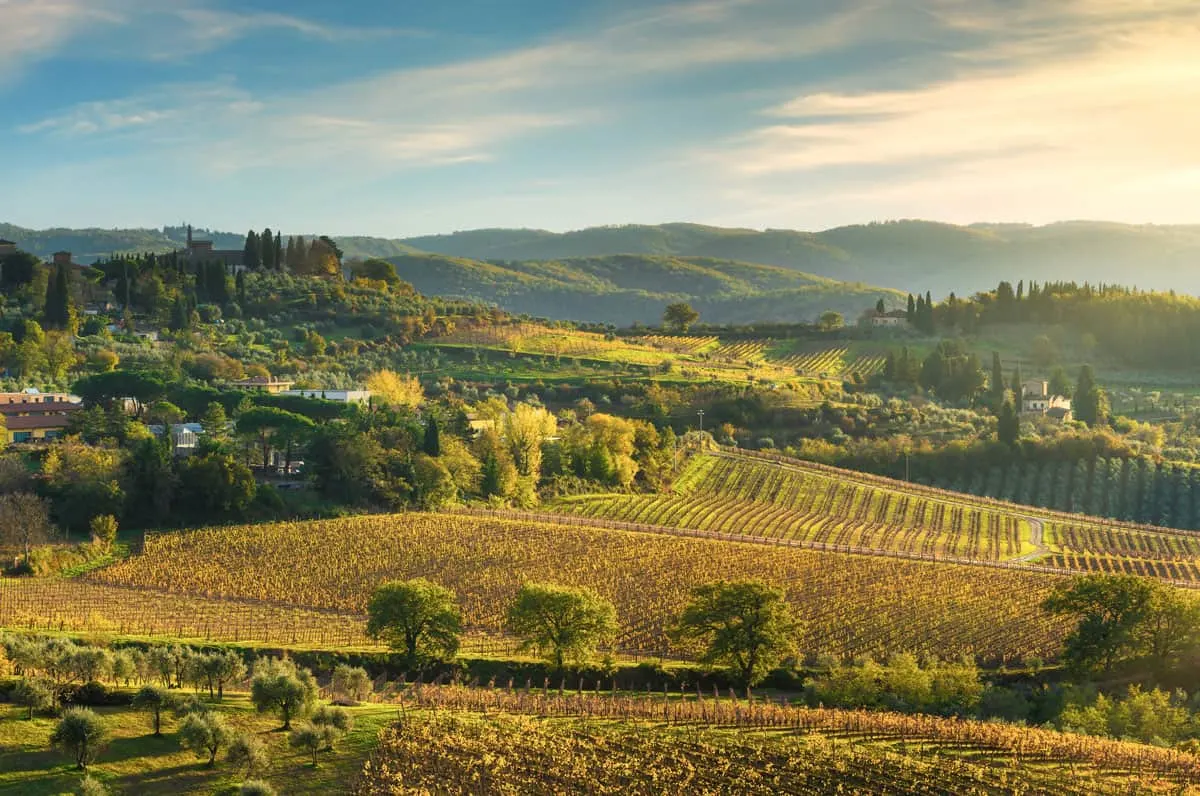 Watch the sunset over the rolling hills, followed by a candlelit dinner at Ristorante Oltre il Giardino. Pair your Chianti Classico with a Florentine steak or zucchini ricotta risotto.
When the wineries are closed on Sundays, you can enjoy local food from the Sunday Market. Until 1 pm, you can shop at the outdoor market for fresh produce, local cheeses and cured meats, flowers & plants, shoes, clothes, kitchen gadgets and more.
The little town of Panzano in Chianti allows you to slow down and appreciate the beauty and lifestyle of the Tuscan countryside.
by Rachel Grenis – Caribbean Uncovered
Romantic Cities in Italy
Venice
Venice is possibly the most romantic city in Italy. Situated on a group of 100+ small islands connected by more than 300 bridges, there are plenty of reasons Venice is a romantic destination for couples.
The canals and Venetian architecture create a unique atmosphere perfect for a romantic getaway. Whether taking a gondola ride through the romantic canals, wandering through St Mark's Square or admiring iconic sites like the famous Rialto bridge or Doge's Palace– Romance is at every turn in Venice.
Venice also lays claim to some of the best food in Italy. From fresh seafood to delicious gelato, you will not be disappointed by the culinary offerings in Venice.
Venice can be crowded with tourists, especially during peak season (May-September). If you want to avoid the crowds but still enjoy pleasant weather, aim for shoulder season (April & October). These months offer milder temperatures and smaller crowds than summertime – perfect for a romantic getaway.
We also highly recommend allowing four to five days in Venice – this gives you time to enjoy the city's calm in the early mornings and the evening when the day tourists have left. It also allows time for fantastic day trips from Venice, such as the charming Murano and Burano islands or even Verona.
Recommended by: Disha Smith – Disha Discovers
Florence
Famous worldwide for its art, culture, history, and architecture, Florence is undoubtedly one of Italy's prettiest and most romantic cities. A very walkable city, there is a staggering diversity of things to do in Florence, especially for couples.
A city almost 3,000 old, exploring Florence is like walking around the most beautiful outdoor museum. From the breathtaking Piazza Del Duomo and the Santa Maria Del Fiore Cathedral to the Piazza Della Signoria, one of the most beautiful squares in Florence.
Tracing the history of the Medici family treats visitors to one of the world's most famous museums, the Uffizi Gallery. Couples can enjoy a breath of fresh air in the "green lung of Florence" at the magnificent Boboli Gardens connected to the Palazzo Pitti – an incredible stroke of natural beauty created by the Medici Family in the 16th century.
Watch the sunset from the historical Ponte Vecchio and take an aperitivo before dining at some of Italy's finest restaurants – don't forget to try the famous Bistecca alla Fiorentina (Florentine steak) or gelato in its city of origin.
The surrounding Tuscan landscape offers couples a romantic day trip or two to explore world-class vineyards and wineries.
Milan
There are few cities more romantic than Milan. This Italian city is renowned for its fashion, food, and architecture, making it a fantastic destination for a couple's trip.
Whether you're visiting Milan for a weekend getaway or a longer vacation, there are plenty of things to do.
Explore the city's iconic sights like the Duomo Cathedral and the Galleria Vittorio Emanuele II.
Or, if you're looking for unforgettable dining experiences, you'll find no shortage of Michelin-starred restaurants in Milan, including Milan's most coveted table, the two Michelin-starred restaurant Seta by Antonio Guida.
Of course, no visit to Milan would be complete without shopping. From high-end designer boutiques to local markets, there's something for everyone in Italy's most fashionable city.
Recommended by: Lowri Thomas – Many Other Roads
Rome
Rome is home to some of the world's most significant landmarks. A living, breathing museum, Rome is also incredibly romantic. It's no wonder it has been the setting for so many iconic movies.
With incredible food (don't miss an opportunity to take a delicious food tour in Rome), intimate cobbled allies, and larger-than-life historic landmarks, Rome encapsulates the unique beauty of Italy. A city with epic history, it sets a frenetic pace yet still imparts a special intimacy to visitors that will last long after you leave.
There is so much to see and do, we recommend at least four days in Rome to enjoy everything the city offers at a relaxed pace. There are also loads of fantastic day trips from Rome that you might want to factor into your itinerary.
Start with some of the Eternal City's most romantic attractions, such as the famous Villa Borghese Gardens, the Trevi Fountain, and the elegant Vatican Museums. Wander through the charming Trastevere neighbourhood, steal a kiss on the Ponte Sant'Angelo, watch the sun go down from the Spanish Steps and dine in Piazza Navona.
Recommended by: Sam Oppenheimer – Find Love & Travel
Siena
Sine in central Italy's Tuscany region is a gorgeous city for couples. There are so many unique things to do in Siena.
Explore the medieval city of Siena to discover one of the most charming cities in Italy. Piazza del Campo, one of Italy's most romantic city squares, is a must-see. Here you will also find the Fonte Gaia fountain, which once supplied Siena with water and today delights with its numerous decorations and details.
Also worth a visit is the Palazzo Pubblico, the town hall, and the imposing 102-meter Torre del Mangia for a stunning view over the city and the Tuscan hinterland.
Around the main square, you will find nice cafés and restaurants where you can enjoy lunch or a romantic dinner savouring some of Tuscany's best flavours and dishes. Visit the Duomo Santa Maria della Scala, one of Italy's most important religious buildings.
Take a short walking tour of the old city to hear the stories of the ancient city about Siena's famous Palio di Siena, Italy's most famous horse race that takes place twice a year in piazza del Campo. You'll also get some insider knowledge on the best places to eat, drink and shop.
Recommended by: Martina Hzb – Places of Juma
Italy is truly one of the most romantic countries in Europe. From intimate retreats in the Italian countryside to coastal vacations with some of the most beautiful vistas and romantic cities that will steal your heart.