We have learned that Rome's proximity to other Italian cities makes it a very logical base for exploring more of Italy without too much effort. There are so many great day trips from Rome it makes sense to spend a little longer in Italy's capital.
We recently jumped on a train from Rome to Naples for lunch – the pizza is that good!
There are so many great days away from the capital for every interest. These top day trips from Rome will help you plan your perfect Italian itinerary.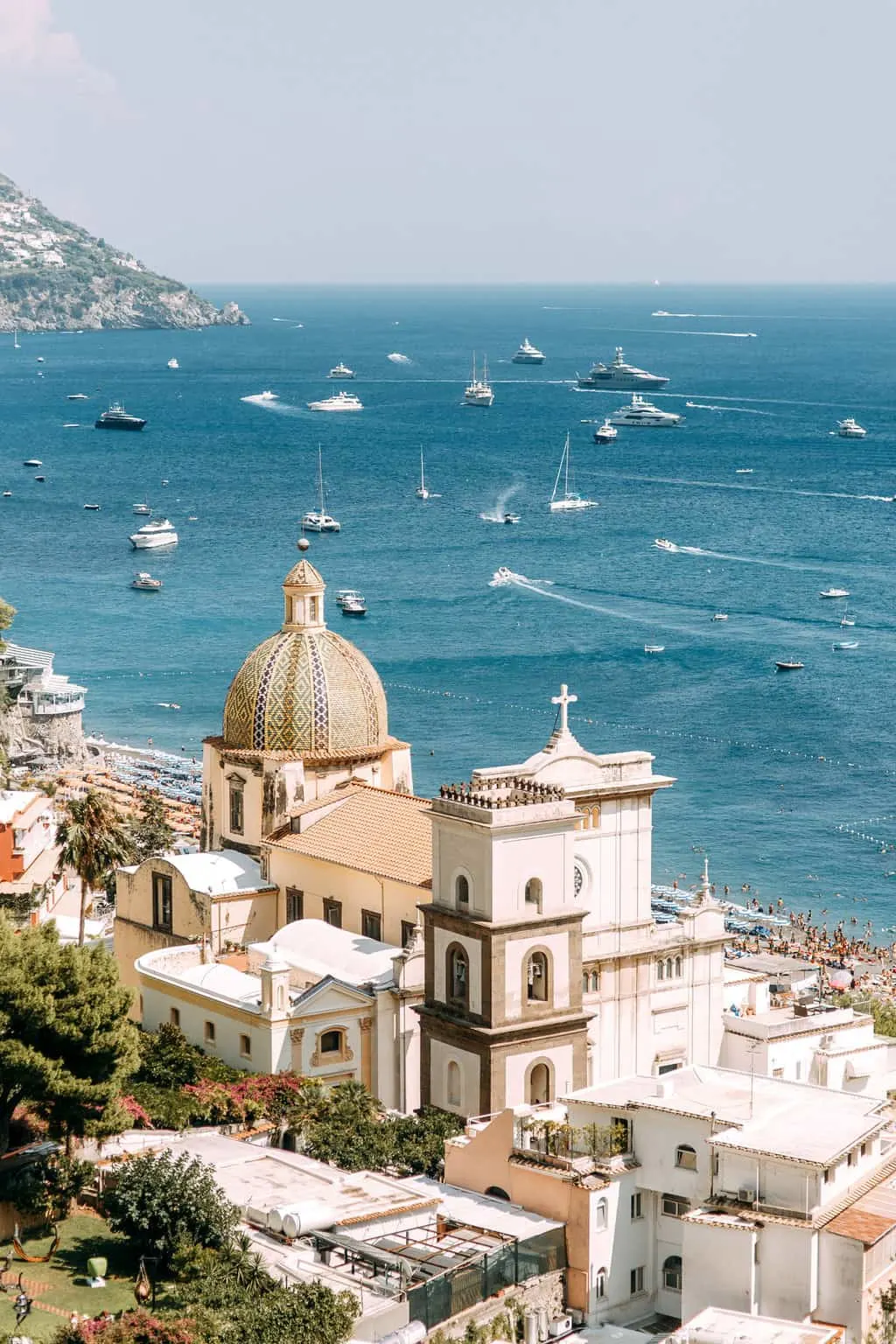 One of the most popular tourist destinations in the world, Rome is an intoxicating city filled with rich culture, centuries of history, and world-class attractions. There is so much to see and do in Rome, from discovering world-famous antiquities to incredible Roman food tours. But, there are also many incredible attractions a short distance from Rome.
From day trips by train to guided day tours and leisurely drives through the Italian countryside, there are many ways to discover so much more of Italy within a short distance from Rome.
How to Get Around
Trains
The best way to achieve most of these day trips is by train. Day trips from Rome by train offer a very efficient way to explore nearby cities such as Florence and Naples and many smaller towns and villages.
There are plenty of day trips by train where you can visit grand cathedrals, picturesque countryside, and charming villages steeped in history. Best of all, you can be back in Rome in time for dinner.
Tours
If you prefer more organized tours with a guide, there are lots of options for day tours from Rome. Sometimes, tours are the best way to experience destinations where public transport can be difficult.
Experience hassle-free guided excursions through some of the region's most stunning locations—from hilltop towns like Orvieto and Civita di Bagnoregio to the Amalfi Coast and the ruins of Pompeii, with knowledgeable guides to provide insight into each destination's history and culture.
We have highlighted the best day tours from Rome, where we believe they are good value and offer the best experience.
Self Drive
In some cases, public transport or tours might be available, but hiring a car may offer a better experience, as in the case of the Tuscan countryside or the Castelli Romani. Car hire from Rome is easy – you can take the train to the airport and collect a car there for a day or two to avoid driving in the middle of the city.
Find the Best Car Rental Deals for Italy
When we travel, we use Discover Cars for car rental as they aggregate the best local deals, have no hidden fees and offer free cancellation.
Tip: Always check if you have car rental insurance included on your travel insurance or with your credit card company before paying any additional to the rental car company.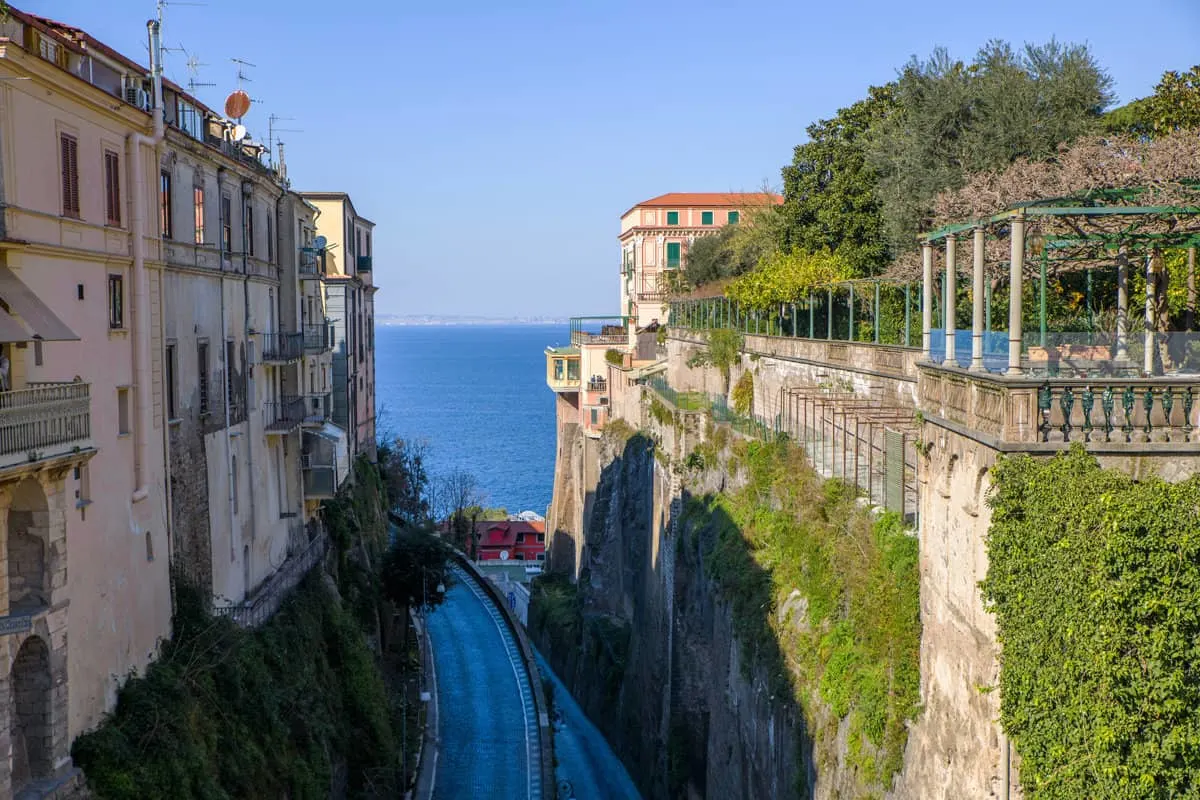 The 23 Best Day Trips from Rome
Vatican City
While essentially in Rome, Vatican City is a different country and a full day in itself.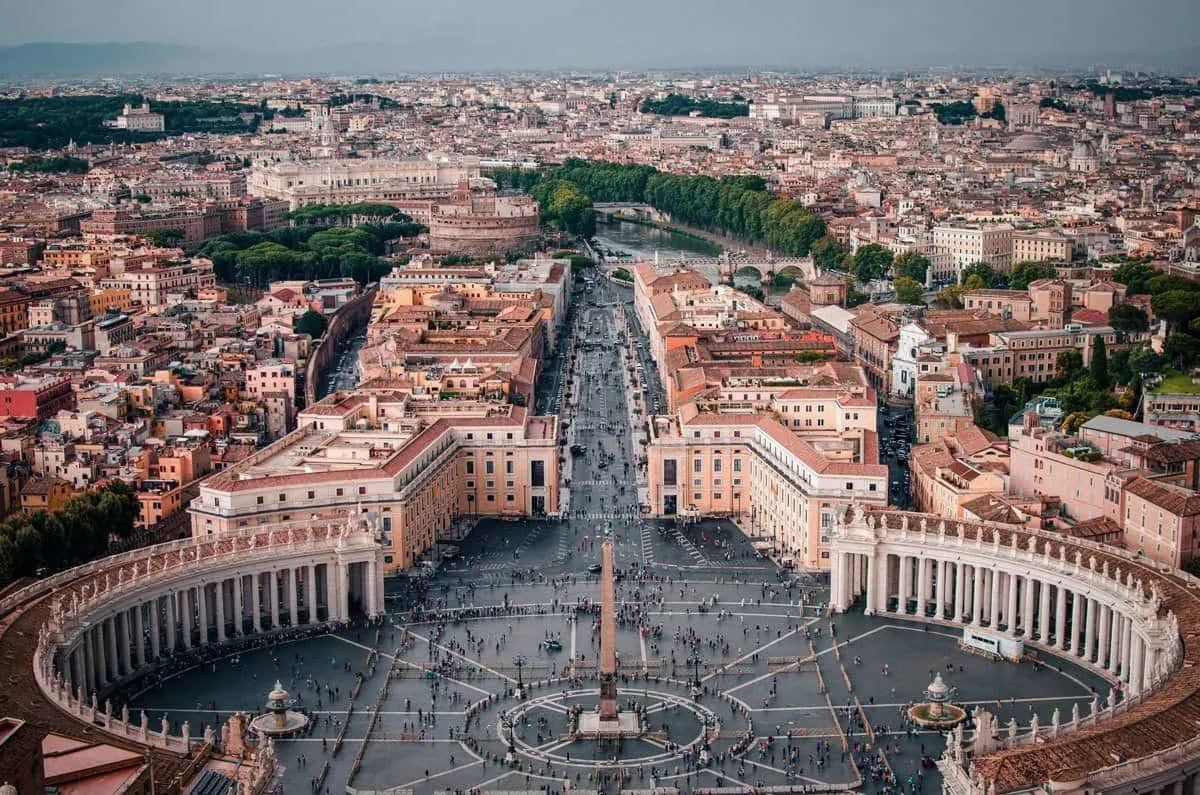 Vatican City is one of the most popular day trips from Rome, and it is easy to see why. Visitors can marvel at some of the world's most famous works of art in St. Peter's Basilica and take in a stunning view from atop St. Peter's Square.
Visit the immense Vatican Museums, Michael Angelo's Sistine Chapel, and the stunning Vatican Gardens.
With its rich history and diversity of experiences, Vatican City provides an unforgettable day for every visitor.
There are so many experiences in the Vatican. We have compiled some of the best Vatican tours here to help you choose the best experience.
How to Get to Vatican City From Rome
It is easy to reach Vatican City using the Rome Metro system. Take line A to Ottaviano-S. Pietro outside the Vatican walls. Trains every few minutes. It's a 5-minute walk from the Metro to St Peter's Square and the Vatican Museums.
Castelli Romani
The Castelli Romani are a group of small towns and villages located 20 km southeast of Rome. These picturesque hillside settlements are among some of the most popular day trips from Rome, offering visitors a glimpse into traditional Italian life.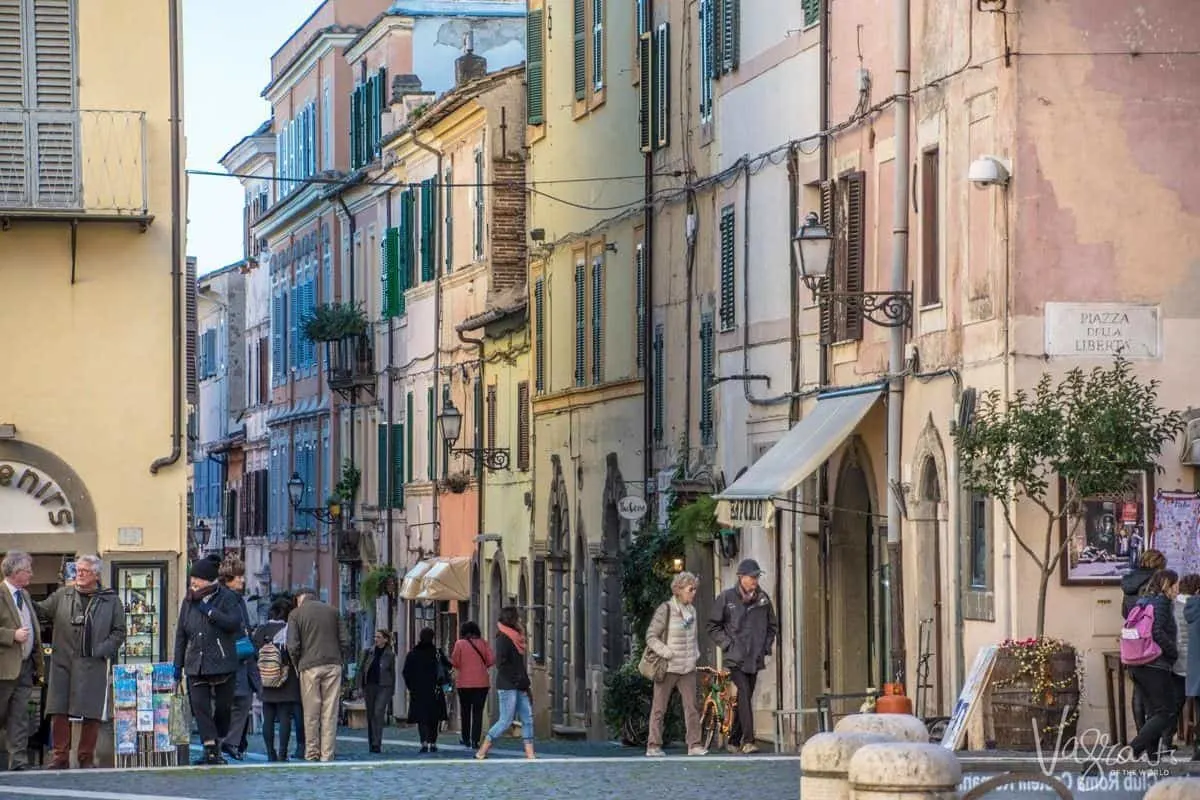 The hill towns of Castelli Romani have long been a summer escape for Roman aristocrats and affluent popes. Nowadays, it is a highly sought-after destination for experiencing local cuisine and savoring exquisite wines.
From delicious artichoke dishes to luscious local wines like Frascati Superiore DOCG or Di Montefiascone DOCG, foodies will be spoiled for choice when exploring these charming towns located near Lake Albano.
If you don't have a car, your two top choices for a hassle-free day are Frascati and Castel Gandolfo— both towns are accessible by train in less than an hour.
Frascati
Frascati is the most important of the Castelli Romani (the castle towns of the Alban Hills). Best known for its beautiful 16th and 17th century villas belonging to old noble families, it is still a popular summer retreat for Romans today.
Beyond the grand villas bulging with artworks gifted by a bygone Roman aristocracy, you can savor local wine while feasting at one of its renowned fraschette eateries.
Join a wine and food experience with a local guide. You can take a guided tour of an iconic family-owned winery to sample local wines, followed by lunch at a local trattoria. See here for details of this experience. There are also some fantastic cooking classes in Frascati. You can see our pick for the best cooking classes in and around Rome here.
Explore Piazza Roma and the nearby Piazza Marconi, two of Frascati's most recognizable landmarks. A visit to the Cathedral of Saint Peter in the historic center is a must. Further south lies Villa Torlonia, boasting a breathtaking garden setting with lush greenery and tranquil waterways.
Above Piazza Marconi is Villa Aldobrandini. The only grand Papal garden not owned by the state, it features terraces, fountains, cascades, and unparalleled views. The grand Teatro delle Acque ("Water Theater") fountain by Carlo Maderno and Orazio Olivieri is extraordinary, with its curved terraces enveloping cascading fountains.
Castel Gandolfo
Castel Gandolfo is a great destination for a day trip from the capital. Situated on the edge of Lake Albano in the Alban Hills, Castel Gandolfo offers stunning views and plenty to see and do. From visiting the Papal Palace and its beautiful gardens to exploring the town with its charming streets, quaint shops, and trattorias, there's something here for everyone.
Castel Gandolfo offers a lot, whether you are looking for a breath of fresh air not far from the city or simply want to soak up some history.
Tour Tip: Castel Gandolfo is one of our favorite Vatican tours. It is included in the Vatican Museums & Castel Gandolfo Pope's Summer Residence Day Trip, including the Vatican Museums, Vatican Gardens, the Vatican Train to Apostolic Palace of Castel Gandolfo, lunch, and much more. See here for bookings and details.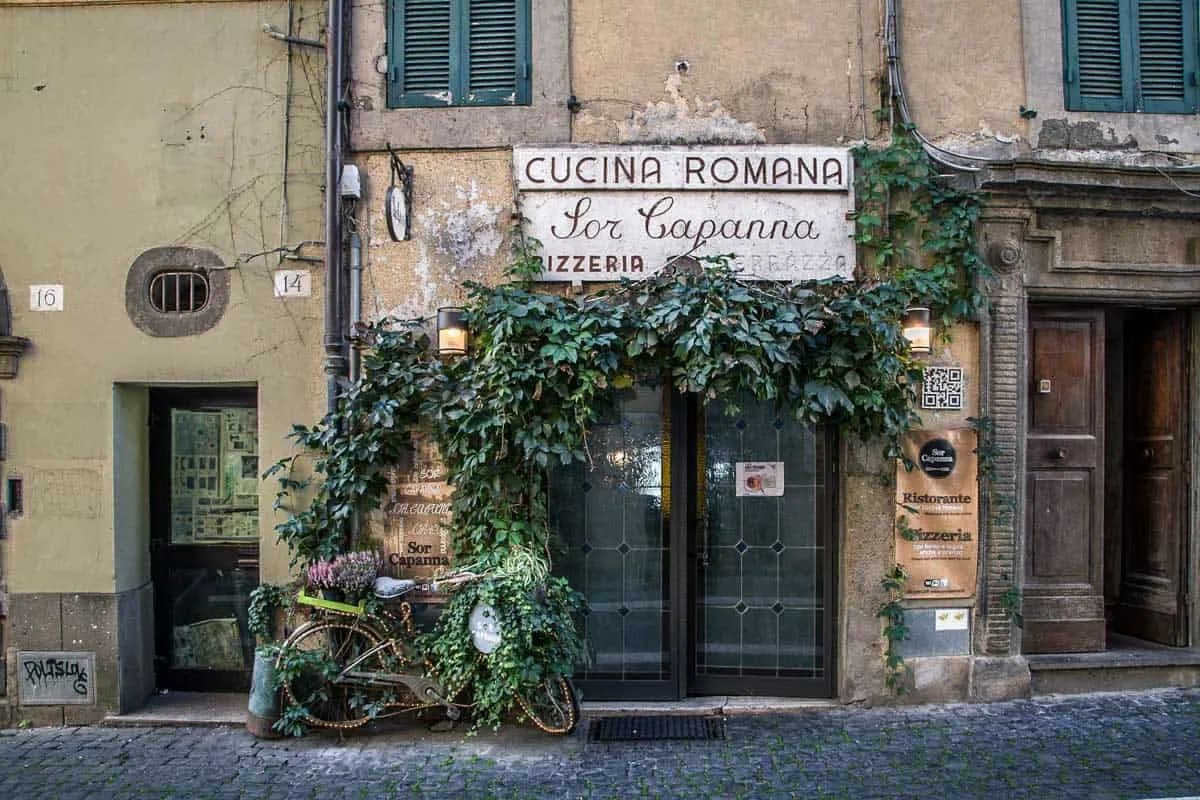 How to get to Castelli Romani from Rome
The Castelli Romani is best explored by car as many towns are not connected to the train service. However, several regional buses service the towns from the metro stop Anagnina.
From Rome, take either the regional train from Termini Station (towards Velletri) OR Take the Metro Line A towards Anagnina to connect with the bus services.
Tours to Castelli Romani
If you prefer to take a tour and experience numerous towns in one day, you can find a great selection of Castelli Romani Tours here, from full-day guided tours to hop-on, hop-off village hopping tours where you can dictate your own itinerary. You decide.
Tivoli
Tivoli was once celebrated for its majestic villas built by Roman emperors. It retains much of its grandeur with several preserved structures, such as Hadrian's Villa and Villa d'Est.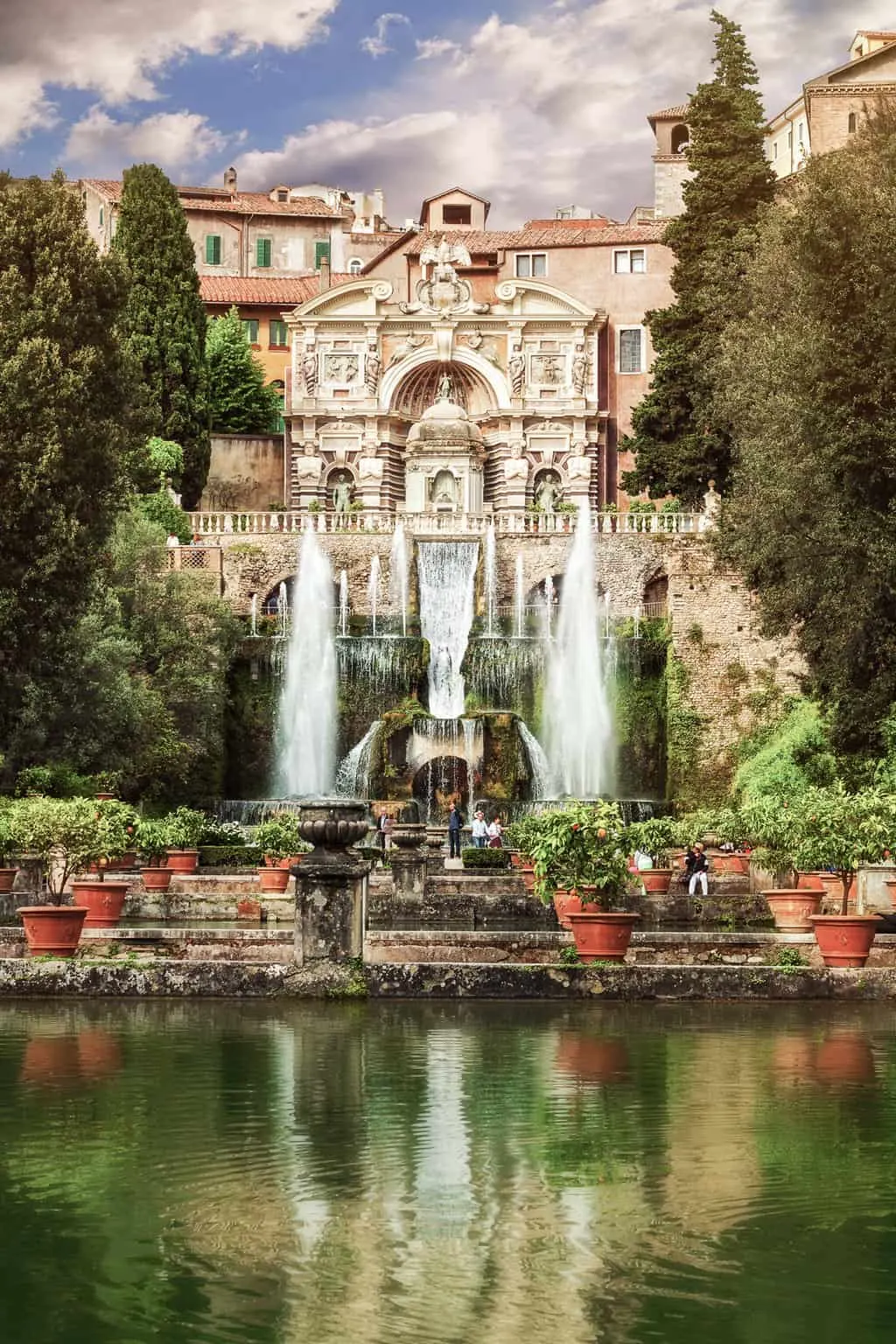 Less than an hour from Rome, Tivoli offers a fascinating glimpse into Rome's imperial past. It makes for an unforgettable day trip from Rome – allowing you to experience two of Italy's most beautiful UNESCO World Heritage Sites without having to travel too far away from Rome itself.
Hadrian's Villa
Hadrian's Villa is a sprawling complex of buildings, gardens, and pools built by Emperor Hadrian. The villa is adorned with carefully preserved intricate mosaics and frescoes. Its grand scale makes it one of Italy's most impressive archaeological sites.
Villa d'Este
Villa d'Este is another must-see spot in Tivoli. Built in the 16th century by Cardinal Ippolito II d'Este, the palace was designed to impress with its multiple fountains, streams, waterfalls, and musical fountain show. Its painted ceilings and spiral staircase are truly special – not to be missed.
How to Get to Tivoli From Rome
Visiting both attractions in one day can easily be done by taking a direct train from Rome Termini Station to Tivoli Villa Gregoriana station, 13 minutes away.
It is a short walk or bus ride to both attractions from the station. If you plan your visit accordingly, you can see Hadrian's Villa in the morning and Villa d'Este in the afternoon – leaving plenty of time for lunch or dinner at one of the many restaurants within walking distance of either site.
If you prefer to take a tour, these are some recommended Tivoli tours from Rome:
Villa D'Este and Hadrian's Villa Tivoli Day Tour – 7 Hrs. Includes transfers, entry, and guides. Lunch is additional.
Villa d'Este and Hadrian's Villa Tour with Lunch – 7 Hrs. Includes transfers, entry fees, guide, lunch, wine, water, and coffee.
Hadrian's Villa and Villa d'Este Half-Day Tour – 4 Hrs. Included transfers, entry, and guides.
Ostia Antica
Ostia Antica is an archaeological site located less than an hour from the center of Rome. Once the main port city and naval base of the Roman Empire, it is now one of the best-preserved ancient sites in Italy.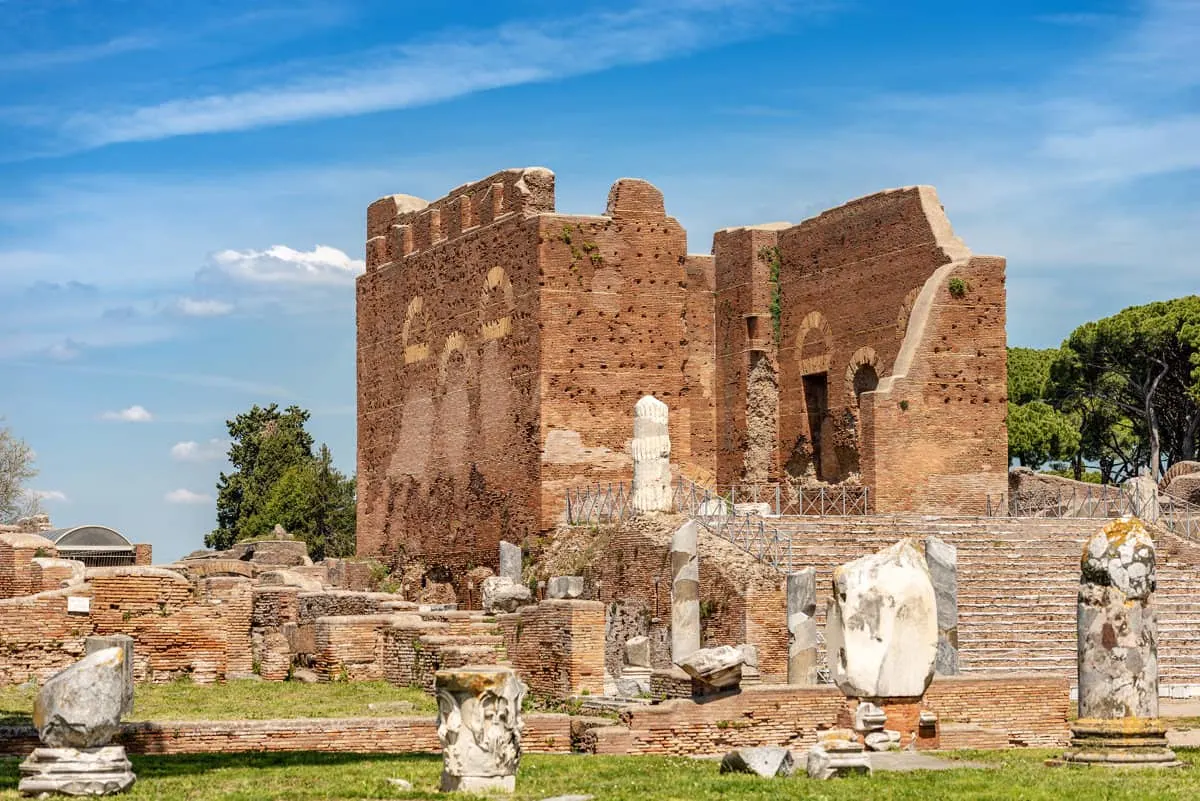 One of the largest excavated sites next to Pompeii, Ostia Antica offers visitors a unique insight into life in Imperial Rome, featuring preserved Roman mosaics and monuments in their original locations.
A day trip to Ostia Antica from Rome is a must for anyone interested in the history and culture of Ancient Rome. See the Ostian Forum – the central square of Ostia, which stands out for its impressive marble pavement and numerous remains of temples, and the Ostia Theater – a perfectly intact outdoor theater used for musical performances.
Nearby are Ostia's famous baths, built between the 1st and 3rd century A.D. The Baths of Neptune are particularly impressive; you can admire various sculptures depicting gods and two swimming pools thought to have been used by women and men separately.
Visit the Ostiense Museum and Villa dei Volusii Saturnini, both located inside the walls of Ostia's old town. The museum has artifacts unearthed during excavations at Ostia and a permanent exhibition about Ostian history.
How to Get to Ostia Antica
Visiting Ostia Antica is easy thanks to its proximity to Rome; you can take one of many buses running from Roma Termini or even rent your own car for a scenic drive through Tuscany countryside en route to Ostia Antica.
If you prefer a guided tour of Ostia Antica, you can take the Ostia Antica Half-Day Tour from Rome by Train. The tour includes train tickets and entry fees, but most importantly, a guide to give you a comprehensive account of the historical site. You also have free time to explore Ostia town and the beach.
You can pre-book your entry ticket and explore the expansive Ostia Antica Archaeological Park at your own pace. The ticket is valid for 8 days and includes entry to all the major attractions at the park. See here to book.
Amalfi Coast
The Amalfi coast lies some 130 kilometers southwest of Rome and is renowned for its picturesque cliffs, captivating fishing villages, and vibrant nightlife spots along the coast. Unsurprisingly, it's one of the most popular Italy road trip destinations.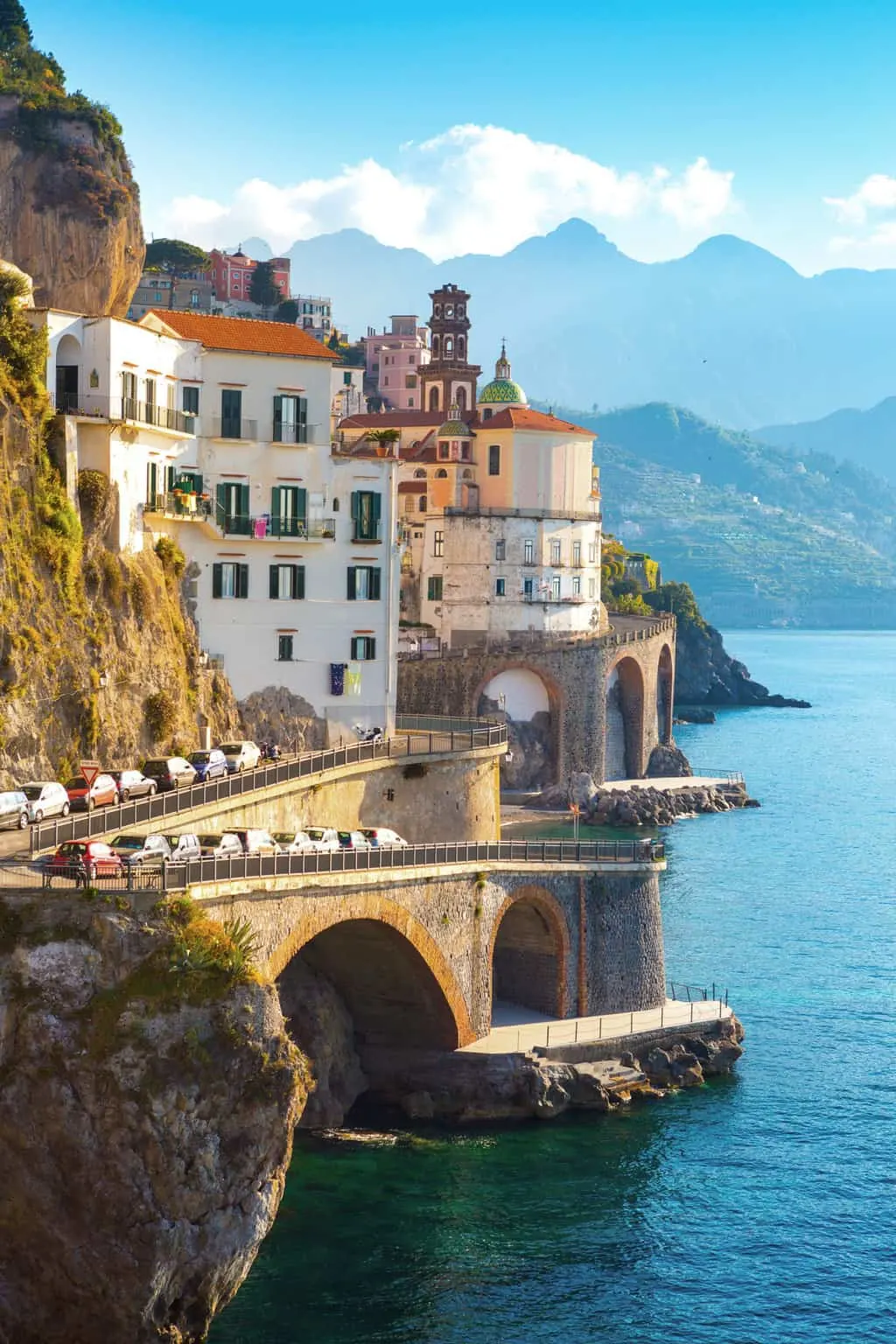 There's no denying a day trip to the majestic Amalfi Coast from Rome is a very long day. Regardless, it is one of the most popular day trips from Rome.
Witness Italy's most magnificent scenery and enchanting villages. The famous winding road along the rocky cliffs of the Tyrrhenian Sea offers awe-inspiring views, hugging deep ravines as it twists around each bend, revealing another iconic vista.
You may not have time for more than one village – beautiful Positano is the most convenient stop for day visitors or some leisure at the beach during your limited stay. however, there is no doubt the experience will remain etched in your memory as a highlight of your time in Italy.
Tour Recommendation: If you choose not to drive this iconic stretch of road ( it can be insanely busy during the peak summer season), you can take a Rome to Amalfi Coast tour for the full experience. It is also possible to do a combination tour along this beautiful coast with a visit to Pompeii, Positano, and Amalfi Coast on the Small-Group Full-Day Trip to Pompeii, Positano, and Amalfi from Rome.
Sorrento
A great way to escape the hustle of Rome is a day trip to Sorrento, with tranquil beaches and enticing seafood restaurants. Unsurprisingly, it is also one of Naples' most popular day trips.
Sorrento makes a great day trip from Rome for those looking for a similar Amalfi vibe but easier to access.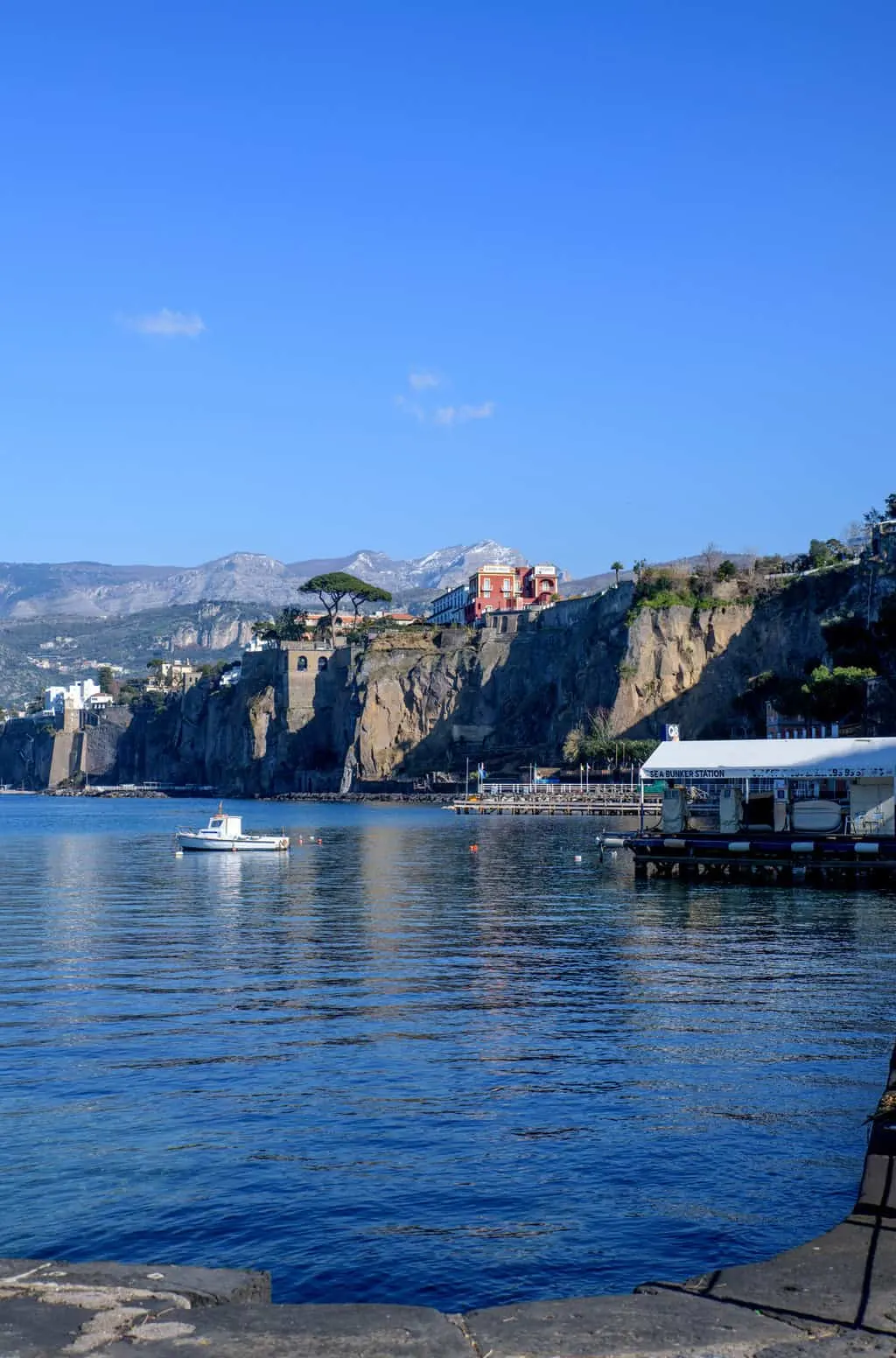 With its stunning views of the Bay of Naples and easy access via train, you can experience the best of Sorrento in one day, from exploring quaint fishing villages, indulging in delicious seafood dishes, and exploring the quaint old town dotted with beautiful churches.
Located across the peninsular from the famous Amalfi coast, Sorrento is right on the train line, making it a very affordable day trip to this world-renowned region.
As with the Amalfi coast, combining a tour with Pompeii is possible for a more efficient way of seeing the best of the area.
How to Get to Sorrento from Rome
If you want to travel independently to Sorrento from Rome, you must take the high-speed train to Naples and then change to the regional line to Sorrento. It will take around 2 hrs each way. It is important to check the schedule to get the express train between Naples and Rome.
Pre-booking your tickets in advance is also advisable – especially during peak season. You don't want to miss out or get stranded in Sorrento or Naples.
For some, an all-inclusive tour might be more cost and time effective. You could try the Capri, Blue Grotto, Sorrento and Pompeii from Rome tour or the Pompeii Skip-The-Line and Sorrento Full Day from Rome.
Tip: Pompeii and Sorrento are on the same train line from Naples (Sorrento is the last stop), so both can be done in one day if leaving from Naples.
Capri
From Rome's bustling city vibes to Capri's serene island beauty and remarkable sights. It's no wonder Capri is one of the most sought-after day trips from the capital.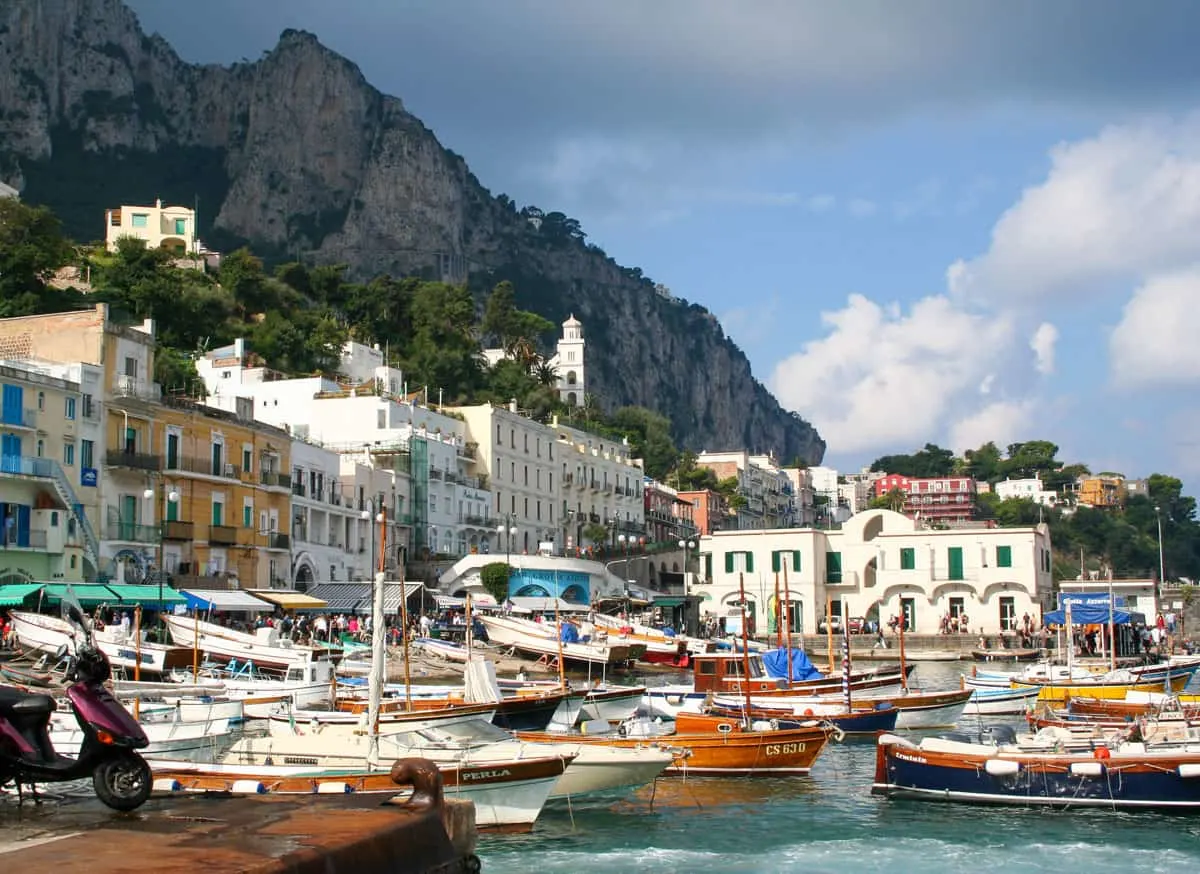 With its iconic limestone cliffs, impressive Faraglioni rock formations, and plenty of luxury boutiques along Via Camerelle shopping street, there's plenty to explore on this stunning Mediterranean island.
It's not the easiest day trip, but if you're looking for a unique alternative to Rome for a day of island tranquility, a day trip to Capri is worth considering.
Located in the Tyrrhenian Sea, just 43 kilometers from Naples and easily visible from Sorrento, Capri can be reached with a ferry service from both cities.
You can see our guide on things to do in Capri, but here is a sample of what you can expect – Take a boat tour around the island to see the striking cliffs while viewing Mount Tiberius and the Bay of Naples. Be sure to visit Anacapri, the Garden of Augustus, and tour Villa San Michele, or take advantage of some incredible shopping opportunities just off Piazzetta square. If you time it right, make sure to also visit the famous Blue Grotto – an underground cave that glows a brilliant blue due to natural light reflecting off its walls.
If you want a relaxing Capri experience, head to Marina Piccolo Beach Club for sunbathing and swimming.
How to Get to Capri from Rome
To get there from Rome, take a high-speed train to Naples, which takes a little over an hour if you get the express. From Naples central train station, you can take a taxi to the high-speed ferry terminal that will take you directly to Capri.
You can pre-book your ferry tickets here – this is highly advisable in the peak summer season.
Tour Recommendation: Alternatively, if you prefer a more convenient and comfortable option, consider booking an all-inclusive tour that includes transportation and ferry tickets. This Capri Island Day Trip from Rome arranges all the transport with a tour leader to coordinate your transfers, leaving you plenty of time to enjoy Capri at your leisure.
Naples
A day trip to Naples from Rome is a must-do for anyone visiting Italy. A city with a rich history, stunning views, and incredible food, Naples is the perfect destination for travelers looking to visit one of Italy's more controversial cities.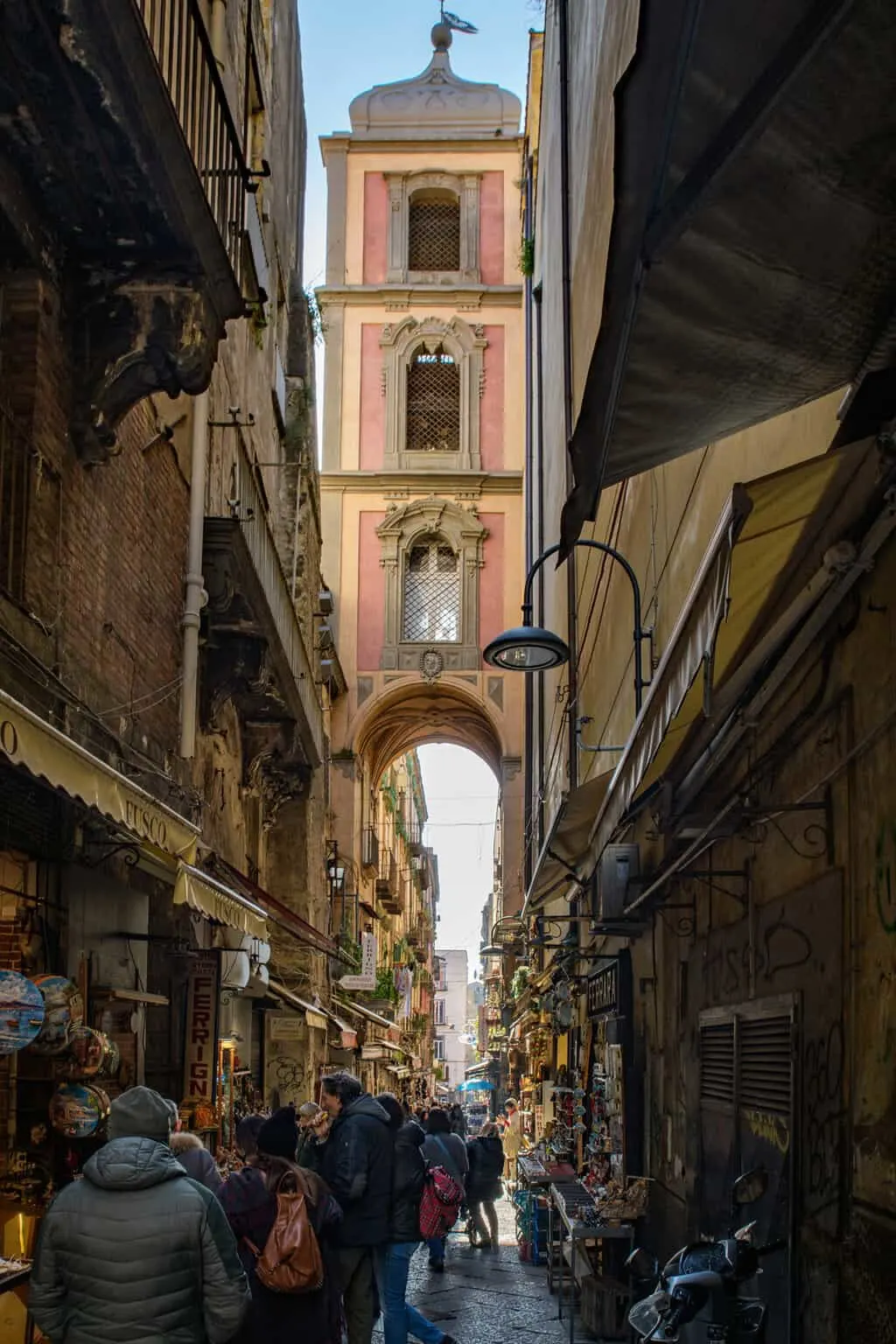 The home to pizza, Naples often takes visitors by surprise with its gritty facade and hectic pace. But, there is so much to do in Naples visitors quickly adjust to the city's unique atmosphere.
Stroll the dark narrow streets of the old town and explore famous streets like Via Toledo, Spaccanapoli, and Via dei Tribunali, known to locals as "pizza street". Stroll through the famous Piazza del Plebiscito and head to Castel Sant'Elmo for epic views over the Bay of Naples and Mount Vesuvius.
Walk the waterfront to Castel dell'Ovo and explore Naples's numerous underground archeological museums.
Beyond pizza, don't miss the chance to try Naples's famous street foods like fried pizza, sfogliatella, pizza a portafoglio, cones of fried seafood, and various delicious croquettes such as Arancini balls.
In addition to all its cultural offerings, Naples has amazing natural beauty and plenty of beaches within easy reach for those who prefer to relax.
How to get to Naples from Rome
High-speed trains run between Rome and Naples all day. Ensure you take the express train – this will take just over an hour. It is advisable to book tickets in advance, especially in summer, so you get the train times that suit you.
Pompeii and Mount Vesuvius
Pompeii and Mount Vesuvius are other day trip destinations from Rome near Naples.
Visiting Pompeii and Mount Vesuvius from Rome is an unforgettable day trip that allows you to explore two of Italy's most iconic sites.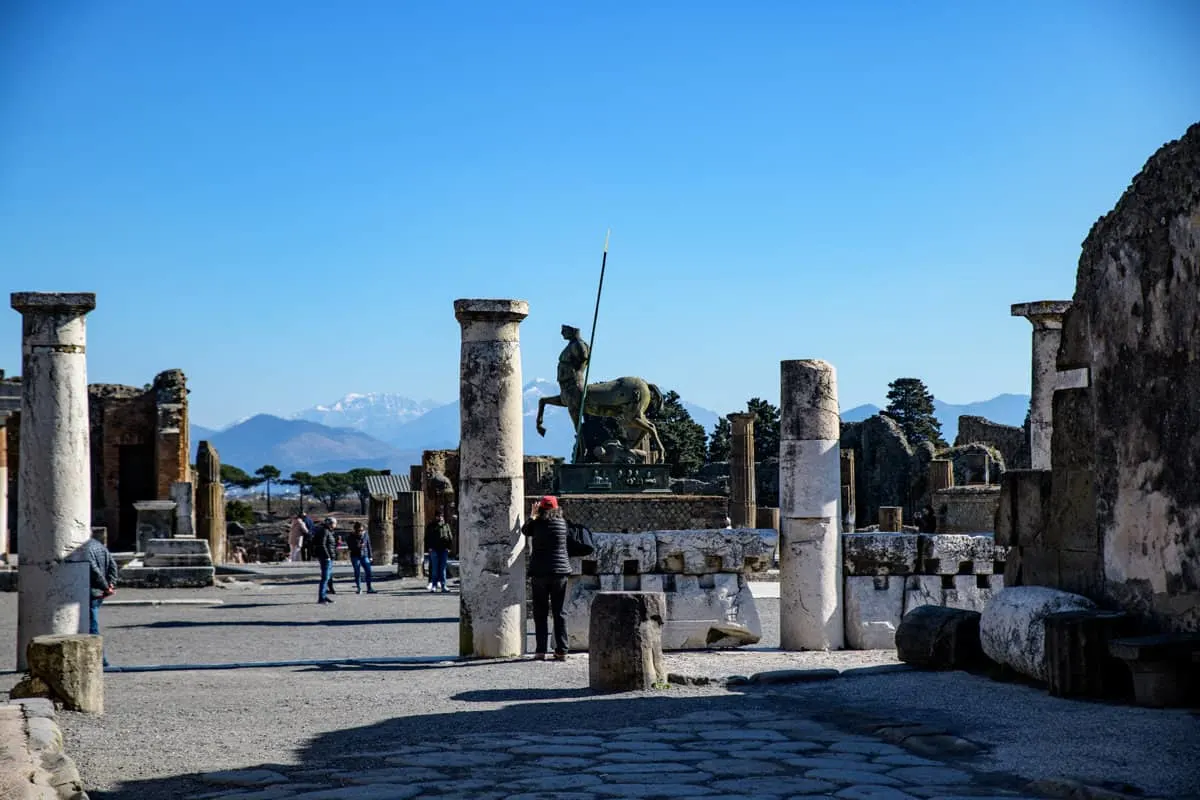 Learn about the ancient Roman city of Pompeii, buried by the volcanic eruption in 79 AD. Explore its ancient ruins, such as temples, theaters, baths, and preserved houses that showcase life during ancient Roman times.
Enjoy spectacular views of the Bay of Naples and the surrounding area from Mount Vesuvius, the only active volcano in mainland Europe.
How to Get to Pompeii and Mt Vesuvius from Rome
Vesuvius and Pompeii are easily reached by public transport from Naples – Take the 1 hr express train from Rome. However, achieving all three destinations in one day may not be possible unless by way of a tour.
You could combine Naples, Vesuvius, or Pompeii on a day trip, like this Pompeii Day Trip from Rome. It allows you to add Vesuvius or Naples to a Pompeii tour. Or take a Private Pompeii and Vesuvius Tour direct from Rome.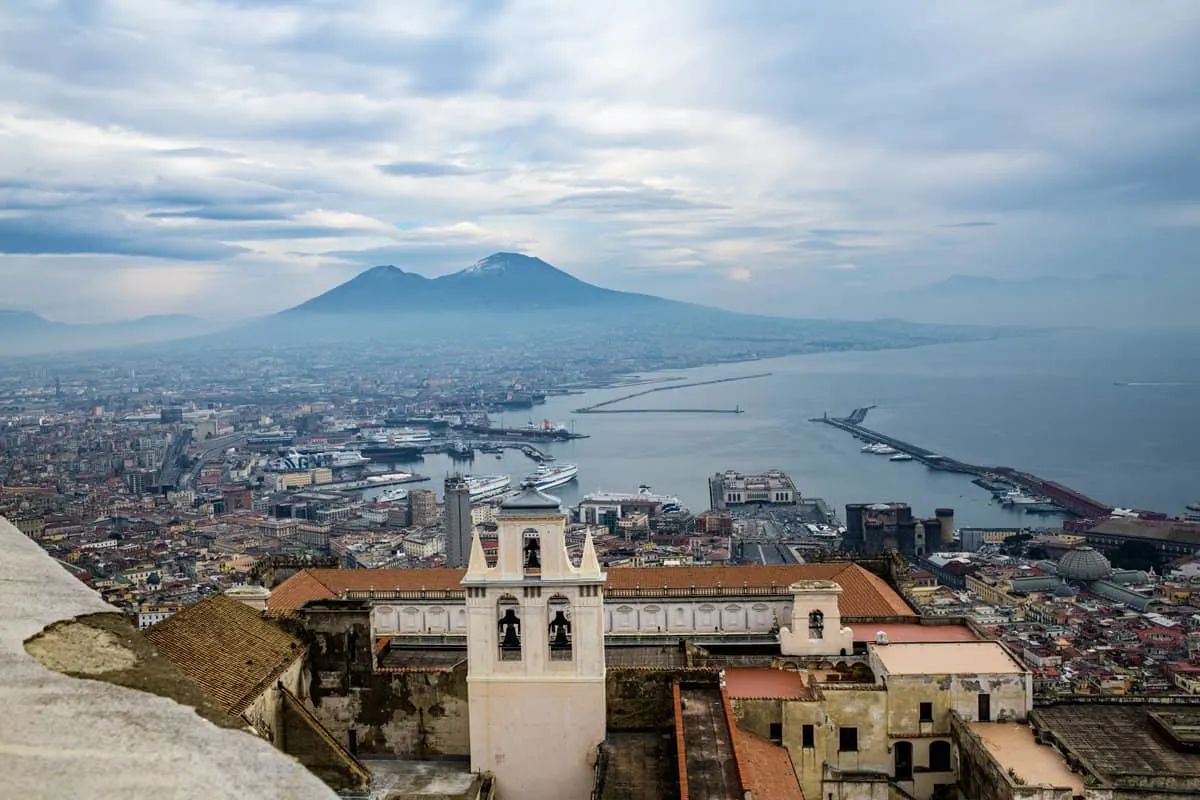 Florence
Day trips to Florence from Rome are very popular and an unforgettable experience. Spend the day exploring some of the best-loved masterpieces of Italian Renaissance art and architecture in its Centro Storico.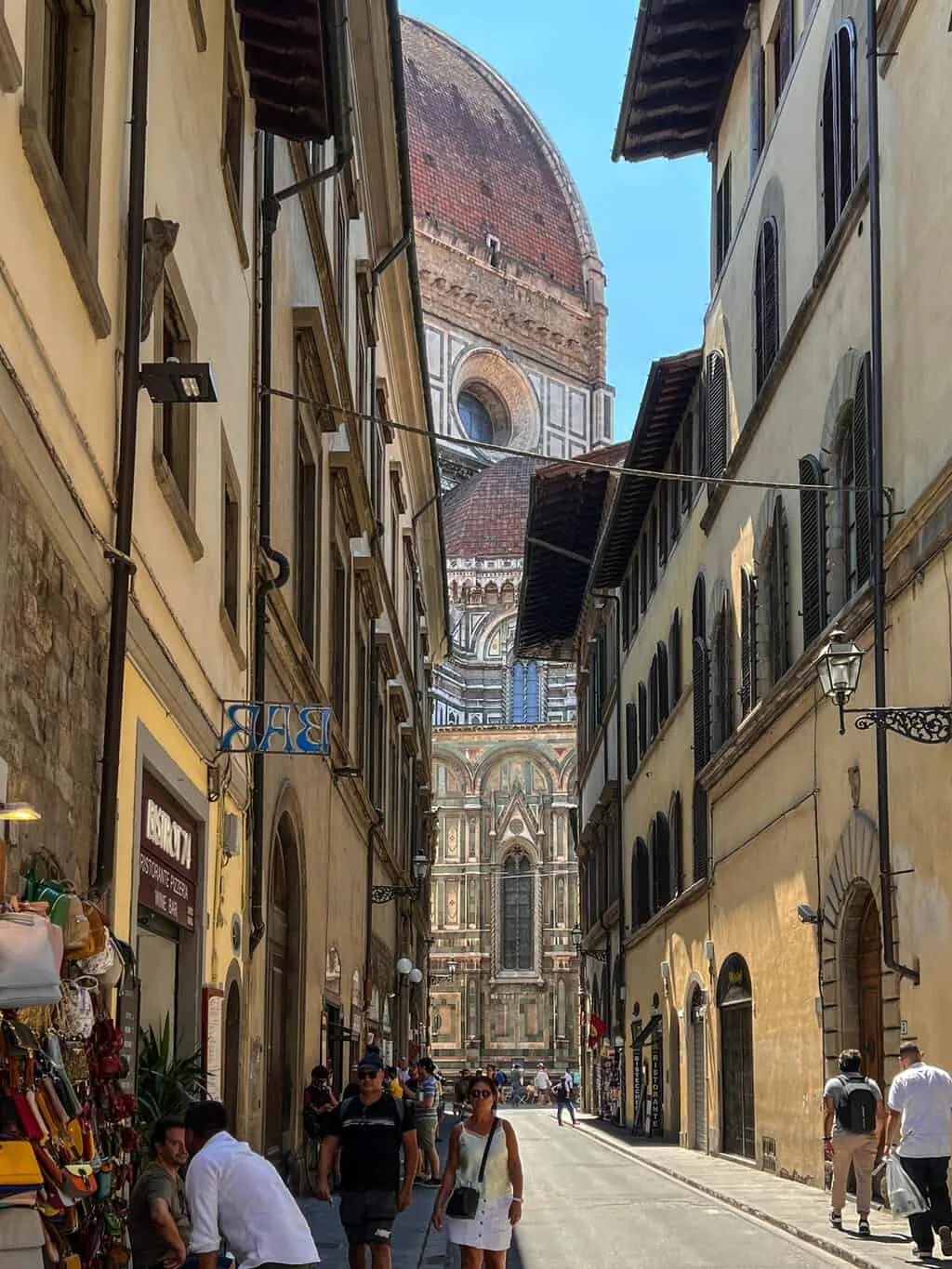 Start your day at the Piazza del Duomo, where you will find Florence's impressive Cattedrale di Santa Maria del Fiore (Cathedral of Saint Mary of the Flowers).
Next, stroll through Piazza della Signoria, one of Italy's most famous squares. Located between Palazzo Vecchio (Old Palace) and Uffizi Gallery, this square boasts various sculptures, including the replica of Michelangelo's David and Neptune's Fountain. Take time to admire these works of art before heading inside Palazzo Vecchio, where you can see Benvenuto Cellini's masterpiece Perseus with the Head of Medusa and works by Verrocchio, Vasari, and Bronzino.
Afterward, go to San Lorenzo Market, where locals have been shopping for centuries. Here you can pick up souvenirs from local artisan stalls and sample typical Tuscan cuisine prepared by local restaurants, like Lampredotto sandwiches or ribollita soup.
End your day crossing Ponte Vecchio – Florence's iconic bridge that dates back to Roman times. You can see our guide on the best things to do in Florence for more ways to plan your day.
Tip: It is advisable to pre-book Reserved Timed Entry for the Uffizi Gallery or to see Michelangelo's "David" in the Galleria dell'Accademia di Firenze.
How to Get from Rome to Florence
You can catch a high-speed train from Roma Termini station to Santa Maria Novella station in an hour and a half. Once you arrive, exploring Florence's best attractions in a day is easy.
Tour Tip: If you want to add Pisa to your itinerary, this Day trip to Florence and Pisa from Rome covers all the attractions of these two beautiful cities.
Tuscan Countryside and Hillside Villages
A day trip to Tuscany from Rome will take you into a picturesque landscape of rolling hills, vineyards, and charming medieval villages.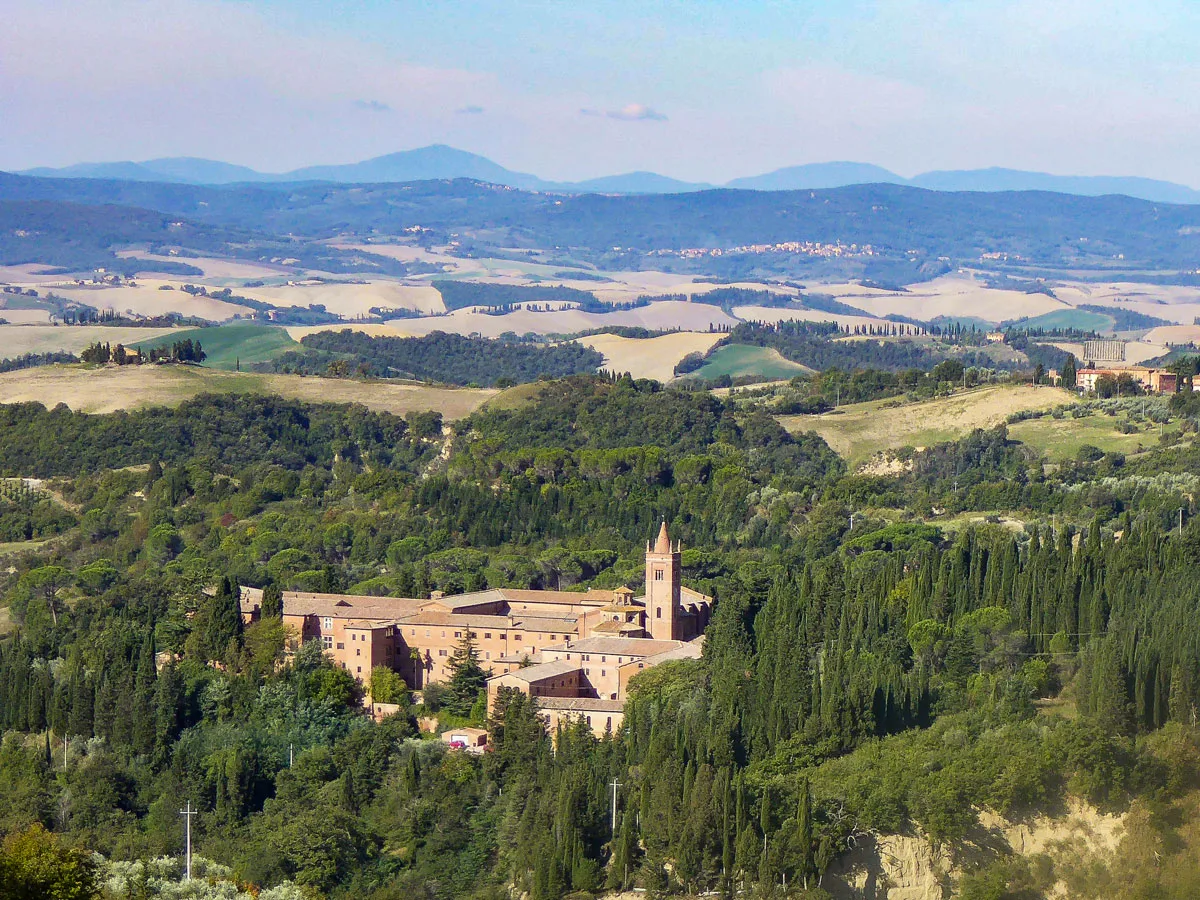 You'll pass through small hill towns like Montepulciano, Montalcino, and Pienza – each with its own distinct character and charm. The golden light that casts itself over these rolling hills creates an idyllic backdrop to explore these beautiful villages, some so culturally important they have been designated UNESCO World Heritage Sites.
Stroll around their cobbled squares, explore grandiose churches, or sip on local Chianti as you soak up the atmosphere – this is what makes Tuscany so special.
Finally, no day trip would be complete without tasting some delicious Tuscan cuisine – there are plenty of local delicacies to tuck into during your time in Tuscany.
How to Visit the Tuscan Countryside from Rome
To delve into the wonders of Tuscany, it is possible to take a train from Rome to many Tuscan towns and cities. However, if you really want to savor this region's beauty, consider renting a car or taking a tour.
Exploring the Tuscan countryside on a tour will provide you with breathtaking views, experience some of Italy's most remarkable destinations, and enjoy a wine tasting or two – without worrying about organizing visits to different wineries or driving afterward.
For a budget-friendly tour of the Tuscan hill villages, you could try this group Tuscany Day Trip with Lunch and Wine Tasting, or you could take a Private Tuscany Wine Country Day Trip from Rome with Lunch.
Montepulciano
Montepulciano is a hill town in the heart of Tuscany, just south of Siena and less than two hours from Rome. A visit to Montepulciano is an opportunity to discover a typical Tuscan village with its small cobbled streets and traditional stone houses.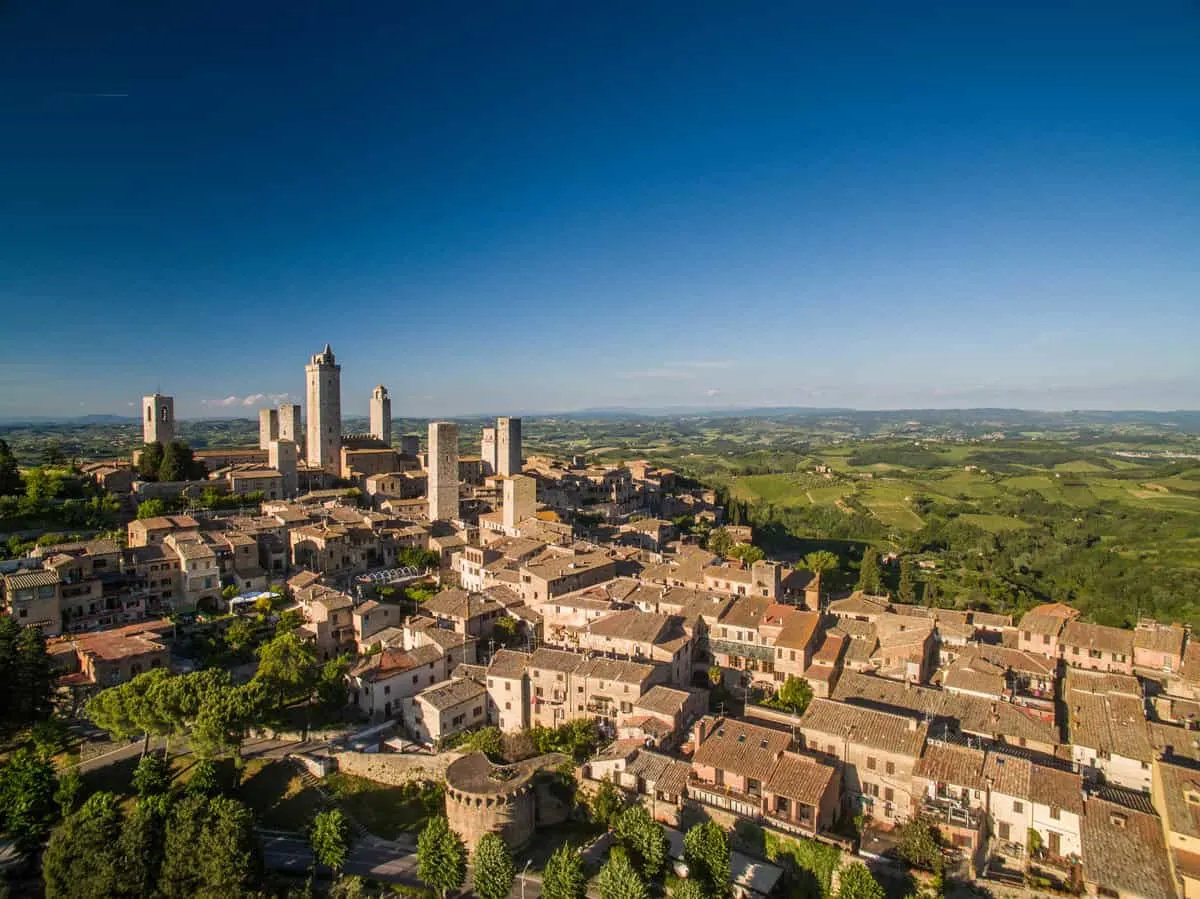 Take some time to explore the city walls and admire its ancient medieval towers. Climb Torre di Puliciano for spectacular views of the Tuscan countryside. Take a stroll around Piazza Grande, where you can find shops and cafes, and Palazzo Comunale – an impressive public building built in the Renaissance.
Another highlight of Montepulciano is exploring its many churches, such as Sant'Agostino or San Biagio. These historical masterpieces house frescos and artworks by some of Italy's most renowned painters, like Bicci di Lorenzo or Luca Signorelli.
Top off your visit with a tasting at a local winery in Montepulciano's world-famous wine region – Vino Nobile di Montepulciano DOCG (Denomination Controllata e Garantita). You can book wine tours through several local companies that can provide insight into this historic region's production methods, techniques, and traditions.
Or, if you prefer something less structured, plenty of smaller local wineries welcome visitors for tastings without prior reservations – making it easy for anyone looking for an authentic Italian experience.
How to Get to Montepulciano from Rome
While you can technically reach Montepulciano from Rome by train in about 2.5-3 hours, once you arrive, you'll still need to catch a bus or taxi from the train station in Chiusi to Montepulciano's historic center.
It's much easier to drive the 2 hours yourself (Rome to Montepulciano is a lovely short road trip along Italy's famous Autostrada del Sole (A1) highway) or visit Montepulciano as part of the group Tuscany Day Trip with Lunch and Wine Tasting or Private Tuscany Wine Country Day Trip from Rome with Lunch we recommended.
Civita di Bagnoregio
Civita di Bagnoregio is a stunning hilltop town in the Lazio region of Italy, just north of Rome. The unique village can only be reached on foot via the pedestrian bridge, La Calcinaia, which connects Civita di Bagnoregio with mainland Italy.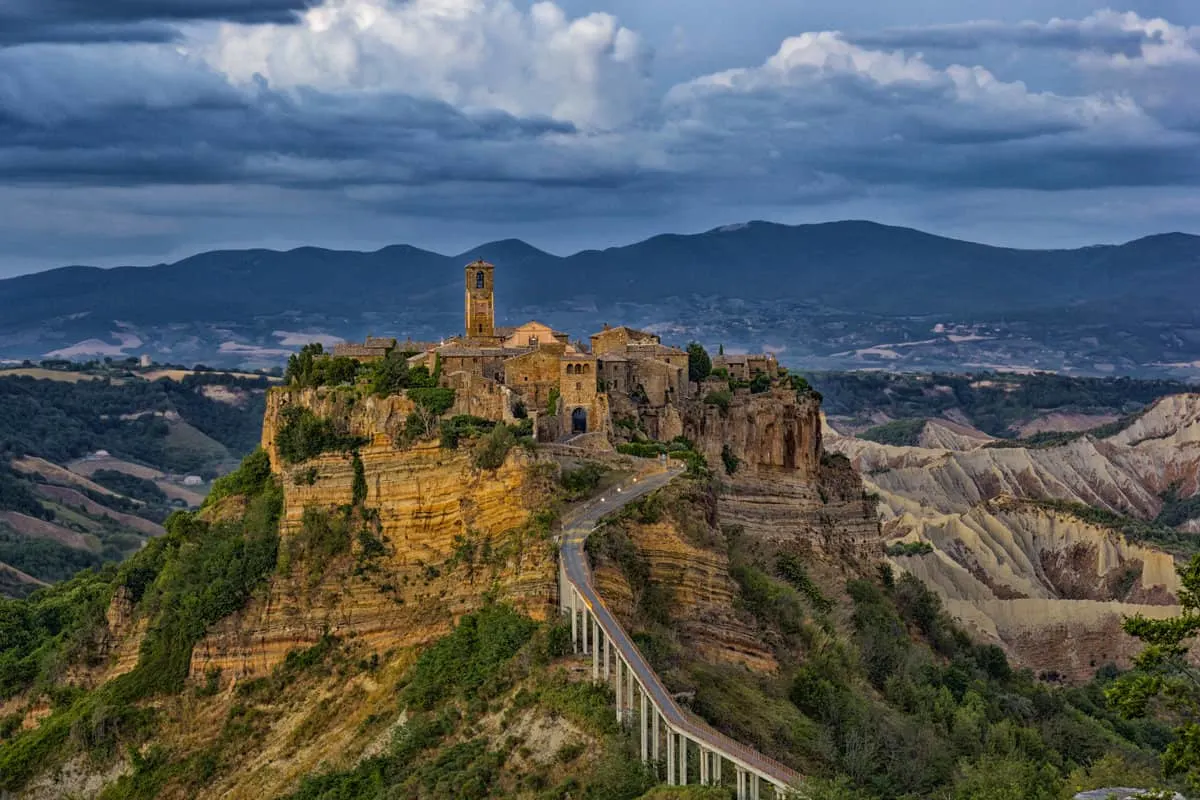 Spend your day meandering through the cobbled streets of Civita di Bagnoregio. Admire its impressive churches and ancient architecture.
As you explore Civita di Bagnoregio, head to its famous viewpoint, which offers spectacular panoramic views over the Tiber Valley. On clear days, you may even be able to spot Mount Amiata and Monte Rufeno in the distance.
This area produces excellent wines such as Cesanese del Piglio DOC or Procanico IGT. Consider booking a visit with one of their many wineries, where you can sample local vintages and learn more about their winemaking methods and traditions. Be sure not to miss out on local favorites such as fresh handmade pasta with truffle oil or porchetta sandwiches.
How to Get to Civita di Bagnoregio from Rome
Driving two hours from Rome is the best way to enjoy a day trip to Civita di Bagnoregio. However, it is possible to take a train from Rome to Orte Station and then take a bus to the town's entrance. From there, you'll need to cross the historic bridge.
You must obtain a ticket at the nearby desk to cross over the bridge into town – expect an approximate 20-25 minute walk before reaching this charming destination.
If you prefer a tour, you can do a combined Private Orvieto and Civita di Bagnoregio Tour from Rome or a combined Group Orvieto and Citiva di Bagnoregio tour.
Assisi
Assisi, the birthplace of Saint Francis, is a popular day trip from Rome, especially for Christian pilgrims. Located just over two hours away by train, Assisi combines cultural attractions and beautiful landscapes, making it an ideal destination for any traveler.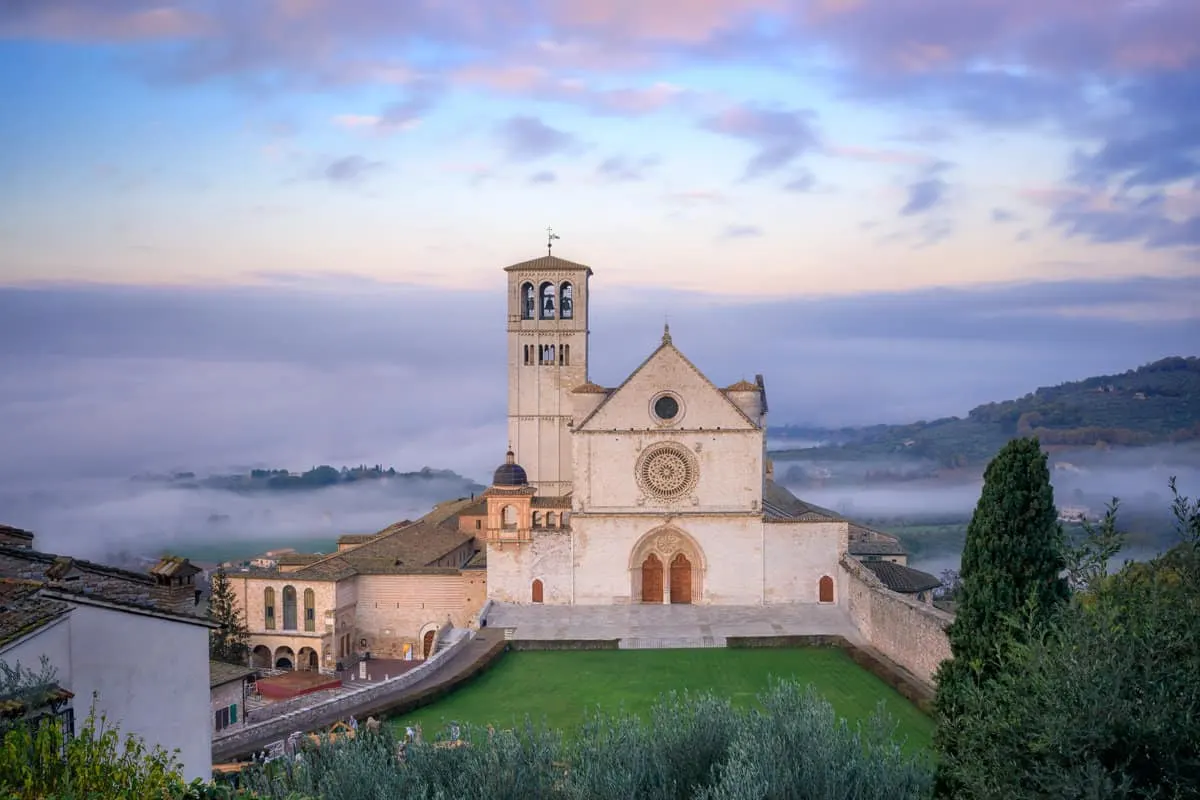 Start your day trip in the heart of Assisi with a visit to Basilica di San Francesco, the 13th-century Franciscan church dedicated to Saint Francis. Its spectacular Gothic architecture, frescos by Giotto and Cimabue, and many sculptures will take your breath away.
Do not forget to drop into the museum of Sacro Convento, where you can admire many works related to St. Francis' life.
Explore the cobblestone streets of Assisi's old town with its quaint squares and winding alleyways lined with colorful houses. Take time to visit the Roman Temple of Minerva – an ancient temple in central Assisi that dates back to the 1st century BC. You can also find several other religious sites like Santa Maria Maggiore and La Porziuncola or religious museums such as Museo Archelogico e del Tesoro della Basilica Di San Francesco.
Take a walk around Rocca Maggiore – the 14th-century Medieval fortress with stunning views from its terrace over Assisi's plain and distant hills.
Stop for lunch at the many local cafes that offer tasty regional cuisine and local delicacies such as olives or salami, or you can even grab a refreshing glass of local wine – Sangiovese di Assisi DOCG (Denomination Controllata e Garantita).
Assisi is one of those magical places that never fails to captivate visitors with its stunning charm.
How to Get to Assisi from Rome
You can reach Assisi from Rome in as little as 2 hours by train. Plan ahead and book high-speed train tickets for a direct route, as some regional trains can take up to 3 hours.
For additional flexibility, you might consider renting a car for the day for a leisurely drive to Assisi. It's also roughly two hours each way, allowing you to explore more of the region.
For Assisi tour options, we recommend these tours:
Orvieto
Orvieto, located in the region of Umbria, is a wonderful day trip. It is about an hour and a half from Rome by train or car, making it easily accessible for visitors looking to explore its beautiful scenery and historical attractions.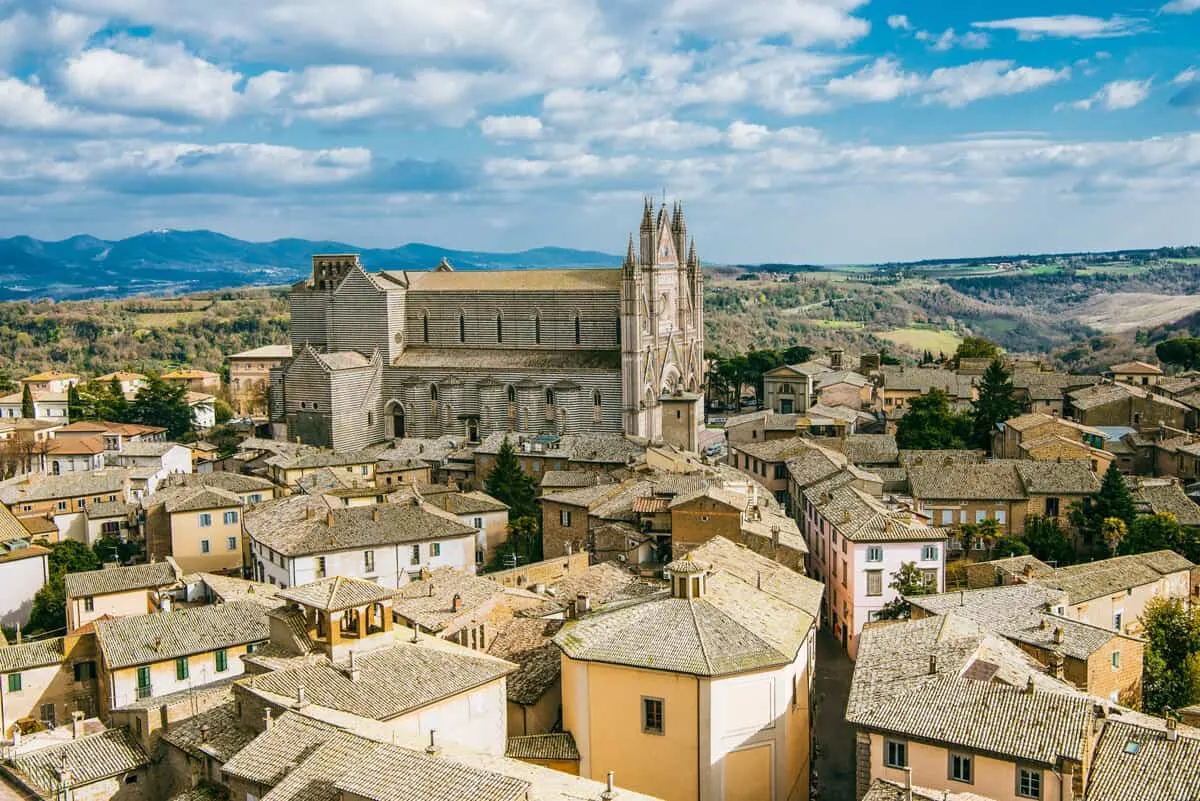 The city's major landmark is the Duomo di Orvieto cathedral. The striped marble facade stands out proudly against the hilltop townscape. Inside you'll find spectacular artworks, including a stunning fresco painted by Luca Signorelli.
Walk around Piazza del Popolo plaza at the center of Orvieto, where you can enjoy sweeping vistas over rolling hills surrounding the charming Italian town. Go window-shopping along Corso Cavour street, lined with boutiques selling local handmade souvenirs such as pottery and jewelry crafted using traditional Etruscan techniques.
Don't miss trying delicious dishes such as 'strangozzi all'orvietana' – long strips of homemade pasta in vegetable sauce or meat ragù – or typical 'umbrichelli".
How to get to Orvieto from Rome
Easily reached from Rome via train, Orvieto is one of the least stressful day trips from Rome, especially as a last-minute option. You don't need to take an expensive, high-speed service. The commuter or regional line provides just as good service at a fixed price that doesn't increase closer to the travel date as with high-speed services.
Tour Recommendation: If you prefer a tour, a convenient way to see Orvieto is on the Assisi and Orvieto Day Trip from Rome. You can combine the two towns enjoying a scenic drive through the Tuscan landscapes and lunch near Lake Trasimeno.
Caserta Palazzo Reale
Caserta Palazzo Reale, situated in Italy's Campania area, is a breathtaking 1,200-room royal residence constructed during the Bourbon Dynasty from 1734 to 1860. Due to its colossal size and splendor, Palazzo Reale is often likened to the palace of Versailles.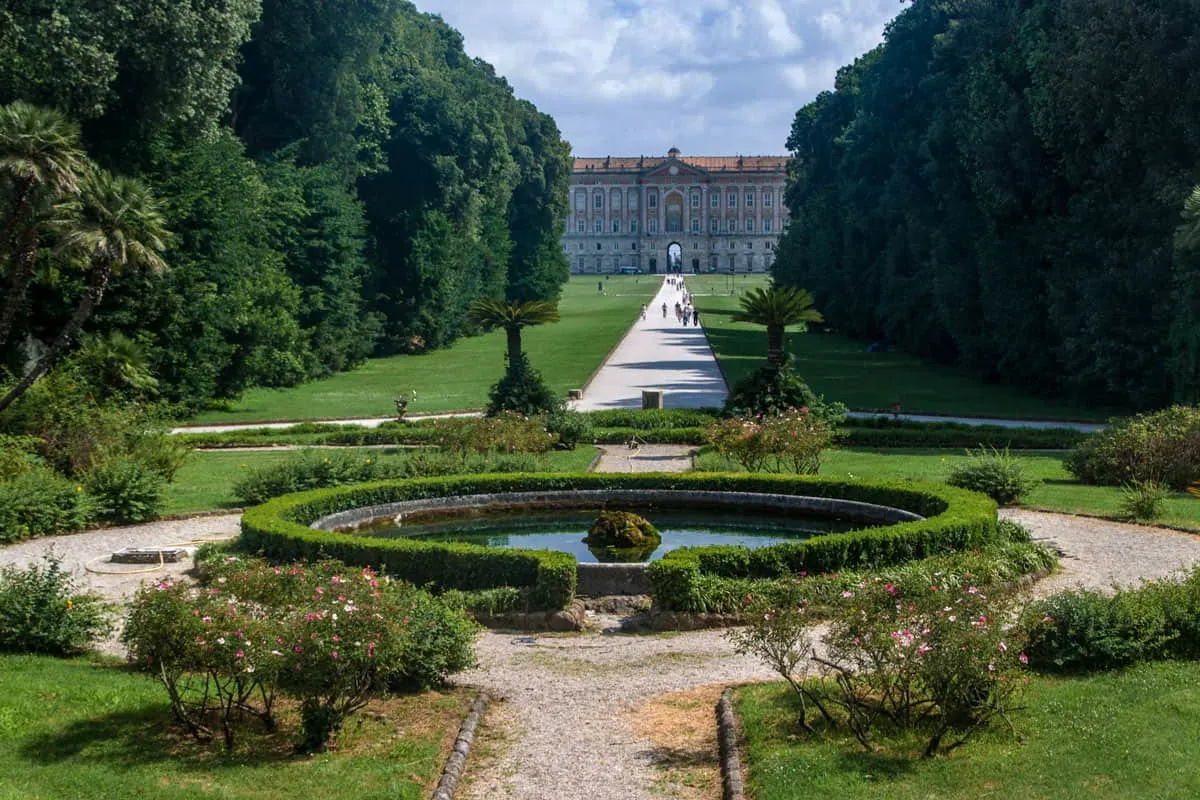 A UNESCO World Heritage Site, and the setting for several movies, the palace is well preserved with the original decorative arts and furnishings.
As World War II neared its conclusion, the palace was appointed headquarters for the Allied Middle East Command. Here, German forces in Italy officially surrendered on May 2nd, 1945, signifying victory and peace was just around the corner.
Explore the many highlights of the palace, including the 116-step Grand Staircase, grandiose halls and chambers decorated with frescoes and sculptures, the Cappella Reale, the theater, and the Royal Apartments.
Behind the grand palace is a picturesque park encircled by an English garden, dazzling fountains, and waterfalls alongside Michelangelo Naccherino's divine Baroque sculptures. Meander through this immaculate setting of ponds filled with fish and statues of gods and goddesses.
How to Get to Caserta Palazzo Reale
One of the easier day trips from Rome, Caserta is a stop on the Rome-Naples train line, and the palace is opposite the station.
Bracciano
Bracciano is a day trip from Rome that offers beautiful scenery and plenty of history. Located about 30 miles northwest of the city, it's easily accessible by public transport or car.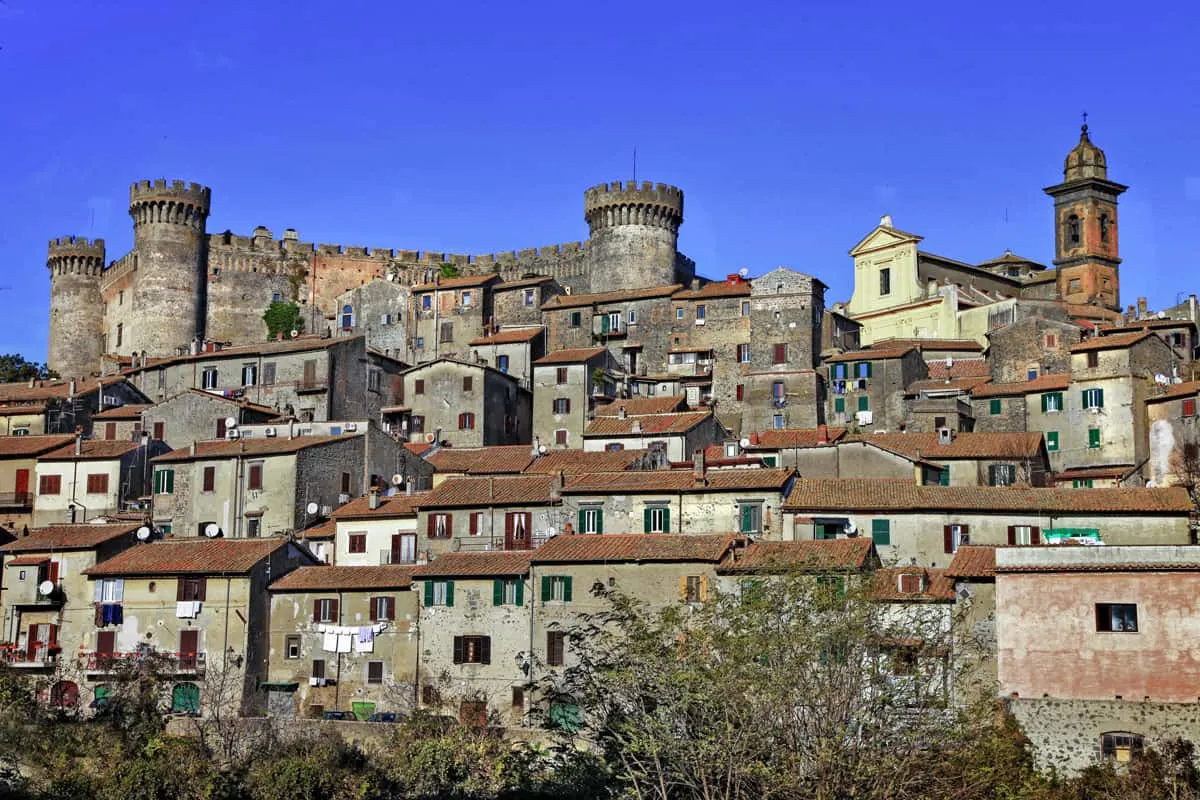 The town is best known for its iconic 15th-century feudal castle, Castello Orsini-Odescalchi, with its grand Renaissance architecture. The castle grounds display manicured gardens filled with sculptures and two chapels within the walls – Santa Maria della Grazie and Saint Peter's Chapel (Cappella di San Pietro).
Nearby Lake Bracciano is a popular spot that provides numerous outdoor activities. Thanks to the volcanic soil surrounding both lake areas, you'll also find several wineries specialized in producing DOC wines, such as Lago di Corbara DOC and Colli Lanuvini DOC.
How to Get to Bracciano from Rome
One of the easier day trips from Rome, trains leave roughly every half hour from Rome (except Sundays and holidays) for Bracciano. The station is right at the edge of town, so it's easy to navigate this day trip independently.
Santa Marinella
Santa Marinella is an idyllic day trip destination just 50km away if you want a beach escape near Rome. This quaint Italian village has plenty of charm, with its cobbled streets and beautiful beaches.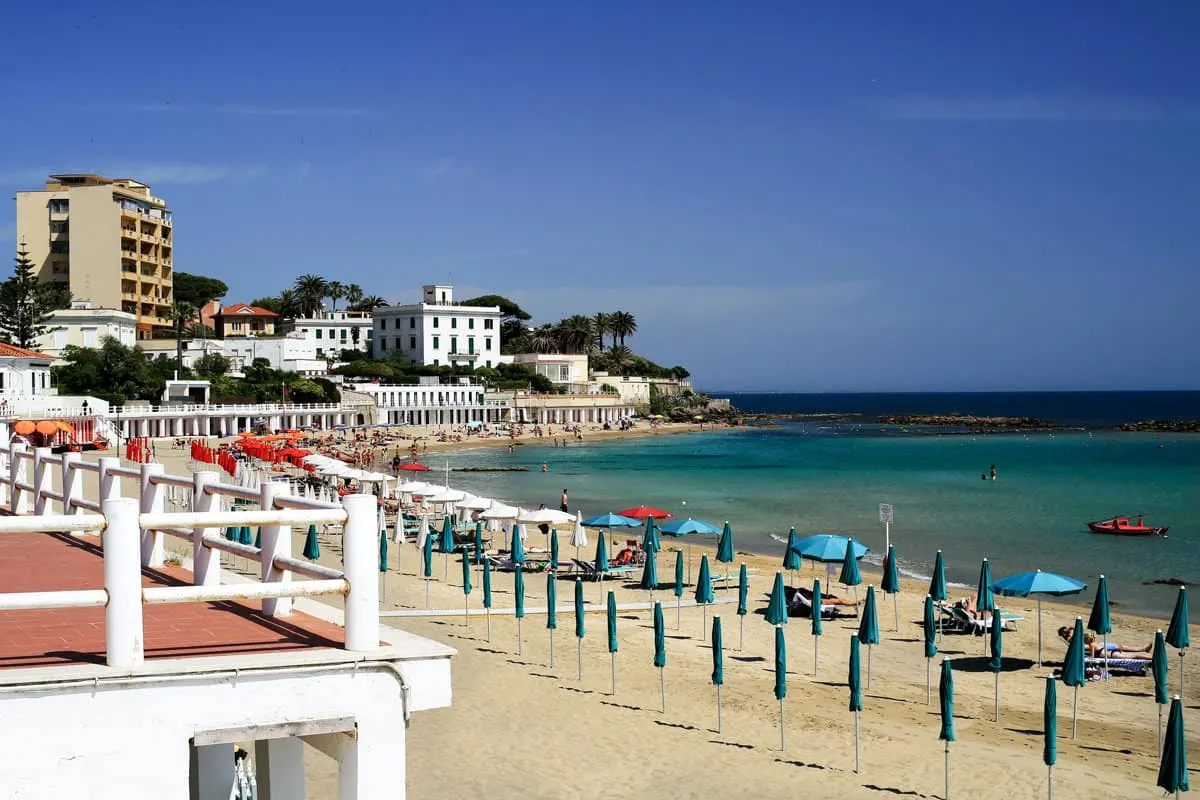 One of the highlights of visiting Santa Marinella is taking in the stunning views along the Tyrrhenian Sea coast or hitting one of the beautiful beaches such as stabilimenti (organized beach with chairs and facilities) or spiaggia libera (the free beach).
Other sights include exploring historic sites like the Torre Astura, once part of a Roman defense system, or appreciating Renaissance artworks at local churches like San Giovanni Battista dei Fiorentini. You'll also find plenty of fresh seafood for a lazy seaside lunch.
How to Get to Santa Marinella Beach from Rome
Santa Marinella is easily accessible from Rome by regional train. Take a train leaving from Roma Termini, Roma Trastevere, Roma San Pietro, Roma Ostiense, or Roma San Pietro and get off at Santa Marinella stop. The train takes around 40 minutes and arrives in the town.
Cerveteri
Cerveteri is worth adding to your itinerary due to its exceptional Etruscan cemetery, Necropoli della Banditaccia.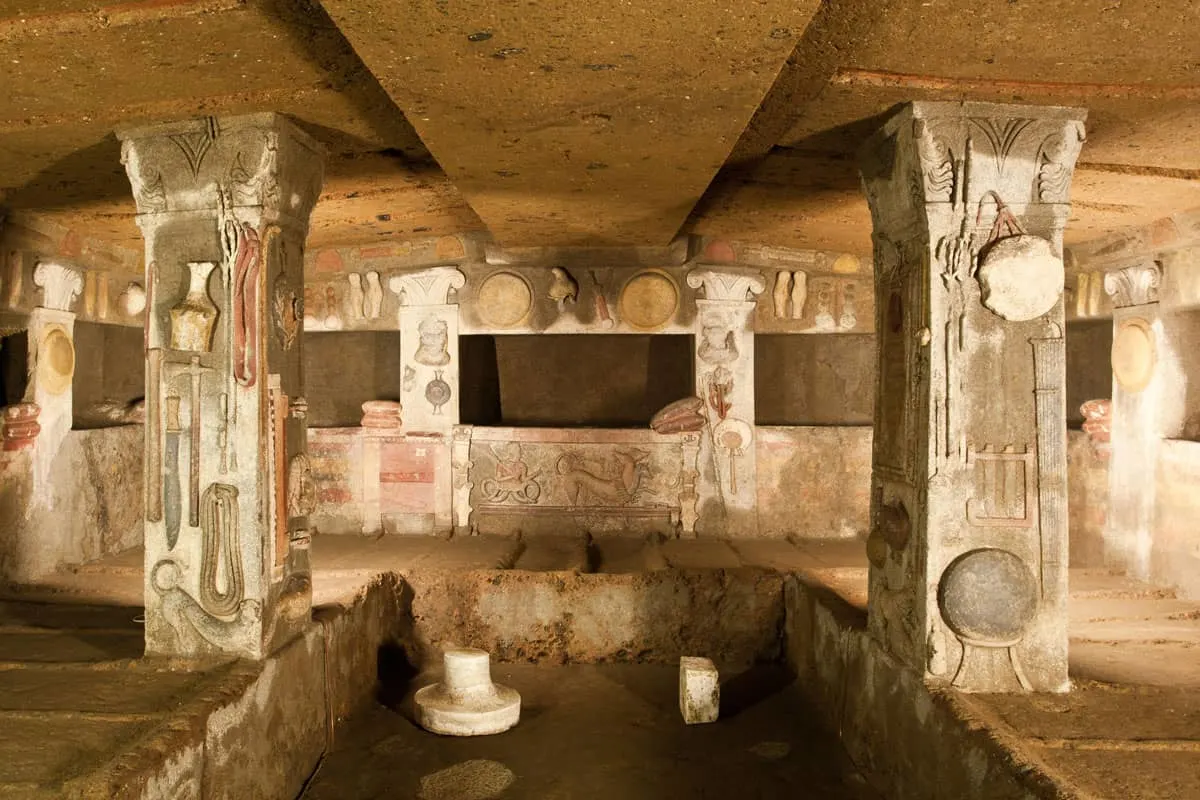 This "city of the dead" is a testament to an enigmatic civilization predating the Romans. Its layout resembles orderly urban city blocks filled with domed or square-shaped tombs, many containing several rooms.
As one of Etruria's most important archaeological sites, this necropolis has offered invaluable insight into their culture through artifacts and information gathered from these incredible finds.
How to get to Cerveteri from Rome
For those without a vehicle, take the train from Roma Termini to Ladispoli-Cerveteri. From the station, you will need to take a 10-minute taxi ride.
If you prefer a tour: Take the 6 hr Etruscan area Ceri and Cerveteri full day from Rome, including all entry fees, transport, and guides.
Sperlonga
Sperlonga offers stunning scenery, beautiful beaches, and a unique history. Located on the Tyrrhenian coast around 100km south of the city, it's easily accessible by car or public transport.
One of Lazio's best-kept secrets, the town is built on a hill overlooking the sea, giving it a picturesque charm with plenty of gorgeous beaches to relax on.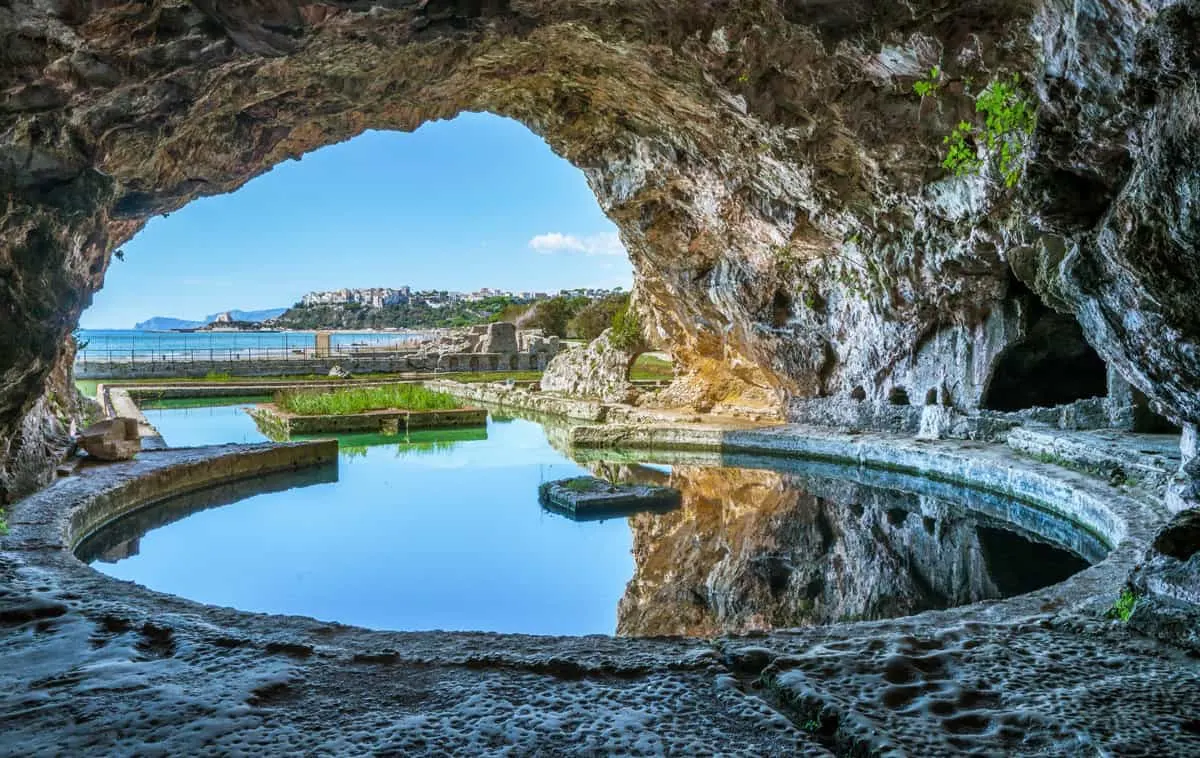 The nearby Sperlonga Grotto is a must-see, as it was once home to an impressive collection of sculptures by the ancient Greeks. It was also said to have been where Roman Emperor Tiberius gathered his courtiers for dinner parties. The grotto's rich history adds extra magnetism to this day trip destination.
How to Get to Sperlonga from Rome
The regional train from Rome Termini takes approx. one hour. The train station for Sperlonga is not in the town center, so you will need to take a taxi or bus to the old town and beaches.
Ponza
One of Italy's most beautiful island destinations, Ponza, is a fantastic island day trip in the Tyrrhenian Sea. The largest island of the Pontine archipelago, its stunning cove beaches, natural pools, and dramatic rock formations make it one of Lazio's most picturesque destinations.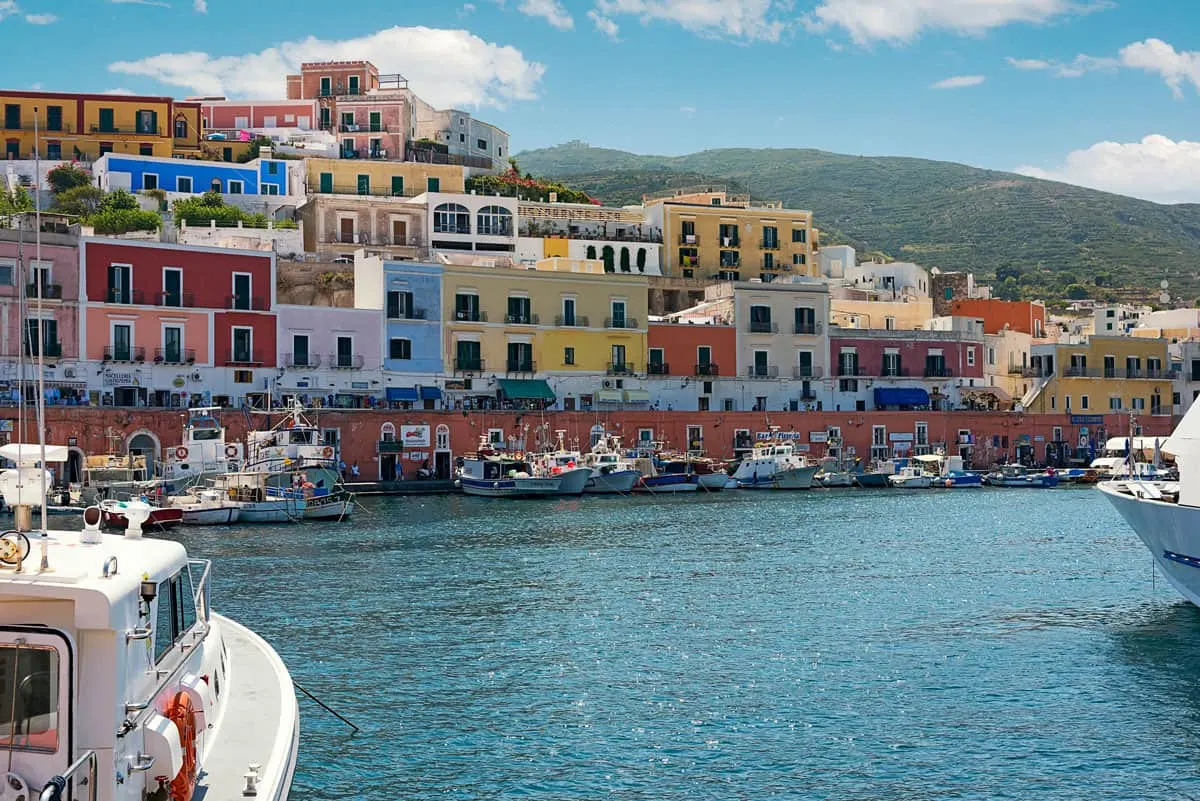 Visitors can explore its many attractions, such as Arco Naturale sea arch, Cala Feola Natural Pools, and hidden coves like Chiaia di Luna beach. Boat excursions around the island are available for those wanting to experience Ponza's beauty.
How to get to Ponza From Rome
The fastest way to reach Ponza from Rome is to take the one-hour train from the Roma Termini station to the Anzio Colonia station. It is a short walk from the station to the Anzio port, where you can take a ferry or hydrofoil to Ponza – Approx. 1.40 hr.
In peak season, it is advisable to pre-book ferry tickets. You can search ferry time here.
Tour recommendation: An easier way to get to Ponza from Rome is on a Ponza Island Day Trip from Rome.
The 12 hr tour includes transportation from central Rome to the ferry terminal (the ferry ticket is paid on the day). A boat trip around the island, with stops at several beaches, sea caves, and Arco Naturale, and time to stroll the seaside promenade at the port. Lunch on board the tour boat is also included.
Buy a Rome City Pass
A city pass is a great way to explore some of the world's most famous sights and save money. The best thing about city passes is free skip-the-line entry to major attractions, loads of discounts, tours like the hop on hop off bus, and more. But best of all, they give you unlimited free public transport for the duration of your pass. This helps you tick off a lot of great attractions and day trips easily accessible by train or bus.
You can opt for the Roma Pass, which is 48 or 72 hours with free skip-the-line admission to 1 or 2 attractions, free use of the city's public transport system, and discounts on services and activities.
Or, the 3-day OMNIA Vatican Card & Roma Pass. This is 2 passes rolled into one. Roma Pass grants you free entry to 2 out of 5 top attractions, discounts at 30 top sights, and a travel card. The OMNIA Vatican Card allows entry to all top sights in Vatican City, plus a 3-day hop-on hop-off bus tour.
Conclusion
There are so many fantastic day trip destinations from Rome that will allow you to experience Italy's beauty, culture, and diversity. Whether exploring an ancient Etruscan cemetery in Cerveteri, admiring the stunning scenery and beaches of Sperlonga, or taking a boat excursion around Ponza island – there's something for everyone looking for a day trip from Rome.