One of the most beautiful islands in Italy is the enchanting isle of Capri off the famed Amalfi Coast in Southern Italy.
For thousands of years, the island of Capri has been a favorite holiday destination. From the Ancient Greeks, Roman Emperors, and royalty to Jackie O, who cemented the island's place as a must-go destination in Italy in the 60s. She was particularly fond of the famous Capri "Canfora" leather sandals she had custom-made for her foot.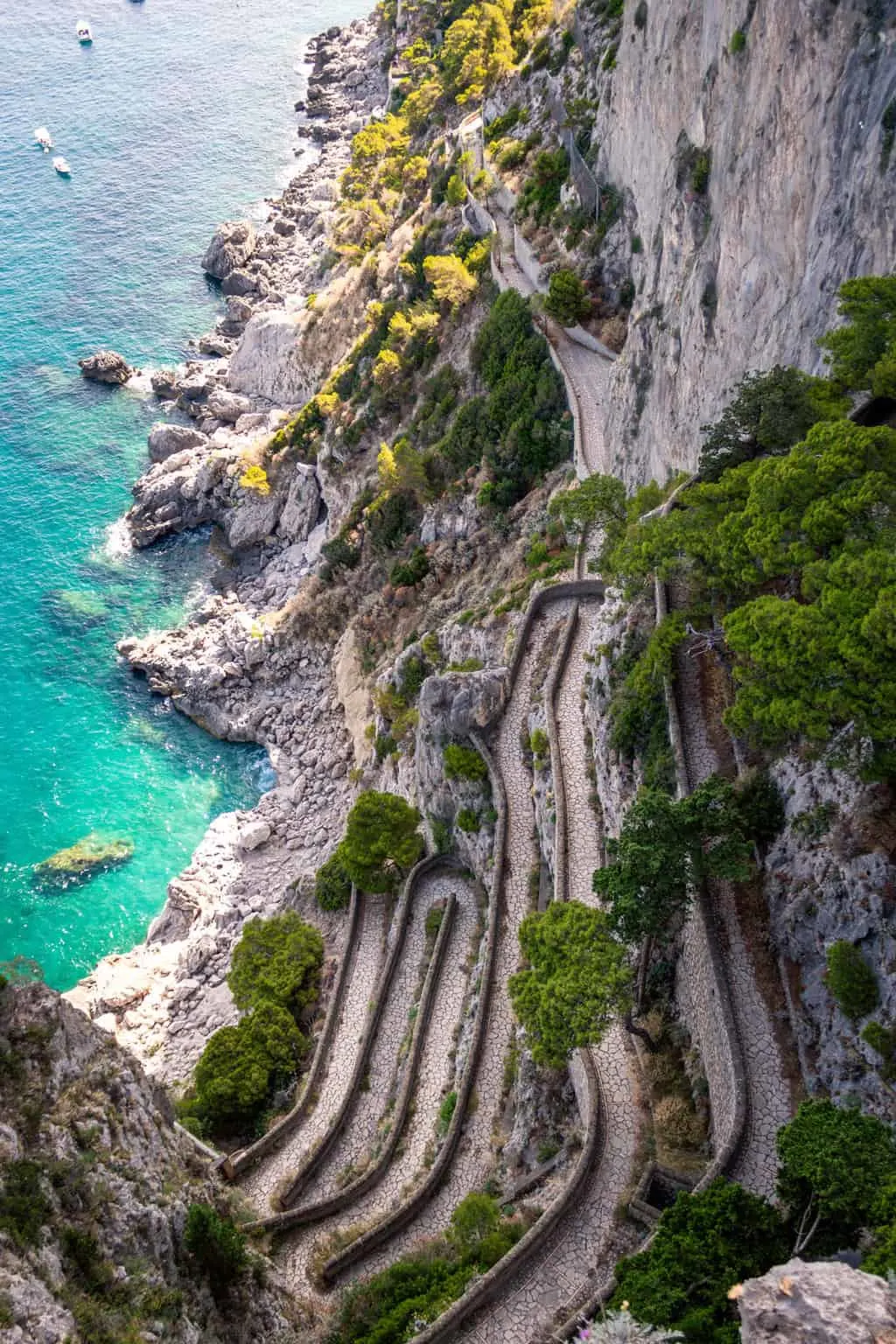 Is Capri Worth Visiting
Many visitors to Italy ask, Is Capri worth visiting? The answer is – Absolutely.
While small and charming, there is no shortage of unique things to do in Capri. From stunning natural highlights like the Blue Grotto and Mount Solaro to historical villas, world-class shopping, and delicious cuisine. You may even see a celebrity or two. It's not surprising the Almafi Coast and islands are some of the most romantic destinations in Italy.
Here are some fabulous activities to add to your itinerary to help you make the most of your time in Capri.
Plan Your Trip to Capri
Getting to Capri
Flights: There are no direct international flights to Capri. The closest airport is the Naples International Airport (NAP/LIRN). The distance from Naples International Airport to Capri is 23.3 miles(37.5 kilometers).
Are you flying into Naples? We've put together the Best Things to do in Naples that will make you want to stop for at least a day or two. Did you know visiting Capri on a day trip from Naples is possible? You can also include a visit to Capri on an Italian road trip of the Amalfi Coast.
Ferries: Once you arrive in Naples, the ferry is the only way to reach Capri. Capri ferries arrive and depart from Marina Grande. Ferries depart from Naples and Sorrento all year, with more locations and times depending on the season.
---
Search Ferry Timetables to Capri
In the peak summer season, it is advisable to pre-book your ferry transfer, especially if taking a car on the ferry.
---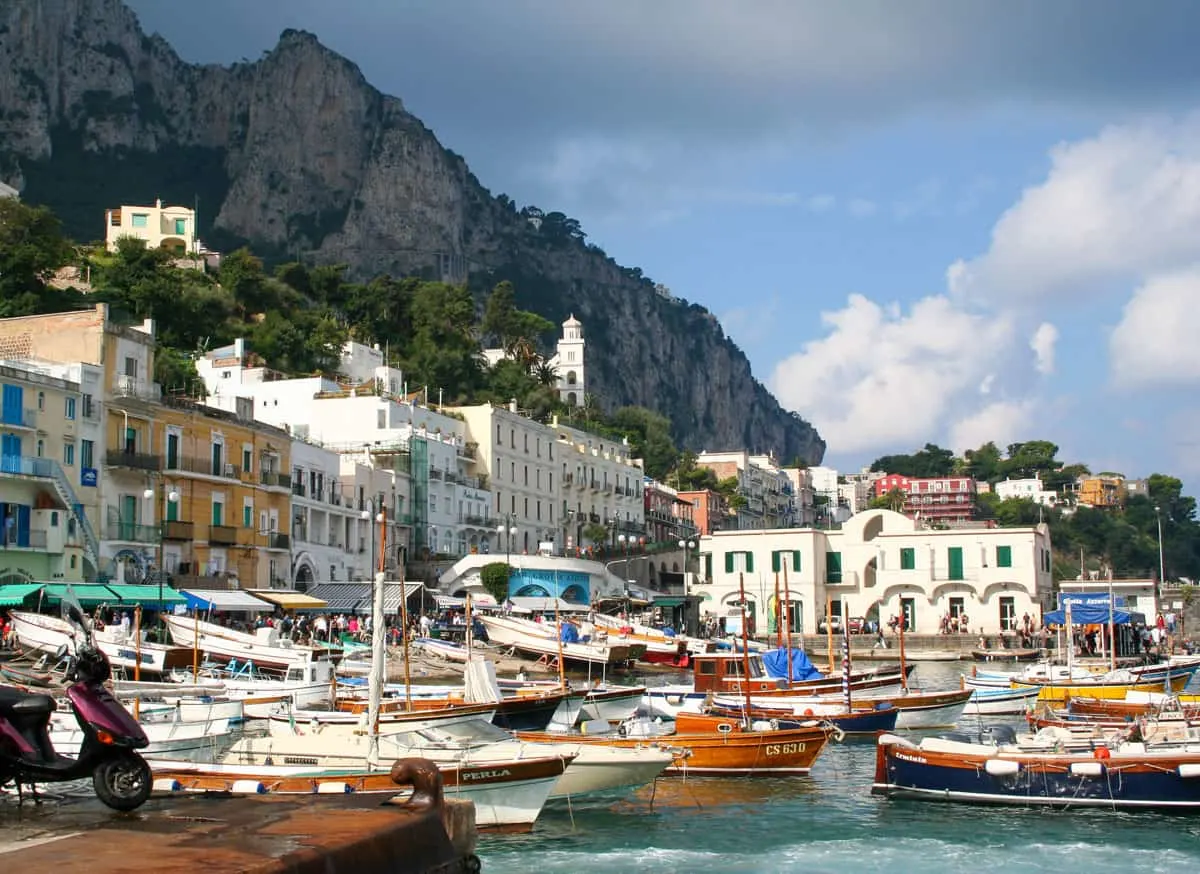 Where to Stay in Capri
If you like nightlife, restaurants, and things to do nearby, you'll want to stay in Capri Town. On the other hand, Anacapri has a lot to offer guests who prefer a quiet and laid-back location with the island's iconic sights nearby.
If you are traveling with children, Anacapri is also a great choice, as there is a playground in town and outdoor play areas on Mount Solaro.
---
Find the best accommodation deals in Capri, from hotel rooms to self-contained apartments and villas.
---
Capri or Anacapri
Deciding where to spend your time depends on your interest in particular activities. For example, Capri is best for those who love shopping, watching the glitterati, and enjoying a more bustling city with nightlife.
Anacapri is for nature lovers, artists, and those who love quieter moments in a beautiful, more rugged setting.
As we mentioned earlier, the most famous sites are located in Anacapri.
Popular destinations in Anacapri:
The Blue Grotto (easily accessible by boat)
Casa Rossa
Villa San Michele
Punta Carena Lighthouse
Churches: Santa Sofia and San Michele Arcangelo
Favorite places to see in Capri:
Piazza Umberto
Gardens of Augustus
Villa Jovis
Villa Lysis
Charterhouse of San Giacomo
Beaches at Marina Grande, Palazzo a Mare, and Marina Piccola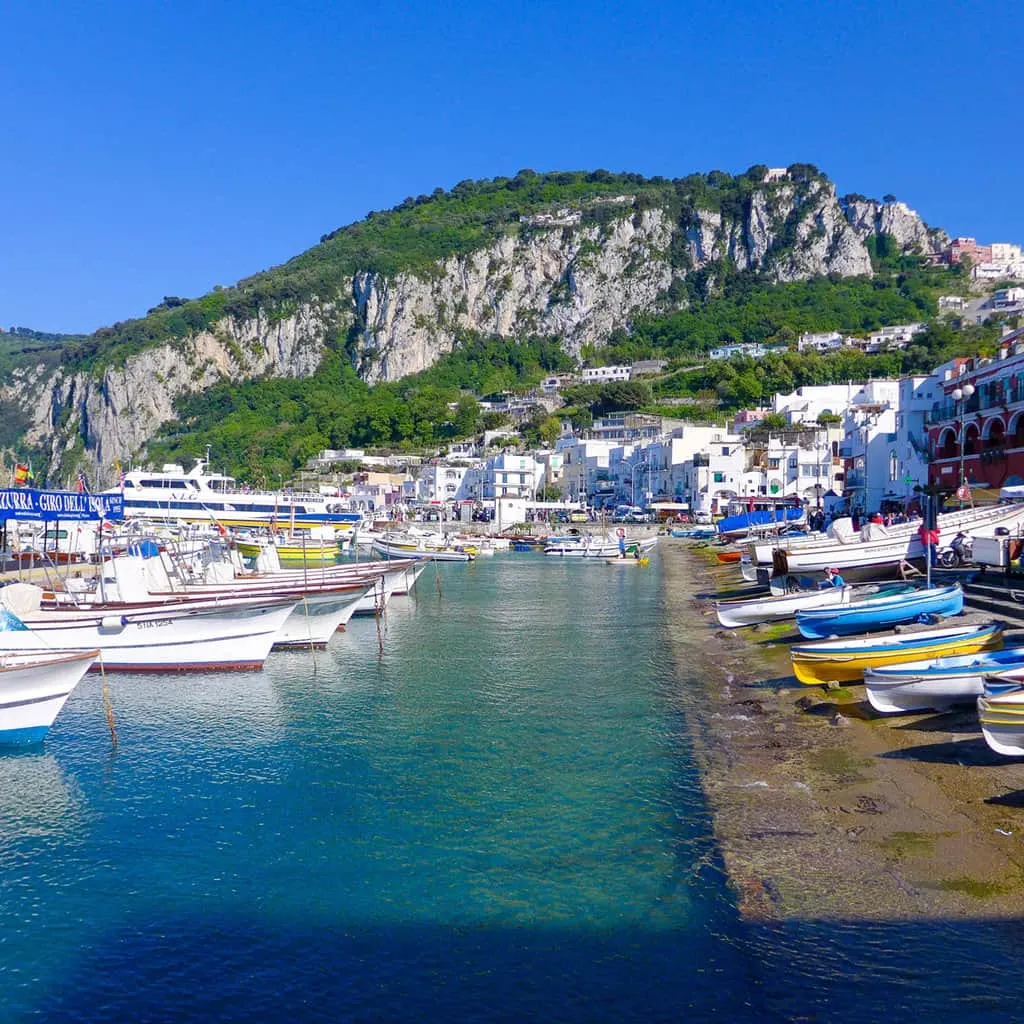 Best Time to Go to Capri
Capri is at its best in the morning and evenings when there is less foot traffic. You will get more time to interact with locals and avoid the crowds of day trippers on the island, especially near the clock tower in Capri Town. For this reason, as well as so many things to do in Capri, it's best to stay for a few days.
Italy has three tourist seasons:
Peak Summer: Mid-June to late August
Shoulder: April to mid-June and September to October
Off-season: November to March
The best time to visit Capri is the shoulder season. During these months, hotel prices are significantly lower than during the peak months of July and August, and fewer tourists are on the island.
The off-season is the least busy, the weather is more unpredictable, and businesses, especially restaurants, can be closed. You would want to pack warm clothes since the climate would be considerably colder.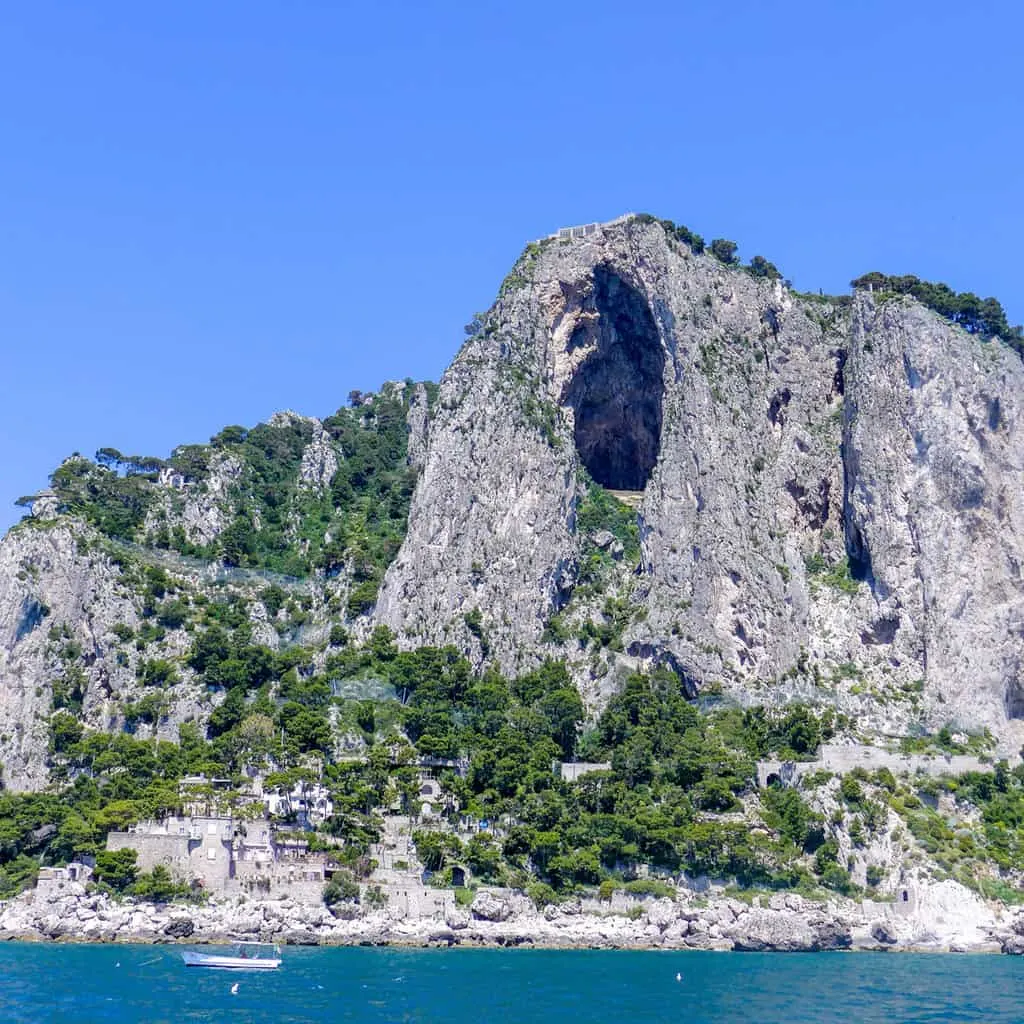 Getting Around
The island of Capri has very steep terrain. While gorgeous, it is a workout if you plan to see the sights on foot. If you are limited on time, you will need a taxi, scooter, or public transportation to make the most of your trip.
Take a taxi or private car if you don't mind the splurge. Most have convertible roofs, so you can enjoy gorgeous views as you go up the roads into Capri Town or Anacapri.
The 15+ Best Things to Do in Capri
Take a Boat Tour
The best way to truly appreciate Capri is by boat. You can take a boat tour around the island to enjoy some of the best sites in Capri. You'll get amazing views of the striking limestone cliffs and see the celebrity houses perched along the edge.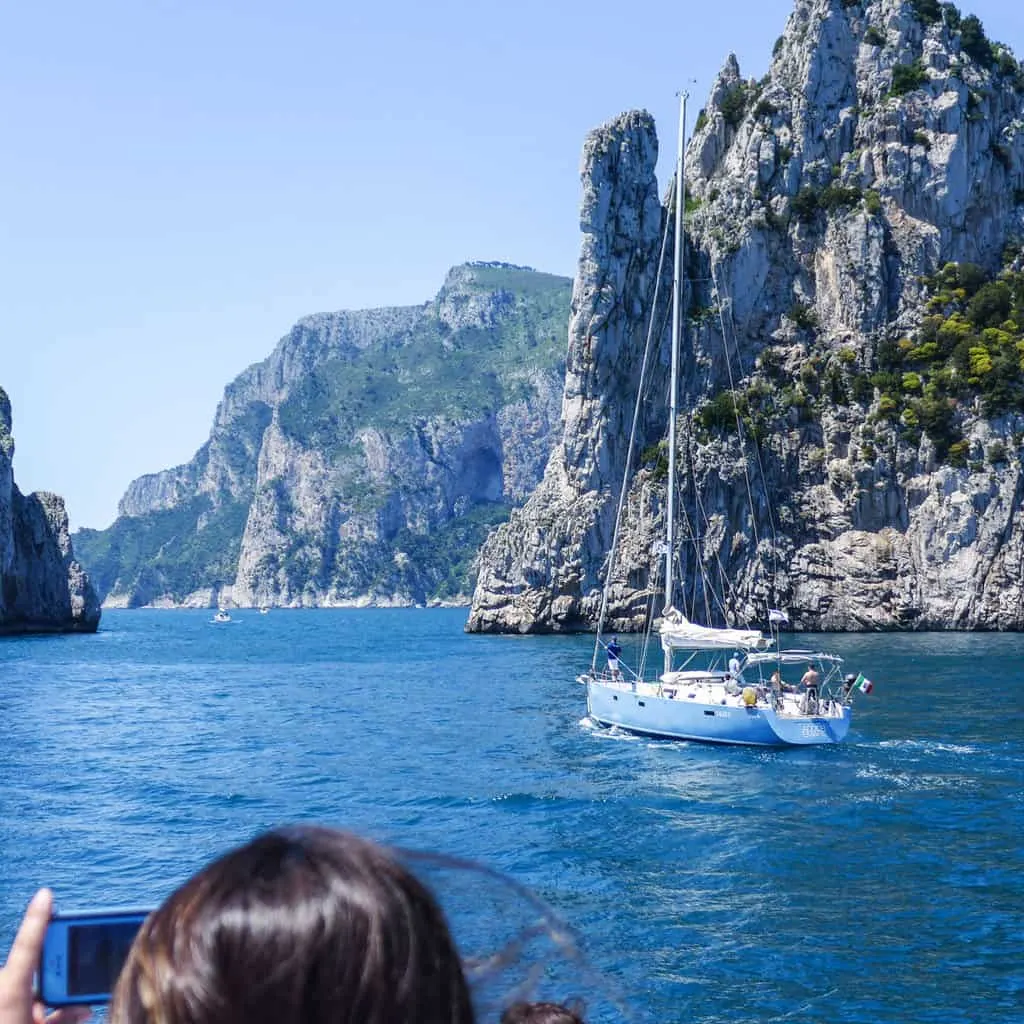 Most people don't realize there are multiple grottos beyond the famous Blue Grotto. Boat captains can take their boats up to some of these idyllic locations to glimpse the incredible blue-green waters.
On your tour, watch for the most iconic rock formations in Capri. Faraglioni Rocks are sea stacks in a memorable backdrop. As boats navigate the archway, it's a perfect place to grab a striking photo of your trip. Locals claim you're to kiss your partner while passing through to bring you good luck in the future.
Depending on the boat tour, you will have an opportunity to go to a private beach, see grottos, enjoy time swimming, or have a prosecco on your sunset cruise. The choice is yours.
Cruise and Blue Grotto Tour Recommendations
Visit the Blue Grotto
The first stop on our list is the Blue Grotto, one of Capri's most popular tourist attractions. It gets its name from the intense blue color of the water inside, caused by sunlight reflecting off the underwater rocks.
An interesting fact about the Blue Grotto is that it was once a marine temple during the reign of Tiberius. The remains of ancient statues are in the Casa Rosa Museum in Anacapri.
As we mentioned, most boat tours will visit the Blue Grotto. A boat cruise is the most time-efficient way if you are on a day trip to Capri. However, due to its popularity, there are multiple ways to visit by boat from Marina Grande or by land from Anacapri.
This Capri Island Boat Cruise with Blue Grotto Visit is perfect for day-trippers. The cruise is 1-2 hrs and passes some of the highlights and the Bue Grotto.
There is an entrance fee of 4 Euros and a rowboat fee of 10 Euros. In addition, the rower usually expects a cash tip for singing and boat captain duties. Remember that entry costs are not usually included with a boat tour to the Blue Grotto. Still, it's well worth it for the once-in-a-lifetime experience.
Explore Villa Jovis
See the ruins of the home that started the Capri trend. Villa Jovis was the home of Roman Emperor Tiberius from the 1st century AD. The villa sits on top of a cliff at the end of Capri with stunning views of the Gulf of Naples. Visitors can explore the sprawling ancient ruins of Villa Jovis, including baths, servants' quarters, and more. Ticket prices are 6 Euros each.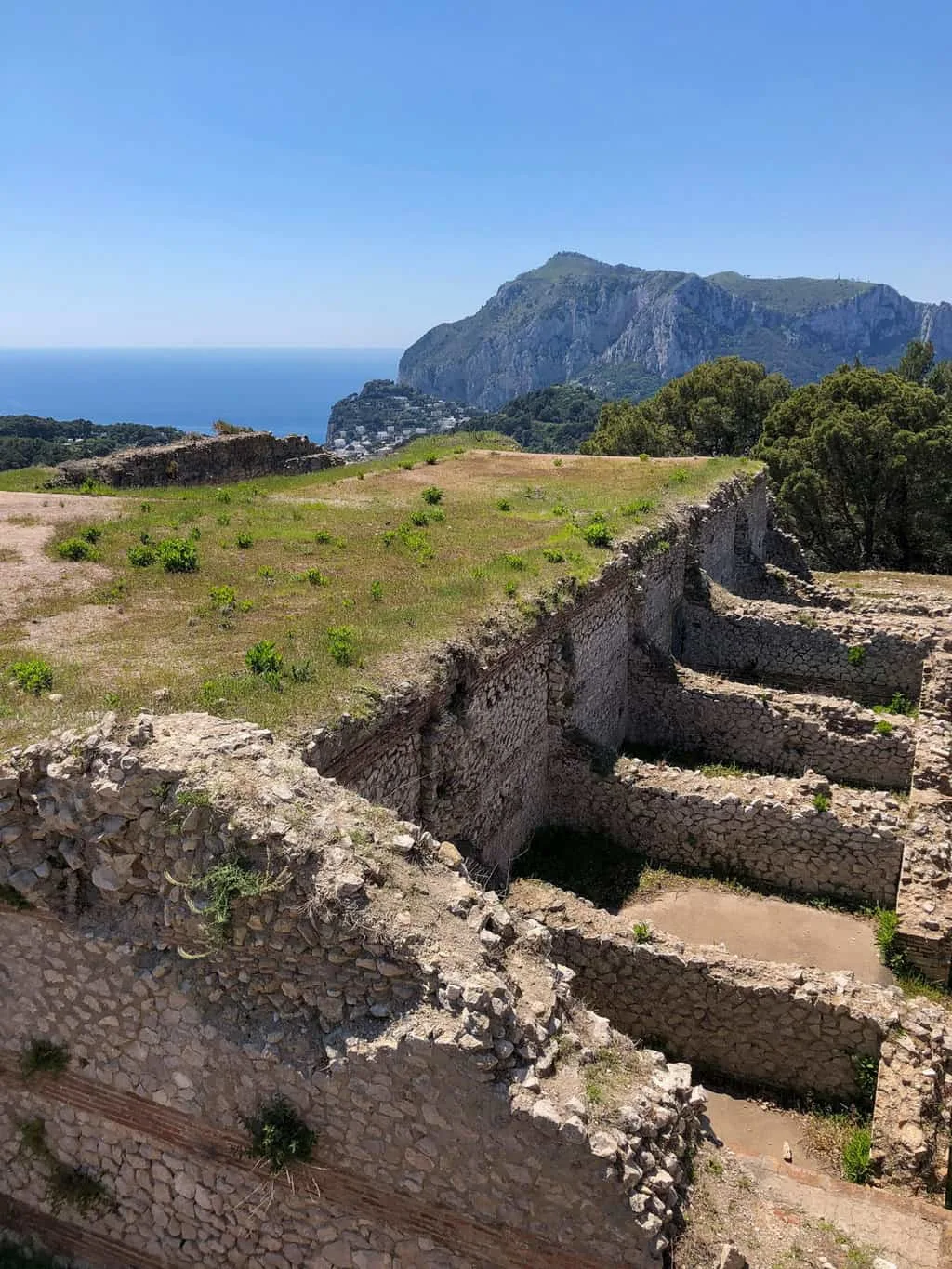 Tip: Visit early in the day to avoid the heat and wear comfortable shoes. It's roughly a 45-minute walk uphill to Villa Jovis from Capri Town. If you make the trip, you may want to add Villa Lysis and Parco Astarita, as they are both in the same area.
Parco Astarita For Magnificent Views
If you don't mind a slight detour, stop and see Parco Astarita on your way to Villa Jovis. The simple park is free to visit and has unparalleled views of the Amalfi Coast from several viewpoints. While there are a lot of steps, it will be one of the most unforgettable experiences on your trip to Capri.
Villas Lysis
If you journey to Villa Jovis, you might want to add Villa Lysis to your day trip itinerary. Villa Lysis is a short walk from Villa Jovis. This beautiful villa overlooks Marina Grande Bay.
Built in 1904 by eccentric nobleman Count Fersen as a retreat where he could live with his Roman lover away from the gossip and scandal of Parisienne society. The villa attracted famous writers, poets, intellectuals, and artists in the 19th century who were drawn to Capri's beauty and idyllic lifestyle.
The gorgeous architecture and views make this site a worthwhile visit. Tickets are 2 Euros to tour the grounds, and it's closed on Wednesdays.
Take the Chairlift to Mount Solaro
Looking for a fun experience? Ride the chairlift to Mount Solaro in Anacapri for breathtaking views of Capri. The summit can be reached via a chairlift (Seggiovia) or on foot. There is a minimal fee to use the chairlift (12 Euros roundtrip and 9 Euros one-way). At the top is a viewing platform with even more amazing views of the island.
You can book a one-way or roundtrip ticket. If you prefer to walk, we suggest walking back down the mountain for a more enjoyable experience. If you decide to walk, wear comfortable walking shoes and bring water. The path can be slippery at times when the ground is wet.
On the return walk, you will see vineyards, statues, and rural areas you wouldn't otherwise see.
Casa Rossa Museum
History lovers won't want to miss Casa Rossa Museum in Anacapri. The museum houses the artifacts found all over the island, from the Blue Grotto and Villa Jovis. The quaint museum won't take long to tour, but you'll leave with a better understanding of the island's fascinating history.
Villa San Michele
Stepping into Villa San Michele is like stepping back in time. This beautiful villa was built in the early 1900s by a Swedish doctor, psychiatrist, and author Axel Munthe. He was considered a worker of miracles and helped educate the public about cholera. However, he was perhaps most well-known for his 1929 book, "The Story of San Michele," which became one of the first modern international best sellers.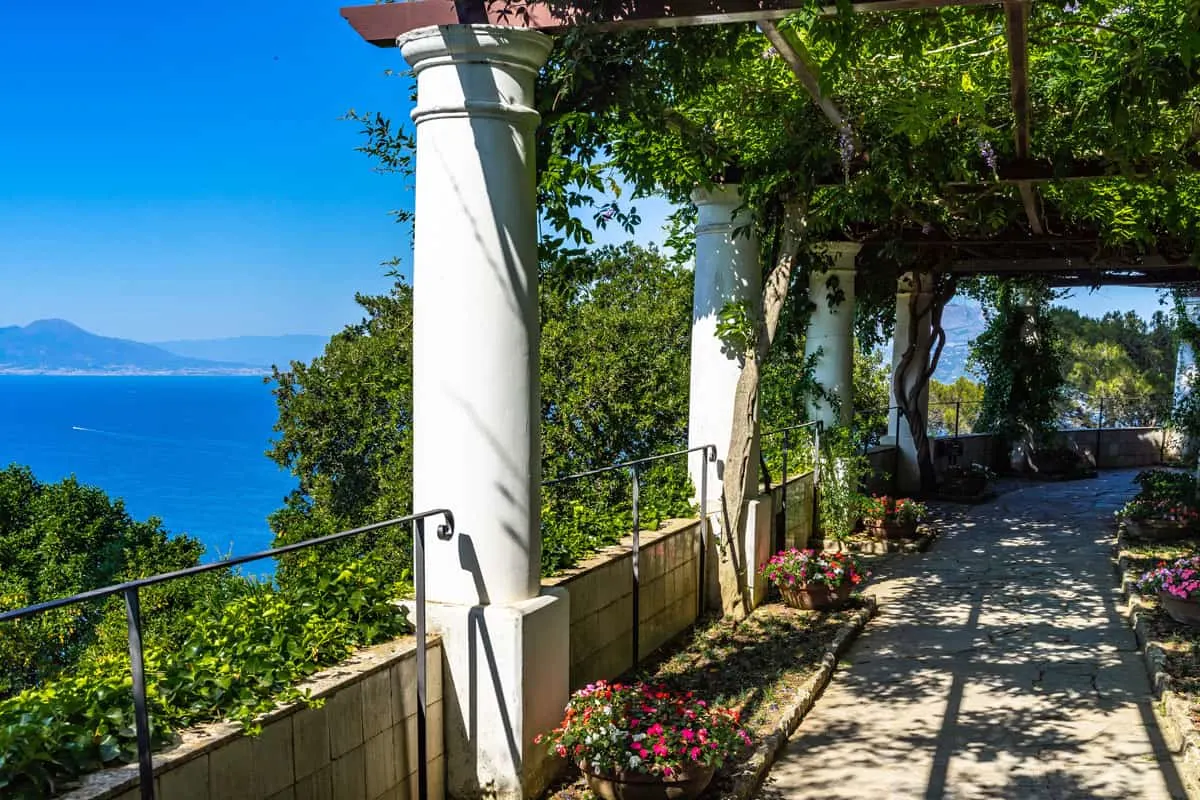 Although Axel Munthe was not an architect, his work with Villa San Michele is considered a work of genius among experts. It allows for natural light everywhere throughout the home. Visitors worldwide visit its stunning gardens, tour the house, and enjoy the incredible views.
Villa San Michele's gardens are indeed something to behold, with sweeping views of the Bay of Naples. The gardens are filled with trees, plants, sculptures, and a gorgeous pergola. It's no wonder why this romantic setting is a favorite for couples.
There is an admission fee of 10 Euros to tour the property.
Punta Carena Lighthouse
While in Anacapri, Punta Carena Lighthouse is one of Capri's most famous attractions. Visitors tend to see it by boat when touring the island due to the distance, but it is easily reached by vehicle.
This lighthouse, built in 1867, is the 2nd tallest lighthouse in Italy, behind Genoa in Liguria. If you're looking for a quiet and serene atmosphere with spectacular views of the Tyrrhenian Sea, you've found it at the Punta Carena Lighthouse.
Lido del Faro Beach Club
After visiting the lighthouse, you may want to check out the nearby Lido del Faro beach club and restaurant. At sunset, you will be rewarded with a perfect glow of colors, wide-open water views, and some of the most delicious seafood dishes on the island.
There is something at Lido del Faro for everyone, whether you come at sunset or spend the afternoon swimming in the saltwater pool or beach.
Explore the Piazza Umberto
Head to the center of activity in Capri at Piazza Umberto for a relaxing drink and a lovely atmosphere. Enjoy a parade of impeccably dressed people passing by on their way to one-of-a-kind high end stores.
Once you finish taking in the atmosphere, stroll from Piazzetta to Via Camerelle and Via Le Botteghe for a spot of shopping. Capri is known for their handmade sandal shops and locally made perfume store, Carthusia.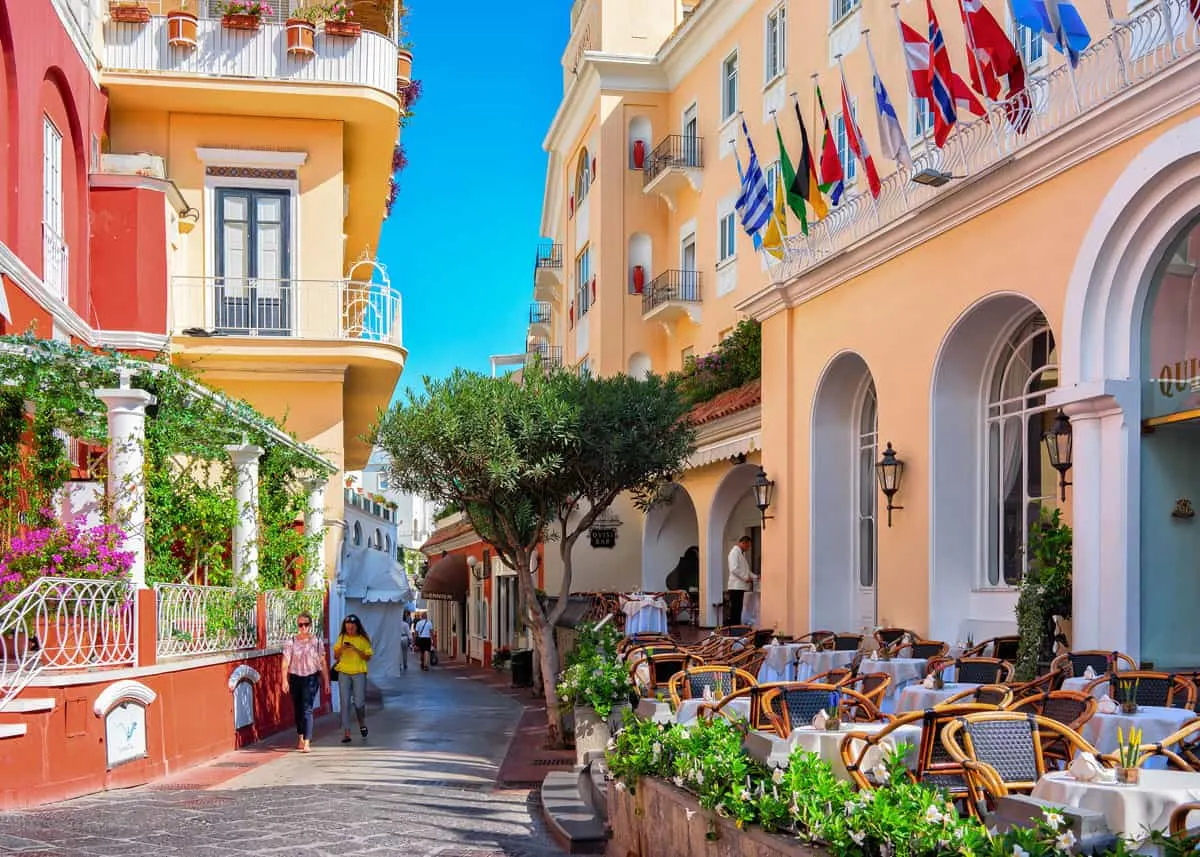 Gardens of Augustus
Tucked away on a quiet side street in Capri's historic center is the Giardini di Augusto (Gardens of Augustus). The beautiful public garden is worth a visit when enjoying the shops and restaurants in Capri.
The Gardens of Augustus is laid out in a traditional Italian style, with paths winding through neatly manicured hedges and beds of brightly colored flowers. There is also a breathtaking sea view, including the Faraglioni Rocks.
The gardens are open daily, and the admission cost is a nominal fee of 1 Euro. However, with its close proximity to Capri Town, the gardens can become busy with day tourists. Therefore, they are best enjoyed in the early morning or late afternoon.
Saint James Charterhouse
Tucked away in a quiet corner of the island is the Saint James Charterhouse (Certosa di San Giacomo), a beautiful monastery that is walkable from Capri Town. It is the perfect spot to beat the heat for a few hours on a hot day.
Founded in 1371, it is the oldest building on the island. There is a library, church, cloisters, and paintings by German artist Karl Wilhelm Diefenbach (Diefenbach Museum). During the summer, the monastery hosts various events for the public. It costs 6 Euros to tour.
Visit Marina Piccola Beach
Marina Piccola Beach is a secluded spot on the southern side of Capri with lovely views of the Faraglioni Rocks. It is close to the Gardens of Augustus, accessible by Via Krupp (when it is open). Or from Marina Grande, it is a short bus ride away. Take a cool dip in the water or sit under a bright umbrella with a drink.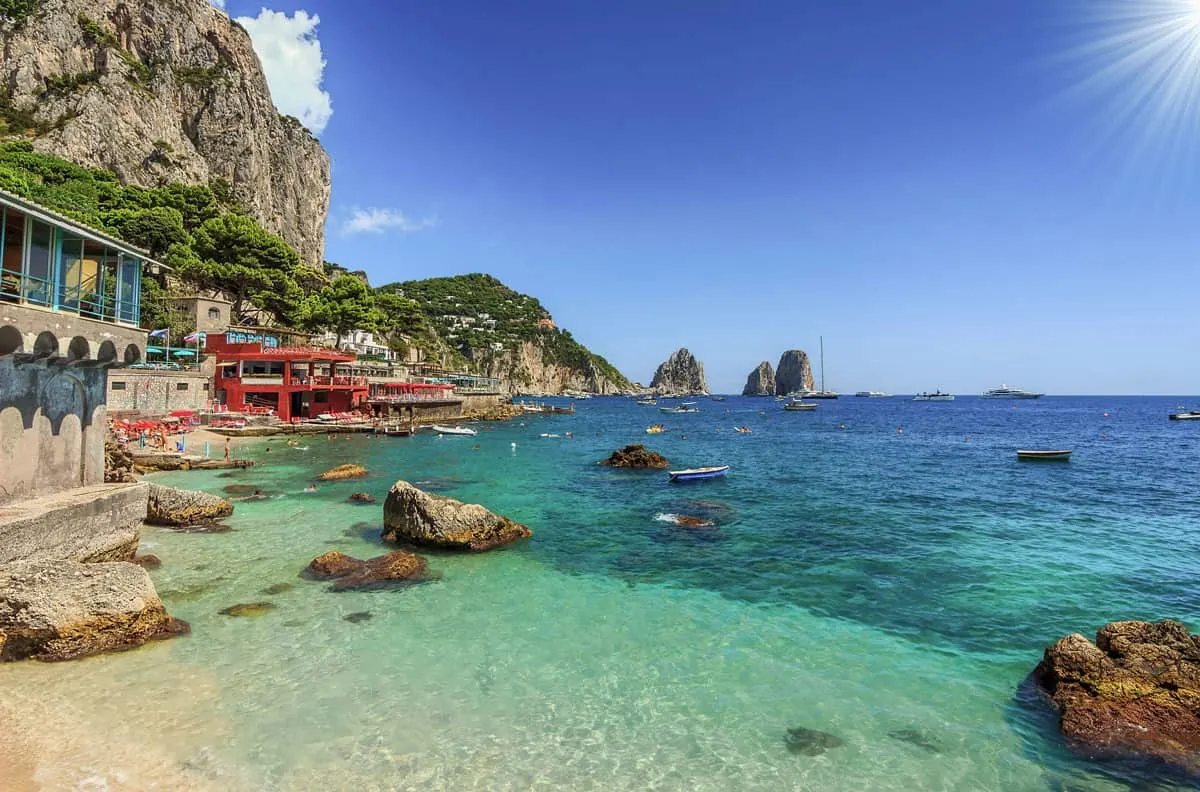 Dining in Capri
Capri is full of delicious restaurants, often serving locally sourced produce, especially seafood and lemons. The most famous dish on Capri is Ravioli Caprese, a light pasta dish of fresh ricotta ravioli with tomato and basil sauce. You'll find it served virtually everywhere. One of the best places for an excellent outdoor terrace and incredible food is Ziqù Restaurant & Terrace near Marina Grande.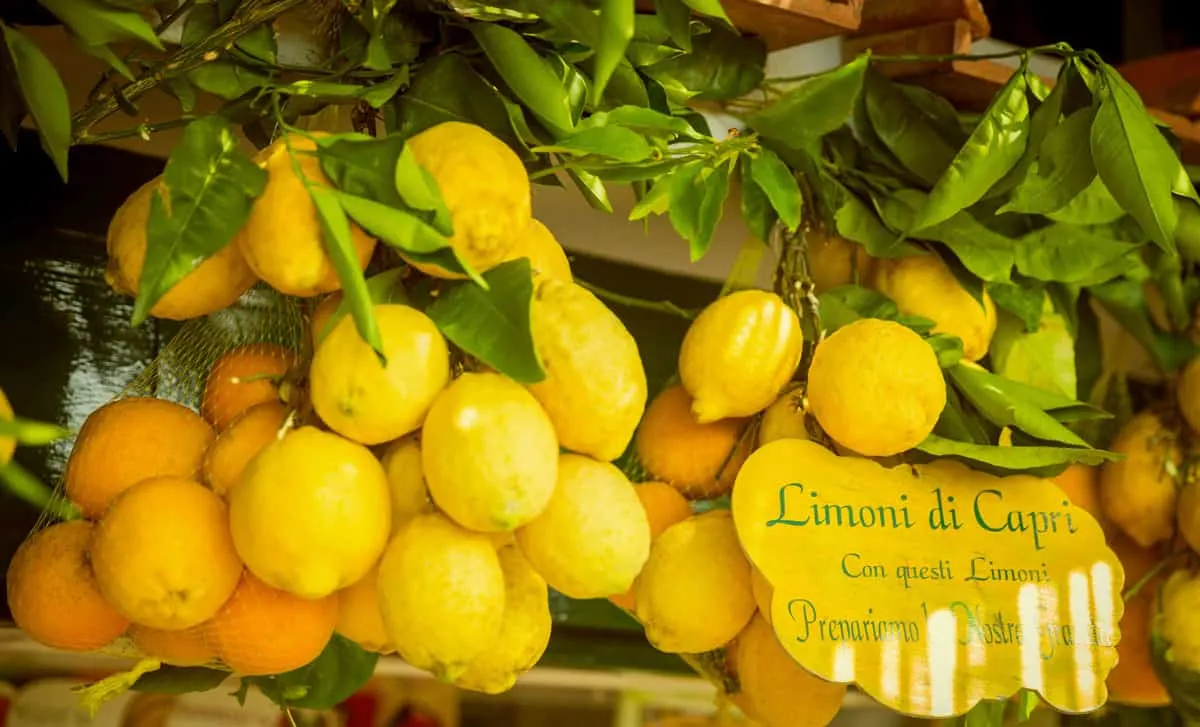 Day Trips from Capri
While Capri is an exceptional and unique destination, there is much to see in this part of Italy. In addition, you easily day trip to nearby Sorrento, Positano, and other small towns on the Amalfi Coast.
The local ferry system makes traveling simple. But keep in mind, when traveling on public transport or in crowded areas, keep a close eye on your valuables.
See our Safe Travel Guides for the best tips on staying safe and the best anti-theft travel gear that is safe and stylish. We've even got you covered for keeping your valuables safe on the beach.
Final Thoughts
There are so many amazing things to do in Capri. From visiting Roman ruins to swimming in crystal blue water, don't be surprised if you fall in love with this gorgeous Italian island. If you're like us, you'll want to return yearly because of its unique beauty, incredible views, and sites you won't see elsewhere.
About the Author
Erin Blakely
Erin is the author of Erin's Travel Tips, a Florida Travel Website. Erin has been traveling for three decades. She loves a good cup of coffee, boating, and visiting some of the most interesting places in the world.