Naples is one of Italy's most unique, chaotic, and charismatic cities, with plenty of attractions to explore. From its stunning architecture to its vibrant culture and world-famous gastronomy – pizza, anyone? There's so much to do and see in Naples.
But if you're looking to explore beyond the city limits, there are plenty of fantastic day trips from Naples that will give you an even better appreciation for the region.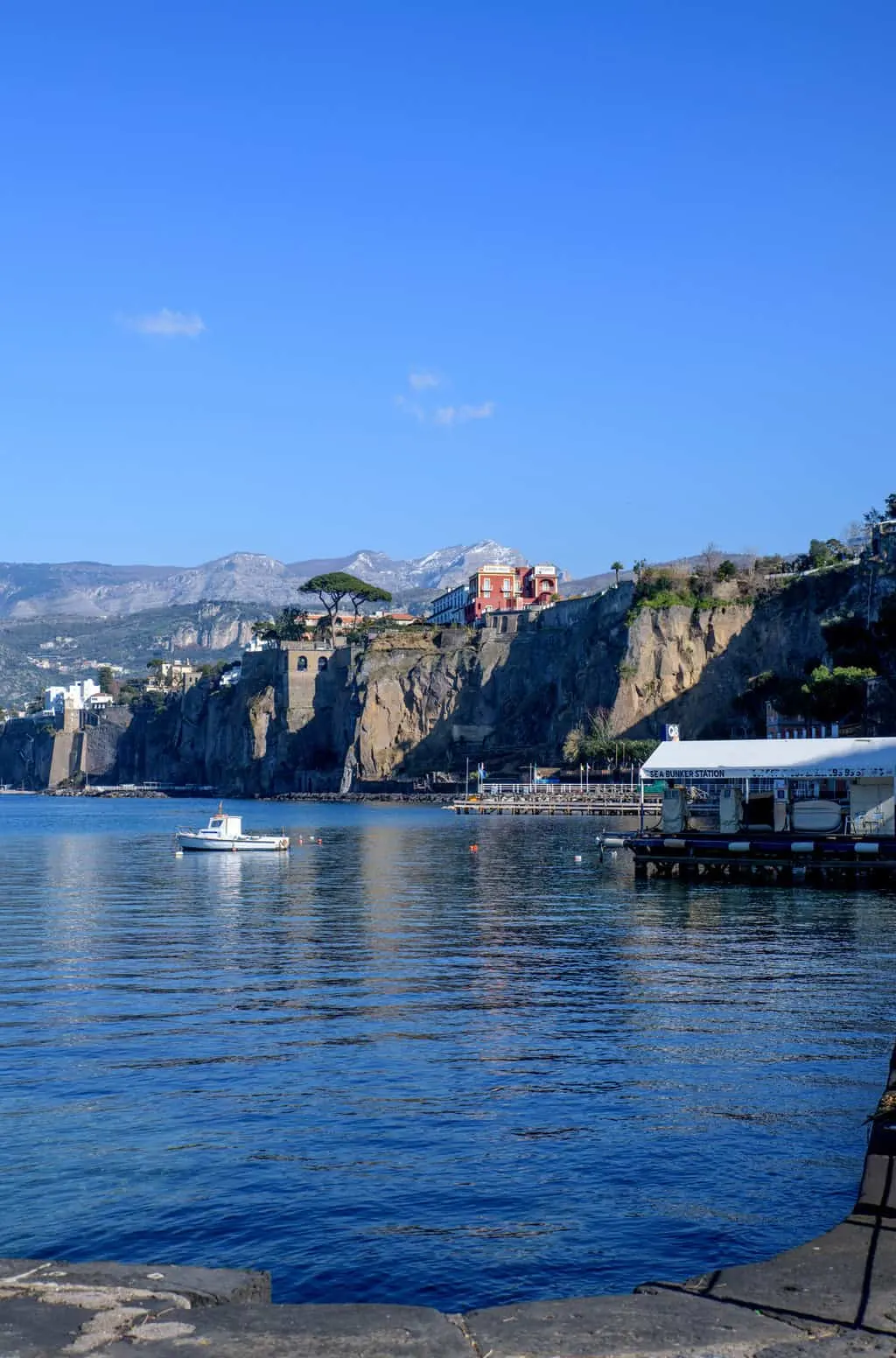 Naples is located within easy reach of some of Italy's most famous attractions, which makes it an excellent base for exploring more of Italy.
From ancient ruins to breathtaking coastal villages, world-renowned island destinations, and natural wonders, here are the 13 best day trips from Naples, Italy, for every interest.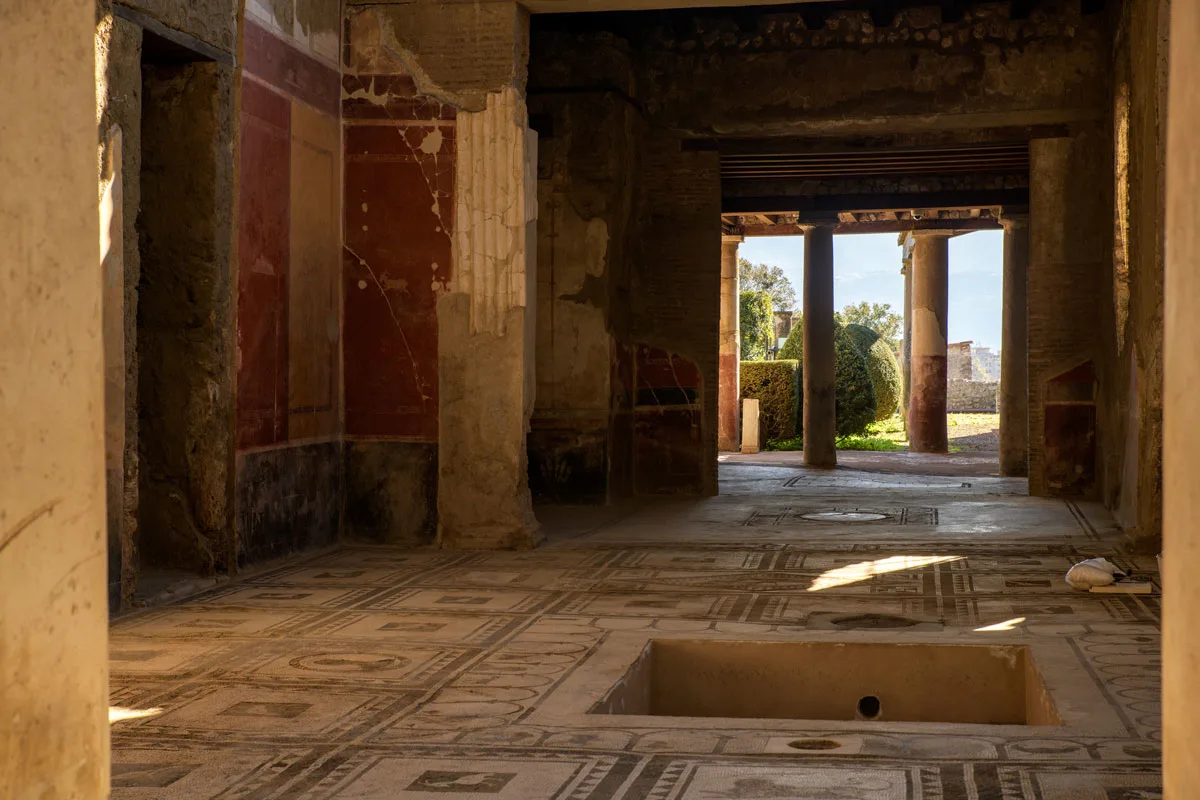 The Best Day Trips from Naples
Mt Vesuvius
One of the most popular day trips from Naples is Mount Vesuvius. Located in the Gulf of Naples, it is the only active volcano on the European mainland.
It has had some of the continent's largest eruptions in recorded history. The natural monolith also defines Naples's landscape and much of its history.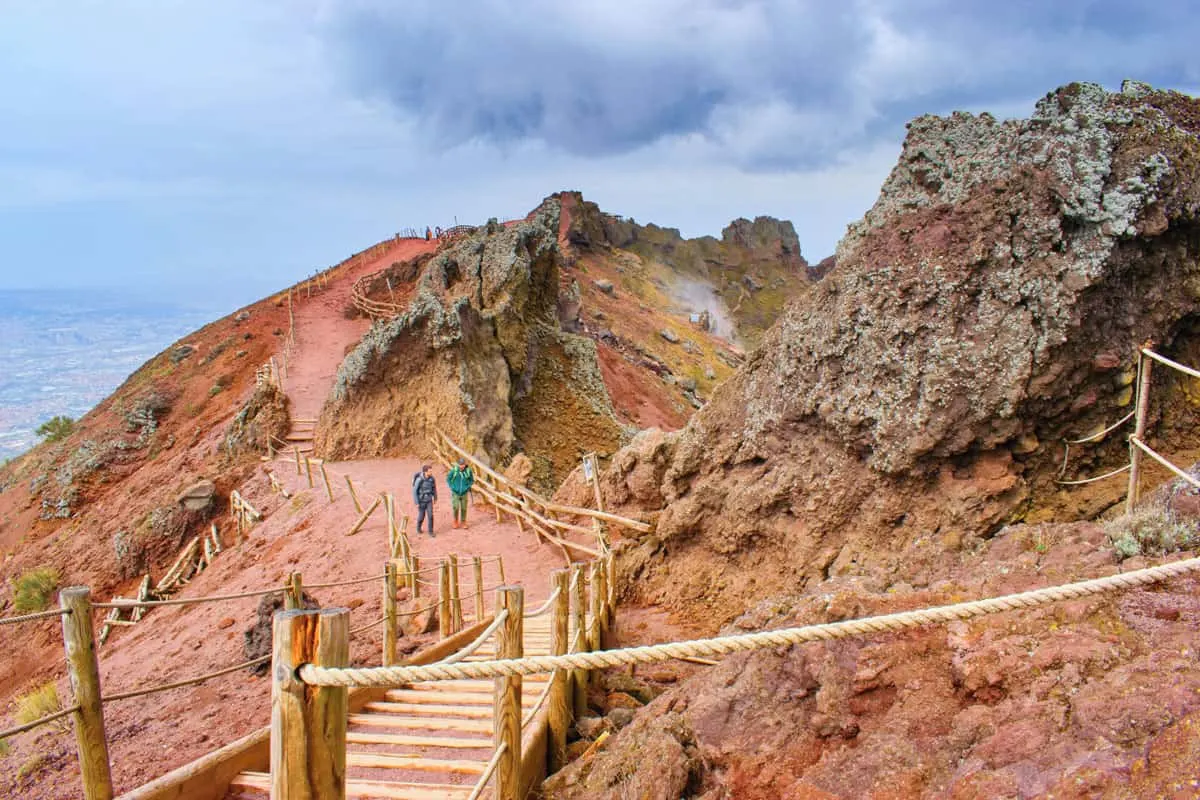 Mt Vesuvius stands at 1281 meters tall and is part of a chain of volcanoes that make up the Campanian volcanic arc. It has been regarded as one of the most dangerous volcanoes in the world due to its proximity to densely populated areas such as Naples and Pompeii.
In 79 AD, Vesuvius erupted with devastating consequences for nearby towns and cities, burying them under ash and lava flows. Since then, Vesuvius has continued to erupt periodically, with the last major eruption occurring in 1944.
Mt Vesuvius is one of the most famous attractions near Naples, so there are plenty of ways to visit it. You can hike to the crater for spectacular views or take a guided tour to learn more about its history and geology.
Vesuvius was a Naples highlight for us even though we have stared down the crater of other live volcanoes (we climbed the tallest live volcano in Ompetpe in Nicaragua). If not for the thrill of staring into an active volcano, the views from Vesuvius are spectacular.
Tips for Visiting Mt Vesuvius
The easiest way to visit Mt Vesuvius is with a tour. (See tour recommendations below)
If you visit independently, you require a timed entry ticket – See here for information and tickets.
If you drive to Vesuvius, you need to pre-book parking – See here for parking reservations.
If taking public transport, going from Pompeii station or Ercolano station near Herculaneum for a combined day trip is easy. Take the Vuesuvius Express transfer near the train stations (you still need to pre-book your entry). You can book a combined bus transfer and entry ticket from Pompeii or, there is a half-day Vesuvius tour that leaves from Pompeii and includes round-trip transport, skip-the-line tickets, and a guide for ease of access.

Or, take the Circumvesuviana train from the Garibaldi Square station in Naples direct to Ercolano Scavi station and take the Vesuvio Express from there.
The bus takes around 25-30 minutes to reach Mt Vesuvius, and you have 90 minutes to walk to the summit and back. Make sure you have bought your entry tickets online before you go, as there is no ticket office, and the internet is unreliable at the top.
Tour Recommendations for Mt Vesuvius
Pompeii
Visiting the ancient Roman city of Pompeii, destroyed by Mt Vesuvius' eruption in 79 AD, is a must-do for any visitor to Naples.
One of the world's most famous archaeological sites, Pompeii is less than 40 minutes by train from Naples, an easy day away from the bustling metropolis. The UNESCO World Heritage Site is even a good half-day trip from Naples.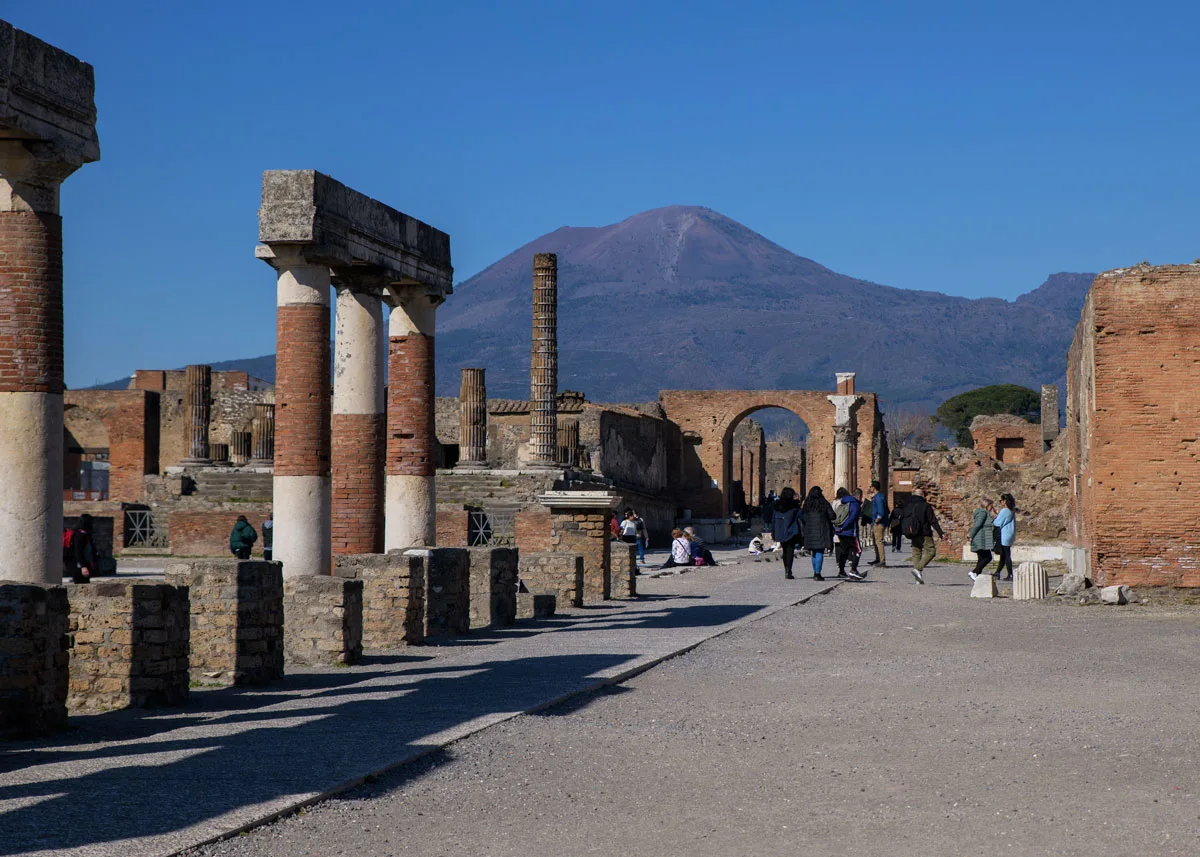 The journey to Pompeii begins with a scenic train ride along the coast of the Mediterranean Sea, passing through small towns and villages that offer glimpses into Italian life. As you approach Pompeii, you can see the looming Mount Vesuvius in the distance, a reminder of its destructive power over two thousand years ago.
On arrival at Pompeii, you are immediately struck by the size of this once-thriving city. The ruins are vast and sprawling, with many structures still intact after centuries of exposure to the elements.
Visiting Pompeii is an unforgettable experience – stepping back in time and exploring one of Italy's most treasured archaeological sites.
In addition to exploring the ruins themselves, there are plenty of amenities on-site for visitors to enjoy. Several shops sell souvenirs, snacks, and restaurants where you can take a break from sightseeing and refuel before heading back to Naples (or on to Sorrento as we did).
On arrival at Pompeii, you will be given a map of the city, but Pompeii is huge and can be overwhelming. We can strongly recommend some kind of guidance to make the most of your time.
Audio guides are available at the entrance if you'd like more information about particular sites or artifacts within Pompeii. Our top recommendation is to visit with a local guide. Aside from making sure you see all the Pompeii highlights, a guide will give you a better understanding of the city and its story. There is a lot to take in.
Most guided tours of Pompeii take around two-three hours, possibly less than what you might spend walking around unguided on your own. This 2hr small group or private tour with an archeologist will show you the highlights while learning the story of Pompeii. It also includes skip-the-line reserved entry tickets.
Tips for Visiting Pompeii
The best way to get to Pompeii is by train (37 minutes) or with a tour. The train station is right near the entrance.
You can drive to Pompeii but be aware that parking can be costly.
If you go independently, pre-book your tickets online – especially in the busy season, as Pompeii is also one of the most popular day trips from Rome. Pre-booked lines are much shorter.
You can plan a combined tour with another attraction to make the most of your day. We especially enjoyed a combined Pompeii and Sorrento day trip for a relaxed afternoon. A Pompeii and Vesuvius day tour helps you tick off two major Naples attractions in one day. The combined Pompeii Ruins & Mount Vesuvius Day Tour from Naples is excellent value – 7 hrs all-inclusive, tickets, transport, guide, and lunch. – Get Tour Details.
Tour Recommendations for Pompeii
Herculaneum
Herculaneum is another ancient Roman city close to Pompeii that was also destroyed by Mt Vesuvius' eruption in 79 AD.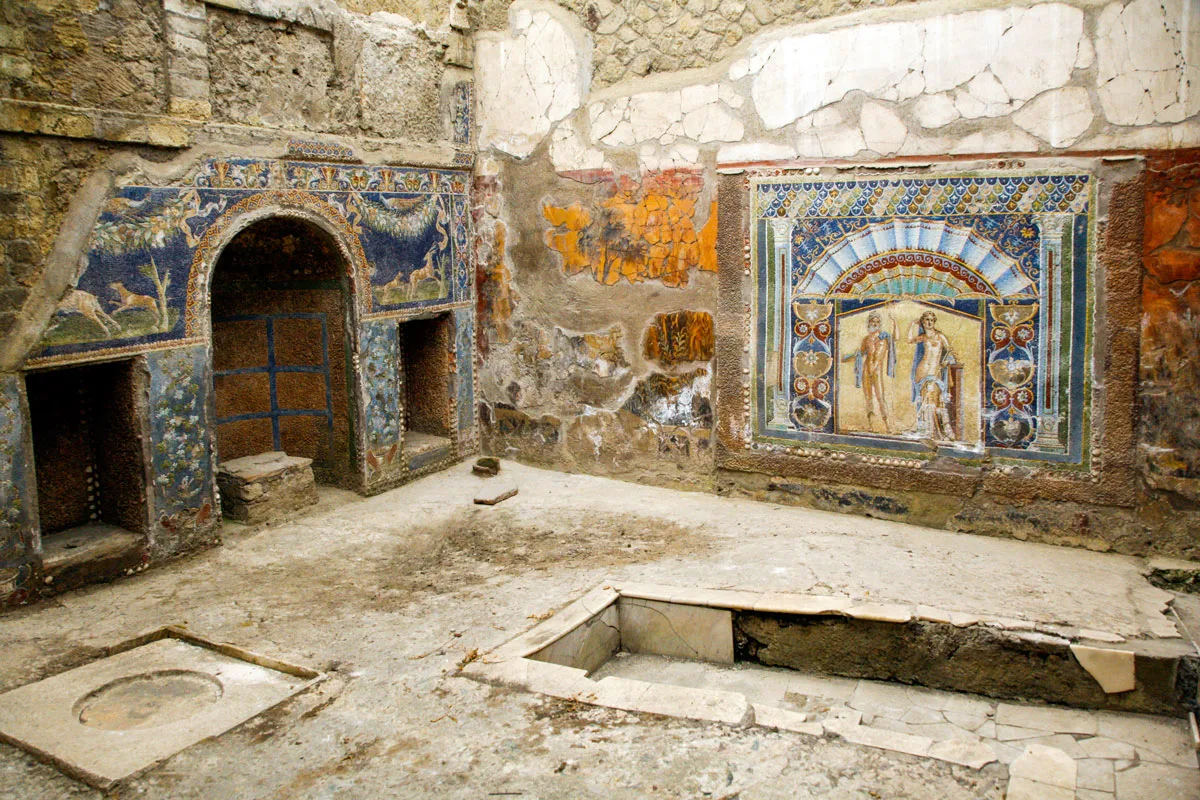 Much smaller than Pompeii and better preserved. Herculaneum offers many fascinating ruins to explore and incredible views over the Bay of Naples. Being smaller, it is also easier to explore than Pompeii. A few hours is enough to see everything in Herculaneum, whereas you will only see the highlights in the same time at Pompeii.
Tip: Herculaneum is a great addition to, or even an alternative to Pompeii in peak season if you want to avoid crowds.
Tips for Visiting Herculaneum
Herculaneum is only 20 minutes by train from Naples to Ercolano Scevi station. It is on the Circumvesuviana line before the Pompei Scavi/Villa dei Misteri stop from Naples. It is five minutes walk from the station. Thanks to the easy connection, it makes a great half-day trip from Naples.
Book your tickets online before you go. Tickets are not timed, so you can use them to skip the line any time of day. Expect big queues at the ticket line in peak seasons.
You can add an audio guide when you book online for a better understanding of the ruins in the city, or you can take the 2 hr guided tour with an archaeologist to get the most from your visit.
Combination Tour Recommendations
These tours are great options for combining Herculaneum with Pompeii and Vesuvius on a day trip.
Pompeii & Herculaneum Full-Day Tour from Naples. 8 hrs. Includes round trip transfers by bus, walking tour, and guide at both sites. Get Tour Details.
Pompeii, Herculaneum, and Vesuvius Full Day Trip. 8 hrs. Includes Round-trip transportation from Naples to Pompeii, Herculaneum, and Mt. Vesuvius with free time to explore on your own and a visit to one of the oldest coral workshops on the coast. Get Tour Details.
Sorrento
Take a break from sightseeing with some delicious food and wine in the charming coastal town of Sorrento just south of Naples.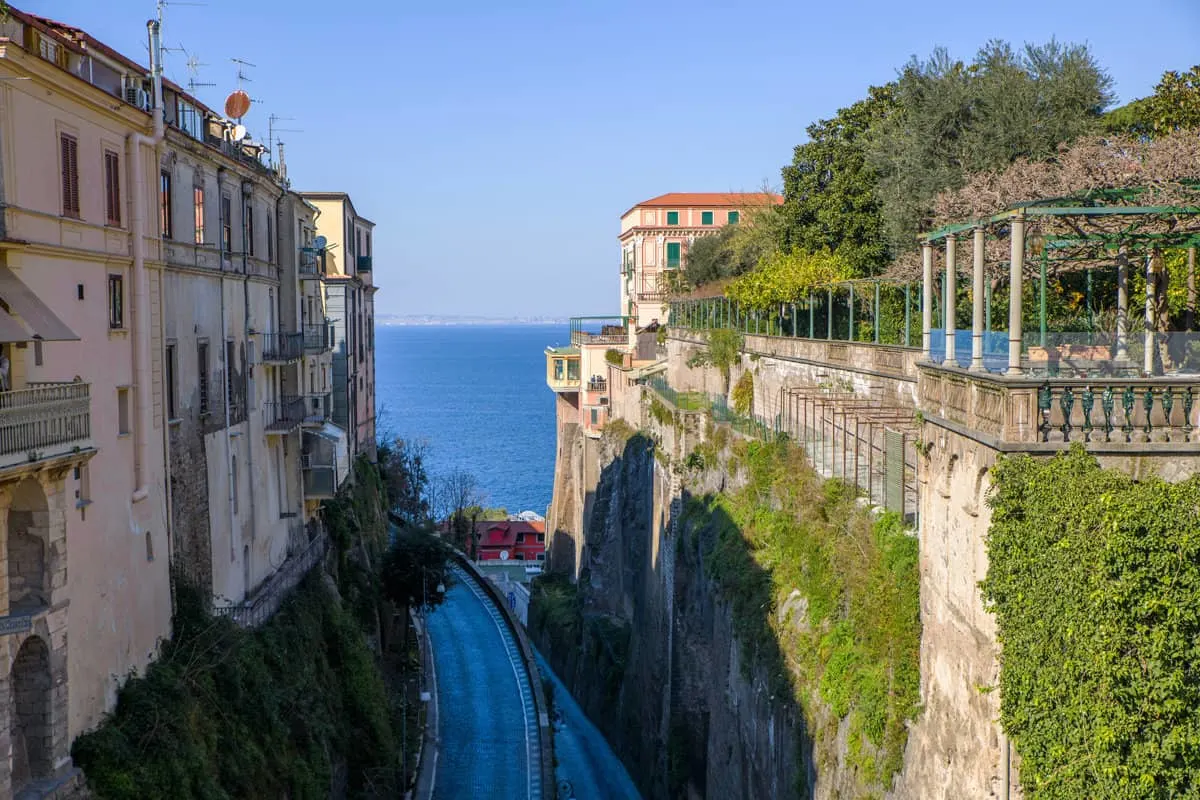 Beautiful Sorrento is one of the most popular coastal day trips from Naples. With its breathtaking views of the Bay of Naples and proximity to other attractions such as Pompeii and the Amalfi Coast, Sorrento is an ideal day trip for travelers looking to experience Southern Italy's beautiful coastal towns. It's also a great alternative for those seeking the Amalfi vibe but easier to get to.
The main attraction in Sorrento is its charming old town center. Explore the narrow cobblestone streets with colorful buildings and quaint shops selling local goods like limoncello and handmade ceramics. Relax on the beautiful beaches of Sorrento and enjoy delicious local seafood dishes at one of the many restaurants.
Tips for Visiting Sorrento
A day trip to Sorrento is fantastic when combined with a trip to Pompeii. Take the train to Pompeii to visit the ruins. From Pompeii, jump on the same train and take it to the end of the line to Sorrento.
Getting to Sorrento from Naples is easy. The fastest way to get there is by taking a train from Napoli Centrale station, which takes about an hour (the Pompeii stop is a little over halfway on the same line).
You can take the ferry for a more scenic way to get from Naples to Sorrento. Ferries leave frequently from the port and take around 45 minutes. You can pre-book ferry tickets here or buy them at the port. Expect long queues in the summer, and booking a return ticket is best so you don't get stuck at the other end.
Tour Recommendation for Sorrento
Sorrento is often combined with a visit to the Amalfi Coast.
This Sorrento, Positano, and Amalfi Full-Day Tour from Naples tick a lot of boxes. 8 Hrs. Includes transport, bottled water, light lunch, and onboard guide – Get Tour Details.
Positano and Amalfi Coast
The stunning Amalfi Coast is a must-visit destination. For those short on time, a day trip to Positano and the surrounding area is the perfect way to experience the beauty and culture of this breathtaking region.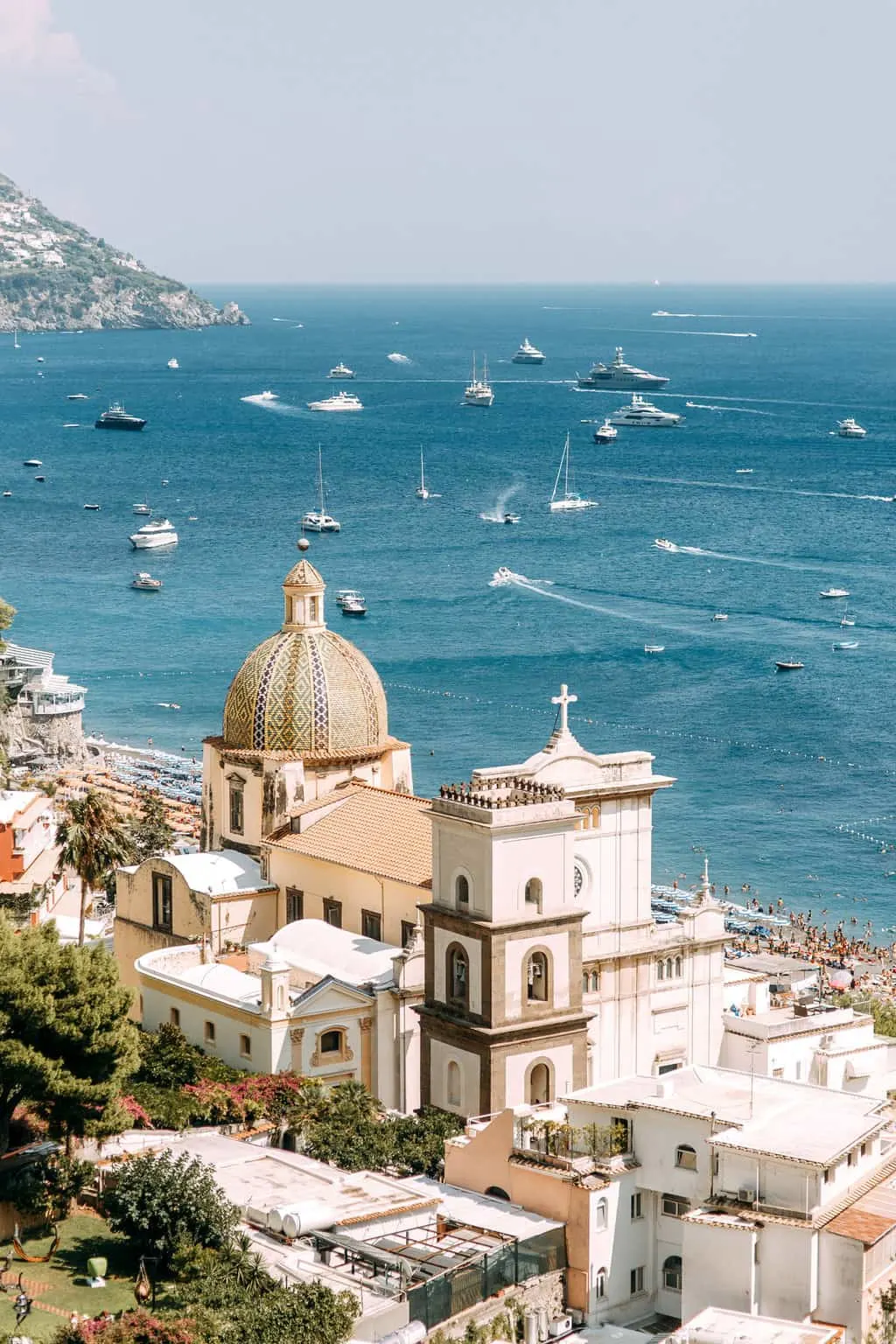 If you're looking for a day trip from Naples for a taste of Amalfi's "La Dolce Vita", the Amalfi Coast is just 20km from Sorrento. If you don't want to take the Sorrento, Positano, and Amalfi Full-Day Tour from Naples, start your day by taking the train from Naples to Sorrento, where you can catch a ferry to Positano.
The ferry ride is an experience in itself, offering stunning views of the coastline and crystal-clear waters.
In Positano, stroll through the picturesque town and admire the beautiful pastel-colored buildings clinging to the cliffs. Visit the Chiesa di Santa Maria Assunta, the town's main church, which boasts a beautiful dome and several notable works of art.
Head to the Spiaggia del Fornillo, a beautiful beach with crystal-clear waters and a laid-back atmosphere. Relax and soak up the sun or take a dip in the crystal blue sea.
After lunch at one of the local trattorias enjoying local specialties of fresh seafood and Amalfi's famous limoncello, take a bus or hire a driver to explore the charming towns of Amalfi and Ravello.
Amalfi is a picturesque town with narrow streets and beautiful architecture, while Ravello is perched high on the cliffs and offers stunning views of the coastline.
End your day by catching the ferry back to Sorrento and taking the train back to Naples.
Tips for Visiting Positano and Amalfi Coast
If you plan to visit the Amalfi Coast from Naples on your own with public transport, you can take a bus (SITA Buses) from Sorrento, which runs regularly, or the ferry. The ferry is the more relaxed option in peak season.
Do not attempt to drive to the Amalfi Coast on your own, especially in summer. The traffic is insane, and parking is virtually impossible. I've listed some good recommendations for day trips below if you prefer a tour option.
If you want to make the most of your day on the Amalfi Coast, consider a night in Sorrento.
There are some gorgeous hikes on the Amalfi Coast, some short enough to incorporate into a day trip, so consider your footwear if you enjoy walking and hiking.
Tour Recommendations for Positano and Amalfi Coast
Amalfi Coast Full-Day Trip From Naples or Sorrento: 9 hrs. Includes a guided tour of Positano, Amalfi, and Ravello by small bus and speedboat from Naples or Sorrento with an optional light lunch and boat tour– Get Tour Details.
Small-Group Positano and Amalfi Boat Tour from Naples: 11 hrs. Take in the views along the Sorrento coast, swim and snorkel in the crystal water, and see coastal attractions such as the ancient fishing village of "Marina Grande", the ruins of a Roman villa near "Bagni della Regina Giovanna", the natural waterfall that flows from the rock, Ieranto bay. Enjoy free time to explore Amalfi and Positano – Get Tour Details.
You Might Also Like: Italy's Best Road Trip Itineraries
Capri
One of the most beautiful islands in Italy, the enchanting island of Capri is a must-visit destination for anyone looking to explore the beauty and charm of Italy.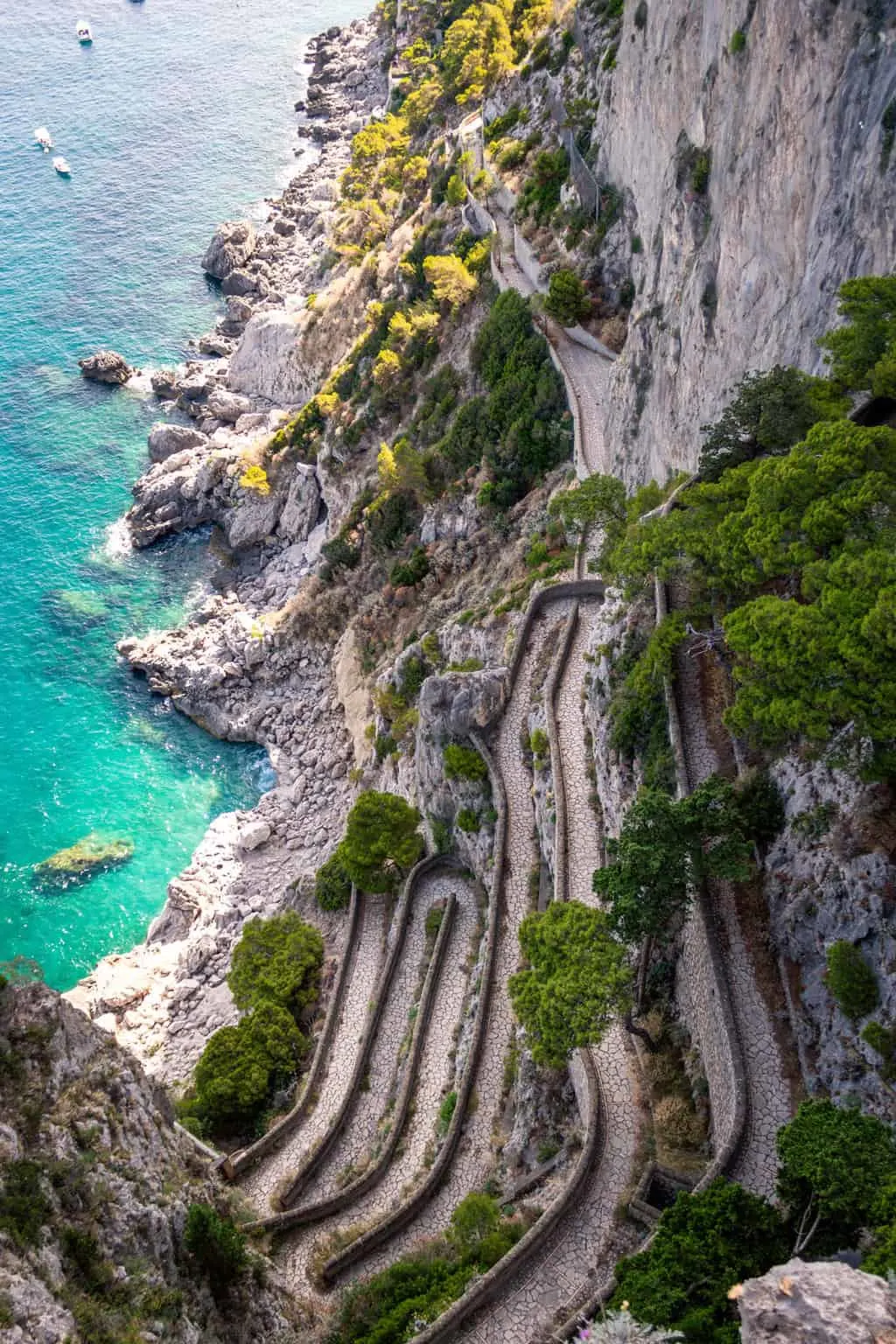 Located off the coast of Naples, this Mediterranean paradise has attracted visitors for centuries with its stunning scenery, vibrant culture, and glamorous reputation as a playground for the rich and famous. Jackie O made the island famous when she fell for the island in the '60s. She adored the famous Capri sandals she had made especially for her.
We give you a complete rundown of things to do in Capri here, but one of the most popular attractions in Capri is the legendary Blue Grotto. The breathtaking sea cave is illuminated by an ethereal blue light, creating an unforgettable experience for visitors.
Other highlights include the Faraglioni rocks – three majestic limestone stacks jutting out from the sea – as well as stylish beach clubs, upscale shopping boutiques, and world-class restaurants.
For those looking to escape the crowds and explore some hidden gems, there are plenty of off-the-beaten-track places to discover in Capri, from secluded beaches and charming villages to scenic hiking trails with spectacular views over the Tyrrhenian Sea.
Tips for Visit Capri from Naples
Getting to Capri from Naples is easy. You can take a high-speed ferry, charter a boat or take a tour to Capri from Naples. The ferry takes around an hour, depending on the route and service.
Planning ahead is important to ensure you get the most out of your day trip to Capri, especially in the peak summer months.
I recommend booking your ferry transfers in advance. You can check timetables and book ferry tickets here. I also recommend pre-booking any tours you might like to do, such as island boat tours or visiting the Blue Grotto.
Salerno
Located on the Amalfi Coast, the enchanting town of Salerno offers stunning views of the Mediterranean Sea and plenty of activities to keep you busy on a day trip from Naples.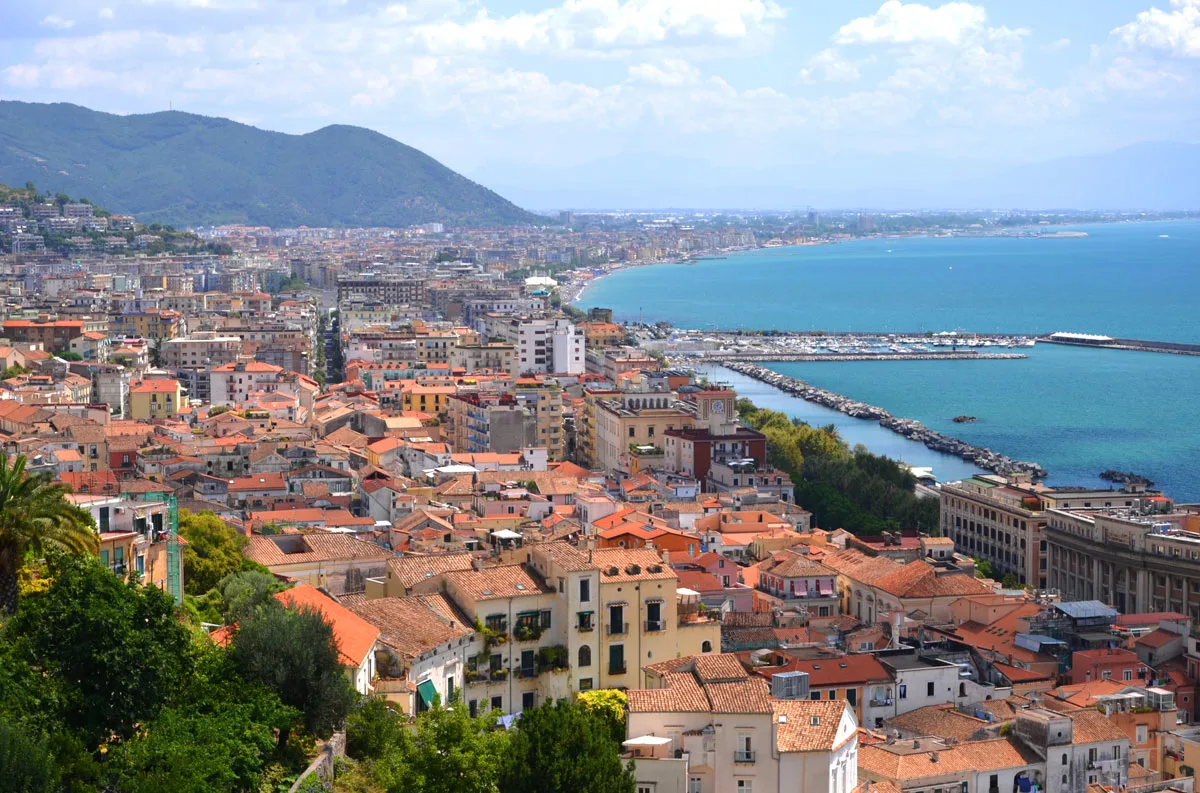 Salerno is a great addition to other destinations in the Amalfi region. From Salerno, you have access to the ancient Greek temples in Paestum, Pompeii, Capri, Sorrento, and Amalfi, so it's possible to do some combo day trips from Naples.
In Salerno, take a stroll along the picturesque Lungomare Trieste promenade, which offers great views of the sea. The medieval old town is also worth exploring, where visitors can see the Duomo of Salerno and other historic buildings.
For those who love history, visit the Giardino della Minerva, a beautiful garden with exotic plants and herbs. Stroll through the 11th-century Arechis Castle gardens and enjoy the stunning views of the sea.
As for food, there are plenty of delicious and affordable places to dine out in Salerno. Try the famous Neapolitan pizza in a cozy pizzeria, or indulge in some fresh seafood in one of the many restaurants along the coast.
Salerno promises travelers a beautiful destination full of history, culture, and scenic beauty.
Tips for Visiting Salerno
Getting to Salerno from Naples is easy by train. Regular services from Napoli Centrale take a little over an hour.
Salerno is only 45 minutes by car from Naples if you wish to drive.
Depending on how you are traveling, it is possible to combine Salerno with another destination.
Salerno Tour Reccomendation
If you wish to visit Salerno on a tour from Naples, the Amalfi Coast Full-Day Trip with Lunch tour from Naples includes Salerno on the itinerary along with other highlights of the Amalfi. The 6 hr tour focuses on the scenic 30-mile coastal road of the Amalfi Coast with stops along the way, free time, and lunch. Get Tour Details.
Royal Palace of Caserta
The Royal Palace of Caserta is a stunning former royal residence in Caserta, near Naples.
Designed by Italian architect Luigi Vanvitelli in 1752 and inspired by the French Palace of Versailles, it is one of Europe's largest and most impressive palaces.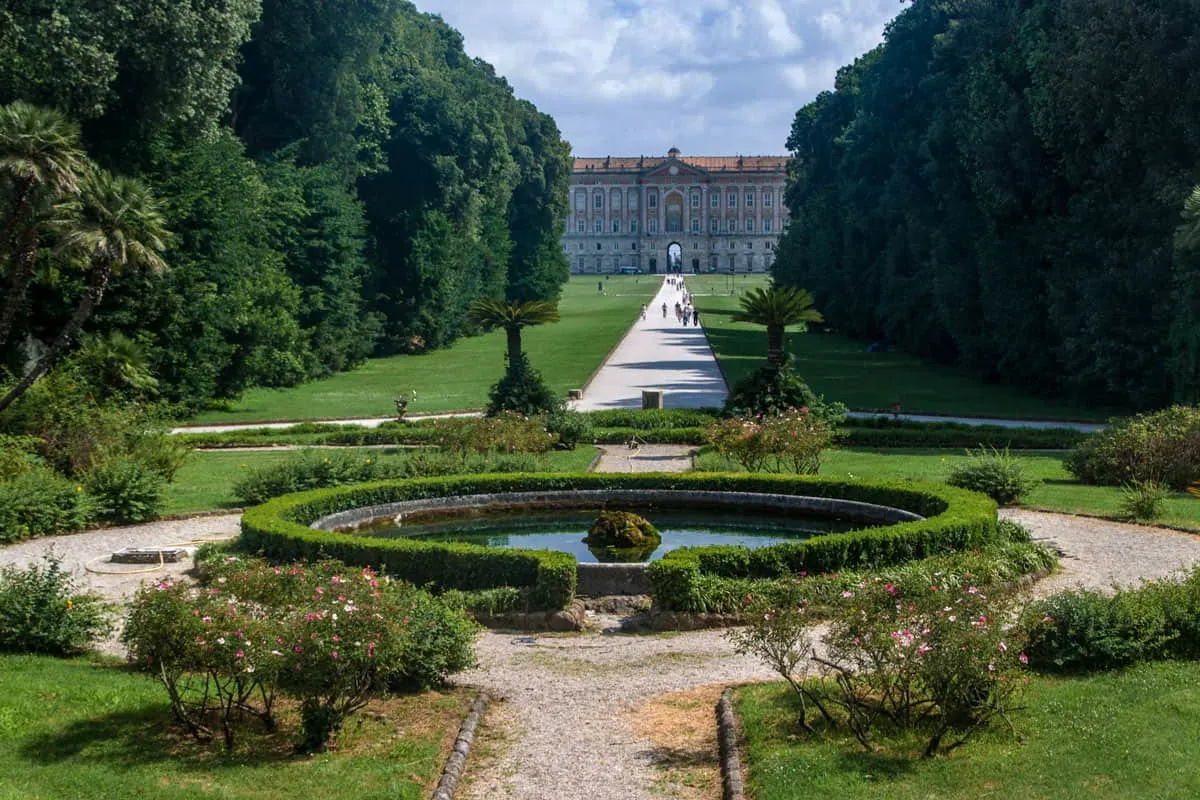 The palace features an awe-inspiring array of artworks, paintings, and architecture. Inside the palace are several must-visit rooms and areas to explore, such as the Hall of Mirrors, which is decorated with frescoes depicting scenes from Roman mythology; the Royal Chapel; and the Royal Apartments.
The UNESCO World Heritage site has also been the location for many movies. The Royal Palace of Caserta is worth a visit for its sheer size and grandeur.
Tips for Visiting the Royal Palace of Caserta
To get to Caserta from Naples, take a train from Napoli Centrale Station to Caserta Station (about 30 minutes). From there, it's just a short walk to the palace entrance.
During the peak summer season, you may wish to pre-book skip-the-line entry tickets and even a tour or audio guide to get the most from your visit. You can find a full selection of tours and entry ticket options for the Royal Palace of Caserta here.
Paestum
Nestled on the Tyrrhenian Sea in southern Italy, the ancient Greek city of Paestum is a must-see destination for anyone visiting Naples.
Established in 600 BC by settlers from Greece, Paestum was once one of the largest cities in Magna Graecia and is now home to some of the best-preserved Greek temples in Europe.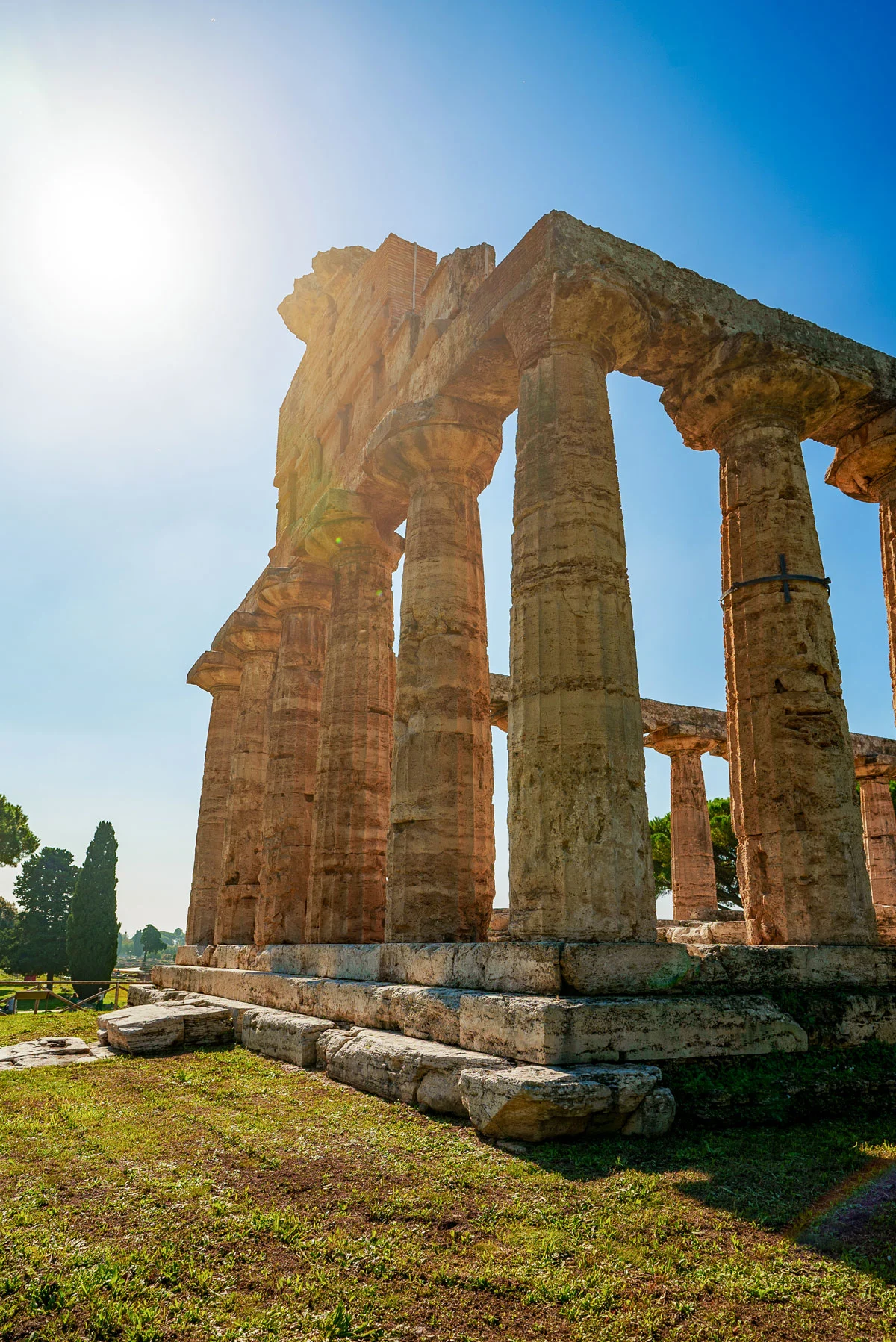 Visitors are treated to an array of breathtaking ruins, including three well-preserved Greek temples dedicated to Hera, Athena, and Poseidon.
In addition to the temples, many other archaeological sites are scattered around the city, such as a Roman amphitheater and a Byzantine basilica.
For tourists visiting on a day trip from Naples, check out all three Greek temples at Paestum before heading to one of the nearby restaurants for lunch. After that, spend some time exploring the other ruins around town before taking a tour of one of the local buffalo farms to sample some delicious mozzarella cheese.
Tips for Visiting Paestum
The easiest way to get to Paestum from Naples is by train. The journey takes between 1 hr – 1.20hr depending on the service.
Once you arrive at the Paestum railway station, it's a 15-minute walk to Paestum. If you don't want to walk, you'll find plenty of taxis and buses that will take you directly to the archaeological site.
Tour Reccomendations for Paestum
From Naples: Paestum Day Trip with Mozzarella Tasting. 8 hrs. Explore Paestum's beautiful ruins, visit a local dairy farm, and enjoy a buffalo mozzarella tasting. Includes cheese factory visit and tastings, return transfers, and free time to explore the ancient ruins of Paestum. Get Tour Details.
Small-Group Tour of Paestum with an Archeologist. 2 hrs. Enjoy skip-the-line entry and join a small-group tour led by an archaeologist to discover the captivating ruins and treasures of Paestum. Includes priority access tickets and guide. Book Tickets.
Ischia
Ischia is another island off the coast of Naples known for its thermal springs, volcanic mud baths, and lush green landscapes.
Located in the Gulf of Naples, Ischia is an easy getaway for travelers looking to explore a unique destination.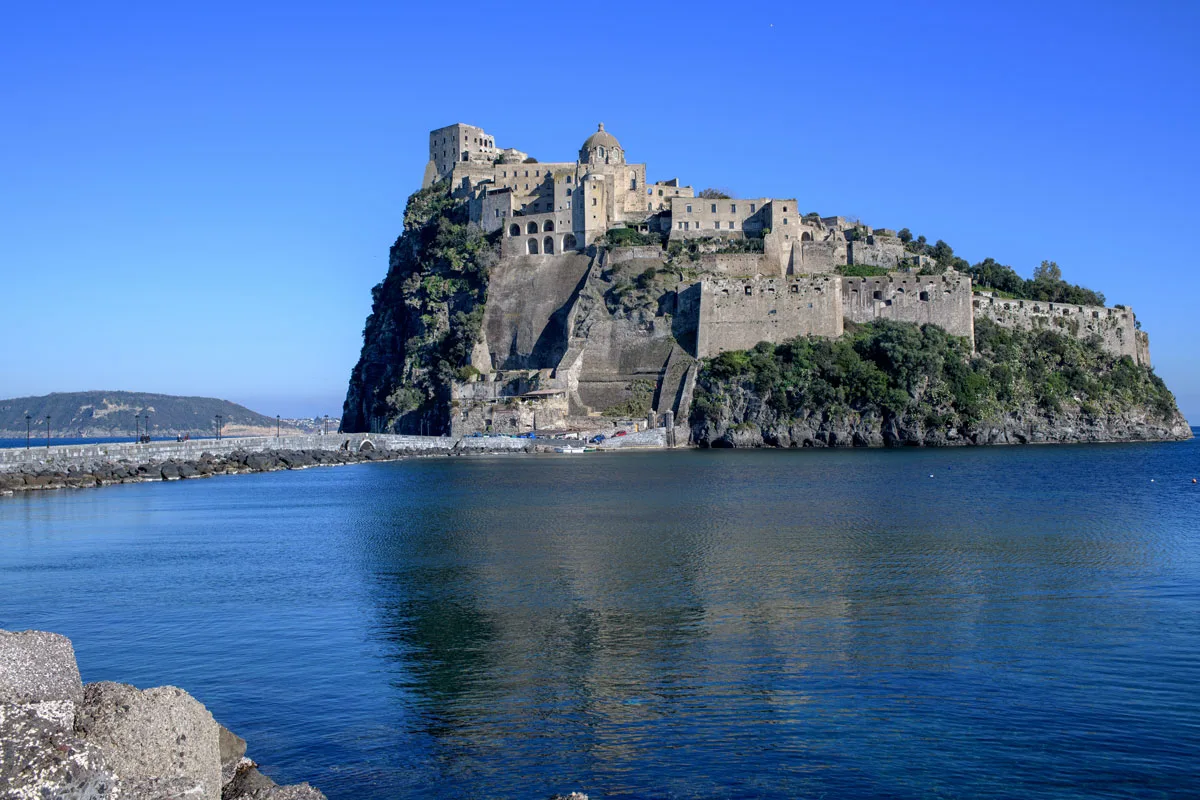 The first thing that struck me about Ischia was its natural beauty and laid-back atmosphere – completely different from places like Sorrento or Capri, where tourism is so prominent.
There is something for everyone on Ischia Island, from serene beaches to lush gardens. Explore the ancient castle, stroll through elegant gardens, or take a soak in hot springs.
Ischia also offers plenty of activities for visitors, such as swimming, fishing, sailing, and diving. Plenty of great restaurants serve delicious local delicacies such as fresh seafood and homemade pasta dishes. For those who want to stay overnight (which I recommend if you have time), there are plenty of accommodation options ranging from luxury resorts to budget hotels.
Overall, I found Ischia a great alternative to other Italian destinations like Capri or Sorrento. It has all the charm and beauty of these places without all the crowds and hustle-bustle associated with them.
If you're looking for a relaxing day trip away from Naples, Ischia is definitely worth considering.
Tips for Visiting Ischia
Ferries leave regularly all year round to Ischia. The ferry takes between 50 minutes and 1.50hr depending on the service – the hydrofoil is faster than the regular ferry.
The high-speed hydrofoils to Ischia leave from the Beverello pier in Naples. The regular ferries (which can take cars) depart from the Calata Porta di Massa quay in Naples.
In summer, I recommend booking ferry tickets in advance to get the times you want. You can see ferry timetables here.
Ischia Tour Recommendations
If you prefer to have someone organize your visit to Ischia, you can book the Ischia Day Trip with Lunch from Naples. The tour is an organized but self-guided day that includes return ferry transfers (tickets delivered the day before), a 3-course lunch with wine in a local restaurant, and free time to explore. Get Tour Details.
Procida
Procida Island is another hidden gem in the Bay of Naples, less than an hour by hydrofoil from the city. This picturesque island, one of the Phlegraean Islands, is only 4.1 sq km in size, making it the perfect day trip destination.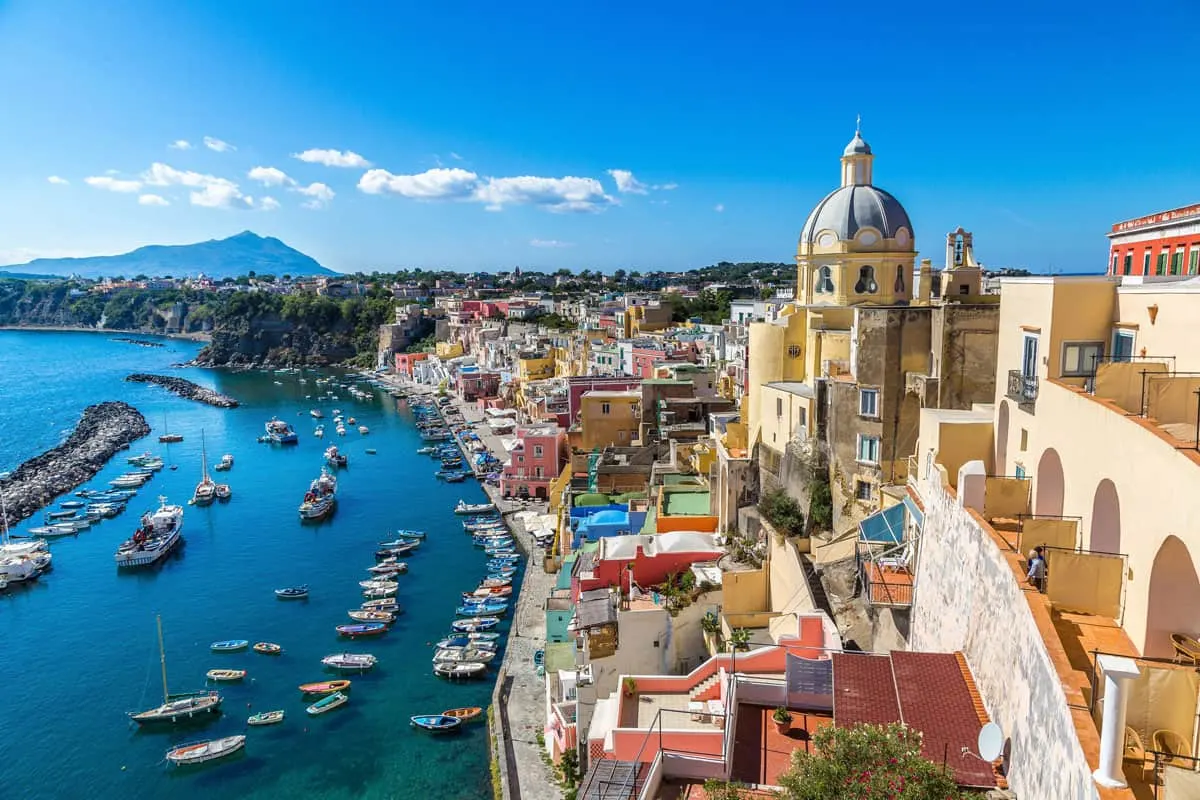 There are plenty of attractions to explore on Procida. Start your day at Marina Corricella, one of Italy's most beautiful fishing villages with its brightly colored houses and narrow cobbled streets.
Then head to Chiaiolella Beach for sunbathing and swimming in crystal clear waters before exploring Terra Murata, an old fortress perched atop a hill overlooking the bay.
For lunch, try local delicacies, such as fried seafood dishes like fritto misto or polpette di baccala (codfish balls). After lunch, visit Villa Abbatellis, which was once home to famous Italian painter Giacomo de Chirico and now houses an art gallery with works by artists such as Caravaggio and Botticelli.
No matter what time of year you visit Procida, this tiny island will charm you with its beauty.
Tips for Visiting Procida Island
As with Ischia, there are regular ferry and hydrofoil services from Naples to Procida all year round. The crossing takes as little as 30 minutes or a little over an hour on the slower services.
If you want to combine a day trip with a visit to Ischia, you can take a ferry from Ischia on to Prodica and then return to Naples.
Procida Tour Recommendation
Visiting Procida from Naples is easy, but you can book the Procida Island Day Trip with Lunch if you prefer someone to organize your visit. The self-guided tour included return ferry transfers and a 2-course lunch with wine or soft drink. Get Tour Details.
Latina
Latina, Italy, is a picturesque town south-east of Rome near Naples that will captivate your heart with its breathtaking views of the Tyrrhenian Sea, towering mountains, and vibrant streets filled with historic landmarks, charming cafes, and markets.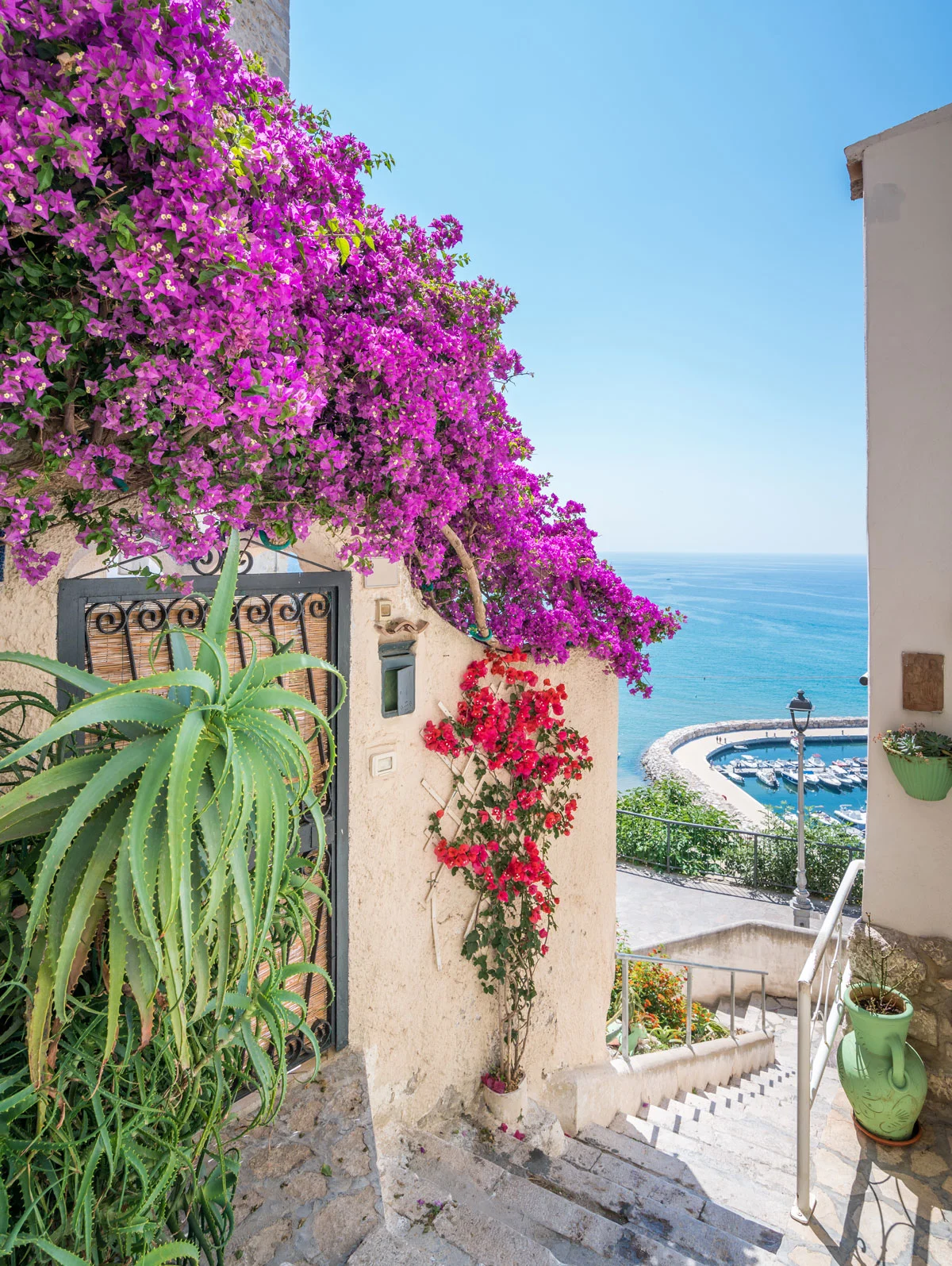 A day trip from Naples to Latina is a must for any traveler looking for a different experience than the tourist must-see destinations near Naples.
Explore the historic center filled with cobbled streets lined with cafes and boutiques.
Visit popular attractions like Palmarola, Lago di Fogliano, and Villa of Tiberio to admire its ancient architecture or simply stroll along La Bufalara beach.
Don't forget to visit Torre Astura and Piazza del Popolo for some amazing views of the city. Sample some authentic Latina delicacies such as Tiella di Gaeta at local restaurants and end your day with a visit to the famous Museo di Piana delle Orme.
Tips for Visiting Latina
The best way to get from Naples to Latina is by train or bus, which run frequently throughout the day. Expect around 1.30 hr travel time by train.
Rome
While Rome is a must-see destination in its own right, it is so easy to take a day trip to Rome from Naples. At only an hour by high-speed train, this is a great way to combine two of Italy's great cities, especially if you are short on time.
Take a Vatican tour, book a cooking class in Rome, or take one of Rome's famous food tours and return to Naples in time for dinner – Pizza, anyone?
Tips for Visting Rome
The high-speed train between Napoli Centrale and Roma Termini takes only an hour, but ensure you book the express train.
Trains can be booked out in the peak months, so booking your return tickets in advance is advisable.