Whether you want to learn some authentic Italian recipes to take home or discover Rome's food scene beyond the restaurants, there are some fantastic cooking classes in Rome.
We explored Rome's best food tours here, but with Rome's amazing food and culinary heritage – why not take some dishes home with you?
From classic Italian dishes and traditional Roman recipes to modern fusion cuisine. You can enjoy hands-on pasta-making classes or an interactive pizza masterclass.
Or, perhaps, you are looking for a family-friendly gelato and pizza cooking experience. There are a fantastic variety of Roman cooking classes for you to add something new to your Italian culinary repertoire in the ancient city.
There are even opportunities for day trips from Rome for wine tasting and pasta making days in the Frascati countryside.
Here, we explore some of the best cooking classes in Rome – perfect for visitors who want an immersive experience of Italy's rich culinary culture.
11 Fantastic Cooking Classes in Rome
You'll learn the techniques to create pasta dough, choose the right ravioli fillings for the season, make pasta sauces, and master the art of tiramisu in one fun Italian cooking class.
And when the cooking is done, you can enjoy your culinary efforts with a glass of wine, finishing with a Limoncello or coffee.
This 3-in-1 Fettuccine, Ravioli, and Tiramisu Cooking Class in Rome is a fun way to enjoy a unique culinary experience that will stay with you forever.
---
With a professional chef leading you, you'll learn to make different pasta shapes for two dishes. Go through all the steps for Neapolitan or Capricciosa pizza, from preparing the dough to cooking it in a wood-fired oven.
At the end of this delicious cooking class, you'll be able to enjoy an all-you-can-eat feast of pasta and pizza made with your own hands.
Enjoy unlimited DOC Frascati wine while cooking to help make this culinary experience even more enjoyable. And afterward, indulge in a dessert of authentic Tiramisù and a Limoncello tasting.
This Italian cooking class is in the Roman countryside – round-trip transfers are included, so you won't have to worry about navigating your way from Rome. This cooking class is also suitable for kids, making a great family day out of the city.
---
Learn the process of making pizza dough and creating the perfect topping guided by a pizza chef in a restaurant atmosphere.
Your host will also share the secret recipe for restaurant-quality pizza sauce so you can recreate perfect pizza back home.
Once you've mastered the art of making pizza, you'll get to enjoy it. If the weather is good, you can dine alfresco with views of one of the most charming streets in the historic center of Rome.
---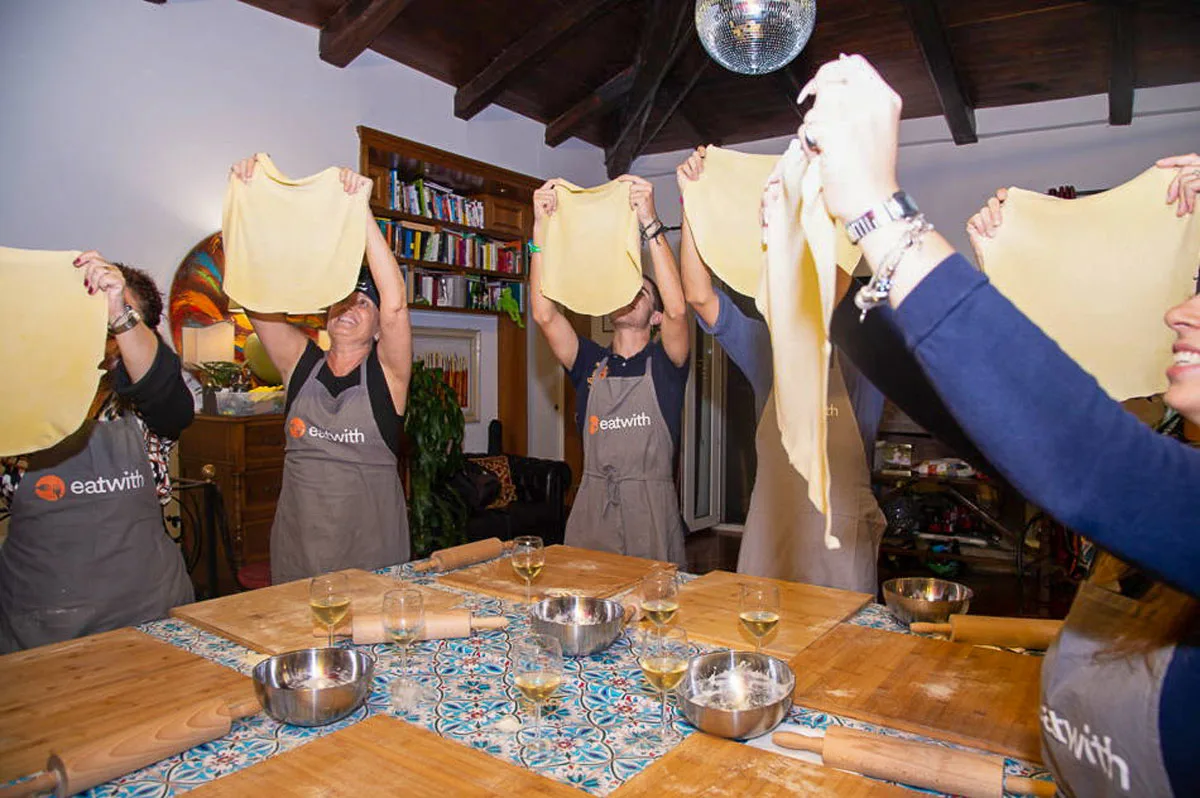 It's the perfect opportunity to learn how to make traditional pasta dishes from scratch – fettuccine and ravioli with delicious pasta sauces and mouthwatering tiramisu desserts like a pro.
Afterward, you can enjoy all the gastronomic delights you cook during the class, along with bruschetta appetizers – all served with complimentary wine, sparkling wine, and soft drinks.
With expert chefs guiding you every step of the way, this Pasta and Tiramisu Home Cooking Class is educational and extremely fun. Learn new recipes in a relaxed atmosphere with stunning views of Piazza Venezia from your host's home in a famous, historic neighborhood.
---
The class takes place in their beautiful home in an exclusive area of Rome where you can appreciate the city away from the tourist areas.
This cooking class features authentic Italian flavors reminiscent of Grandma's recipes. The grandmother of Janice and Francesca worked in the restaurant industry, so they can guarantee some top-quality recipes.
During the instruction, you will learn their Nonna's special recipe for gnocchi in a rich tomato sauce and her famous Millefoglie cake based on puff pastry and custard cream.
---
Learn about the best ingredients, techniques, and preparation methods from an experienced chef. You'll also get tips for buying the freshest ingredients for your dishes and preparing seafood.
At the end of your lesson, indulge in the 3-course dinner of fresh fish and seafood – stuffed alici (little fresh fishes stuffed with capers, lemon zest, garlic bread, and parsley) with fresh seasonal vegetables, pasta made from scratch with fresh seafood, or spaghetti allo scoglio.
Top it off with a delicious homemade dessert like Panna Cotta with orange or lemon syrup or homemade lemon sorbet – all served with local Italian wine.
---
Your tour begins with an expert guide who will take you on a journey through the city's iconic landmarks, including the Pantheon, Trevi Fountain, Spanish Steps, and Piazza Navona.
After working up an appetite, head to a local kitchen, where you'll learn how to make Bruschetta al Pomodoro as an appetizer.
You'll learn to make fresh pasta fettuccine from scratch for your main dish – Fettuccine al Bolognese, Fettuccine alla Carbonara or a sauce using the freshest seasonal ingredients. Finally, end on a sweet note with creamy tiramisu or crostata for dessert.
These cooking classes are suitable for all levels, and you can choose from morning or afternoon tours for either a lunch or dinner meal.
The workshop is usually held in a restaurant for an authentic experience with an experienced chef. However, in the case of small groups or under request, the class will be held at the chef´s house.
---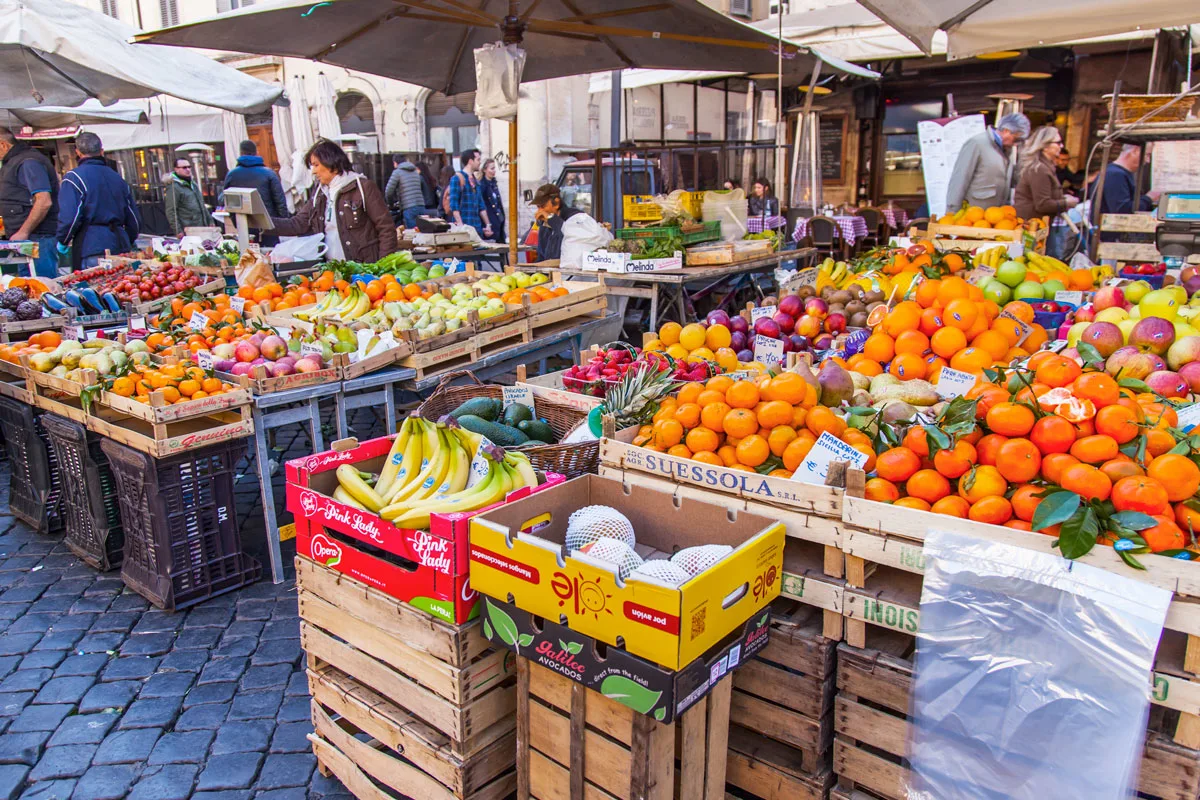 Join an experienced chef on a 5-hour cooking journey that starts with shopping at an iconic fresh produce market and ends with a delicious six-course meal.
In this fun and educational cooking experience, the expert chef will take you on an unforgettable culinary adventure, shopping for fresh ingredients at the famous Campo dei Fiori market before starting your cooking class.
Under the chef's guidance, learn to make pasta, desserts, and other Italian specialties. Master pasta-making techniques while creating three pasta styles—stuffed pasta, long pasta, and short-medium pasta with three different sauces. For the "secondi" course, a meat course with side dishes, followed by a decadent traditional dessert.
---
Learn from people with a passion for cooking and winemaking. Passion and knowledge that has been passed down through generations. They will share the secrets to making perfect pasta from scratch taught to them by their Nonna during a hands-on lesson.
Finish the day with dinner featuring your own fresh pasta, topped with a traditional Roman sauce and paired with local wines. Choose from three typical recipes, Carbonara, Amatriciana, or Cacio e Pepe. The chef will guide you through each recipe.
After dinner, you'll have a chance to view the "caves" below the wine cellar. This is an excellent wine and food combination for people looking for Italian cooking classes for couples.
---
For 2.5 hours, you'll get hands-on instructions from a professional chef on how to make classic Italian dishes of gelato and pizza using carefully selected fresh ingredients.
You'll be guided through the flour types to make the dough, how to achieve the right consistency, and finally, shape it into the perfect pizza crust. Learn the nuances of the right amount of cheese, tomatoes, and other toppings to create your own delicious pizza.
Discover the secrets of making traditional Italian gelato and the importance of the raw materials in achieving that unique, authentic taste.
---
In this one-hour class, you'll get to learn how to make pizza at an authentic Pizzeria with a real stone oven under the guidance of a real pizza chef. You'll be guided step by step through the process of preparing the dough, rolling and squeezing it, and adding your preferred toppings.
This unique and interactive experience will give you a wealth of knowledge about Italy's most loved dish. It's a great class for families to enjoy together; everyone can get involved and make their own pizzas. It's also not so long that kids will get bored.
And at the end of the class, you'll enjoy your creations with bruschetta and a glass of wine. A vegetarian option is available, too, so everyone can enjoy the delicious pizza they've made.
So if you're looking for an unforgettable family-friendly culinary adventure while in Rome, make sure to book yourself into this family-friendly pizza masterclass.
---
Which Rome Cooking Class Will You Choose?
Rome is the perfect place to explore your inner chef. With this diverse range of cooking classes offered by experienced chefs who can share culinary knowledge passed through generations, you'll learn some amazing recipes that will stay with you forever.
So if you're visiting Rome soon and want to take home more than just memories from the Eternal City, book yourself into one of these Roman cooking classes.