Rocky Mountain National Park in northern Colorado is one of the most visited parks in the US.
With staggering mountain views, waterfalls, scenic lakes, abundant wildlife, scenic hikes, and challenging climbs, Rocky Mountain National Park has some of the best hiking in the USA. It's easy to understand why so many people flock to see its majestic landscapes.
If stunning scenery is what you're after, RMNP delivers. These are the best scenic hikes in Rocky Mountain National Park for every hiking level. (We give you helpful tips for visiting the park further on)
You Might Also Like: Looking for more hikes near Rock Mountain National Park? Try these day hikes near Boulder, Colorado.
The Most Scenic Hikes in Rocky Mountain National Park
For the most scenic hikes in Rocky Mountain National Park, these seven hikes, varying in distance and difficulty, will appeal to every hiking level. Get ready for some of the most beautiful hiking vistas in the world.
Bear Lake
Distance: 0.7 miles loop
Difficulty: Easiest
Trailhead: The end of Bear Lake Road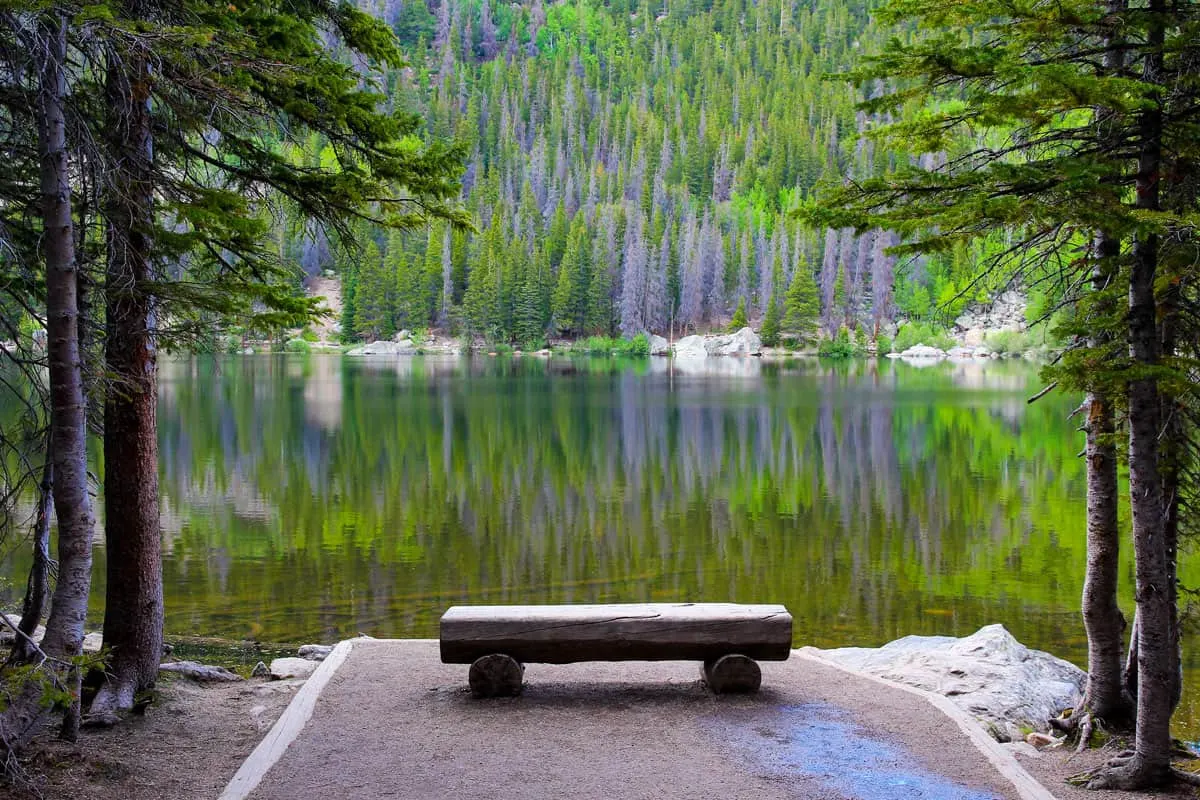 Bear Lake is the best if you are looking for easy hikes in Rocky Mountain National Park. One of the most visited scenic trails in RMNP, the trail around the beautiful lake is short, flat, and accessible, making it easy for anyone to enjoy this hike.
What makes Bear Lake so scenic? For one, capturing a perfect reflection on the lake is easy. The lake is surrounded by forest and pine trees, yet it still gives a great view of nearby mountain peaks. It's a great hike/walk for anyone wanting to see the most scenic places in the park without too much effort.
Bear Lake has a decent parking area, but as it is one of the best day hikes in Rocky Mountain National Park, parking in the shuttle lot and riding the shuttle to Bear Lake is advisable.
Emerald Lake
Distance: 3 miles
Difficulty: Easy
Trailhead: Bear Lake Trailhead (at the end of Bear Lake Road)
Emerald Lake is a great hike if you visit Rocky Mountain National Park with kids. This hike has some uphill but is considered one of the easiest hikes in Rocky Mountain, NP.
What makes this hike so scenic? You'll see three different lakes when you hike to Emerald Lake.
First, you'll come to Nymph Lake, approx 0.5 miles from the trailhead. The small lake covered in lilypads is incredibly serene. Follow Nymph Lake around, ascending slightly to the next lake.
Next is Dream Lake, and it truly is a dream. It is easily one of the most scenic spots with the best views in Rocky Mountain National Park—the lake sparkles in the sun against the backdrop of magnificent mountain peaks. Continue to hike along Dream Lake to the final destination.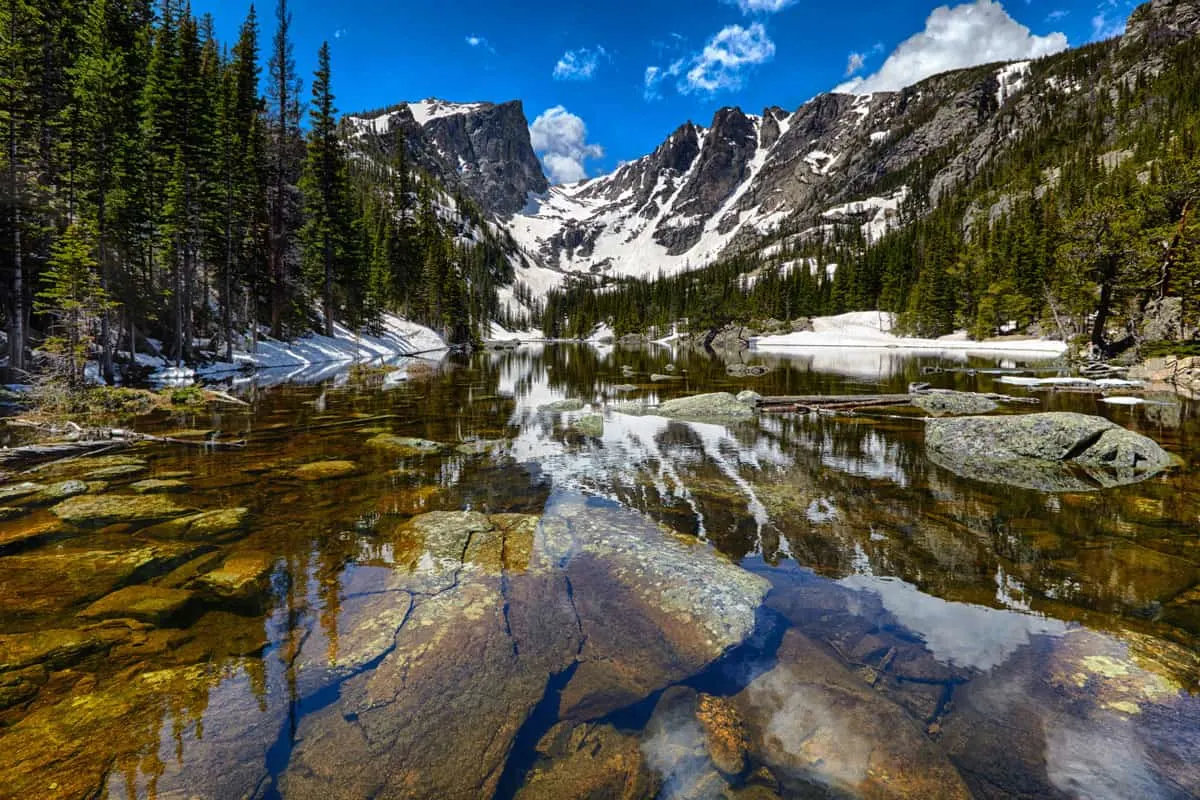 Emerald Lake is about 0.5 miles from Dream Lake. The crowning gem of the hike, Emerald Lake is a place of peace and beauty that brings you closer to the natural majesty of the mountains.
Adams Falls
Distance: 0.8 miles
Difficulty: Easy
Trailhead: West Side of Rocky Mountain National Park, near Grand Lake. Parking is at the end of W Portal Rd.
Adams Falls is one of the many trails that doesn't get the attention it deserves. Why? It's located close to the lesser visited west entrance of Rocky Mountain National Park. This is among the many great hikes on the park's west side.
Adams Falls is easy enough for young or novice hikers. There is some elevation gain, but nothing too strenuous.
It is considered one of the most scenic hikes in Rocky Mountain National Park for a few reasons.
First, Adams Falls is a gorgeous waterfall with a fantastic lookout point in front of the falls. It is also where you can find some of the park's best, most vibrant fall colors.
Rocky Mountain is one of Colorado's best places for fall colors, but Adams Falls is incredible – those vibrant red and orange colors really pop against the green pine.
Bierstadt Lake
Distance: 2.9 miles
Difficulty: Easy to Moderate
Trailhead: Off Bear Lake Road. Access the Bierstadt Lake trail by taking the shuttle to the Bierstadt Lake trailhead, or try for one of the few parking spots at Bierstadt Trailhead.
Bierstadt Lake is another of the great scenic hikes in Rocky Mountain National Park. It is a shorter hike but has its share of incline, guiding you over 600 feet in elevation in just a mile.
As you ascend, you'll get some great views of the mountains in the park (and what becomes the distant road below).
This trail is great for spotting wildlife and wildflowers. As you reach the top, you'll reach a wooded area before arriving at Bierstadt Lake. The top is pretty flat, making walking around the lake quite leisurely.
After enjoying the scenery, you can head back down the way you came or continue past the lake and hike to Bear Lake. If you head to Bear Lake, the hiking distance is about the same, and you can catch the Bear Lake shuttle back to your starting point.
Odessa Lake
Distance: 8.8 miles
Difficulty: Moderate
Trailhead: At Bear Lake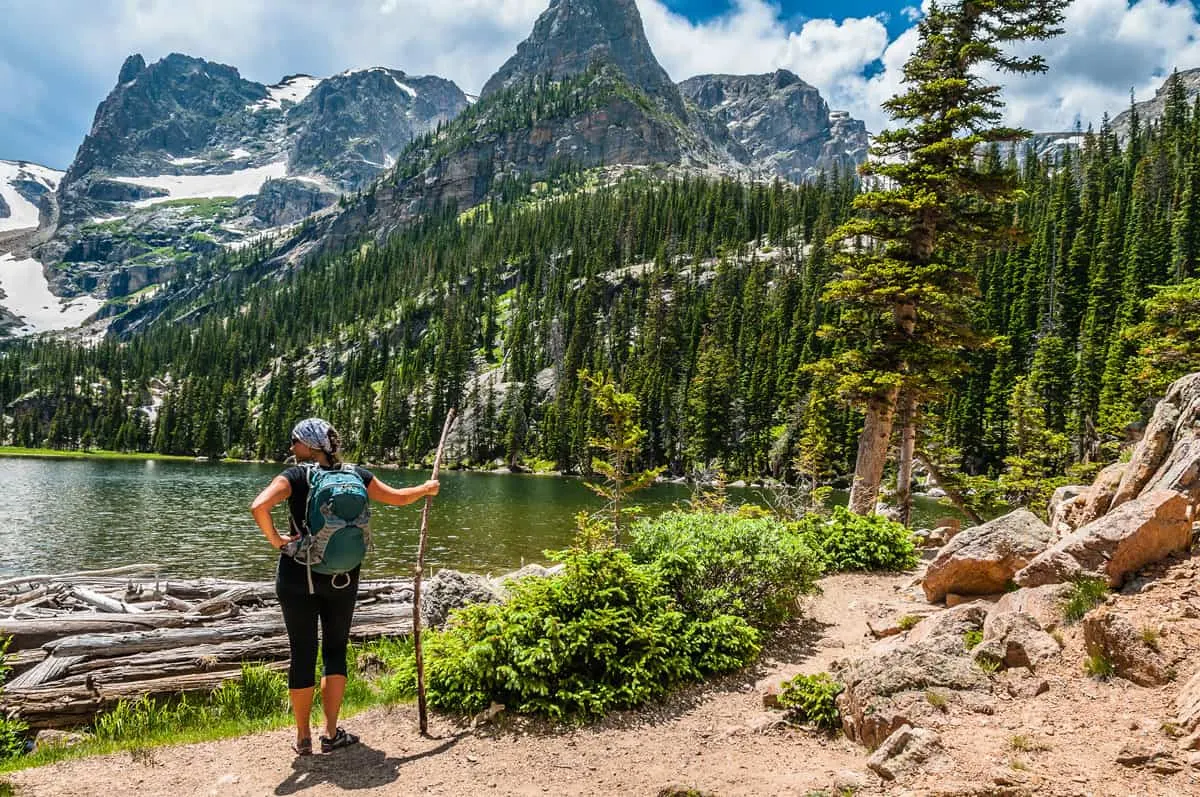 Odessa Lake is straight out of a magazine. The destination is gorgeous, and the hiking trail is one of the most scenic in Rocky Mountain National Park.
Enjoy aspens and pine forests and a waterfall. Hike down a gorge, and consider options to visit other lakes along the journey.
Once you arrive, you'll find a gorgeous, reflective lake framed with the granite peaks of Little Matterhorn. You can fish here or just relax and enjoy the view before returning.
While moderate, this longer hike will require some effort as you ascend over 1,800 feet in elevation gain. Hiking poles will help make the climb easier.
Lake Haiyaha
Distance: 4 miles
Difficulty: Moderate
Trailhead: Trailhead at Bear Lake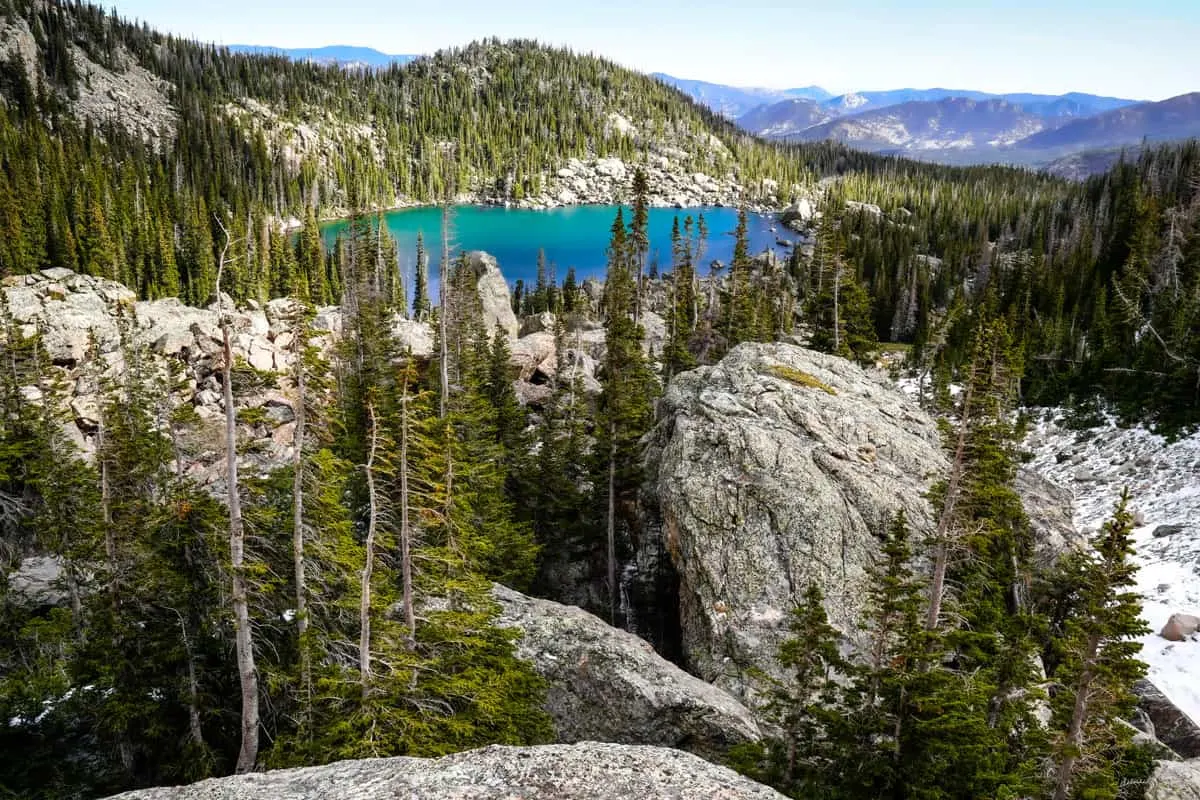 Lake Haiyaha gained sudden fame in 2022. While always a beautiful place to go, it became one of the most popular lakes in Rocky Mountain National Park when it suddenly turned a stunning shade of turquoise.
A rockslide in Chaos Canyon deposited sediment that dispersed minerals into the water, turning it a magnificently milky-turquoise color.
While the water may not always retain the enticing, almost unrealistic blue color, Lake Haiyaha is always a gorgeous hike and one of the best lakes in Rocky Mountains National Park for gorgeous scenery.
To get to Lake Haiyaha, you'll pass by Nymph Lake, where you have the option for a quick detour to Dream Lake (as if you are heading to the above Emerald Lake). Without the detour to Dream Lake, you'll take a turn to hike another mile to Lake Haiyaha.
Lake Haiyaha is embraced by two mountain peaks, with Chaos Canyon in the middle. There are trees along the bottom and a stunning lake graced with emerging rock.
Twin Sisters Summit
Distance: 7.4 miles
Difficulty: Hard
Trailhead: Across the road from Lily Lake, on St. Vrain Ave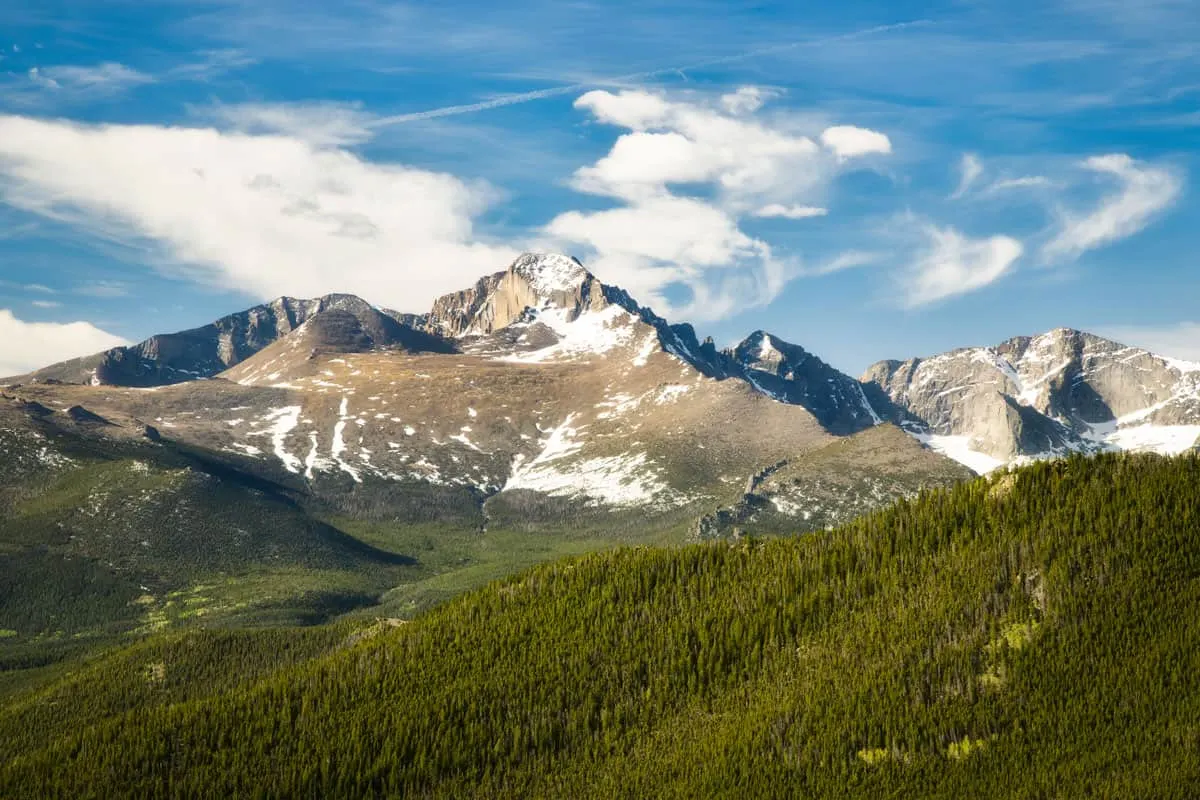 Twin Sisters Summit boasts some of the best views in Rocky Mountain National Park, but it doesn't come easily.
Twin Sisters is a challenging hike, gaining over 2,300 feet in elevation as you hike through forested trails and bare rock areas. There's even a bit of rock scrambling toward the top, but it's worth it for incredibly scenic views in and beyond the park.
While the hike is challenging, the payoff is full views of Longs Peak, Mount Meeker, and the Continental Divide – You'll feel like you're on top of the world.
Hiking poles are strongly recommended but not required. The trail takes around 4 hours to complete. Beginner hikers can manage this trail if determined but should count on 5-6 hours to complete it with plenty of breaks.
As this is a longer hike, start as early as possible to avoid afternoon storms and bring plenty of water.
Visiting Rocky Mountain National Park
While the RMNP dishes up spectacular natural vistas wherever you go, these hikes guarantee some of the best and most iconic views in Rocky Mountain National Park. Whether you are a beginner, an advanced hiker, or traveling with kids, there are plenty of great scenic hikes in Rocky Mountain National Park to soak in the beauty.
Here are some tips to help plan your tip to Rocky Mountain National Park.
Rocky Mountain National Park FAQs
Where is the main entrance to Rocky Mountain National Park?
The main entrance to Rocky Mountain National Park is the Beaver Meadows Entrance Station on Highway 36, a few miles west of downtown Estes Park. While there are a few entrances on the east side, this is the most popular as the main visitor center and park headquarters are near this entrance. It is also a good starting point for reaching popular spots like Bear Lake.

The second main entrance is on the west side of the park in Grand Lake. While the trails on this side are less popular, it is still worth a visit here.
How long does it take to drive through Rocky Mountain National Park?
If you want to drive from the east side of Rocky Mountain National Park to the west side, you can drive through the park on Trail Ridge Road. This drive takes over 3 hours. You can download the Rocky Mountain National Park Driving Audio Tour App for a self-guided tour of the park.

Summer is the best time to drive through Rocky Mountain NP from east to west. Any amount of snowy weather will cause the road to close – it is routinely closed each year by late fall.

In the winter, you'll have to drive all the way around (going down to Denver and across I-70) to get from one side of the park to the other.
Timed entry at Rocky Mountain National Park
Rocky Mountain National Park is one of the top-visited national parks in the nation, receiving over 4 million visitors in 2022. Due to its popularity, RMNP began a timed entry process a few years ago.

Timed entry reservations are only required from late spring to early fall and must be made online before arriving at the park entrance.

To make a Time Entry reservation, you'll need to access the RMNP site and create an account. Note that reservations open at the beginning of each month for the following month – E.g, On July 1, reservations will be available for  August and any remaining days for July. A small number of reservations can also be available the night before a visit beginning at exactly 5:00 pm MT.

Tip: To access many of the hikes on this list, you'll need a reservation that provides access to Bear Lake Road.
Where to Stay Near Rocky Mountain, National Park
If you are heading to the east entrance, Estes Park is the best place to stay. It's full of lodging options for all budgets. Many visitors try to snag a reservation at the famous Stanley Hotel, the inspiration for Stephen King's book The Shining.
Grand Lake or nearby Granby are great options if you head through the west entrance. Both have plenty of lodging options as well as fun lake activities for when you're not hiking in the park.
Search Accommodation in Estes Park