From the jagged mountains in Colorado to the unique parks in the Florida Keys, there is an adventure vacation in the US for every outdoor enthusiast.
With so many incredible national parks to choose from in the US, magnificent coastal regions, old-growth forests, intriguing desert landscapes, ancient gorges, and hot springs – there is endless opportunity for adventure activities.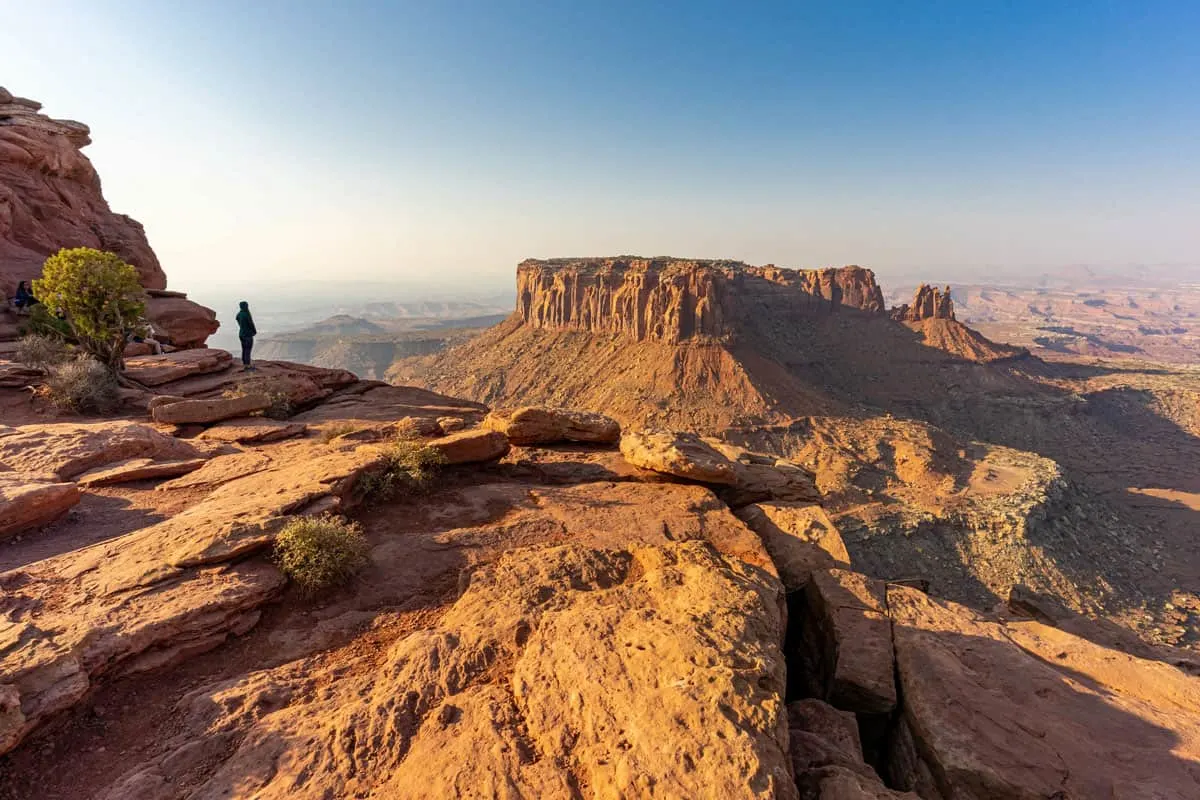 We've rounded up some of the best American outdoor adventures to help you plan your next adventure vacation or great American road trip.
10 Best Adventure Destinations in the US for Outdoor Enthusiasts
Zion National Park Utah
Less than 100 miles north of Grand Canyon National Park, Zion National Park, one of Utah's Mighty 5, is famous for its extraordinary rock formations, stunning vistas, and plenty of hiking and camping assets. For those who want to experience amazing American adventures, Zion NP has a lot going for it.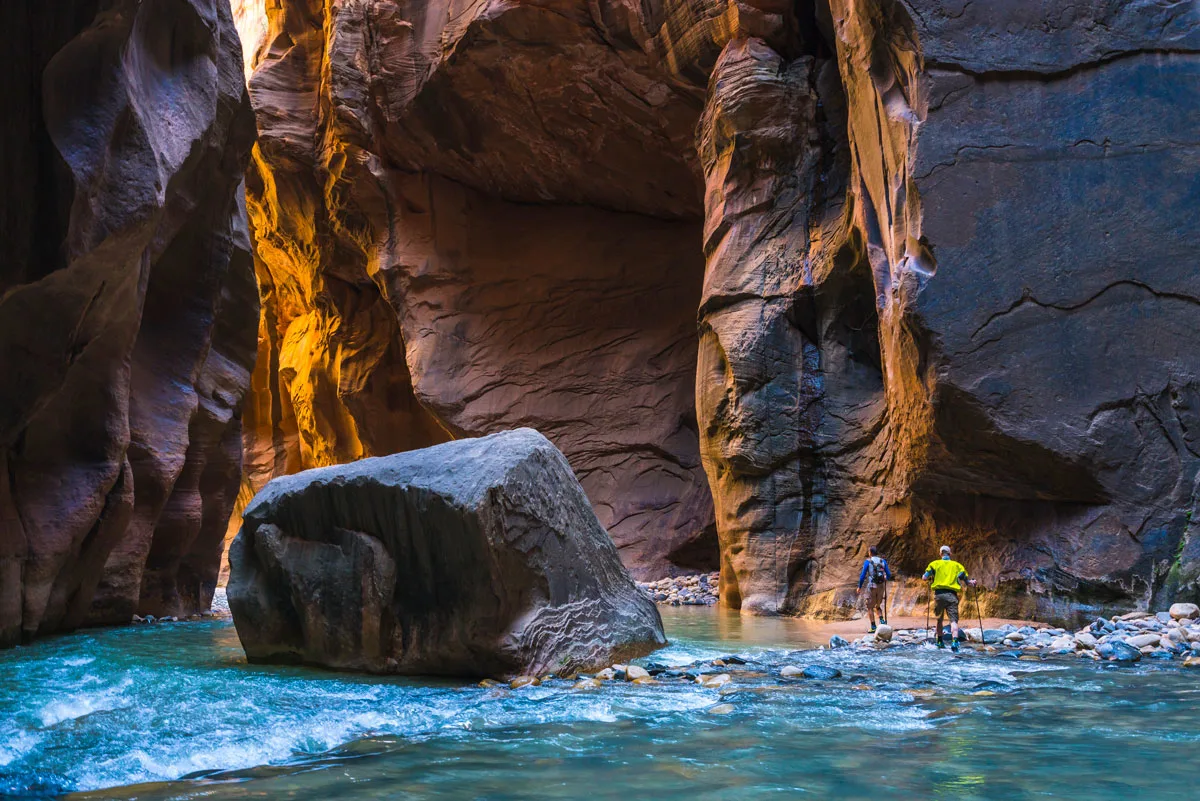 Zion is the ideal place for those looking for adventure in the outdoors. The park offers magnificent singular canyons, outcrops, and valleys perfect for hikers of all abilities, including the famous Zion Narrows hike.
There are also two impressive scenic drives – the Zion Scenic Canyon Drive and the Zion-Mount Carmel Highway. You can go horseback riding, try slot canyon canyoneering or take an adventure ATV tour or a Zion jeep tour.
Mammoth Cave National Park Kentucky
Mammoth Cave National Park is one of the 13 natural sites in the US given UNESCO status. Home to the longest known cave system in the world, only 400 miles of Mammoth Cave have been explored. It is estimated the cave extends a further 600 miles.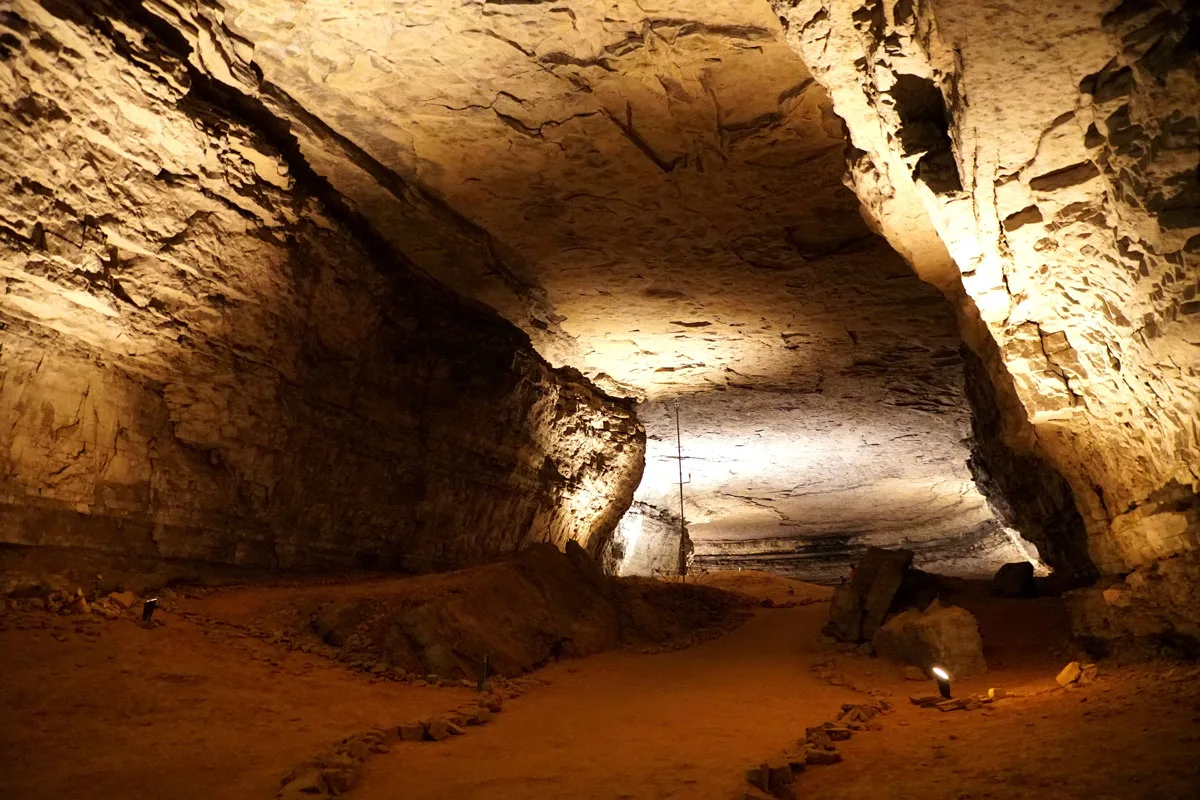 While visitors cannot explore the entire 400 miles, there are plenty of enormous caves to discover, some several stories high.
You may only explore the labyrinth of narrow passageways and otherworldly canyons as part of a tour, but there are many exciting tours to join. Tours change according to the season with a choice of kid-oriented tours, tours for those with limited mobility, historical tours, and for the more adventurous, you can try a guided spelunking tour.
See the National Parks Site for season tour availability. Tours book up quickly, so it's best to book in advance.
While the impressive cave system is the park's main attraction, there are also lots of adventure activities above ground. The forested landscape above the caverns is an excellent place for camping. There are miles of hiking trails covering diverse habitats, fishing, kayaking, canoeing, and horseback riding.
Yosemite National Park California
One of the most popular national parks in the USA, described by John Muir as "by far the grandest of all the special temples of nature," Yosemite National Park is the perfect destination for those looking for the ultimate American outdoor adventure vacation.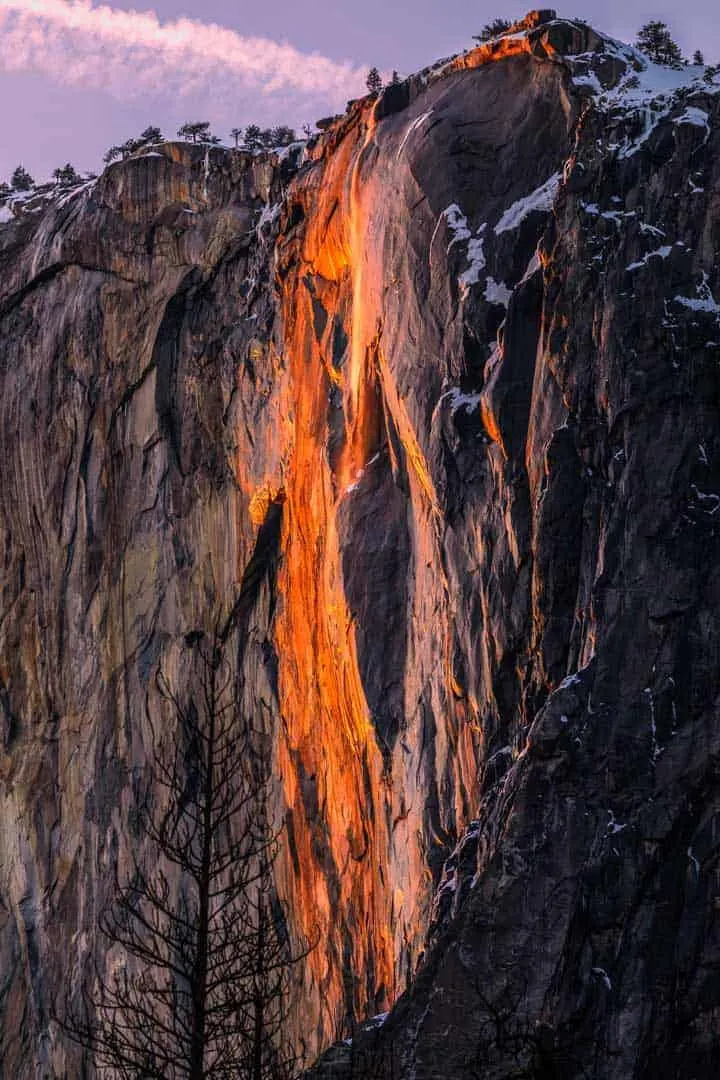 Yosemite is 1,200 square miles of vast wilderness ripe for adventure. From majestic waterfalls over 1000ft high, ancient sequoia forests, magnificent rivers, unique rock formations, and majestic mountain peaks. There are many opportunities for rock climbing, hiking, fishing and boating, rafting, and swimming. Yosemite has something to offer outdoor enthusiasts all year round.
There are also many fantastic places to visit near Yosemite, such as the Bodie State Historic Park. The former gold mining town is considered one of the best-abandoned places to visit in the USA. Mammoth Lakes for the natural hot springs, Mono Craters and Lundy Canyon, and the John Muir Wilderness and Ansel Adams Wilderness.
Olympic National Park
Olympic National Park on the Olympic Peninsula west of Seattle is close to 1 million acres of insanely beautiful and diverse wilderness.
A one of a kind natural destination with a range of ecosystems and terrains, from lush rainforests to rugged coastlines, an alpine region, and a dry area. You'll never get bored in Olympic National Park.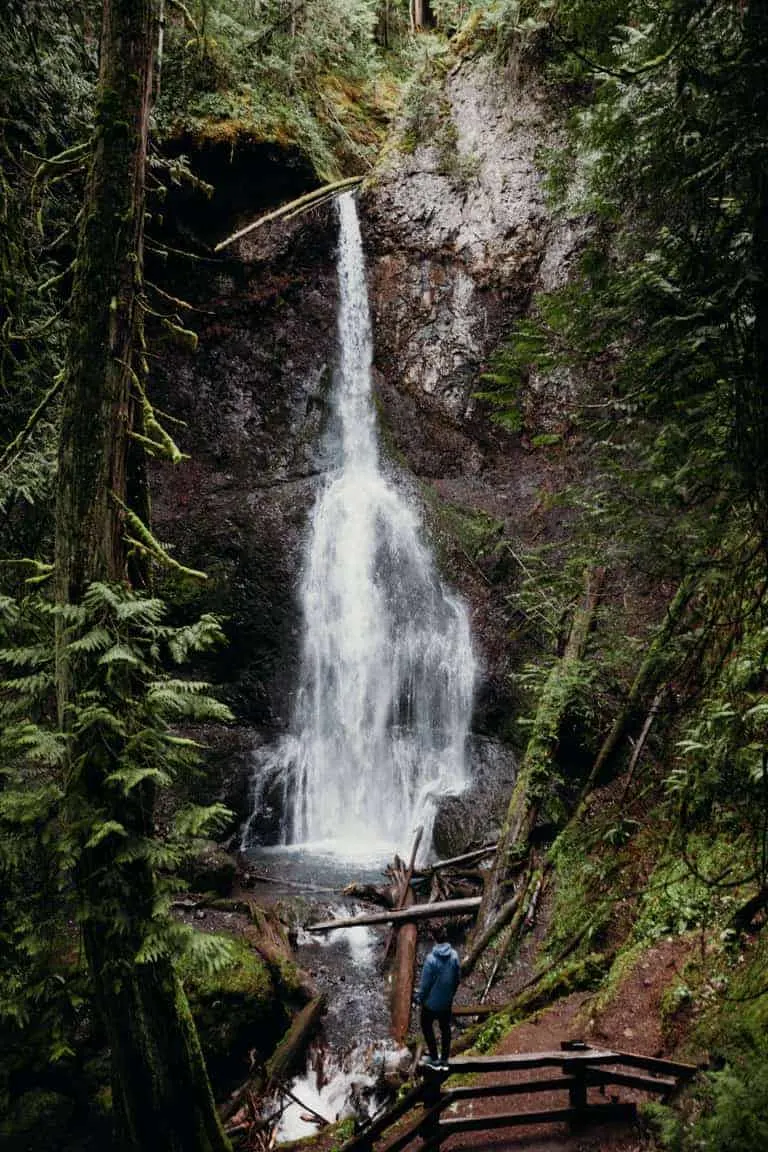 For those who like the outdoors and adventure travel, there is plenty to do at Olympic NP. One of the great Seattle road trips, it's also an easy day trip from Seattle. It's no wonder it's one of the most popular national parks for locals and visitors.
With over 611 miles of trails suited to all hiking levels, there are some incredible hikes in Olympic National Park. From the ethereal moss-covered Hoh Rainforest to Hurrican Ridge, where you have sweeping views of the famous glacial mountain Mt.Olympus and, on a clear day, the Straits of Juan de Fuca and across the water into Canada.
Enjoy kayaking, canoeing, or paddleboarding on the picturesque Lake Cresent, or explore old-growth forests to find magnificent waterfalls such as Sol Duc Falls and Marymere Falls. Olympic Coast is also home to some impressive whitewater. Rivers pour from the mountains, which creates ideal whitewater rafting conditions when the water is high.
The rugged Olympic Peninsula offers breathtaking beach exploration and even the possibility of surfing for those willing to brave the cold. Between Rialto Beach and First Beach, in the small town of La Push on the Quileute Indian Reservation, you'll find surf central.
Some surfers also like to get off the beaten track hiking the 4 miles to Shi Shi Beach to catch the waves off this sandy backcountry spot.
Lake Tahoe California and Nevada
Nestled in the Sierra Nevada Mountain Range, Lake Tahoe straddles two states, split by the California and Nevada state lines.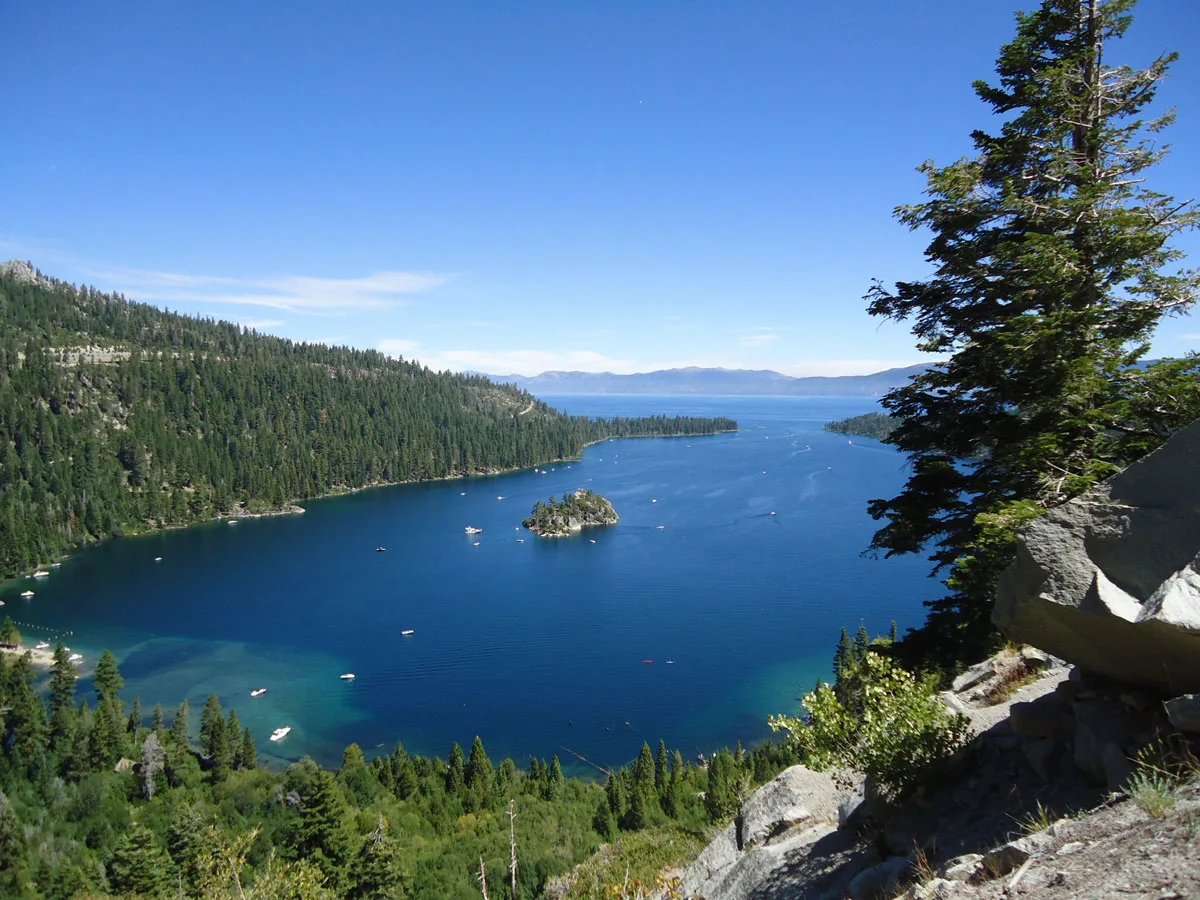 The largest alpine lake in North America. The serenely beautiful sapphire blue lake offers a multitude of water sports, hundreds of miles of hiking and biking trails, stunning beaches, and world-renown ski resorts for downhill, nordic skiing, sledding, and snowshoeing. Lake Tahoe has something for every adventure traveler, whether it's the pristine pine forests, sandy shores, or snow-capped mountains.
The lake is dotted with numerous state parks offering so many varied outdoor experiences. The 55-acre Sand Harbour State Park in North Tahoe offers swimming, scuba diving, kayaking, sailing, and boating.
D.L Bliss State Park is favored for its beauty and offers fishing, kayaking, canoeing, and paddleboarding. Lake Tahoe is not short on impressive hikes such as the Lighthouse Trail and the Balancing Rock Nature Trail, featuring the 130-ton granite "Balancing Rock," resting precariously on a narrow stone base. The Rubicon Trail a 4.5-mile trail that leads to Emerald Bay State Park, offers sensational views of Lake Tahoe. You can take the two-mile extension trail past Vikingsholm Castle.
Forested hillsides of glacier-carved granite surround the Emerald Bay State Park. At the center of the striking blue-green bay is a tiny islet. The surprising 1929 Nordic-style castle Vikingsholm overlooks the picturesque waters of Emerald Bay– a unique example of a historic Lake Tahoe vacation home. Visitors can tour the mansion in the summer, from Memorial Day weekend through September.
The Ed Z'berg Sugar Pine Point State Park is 2,000 acres of densely wooded forests of aspen, fir, pine, and juniper trees that attract cross-country skiers in winter to the 20 km system of trails.
For some adrenaline-pumping adventure, hit the Tahoe Treetop Adventure Park featuring 87 tree-top platforms, 39 ziplines, and 64 bridges up to 50 feet high.
Kauai Island Hawaii
Kauai, "the Garden Isle," is Hawaii's fourth-largest island and the ideal place for those looking for summer adventure vacation ideas in the USA. It is also one of the most popular winter escapes in the US for its gorgeous winter climate.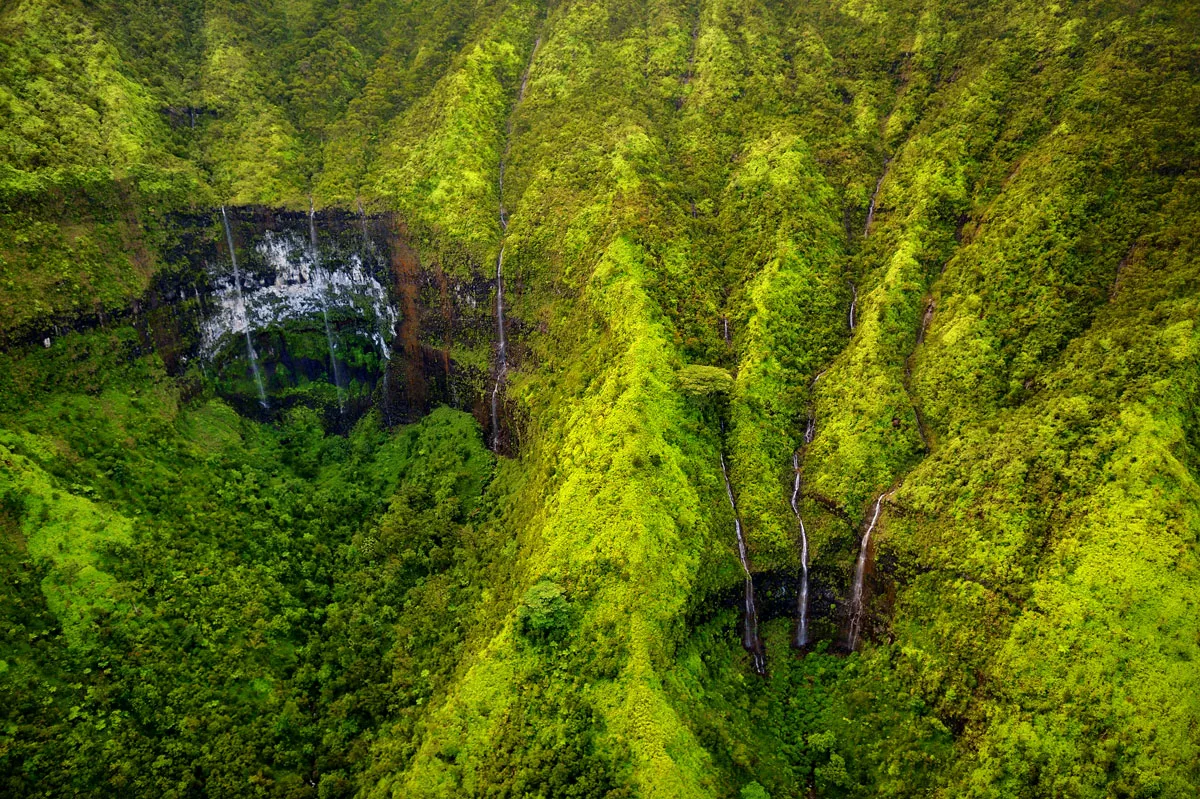 Postcard beaches with rugged cliffs frame lush tropical rainforests. Mountain peaks rising from emerald valleys, forking rivers, and majestic waterfalls are just some of the natural landscapes that await you. Throw in constant sunshine and have the perfect combination for a fun-filled adventure vacation.
It's not just the beautiful setting that makes Kauai a fantastic vacation destination. There are loads of incredible adventure activities, from ziplining through the lush valleys of Kauai to surfing and snorkeling at Poipu Beach Park – with the possibility of an up-close encounter with a Hawaiian monk seal.
You can kayak down the Wailua River or hit the hiking trails in Kokee State Park. The formidable 22-mile round trip Kalalau Hike or Waimea Canyon lookout hike are just some of the more notable hikes worth tackling on the laid-back island.
Acadia National Park Maine
Acadia National Park, located on the Atlantic coast of Maine, is a stunning 47,000-acre coastal wilderness. Half of the park covers Mount Desert Island, a rocky island that extends into the Atlantic Ocean. The other half is made up of smaller islands and the mainland.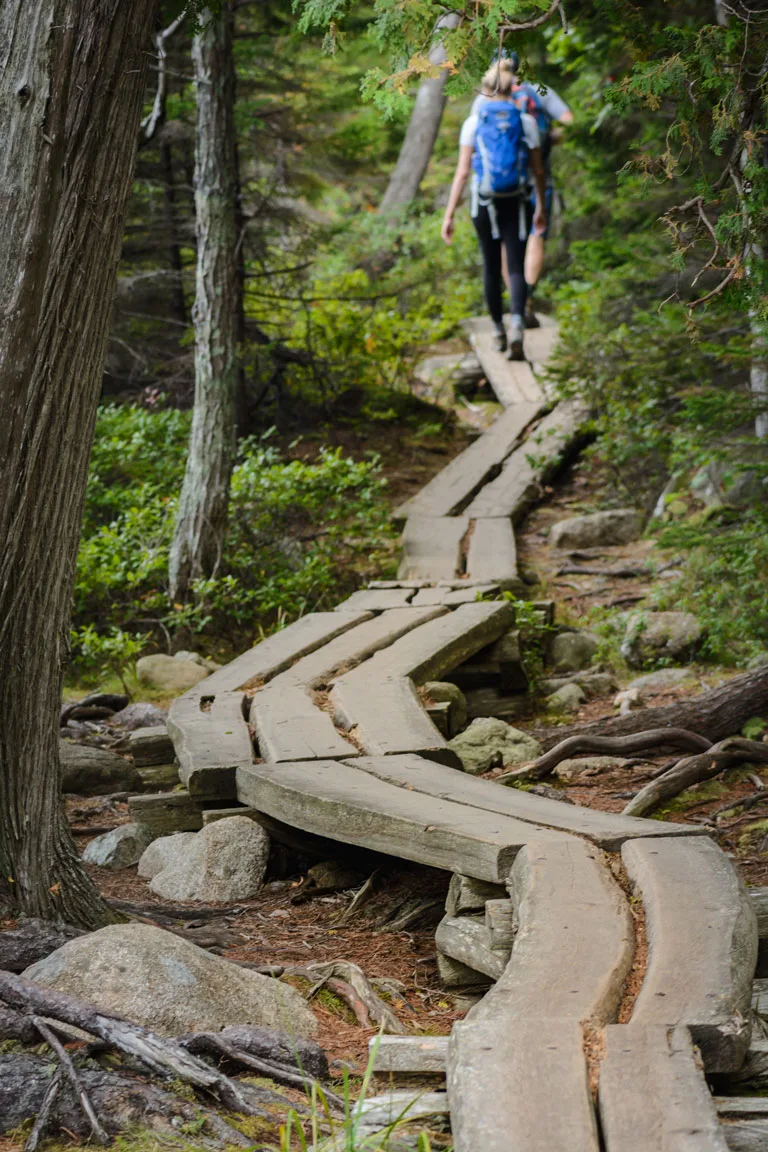 The park has many stunning landscapes, rugged beaches on the wild Atlantic coast, and pristine woodlands (especially popular on any fall road trip itinerary on the East Coast). The glacier-scoured granite peaks of Cadillac Mountain – the highest point on the East Coast and magnificent inland lakes.
Along with such diverse habitats comes a diverse range of wildlife, including whales, seabirds, moose, and bears. Whether it's an adventure on the water, hiking, climbing, or basking in scenic vistas, Acadia National Park has an abundance of water activities, 158 miles of hiking trails, and 27 miles of historic motor roads.
The gateway town of Bar Harbor, a popular stop on any Maine road trip itinerary, is a charming town with impressive 19th-century architecture, great restaurants, and a chill local fishing town vibe.
Yellowstone National Park
The oldest national park in America, Yellowstone National Park is a wilderness paradise for outdoor enthusiasts and those looking for an adventure vacation.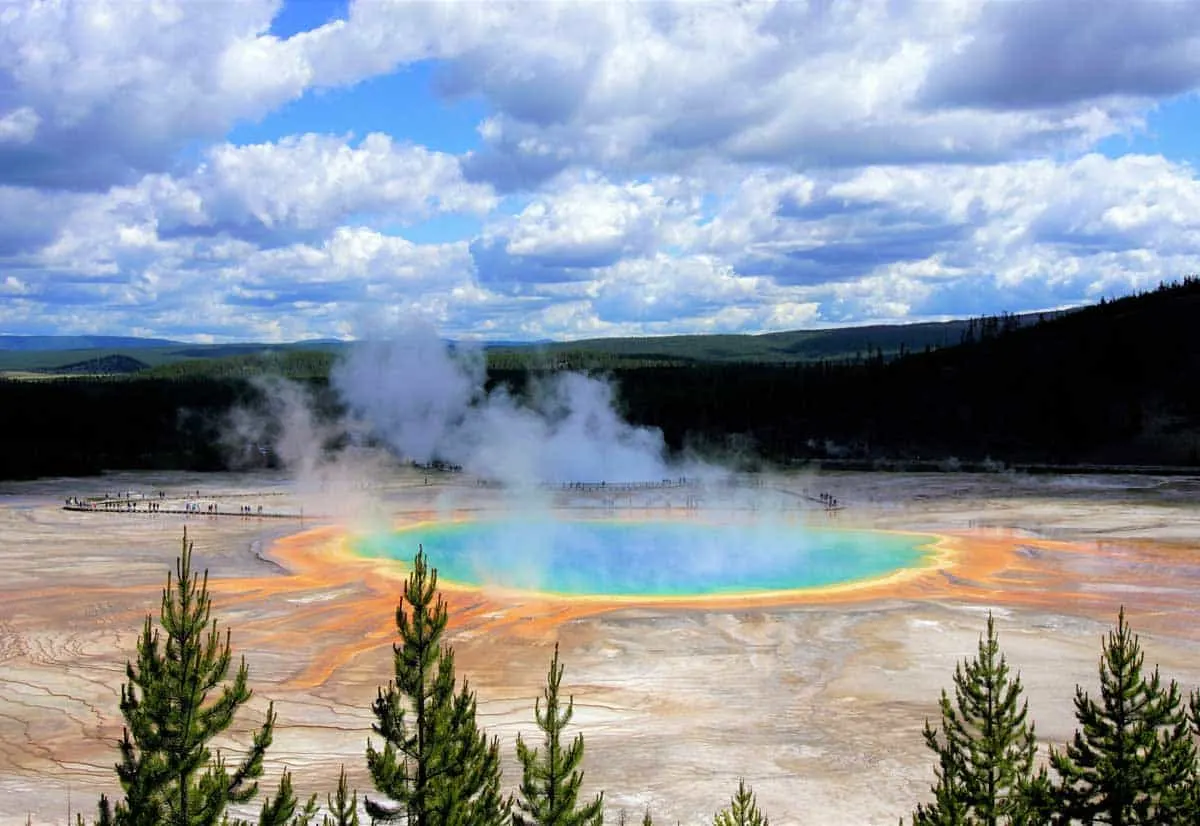 With over 2.2 million acres of diverse wilderness, visitors are treated to iconic views of red-hued canyon walls, ancient wooded forests and meadows, massive waterfalls and great rivers, geyser basins, hot springs, and alpine lakes. The Grand Prismatic Spring is a big attraction in the park, a thermal wonder known for its bright dazzling colors.
There are many opportunities for wildlife encounters, including elk, buffalo, and the famous Yellowstone bison herds. While camping and hiking in Yellowstone are the most popular activities, you can try rock climbing, guided hiking safari tours, horseback riding, white water rafting, fishing, or enjoy a guided kayak tour. There are so many incredible things to do in Yellowstone.
Bend Oregon
Bend is a small city in Oregon on the great Deschutes River that offers a dizzying array of natural attractions for an incredible adventure vacation.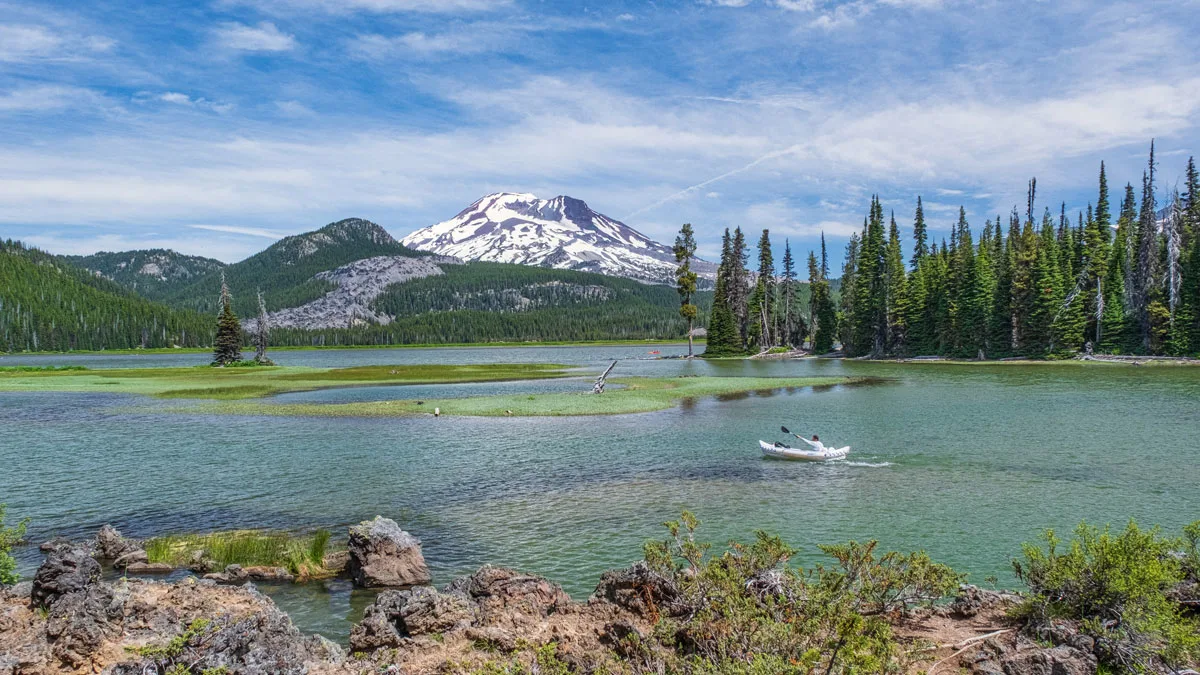 The Deschutes River runs right through the center of Bend, which facilitates Oregon's first urban whitewater recreation park where you can try river bodyboarding, whitewater kayaking or paddleboarding, tubing, or river surfing. Visit the Lava River Cave, a vast lava tube in the Newberry National Volcanic Monument. You can hike the trail from town up to the Pilot Butte viewpoint, a lava cone created from an extinct volcano.
A mosaic of lakes offers ample opportunity for water activities and fishing. The peaks of the Cascade Mountains offer wildlife, hiking on multi-use trails, rock climbing, mountain biking, and ski resorts for winter sports.
Hike to Tumalo Falls to see the magnificent force of the 89-foot cascade. See why rock climbers worldwide flock to Smith Rock State Park or discover the beauty of the stratovolcano Mount Bachelor in the Cascade Range.
Bend is an outdoor adventure paradise.
Anchorage
Anchorage is Alaska's largest city, best known for its incredible wilderness, wildlife, and glaciers. For an outdoor adventure holiday, Anchorage has a lot. From glacier tours, flightseeing, skiing, and hiking to spotting moose, there is so much to experience in this natural wonderland.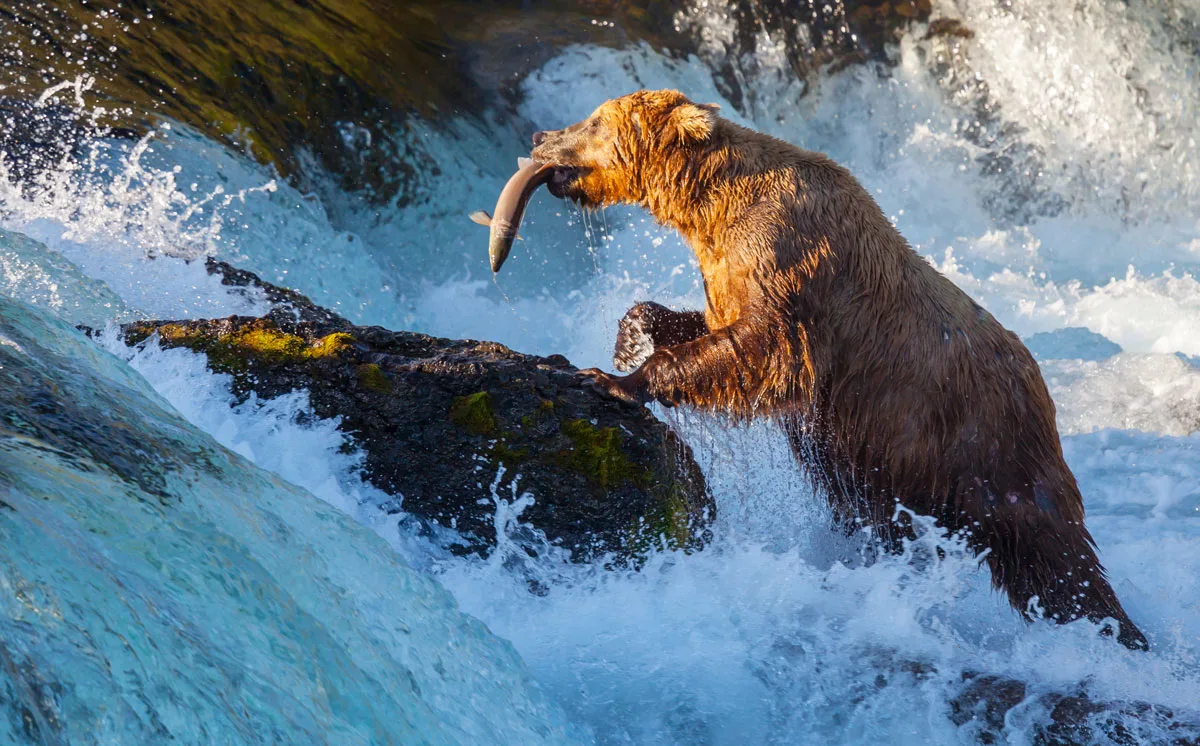 The city is the gateway to nearby wilderness areas and mountains, including the Chugach, Kenai, and Talkeetna.
Chugach State Park covers 495,204 acres of untouched wilderness with a wildlife-rich habitat (there is no other such wildlife-rich park so close to a city anywhere in the world). The park also has loads of activities, including 280 miles of hiking trails, biking, hunting, fishing, snowmobiling, and ATV riding.
You can take a flight from Anchorage for an up close encounter on a glacier (some tours even include dog sledding) or take a full day Matanuska Glacier guided hike to explore the glacier's picturesque terrain. There are ample opportunities for whale watching during the season, both from Anchorage or in the Kenai fjords.
You can take a cruise or a kayak trip down Kenai Fjords or take a short flight to a salmon-filled stream for bear viewing. If winter adventure tickles your fancy, Anchorage is a hot spot for winter adventure sports such as heli-skiing, ice climbing, kite skiing, snowcat skiing, and more
These American adventure destinations are perfect for road trips, a quick weekend away or a weeklong adventure vacation. No matter your adventure style, there's an outdoor vacation for everyone.