Discover some of the best US road trips for an iconic adventure of a lifetime.
The United States covers a vast landscape, from sandy beaches to snow-capped mountains. The US also boasts some of the best national parks in the world and some of the most charismatic cities.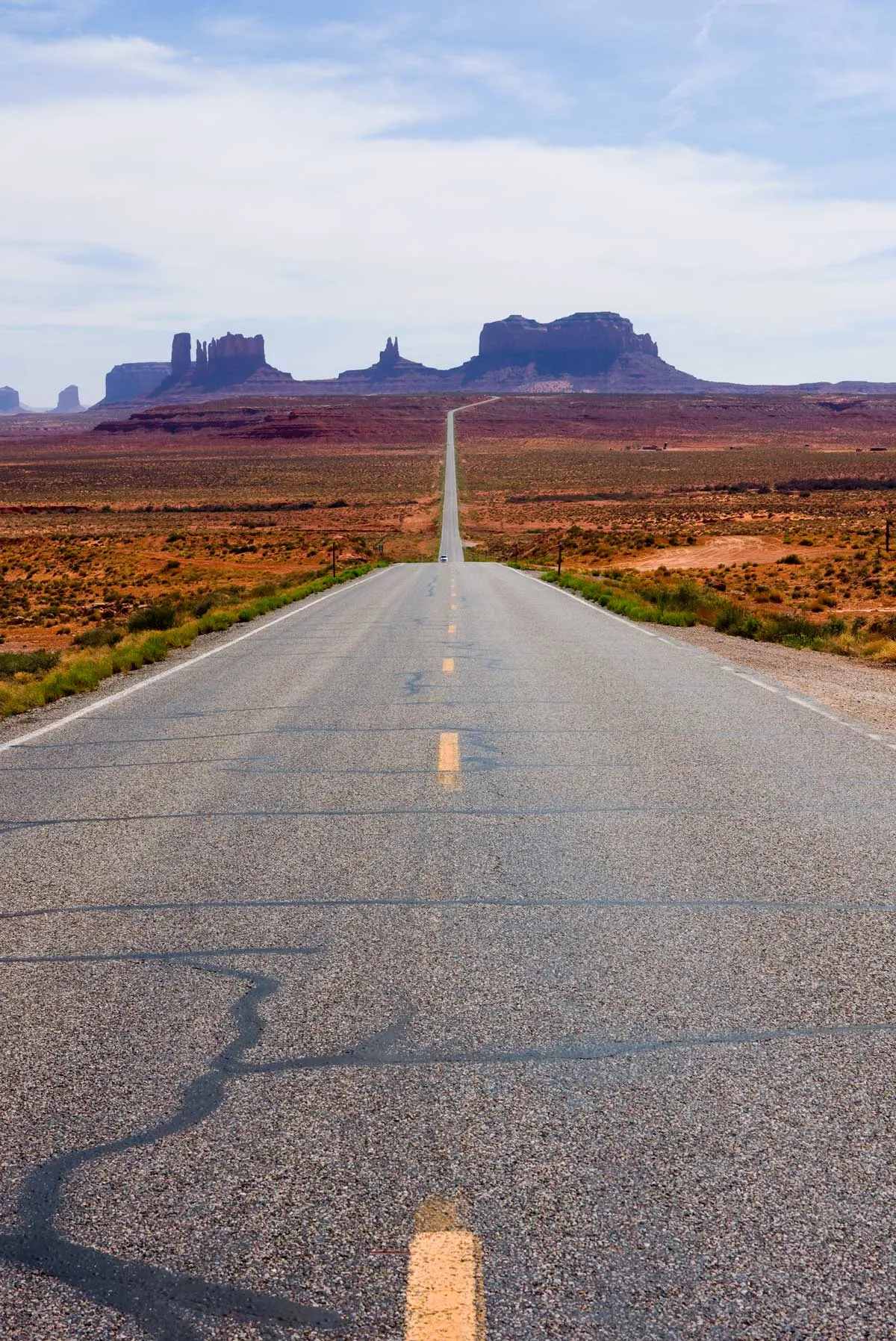 From the rugged coastline of California's Highway 1 to the winding mountain passes of Washington's state parks, there are so many unique experiences on these great USA road trip routes.
We've rounded up the best road trips in the United States to help you plan a once-in-a-lifetime adventure.
Best U.S. Road Trips
Minnesota's North Shore
Distance: 145 miles; 2.5 hours
Recommended Days: 3+
Starting Point: Duluth, MN
Ending Point: Grand Portage, MN
While most people don't think of the Midwest when considering a great American road trip, Minnesota is home to one of the most beautiful landscapes to explore by road.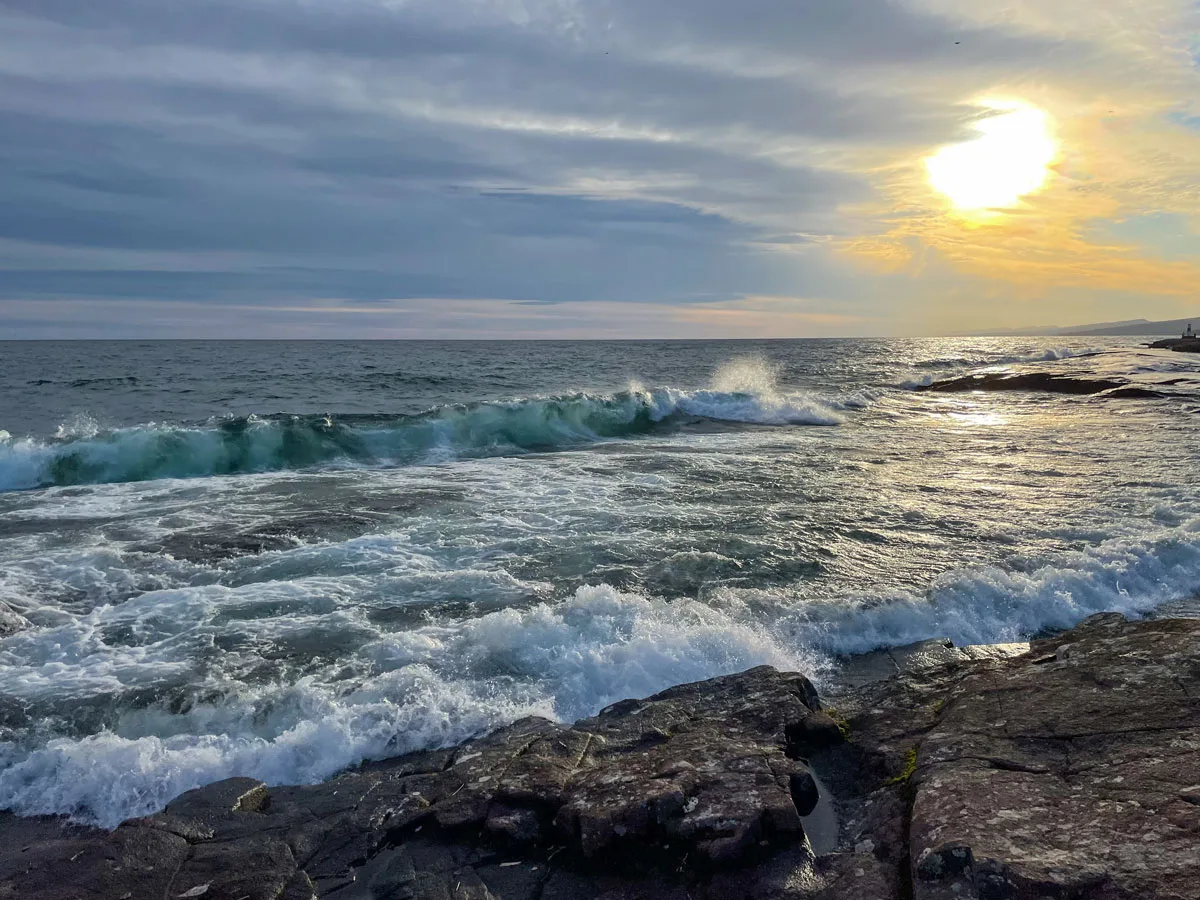 On Minnesota's North Shore, you can drive between the cities of Duluth and Grand Portage and follow Lake Superior's shoreline for the entire drive.
With views of the rugged shore of one of the Great Lakes and the rolling Sawtooth Mountains, Moinosota's North Shore is a must-see in the Midwest.
Check out places in Duluth, like Canal Park and the Aerial Lift Bridge, before making your way north. Stop at one of the eight state parks for hiking or meandering along the lake's shoreline.
Hike to Minnesota's tallest waterfall and stop into small towns like Two Harbors and Grand Marais. There are plenty of great places to eat and shop.
Need somewhere to stay? There are some fantastic lakeside resorts to check out.
A scenic road trip through Minnesota North Shore dishes up fascinating views and endless opportunities for adventure.
Yellowstone to Grand Teton National Parks
Distance: 151 miles; 4 hours
Recommended Days: 5+
Starting Point: Jackson, WY
Ending Point: Gardiner, MT
Two of the most popular national parks in the US are conveniently just a short distance from each other; Yellowstone National Park and Grand Teton National Park.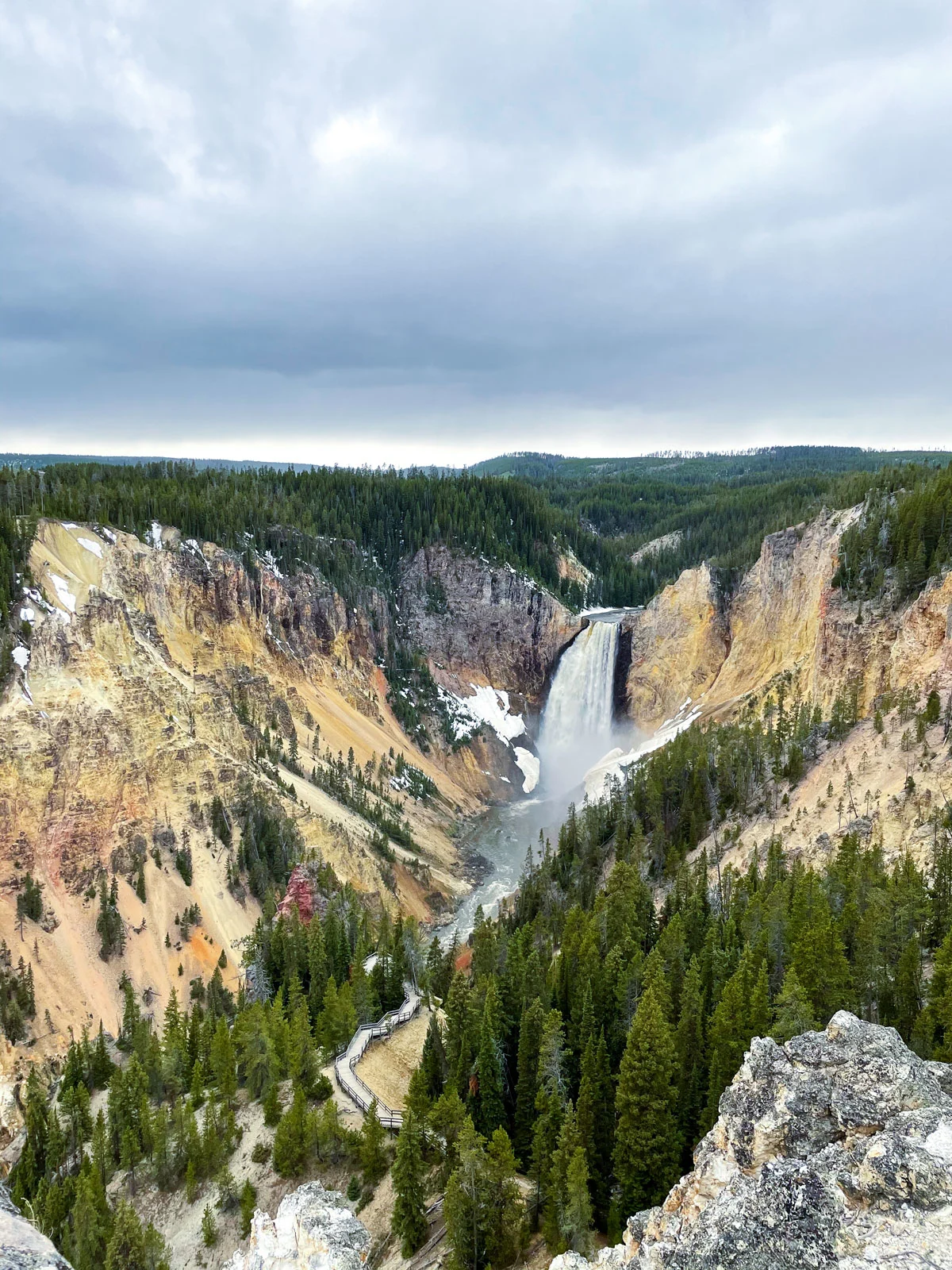 Start at the southern end of Grand Teton National Park, exploring the small town of Jackson. There's plenty to do in Jackson Hole, no matter the season, from museums, shopping, and restaurants to the famous Aerial Tram and the famous recreation shootouts in the town square.
Then head north into the Grand Teton National Park to explore the rugged peaks of the Teton range. Hiking, canoeing, and wildlife viewing are popular activities in the park.
Make the short drive that connects to Yellowstone National Park to visit America's first national park.
You'll find thousands of hot springs and geysers to explore at Yellowstone. With no shortage of wildlife roaming the park, you can spot everything from bison to grizzly bears, moose, and more.
Combining these two iconic parks make for one of the best road trips for the perfect outdoor adventure vacation in the US.
Kancamagus Highway
Distance: 35 miles; 45 minutes
Recommended Days: 2+ days
Starting Point: Conway, NH
Ending Point: Lincoln, NH
During the fall months, the Kancamagus Highway becomes a stunning roadway of bright yellows and fiery reds and oranges.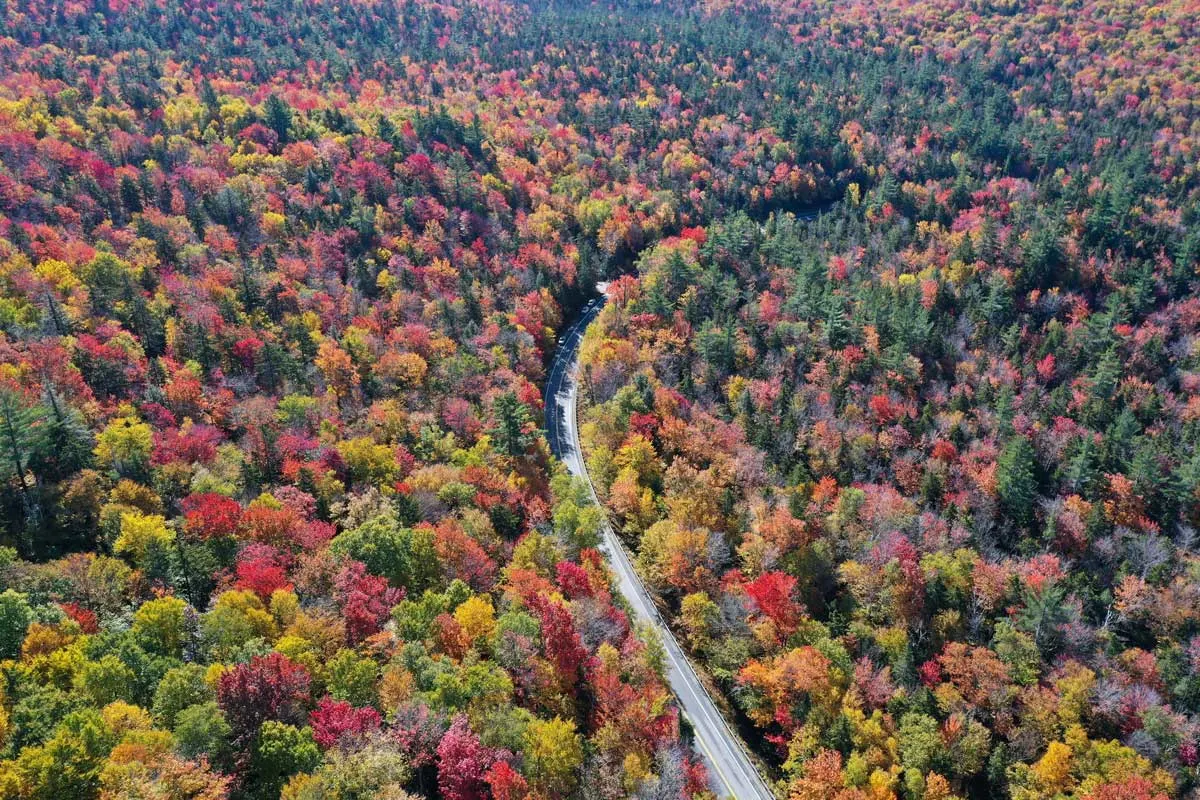 The winding road, which follows NH Route 112, leads you through the beautiful White Mountain National Forest, where you'll get to enjoy beautiful views for the entirety of the drive.
Although it's a shorter drive and you won't need as much time, you can still stop at the charming small towns and enjoy countless hikes around the area.
You can definitely visit the Kancamagus Highway any time of year, but for the best experience, visit during peak fall foliage. It is, without a doubt, one of the best East Coast fall foliage road trips.
Olympic National Park
Distance: 235 miles; 4.5 hours
Recommended Days: 5+ days
Starting Point: Olympia, WA
Ending Point: Port Angeles, WA
The Olympic Peninsula is one of the most beautiful and diverse areas of the Pacific Northwest and one of the great road trips from Seattle.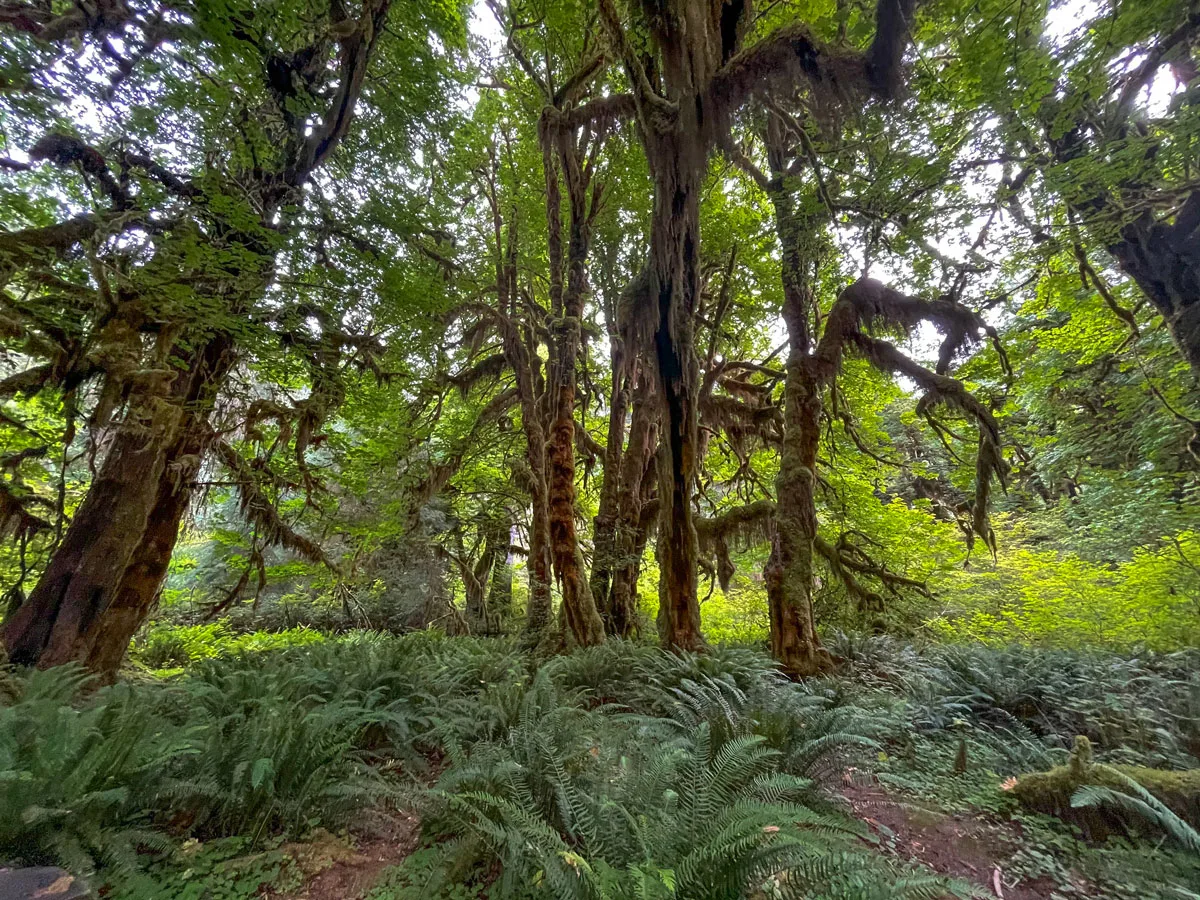 Starting in Olympia near Seattle, make your way down the west coast along the Peninsula until you've reached the Pacific Coast. Here you'll find dozens of beaches for tide pooling, lounging, and exploring. Rialto and Ruby Beaches are two of the most popular.
Olympic National Park is also home to a rainforest and mountains, making it extremely diverse and one of the best hiking destinations in the US.
Continue along the loop road, and you'll find yourself in the middle of the Hoh Rainforest, where there are hikes galore in the most stunning natural landscapes.
The Olympic Mountains in the park also offer fantastic hiking trails, especially near Hurricane Ridge.
Olympic National Park is very large, and there is more to explore than could be achieved in one trip, so plan to have at least five days for this mighty USA road trip.
Blue Ridge Parkway
Distance: 470 miles; 12 hours
Recommended Days: 5+ days
Starting Point: Rockfish Gap, VA
Ending Point: Cherokee, NC
The Eastern half of the state is often forgotten about when it comes to road-tripping, but the Blue Ridge Parkway is a fantastic road trip destination.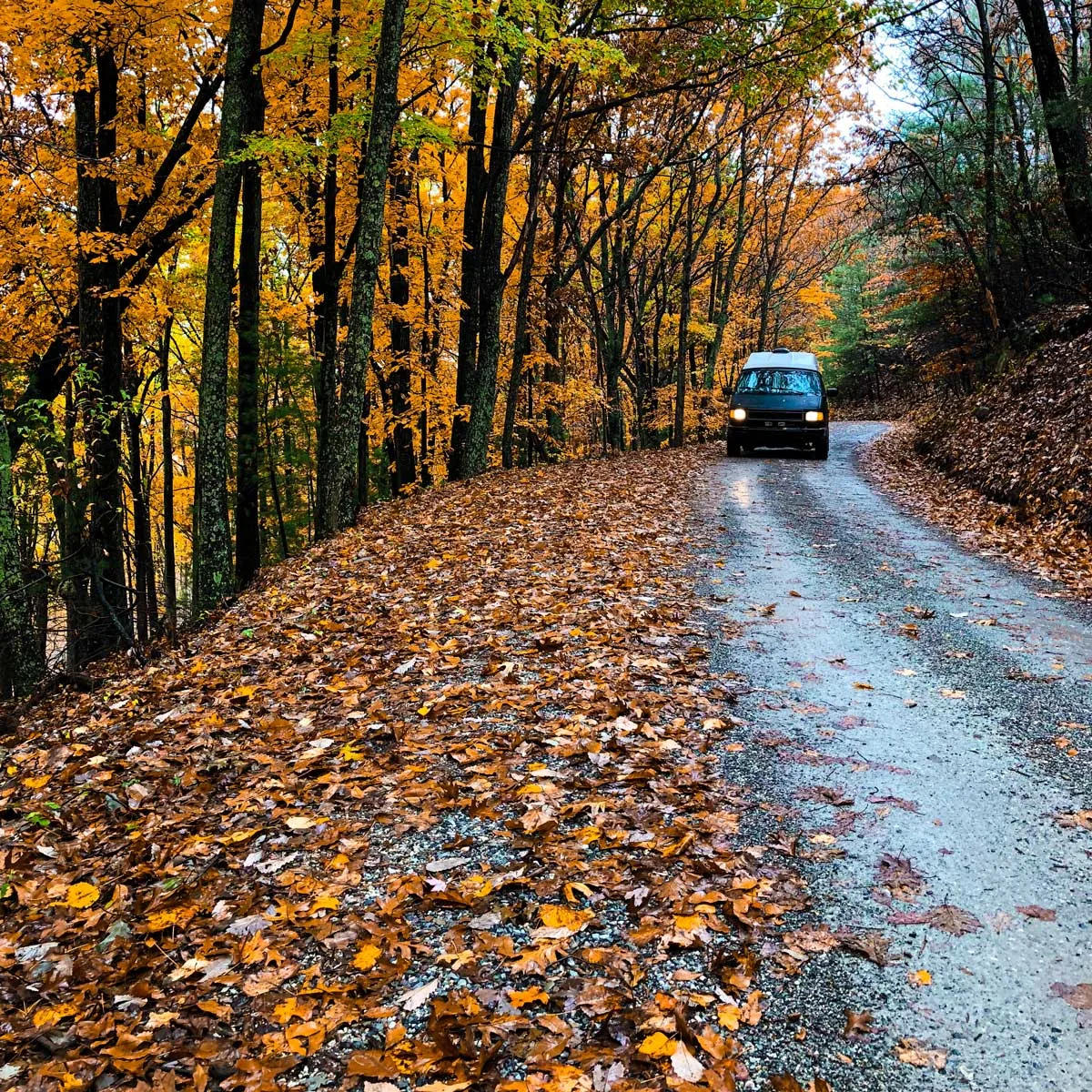 Connecting Shenandoah National Park to Great Smoky Mountain National Park, this winding road delivers phenomenal views through the east mountains.
Plenty of viewpoints along the road for epic make great stops for epic vistas of the rolling mountains and forests exist.
While there are many things to do along the Blue Ridge Parkway, there are a few things that you just can't miss – visiting Shenandoah and Great Smoky Mountains National Parks, seeing a waterfall, going on a hike, and visiting Mt. Mitchell- the highest point east of the Mississippi.
Going-to-the-Sun Road
Distance: 51 miles; 2 hours
Recommended Days: 3+
Starting Point: West Glacier, MT
Ending Point: St. Mary, MT
One of the most stunning parks in the National Park Service is Glacier National Park, in the remote wilderness of Montana.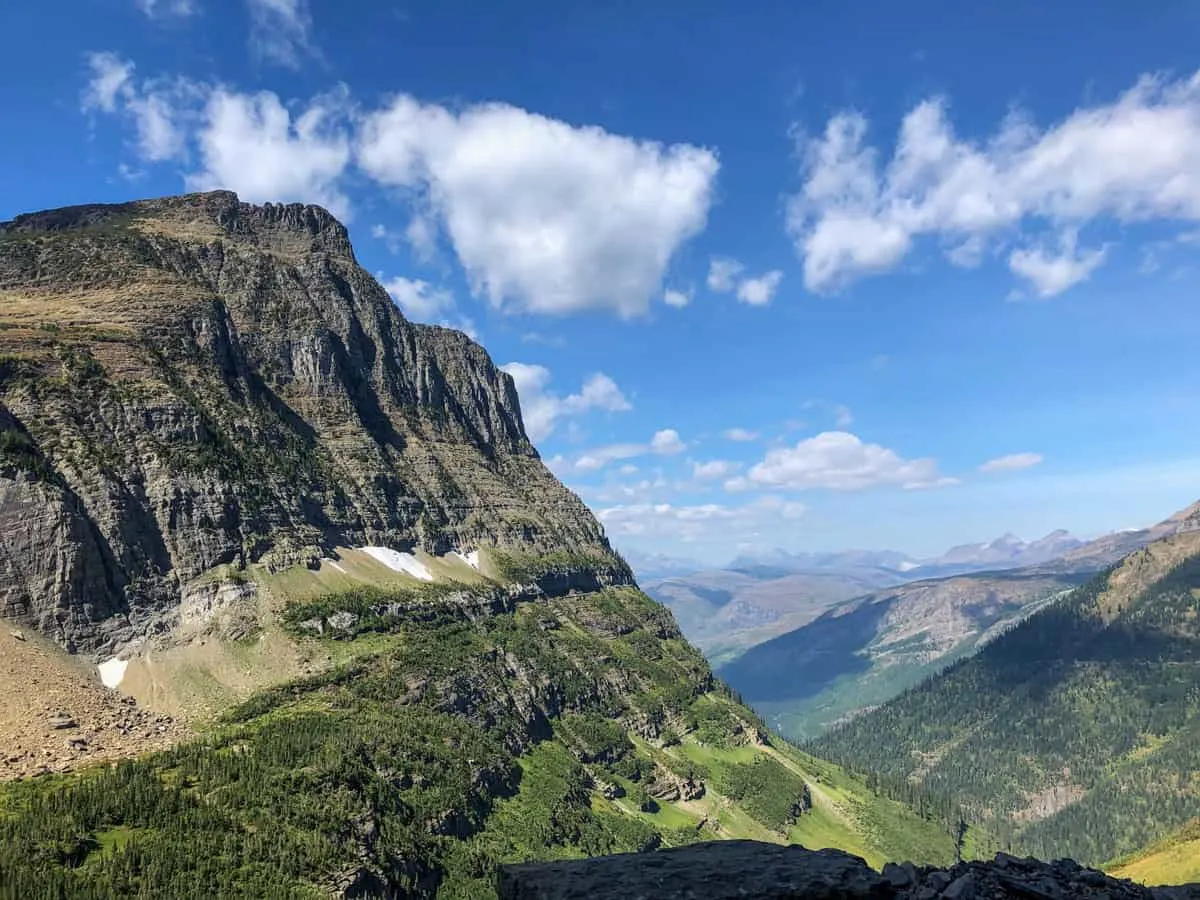 The main road that runs through the park, Going-to-the-Sun Road, is about a 50 miles stretch that winds through the Northern Rocky Mountains – one of the most scenic United States road trips.
You'll follow a steep cliff while you drive along the road and have the opportunity to stop at pull-offs with plenty of hiking trails to explore.
A few of the best stops include Logan Pass to hike either the Highline Trail or Hidden Lake Overlook, Lake McDonald, Avalanche Lake, and Trail of the Cedars.
These are just a few of the fantastic places to stop and explore in this breathtaking national park.
The Road to Hana
Distance: 65 miles; 2 hours
Recommended Days: 2+ days
Starting Point: Kahului, HI
Ending Point: Hana, HI
Hawaii is a dream destination for many but often overlooked for a US road trip but checking out the Road to Hana is a must when talking about great road trips.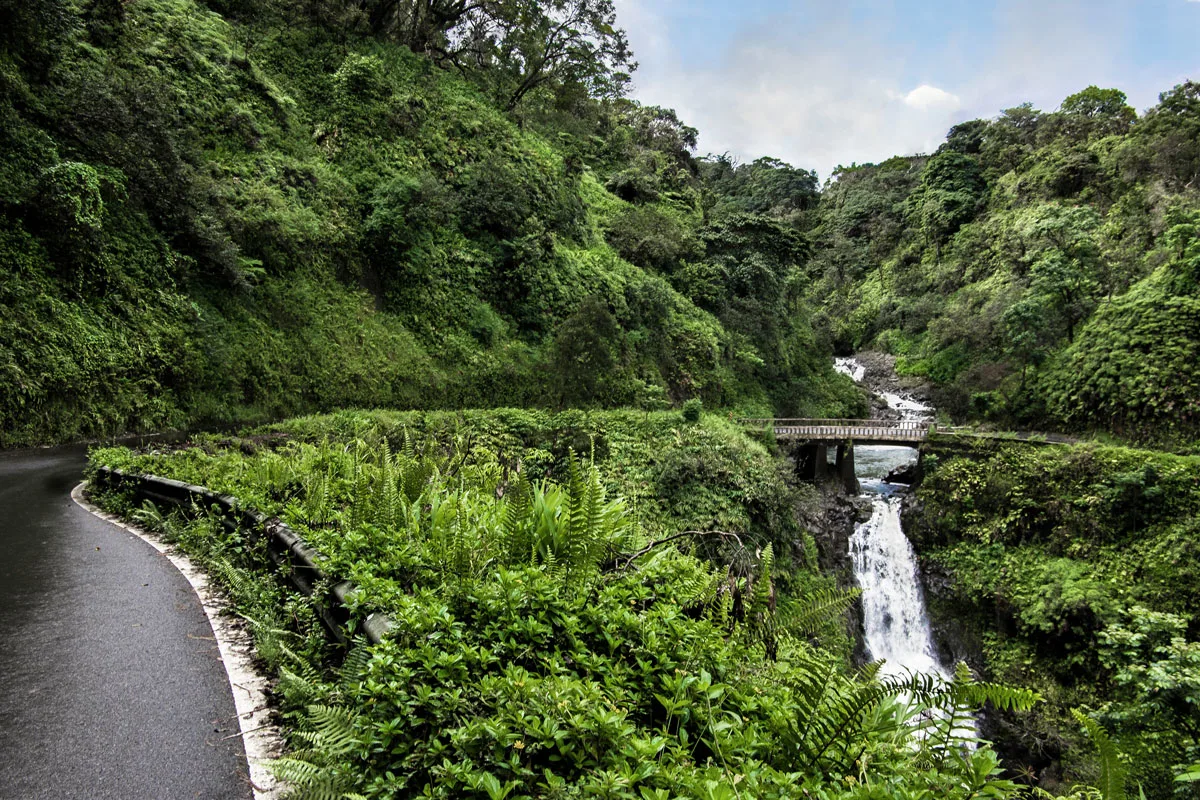 This stunning stretch of road winds between the small towns of Kahului and Hana on the island of Maui.
Otherwise known as the Hana Highway, the road traces the rugged coastline and features stunning vistas of the tropical forests that line the ocean.
There are waterfalls and hiking trails galore – some of Hawaii's most magnificent natural sights.
There are also a few must-stop places, such as the Halfway to Hana Stand, which sells freshly baked banana bread. There are also lots of gorgeous beaches to enjoy along the route.
Pacific Coast Highway 1
Distance: 900 miles; 16 hours
Recommended Days: 7+
Starting Point: San Francisco, CA
Ending Point: Seattle, WA
This long and iconic road trip along the famous Pacific Coast Highway 1 will take you through some of the best places in California and the Pacific Northwest.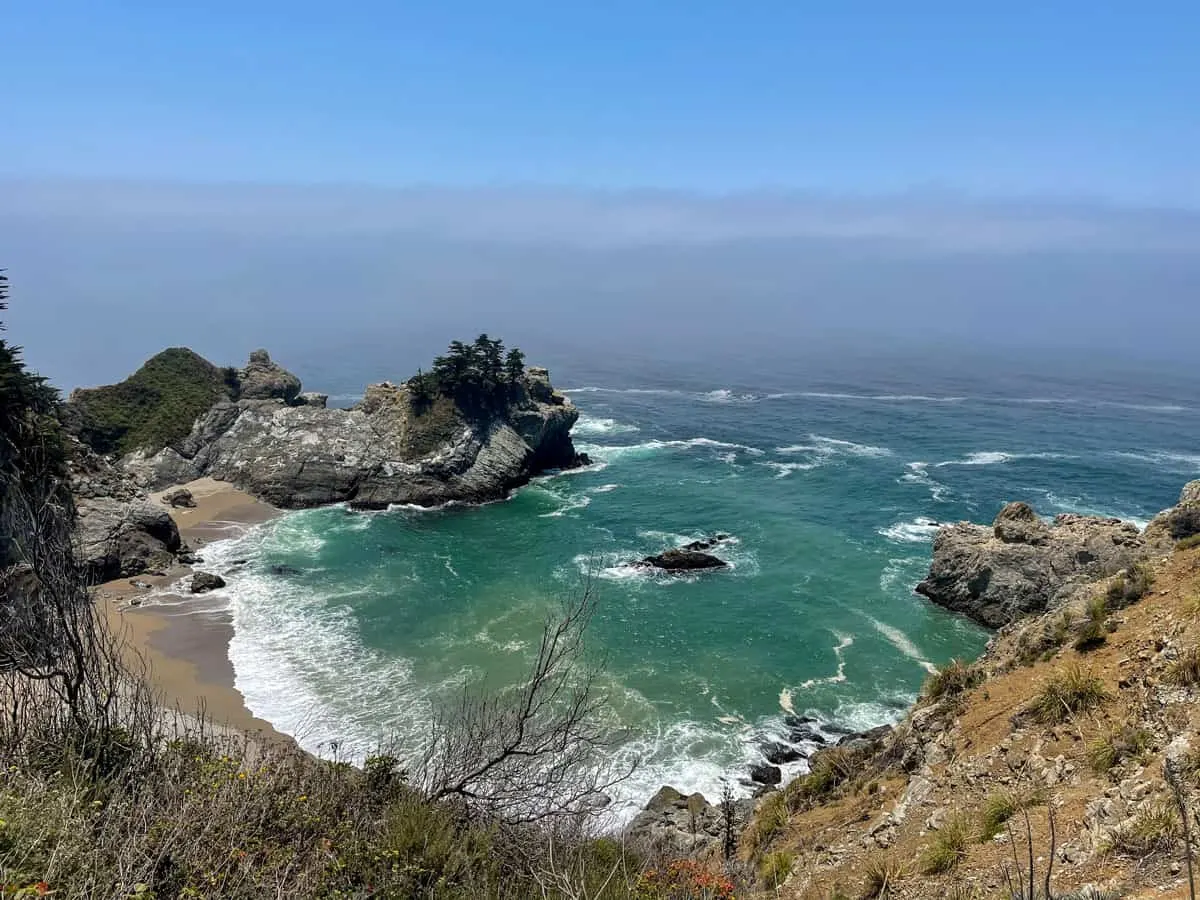 Starting in San Fransisco, the Pacific Coast Highway 1 route follows the rugged coastline of the Pacific Ocean.
Spend some time in San Fransisco, see the Golden Gate Bridge, explore Downtown, and visit Pier 39.
From San Francisco, make your way north, stopping at Point Reyes National Seashore and following the beautiful stretch of shoreline all the way to Oregon and through the Redwoods.
Heading into Oregon, you'll come across the Samuel H. Boardman State Scenic Corridor where you'll find adorable beach towns to stop at.
Make your way up the entire coast and then into Washington, where you'll find most coastal villages and, finally, Seattle.
Utah Mighty 5
Distance: 550 miles; 9.5 hours
Recommended Days: 5+ days
Starting Point: St. George, UT
Ending Point: Moab, UT
The National Parks in Utah are some of the most sought-after parks in the United States. They encompass some of the most beautiful landscapes that you'll ever see.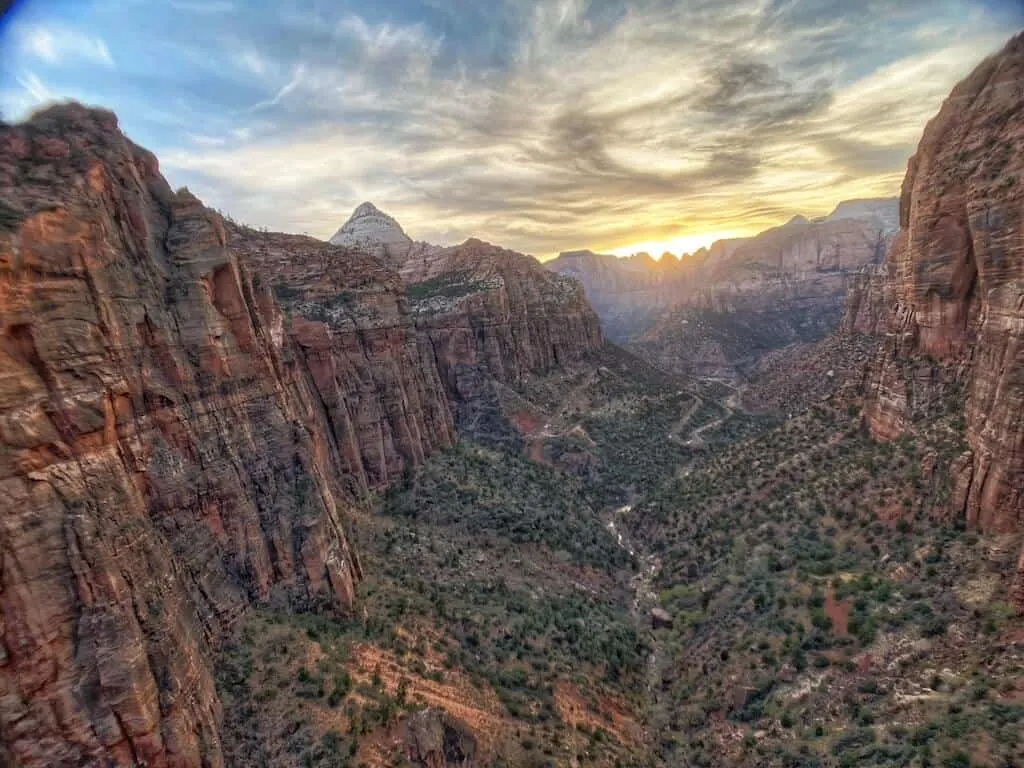 Each has special features, from the deep canyon of Zion National Park to the towering hoodoos of Bryce Canyon.
There are five national parks in the state of Utah that are known as the Mighty 5. These include Zion, Canyonlands, Bryce Canyon, Capitol Reef, and Arches National Park.
From hiking trails to horseback rides and scenic drives, these parks offer visitors plenty of diverse activities.
They are vast, and there is a lot to see and do, so plan to have at least five days for this national parks road trip – one of the best ways to see the stunning Southwest. See our Road Trip Guide to the Utah Might 5 to plan the ultimate adventure.
Route 66
Distance: 2,000 miles; 30 hours
Recommended Days: 10+ days
Starting Point: Chicago, IL
Ending Point: Santa Monica, CA
The most famous cross country road trip in the United States is Route 66, and there are many ways to experience this historical highway.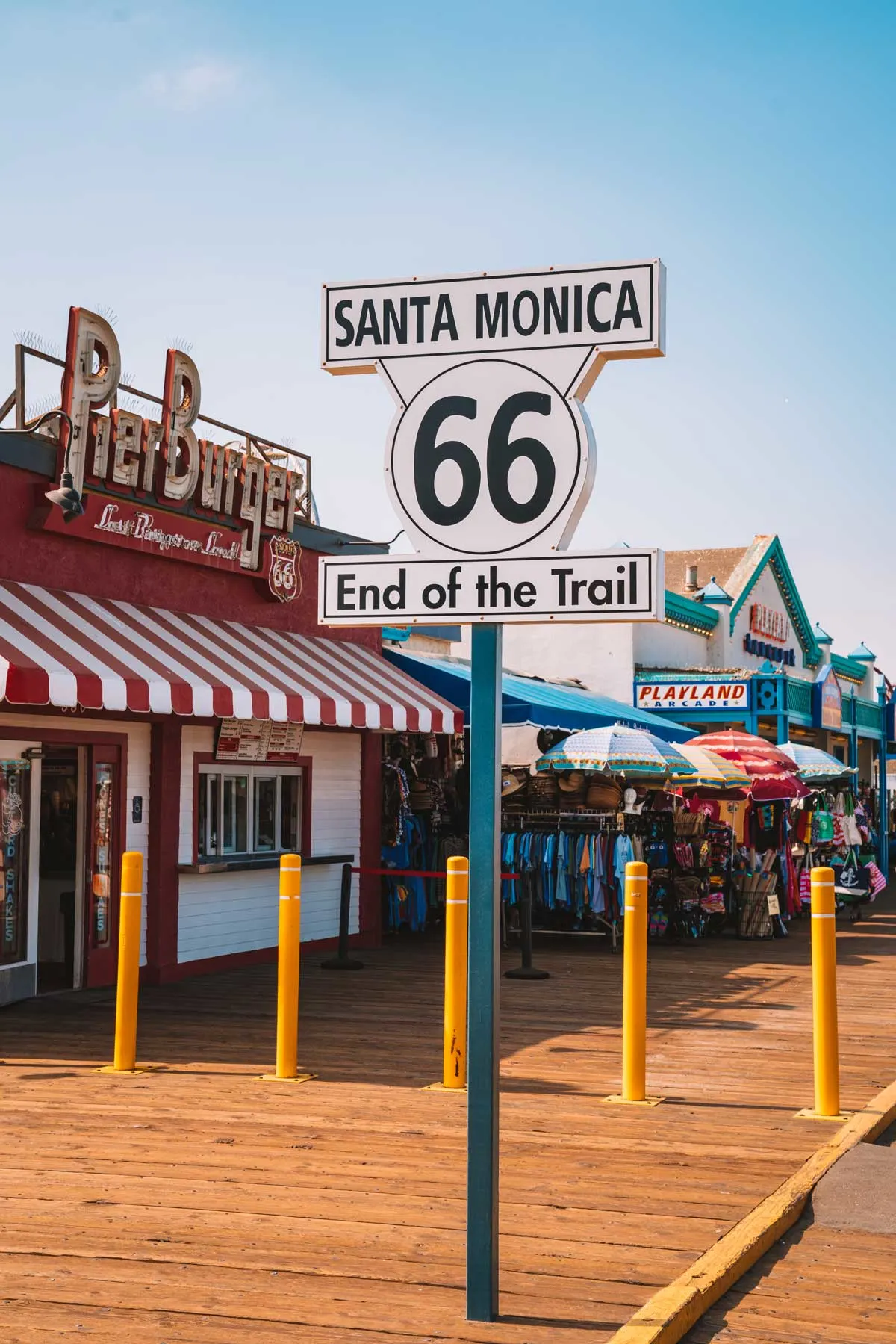 While not a complete coast-to-coast cross-country road trip, the highway stretches from Chicago all the way across to Santa Monica. It takes you through Illinois, Missouri, Kansas, Oklahoma, Texas, New Mexico, Arizona, and California.
You can either choose to take the entire route, which is very long. Or, choose smaller sections to complete.
There are lots of famous and iconic stops along the way, from Cadillac Ranch in Texas to the Painted Desert in Arizona and the Santa Monica Pier in California.
Washington National Parks
Distance: 550 miles; 11 hours
Recommended Days: 5+ days
Starting Point: Mount Rainier, WA
Ending Point: Olympic, WA
Washington State has many scenic drives, towering mountains, and alpine lakes just waiting to be explored.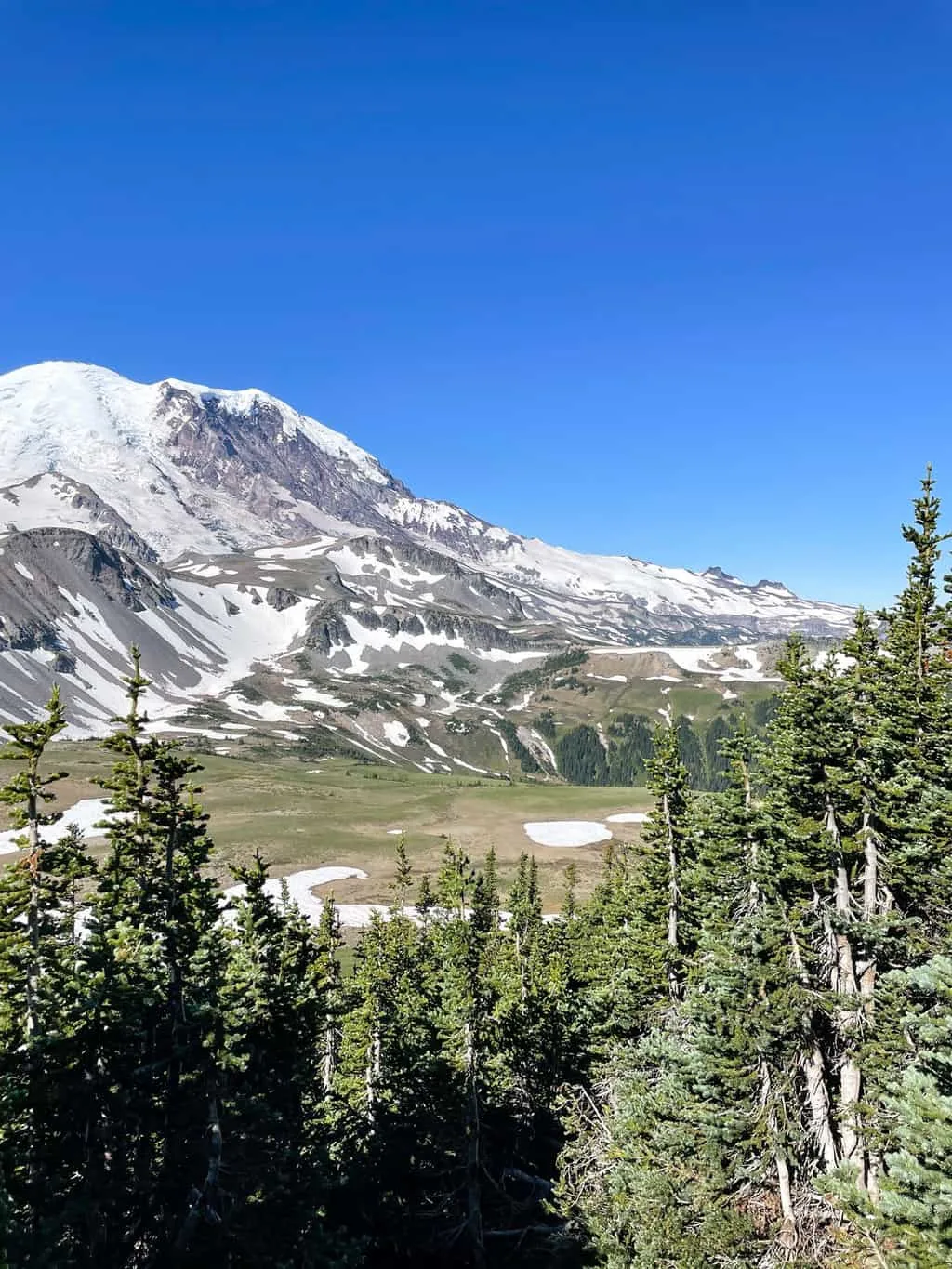 The state has three national parks: Mount Rainier, North Cascades, and Olympic. Put the three together for the perfect road trip destinations.
It's one of the longer US road trips because you need to wind through the mountain passes and the dense forests of Washington. But it'll be worth it.
Starting in Mount Rainier, you'll get to admire views of the state's largest mountain and active volcano. There are dozens of hiking trails, waterfalls, and roaming wildlife to spot.
North Cascades is an expansive national park that is well known for its jagged mountain peaks and alpine lakes.
Lastly, Olympic National Park has a diverse landscape with mountains, rainforests, and ocean coastline.
Las Vegas to Los Angeles
Distance: 270 miles; 4 hours
Recommended Days: 3+ days
Starting Point: Las Vegas
Ending Point: Los Angeles
These two major cities aren't too far from each other, making for a fantastic American road trip for city lovers.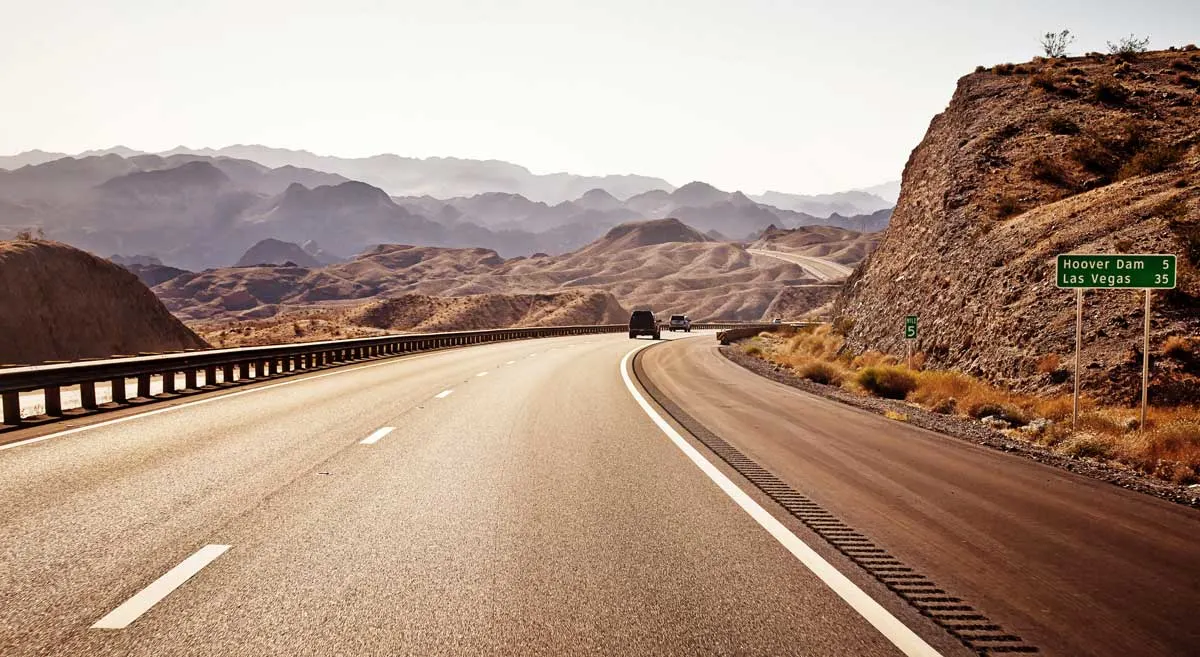 Starting in Las Vegas, spend some time wandering around the Vegas Strip. Eat good food, snap a picture with the Vegas sign, and visit the casinos.
Then, make your way towards California, where you'll pass the Mojave National Preserve, home to lava tubes and many hiking trails.
Finally, you'll arrive in Los Angeles, where you can check out the many famous sights. From the Hollywood Sign to the Walk of Fame.
Los Angeles is a great base for day trips to places like Anaheim to visit Disney Land or Long Beach to relax on the coast.
Florida Keys
Distance: 170 miles; 4 hours
Recommended Days: 3+
Starting Point: Miami, FL
Ending Point: Key West, FL
Channel your inner beach bum and lay out a towel on a sandy beach on this sun-filled Florida Keys road trip.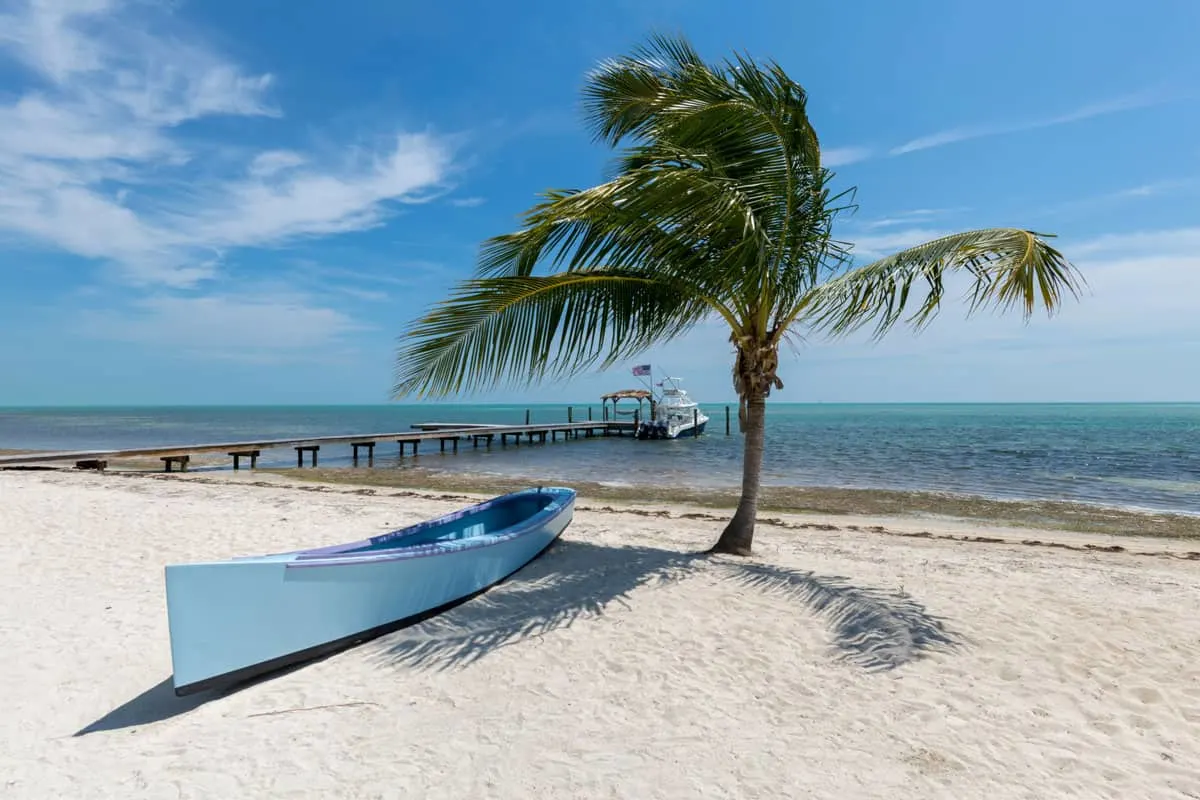 Stretching from Miami to Key West, you'll drive along the uniquely picturesque Overseas Highway and enjoy show-stopping views of the Gulf of Mexico.
Whether you're hoping to just kick back and relax with a drink in hand or you're wanting to explore the underwater world, you can do it in the Keys. The Florida Keys also has some of the US's most unique parks (including underwater ones).
Key Largo is known for snorkeling and scuba diving, while Key West is great for nightlife and water sports like jet skiing.
Medora to Rapid City
Distance: 240 miles; 4 hours
Recommended Days: 3+ days
Starting Point: Medora, ND
Ending Point: Rapid City, SD
The Dakotas are often overlooked when it comes to travel, but they certainly shouldn't be, as they are home to many beautiful sites.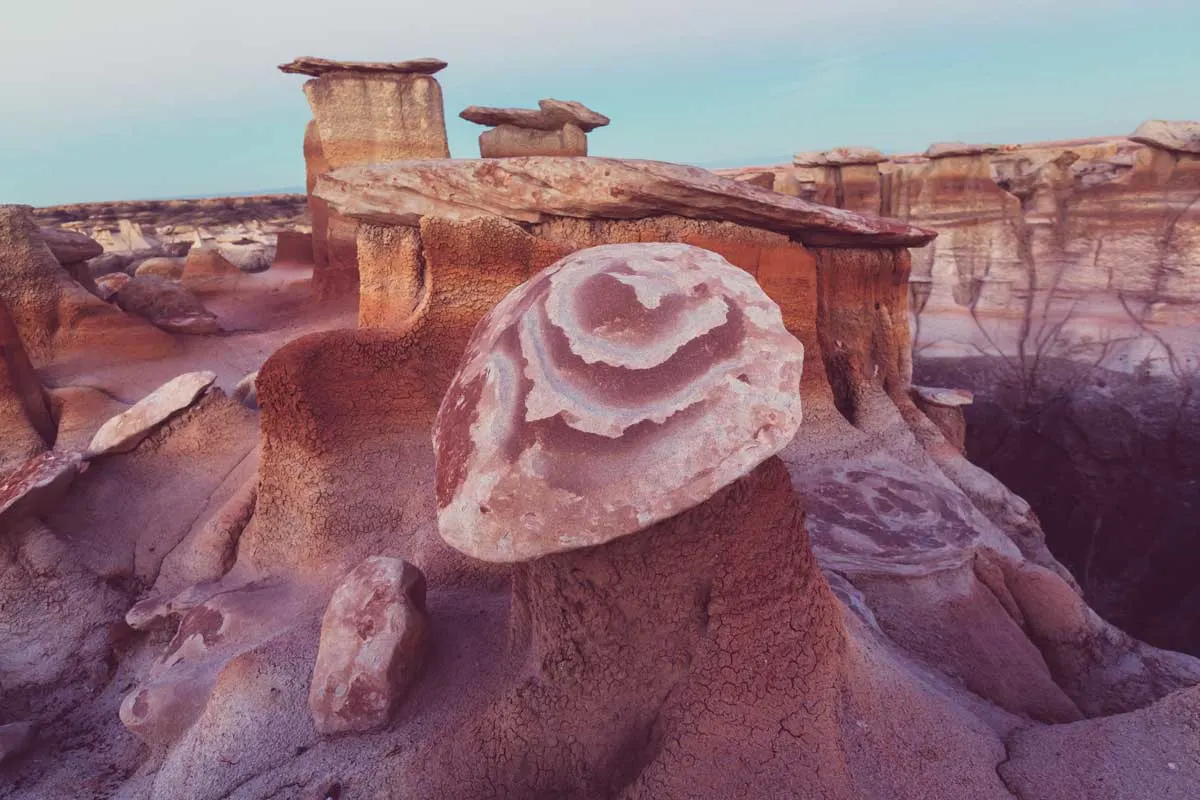 Starting in Medora, a small Western-themed town along the border of North Dakota and Montana, explore the streets of the town. Attend the Medora Musical, then take a trip to Theodore Roosevelt National Park.
Start to make your way south into South Dakota and stop in towns like Sturgis and Deadwood to learn about the Wild West. Eventually, you'll come upon Custer State Park, which is home to beautiful hiking trails, roaming bison, and stunning vistas.
Make your way into Badlands and Wind Cave National Parks, and enjoy Dakota's untouched wilderness.
Boston to Bar Harbor
Distance: 280 miles; 5 hours
Recommended Days: 5+ days
Starting Point: Boston, MA
Ending Point: Bar Harbor, ME
Starting in the historical and large city of Boston, Massachusetts, this New England road trip is one you'll never forget.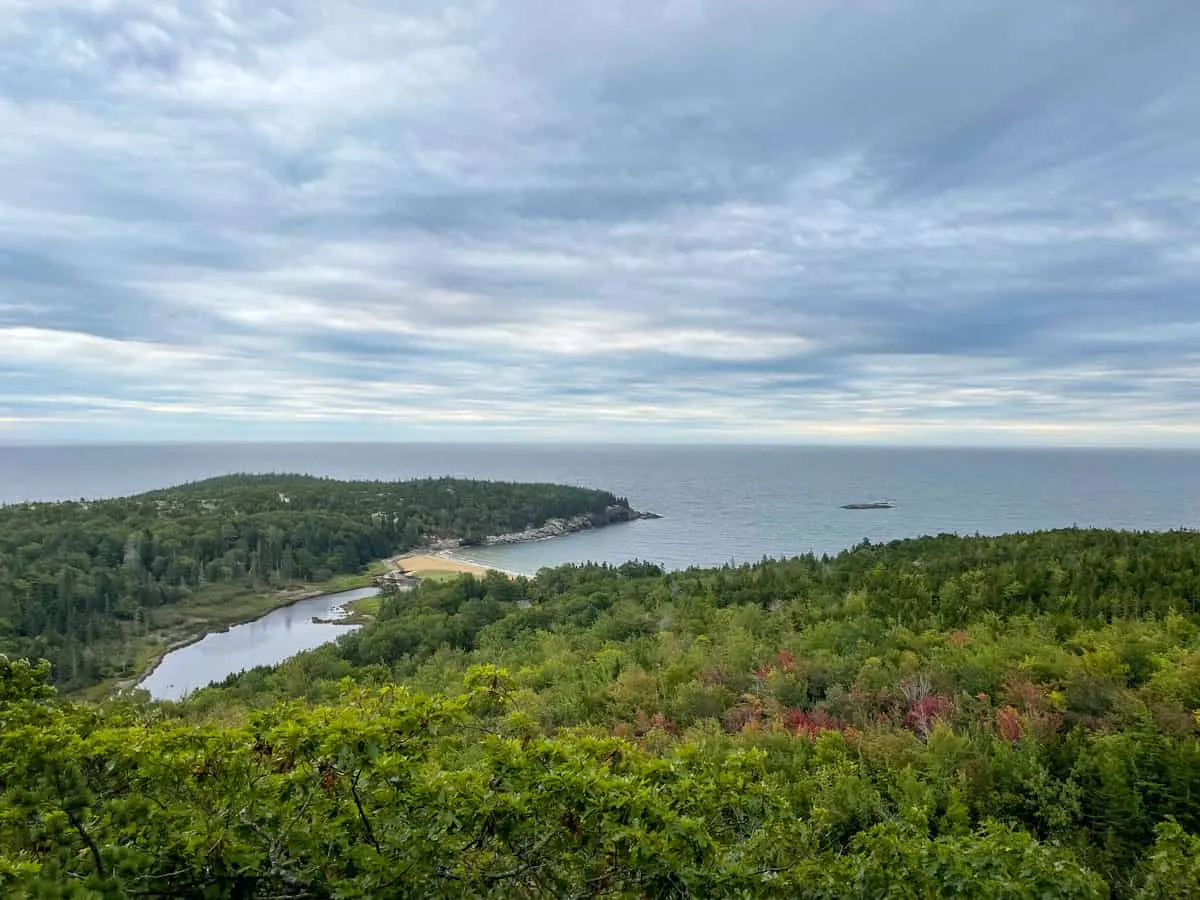 Explore all of the historical sites of Boston, from the Freedom Trail to the Bunker Hill Monument, to learn the country's history. Catch a baseball game at Fenway Park or visit the Museum of Science.
Then start the drive north, where you'll follow the coastline and cross into Maine. In Maine, indulge in fresh seafood, admire the lighthouses along the shore, and stop at beaches on the coast. We have a 3-day Maine Coast Road trip itinerary here if you want to take some detours.
Head into Acadia National Park, in Bar Harbor, and watch the sunrise at Cadillac Mountain, go for a hike on the Beehive Loop, and see the Bass Harbor Head Lighthouse.
Wrap-Up: U.S. Road Trip Routes
A road trip is one of the best ways to enjoy the diverse beauty of the United States. And there are many road trips to choose from.
From towering mountains to stunning coastlines, there's something for every traveler. No matter what you're looking for, these great US road trips will stay with you forever.