Should you be in the center, in the old town, somewhere on the outskirts or around the river? Where do you find the most vibrant nightlife, or on the other hand, which is the quietest neighborhood to book your hotel?
In this article, you will find everything you need to book the perfect accommodation in Seville.
Whether you want the best hotel in Seville with the most luxurious rooms, a cheap option for a weekend getaway, or a boutique experience for a special occasion, you'll find plenty of ideas to help you choose the perfect place to stay in Seville.
Introducing Seville, Southern Spain
Seville is the capital of the autonomous region of Andalusia in Southern Spain.
One of the most popular places to visit in Southern Spain, it is home to one of the most visited monuments in the whole of Spain – the Royal Alcazar and the biggest Gothic church in the world – Seville Cathedral.
A city with centuries of history, but Seville is much more than historical monuments.
It is a modern, vibrant city with an exciting culinary scene – a captivating travel destination for any visitor. While it may not boast long sandy beaches like the other resort towns in Southern Spain, it has much more to offer.
Plan Your Itinerary: We have more than 27 of the Best Things to do in Seville to help you make the most of your time in Andalucía's capital.
---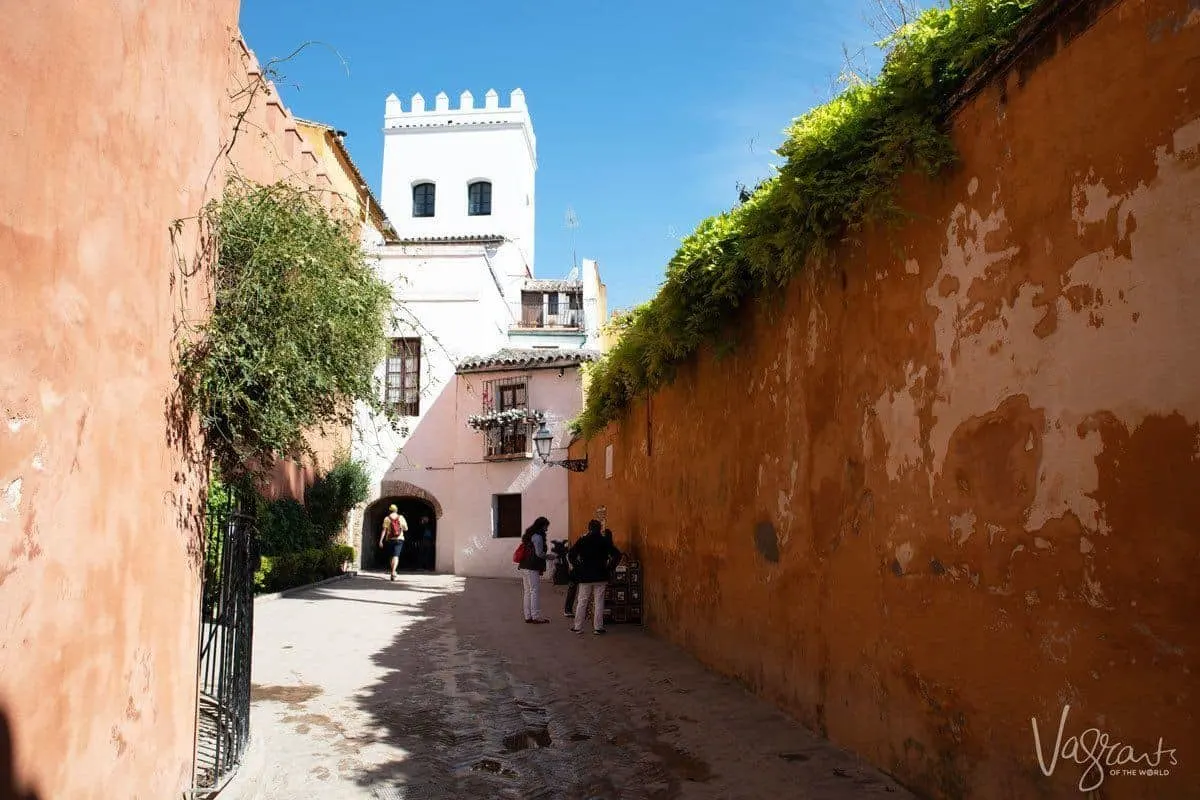 Getting Around Seville
If you're staying in Seville, you don't need to worry too much about renting a car. No matter where you choose to stay in Seville, the city is flat and easy to get around. A pair of comfortable walking shoes will take you around the city with ease.
If you want to extend your discoveries beyond the central attractions, take advantage of the good network of bike lanes and rent a public bike in Seville for a few days.
The number of Seville bike tours available shows what a bike-friendly city Seville is.
Even if you choose to stay a little further from the historic center, taxis are inexpensive, and tram and metro services are easy to navigate.
Tip: Seville is one of the most popular destinations in Spain, so accommodation can fill fast, especially in peak season. If possible, book a few months in advance to find the best deals.
As Seville City is very compact and very walkable, no single neighborhood would come out as the best place to stay in Seville. That said, depending on your interests and budget, some areas may have a specific appeal or be more convenient.
Each neighborhood in Seville, or "Barrio," has a distinct vibe. Here is a short outline to give you an idea of what to expect from each of Seville's barrios.
---
---
Central Seville Old Town For Shopping and Sightseeing
Located around Alfalfa Plaza and Salvador Plaza, central Seville is perfect for those who want to combine history tours with a little retail therapy.
If you stay in this area, you have all the facilities of a modern city within reach, with a wide selection of modern and trendy hotels.
The Seville City Centre or Old Town covers the area around the Seville Cathedral, Plaza Nueva, and parts of the Arenal neighborhood, including the shopping areas of La Alfalfa and Tetuan streets.
While some shopping streets around Calle Sierpes have all the typical chain store brands, there are still many charming parts to explore. You'll find independent boutiques, local restaurants, cafes, and bars, and are close to Barrio Santa Cruz.
There are lots of atmospheric streets and lanes to explore and a buzz of locals and tourists. The only circular plaza in Seville, Plaza del Cabildo, is also in Old Town, where you will find the collectors market on a Sunday.
Barrio Santa Cruz. Perfect for First Time Visitors
Santa Cruz neighborhood is the old town of Seville, where you will find all the historic sights.
The heart of Seville, Barrio Santa Cruz, is charming cobblestone streets, Andalusian balconies, and secret patios.
Conveniently located, the Santa Cruz neighborhood is where you should focus your search if you want to be able to walk everywhere with a never-ending selection of tapas bars to choose from.
Most of the streets in Santa Cruz are narrow pedestrian streets, so your hotel should also be pretty quiet and peaceful.
You'll also find the most comprehensive range of accommodation in Santa Cruz from budget to 5-star, as well as lots of Seville's best boutique hotels with stunning historical architecture.
El Arenal
Centrally located, El Arenal, just west of Barrio Santa Cruz, is the perfect place to stay if you are short on time. The main tourist attractions and some of Seville's most beautiful historical buildings are close by.
In El Arenal, you are right near the Cathedral, minutes from the Bull Ring, and very close to all the best shopping in Seville, on Calle Sierpes.
La Macarena. Where to Stay on a Budget and Nightlife
A short walk from the center of Seville to the north of the old city, Macarena offers a taste of residential neighborhood life in Seville. Once one of the city's poorest areas, Macarena is now one of the most charismatic neighborhoods known for its hip and creative vibe.
Triana. Good Local Vibe
Triana is across the Isabel II bridge from the old town—a neighborhood with a village feel and a distinctive character. It feels like a different world.
True to its roots, the home of Flamenco, Triana, has a lively nightlife and a thriving tapas bar scene. It is also a popular spot for an evening drink on the riverfront on Calle Betis. Along with many tapas bars, you'll find lots of little shops and local markets to explore.
There are a few hotel options alongside the river, offering beautiful views of Seville and more diverse options once you get deeper into the barrio.
For those who want to explore the old town and the main sights of Seville, this location may not be ideal as you have the extra walk across the bridge to get back to the old town.
La Cartuja. Quiet Yet Convenient Location
La Cartuja is where Seville Expo was held in 1992. The popular theme park and pavilions remain. Many of the pavilions are still open to visitors. Technically an island in the middle of the river, La Cartuja has lots of green spaces, including the Jardín Americano.
There are few hotels in the quiet neighborhood, and dining can be limited, although popular Macarena and Triana are within walking distance.
La Cartuja is also home to a beautiful 15th century monastery with a contemporary art museum, theatres, university buildings, and concert and event centers such as Centro Andaluz de Arte Contemporaneo.
La Cartuja neighborhood is suited to those wanting a quiet area or if you are attending a concert, conference, or event.

Los Remedios. Great for Festivals and Families
Los Remedios is a residential district south of Triana. In April, Los Remedios becomes one of the busiest neighborhoods in Seville when it hosts southern Spain's biggest fiestas – Seville's annual Feria de April. A week-long celebration of drinking, eating, and dancing.
You'll find several mid-range hotels in Los Remedios and many self-catering options. The short metro line connects Los Remedios to Barrio Santa Cruz.
Best Luxury Hotels in Hotels in Seville
The most luxurious hotels are located in Barrio Santa Cruz – the historic part of Seville.
Here are some of the most popular five-star hotels in Seville.
Hotel Alfonso XIII
Commissioned by the King of Spain for the 1929 exhibition, Hotel Alfonso XIII is the most exclusive place to stay in Seville.
Located close to the Royal Alcazar and Seville Cathedral, the hotel showcases the finest examples of Andalusian architecture, intricate, elegant details, and stunning rooms fit for royalty.
Hotel Casa Palacio don Ramon
A five-star hotel in a palatial home in the heart of Seville, Hotel Palacio don Ramon ticks off all the boxes if you're looking for an elegant and romantic stay in the capital of Andalusia.
Nobu Hotel Sevilla
The lifestyle hotel blends together modern cool luxury with Japanese minimalism. A concept brought to life by world-renowned chef Nobu Matsuhisha along with Rober de Niro and Meir Teper.
Nobu has 25 beautifully curated rooms and suites, providing an exclusive stay in Seville.
Best Mid-Range Hotels in Seville
Hotel America
Hotel America is a cute hotel located in Plaza la Victoria, a convenient location with shops and restaurants all around.
Hotel Casa 1800
The four-star Hotel Casa 1800 belongs to a chain with the same name – I also stayed in the same hotel in Granada, and it was fabulous.
Patio de la Alameda
Patio de la Alameda is a great choice if you want to stay somewhere with character. The hotel is in a historic 19th century building with a traditional patio on the Alameda de Hercules in the vibrant Barrio de Alameda.
Patio de la Alameda is great for those looking for a quiet place, as almost all the rooms face the central patio. Traditional decor and great location make this place a top pick for families or young couples.
Best Budget Hotels in Seville
Casa Palacio don Pedro
Located not far from the old town in Barrio Santa Catalina, the charming Casa Palacio don Pedro is in an 18th-century historic building.
Tips for Visiting Seville
Whether you're looking for a trendy boutique hotel or a traditional Sevillian-style accommodation, Seville is a traveler's dream when it comes to a variety of accommodation options.
Here are a few practical tips for visiting Seville before booking your hotel.
Seville is a popular destination, and tickets to the main attractions book up fast. Even if you're visiting in the low season, I recommend booking tickets for Seville Cathedral and the Royal Alcazar as soon as your travel dates are confirmed.
As I mentioned, Seville is a very walkable city, so you don't need to worry about renting a car. No matter where you choose to stay in Seville, you are never far from anything. An easy city to get around, it is a pleasure to explore as you encounter the various barrios.
If you're traveling to Seville by car, it's worth double-checking that the hotel has free parking available, as most will charge an excessive amount for parking your car. If that is the case, private and public parking options will be available nearby, which will be much cheaper.
If you're planning your trip and not sure when to visit, you will normally get the best deals on hotels about two months in advance, so keep this in mind.
The low season for visiting Seville is during the winter months and early spring. Summertime is notoriously busy and very hot.
So there you have it, everything you need to know about the best places to stay in Seville and how to book the perfect trip.