The capital of southern Spain's Andalusia region and the birthplace of flamenco, Seville is a lively city filled with centuries-old traditions and one of the premier destinations in Southern Spain.
We have put together a complete guide to the best things to do in Seville, along with everything you need to know about visiting this fabulous city.
From what to see and do, where to eat in Seville, festivals, and so much more, you can plan your perfect Seville itinerary.
One of the most beautiful cities in Spain, every square inch is enriched with art and culture, its streets often alive with Spanish festivities and always brimming with activity and atmosphere.
Some of the reasons Seville is also a fabulous city for solo travellers in Europe. Visitors to Seville are guaranteed to fall in love with this beautiful corner of southern Spain.
Seville Travel Tips
---
How Many Days in Seville
We have been to Seville many times, sometimes for a day and others for three days. While you could see some of Seville's highlights in a day, we would recommend at least two to three full days to see the best of Seville without rushing.
There is so much to see and do in Seville; it would be a shame to visit and miss a lot of what makes Seville special. And remember, if you are not organised, you could spend much of your day queuing for tickets at some of the more popular attractions, especially in peak season.
You Might Also Like: Visit the Spanish capital with our 3 Day Madrid Itinerary for any season.
Related: The Most Spectacular Landmarks in Spain
Where to Stay in Seville
You will find a complete rundown of the best places to stay in Seville here. A very compact and walkable city, Seville is easy to get around but each barrio has a distinct vibe catering to different tastes and budgets.
What to Pack For Seville
A pair of good walking shoes or comfortable sandals are a must. You will be doing some miles. We suggest comfortable walking shoes that will be suitable for many occasions. There are lots of stylish walking shoes on the market that will see you through for sightseeing and on to a casual dinner.
For the shoulder seasons of spring and autumn, pack layers. Days will warm and mornings and evenings cool.
A lightweight, packable rain jacket or travel umbrella is always a handy travel companion, especially in the shoulders seasons or winter months.
A light jacket to enjoy an evening drink and tapas outside in the evenings.
A scarf or two to accessorise for evenings.
A good hat for the summer months.
For the ladies, a good anti-theft backpack or an anti-theft messenger bag for the gents is always a good idea when you travel, especially in crowded tourist areas where pickpockets are common.
---
Things to do in Seville
Tip: Remember to pre-book skip the line tickets for any of the more popular attractions you want to visit to avoid wasting any of your precious time.
---
Seville Attractions and Highlights
The Royal Alcazar
Allow at least 2 hours to visit the Royal Alcazar
Along with the Cathedral, The Royal Alcázar is one of Seville's most popular attractions. A Moorish fort in the 10th-century, construction of the first royal palace began in the 12th century by the first Caliph of Andalucía.
The Baths of María de Padilla
Located underneath the palace, visitors will find the Baths of Doña María de Padilla. A rather posh name for what is basically a water storage facility.
King Pedro named the cistern after his mistress María de Padilla who he secretly married in 1353. The nobles later pressured the king into an arranged marriage with the Queen of Castille, who forced him to deny their marriage. Doña María de Padilla went on to bear four children in a relationship that continued until her death.
Take the lift to the top of the 30-metre high undulating honeycomb roof and follow the winding walkway for stunning views of the city. There's even a cafe that offers a worthwhile happy hour for sunset.
Head to the plaza's basement and visit Museo Antiquarium to see the Roman ruins discovered during the construction of the Metropol Parasol.
Under the parasol is an open-air event space where you will find cafes, bars and a local produce market.
---
Formerly the private gardens of the Palace of San Telmo, the gardens were donated to the public in 1893 by the Duchess of Montpellier. To facilitate the 1929 Ibero-American Exhibition World's Fair, the gardens underwent a massive redesign with the addition of the stunning Plaza de España on the edge of the gardens.
If you don't want to see a bullfight, take a tour for a "backstage" look at the ring, the bullfighting museum and a gallery full of traditional bullfighting art. There is even the tiny chapel where the toreros pray before entering the ring.
In the 11th century, the tower was intended as an escape route for Kings. They could follow the wall from the bronze and silver towers and escape the city by boat from the gold tower.
The Golden Tower is currently used as a small but interesting maritime museum. Visitors can walk the museum's two levels before stepping out onto the roof for views over Seville and the Guadalquivir River.
Round Plaza Plaza del Cabildo
In the Arenal neighbourhood, you will find Plaza del Cabildo, only a short distance from the Cathedral but rarely discovered by visitors. The wonderfully ornate round plaza is one of the few round plazas in Seville.
Access to the plaza is via three discreet arcades through the building that forms the semi-circular plaza. Perhaps this is how it remains one of the cities best-kept secrets.
On a Sunday morning, you will find a collectors market in the plaza that attracts collectors of stamps, antiques and all kinds of curiosities. There is a restaurant inside the plaza and a shop that sells confectionaries produced by local convents.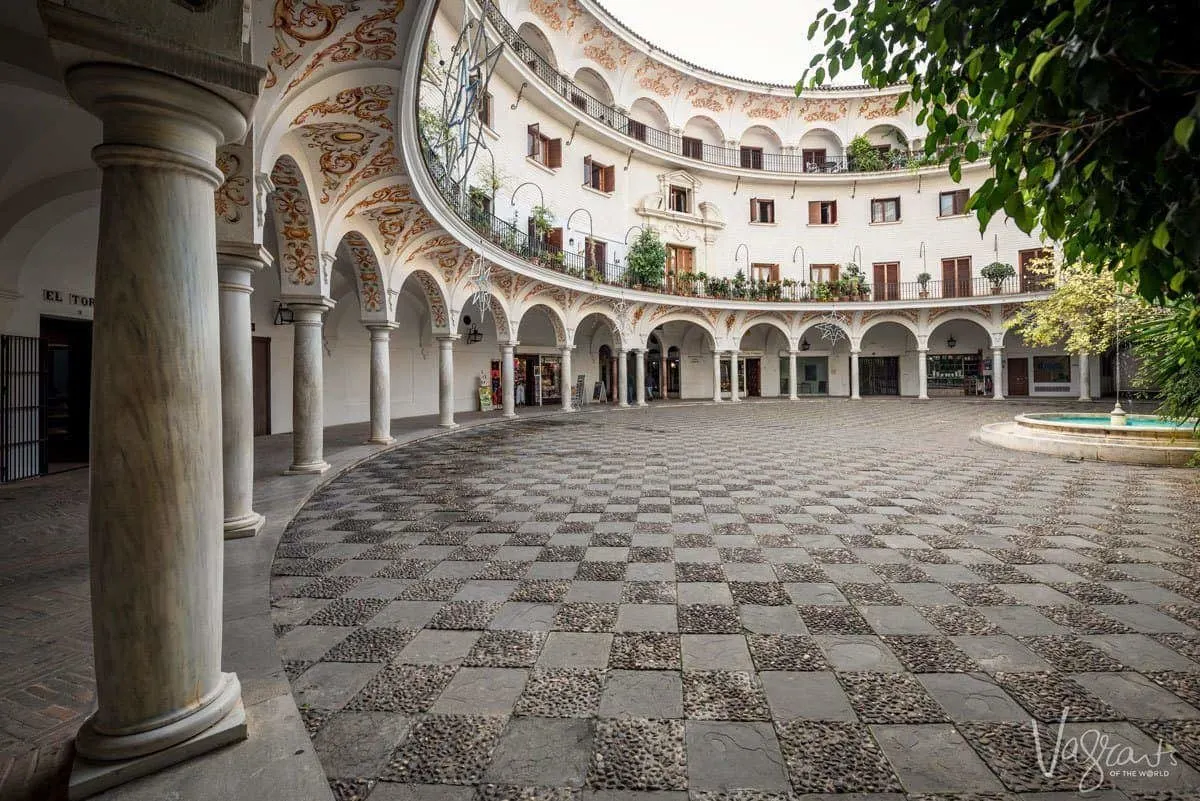 ---
---
Once considered a neighbourhood for outsiders and not a very enticing area for tourists, Triana has come into its own. A resurgence of restaurants and nightlife entertainment has lured visitors to discover one of Seville's most fascinating and colourful neighbourhoods.
Things to do in Triana
Stop for lunch or dinner at the Mercado de Triana built on the ruins of the Castillo de San Jorge, the headquarters and prison of the Spanish Inquisition.
Search out the traditional azulejos ceramics the area is famous for around the Centro de la Cerámica Triana ceramics museum. Discover the old Gypsy communes of the Roma people on Calle Castilla 16 or enjoy an authentic flamenco show at a local Peña club (more on this later).
---
---
Other convents in Seville known for their sweets are: Convento de Santa Inés for their bollitos de Santa Inés, Santa Paula for their jams, San Clemente for their cider filled empanadillas and lightly-fried, honey-glazed pestiños, Madre de Dios for their naranjitos and Santa Ana for their carmelitas.
---
---
Set in elegantly candlelit crypts, you can enjoy different temperature baths and hydrotherapy pools and a selection of exclusive treatments, including massage, a steam room, a tea room and a rooftop terrace with views of the Giralda tower.
Outside the Mercado, you can have a drink and listen to music at the Terraza Sojo bar on the banks of the Guadalquivir River. The carefully designed all-weather terrace is excellent for any time of year.
Cost: Prices range from a few euros for a tapas plate to €18 for a large seafood portion. A small beer is approx. €1.30.
Opening Hours: Sunday to Thursday: 10.00 a.m. to Midnight | Friday & Saturday: 10.00 a.m. to 2.00 a.m.
---
---
---
The original interior has been magnificently preserved. Waiters and bartenders still dress in black waistcoats and crisp white shirts, and, as tradition states, you will not find any women working the front of the house.
Make an effort to wander off to this quieter barrio, and you'll be rewarded with an essential piece of Seville's culinary history.
El Rinconcillo now occupies the two adjoining buildings on the corner, one a former grocery store. Tapas are served at the bar on the corner, and next door offers restaurant dining.
---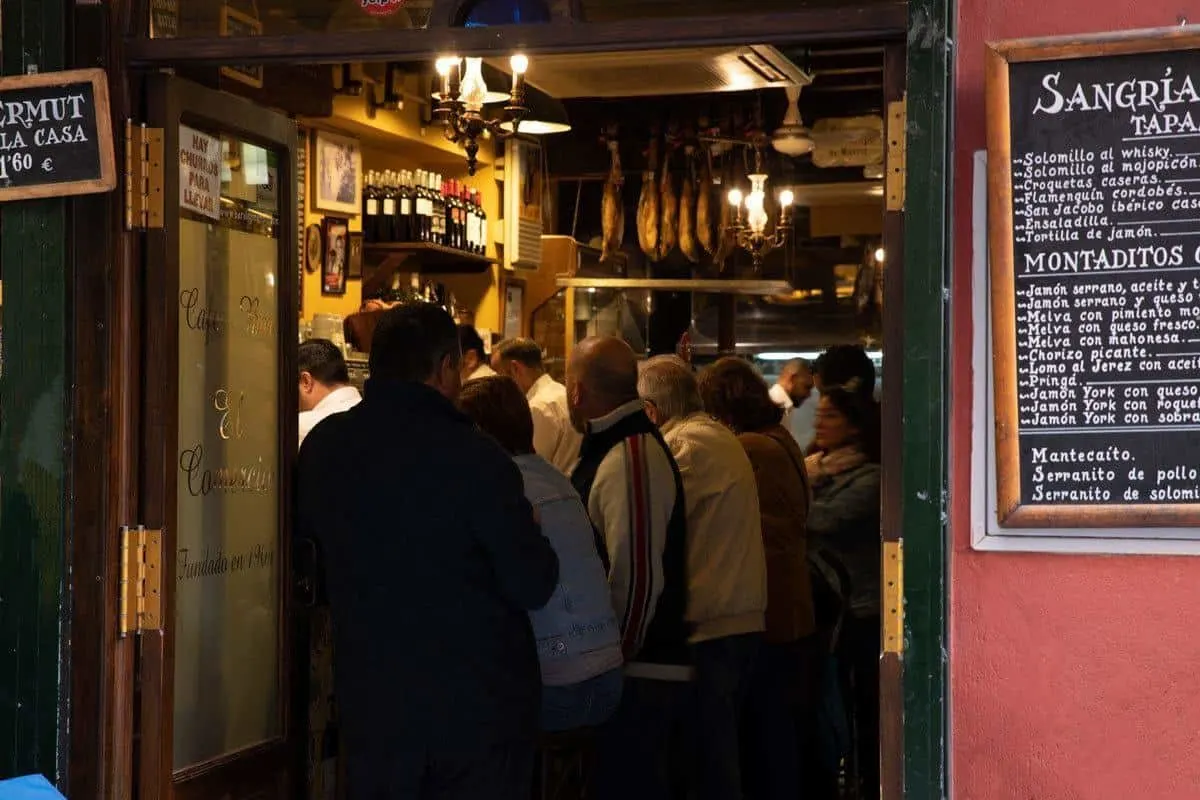 Related: 10 Safe Travel Tips to Put in Place Before You Go