The capital of southern Spain's Andalusia region and the birthplace of flamenco, Seville is a lively city filled with centuries-old traditions.

One of the most beautiful cities in Spain, every square inch is enriched with art and culture, its streets often alive with Spanish festivities. Visitors to Seville are guaranteed to fall in love with this beautiful corner of southern Spain.
We have put together all of the best things to do in Seville, along with everything you need to know about visiting this fabulous city. From where to stay, where to eat in Seville, festivals and so much more so you can plan your perfect Seville itinerary.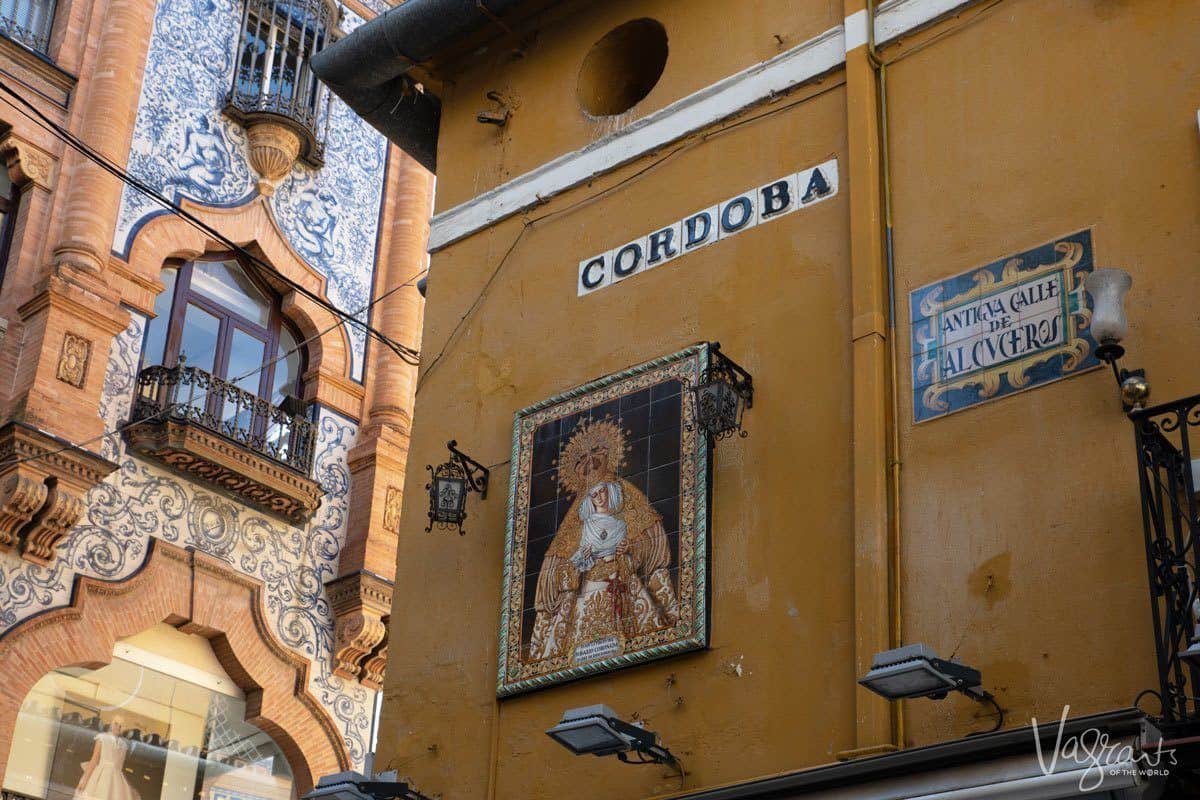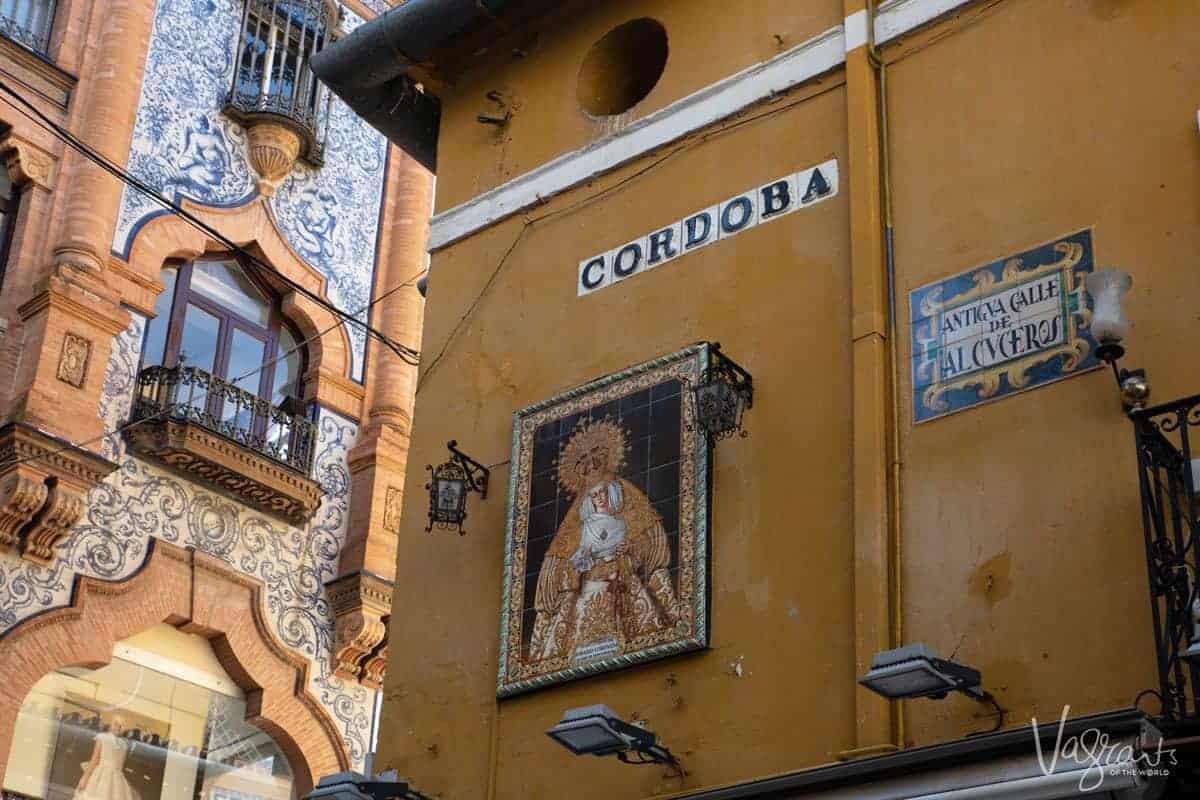 PLAN YOUR SEVILLE ITINERARY
---
SEVILLE TRAVEL GUIDE
Best Time to Go to Seville
Seville, while a beautiful city to visit any time of year, is much more enjoyable when the temperatures are not extreme as can happen in summer.
Shoulder seasons are always the best time to visit Seville. The months on either side of the summer peak season – April and May (spring) and late September to October (autumn) are best. Expect warm sunny days and cooler nights. The city is not as crowded and the rates are cheaper.
During the peak summer months; late June–early September the heat can be unbearable in Seville and crowds and prices are at their peak.
During festivals such as Semana Santa (Palm Sunday – Easter Sunday) and Feria de Abril (usually 2 weeks after Easter) can be a great time to visit but make sure you book well in advance.
Winter in Seville is relatively mild compared to other places in Europe, much like the Mediterranean. So much so, it makes our list of best European winter sun getaways. Winter is also a good time to visit if you want to avoid the crowds and get a great hotel deal.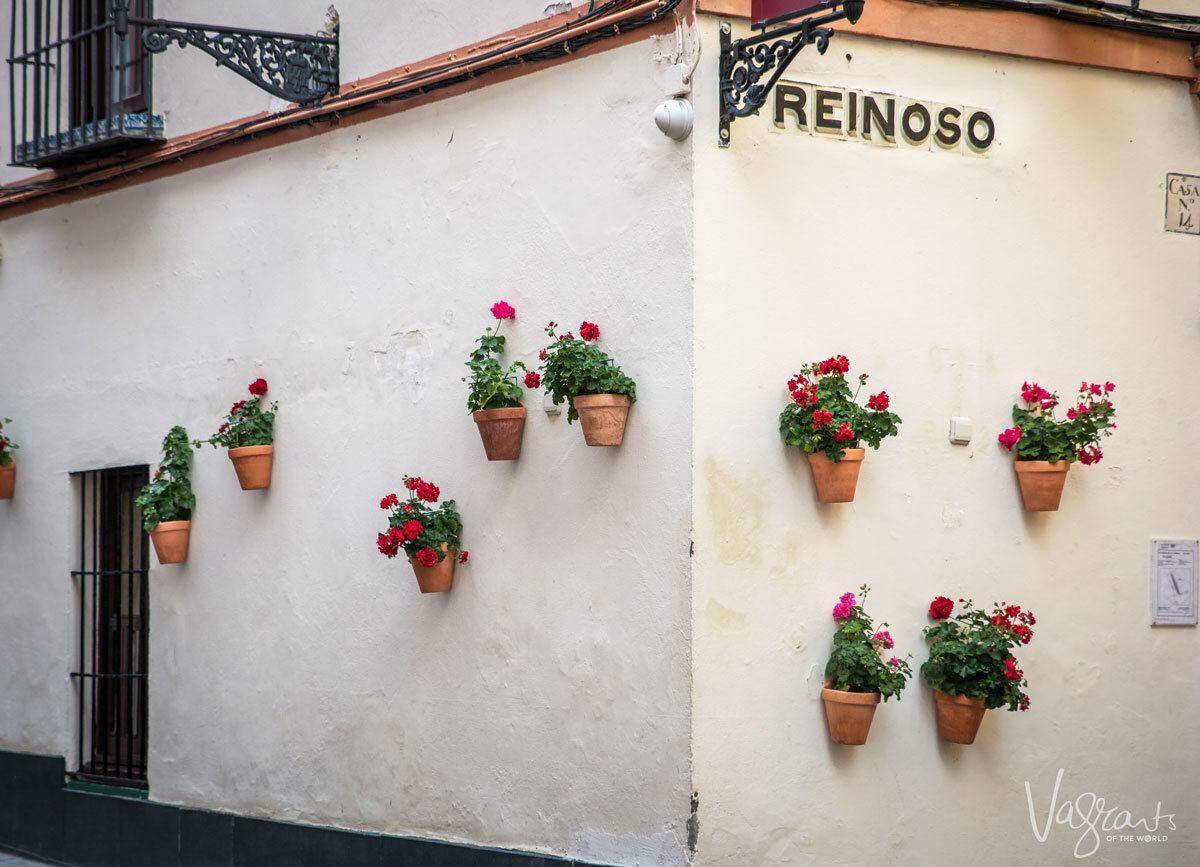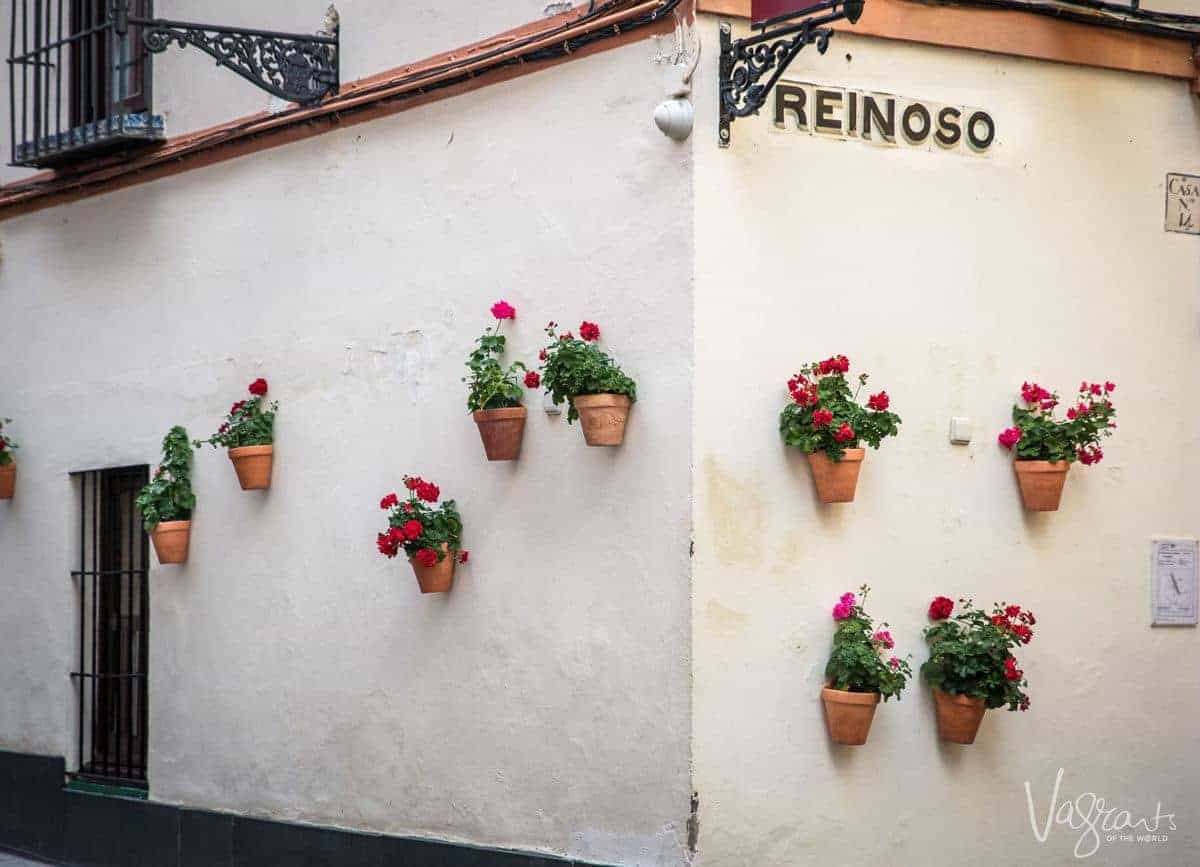 How Many Days in Seville
We have been to Seville many times, sometimes for a day and others for three days. While you could see some of Seville's highlights in a day, we would recommend at least two to three full days to see the best of Seville without rushing.
There really is so much to see and do in Seville, it would be a shame to visit and miss a lot of what makes Seville special. And remember, if you are not organised, you could spend much of your day queuing for tickets at some of the more popular attractions, especially in peak season.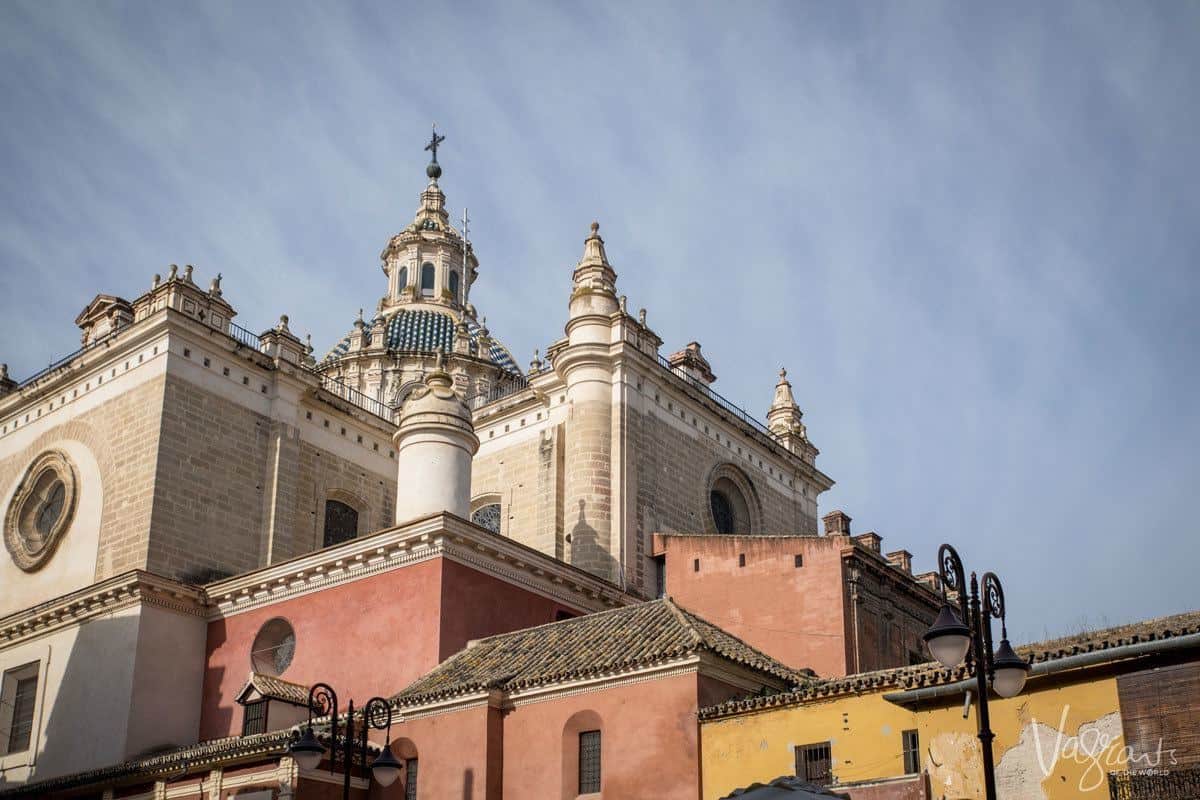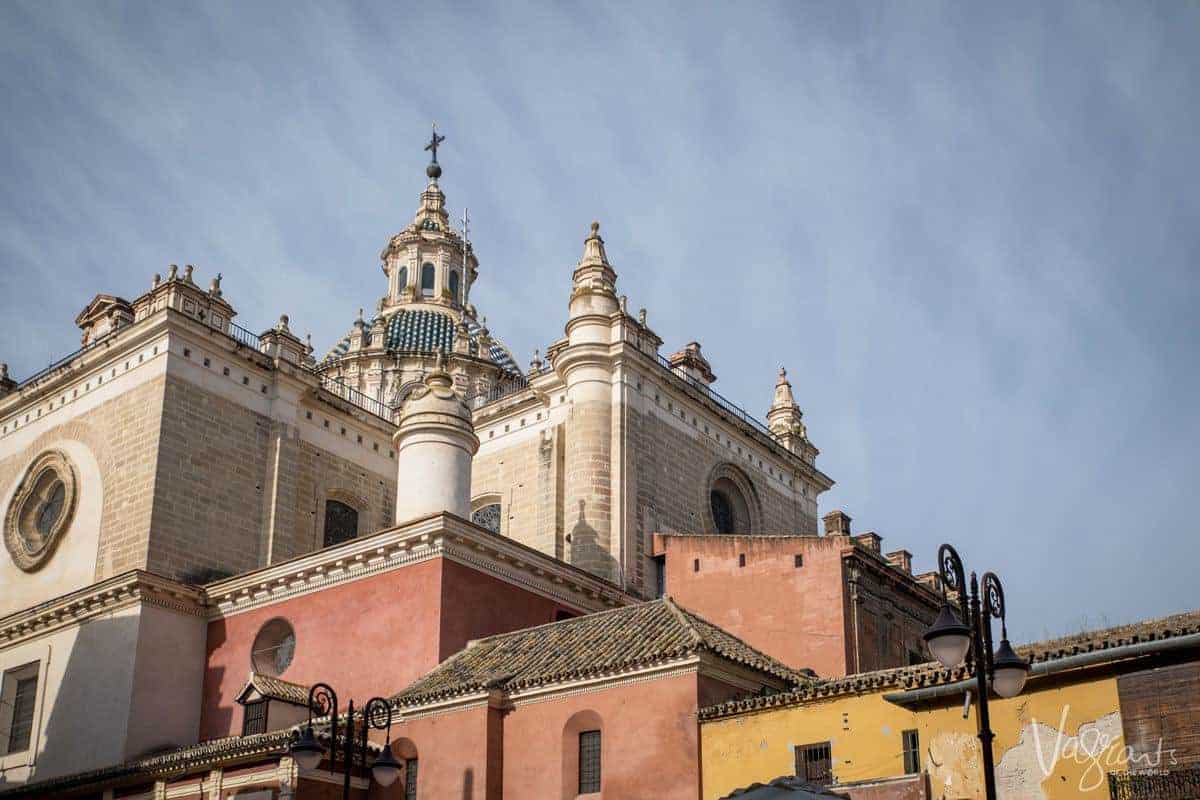 Plan Your Time in Seville
We have outlined the recommended time allowance at each of the Seville attractions to give you an idea of how to best plan your Seville itinerary with the time you have available.
Remember to pre-book skip the line tickets for any of the more popular attractions you want to visit to avoid wasting any of your precious time.
How to Get To Seville
Seville has an international airport only 15 – 20 mins from the city centre servicing flights throughout Europe and North Africa.
In addition to regional bus services, Seville is well connected by Spain's AVE high-speed train service. You can be in Seville from Madrid in a little over 2.5 hrs and Barcelona to Seville in around 6 hrs. See the AVE train website for timetables and bookings.
From The Algarve in Portugal, ALSA operates numerous bus services each day. The trip takes around 2 to 3 hrs depending on the service and costs approx. €18.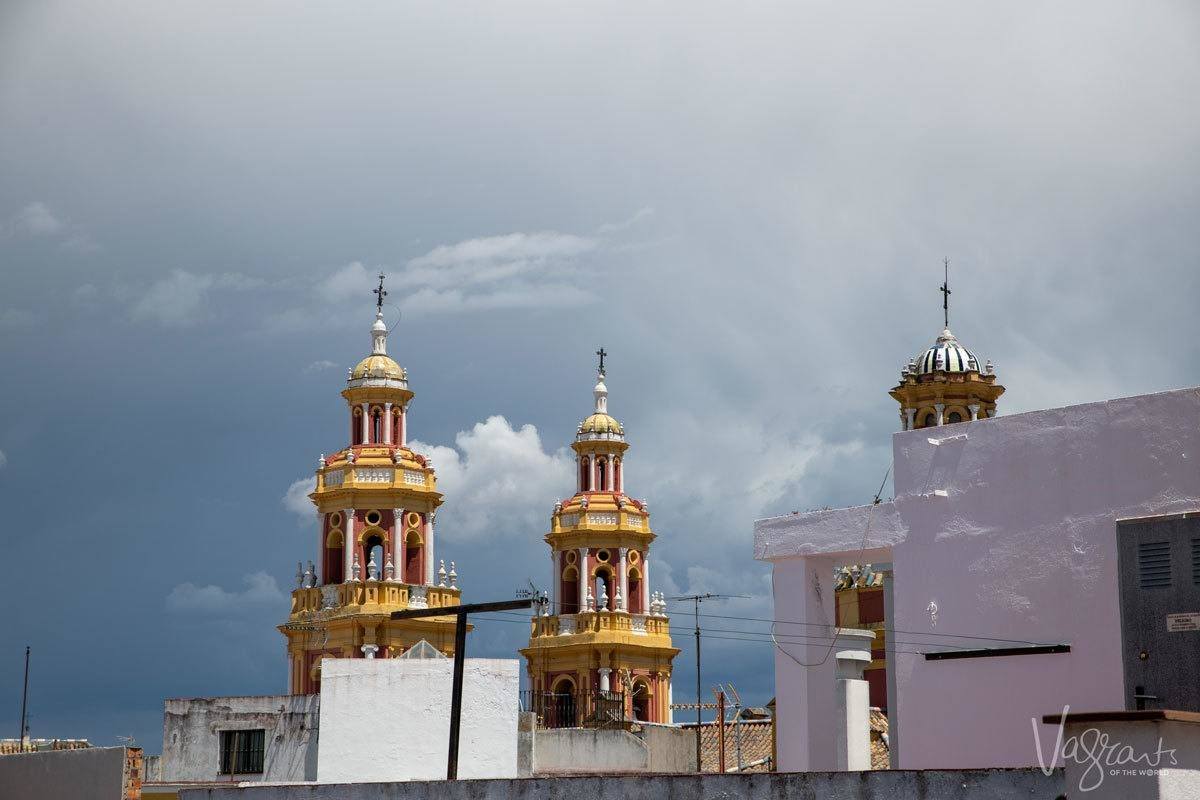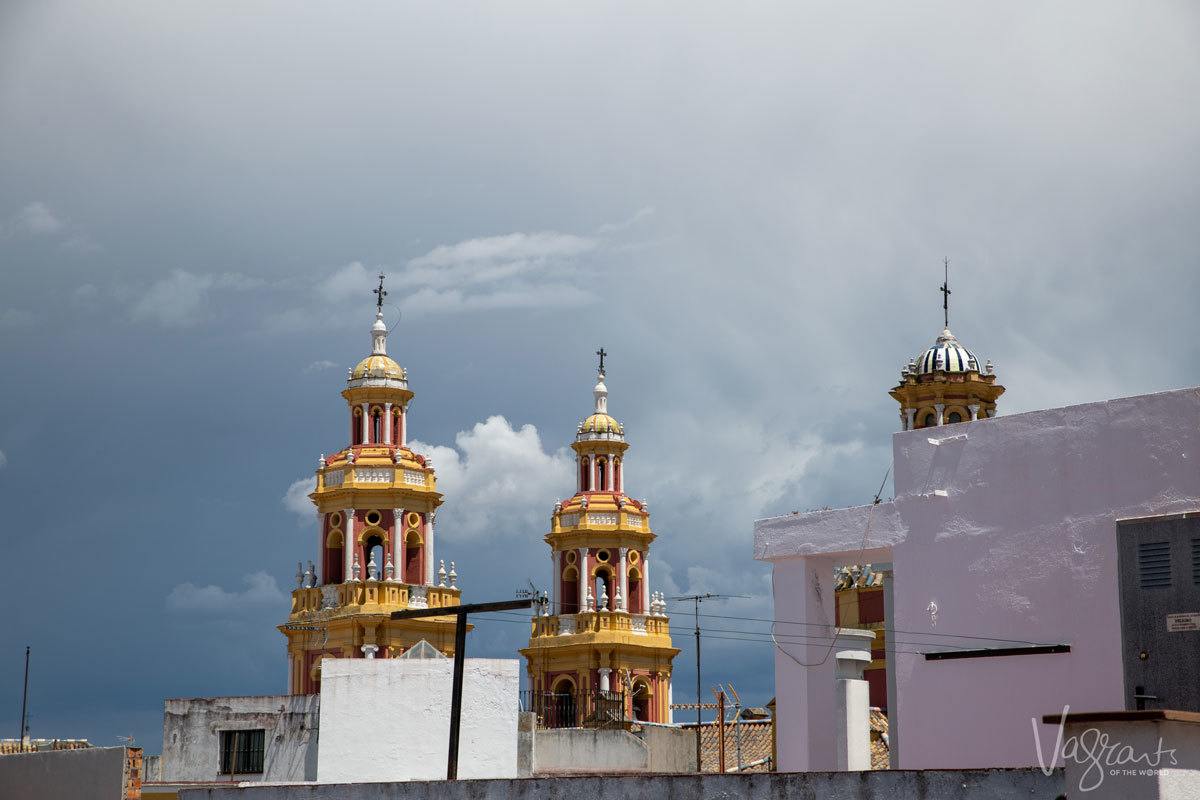 How to Get Around Seville
Walk
Seville city is relatively compact and much of it pedestrian-friendly so walking is the best way to get around Seville.
Hop On Hop Off Bus
If you are short on time, or just want to get oriented for further self-exploration, the Hop On Hop Off bus covers nearly all of the best things to do in Seville within a day.
Hop On Hop Off bus tickets start at €21 pp for a 24-hour ticket and include free audio walking tours, free access to certain attractions and loads of discounts. Find out more here.
Guided Tours – Cycle, Segway, Carriage
You can also take a guided city cycling tour or rent a Seville City bike. You can even opt for a segway tour or a more traditional horse and carriage ride as a way to experience the highlights of Seville.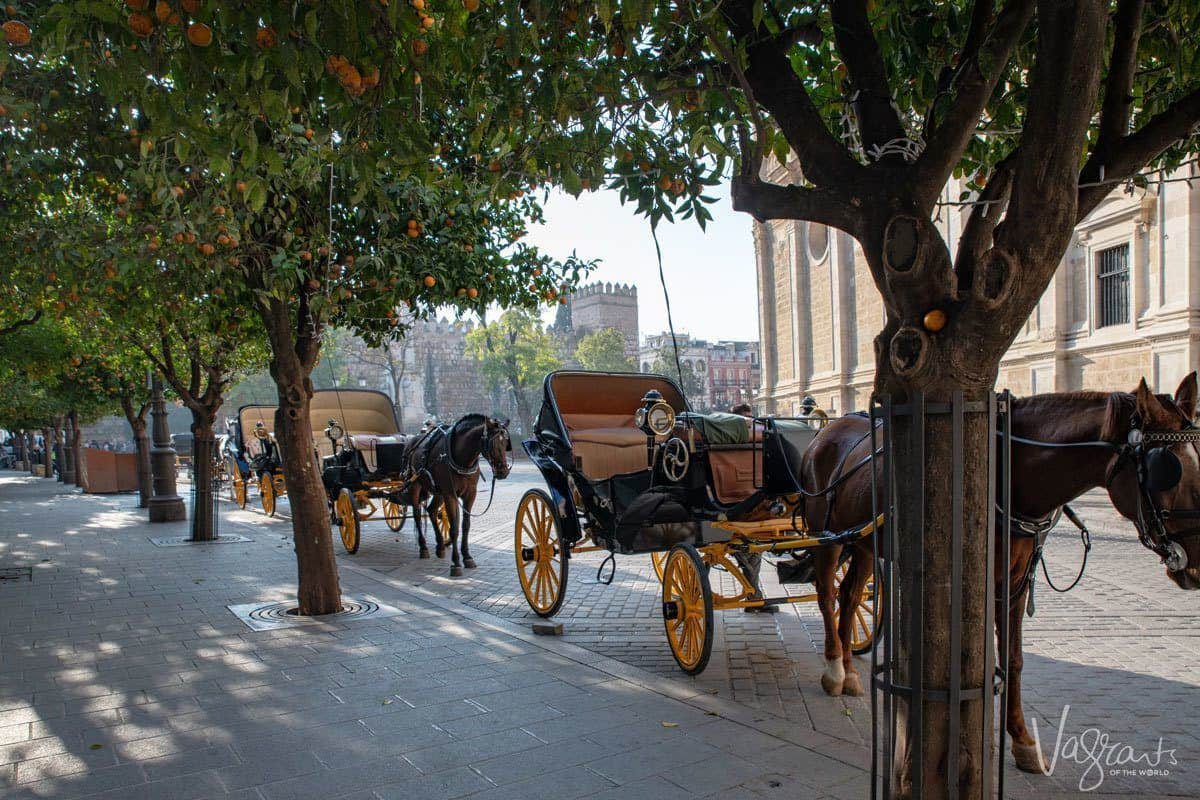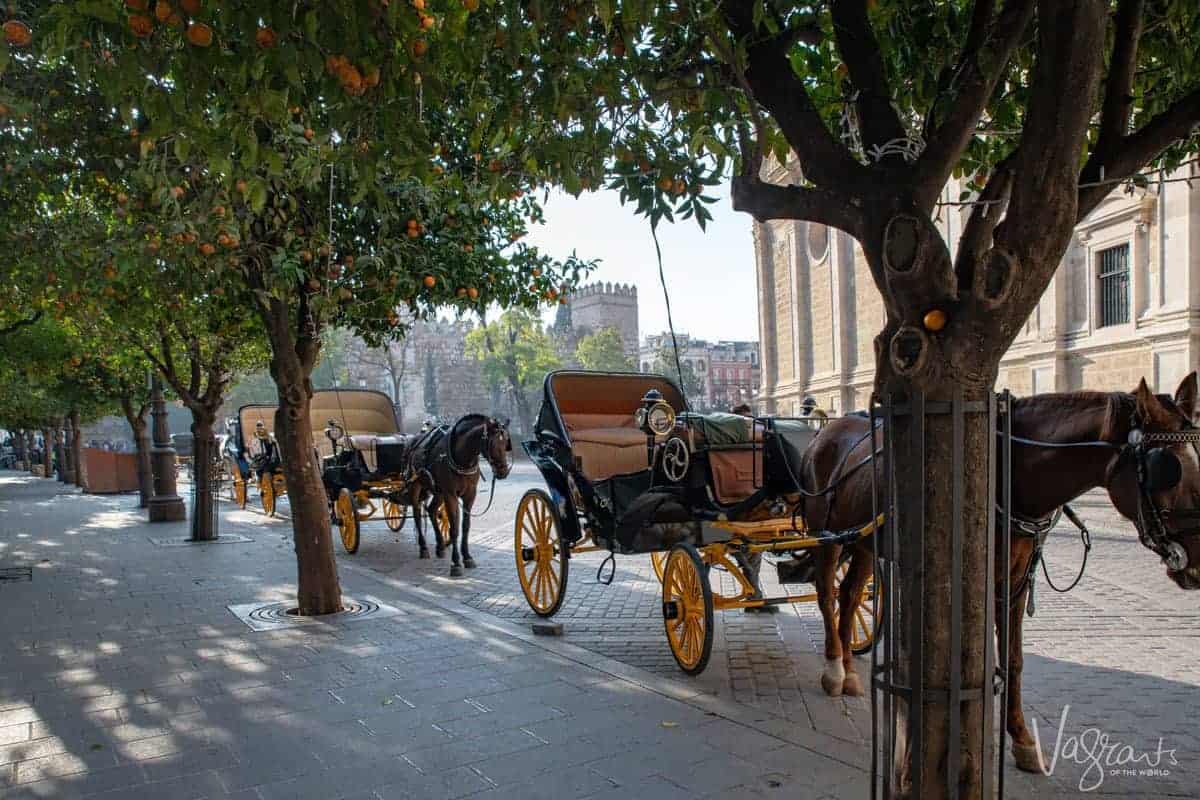 What to Pack For Seville
A pair of good walking shoes or comfortable sandals is a must. You will definitely be doing some miles. We suggest comfortable walking shoes that will be suitable for many occasions. There are so many stylish walking shoes on the market these days that will see you through for sightseeing and on to a casual dinner.
For the shoulder seasons of spring and autumn pack layers. Days will warm and mornings and evenings cool.
A lightweight, packable rain jacket or travel umbrella is always a handy travel companion especially in the shoulders seasons or winter months.
A light jacket to enjoy an evening drink and tapas outside in the evenings.
A scarf or two to accessorise for evenings. Spaniards as a rule always dress well, even in casual situations.
A good hat for the summer months.
For the ladies, a good anti-theft handbag or an anti-theft messenger bag for the gents is always a good idea when you travel. Especially in crowded tourist areas where pickpockets are common.
Where To Stay In Seville
As we mentioned, Seville city is very compact and very walkable so there is no single neighbourhood that would come out as the best place to stay in Seville. That said, some may have a specific appeal or be more convenient depending on your interests and budget.
If you do choose to stay a little further from the historical centre, taxi's are inexpensive and tram and metro services are easy to navigate.
Barrio Santa Cruz
The heart of Seville, Barrio Santa Cruz is cobblestone streets, Andalusian balconies, and secret patios. Conveniently located close to the Seville Cathedral, you'll find lots of dining options, great museums and plenty of nightlife.
You'll also find the widest range of accommodation from budget to 5-star as well as lots of Seville's best boutique hotels.
Search Hotels in Barrio Santa Cruz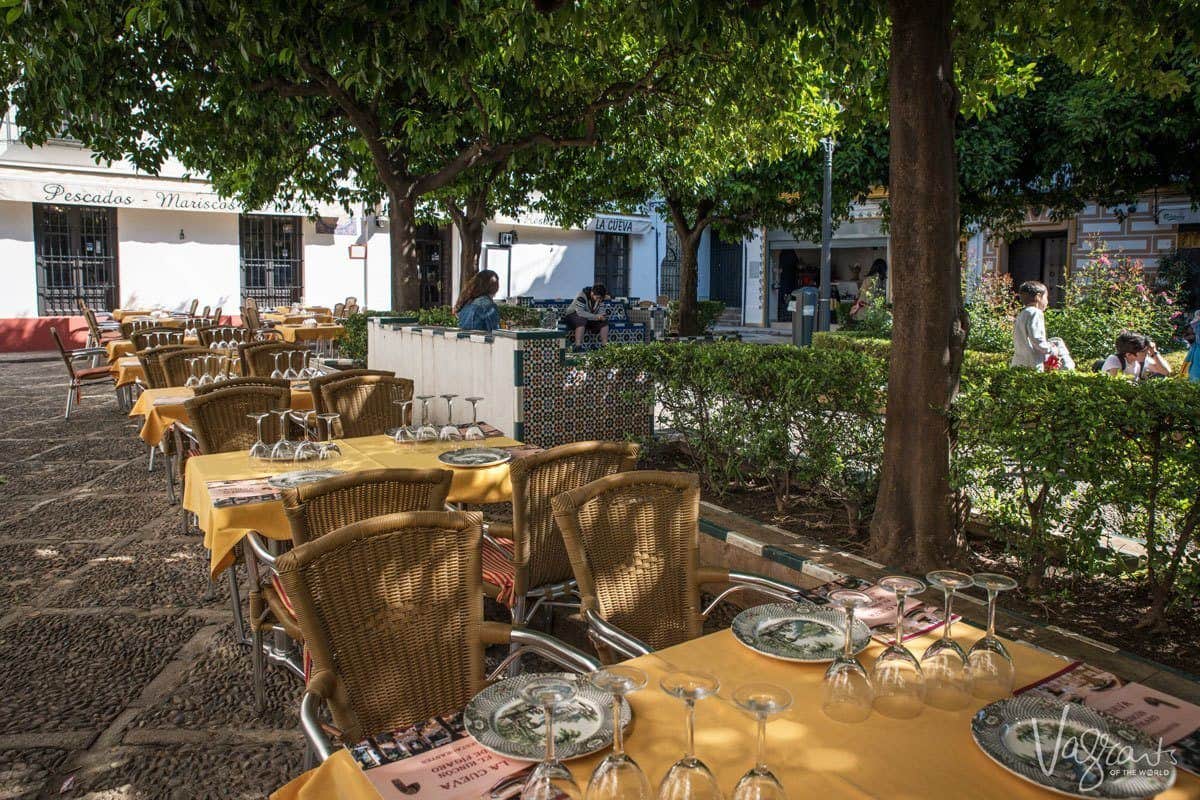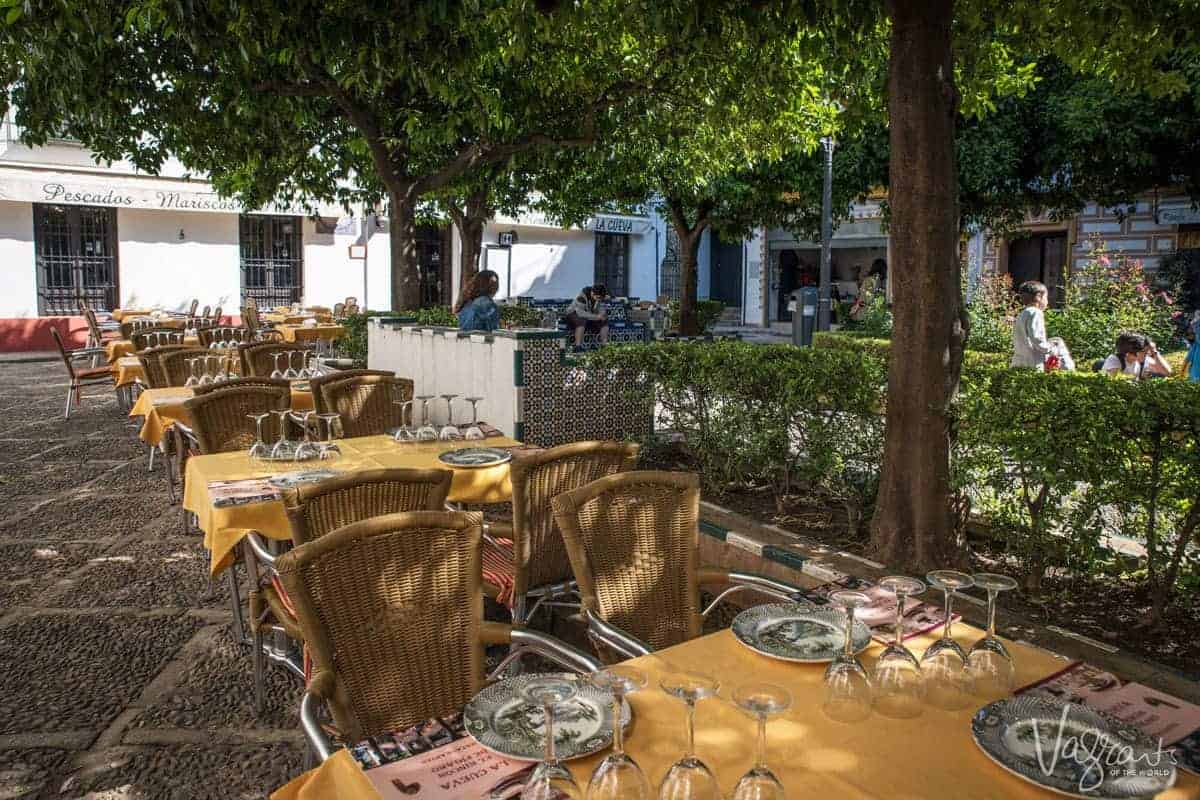 El Arenal
Centrally located, El Arenal, just west of Barrio Santa Cruz is the perfect place to stay if you are short on time. All the main tourist attractions are close by as well as some of Seville's most beautiful historical buildings.
In El Arenal you are right near the Cathedral, minutes from the Bull Ring, and very close to all the best shopping in Seville, on Calle Sierpes.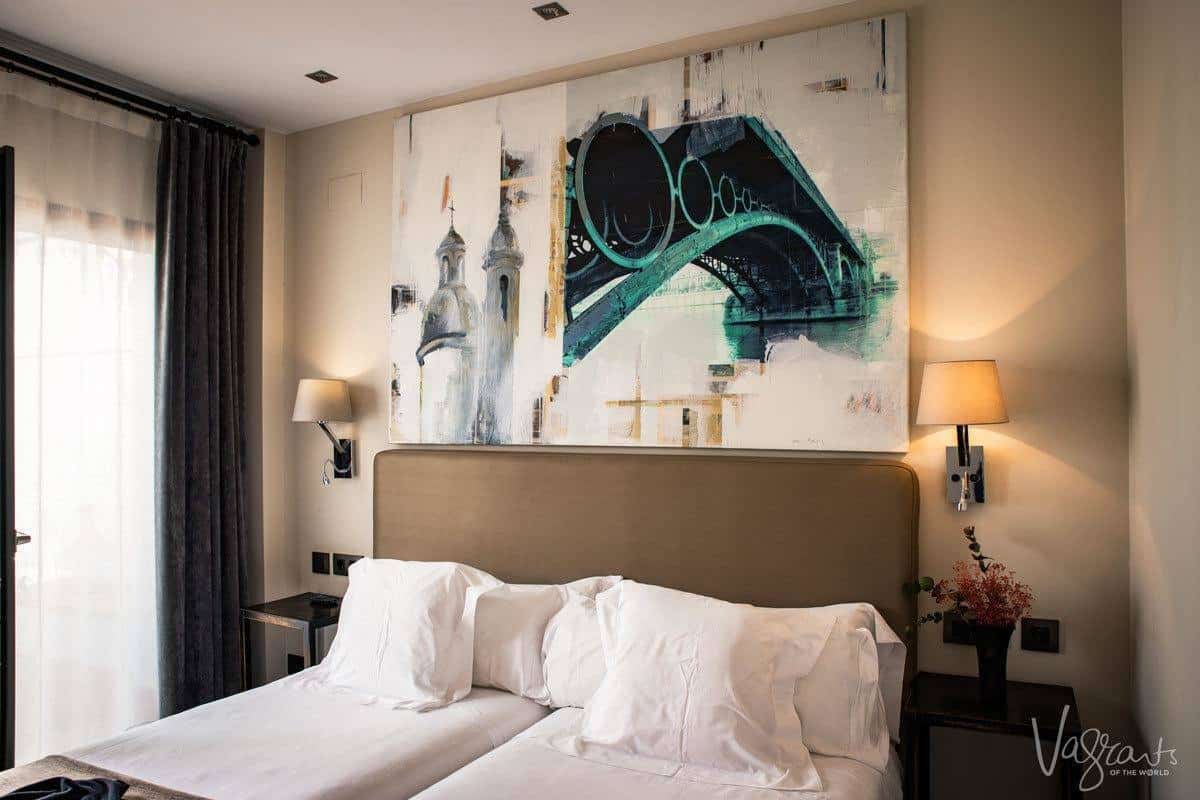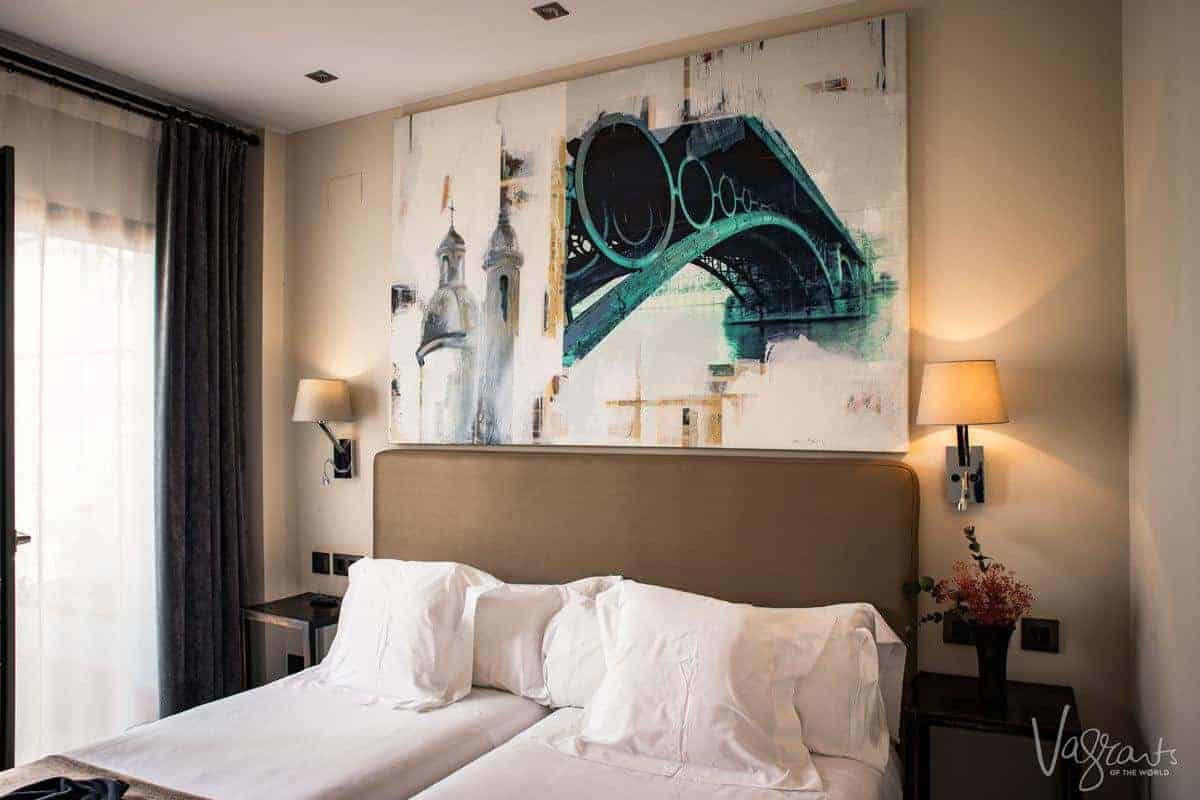 La Macarena
A short walk from the centre of Seville, to the north of the old city, Macarena offers a taste of residential neighbourhood life in Seville. Once one of the cities poorest areas, Macarena is becoming gentrified.
Close to the lively Alameda de Hercules, a popular spot for locals in the evening, Macarena is perfect for those who want to sightsee during the day and return to Macarena barrio for authentic Seville nightlife. Macarena also offers some good mid-range hotels as well as self-catering options.
Triana
Across the Isabel II bridge from El Arenal is Triana. A neighbourhood with a village feel and a very distinctive character. The home of Flamenco, Triana, true to its roots has a lively nightlife and thriving tapas bar scene. It is also a popular spot for an evening drink on the riverfront on Calle Betis. Along with lots of tapas bars, you'll find lots of little shops and local markets to explore.
While not in the city limits per se, it is not too far to walk to the main attractions. You'll find high end and boutique hotels, as well as short-term apartment rentals and a few budget hotels.

La Cartuja
La Cartuja is where Seville Expo was held in 1992. The popular theme park and pavilions still remain. Many of the pavilions are still open to visitors. Technically an island in the middle of the river, La Cartuja has lots of green spaces including the Jardín Americano.
There are few hotels in the quiet neighbourhood and dining can be limited although, popular Macarena and Triana are walking distance.
La Cartuja is also home to a beautiful 15th century monastery with a contemporary art museum, theatres, many university buildings and concert and event centres such as Centro Andaluz de Arte Contemporaneo. La Cartuja neighbourhood is suited to those wanting a quiet area or if you are attending a concert, conference or event.
Los Remedios
Los Remedios is a residential district south of Triana. In April, Los Remedios becomes one of the busiest neighbourhoods in Seville when it hosts southern Spain's biggest fiestas – Seville's annual Feria de April. A week-long celebration of drinking, eating, and dancing.
You'll find several mid-range hotels in Los Remedios as well as lots of self-catering options. The short metro line connects Los Remedios to Barrio Santa Cruz.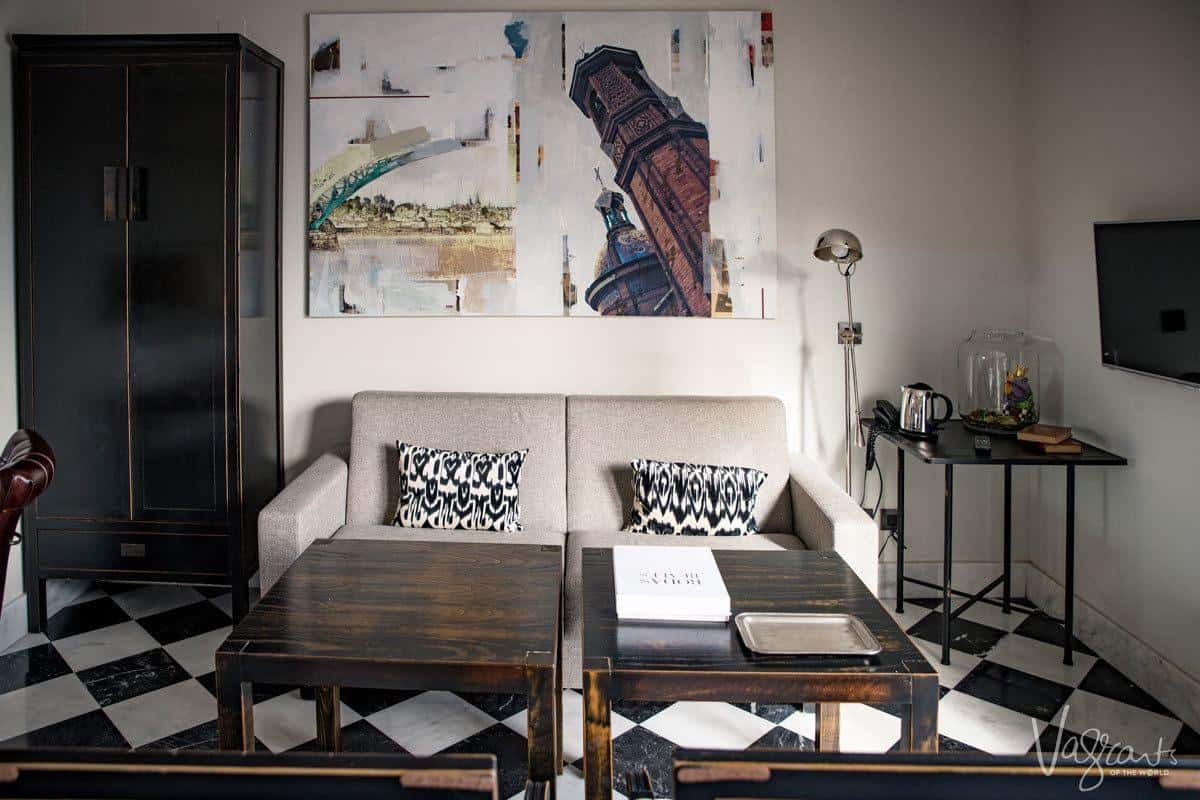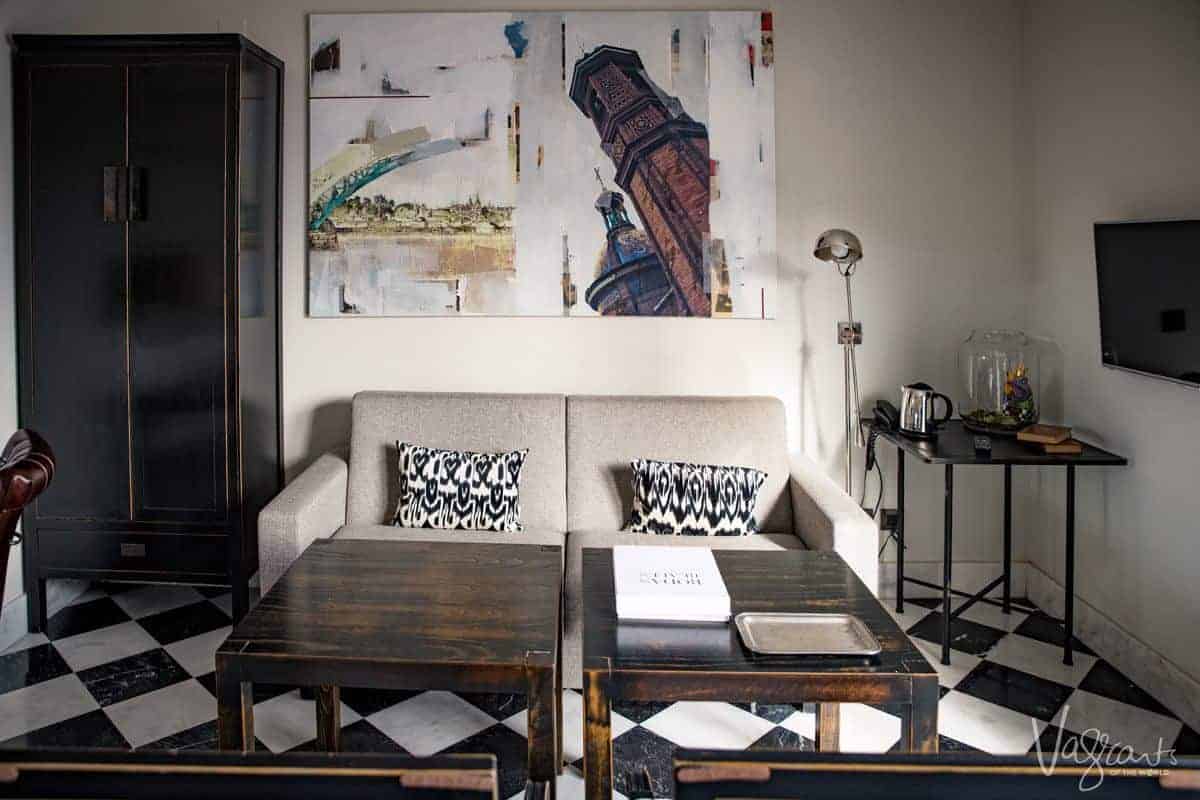 THINGS TO DO IN SEVILLE
---
SEVILLE ATTRACTIONS & HIGHLIGHTS
The Royal Alcázar
Along with the Seville Cathedral, The Royal Alcázar is one of Seville's most popular attractions. A Moorish fort in the 10th-century, construction of the first royal palace began in the 12th century by the first Caliph of Andalucía.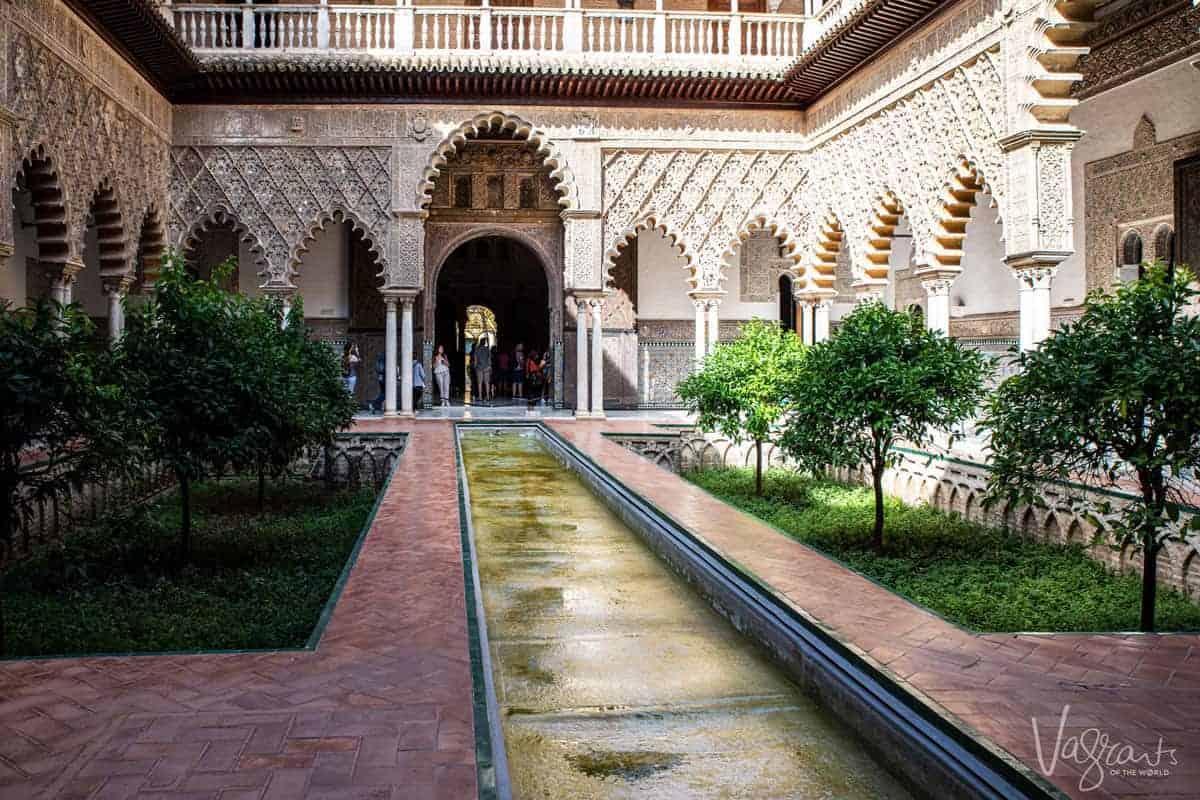 The palace as we know it today started to take shape in the 14th century when it was claimed by the Catholic Kings of Spain.
A work in progress until the 19th century, the palace is a stunning mix of Moorish, Renaissance and Mudéjar architecture. It is considered one of the finest examples of Mudéjar art in existence.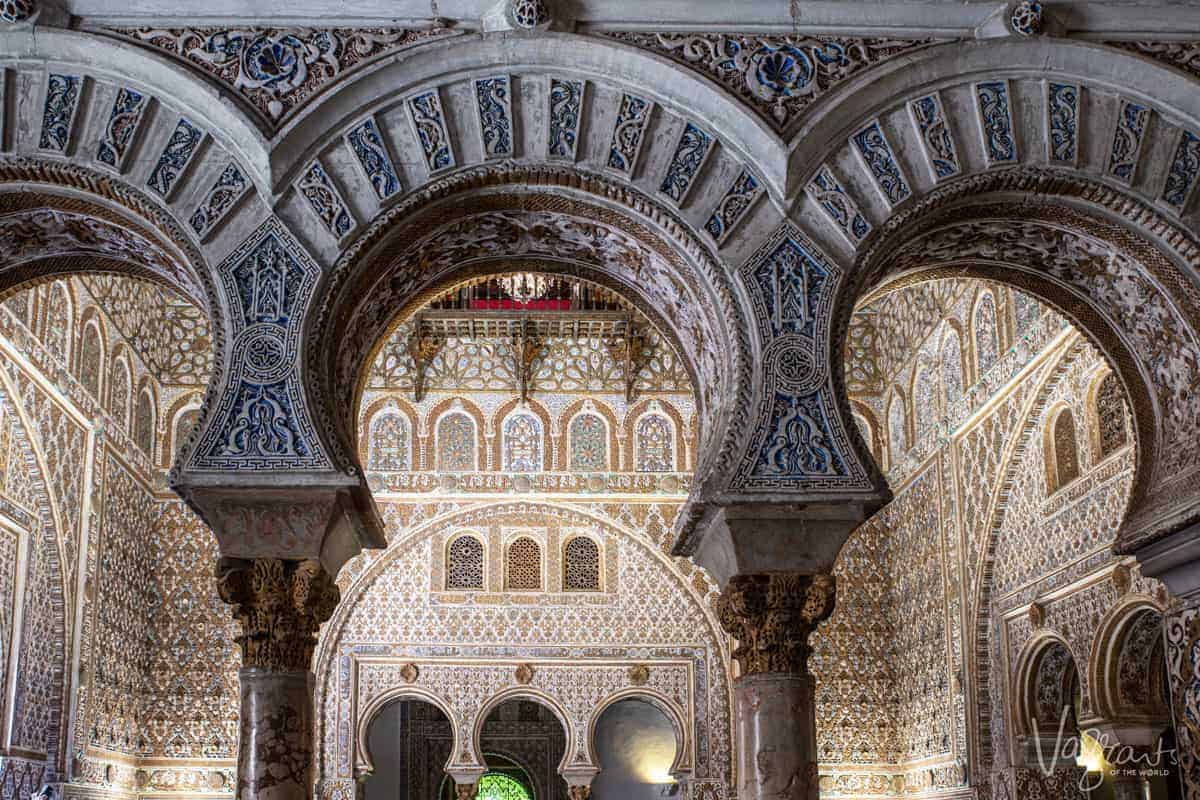 While the palace, a UNESCO World Heritage site now belongs to the council of Seville, the upper floors are still the Seville residence of the Spanish royal family making the Royal Alcázar the oldest, continually used royal palace in Europe
Game of Thrones fans will recognise the palace, especially the gardens, one of the palaces most beautiful features as the setting for the Kingdom of Dorne. One of the few film locations that are far more beautiful in real life than on the TV series.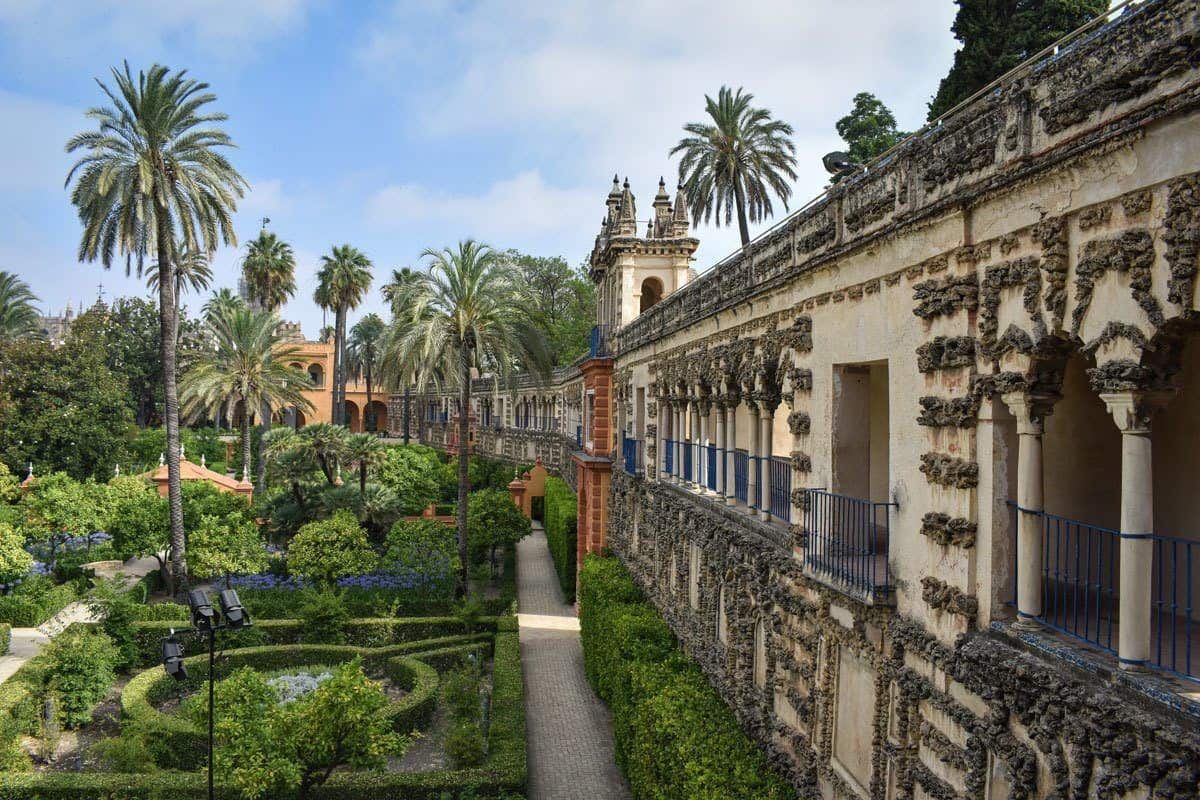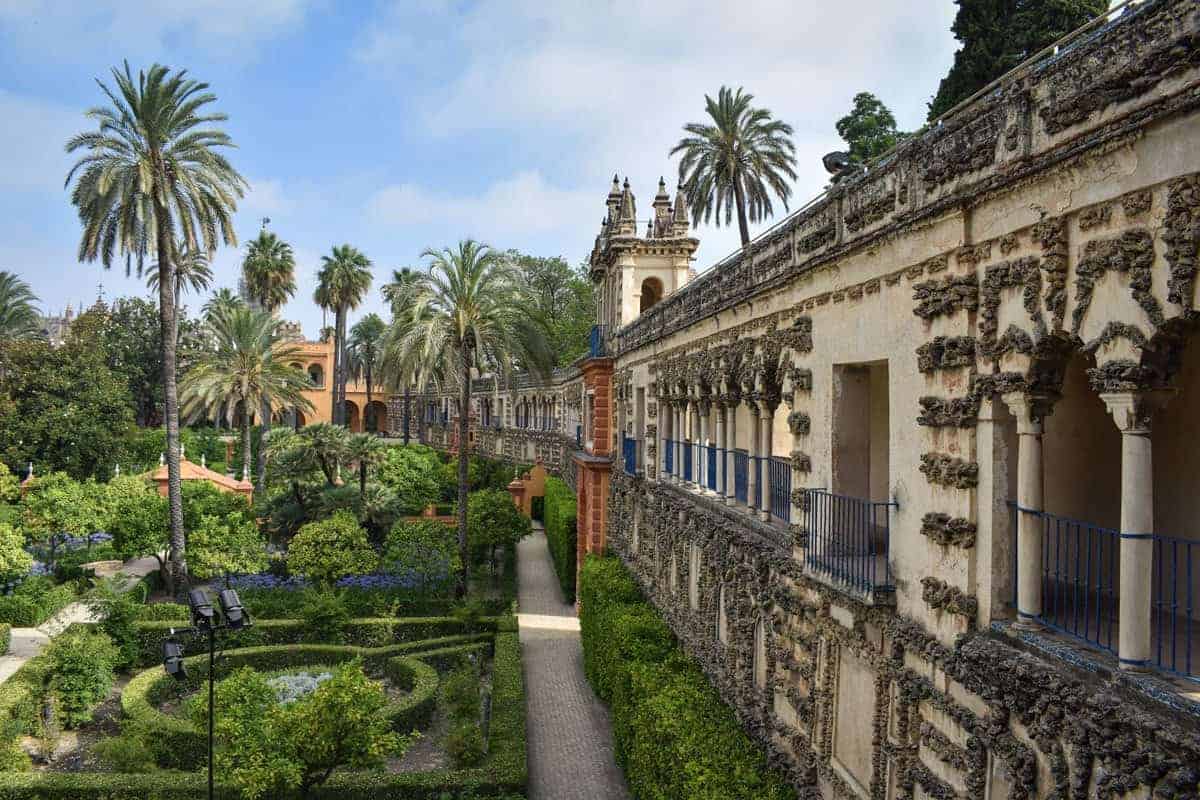 The Baths of María de Padilla
Located underneath the palace, visitors will find the Baths of Doña María de Padilla. A rather posh name for what is basically a water storage facility.
King Pedro named the cistern after his mistress María de Padilla who he secretly married in 1353. The king was later pressured into an arranged marriage with the Queen of Castille by the nobles who forced him to deny their marriage. Doña María de Padilla went on the bear him four children in a relationship that continued until her death.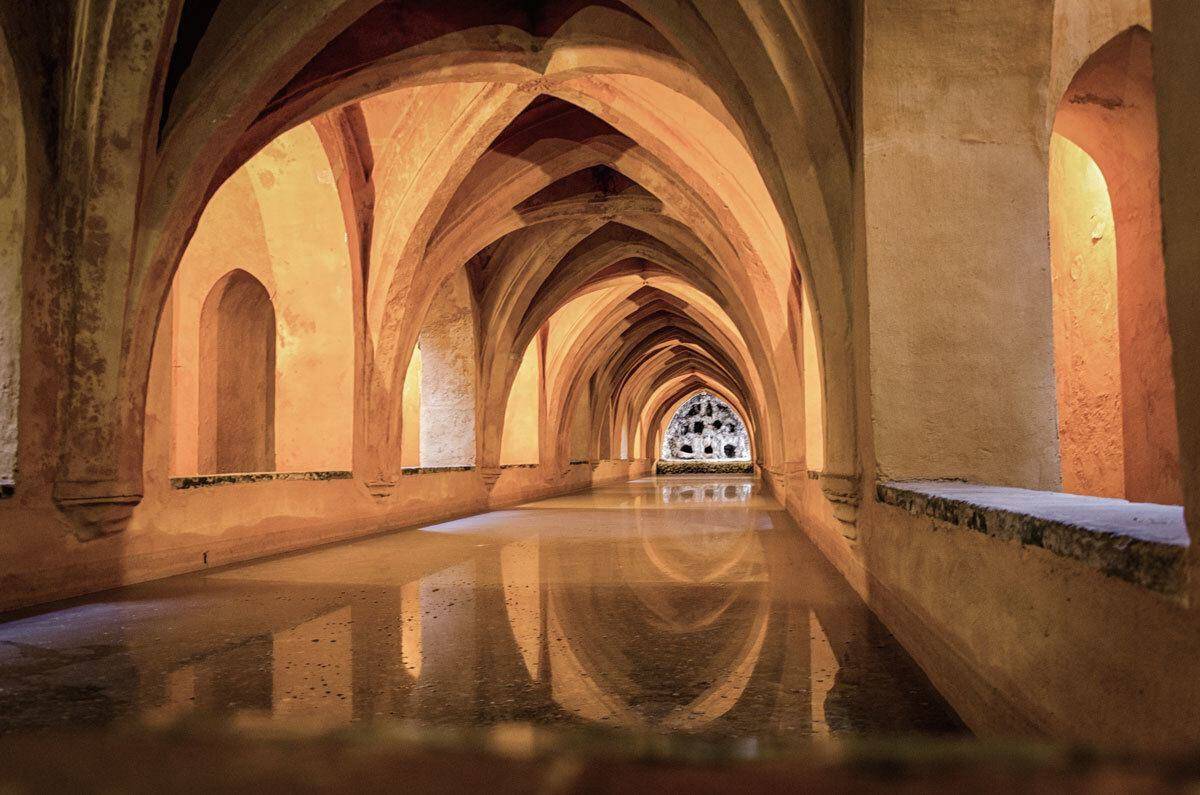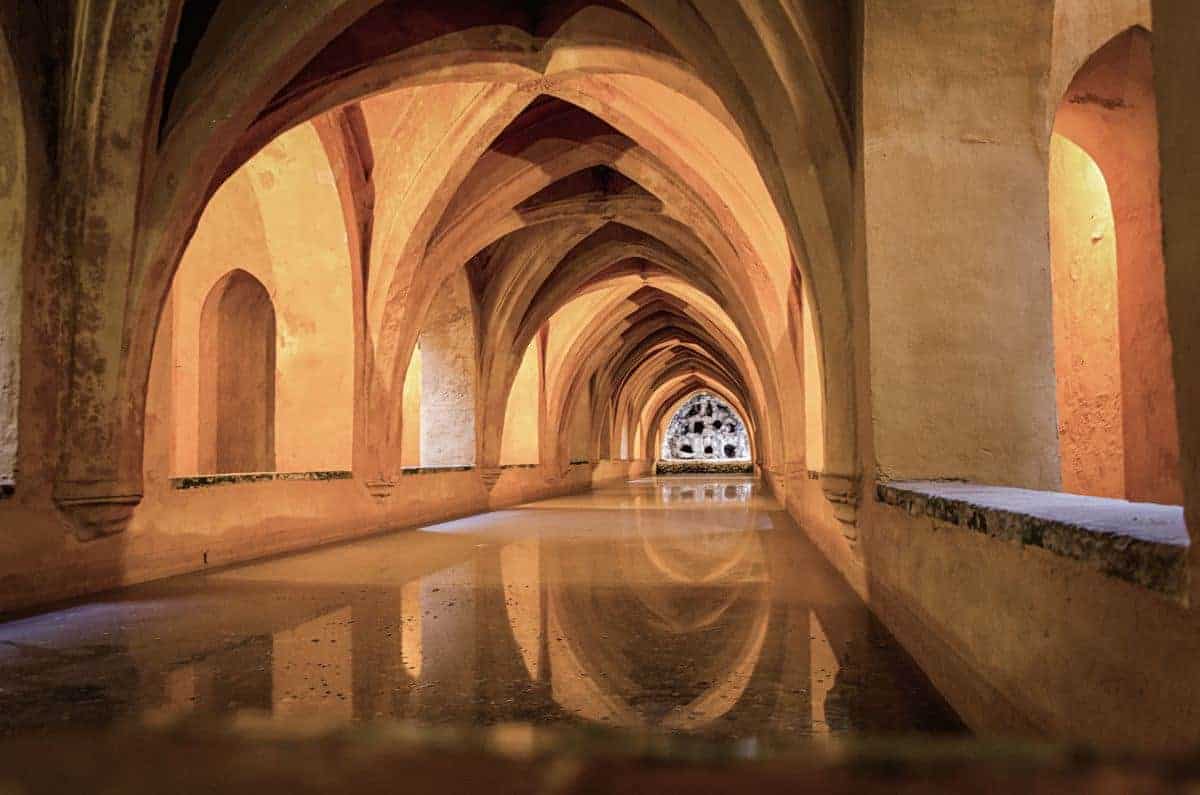 Visiting The Royal Alcázar
?Real Alcázar de Sevilla, Patio de Banderas, s/n, Seville, Spain
Buying Tickets for the Royal Alcázar
As the Royal Alcázar is one of Seville's most popular attractions, you can expect long queues. It is highly advisable to purchase skip the line tickets in advance of your visit. Tickets can be purchased online through the Royal Alcázar website.
Tickets are purchased for an alloted entry time. We recommend booking the first time allotment and being first in line at opening. It will give you precious moments ahead of the crowds to enjoy the palace while it is still empty.
Entry
General Admission: € 11.50 | Includes the ground floor of the Palaces and Gardens.
Entrance to the Royal High Room: Additional €4.50 | An organised visit to the Royal High Room located in the upper part of the Palace of King Don Pedro.
Online Booking Fee: €1 for each admission
Skip the Line With a Guided Tour of The Royal Alcázar
Many visitors opt for Skip the Line tickets with guided tour combo to make the most of their visit. Tours include general admission with skip the line ticket, an official one hour guided tour and audio guide.
Prices start at €25 pp. Get details here for skip the line guided tours.
Opening Hours
October to March: Everyday 9.30 AM to 5.00 PM. (The Palace closes at 6.00 PM)
April to September: Everyday 9.30 AM to 7.00 PM. (The Palace closes at 8.00 PM)
Closed: January 1 and 6, Good Friday and December 25.
Seville Cathedral & The Giralda Tower
Seville Cathedral
The largest Gothic cathedral in the world and the burial place of Christopher Columbus, Seville Cathedral is a must see.
Built on the site of a mosque dating back to 1198, construction of the magnificent cathedral began in 1401 taking more than 100 years to complete. Although, interior works continued well into the 20th century.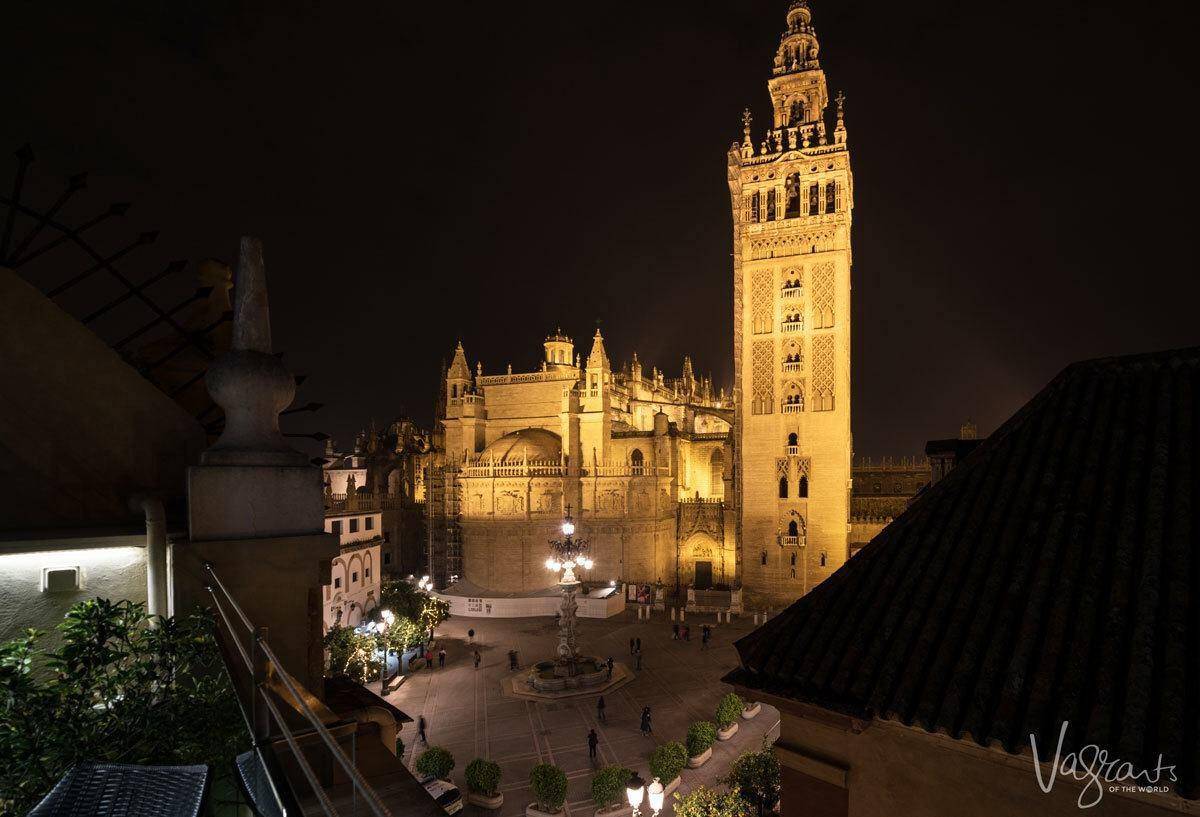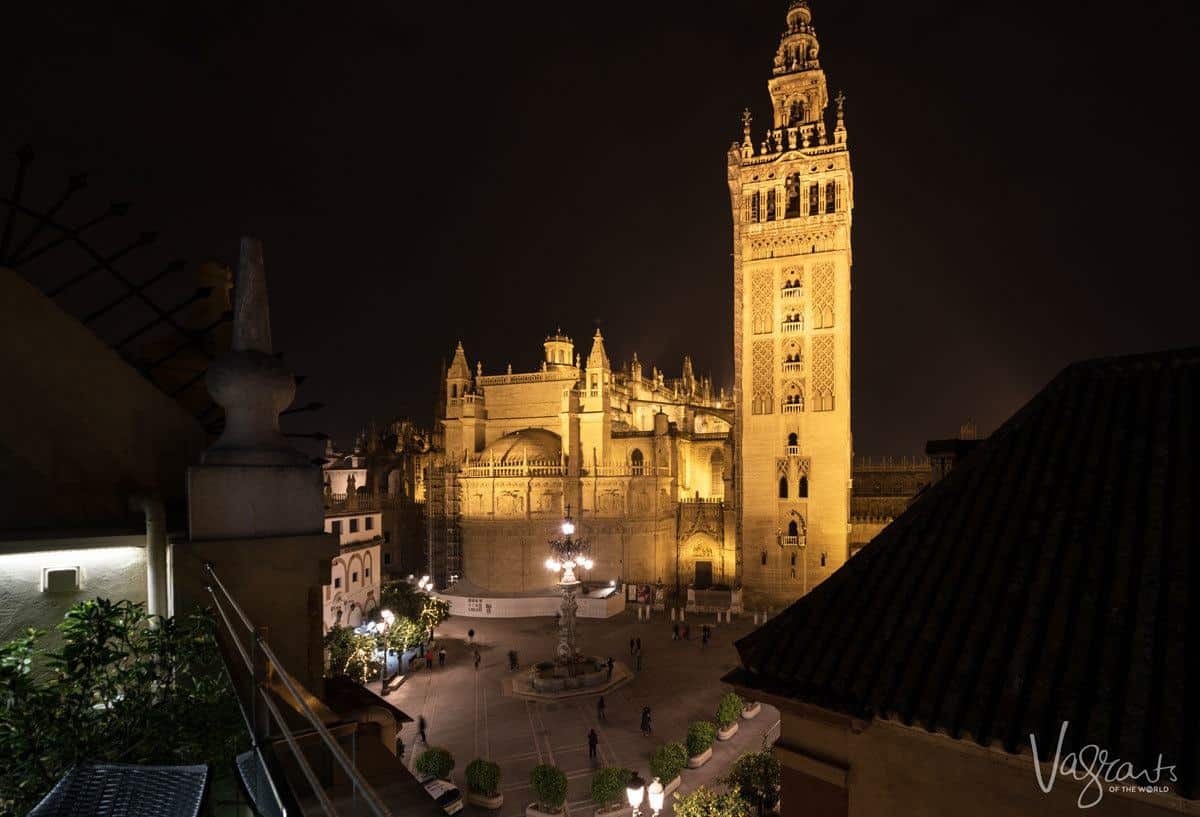 The sprawling UNESCO listed cathedral features 80 chapels and many significant artistic features and artefacts. The cathedral's grand altarpiece – the largest ever made, depicts the life of Jesus of Nazareth, from birth to crucifixion.
Artworks by famous Spanish painters Zurbarán and Murillo, a chapel housing the 13th-century fresco Virgen de la Antigua, Ferdinand III's pennant flown by the Crusaders when they expelled the Moors from Seville in 1248, as well as priceless jewelled pieces, and intricate Plateresque silverwork.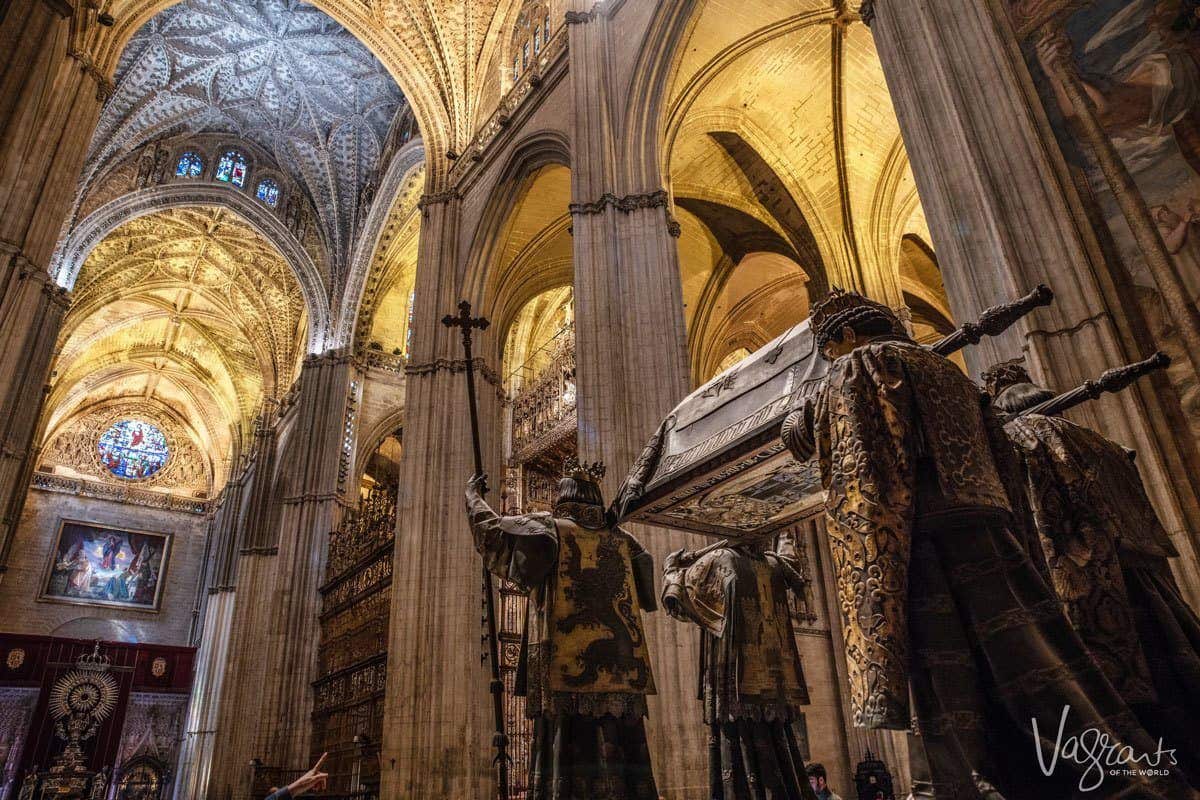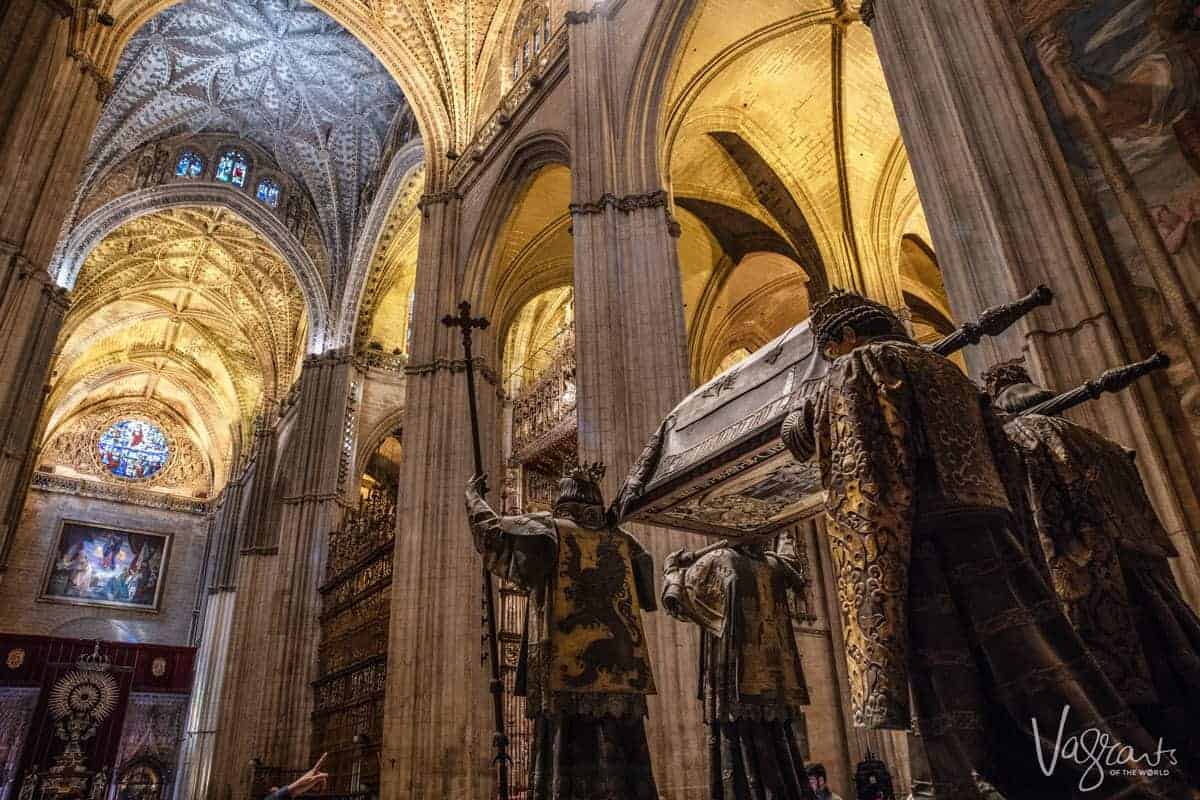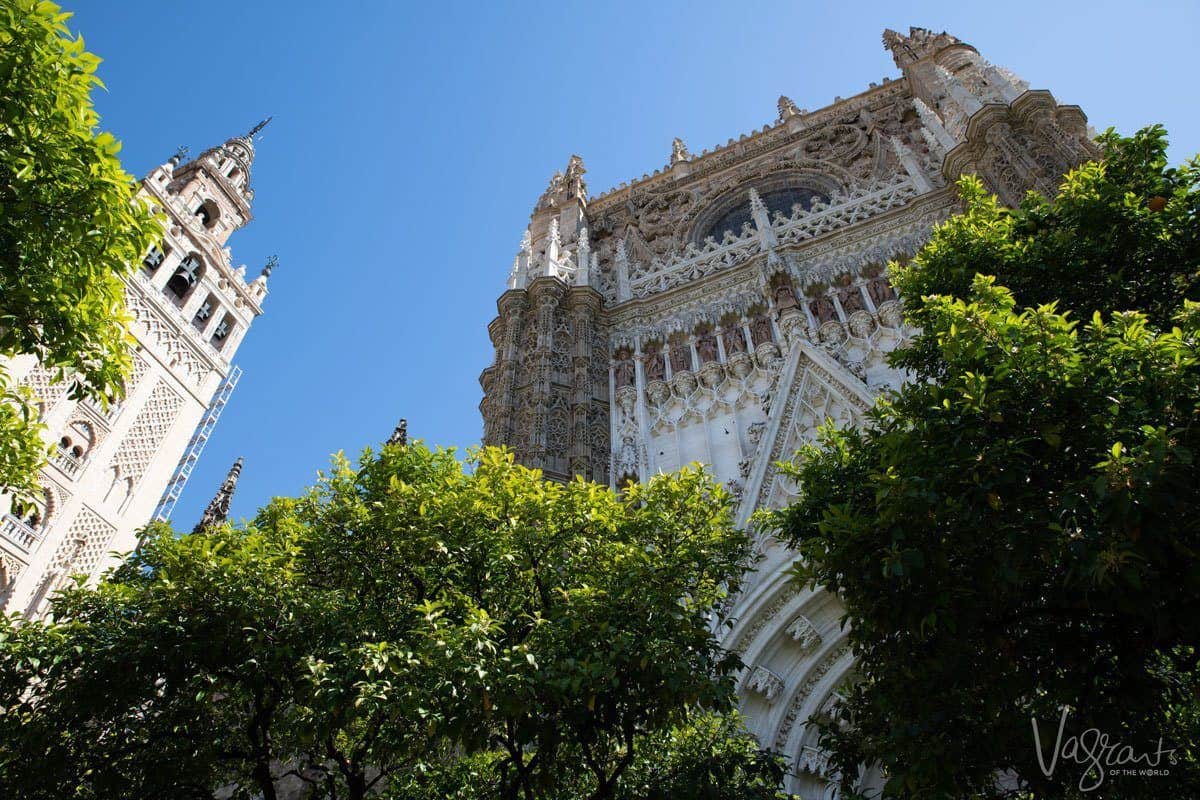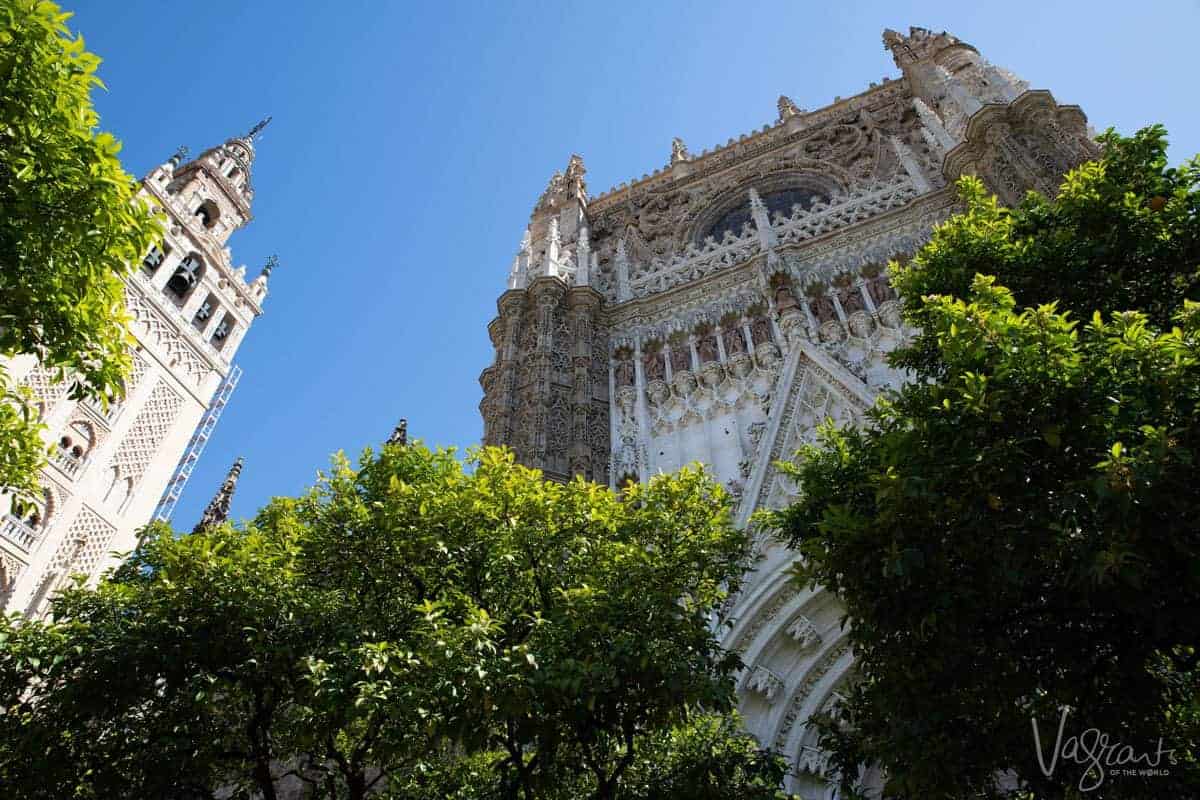 The Giralda Tower
Tickets to the Seville Cathedral include entry to the 104.1 m (342 ft) Torre Giralda bell tower. The tower is all that remains of Seville's great mosque, one of the most important symbols of Seville since the Middle Ages.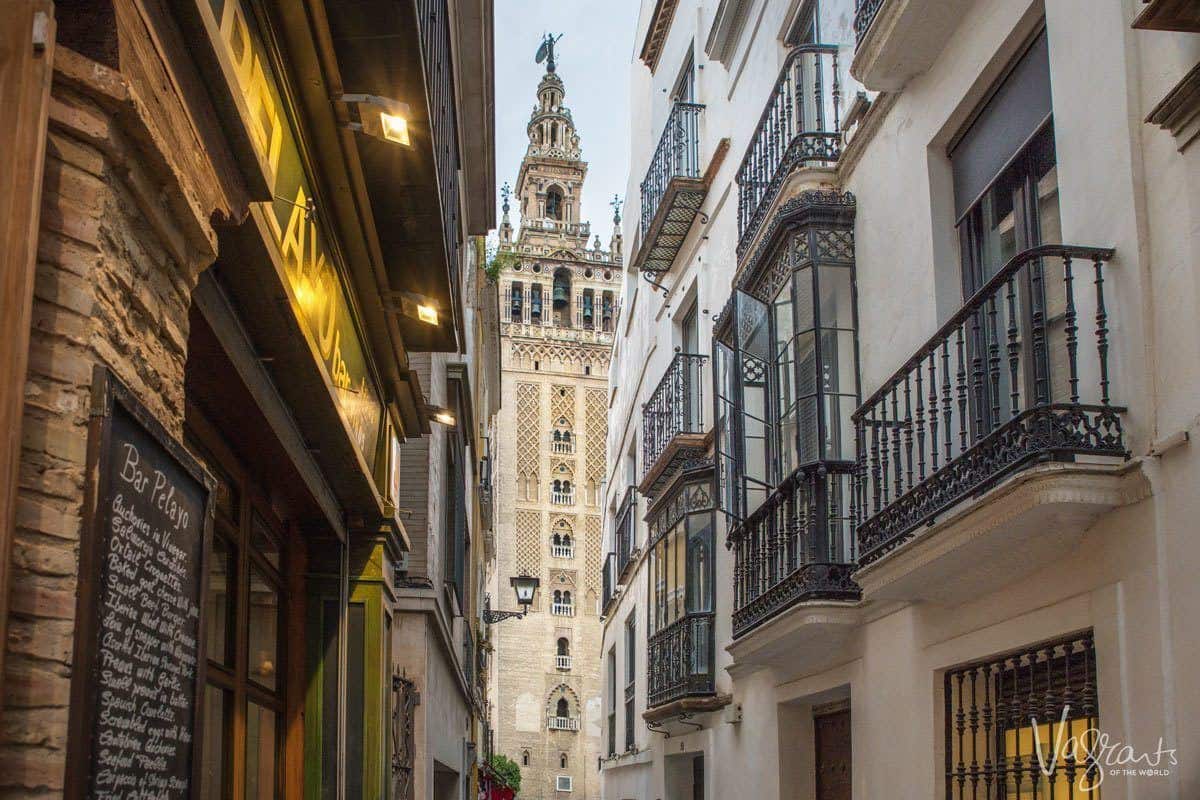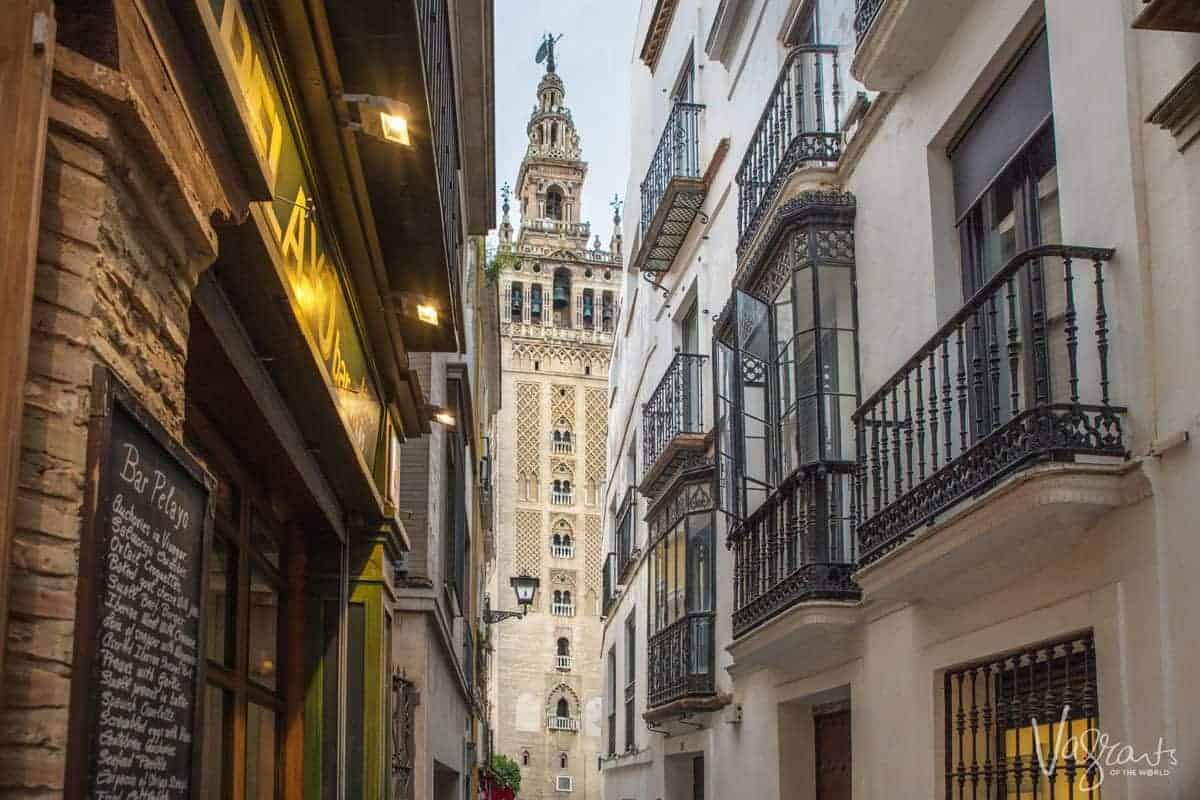 The minaret was originally topped with great copper globes which fell in the 1365 earthquake. The conquistadores saw this as a sign and replaced them with the Christain cross and bell tower.
Except for the final section of the tower, the ascent to the top of the tower for spectacular views of the city is via a wide, winding ramp. The ramp was built to accommodate "beasts of burden, people, and the custodians," according to one chronicler from the era. Why they required livestock or horses at the top of the tower is not known.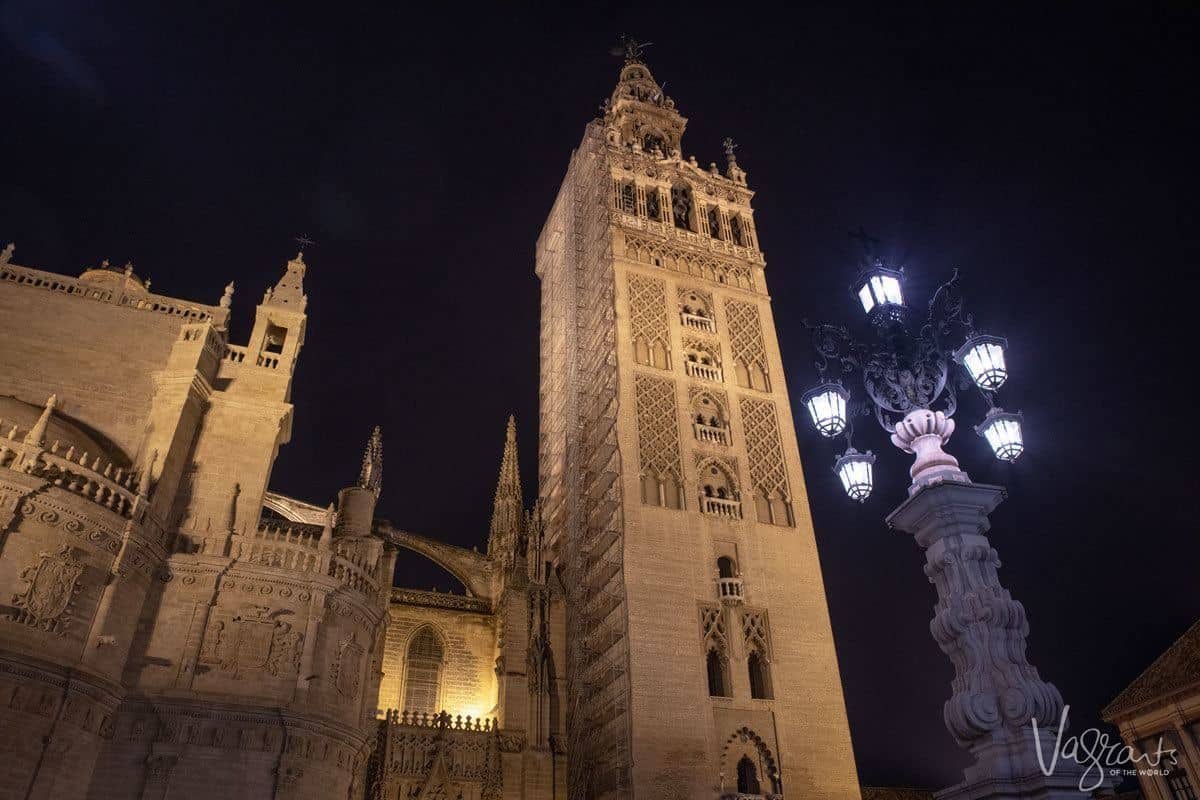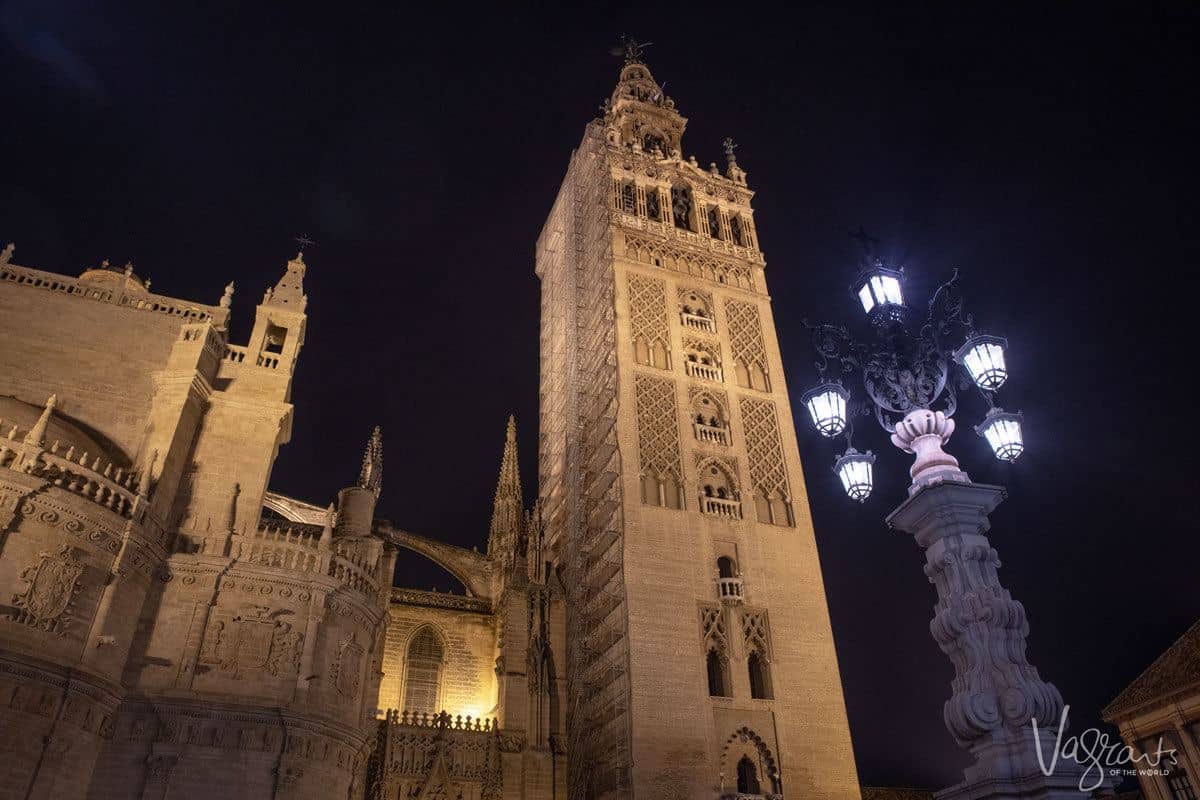 Visiting The Seville Cathedral & The Giralda Tower
?Catedral de Sevilla, Av. de la Constitución, Seville, Spain
Buying Tickets for the Seville Cathedral
As with the Royal Alcázar, the Seville Cathedral is one of Seville's most popular attractions, so expect long queues. To make the most of your time in Seville; it is advisable to purchase skip the line tickets before your visit. Tickets can be purchased online through the Seville Cathedral website.
Entry
General Entry Ticket to the Cathedral and Giralda Tower: €9
General Entry Ticket to Church of El Salvador: €4
Combined entry ticket |Assisted visit of the roofs, free visit of the Cathedral, Giralda and Church of El Salvador: €15
Opening Hours
Monday: 11:00 AM to 3:30 PM
Tuesday to Saturday: 11:00 AM to 5:00 PM
Sunday: 2:30 PM to 6:00 PM.
July and August (except July 17 and 25)

Monday: 10:30 AM to 4:00 PM (ticket office until 3:30 PM)

Tuesday to Saturday: 10:30 AM to 6:00 PM (ticket office until 5.00 PM)

Sunday: 2.00 PM to 7:00 PM (ticket office until 6.00 PM)
Opening times can change without notice due to the celebration of liturgies inside the enclosure.
Las Setas De Sevilla | The Metropol Parasol
Dubbed by locals La Setas – The Mushrooms, the Metropol Parasol is as iconic for the divide in local opinion about the structure as the structure itself.
The worlds largest wooden structure, designed by German architect Jürgen Mayer-Hermann offers one of the best places to watch the sun go down in Seville.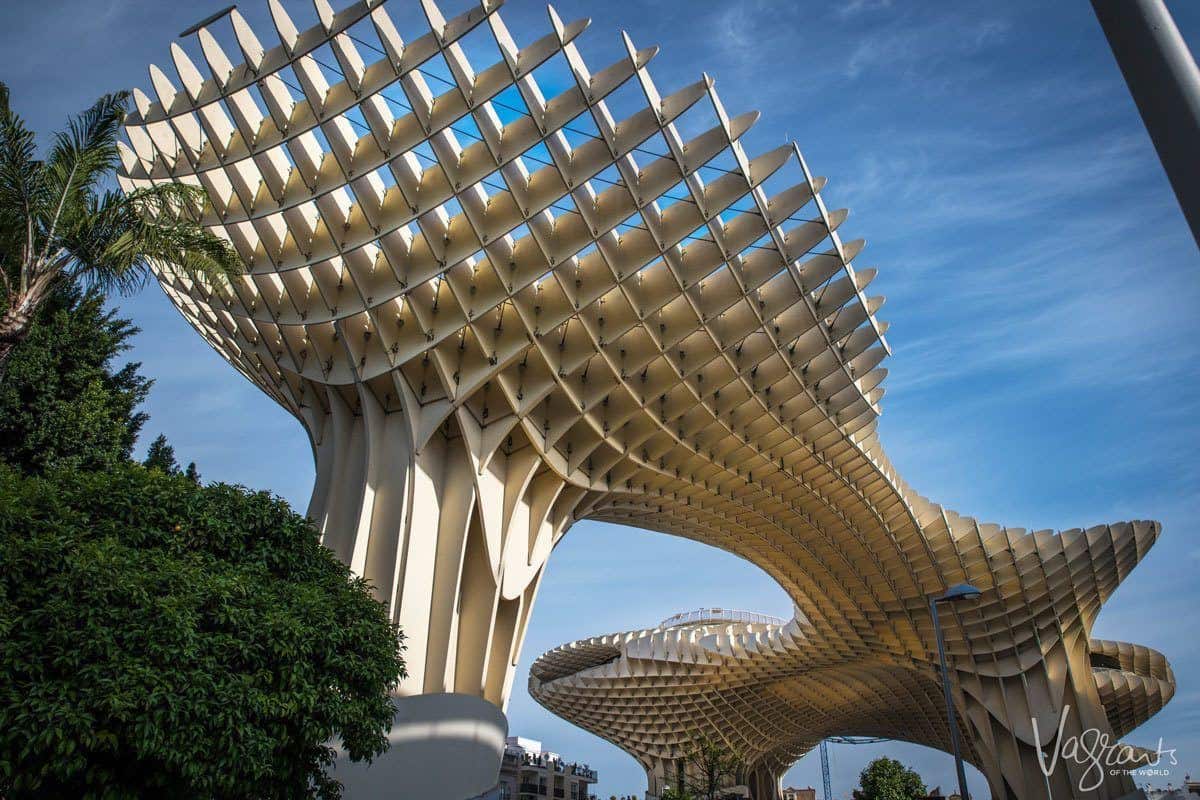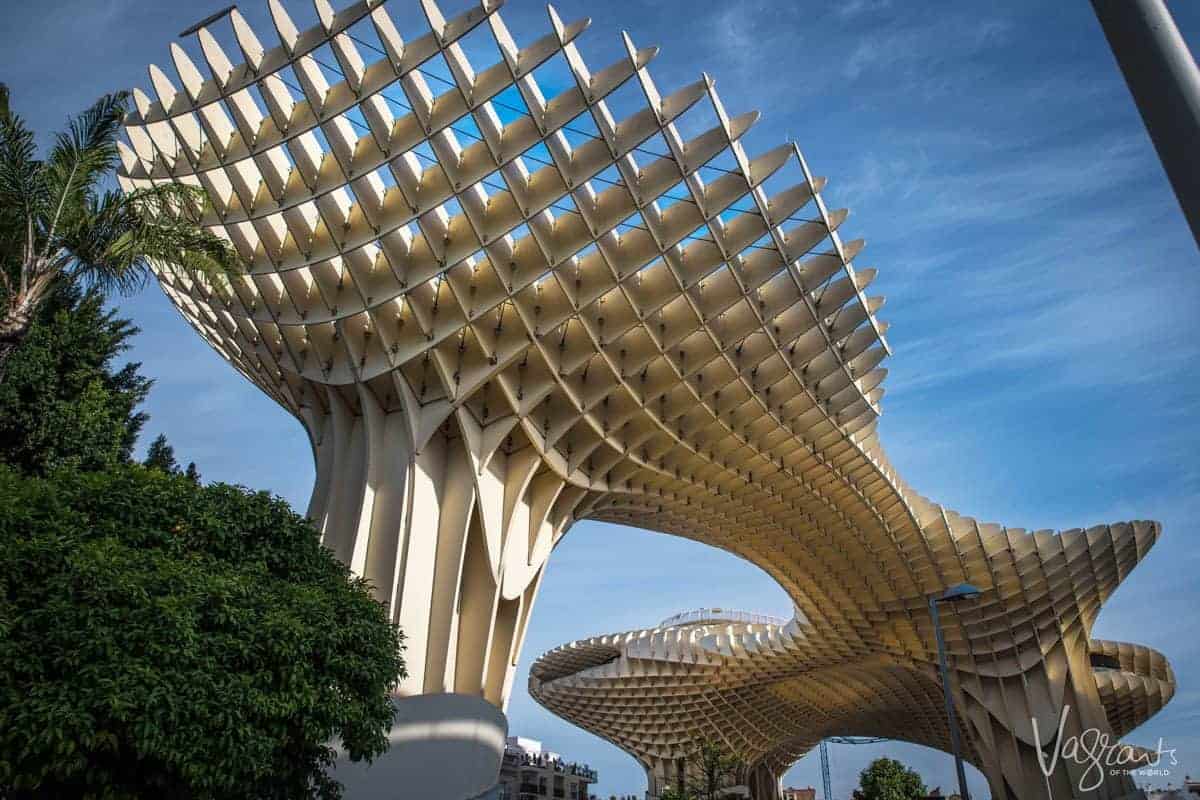 Take the lift to the top of the 30-metre high undulating honeycomb roof and follow the winding walkway for stunning views of the city. There's even a cafe that offers a worthwhile happy hour for sunset.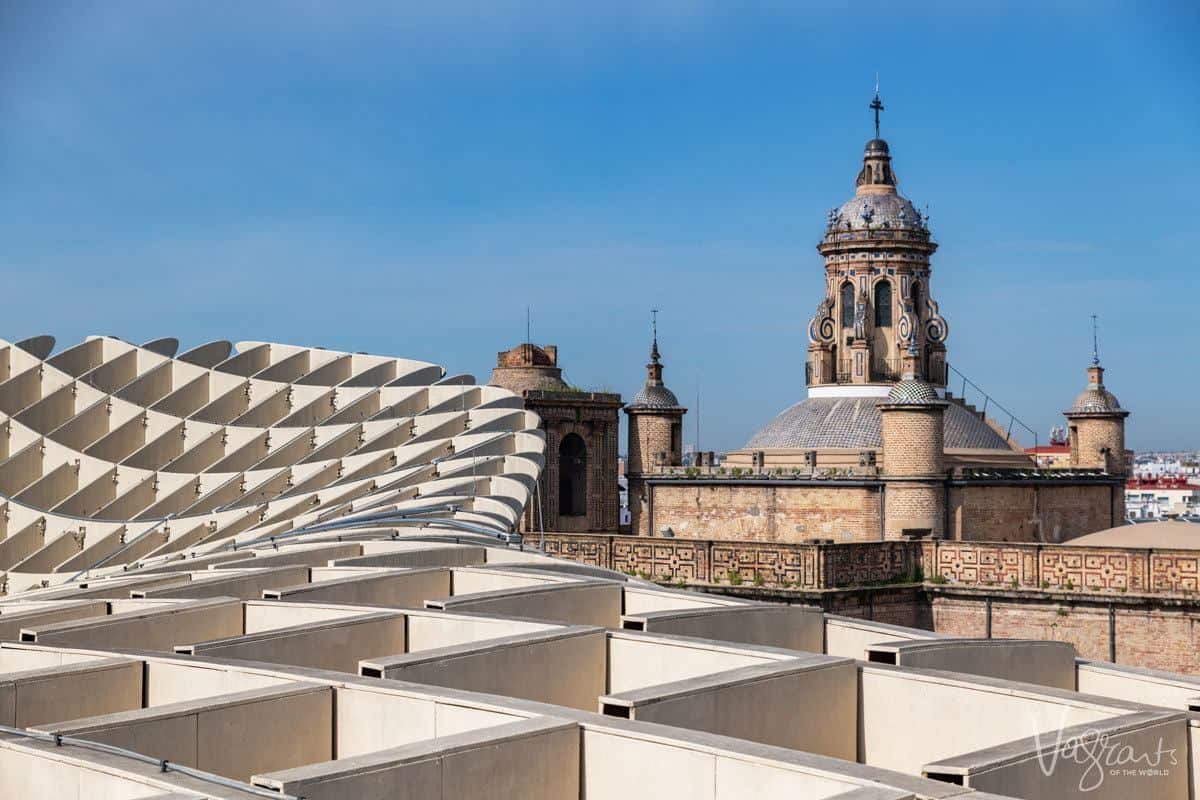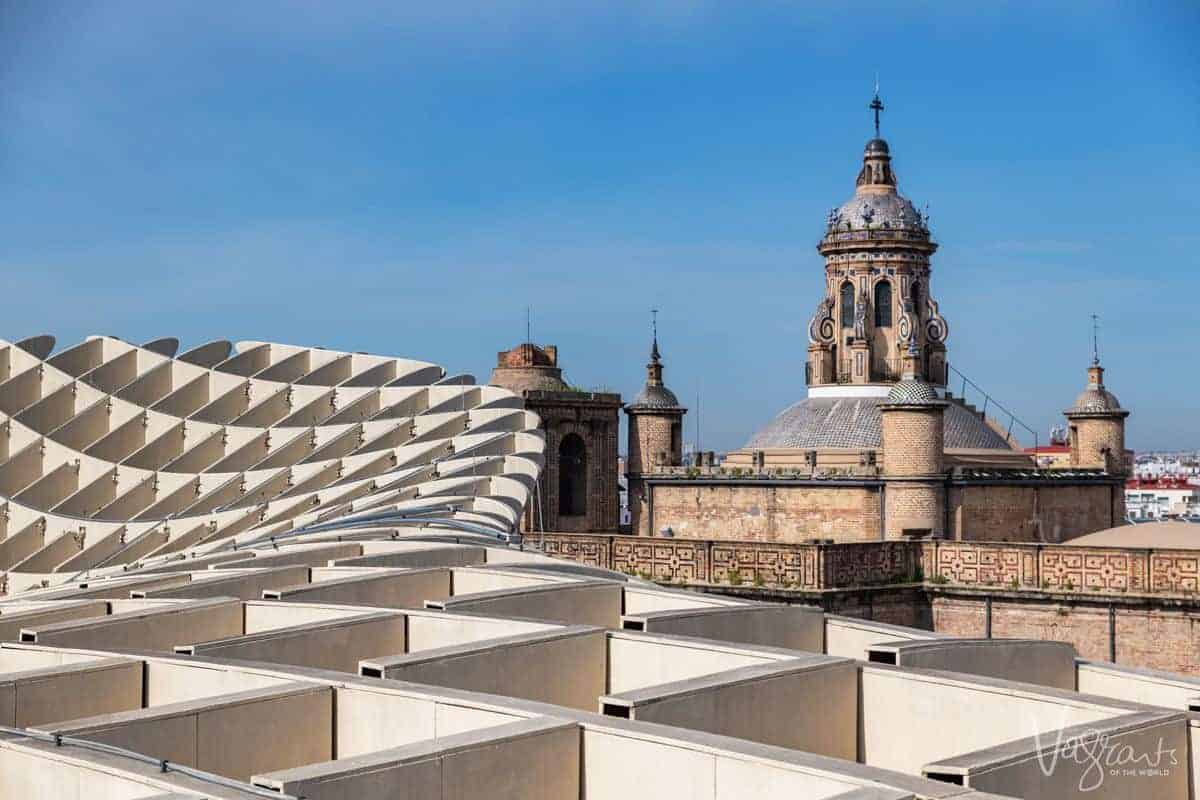 Head to the basement of the plaza and visit Museo Antiquarium to see the Roman ruins discovered during the construction of the Metropol Parasol.
Under the parasol is an open-air event space where you will find cafes, bars and a local produce market.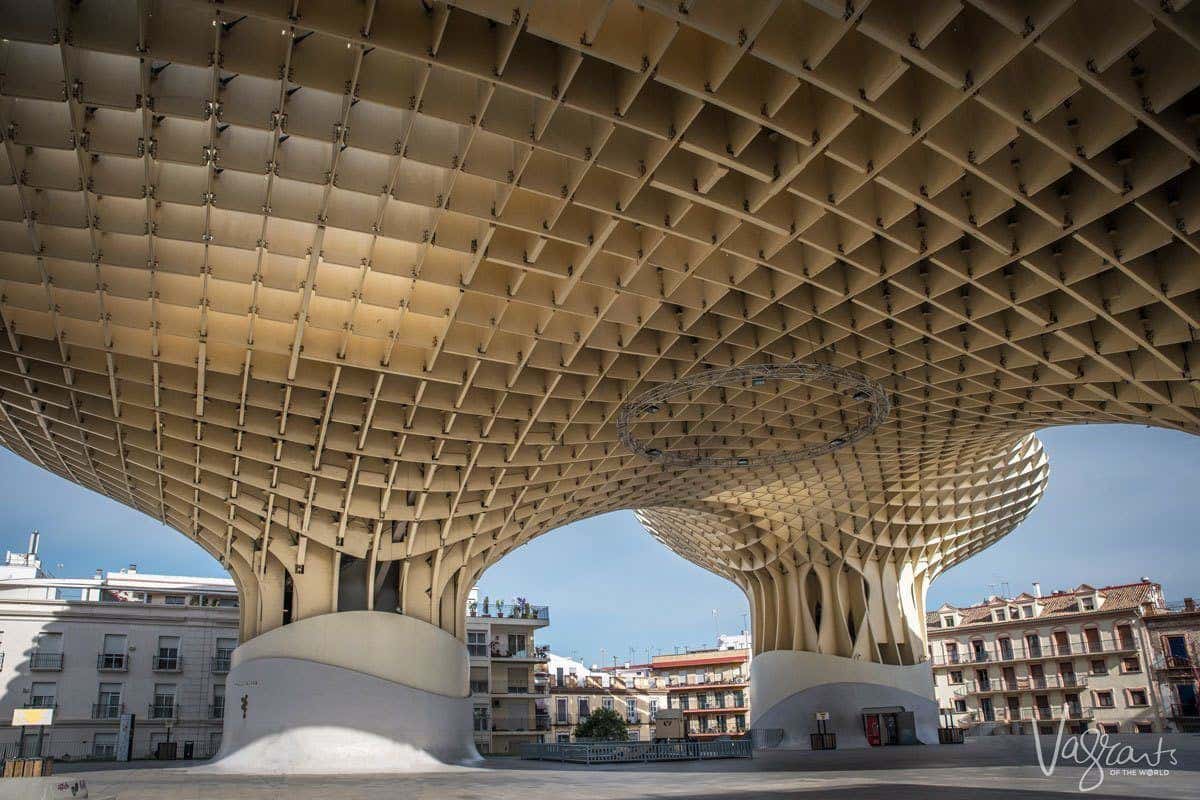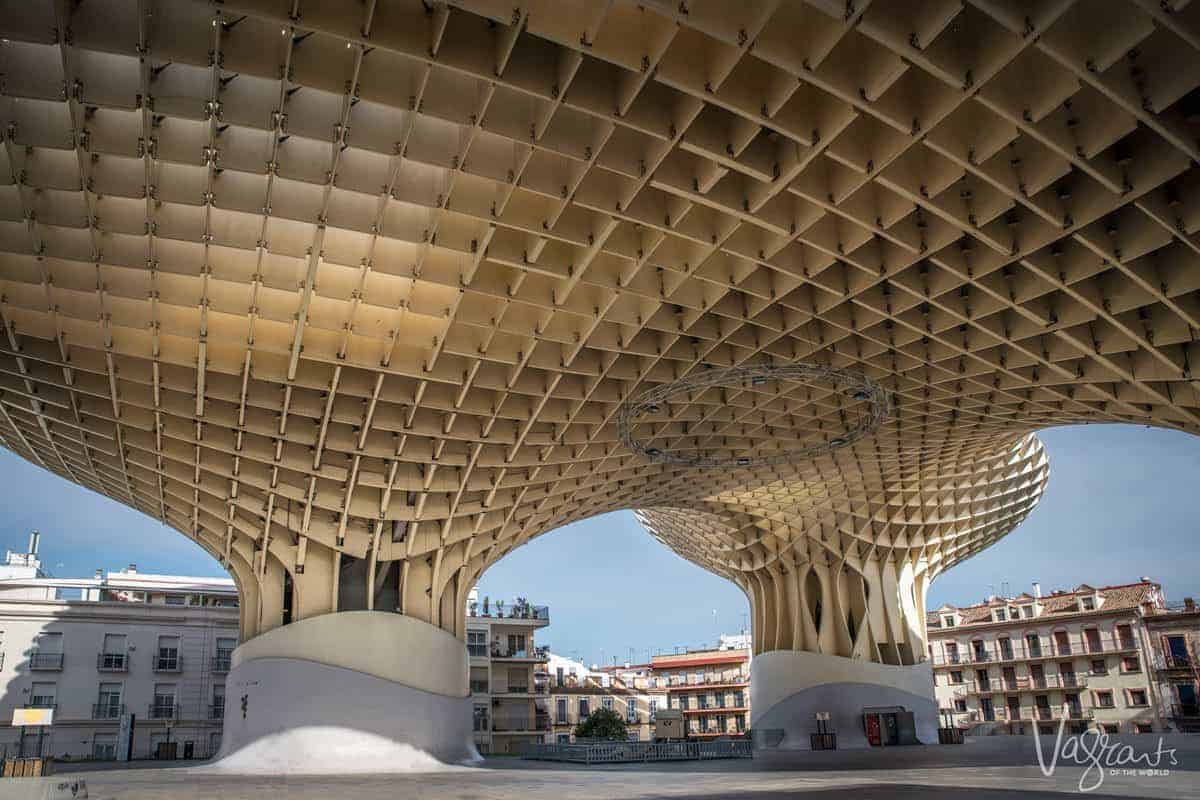 Visiting Las Setas De Sevilla
? Las Setas De Sevilla, Pl. de la Encarnación, s/n, 41003 Sevilla, Spain
Tickets for Las Setas De Sevilla
Admission to the viewpoint on top of the Metropol Parasol: €3 (Free for Seville residents)
Admission to the Antiquarium Museum: €2 (Free for Seville residents)
Opening Hours
The Metropol Parasol:
9.30 AM to 11.00 PM. (Ticket office will close 30 mins before closing time)
Antiquarium Museum:
Tuesday to Saturday: 10 AM to 8 PM. (Last entry 7:30 p.m.).
Sundays and holidays: 10 AM to 2 PM. (Last entry 1:30 p.m.).
Opening times may vary slightly on public holidays.
Seville City Tours
---
Parque María Luisa & Plaza de España
Parque María Luisa is one of the most beautiful inner-city parks in Spain. Walking distance from the centre of Seville, the city park is a beautiful reprieve from the city.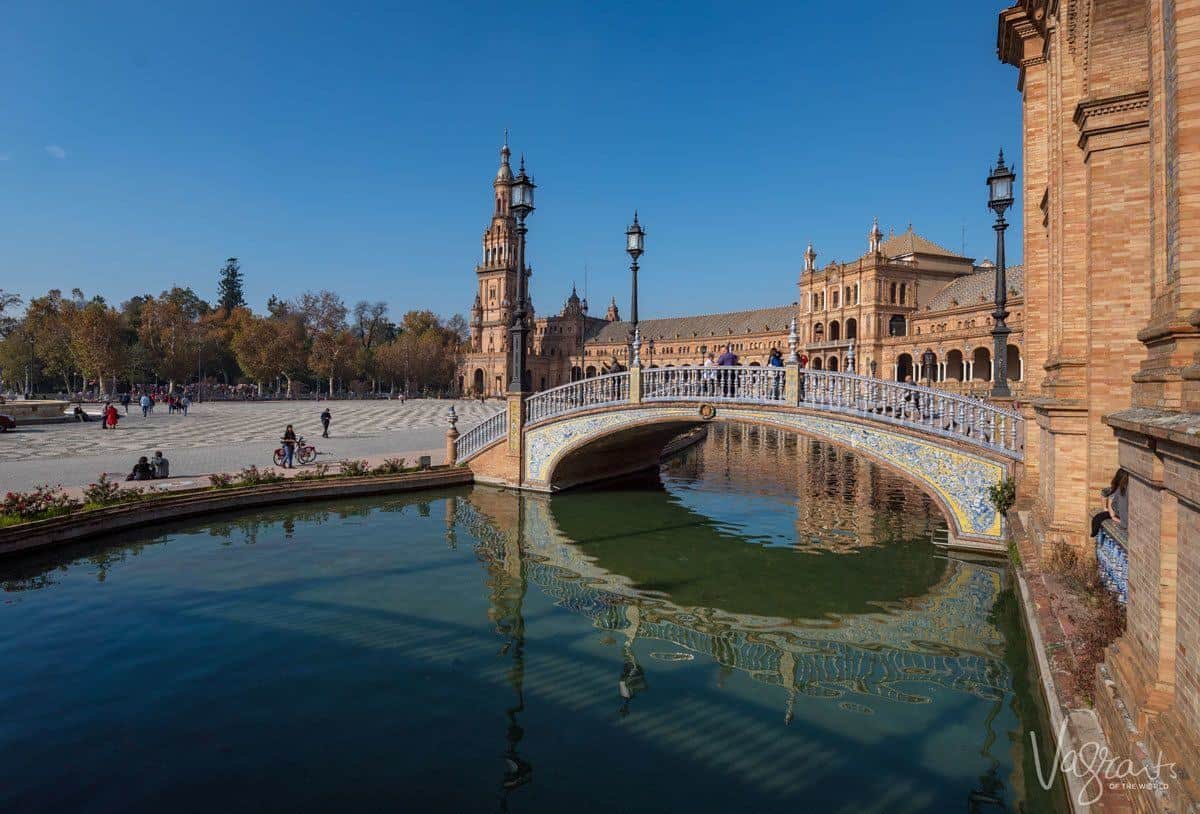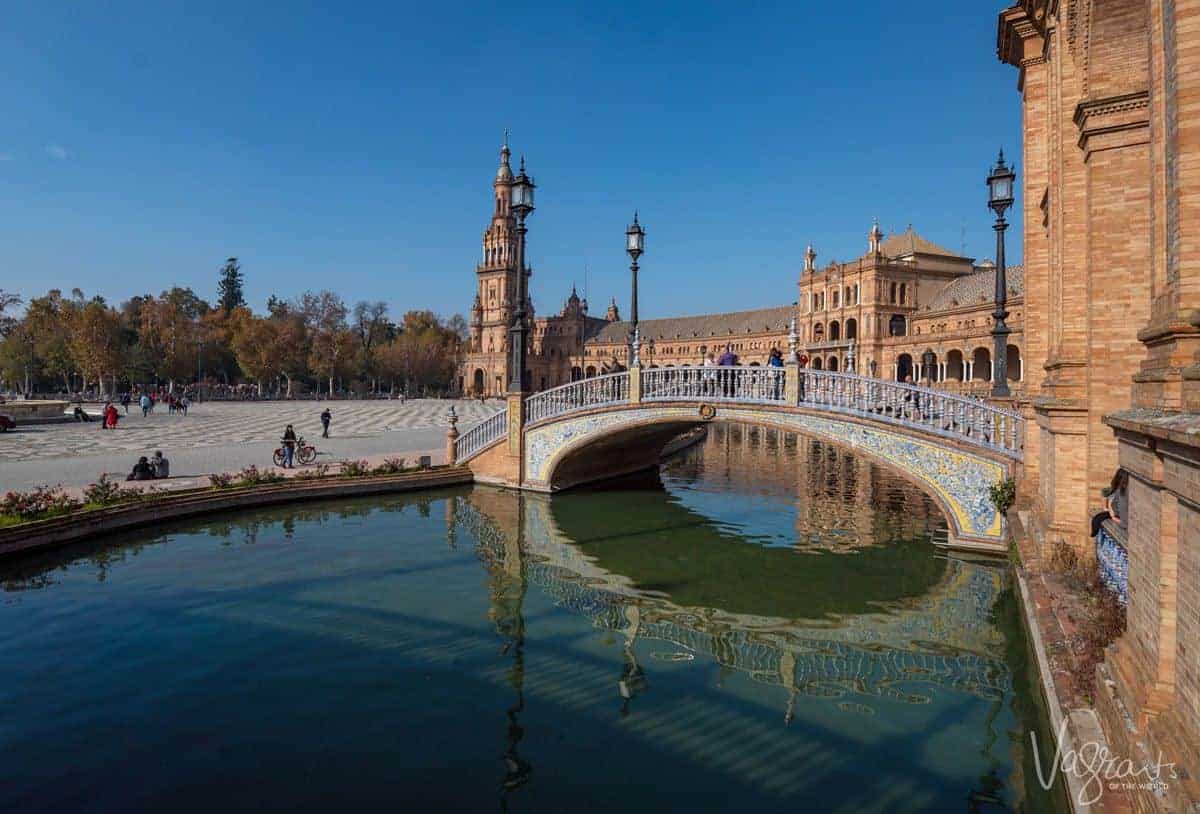 Formerly the private gardens of the Palace of San Telmo, the gardens were donated to the public in 1893 by the Duchess of Montpellier. To facilitate the 1929 Ibero-American Exhibition World's Fair, the gardens underwent a massive redesign with the addition of the stunning Plaza de España on the edge of the gardens.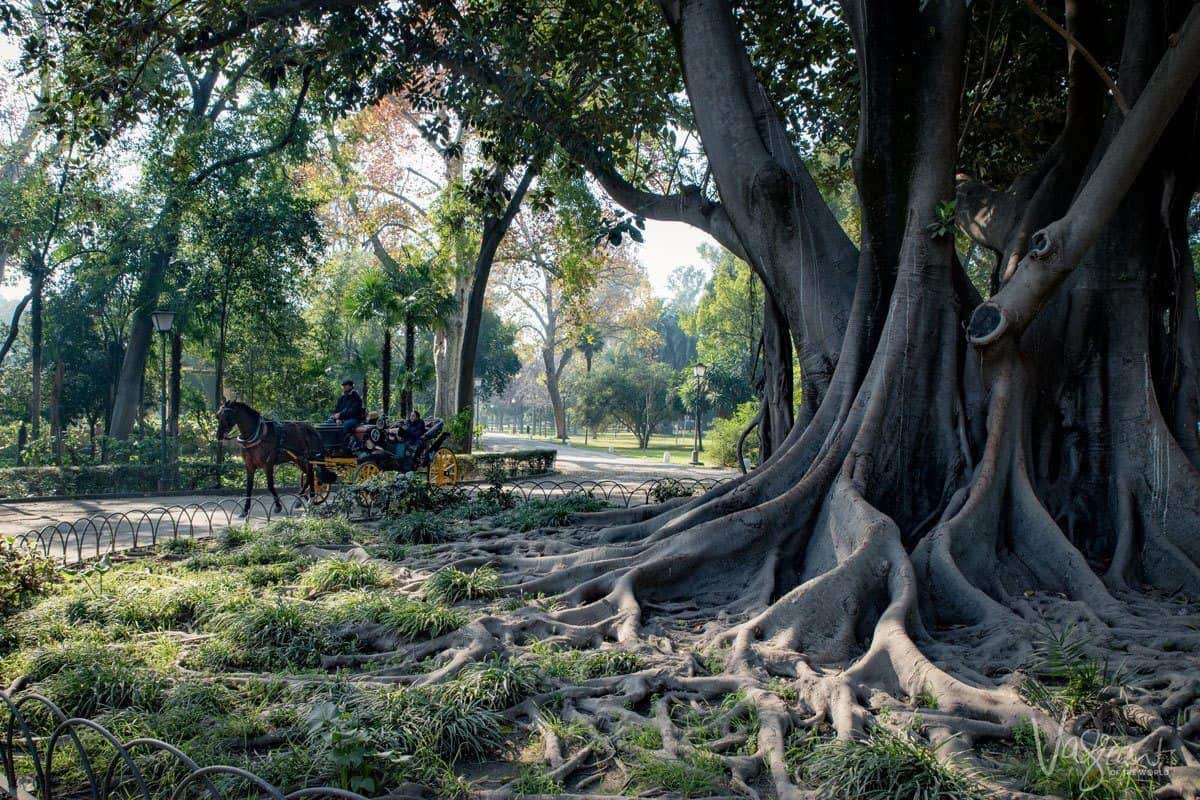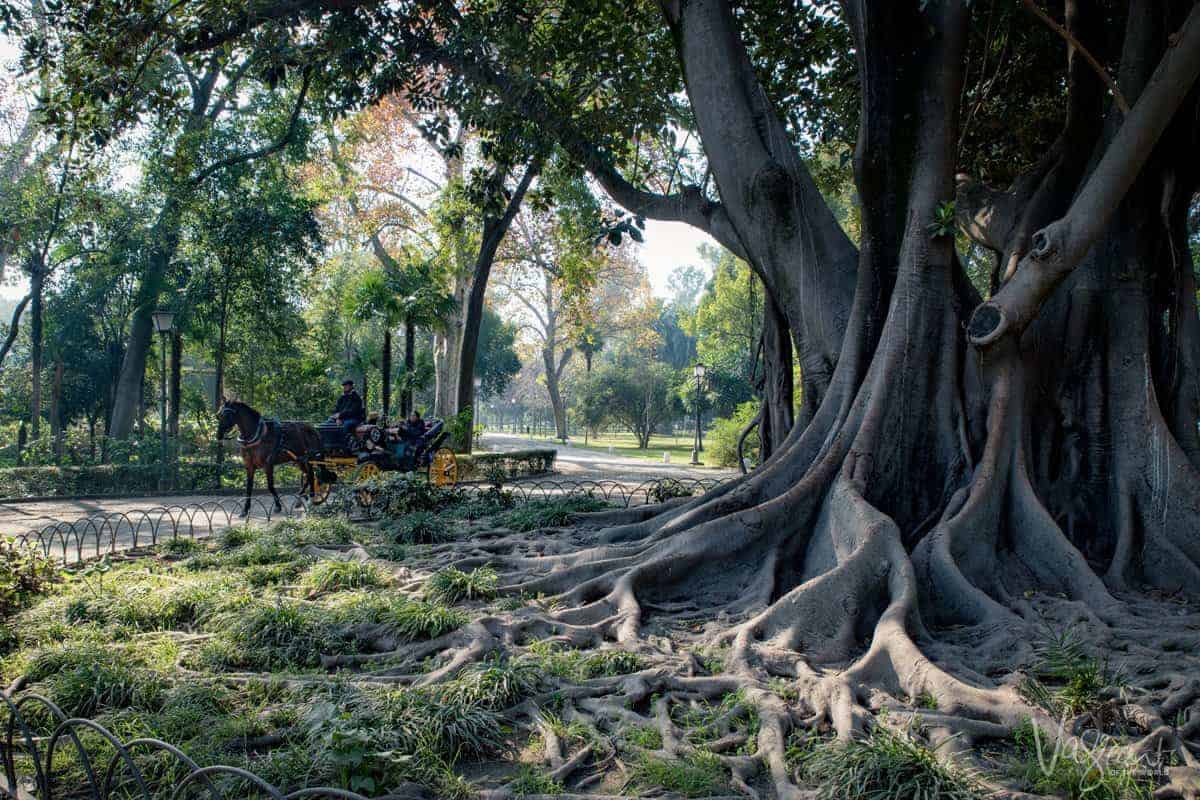 Wander Parque María Luisa's beautiful tree-lined boulevards to explore the park's monuments and pavilions.
Enjoy a picnic in the stunning gardens, take a horse-drawn carriage ride, hire bicycles or a cyclo bike for two, four or six. You can even take a rowboat around the Plaza de España canal.
Plaza de España really is the jewel in the park's crown. You'll see why the grand plaza has featured in scenes from Lawrence of Arabia, Star Wars, and, Game of Thrones.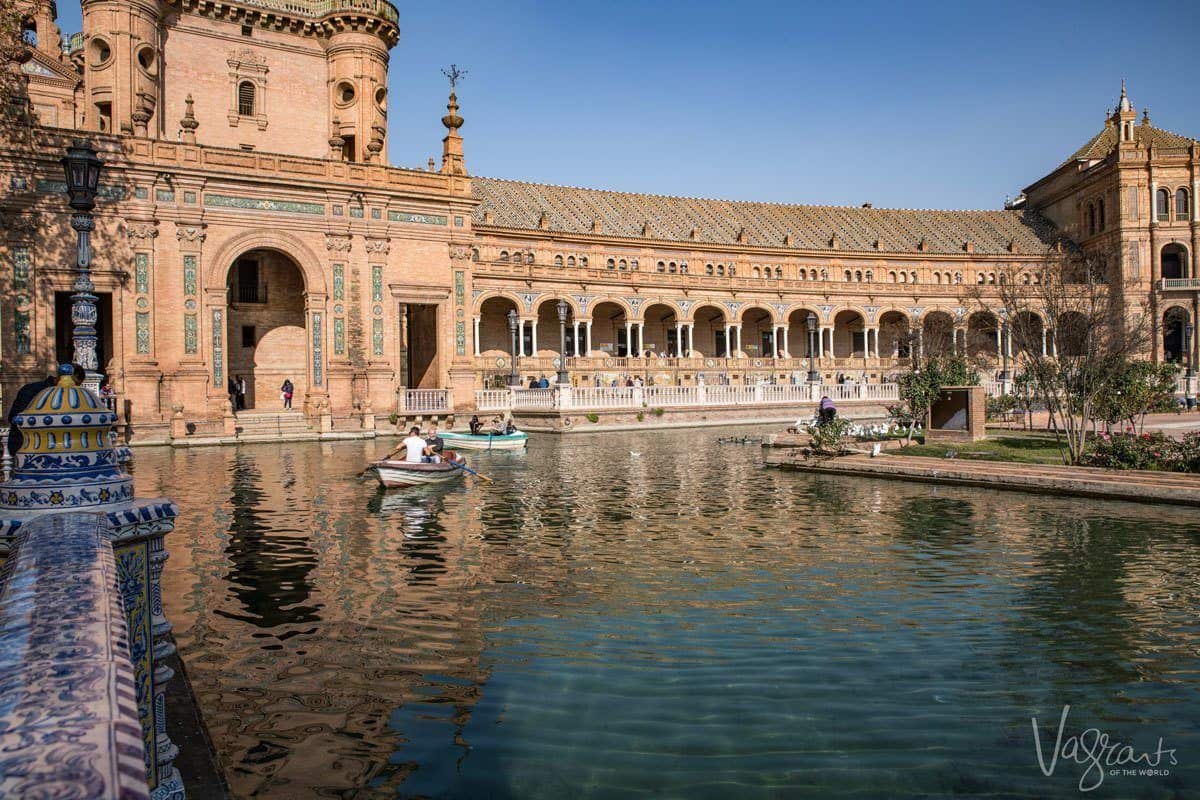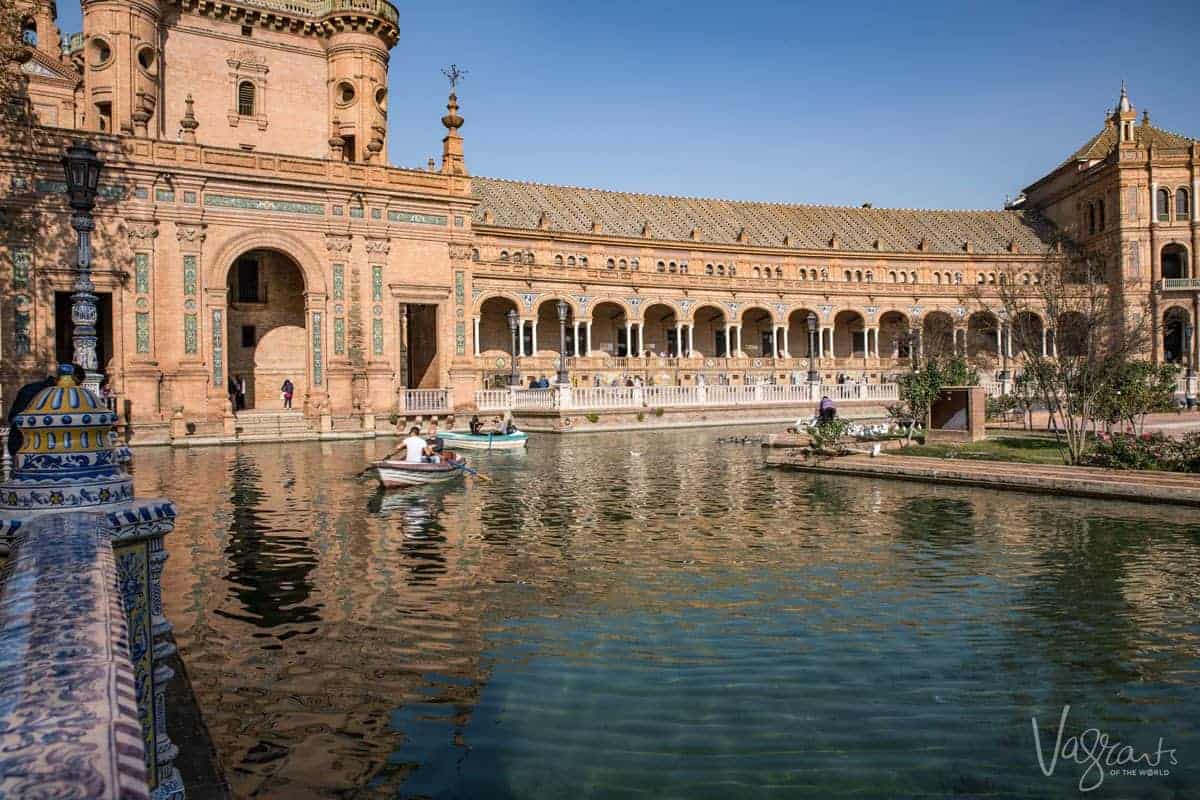 Visiting Parque María Luisa & Plaza de España
Entry
Free for both Parque María Luisa and Plaza de España.
Bike hire in the park varies. Expect to pay – €10 / 2 hr bicycle hire | €8 / 1 hr tandem bike | €10 / 2 person covered cyclo up to €48 / 6 person covered cyclo.
Opening Hours
Parque María Luisa:
Everyday 8.00 AM to 10.00 PM.
Plaza de España
Plaza de Toros de la Real Maestranza (Seville Bullring)
Take a backstage tour of Spains oldest and most beautiful bullring. The Plaza de Toros de la Real Maestranza de Caballería de Sevilla is where the sport of modern bullfighting began.
It is also considered to be one of the most beautiful bullrings in Spain.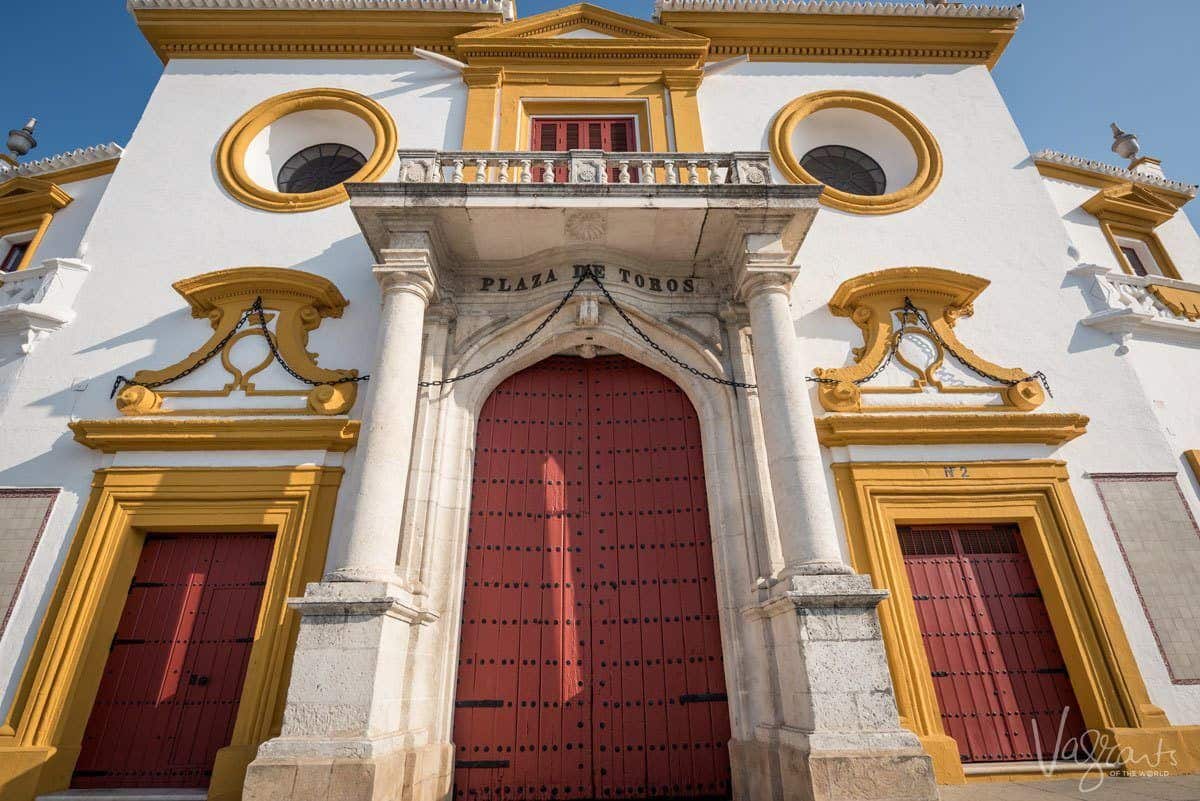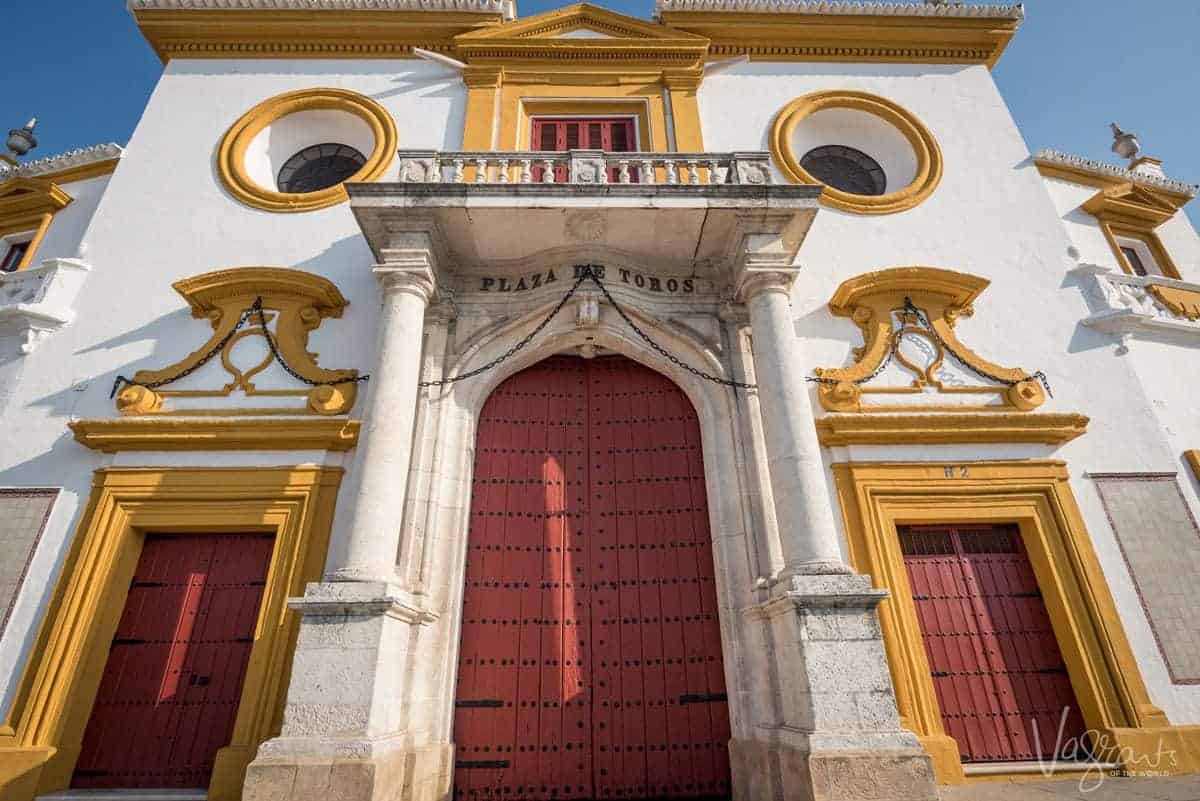 Built-in 1749 the ring has seating for 12,000 people. Today the bullfighting season is from April until September and is one of the best-known festivals in the world. The best time to see a bullfight is during Seville's annual April fair.
You can see the complete bullfighting schedule for Seville here.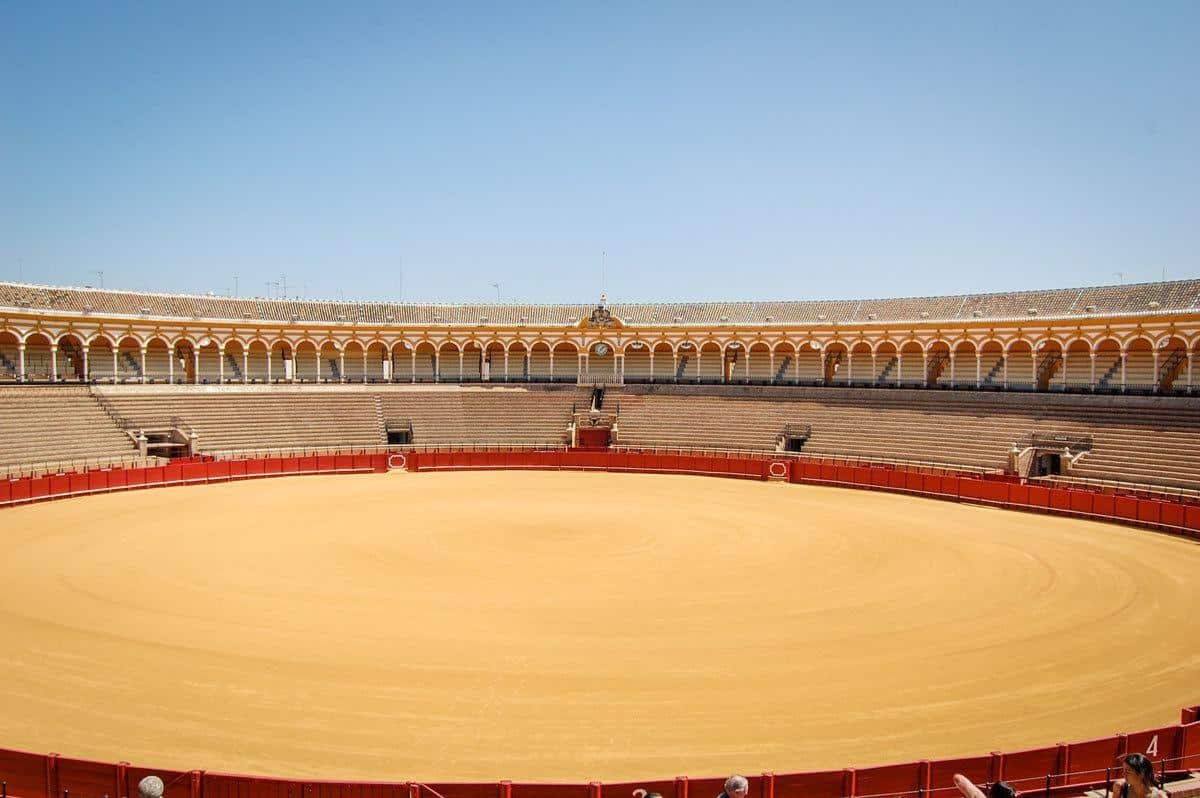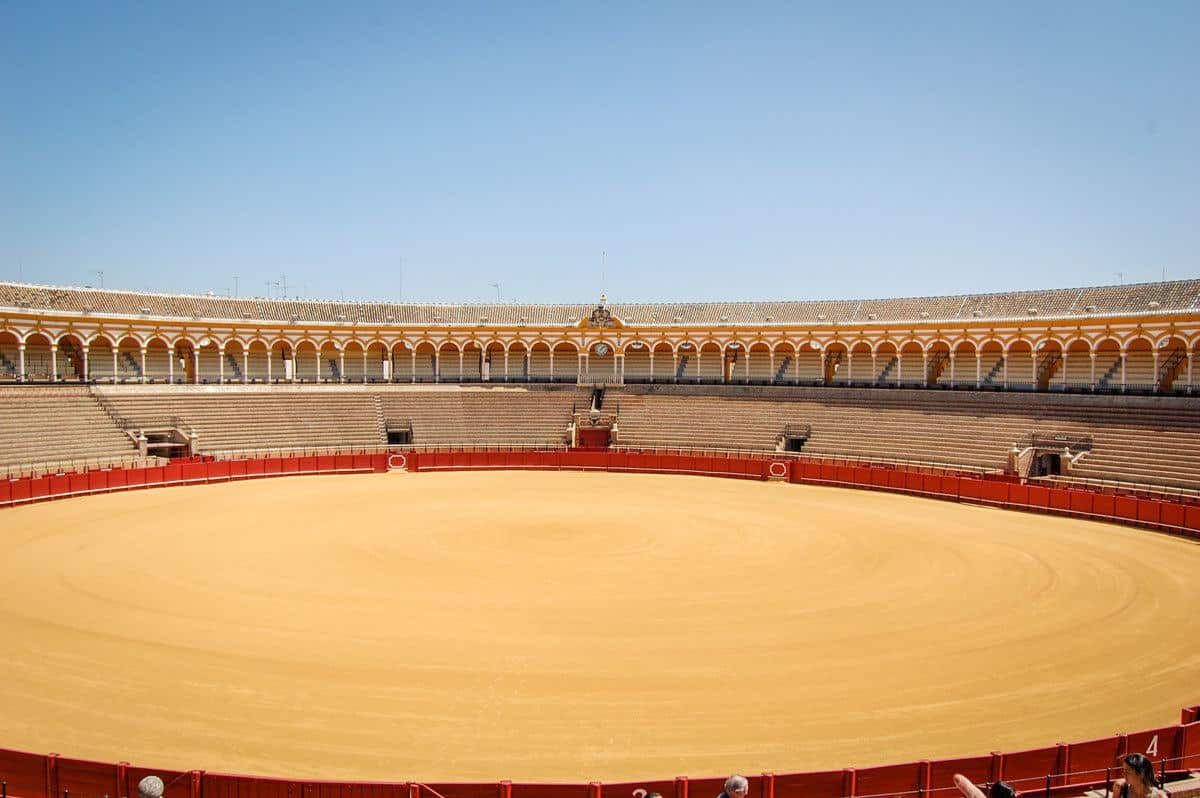 If you don't want to see a bullfight, take a tour for a "backstage" look at the ring, the bullfighting museum and gallery full of traditional bullfighting art. There is even the small chapel where the toreros pray before entering the ring.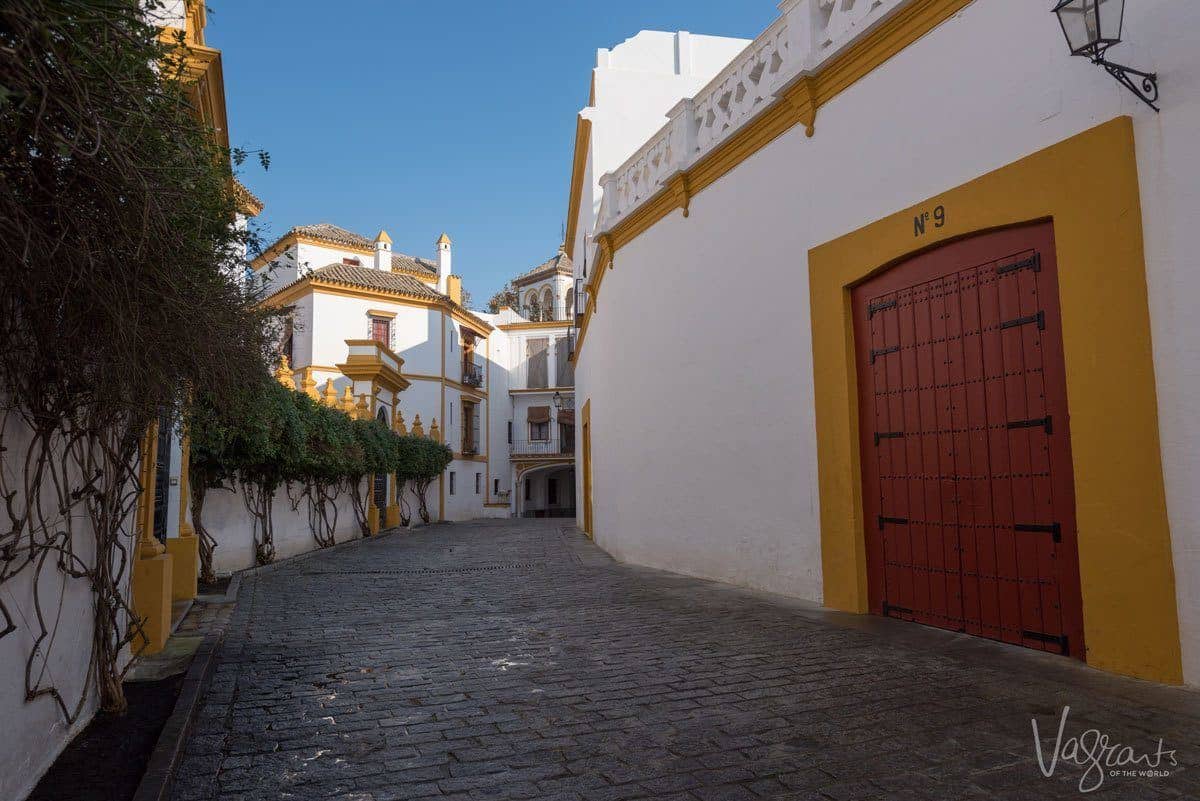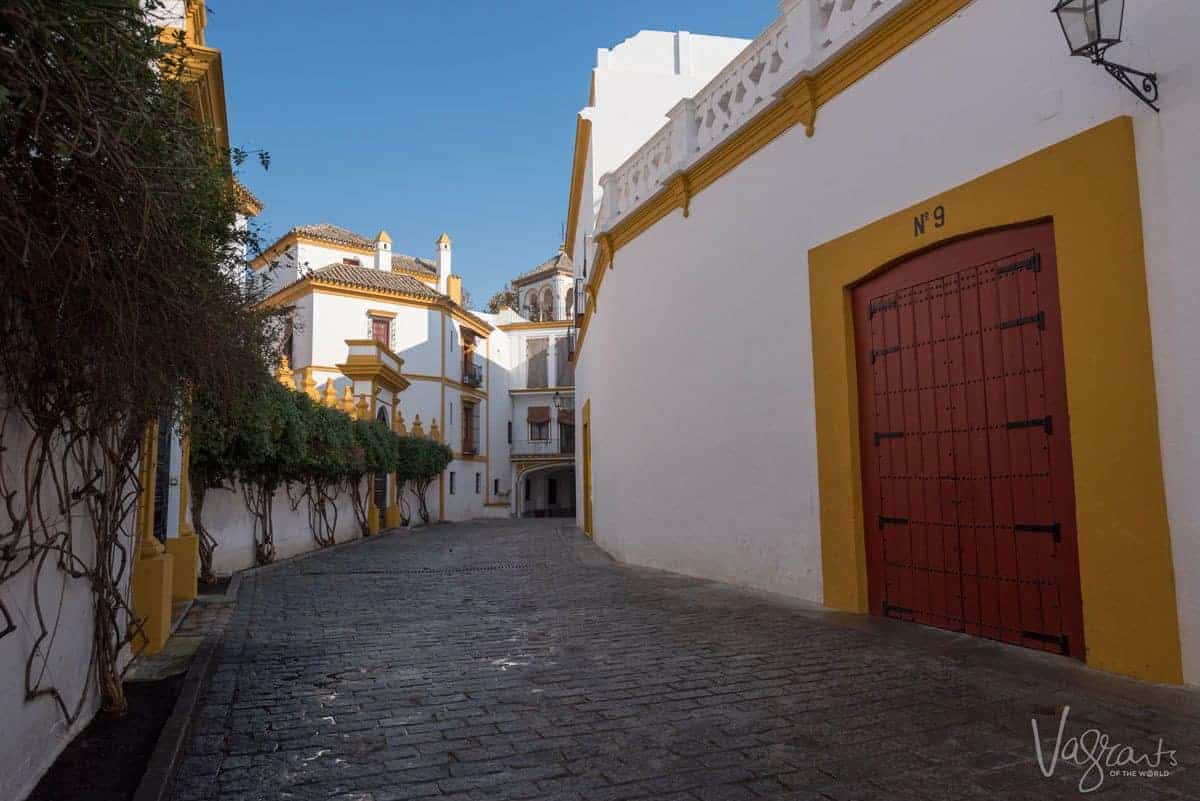 Tickets for Plaza de Toros Museum and Visit
You can buy tickets online through the official website which is advisable, especially in the peak tourist months of summer. You may only visit by way of a guided tour with allocated tour times.
General Entry:

€8

Reduced Entry:

€5

Children:

€3
Entry is free on Monday afternoons after 3.oo PM although, be early as queues for this will be long.
Opening Hours
November to March: 9.30 AM to 7.00 PM
April to October: 9.30 AM to 9.00 PM
Day of Bullfighting: 9.30 AM to 3.00 PM
Holy Friday: 9.30 AM to 3.00 PM
Closed Christmas Day
Torre del Oro
The Torre del Oro (Golden Tower) is a 36-metre military watchtower on the banks of the Guadalquivir River built during the 13th century. Despite various legends and theories of how its name came to be, Torre del Oro owes its name to the golden reflections produced on the water by the tiles that covered it.
In the 11th century, the tower was intended as an escape route for Kings. They could follow the wall from the bronze and silver towers and escape the city by boat from the gold tower.
The Golden Tower is currently used as a small but interesting maritime museum. Visitors can walk the two levels of the museum before stepping out onto the roof for views over Seville and the Guadalquivir River.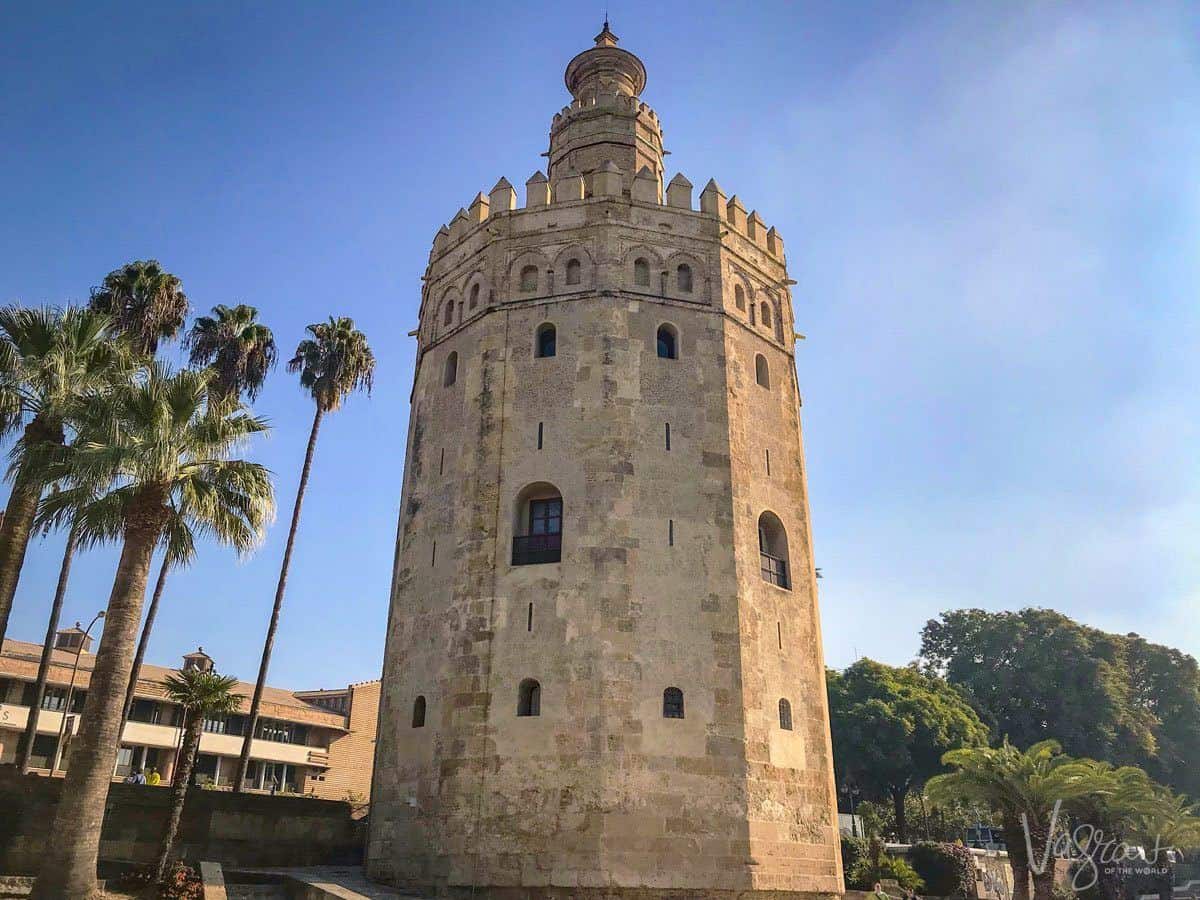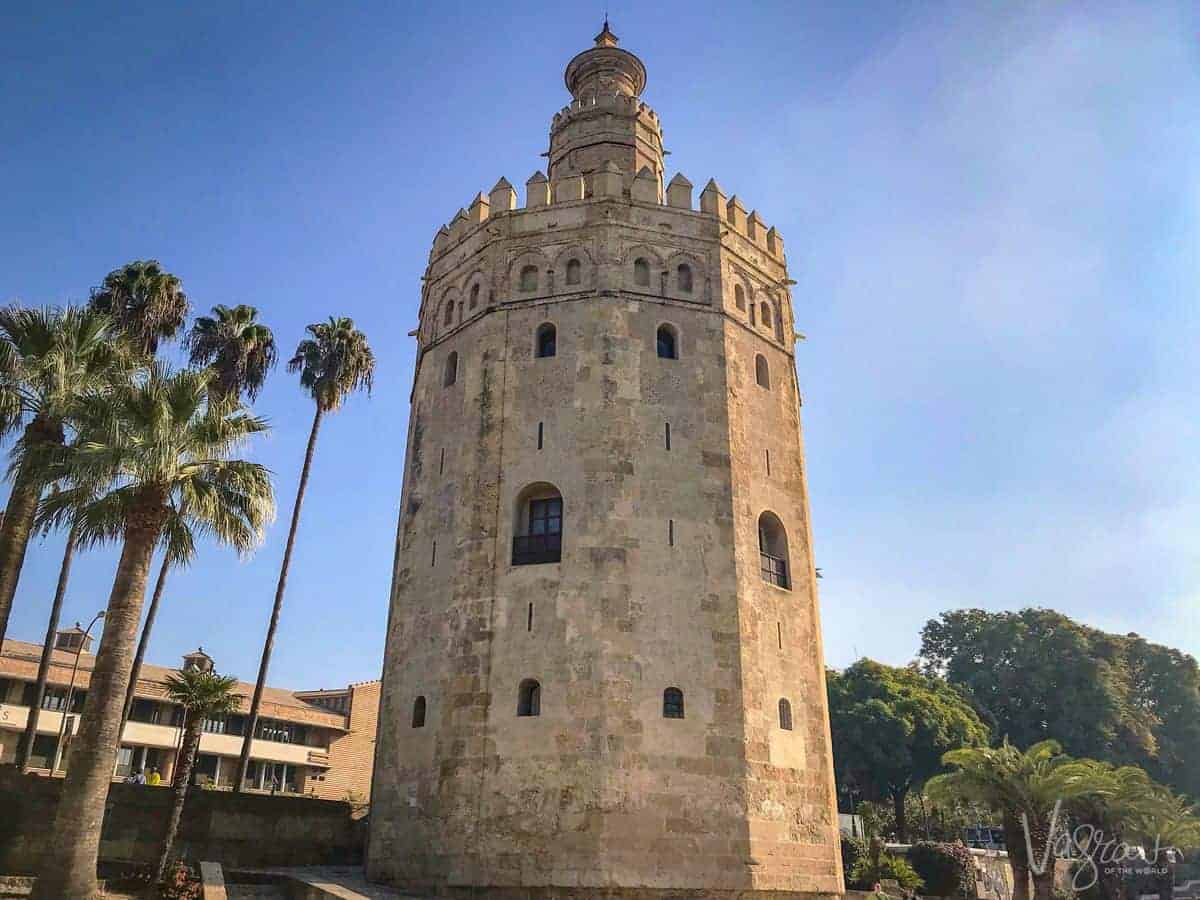 Tickets for Torre del Oro
General Entry:

€3

Entry is Free on Mondays
Opening Hours
Monday to Friday: 9:30 AM to 6:45 PM.
Saturday and Sunday: 10: 30 AM to 6: 45 PM.
Holidays: Closed.
Casa de Pilatos
One of Seville's lesser-known treasures, the stunning mansion built between the15th – 16th-centuries, while on a smaller scale, is on par with the Royal Alcázar.
Casa de Pilatos (Pilate's House), is renown for its grand patio, exquisite gardens, and collection of coloured azulejos tiles.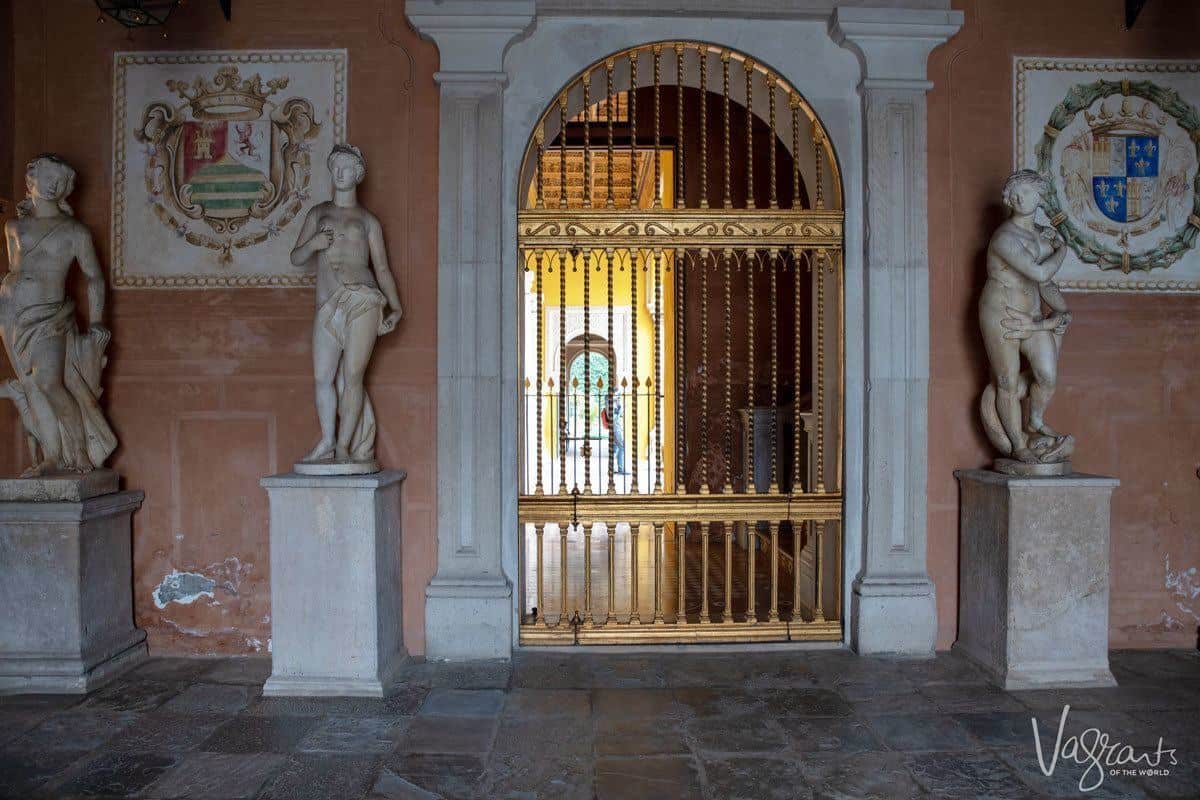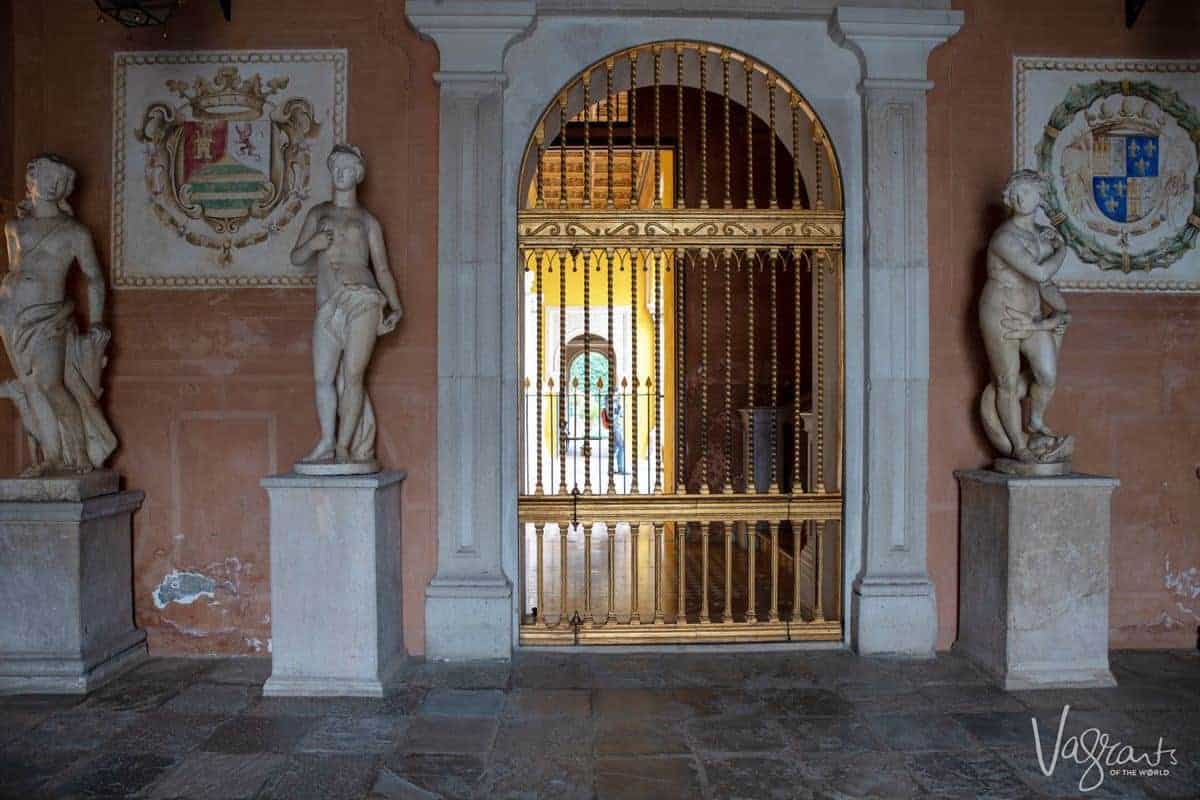 One of the largest collections of azulejo tiles in the world, Casa de Pilatos has over 150 different azulejo designs by brothers Diego and Juan Pulido in the 1530s'.
The palace was a key film location in the 1962 movie Lawrence of Arabia and has since been the location for the movie Knight and Day with Tom Cruise and Cameron Diaz and two Ridley Scott films.
The present Duchess of Medinaceli still lives with her descendants and family in a private wing of the palace.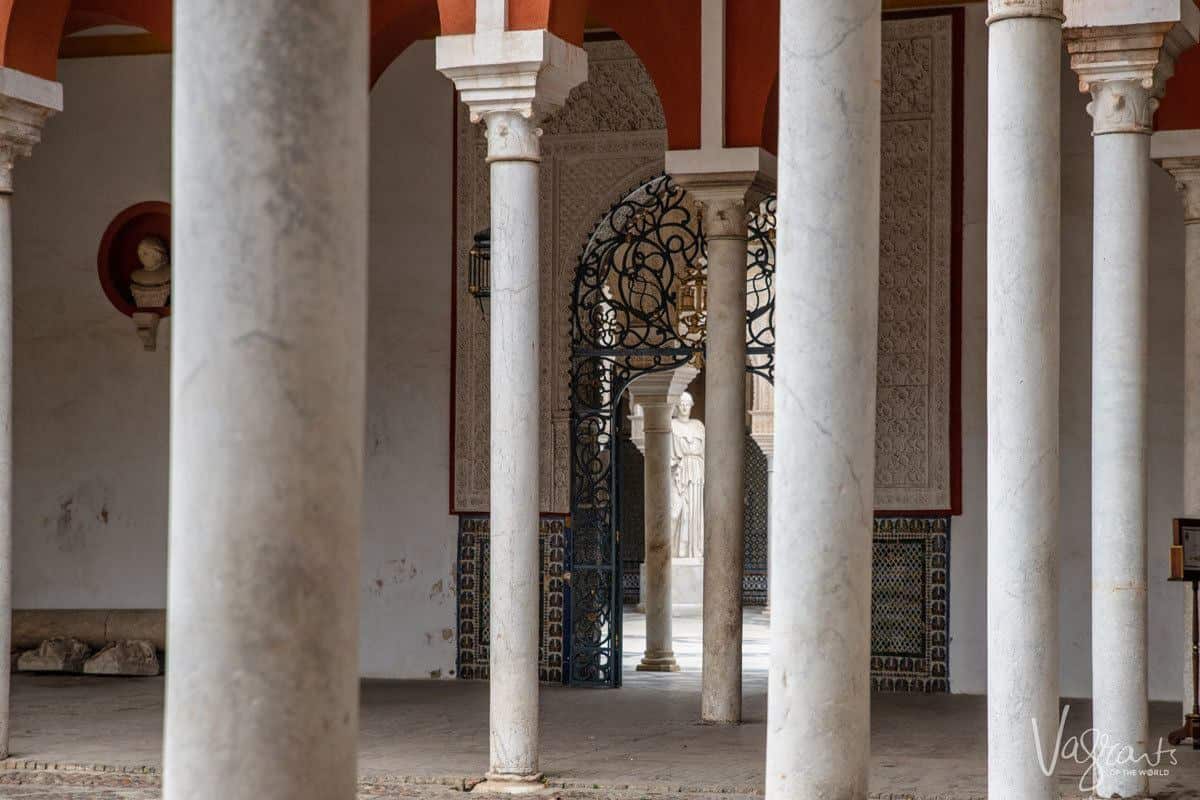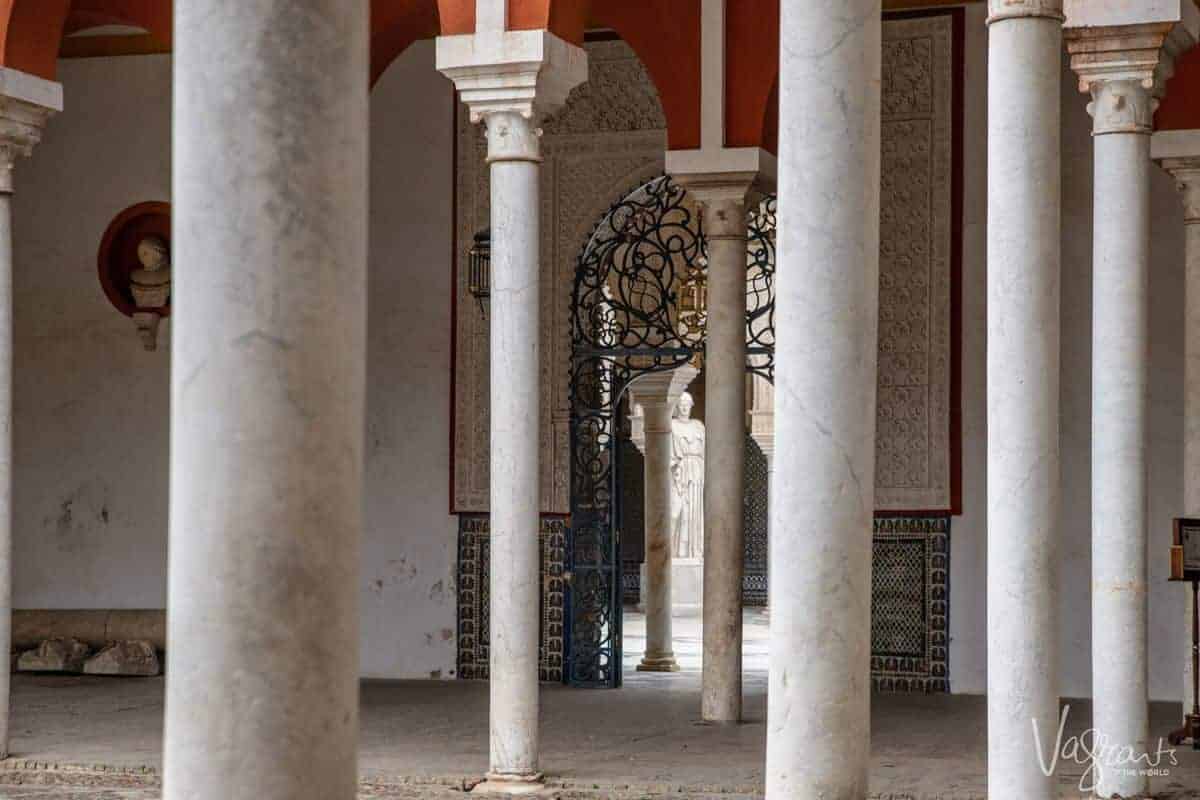 Visiting Casa Pilatos
?Casa de Pilatos, 1 Plaza de Pilatos, Seville, Spain
Entry
You can choose to visit only the ground floor or both the lower and upper floors. Tours of the upper floor are guided only. Each tour is approximately half an hour.
Ground floor: 10 €
Ground and upper floors: 12 €
Entry is free from 3 PM on Wednesdays for EU citizens. Show your ID card or passport at the entry.
Opening Hours
November to March: 9.00 AM to 6.00 PM
April to October: 9.00 AM to 7.oo PM
THINGS TO DO IN SEVILLE'S NEIGHBOURHOODS
Seville's neighbourhoods –barrios sprawl outward from the city's main sightseeing hub, El Centro. While the barrios of Seville may not be home to some of the big-ticket attractions, there is still plenty of reasons to explore them.
Venture beyond the centre, and you'll not just glean a little insight into Sevillano culture, you'll find in Seville, there's a hidden gem around every corner. Here are just a few reasons to explore the neighbourhoods of Seville.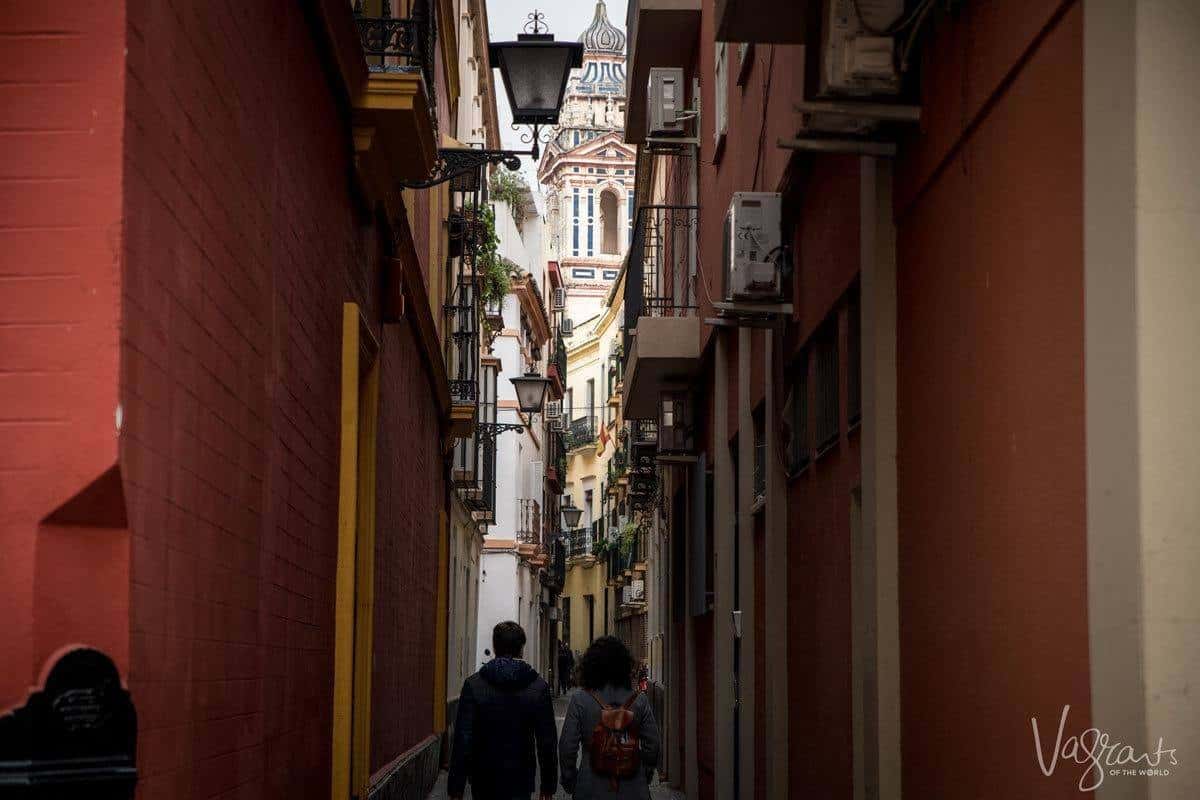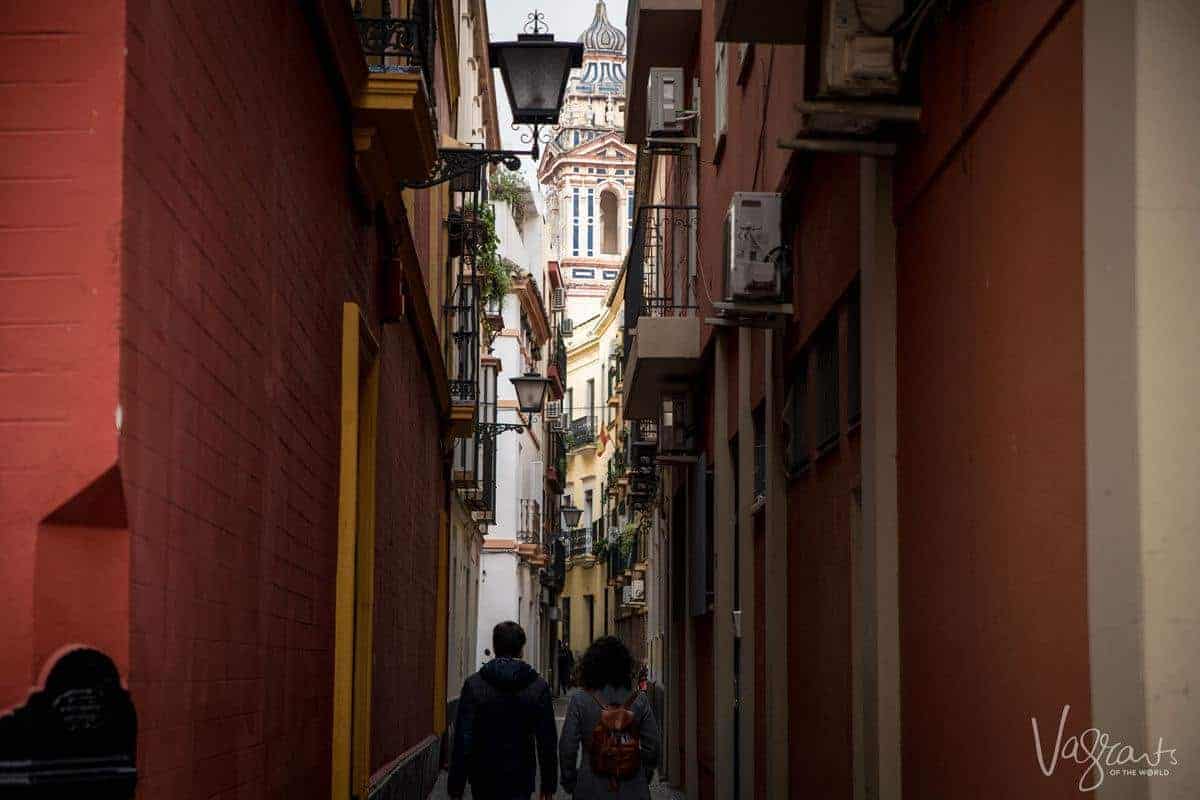 Seville's Round Plaza – Plaza del Cabildo
In the Arenal neighbourhood, you will find Plaza del Cabildo, only a short distance from Seville Cathedral but rarely discovered by visitors. The wonderfully ornate round plaza is one of the few round plazas in Seville.
Access to the plaza is via three discreet arcades through the building that forms the semi-circular plaza. Perhaps this is how it remains one of the cities best-kept secrets.
On a Sunday morning, you will find a collectors market in the plaza that attracts collectors of stamps, antiques and all kinds of curiosities. There is a restaurant inside the plaza as well as a shop that sells confectionaries produced by local convents.
? Plaza del Cabildo, 41001 Sevilla, Spain
---
Get Lost in Barrio Santa Cruz (The Jewish Quarter)
Barrio Santa Cruz is one of the most ancient and authentic areas of the city. Before the Spanish Inquisition in the late 15th Century, Santa Cruz was Seville's Jewish quarter. Many of the churches in the barrio were originally synagogues.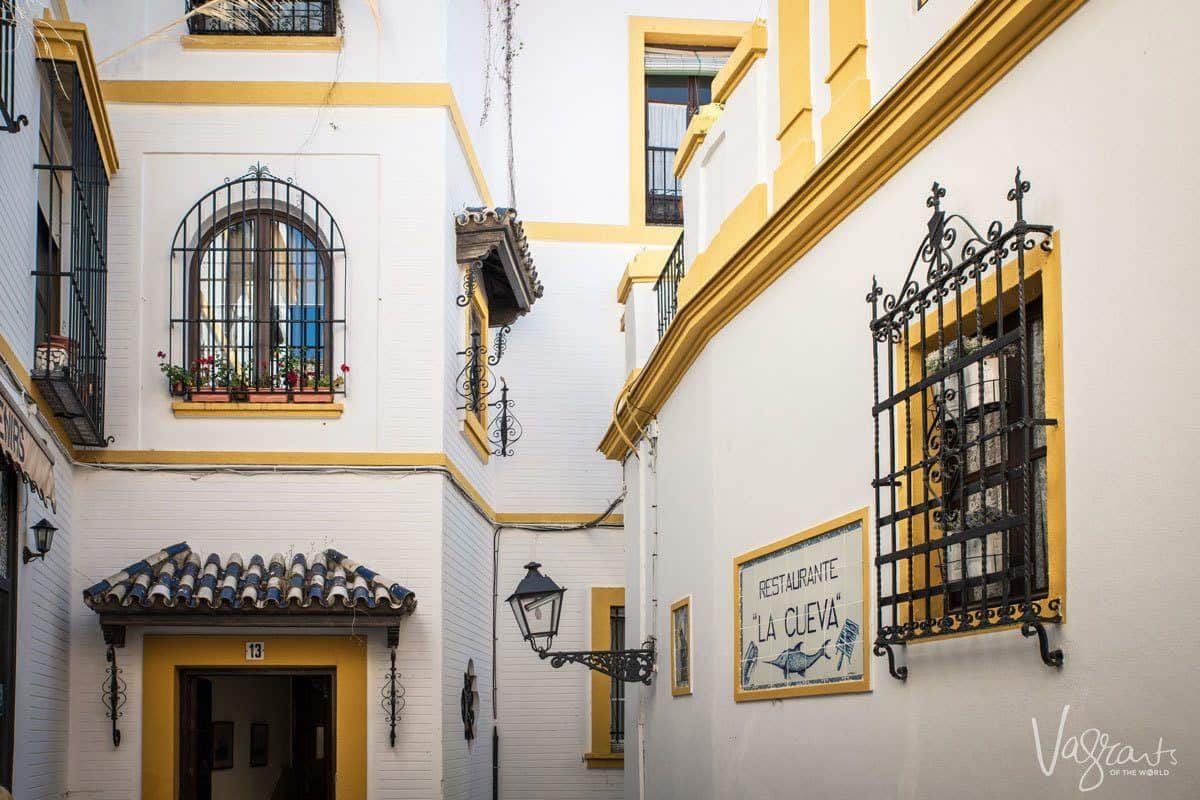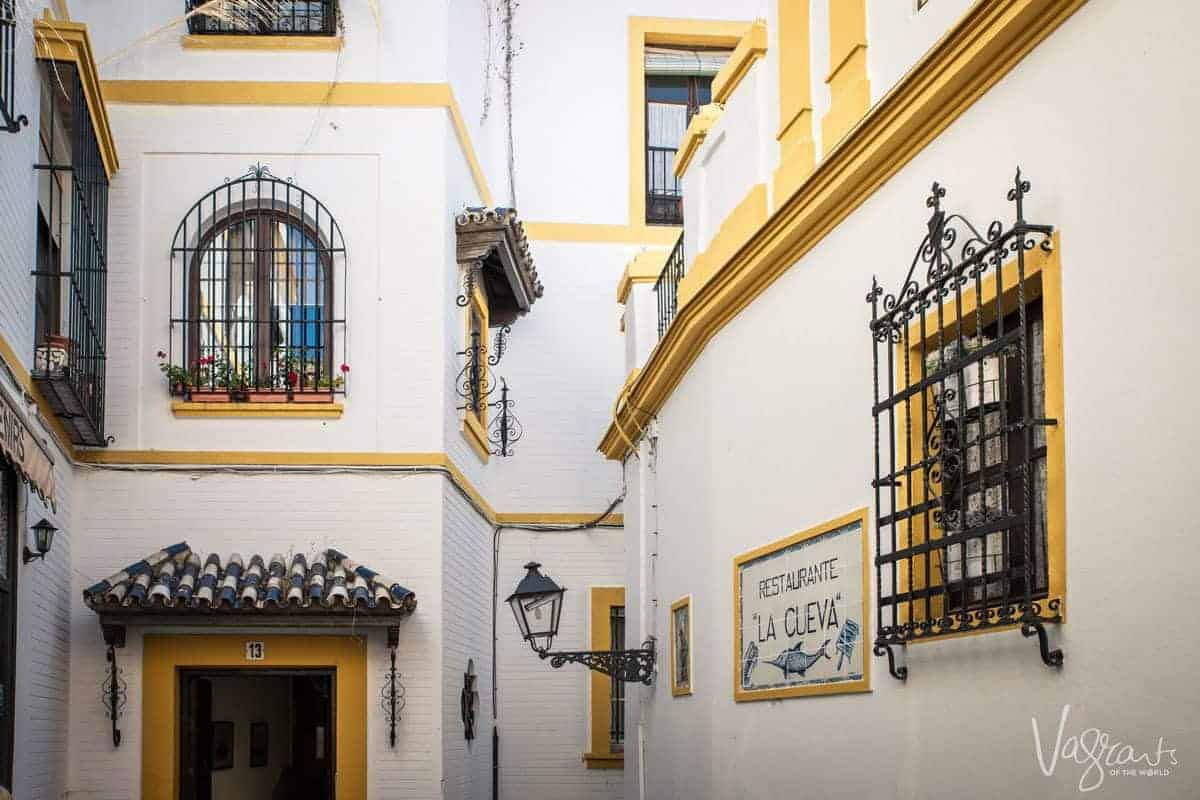 This charming neighbourhood is the place to get lost in Seville. Known for its artisan shops and tapas bars, strolling the narrow twists of streets and plazas, you can get an understanding of ancient Seville. Be on the lookout for the narrowest street in the city – Calle de los Besos, the street of kisses and don't miss the Patio de las Banderas.
Barrio Santa Cruz is adjacent to Seville's El Centro neighbourhood, only a short walk from the Cathedral.
? Santa Cruz, Seville, Spain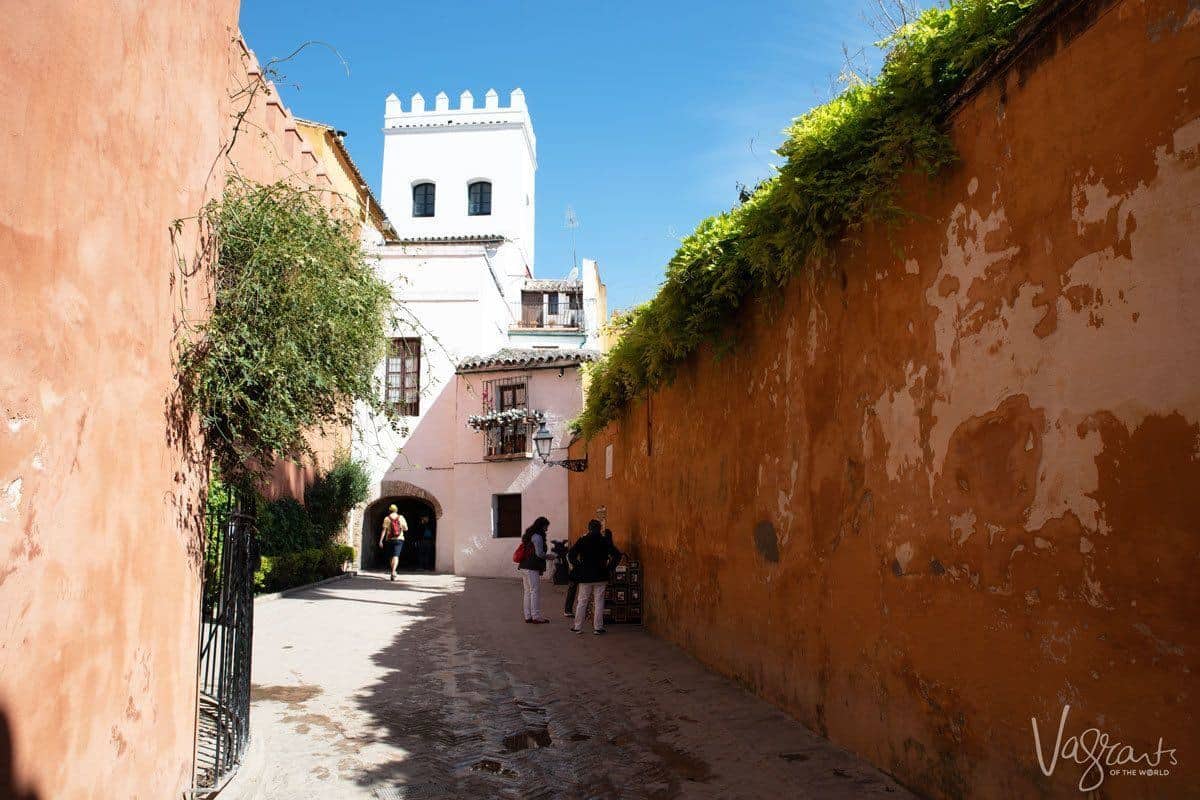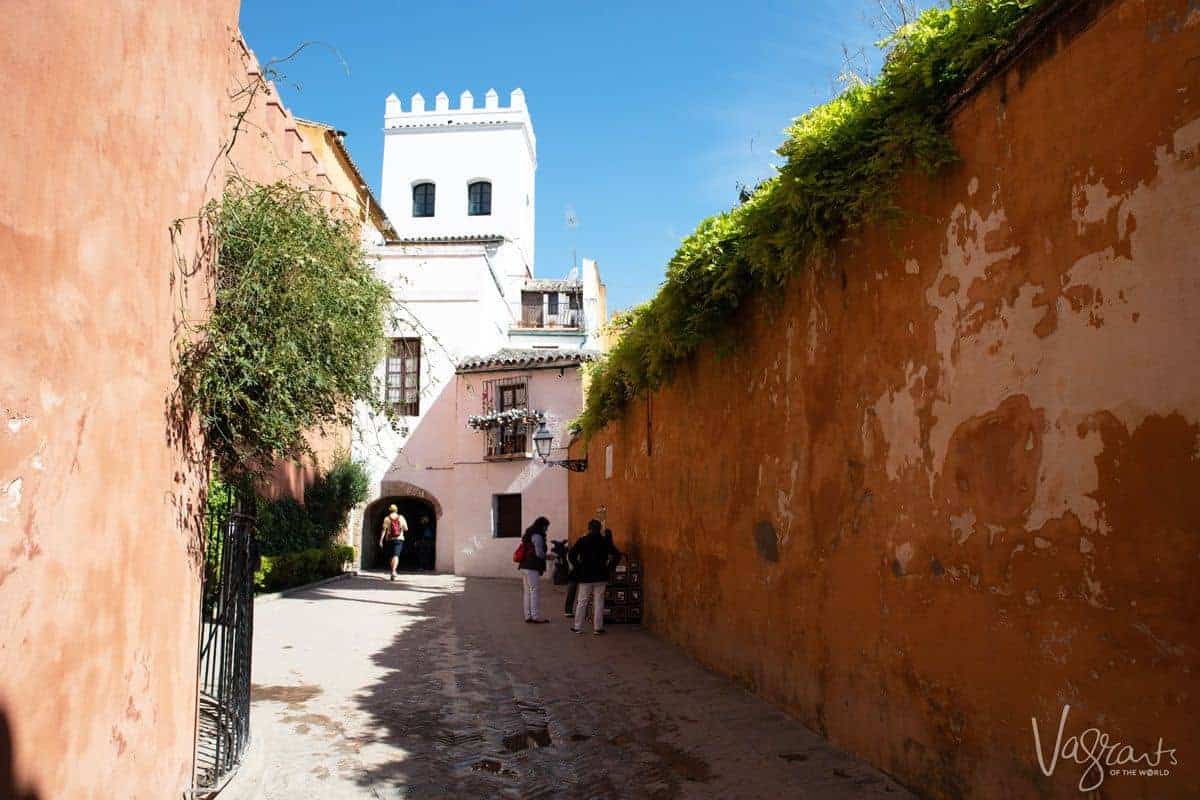 ---
Experience The Vibrance of Triana
The former Gypsy quarter on the west bank of the Guadalquivir River, Triana is a working-class barrio with a colourful history filled with legends of bullfighters, sailors, and flamenco culture.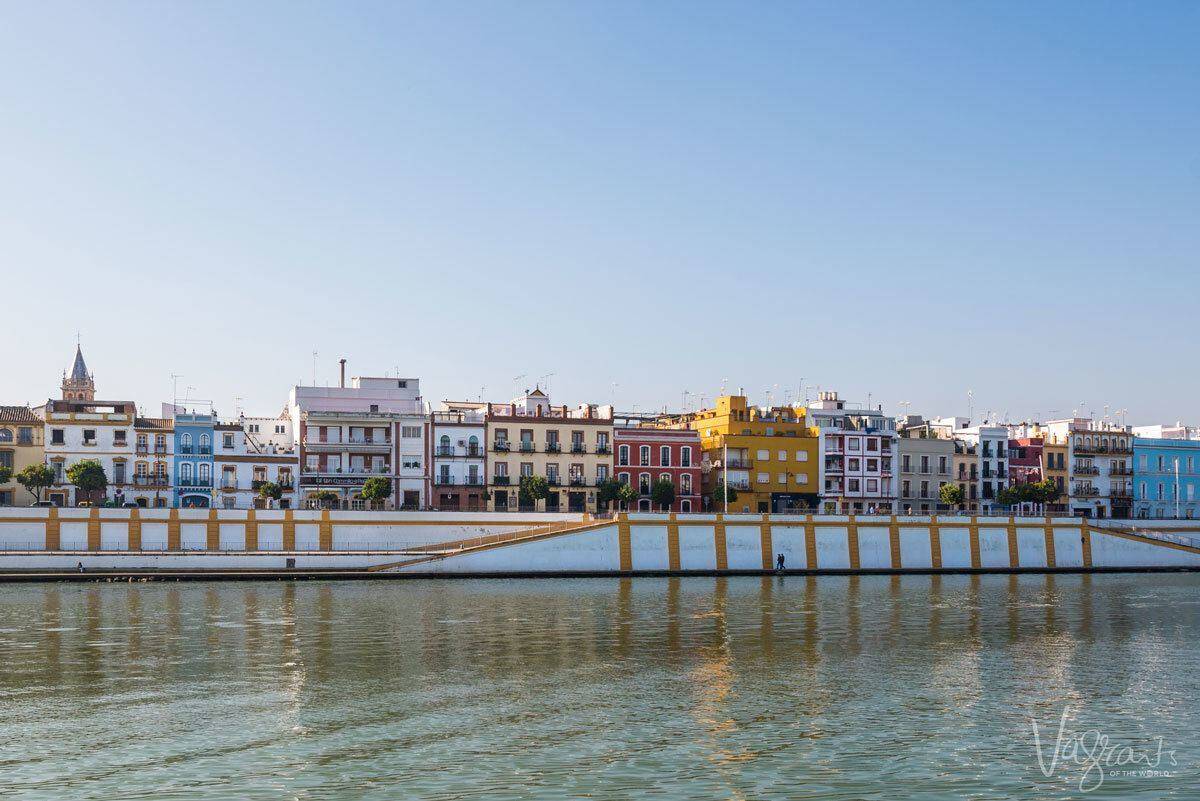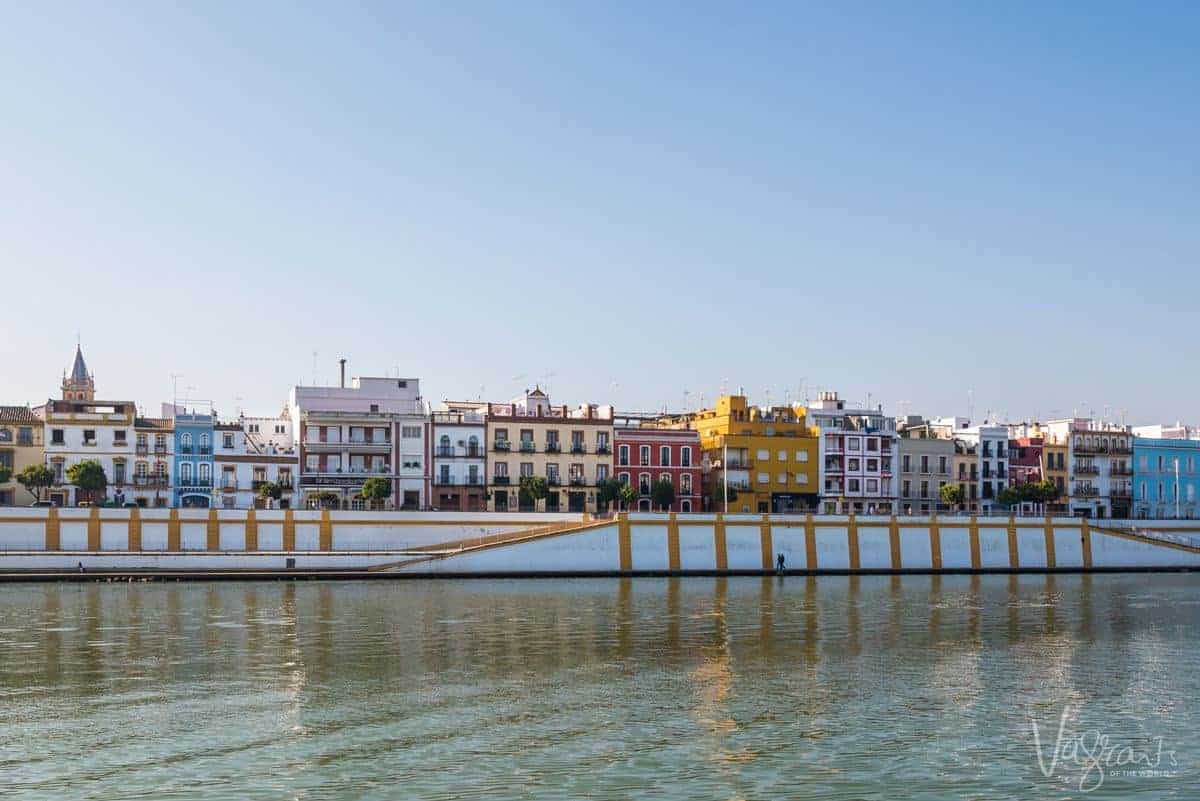 Once considered a neighbourhood for outsiders and a less than enticing area for tourists, Triana has come into its own. A resurgence of restaurants and nightlife entertainment has lured visitors to discover one of Seville's most fascinating and colourful neighbourhoods.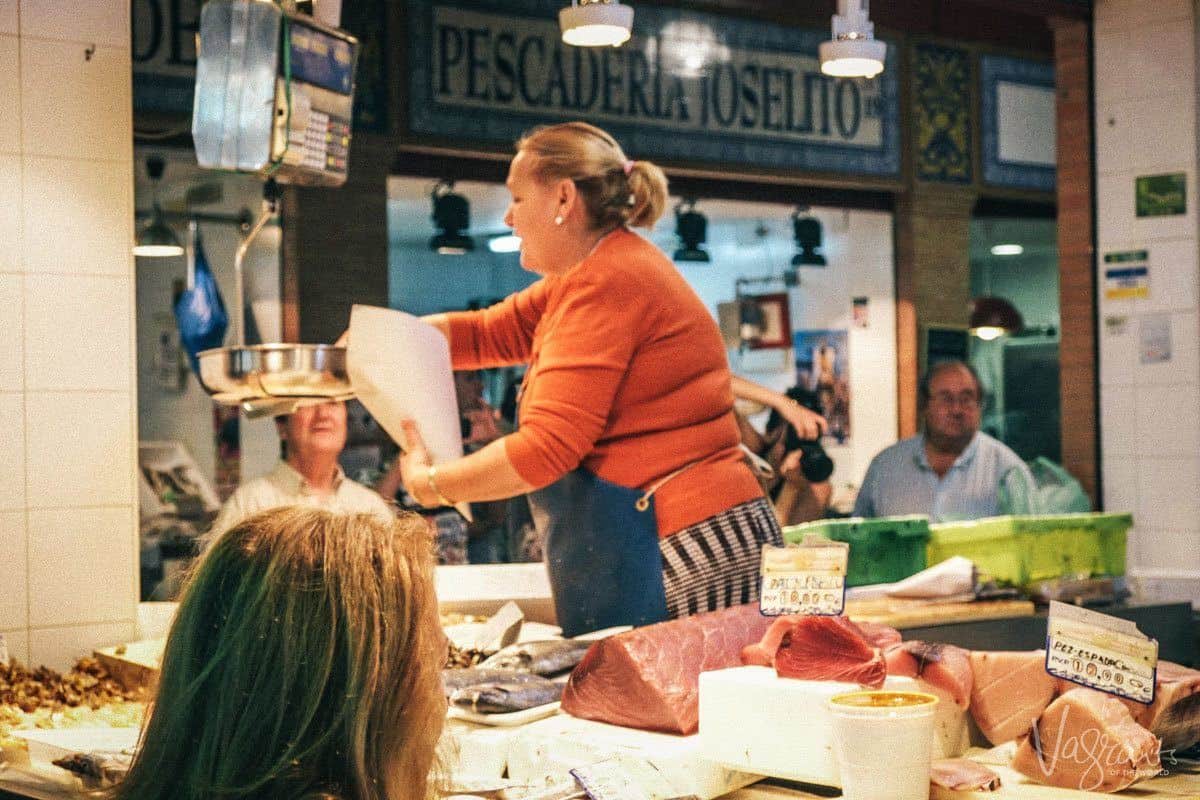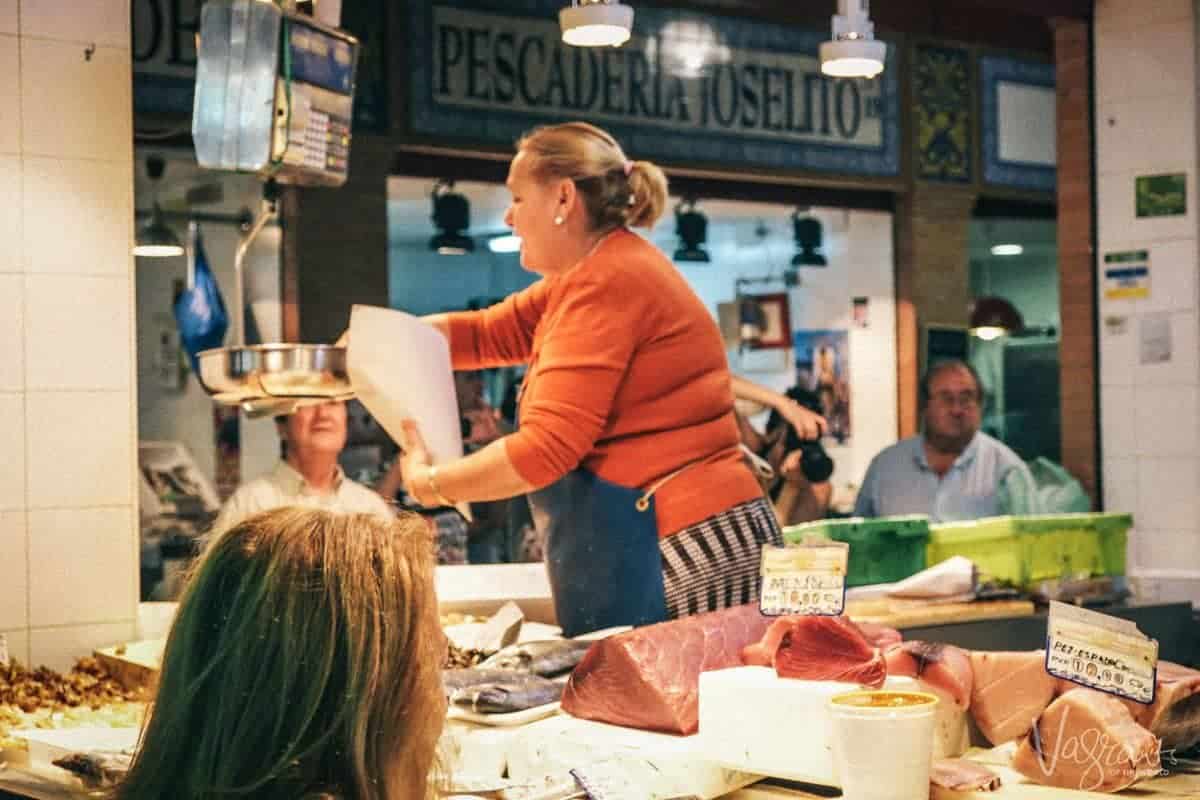 Things to do in Triana
Stop for lunch or dinner at the Mercado de Triana built on the ruins of the Castillo de San Jorge, the headquarters and prison of the Spanish Inquisition.
Search out the traditional azulejos ceramics the area is famous for around the Centro de la Cerámica Triana ceramics museum. Discover the old Gypsy communes of the Roma people on Calle Castilla 16 or enjoy an authentic flamenco show at a local Peña club (more on this later).
?Triana, Seville, Spain.
---
Find Sanctuary in Plaza Santa Marta
A stone's throw from the Seville Cathedral is a quiet oasis barely even known by local Sevillano's. Plaza Santa Marta, a charming whitewashed cobblestone nook is what remains of the Santa Marta hospital founded in 1385.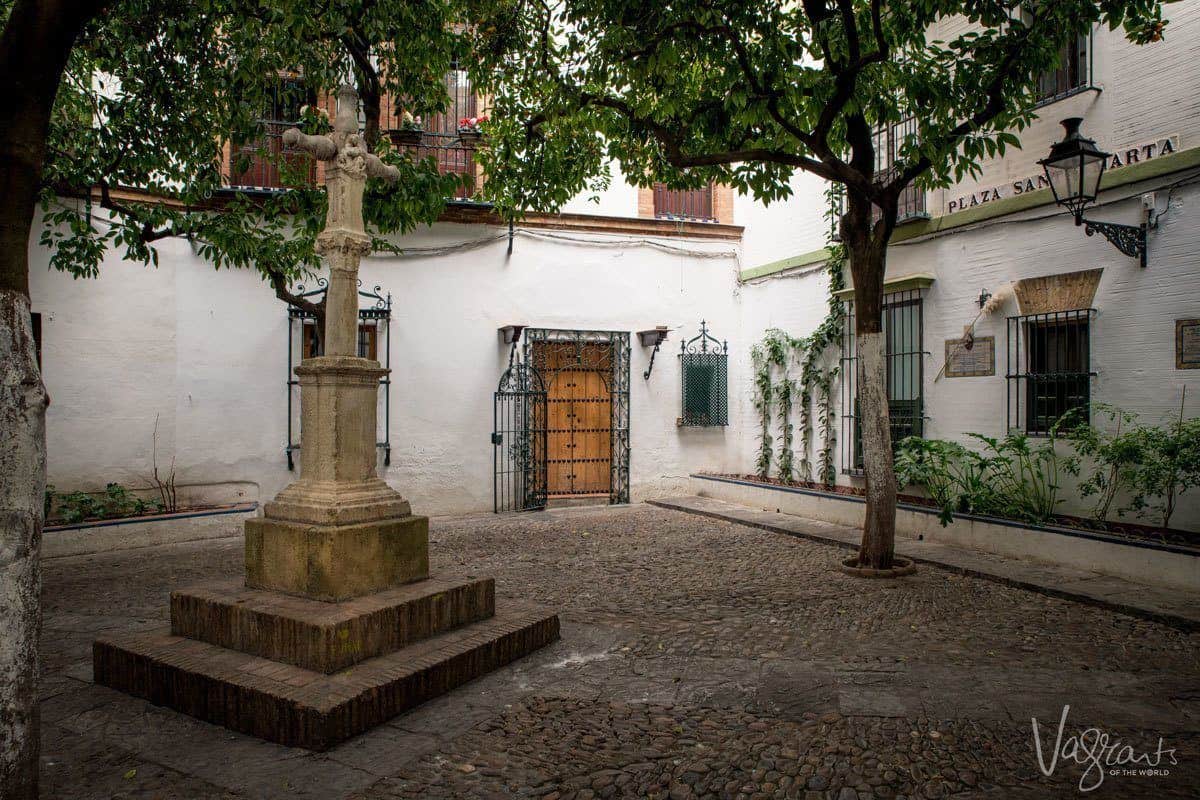 Off the busy Plaza Virgen de los Reyes, where horse-drawn carriages and tourists vie for space in the shadow of the Seville Cathedral, the small alleyway of Santa Marta is hardly visible among the hive of activity.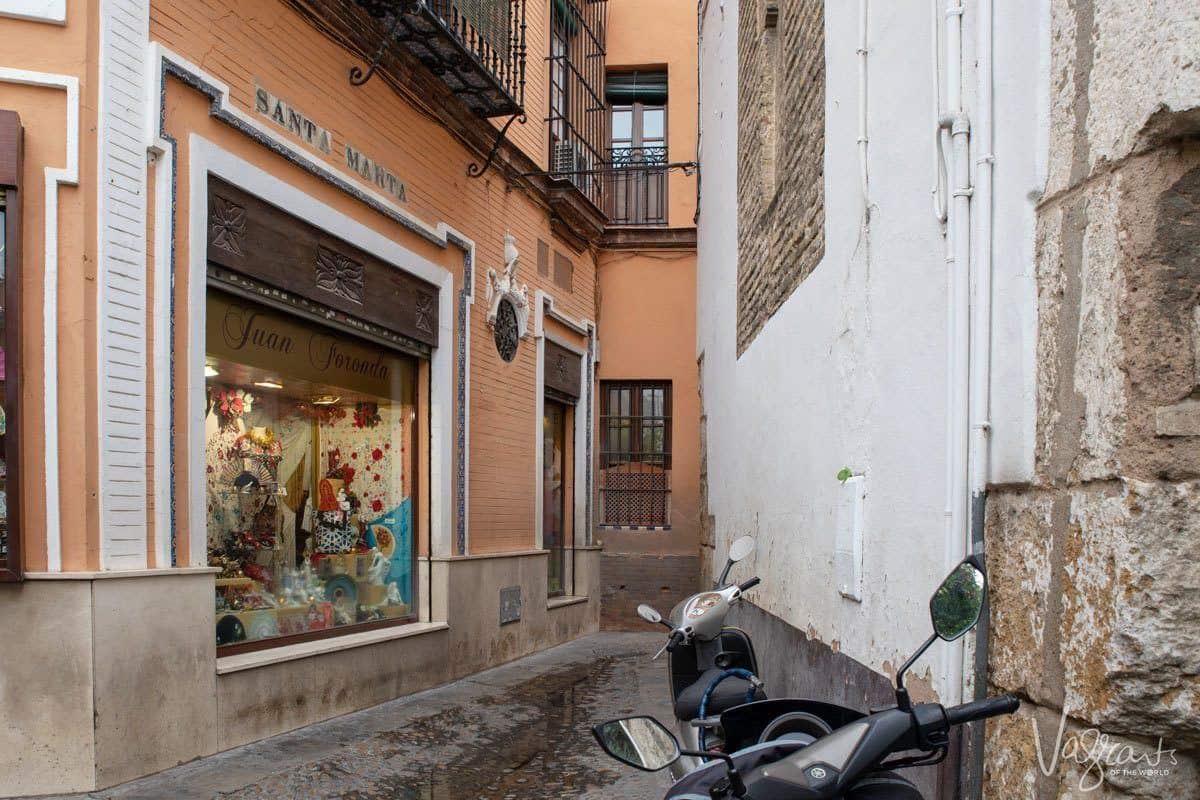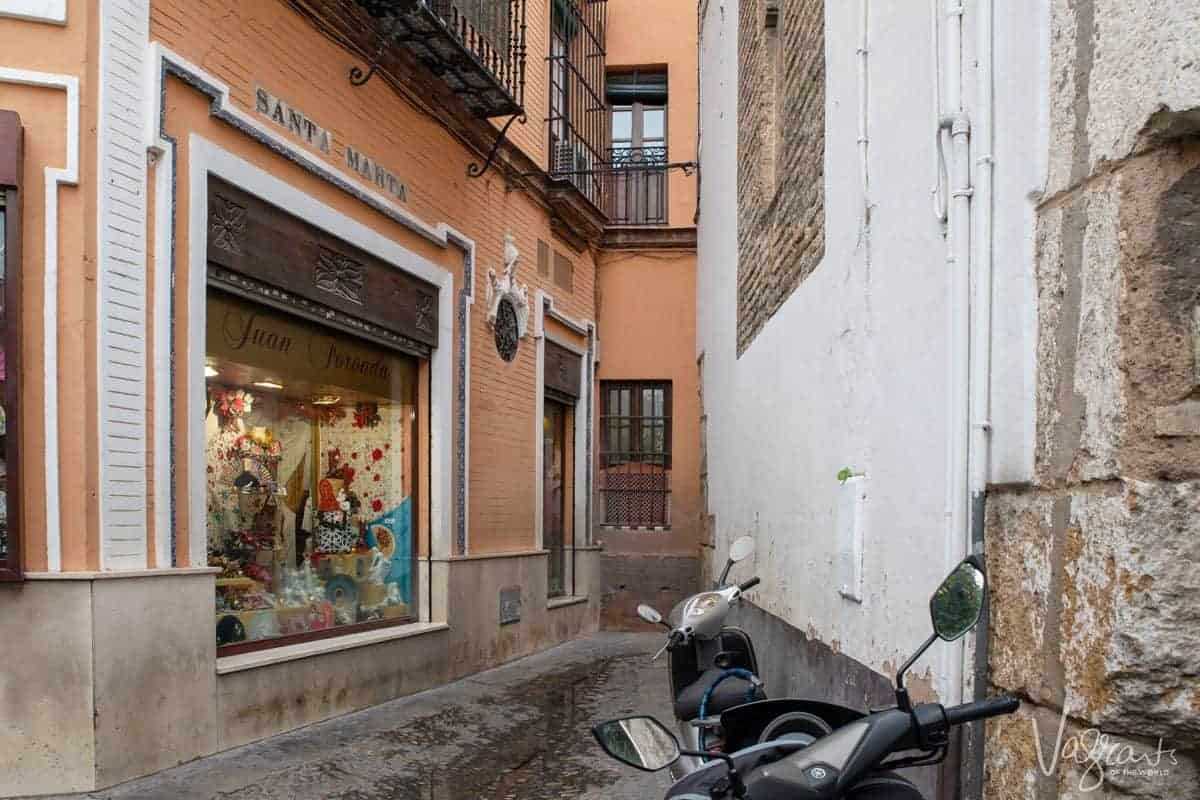 At the end of the alley, the Plaza Santa Marta reveals itself – A peaceful, secret sanctuary. A lovely spot to rest in the shade of orange trees and appreciate the history of Seville.
?Plaza de Santa Marta, 41004 Sevilla, Spain
---
Buy Centuries-Old Convent Sweets From A Closed Convent
As Trappist monks are famed for their beer-making, Spanish nuns are celebrated for their sweets. One of the oldest Spanish traditions is buying homemade sweets and jams from a closed convent using centuries-old recipes.
What makes this a unique experience is the nuns are not allowed to leave the convent or have contact with any person not belonging to the order.
While the nuns distribute their sweets for sale throughout Seville, there is nothing quite like buying from the source at the closed convent.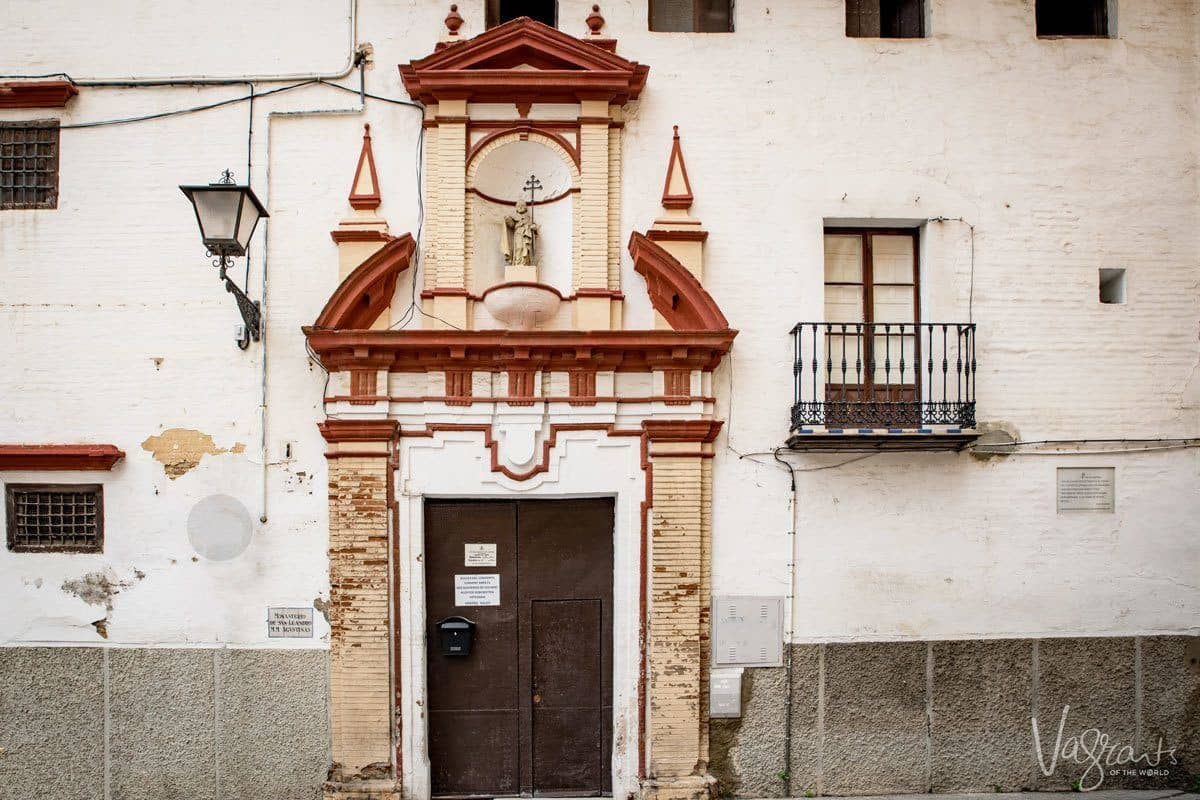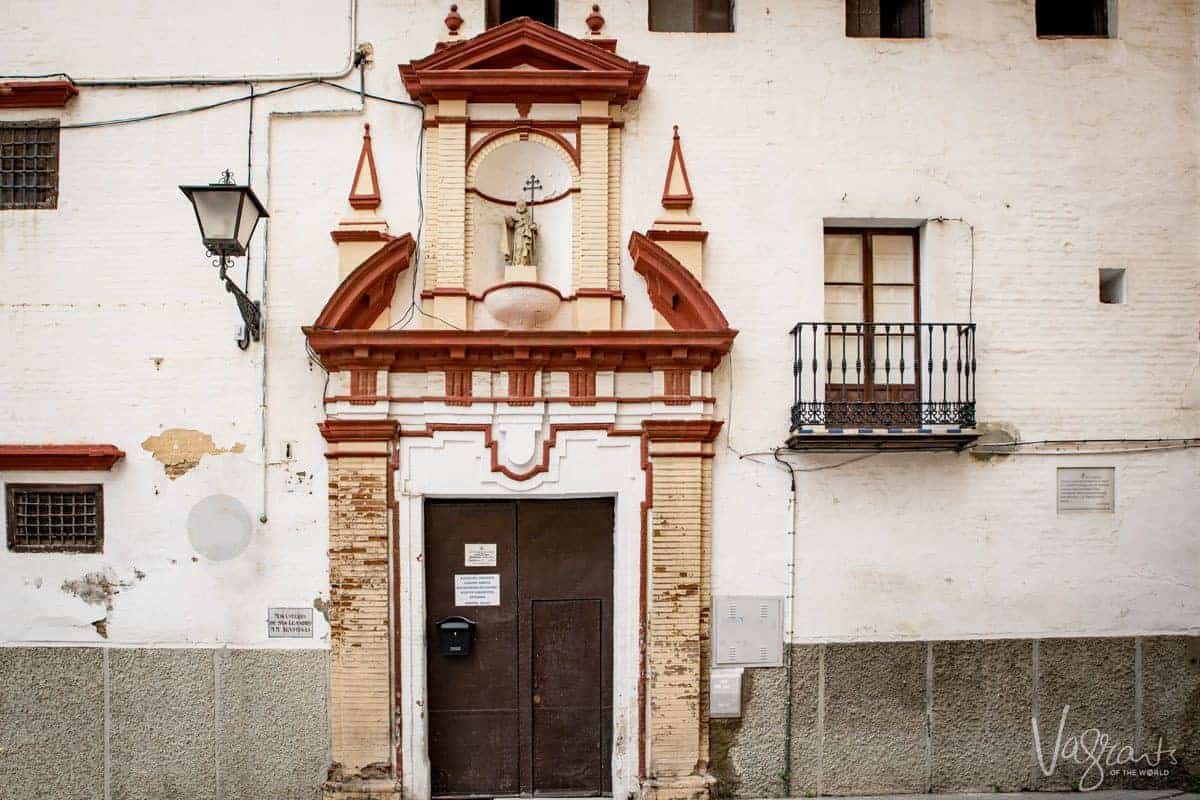 To procure the sweets; the instructions are very similar in each convent.
For over four centuries, the Convento de San Leandro nuns have produced for sale one simple sweet – Yemas de San Leandro. Melt in your mouth sweets made simply with sugar, lemon juice, and egg yolks.
At the 13th-century convent, in the courtyard, you will find a price list. Ring the bell and place your money on a tray in an old, wooden revolving door. Soon after, your order will appear and your transaction with the nuns complete.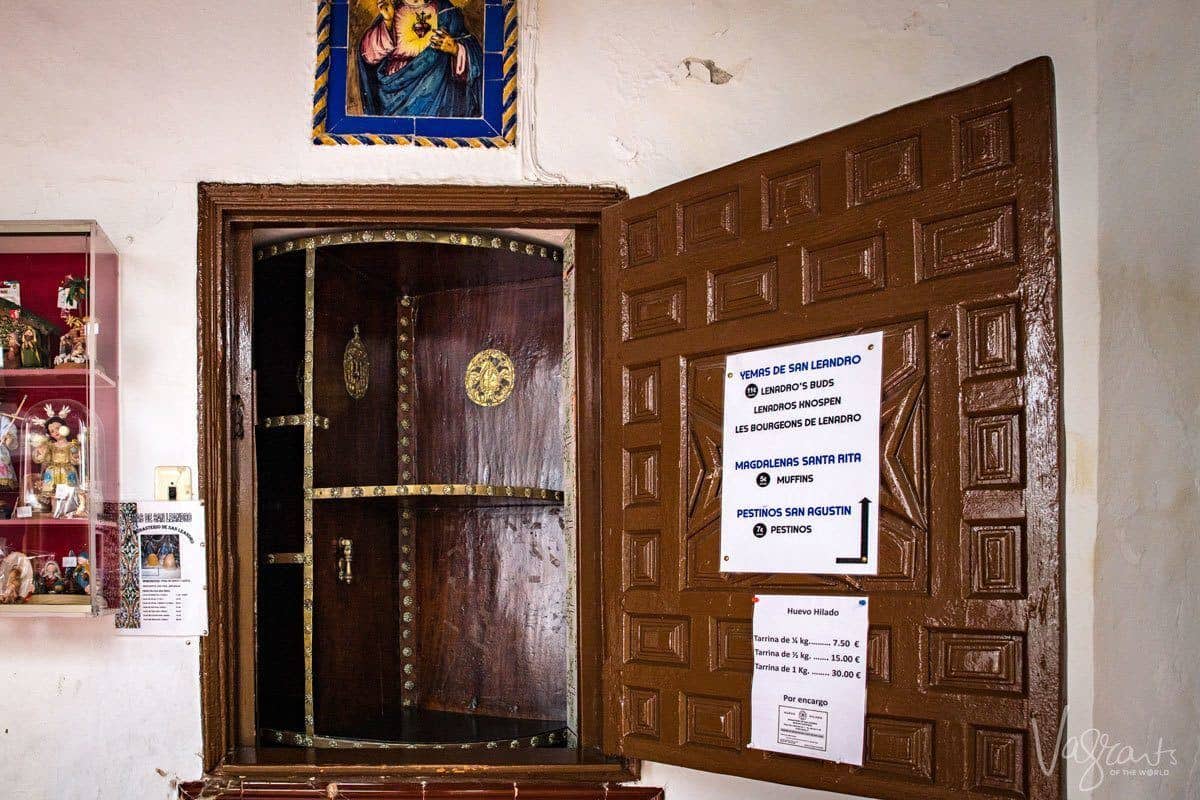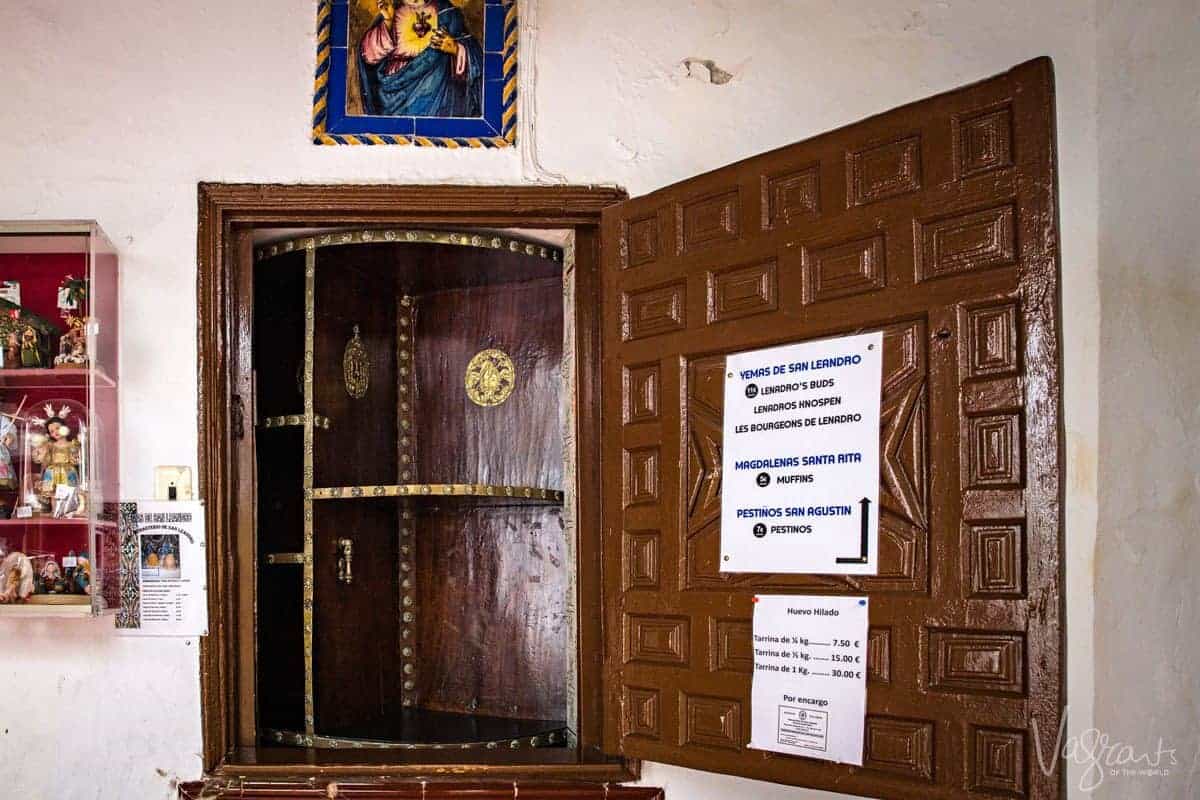 Other convents in Seville known for their sweets are: Convento de Santa Inés for their bollitos de Santa Inés, Santa Paula for their jams, San Clemente for their cider filled empanadillas and lightly-fried, honey-glazed pestiños, Madre de Dios for their naranjitos and Santa Ana for their carmelitas.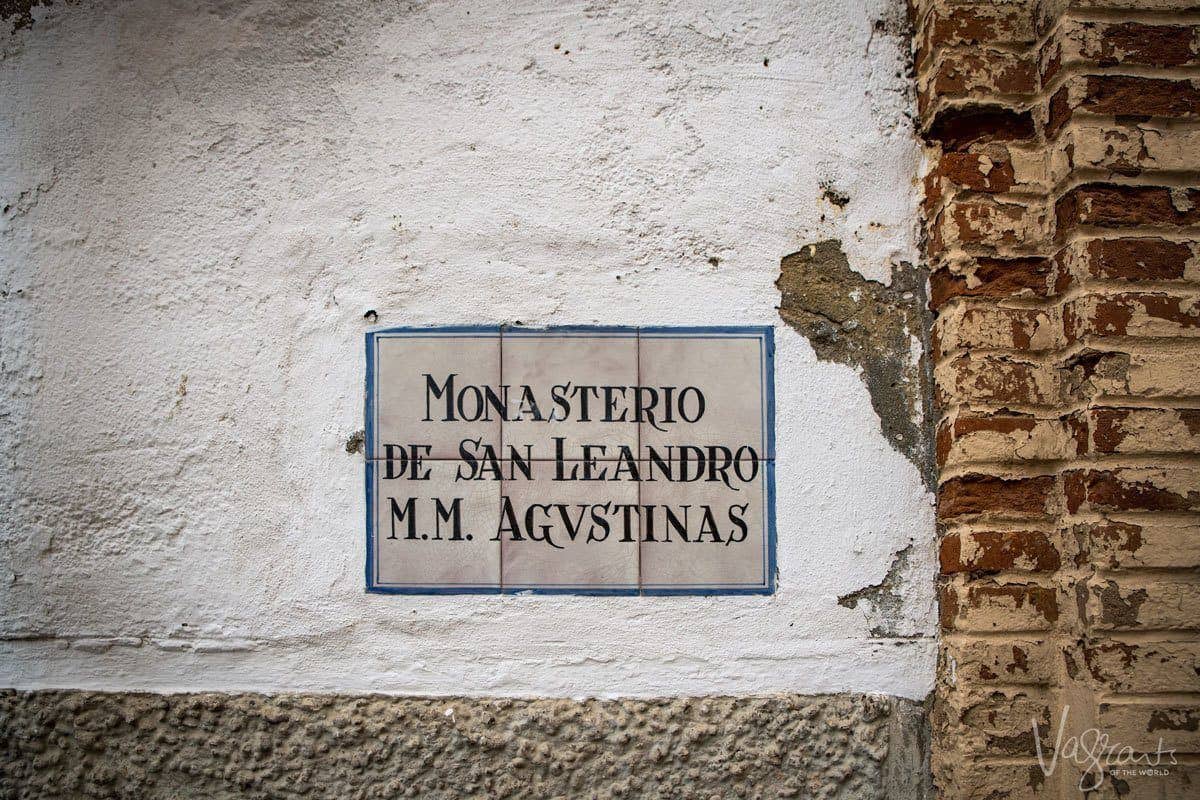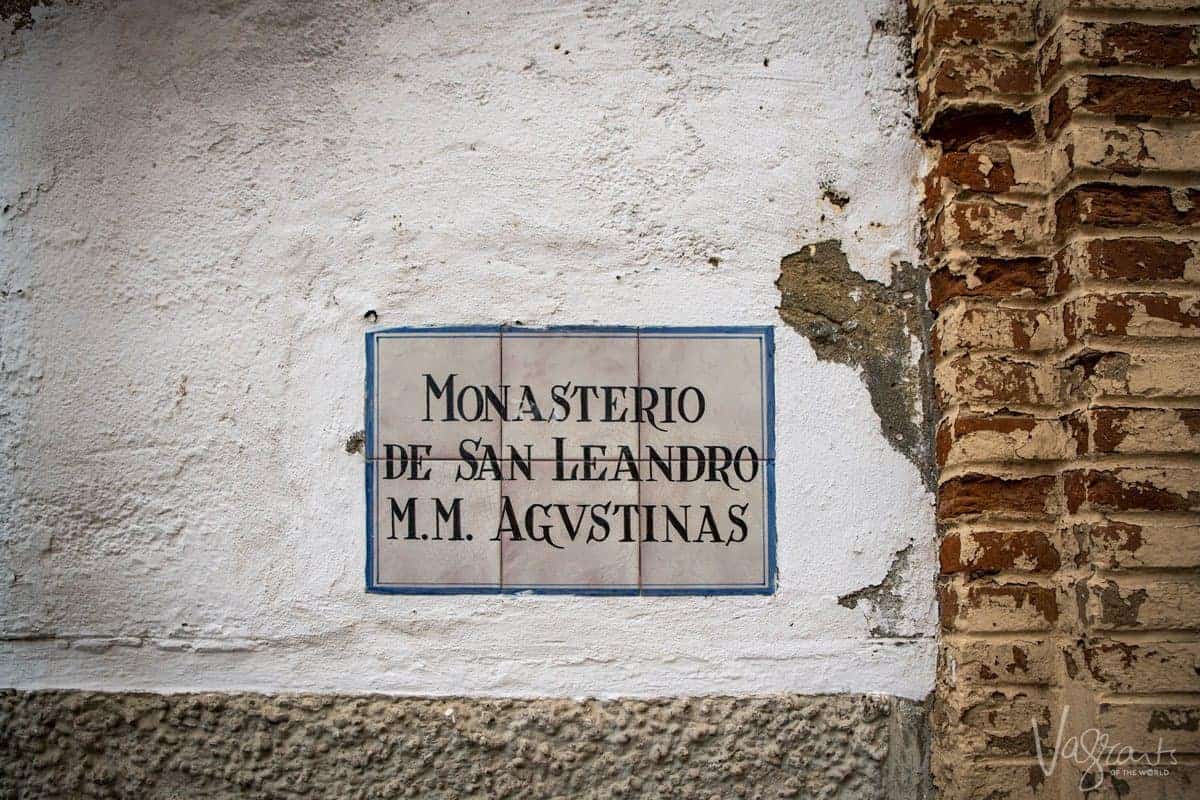 Visiting Convento de San Leandro
Opening Hours
Sweets are available for sale at Convento de San Leandro from 9 AM–1 PM and 5–7 PM. Many of the convents will observe similar "siesta" hours.
Cost
Most sweets are sold by weight. Expect anywhere from €5 – €30.
? Convento San Leandro, Plaza San Ildefonso, 1, 41003 Sevilla, Spain
---
Seville City Gates
13th century Seville was surrounded by a 7km wall, 13 main gates, six secondary gates, and 166 towers. During the revolution of 1886, the walls were demolished in a bid to expand the city leaving only a few stretches intact.
The only three city gates that remain are the Puerta de la Macarena, the Postigo del Aceite and the Puerta de Córdoba.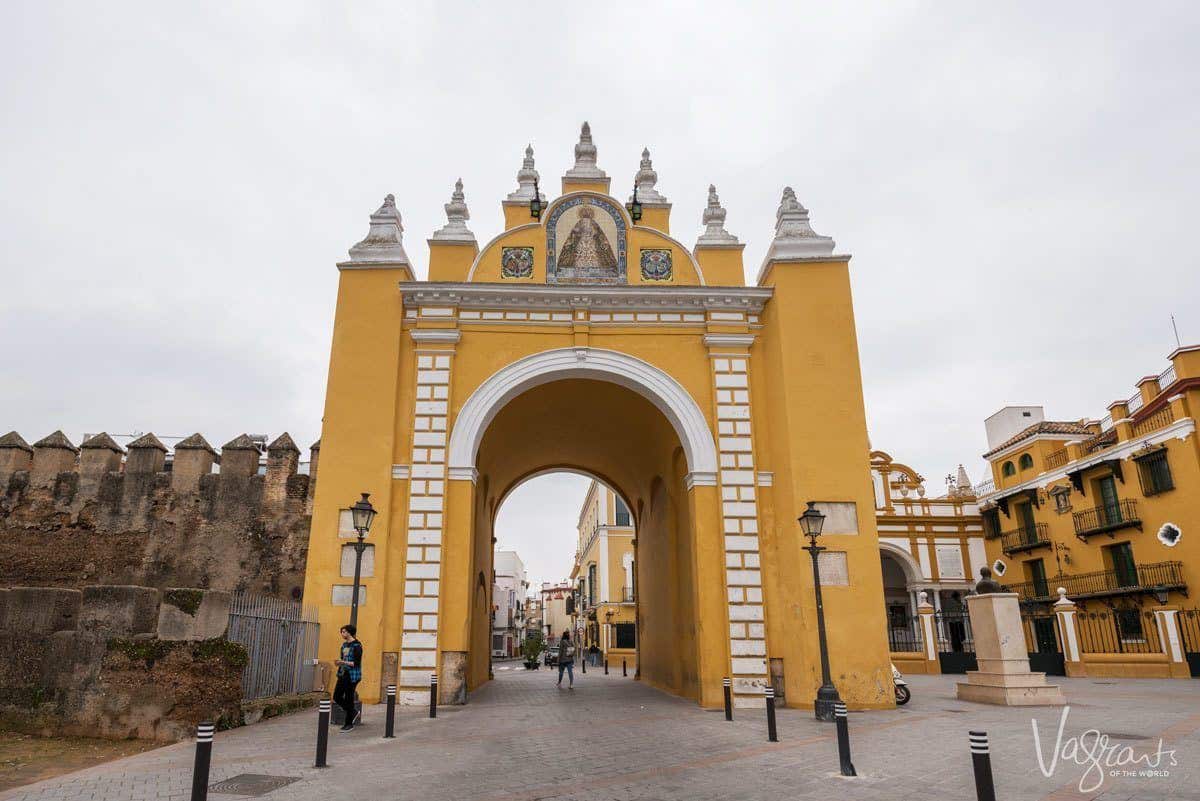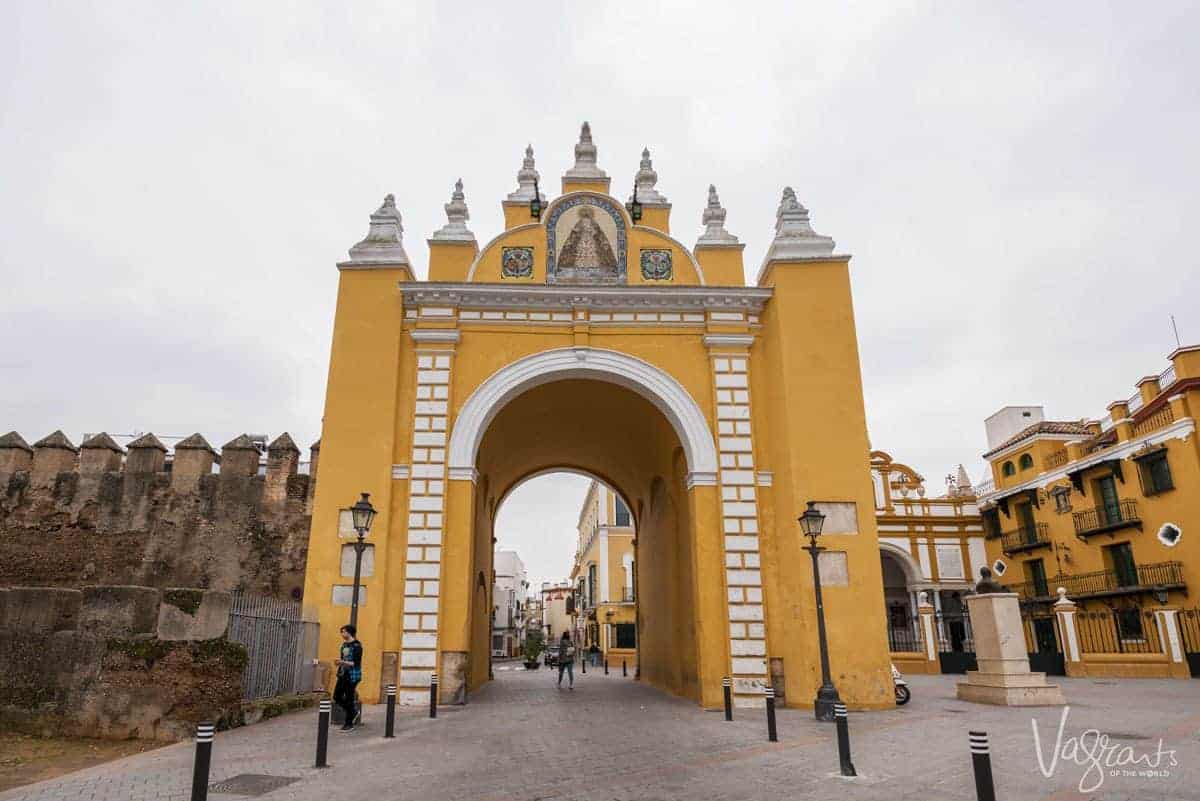 Macarena Gate
From the Macarena gate, one of the most beautiful of the three that remain, you can experience a very local side of Seville. While not as atmospheric as Santa Cruz or Triana, the Macarena district still has a few gems to offer.
The Basilica de la Macarena is home to two of the most impressive floats in the city's fervent Semana Santa holy week as well as one of Seville's most revered treasures –the Weeping Virgin Virgen de la Esperanza Macarena. The magnificent statue stands behind the main altar adorned in all her golden glory, complete with crystalised tears.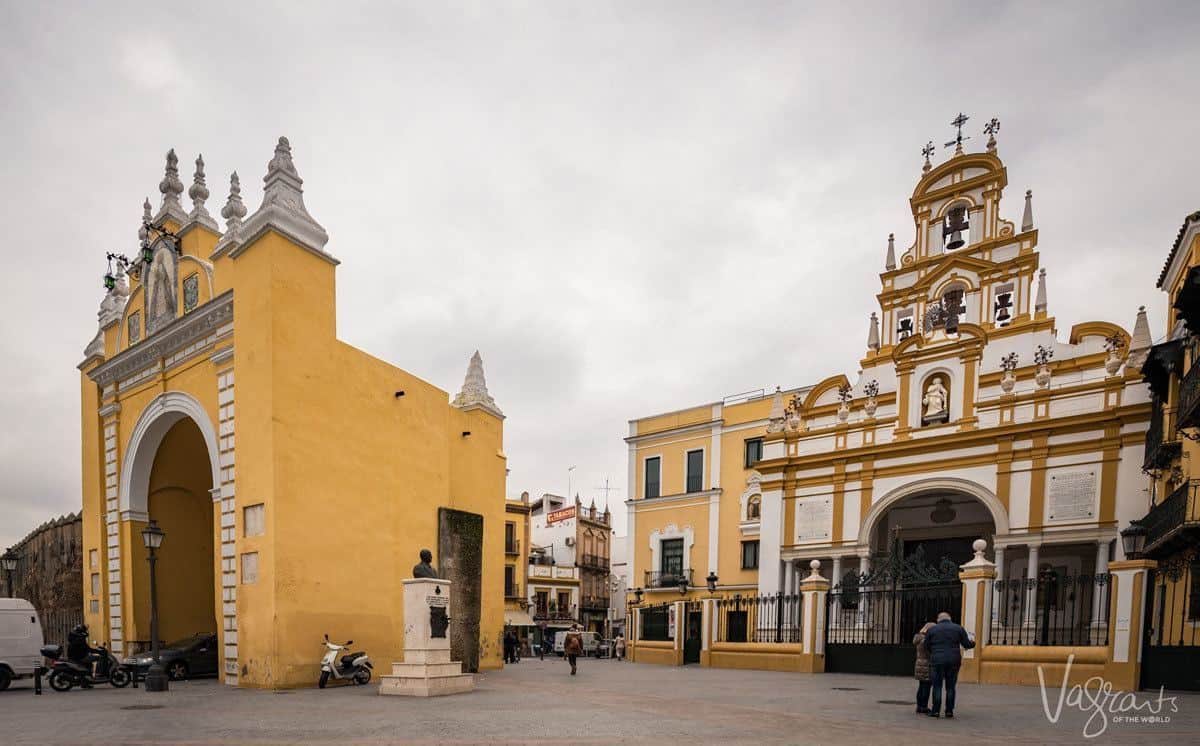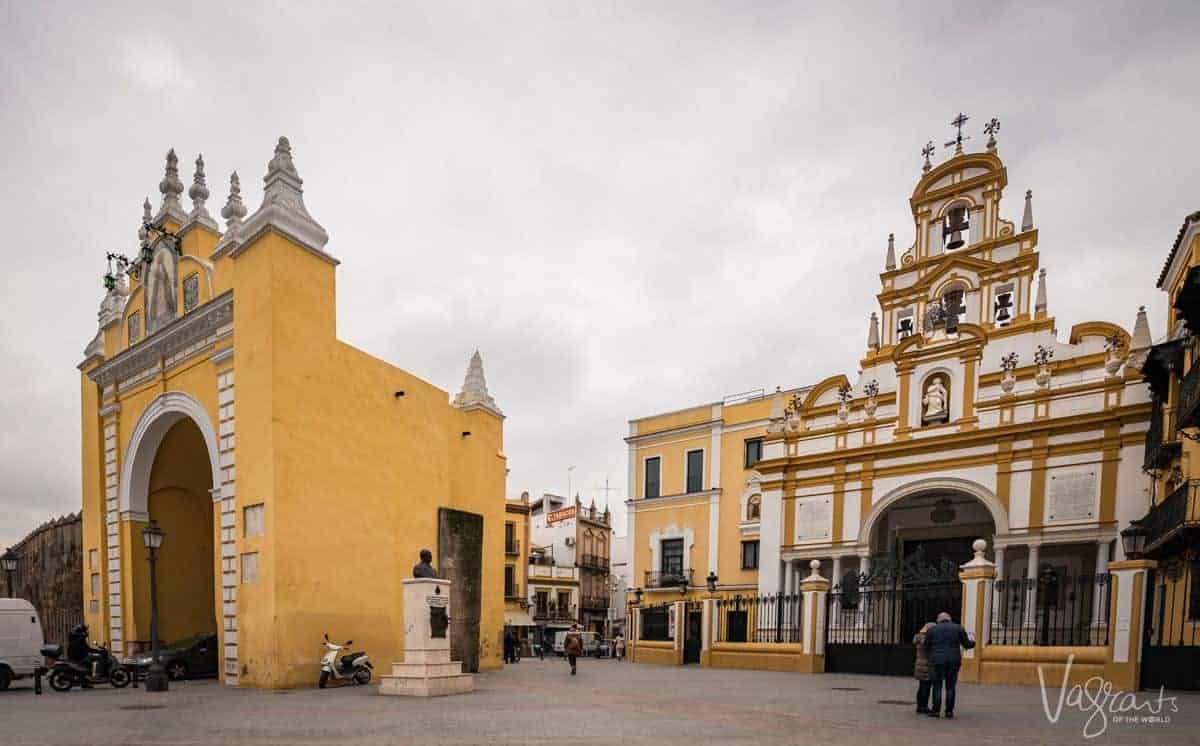 The Macarena neighbourhood is where you can see the remaining stretches of the 12th-century city walls which run between the Macarena gate and Puerta de Córdoba.
Opening Hours of The Basilica de la Macarena and the Brotherhood of the Macarena Museum Treasure
June 4 to September 16:
Monday to Saturday: 9.00 AM to 2:00 PM. | 6:00 PM to 9:30 PM.
Sundays and Holidays: 9.30 AM to 2:00 PM. | 6:00 PM to 9:30 PM.
September 17 to June 2:
Monday to Saturday: 9.00 AM to 2:00 PM. | 5:00 PM to 9:00 PM.
Sundays and Holidays: 9.30 AM to 2:00 PM. | 6:00 PM to 9:30 PM.
?Arco de la Macarena, Calle Bécquer, 1, 41003 Sevilla, Spain
Postigo del Aceite
At Postigo del Aceite (oil gate) situated in the old fish market, you will find Mercado El Postigo, the craftwork market of Seville. A gallery-style space selling local artwork and artisan pieces.
---
See Seville's Most Treasured Art Collection at Hospital de los Venerables
A collection of Seville's most cherished artworks are housed in a hospital established for sick and ageing clergy in 1673 – Hospital de los Venerables.
In 1840 the priests, then bankrupt, were moved from the hospital and the building taken over by a textile manufacturer. Eight years later, the building was returned to the priests by Royal Order. The clergy still owns it to this day.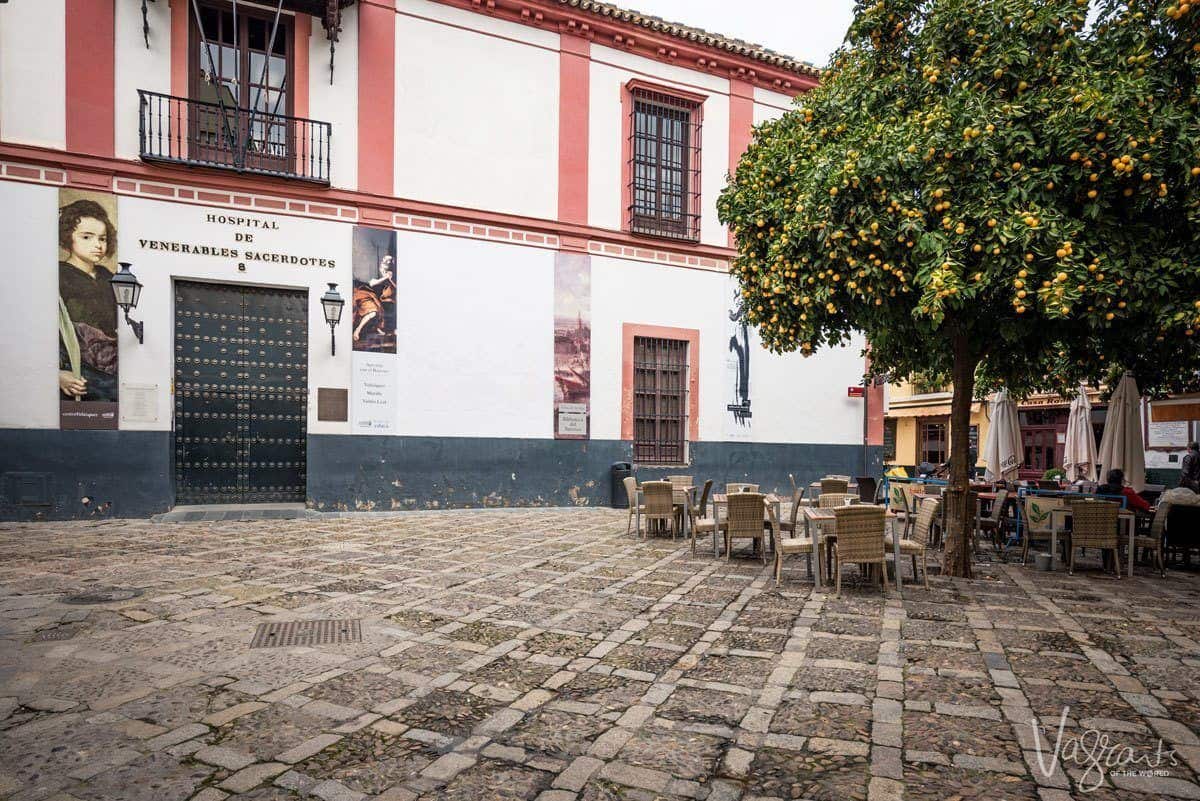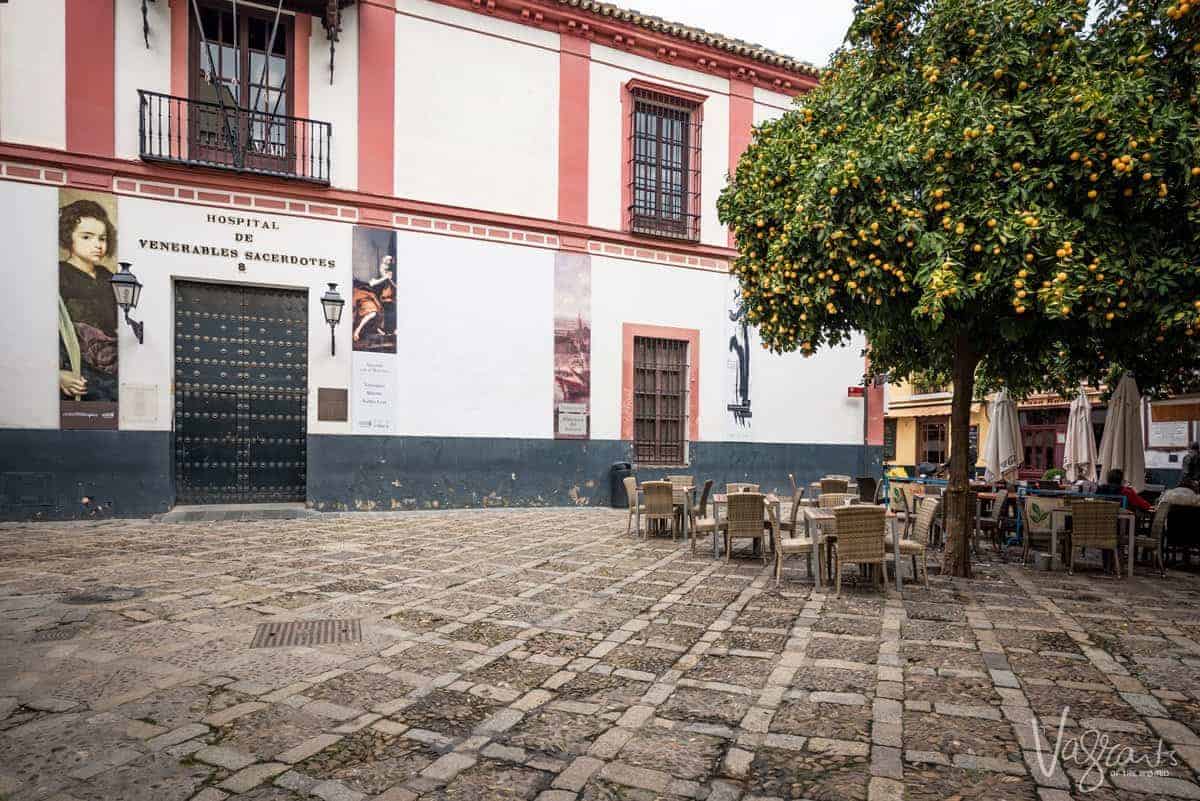 The former hospital, now a museum, has been restored and houses a small but important collection of paintings from the Spanish Golden Age. You'll find famous Spanish painters such as Martínez Montañés, Diego Velasquez, and Francisco Varela as well as many temporary exhibitions.
In 1868, the quaint Plaza de los Venerables where the hospital is situated was named after the priests.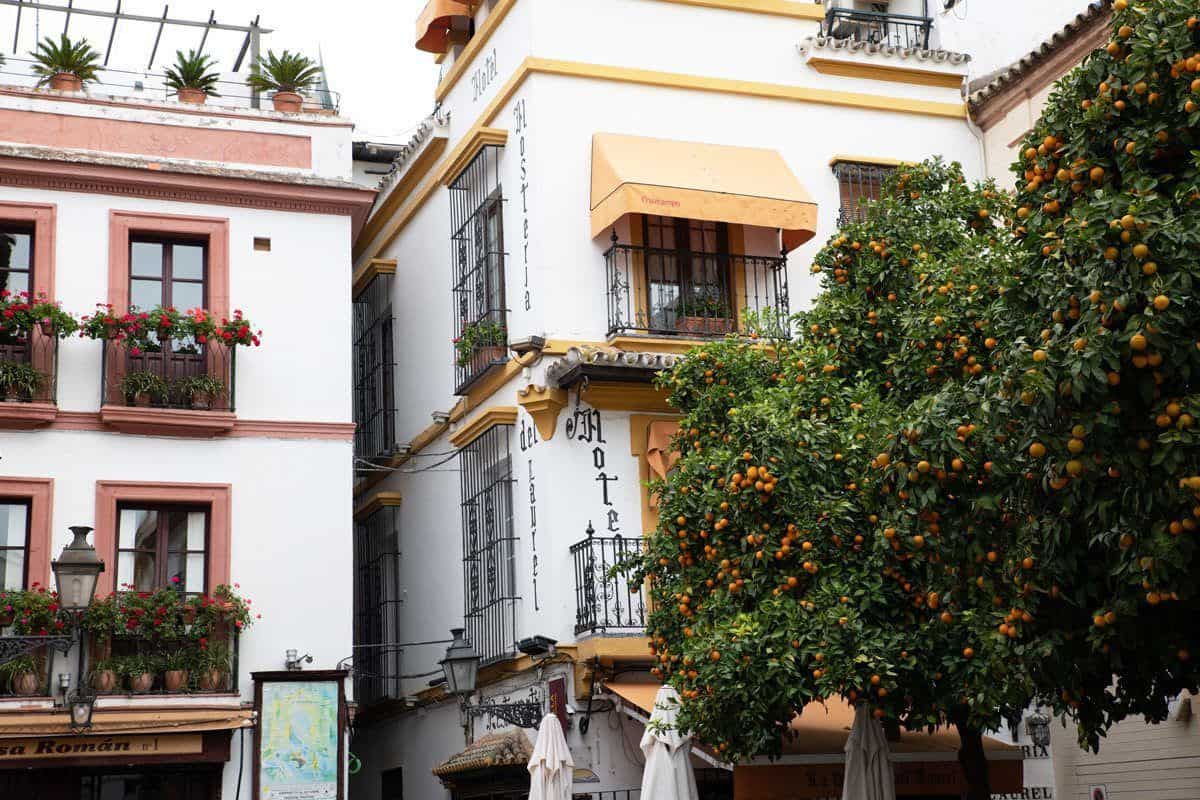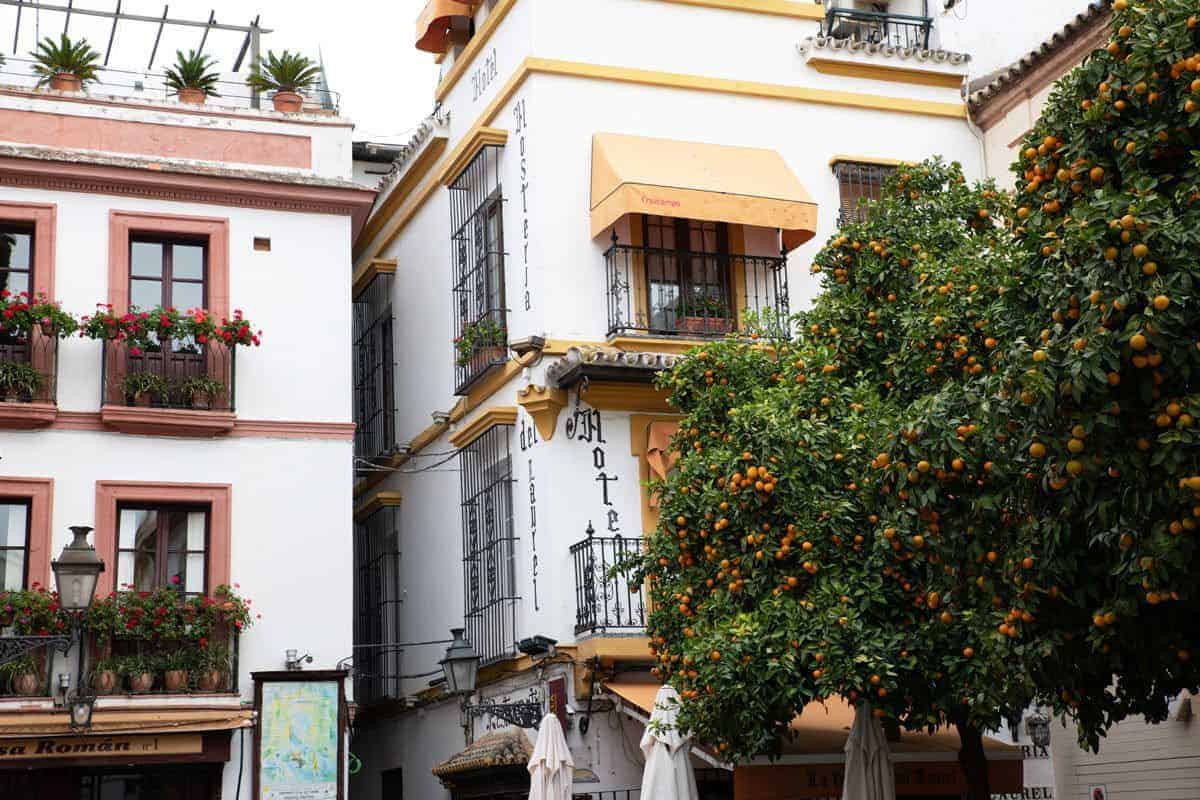 Visiting Hospital de los Venerables
? Hospital los Venerables, Plaza Venerables, Seville, Spain
Tickets for Hospital de los Venerables
A legacy of the Moorish invasion is a love for water and the indulgence of a real hammam. Seville has some beautiful Arab baths – baños arabes where you can still indulge in the ancient bathing experience.
Deep in the Jewish quarter is an ancient Moorish Hamman located in a beautifully restored 16th-century palace. Aire de Sevilla houses an ancient subterranean bathhouse where you can enjoy thermal baths and spa treatments in the same luxuriant setting relished by Romans and Arabs centuries ago.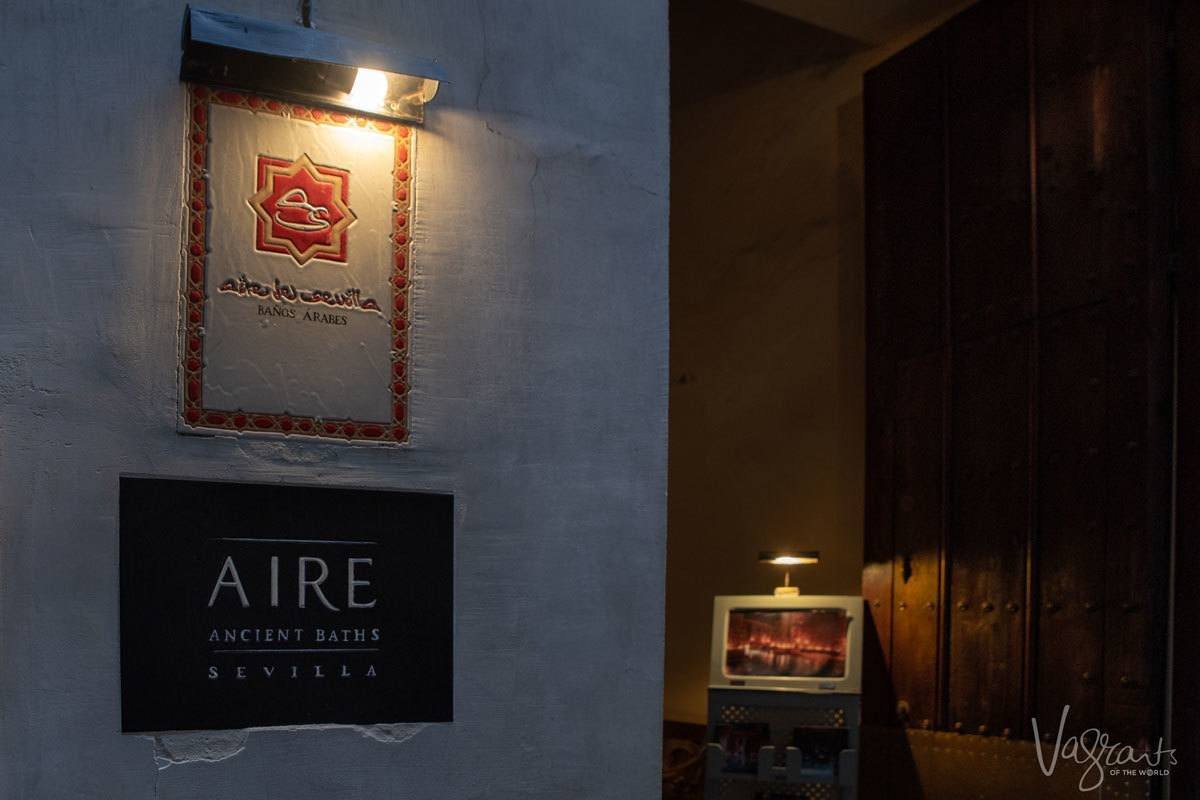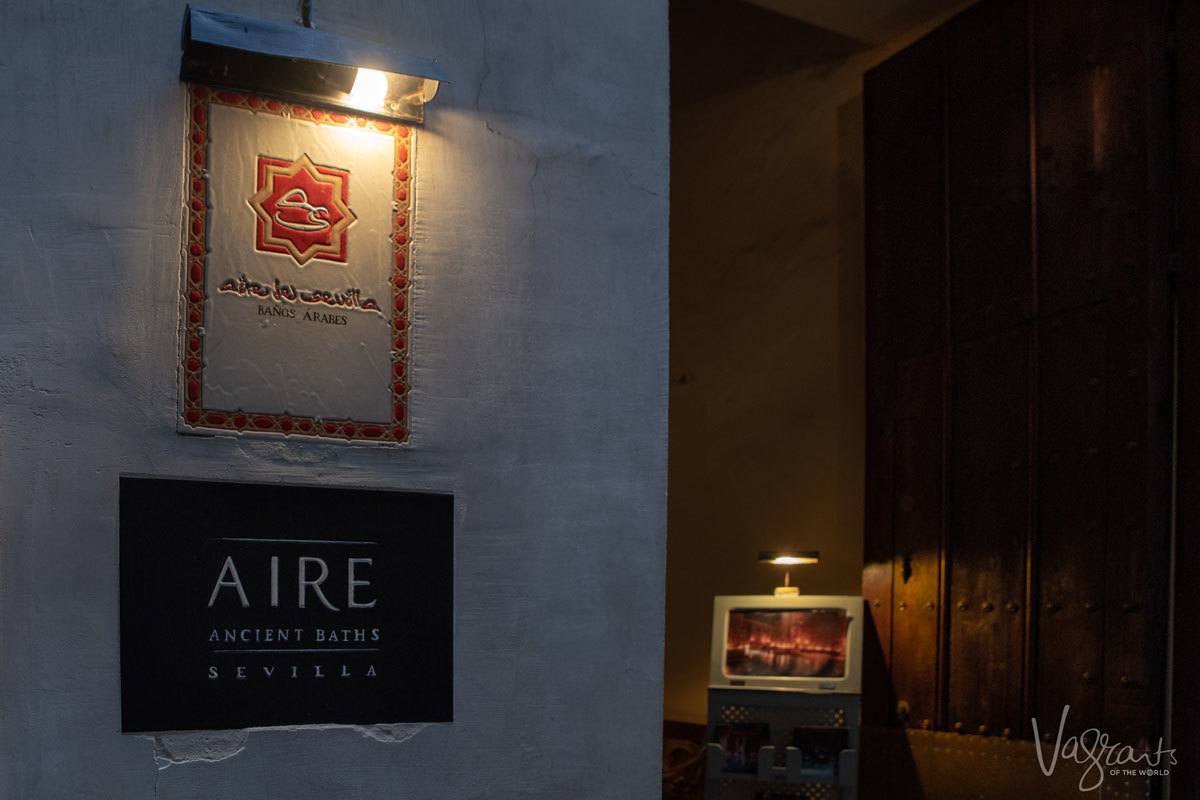 Set in elegantly candle lit crypts you can enjoy different temperature baths and hydrotherapy pools, and a selection of exclusive treatments including massage, a steam room, a tea room and a rooftop terrace with views of the Giralda tower.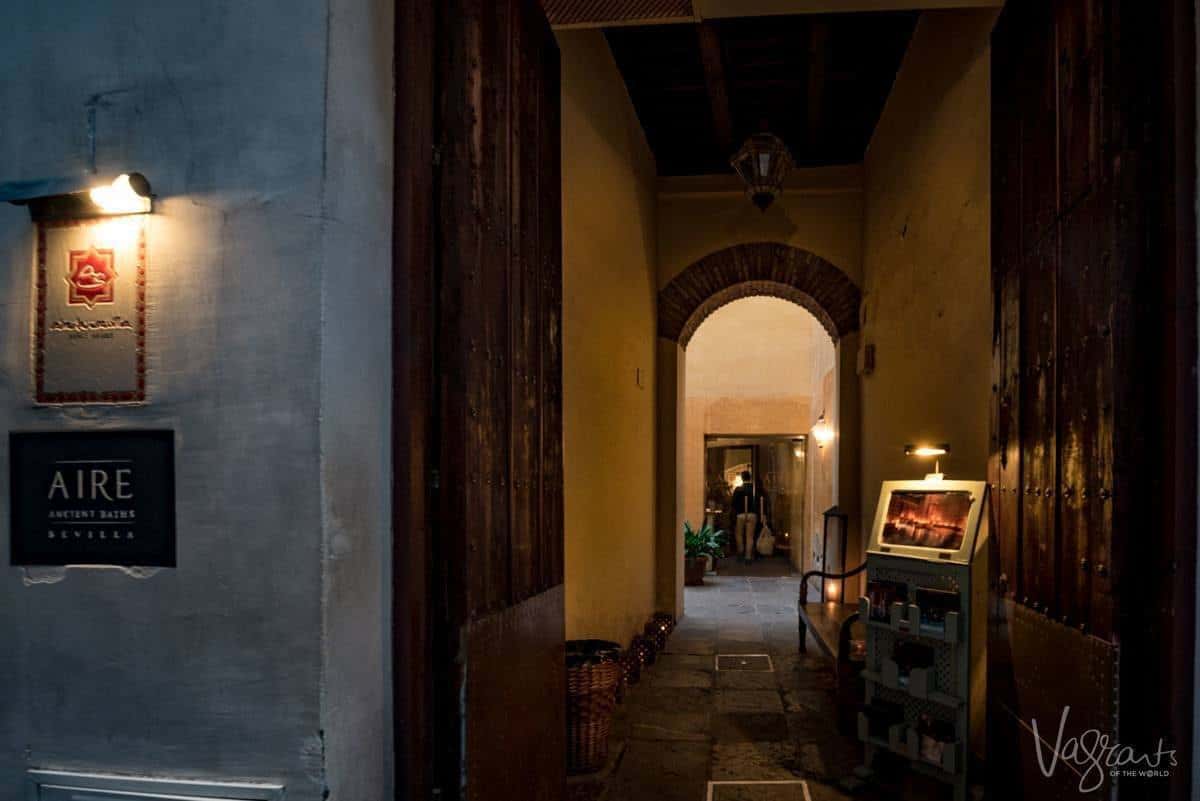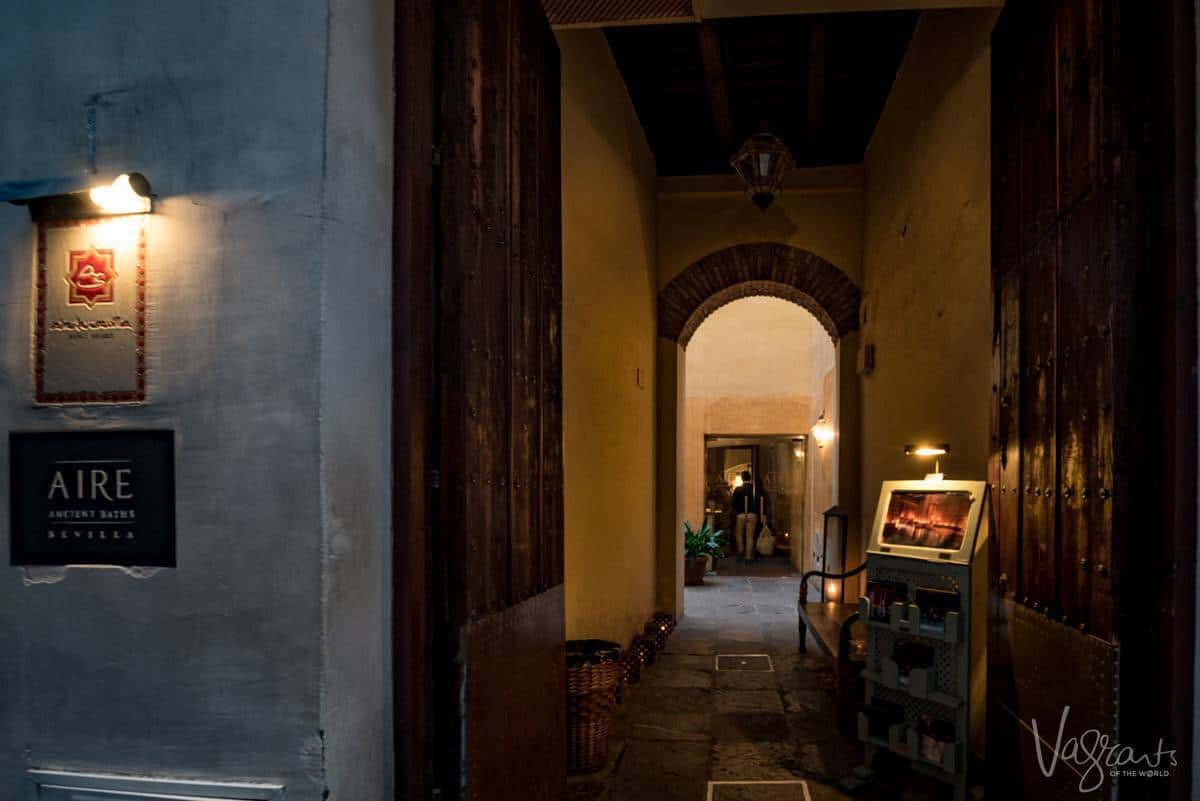 For a truly relaxing experience, visit in the morning on weekdays when it is less crowded. Monday–Thursday you will also find prices are also slightly discounted.
Visiting Aire de Sevilla
? Aire de Sevilla, Calle Aire, 15, 41004 Sevilla, Spain
Cost of Aire de Sevilla
SEVILLE FOOD – WHERE TO EAT IN SEVILLE
Along with flamenco, Seville is the home of tapas, and there is no shortage of places to sample tasty plates of delicious Andalusian ingredients. Seville is the perfect city for a tapas crawl.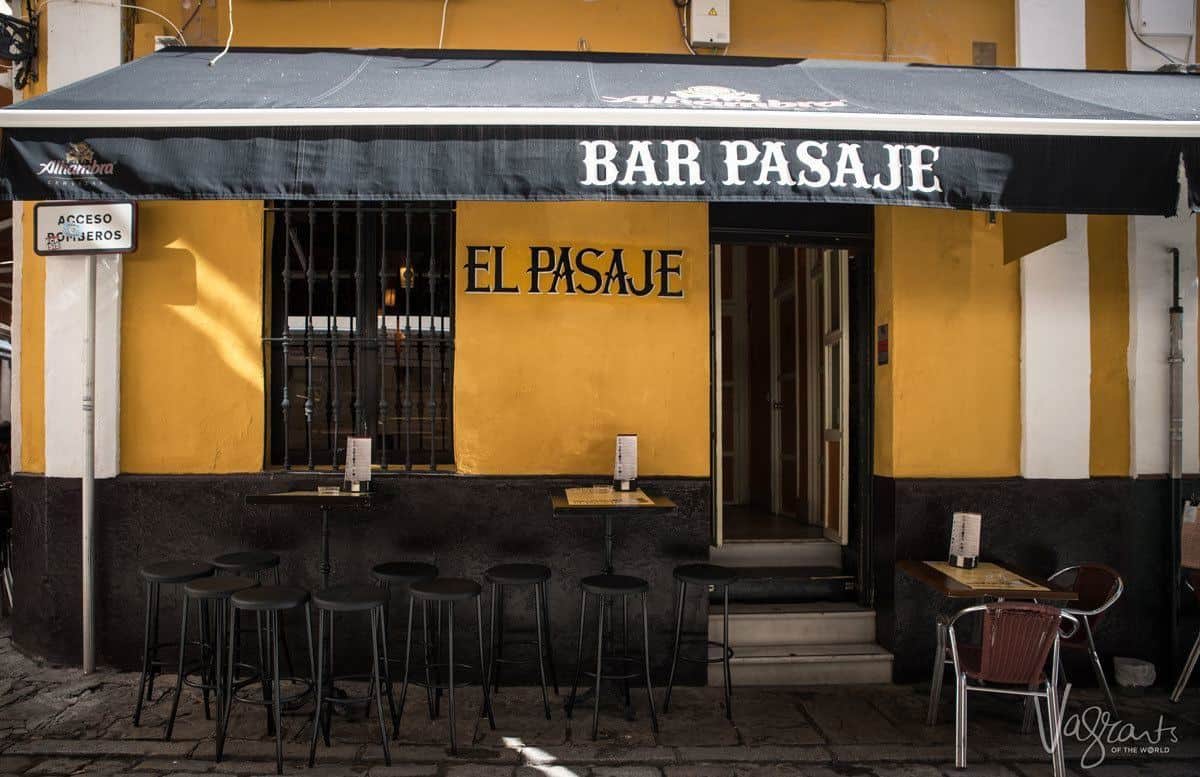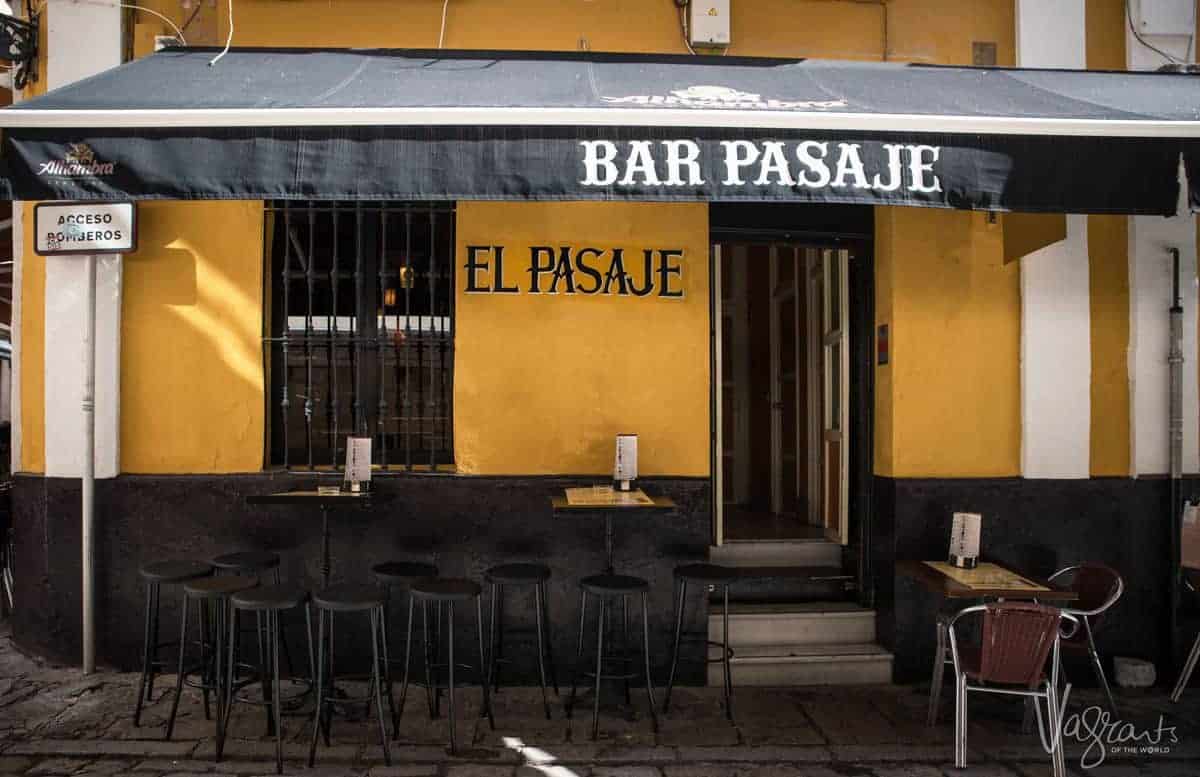 Many bars and bodegas will have one or two speciality dishes which is perfect for moving from one tapas bar to the next sampling something new and tasty at each.
From patatas bravas (spicy potatoes), queso manchego, mouth-watering Jamon Iberico, chipirones (fried baby squid), pulpo croquettes (octopus) to prawns with garlic, there is so much to taste in Seville.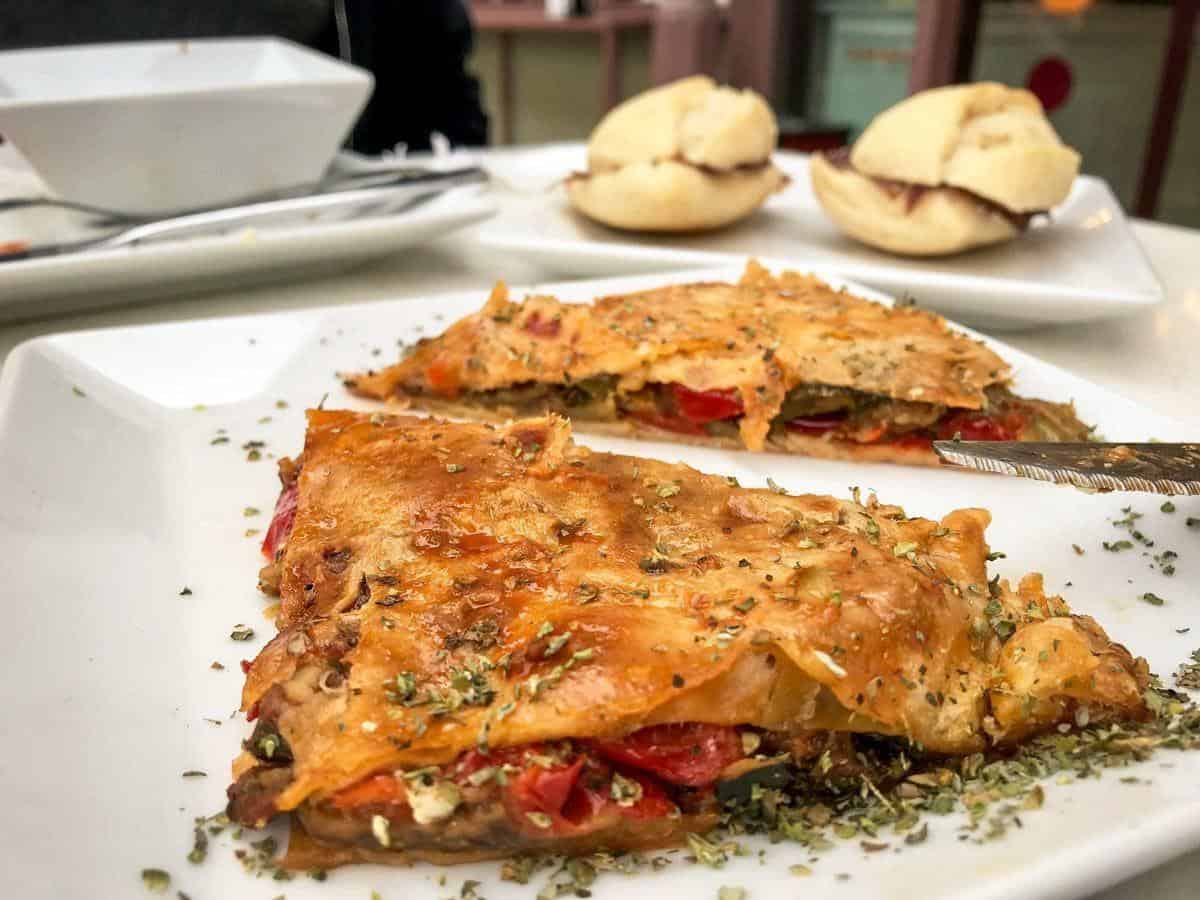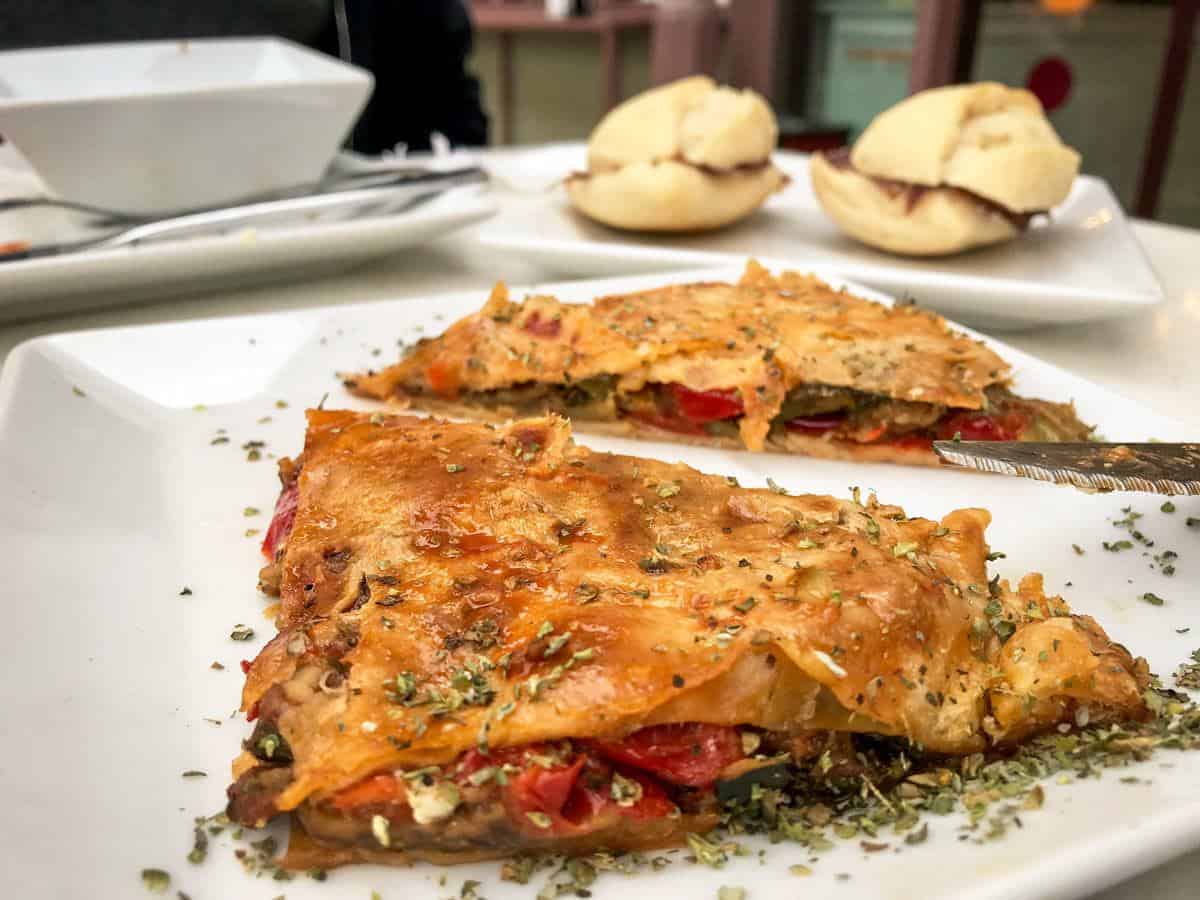 Market Dining
Mercado Lonja del Barranco
The Lonja del Barranco, a former fish market owes its elegant design to none other than Gustav Eiffel. Built in 1883; the beautiful steel and glass structure was considered the last word on modernity, cutting edge for its time.
In a nod to Eiffel's gorgeous design and fresh take on public buildings, the wrought iron and glass riverside marketplace has been repurposed into one of Seville's and Andalusia's largest gastronomic spaces.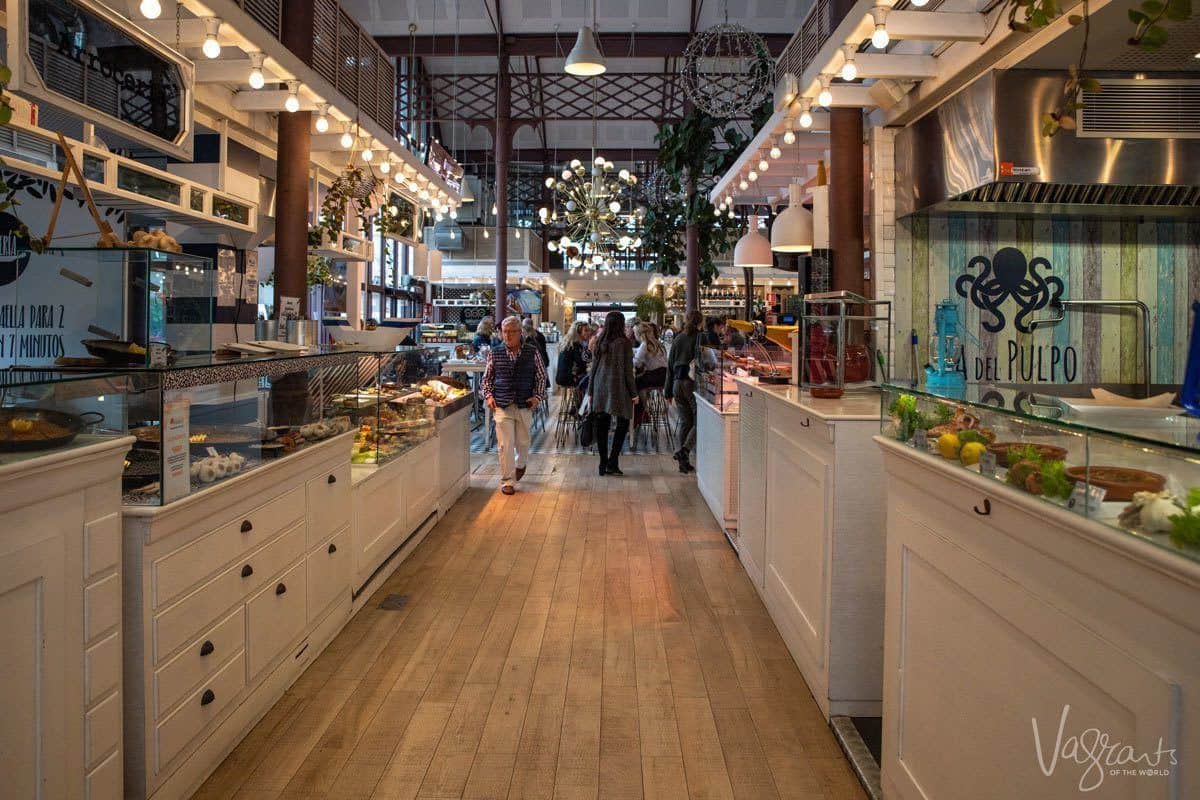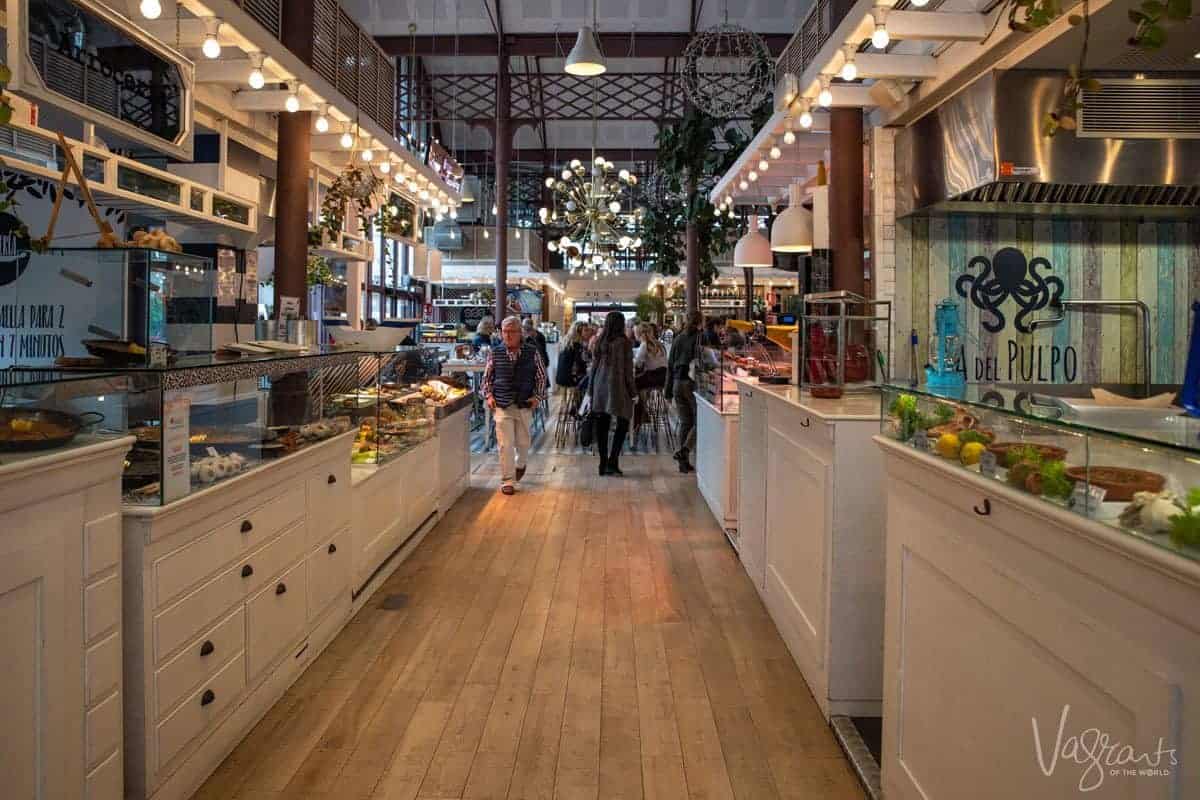 Twenty market stalls offering both traditional and modern Spanish cuisine. The best local Jamon Iberico (cured ham), typical paella, fresh seafood cooked to order, hand made croquettes and, a variety of modern and traditional tapas and local Sevillano beer and wine.
Graze your way through the many tastes of Seville in the bright and beautiful marketplace.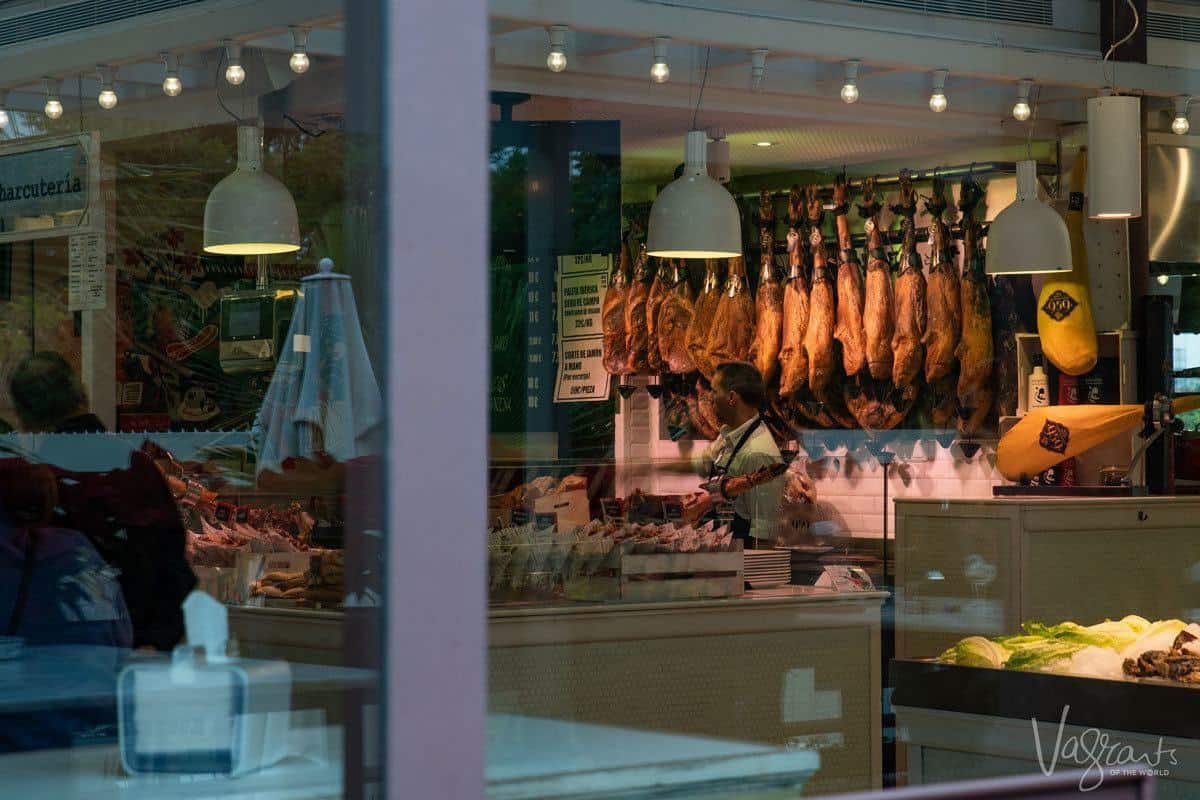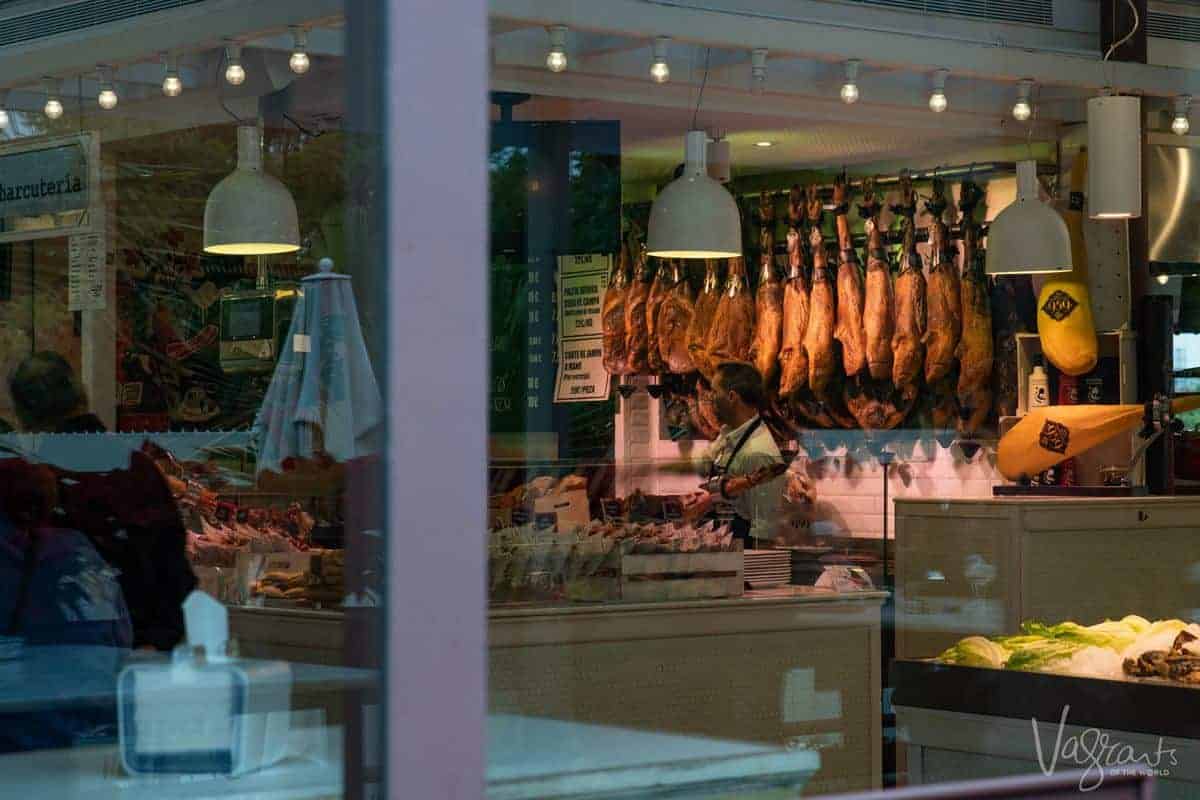 Outside the Mercado, you can have a drink and listen to music at the Terraza Sojo bar on the banks of the Guadalquivir River. The carefully designed all-weather terrace is great for any time of year.
Cost
Prices range from a few Euro for a tapas plate up to €18 for a large seafood portion. A small beer is approx. €1.30.
Opening Hours
Sunday to Thursday: 10.00 AM to Midnight
Friday & Saturday: 10.00 AM to 2.00 AM
? Mercado Lonja del Barranco, Calle Arjona, s/n, 41001 Sevilla, Spain
---
Lonja de Feria Food Market
A stone's throw from the popular Alameda de Hercules is the vibrant food market on Calle Feria –Mercado de Feria, Seville's oldest market. Head to the far end of the 18th-century building, near the fish vendors; you'll find a small assortment of tapas bars.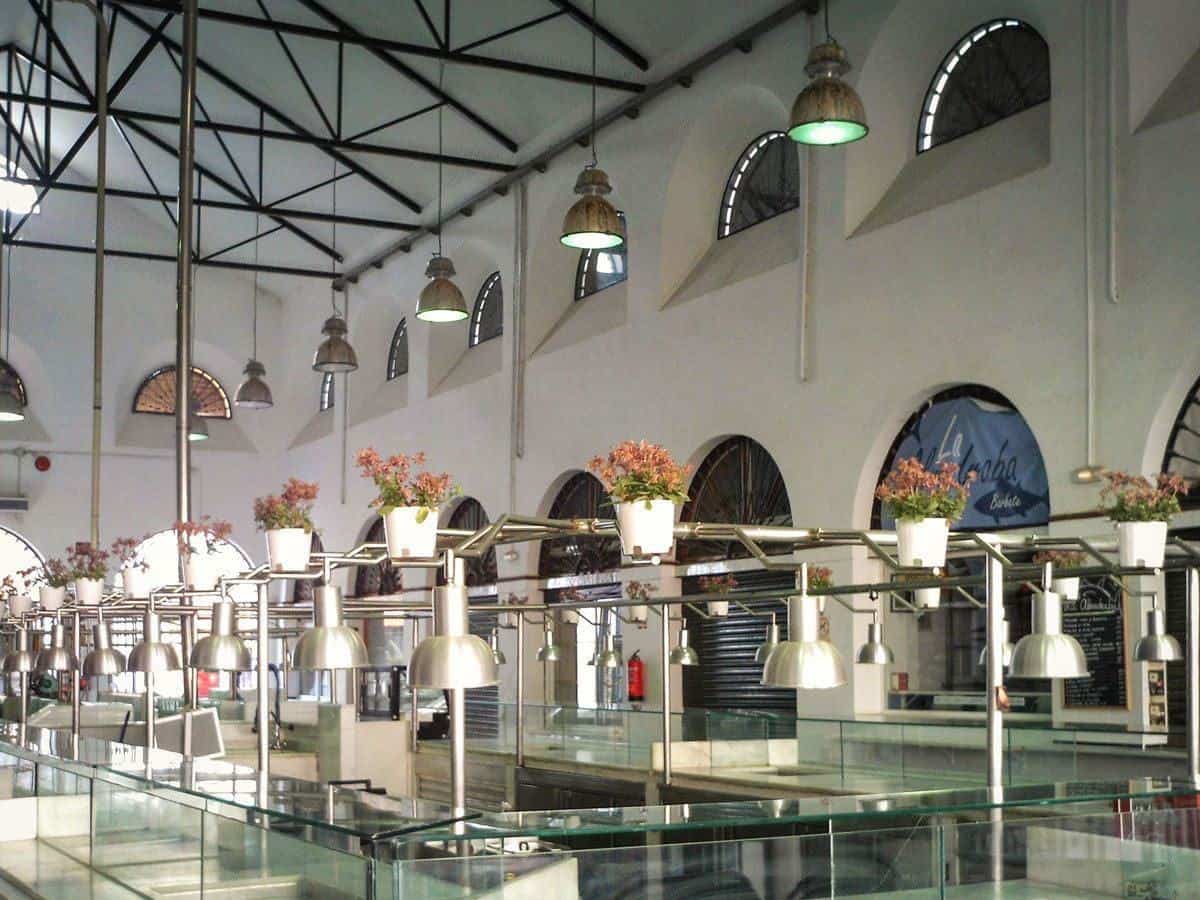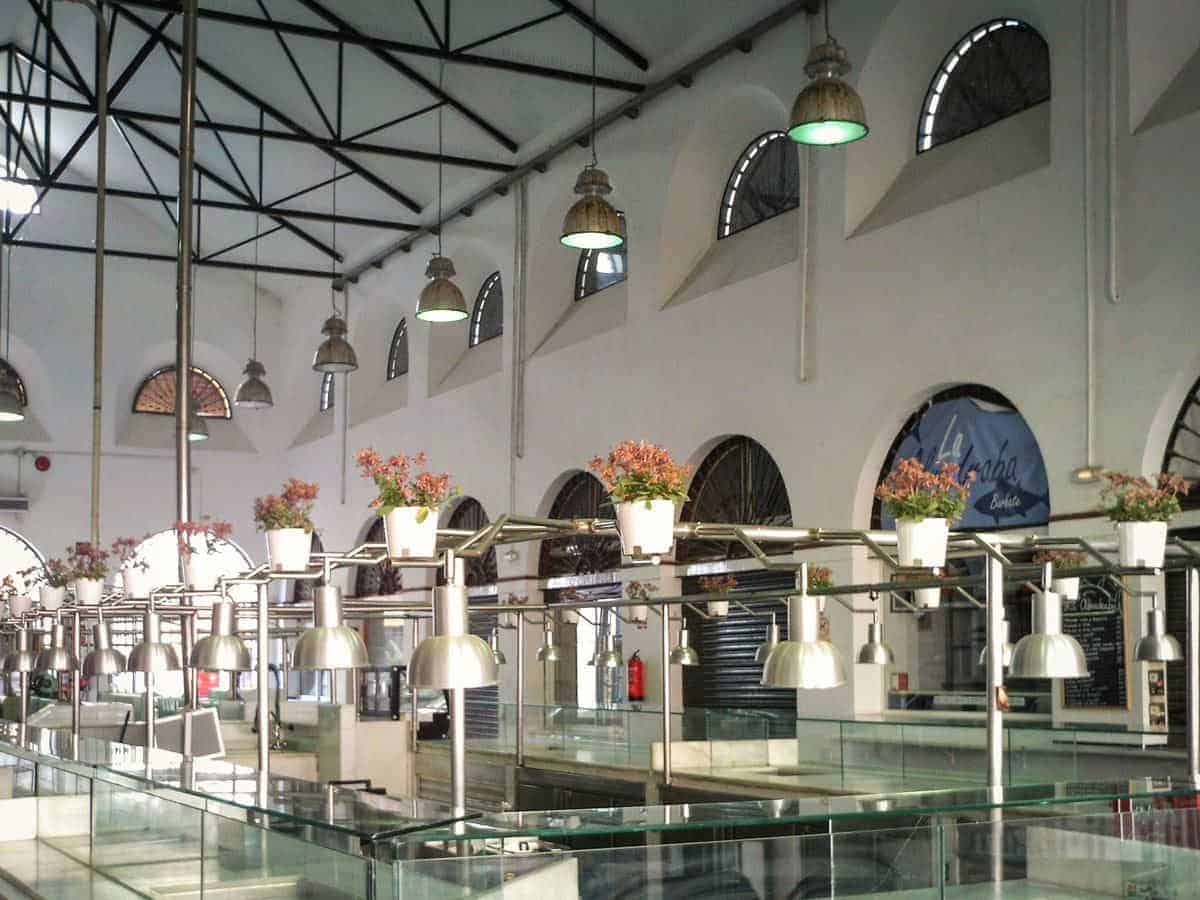 CarlosVdeHabsburgo CC BY-SA 4.0
Starting from as little as €3 you can choose a tapas plate which includes a small beer. Fresh fish and squid, grilled or fried on the spot and local Sevillian sausage are popular.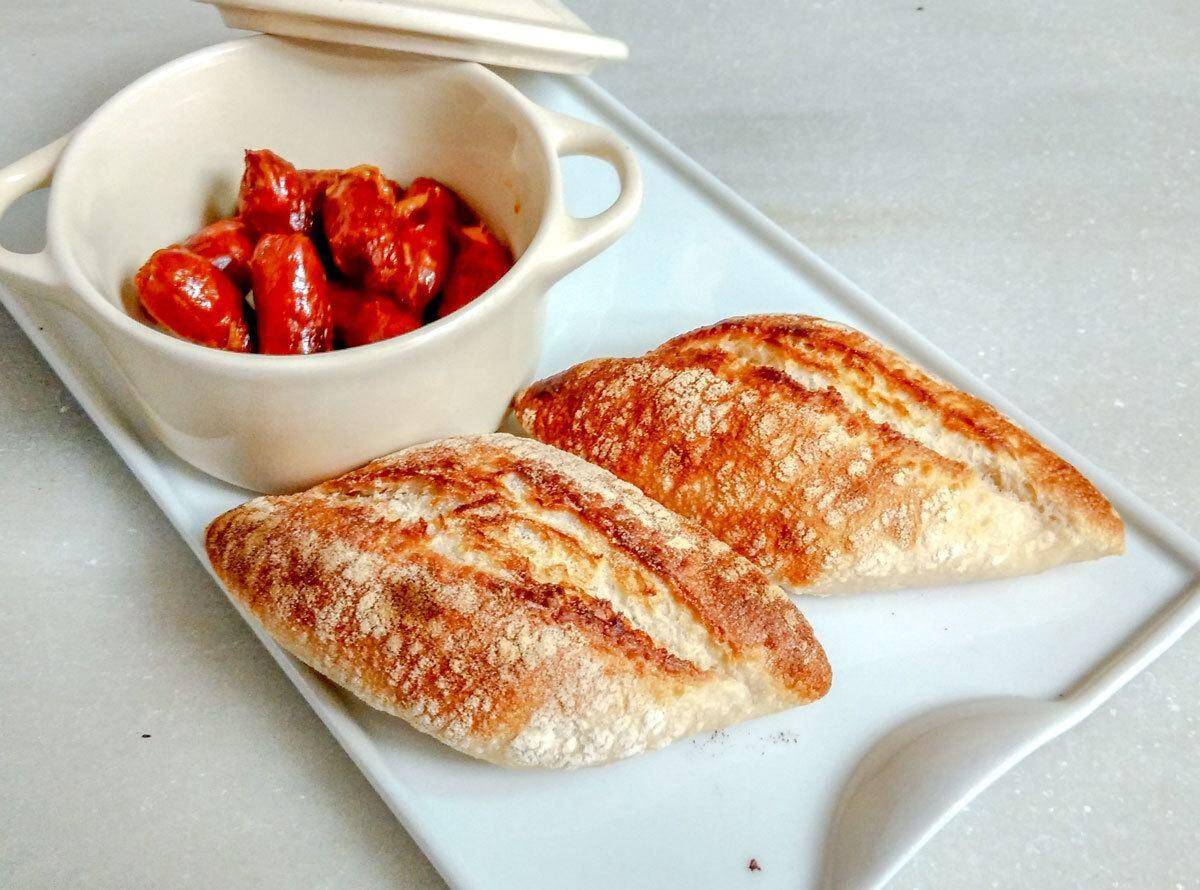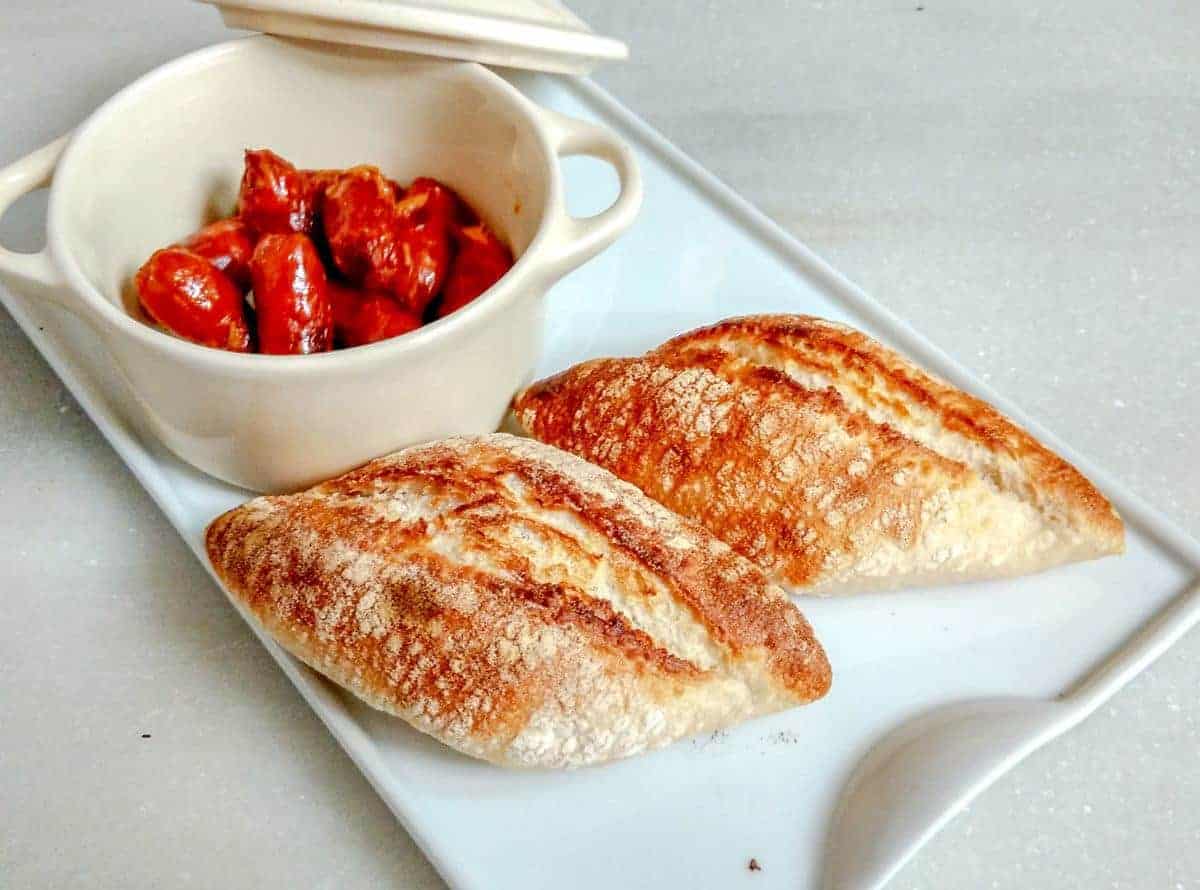 You'll also find huge pans of paella and black squid ink rice, handmade croquettes and cold soups such as salmorejo, ajoblanco, and, gazpacho.
Between Thursday and Sunday, the market comes alive in the evenings with live Jazz or flamenco music and a buzz of locals enjoying the reasonably priced tapas and a drink alfresco in the adjoining Plaza Calderón de la Barca.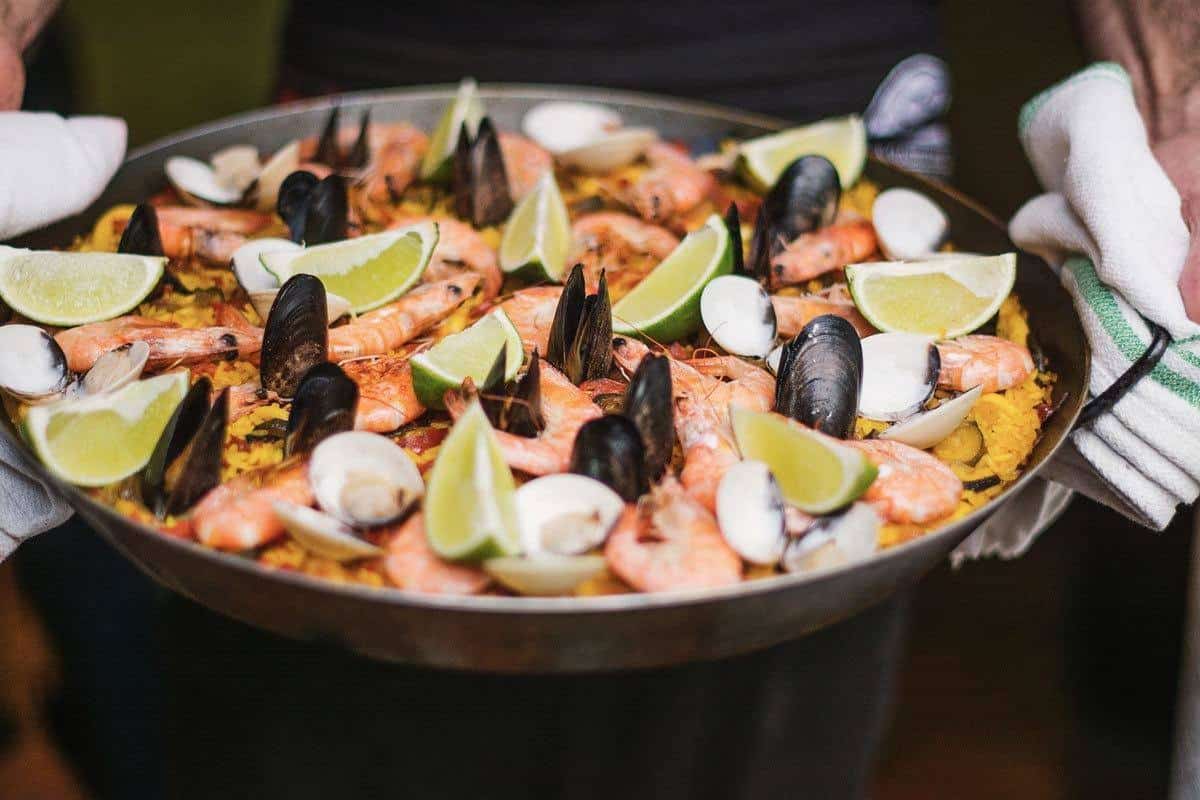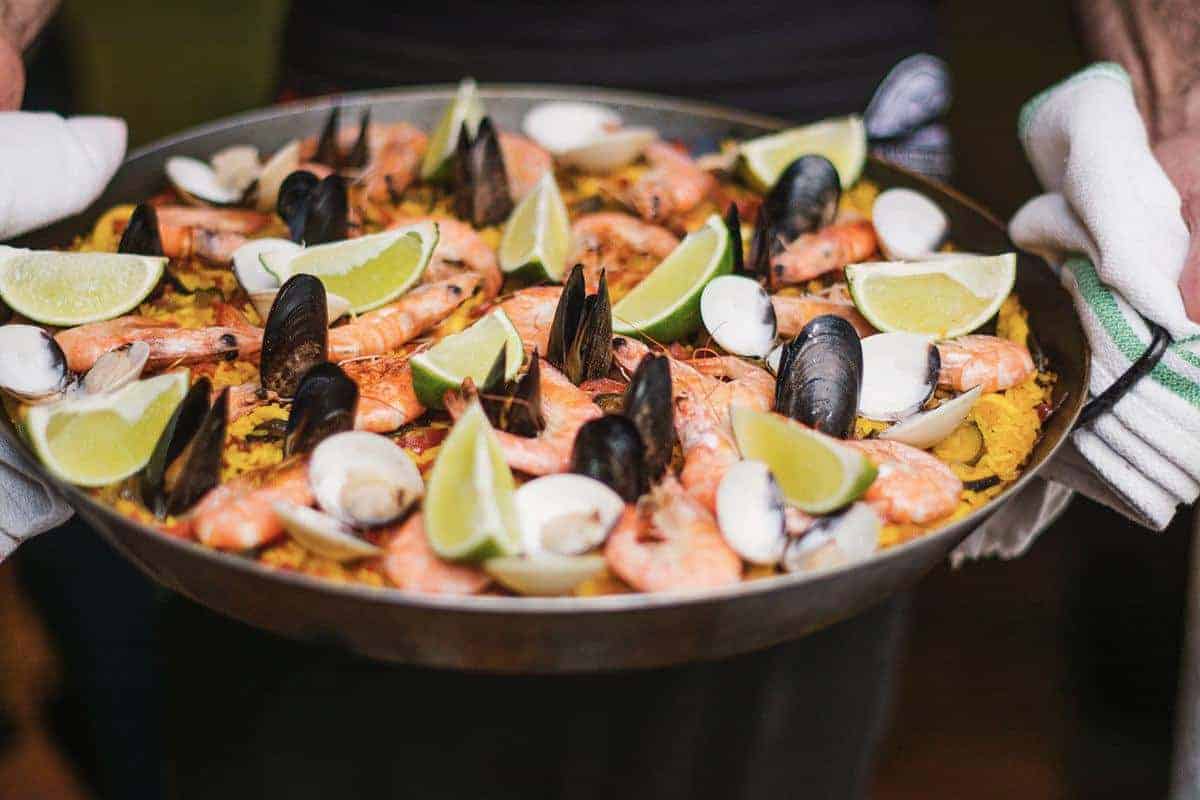 Lonja de Feria is the ideal place to taste the specialities of Sevillian cuisine. After all, one of the best things to do in Seville is to enjoy fresh fish tapas with a crisp, cold beer.
Cost
Tapas plates start as little as €3 or €3.50 with a small beer.
Opening Hours
Tuesday to Sunday: 1.00 PM to 11.30 PM
Monday: Closed
? Lonja de Feria, Plaza Calderón de la Barca, s/n, 41003 Sevilla, Spain
---
Triana Market
We mentioned earlier, Triana is one of Seville's most colourful and interesting neighbourhoods to explore. The same goes for the Triana Market. Not just interesting for its location and local vibe, Triana Market is a great place to eat.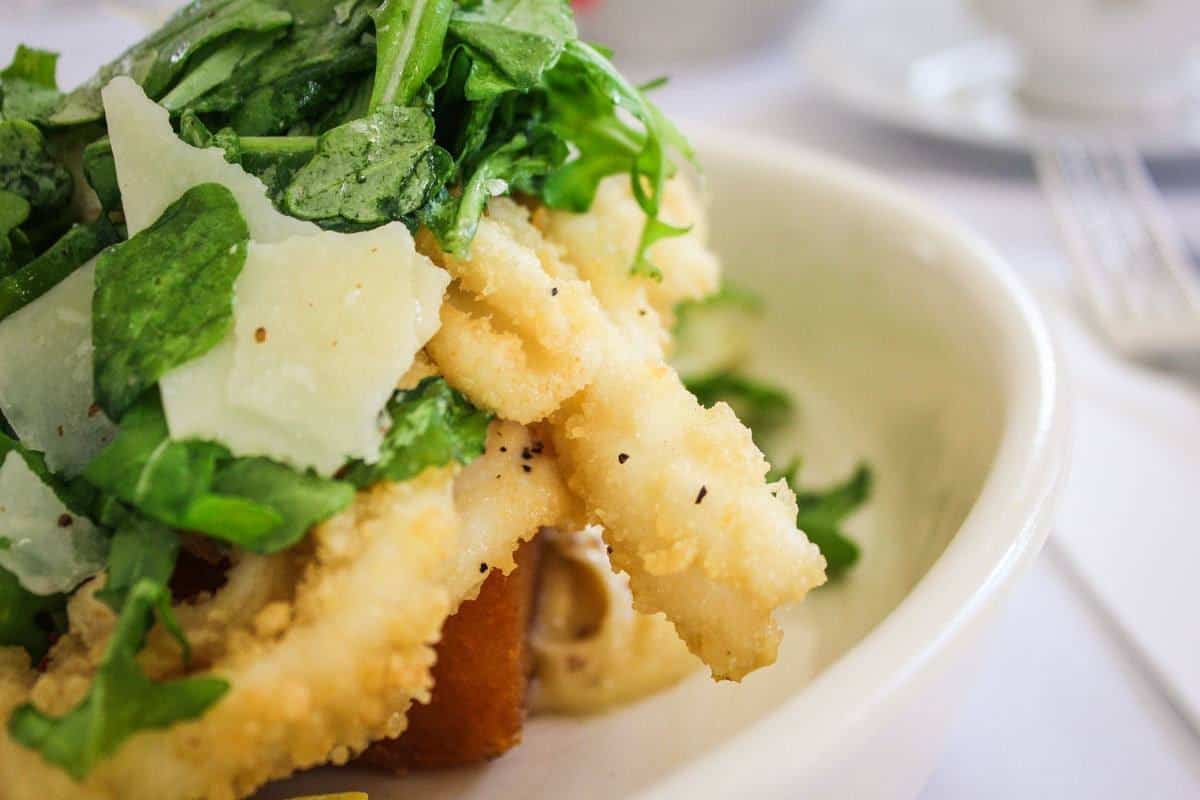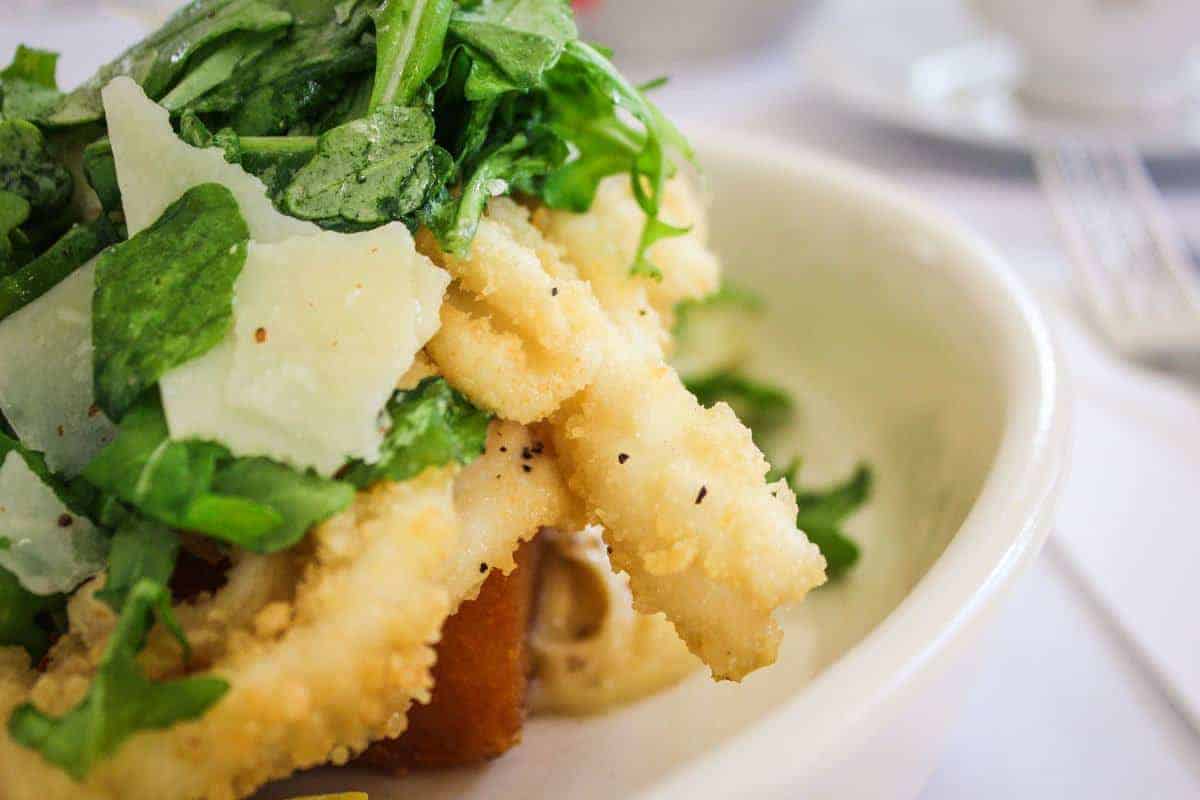 In addition to fresh produce, you'll find a good selection of modern wine bars, microbreweries, tapas bars and eateries. There is often live music and even a cooking school.
Opening Hours
Shops
Monday to Saturday : 9:00 AM to 3:00 PM
Restaurants & Leisure Areas

Monday to Saturday : 10: 00 AM to Midnight
Sundays and Holidays : 12: 00 PM to 5: 00 PM
? Triana Market, Calle San Jorge, Seville, Spain
---
El Rinconcillo. Seville's Oldest Bar
With more than four centuries of history, the oldest bar in Seville, El Rinconcillo was founded in 1670. Even though it has had many write-ups in popular guidebooks, most tourists to Seville won't bother to wander far enough from the centre to find it. Especially day trippers.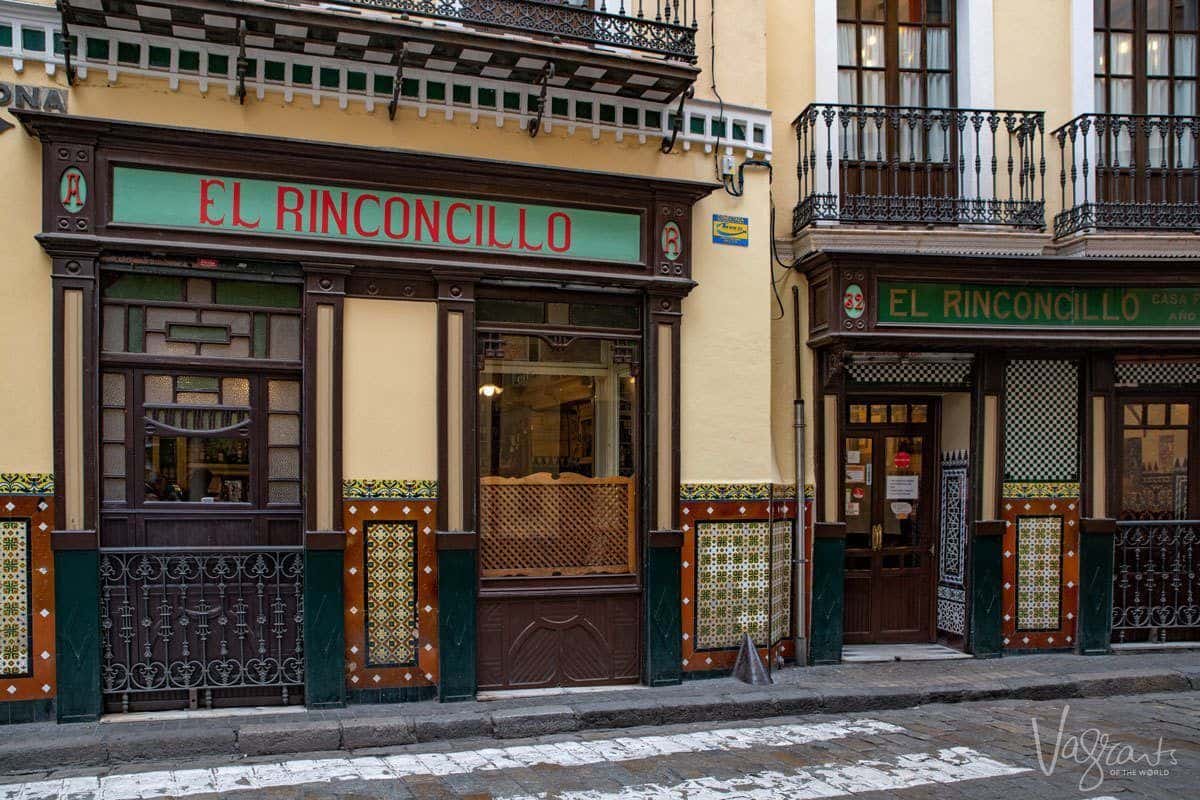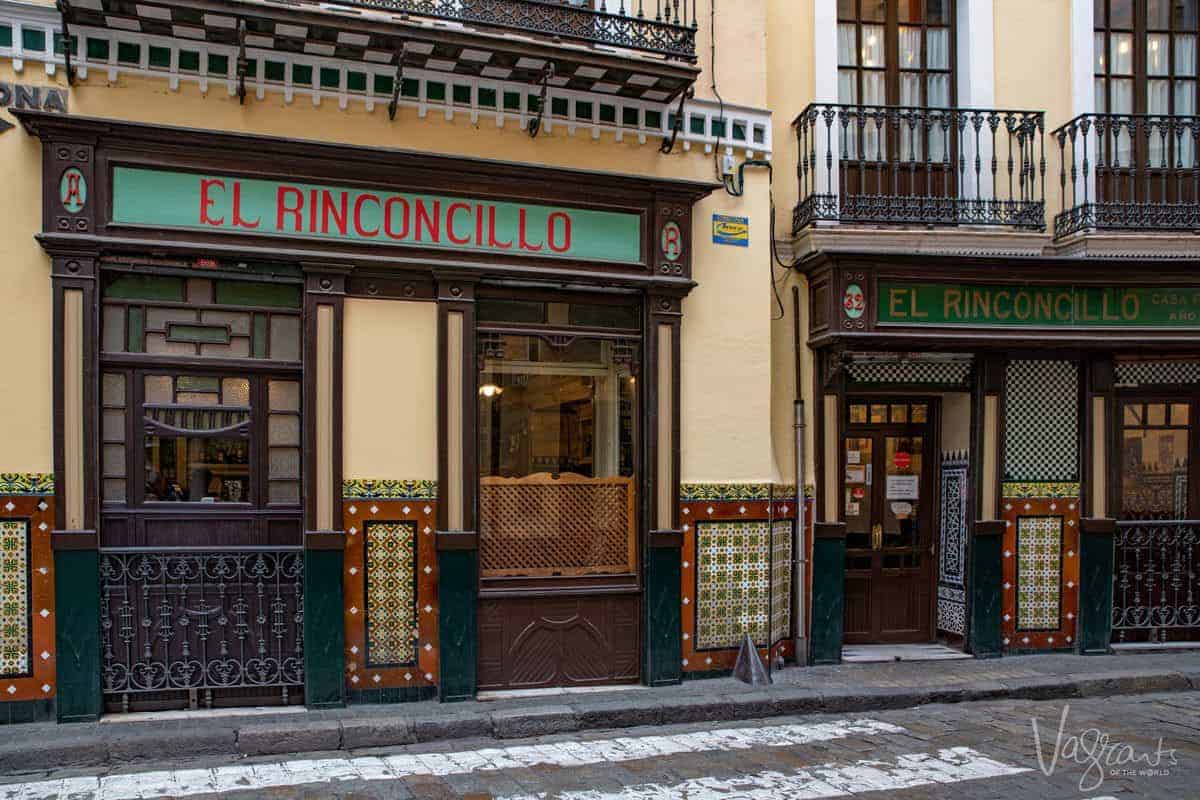 Popular with locals, and visitors who make the effort, don't be surprised if you see a big name celebrity or two propping up the bar at El Rinconcillo. (Harrison Ford can attest to the quality of the traditional spinach and chickpeas tapas the bar is known for).
Celebrities aside, tradition is still at the core of El Rinconcillo, and refreshingly, prices have not increased with the bar's reputation. Since 1858, El Rinconcillo has been handed down through the same family with two brothers still running it the traditional way.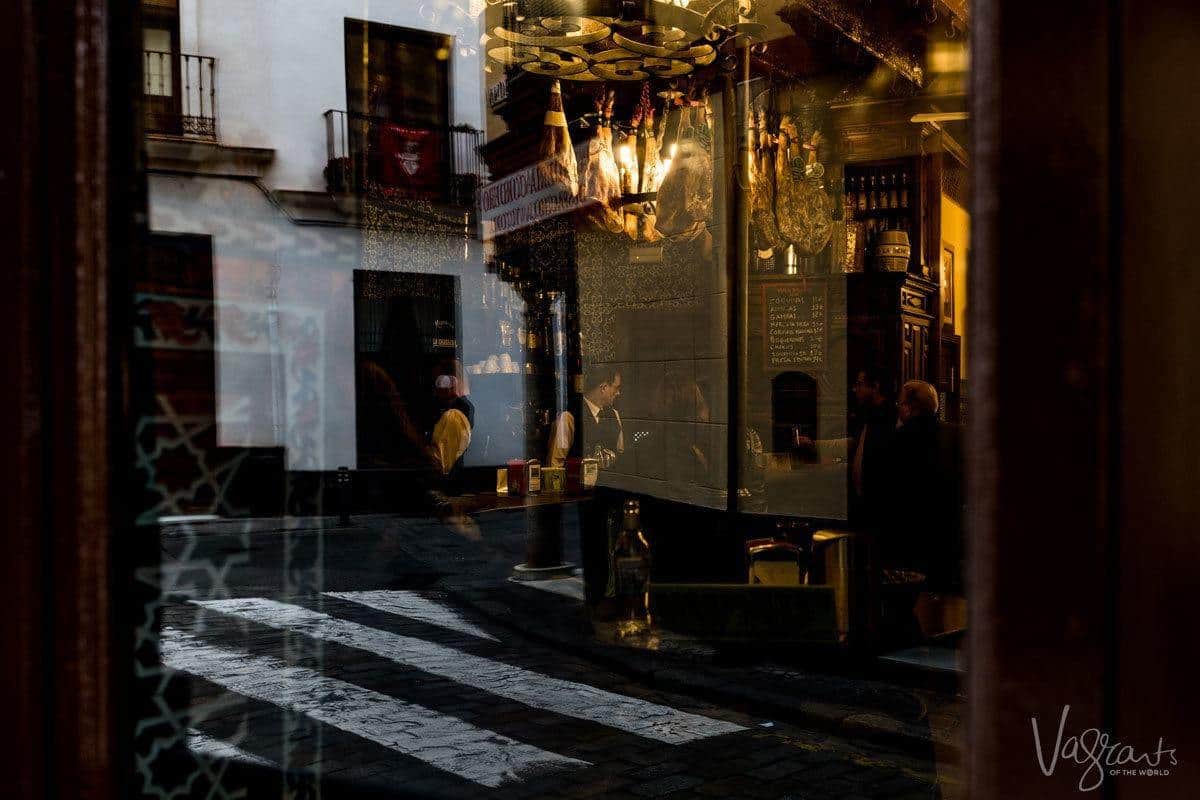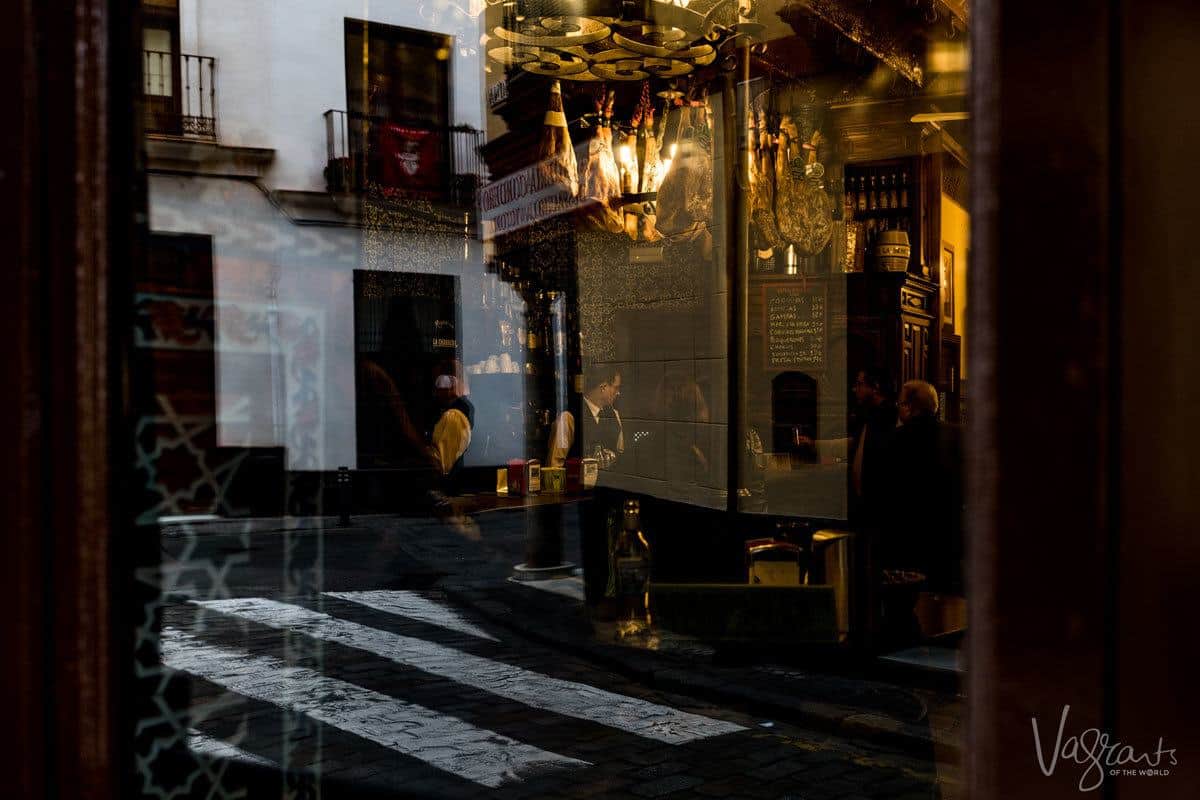 The original interior has been magnificently preserved. Waiters and bartenders still dress in black waistcoats, and crisp white shirts, and, as tradition states; you will not find any women working the front of house.
Make the effort to wander off to this quieter barrio, and you'll be rewarded with an important piece of Seville's culinary history.
El Rinconcillo now occupies the two adjoining buildings on the corner, one a former grocery store. Tapas is served at the bar on the corner and next door offers restaurant dining.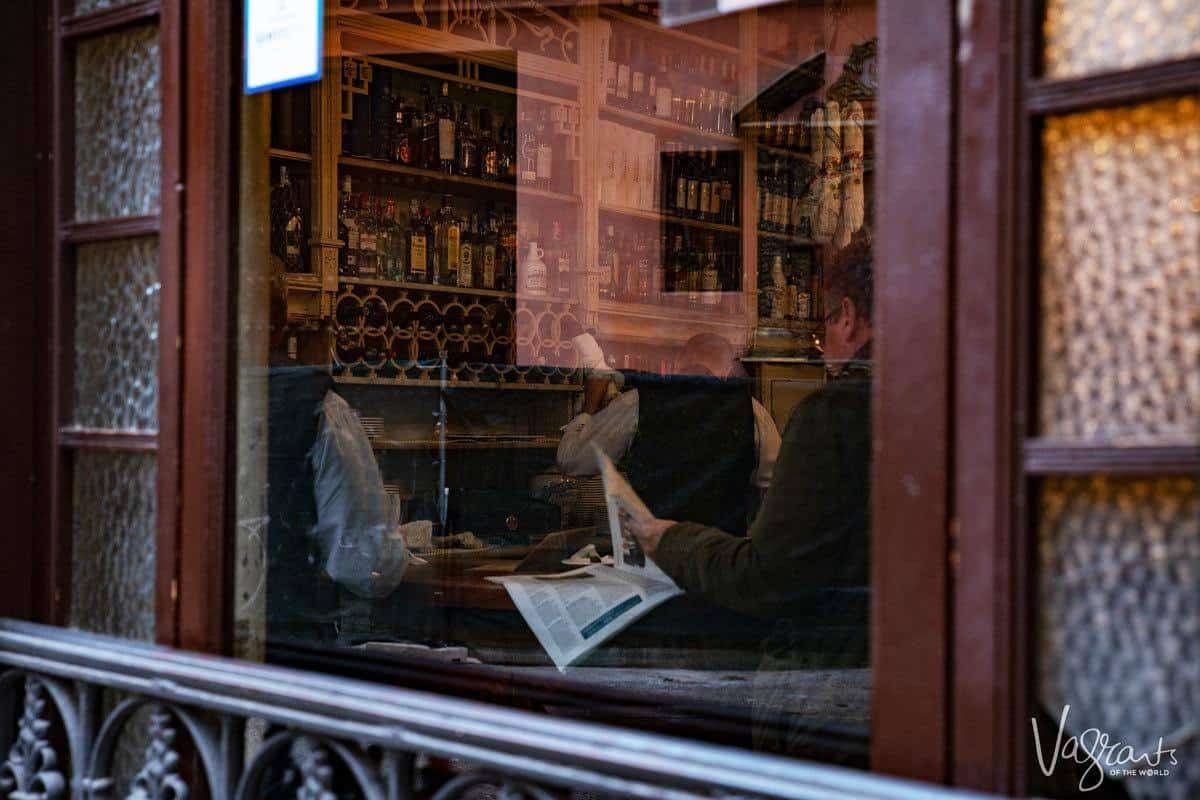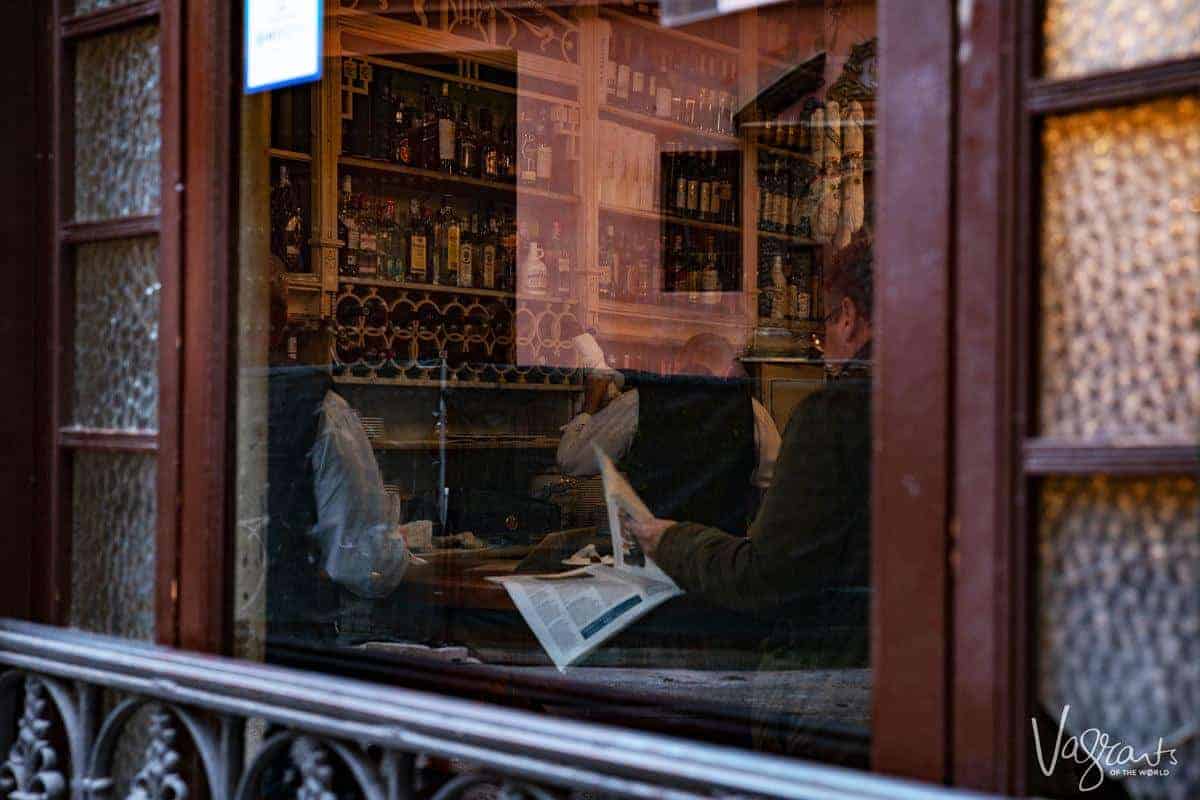 Cost
In the bar expect around €1.20 for a small beer with tapas ranging from €2–€5. When you're ready to leave, your tab will be written in chalk on the bar which is the custom in many of Seville's older establishments.
Opening Hours
Open Every Day: 1.00PM to 1.30 AM
El Rinconcillo is closed first two weeks of August.
? El Rinconcillo, Calle Gerona, 40, 41003 Sevilla, Spain
---
The Secret Bar of Casa Moreno
It is at Seville's oldest and best-loved ultramarinos (small specialist grocery store) where you will get a glimpse of local life in Seville.
Slide past walls of neatly staked dry foods and produce in the tiny shop of Casa Moreno and tucked away at the back of the shop you will find a small corridor style bar full of charming clutter and memorabilia. A bar we doubt many tourists would ever discover.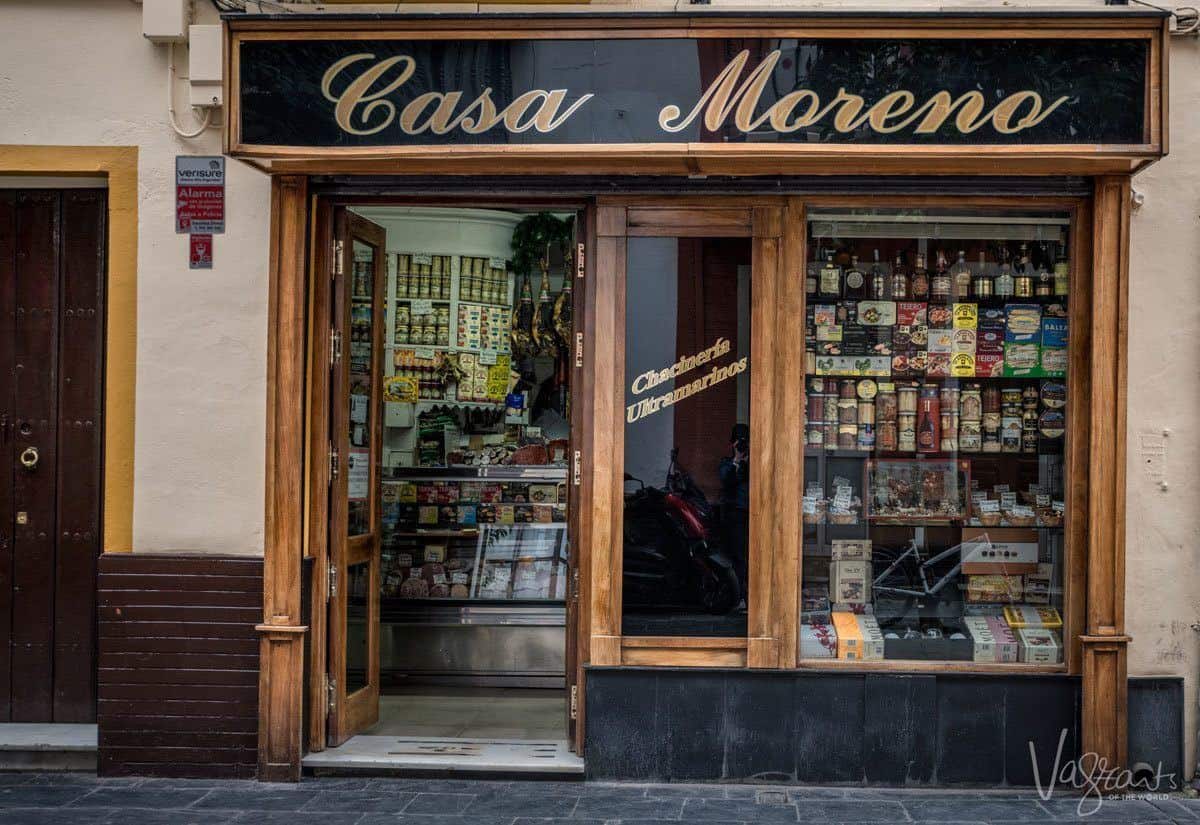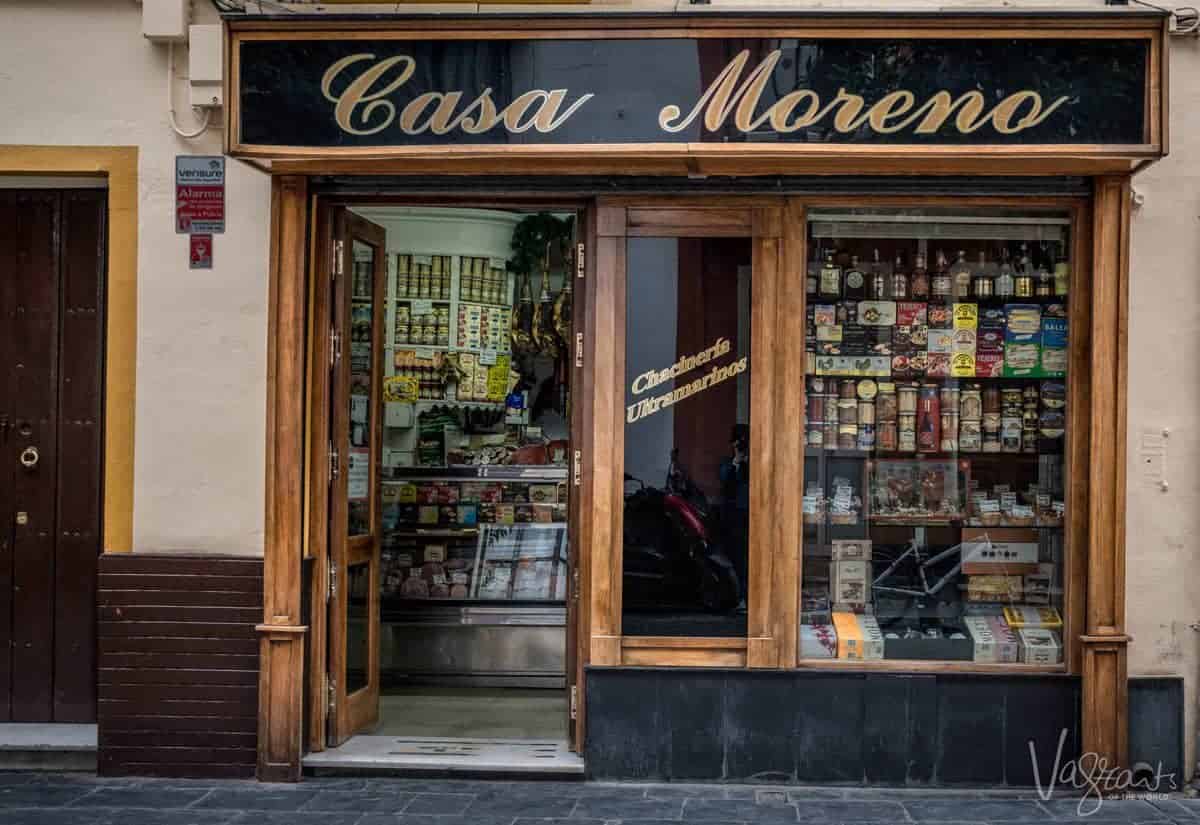 This style of ultramarinos or abacería is becoming fashionable again in Seville, but Casa Moreno is where a trade of loyal local customers pop in each day as they always have, for a quick drink and a simple snack.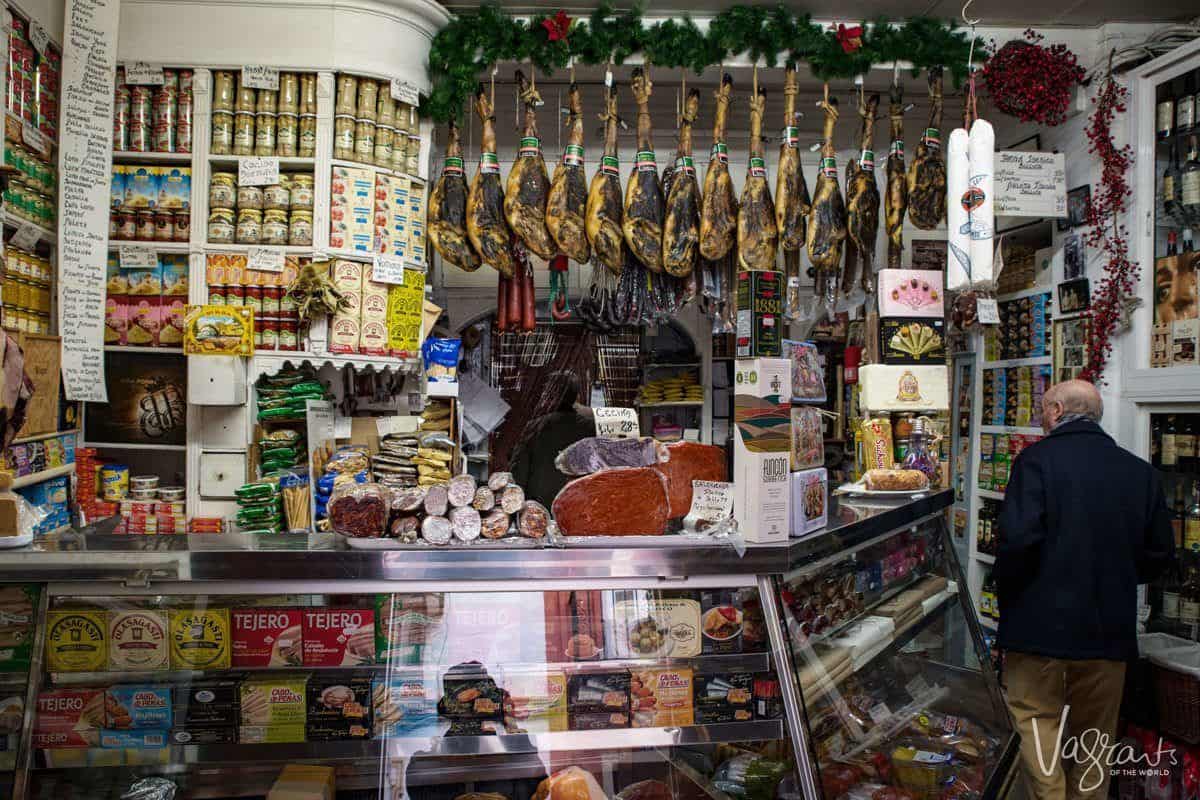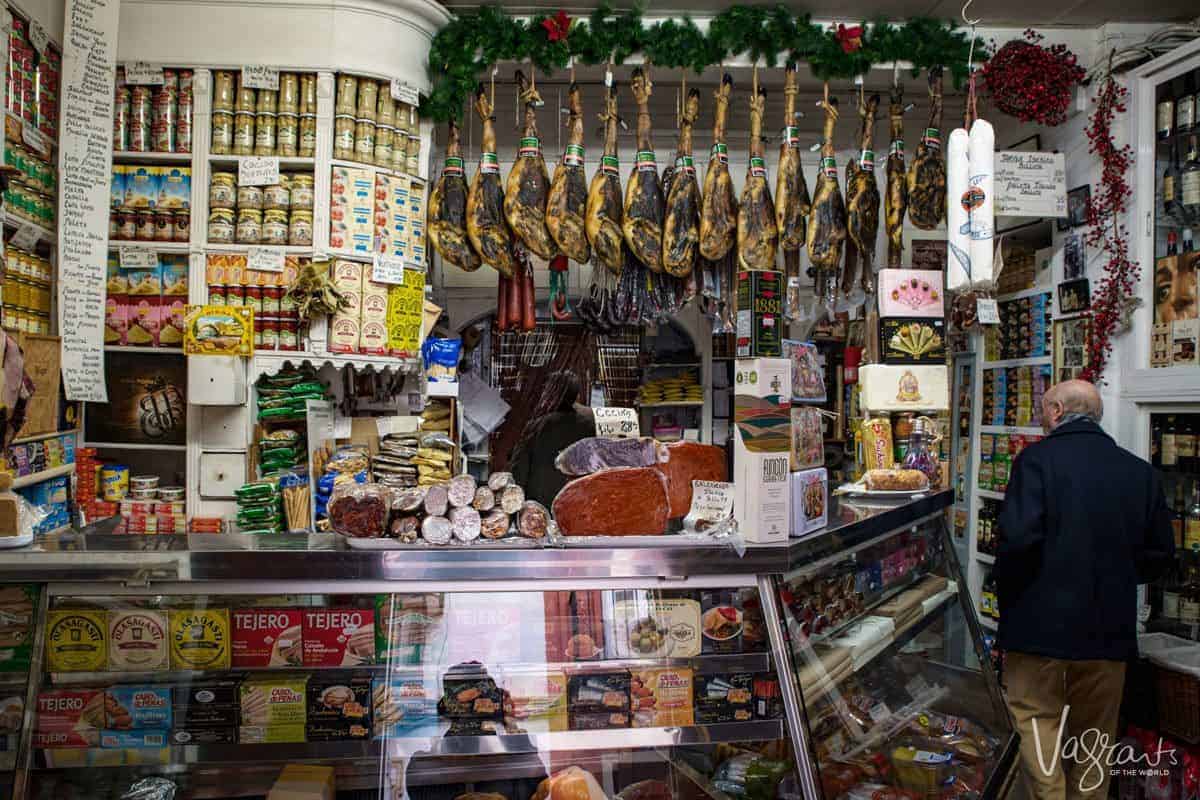 There is no kitchen in Casa Morena; the menu is simple but tasty tapas plates and montaditos (small sandwiches) made from the products you can buy in the shop. It is in the simplicity of the menu you can appreciate the quality of the products sold there.
At lunchtime, you will find a few prepared meals such as tortilla or stews. Other than that, it's an excellent place for breakfast, a light snack, or an early evening tapeo. They also have a very impressive wine list by the glass.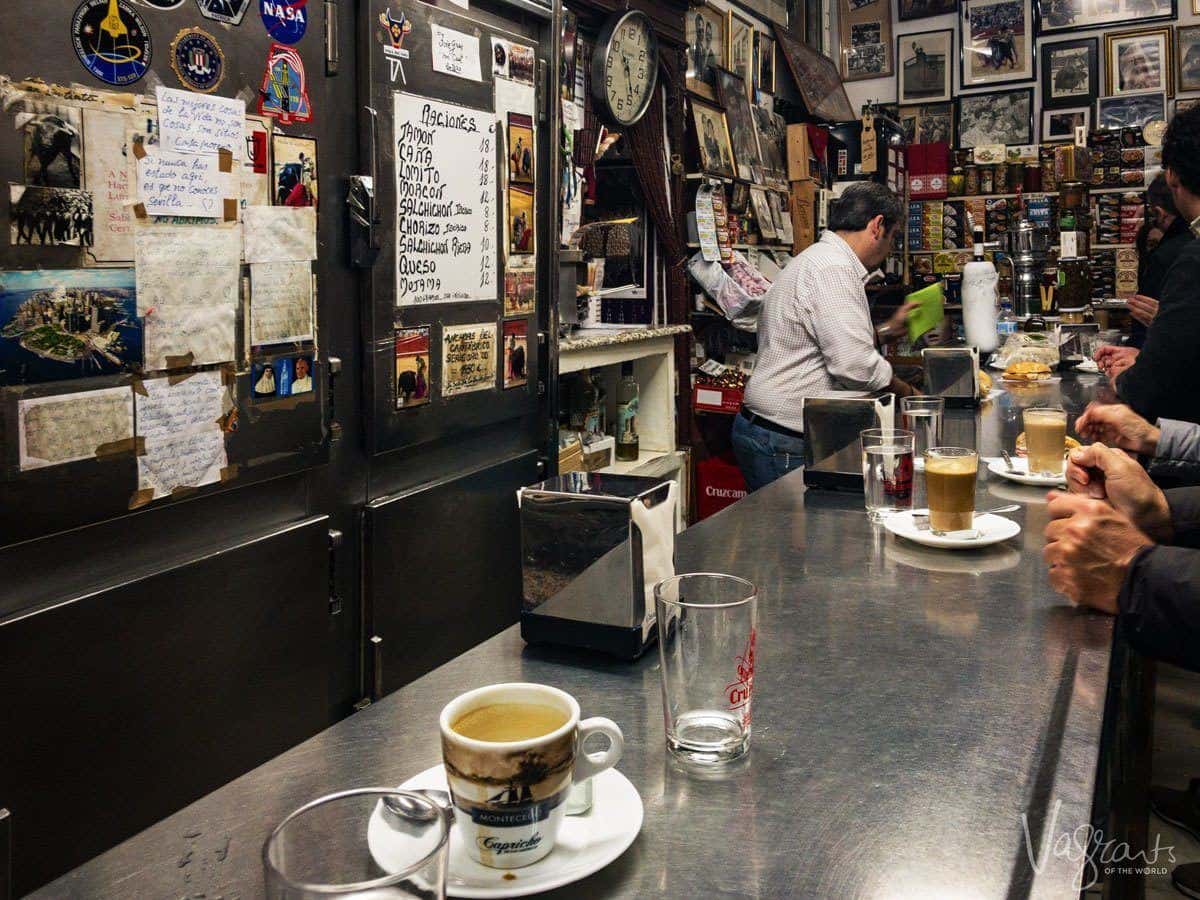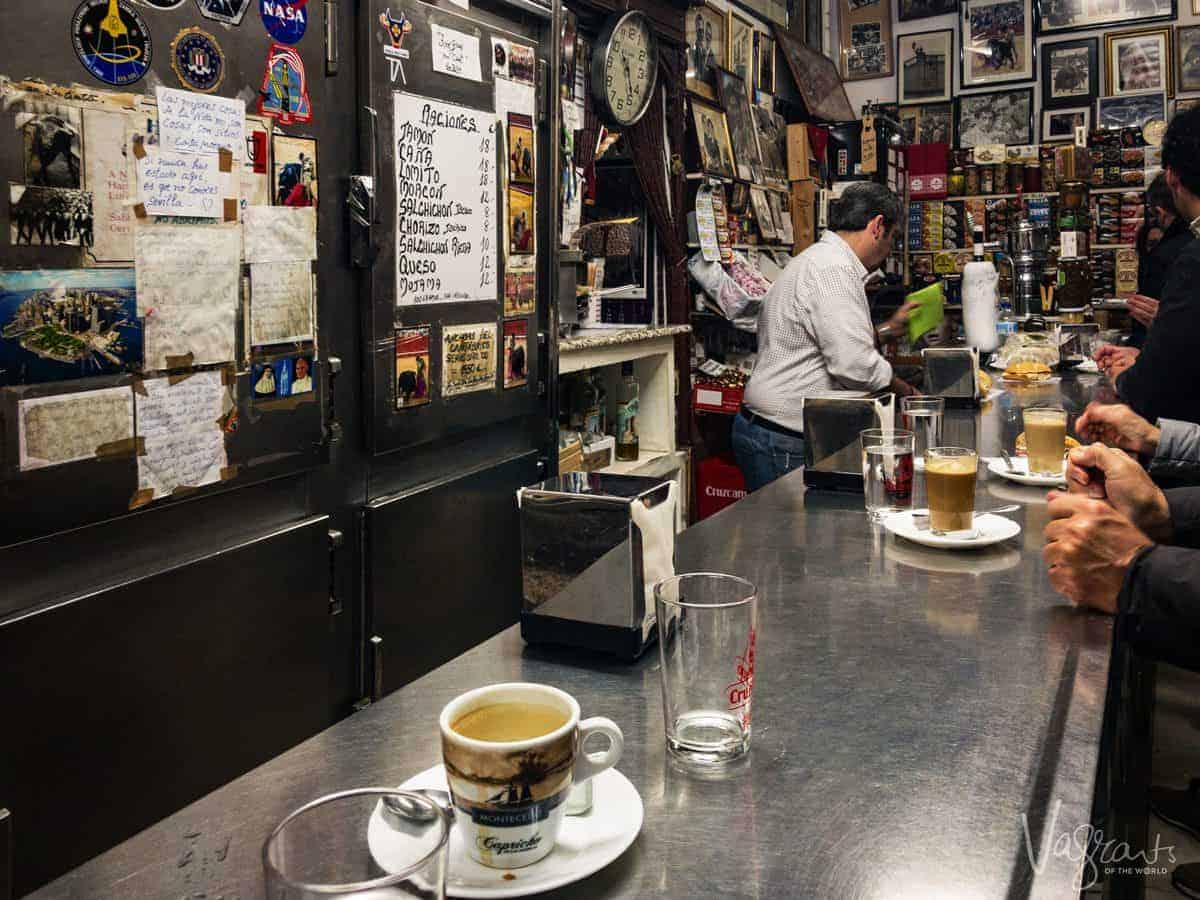 Cost
Expect to pay as little as €1.20 for a coffee and around €2.00 for a montadito. Raciones (portions) range from €8.00 – €18.00.
Opening Hours
Monday to Friday: 8.30 AM – 3.30 PM | 7.00 PM – 10.30 PM
Saturday: 10.30 AM – 3.30 PM
Sunday: Closed
Closed in August
?Casa Moreno, Calle Gamazo, 7, 41001 Sevilla, Spain
WHAT TO DO IN SEVILLE AT NIGHT
From tapas crawls to flamenco shows, there is so much to do in Seville at night. You'll never be short of a way to fill your evening but if you are short on time and want to experience some of Seville's best views and vibrant nightlife, here are a few tips.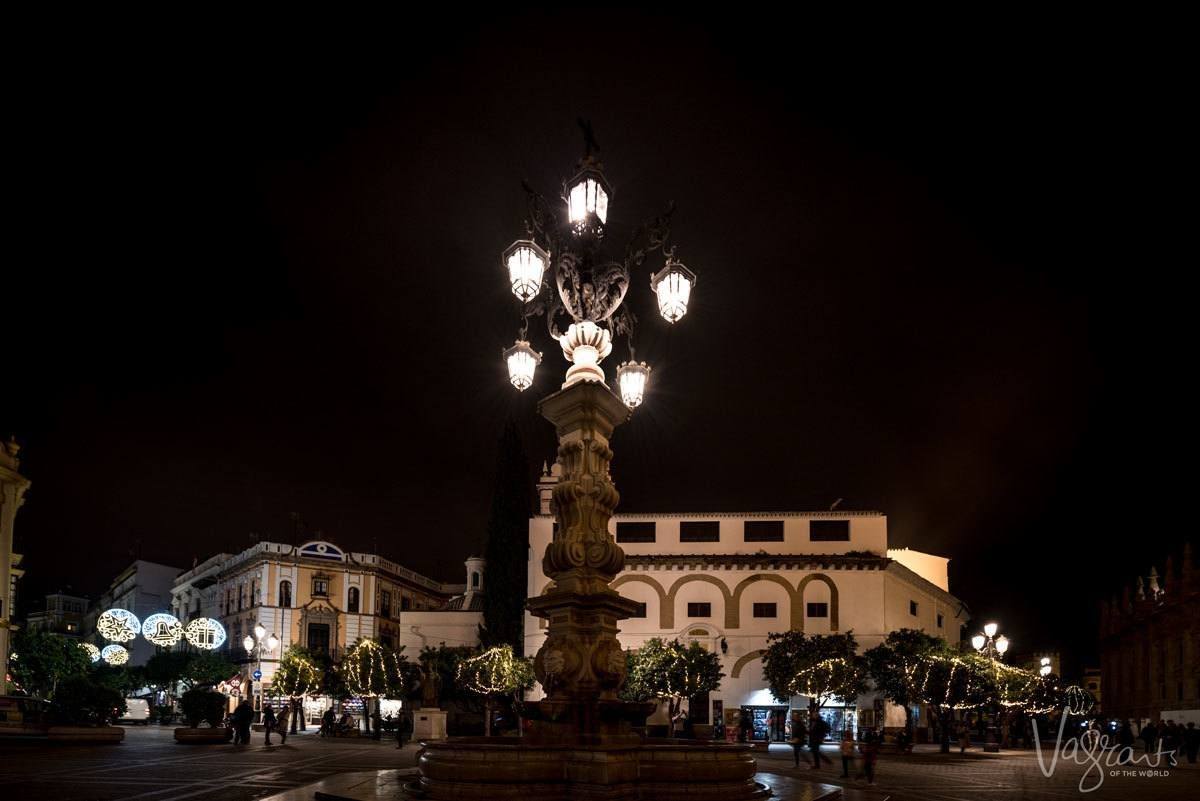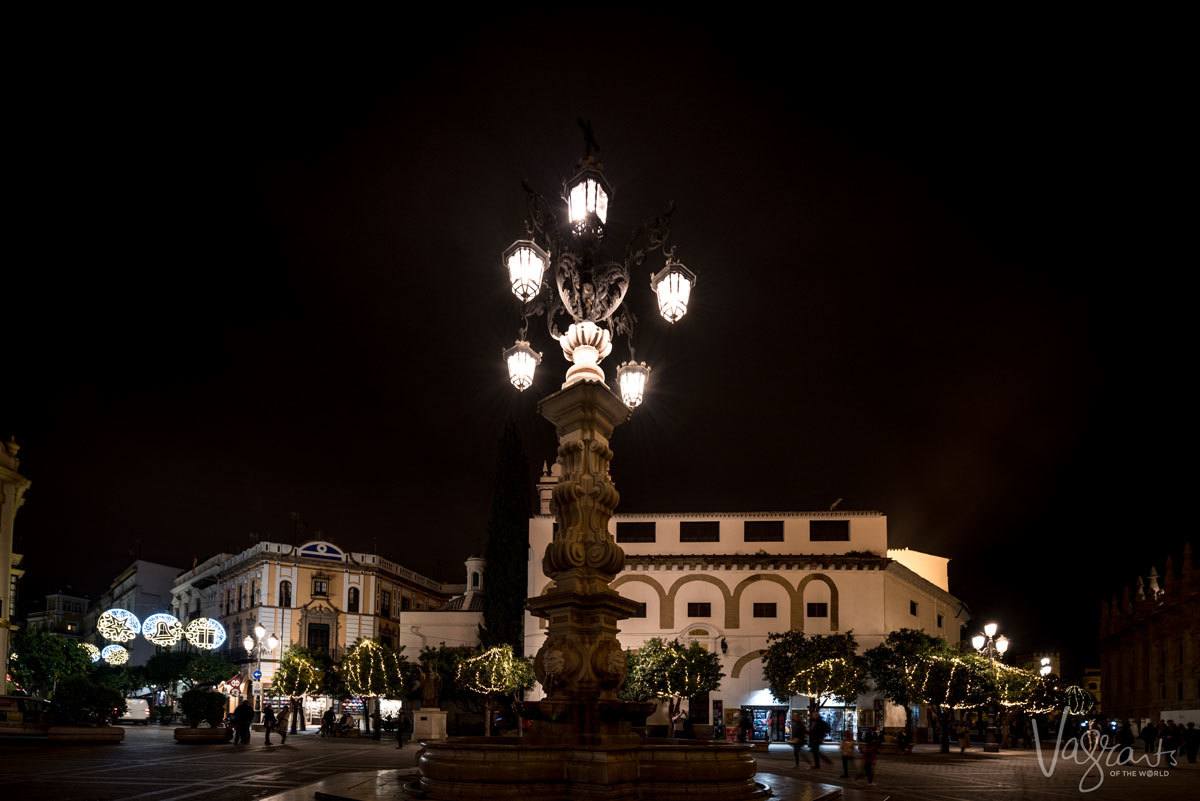 Rooftop Cocktails With a Cathedral View
Once the sun starts to set on Seville, head to one of the cities rooftop bars for a cocktail and view of the beautiful Saville Cathedral at night.
Hotel Doña Maria, an elegant 14th-century palace turned hotel, has the Terraza Hotel Doña María, the first rooftop bar in Seville.
? Hotel Dona Maria, Calle Don Remondo, 19, 41004 Sevilla, Spain
Eme Cathedral Hotel, a modern design hotel also has a rooftop bar with sweeping views over the city and cathedral.
?EME Catedral Hotel, Calle Alemanes, Seville, Spain
Both bars are suited to all seasons as the rooftop terraces are heated in winter.
With the view and stunning location comes a slightly inflated cost so expect to pay a little more than is the norm in Seville. Although, the popularity of the bars show the price is not unjustified. Expect €9-13 for cocktails.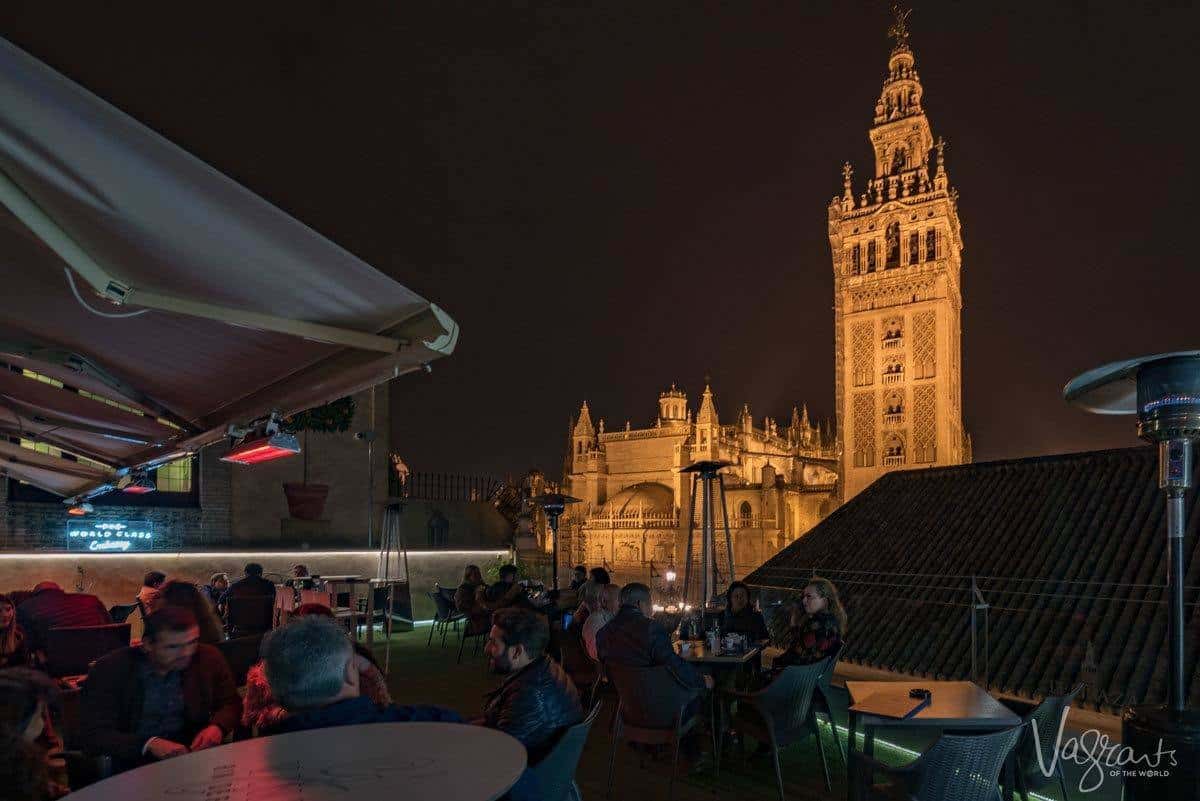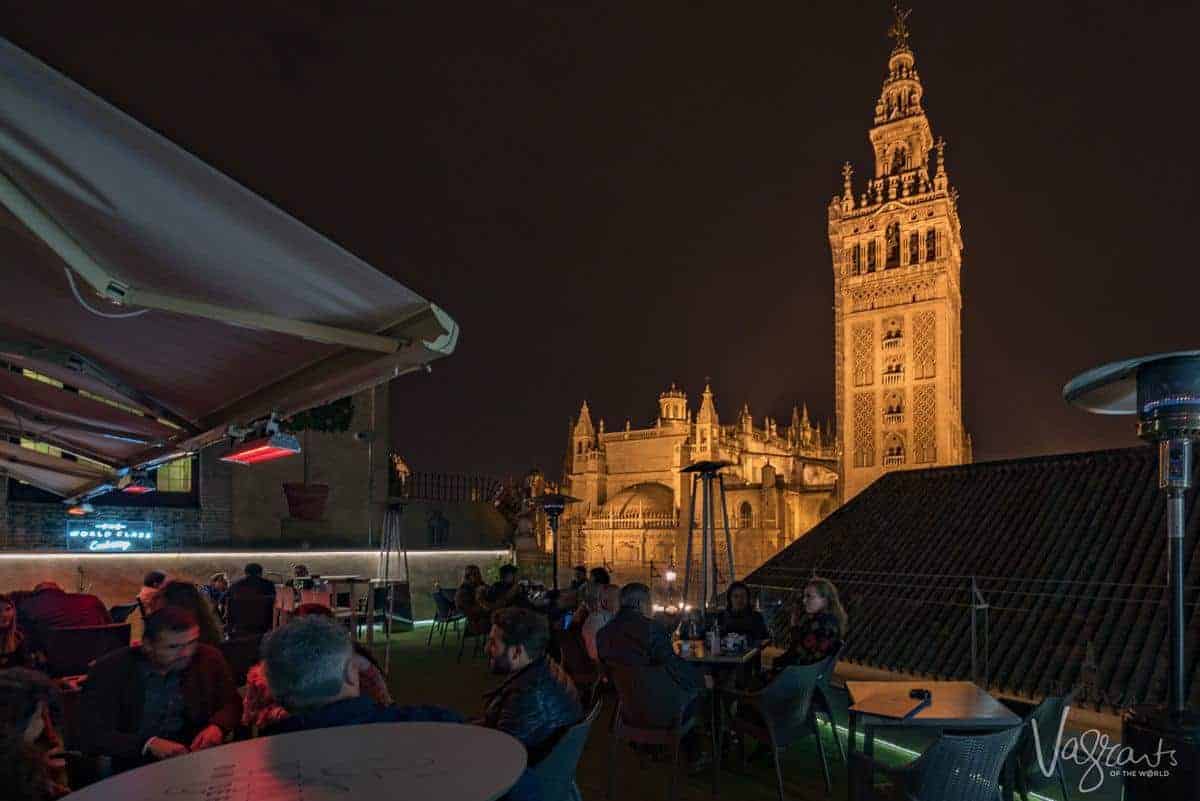 Calle Betis Triana
We keep coming back to Triana and for good reason. The unique neighbourhood's character means it has something to offer any time of day. Calle Betis in Triana is touted as one of the most beautiful streets in Seville thanks to its views of the Guadalquivir river and Seville city. It also boasts some of the most thriving and lively nightlife.
Be warned though, Spaniards are not known for their early nights, so don't expect the party to start early.
? Calle Betis, Sevilla, Spain
Alameda de Hercules
Alameda is considered one of the most famous and "coolest" entertainment areas in Seville. A big pedestrian street full of alternative bars, restaurants, and live music, Alameda is often compared to London's Soho or Barcelona's El Raval for its edgy and creative vibe set amongst historic places.
Alameda is where you will find outdoor artisan markets, hip bars and unique restaurants. A creative and multicultural area renown for its nightlife, they say everything is possible in Alameda.
Alameda de Hércules, Seville, Spain
FESTIVALS IN SEVILLE
Feria de Abril
The legendary fiesta of Feria de Abril (April Fair) is one of the most important events in Seville and one of the biggest fairs in Spain. The week-long party usually takes place two weeks after Easter.
Around 1,000 marquees are erected in the fairgrounds in Los Remedios, southwest of Seville. The week-long event starts with the lighting of thousands of lights at the fiesta site and finishes a week later with a big fireworks display.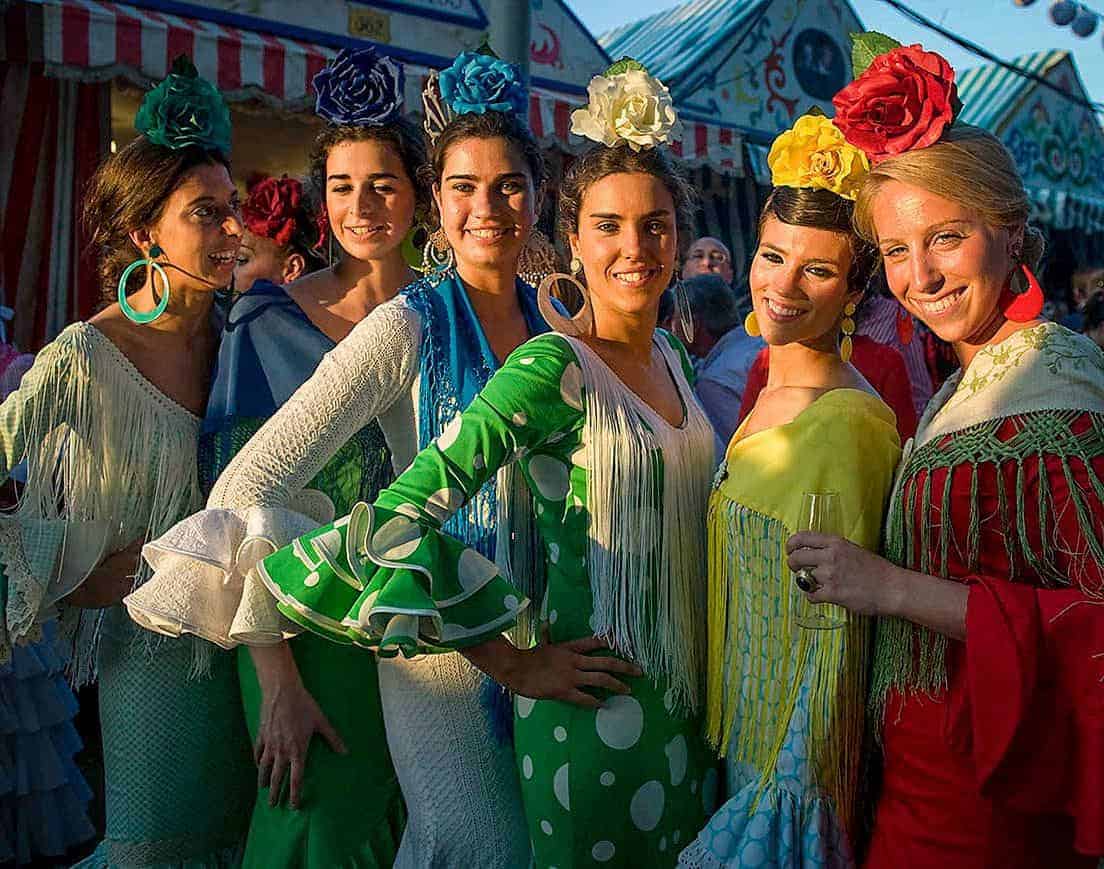 De Sevilla Congress & Convention Bureau – CC BY-SA 2.0,
Locals gather in the typical dress – brightly coloured flamenco dresses and short waistcoats and wide-brimmed hats for the gents. As well as classic amusement rides, the days are filled with events, music, eating and drinking and of course, dancing till dawn.
See here for dates and information.
? Feria De Abril, Calle Juan Belmonte, 38, 41011 Sevilla, Spain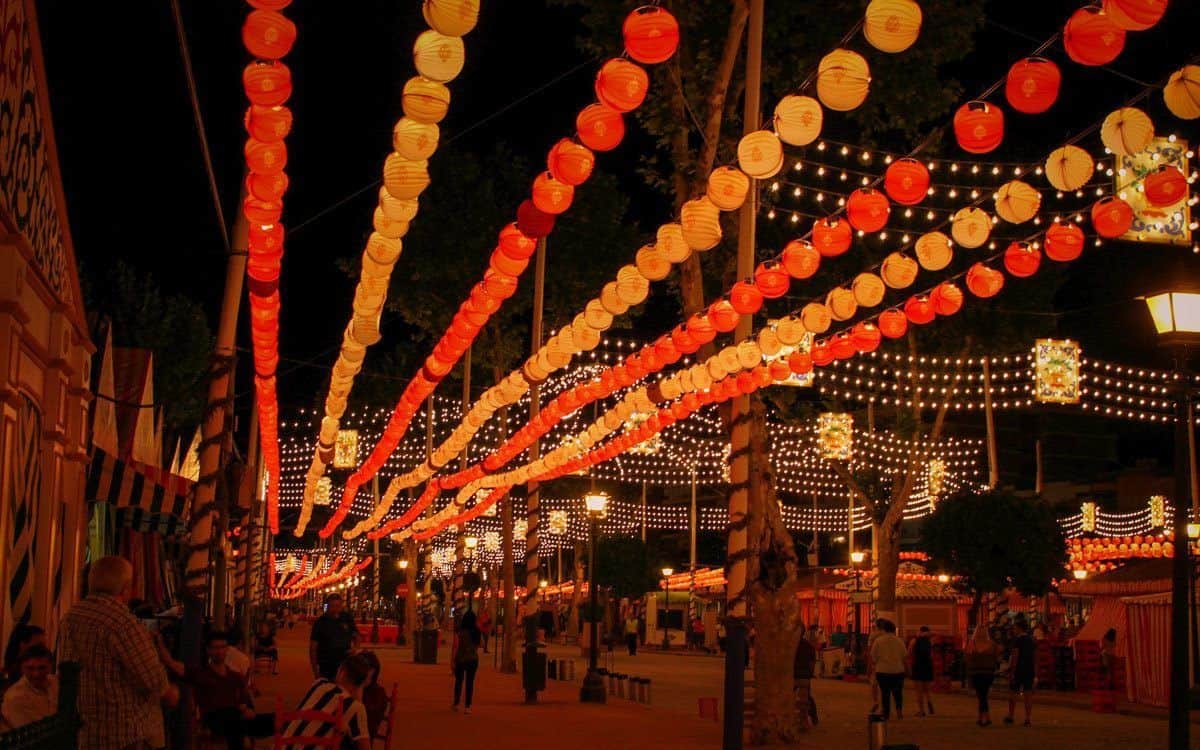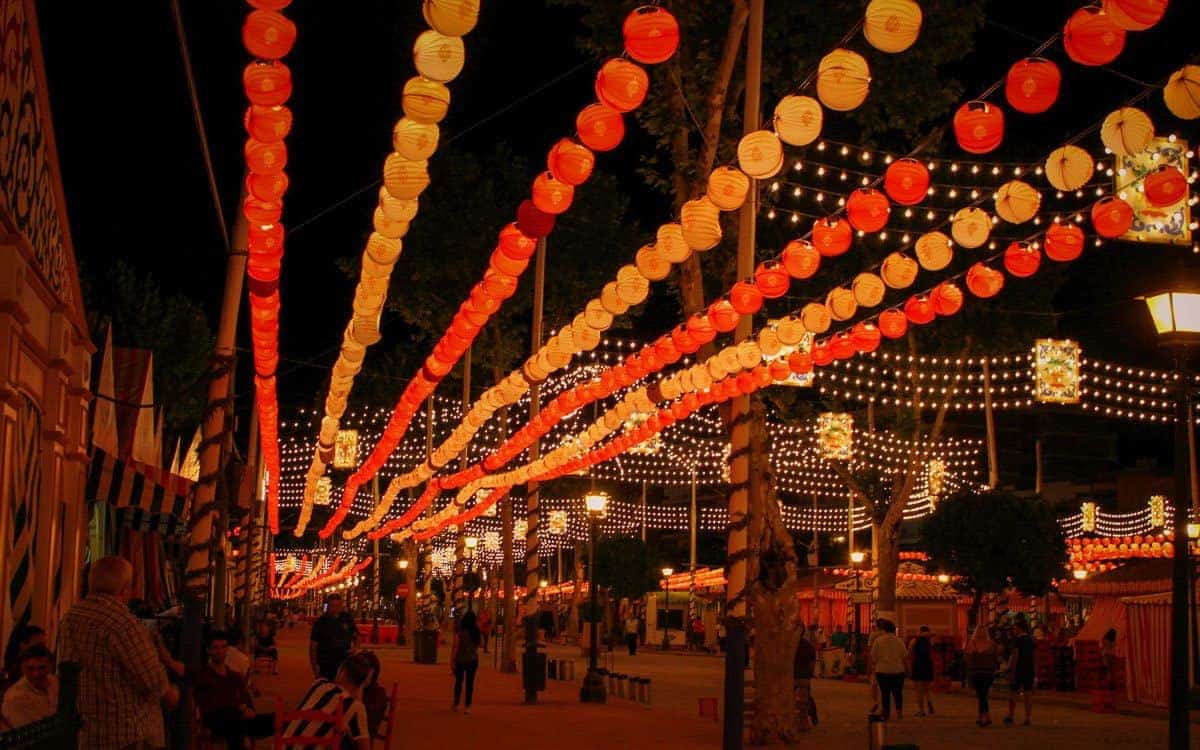 Semana Santa
The second biggest festival in Seville is Semana Santa. Seville's holy week processions are said to be one of the most famous in Spain.
From Palm Sunday to Easter Sunday, brotherhoods from churches across the city parade through the streets wearing sandals, robes and eerie pointed hoods.
They carry large ornate floats of the weeping virgin and scenes of the Passion of Christ. Some of the enormous floats are over 300 years old, and processions can last up to 12 hours as they move through the city.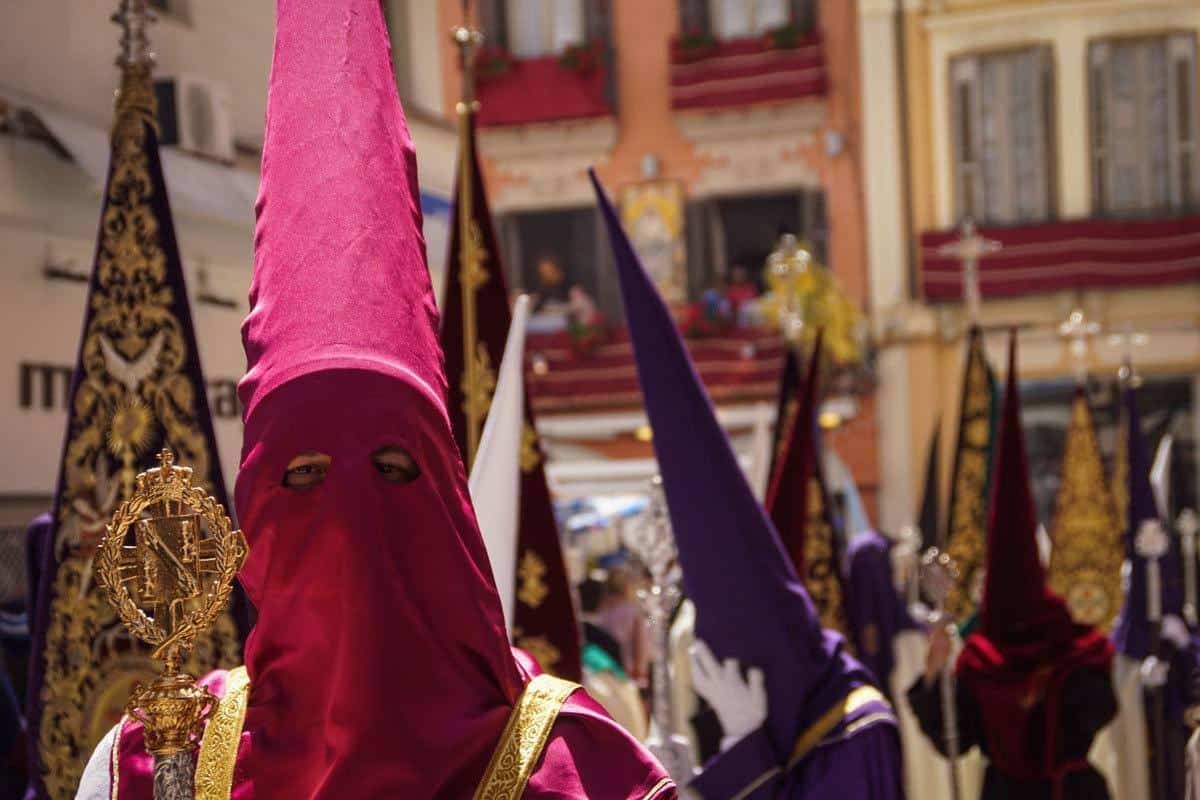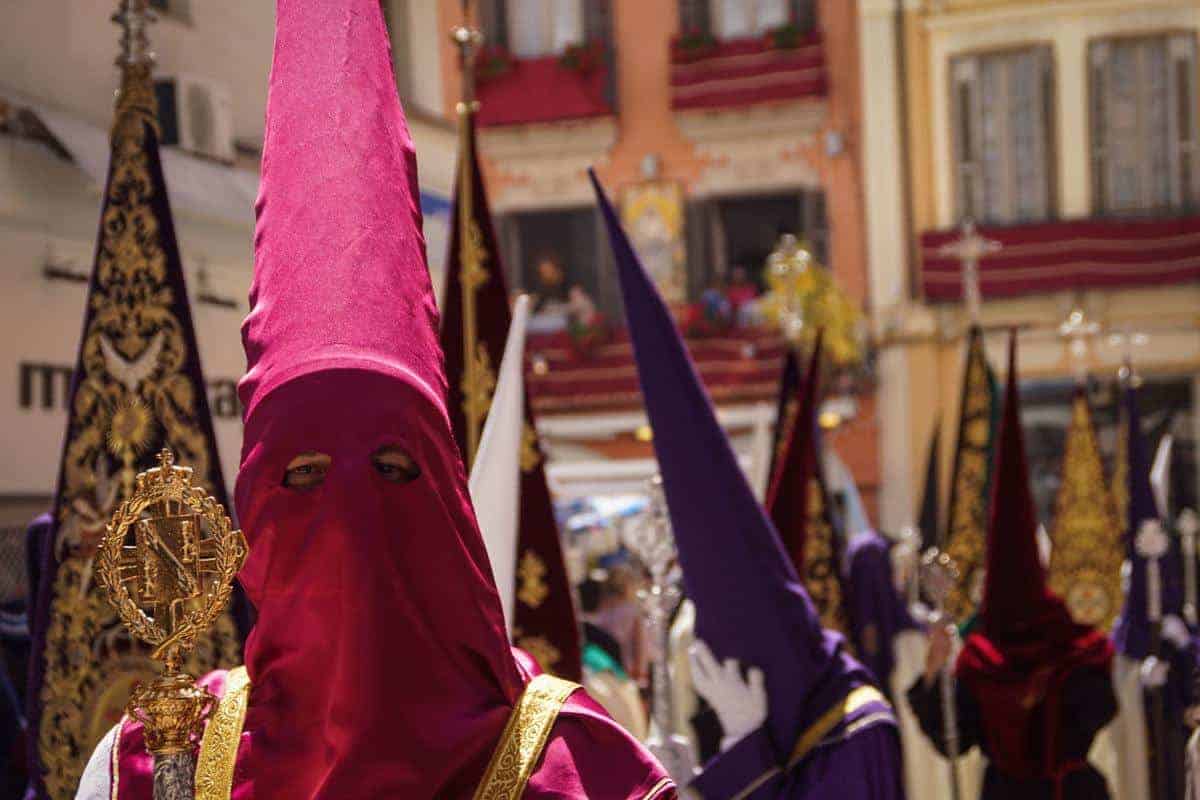 The Basilica of the Macarena holds one of the best-loved processions during Semana Santa. The church and the brotherhood of the Macarena has a devout local following, and the famous Weeping Virgin – Virgen de la Esperanza Macarena is an artwork in itself.
If you want to be in Seville for Semana Santa, make sure you have your accommodation booked in advance.