Madrid is an incredibly underrated travel destination in Spain. So often overlooked in favor of the sunny Costa del Sol, the Canary Islands, Barcelona, and Seville, the Spanish capital is a veritable gold mine of culture, food, and history and one of Spain's best cities to visit.
Three days in Madrid is perfect for getting a feel for Spain's capital and exploring the highlights. If you allow a few more days, Madrid makes an excellent base to explore further.
We have put together a guide to the best day trips from Madrid, most easily accessible by train.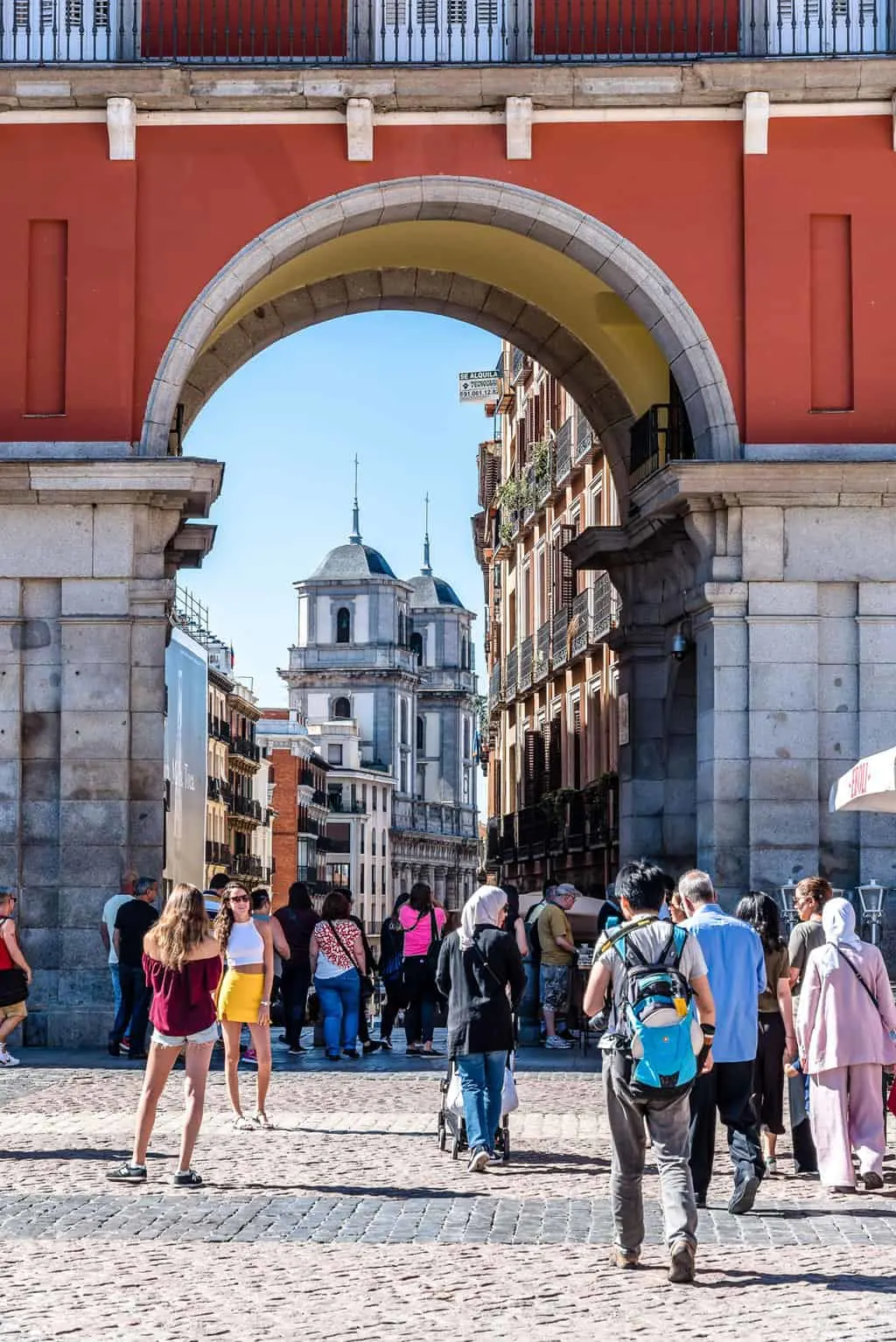 What to do in Madrid
Madrid has something for everyone, from royal palaces and historic cathedrals to vibrant nightlife. Sip drinks in rooftop bars, stroll the historic streets, and explore Madrid's exciting food scene. Madrid has a fantastic selection of museums, a unique art scene, and stunning architecture, plazas, and parks that will steal your heart. Madrid is also considerably cheaper than many European capitals, so it's easy to visit Madrid on a budget.
Get into the Madrid groove and combine nightlife with delicious food and history with this three days in Madrid itinerary.
Best Time to Visit Madrid
Like most of Europe's best cities, Madrid is great to visit all year round. However, most tourists visit during the peak summer months of July and August. These are the months when many locals leave the city and head to beach towns around Spain.
Weather in Madrid in summer can be extreme, temperatures above 104℉/40℃ are not unusual.
The shoulder season is a great time to visit Madrid (early spring/late fall) as temperatures are more comfortable (even with the occasional shower) and the possibility of better deals on accommodation.
Madrid also ranks as one of our best places to visit in Europe in December. It's a great Christmas destination as Madrid lights up with decorations and Christmas markets around town.
Find the Best Accommodation Deals in Madrid
How to Get Around Madrid
Madrid is a very easy city to get around. Apart from being a very walkable city, a great metro system covers most places a visitor to Madrid might like to go. A large network of buses and trains covers all other areas further from the centre.
It's very easy to get from Madrid Airport to the city, which is where you can pick up a Madrid Multi Card to cover you for unlimited travel on the number of days you nominate. They are available from vending machines at the airport metro and all metro stations.
Plan Your Day Around Spanish Time
Madrid runs very much on "Spanish time," which means most things happen later than you may be used to. Madrid's attractions, such as museums, may not open until after 10 am and don't be surprised if ticket offices or smaller galleries close for lunch or siesta.
Restaurants often don't open until after 1 pm for lunch and until after 9 pm or even 10 pm for dinner, but you should be able to find a tapas bar or similar for a snack if you can't wait that long. If you enjoy nightlife, nightclubs don't usually start until after midnight.
The bonus is, mornings will be relatively calm for exploring the streets. And if planned properly, you can enjoy plenty of sightseeing and enjoy a siesta before heading out for dinner.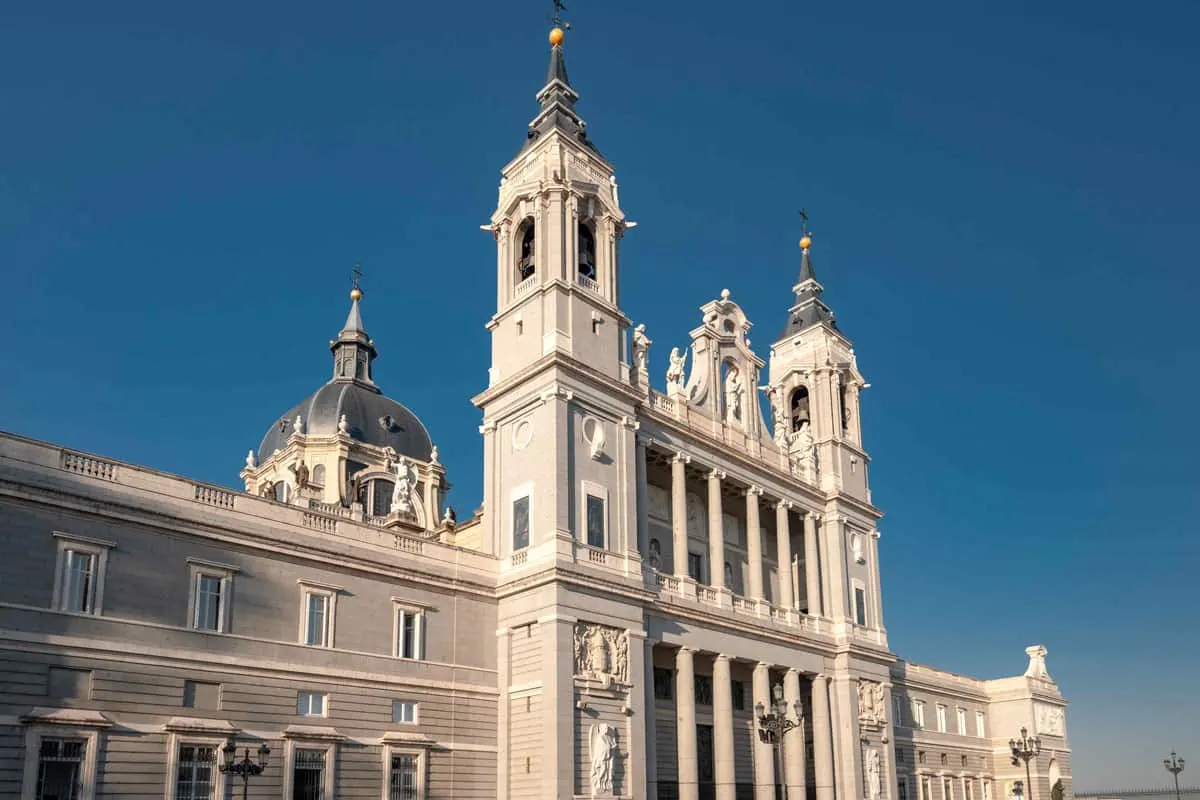 3 Day Madrid Itinerary
If you only have three days in Madrid, this itinerary will cover the best things to do in Madrid (with some optional extras). Maximize your time and get to know the Spanish capital, including its culture, food, and people.
Day 1. Explore Madrid City Highlights
On your first day in Madrid, get to know the city and its main highlights.
Brunch
Start with breakfast at Nomade Cafe, located in the heart of Madrid. Kick off your day with great coffee and a good selection of breakfast and brunch dishes, including some gorgeous open toasts.
Puerta del Sol
After breakfast, take a stroll through the city's bustling streets, stopping by Puerta del Sol. The busy semi-circular plaza is smack bang in the center of the city. It is the center and starting point for all major radial roads in Spain.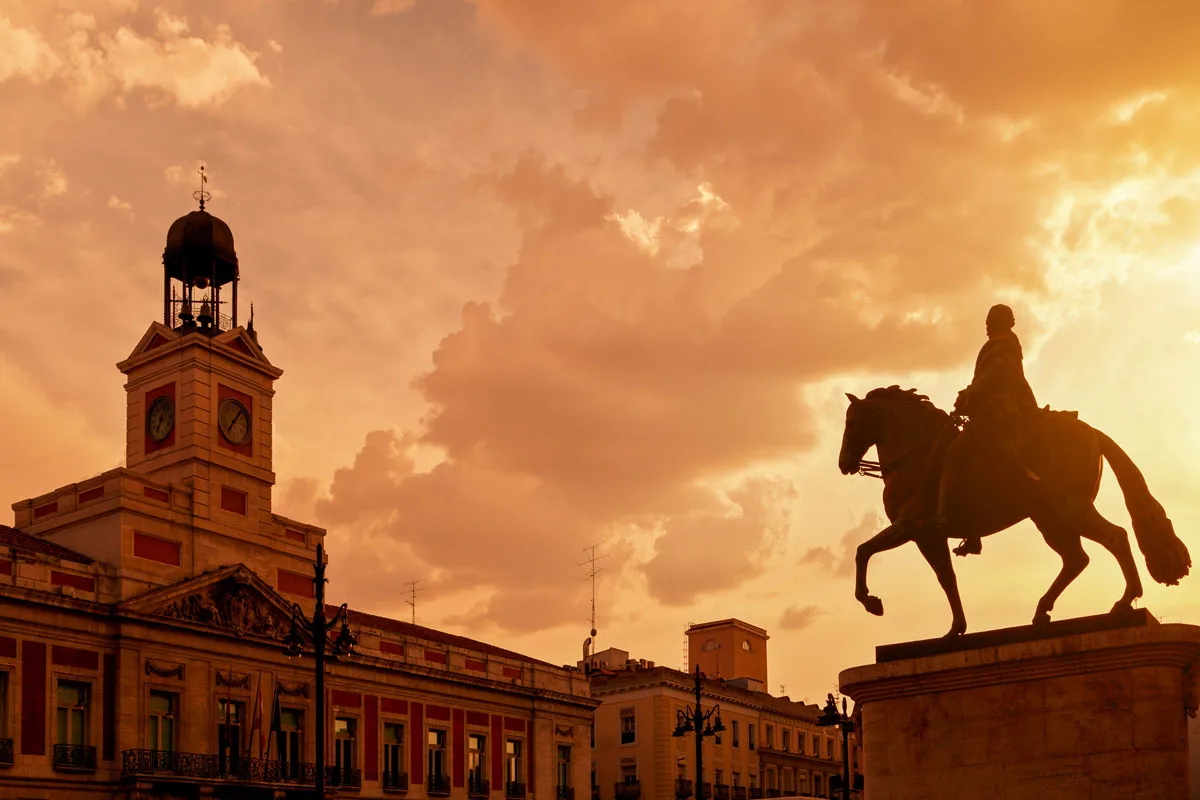 Kilometer 0 on the pavement in front of the Real Casa de Correos marks the point from which the distances in Madrid are measured. It is also the junction for the city's busiest and most historical streets, such as Mayor, Arenal, Alcalá, and Preciados.
Puerta del Sol is also where Madrid's biggest celebrations are held on New Year's Eve. The famous clock in the square rings in the traditional eating of the Twelve Grapes of Luck and the beginning of a new year.
Barrio de las Letras
Make your way through the Barrio de las Letras which will be relatively quiet in the mornings, transforming into a nightlife hub later in the night. Make the most of the calm atmosphere to enjoy a coffee at a local cafe and delicious, fresh churros.
Madrid's Museum District (Prado Museum)
Finally, you'll reach Madrid's museum district, where you'll find a fantastic selection of culture, art, and history museums. The Prado Museum is arguably the most famous, often considered one of the most significant museums in Europe, along with the Louvre in Paris and the Uffizi in Florence.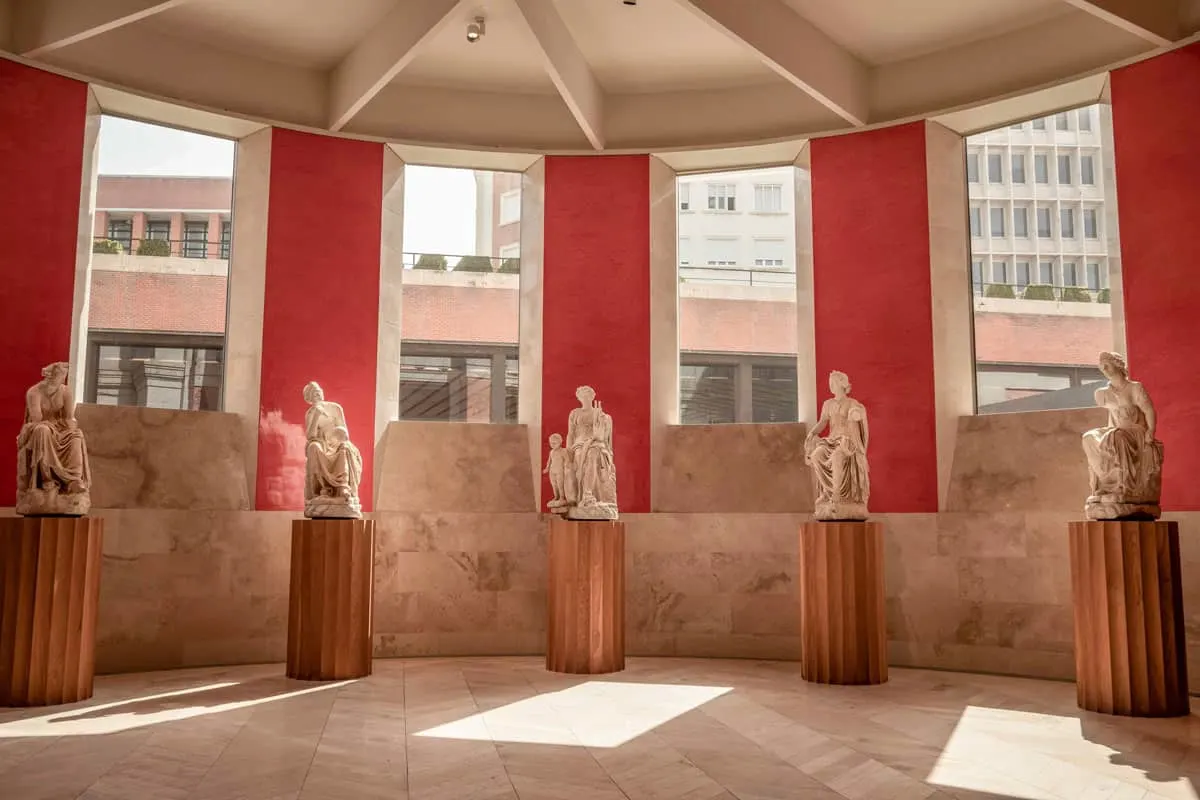 Explore the beautiful corridors of the huge museum and admire works by Goya, Diego Velazquez, and Picasso.
Much like its cultural counterparts, Prado Museum is very popular, so it is advisable to pre-book skip-the-line tickets. If you prefer a guided tour with priority access, you can take a small group 1.5 hr guided tour covering the highlights and most important works in the museum.
El Retiro Park
Stop for lunch before heading to El Retiro, the city's most popular park and a must on your Madrid itinerary. Make sure to hire one of the little boats on the lake, and don't forget to visit the Palacio de Cristal. The beautiful glass and steel conservatory designed by Ricardo Velázquez Bosco in 1887 was inspired by the Crystal Palace in Hyde Park.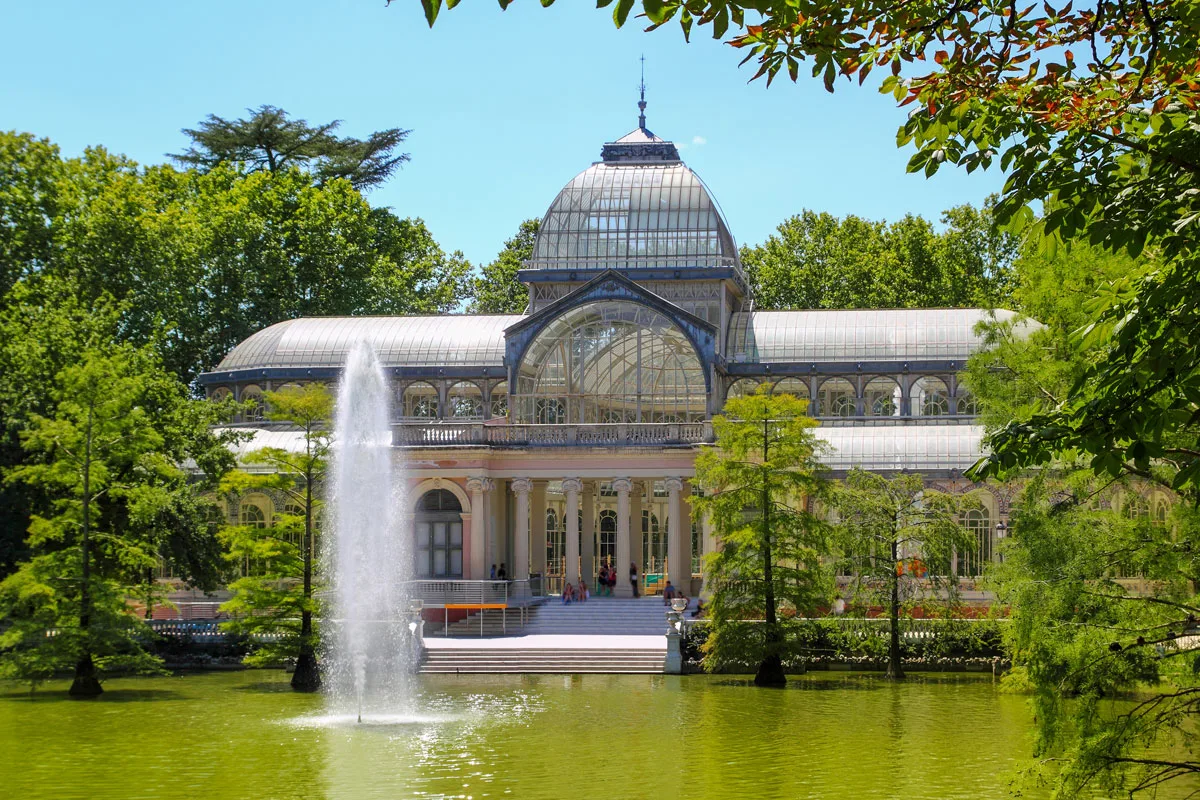 The original design was for a tropical greenhouse for the Philippine Islands Flora Exposition in 1887. It is now one of the temporary exhibition venues for the Reina Sofía Museum.
Wine and Dine in the Center
End your day in Madrid's city center, close to the Barrio de las Letras where you'll find various bustling restaurants, bars, and taperias. Make sure to try some typical Madrid specialties such as Cocido Madrileño (pork stew) in winter, Bocadillo de Calamares (fried squid sandwich), or Tortilla de Patatas (potato omelet).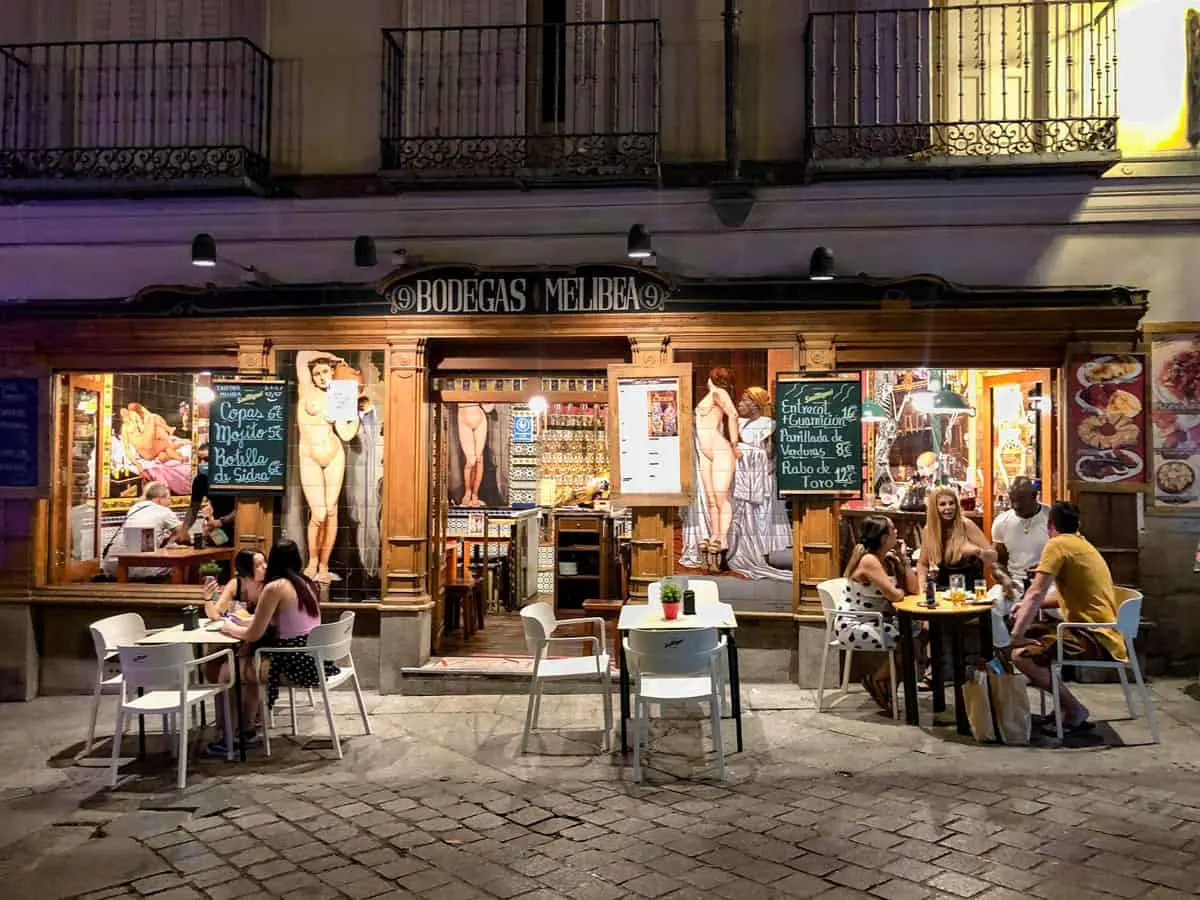 Day 2. Palaces and Rooftop Bars
In the morning, take a stroll around the neighborhood of Malasaña, known for its vintage shopping, small eateries, and street art. Today, you'll be exploring some of Madrid's major highlights, so prepare yourself for the day with a good breakfast at one of the local cafes in the neighborhood.
The Royal Palace of Madrid
Take the metro to the Royal Palace of Madrid. The beautiful palace remains the official home of the King of Spain and the royal family. Although they don't actually live there, it is still used for state ceremonies.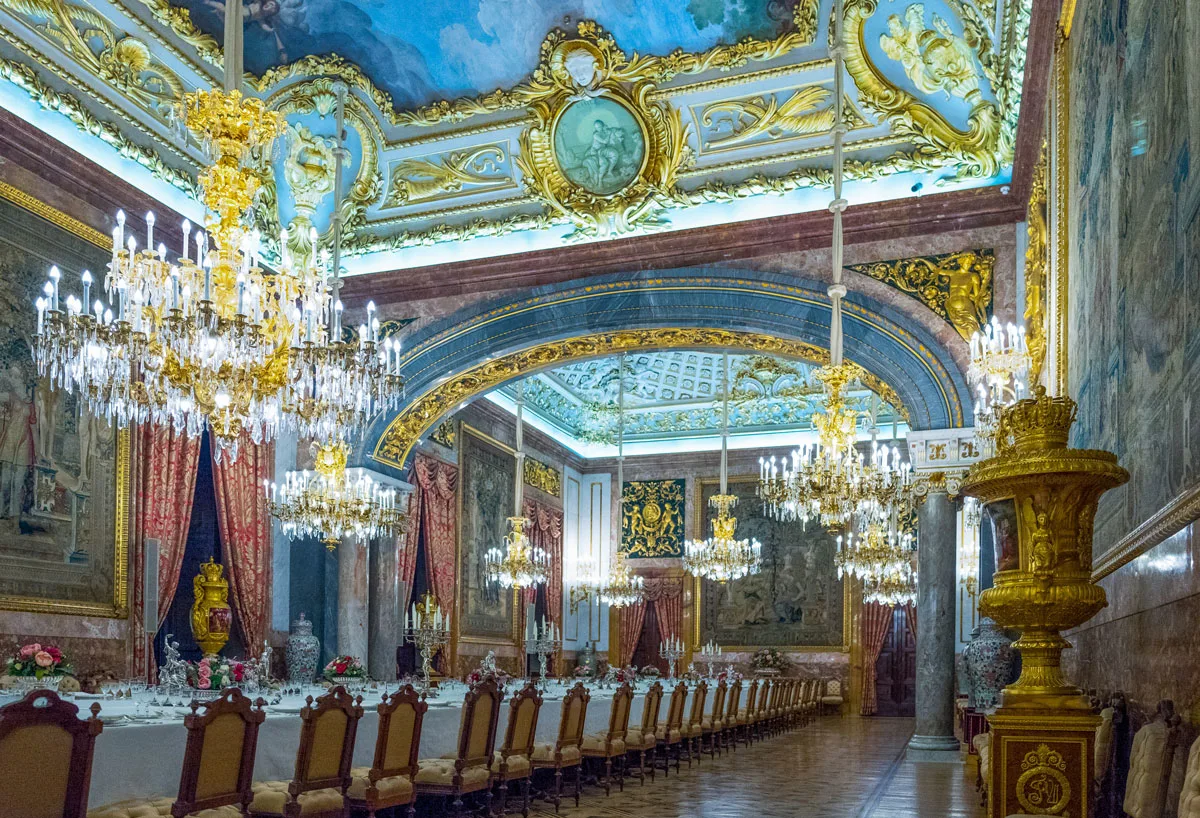 Definitely one of the best things to do in Madrid, you will need to allow at least two hours for the Royal Palace. With 135,000 m² of floor space and 3,418 rooms, it is the largest royal palace in Western Europe and one of the largest in the world.
Explore the royal apartments, Banquet Hall, and Throne room. See the incredible Royal collections of art, armory, furniture, and more.
During peak season especially, the palace is very busy. Pre-booking skip-the-line tickets is advised. You can also book skip-the-line tickets with a private guided tour.
Palace Visit Tip: If you can manage your time, entry to the palace is free from Monday to Thursday from 4:00 p.m to 6:00 p.m (Access up to 60 minutes before closing).
The Royal Gardens
Make sure you leave time to explore the Royal Gardens, especially the Sabatini Gardens. Established in the 1930s on the site of the former stables on the north facade of the palace, the Sabatini Gardens are the most beautiful in Madrid. Spectacular at any time of day, the gardens are one of the best places in Madrid to enjoy the sunset.
The Sabatini Gardens are open until 9 PM in winter and 10 PM in summer. Entry is free.
Almudena Cathedral
Next to the palace is The Almudena Cathedral, the most important religious building in Madrid. The first stone was laid in 1883, but thanks to design delays, funding issues, and the civil war, the cathedral was not completed until 1993.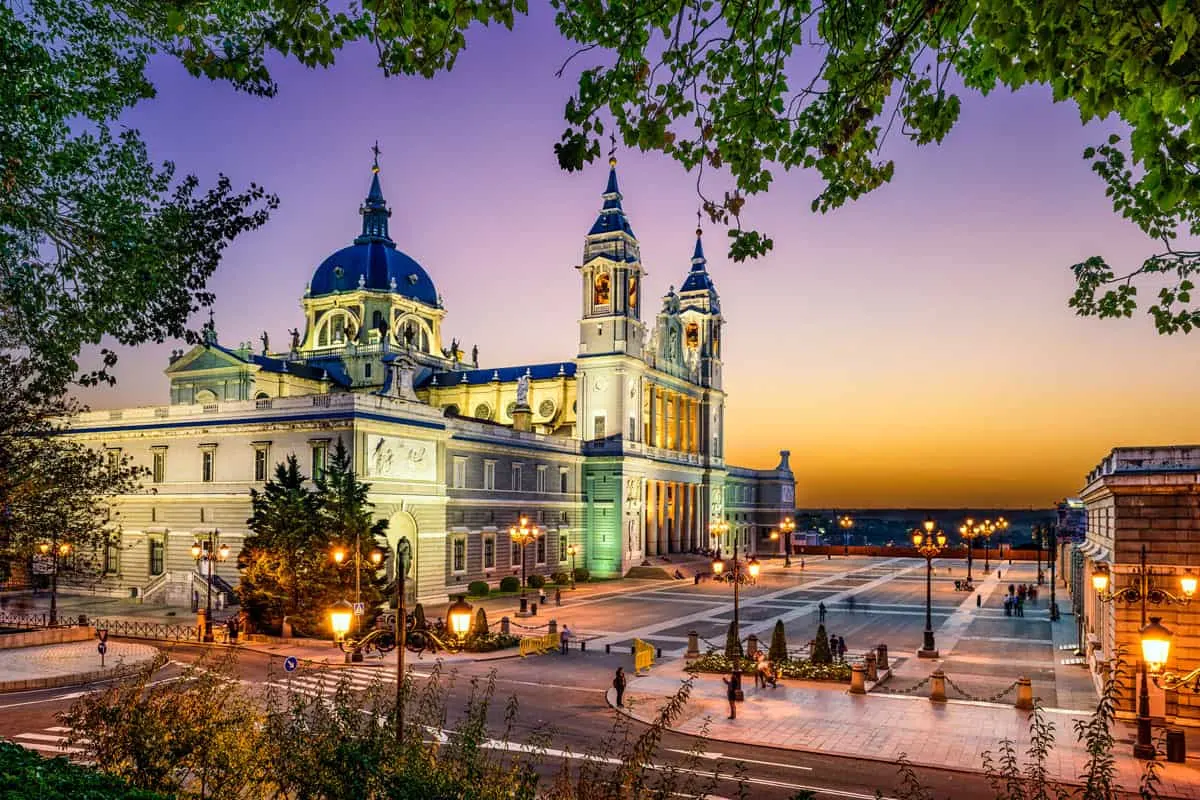 Pope John Paul II consecrated the cathedral in June of the same year, making it the first cathedral to be consecrated outside of Rome.
Entry to the cathedral is free (a small donation of €1 is requested), but visiting the Crypt and Museum costs around €7 pp, giving you access to the dome.
Lunch Near Teatro Real Opera House
After visiting the Palace and Cathedral, have lunch close to the Opera house. There is a good selection of little Spanish restaurants offering affordable food.
Teatro Real Tour Tip: If you have time, it is possible to take a self-guided audio tour of the Opera house, including the Royal box, guided tours, backstage technical tours, and artistic visits, which include costumes, makeup, and sets. Tours take around one hour. See Teatro Real for information and bookings.
Temple Debod
After lunch, head north to the Temple of Debod, a quick 10-minute walk from Teatro Real. The Temple of Dedbod is an ancient Egyptian temple gifted to Spain and one of the most unique attractions in Madrid. The temple was transported to the capital from Egypt. It's located in a small park that also has fantastic views.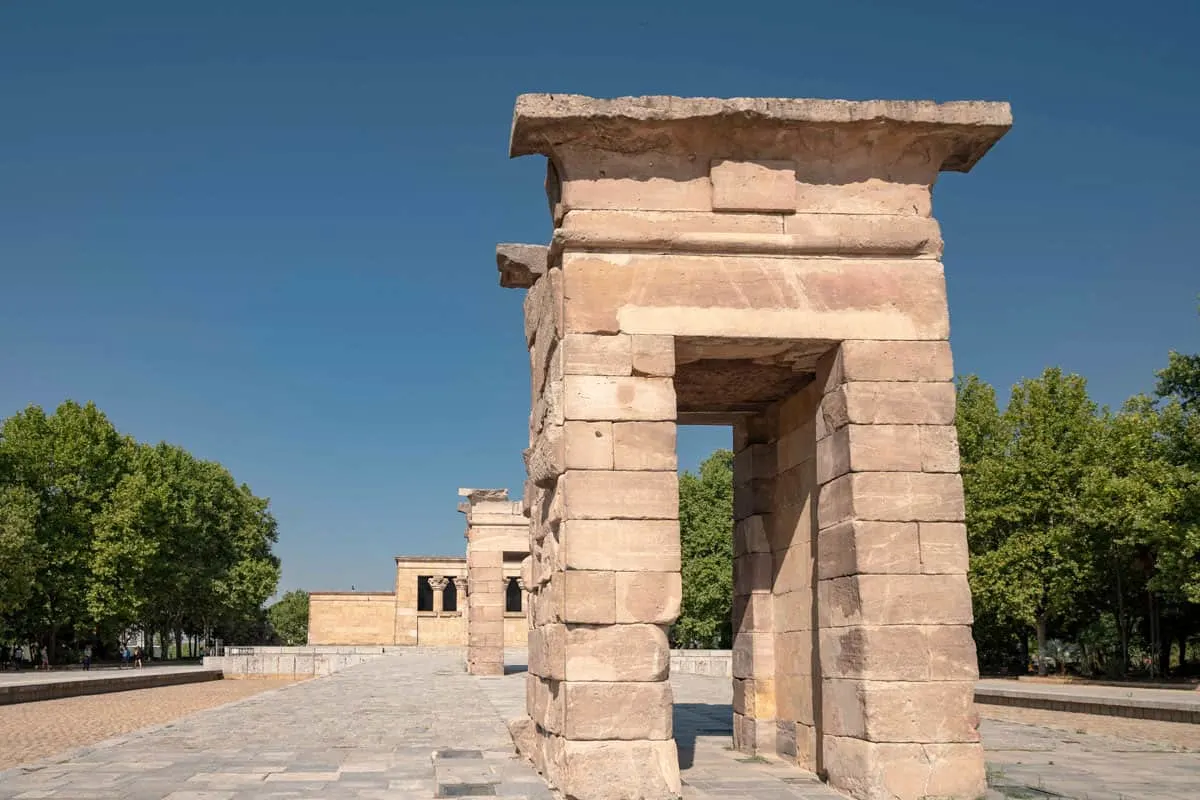 Casa de Campo
From Temple Debod, you're a short walk from the Madrid cable car, which will take you to the large Casa de Campo Park on the edge of the city center. Once a royal hunting ground, it is the largest park in Madrid, but so much more than an urban green space.
Enjoy views of the city, a short hike, or enjoy drinks and tapas by the lake at the heart of the park. Visit the Madrid Zoo Aquarium or enjoy some old-fashioned fun at the amusement park with rollercoasters and more. Casa de Campo has something for everyone.
You can either take the cable car back or jump on the metro to return to the city center in the evening.
Rooftop Bar
Finish off the day at the Emperador Hotel Rooftop, one of the city's many rooftop bars with incredible panoramic views. Keep in mind this is one of the more expensive places in town so consider having dinner elsewhere if you're on a budget.
Day 3. Markets, Museums and Nightlife
Thyssen-Bornemisza Museum
On your last day in Madrid, visit the Thyssen-Bornemisza Museum, which, together with the Reina Sofia Museum and Prado Museum, creates the golden triangle of art in the city. With more than 1,600 works of art, it was once the second-largest private art collection in the world after the British Royal Collection.
The museum should be quiet in the mornings if you want to avoid crowds. You can take a 1.5 hr guided tour with priority entry to learn about some of the gallery's most famous works.
Plaza Mayor
Take the metro to the Plaza Mayor, Madrid's other famous plaza, and a fantastic place to take photos. The beautifully ornate plaza built during the reign of King Philip III has hosted everything from executions to bullfights and soccer games.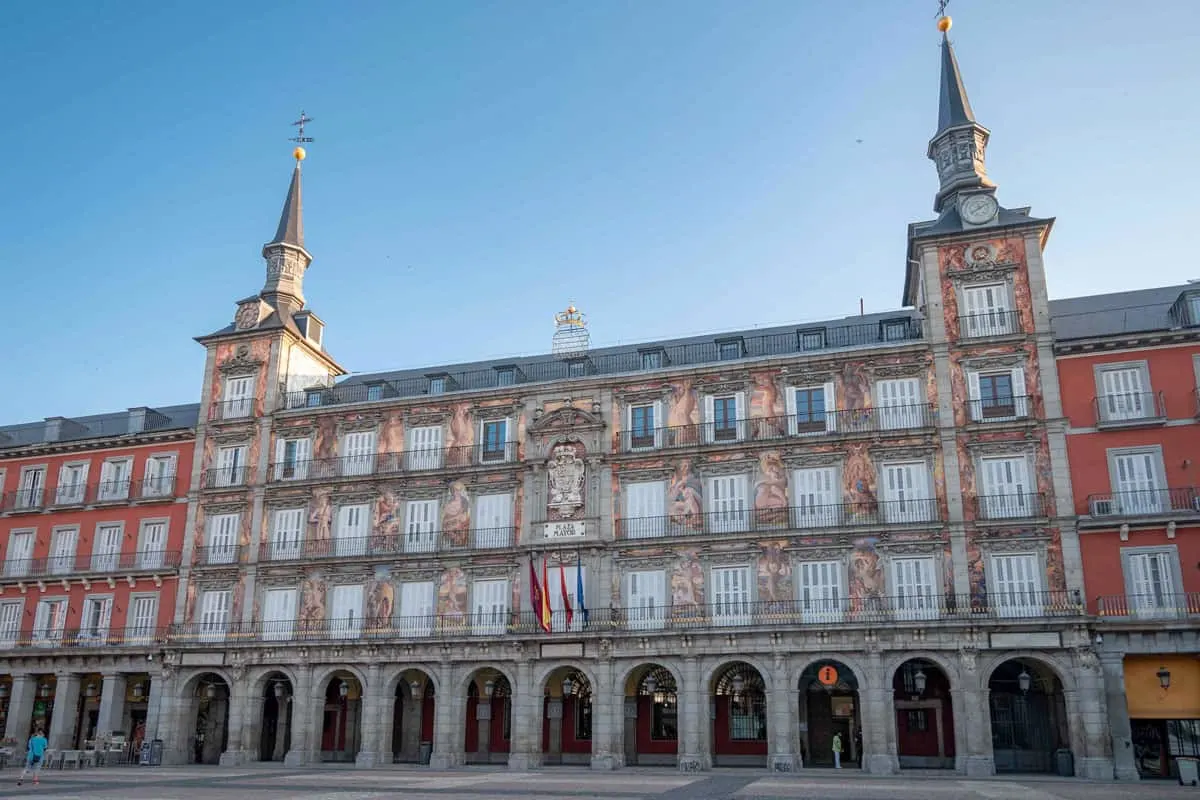 Once the center of Old Madrid, it is now a lively place to enjoy a drink or a meal at one of the bars or restaurants surrounding the plaza. It is also where you will find Madrid's Christmas markets in December.
Mercado de San Miguel
Around the corner from Plaza Mayor is the Mercado de San Miguel, an indoor food hall with wonderful Spanish specialties and delicious bites. Sample some authentic Spanish delicacies and tapas for lunch before heading off toward Plaza del Sol.
Shopping on Grand Vía
Just north of Puerta del Sol is Madrid's most famous shopping and nightlife street – Grand Vía. The street is a hotspot for expensive hotels, upscale shops, restaurants and bars, cinemas, and theatres. It has been dubbed the "Spanish Broadway" and "the street that never sleeps." Grand Vía is a great opportunity for some last-minute shopping.
Keep walking until you reach the Plaza de Espana, where you can stop for an afternoon coffee and a snack.
Optional Flamenco Show
If shopping doesn't tickle your fancy, experience the passion for flamenco and Spanish music at the historical Torres Bermejas Tablao. Shows run for one hour with the option to upgrade your ticket to include drinks and tapas for an afternoon show or even a full meal for an evening show.
Enjoy Madrid's Nightlife
Get a taste of Madrid's famous nightlife.
Begin your evening at the Sidreria el Tigre in Chueca, the city's LGBTQ neighborhood. Drinks are cheap, and you get large complimentary tapas with every drink order. Make sure to come early (remembering Spanish time), as this is one of the most popular spots in the city for locals and tourists.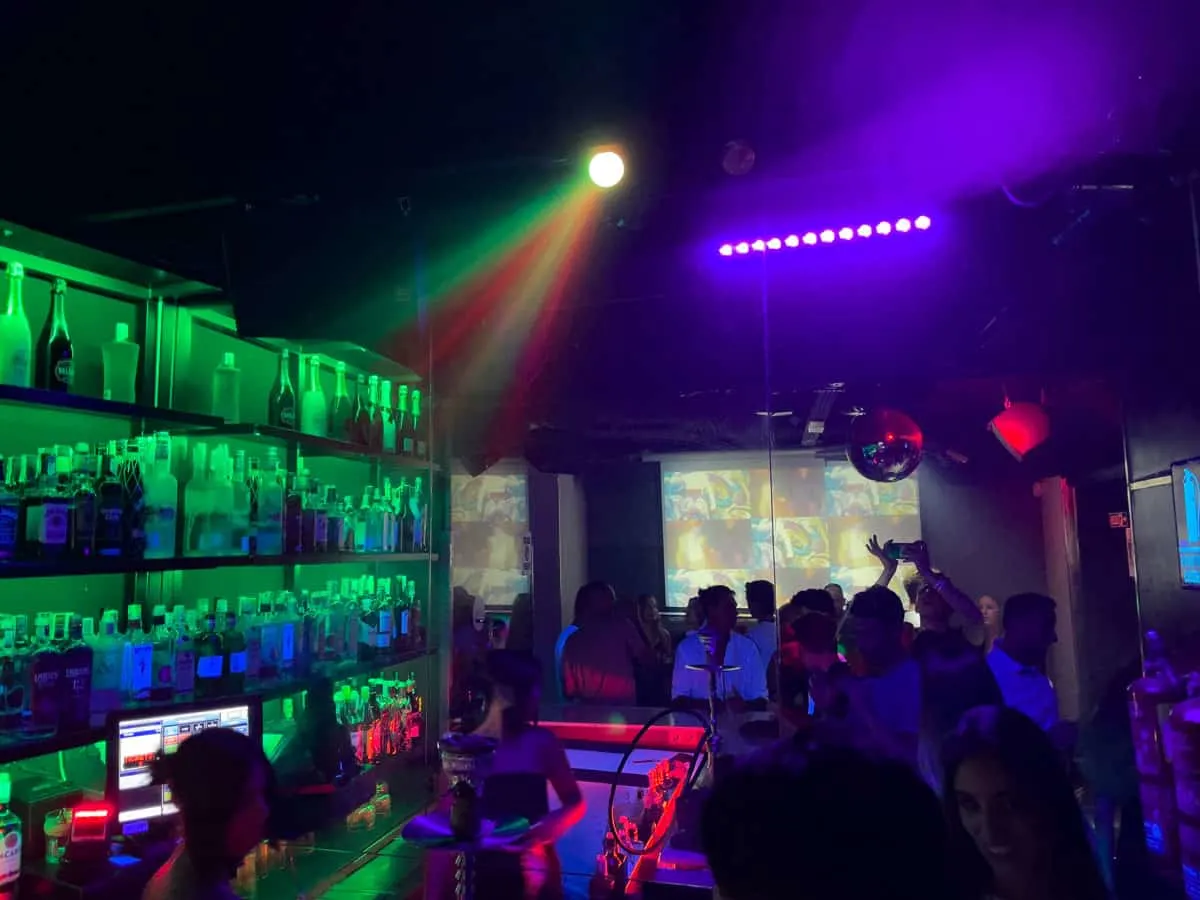 Chueca is a fantastic place to try new bars or go dancing, so explore and let yourself be inspired by the lively streets. If you're feeling up for it, you can also head to the Barrio de las Letras where you'll find more bars and small clubs. It's important to remember that nightlife in Spain starts much later than you might be used to. Most people don't go out until after midnight, and dinner often stretches until late.
Optional Addition to Your Madrid Itinerary
Santiago Bernabeu Stadium
You don't need to be a big football fan to want to visit the home of Real Madrid. Take a tour of the home of one of the world's most elite football clubs and discover the rich legacy of Real Madrid C.F., awarded the Best Club of the 20th Century FIFA Trophy.
Santiago Bernabeu Stadium is a little bit further out of town than most of Madrid's main attractions, but it is worth visiting if you can make the time. You may wish to prioritize this over one of the other Madrid highlights.
Visiting Santiago Bernabéu Stadium
You can book a timed entry ticket to tour the stadium and make your own way there via the metro or bus – see here for ticket bookings.
Or, you can book a combined Hop-On Hop-Off Bus & Santiago Bernabéu Stadium Tour. This allows you unlimited access to Hop on Hop Off Bus transport throughout Madrid for one or two days. The bus route follows all of Madrid's best sites on both the Modern Madrid Route and the Historic Madrid Route and includes a Skip the Line Guided Tour of Santiago Bernabéu Stadium (also on the bus route).
The stadium tour covers the interactive museum and audiovisuals displays. Visit the press room and dressing rooms, and walk along the player's tunnel until you reach the pitch. See here for full tour details and inclusions.
---
About the Author
Victoria Maria
Victoria is a travel blogger and freelance writer based in Bali, Indonesia. She started her blog Guide Your Travel in 2018. She writes about budget travel, South East Asia, European destination guides, and becoming a digital nomad and blogger.