From winter sports to Christmas markets and even glorious winter sun destinations, there are so many unique things to do in Europe in winter.
However, December in Europe has a unique vibe you won't find anywhere else.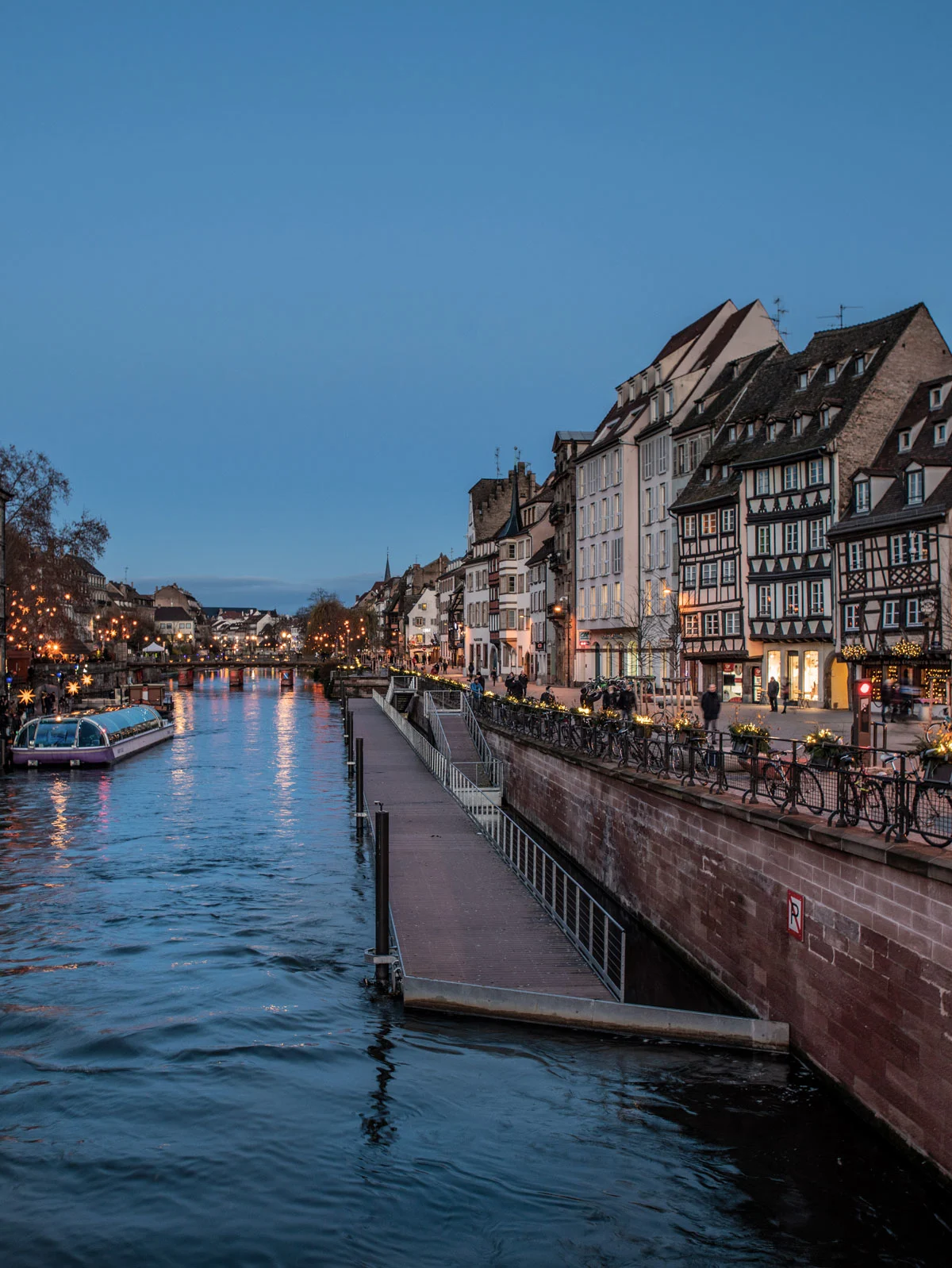 From snow-dusted castles to the festive cheer of hot Glühwein at a Christmas market. Witnessing Mother Nature's most incredible light show, Christmas shopping in some of Europe's most elegant cities, or visiting the home of Christmas, we have some fantastic destinations to visit in Europe in December.
Gorgeous Places to Visit in December in Europe
1. Bruges Belgium
There is no better European destination to spend a romantic winter getaway than beautiful Bruges. There is so much to do in Bruges any time of year, but this medieval Belgian gem, located in the heart of Europe, enjoys winter celebrations in the most mesmerizing setting.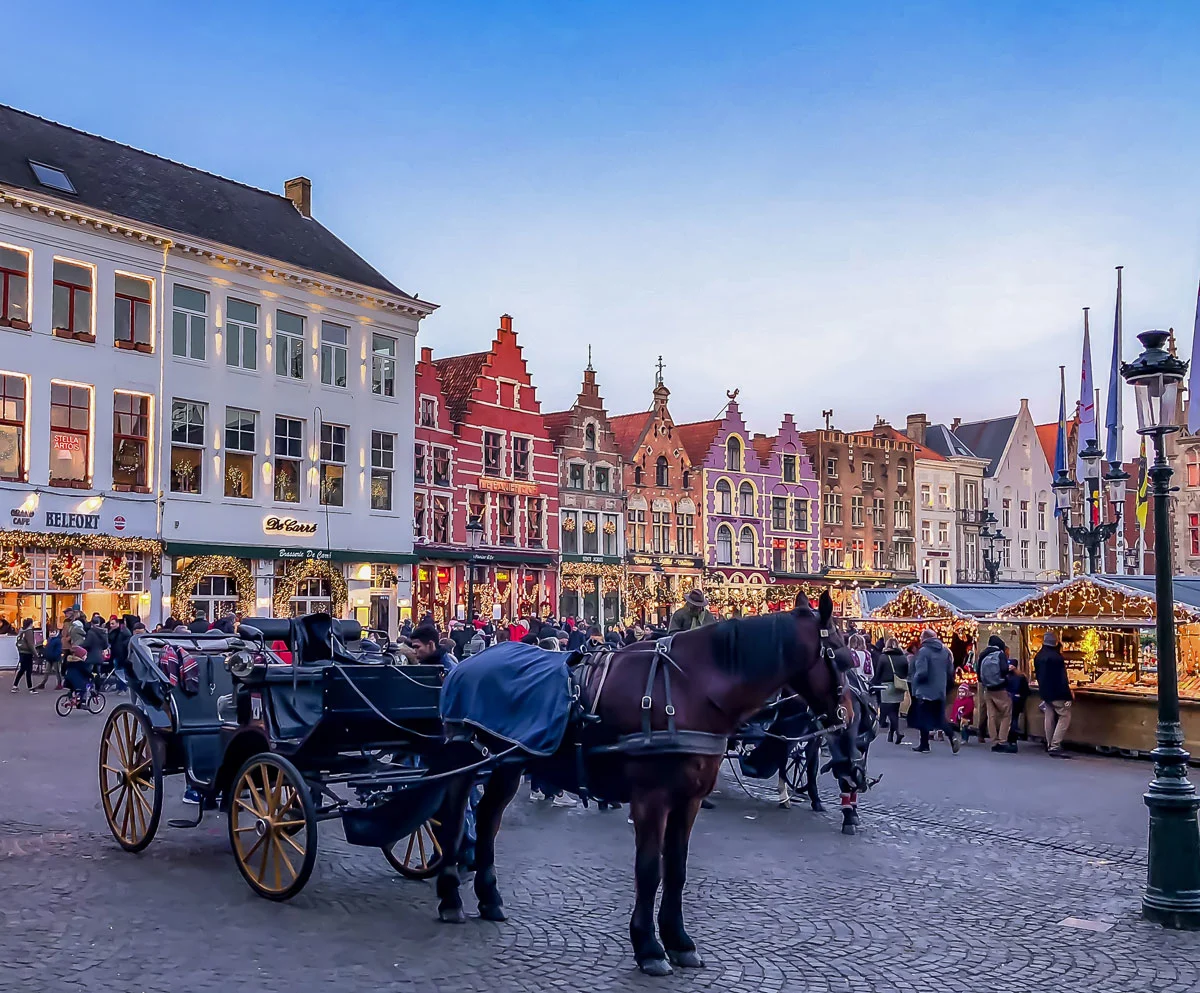 From the stepped-gable houses trimmed with twinkling lights, the graceful Belfry towering over Markt square to the artificial ice-skating rink at the idyllic Minnewater, and the captivating Light Experience Trail – Bruges shines in December.
The Bruges Christmas Market is held over two equally enchanting, intimate fairytale settings. The wintry atmosphere is also a feast to the senses, with the smell of mouth-watering delicacies filling the air.
Indulge in the most sumptuous waffles, the sweetest speculoos biscuits, the most heart-warming bûches de Noël, and the softest marzipan. Quench your thirst with a delicious Christmas beer or a fragrant mulled wine before exploring the cobbled streets of Bruges, snuggled up under a blanket on a horse-drawn carriage ride.
Take the magic of Bruges home and delight your loved ones with a festively-wrapped box of Belgian chocolates or a handmade lace Christmas ornament.
Recommended by: Sarah Vanheel – CosmopoliClan
2. Lucerne Switzerland
Lucerne is one of the most beautiful cities in Switzerland on the shores of Lake Lucerne, surrounded by the magnificent Swiss Alps.
Its scenic location makes it a popular destination year-round. However, visiting Lucerne is particularly lovely in winter and a top place to visit in December.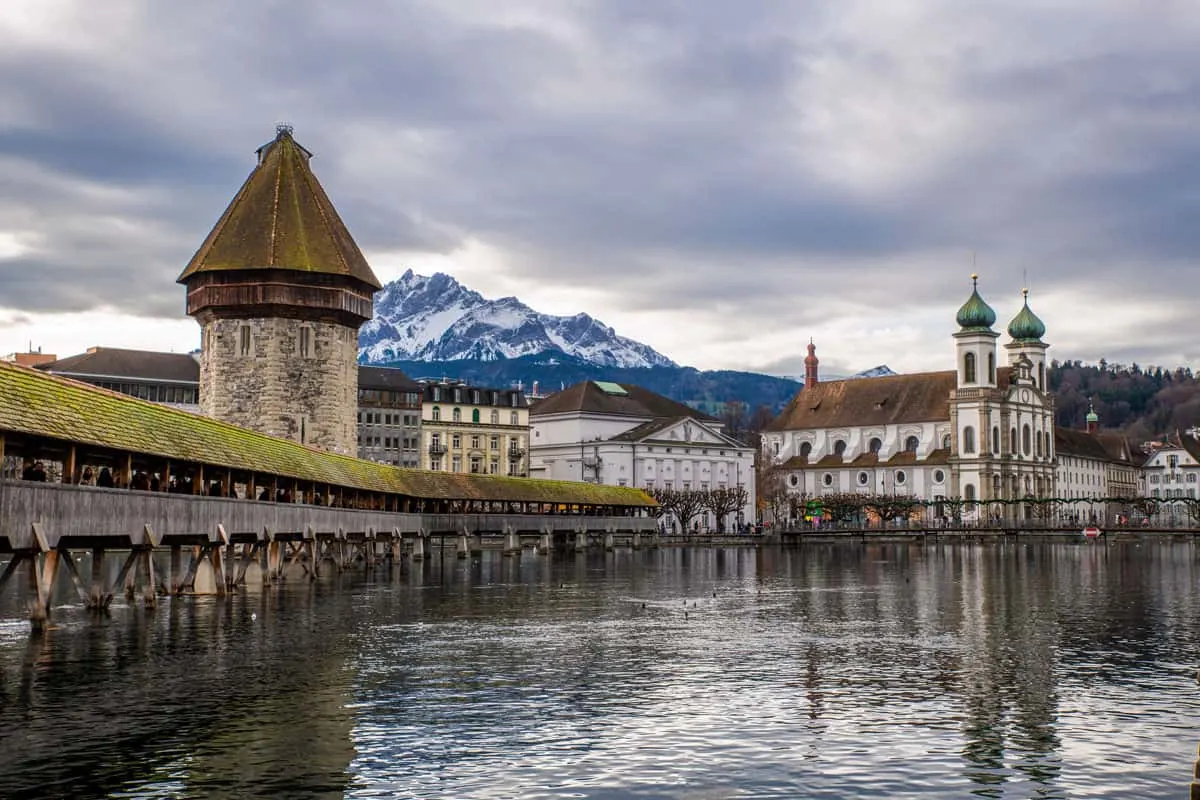 Although the weather can be cold, the payoff is snow-capped mountains and the magical atmosphere in the charming medieval old town decorated for Christmas, especially at night.
There's always a wealth of things to do in Lucerne. (We recommend at least two days in Lucerne). See the iconic 14th-century Kapellbrücke (Chapel Bridge), Europe's oldest covered wooden bridge, and the eye-catching Jesuit Church with its twin towers.
Visit the 17th-century Italian Renaissance Town Hall and the lovely boulevard in front with restaurants with outdoor seating – even in winter. It is a great place to sit and enjoy the views over the Reuss River.
For great views across the city, walk around the fortified Musegg Wall surrounding the old town.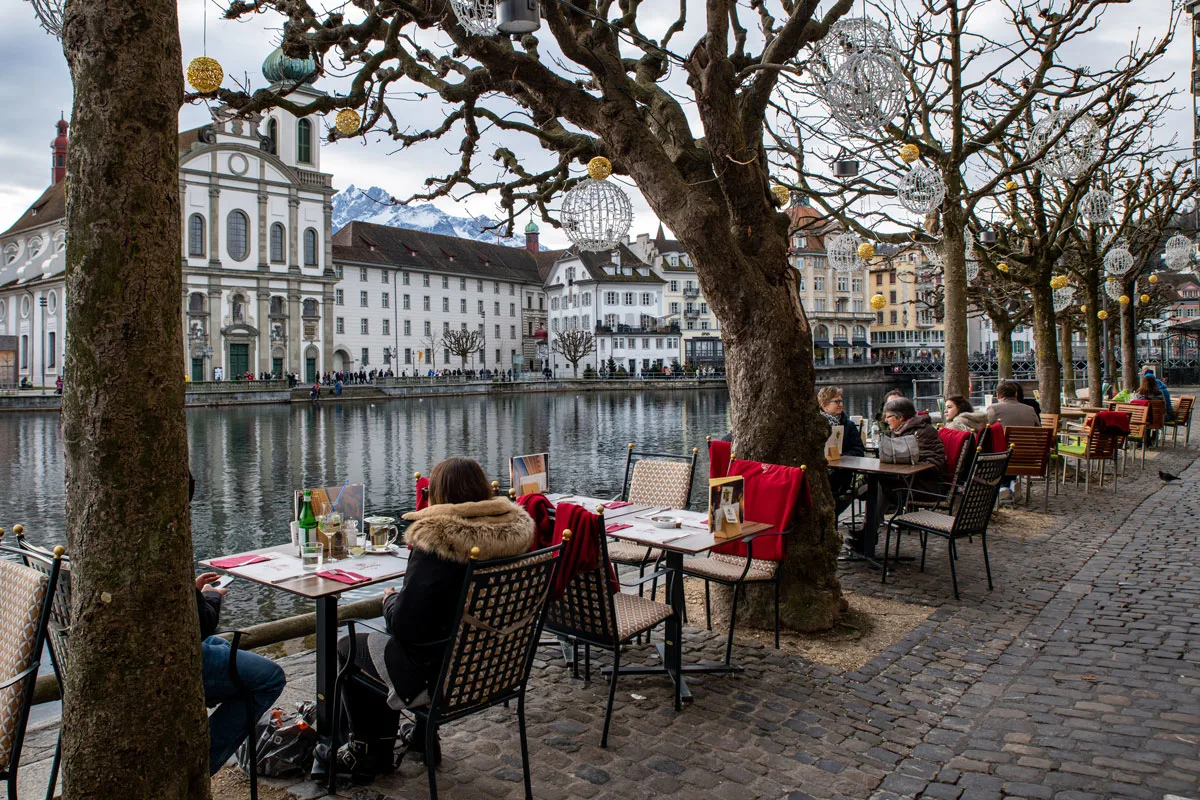 In December, Lucerne hosts charming Christmas markets selling traditional Swiss gifts, typical foods, and mulled wine. You can also enjoy various winter sports – several ski slopes a short distance away and local ice rinks. Nearby, Mount Titlis also has a 'revolving' cable car that takes you up the mountain for spectacular 360-degree views.
Recommended by: Emma Marshall – Travel on a Time Budget
3. Strasbourg France
In December, Strasbourg's famous Christmas market brings the city to life with great seasonal cheer. The decorations in this delightful Alsatian town, considered the European capital of Christmas, are next level. Along one of the most scenic river cruise routes in Europe, it's not surprising Strasbourg is a popular stop on the European Christmas Market cruises.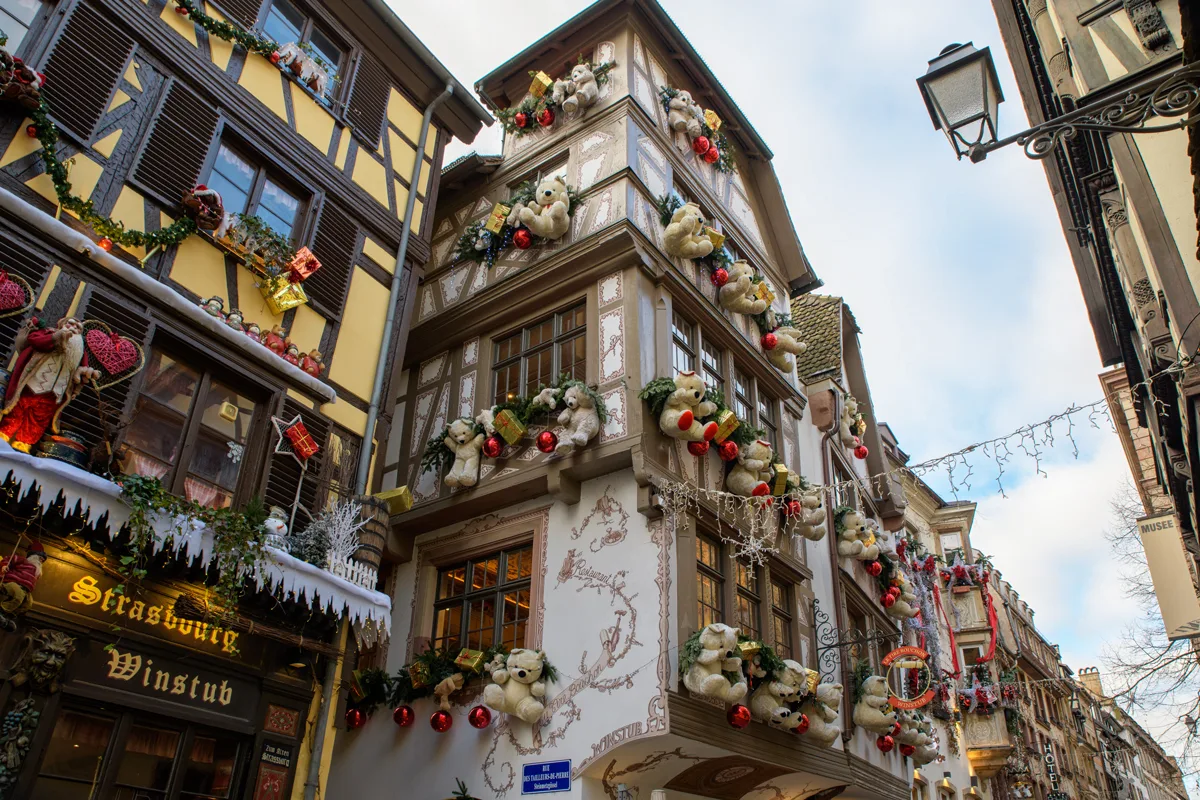 Explore the bright wooden market stalls for handmade Christmas ornaments, paintings, toys, knitted goods, candies, cheeses, and mulled wine.
Though famous for its festive vibe, Strasbourg has much more to offer. Start your exploration of this beautiful border town at Cathédrale Notre Dame de Strasbourg, which dates back to the 13th century. The beautiful rose window and the magnificent astronomical clock are highlights of the cathedral. If you visit the church's north tower, you can see beyond the city as far as the Black Forest, 30 kilometers away.
Wander around Place Kléber and take in the splendor of the famous Strasbourg Christmas tree, ranked one of the ten most famous trees in the world.
Stroll through the modern Neustadt (New Town) to see the Place de la République, the National Theater of Strasbourg, and the Palais du Rhin. La Petite France, is the most attractive district in all of Strasbourg, with charming historic buildings from the 1500s and 1600s.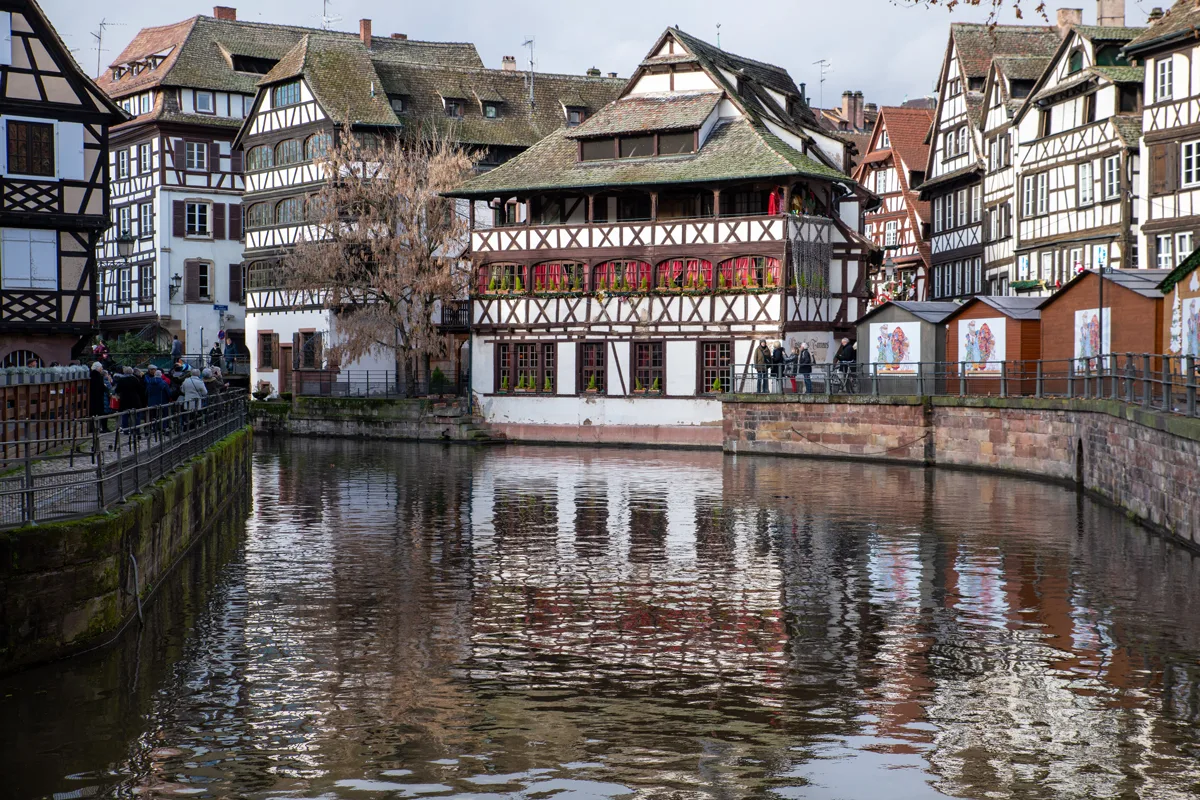 Make sure to visit some of the local restaurants and try Alsatian specialties like choucroute garni, baeckeoffe, tarte flambee, and raclette, as well as some Riesling.
Recommended by: Imee Magbag –Journey To France
4. Copenhagen Denmark
One of the best cities to visit in Europe during December is Copenhagen. Although the weather in Scandinavia is often cold and windy, with clouds covering the diminishing daytime light – it's such a magical month in Copenhagen.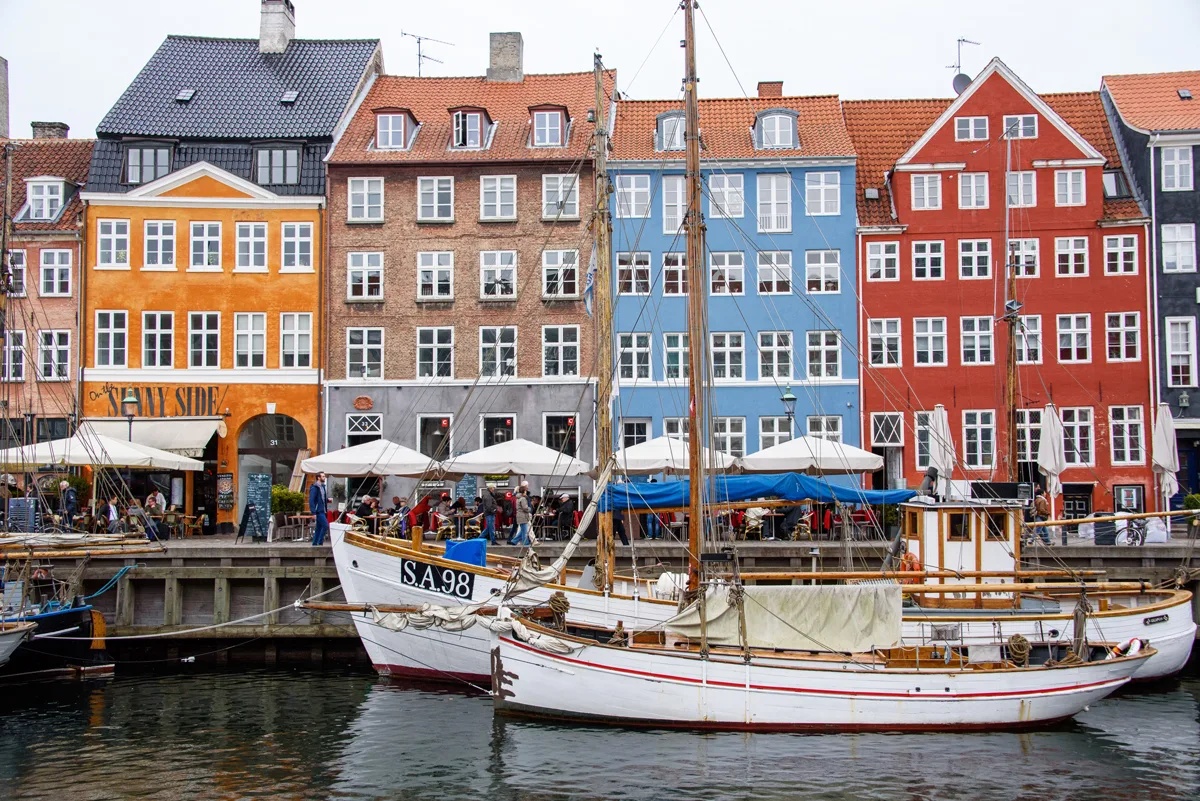 During December, Copenhagen is full of lights, decorations, and a constant smell of pine around the city, thanks to the Christmas tree vendors. You'll find an air of excitement among the locals about what's to come during this month.
There are always so many things to do in Copenhagen, but some things you can only do during December. Visit the Christmas markets and try out the local hot wine named "Gløgg," only served this time of year. Make sure to walk through the beautiful Tivoli Gardens to see all the magnificent Christmas decorations, and if you're lucky to visit on Dec 13th, you can experience the unique Santa Lucia Kayak Parade in Copenhagen's canals.
Copenhagen is a magical city during December, and it's undoubtedly one of the best places in Europe to feel the Christmas spirit.
Recommended by: Cecilie Mortensen – Think Copenhagen
5. Dubrovnik Croatia
Dubrovnik, Croatia, is best known for its stunning architecture and beautiful setting on the Adriatic Sea. However, what many visitors don't know is that Dubrovnik is an absolute gem in December.
Temperatures range from 47 – 57ºF (8-14ºC) with plenty of sunny days and a bit of rain. But throwing on a coat is a small price to pay to see the beautiful old city without all the crowds.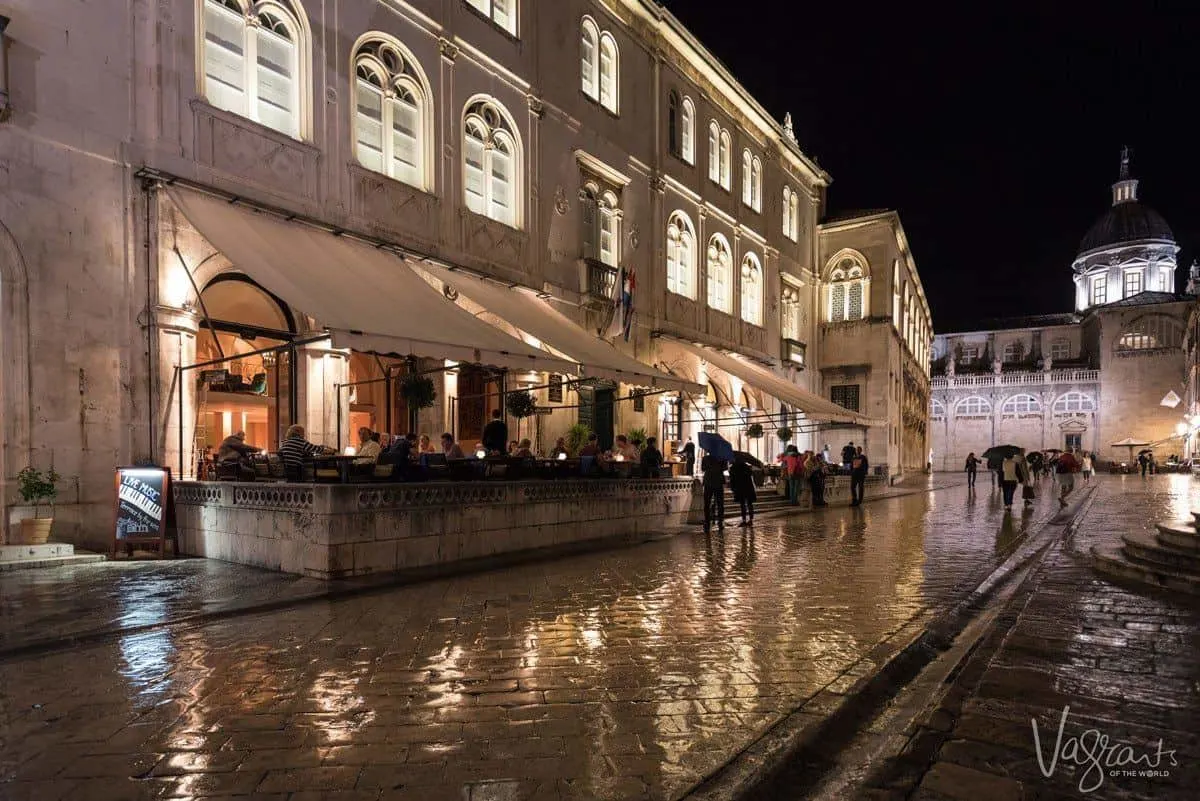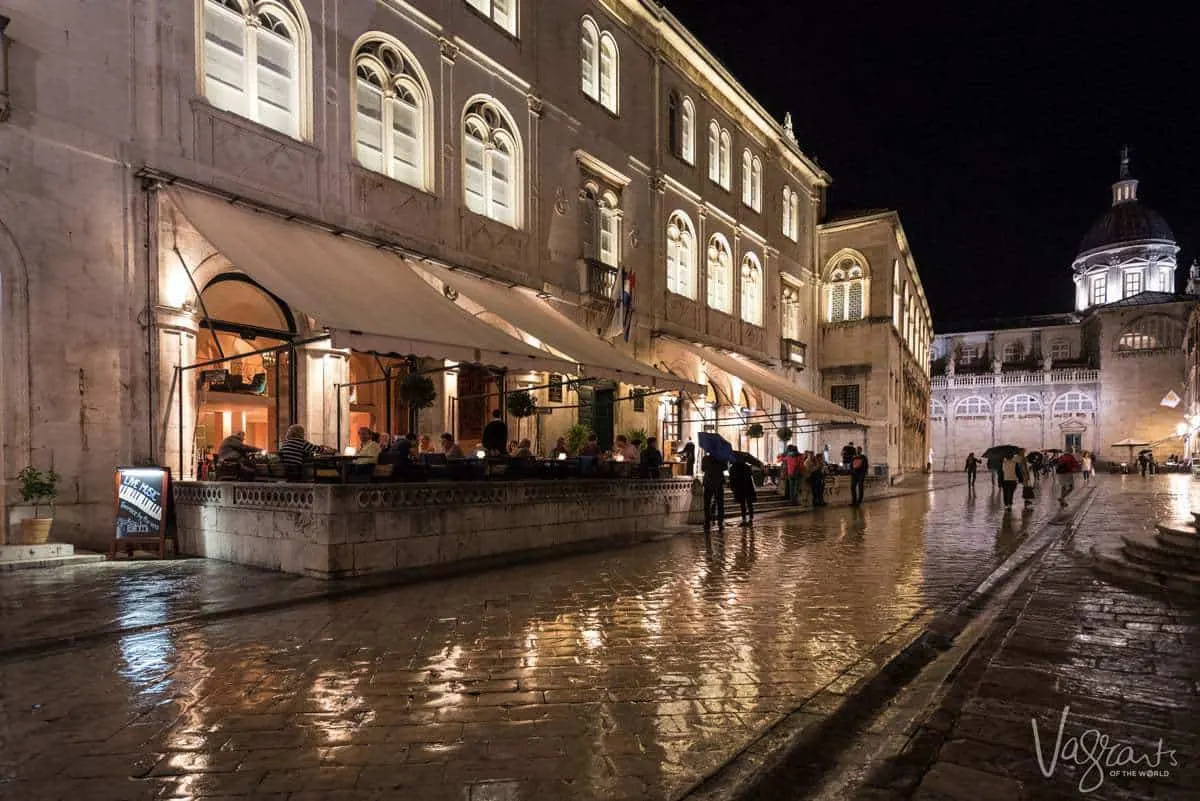 There is so much to do in Dubrovnik, and the milder weather is lovely compared to the peak summer months. Walk along the city walls, ride the Dubrovnik Cable Car up to Mount Srđ for stunning views, or do a Game of Thrones tour of all the iconic filming locations.
There are plenty of festive events to enjoy throughout December. The Dubrovnik Winter Festival takes place from Advent through New Year. Around the city, you'll find Christmas concerts, holiday decor, and Advent Markets with vendors selling traditional Christmas food – fritules (donuts), sausages, and mulled wine.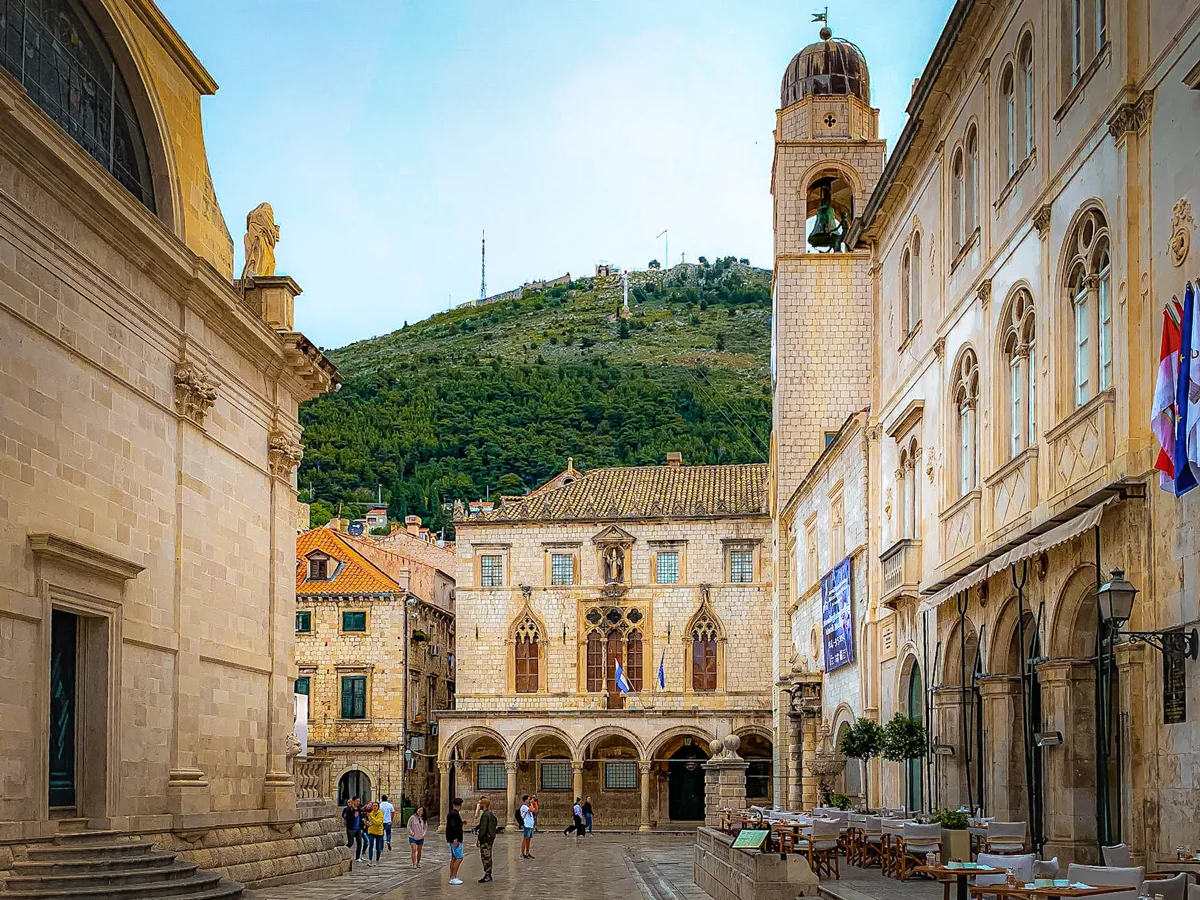 Another treat is the chance to see the Kolenda, a tradition dating back to the 13th Century where Kolandari singers walk through town serenading everyone. It all culminates in a beautiful display of fireworks for New Year's. In December, you can enjoy these amazing experiences and stay in one of the best boutique hotels in Dubrovnik without breaking the bank.
Recommended by Jenifer Byington – The Evolista
6. Lapland Finland
One of the most incredible places to visit in Europe in December is Lapland, Finland. From November, the days are shorter with purple sunsets, the lakes freeze solid, and the snow piles high ( you'll definitely need your snow boots. Get tips on what to wear in Lapland here.)
This magnificent, natural winter wonderland is also the home of Christmas. Santa Claus lives in Rovaniemi, the capital of Lapland, which makes Lapland one of the most magical (and snowiest) places to be at Christmas time. If you're in Lapland for a few days in December, of course, pay a visit to Santa and Mrs. Claus – But there are so many other reasons to visit Lapland in December.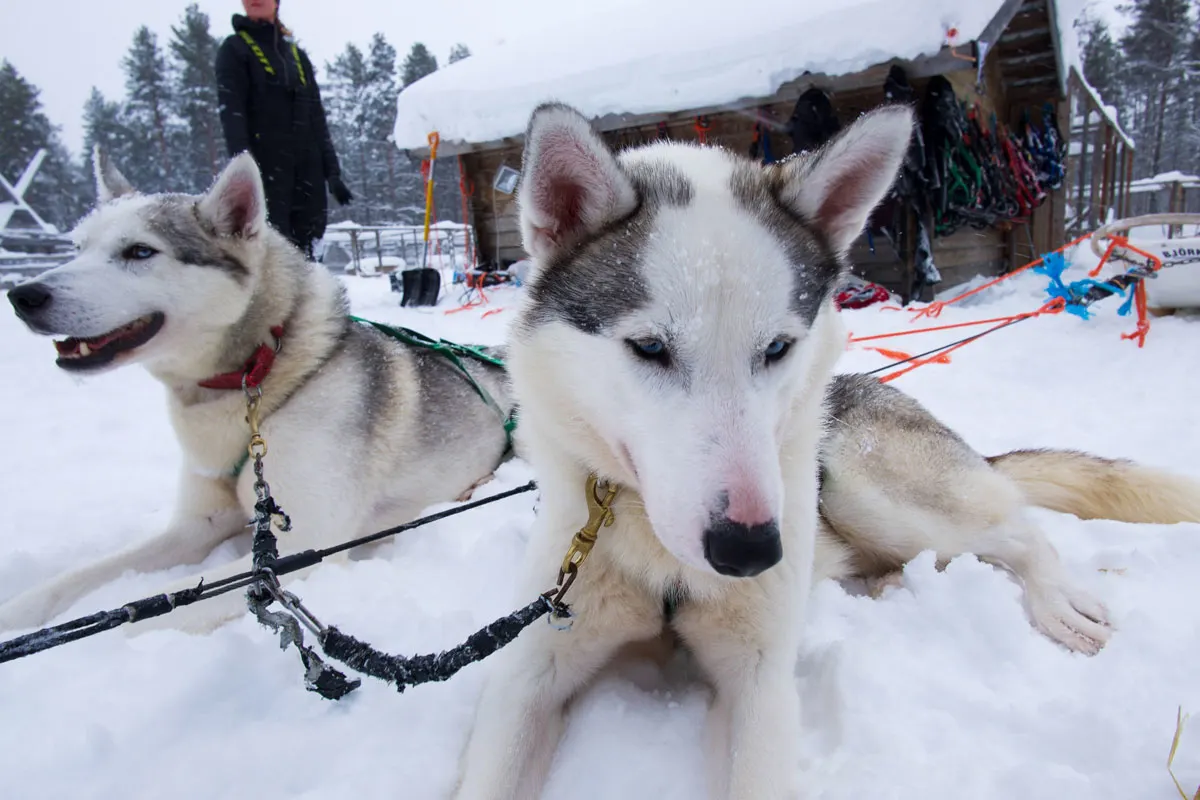 Lapland offers so many unique winter experiences, such as the magic of dog and reindeer sledding through a wintery landscape.
Rovaniemi is also one of the best places in the world for spotting the Northern Lights, especially during December. Wrap up and head out at night to try to catch the green dancing sky of the magical Aurora Borealis.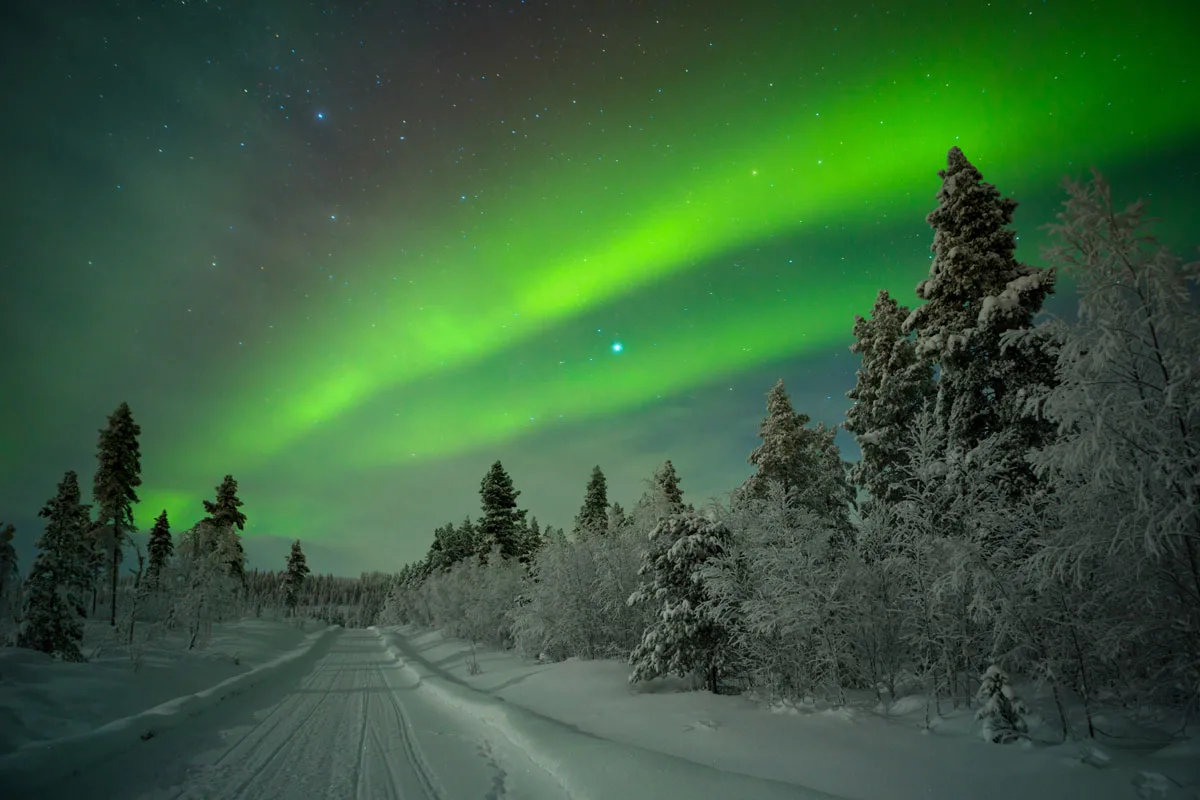 For the best chance of experiencing the Northern Lights, book a guided Northern Lights tour on a snowmobile to the heart of the Finnish countryside, where you'll have no artificial light. For a more authentic experience, try a northern lights adventure tour on a husky sleigh. This increases your chance to see the lights in the best conditions, and you get to experience the real Lapland.
For the ultimate Lapland accommodation, stay at the remote Apukka Resort for a once-in-a-lifetime stay in a glass igloo with unobscured views of the Aurora Borealis from the warmth of your bed.
Recommended by: Jennie Tuck – Jennie Wanders
7. Lisbon Portugal
Lisbon is not a city that pops into mind when considering visiting Europe in December. The high season for Portugal is generally from spring through to autumn when the weather is warm.
However, like many other European cities, Lisbon has many festivities, markets, and loads of Christmas spirit during the month of December. What Lisbon has over Northern European cities are lovely, mild temperatures in December, perfect for exploring Portugal's capital. Expect daytime highs of around 59℉ (15℃). You'll still need a coat, but the weather will be pleasant.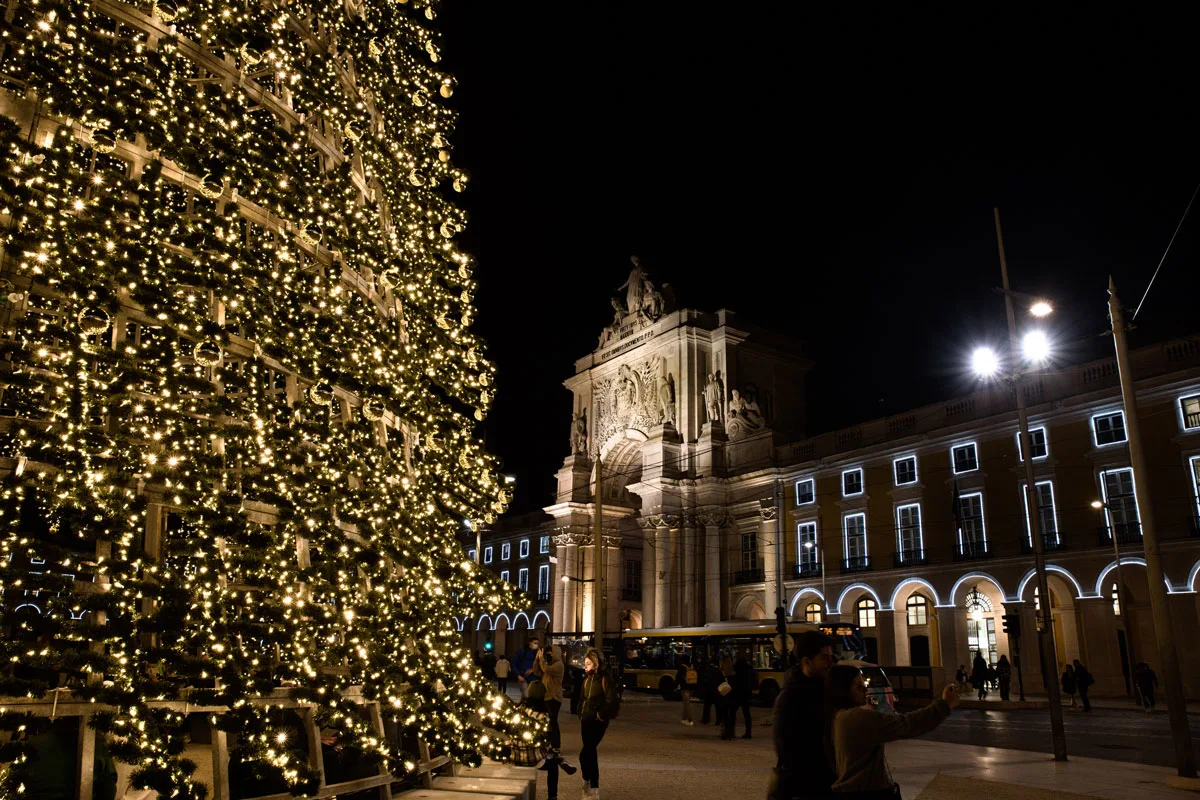 Smaller scale than other European cities, you'll find charming Christmas Markets around Lisbon with a Portuguese flair, such as Campo Pequeno on the first weekend of December, the Rossio Market, The Mercado de Baixa, and Parque Eduardo VII for Wonderland Lisboa, which is perfect for families visiting Lisbon.
Aside from Christmas festivities, there's so much to do in Lisbon, from fascinating museums and galleries to excellent restaurants, historical monasteries and castles, and quaint neighborhoods to explore. Winter is the perfect time to visit the top of the iconic Cristo Rei statue or take a ride on the mile-long cable car running alongside the River Tagus.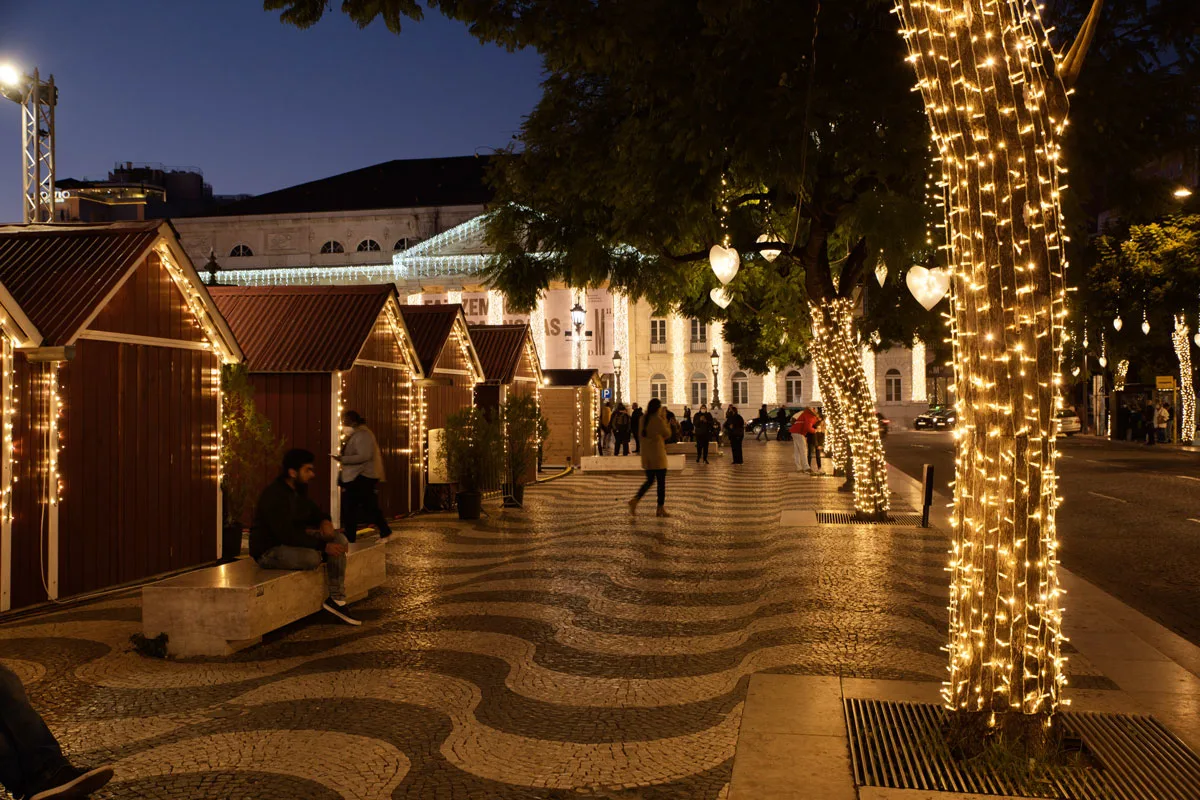 Ride on the famous tram 28 to see all of the main attractions of the city. In December, the best time to ride is at dusk to make the most of the Christmas lights around the city.
Three to four days is perfect for exploring Lisbon. Although, you may want to allow some extra days as there are some excellent day trips from Lisbon that tick off some of the best places to visit in Portugal.
Recommended by: Karen Ni Eadbhard – Travel Mad Mum
8. Rome Italy
Rome is an excellent city to visit in Europe during the month of December.
December is considered off-season, which means there will be fewer crowds, which means shorter lines for all the major sites.
However, the holiday season between Christmas and New Year can be fairly crowded, but it is well worth it to be in the Eternal City during this magical time of the year.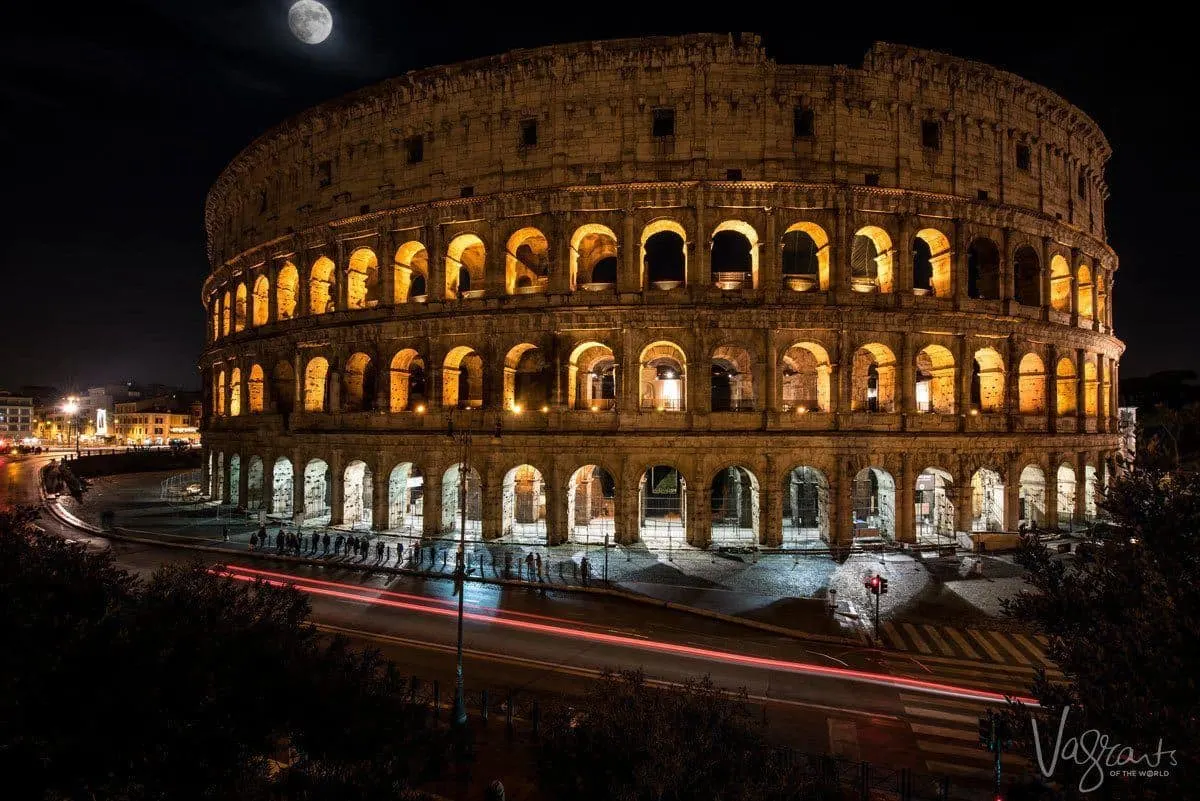 In early December, you'll see Christmas decor go up around the city. Head to Piazza Venezia and St Peter's Square in Vatican City to see the most beautiful Christmas tree and nativity scene displays – the lights, Christmas trees, and festive decor throughout Rome is magical.
There is so much to do in the Eternal City, must-sees in Rome include the Colosseum, Trevi Fountain, Pantheon, and St. Peter's Basilica. Surprisingly, there are also loads of incredible free things to do in Rome.
Make sure you try Rome's four famous pasta dishes, cacio e pepe, carbonara, amatriciana, and alla gricia. After all, winter is the perfect time for cosying up in a trattoria and indulging in authentic Italian dishes.
Many automatically think of Rome as being a hot city, but in December, the weather in Rome can be fairly chilly. Expect averages in the high 55s℉ (13℃) which is much more pleasant for sightseeing.
Recommended by: Kim Swanson – Traveling Swansons
You Might Also Like: We have the perfect 3-Day Rome Itinerary with an Optional 4th Day.
9. Venice Italy
In the Veneto region of Italy, Venice, Italy's most famous island, is one of the more unique places to visit in Europe in December.
While the floating city is beautiful anytime, Venice comes alive during the holiday season. The city streets are decorated with twinkling lights, which adds ambiance to Christmas shopping for the perfect gifts in Venice's high end stores and local artisan shops.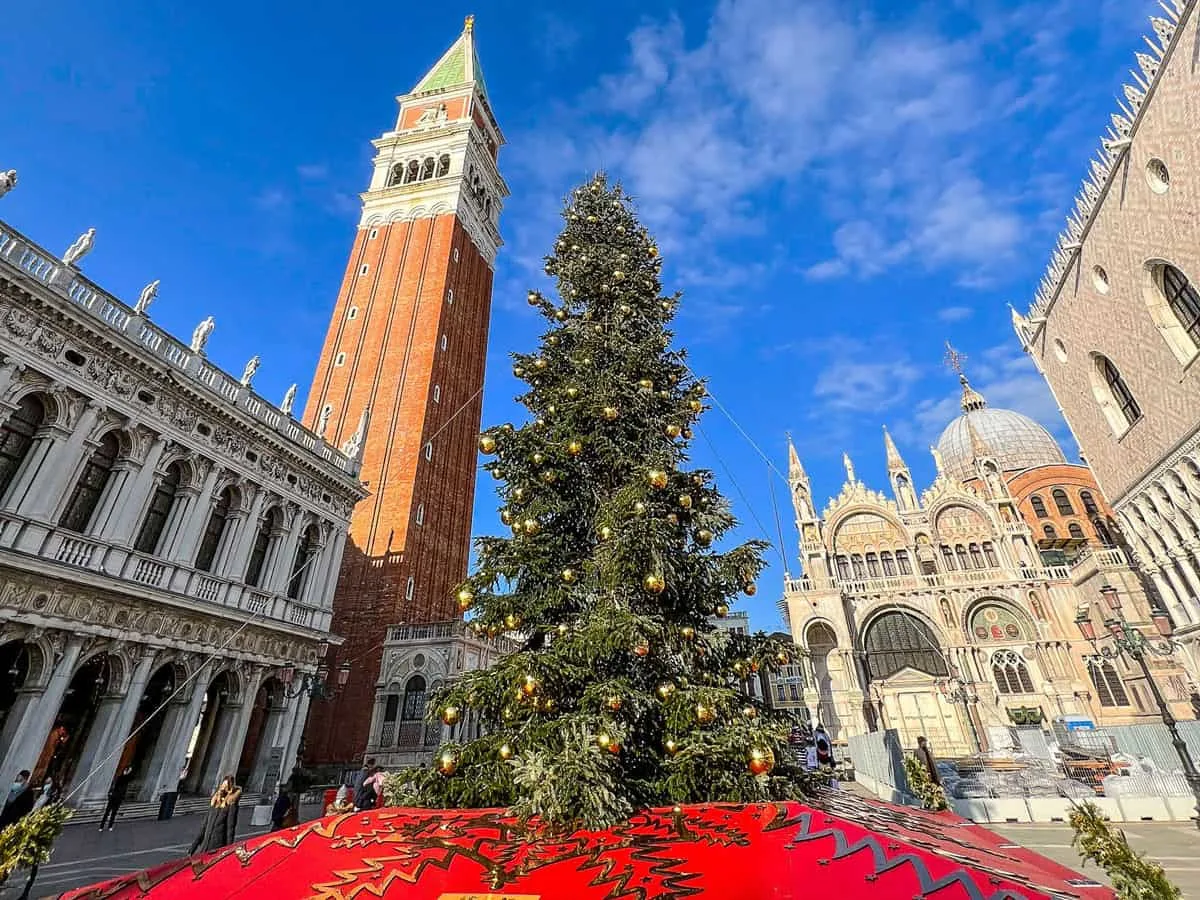 In the world-renowned Piazza di San Marco, Venice's Christmas tree sets a beautiful scene on the Riva Degli Schiavoni next to some of Venice's most iconic buildings – Doge's Palace and Basilica di San Marco.
You can find the city's primary Christmas market in Campo Santo Stefano or go ice skating in Campo San Polo, where a temporary ice rink is in the square from December through the Carnevale season.
The Museum of Music hosts holiday concerts throughout December, featuring Baroque music on historic instruments performed by the Interpreti Veneziani string quartet. Make the most of your visit to Venice with our 5-Day Venice Itinerary, which includes some incredible day trips.
Recommended by: Lyndsay Crescenti – The Purposely Lost
10. Prague Czechia
Prague is located in the very heart of Europe, but winters can be cold, with a high possibility of snow. This is why visiting Prague in December is about fairytale castles, Prague's signature spires dusted in snow, and a magical Christmas atmosphere.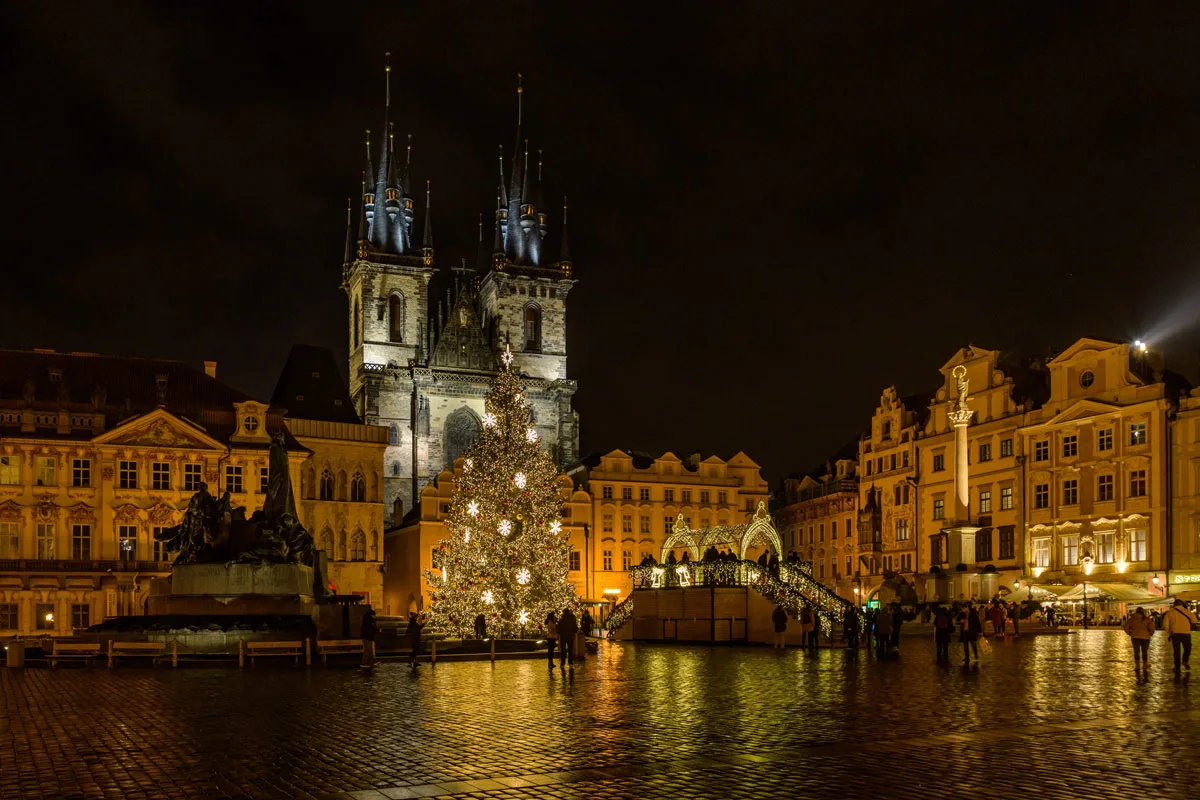 From the end of November, the city of Prague starts to dress up and prepare for the holiday season. Christmas markets start to pop up – each prettier than the next.
When visiting Prague's Christmas markets, warm up with mulled wine or hot mead. Apart from the main Christmas market at the Old Town Square, make sure to visit the smaller ones, such as the Náměstí míru Square and Prague Castle, for an extra-magical setting.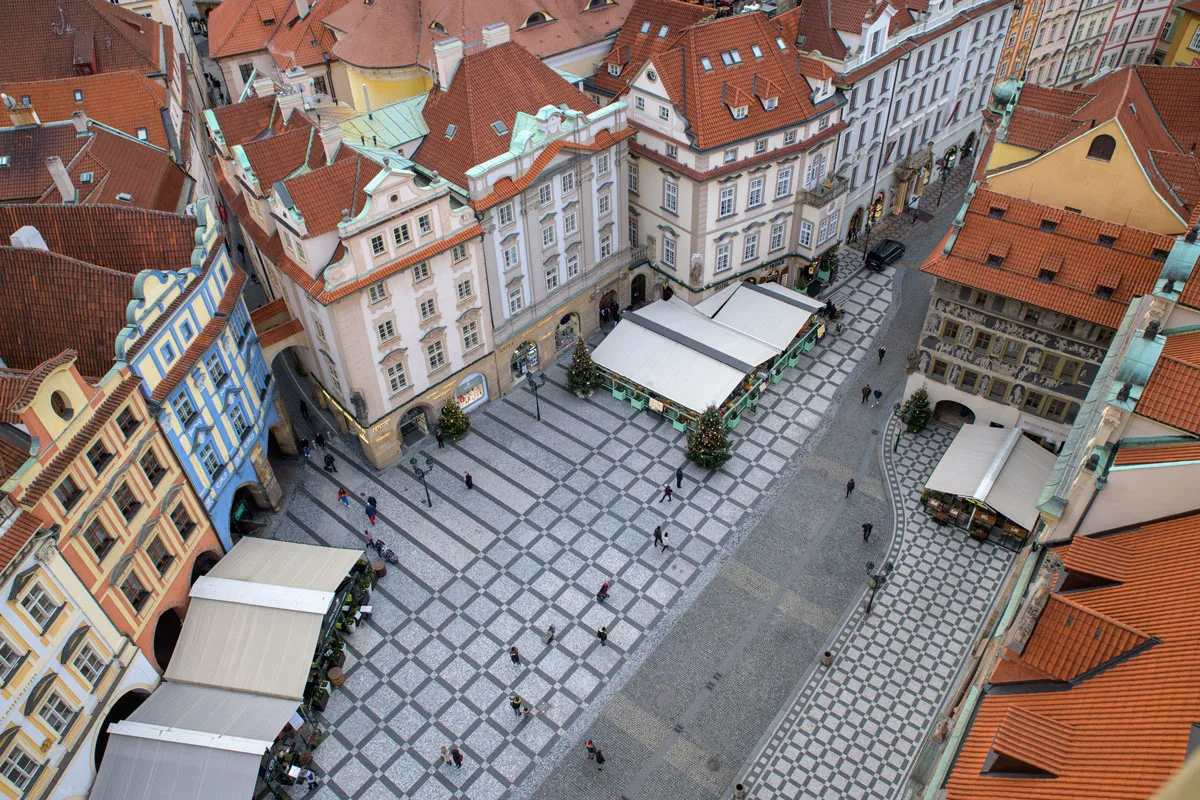 At the beginning of the month, on Dec 5th, Prague celebrates St. Nicolas Day. You'll see unusual characters roaming the streets – angels, devils, and even St. Nicolas himself.
You can also enjoy ice skating in the historic center at the Ovocný trh Square in the Old Town.
Recommended by: Veronika Primm – Travel Geekery
11. Vienna Austria
The Austrian capital, Vienna, is a wonderful European destination to visit in December. Despite the very cold weather and the chance of snowy days, Vienna has so much to offer in winter, with its joyful Christmas markets, photogenic illuminated streets, and overall festive atmosphere.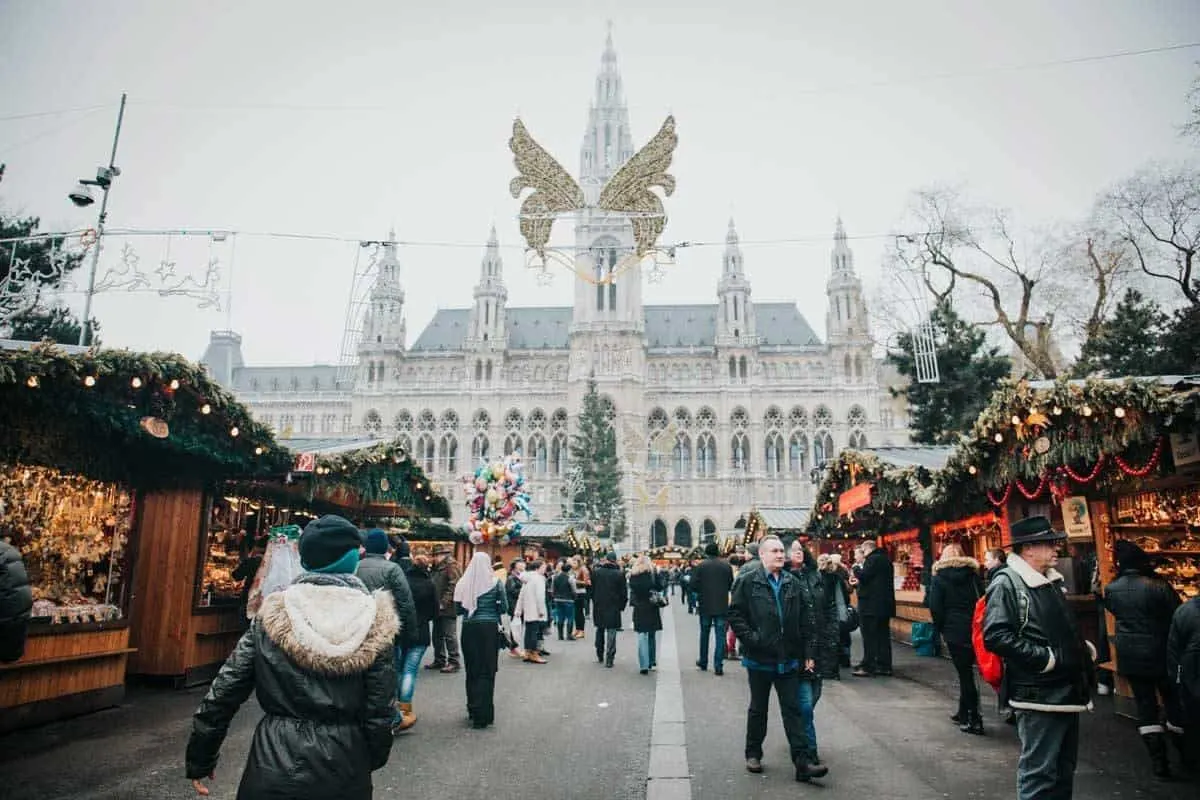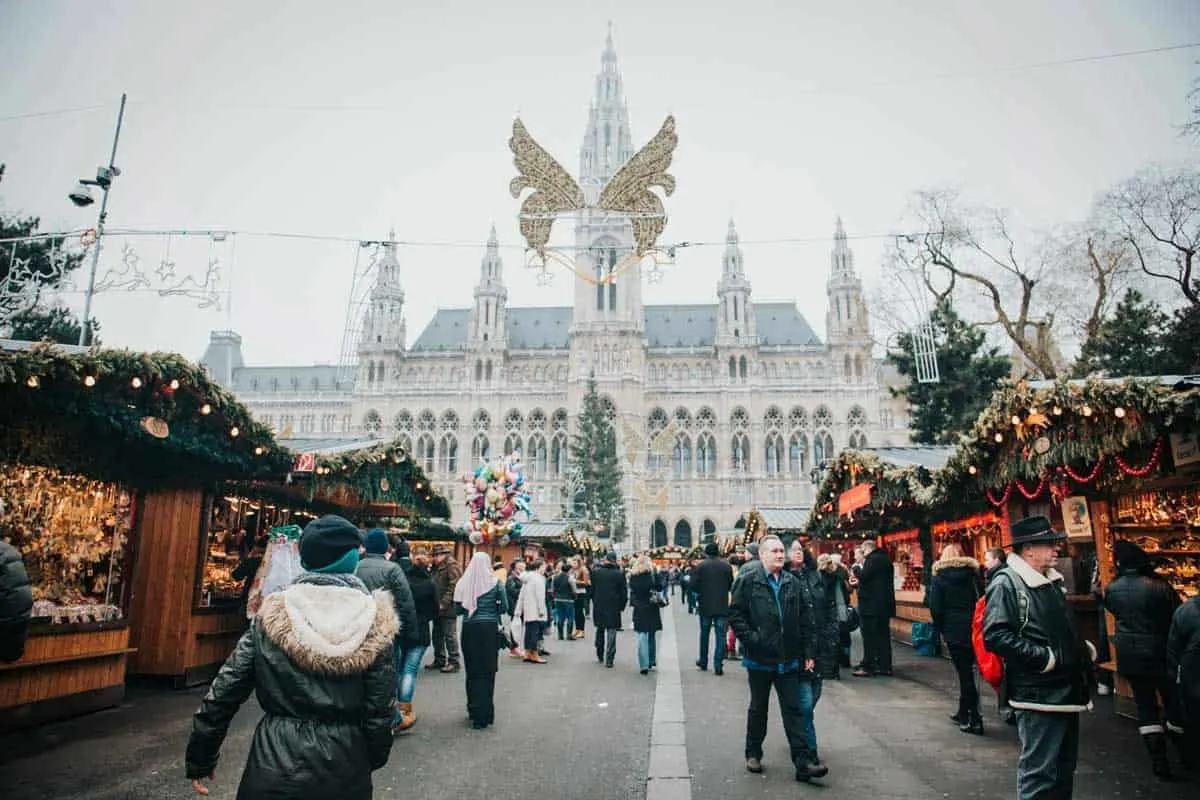 Start with a self-guided Christmas market tour – head to the largest market of Rathausplatz Christkindlmarkt and enjoy the ice skating rink and Ferris wheel. Escape the crowds at the cozy Spittelberg Weihnachtsmarkt, and go for quality over quantity at the Belvedere Palace Christmas Market.
Vienna is also a city for history and culture buffs. To escape the weather, there's no shortage of amazing palaces and museums to check out, including the UNESCO-listed Schönbrunn Palace, the Hofburg Palace, the Museum of Art History, and the Albertina Museum. Other visit-worthy landmarks are St. Stephen's Cathedral and the Vienna State Opera.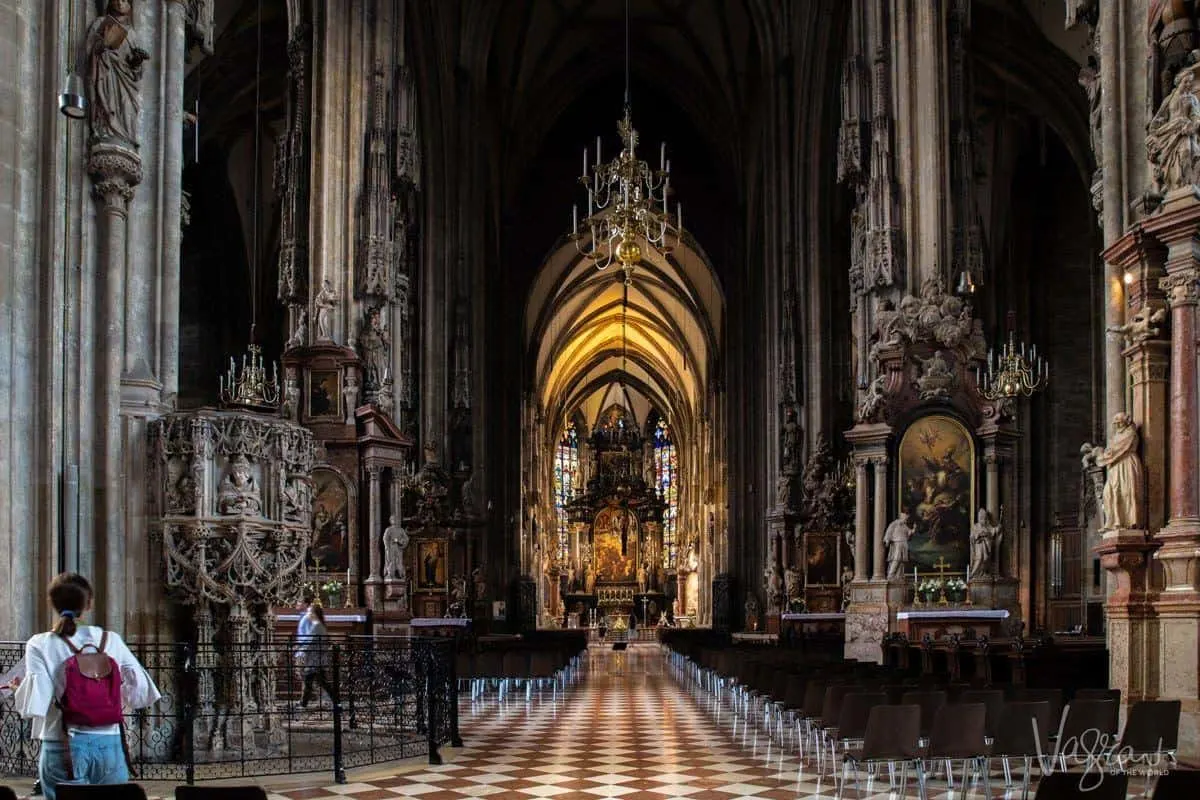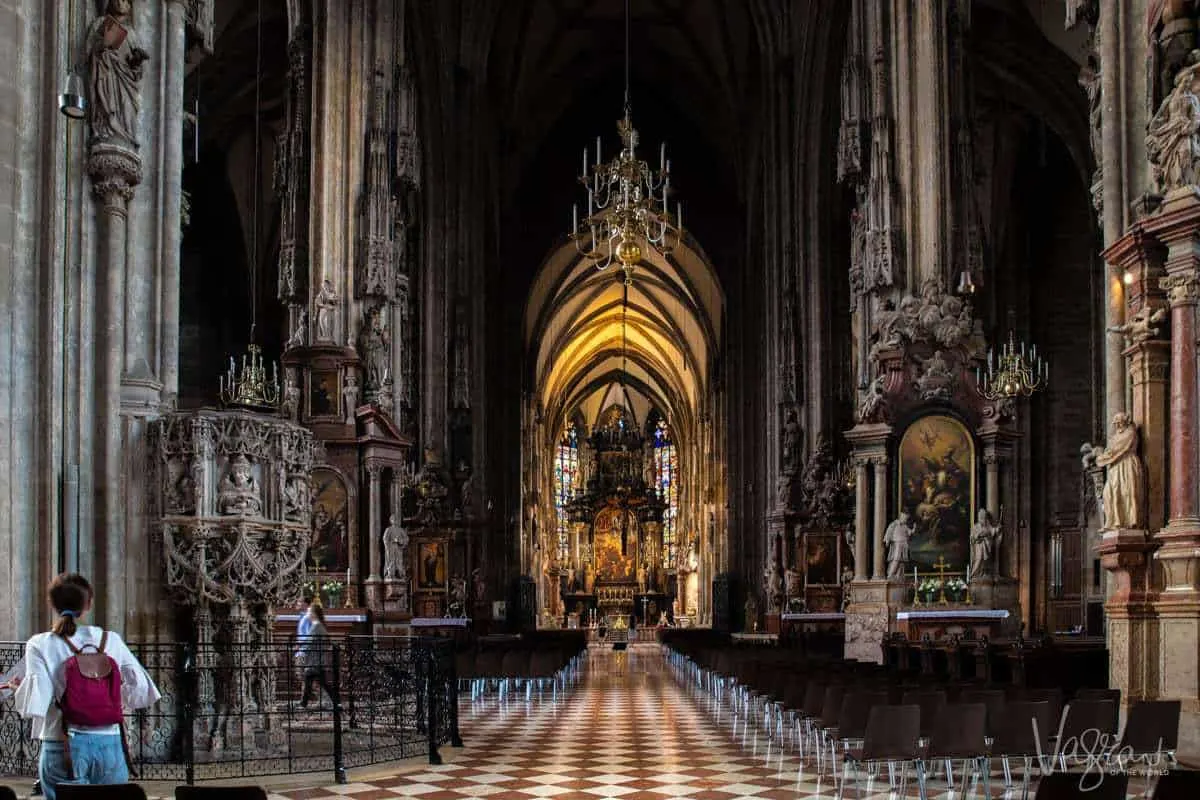 To engage in the city's thriving coffee culture, head to one or more of the famous historic coffeehouses of Vienna, like Demel and Cafe Central. Try authentic Apple Strudel, devour Austrian layer cakes, or try a local dessert called Kaiserschmarrn. If you're looking to unwind, Vienna's parks are ideal, especially Stadtpark, Burggarten, and Volksgarten.
Recommended by: Or Amir – My Path in the World
12. Madrid Spain
During the lead-up to the festive season, Madrid, the Spanish capital, is a hive of activity – a perfect winter city break destination. We have a great 3-day Madrid Itinerary to make the most of your time.
Even though winter in Madrid gets to a chilly 6-8°C (approx 44°F), it's a relatively dry city blessed with many sunny winter days.
On crisp December days, a popular thing to do in Madrid is walk around the city's biggest green space, Parque El Retiro. In the lead-up to Christmas, the park is dressed in lights, and pop-up Christmas markets start to appear.
One of the best light displays in Madrid is next to Parque El Retiro at the Botanical Gardens. Home to over 1500 trees, from the end of November through to early January, the main central route is decorated with twinkling Christmas lights, illuminated trees, and decorated pergolas.
If you're in feeling more energetic, you can incorporate some winter sports into a Madrid city break. An easy day trip from the capital will land you in the popular ski area of the Sierra de Guadarrama mountain range.
Spaniards take Christmas seriously, so expect festive storefronts, ice rinks, and markets popping up all over the city. If you're looking for something Christmas kitsch to do, then take a ride on the NaviBus ('Christmas bus') which does a circuit around the city's best displays.
The best thing to eat at this time of year is Churros y Chocolate. Although they are available all year round, the hot, gloopy chocolate sauce you dip your Churros into (a long finger-like doughnut) is especially satisfying on a chilly December afternoon.
Recommended by: Becki Rendell – Meet Me in Departures
13. Amsterdam Netherlands
December is a very special time to visit Amsterdam. During the holiday season, Amsterdam sparkles and comes alive with tourists visiting the many Christmas Markets.
Christmas Markets are a staple all over Europe in December, and Amsterdam has some fabulous markets worth visiting. Enjoy gingerbread cookies and other seasonal treats, live music, street food, and a party atmosphere Amsterdam does so well.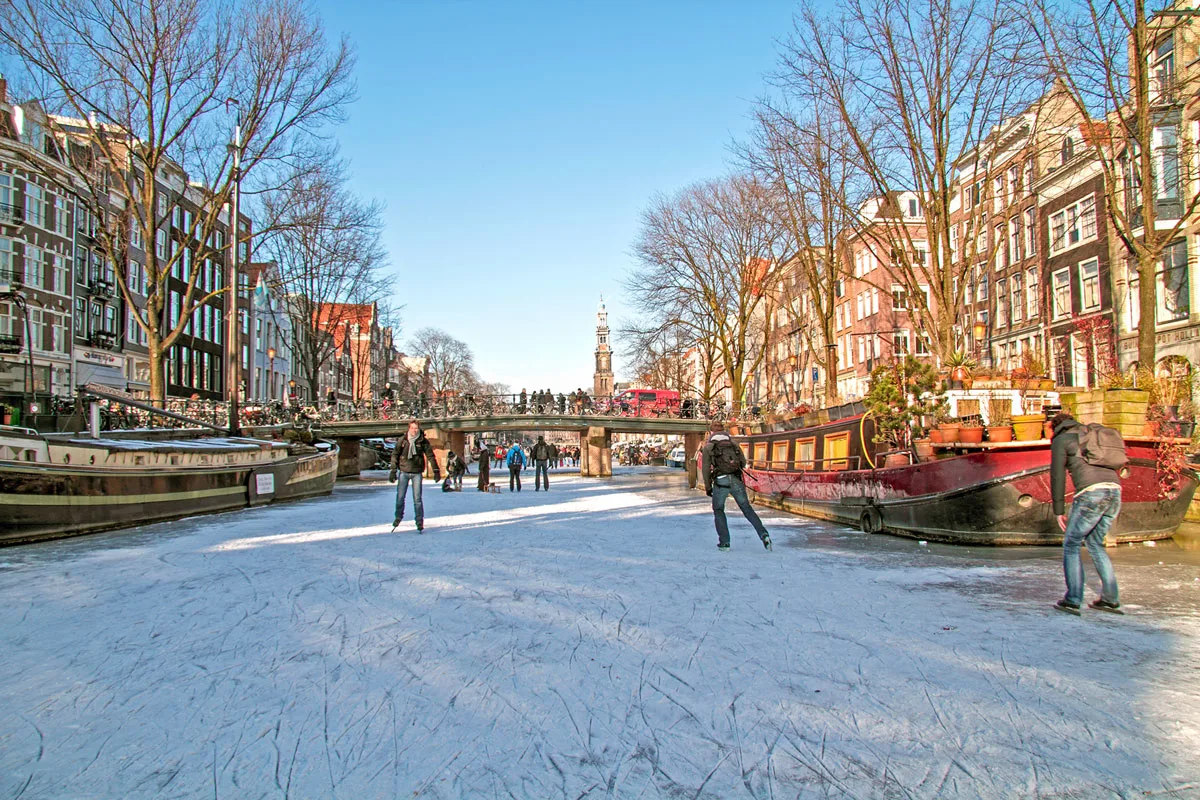 The largest Christmas Market in Amsterdam is the Ice Village, located in Amsterdam's Museumplein. The Ice Village is open from two weeks before Christmas until the day after and features a huge ice skating rink.
Ice skating is a national pastime in Holland, so other than at the Museumplein, you will find tons of places to skate in the winter. If the weather is cold enough for long enough, you can even skate on Amsterdam's famous canals. If the conditions look right, boat traffic will be blocked from certain canals to allow them to freeze. The canals become a glittering, icy super highway for skaters with classical music and little kiosks on the ice serving warm drinks and liqueurs.
Keizersgracht and Prinsengracht are the canals that will most likely be frozen for skating. Be sure to take your cue from the locals on where to skate, as some areas, such as under bridges, can still be quite thin.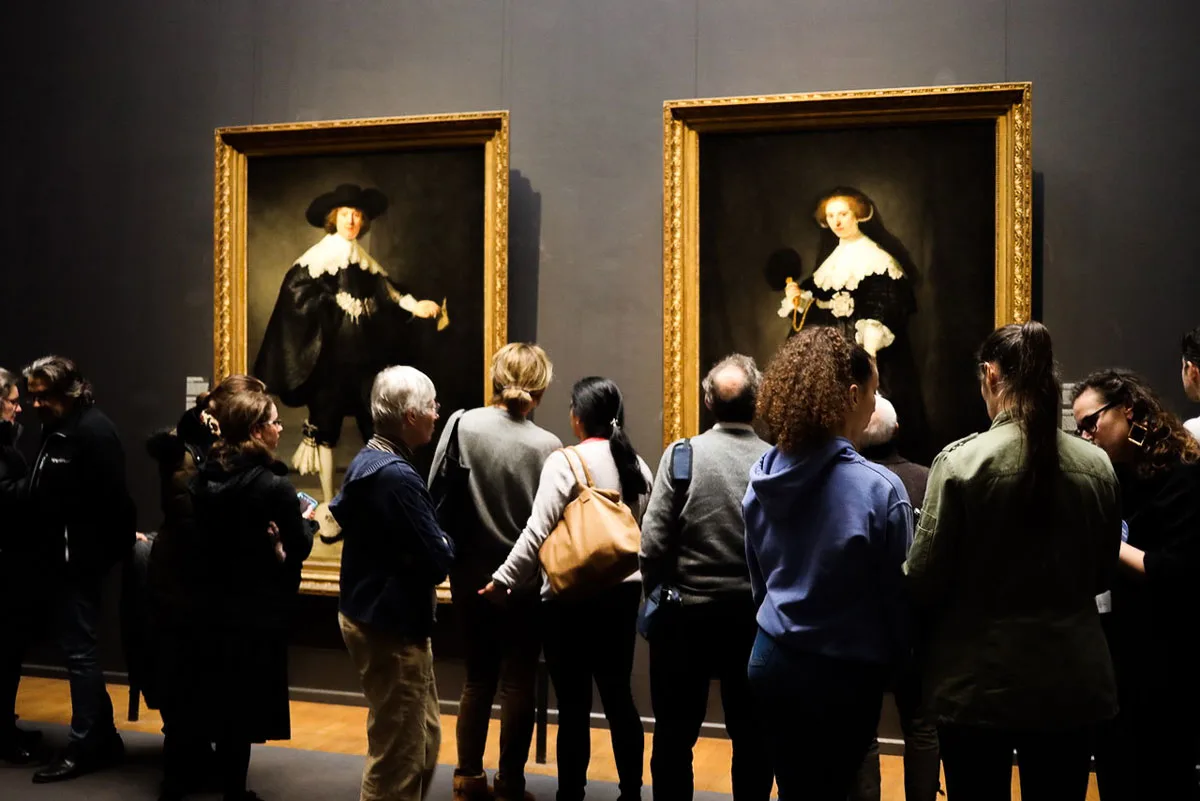 Want to escape the cold or prefer a little culture? Visit one of Amsterdam's world-famous museums. The Museumplein in Amsterdam, where the Christmas Market is held, is also home to the Rijksmuseum, Van Gogh Museum, and MOCA Museum, where world-famous Dutch artists like Vermeer, Rembrandt, and Vincent Van Gogh are exhibited.
Recommended by: Katie Caf – Katie Caf Travel
14. Turin Italy
If you're looking for a magical European destination to visit in December, look no further than Turin, Italy.
Nestled in the north of Italy bordering Switzerland and France, this unique Italian gem is only an hour by fast-speed train from Milan.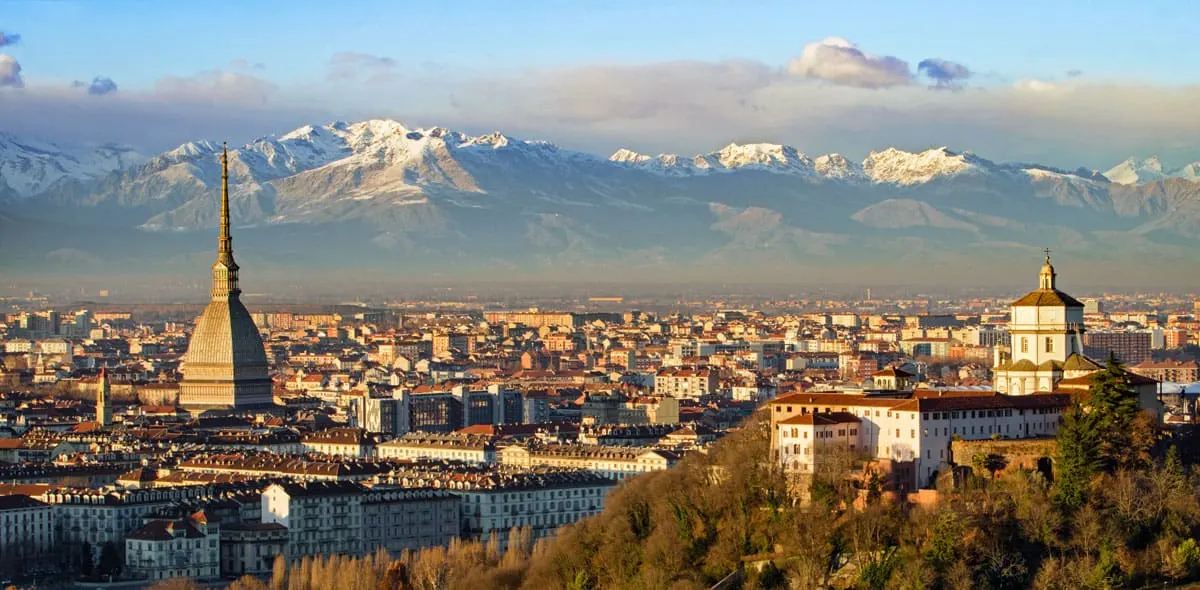 The capital city of the region Piedmont, Turin, was the first capital of Italy and home to the Savoy Royal Family for centuries. There is so much to do in Turin, yet, this regal and elegant city is still relatively undiscovered by tourists.
If you love a good dose of Christmas atmosphere, you will adore Turin. In December, Turin lights up with Christmas cheer and, more often than not, a decent dusting of snow.
There is a big Christmas market every year outside the Royal Palace. Warm up after the markets at the famous Al Bicerin cafe with a glass of bicerin, a traditional hot drink native to Torino (chocolate coffee), or aperitivo Torinese style with vermouth and a tramezzino.
Recommended by: Olivia Windsor – Livguine
15. Dublin Ireland
Dublin has a charm quite unlike any other European capital, especially in December when the city hums with Christmas cheer. The twinkling lights of Grafton Street, stores decorated in Christmas cheer, and the bustling pubs heaving with people looking for a celebratory pint and some warmth.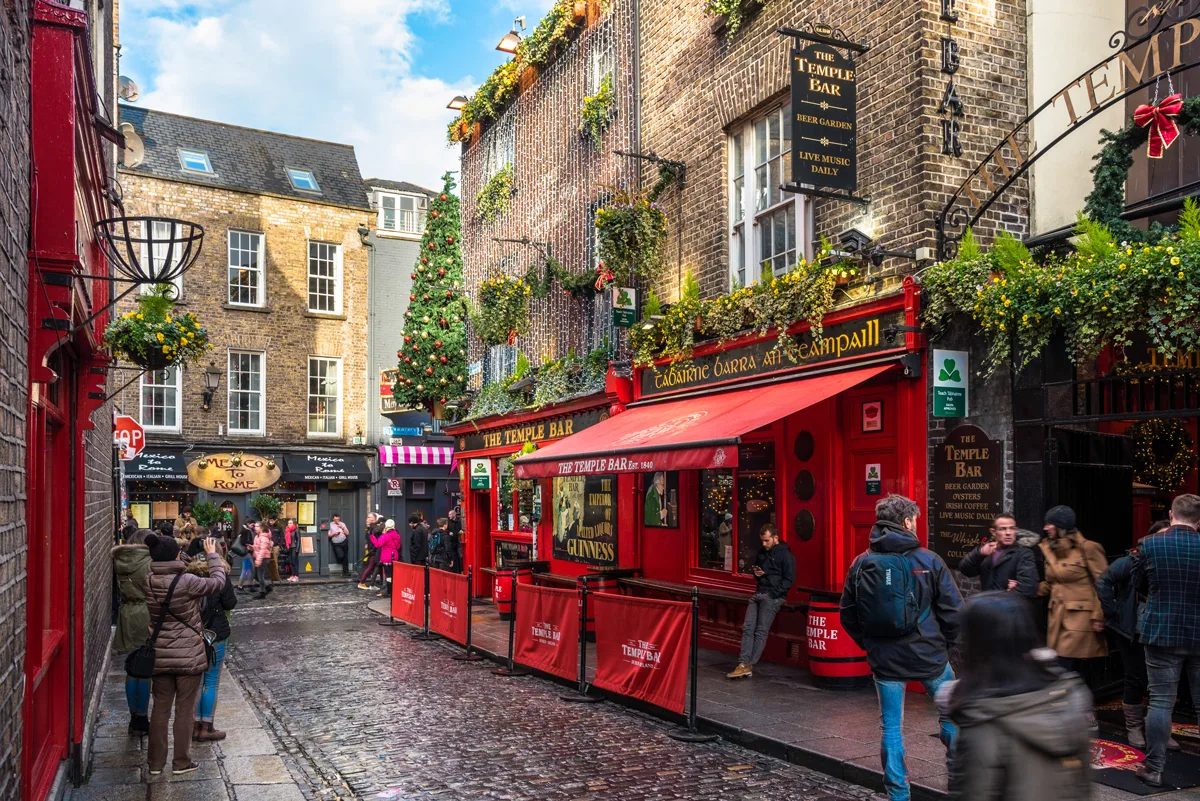 Being near the coast, Dublin has a relatively mild climate, with temperatures rarely dropping below zero. You will, however, still need to bundle up against the rain, this is Ireland, after all.
Spend your days in Dublin, pub hopping in some of the best pubs in the country on South William Street. Shop for Christmas presents in Brown Thomas on Grafton Street, or visit the Guinness Storehouse to learn about Ireland's most famous export.
Dublin is a very walkable city, so it's easy to explore. Enjoy relaxing meals at restaurants such as Brother Hubbard on the Northside or eat your way down Camden Street.
Spend an evening visiting the Dublin Zoo Wild Lights in Phoenix Park. One of Europe's oldest zoos becomes a magical wonderland of fantastical light displays. Head back across the city to the Dublin Castle Christmas Market and spend your night listening to Christmas music, shopping for local artisan products, and eating delicious winter treats.
Recommended by: Missy – Travel with Missy
16. Paris France
One of the most beautiful cities to visit in Europe in December is nonother than the city of love, Paris.
Even though Paris often has overcast, chilly days with an average temperature of 5ºC (41ºF) in December, the beauty of the City of Light still shines through.
While the city is worth visiting any time of the year, Paris in December offers a much more charming vibe.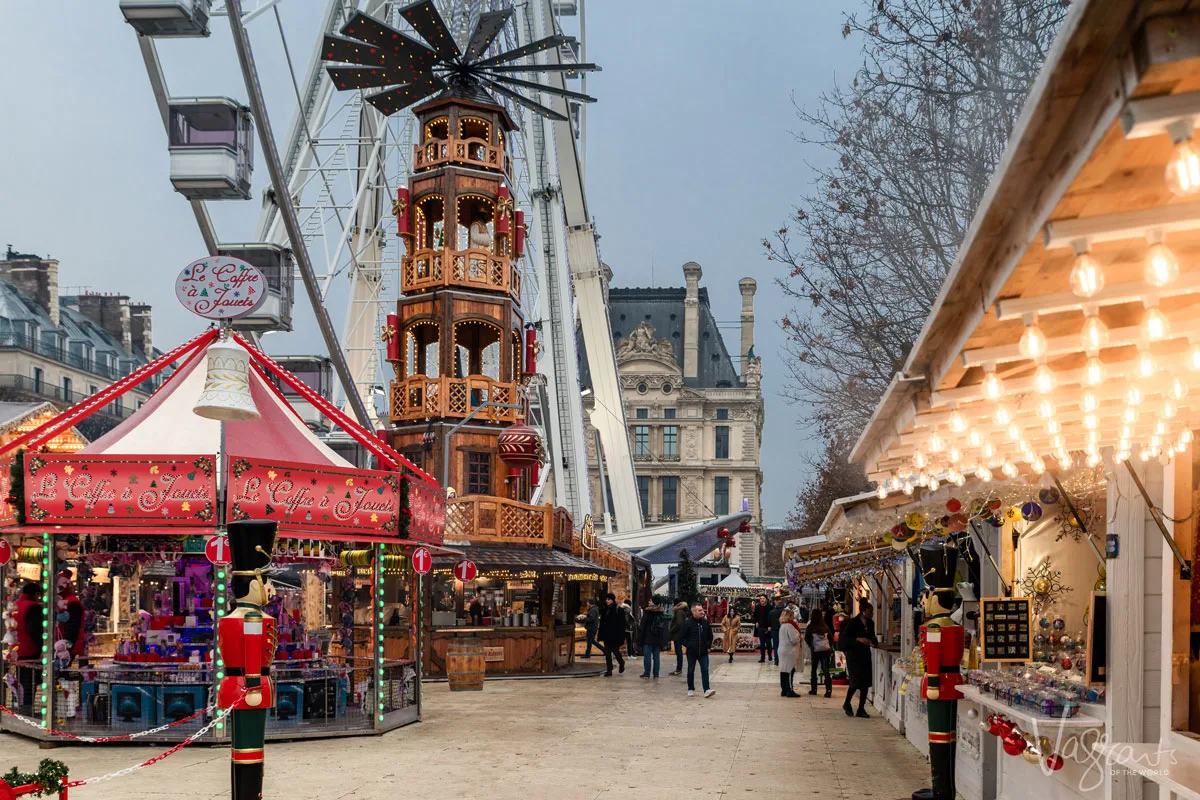 From streets dazzling in Christmas lights and magical Christmas window displays at the major department stores to Christmas markets dotted around the city, Paris becomes a dreamy destination in December.
Besides enjoying the Christmas cheer, December is the perfect month to cozy up in some of Paris' most famous galleries and museums with fewer crowds. Whether it's seeing the Mona Lisa at the world's largest art museum, the Louvre, admiring impressionist art at Orsay Museum, or modern art at Centre Pompidou, Paris has so much to offer during this time of the year.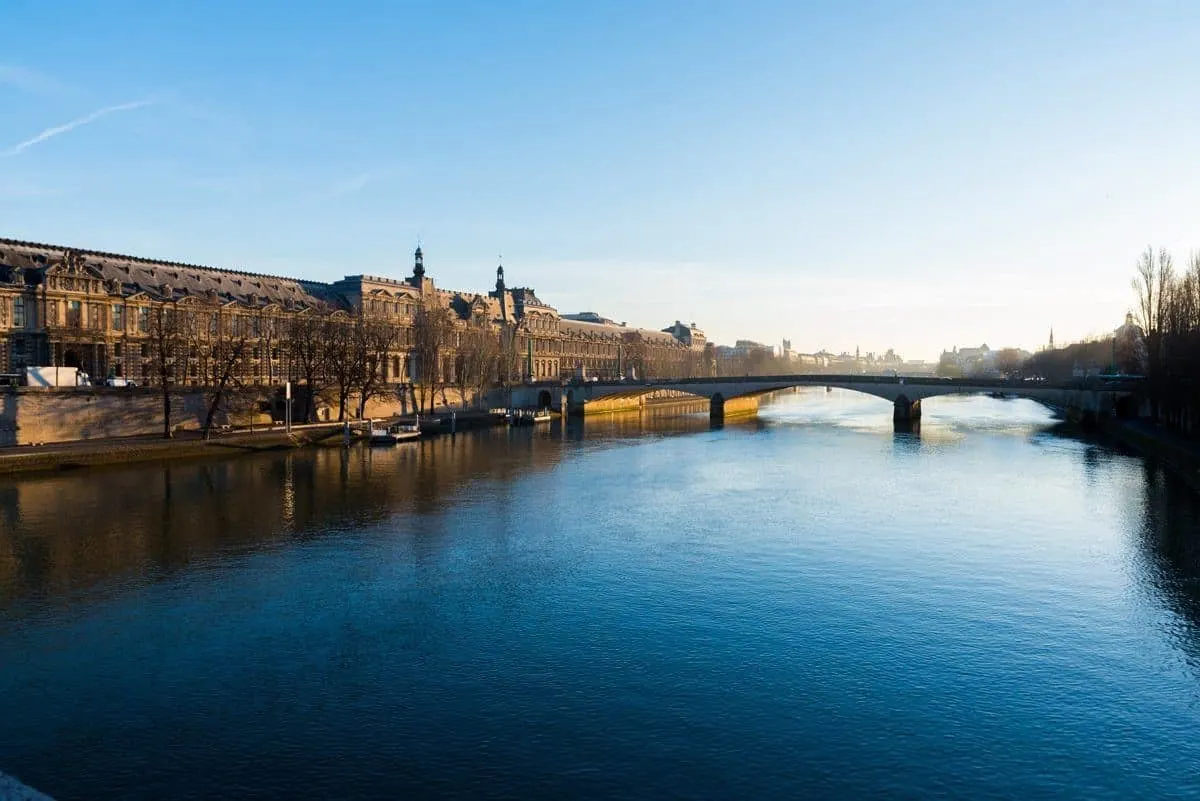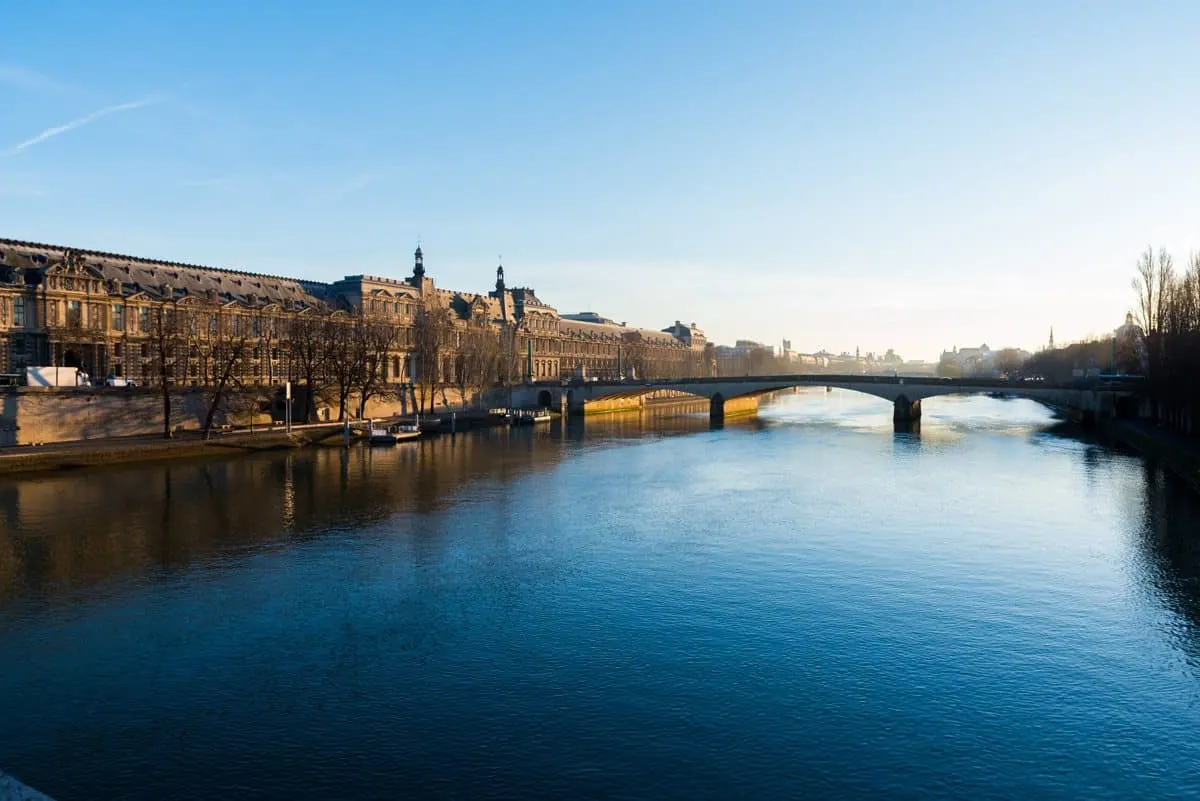 Even though picnicking in Paris' beautiful parks is far from a winter activity, December presents an opportunity to participate in the festival of lights at Jardins des Plantes, a festival that showcases various endangered species while highlighting the park's beauty.
Paris never disappoints when it comes to food, you'll be able to enjoy some winter staples like Soupe à l'oignon, (onion soup) or Vin Chaud (mulled wine) to warm up during the chilly nights.
Between admiring the perfectly decorated city, cozying up at quaint cafes, and soaking in all the art, Paris is one European getaway that always leaves you longing for more.
Recommended by: Esther – Dreams in Paris
17. Nice France
Thinking about hitting the French Riviera for the Winter holidays? Spend your December in Nice, France, for a festive getaway with a Mediterranean twist.
Nice is one of the most popular cities in the south of France, with balmy temperatures hitting highs of 57℉ (14℃), you can leave the big coats and beanies at home. Instead, relax on the festively illuminated Promenade des Anglais and dive into a giant bowl of moules frites (mussels and french fries).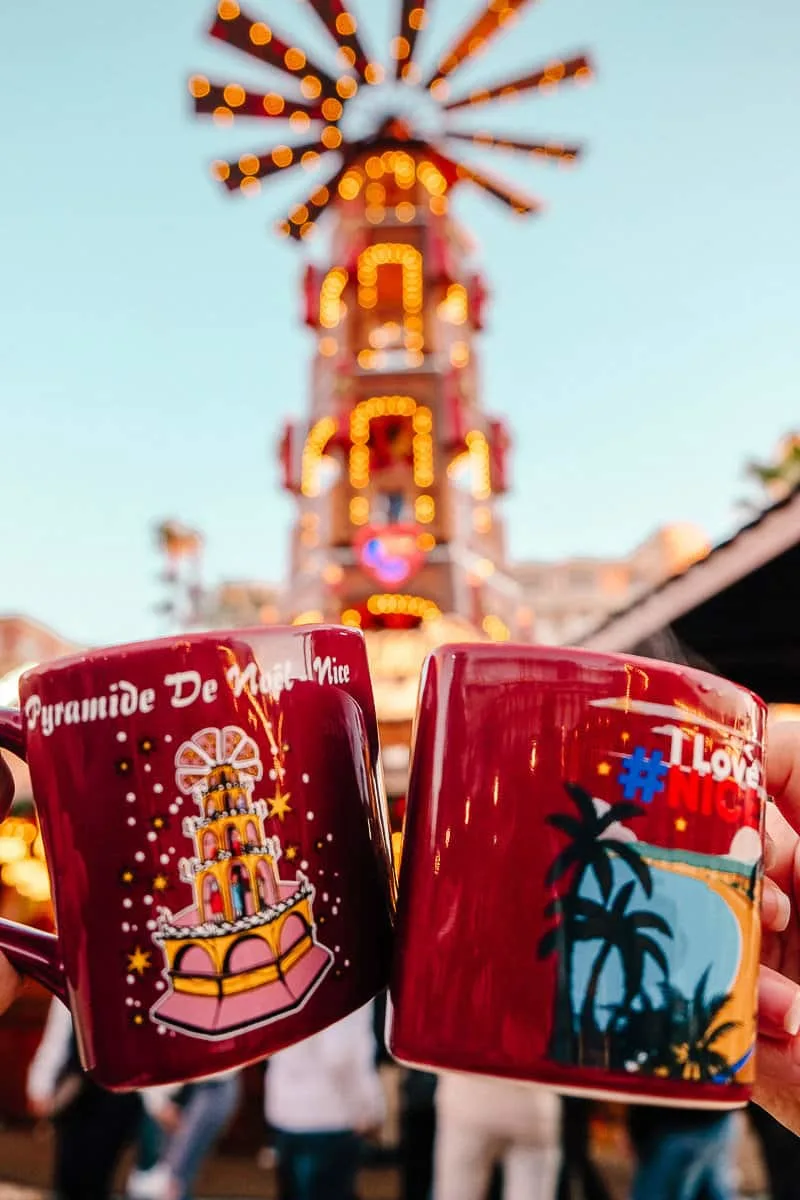 Afterward, take a post-dinner wander along the beach – the temperature does drop in the evening, so remember to bring a coat out with you even if the sun is shining down.
If you're seeking out something special to do in Nice in December, head to Place Massena, home to Nice's Christmas village. Wrap your hands around a hot mug of mulled wine while you browse for the perfect souvenirs to take home.
If you want a birds-eye view of the festivities, check out the Winter Ferris Wheel. You'll be able to see the light displays of Place Massena, Promenade des Anglais, and Place Garibaldi, or head there during the day and enjoy a clear view of the city.
There's never a bad time to visit Nice (even if you just have one day)
Recommended by: Dayna Brockbank – Happily Ever Travels
18. Helsinki Finland
If you're looking for a magical winter experience in Europe, then consider Helsinki in December.
The Finnish capital is a perfect short break thanks to wonderful festive markets, a wealth of cozy cafes, a fantastic collection of museums, and some quirky winter activities that will test even the hardiest of travelers. It's also a great stopover en route to Lapland.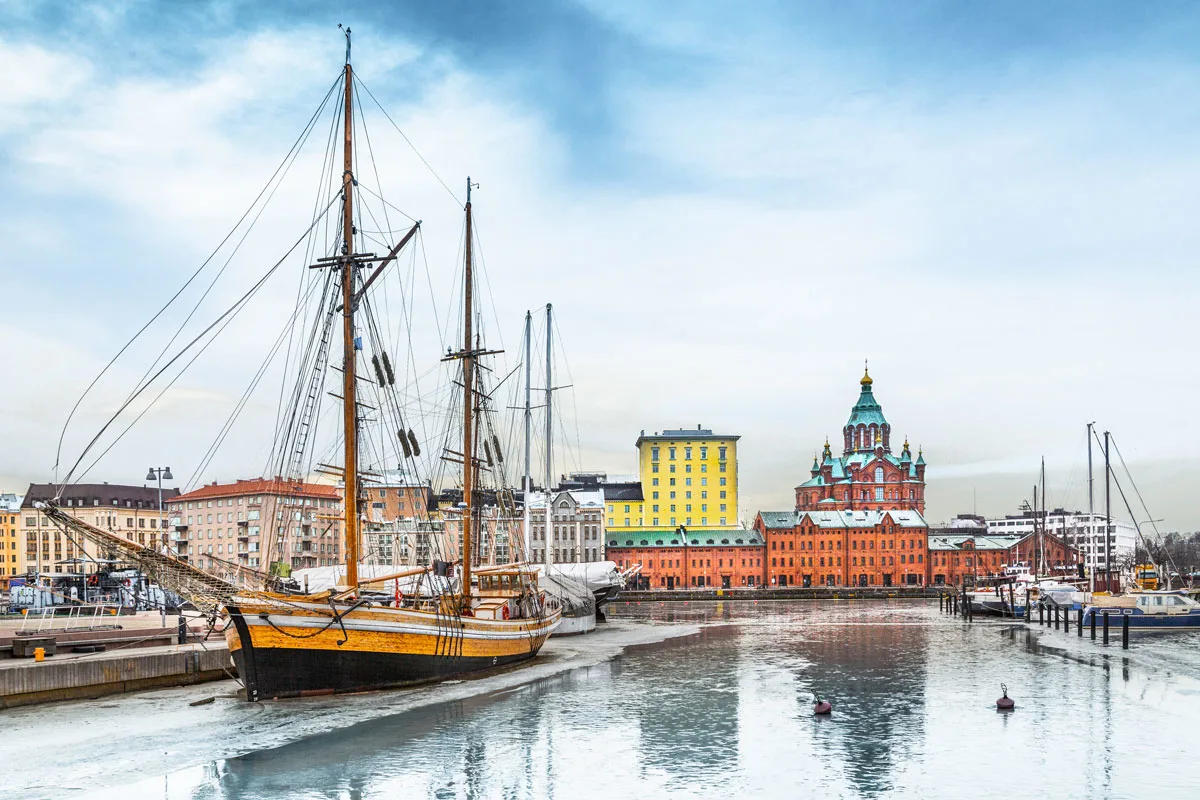 Helsinki gets cold. Really cold. Despite the Scandinavian city's coastal location, temps can reach sub-zero in December. On the plus, you'll likely be rewarded with clear days for stellar winter wonderland vibes. Take your cue from locals who gather to enjoy mulled wine, Glögi, and steaming bowls of delicious salmon soup at the traditional Christmas markets.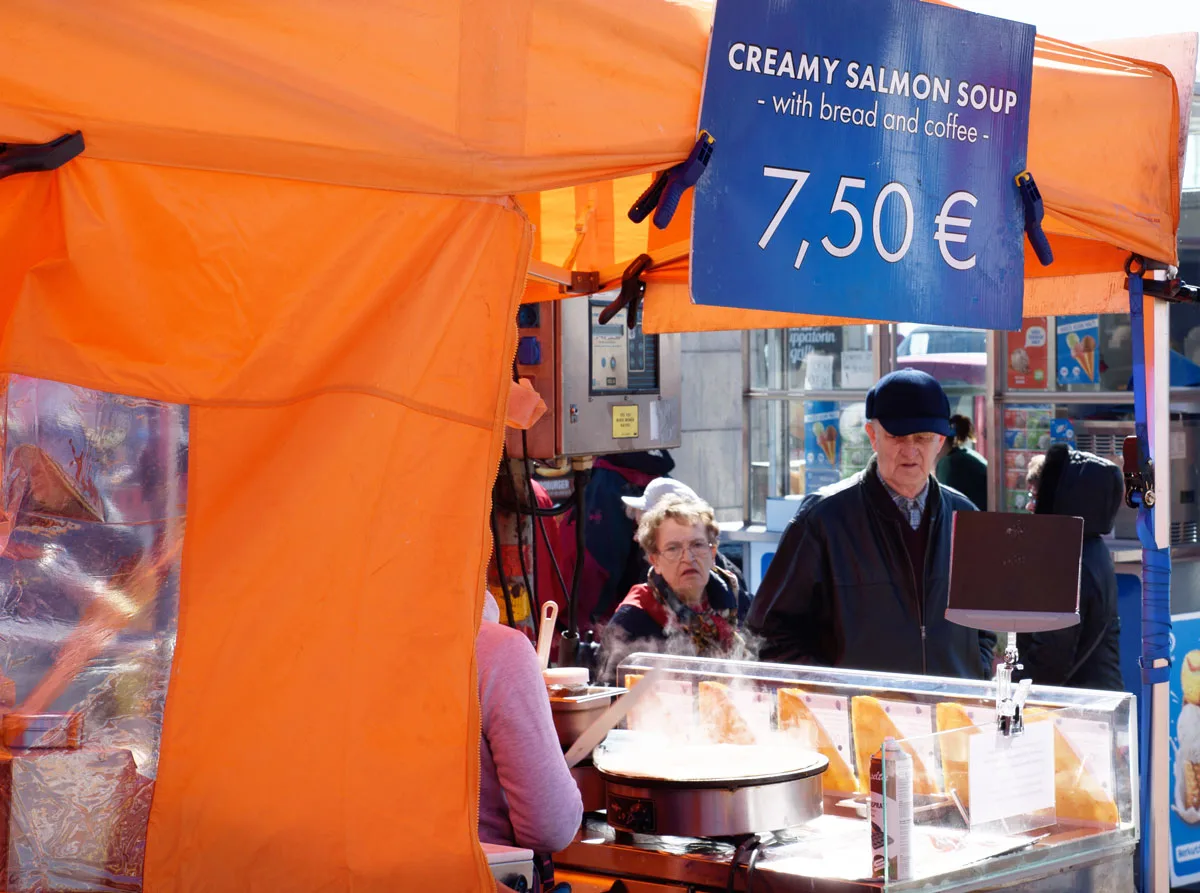 If it's really cold, you may even get to see parts of the sea have frozen. Otherwise, marvel at (or join) the coldwater swimmers braving the Allas Sea Pools before warming up in a local public sauna. There are plenty of public saunas in the Kallio area.
For other top things to do in Helsinki in December, don't miss the famous Design Museum or seasonal ice skating at the Helsinki Ice Park– both should be followed with a piping hot chocolate at either the renowned Fazer Café or insta-famous Café Regatta.
Recommended by: Steph Parker – Big World Small Pockets
19. Berlin Germany
Located in the northern part of Germany, Berlin isn't at the top of many travel lists for winter. But with more than 50 Christmas markets, December is a definite exception and a great choice for a winter city break. From traditional to quirky, you're sure to find at least a few Christmas markets to enjoy here.
If tradition and beauty are what you're looking for, check out the markets at Charlottenburg Palace and Gendarmenmarkt square. Both are gorgeous settings for a festive celebration where you can enjoy a mug of mulled wine and delicious food and shop for some Berlin souvenirs and gifts.
Berlin also has culturally themed markets, such as Japanese or Nordic. There's also a vegan Christmas market, markets focused on artistic creations, ones that are more geared toward shopping, and so many more. Find kid-friendly markets at Potsdamer Platz and Rotes Rathaus.
Berlin can be quite cold in December, so make sure you're dressed in warm clothing, especially if you plan on being outside a lot. The city gets less than eight hours of daylight in December, so plan your sightseeing accordingly. Luckily Christmas markets are at their best at night.
Check out the 25Hours Hotel near the Berlin Zoo for an interesting place to stay. Their "jungle" rooms look out over the zoo and Tiergarten park, definitely a view worth splurging on.
Recommended by: Ali Garland – Berlin Travel Tips
20. Iceland
Iceland is a wonderful European destination if you're looking for winter wonderland vibes and adventure without extreme cold.
Iceland is located near the arctic circle. However, the temperatures in December are relatively mild. You can expect temperatures to be around 1-2℃ (30-36 ℉). Highs can even reach 4℃ (upper 40s℉).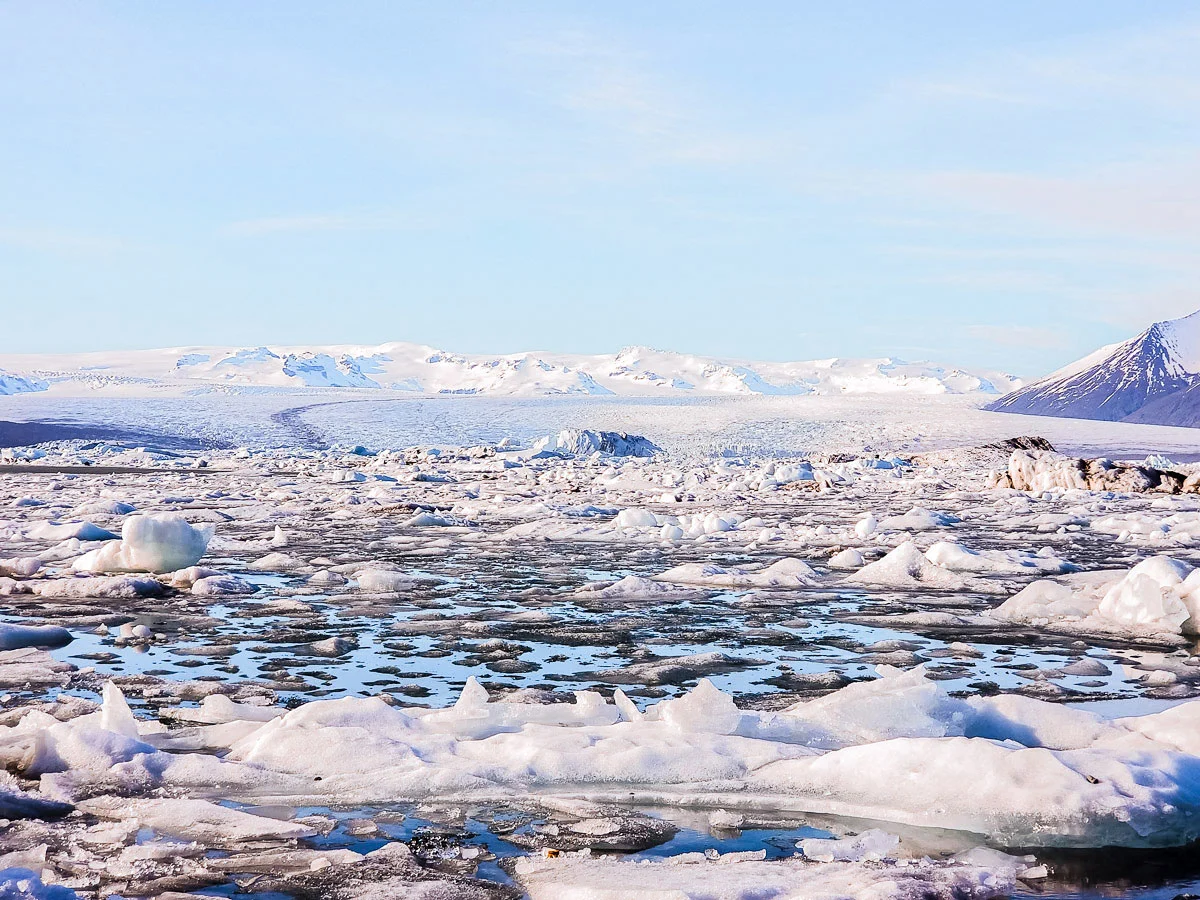 A Northern Lights tour is one of the main attractions you will want to add to your Iceland itinerary. It is one of the best ways of being guaranteed to see the Northern Lights, as these pros know the best places to visit for optimal visibility of the Aurora Borealis.
If you love adventure, Iceland in December is perfect for you. Take a road trip around the Golden Circle to see waterfalls and geysers, finishing the day soaking in the famous Blue Lagoon. Or, you can explore glaciers with the opportunity to go through glacier tunnels.
For Christmas vibes, make sure to spend some time in Iceland's capital, Reykjavik. The capital is lit up, and there are festivities and traditional Christmas Markets to enjoy. If you are from the States, you may be surprised that Christmas day is celebrated on Christmas Eve instead of Christmas Day. New Year's Eve in Reykjavik is also quite the spectacle, with fireworks lighting the night sky for hours.
If you want to try some local Icelandic food, consider trying Fermented Shark (Hákarl), Sheep Head (Svið), and Dried Fish.
Recommended by: Sam Opp – Find Love and Travel
21. Deventer Netherlands
Deventer, a city in the north of the Netherlands is a Hanseatic city and one of the oldest cities in the Netherlands. The city is on the banks of the river IJssel with a beautifully preserved medieval old town.
Visiting Deventer is fun year-round, but especially in December. One weekend a year in December, the Dickens festijn (Dickens Festival) is held in the Bergkwartier (the medieval part of the city).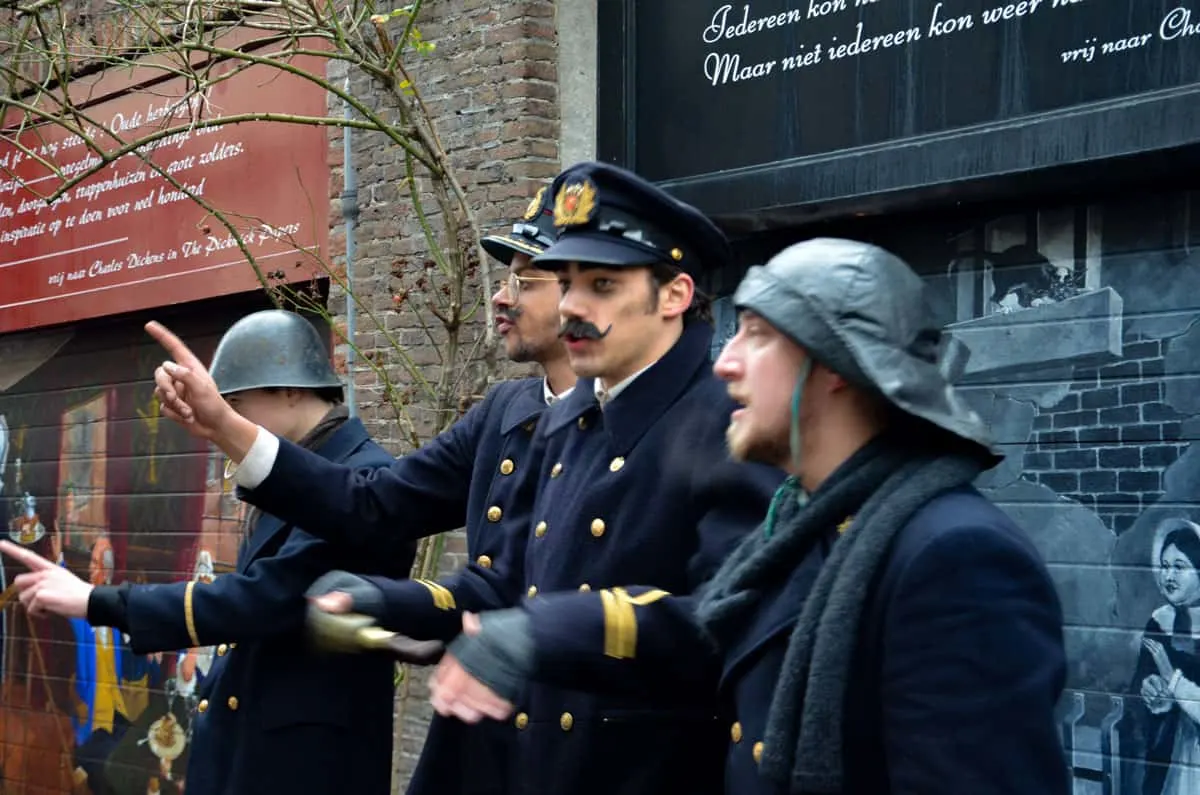 For two days, Deventer transforms into a 19th-century town from the stories of Charles Dickens. A massive performance requiring around 950 actors to portray characters from Scrooge to Queen Victoria. Chimney sweeps and orphans roam the streets and perform sketches and plays. Entrance to the festival is free of charge.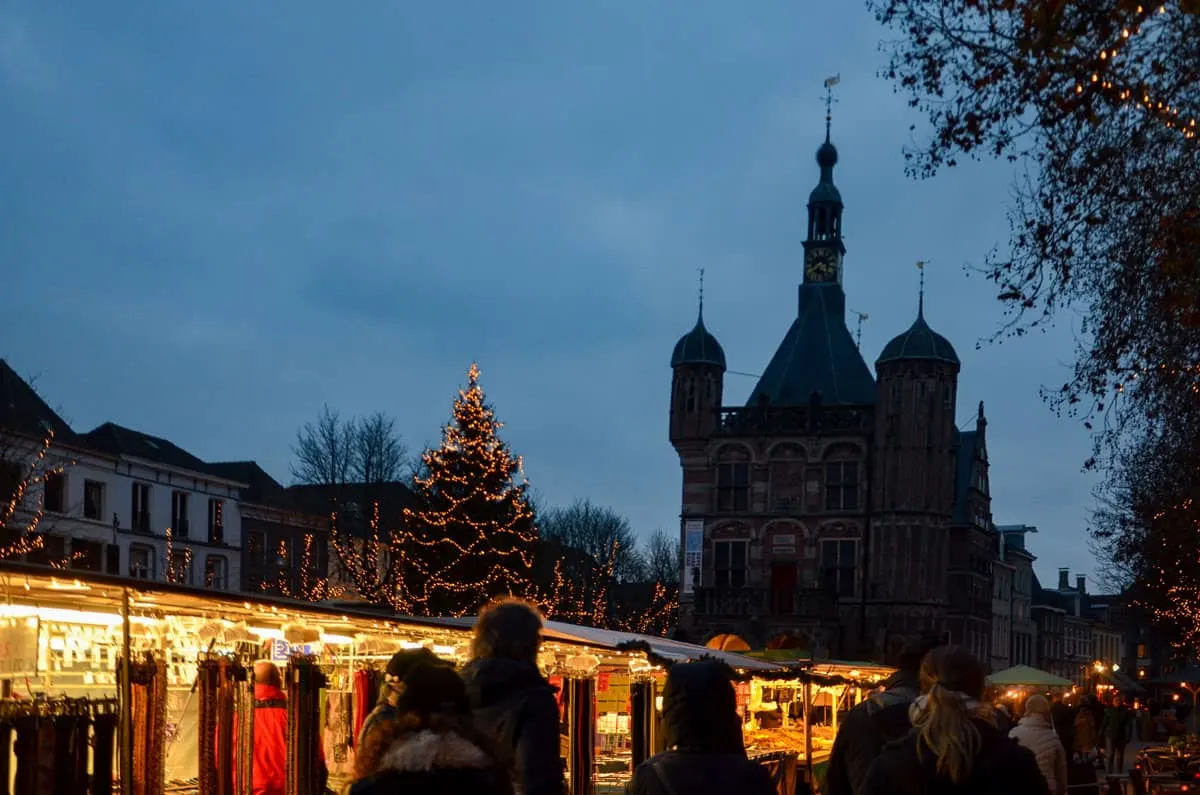 Also, in December, there are two Christmas markets in Deventer. One is outside on the Brink (a square), and the second is an indoor market at the Grote of Lebuinus' church.
Other things you shouldn't miss in Deventer are the Toys Museum and the Deventer Koekwinkel, a shop that has been making traditional Koekwinkel cakes since 1959.
Recommended by: Cosette – KarsTravels
22. Bratislava Slovakia
Central Europe is a charming place to visit in winter. Bratislava, the capital of Slovakia is a great pre-Christmas escape as it is one of the cheapest places to live in Europe.
Surrounded by Hungary and Austria, Bratislava has been gaining popularity as a budget destination for its relaxed atmosphere, history, cuisine, and incredible natural beauty.
Visit in December, and you will be rewarded with beautiful snow-covered landscapes. Even the rivers and lakes with be blanketed in white.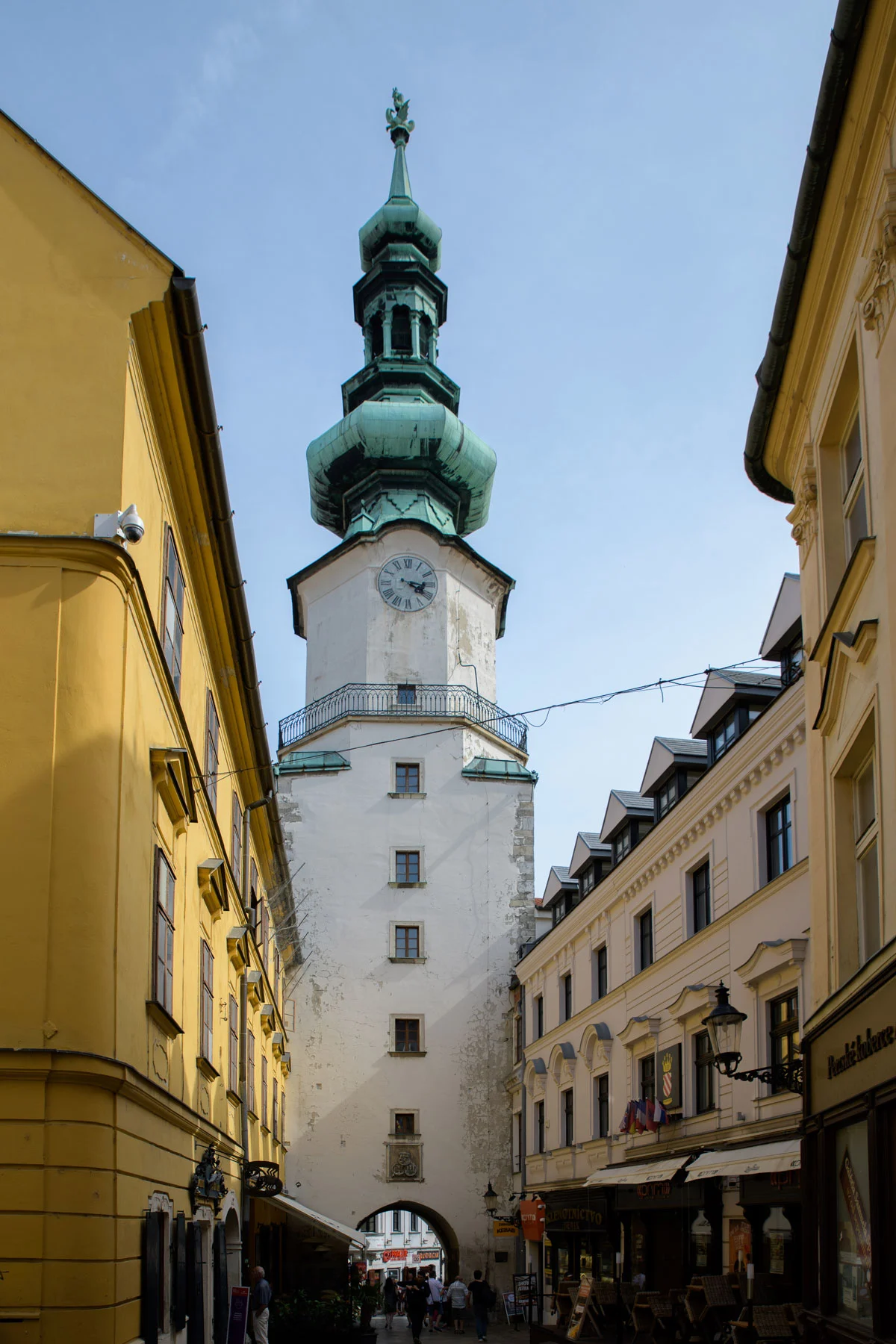 Bratislava has some wonderful historical and cultural sites to visit in winter, such as Bratislava Castle and the Slavin War Memorial – the largest war memorial in Central Europe. The views from both are spectacular, especially in winter.
Danubiana, Kunsthalle, and Nedbalka Galleries have world-class contemporary exhibitions, and the Bratislava City Gallery caters to classical art fans. The Slovak National Theater has a special winter edition of ballet, opera, and drama performances.
Eastern Europe is famous for its hearty winter-worthy cuisine, and Bratislava really shines. Make sure you try local dishes such as veal schnitzel or a bowl of cozy goulash soup.
Take a craft beer tour and find out just how serious Bratislava is about beer, with a new wave of independent microbreweries and pubs making their mark.
Recommended by: Trijit Mallick – Budget Travel Buff
Warmest Places in Europe in December
23. Madeira Island Portugal
Madeira is a Portuguese island in the Atlantic Ocean, north of the Canary Islands. One of the most beautiful places to visit in Portugal, it is part of an archipelago and can be reached by plane or ferry from the mainland of Portugal.
The temperature in winter is around 68℉ (20℃), making it one of the warmest places in Europe in December.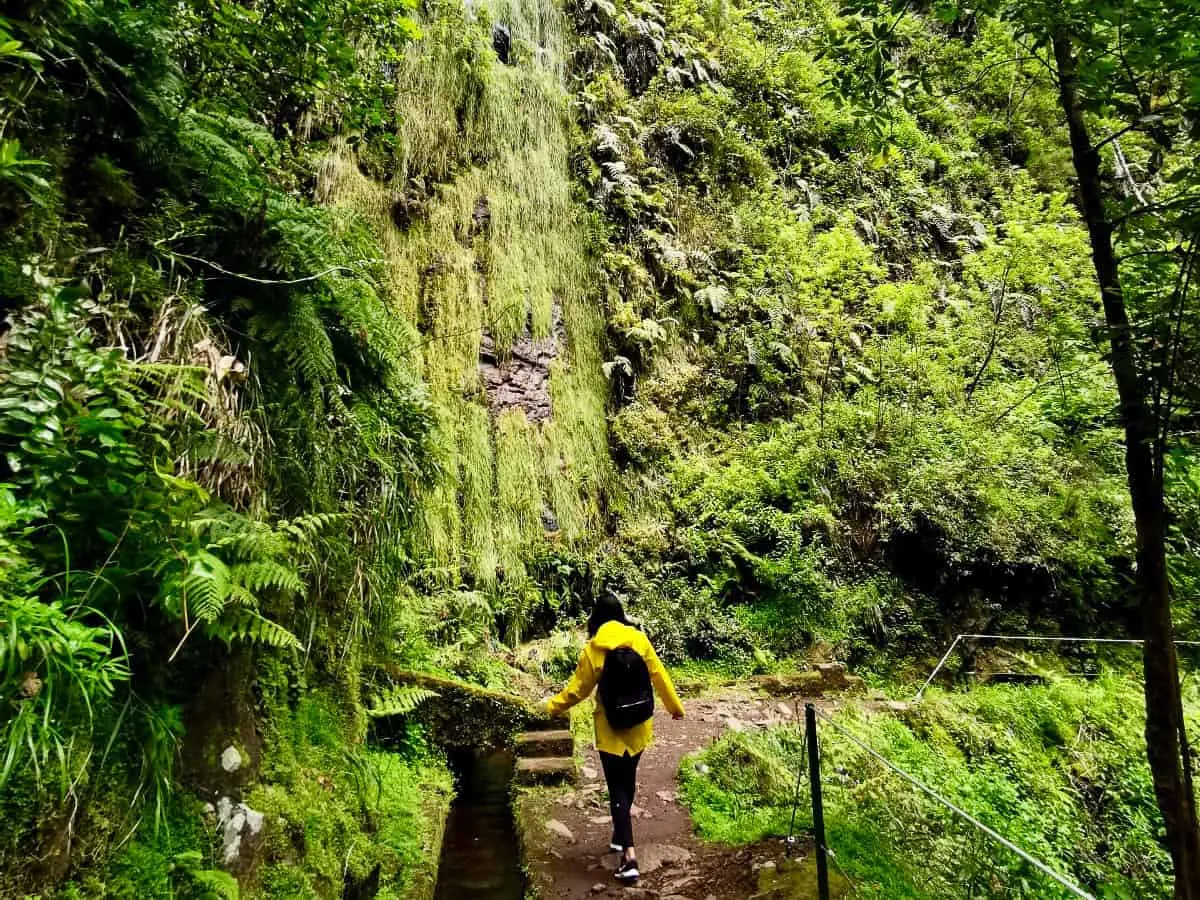 Visitors can comfortably enjoy the many outdoor activities Madiera offers. Hiking in Madeira is incredible, with so many varied hikes available – Hike above the clouds at Pico do Arieiro, explore the hidden caves in São Vicente, visit the black sand beach at Seixal, and follow the famous Levada trails through the lush Laurissilva forests.
If enjoying local cuisine is more your thing, Madeira doesn't disappoint. Make sure you try the local Madeira wine, as well as Sopa de Tomate e Cebola (Tomato and Onion Soup), and the abundant seafood on offer, such as Lapas, which are harvested off the wave-swept rocks. They are considered a Madeira delicacy.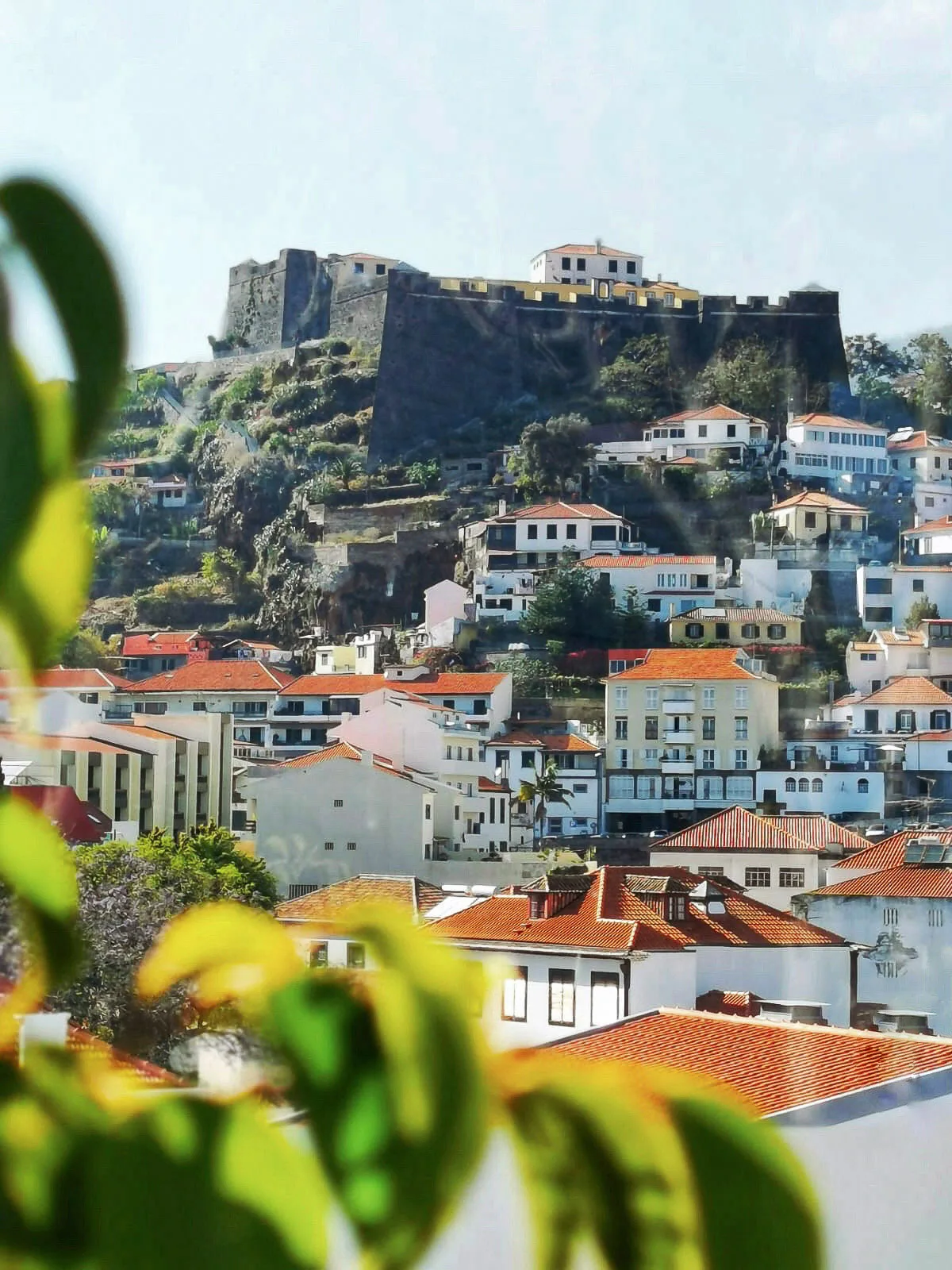 A great place to stay in Funchal (the capital of Madeira) is the Vine Hotel, it is centrally located and an easy walk from the old town. Or consider some of the quirkier places to stay, such as a treehouse in Portugal.
Recommended by: Roshni – Top Treehouses
24. Tenerife Canary Islands Spain
The volcanic island of Tenerife is the largest of the Canary Islands. An autonomous community of Spain, Tenerife is located in the middle of the Atlantic Ocean, off the Northwest coast of Africa.
Its unique location means it is a year-round holiday destination. But Tenerife is particularly popular for winter sun cruises, as the temperature remains in the high 60s℉ (low20s℃) with at least six hours of sunshine a day.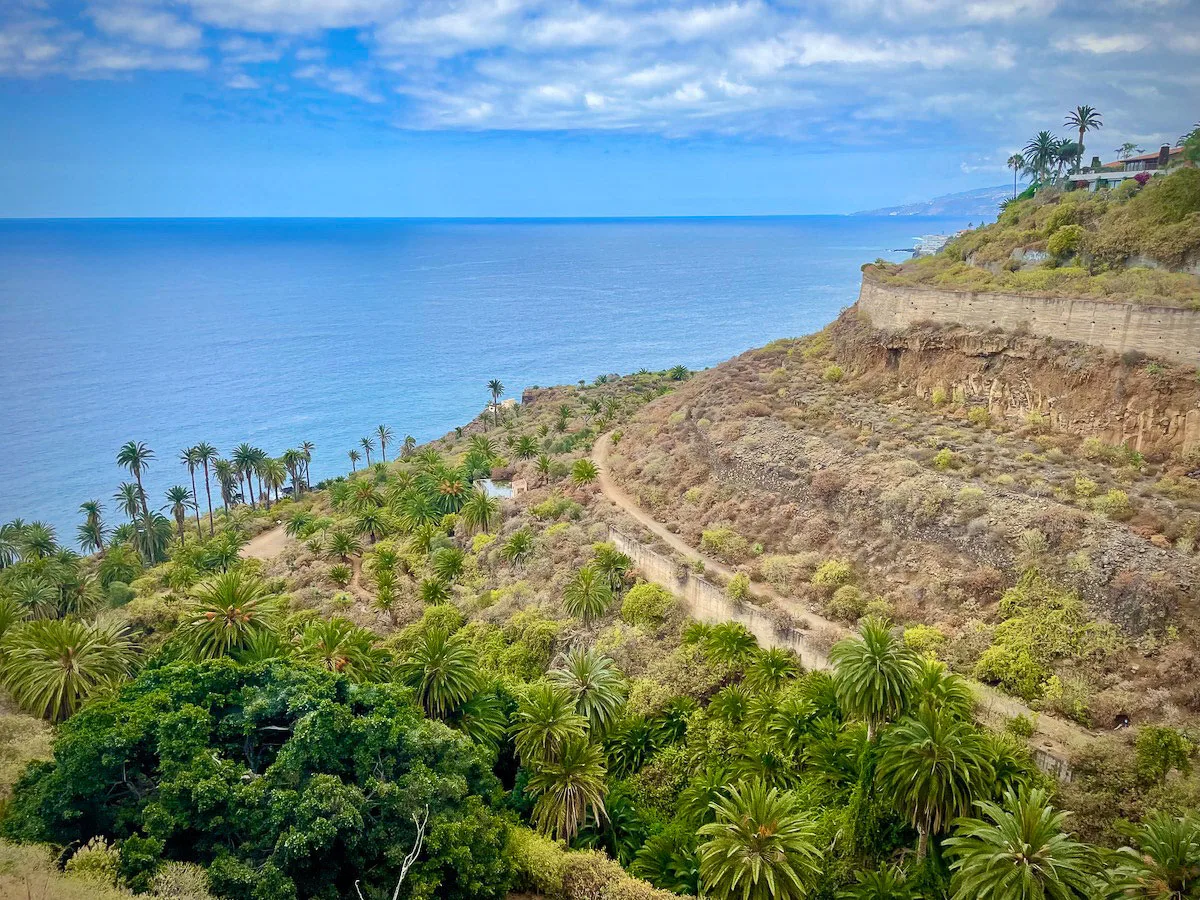 Tenerife has a lot to do, so it caters well to all interests. For adventurers, there is great hiking in Teide National Park, home to Spain's highest point, or kayaking alongside Los Gigantes Cliffs. For foodies, you can visit the vineyards for wine tastings or try the famous Canarian potatoes with mojo sauce.
For beach lovers, Playa de Las Teresitas is a must-visit. The most popular beach in Tenerife, the sand was imported from the Sahara Desert and laid over the volcanic sand to create a larger beach. There was also a breakwater built to create clear, calm bathing conditions.
Most tourists choose to stay on the south of the island as this is where most of the activities are. The GF Victoria is a great 5-star choice in Costa Adeje.
Recommended by: Roshni – The Wanderlust Within
25. Malta
Malta is a small island country in the Mediterranean Sea in Europe. Its unspoiled beaches, all-year-round warm climate, prehistoric archaeological sites, beautiful towns, and delicious local cuisine are renowned.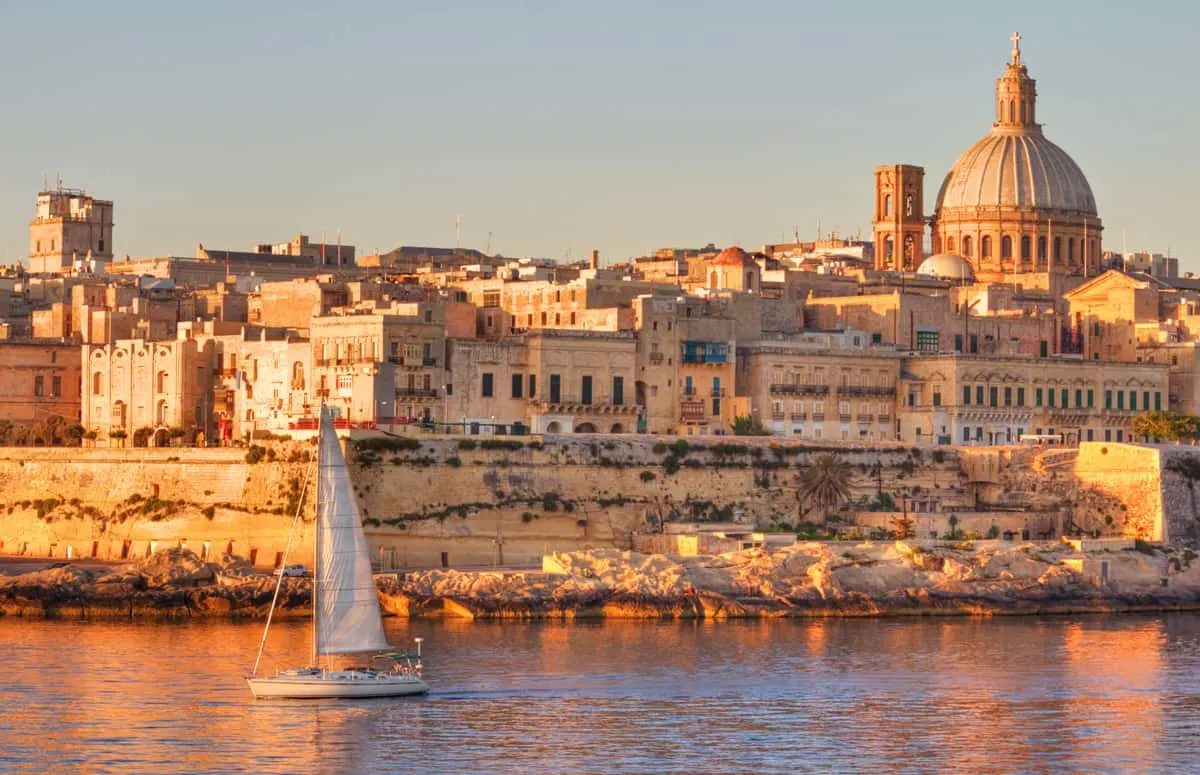 There are plenty of things to do in Malta for a perfect holiday in December. Throughout the winter, the weather is much warmer than in the rest of the European countries, with mostly sunny days and clear blue skies. There are also loads of Christmas activities around the island. And, if Malta wasn't beautiful enough – the streets, shops, and houses will be decorated for the season.
Start your Maltese adventure with a visit to the fortified city of Valletta, the UNESCO World Heritage-listed capital of Malta. Explore the winding streets of the historic city to marvel at Malta's world-renowned and extremely photogenic architecture.
Admire the breathtaking panoramic view of the picturesque Grand Harbour and the Three Cities from the Upper Barrakka Gardens. Visitors gather here to watch the ceremonial gunfire that takes place daily at noon.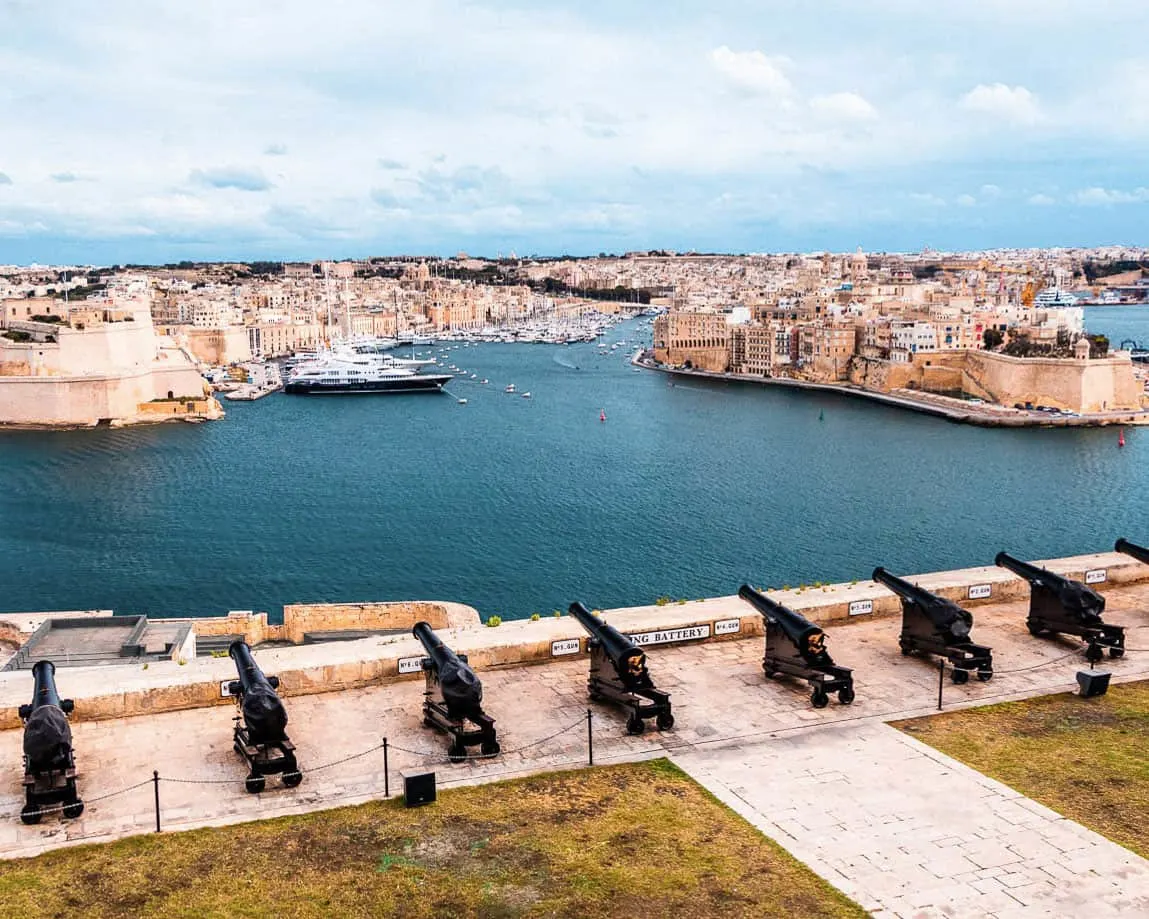 Enjoy a delicious dinner with some hearty traditional Maltese food and drink in Nenu, The Artisan Baker. Also, take a day trip to explore the atmospheric walled city of Mdina, known as the silent city, and the neighboring historical town of Rabat.
Recommended by: Moumita Paul – Chasing the Long Road
---
There are so many fabulous places to visit in Europe in December, the trouble is deciding what kind of winter getaway you're looking for.