One of the most incredible destinations in Portugal, Madeira is one of those destinations you can't wait to visit again. Much like Portugal's other island archipelago, the Azores, one short holiday isn't enough to discover all its popular attractions, hidden gems, magical viewpoints and especially – its fantastic walking trails.
The more you see of Madeira, the more you want to discover. Hiking is definitely one of the best things to do on Madeira, and with one of the best year-round temperate climates in Europe, it's a beautiful winter getaway to escape the cold.
Our selection of the most interesting Madeira hiking trails is broken down into hiking styles and varying hiking levels. We have also included some valuable tips to help you plan your trip to Madeira.
Madeira Levada Walks
On Madeira Island, you have a unique chance to hike along the famous Madeira levadas – small irrigation channels or aqueducts built to transport water from the mountains to the farmlands below. A system unique to Madeira.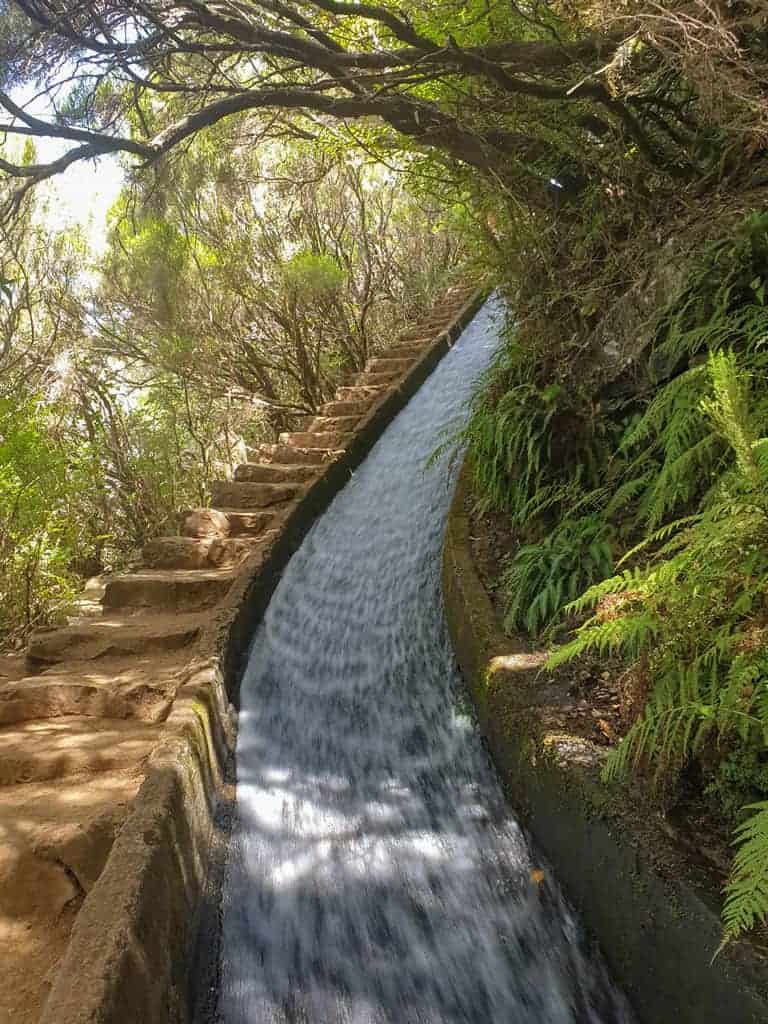 Besides supplying crucial water and hydroelectric power supply, the irrigation channels provide a remarkable network of stunning walking trails.
There is over 2,170 km of levadas in total. Many of the best-rated Levada hikes run through lush green UNESCO forests full of giant ferns, some passing under waterfalls. At specific points, usually close to the levada's source, the landscape takes on a jungle quality.
These are some of the most popular and best-rated Levada walks.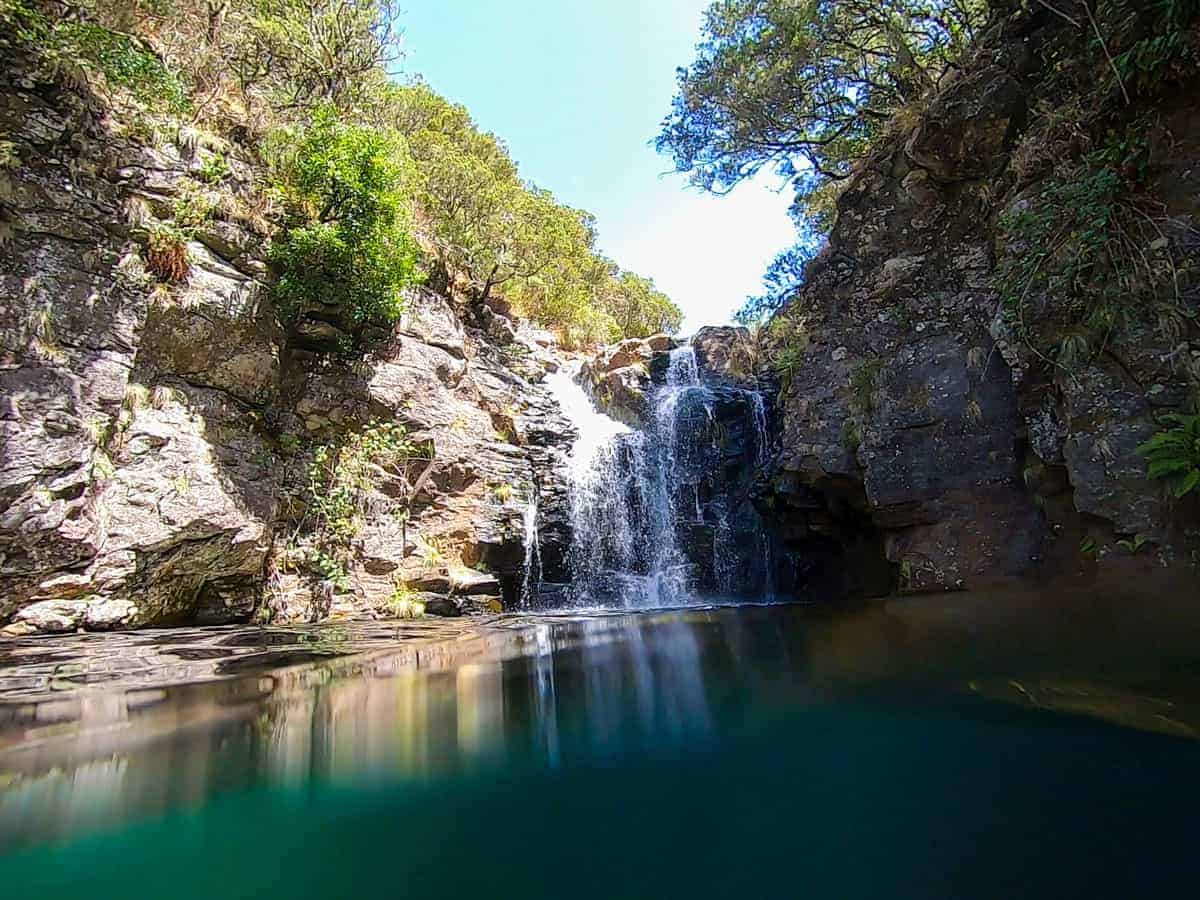 Levada das 25 Fontes (Rabaçal 25 Fontes)
Medium difficulty hike. (Combine with Levada do Risco hike).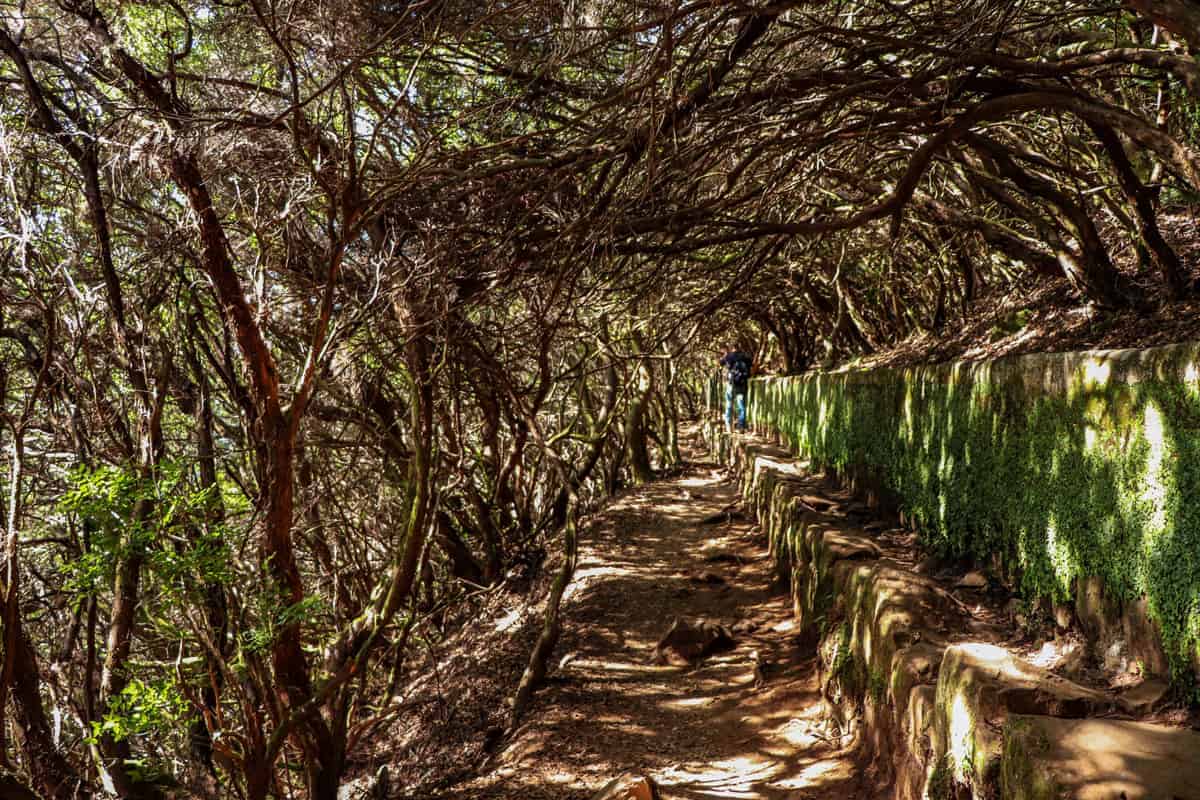 Visitors to Madeira love the amazing waterfall and lagoon you will find at the end of this hike. Levada das 25 Fontes is usually combined with another hike located nearby – Levada do Risco, a short and easy hike where you have a chance to admire the magnificent Risco waterfall.
These two hikes overlap, and both hikes together should take around 3-4 hours.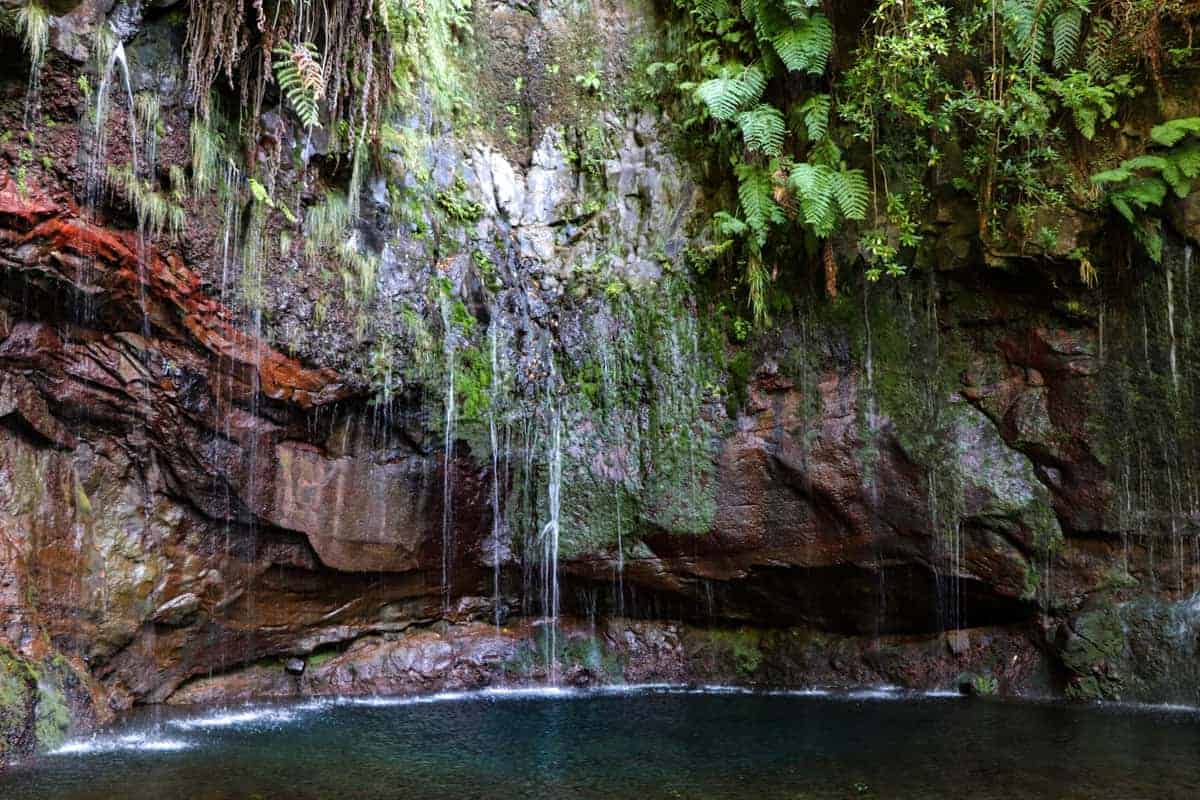 Levada do Caldeirão Verde
Combine with Caldeirão do Inferno for a longer hike.
A moderate to difficult trail, the Caldeirão Verde out-and-back trail is approx 6 km each way, which should take around 4 hours.
Note – Access to the 100m+ high waterfall, which cascades into a beautifully coloured lagoon at the end of the hike, is currently closed for safety reasons (falling rocks). It doesn't hurt to check before setting off if the status has changed.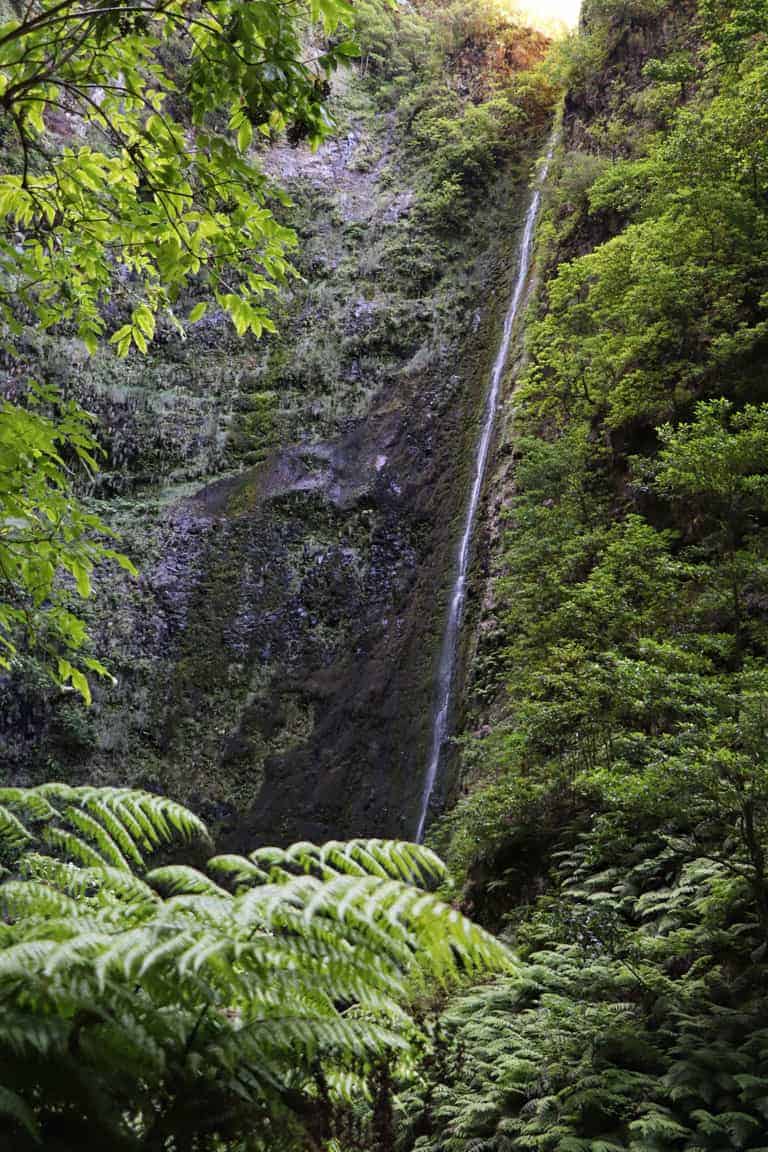 Continue on to Caldeirão do Inferno
Once you reach the end of the Caldeirão Verde trail, experienced hikers can continue to the even more impressive Caldeirão do Inferno. The hike starts at Queimadas Park, where you will find a big parking lot, toilets and a small café.
When hiking these levadas, they can get crowded, especially during peak seasons, which is why we also recommend one or two less popular but equally beautiful levada walks such as:
Levada Fajã do Rodrigues
This out-and-back levada in the north of Madeira is famous for its long tunnels, with the last one taking approximately 20-25 minutes to cross. A flashlight and a raincoat are a must on this hike. Once you cross the last tunnel, you will be able to enjoy impressive, lush forests.
The distance is 3.9 km each way. It should take around 3-4 hours.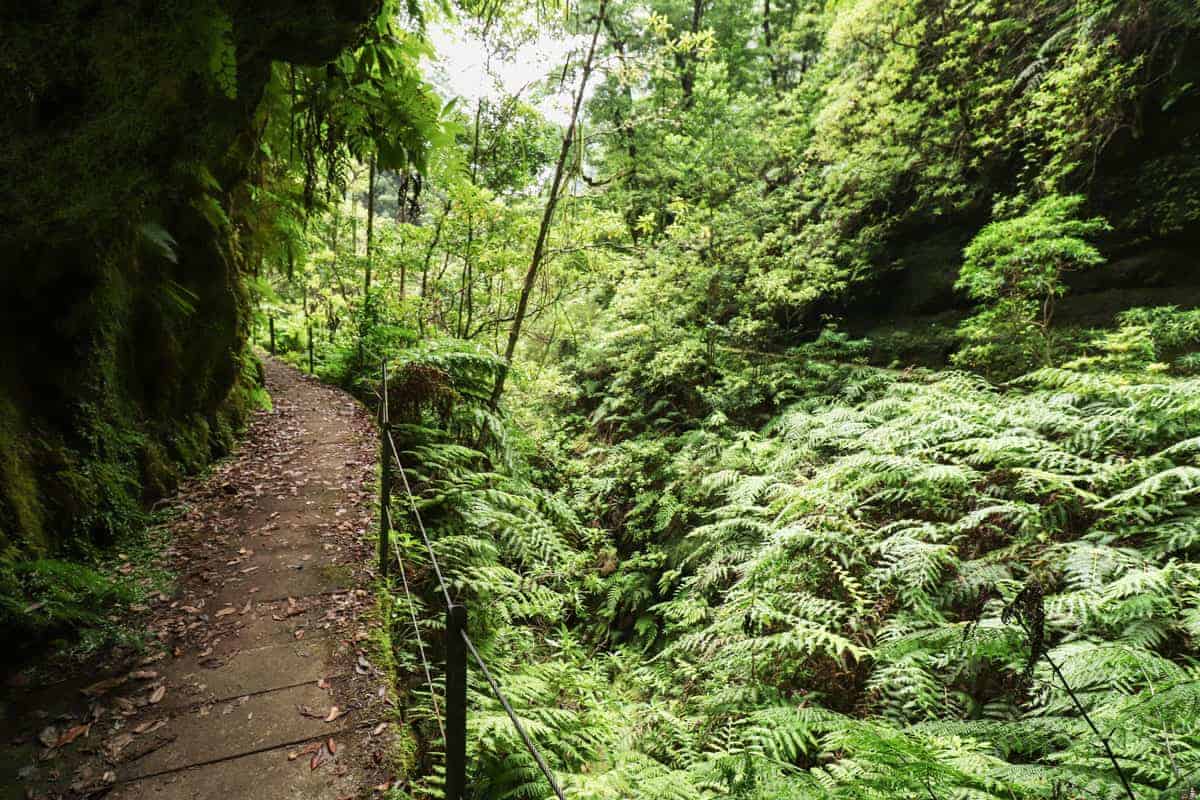 Levada's and Trails Suitable for Kids
Levada do Risco (Rabaçal – Risco Waterfall), Vereda dos Balcões (PR11) and Levada do Alecrim These are three relatively easy and safe hikes suitable for families with older kids.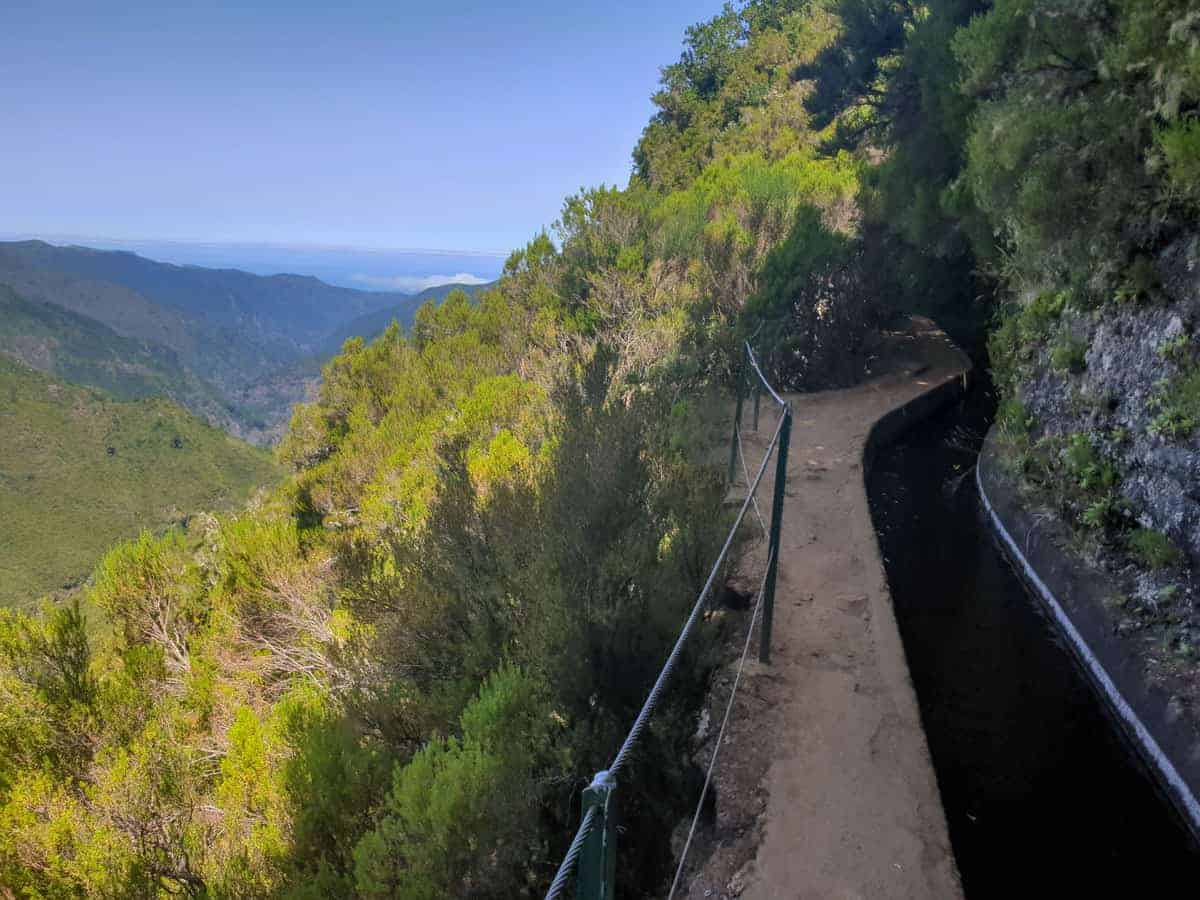 However, if you travel with toddlers, Um Caminho Para Todos is a levada walk you should consider– this trail translates to "A walk for everyone" and the name says it all. It's a nice, relaxed levada walk suitable for families with small kids.
The trail is 2.1 km long on a very easy, flat and wide path wide. You might even be able to do this walk with a stroller.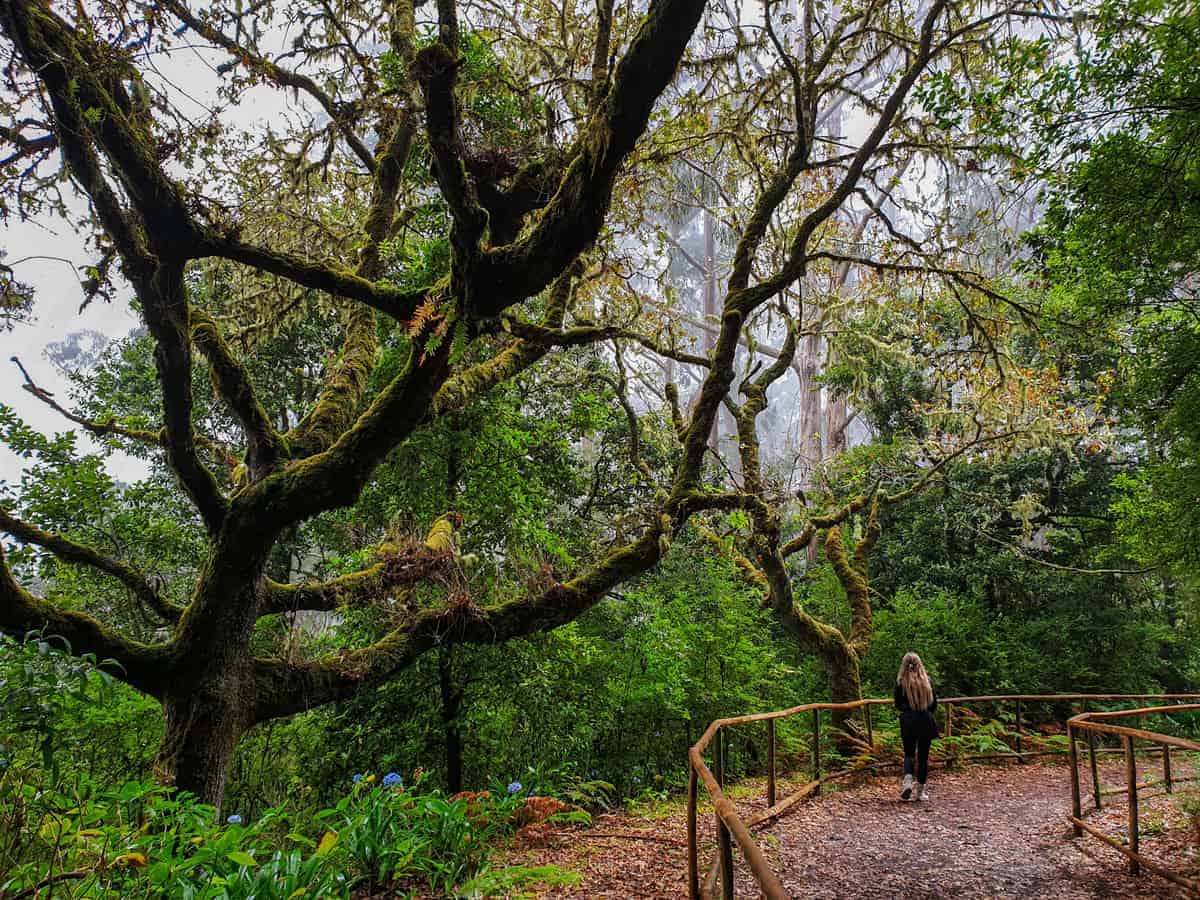 Madeira Mountain Trails
As well as the lush forest levadas, Madeira has many stunning mountain trails.
Vereda do Pico do Areeiro (PR1)
The difficult Vereda do Pico do Areeiro trail is one of the best-rated attractions of Madeira. It connects two of the three highest peaks of Madeira Islands – Pico Ruivo (highest – 1862 m) and Pico do Areeiro (3rd highest – 1817 m). It is usually done just one way and takes 3-4 hours.
Different tour operators offer a drop-off on Pico do Areeiro and a pick-up from Pico Ruivo at the end of the day. A stunning hike, but it could prove to be challenging for the less experienced hikers.
Vereda do Pico Ruivo from Achada do Teixeira to Pico Ruivo (PR 1.2)
Vereda do Pico Ruivo – Achada do Teixeira to Pico Ruivo is a better alternative for beginner & casual hikers. The trail starts at the parking lot Achada do Teixeira and takes you to the highest peak on Madeira Island – Pico Ruivo (1862 m). It is a 5.5 km long hike (round trip) which should take approx. 1.5 hour.
Much easier and shorter than PR1, it is a good alternative for sunrise mountain hikes.
We would highly recommend starting both of those mountain trails in the early morning, where you have an amazing opportunity to observe the sun rising above mountain tops wrapped in clouds.
Coastal Trails
Madeira is an island, so aside from levada walks and mountain hikes, there is no shortage of stunning coastal hikes.
Vereda do Larano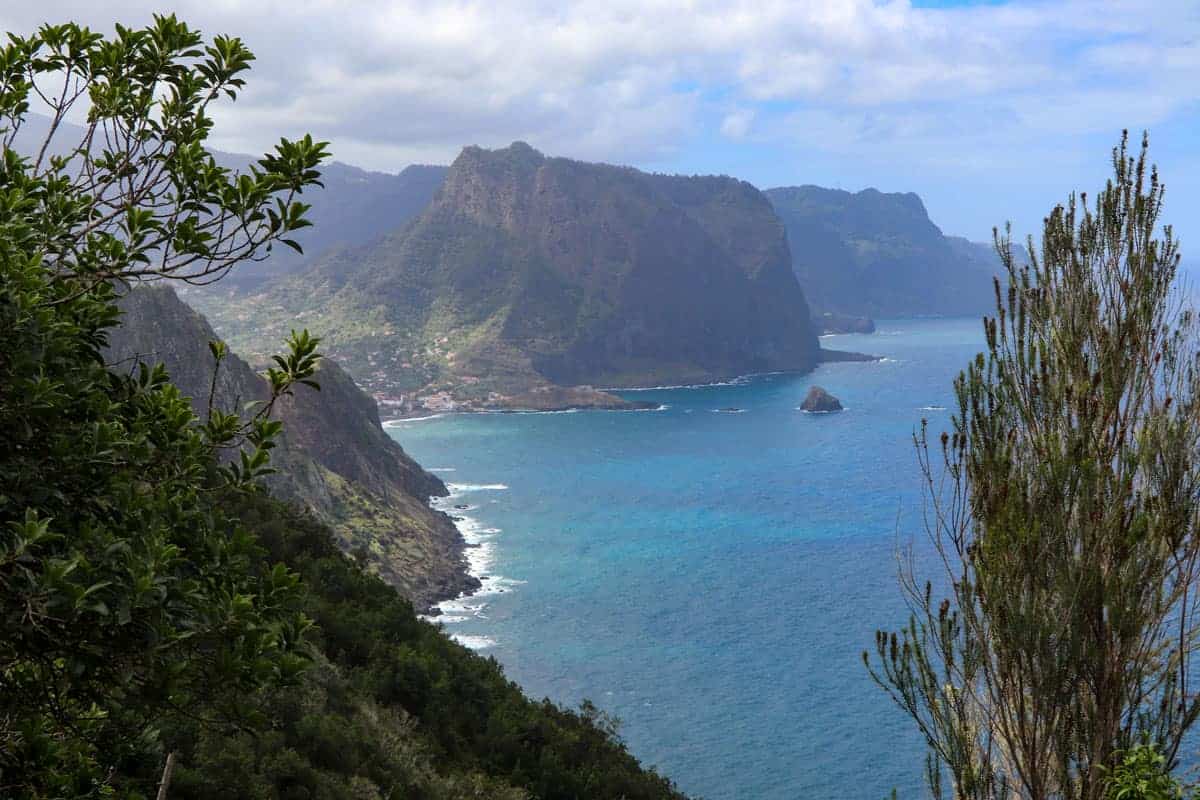 From Caniçal to Porto da Cruz is a stunning point to point hike on Madeira that follows a cliff-side trail along the north-eastern side of the island. When entering Porto da Cruz hikers can enjoy an amazing view of the emblematic Penha d'Àguia rock formation and town of Porto da Cruz.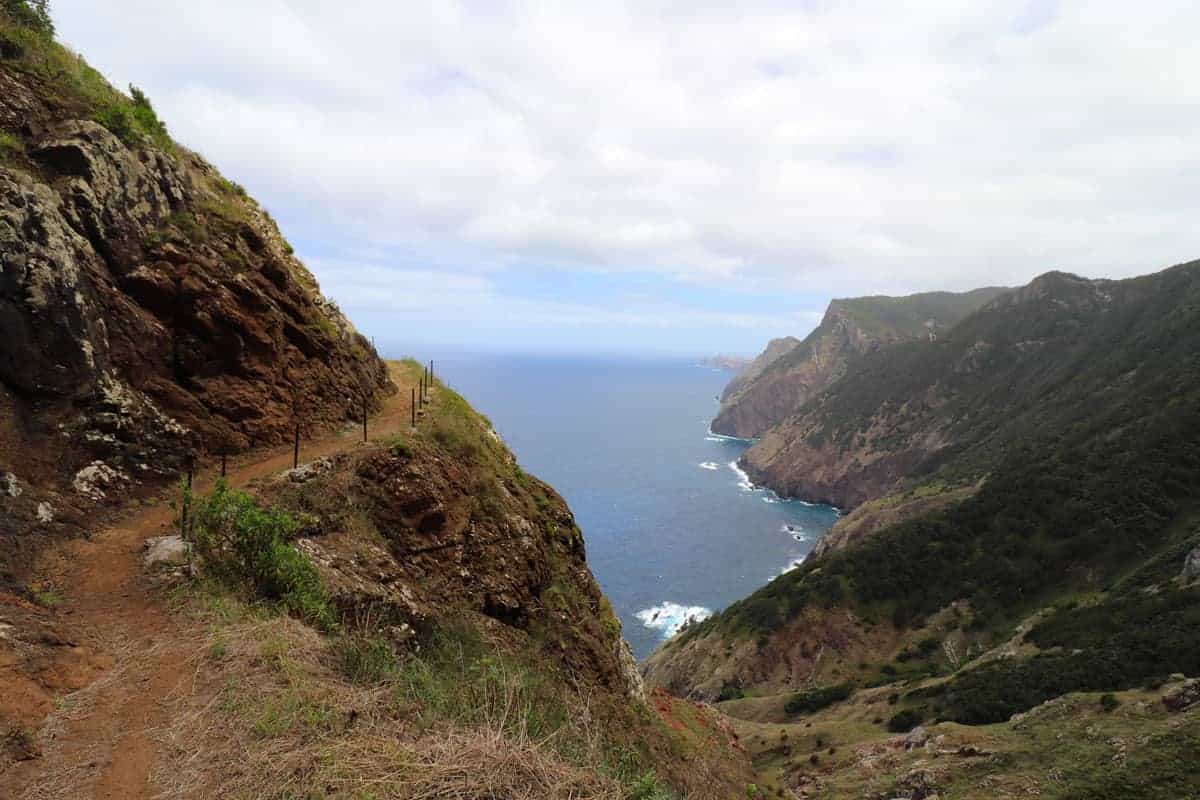 Although officially classified as a hard hike, the difficulty is not in the incline but with the height. This hike is definitely not recommended for hikers with vertigo problems.
Ponta de São Lourenço Hike (Baia d´Abra to Cais do Sardinha)
An out and back trail located near Caniçal, which is good for different skill levels. It is an especially popular hike at sunrise as Ponta de São Lourenço is the easternmost point of Madeira, offering beautiful views of the ocean and high cliffs. You can reach this trail with bus #113 (Bus company: SAM).
Other Interesting Madeira Hiking Trails & Walks
Easy Hikes
Another short and easy but interesting walk worth mentioning is the official Banana Route trail through the banana plantations. Located in Madalena do Mar, it offers lovely scenery and is an easy attraction for families with children.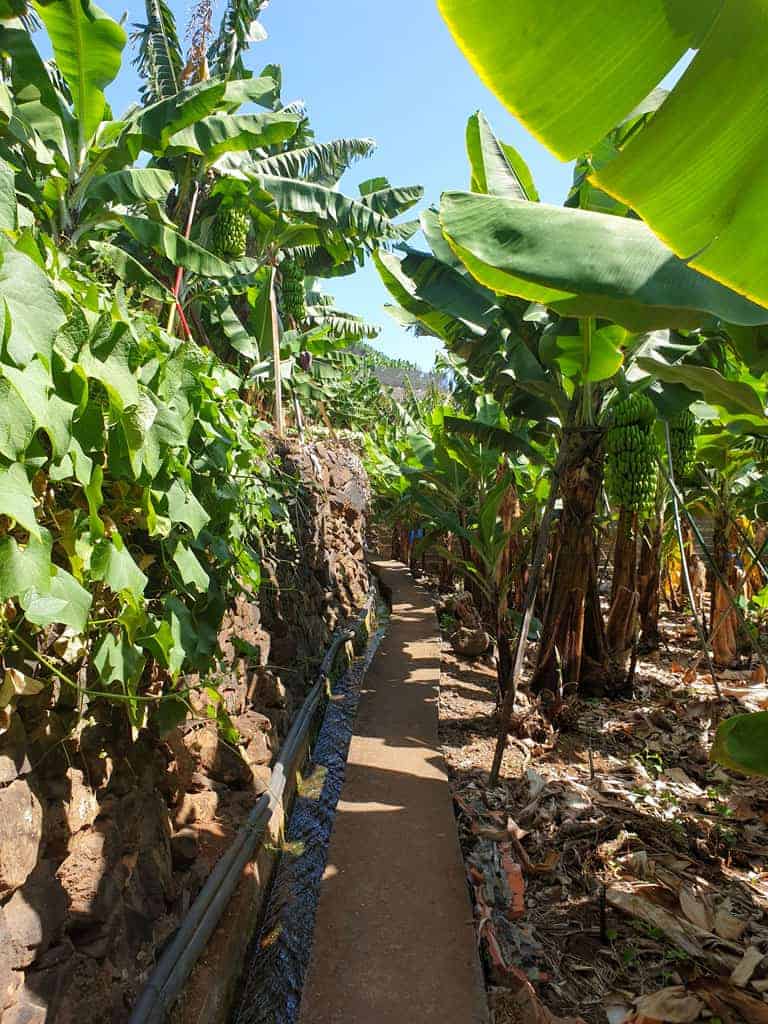 Challenging Hikes
If you are an experienced hiker looking for a challenge – check out the trails located in the south-west of Madeira, such as the Vereda do Jardim do Mar, where you descend a 550-metre high cliff to reach a seaside village. It is an easy hike if you only make the 1.9 km descent. The challenge is on the return cliff climb if you want to do it both ways.
Planning Tips for Madeira
When planning your hiking trip to Madeira, here are some valuable sources to help make the most of your time on Madeira:
WalkMe – a paid app (€4.99 for full access) with Madeira Island's recommended trails, maps, ratings, pictures & more. Frequently used by hikers on Madeira.
Visit Maderia – the official source for all hike maps and brochures, worth regularly monitoring as it also contains information on temporarily closed trails & safety regulations.
Calheta Viva – website with useful information on hikes located in the south-western region of Madeira, including a couple of steep cliff-side "veredas" as the mentioned above Vereda do Jardim do Mar.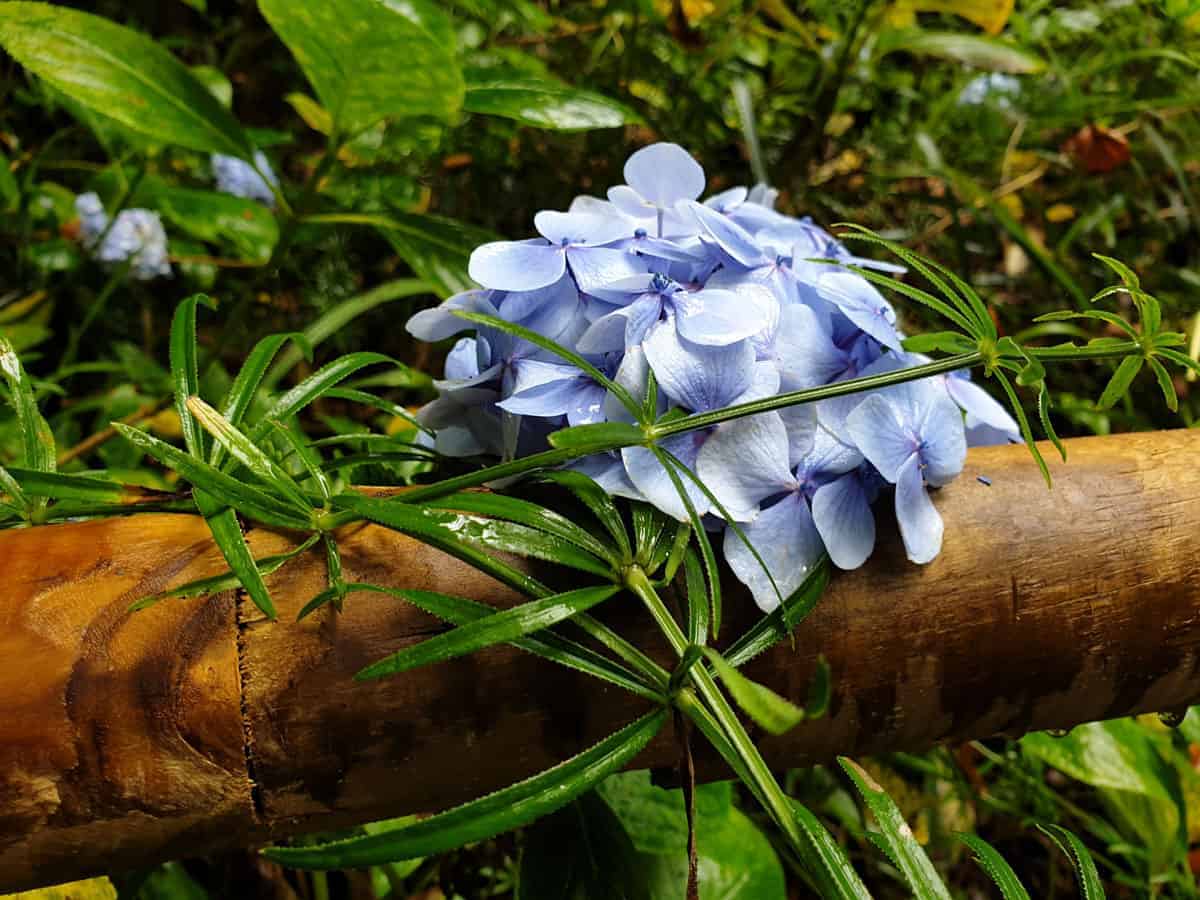 More Hiking Tips for Madeira
Do you enjoy camping? Madeira has a couple of free campsites in nature conveniently located near some great trails. You can camp there for free, but you need to get a camping permit from Instituto das Florestas e Conservação da Natureza. You can also try out glamping on Madeira.
Pack a solid pair of shoes, a raincoat and a flashlight. Even if you don't think you will hike a lot, that might change when you arrive and see the beauty of Madeira's landscapes and its wonderful trails. You can get some tips on what to pack for a hiking and walking holiday here.
You won't be able to get to most of the best hikes with public transport. Your own car will be extremely convenient; however, if you are intimidated by Madeira's roads, you can easily book different guided tours and private transfers from one of the many local tour operators. You can find a full selection of guided hiking, caving, and levada walks here. You can also join Facebook groups for people visiting Madeira and look for co-travellers to split the costs.
And most of all: Do not do the riskiest hikes on your own. As levadas can be slippery and accidents happen, it is better to be with someone who can raise the alarm. Consider hiking with a professional guide as a part of an organized tour.
Don't Forget Travel Insurance for Hiking in Madeira
The most important travel purchase you should make is travel insurance. Get a free quote from World Nomads Travel Insurance.
If you are looking for more information about Madeira's hikes, attractions, and hidden gems, Say Yes to Madeira Blog is a great travel resource for information about Madeira Island & Porto Santo. Find them on Instagram @sayyestomadeira