Think of Cape Cod, and you'll likely think of dreamy summer vacations, long stretches of white sandy beaches, iconic lighthouses, and some of the best seafood on the East Coast.
Whilst these all ring true, Cape Cod has so much more to offer visitors – A rich and interesting history dating back to the 17th-century, sprawling golf courses, fascinating museums, the islands of Nantucket and Martha's Vineyard, and a selection of world-class wineries to explore. There is a myriad of great things to do in Cape Cod.
---
You Might Also Like: Our Hiking Vacation Packing List
---
Hiking in Cape Cod
It is the striking natural beauty that makes Cape Cod equally alluring, attracting nature and outdoor enthusiasts from all over. Cape Cod stands out as a premier hiking destination in the US for the diversity of trails and protected natural areas.
There are plenty of opportunities to discover the region's diversity and natural beauty through the various Cape Cod walking trails and hikes on offer.
Here we highlight a few of the best hikes on Cape Cod to help you discover the natural wonders of the cape beyond the beach.
Where to Stay in Cape Cod
Cape Cod has 15 towns offering a vast array of accommodation options – country inns, quaint motels, comfortable B&Bs, and a wide range of self-contained vacation rentals.
Each town offers a unique vacation spot depending on your interest, but all have a love for the sea in common.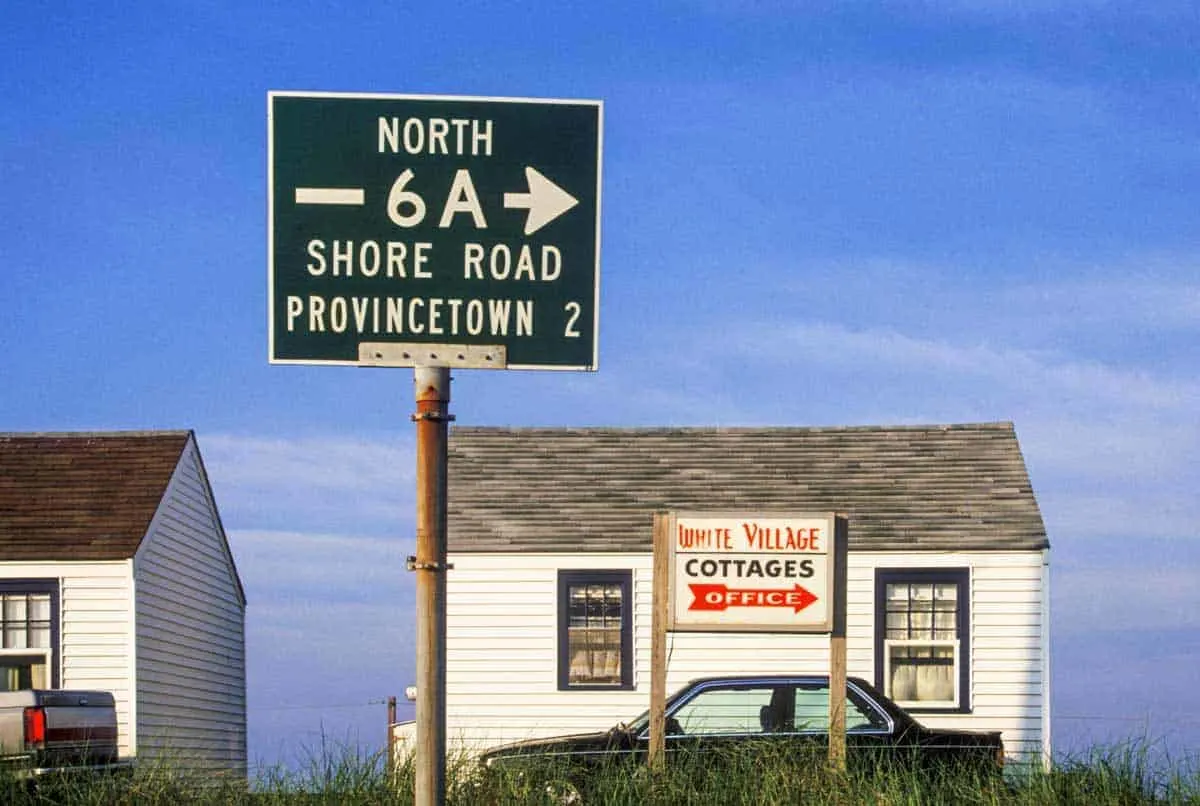 If it is nature and hiking you favor in Cape Cod, you may consider staying between Provincetown and Eastham. Here you are in the area of the National Seashore, Fort Hill, and Red Maple Swamp Trails, conservation areas, and wildlife sanctuaries. In the center of this area, Wellfleet offers a charming town vibe in addition to being well-positioned for walking and hiking.
Brewster, on the other hand, offers access to some great walks and hikes, especially in Nickerson State Park.
No matter where you choose to stay, driving or even cycling distances between towns is not that great, so it is easy to explore different Cape areas.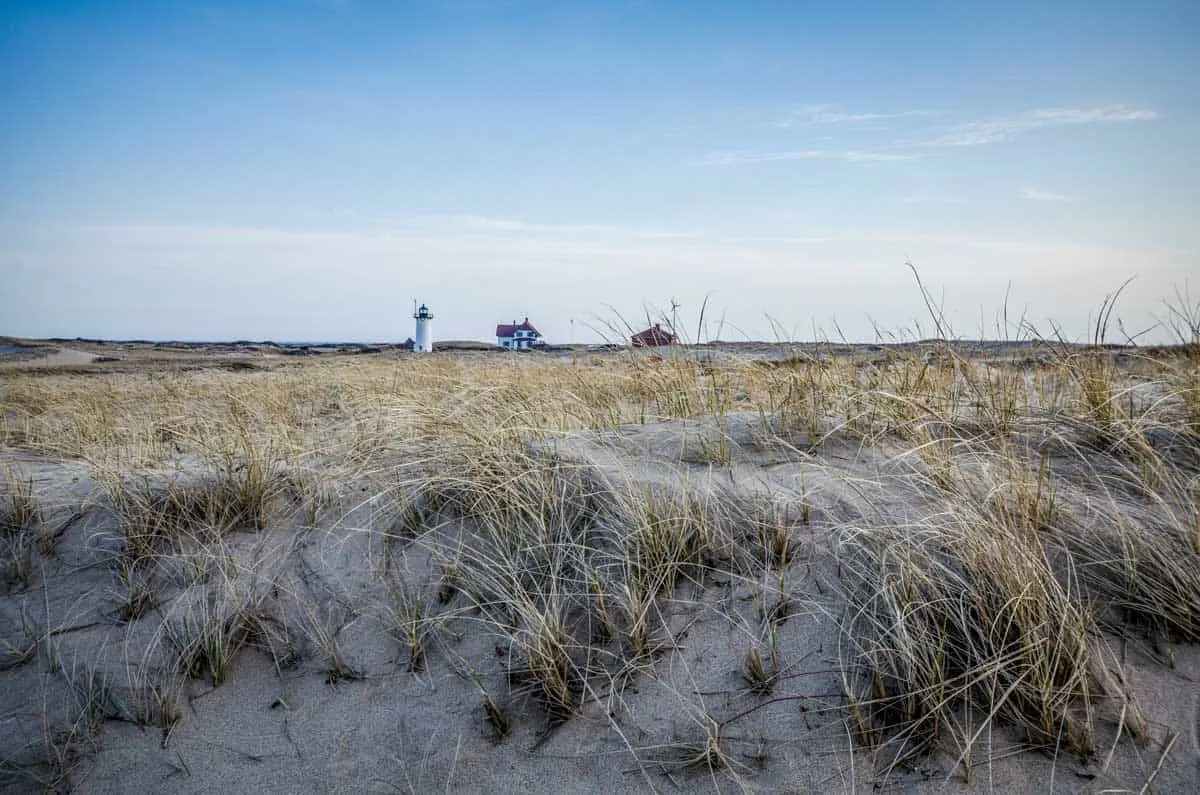 Cape Cod Hiking Trails
These are just a few of literally hundreds of hiking and walking trails on Cape Cod. This selection ranges from moderate half-day hikes to easy strolls so there is something for every outdoor enthusiast no matter your fitness level.
Great Island Trail
Distance: 3.9 miles for Tavern | 8.8 miles roundtrip to Jeremy Point

Type: Loop

Difficulty: Moderate

Location: Wellfleet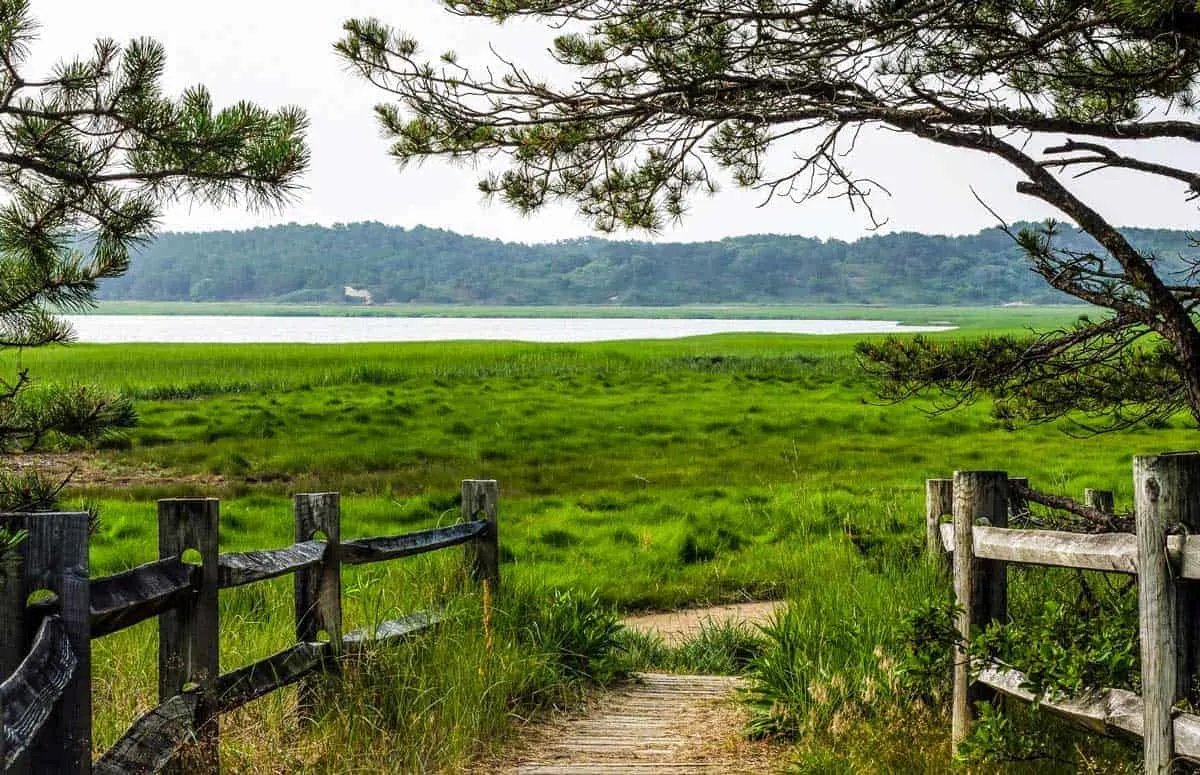 Great Island Trail in Wellfleet is considered one of the best hiking trails Cape Cod has to offer. Forming part of the Cape Cod National Seashore, the 8.8-mile roundtrip loop hike to Jeremy Point passes along dunes, hidden beaches, marshes, and through pine forests that offer up incredible views out over the Cape Cod Bay.
Most of the hike will be in direct sunlight, so sunscreen and lots of water are essential. It's also good to note that sections of Jeremy Point are only accessible at low-tide, so make sure to check local tide times beforehand. Allow between 3 – 5 hours to complete this trail.
Atlantic White Cedar Swamp Trail
Distance: 1.2 miles

Type: Loop

Difficulty: Moderate

Location:

Marconi Station Area, South Wellfleet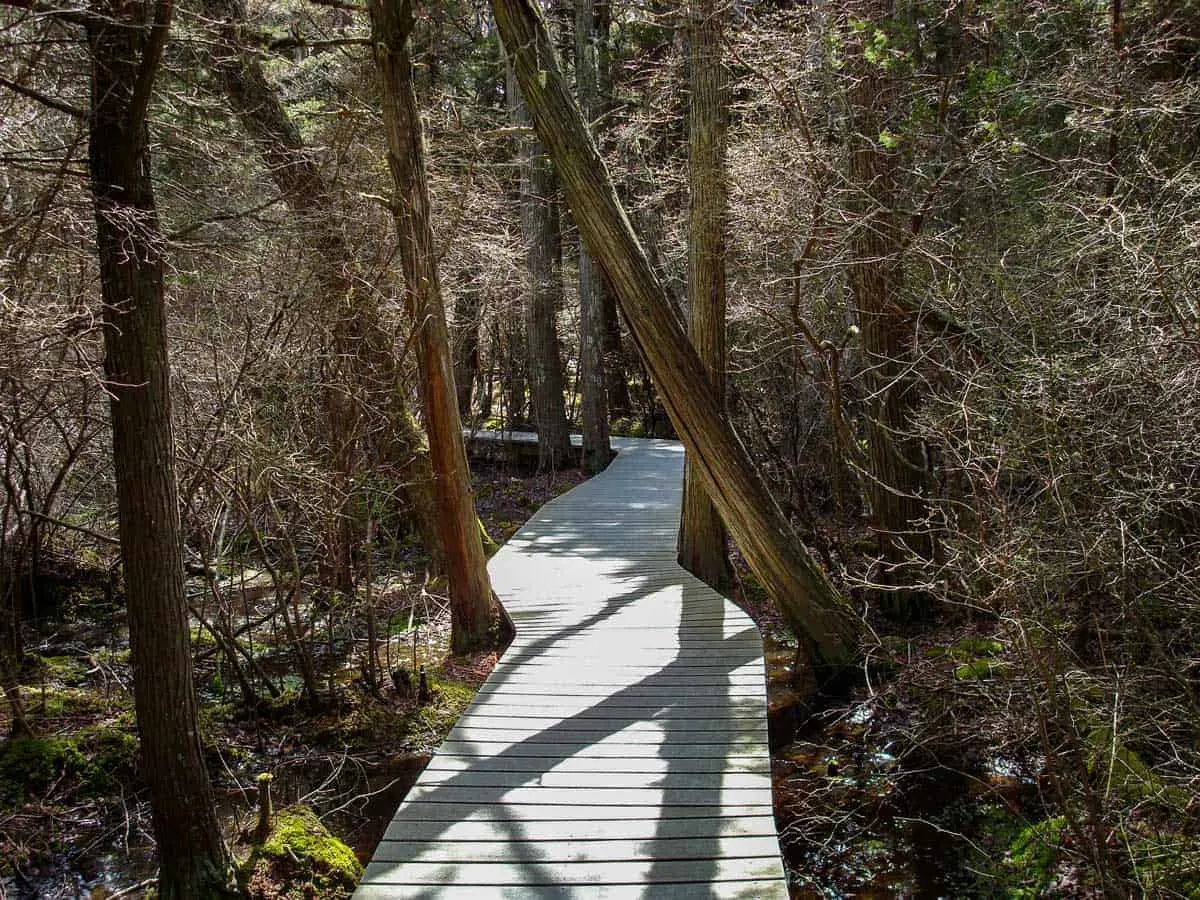 The Atlantic White Cedar Swamp Trail is perhaps the most unique hike you'll find. Descending through an oak and pine forest, through woodlands you'll stumble upon a boardwalk that meanders along the striking Atlantic White Cedar Swamp.
On the return leg, you'll walk back via the sandy 'Wireless Road.' The historic Marconi Wireless Station is where the first-ever transatlantic wireless communication took place between the US and Europe in 1903.
Wellfleet Bay Wildlife Sanctuary
Distance: 5 Miles

Type: Network of trails

Difficulty: Easy

Location: Wellfleet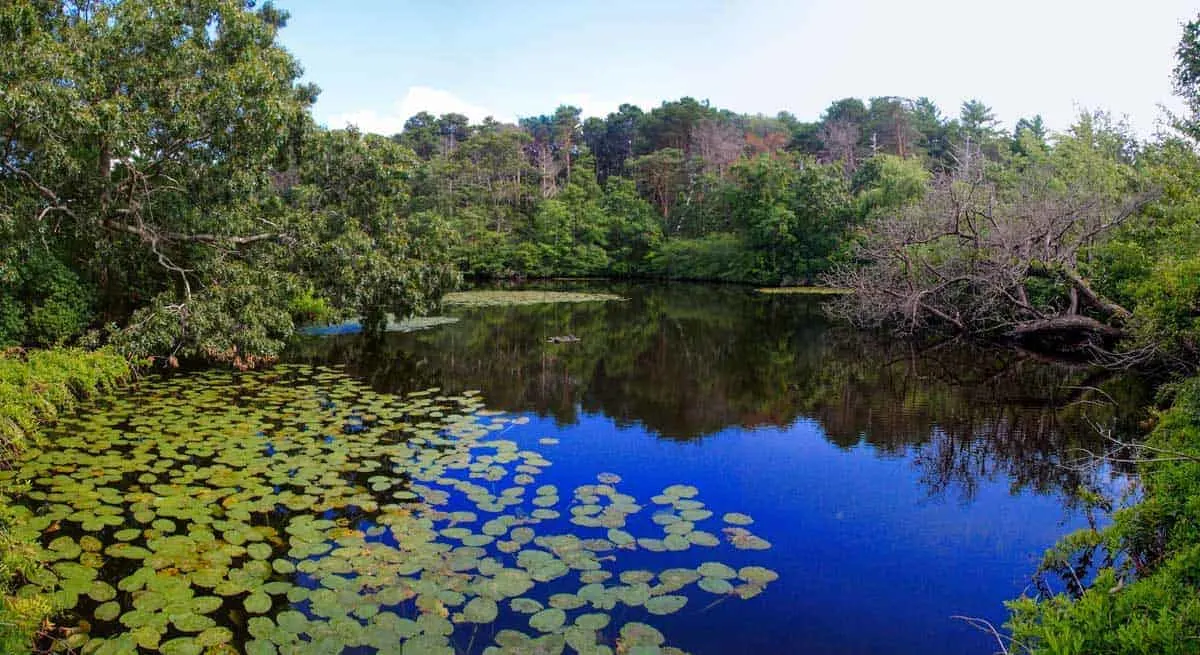 Another fabulous hiking trail system in Cape Cod is the 5-mile network of trails at Mass Audubon's Wellfleet Bay Wildlife Sanctuary that winds and meaders through Wellfleet Harbor. A popular choice is to head out along Bay View Trail – the trail travels along a seawater inlet, through oak & pine forests, looping back via the Goose Pond Trail. Goose Pond Trail boasts a diverse set of habitats as you walk along the salt marsh and bypass several ponds. An especially appealing trail for bird watchers.
You can also cross the salt marsh, heading to the beach by The Boardwalk, or explore the sanctuary's natural delights via the Silver Springs Trail, the Try Island Trail, or the All Parsons Pathway and Sensory Trail for a unique audio and sensory experience.
The Wellfleet Bay Wildlife Sanctuary is a great day out for families. The award-winning Esther Underwood Johnson Nature Center, with its various ecological displays, beautiful wildlife garden, and gift shop, is also well worth visiting.
Long Point Lighthouse Trail
Distance: 5.5 miles

Type: Loop

Difficulty: Moderate

Location: Provincetown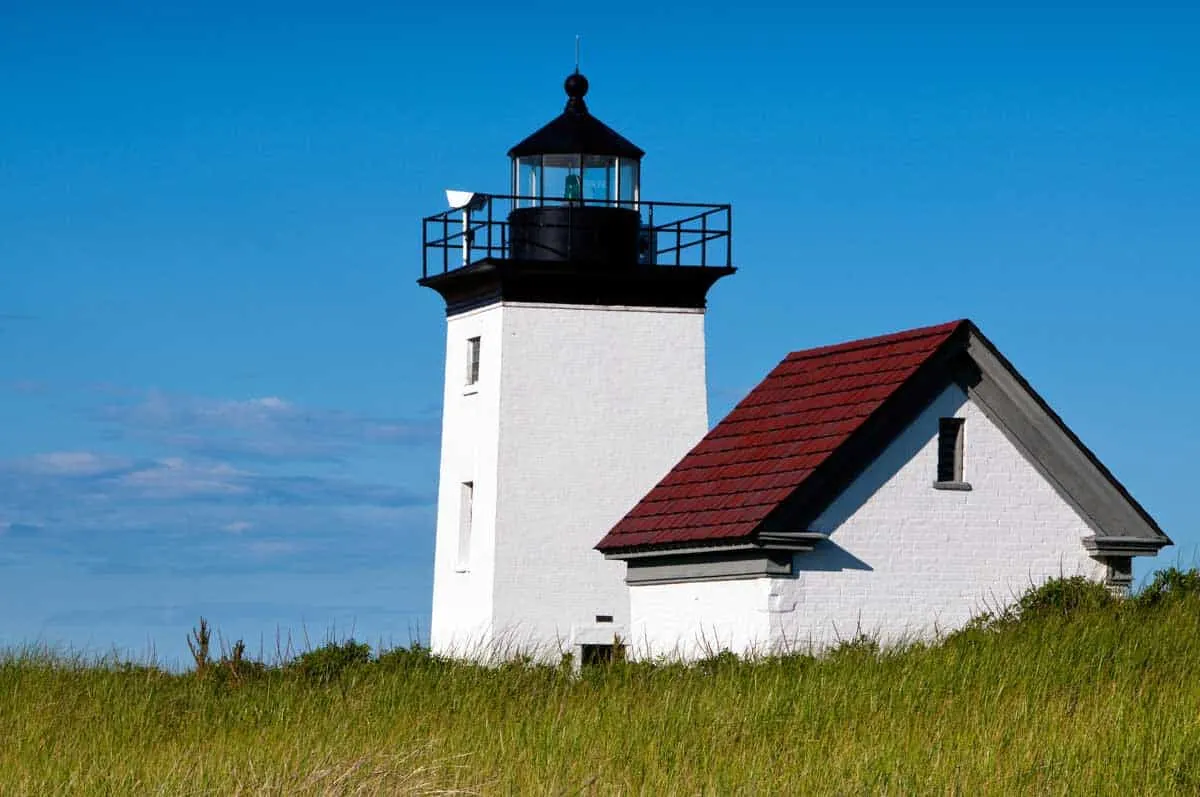 On this moderate Massachusetts hiking trail, you'll get the opportunity to admire a truly quintessential icon of Cape Cod, the New England style Long Point Lighthouse.
Set off on this 5.5-mile loop from the Provincetown Causeway. You'll make your way across the rocky jetty, the West End breakwater heading towards Long Point Beach, passing by Wood End Lighthouse. Walking along the beach, you'll eventually arrive at the famed Long Point Lighthouse, a favorite with photographers.
Allow roughly 3 hours, and be sure to check the tides as the boulders crossing will be submerged during the high tide.
Nauset Marsh Trail
Distance: 1.3-mile loop | Optional – a 1.5-mile spur to the Coast Guard Beach

Type: Loop

Difficulty: Easy

Location: Eastham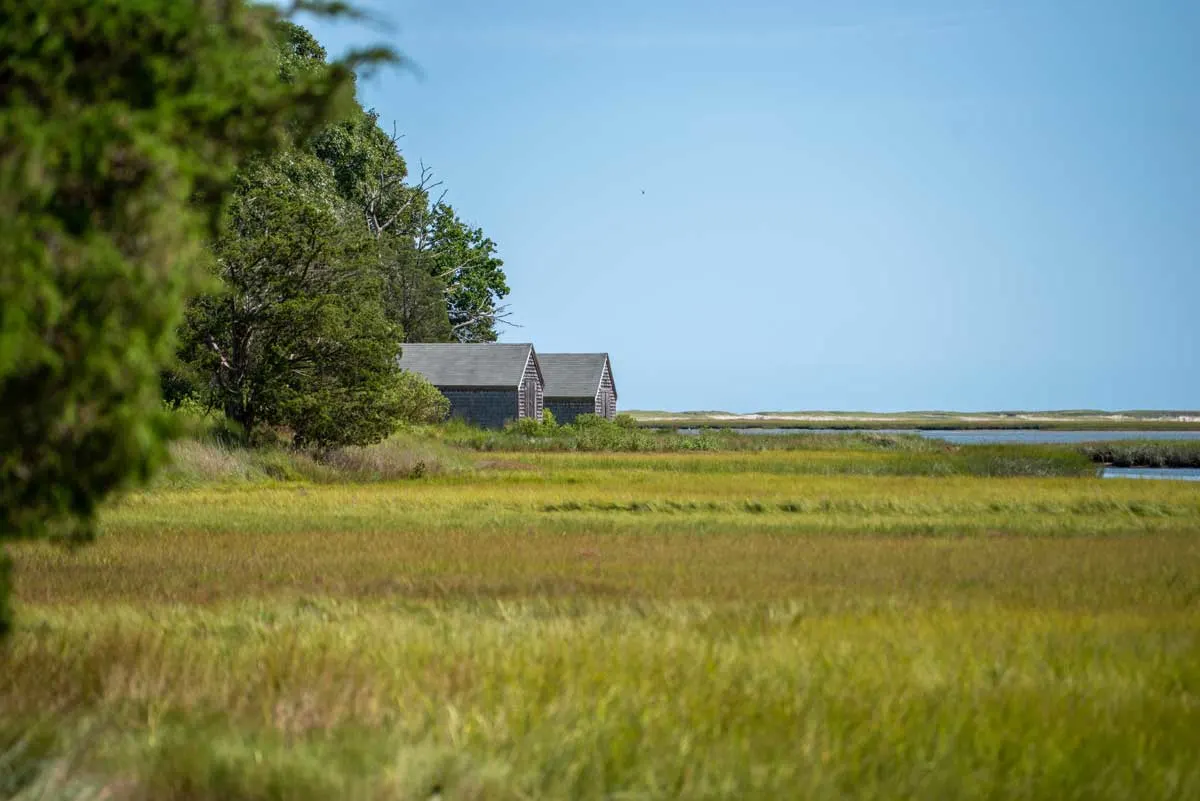 The Nauset Marsh Trail is an easy 1.3-mile loop that starts from the Salt Pond Visitor Center. The trail edges along the Salt Pond and Nauset Marsh, crossing a field and through a forest with many beautiful vantage points along the way.
Once you've reached the trail's end, you have the option for an additional 1.5-mile spur heading along to the Coast Guard Beach and Doane Picnic spot.
Fort Hill Trail
Distance: 1 mile

Type: Loop

Difficulty: Easy

Location: Eastham – 70 Fort Hill Road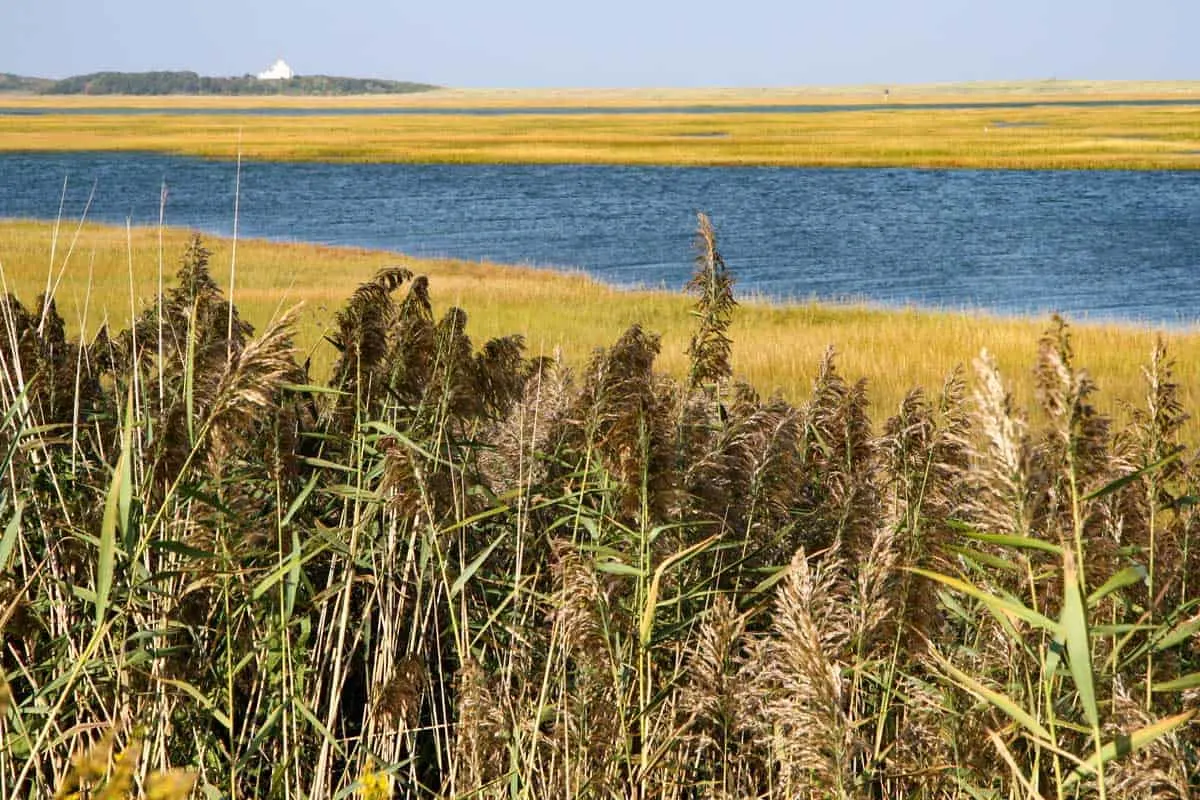 For those in search of an easier alternative, the short 1-mile loop Fort Hill Trail that joins up to the Red Maple Swamp walkway is the perfect solution.
Meandering through open fields and alongside coastal forests, you'll get to admire spectacular views of the Nauset Marsh area that opens up into the Atlantic Ocean. This trail is perfect for bird enthusiasts.
Red Maple Swamp
Distance: 0.8 miles

Type: Outback

Difficulty: Easy

Location: Eastham – Merge from Fort Hill Trail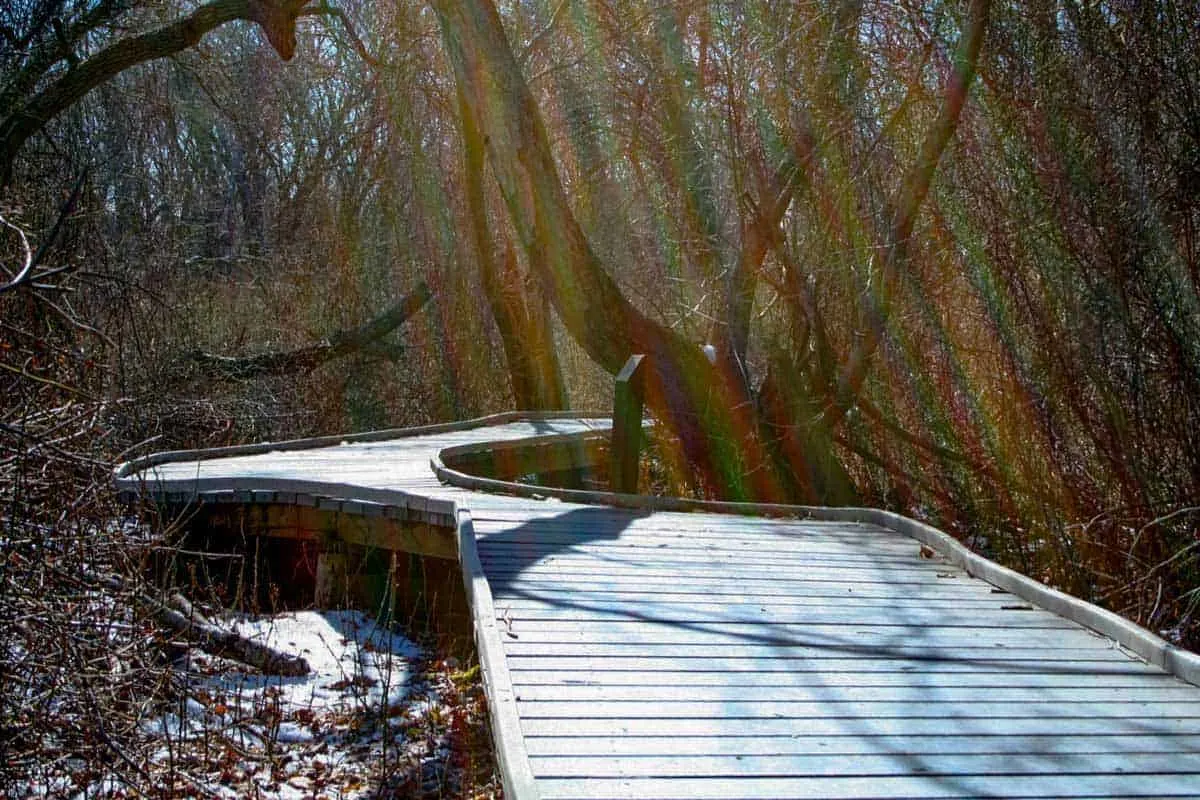 A quick out and back trail, lasting approximately 30-minutes, meaders along a boardwalk through the heart of a gorgeous Red Maple Forest with entry onto this trail from the nearby Fort Hill Trail.
While this fairly easy walk is beautiful year-round, it's especially stunning in the fall, thanks to the Maple Forest's vibrant colors. One reason Cape Cod is a popular stop on many East Coast fall road trip itineraries.
Cliff Pond Trail
Distance: 3 miles

Type: Loop

Difficulty: Moderate

Location: Nickerson State Park located in Brewster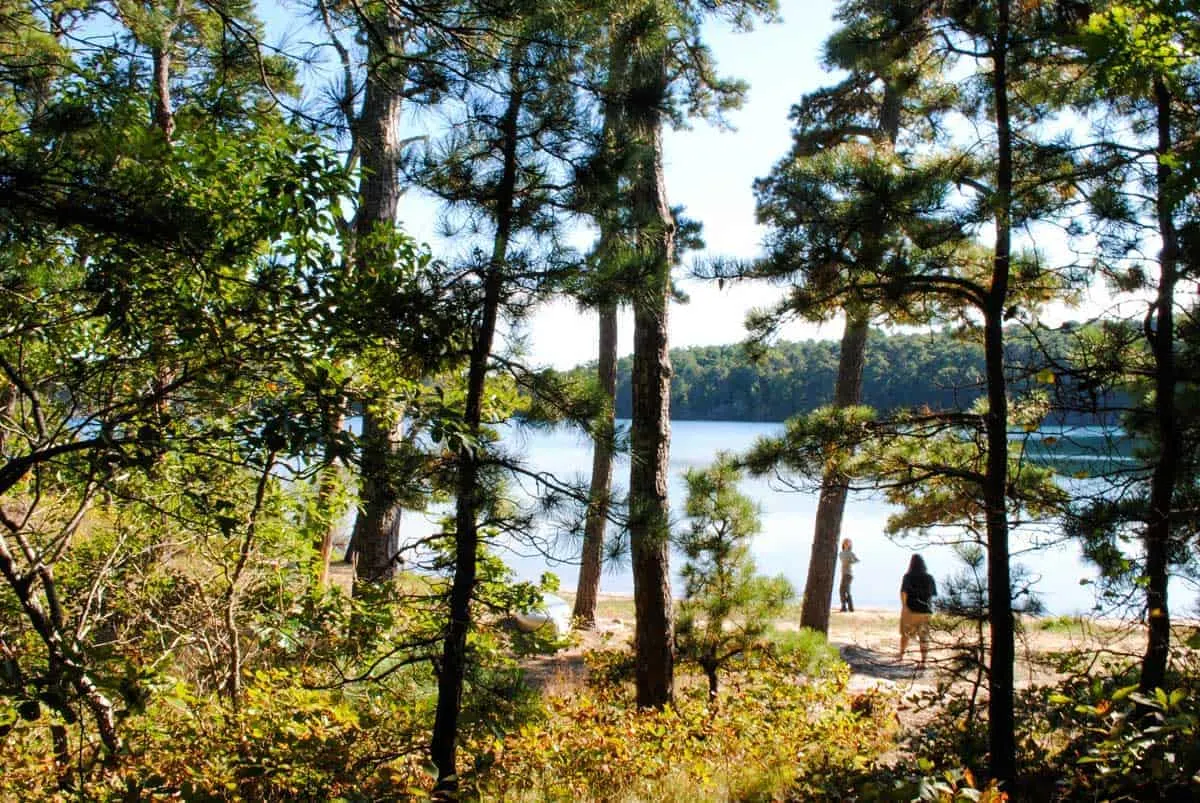 Hiking Cape Cod certainly offers up a myriad of naturally beautiful sights to explore, and the Cliff Pond Trail set in Nickerson State Park is no exception.
On this 3-mile loop trail, you'll wander along the sandy shores of Cliff Pond kettle pond with its turquoise, crystal clear waters, which are especially spectacular on a sunny day.
This hike alters between walking along the shores and beachside pine forests, complete with a gigantic boulder along the way. There's lots of natural beauty to admire in the wildlife, wildflowers, and spectacular scenery.
A word of warning, though, be on the lookout for pesky poison ivy you may encounter along the way.
Plan Your Cape Cod Hiking Vacation
As you can see, Cape Cod has so many opportunities for outdoor pursuits beyond the beach. Whether it's easy walking trails with bird watching you enjoy or full-day hikes through varied terrains, Cape Cod has a surprising number of hiking and walking trails for lovers of both land and sea.