There is so much for visitors to do in New York City, including a surprising number of opportunities for outdoor enthusiasts and nature lovers, from the perfect picnic spots in NYC to stunning urban parks.
Even local New Yorkers are so content with the Big Apple's offerings, that many rarely venture far from Manhattan. The great news is, there are so many incredible day trips from New York, the city makes a great base to explore so much more of New York state.
Whether you're looking for an addition to your New York Itinerary or are a New Yorker looking for a quick city getaway, there's a day trip from NYC for everyone.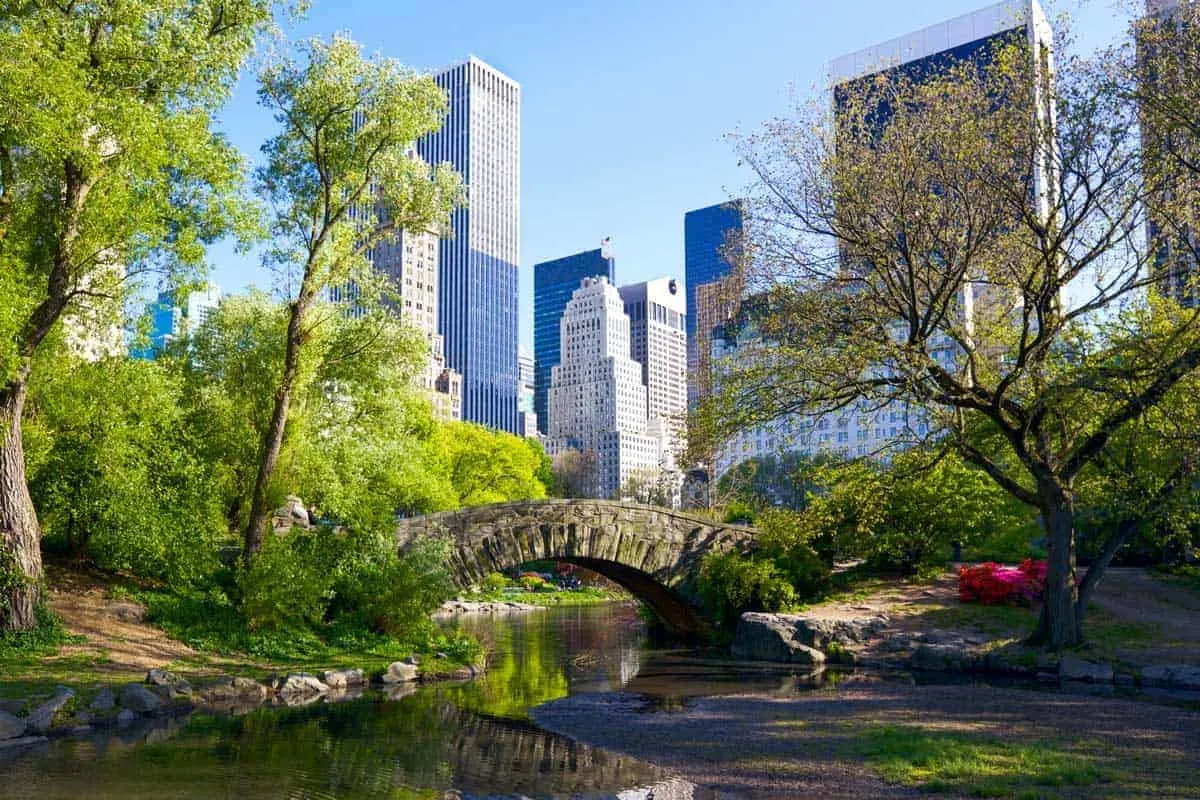 If you want to stray a little further from the city center to escape the hustle and bustle, these fabulous day trips from New York offer wonderful sights and natural attractions – some as close as a train ride from the city.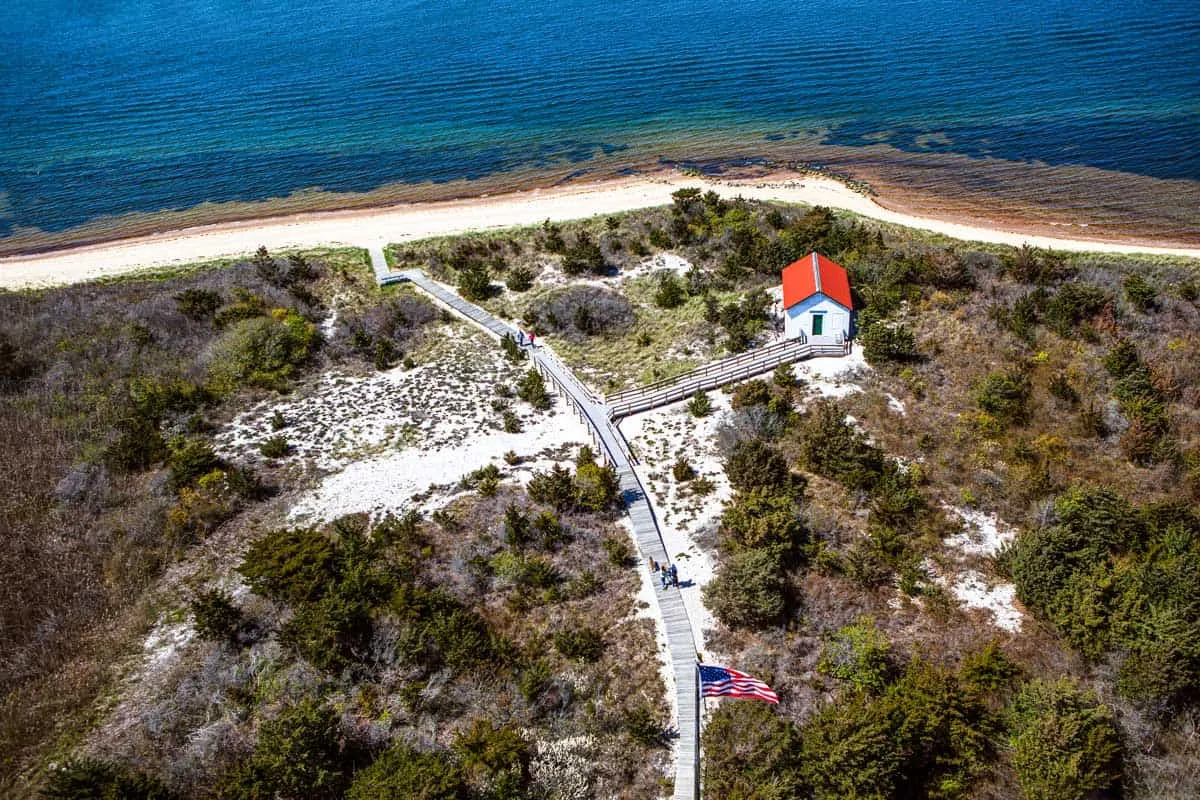 Best Day Trips from NYC
Cold Spring, Hudson Valley Day Trips from NYC
Distance from NYC: Roughly 60 miles north

Travel Time: 1.5-Hours by train (Hudson Line) and 1.5-hours by car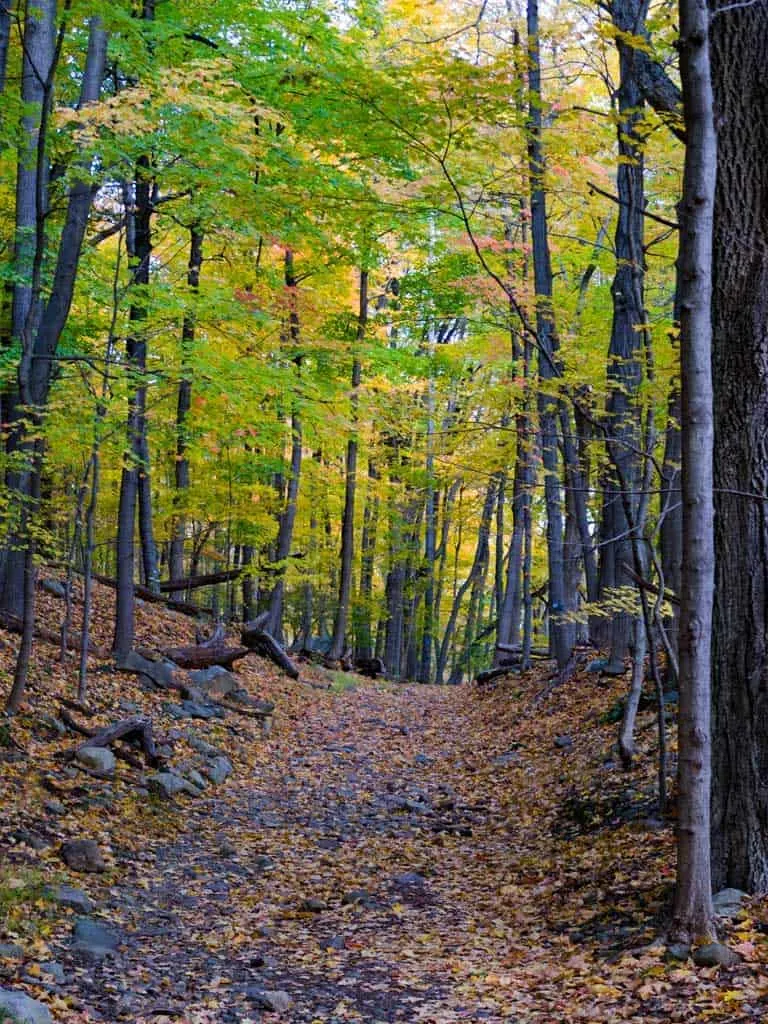 Nestled on the banks of the Hudson River is the charming village of Cold Spring. Thanks to its proximity to New York, it's long been a favorite weekend getaway for New Yorkers wanting to escape the city for a bit of tranquillity amongst nature.
Apart from the charming historical center listed on the National Register of Historic Places, Cold Spring also offers abundant outdoor activities, natural attractions, and some of the best hiking in upstate New York.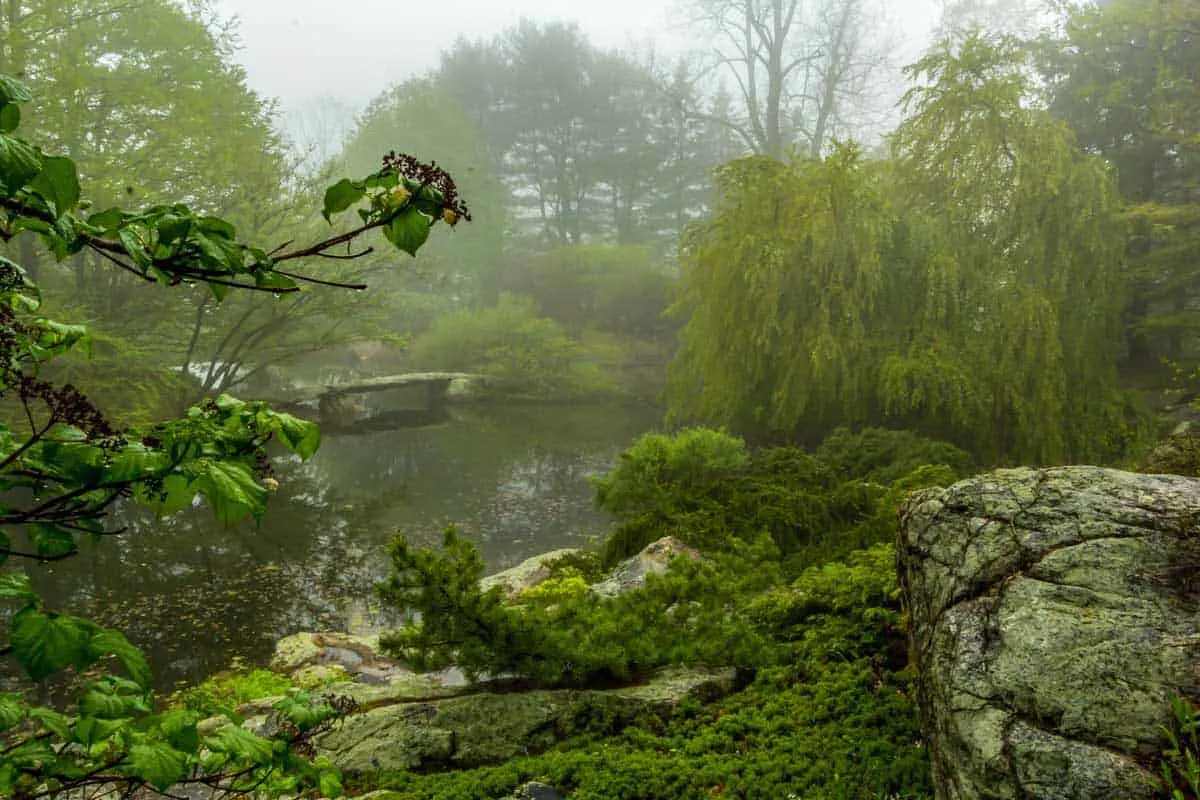 Hike through the short but challenging Breakneck Ridge Loop for superb views over the Hudson. Wander through the expansive 15-acre Stonecrop Gardens, founded by Frank Cabot and his wife in the 1950s. Or, hike the extensive network of walking trails in the 8000-acre Hudson Highlands State Park Preserve. Enjoying the area's serene beauty from a kayak or canoe on the river is also possible.
Beacon NY
Distance from NYC: Roughly 64 miles north (7 miles from Cold Spring)
Travel Time: 1 hour 20 minutes by Metro-North from Grand Central, 90 minutes by car.
A charming city in Dutchess County on the Hudson River, the historic town of Beacon dishes up a surprisingly exciting food and arts scene.
Beyond the classic Americana charm of red-brick architecture along the main drag, the town has a fresh vibe with locally owned boutiques, galleries, cafes, and restaurants. Not to be entirely overrun by hip cafes, fine dining, and modern art, charming antique shops and museums remind visitors of the town's historical value.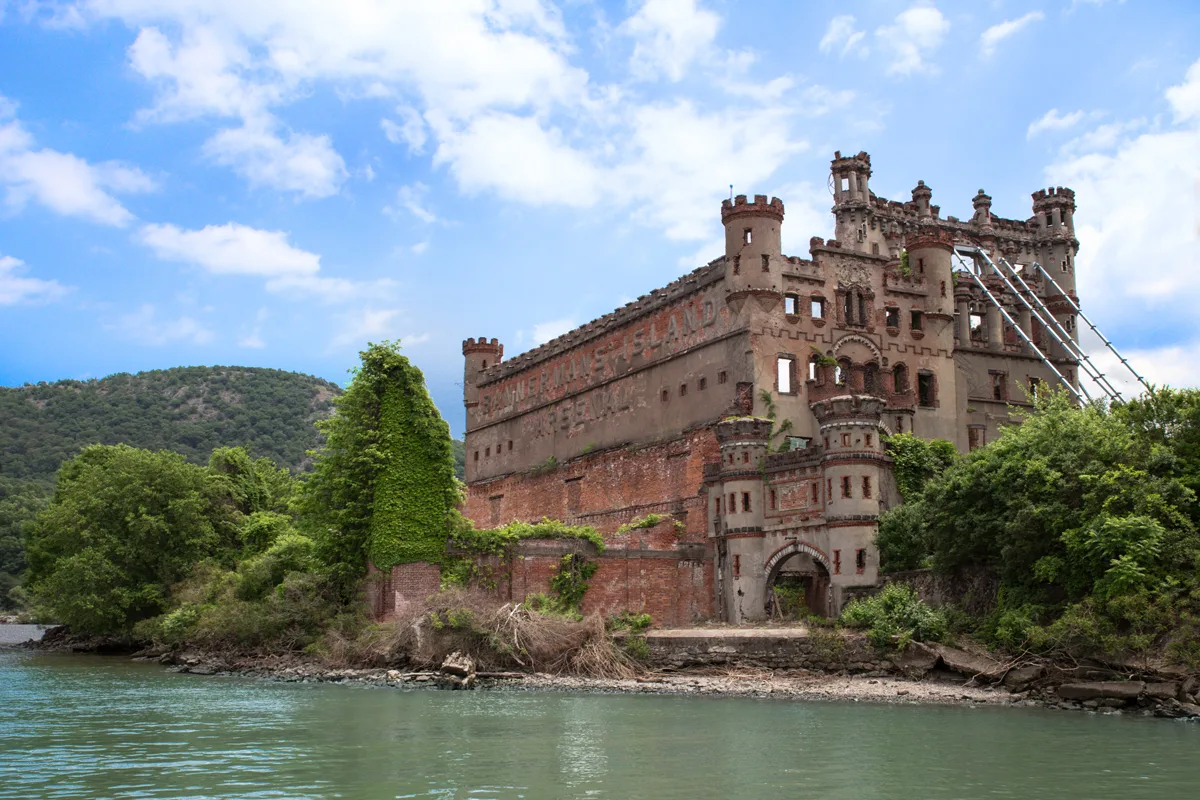 A highlight is the Dia:Beacon Modern Art Museum. The Dia Art Foundation's art collection from the '60s to the present is housed in a former Nabisco box printing facility. In addition to the permanent collection, the underwhelming "boxy" building hosts changing art exhibitions and theatre and dance performances throughout the year.
For outdoorsy types, the one-hour each-way hike up part of a historic railway route – the Mount Beacon Incline Railway trail to the top of Mount Beacon offers spectacular views. Another way to enjoy the splendid scenery is by kayaking along the Hudson River. You can kayak (or take a ferry) to Pollepel Island to visit the Bannerman Castle, a magnificent, albeit abandoned military surplus warehouse.
Head to the Dennings Point Distillery on Main Street for whiskey, bourbon, gin, and vodka tastings every Friday and Saturday. Enjoy lunch at the Roundhouse, where you can enjoy excellent food overlooking the Beacon Waterfall.
From artsy pursuits to outdoor activities, shopping, food, and more, there is a lot to do in a day at Beacon for every interest.
Storm King Art Center, Cornwall, NY
Distance from NYC: 65 miles north

Travel Time: 1.5-hours by car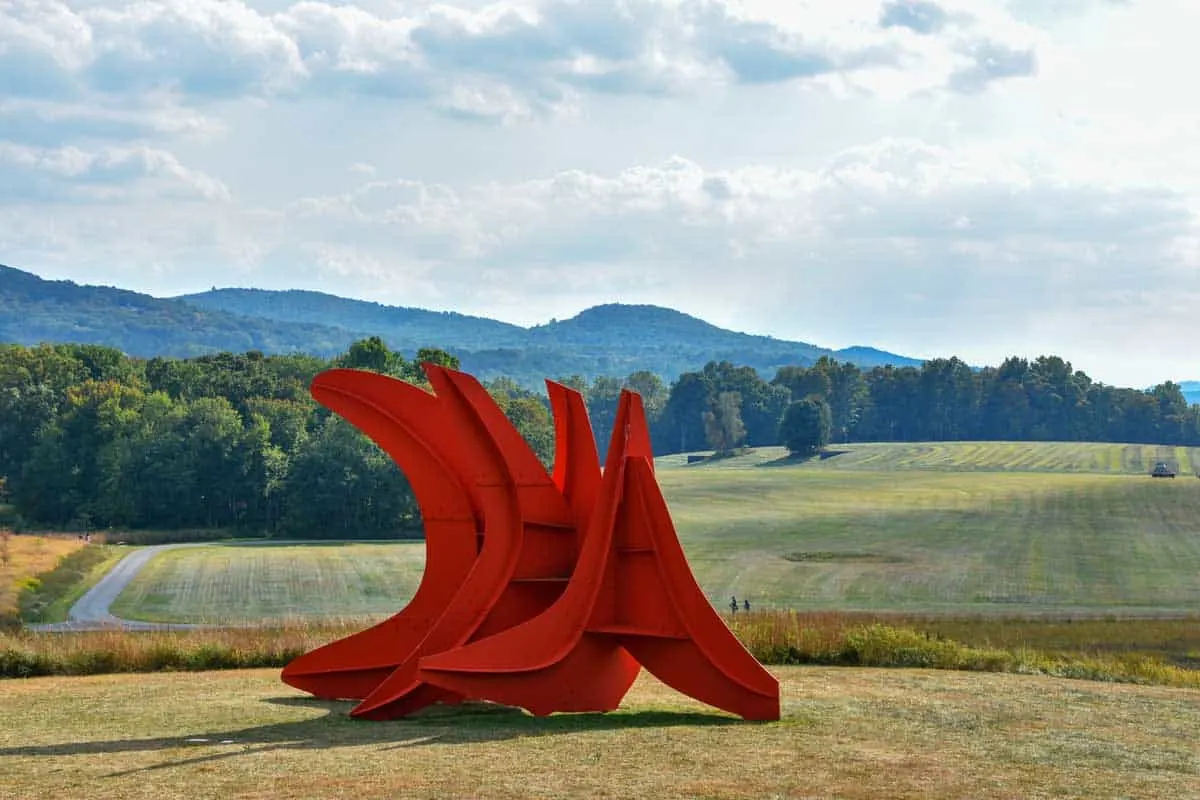 Another Hudson Valley gem, and one of the best day trips out of NYC, is a visit to the Storm King Art Center.
Storm King, founded in 1960, is one of the US's largest outdoor museums and art exhibitions. It features over 100 pieces of art and outdoor sculptures set among 500 acres of lush green meadows and forests.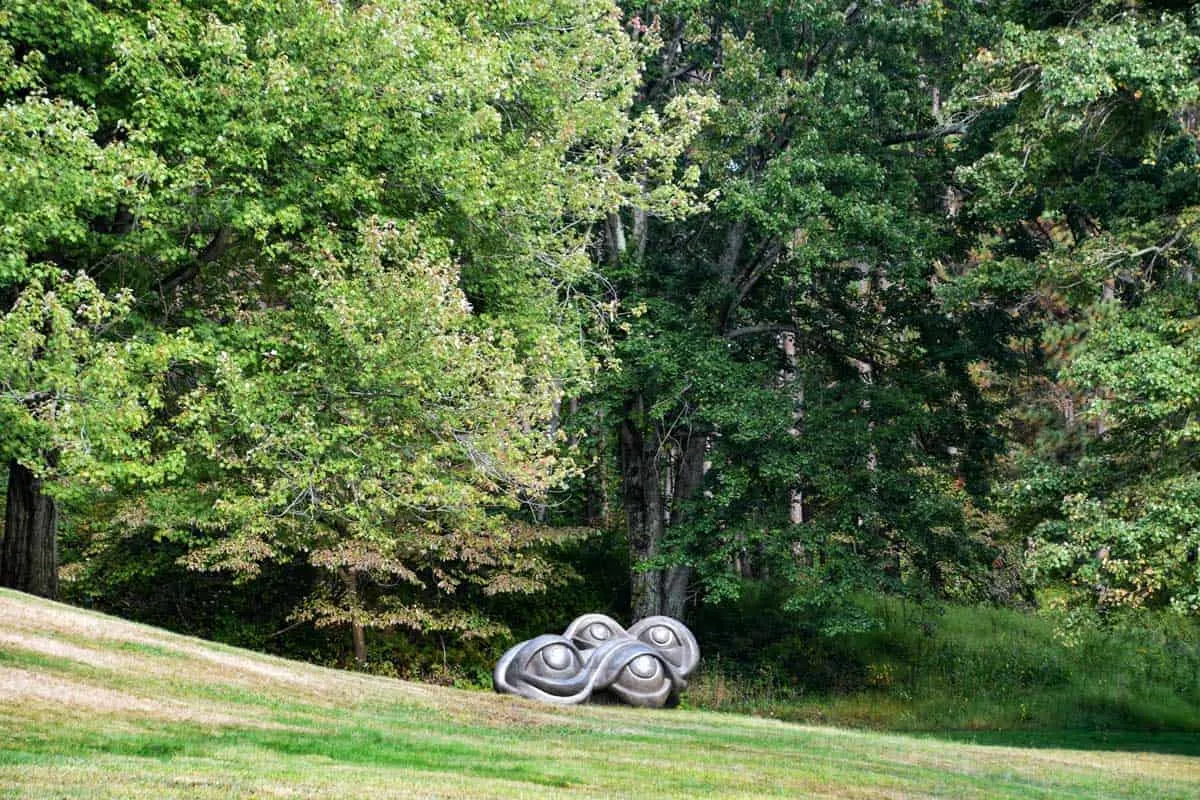 Storm King Art Center's vision and mission is to support artists and provide space to produce some of the most creative and ambitious works. Exhibitions at the center change seasonally, and they offer various programs throughout the year, so you can revisit and always experience something new.
Find details for current exhibitions and ticketing for Storm King Center here.
Philadelphia
Distance from NYC: Roughly 95 miles southwest
Travel Time: 90 minutes by train on the fastest service (Amtrak Train), 2-2.5 hrs by bus, and 2 hours by car (not factoring traffic).
One of the most historic cities in the US, the "City of Brotherly Love" is only 90 minutes by train from NYC. There is so much to see and do in Philly; you can plan a jam-packed day of diverse experiences and be back in New York for dinner.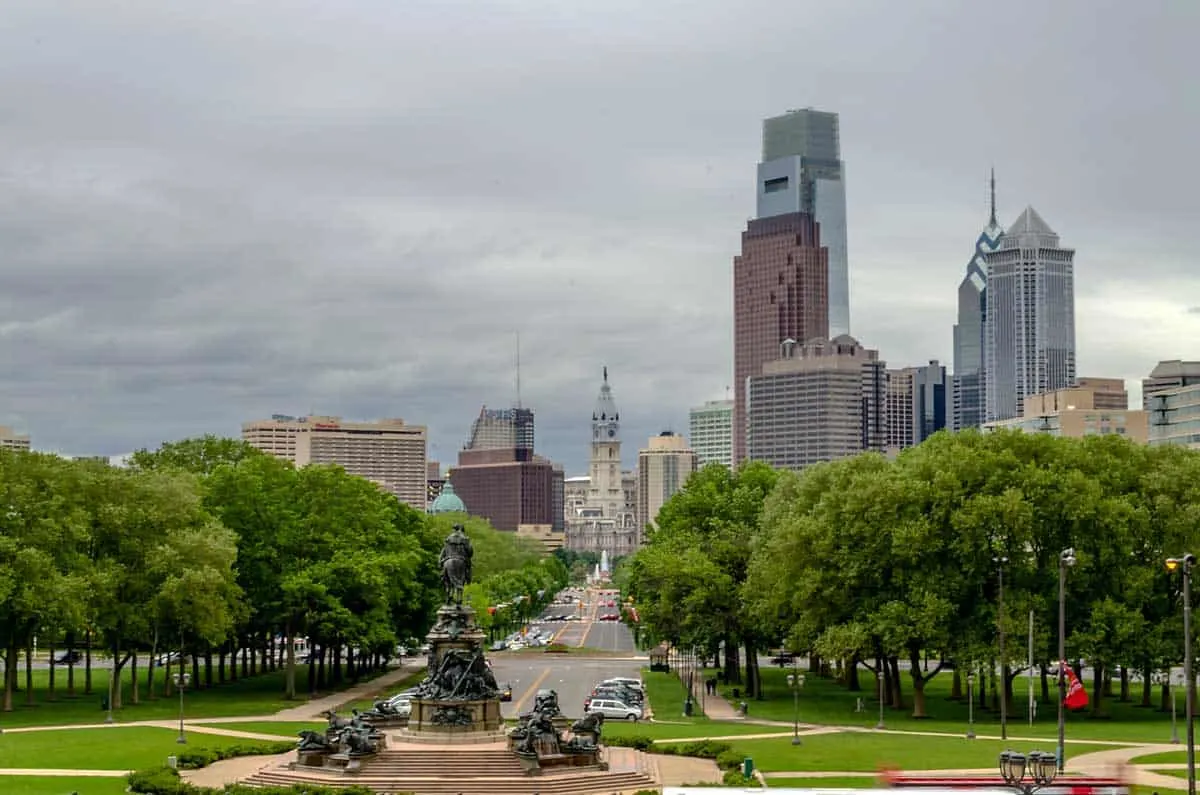 History buffs can indulge in some of the most important sites in America's history. Take a walk on "America's most historic square mile," the UNESCO Independence National Park.
Stand in the Independence Hall where the Declaration of Independence was signed and see the Liberty Bell that rang in 1776 to announce the first reading of the Declaration. Visit Congress Hall, the Benjamin Franklin Museum, the Betsy Roth House, and the Museum of the American Revolution.
Culture vultures can enjoy a significant art scene, both traditional and modern, and museums such as the Philadelphia Museum of Art, the Rodin Museum, the Barnes Museum, and the Pennsylvania Academy of Fine Arts. Philly also has the world's densest collection of street art and murals at the Magic Gardens.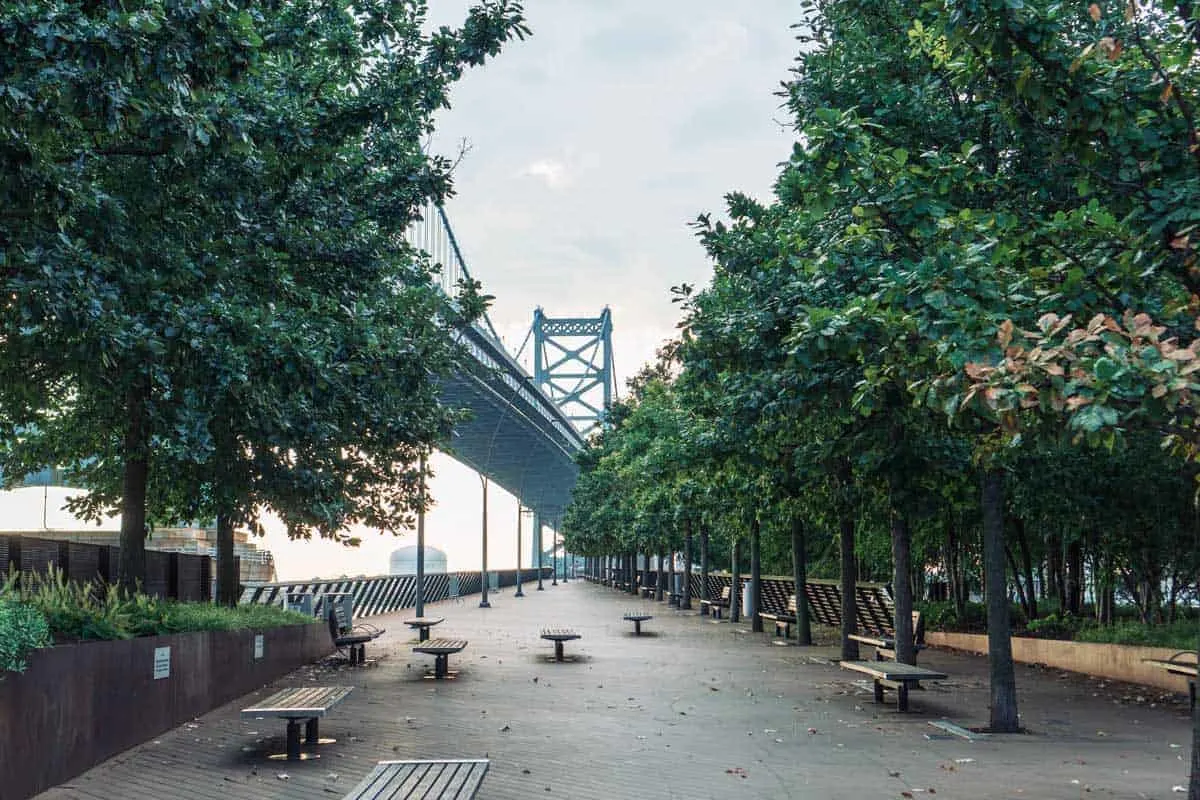 Philadelphia is also making a name for itself on the food scene. From hip cafes to breweries and distilleries to fine dining and some iconic takeout joints. Grab a classic Philly cheese steak sandwich and take advantage of the city's great green spaces for a classic Philly picnic lunch.
You can also snag a bargain if you take advantage of Philadelphia's tax-free shopping.
Philadelphia Tour Recommendation: If you prefer to take a guided day tour from New York to Philadelphia. The full-day Philadelphia and Amish Country Day Trip from NYC takes you on an air-conditioned bus to enjoy the best sites of Philadelphia, including Elfert Alley, the oldest inhabited street in America, the Liberty Bell, and Constitution Hall.
You'll also have the opportunity to run up the famous Rocky Steps at the Philadelphia Museum of Art. You'll also experience a traditional Amish market and a buggy ride with a stop in Lancaster. See here for full tour details.
Washington DC
Distance from NYC: roughly 225 miles

north
Travel Time: 3 hours by train, nearly 4 hours

by car

. A day tour is the most time-efficient way to visit DC from NYC.
A day trip of epic proportions, Washing DC dishes up an equal number of impressive sites as NYC. While quite a distance from NYC, a day trip is possible. At roughly 3.5 hours by train, a day tour is possibly a better way to travel comfortably and maximize your time seeing the best Washington sites.
You can even do a combined Philadelphia and Washington day trip from NYC, seeing the best sites in both cities.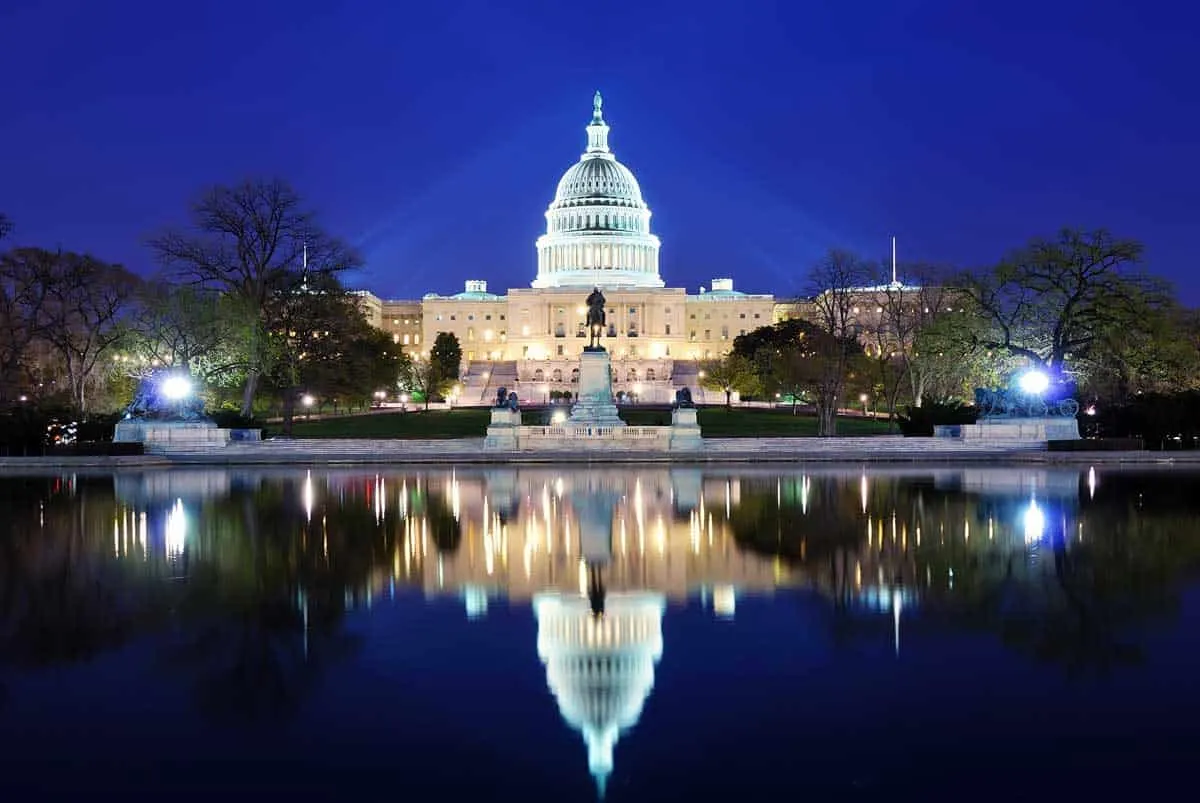 Washing Day Tour Recommendation: On a day tour to Washington DC, you'll see all of the iconic U.S. government landmarks, such as the Capitol, home to the U.S. Congress, and the White House.
You'll also get to visit the Smithsonian's Air and Space Museum and the Lincoln, Washington, Korean War, and Vietnam War memorials finishing the day with a panoramic city tour before returning to New York for dinner. Get the details of the NYC to Washington Day trip here.
Bear Mountain State Park
Distance from NYC: 50 miles

north
Travel Time: 1 hour

by car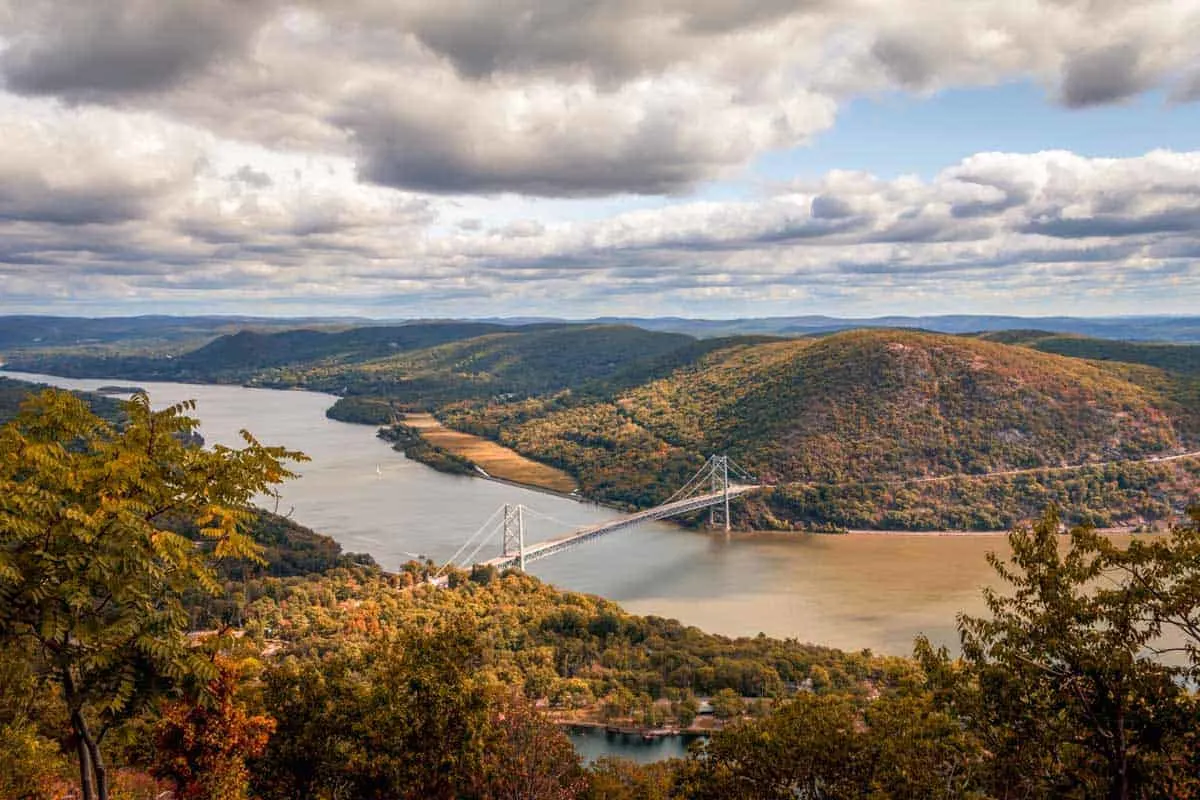 Set along the Hudson River's western bank in the Orange and Rockland counties of New York is the 5205-acre Bear Mountain State Park. It is undoubtedly one of the best day trips from NYC for nature lovers, thanks mainly to the sheer number of activities and facilities in the park.
Visitors to the state park can enjoy a network of hiking and biking trails and cross-country skiing trails. The park also has picnic spots, a large outdoor pool, the Trailside Museums & Zoo, a Merry-Go-Round Pavilion, the Perkins Memorial Tower offering stunning views, an outdoor ice rink during the winter months, and plenty of lake and riverside fishing opportunities.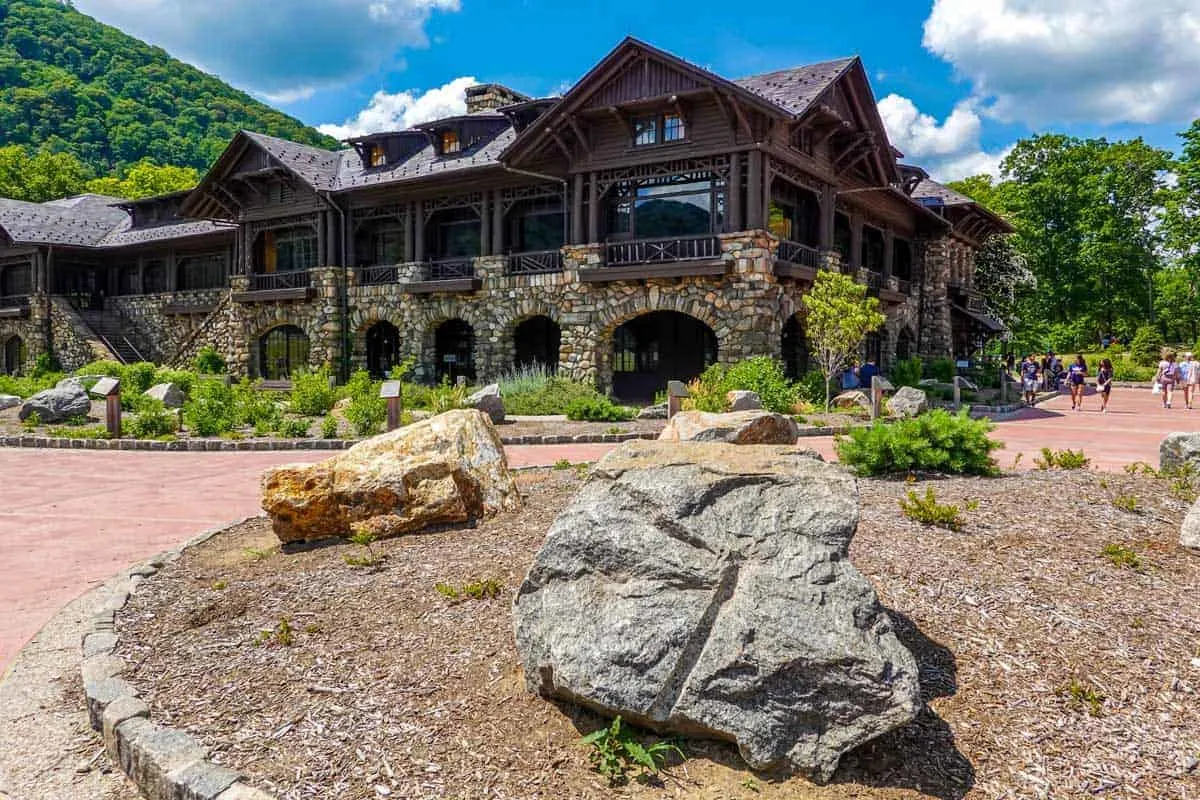 If you want to spend a little longer to take advantage of all these marvelous things to see and do in the park, you can book a night at the charming Bear Mountain Inn and Overlook Lodge, overlooking the Hessian Lake.
Governors Island
Distance from NYC: In the New York Harbor

Travel Time: 10-mins by Ferry from Manhattan or Brooklyn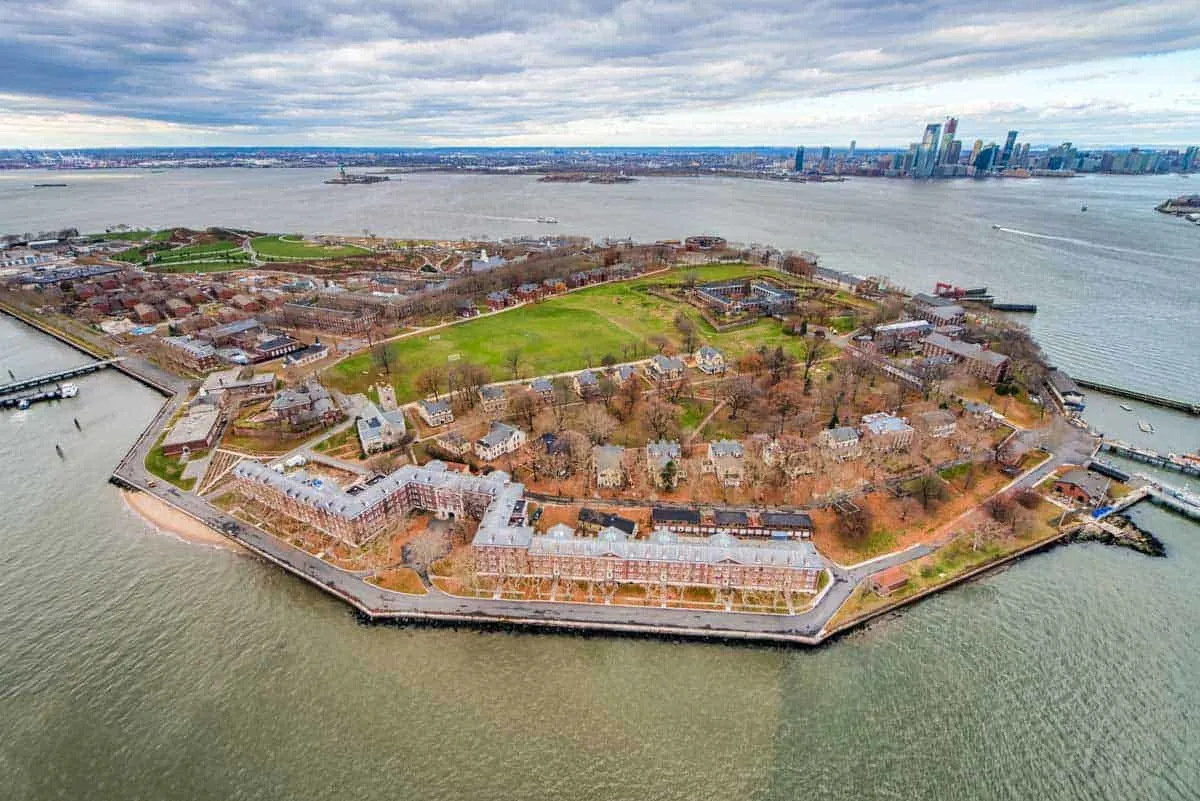 In the New York Harbor, set between Brooklyn and Lower Manhattan, is Governors Island – a favorite city escape during the warmer spring and summer months when it opens to the public between May and September.
Easily accessible by ferry, the 172-acre island is home to an award-winning park, impressive historic architecture, and The Hills – a series of uniquely engineered hills with different activities and vantage points. Outlook Hill is particularly notable, rising 70 feet and providing visitors with spectacular 360-degree views over the New York skyline, the Statue of Liberty, and the New York Harbor.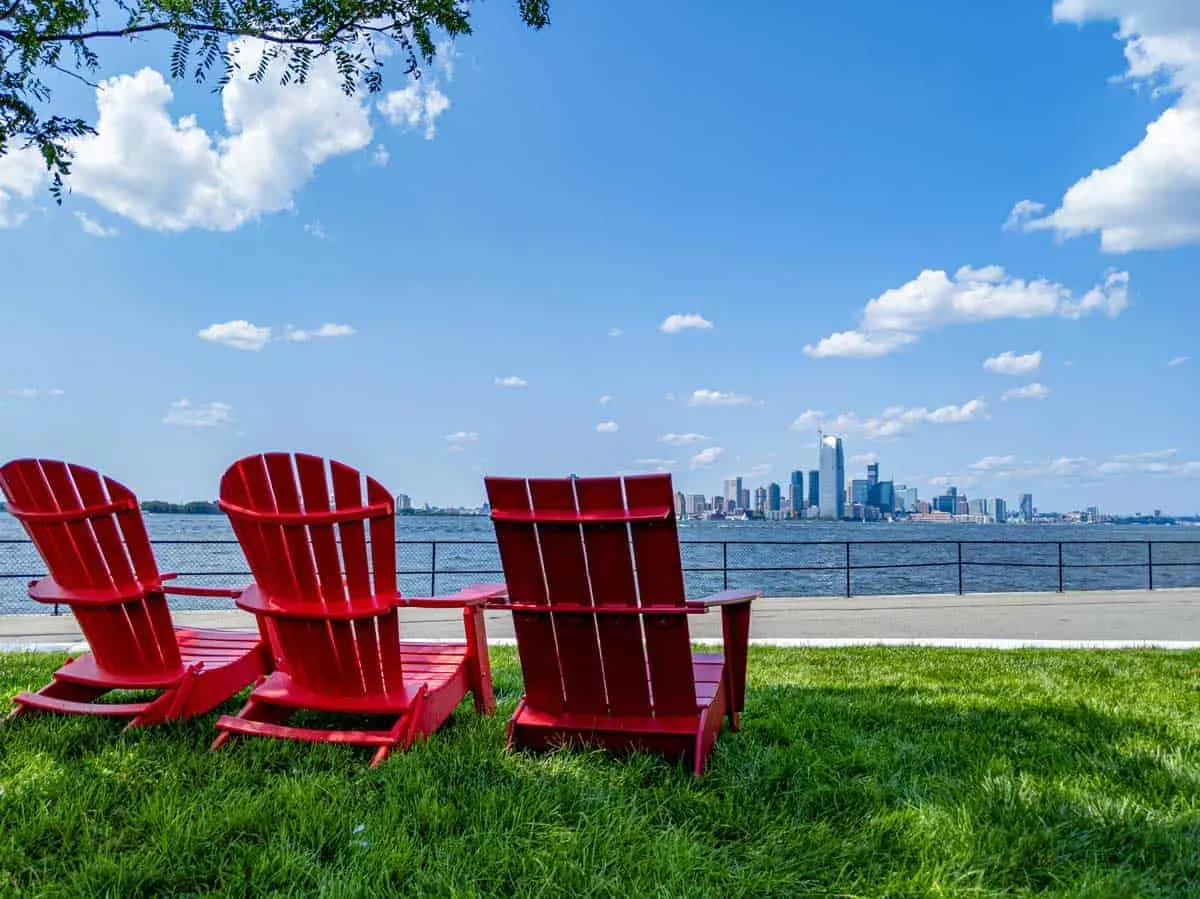 Governors Island also sets out a range of cultural, art, and environmental activities and programs worth visiting. See the official Governors Island website for information, schedules, and ferry timetables.
Greenwood Gardens
Distance from NYC: 20 miles

Travel Time: 1-Hour by car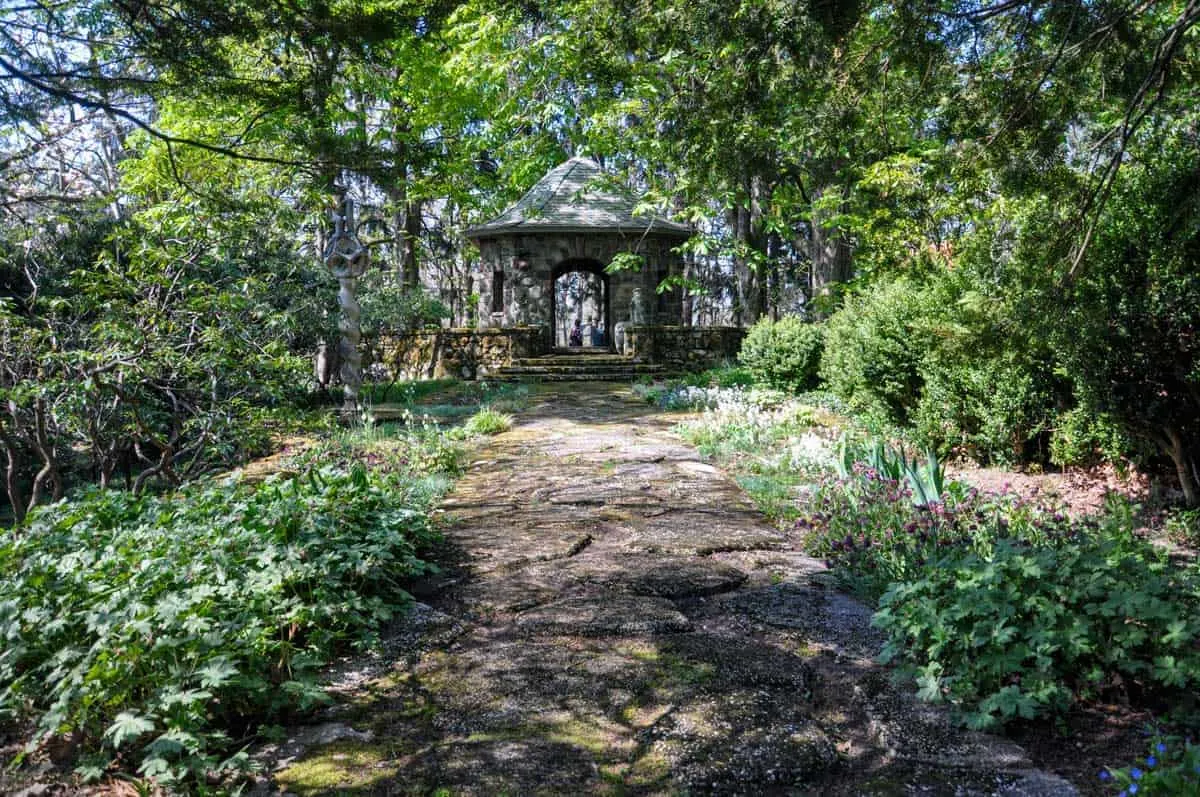 Tucked away in Short Hills, New Jersey, Greenwood Gardens was a private residence until 2003, when the Blanchards opened the tranquil oasis to the public.
Visitors can enjoy a guided walking tour to admire the Italian-inspired aesthetic and gardens, meandering through moss-covered walks and stumbling across attractive stone houses. There is also an onsite cafe if you want to grab a drink or a snack.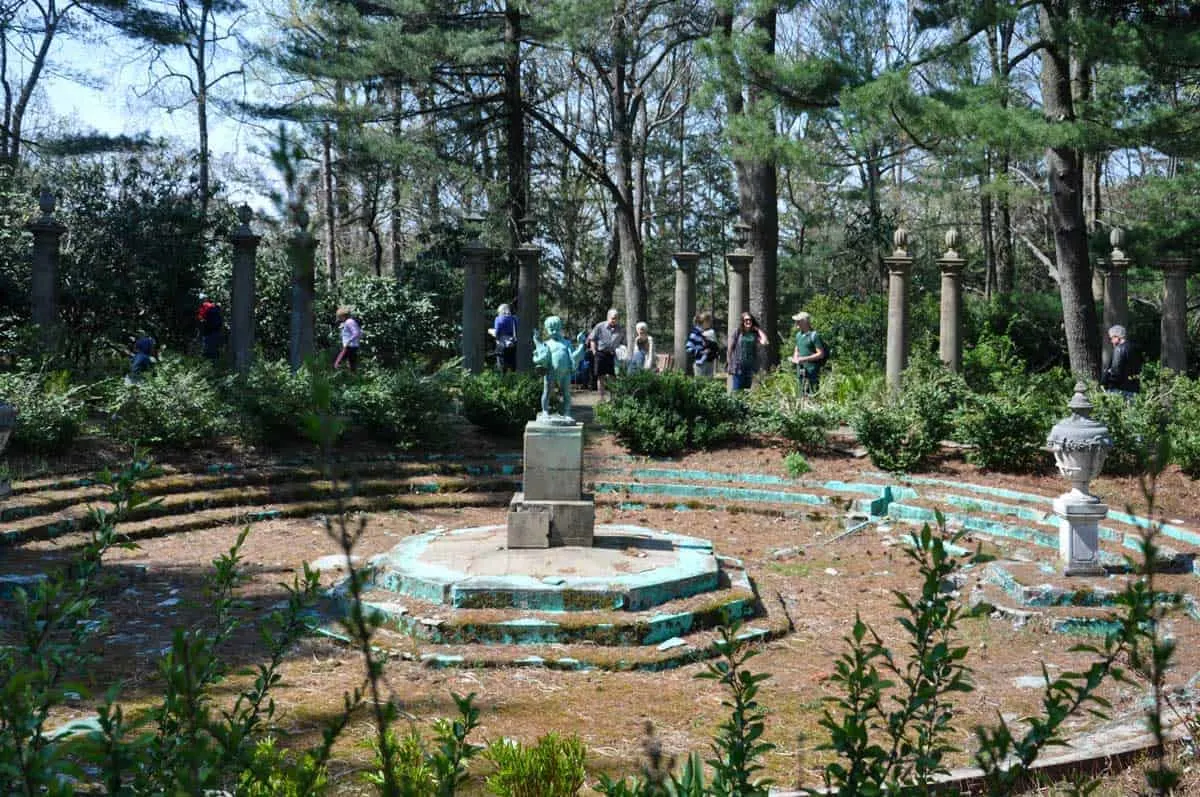 Access to the gardens costs $10 per adult; children under 12 are free. Note that visits are strictly by ticketed times only, so booking ahead is essential to guarantee your spot to enjoy this magnificent gem is essential. See the Greenwood Gardens website for ticketing and opening times.
Sleepy Hollow and Tarrytown
Distance from NYC: 30 miles north

Travel Time: 1-Hour by train or by car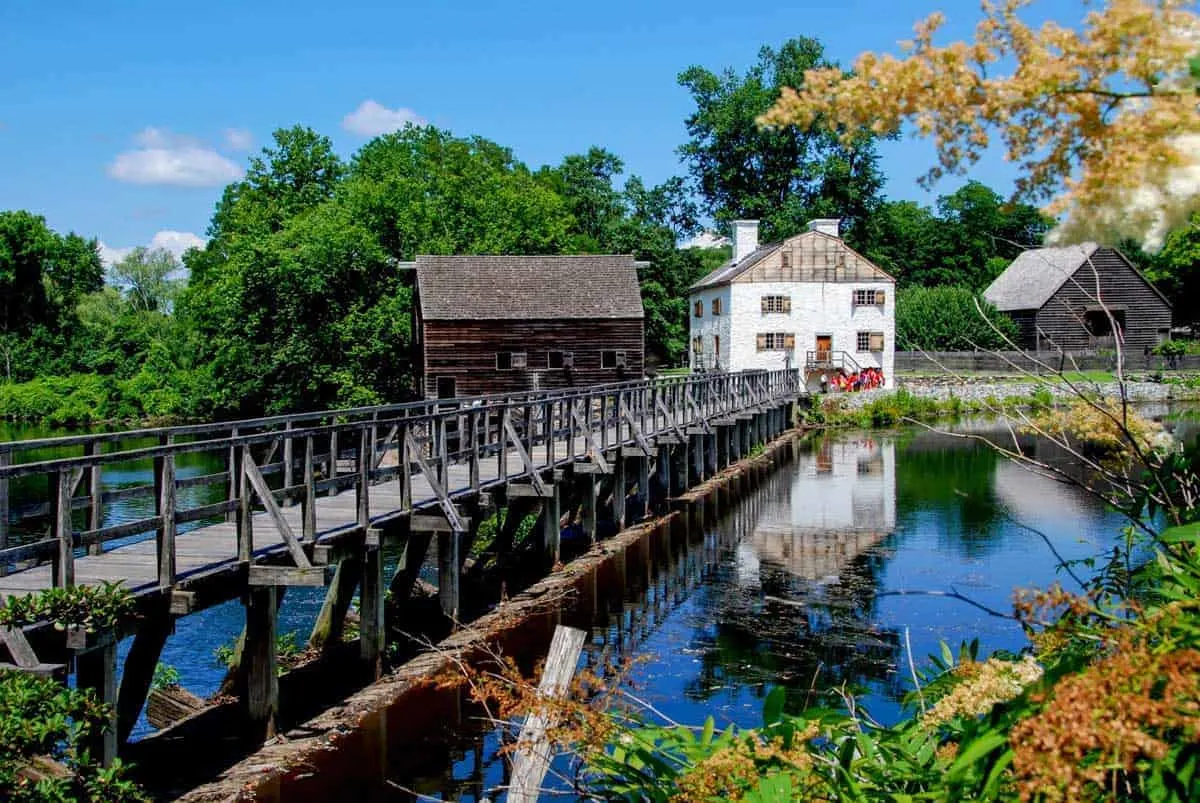 Located only an hour by train from NYC, another of the best Hudson Valley day trips from New York City is the spooky yet charming town of Sleepy Hollow. Best known for the Headless Horseman tale, a book by Washington Irving and more recently popularised in the film of the same name.
Explore what many consider the most haunted town in the US, seeing its famous attractions, such as the Headless Horseman Monument, the Old Dutch Church, the Philipsburg Manor, the Sleepy Hollow Cemetery, and the Headless Horseman Bridge.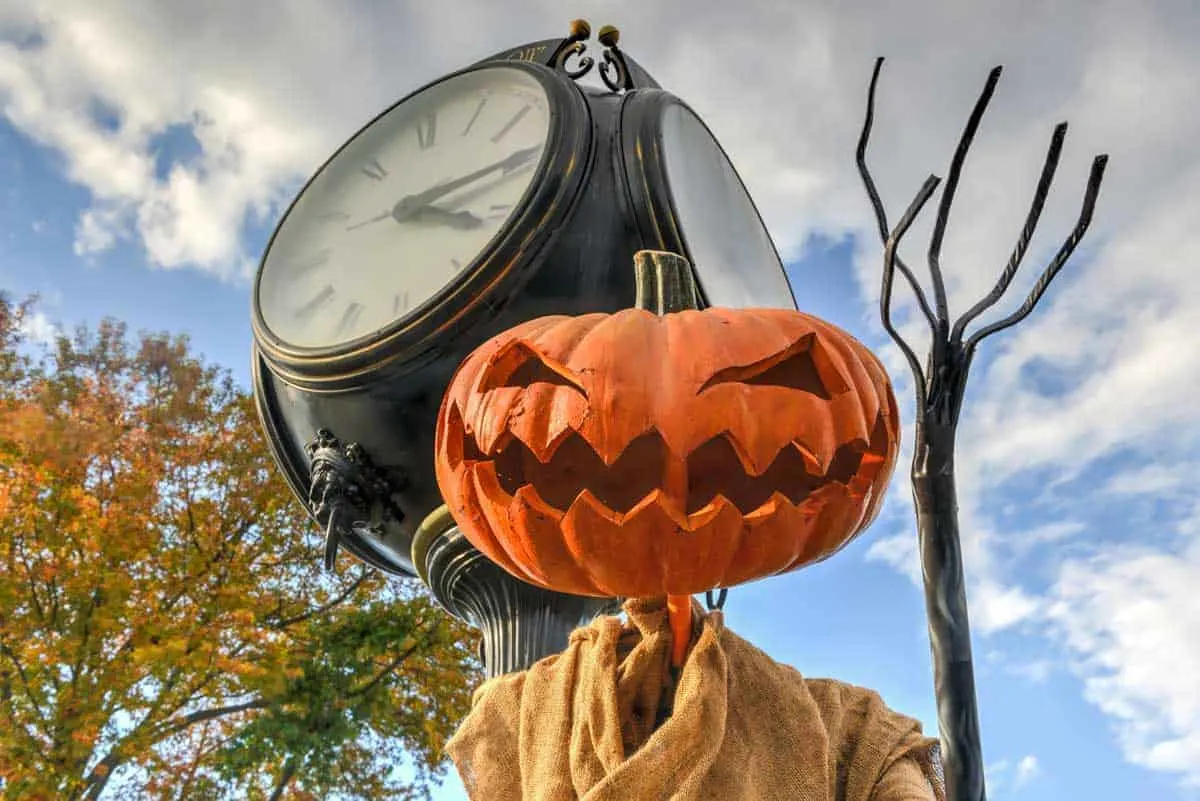 If visiting New York during the fall, don't miss out on The Great Jack O'Lantern Blaze, where you can see over 7000 carved jack o'lanterns – definitely a memorable experience.
Of course, Sleepy Hollow isn't only defined by ghouls and ghosts. The nearby 1400-acre Rockefeller State Park Preserve is well worth visiting for nature enthusiasts. Forming part of the famous Kykuit Estate, you'll be able to indulge in a spot of hiking, fishing, birding, or even horseback riding.
Fire Island
Distance from NYC: 62 miles

Travel Time: 2 hours

by car and then by ferry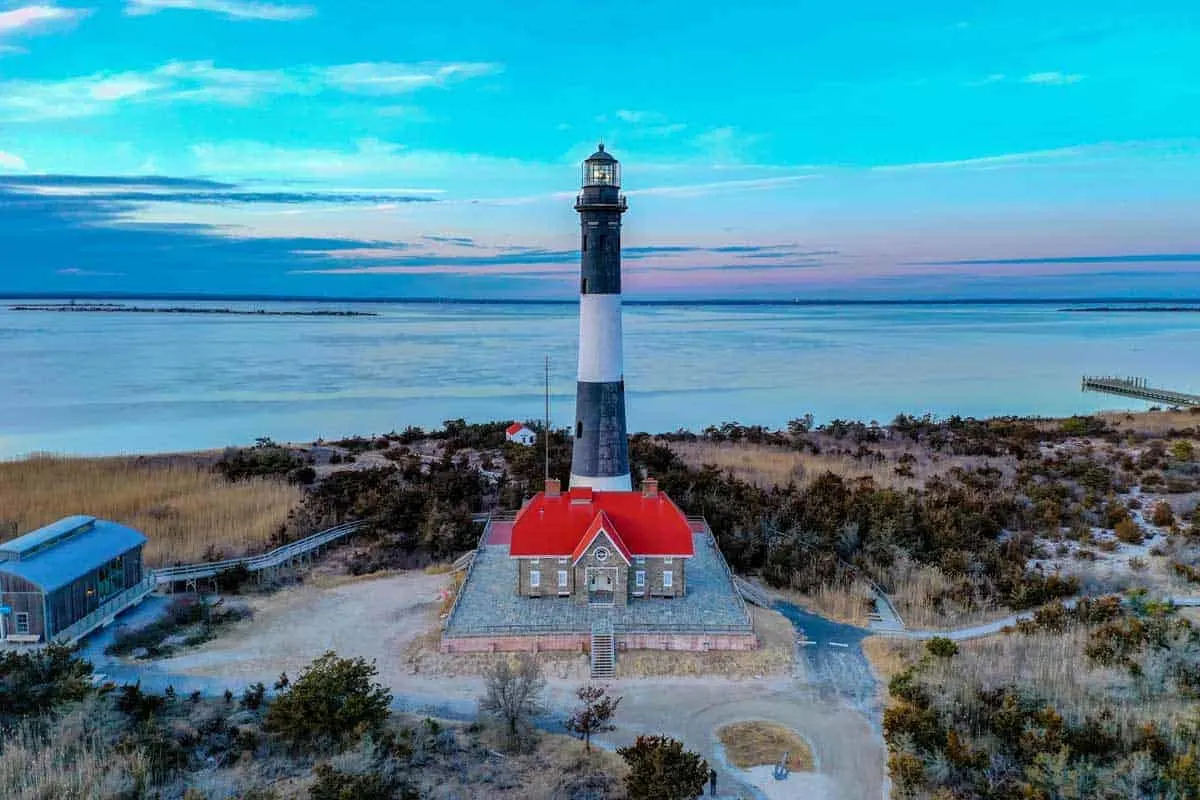 32 miles of gorgeous, pristine beaches on the southern shore of Long Island is another popular NYC day trip – the stretch known as Fire Island.
Although small, Fire Island offers visitors tons of exciting activities and places worth exploring. Embark on a guided or self-guided tour of the 50-acre Sunken Forest. This distinctive Holly forest was characterized by the New York Natural Heritage Program as a 'globally rare' site.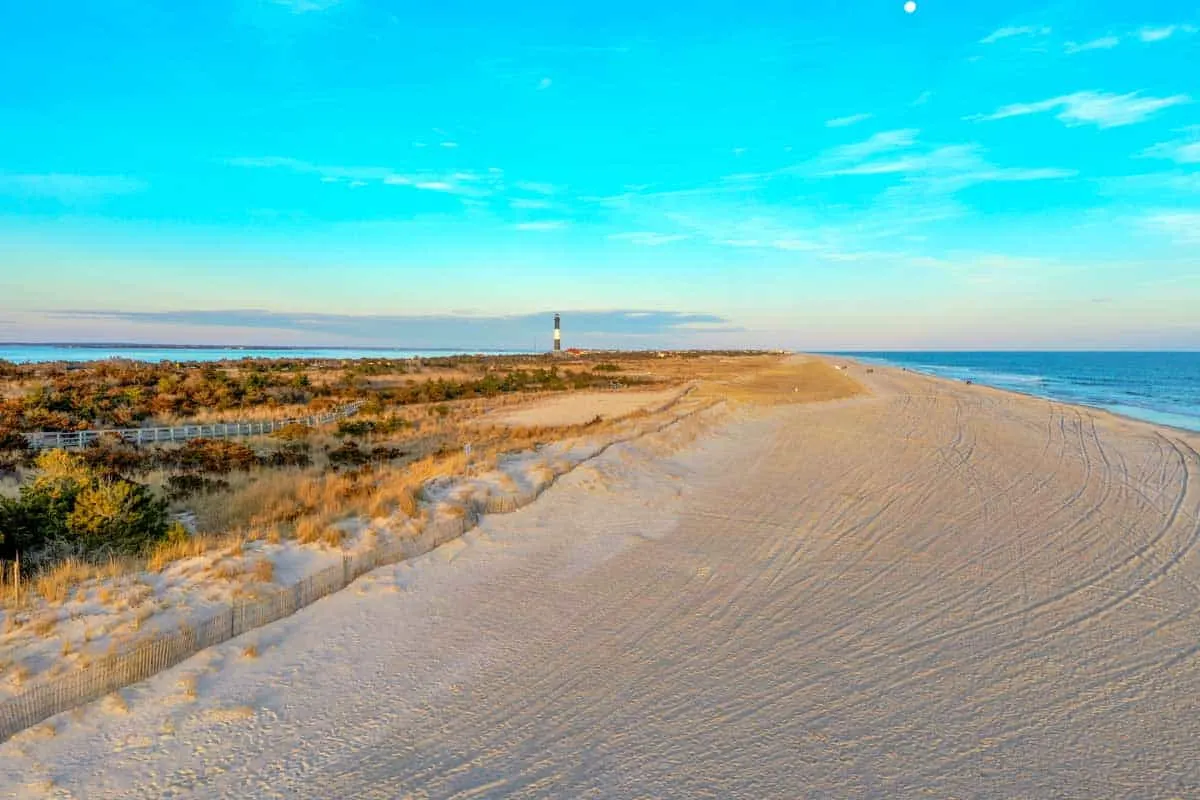 In search of stunning, unspoiled beaches? Head west to the 875-acre Robert Moses State Park for some of the best beaches on Fire Island. The Park is also home to various picnic spots, a Pitch & Putt golf course, and other great outdoor activities, including fishing & surfing.
Other notable points of interest on Fire Island include Sailor's Haven, the Fire Island Lighthouse, Smith Point County Park, and the beautiful coastal village of Ocean Beach.
Coney Island Summer Fun
Distance from NYC: Roughly 14.5 miles
Travel Time: Approx. 40 minutes by car (not factoring traffic), 1 hr by subway from Times Square (Q lines Q, F, or D to station Coney Island- Stillwell Avenue). As of 2022, East River Ferry is running services to Coney Island from Pier 11 at Wall Street – approx. 40 minutes and about the same as a subway fare.
Rekindle childhood memories and escape the summer heat of New York at Brooklyn's iconic Coney Island.
More than just the Luna Park amusement park with the legendary wooden rollercoaster, Coney Island is a neighborhood with lots to do. Stroll the iconic boardwalk, and enjoy a day at the beach. There are museums, sideshow attractions, shopping, live music, outdoor cinema on the beach, the New York Aquarium, and so much more. Coney Island and the Amusement Park are cemented in popular American cultural history and are a must-visit in New York.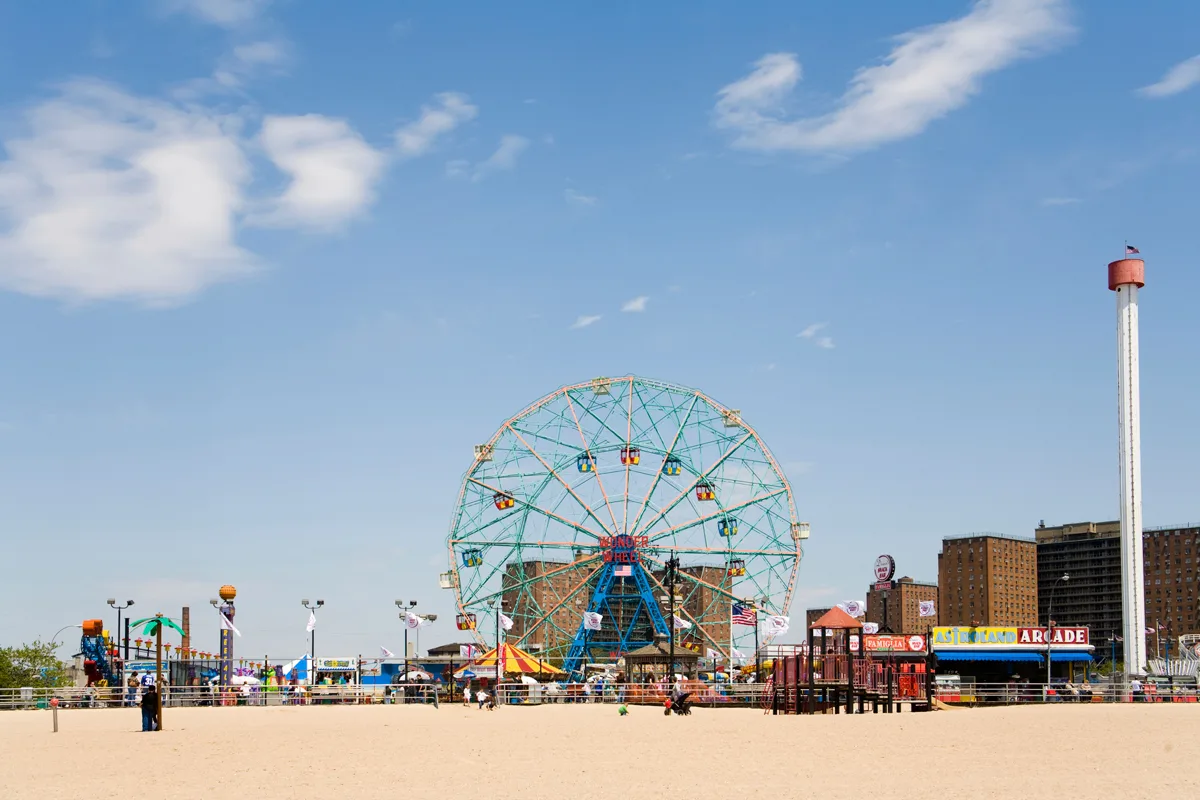 While you can visit Coney Island anytime, some attractions and services are seasonal and operational between Easter and Halloween. Rides and attractions are open all week between Memorial Day and Labour Day – other times may only be weekends.
Coney Island is open seasonally from Easter until Halloween. The park has more than 50 rides and attractions with opening hours only on weekends from Easter through Memorial Day, and all week long from Memorial Day until Labor Day, then only on weekends from Labor Day through October.
The Coney Island beach, boardwalk, New York Aquarium and the original Nathan's Famous hot dog stand are open daily all year.
Lifeguards are on duty from Memorial Day through Labor Day.
During the summer, from late June through August, enjoy fireworks displays on the beach every Friday at 9:45 pm.
Woodstock New York
Distance from NYC: Roughly 107 miles north
Travel Time: 1 hour 50 minutes by car (not factoring traffic) 2 hrs by bus (Trailways)
The small Catskills town unwittingly became a landmark for creatives when the Woodstock Festival took the region by storm in 1969 (which actually took place in nearby Bethel).
On the back of its music festival past, the iconic upstate town has continued to attract innovators and creatives, becoming a hub for artists, crafters, foodies, and musicians. Woodstock exudes a community vibe and offers visitors innovative farm-fresh dining, great entertainment, unique shopping, and some incredible natural landscapes.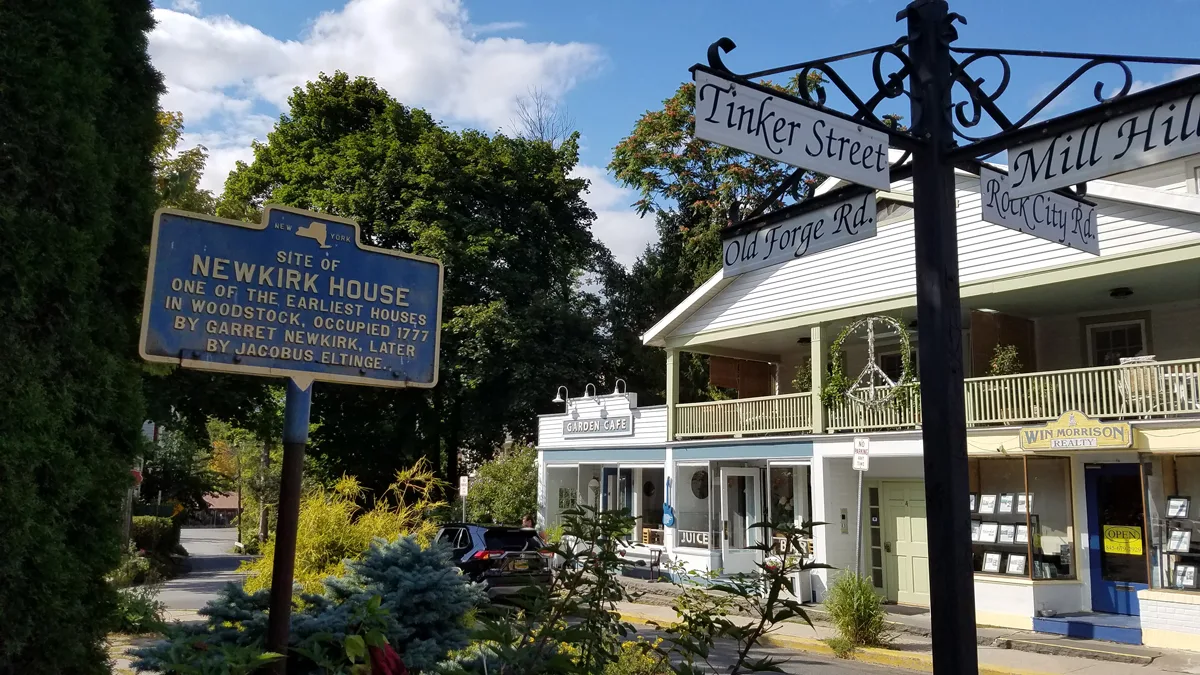 Shop for artisan originals down Tinker Street. The main street of Woodstock offers a charming array of browse-worthy boutiques and galleries offering everything from homewares to clothing, jewelry, and more.
Stop for a bite at one of the town's incredible eateries offering fresh and innovative food, from woodfired farm-to-table seasonal offerings from Silvia, tacos at the Tinker Taco Lab to Sweet Dreams Organic for sublime ice cream, or Dixon Roadside for great brisket.
Check out the Woodstock Artists Association & Museum. Visit the iconic Woodstock Festival grounds, the Woodstock Playhouse, and the Levon Helm Studios and Bearsville Theater, which host a variety of shows.
If you want to indulge in the natural surroundings of Woodstock, there are loads of gorgeous hikes, including two beautiful waterfall hikes, such as Kaaterskill Falls or Fawns Leap.
Niagara Falls New York
A day tour with return transport is the best way to do this day trip.
It's a big day trip, but it is possible to visit Niagara Falls from NYC on a day tour. It's a surprisingly popular option for visitors to New York.
One of the most fantastic natural attractions in both the US and Canada, a day trip from New York still allows for a good five hours of exploring the best sites.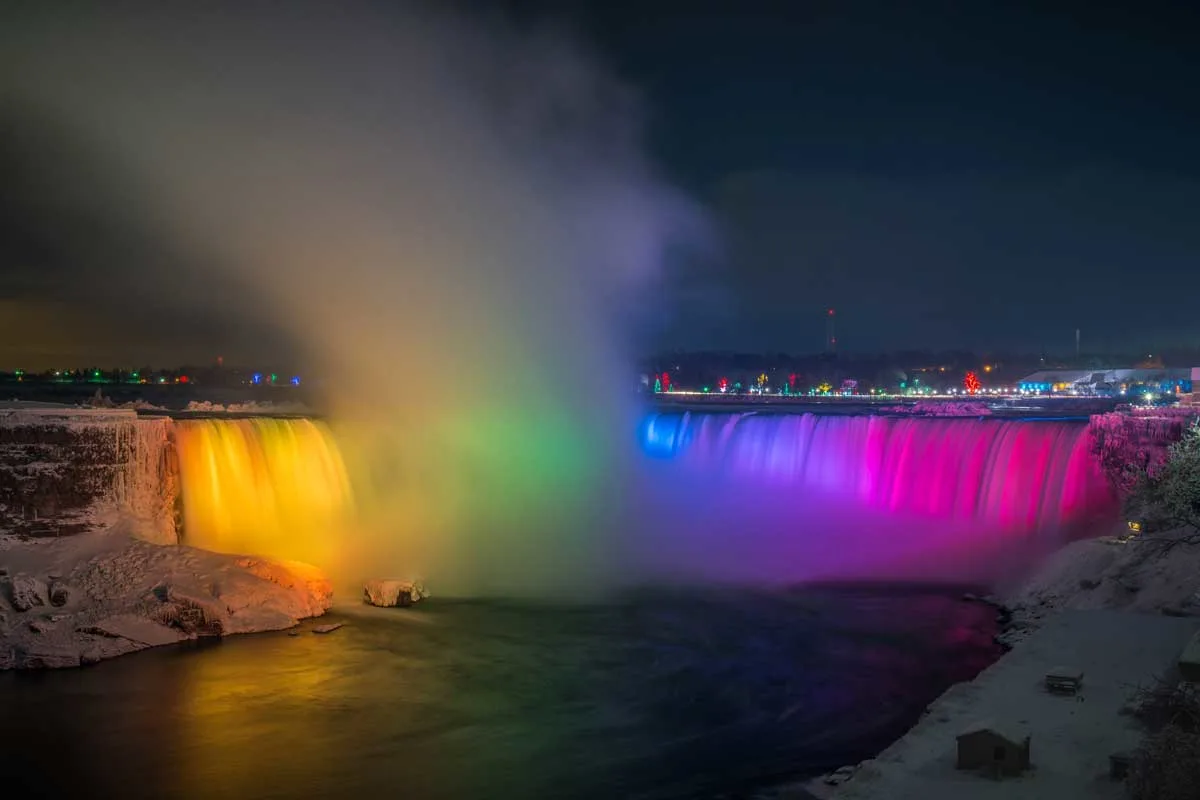 On a day trip, you'll have the chance to see each of the three waterfalls, Horseshoe Falls, Bridal Veil Falls, and American Falls, from observation decks or the famous "Maid of the Mist" cruise on the Niagara River. Visit Goat Island and Luna Island and all the observatories surrounding the falls, and on some tours, you will have the opportunity to see the incredible light show at night.
Summer is the most popular season for the famous natural attraction but visiting Niagara Falls in winter is an extraordinary time to visit when the falls are covered in snow and magical icicles.
Some of the day trips include all activities and entry fees, or you can opt for transport only.
See full details of a Niagara Falls Day Trip here.
Plan Your Day Trip From New York
It goes to show that despite the urban sprawl of New York City – the largest city in the United States, it doesn't take much to escape the chaos of the city for a breath of fresh air away from the crowds. There are many fascinating and beautiful reasons to plan some time outside the city. These are just a few of them.
Where to Stay in New York City
New York City is divided into five major neighborhoods or "boroughs" – Staten Island, Queens, Brooklyn, Manhattan, and The Bronx. Each of these boroughs is divided into dozens of neighborhoods.
While accommodation in New York is notoriously expensive, it is still possible to land some great deals, especially if you plan and book in advance. There is also a surprising array of accommodation in New York beyond the standard hotel variety, which is good news for those who want to self-cater or are traveling as a family or group.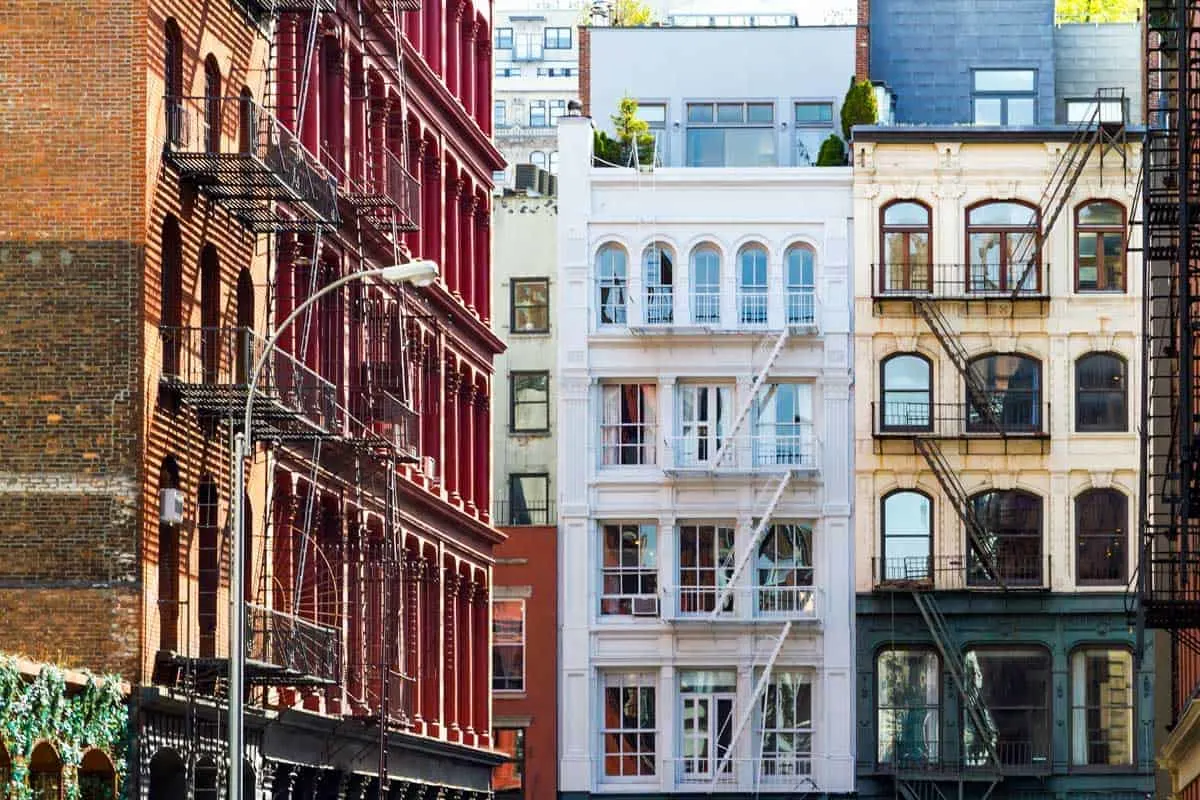 When choosing where to stay in NYC, consider your visit's focus, the style of accommodation you need, and, of course, your budget. New York is very well connected by public transport, but you don't want to waste too much time commuting.
Manhattan is where you will find most tourist attractions, so it is perfect for first-time visitors. There is plenty of variety in neighborhoods to choose from in Manhattan to suit different budgets and interests.
Williamsburg in Brooklyn is also worth considering as it is close enough to Manhattan and offers an entirely different vibe. Long Island City in Queens is another underrated neighborhood for visitors as it is only 15 minutes from Times Square and the place to be if you're on a budget.
Whatever neighborhood you choose to stay, check the location of the nearest train station or bus line for convenience.
Also, be aware, that the New York City hotel and occupancy taxes (14.75 %, plus $3.50 per day) are often not included in room rates, so make sure you factor this in your budget.
Search Accommodation Deals in New York