New York City has some of the most beautiful picnic-worthy green spaces both indoors and out. Including, of course, the city's famous Central Park
Whether you're a visitor planning your New York itinerary or, a resident looking for non-touristy things to do in NYC, pack the hamper, throw a picnic blanket in your bag, or simply grab a pizza and a bottle of wine — It's picnic season, and it's time to discover some of New York's most picturesque alfresco escapes.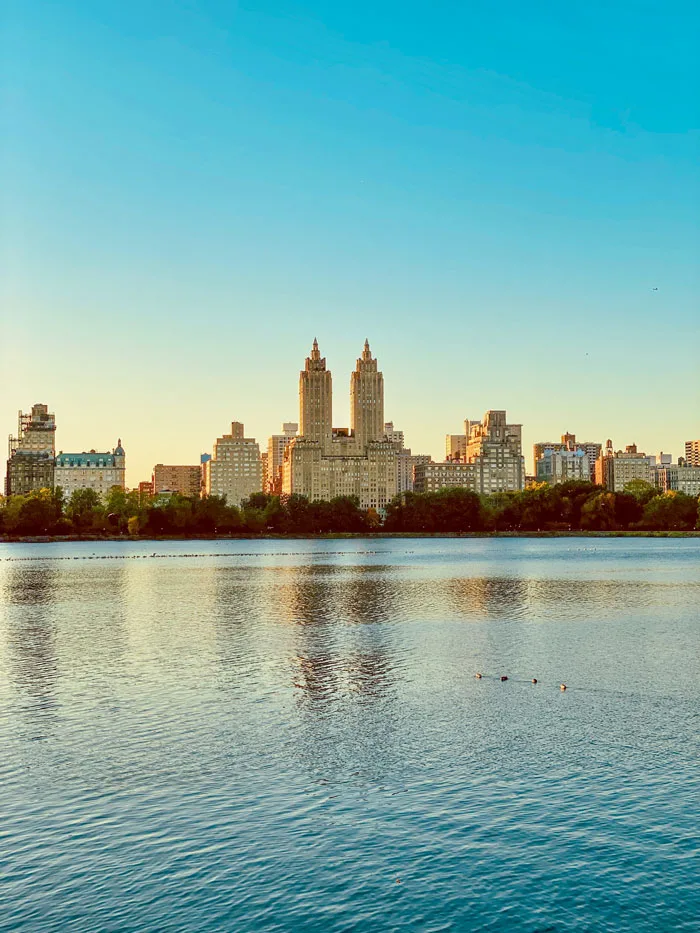 A picnic is one of the most family-friendly activities in New York, a great way to catch up with friends and one of the most romantic things to do in NYC. Whether it's a planned picnic or an impromptu picnic to go, these are some of the best picnic spots in NYC along with picnic tips to make your day perfect.
5 Great Places for a Picnic in New York
Fort Tryon Park
Located in the Washington Heights and Inwood neighborhoods of Upper Manhattan, Fort Tryon Park offers an escape from the more popular parks downtown.
There are several points of entry into Fort Tryon, but for the best picnic spots, start climbing.
After a series of steep walking paths and stone stairways cut into the hillside, you'll be rewarded with sweeping views from the second-highest point in Manhattan.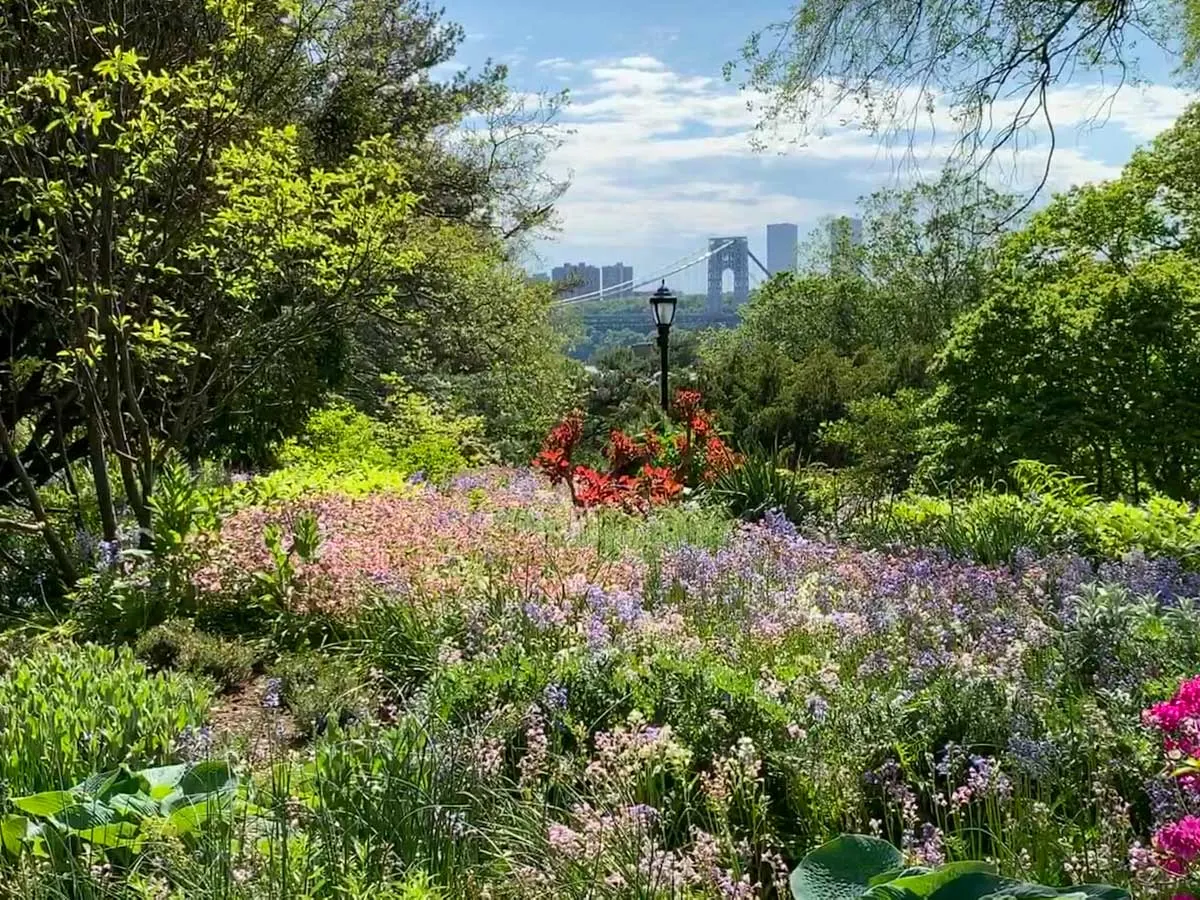 The paved pathways are lined with benches for sitting and gazing out over the Hudson River but bring a blanket if you want to picnic on the grass.
The most popular places to hang out for the day are Cloisters Lawn and Abby's Lawn.
Once you're ready to stretch your legs, there are plenty of things to do within the park. For an indoor activity, visit The Met Cloisters, which is the branch of the Metropolitan Museum devoted entirely to European medieval art.
If you're intent on spending the day outdoors, take a leisurely walk, check out the panoramic views from various outlooks, and watch the landscape change.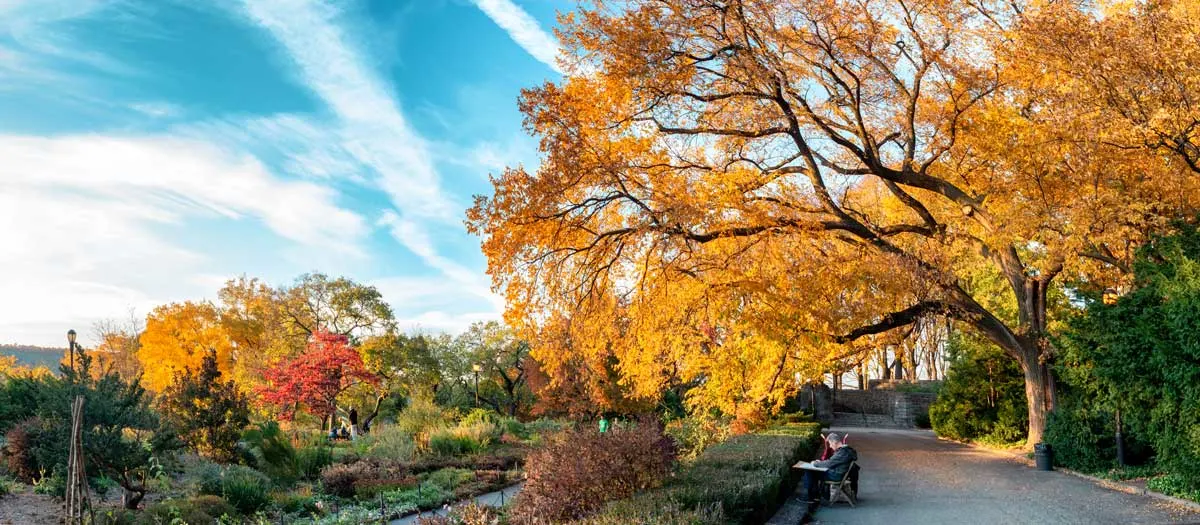 You'll be on a narrow path surrounded by overgrown elm trees one moment and the next, strolling through the famous Heather Garden, with its bright splashes of colour created by the carefully maintained perennial plants, trees, and shrubs.
Facilities
If, as your day winds down, you're in the mood for a cocktail or a bite to eat, New Leaf Restaurant and Bar, located inside a restored 1930s stone cottage, is Fort Tryon's fine dining restaurant.
There are two public restrooms within the park. No picnic tables or cooking facilities are available. The park is accessible via subway and bus; there's also a parking lot with free (though limited and timed) parking.
By Michele DeBella | From Inwood Out
---
Must Have Sustainable Picnic Accessories
---
Prospect Park
Prospect Park has been my lifesaver when it comes to living in Brooklyn. As someone who grew up with the great outdoors nearby in Montana, nature has always been a sense of solace for me—especially in a big city.
There's something about Prospect Park that makes it ideal for picnics. In my opinion, even more so than in Central Park.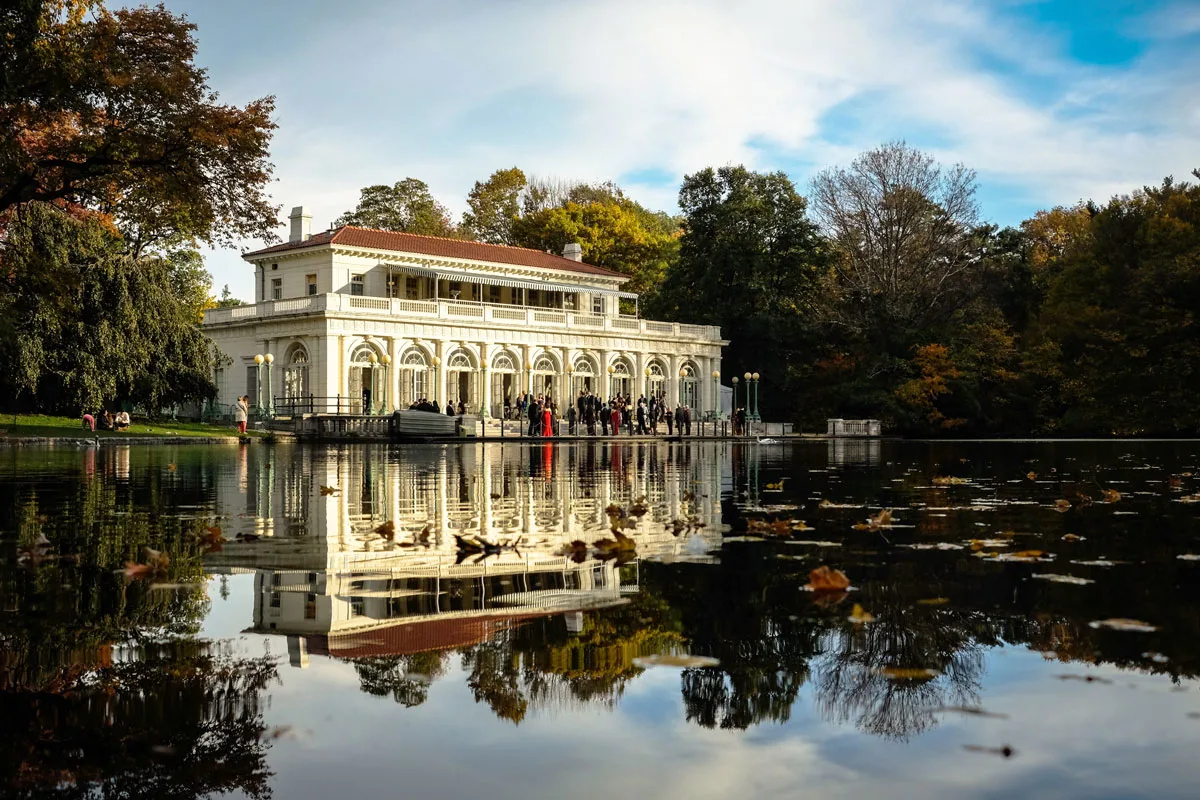 Prospect Park has plenty of bathrooms, lots and lots of space even when there are a lot of people there, and grills where you can cook your summer meals.
You can DIY your own picnic or grab an alfresco feast at New York's famous Smorgasburg outdoor food market featuring foods from all five boroughs.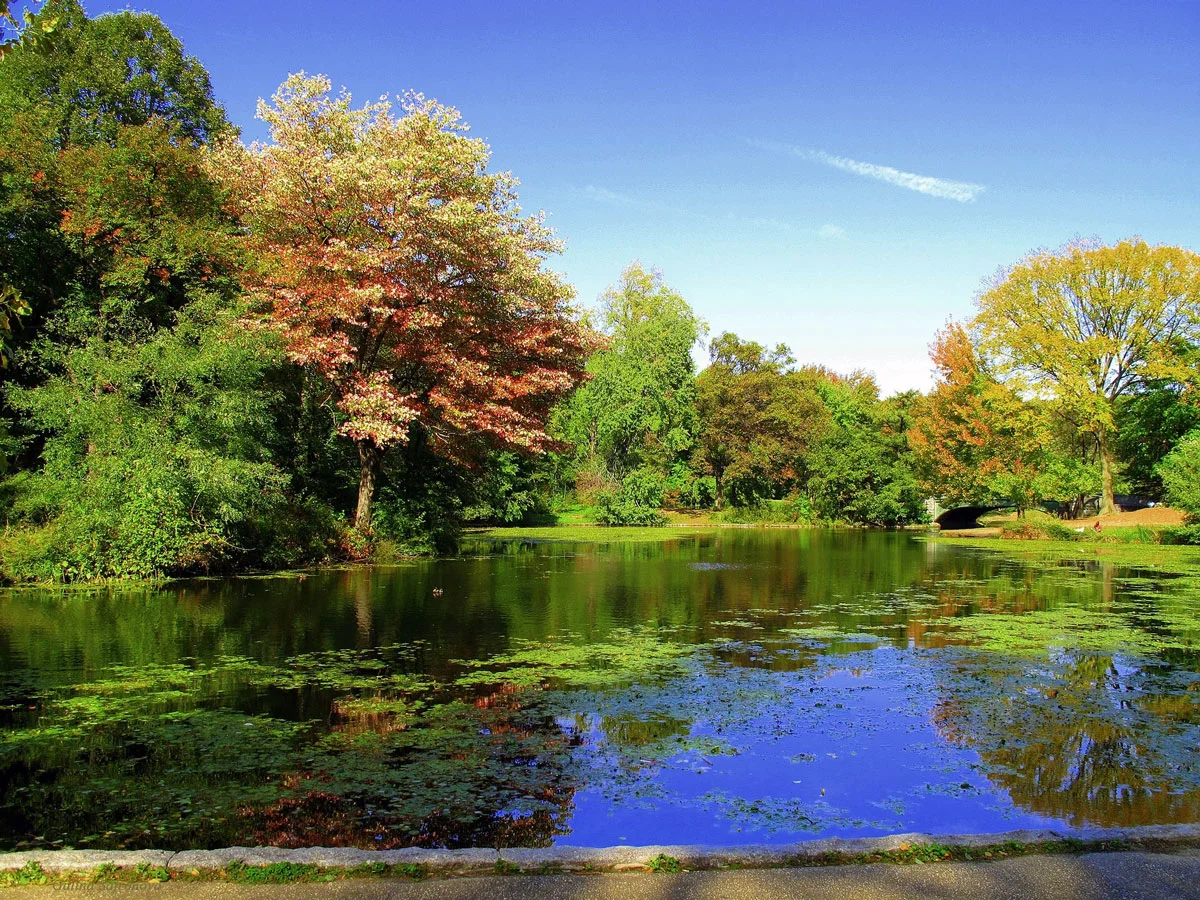 There is a lot to do in Prospect Park. There are several trails that sometimes feel completely deserted, so there's plenty of opportunity for some quiet time in nature.
There's also a roller rink at the LeFrak Center and free concerts and lectures throughout the summer. Have kiddos? Take them to the zoo or the carousel in the center of the park.
Personally, my favorite way to picnic is to ride my bike until I find a grassy spot and a shady tree, throw out my picnic blanket, and get lost in a good book. It's almost like not being in New York City at all.
By Alex Schnee | Alex on the Map
---
Lightweight Picnic Essentials
---
Gothic Bridge Central Park
Central Park may be one of the most iconic sites in NYC and one of the best parks in the world, but it's also a great spot for a picnic. Tucked away in the centre of Central Park, a bridge crosses over Bridle Path, and opens up directly in front of the Jacqueline Kennedy Onassis Reservoir.
Built in 1864, the Gothic Bridge is one of three cast iron and steel bridges still standing in Central Park, surrounding the Reservoir named for former First Lady Jacqueline Kennedy Onassis. Designed in the neo-Gothic style, it's a picturesque place, perfect for a picnic.
Right next to the bridge, along the gated coast of the Reservoir, is Bridle Path, an open running path, as well as the North Gate House. The "house" is a holdover from when the man-made lake was New York City's backup water reservoir.
Don't worry, this body of water hasn't serviced the city's tap water for decades.
Adjacent to the 1.58-mile running path loop around the Reservoir, there are a series of benches, perfect for relaxing and enjoying the views.
While there aren't any dedicated picnic tables, it's a fantastic spot to throw a blanket on a bench and enjoy an alfresco meal and a beautiful view.
Very important – should you need a restroom, a public bathroom is conveniently located just steps away from the bridge, opposite the Reservoir.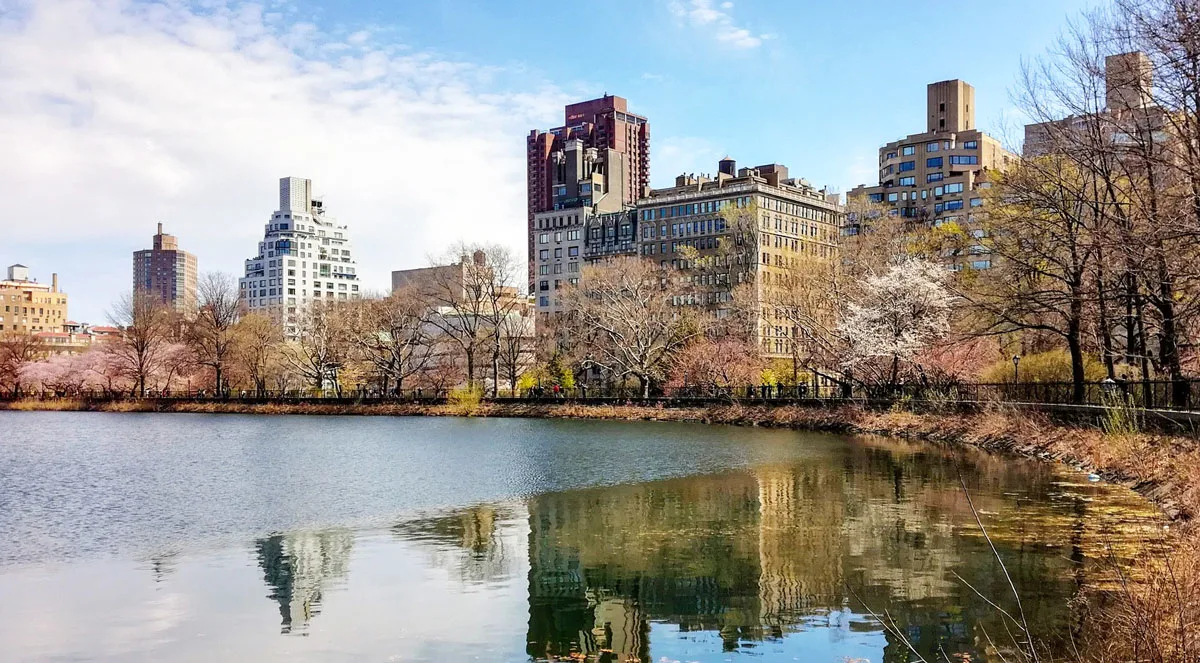 The Gothic Bridge is most accessible through public transportation using the local 96th Street B/C subway lines and then walking three-tenths of a mile into Central Park before you happen to come across the bridge.
By Lyndsay Crescenti | The Purposely Lost
---
Take a Picnic Day Trip to Philadelphia: At only an hour and a half by car or just over an hour by train, downtown Philly makes a great picnic day trip. Find the best picnic spots in Philadelphia here for the perfect urban day out.
---
The Ford Foundation Atrium
Looking for a centrally located rainy day picnic location? Thankfully, not all of New York's green spaces are outdoors.
Between 10 A.M. and 4 P.M on weekdays, the Ford Foundation Atrium offers a tropical paradise where you can enjoy an indoor alfresco lunch.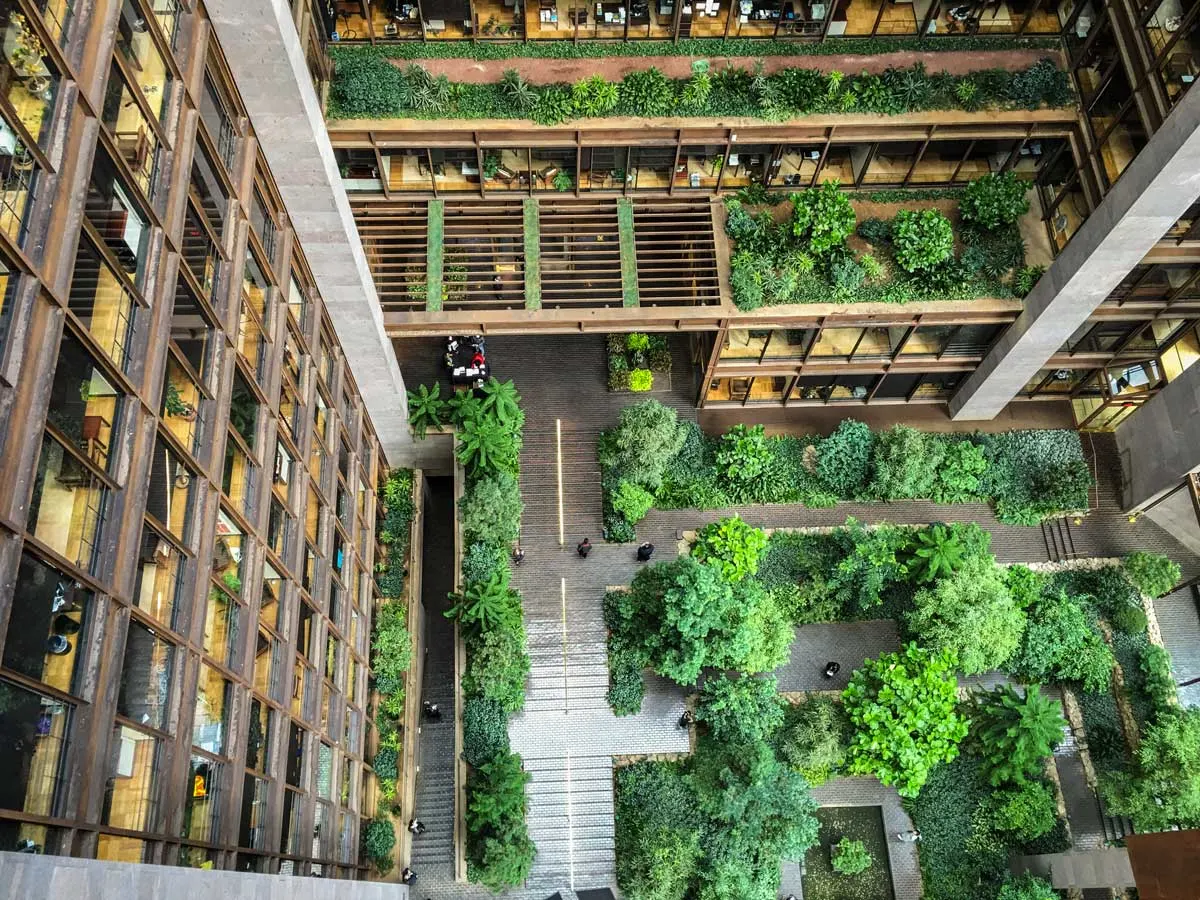 The 12 story glass atrium, draped in dense flora, is a serene contrast to the skyscrapers visible on all sides.
The subtropical garden is filled with lush ferns, vines hanging from the trusses and fragrant gardenias and magnolias. Tree's fill the space, and the sound of water running from a small central pool creates a sense of calm in the city.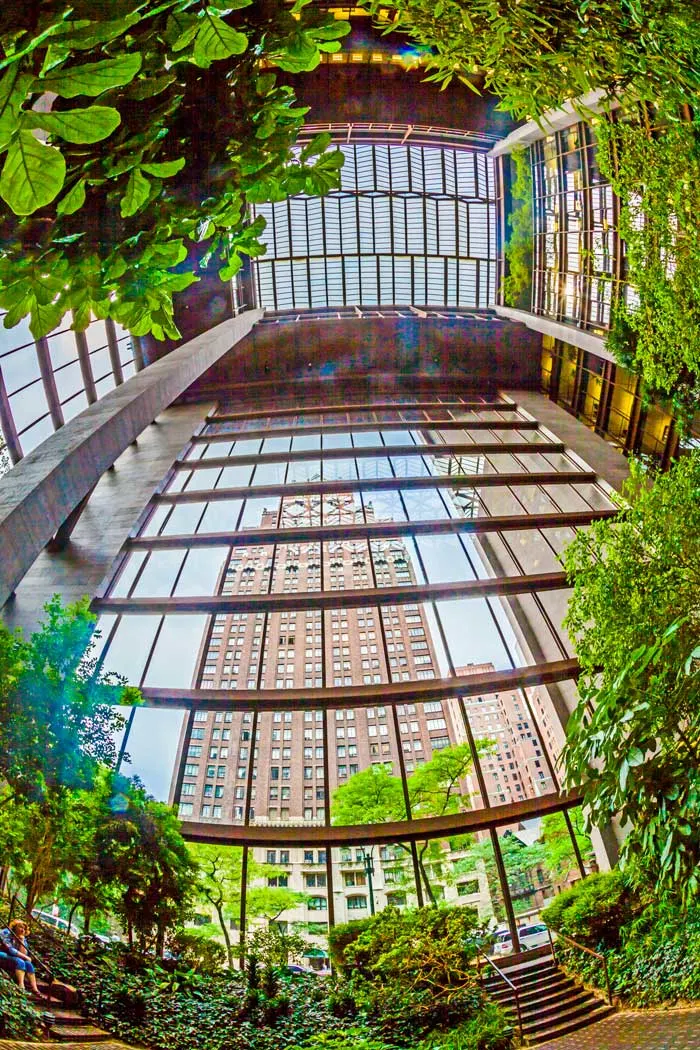 If you don't want to pack a picnic, you can grab some supplies at the Grand Central Market on the way in.
The Ford Foundation Atrium is at 320 East 43rd Street, Midtown
---
Brooklyn Bridge Park
Brooklyn Bridge Park is an 85‐acre post-industrial sustainable waterfront park stretching 1.3 miles along Brooklyn's East River. One of the most Instagrammable places in NYC, It offers some of the best views of the city and is one of the best places for a picnic in New York City.
The park has loads of facilities, including world-class dining options, a plethora of sporting facilities, beaches, lush rolling hills, and gardens. However, it is it's picnic facilities that make you want to pack a hamper and head to the waterfront.
Chill under an umbrella while cooking up a storm on the hibachi-style grills available. Make use of the sustainable salvaged wood picnic tables to enjoy your meal.
Head to Picnic Grove at the Empire Fulton Ferry to make use of the picnic tables with sweeping vistas of New York Harbor and Lower Manhattan. Or, enjoy the lush green lawns and throw a rug out to enjoy your feast on.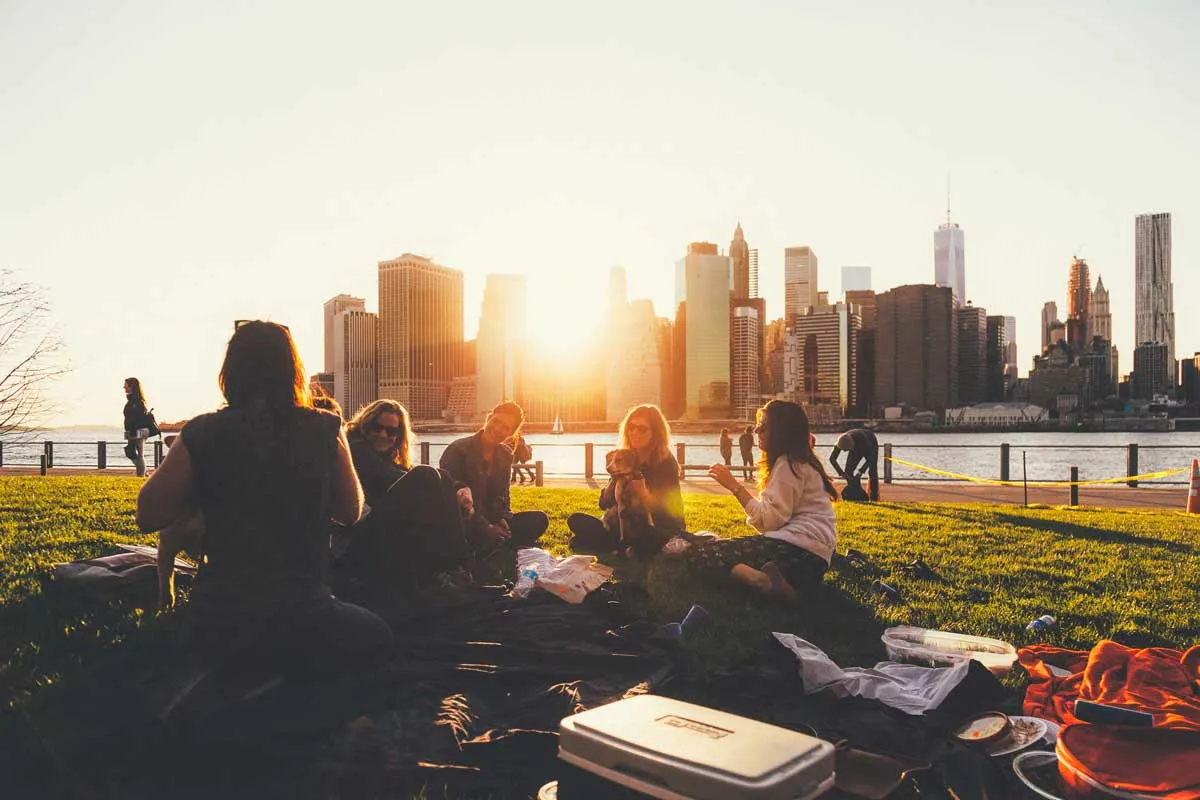 The Pier 6 picnic tables alongside the Liberty Lawn offer spectacular views of New York Harbor and the Statue of Liberty. It's also a hotspot for sunset.
Keep an eye out for seasonal events from waterfront workouts to movies with a view. See the BPB website for details.
---
Looking to Escape New York In the Summer? 5 Fantastic Places to Visit in the USA This Summer. Some of the best places to visit in summer are in New York State