Philadelphia is a beautiful city with immense American history, full of world-class museums, and a delicious food scene. There's so much to do and see, yet one of the best things to do in Philadelphia is to slow down and enjoy a relaxing picnic.
Get ready to pack up the picnic basket and find picnic spots near you in Philadelphia for every picnic style.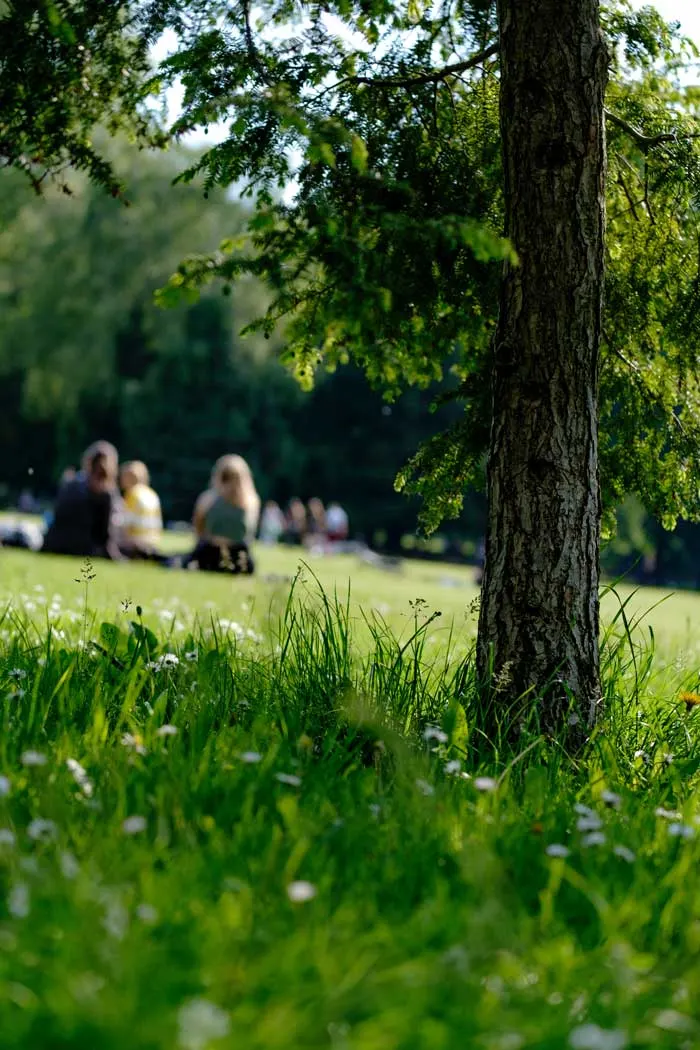 The charming city has beautiful parks and recreation spots that provide an unbeatable backdrop for a classic picnic. Here are five of the best picnic spots in Philadelphia with tips on how to make the most of an alfresco meal in the City of Brotherly Love.
6 Fabulous Places for a Picnic in Philadelphia
Schuylkill Banks
Downtown Philadelphia stretches from river to river between the Delaware to the east and Schuylkill to the west. It means you'll find gorgeous waterfront parks and views along the waterways on each side of the city center.
One of the best picnic areas along Philadelphia's Schuylkill River is a park called Schuylkill Banks. Since the early 2000s, the Schuylkill River area has been redeveloped and now matches the urban revival of the city.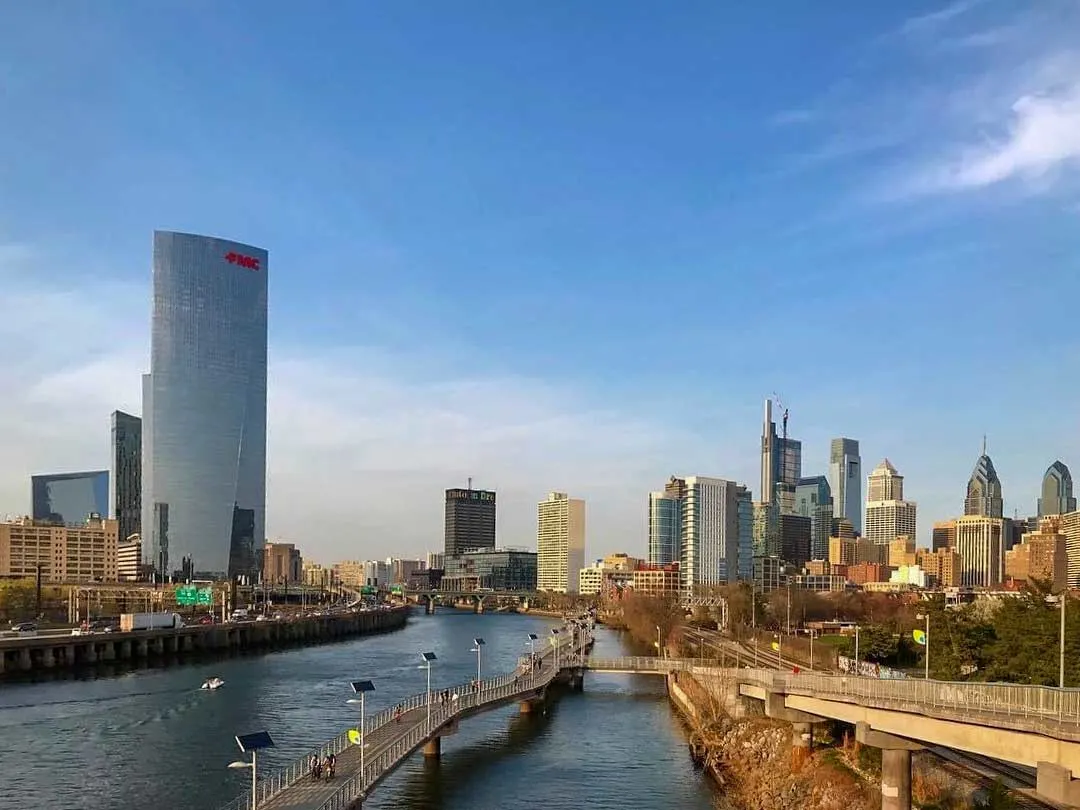 The capstone portion of the development project is the southern stretch of riverfront, which features a boardwalk trail over the river with a jogging and biking trail, picnic benches, and stunning views of the Philadelphia skyline.
While the benches over the boardwalk are a lovely spot to relax and enjoy the views, true picnickers may prefer Schuylkill River Park near the end of the boardwalk between Walnut and South Street.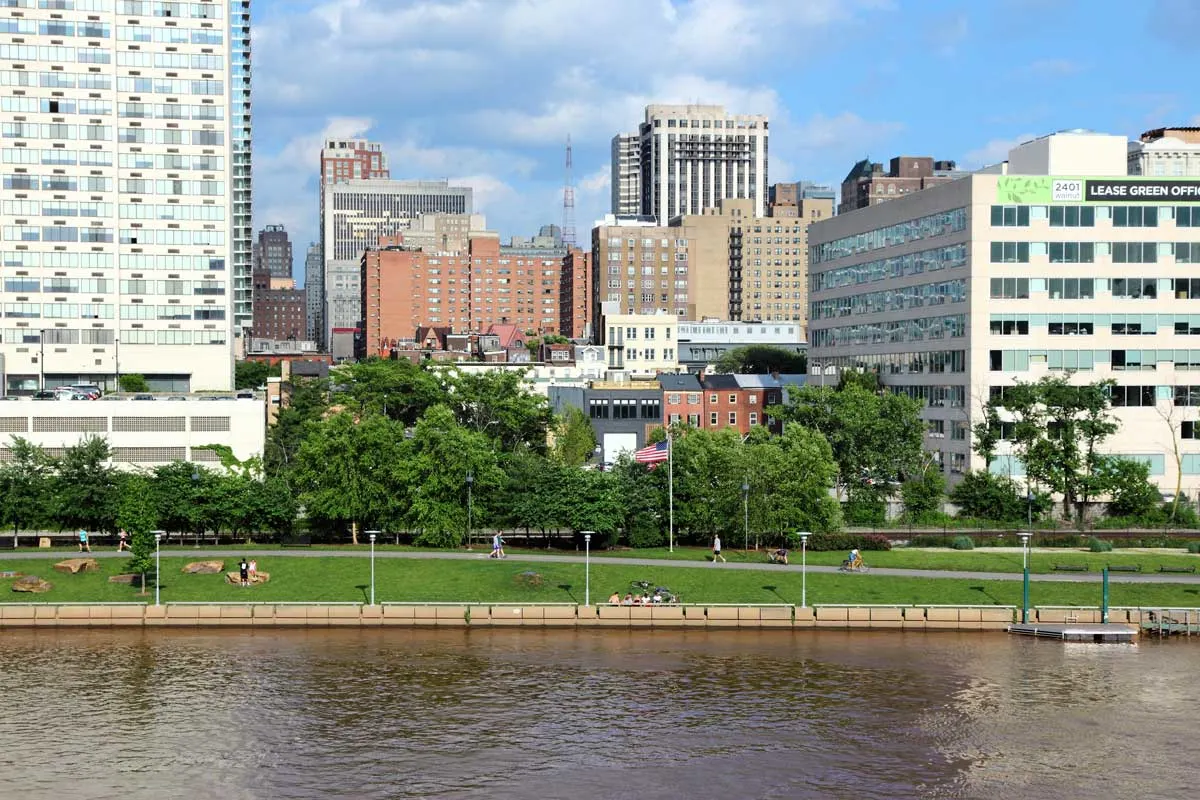 A gorgeous park area with riverfront views features the Markward playground for those enjoying the urban outdoors with their children. And for those with a four-legged picnic companion, the park is dog friendly.
The Schuylkill Banks offers a fabulous urban picnic area with great views of the city, lovely green space, and is kid and pet-friendly – It is an oasis in the city. Find out more about the Schuylkill Banks area and events here.
---
Must Have Eco-Friendly Picnic Essentials
---
Rittenhouse Square
Philadelphia is America's first planned city, which makes it easy to get around. The streets are in a grid layout, which was the intended design of the founder, William Penn. Another great feature of his city plan was the preservation of five open parks in the city's historic center.
Penn was petrified of urban fires so he designed the spaces as fire-deterrents more than recreational features. Today they are used for the latter, one of the most popular is Rittenhouse Square.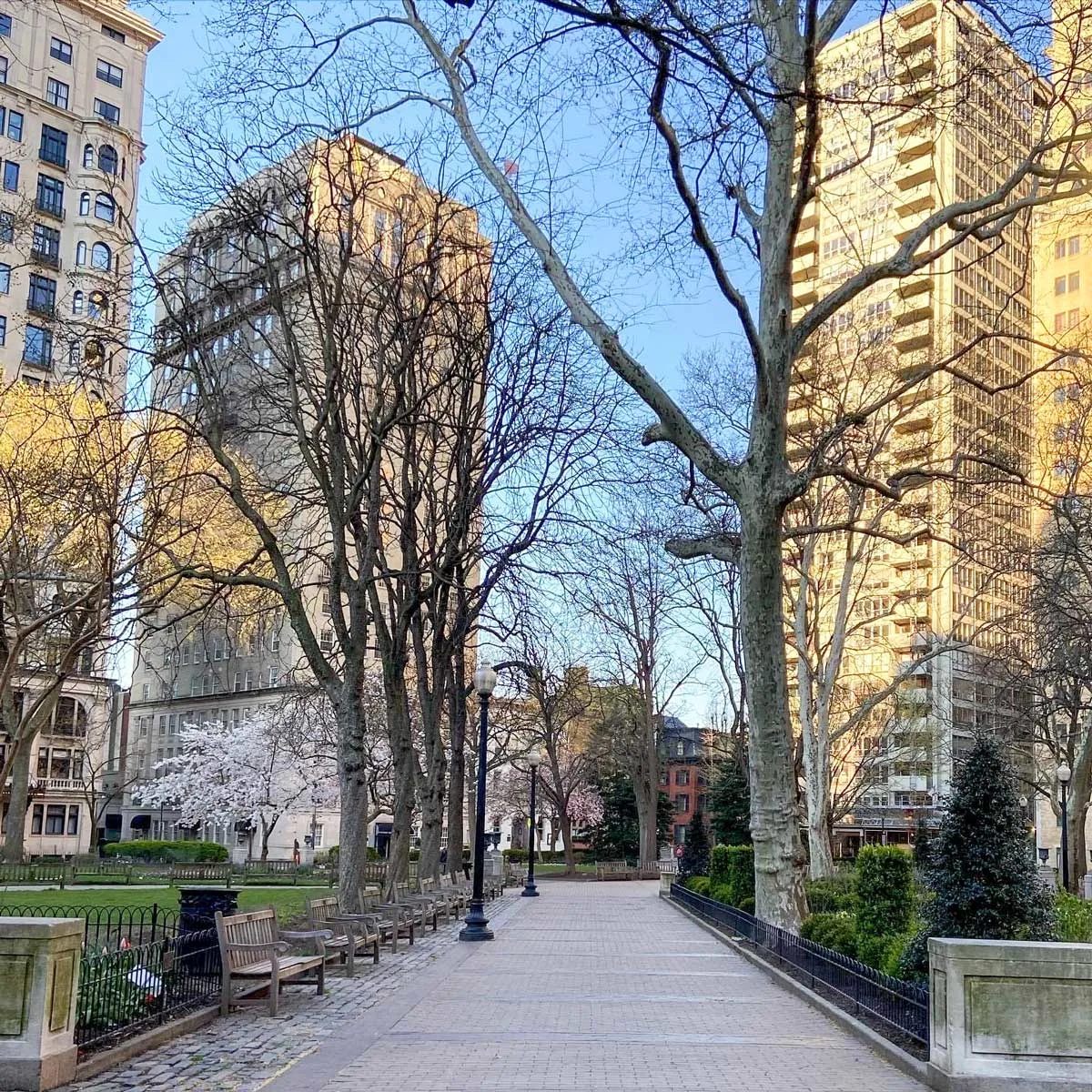 The Rittenhouse neighborhood of Philadelphia is iconic. The neighborhood and the Rittenhouse Square park have been featured in countless classic movies from Seven to Rocky.
Rittenhouse is one of America's most affluent neighborhoods. The square is lined with fine dining establishments, Nineteenth-century mansions, and five-star hotels. However, no matter your budget, anyone can enjoy a picnic on the lawns of the iconic Rittenhouse Square.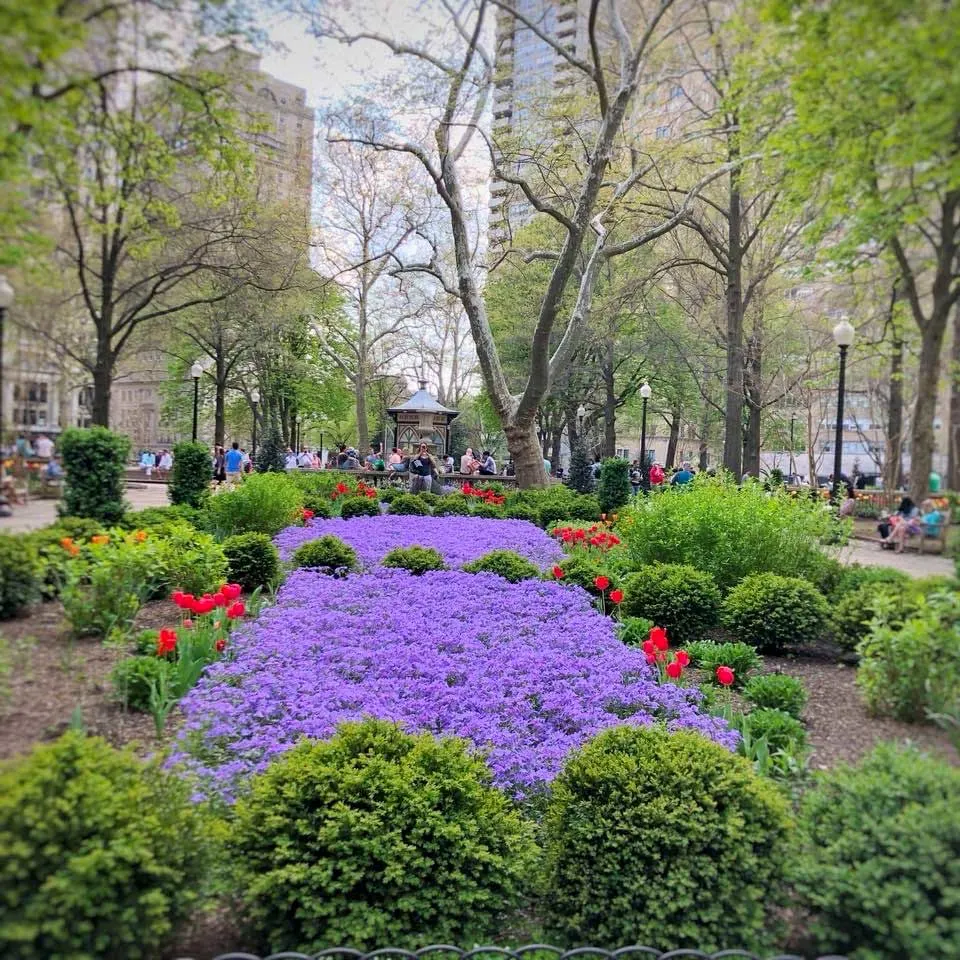 The park has lovely ribbons of walking paths, dotted with fountains and statues, which is beautifully lit in the evenings. You'll often find musicians in the park and occasional events throughout the year including seasonal light displays.
Any day of the year is perfect for a blanket and a picnic basket in the beautiful surroundings of Rittenhouse Square.
---
Lightweight Picnic Essentials For the Thrifty Picnicker
---
Eakins Oval
Another quintessential spot to picnic in Philadelphia is Eakins Oval. For years it was overlooked and underutilized as a public space.
Now, Eakins Oval has found its groove with regular events such as free fitness classes, outdoor cinema, arts and culture events, and pop-up beer gardens. Best of all, there's plenty of space for a picnic in this Philadelphia gem, even when it's in full use.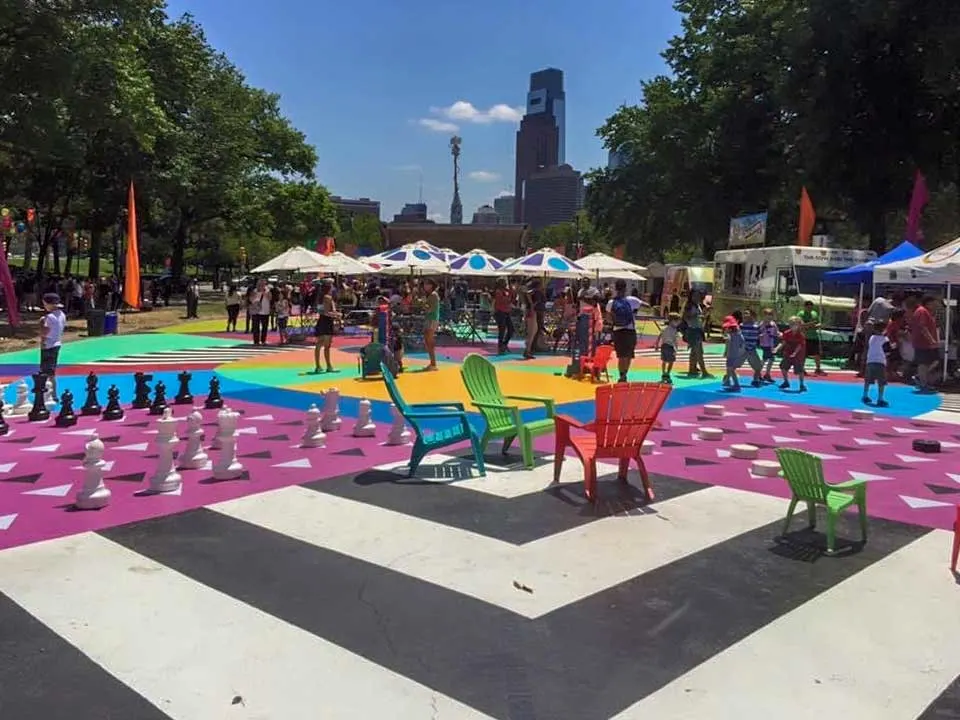 Eakins Oval is in front of the Philadelphia Museum of Art, just below the most famous steps on the east coast. When you're visiting the city and chatting with locals, avoid calling them "the Rocky steps" – that's a major Philadelphia faux pas.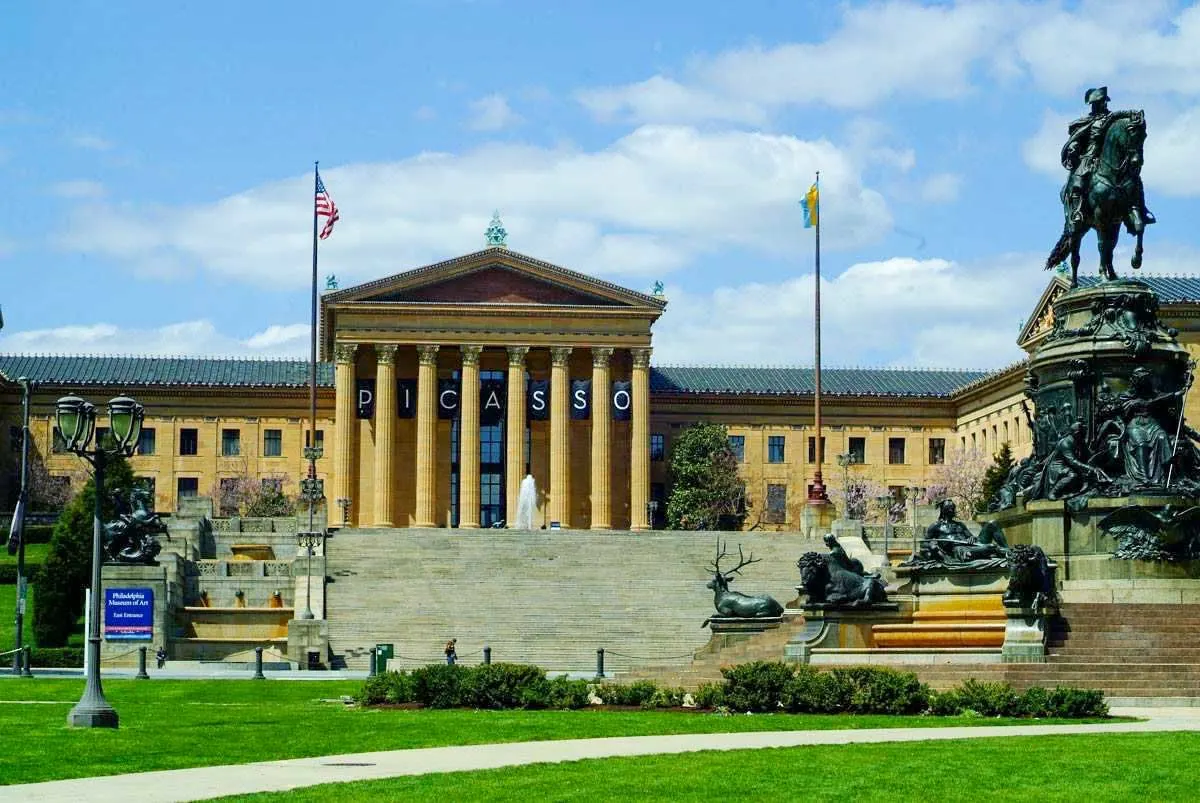 With views of the museum and the center city skyline, the site is one of the best locations in the city. It has set the stage for speeches from Pope Francis, President Obama, and even hosted Jay-Z's Made In America concerts.
The tree-lined oval with its array of walkways, fountains, and monuments sits inside of the famous Benjamin Franklin Parkway.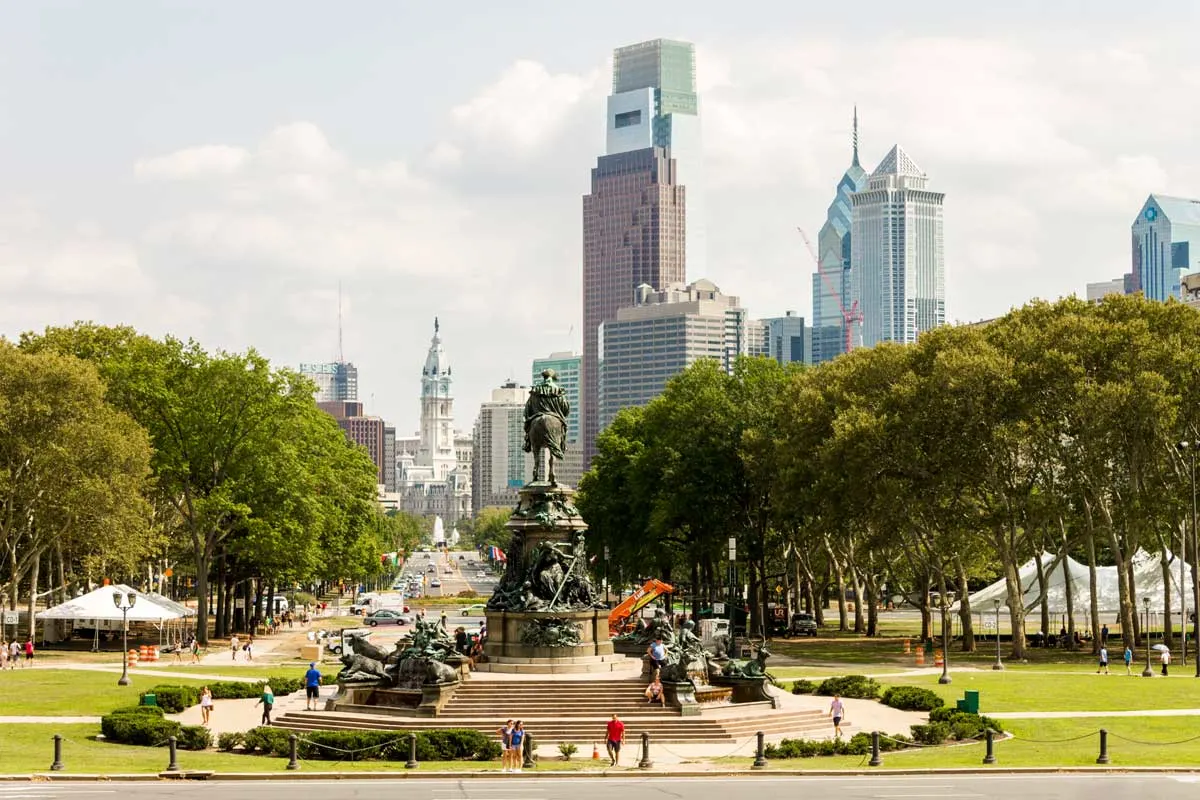 The gorgeous motorway was designed to resemble the Champs-Élysées in Paris and is one of the prettiest areas of the city.
---
Franklin Square
Another nod to Benjamin Franklin is also one of William Penn's original open squares in Philadelphia. When he laid out plans for the city in 1682, he probably never envisaged this brilliant park adjacent to Chinatown with a classic carousel and bustling atmosphere.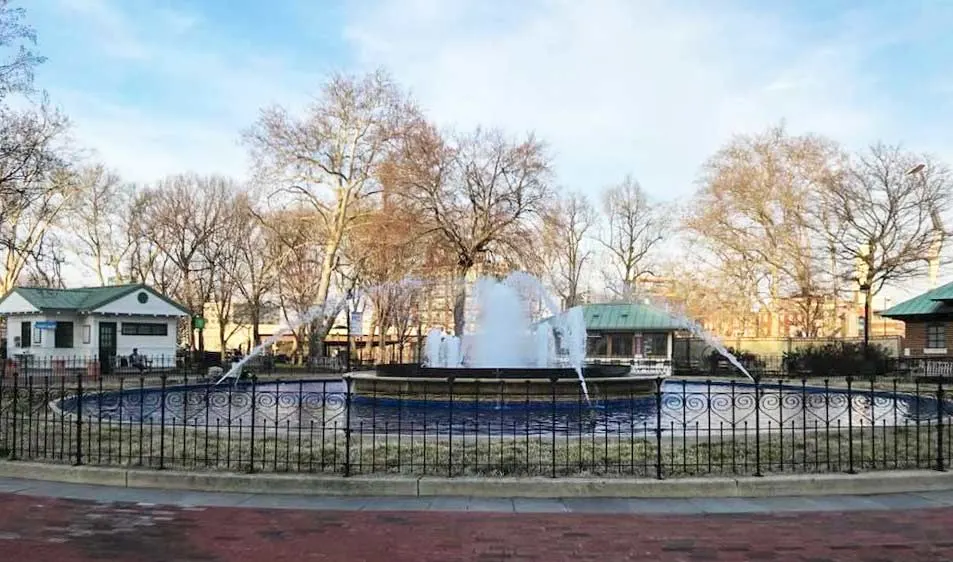 For years, this area of the city was considered seedy, and the park was terribly neglected. In the early 2000s, when Philadelphia experienced a downtown revival, included was a massive redevelopment project to restore Franklin Square.
Perhaps because it was ignored for decades, the fountain in Franklin Park is the oldest remaining fountain of William Penn's original five city parks. It dates back to 1838 and flows with water from the Schuylkill River.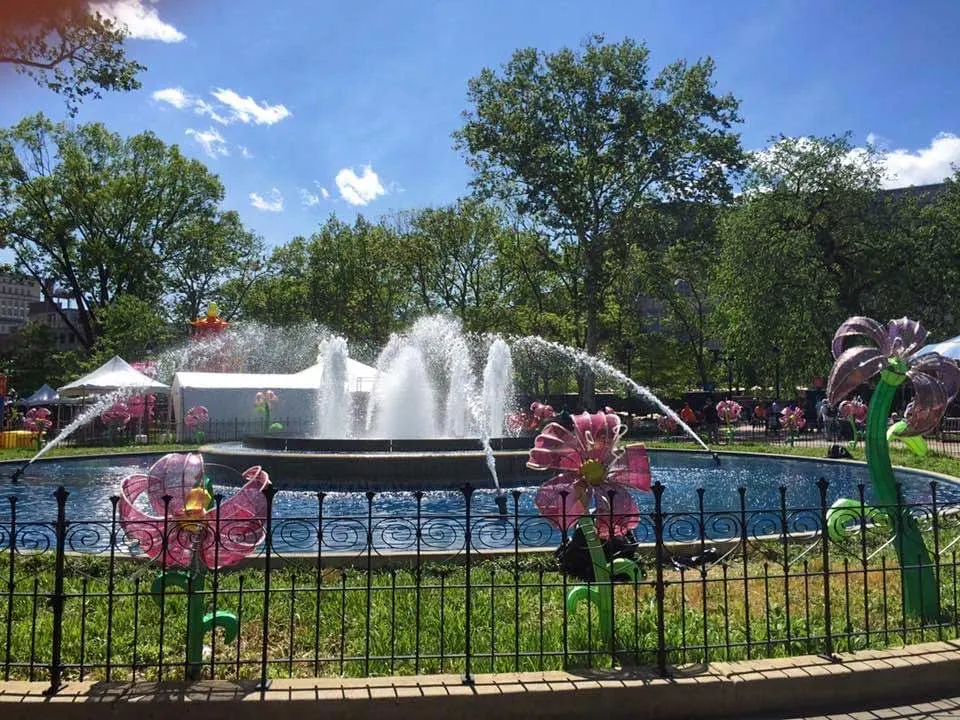 A popular green space and picnic spot for both locals and tourists, you'll often find food trucks, street performers, and musicians in the square. It's also an excellent park for a picnic lunch with the kids as there are the gorgeous carousel and a miniature golf course.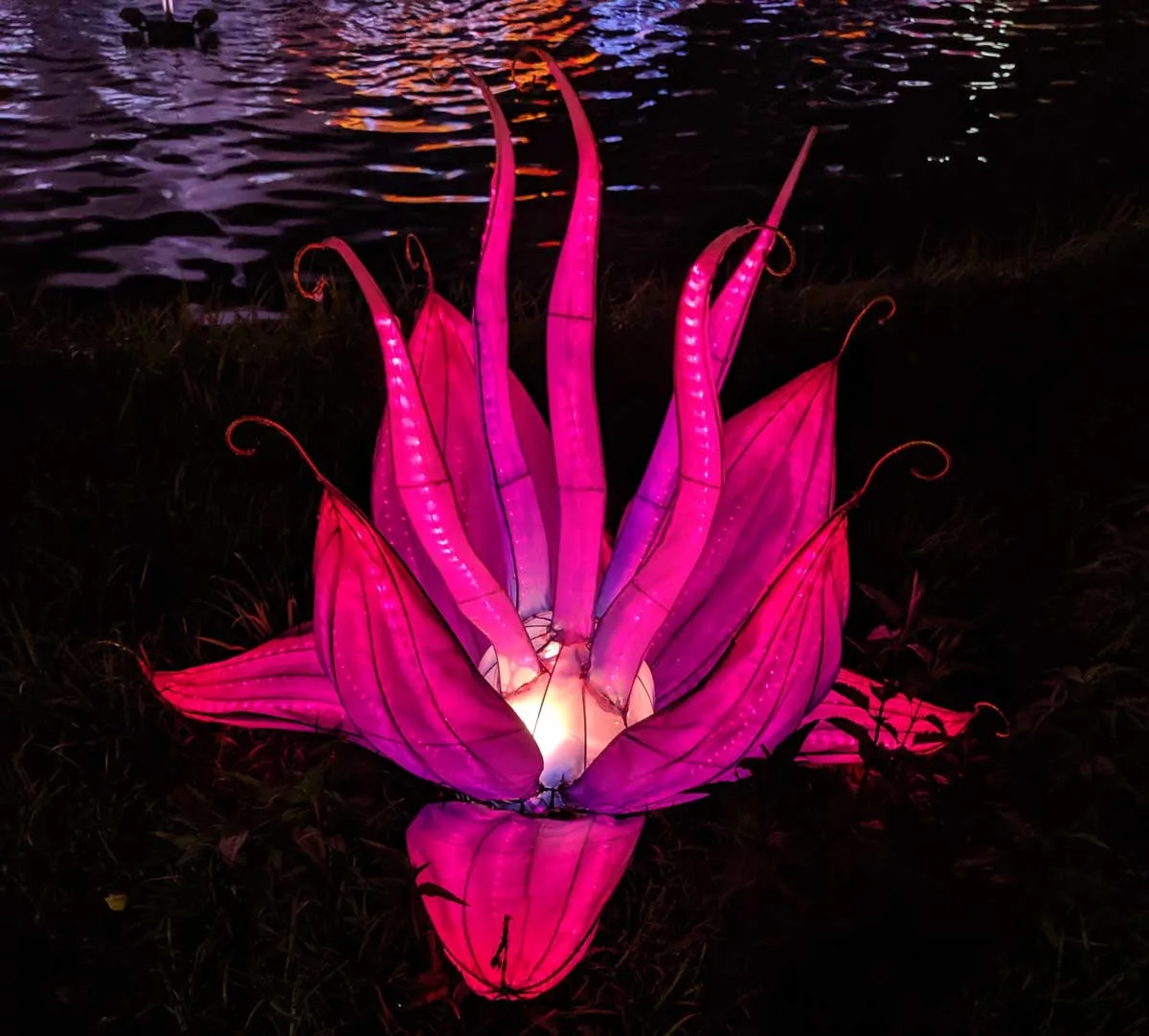 Franklin Park also hosts the annual Philadelphia Chinese Festival. The park is decorated with Chinese lanterns and lighting effects.
---
Race Street Pier and the Delaware River Waterfront
On Philadelphia's other waterfront, you'll find sweeping views of the Ben Franklin Bridge and Camden, New Jersey, across the Delaware River. Naturally, there are excellent picnic spots all along the Delaware River, one of them is on Race Street Pier.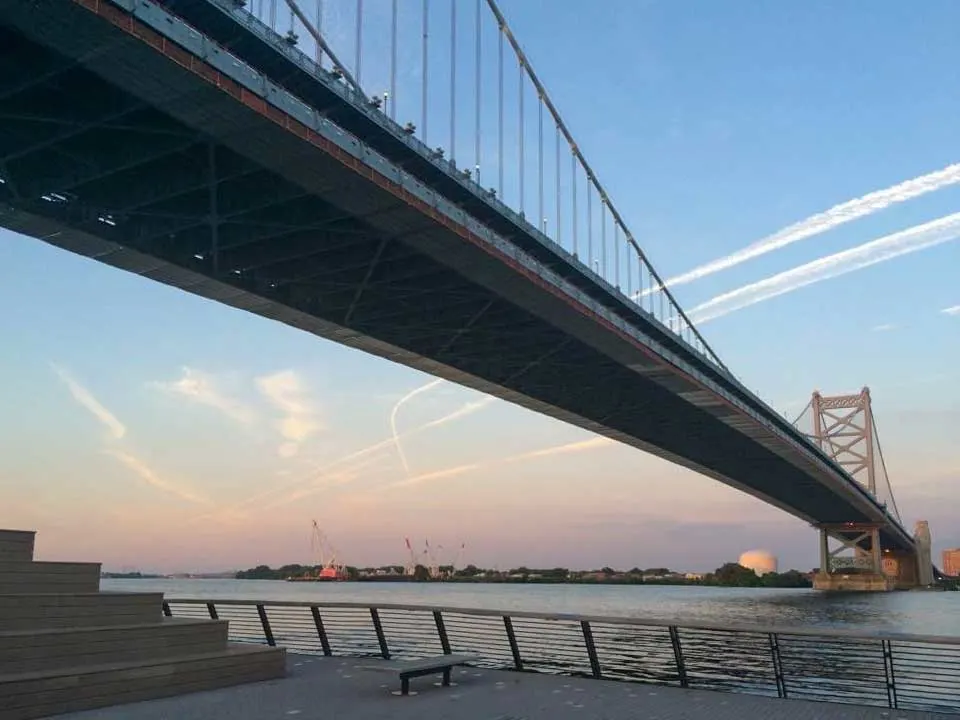 Race Street Pier is a popular spot for joggers and summer sunbathers. It is also a popular location for couples to have their engagement photos taken, and of course, picnic lovers.
It's also another popular dog-friendly picnic spot in the city. It's surprisingly large and a unique place in the city, which is currently expanding and developing the Delaware waterfront area.
If you picnic in the park and don't want to DIY your alfresco feast, you won't have to walk far to find street food trucks and other food vendors.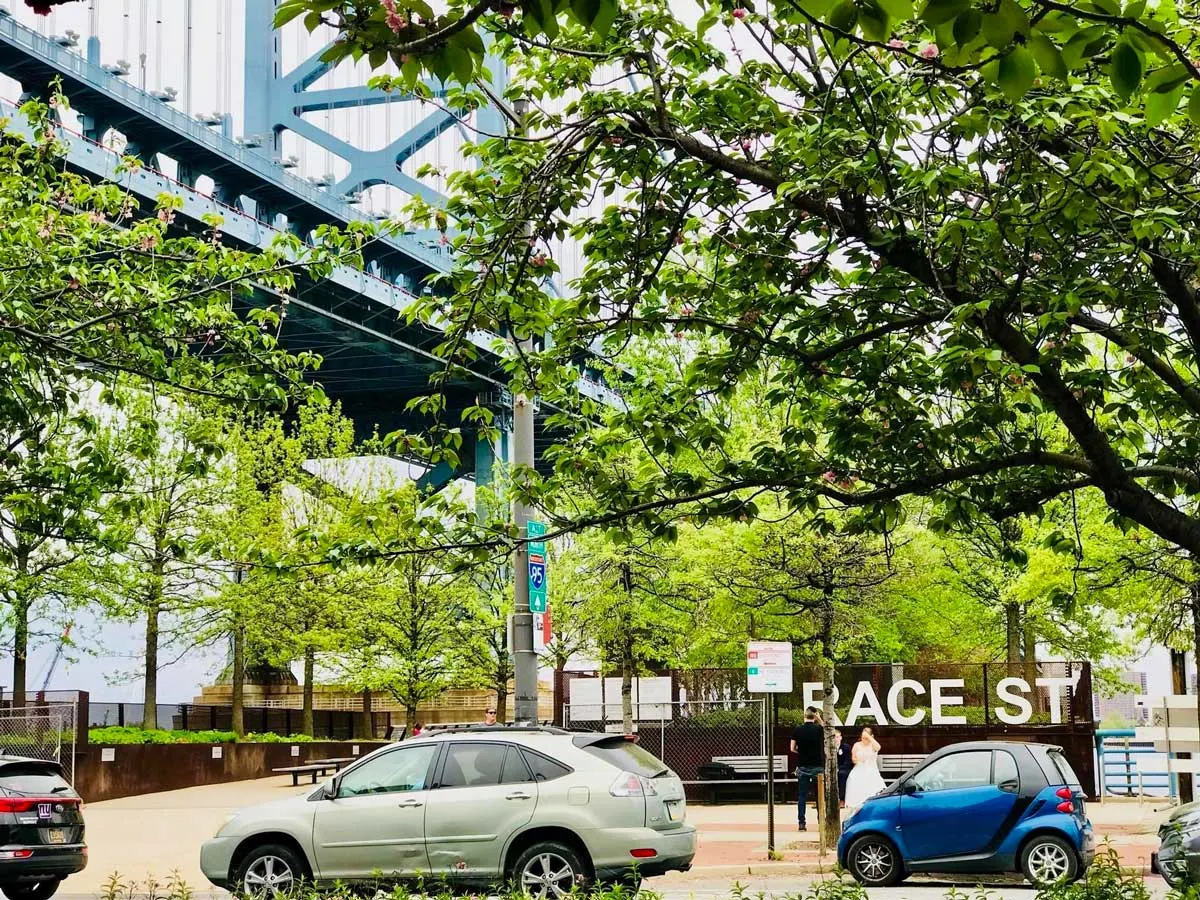 If you're in the mood to extend your picnic day, Spruce Street Harbor Park is only a few blocks away. It started as a pop-up beer garden and has expanded year after year to become a seasonal staple in Philadelphia. It features semi-permanent street food stalls, music, beer stands, and entertainment.
It's also a great place to sample several of Philadelphia's popular restaurants and locally famous food venues, It is also close to some of Philidelphia's best vegan restaurants for both dine-in or grab and go picnic fare. You should make a point to try Federal Donuts, Chickie's and Pete's and Franklin Fountain Ice Cream.
Now You Know Where to Enjoy a Picnic in Philadelphia
Philadelphia is a beautiful city to experience. It's full of history, museums, art, and delicious foods. Wherever you choose for your picnic in the city, you won't be disappointed.
The city center is beautiful from river to river, full of parks and green spaces to create the perfect picnic.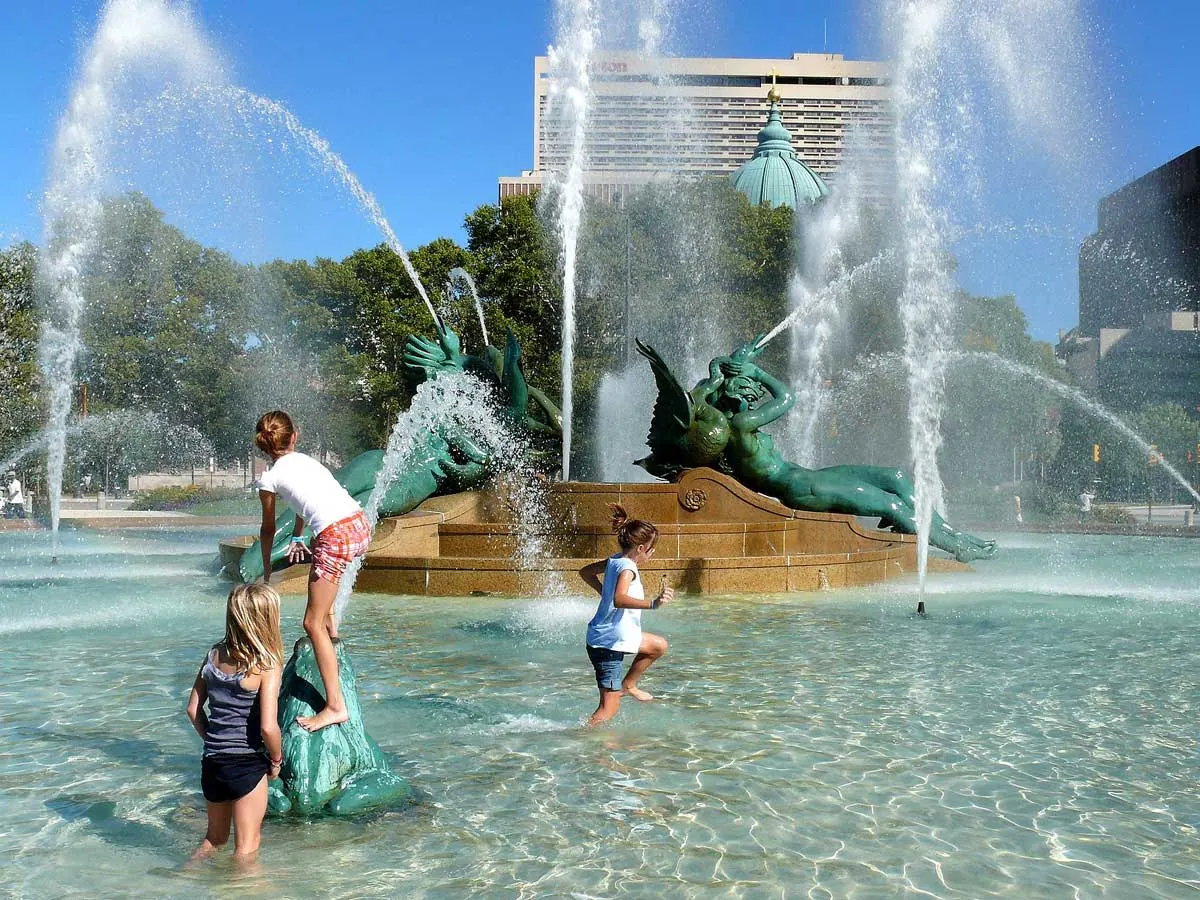 Penn Treaty Park
Said to be the location where Pennsylvania founder William Penn signed the peace treaty with the Lenape tribe under an elm tree in 1683.
Penn Treaty Park was officially opened in 1894, albeit without the elm tree lost in a storm more than 80 years earlier.
Today, Penn Treaty Park is one of the best parks in Philly for a picnic. People are greeted at the 7-acre waterfront park by a statue of the founding father, William Penn. Enjoy the cool breezes off the Delaware and a constant parade of sailboats and ships. The park has a small selection of shady picnic tables with a children's playground and loads of grassy space to throw down a picnic blanket.
The park also hosts special events throughout the year.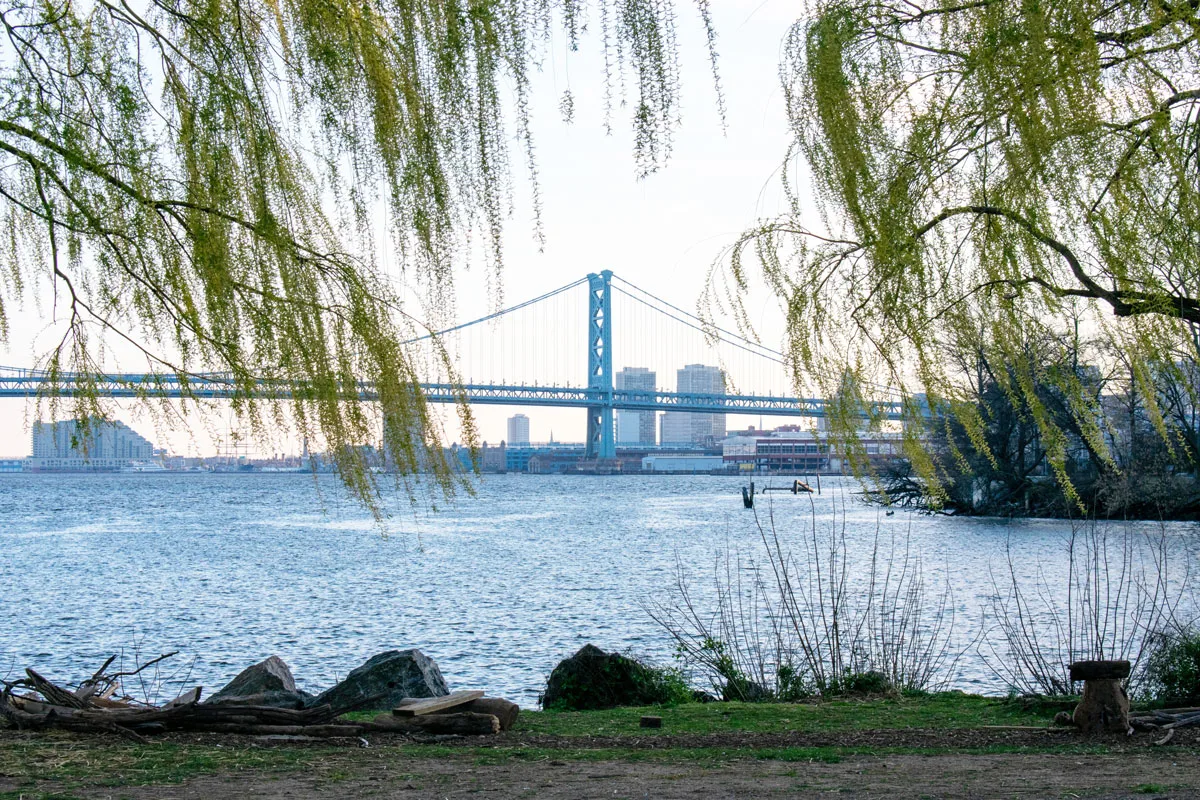 The Best Picnic Day Trips From Philadelphia
While these are some of the best locations to enjoy a picnic in Philadelphia City, there are plenty of day trips from Philadelphia perfect for picnicking.
Take a drive into the Pocono Mountains and picnic in some of Pennsylvania's enchanting state parks. Visit Bushkill Falls or Ricketts Glen State Park to hike the scenic trails to some tranquil picnic spots in the woods.
If you're interested in a historic picnic, drive to Valley Forge Park or Gettysburg National Military Park for a picnic with some American history. All of these destinations offer more to explore within a two-hour drive from downtown Philadelphia.
---
Want a Picnic Day Trip a Little Further Afield? At only an hour and a half by car or a little over an hour by train, take a picnic day trip to the Big Apple to discover some of the best picnic spots in NYC.
---