The third-largest city in Spain behind Barcelona and ahead of Seville, Valencia offers a kaleidoscope of authentic Spanish experiences and laid back Mediterranean lifestyle.
From the historic Old Town and splendid UNESCO-listed medieval buildings to ultra-modern world-class attractions. Then, there is the culture and, of course, the famous cuisine. – Paella, anyone?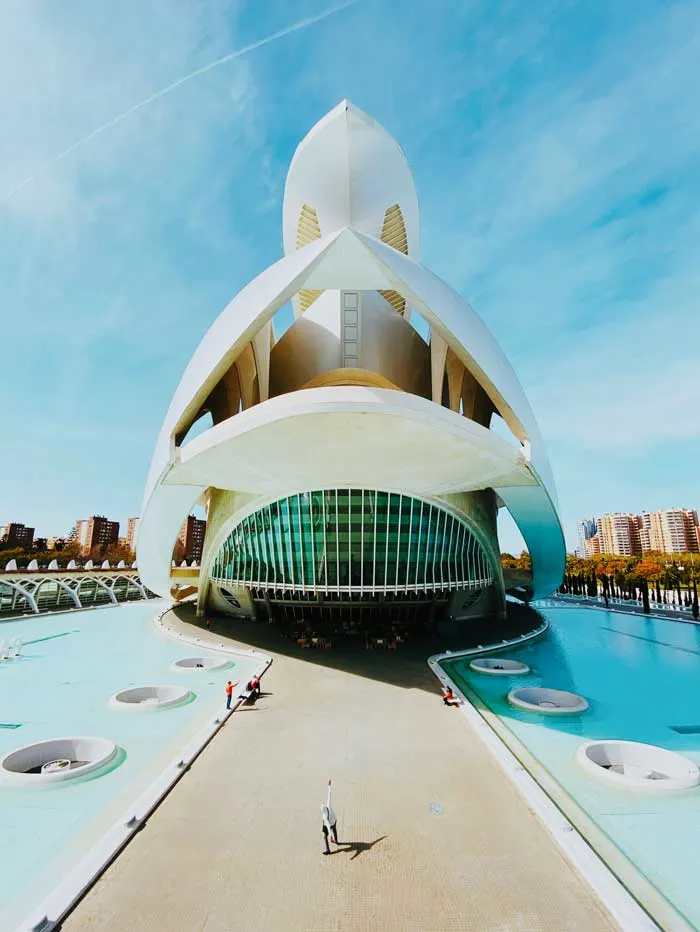 Whether it's beaches, history, modern architecture, culture, or gastronomy, Valencia has you covered with plenty of things to do and see.
Valencia Travel: City Guide
How to get to Valencia
It's simple to travel to Valencia no matter where you're coming from on your Spain itinerary or even from outside Spain. There are domestic and inter EU trains and busses, international flights, even ferries. Choose the best option according to the available time, where you are coming from, and your desired mode of travel.
Plane
Manises Airport is only 8 km from central Valencia, connected to the city by metro and bus networks. There are regular domestic and international flights. However, if flying into Valencia from outside of Europe, you may need to fly into a major hub such as Barcelona. It is then simple to get from Barcelona to Valencia.
Train
Getting to Valencia from other big cities in Spain is often easiest by train. For example, from Madrid to Valencia takes around 1.45 hrs making it an easy day trip from Madrid. The city has two main train stations: Estación del Norte for local operators and Joaquín Sorolla for AVE high-speed rail services.
Add the Spanish capital to your itinerary with our Three Day Madrid Itinerary.
Ferry
The port in Valencia is an important commercial port in the Mediterranean. It's becoming increasingly busier for its passenger services from the Balearic Islands and Italy. Ferries are an especially good option for travelling to the islands such as Ibiza or Palma Mallorca.
Search Ferry Timetables and Fares to and From Valencia Here
Car
With Valencia's modern motorway and road network, getting into the city by car is a breeze. I recommend using Discover Cars – They have the best deals on local rental cars, but also free cancellation and no fees. Having a car also opens up the possibility for day trips from Valencia.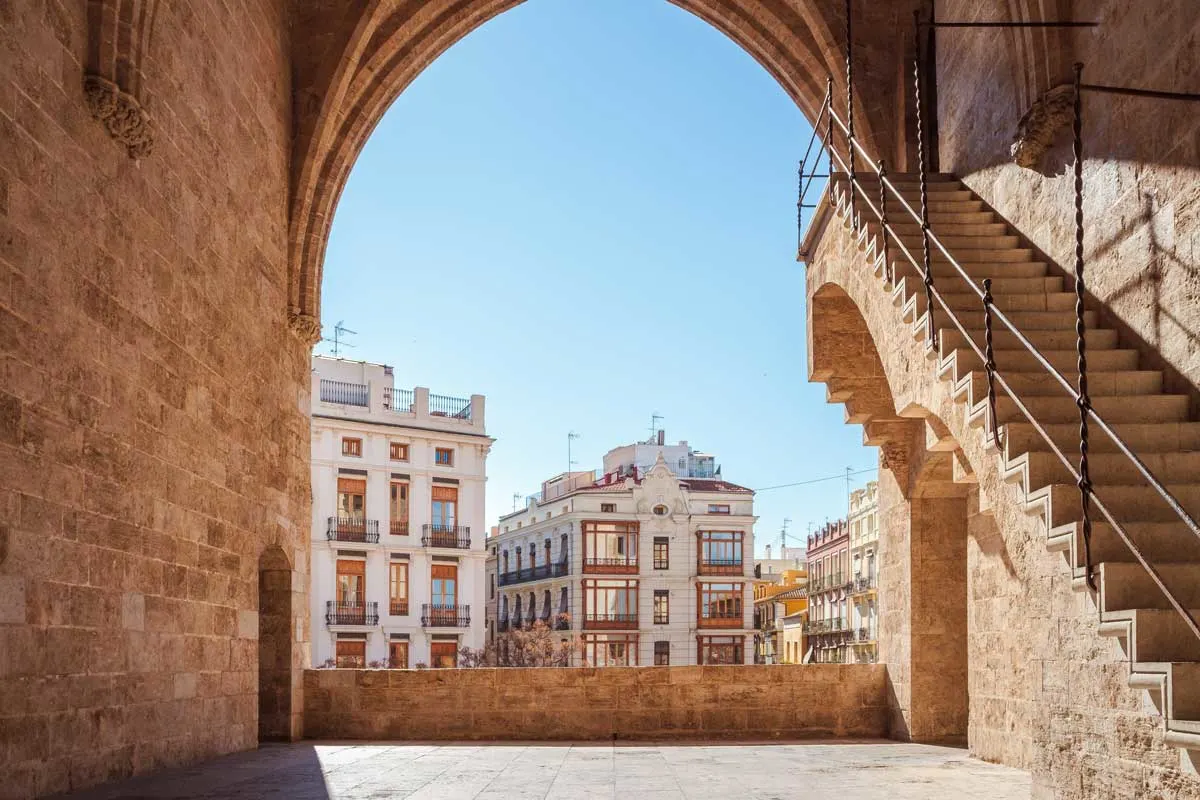 ---
Stay Safe While Travelling in Europe: The Best Travel Safety Tips & Anti Theft Travel Guides
---
Valencia Guide to Getting Around
Valencia's top attractions, the beach and port are pretty spread out. Valencia old town is easy to explore by foot, but you'll probably need to jump on a bus, metro or tram at some point to explore other areas.
Public Transport
There is an extensive metro, bus and tram network covering almost every inch of the city. The underground is the quickest and easiest way to get around, especially to museums and attractions.
VLC Tourist Card
Whether you're in Valencia for a day or a week, the VLC Tourist Card is a smart choice. The card can be purchased for 24, 48 or 72 hours. It gives you unlimited free access to all public transport networks.
The card also gives you discounted entry to famous monuments and museums such as the Silk Exchange and Fallas Museum. It's the best value for money way to get around and see most of Valencia's attractions.
Renting a Bicycle
Valencia is a largely flat city with perpetually beautiful weather and dedicated bike lanes which makes it perfect to explore by bicycle. There are public rental bike stations all over the city. All you need to do is purchase a temporary pass.
Alternatively, you can rent a bicycle from a private company or take a 3 hour a bike tour to discover the highlights of Valencia with an experienced guide.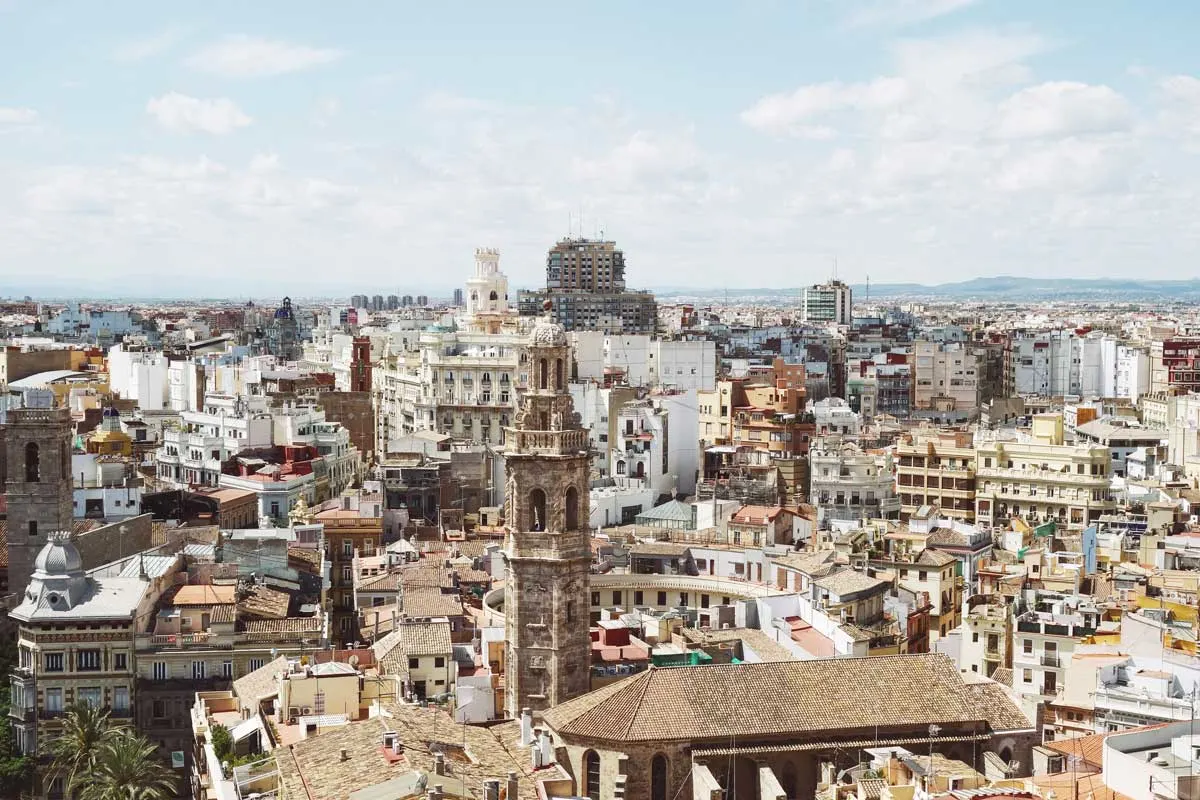 Best Time to Visit Valencia
Valencia has a fantastic climate and is pleasant throughout the year. With an average of 300 days of sunshine a year, it is a great European winter escape.
It's particularly quiet during the winter months, which is excellent. The downside is many attractions have reduced hours and there won't be as many events or other things going on.
The best time to visit the city is in April and May. The weather is warm, the days longer, and the summer vibe is starting to pick up. Best of all, you be just ahead of the throng of peak season crowds.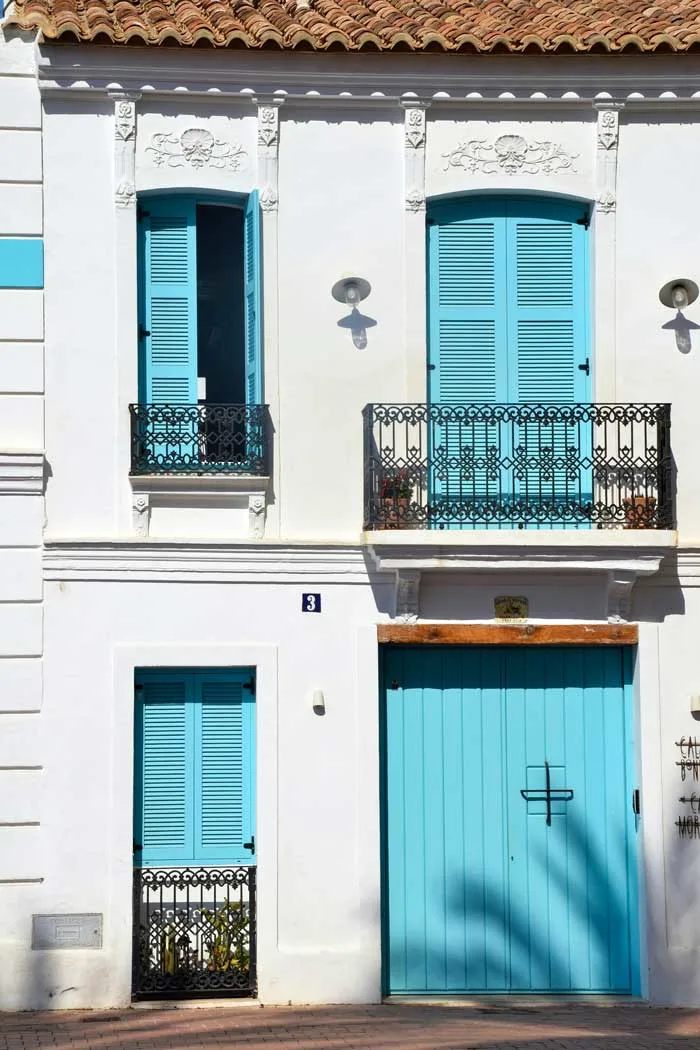 ---
You Might Also Like: The Best Time to Travel to Europe
---
Top 5 Things to do in Valencia
From basking in the sun at one of the many beaches to exploring famous attractions – there are plenty of things to do in Valencia. Pack your travel beach towel and gear up for a fabulous time in Valencia.
Here are my top 5 Valencia travel recommendations.
Discover the City of the Arts and Sciences
One of the best things to do with kids, but also a must-see attraction in Valencia for visitors of all ages. The futuristic 'city' – a culture and science playground took almost ten years to build. Expect fascinating sights such as buildings shaped like eyes and fun interactive science experiences.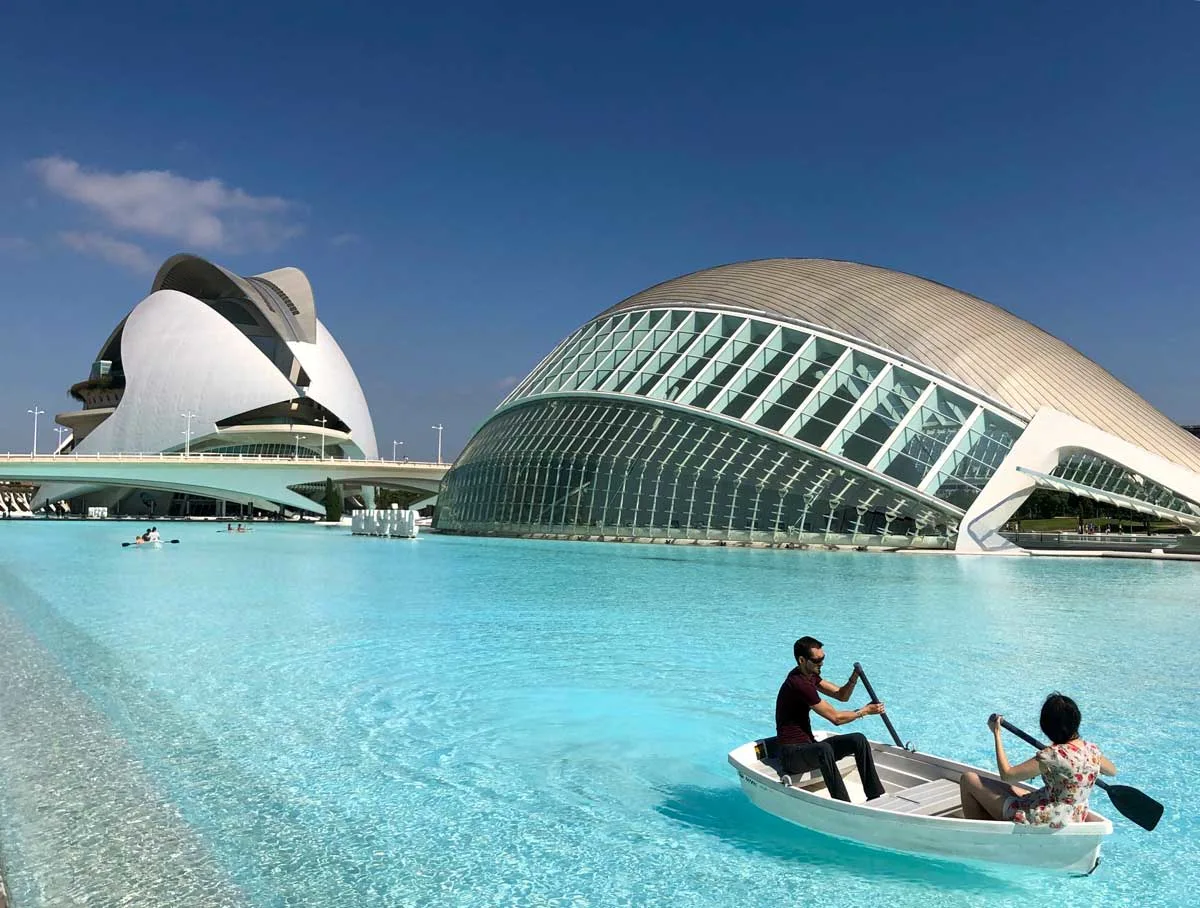 There is so much to do; you could spend a whole day. Explore the wonders of space at the planetarium and IMAX theatre. Or take a walk through L'Umbracle, a spectacular garden of sculptures and native plant species.
The star of the show is L'Oceanogràfic, an unbelievably impressive aquarium. One of the largest aquariums in the world, the massive and enchanting oceanarium is designed to immerse visitors in the magic of the ocean.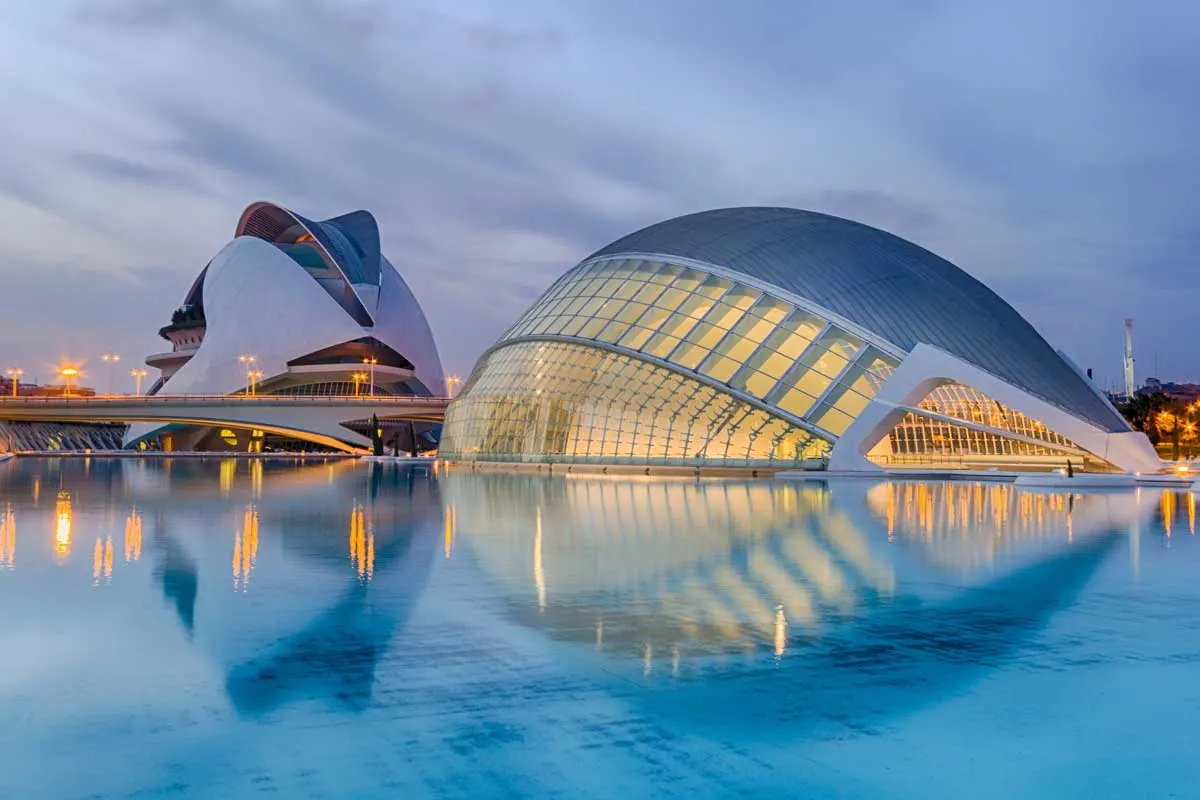 Check Out Valencia Cathedral
The Catedral de Santa Maria is an iconic Valencian attraction as is the Plaza de la Virgen outside. The gorgeous Gothic cathedral is home to famous religious icons and works of art.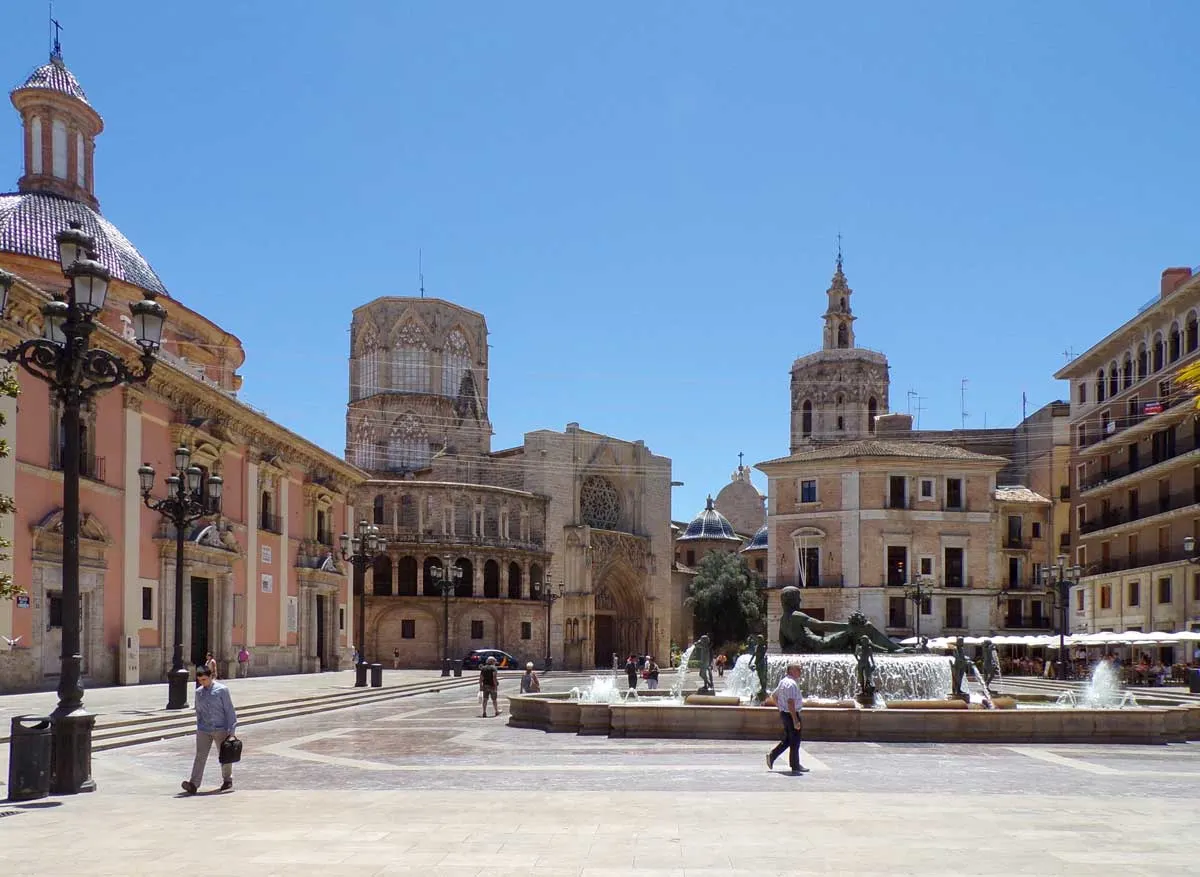 One of the most famous pieces on display in the cathedral is the Holy Grail, the chalice Jesus is said to have drunk from at the Last Supper. You can check out the adorned cup at the Chapel of the Holy Chalice and decide for yourself if it's the real deal.
Lovers of art should not miss the two Goya paintings hanging in the San Francisco de Borja chapel. But the real gem of the Cathedral is the bell tower El Miguelete which you can climb for stunning views over Valencia.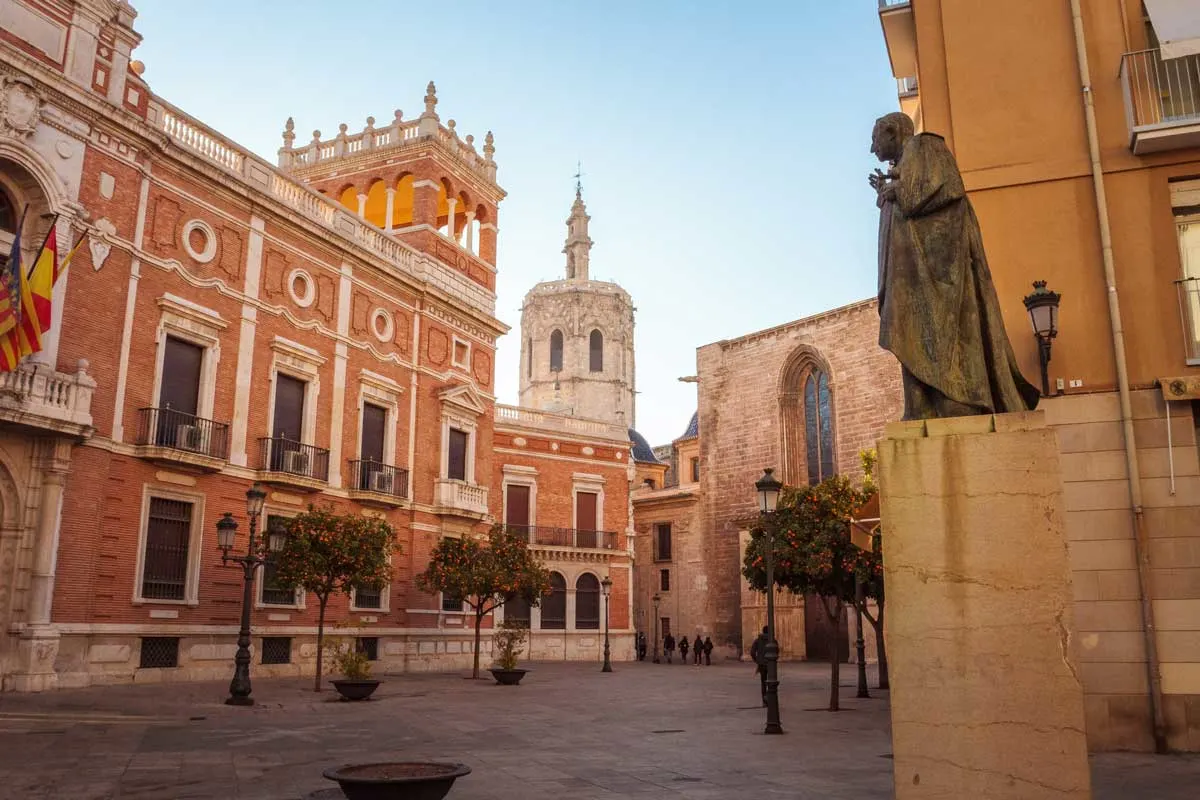 Peruse the Central Market
Take a peek into the life of locals while treating yourself to Spanish delicacies. The central market is a famous Valencian attraction and a great place to discover authentic Valencian cuisine.
There are hundreds of stalls bursting with delicious, fresh, and sometimes unfamiliar, food. Foodies will delight in the smorgasbord of fresh produce and enticing treats in the lively marketplace.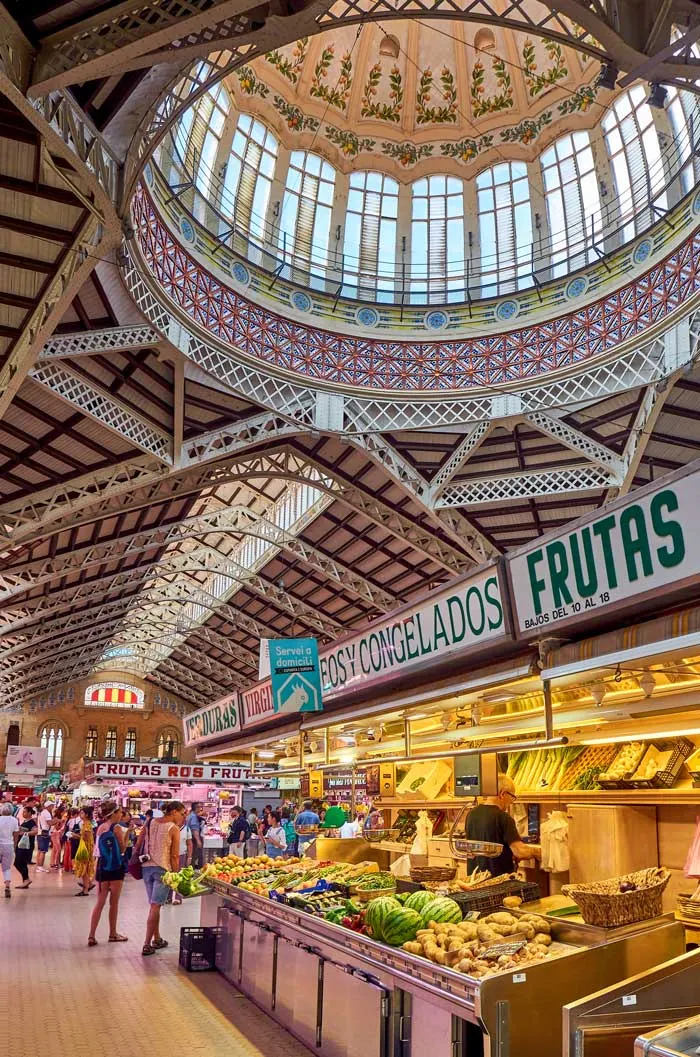 Surrounding the perimeter of the art nouveau building you will find traditional shops, bars and cafes. Once you've had your fill of food, a stroll around the area, soaking up the atmosphere, is a pleasant way to spend a few hours.
Take the 2.5 hr Old Town Walking Tour which includes a guided tour of the Central Market with food tasting to get your culinary bearings.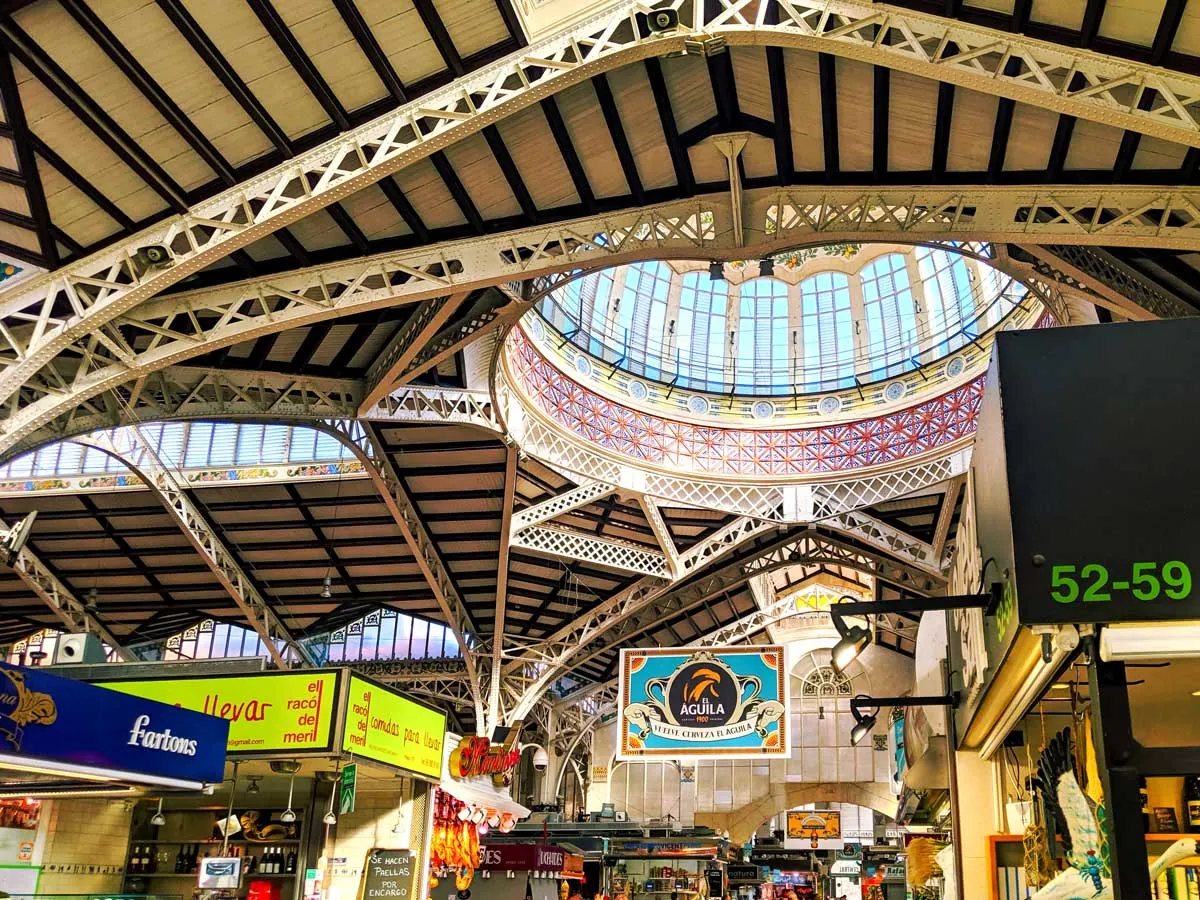 Visit La Lonja de la Seda (Silk Exchange)
A UNESCO World Heritage Site, the medieval silk market was a grand display of wealth during the silk trade and is an important Valencia tourism site today.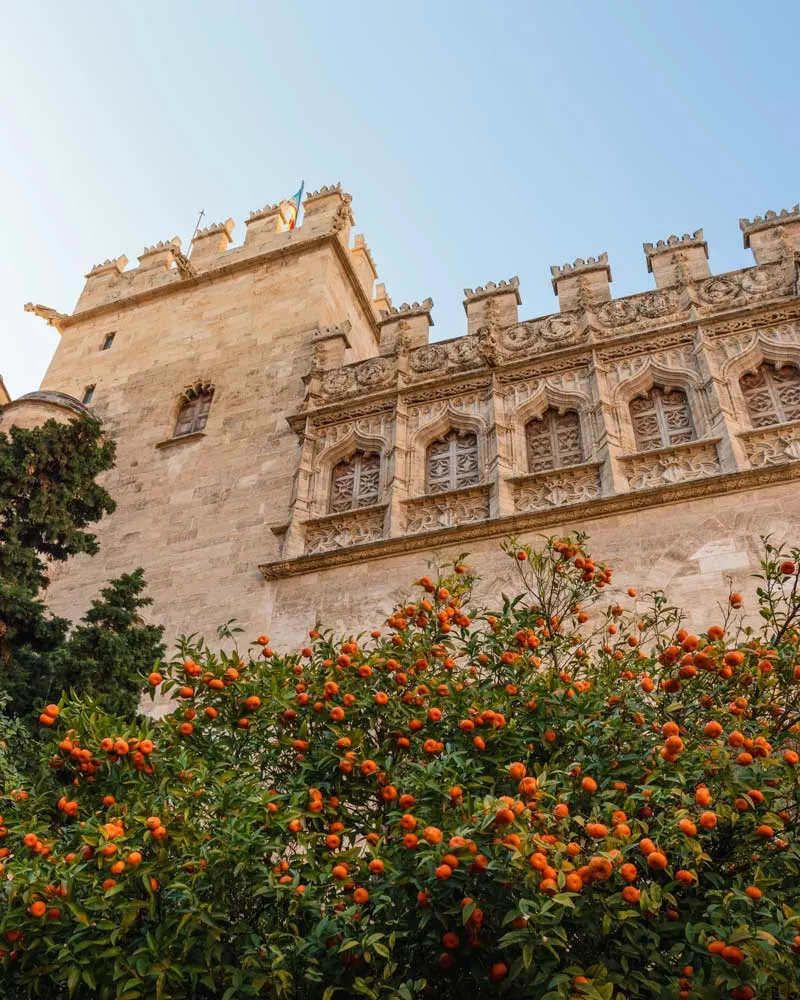 The elaborate Gothic building is famous for being one of the only non-religious buildings in this style. You can explore the opulent interior of the 16th-century market, including the main hall with its impressive sky-high columns and the peaceful courtyard filled with fragrant orange trees.
As Valencia was built on the silk trade, La Lonja de la Seda is an important site to the city and an unmissable attraction in Valencia.
Feast on Paella
One of Spain's most cherished exports, Paella, originated in Valencia. The famous dish gets its name from the large pan it is cooked and served in. All the ingredients are local, including the rice and saffron, grown on the outskirts of the city.
Unbeknown to many tourists, traditionally, Paella was not a seafood dish. It is made with chicken and rabbit. However, a lot of restaurants use pork instead of the rabbit as some tourists can be fussy about it.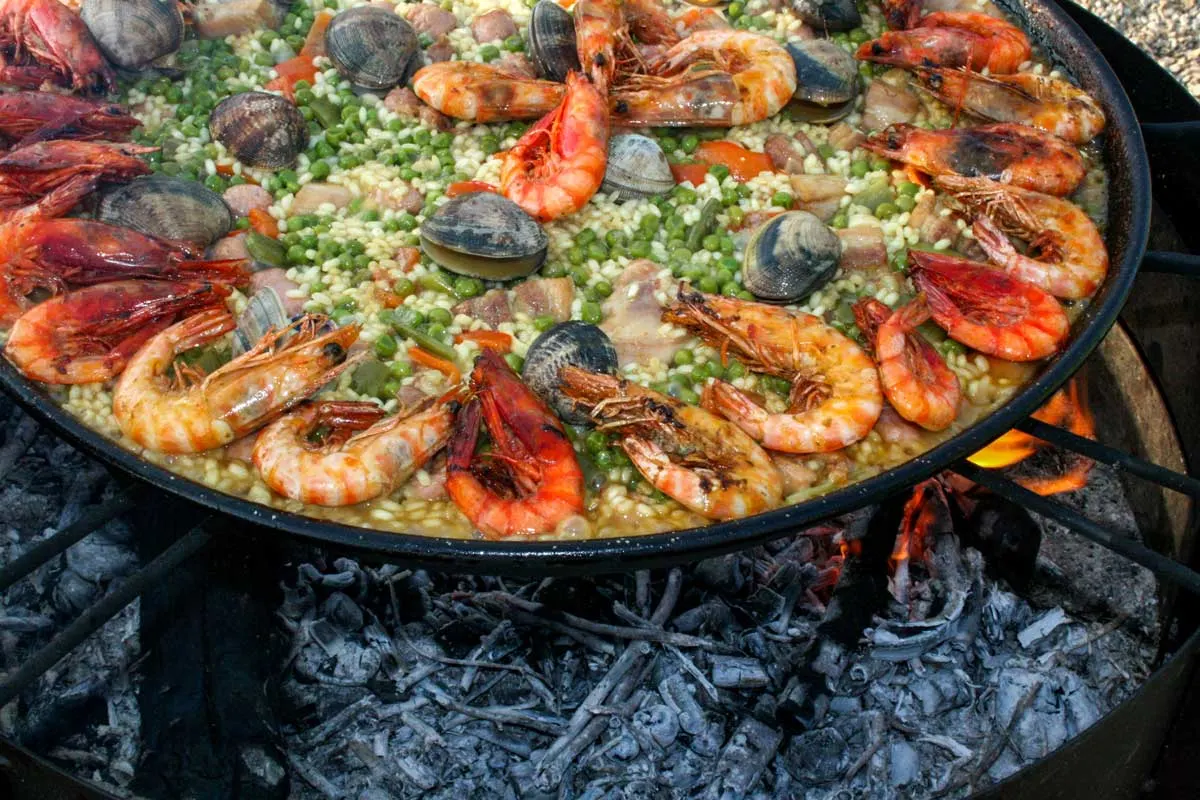 You can indulge in five variants of Paella, including traditional or seafood. Either way, Valencia is the best place to feast on this delicious dish. Try to avoid tourist traps and eat where the locals eat. Malvarrosa has a lot of local hideouts, serving some of the best authentic food.
Once the rice dish has hooked you, learn how to cook an authentic Valencian paella in a typical Valencian farmhouse with a paella cooking class. Learning how to make a local dish is one of the best souvenirs you can take home from Valencia, and maybe a paella pan.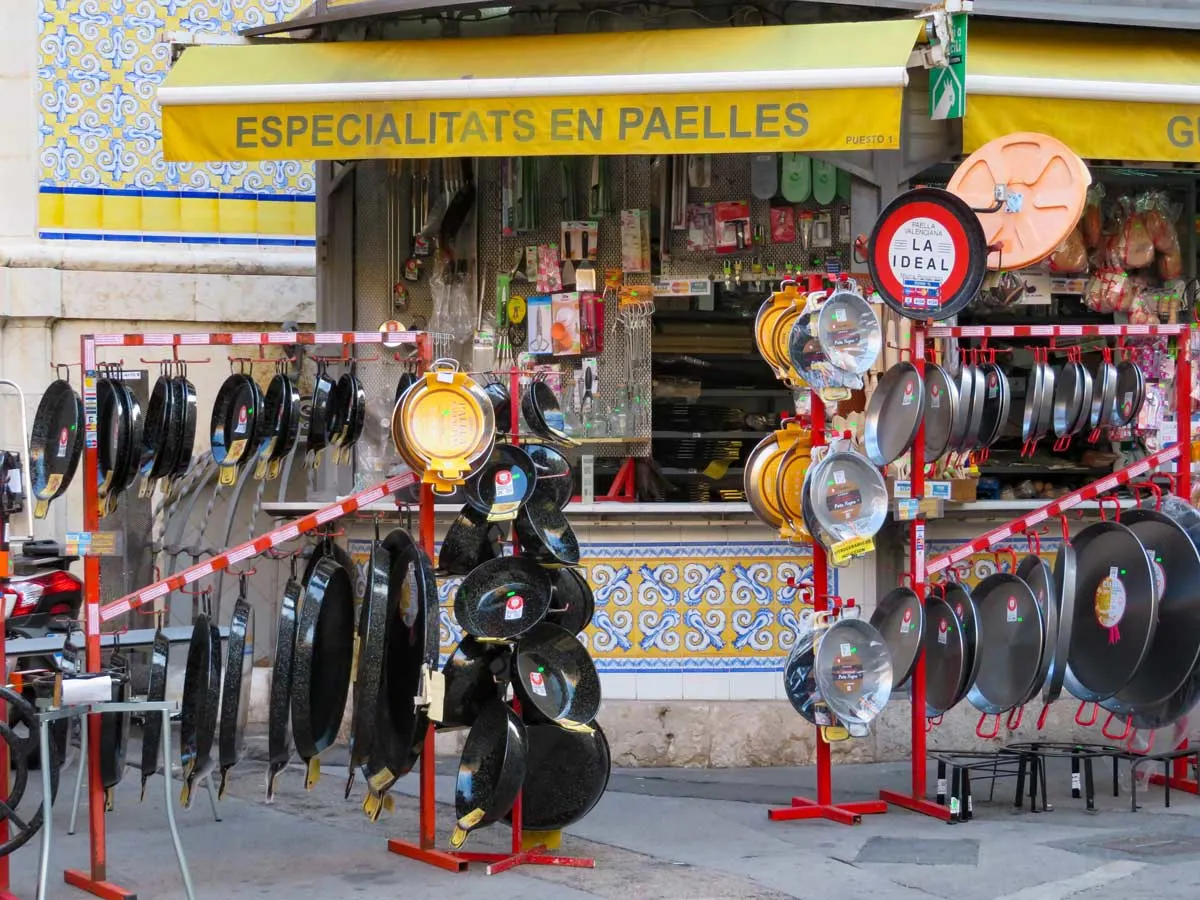 ---
---
About The Author
Marco Santos
Born and raised in South Africa, Marco and his partner moved to sunny Lisbon over three years ago. With an absolute love for Europe, he is on a mission to rediscover his Portuguese heritage along the way. Marco has set out to blog and share his passion for travelling through and exploring both Portugal, Spain and Europe, through his blog Travel-Boo.