Winter in Europe is an exciting time.
People's thoughts turn to Christmas markets and skiing. But there are so many unique things to do in Europe in winter beyond the slopes and festive fairs.
Winter is one of the best times to visit Europe – Winter festivals, husky sledding, frozen waterfalls, ice fishing and scenic train routes are just a few of the wonderful things to do in Europe when the temperature drops. It's time to start planning your winter travel in Europe.
When is Winter in Europe
Winter in Europe runs from mid-December to mid-March. The coldest months are usually January and February. Winter in Europe will, of course, mean shorter days. Some countries closer to the arctic circle experience only brief periods of light with a few hours of dusk each day.
How Cold Does Europe Get in Winter
Temperatures in Europe in winter can range from a chilly -18 ℃ | 0.1 ℉ in eastern countries like Russia and the Baltic States.
Expect temperatures around -7 ℃ | 20.5 ℉ in places like Oslo, Norway to a balmy 18 ℃ | 62 ℉ in the peak of winter in countries like Malta, Cyprus, Portugal, Spain and Greece. The Mediterranean boasts the warmest countries and the best places to visit in Europe in December/January to escape the cold.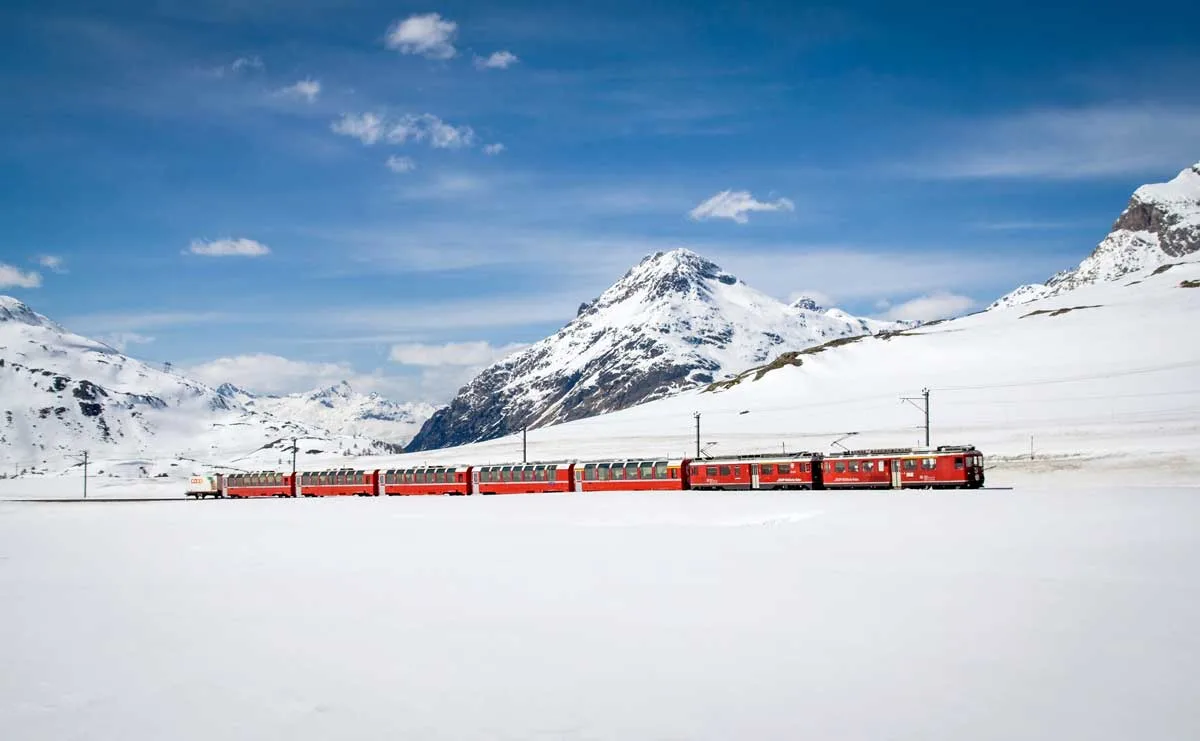 Why Should You Travel to Europe in Winter
Winter in Europe means snow-capped mountains, winter comfort food and mulled wine in front of an open fire. Despite the cold, it is also a great time to head out and enjoy the festivities – Christmas markets, winter festivals, and of course, New Years' celebrations. You'll find some of the best places in Europe to visit in December here.
Northern Europe offers endless opportunities for snow sports, some more unique than others. And, of course, the long nights of winter bring with them the magic of the Northern Lights.
If it is the cold weather you are trying to escape along with the crowds, head to the south of Europe around the Mediterranean. It is still possible to have a beach holiday in Europe's peak months of winter.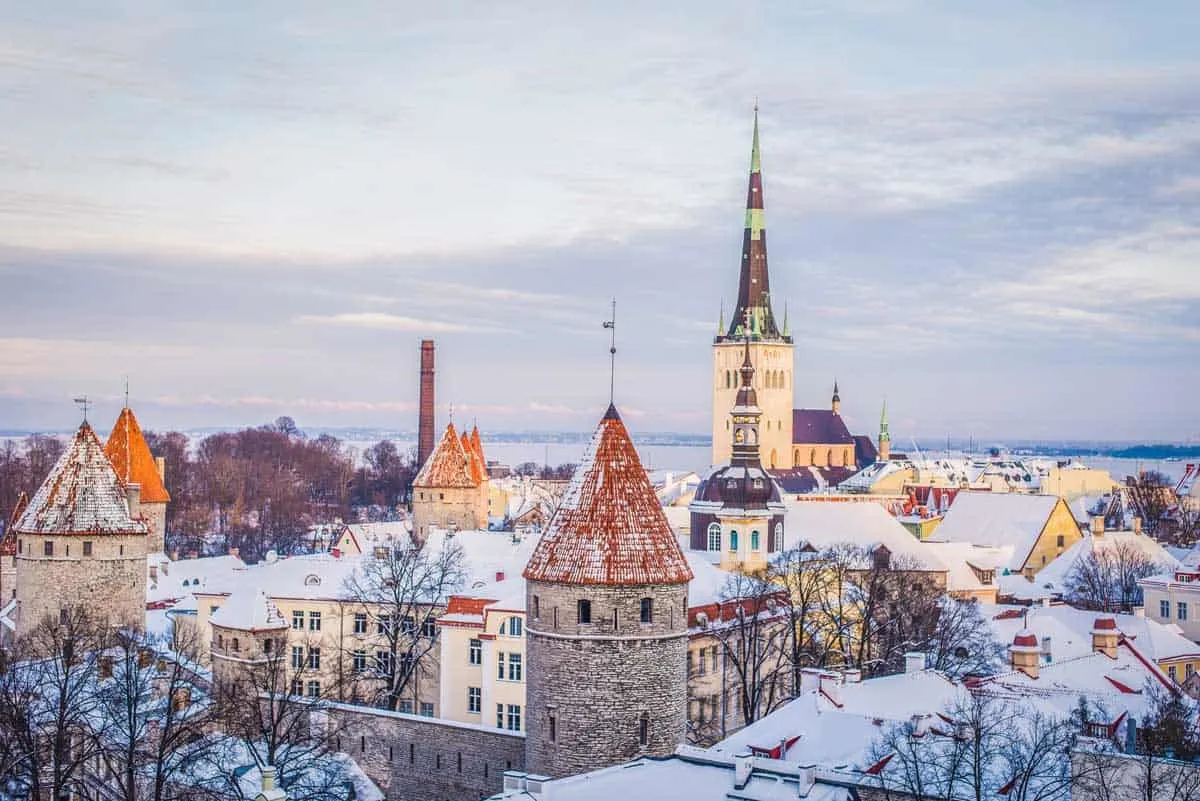 Better Deals, Fewer Crowds and Unique Experiences
If you opt for a unique experience, away from the popular ski resorts and avoid the peak Christmas period, travelling to Europe in winter can also mean better deals, cheap flights and fewer crowds than in the peak summer months.
Be aware when choosing your European winter destination though, certain attractions, hotels and restaurants may be closed. On the other hand, winter brings a whole new array of attractions that are winter-specific.
Let us take the guesswork out of which winter destinations to visit in Europe with these unique winter experiences. We spoke to other seasoned travellers and got their best travel tips for the top things to do in Europe in winter.
Exciting Things to do in Europe in Winter
---
Hiking in the Swiss Alps in the Shadow of the Matterhorn
The Matterhorn is undeniably one of the best hikes in Switzerland but you don't have to be a mountaineer to experience the majesty of the Matterhorn. Start your day with a picturesque train journey. Pass through snowy valleys and past gigantic icicles in the south of Switzerland. Your destination is the touristy town of Zermatt.
Leave the bustling town full of noisy golf buggies and tourists and head upwards. The fitter amongst you may choose to walk to the first cable car station, and others can get the cable car straight to the start of the hike at Blauherd station.
In the valley, thick clouds may block the mountainous views. Was your trip to see one of Switzerland's most iconic views in vain? Fear not as the cable car heads upwards, the little gondola will soon be above the clouds. From there is of the most breathtaking views in the whole of the Alps: the view of the iconic Matterhorn.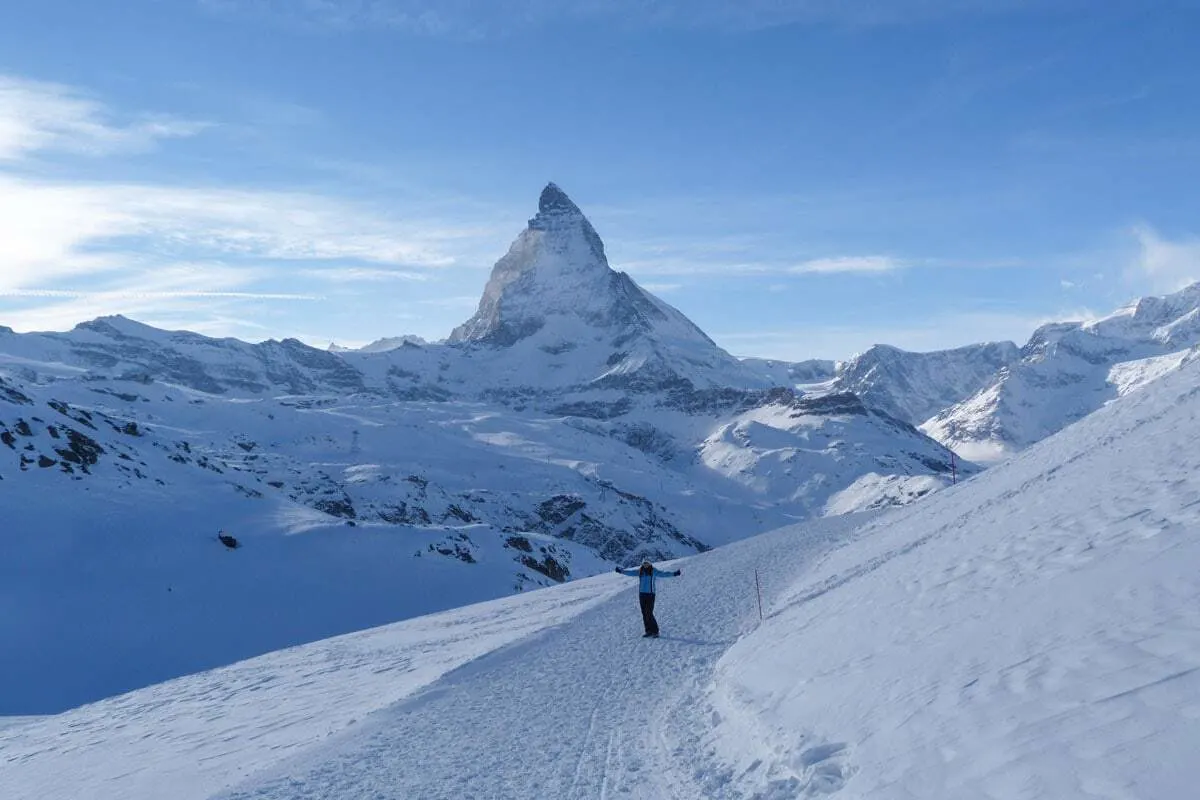 The Hiking Track
After dodging a few skiers, you will have arrived at the start of your hike. The trail is just for walkers allowing for safe and unimpeded views of the famous mountain. Another great feature of Matterhorn trekking along this path; it is prepared for winter hikers so snowshoes are not required.
The hike takes around two to three hours depending on whether you choose to start at Blauherd and walk down or start at Sunnegga and walk upwards. Whichever you choose, the incredible Matterhorn is always standing proudly in the distance. This is a truly spectacular winter hike.
Anna | My Travel Scrapbook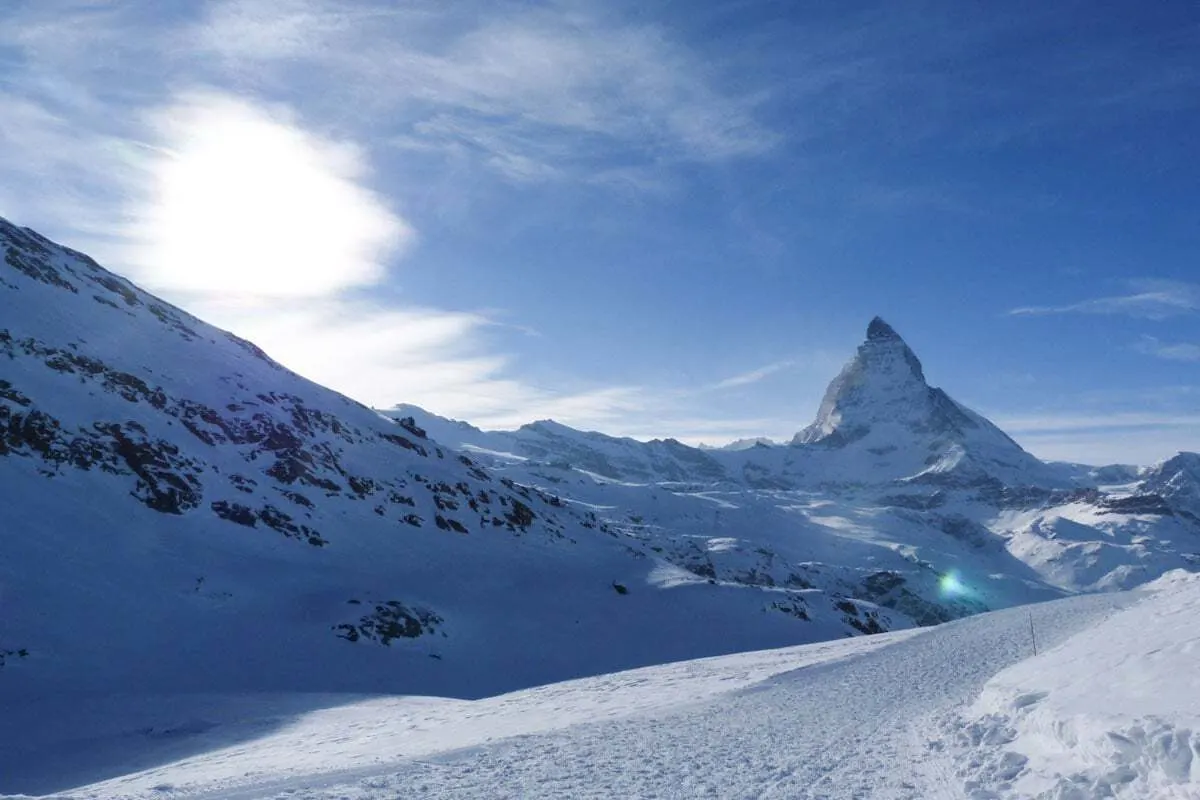 ---
Husky Sledding in Finland
Finland is an excellent destination for lovers of winter activities. One of those must-see places in winter in Europe. A third of the country extends into the arctic circle, meaning snow and cold weather in winter is guaranteed.
One winter activity we gravitate to on our visits to Finland is husky sledding. As the name suggests, for this type of dog sledding, a team of specially trained Siberian Huskies are attached to a sled for a magnificent ride through the stunning Finnish wilderness.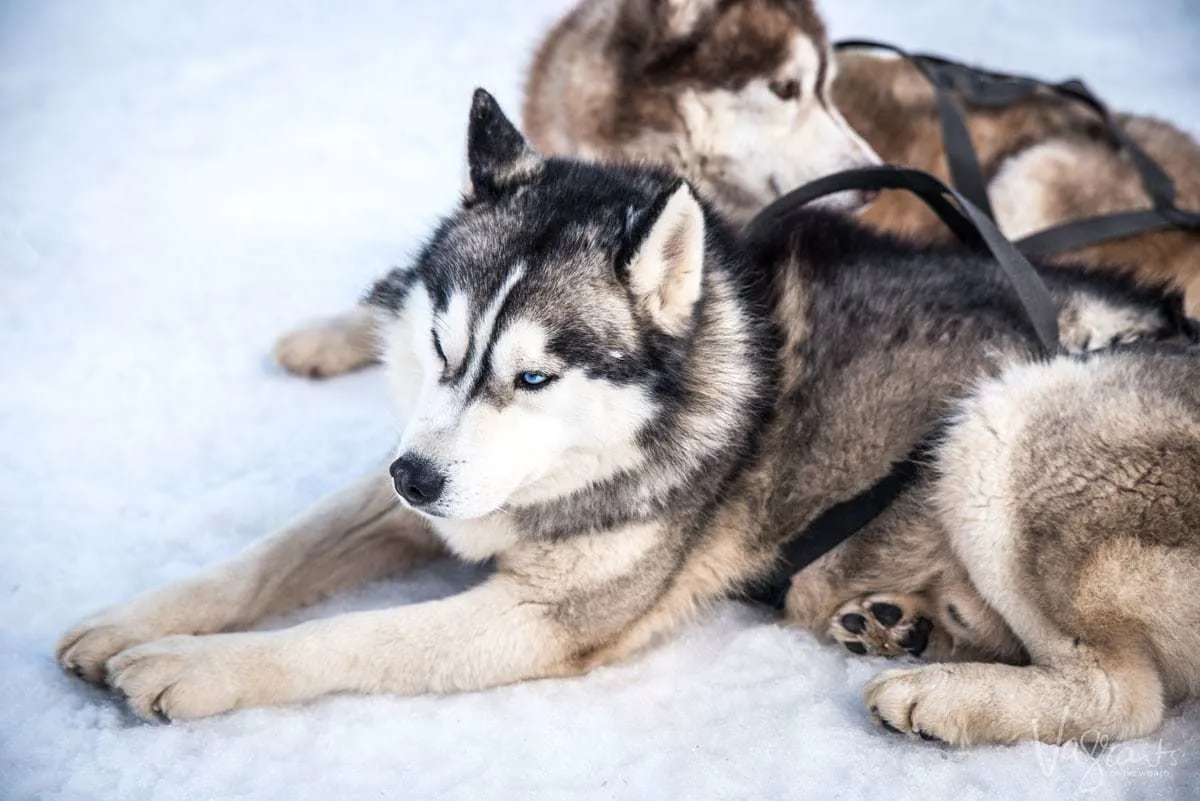 Husky Sledding Trips
Husky sledding trips are tailored to suit, from short rides of an hour, through to extensive two-day day treks with camping in rustic cabins deep in the Finnish wilderness. The latter also includes a sauna- the quintessential Finnish experience. A nice hot steam paired with an invigorating roll in the snow.
What do You Need to Know Before You Go Husky Sledding
Husky sledding is a fabulous experience. It's not too hard to learn although mastery definitely takes time. Speaking from experience, overconfidence may result in a spill or two.
What do You Need to Wear for Dog Sledding
Whatever dog sledding trip you opt for, it's essential you prepare properly.
Wearing the right clothing is critical – temperatures in Finland can drop well below freezing, and frostbite is a serious concern. Most husky sledging operators will provide some outer layers, but you'll want to come with good layers and options for covering all your exposed skin, including your hands and face.
Most of all, just have a great time and enjoy, because it is one of the most memorable activities to do in winter in Europe.
Laurence | Finding the Universe | Find out more about husky sledding in Finland.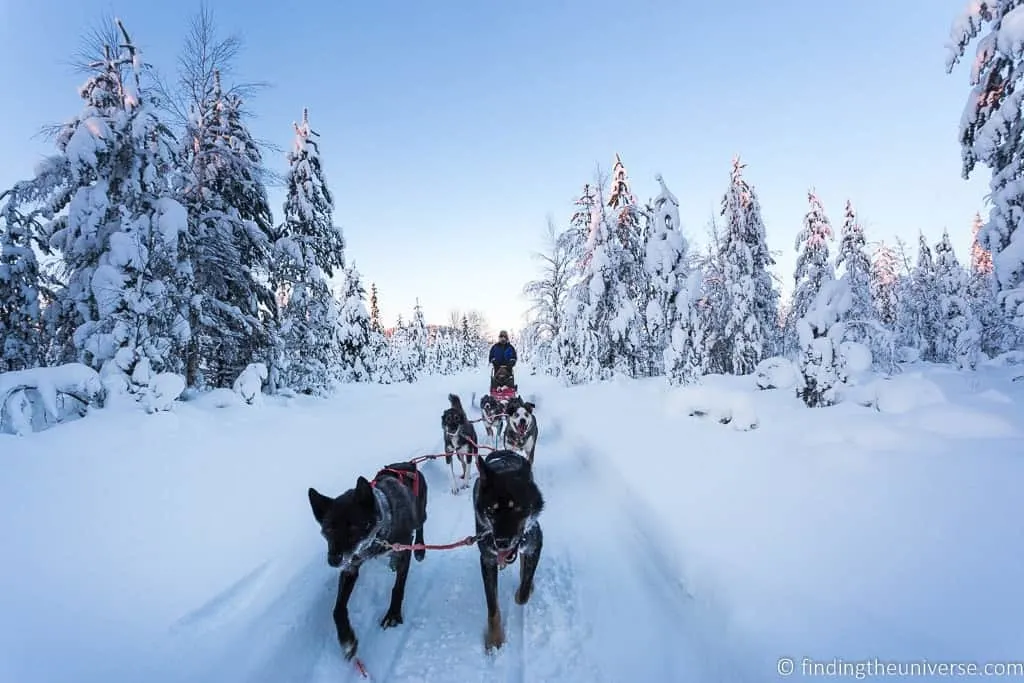 ---
Head to Lou Queernaval Nice
For a truly unique and festive winter experience in Europe head to the "Lou Queernaval" festival in Nice in the South of France.
The "Lou Queernaval" is part of the infamous Nice Carnaval that takes place every year in February. The Nice Festival originated in the Middle Ages as a festival authorised by the church – an outlet to allow the public to wear a mask and ridicule those in power.
This is also the time of year when Catholics overindulge, eating a lot of meat, fatty foods and party like mad before the 40 days of fasting for Lent begins, which leads up to Easter.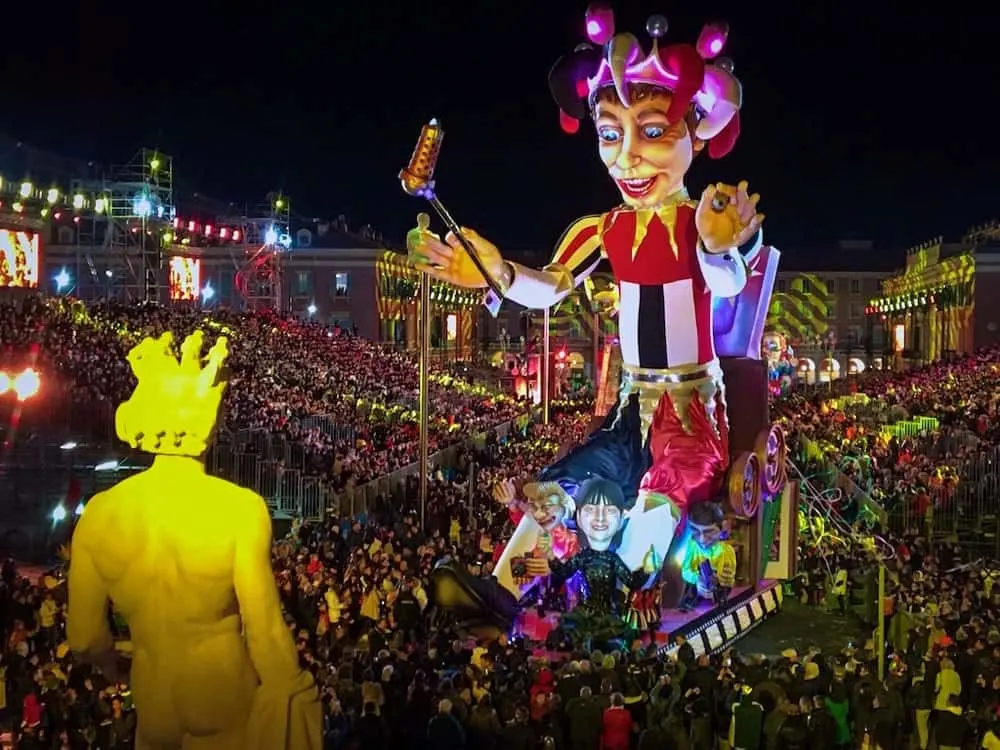 Origins of Lou Queernaval
Nice's carnival is one of the most popular in the world, attracting millions of people. In 2015, the "Lou Queernaval" started as one of the main events of the Nice Carnival, making it the first and only LGBT carnival in France and one of the few official gay carnivals in the world.
Attending Lou Queernaval
Everyone is welcome at the Lou Queernaval, families and children included. We loved the effort put into the outfits and the care-free fun exciting atmosphere which fills the streets of Nice. The Lou Queernaval is free and open to all – most events during the Nice Carnival are ticketed and carry an entry fee.
After the Carnival
Beyond the carnivals, Nice is a cool city to hang out in. A picturesque beachfront promenade and the quaint old town with cobblestone streets to get lost in.
Not to mention indulging in Nice's unique cuisine. A fabulous mix of Italian and French, such as the Nicoise Salad and Ratatouille. All reasons enough to put Nice on your winter travel calendar.
Stefan & Sebastien | Nomadic Boys | Find out more about Lou Queernaval here.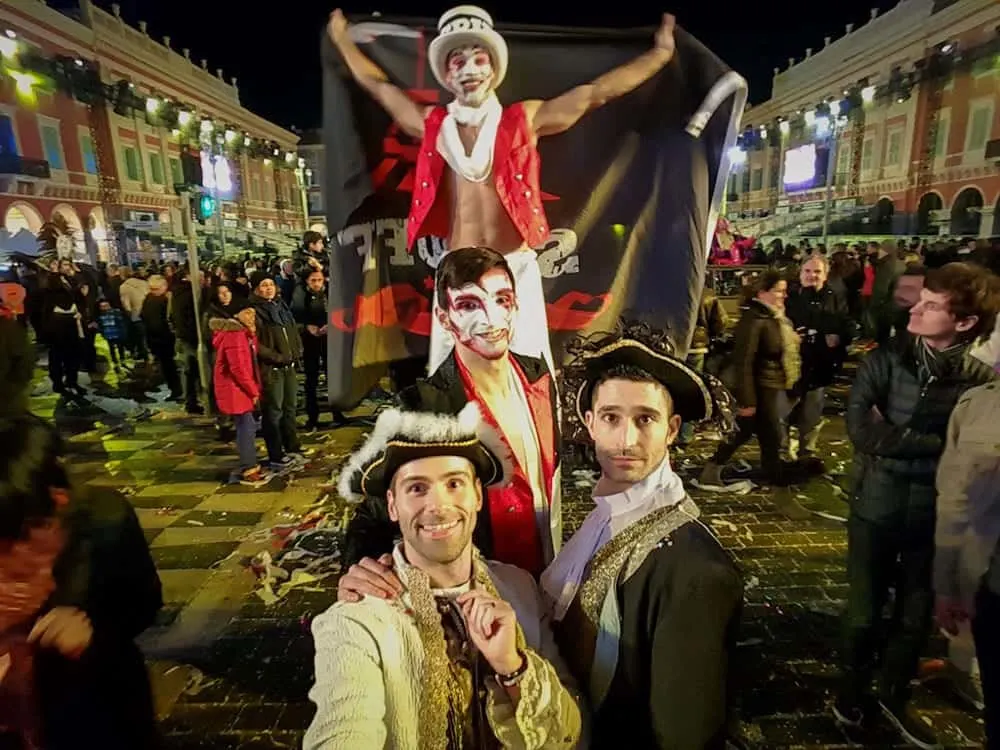 ---
Ice Tunnels in Iceland
Summer is the most popular time for tourists, however, winter is also a magical time to visit Iceland. There are fewer people, lower hotel prices, snow, and lots of opportunities to enjoy fun winter activities.
There are so many enjoyable things to do in Iceland in winter, one of the most unique being exploring an ice cave or ice tunnel.
Ice caves are formed each winter, and they vary in location, size, and safety each year. You will find them on or near glaciers, and because of changing weather and temperatures, they can change in appearance almost daily.
When can you visit the Ice Tunnels
Most are only accessible from November to March. But there are exceptions like the Langjökull ice tunnel.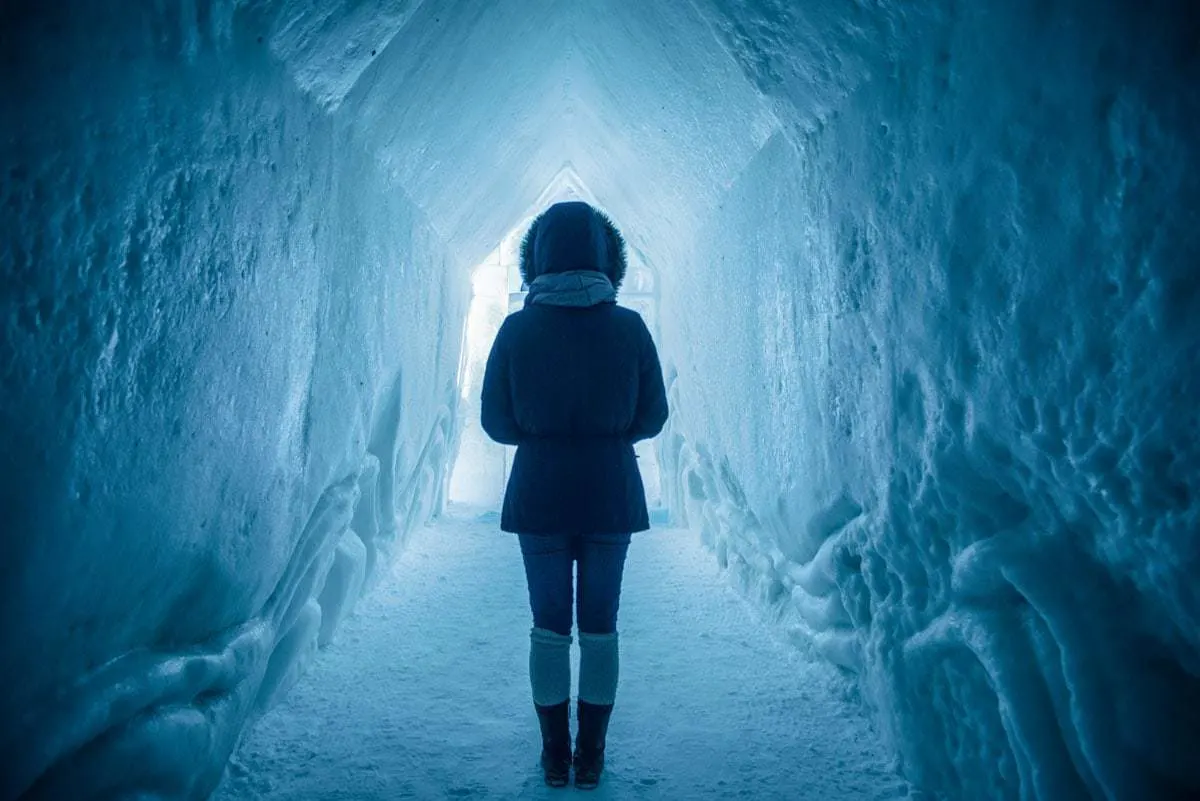 Langjökull Ice Tunnel
An all-seasons option is the Langjökull ice tunnel, a large ice tunnel made by a group of engineers on top of the Langjökull glacier. The glacier is the second largest in Europe and the ice tunnel, the world's first and largest man-made tunnel is 1,800 feet long.
The tunnel, accessible all year round offers visitors the opportunity to walk both on top and inside of the glacier.
Visiting the Langjökull Ice Tunnel
Exploring a glacier or ice cave on your own can be dangerous so a guided tour is advised. Ice cave and tunnel tours are generally suitable for all ability levels but some require climbing and a certain level of physical fitness.
What You Will Need for an Ice Tunnel Tour
You'll need good warm and waterproof clothing and shoes to participate in these tours. Special equipment such as crampons and helmets will be provided by guides and tour operators.
All these tours are weather dependent so keep an eye on the forecast when planning your ice tunnel experience.
Jessica | Independent Travel Cats | Read More about things to do in Iceland in winter here.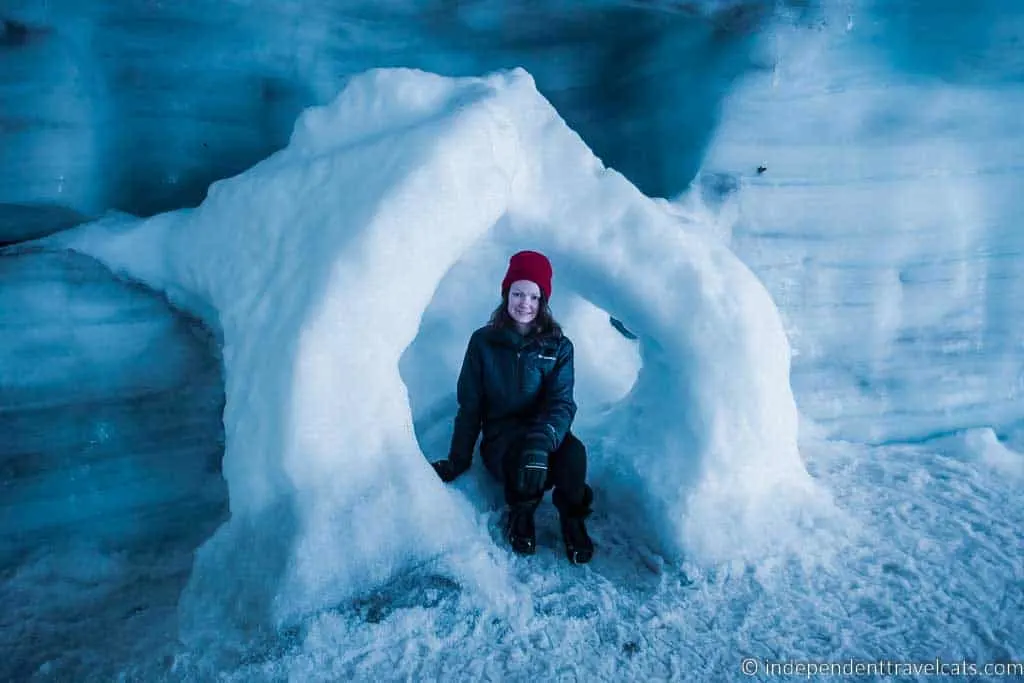 ---
Plitvice Lakes National Park
While Croatia may not be at the top of everyone's winter Europe itinerary, Plitvice Lakes National Park is a truly remarkable sight in winter. If you visit at the right time, you'll find some of the lakes and waterfalls completely frozen over, and snow coating much of the park.
At this time of year, the Plitvice Lakes is the quintessential 'European Winter Wonderland'.
Croatia's most visited national park, Plitvice is made up of 16 crystalline lakes connected by a series of tufa waterfalls. Named a UNESCO World Heritage Site in 1979, Plitvice Lakes is an incredibly beautiful place at any time of year but very special in winter.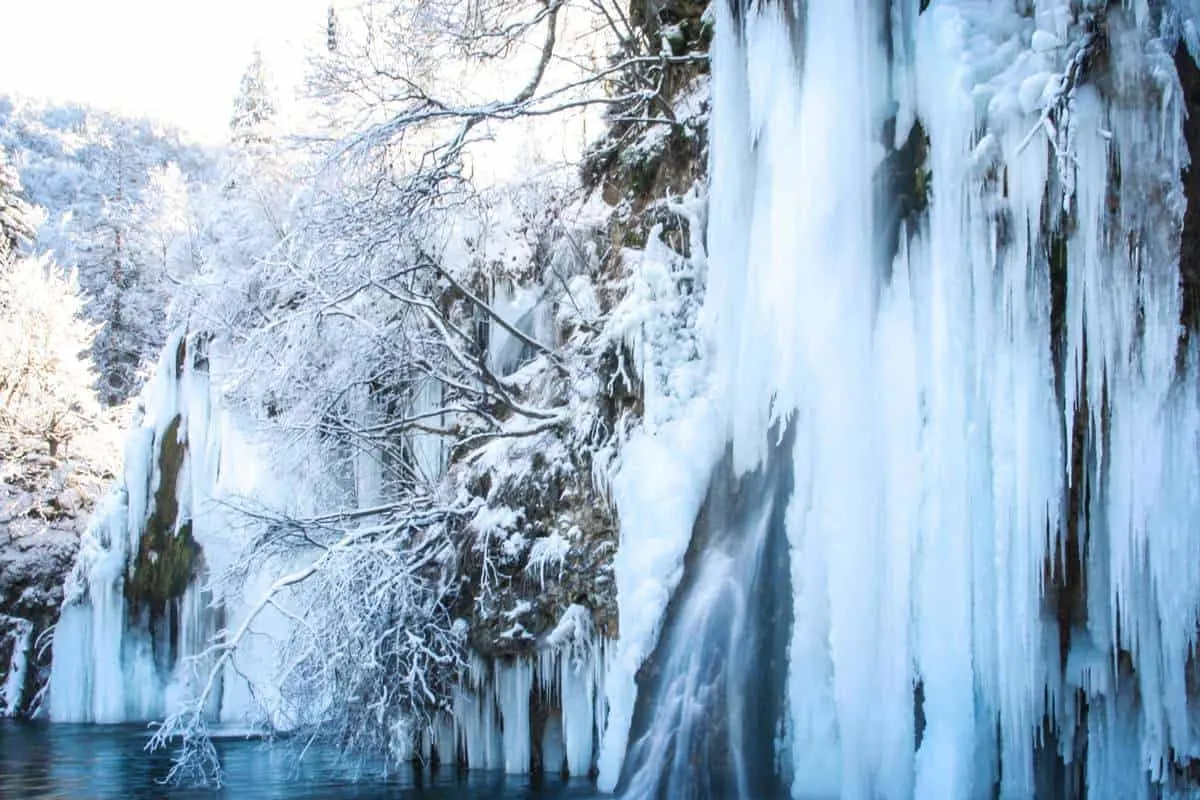 Which of the Plitvice Lakes to Visit in Winter
The park is divided into the upper and lower lakes, the 12 upper lakes make up the largest section of the park. The upper lakes area has pristine forests and some of the most stunning waterfalls in the park.
Unfortunately, it's not always possible to see this area of the park in winter as the upper lakes can be frozen over and covered in snow.
Fortunately, the four lower lakes are open all year round. Here you will find Croatia's tallest waterfall – Veliki Slap which is an impressive 78 metres tall. During winter, Veliki Slap Waterfall becomes an impressive natural ice sculpture as it comes close to completely freezing over.
Winter in Plitvice Lakes Means Fewer Crowds
The parks beautiful winter display of frozen waterfalls is not the only reason to visit Plitvice Lakes in winter; you will also find fewer crowds. Summer is Croatia's peak tourist season, and Plitvice Lakes is high on everyone's list of things to see in Croatia.
The park's walkways and major attractions become overcrowded with tourists, even entry fees are more expensive in summer than in winter.
If you brave the cold, you'll be rewarded with spectacular scenery that you won't have to share with thousands of other tourists. Visiting Plitvice Lakes National Park at this time of year is certainly one of the most unique winter experiences in Europe.
Sam & Natalia | Something of Freedom | Read more about Plitvice Lakes National Park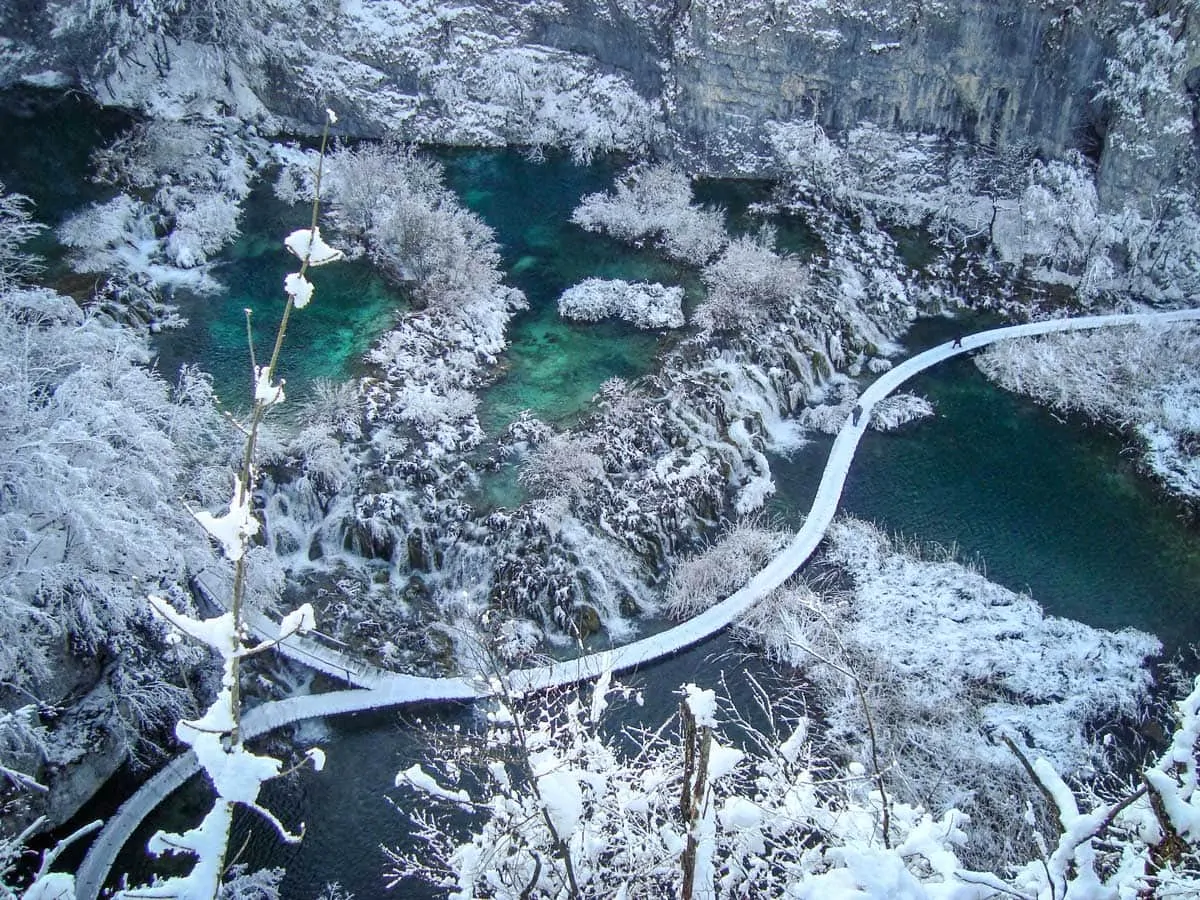 ---
Helicopter Flight Over the Swiss Alps
Switzerland is famous for its ski slopes, beautiful mountain peaks and, in winter, a lot of snow. Who hasn't dreamed of exploring the wonderful landscapes and remote places of Switzerland?
Escape the Swiss Winter Crowds for a Unique Experience
Switzerland's most famous places such as Lucerne, Zermatt or the Jungfrau Region can be very crowded all year long. However, you can escape the crowds and have a unique experience.
For those who love adventure, how about a helicopter flight in the Swiss Alps. Even better, fly over the incredible Jungfrau region for one of the most exciting things you can do in Switzerland during winter. It is even possible to visit a remote glacier which is otherwise almost impossible to reach.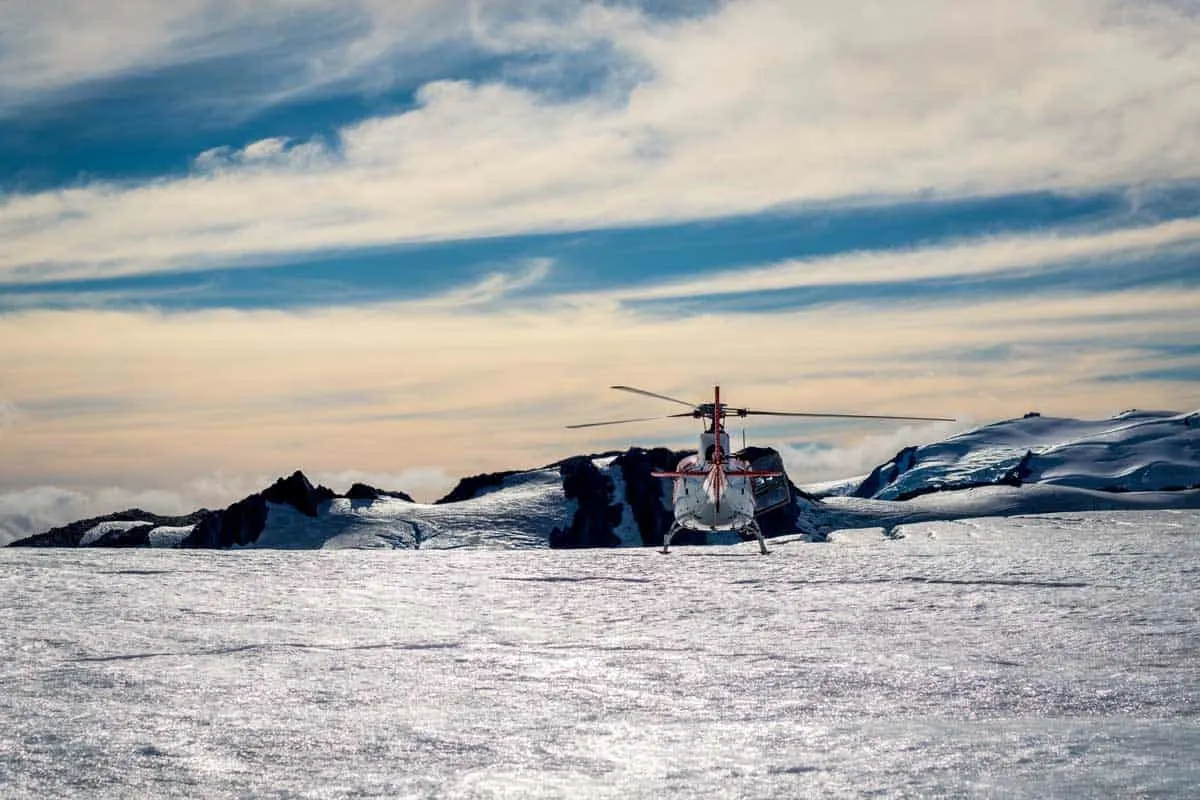 A Swiss Alps Helicopter Flight
Being in the air in a helicopter is always an unbelievable feeling. It is even better when you are flying over some of the most stunning peaks of the European Alps.
With the Eiger, Mönch and Jungfrau mountains, the Jungfrau region is simply a perfect spot for a helicopter adventure and a dream spot for capturing incredible photographs. So captivating is the scenery, time literally flies. This is an experience you will never forget.
How Much Does a Helicopter Flight Over the Swiss Alps Cost?
While the cost of a helicopter flight over the Swiss Alps is probably a drawback for many people – A 30-minute flight with a glacier landing costs around 300 to 400 Swiss Francs per person (€250-€350 pp), is in my opinion, absolutely worth every cent.
If you are looking for an exclusive winter experience in Europe, this is a perfect choice.
Michael Gerber | Find out more about taking a helicopter flight in the Swiss Alps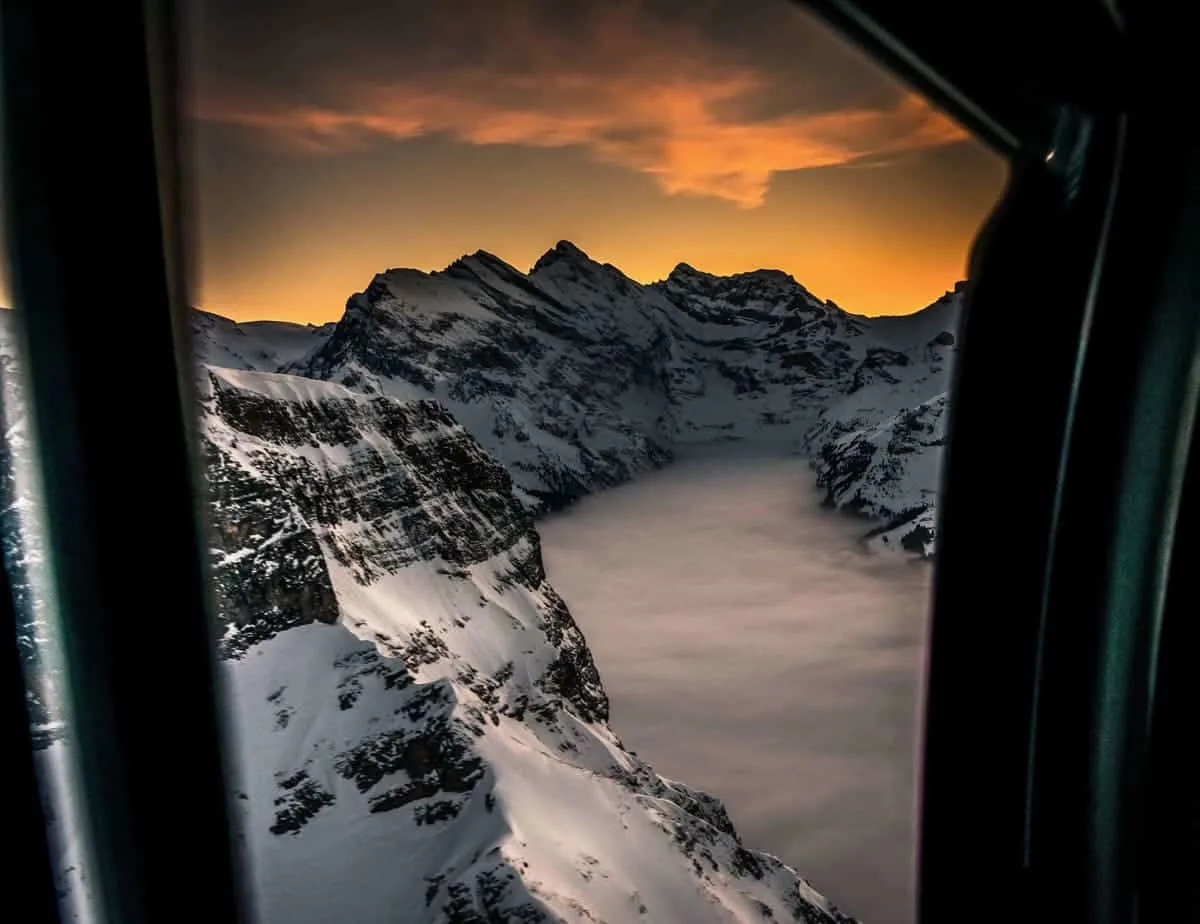 ---
Ice Fishing in Finland
Everybody knows Europe is beautiful during any season, even in winter, despite the low temperatures. Winter in Europe delivers the possibility for unique experiences and winter adventures.
There are many activities one can do in Europe in winter, but ice fishing is a favourite especially in countries like Finland. A vast expanse of thick ice in sub-zero temperatures suddenly becomes very appealing when someone says "ice fishing".
The Traditions of Finnish Ice Fishing
Ice fishing in Finland is a traditional way to pass the time in winter; almost every Finn has tried ice fishing at least once in their lifetime.
The Finnish landscape is the perfect place for some quiet angling. Hundreds of lakes await you in the central part of the country. As soon as the water freezes, Fins look for a suitable place to enjoy a peaceful day out on the end of a line.
Ice Fishing Safaris
Fire up your Finland winter holiday with a one day ice fishing safari. Ice fishing requires a slightly different technique to normal lake fishing, so if you don't know how to do it, an ice-fishing safari is a fun way to learn.
You will be taken to the lake by either snowmobile or reindeer, which is an experience in itself. Using an ice drill, you make your fishing hole then, bait the line and learn the art of catching a fish through the winter ice.
On an ice fishing safari, you will also have the opportunity to cook your catch over an open fire. A great way to warm up and enjoy the spoils of your efforts.
In Finland, ice fishing is more than a leisurely winter pursuit. You will find various ice-fishing competitions held throughout the winter attracting both locals and tourists.
What You Need to go Ice Fishing
The beauty of ice fishing is everyone can do it without special training or a license. All you need is warm clothing, an ice drill, a fishing pole, patience and some bait.
Nisha & Vasu | Lemonicks | Read more about things to do in Saariselka Lapland
---
Snowmobile on a Glacier
A trip to Iceland is full of unique experiences, but none of them quite compares to snowmobiling on the Vatnajökull Glacier.
Located in southeastern Iceland, the Vatnajökull Glacier takes up more than 9% of the country and in places has ice as deep as 3,300 feet. Visitors can explore the glacier by hiking and Jeep tours, but snowmobiling is by far the best way to see it.
The snowmobile sets a deceptively fast pace zipping across the glacier and the seemingly endless ice landscape.
Rocky mountain peaks break through the surface of the ice to add to the remarkable scenery. As you climb higher up the glacier, behind you, you can see Jökulsárlón with the ocean stretching beyond it to the horizon. The perfect photo opportunity.
The return trip down the glacier is exhilarating, flying downhill with confidence now we had a better handle on our machines.
Taking a Snowmobile Tour
Taking a snowmobile tour on the glacier is the perfect winter activity for any skill level. The tour company will fit you out with snowsuits, gloves and helmets. You will also receive a safety brief and instruction on how to drive them, so no prior experience is required.
Kris | Nomad by Trade | read more about snowmobiling on the Vatnajökull Glacier.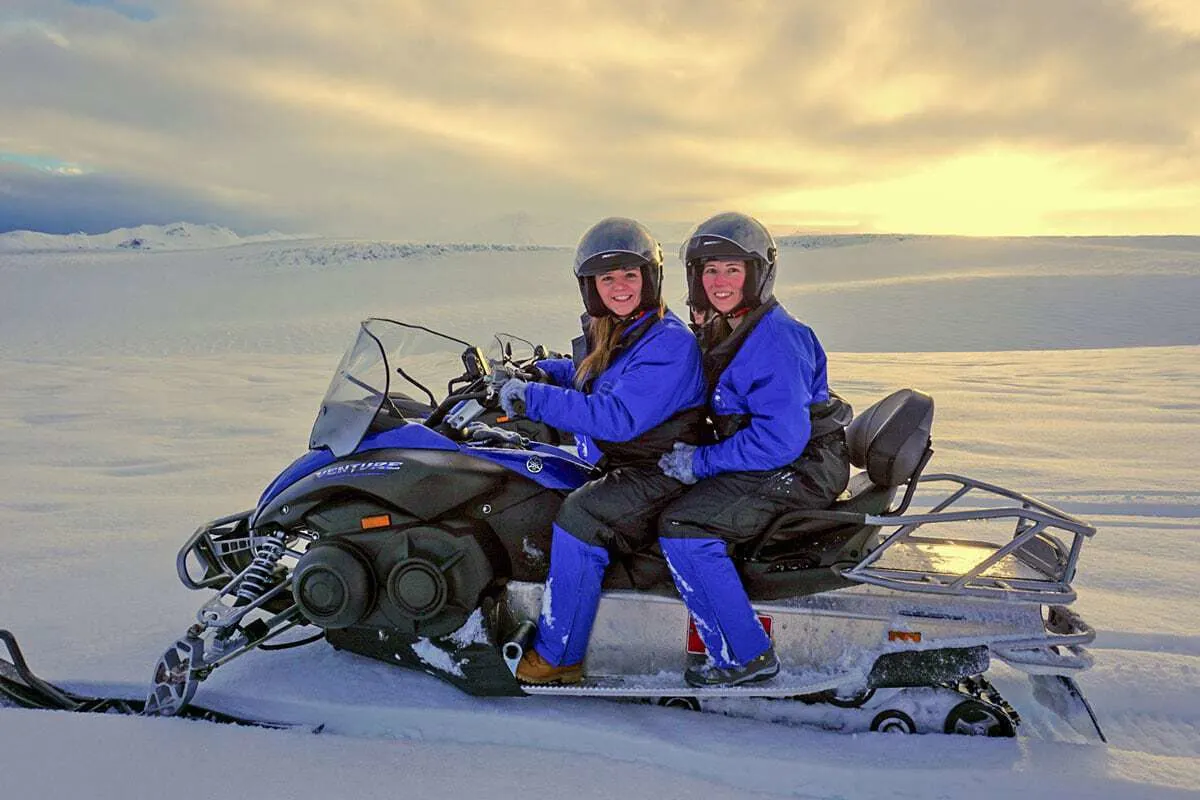 ---
Discover the High Peaks of Svaneti, Georgia
Home of the fierce tribe of Svans, the high-altitude Svaneti region in Georgia is a completely different experience from the rest of the country.
The landscape here is surreal with dramatic peaks in every direction, some of which you can ascend depending on the climatic conditions at the time.
The Svan cuisine is different from the rest of Georgia too with concentrating more on meat than other produce.
The entire region is a UNESCO World Heritage Site. A place where the houses and customs make you feel you have time travelled back a couple of centuries.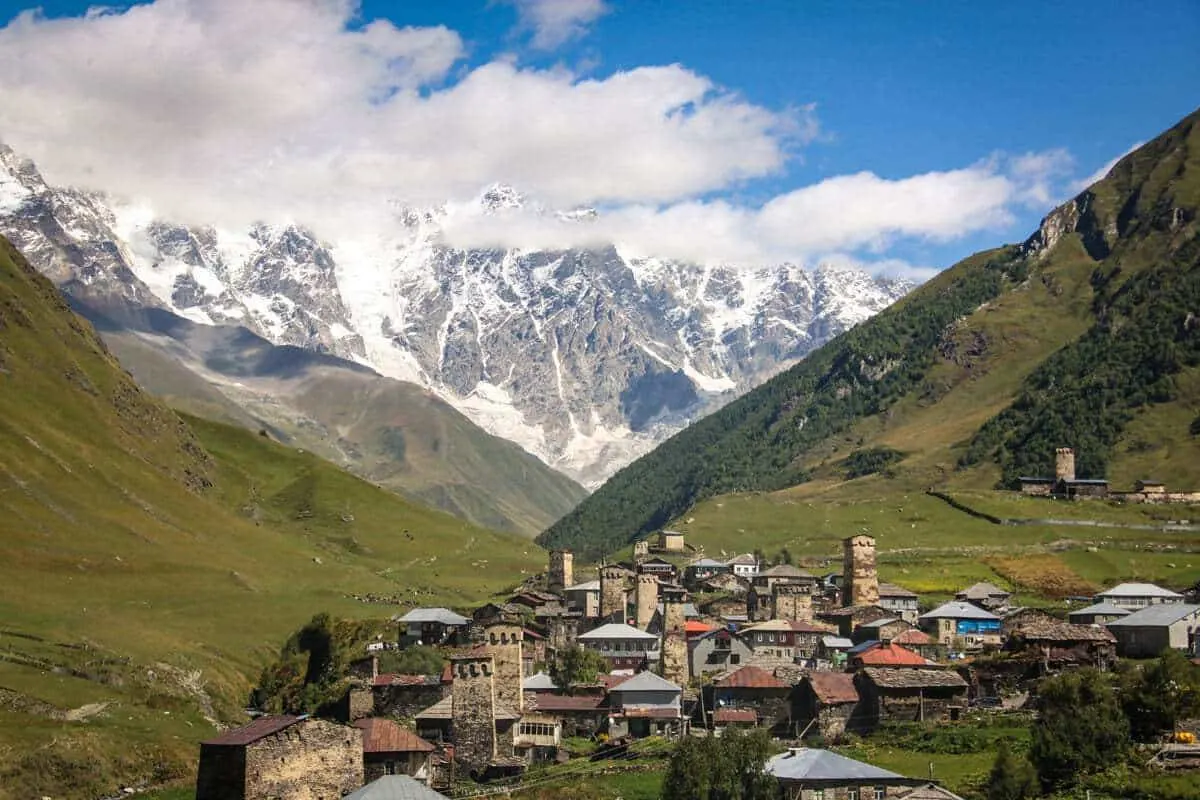 What to do in Svaneti in Winter
While the temperature in the Svaneti region is cool year-round, winter transforms the landscape with a blanket of white. You can visit Svaneti during winter to simply enjoy the warmth and hospitality of the Svan people in their homestays. The region isn't a tourist hotbed so you're guaranteed an authentic experience.
Winter Trekking in Svaneti
Smaller treks might also be feasible but the locals will advise against more arduous treks as the weather is quite unpredictable. Nevertheless, you can always enjoy the twin ski resorts of Tetnuldi and Hatsvali if you're so inclined.
Outside the coldest months between November and March, the four-day Mestia to Ushguli trek is one of the most picturesque and popular treks in the region.
My recommendation is actually to do nothing during winter. Just catch up on your reading, look at the breathtaking views and enjoy the Svan hospitality. Regardless of when you visit Svaneti, the region is sure to give you some unforgettable memories.
Priyanko | Constant Traveller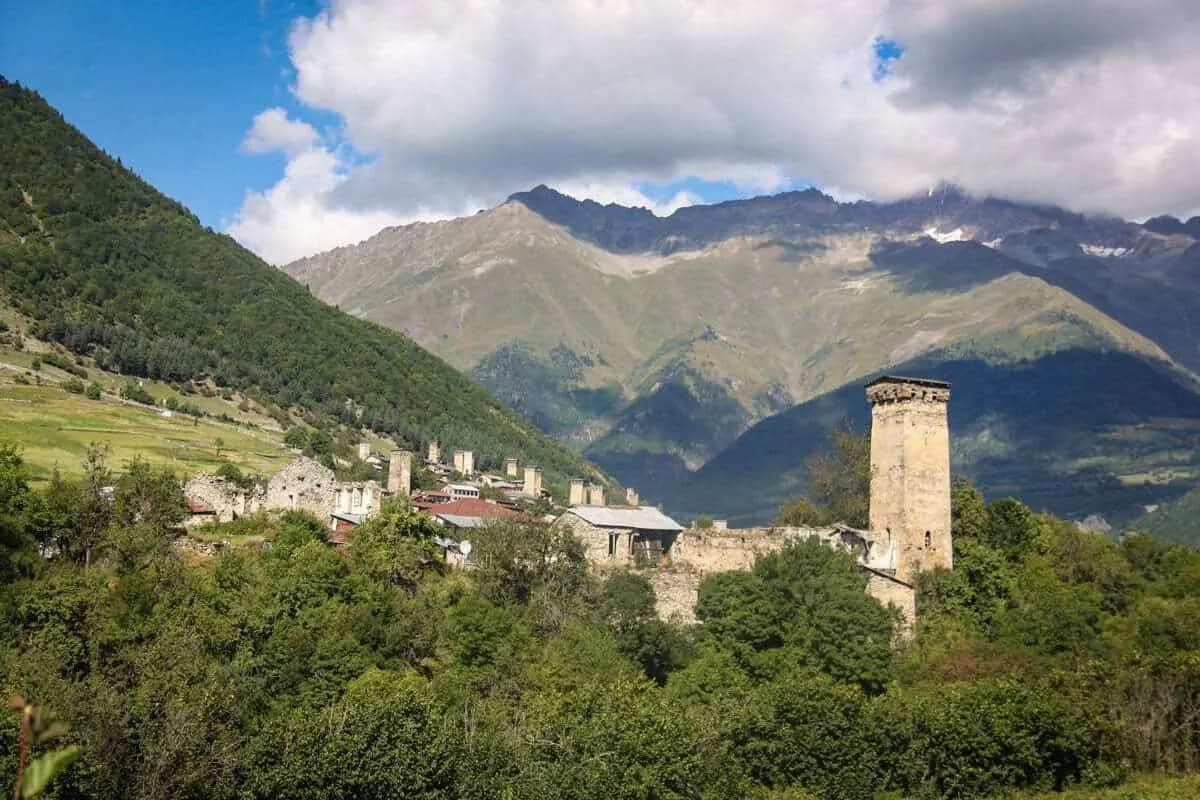 ---
---
Tobogganing
in Tyrol, Austria
Most people associate the Austrian Tyrol with skiing in winter. However, there's so much more to do in the Tyrolean Alps in the snowy season. Sledding or tobogganing (called rodeln in Tyrol) is a fun activity for everyone.
Toboggan Runs in Tyrol
Looking for fun things to do in the winter for the whole family. How about tobogganing? The Tyrol boasts more than 750 km of toboggan runs spread throughout the Alpine province. Winter visitors are spoilt for choice with easy, intermediate and advanced runs.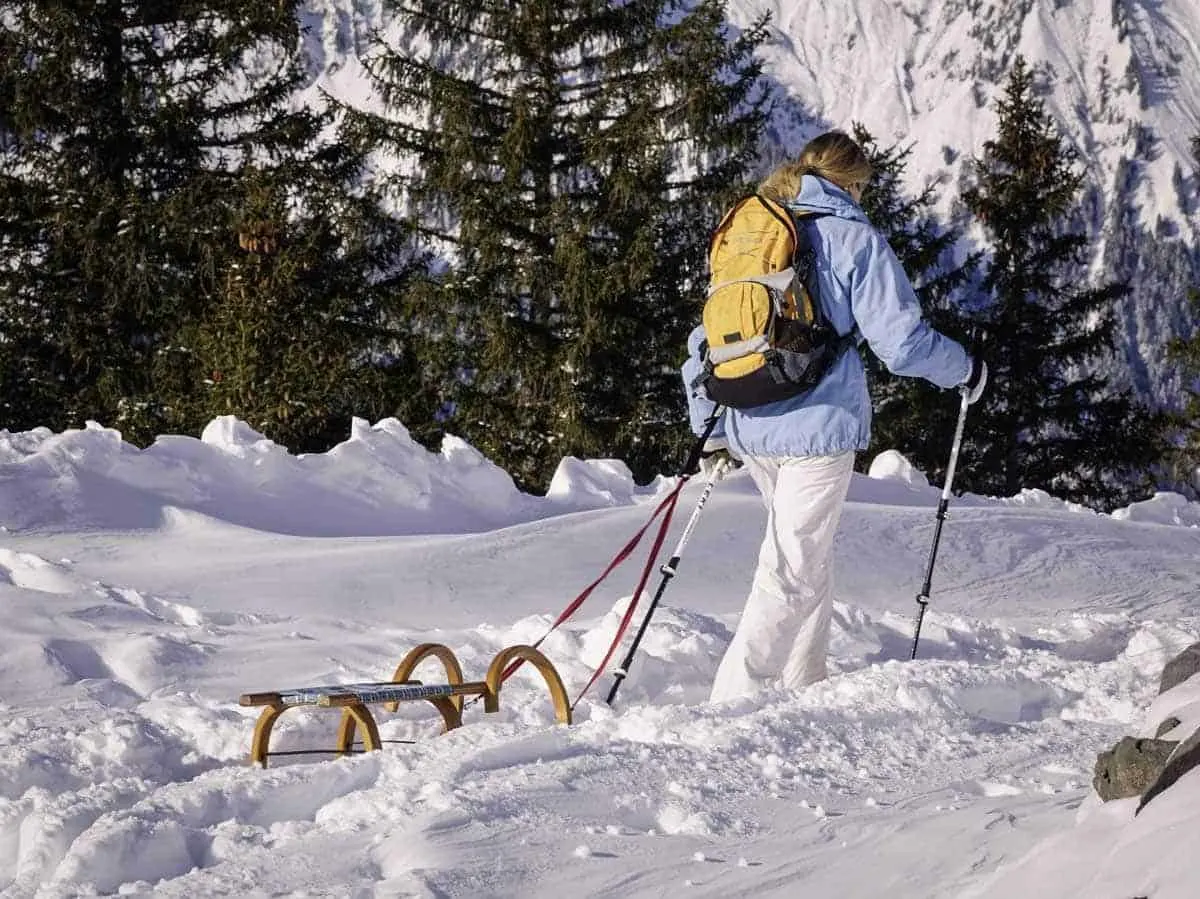 A day on the slopes would not be complete without a stop for refreshments at a quaint mountain hut along the way. Apfelstrüdel and Kaiserschmarrn – thick pancake strips with fruit compote washed down with Glühwein and hot chocolate never taste better than on a snow-covered mountain.
If you want to try your hand at night tobogganing, floodlit runs offer the opportunity if you're not too tired after a day on the sled. All runs are accessible by foot or by cable car or ski lift. Many will have separate walking trails which is ideal for families.
Best Toboggan Runs for Beginners
The best toboggan runs for beginners are the ones at Schlick 2000, the Elferlift in the Stubai Valley and the Almluft run in the Ziller Valley. Or try the Stuiben Fall toboggan run near where Ötzi the Iceman was found in the Ötz Valley.
What do I Need to go Tobogganing
No real skill is required to go tobogganing. Just know how to turn and brake when attempting a steeper run.
Toboggans can be rented and sometimes borrowed from many hotels and ski resorts.
Waterproof boots and pants, a warm jacket, gloves, and earmuffs are a must. And don't forget your ski helmets, especially for the kids.
Linda | Travel Tyrol | Read more about things to do in the Tyrolean Alps and Austria in Winter.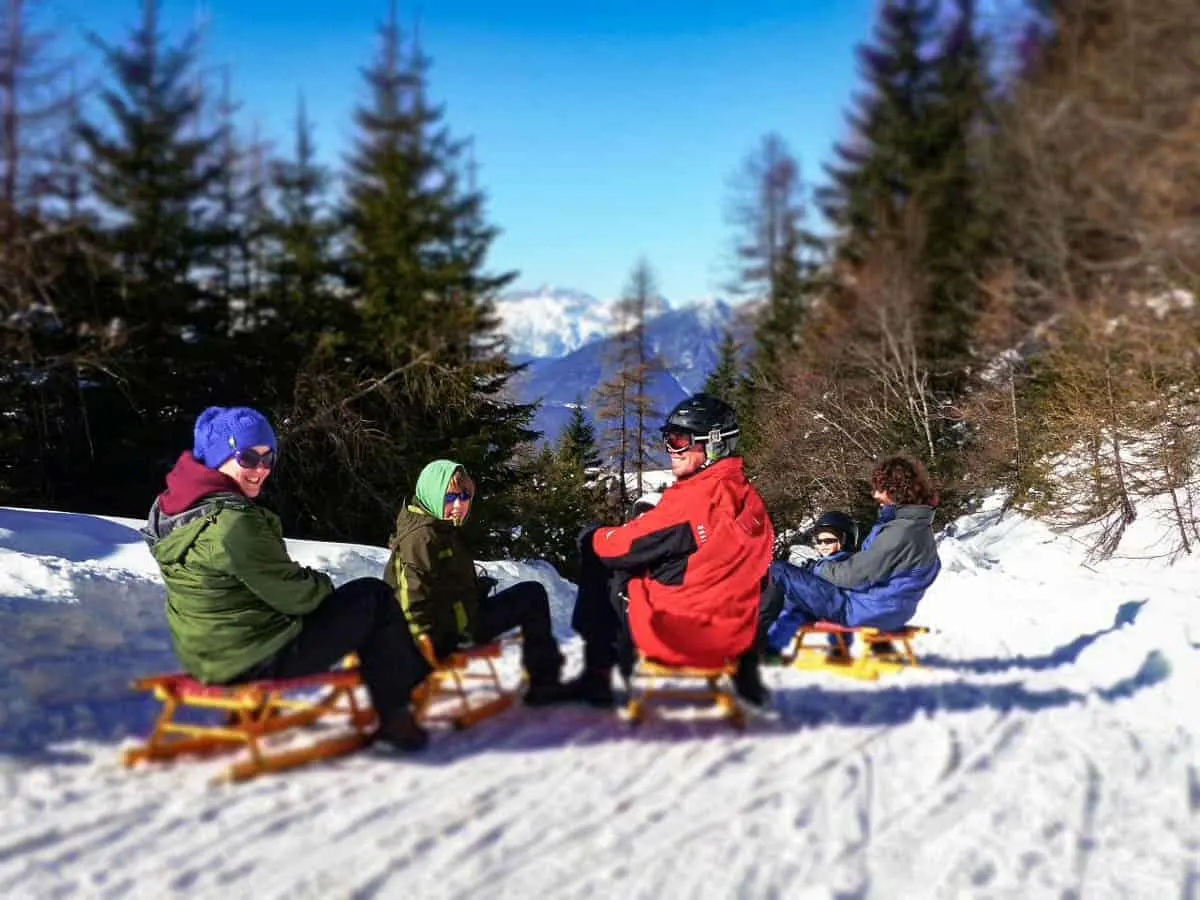 ---
The Beaches of Fuerteventura – The Canary Islands Spain
If you're looking for warm places in Europe in December, there are few that can lay claim to a climate that would allow you to enjoy Christmas or New Year's Eve on the beach. The beaches in Fuerteventura, one of the main Canary Islands, aren't just the winter reserve of surfers. Thanks to their geographic proximity to the African continent, these Spanish islands enjoy a mild climate that attracts beach lovers all year round.
Beaches of
Fuerteventura
All of the Canary Islands enjoy the same mild climate during the European winter, but Fuerteventura has the largest amount of paradise beaches.
You can rent a car and explore the white sand beaches around El Cotillo in the Northwest. Or enjoy the golden sand beaches of the Corralejo Natural Park, which boasts large dunes on the seaside.
If you prefer long expanses of Caribbean style beaches with very few tourists, you can visit Jandia Natural Park on the small peninsula in the South.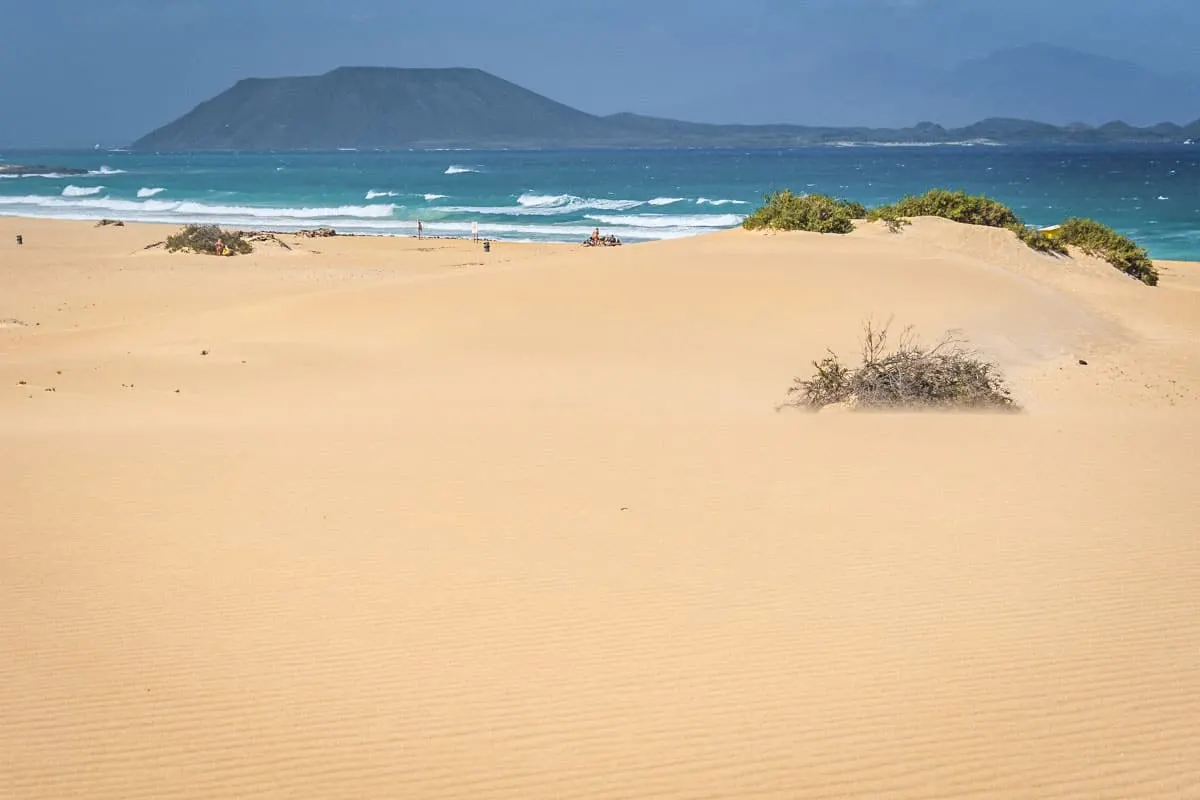 Kite Surfing in
Fuerteventura
Although mild temperatures and sunshine are almost guaranteed, the island is quite windy (even its name contains strong winds).
So on days when the sea is rough, and wind blows heavily, you can try some of the popular water sports, such as kite surfing at one of the many surf schools on the island.
Getting to
Fuerteventura
Fuerteventura has a good schedule of flights from the Iberian Peninsula, Germany and the UK. Many low costs companies also fly these routes, so the exotic experience of spending Christmas on the beach is not necessarily an expensive holiday.
Gábor Kovács |Surfing the Planet | Read more about the beaches in Fuerteventura here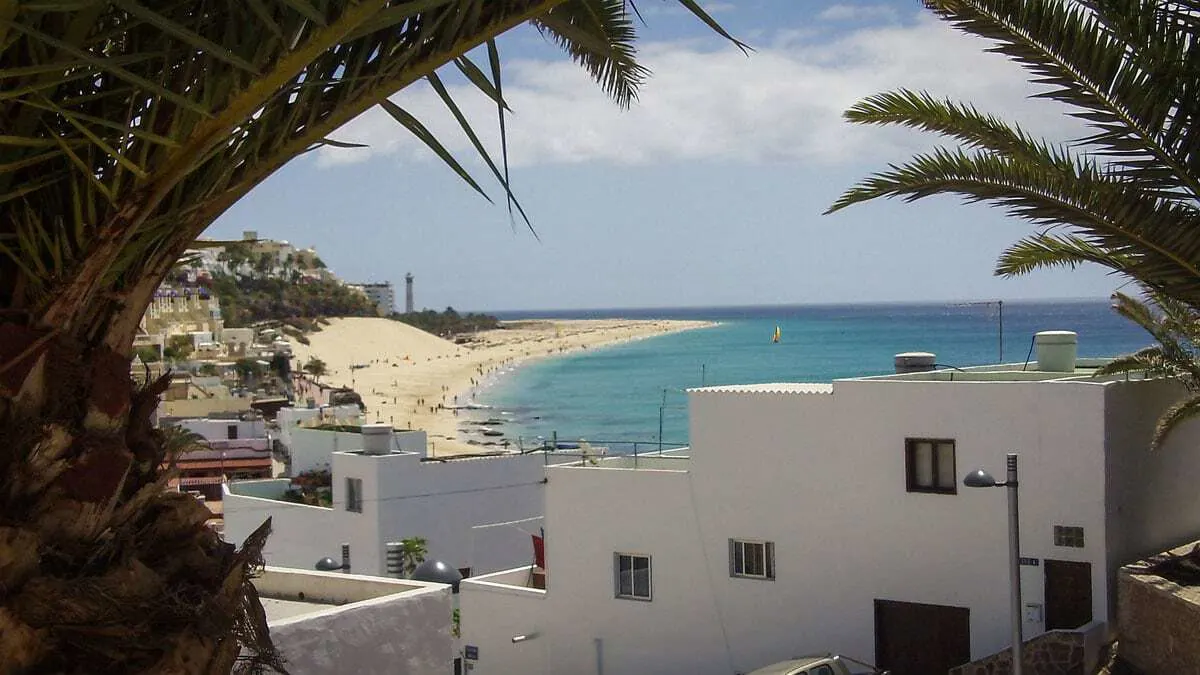 ---
Madeira Island, Portugal
For many, winter in Europe signals a time for skiing or Christmas Markets, but it's easy to find some genuinely unique winter experiences. Even ones that don't involve cold weather. As is the case with Madeira Island, in Portugal, an archipelago comprising four islands off the northwest coast of Africa.
Like the Canary Islands, Madeira's proximity to the African coast means more sun and milder temperatures than in the rest of Europe. Indeed, Europeans don't need to travel too far to break the winter cold. There are loads of fantastic winter sun destinations in Europe.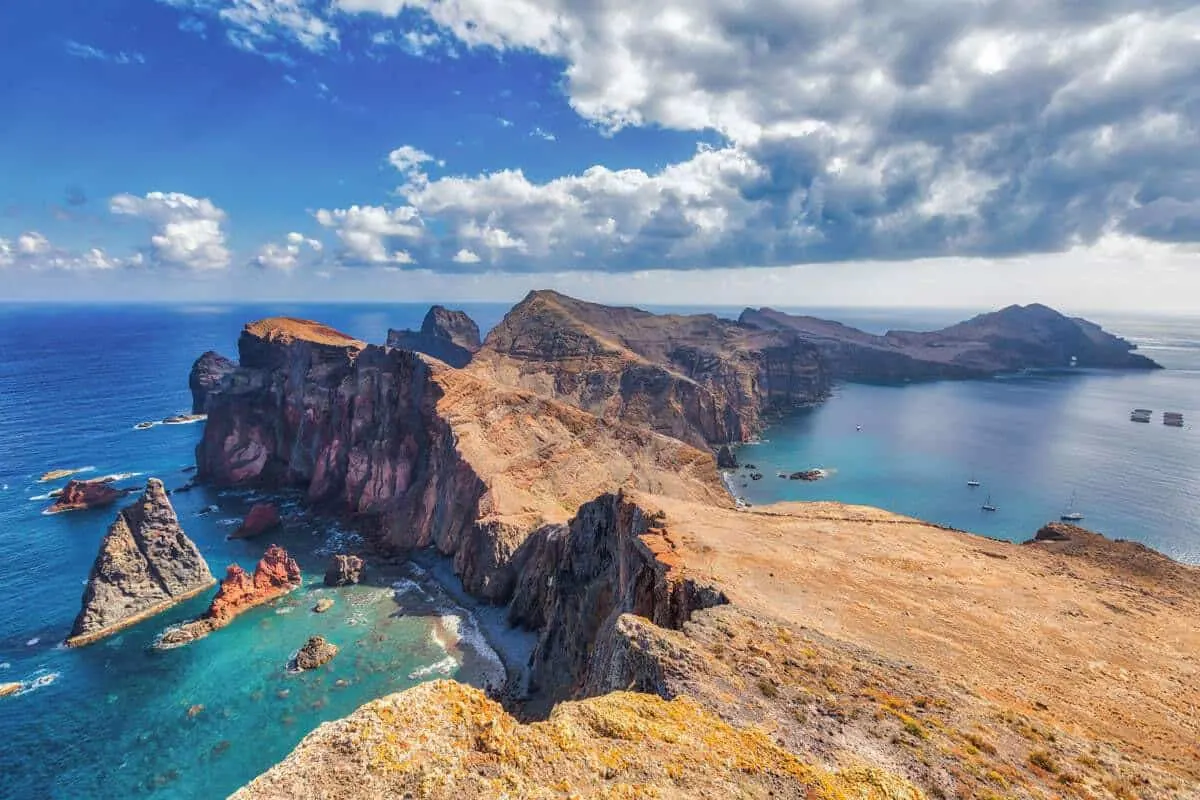 What to do in Madeira in Winter
I went to Madeira in February to escape the winter in Paris. In search of some sunshine and exercise, I found Madeira Island was the perfect winter escape. Exploring the streets of Funchal, the capital, and its main sights in a t-shirt, enjoying a cold beer on a sunny terrace was a delightful winter indulgence.
Being a volcanic island, Madeira has some great hiking opportunities. Hikes around the volcanoes and calderas are very popular with visitors.
The Levadas of Madeira
However, what I liked most about Madeira is the levadas, the irrigation channels specific to the island. The levadas originated out of the necessity to move large amounts of water from the west and northwest of the island to the southeast, which is drier but better for agriculture and living.
Madeira has 2,170 km of levadas which are also a network of walking paths through its beautiful countryside. It is lovely to walk through the country with the sound of the running water.
Madeiran Cuisine
While in Madeira, don't miss the opportunity to indulge in some local seafood paired with some vinho verde, a Portuguese speciality, then it's heaven.
Elisa | World in Paris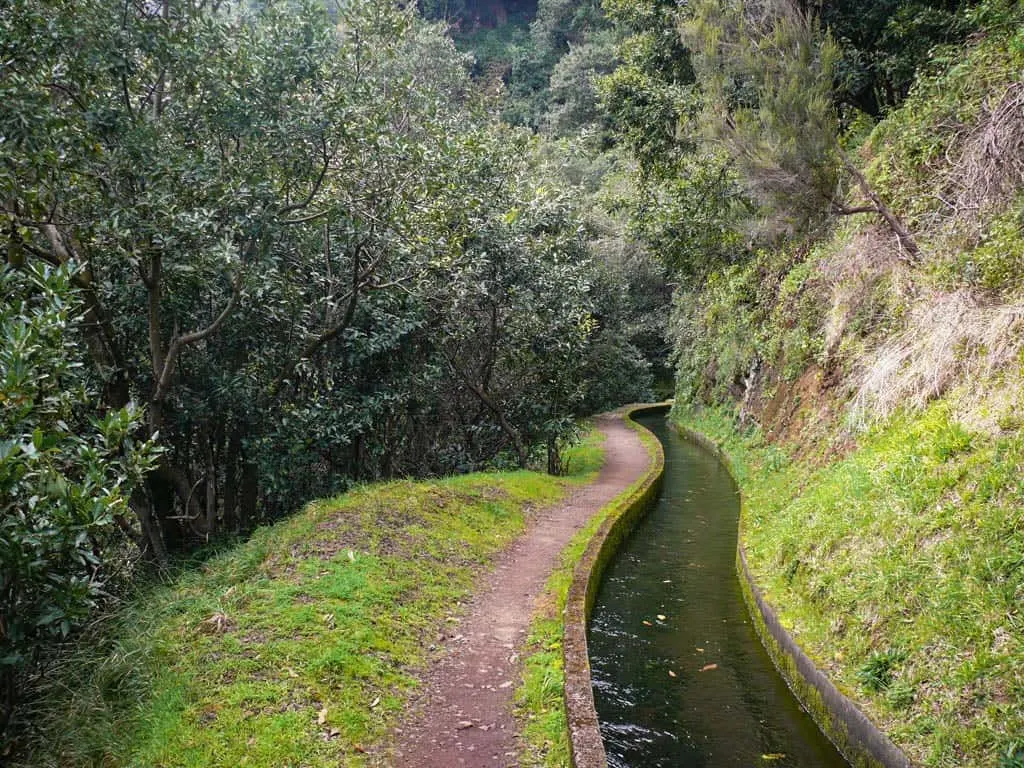 ---
Chestnut Festivals in Portugal
During winter especially, roasted chestnuts are eaten throughout Portugal. They're sold raw in the supermarkets and markets, and you'll often see people selling roasted chestnuts from stalls by the side of the road.
Understanding Portuguese Food
Roasted chestnuts are one of the few examples of Portuguese street food. People tend to sit down and eat in Portugal rather than walk around or stand up, even if they're having something small from a cafe. Roasted chestnuts are one of the few exceptions to this, so it's always exciting when winter comes around.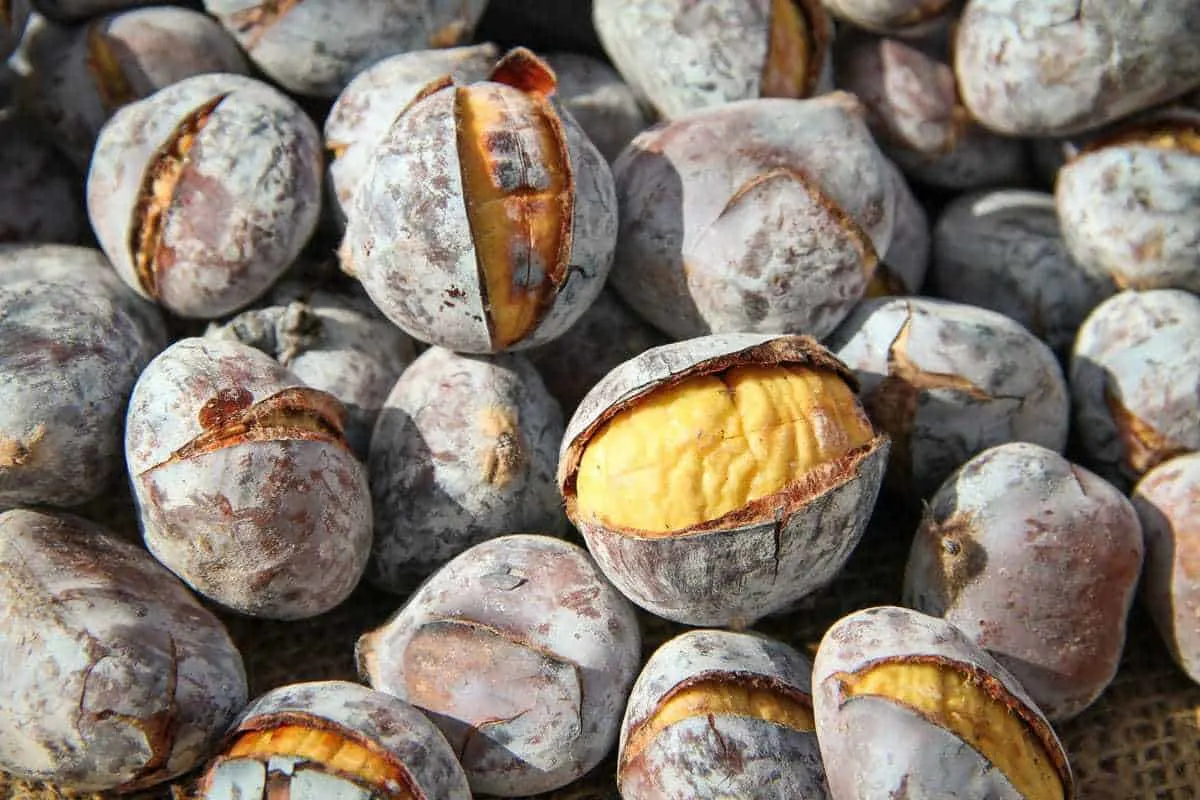 To appreciate chestnuts and how important they are to the Portuguese, it's worth making a special trip to one of the many chestnut festivals that take place during the winter in Portugal.
Where to Find Chestnut Festivals
The Feira da Castanha in Marvão takes place every year during November, and it's one of the biggest chestnut festivals. Although, Marvão is one of the most beautiful places to visit in Portugal any time of year.
People travel from all over Portugal to taste the different chestnuts, sample the new vintage of wine, watch the street performances, and shop for Christmas gifts. As well as roasted chestnuts, you'll find stalls selling ginjinha, locally-made jams, bread, liquors, and other traditional delicacies.
Marvão isn't the only chestnut festival in Portugal: you'll find festivals in places like Lousã, Vinhais, and Monchique in the Algarve. Chestnuts are also a big part of Dia de São Martinho, or St Martin's Day, an event celebrated throughout Portugal.
If you can't get to any of the chestnut festivals above, look out for "Magustos" on and around Dia de São Martinho, and you'll get a chance to sample some roasted chestnuts there.
---
James | The Portugalist | read more about Portuguese food here.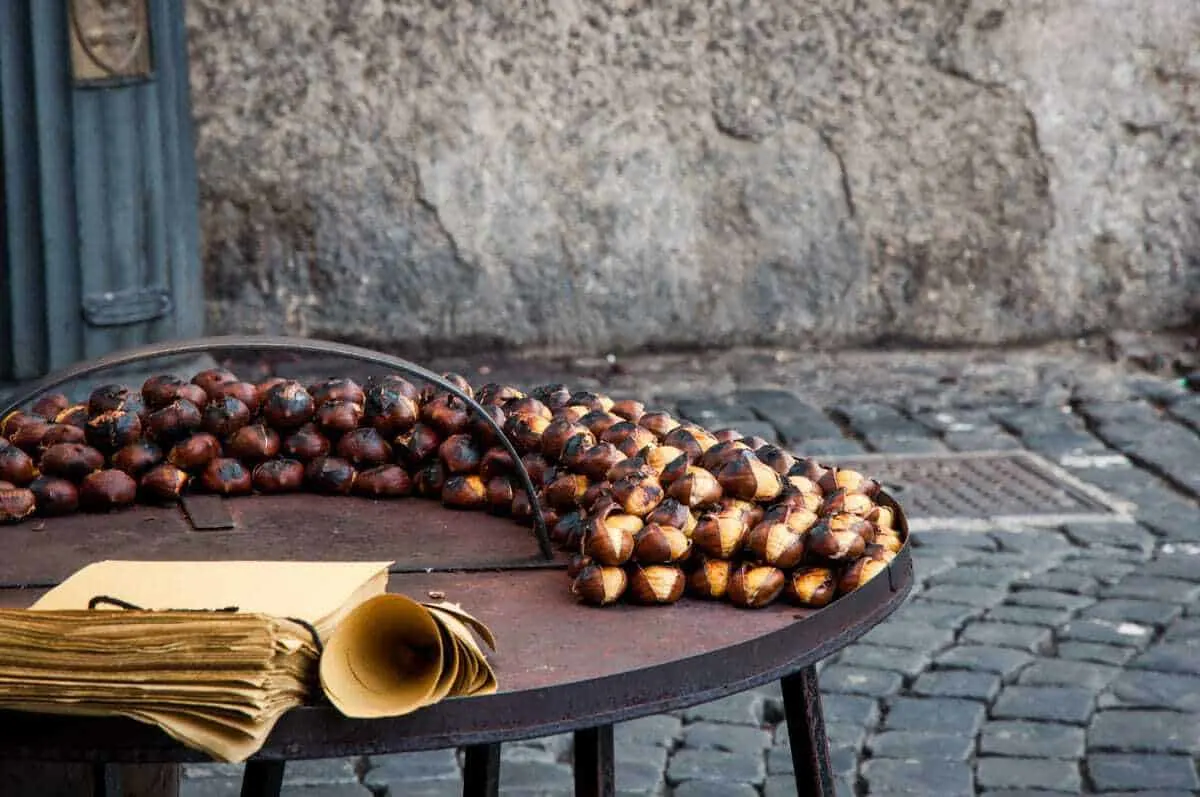 ---
Snowshoeing in Lofoten Islands Norway
A fabulous winter experience in Europe is snowshoeing in the Lofoten Islands. Having grown up in a warm climate, I never enjoyed or understood how to keep occupied in the snow.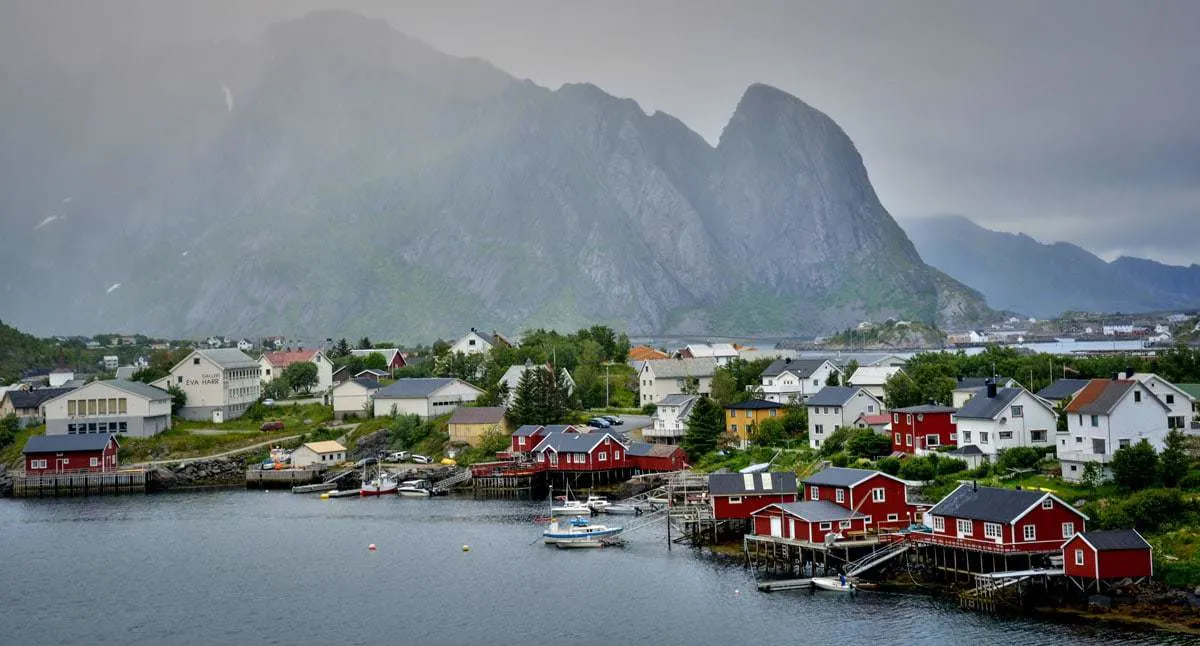 A trip to the Lofoten Islands gave me a new outlook on how the winter season can be enjoyable. So much so, it was a refreshing change to look forward to winter.
For my first snowshoeing experience, I decided to go with a private guide. We hiked through Kabelvåg, a part of the Lofoten Islands with outstanding views when the brief winter sunlight allows.
In the dark, quiet evening we snowshoed along the same track many animals had taken, following in the footsteps of moose. It is a fabulously energetic feeling to be out in the cold, quiet wilderness.
There are so many things to do in the Lofoten Islands during winter, but I highly suggest grabbing some snowshoes as a great way to see parts of the Lofoten Islands. You can walk and hike anywhere in Norway as land is owned by the people, not individuals. Norway the perfect country to explore atop a pair of snowshoes.
Megan |MeganStarr.com | Read more about the Lofoten Islands
---
Tivoli Gardens – Copenhagen
Many people dread travelling to Northern Europe during the winter months unless of course, they come to see the Northern Lights. However, Denmark, and especially Copenhagen, are worth a visit during the colder months. If not for the Christmas Markets or world-class museums, come for Tivoli during the Christmas Season.
Tivoli Gardens in Winter
Tivoli is the second-oldest amusement park in the world and is what inspired Walt Disney's Disney World. Every year, Tivoli goes through several seasons, including Halloween and Christmas. During these months, the gardens are intricately decorated.
And while Halloween is something special, nothing beats the Winter Wonderland that is Tivoli during Christmas. Trees are dusted in snow, Christmas songs are sounding from the speakers, the air is rich with the scent of mulled wine.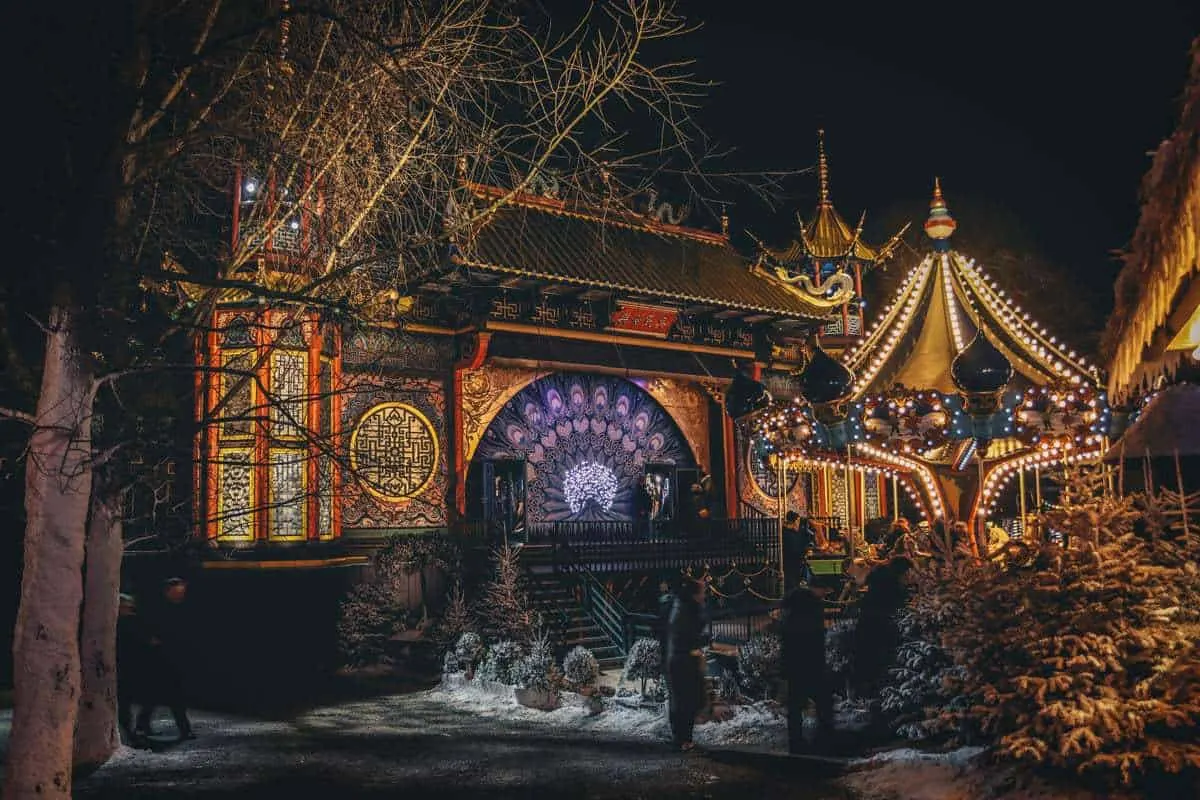 Some of the main attractions during the season are the big Christmas Tree with the heart-shaped ornaments, you can even have a face-to-face meeting with Santa Claus. There is also a small bazaar where you can shop for cozy Danish knitwear or souvenirs.
Best Time to Visit Tivoli Gardens
The best time to visit is in the morning, just after the gardens open, it is the best way to miss the crowds. However, the advantage of visiting in the night is, of course, that you get to see the gardens illuminated, which may even be worth dealing with the crowds.
Unfortunately, not all rides are open during the Christmas Season, but you can still go on the Star Flyer and get a view of the magic from above. Just make sure to wrap yourselves in warm clothes and buy yourself a delicious hot chocolate with organic marshmallows.
Jacky | Nomad Epicureans | Read more about Copenhagen here.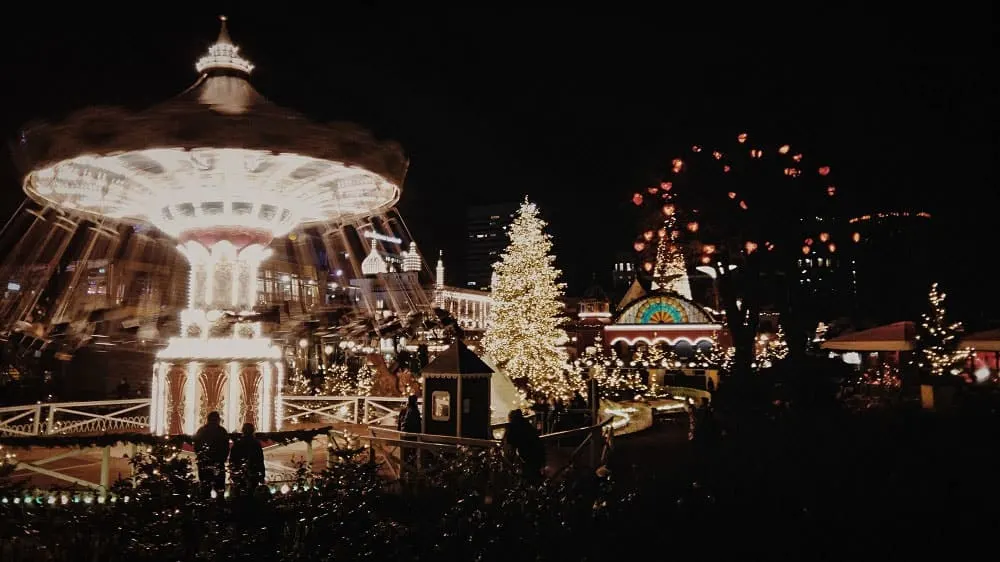 ---
Northern Lights in Reykjavik Iceland
Seeing the magical display of the Aurora Borealis – the Northern Lights should be on everyone's "once in a lifetime" experience list.
Late September to late March is the best time to see the Northern Lights. Imagine a crisp winters night in Iceland watching the magical Aurora's glide across the night sky. Some say this is a life changing experience.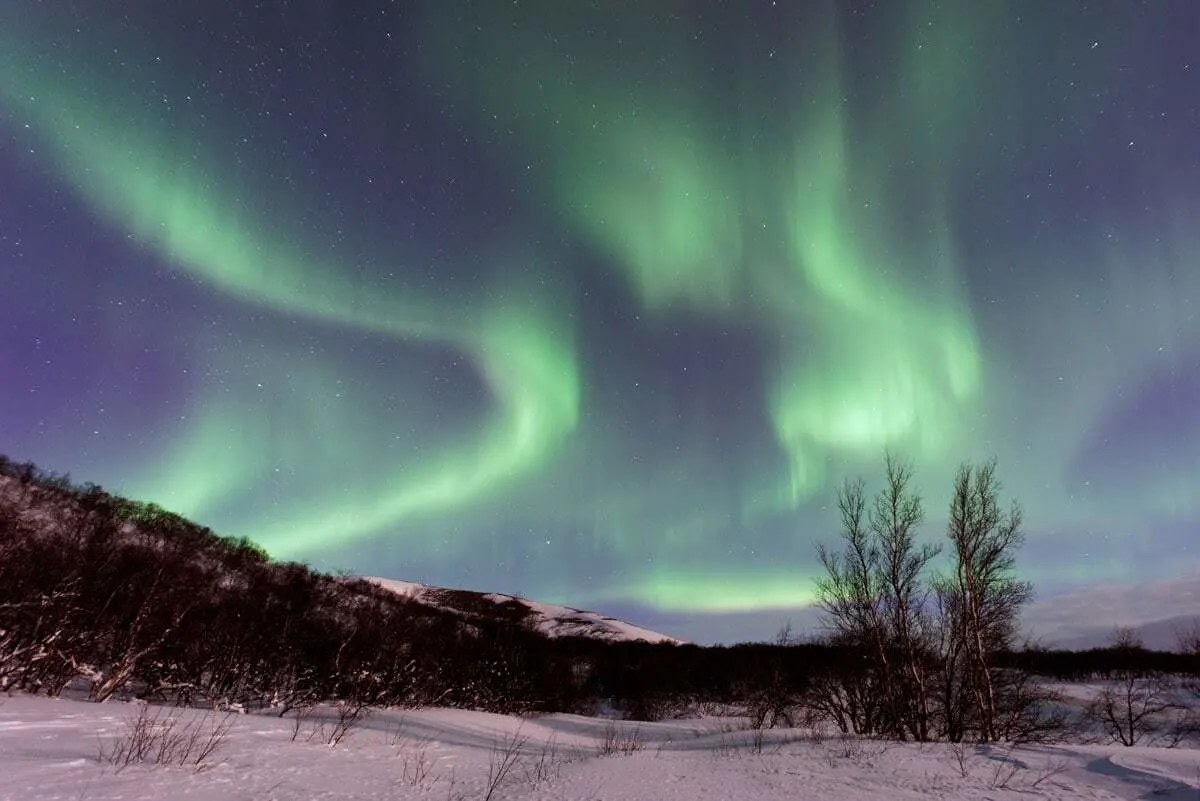 As with any natural event, chasing the northern lights can be a game of hit and miss. However, if you take the chance, more than likely you will be rewarded.
November weather in Iceland can be fickle. Not being one to be deterred, even by the Aurora Forecast promising clouds, rain and fog, it was en route to Iceland the first glimpse of an Aurora appeared out the window of the plane.
In Reykjavik, tour operators make a daily go/no-go call for the Northern Lights tour so start inquiring on the day of arrival. If you go and don't see the Northern Lights, many tour companies will rebook you if space is available. After three attempts I was finally rewarded with the magical spectre of the Aurora Borealis.
Suzanne | PhilaTravelGirl |Read more about Chasing the Northern Lights here.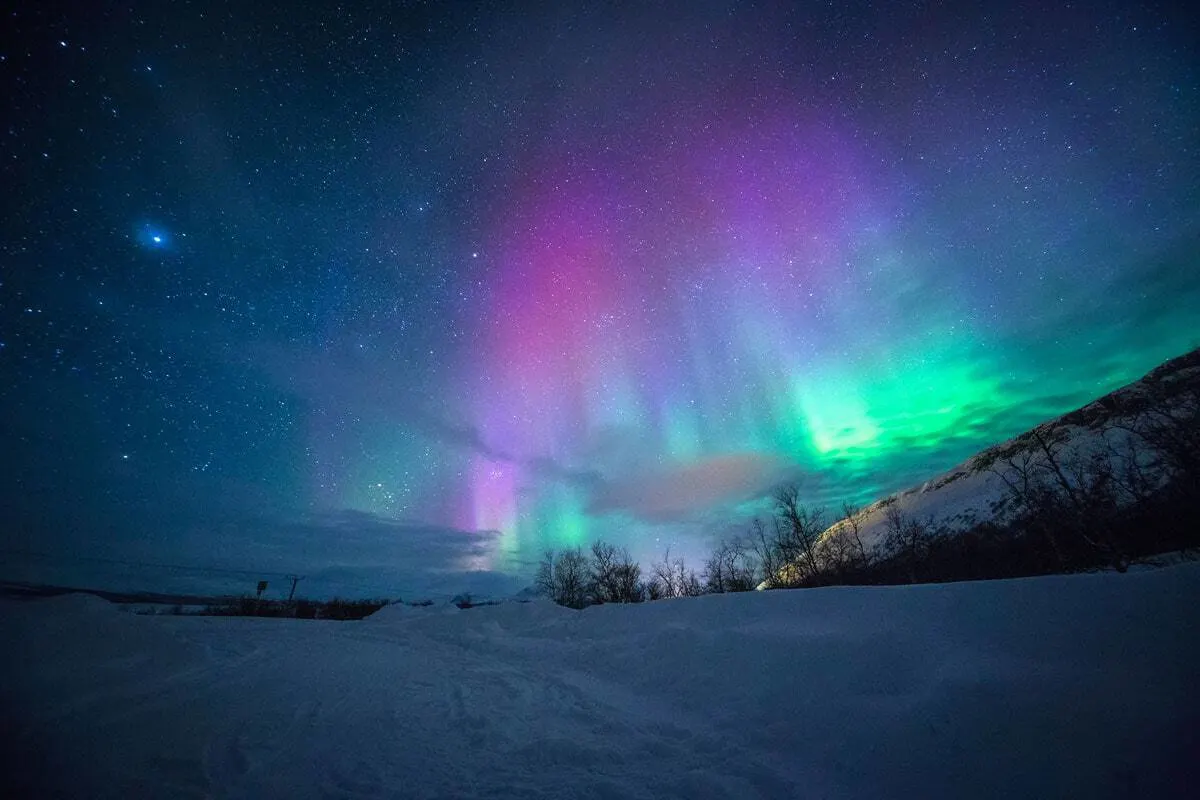 ---
Finnish Bathing Ritual Sauna and Snow
Once winter rolls in, rather than escaping it, you might as well embrace it. Learn from the Finns, who treat their bathing ritual as a mainstay rather than a luxury.
For this experience, we'll go high north – above the Arctic Circle. There, in an area called Lapland, the most amazing winters happen. What better way to finish a day enjoying Laplands unending possibilities for snow sports than a sauna?
Nearly every cabin and hotel in Lapland features a sauna of some description. However, to be like a true Finn and reap the health benefits of the sauna, you must follow the sauna ritual.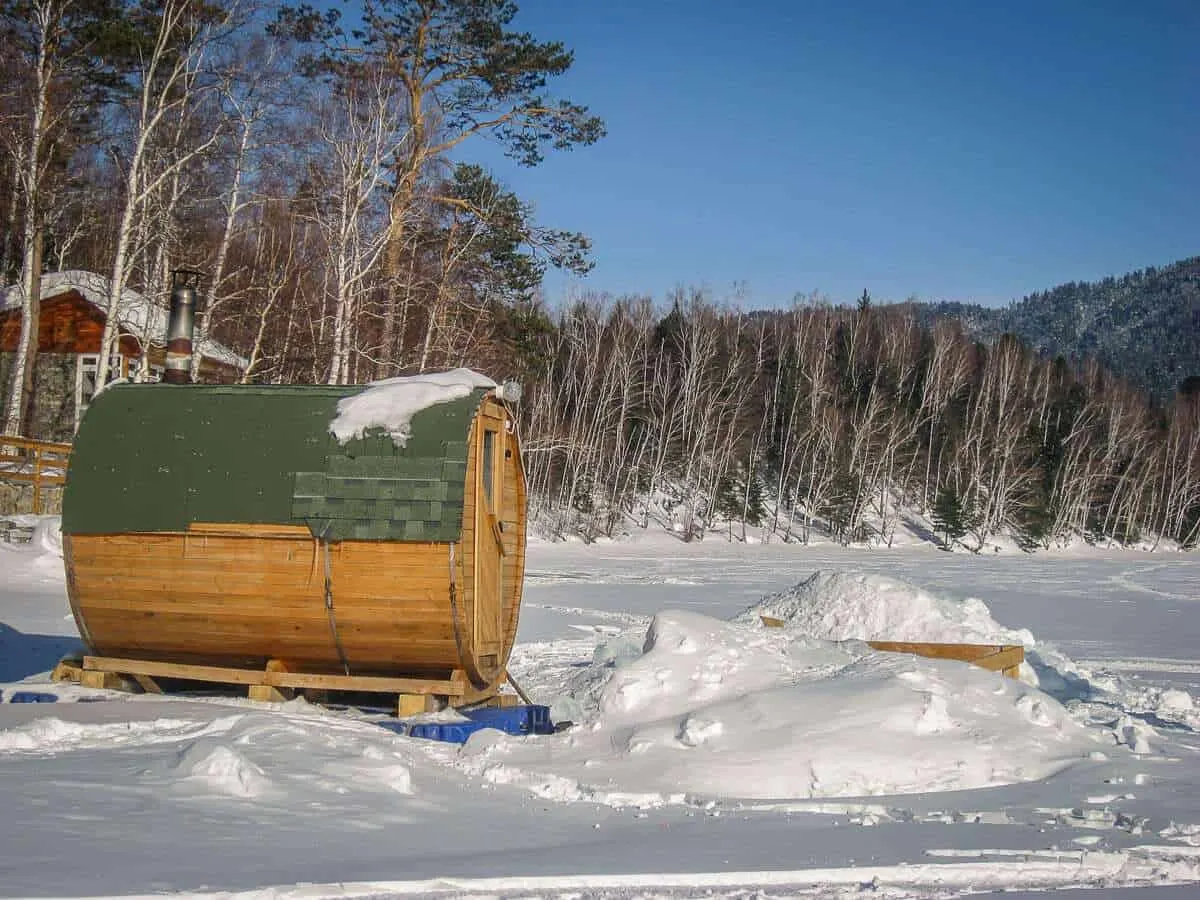 How to Take a Finnish Sauna. The Finnish Sauna Ritual
Step 1 – Hit the sauna, relax and expose your body to the extreme heat.
Step 2 – Once you have worked up a sweat, treat yourself to a refreshing roll in the cold snow.
Step 3 – Repeat
Don't overthink it and don't worry about your modesty, the faster you do it, the better. Just run out of the sauna and get rolling. As startling as it may sound, the overall feeling will be fantastic.
To fully mimic the Finnish ways, don't hesitate to do all of this with a can of beer in hand, which you can also leisurely sprinkle on the hot rocks in your sauna.
Veronika |Travel Geekery | Read more about Finnish Lapland in winter here.
---
Ice Hockey in Sweden
If you're visiting Sweden in winter, how about heading to an ice hockey game for a truly local experience. While football is the national sport of Sweden, ice hockey is a close contender. After all, many of the world's most famous ice hockey players have Swedish origins, such as Peter Forsberg, Nicklas Lidström, Mats Sundin, Henrik Lundqvist and many more.
The Swedish Hockey League are regarded as one of the best in the world. Some of the best teams in Sweden to look out for if you want to see a high-level game are Växjö Lakers, Frölunda Indians, HV71 and Djurgårdens IF. As the teams are pretty mixed country wise, no matter where you go, you should find a hockey team and a game close to your destination.
If you want to catch an ice hockey game in Sweden; ticket prices will vary depending on the teams playing. Expect prices starting from €10 pp for some of the more famous teams. Tickets can be booked online.
Alex | Swedish Nomad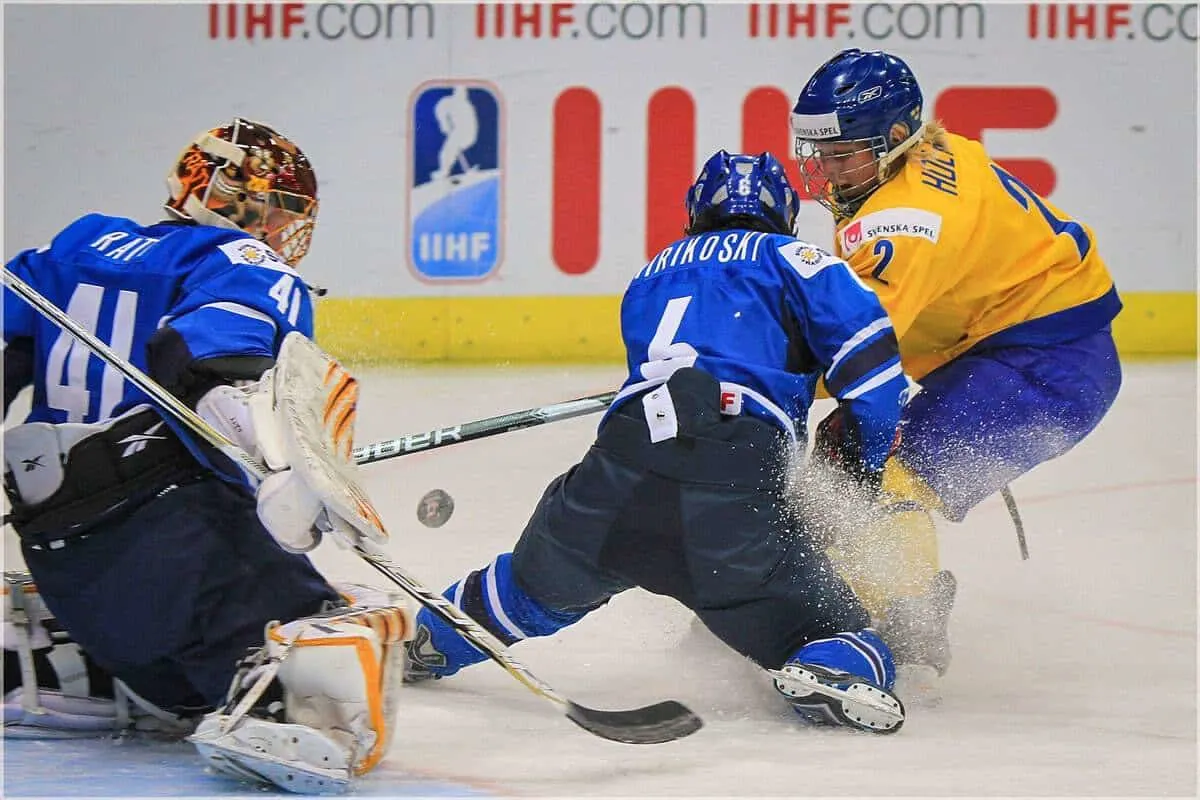 ---
Stay at Icehotel Sweden
Listed in Time Magazines World's Greatest Places 2018, northern Swedens Icehotel is not just a famous hotel but an art exhibition of ice and snow.
Since 1989 Icehotel has been reborn every year. Carefully selected artists come from all over the world after the first snow falls to create a new story in ice, snow and light that makes up the hotel.
The Icehotel may be a seasonal installation but still boasts some very impressive features. 100 guest rooms, an Absolut bar, a church which is popular for weddings, and a central hall and reception area.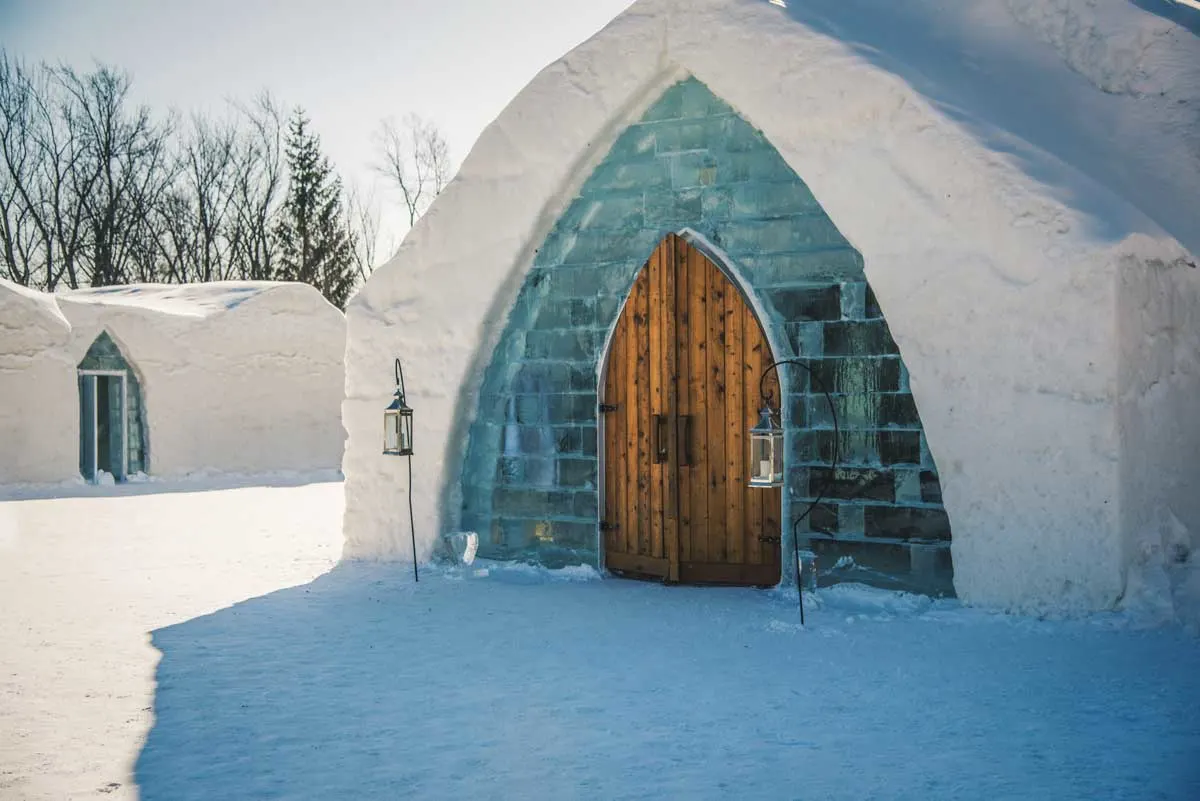 Each room is designed by a different artist creating a unique theme. If you are lucky enough to stay, make time to view all the rooms before they are handed over to their occupants for the night.
What's it Like Inside The Icehotel
All of the interiors are made from blocks of ice, including the beds, which means the rooms are, of course, unheated.
Temperatures inside are around −5 °C (23 °F) but don't worry about a chilly night in the sack. The beds are covered with thick reindeer skins and guests are provided with polar grade thermal sleeping bags.
There's no plumbing inside the seasonal structure except for in deluxe suites so for bathroom and toilet facilities; guests must walk to the changing and locker rooms next door.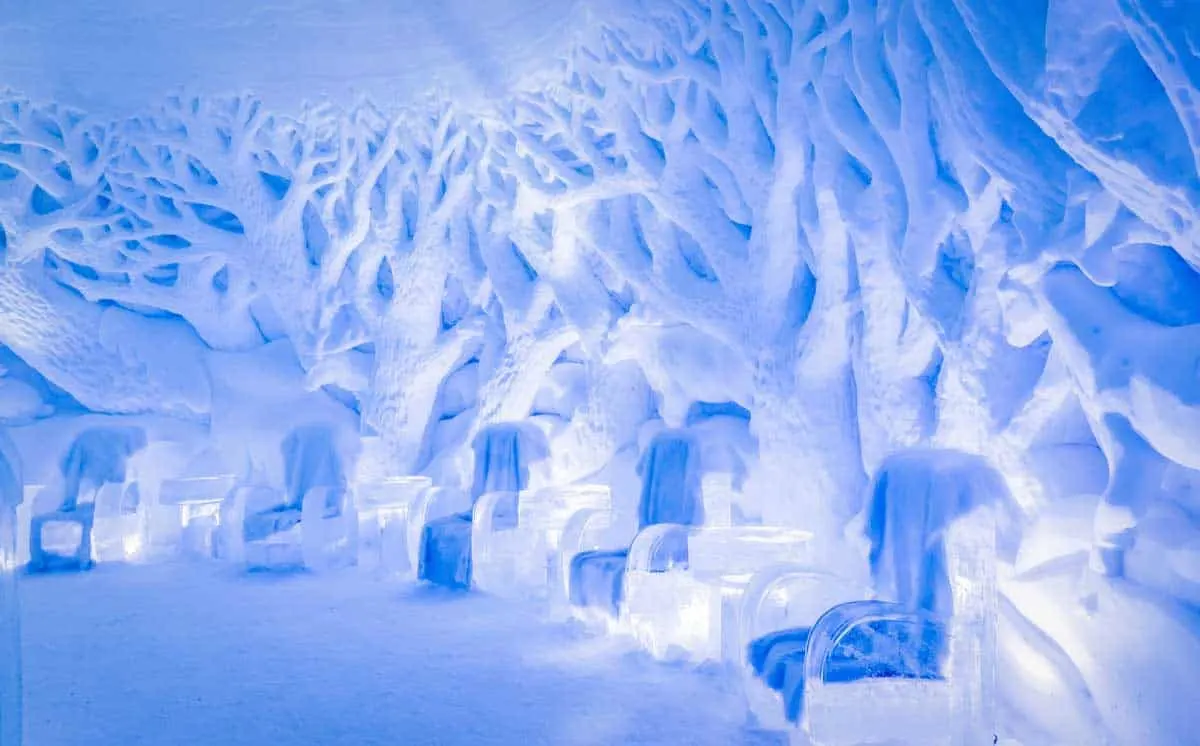 Most people last the night in their ice rooms but don't worry; you can retire to the central heated service area at any time.
Some people find they slide off the slippery reindeer skin coverings and onto the floor whereas others sleep quite soundly. Either way, it will be a unique experience.
Take your Pick, Warm or Cold Accommodation
For those who aren't sure about spending a night on the ice, the Icehotel also has "warm" accommodation on the property. It is usually recommended to spend one night cold and a few nights warm as it were.
Other than the unique aspect of the hotel, there is plenty to do each day. Ice carving lessons, snowmobile and husky dog sledding excursions, Sami cultural experiences and northern lights viewing.
A night in an ice hotel is undoubtedly one of the more unique things to do in Europe in the winter. Would you spend a night on the ice?
Kavita| Kavey Eats
cc 2.0 Isen Majennt Flickr
---
Trakai Castle Vilnius, Lithuania
If you want a beautiful, value for money European winter destination a little off the tourist radar, then head to Vilnius Lithuania.
One of the three beautiful Baltic countries, Lithuania experiences hard winters, but there are still plenty of reasons to hit the Baltic States in the winter months.
A short drive, around 20kms, from the capital Vilnius in Trakai on Lake Galvė you will find Trakai Castle, a 14th-century island castle. The only castle in Eastern Europe, built on an island.
One of the most visited tourist sites in Lithuania, the beautiful natural landscape of the Trakai area is popular throughout the year. However, many recommend visiting in the middle of winter, when the lakes freeze and snow covers the landscape and castle in pristine whiteness.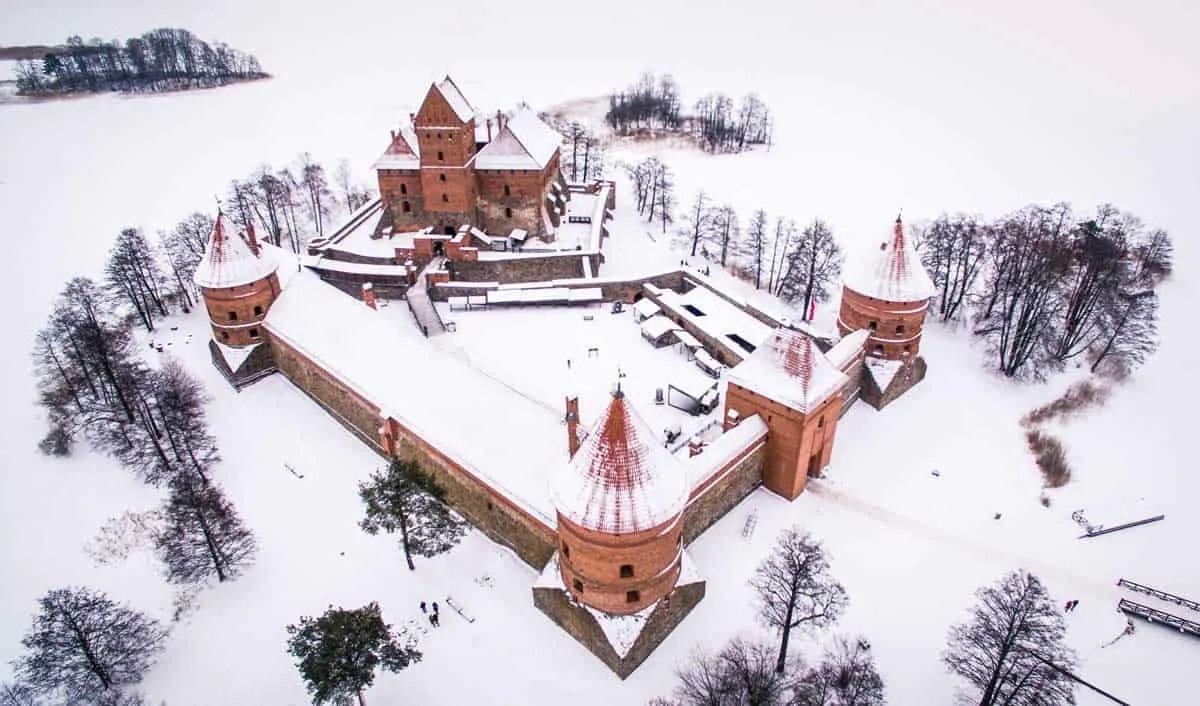 What to do in Trakai
In mid-winter when the lake freezes, it is possible to walk across the lake to the castle. Experience the castle and its grounds dressed in beautiful winter white.
Visit the Trakai Castle Museum where you will find some of Lithuania's most fascinating archaeological artefacts, religious objects, coins, and finds preserved from the excavation of the castle grounds.
Meet the local ethnic group The Karaites. The community has preserved aspects of the way of life their ancestors brought with them when they first settled in the area in the 14th century.
Culinary Delights in Trakai
One of those traditions is the kibinai. Dumplings filled with meat, cheese, or vegetables. They say only the kibinai found in Trakai is the real deal and those found in Vilnius don't come close to the made to order dumpling in Trakai.
What better way to spend a winters day than exploring the former medieval capital of Lithuania indulging in traditional homemade dumplings.
Lithuania and the Baltic States are one of Europe's best value destinations and you'll find very affordable hostels in Vilinus in the winter.
Mary | A Mary Road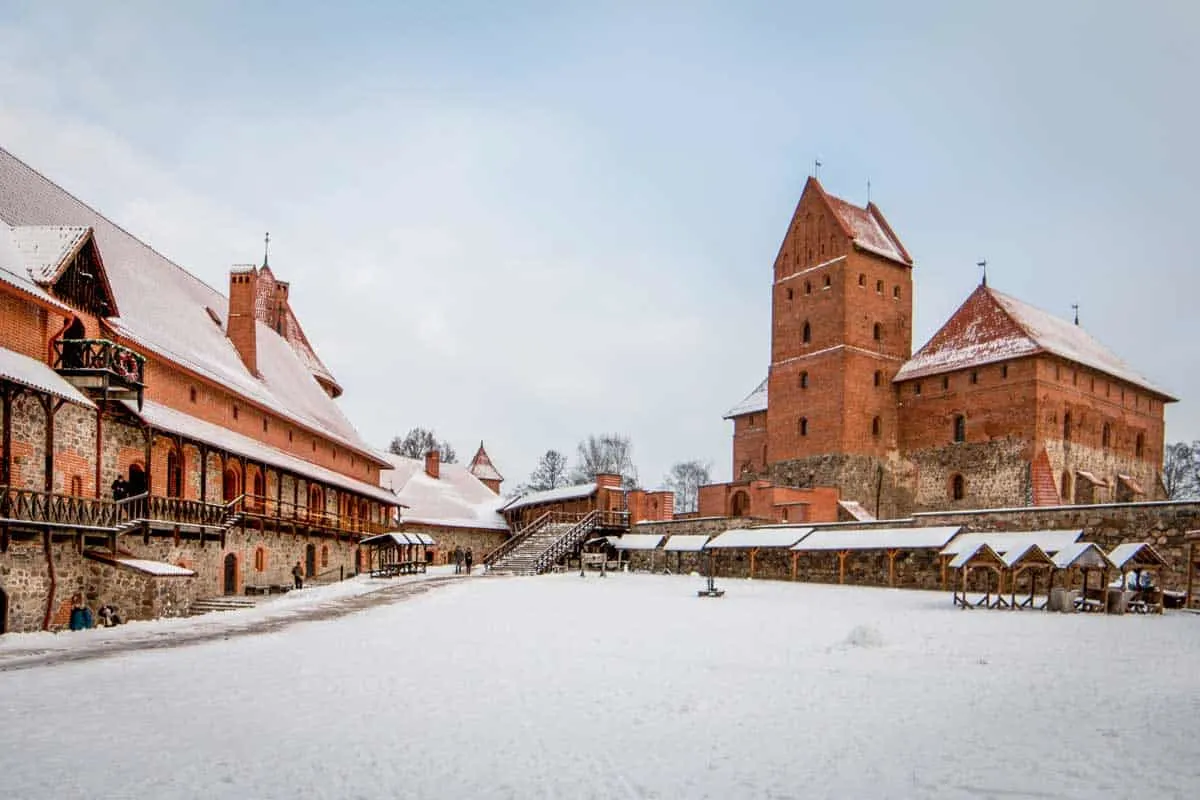 ---
Take the Golden Pass Train In Switzerland
Imagine mid-winter in Switzerland. While Switzerland paints a beautiful picture in winter, snow and rain can limit your options for exploring. The perfect alternative – the Golden Pass Train Ride.
Switzerland boasts striking landscapes and stunning vistas, and one of the best ways to explore them is to take a scenic train ride. After all, Switzerland has some of the most scenic train routes in the world. Every route in Switzerland offers breathtaking views of the countryside, the Alps, and the fairytale villages.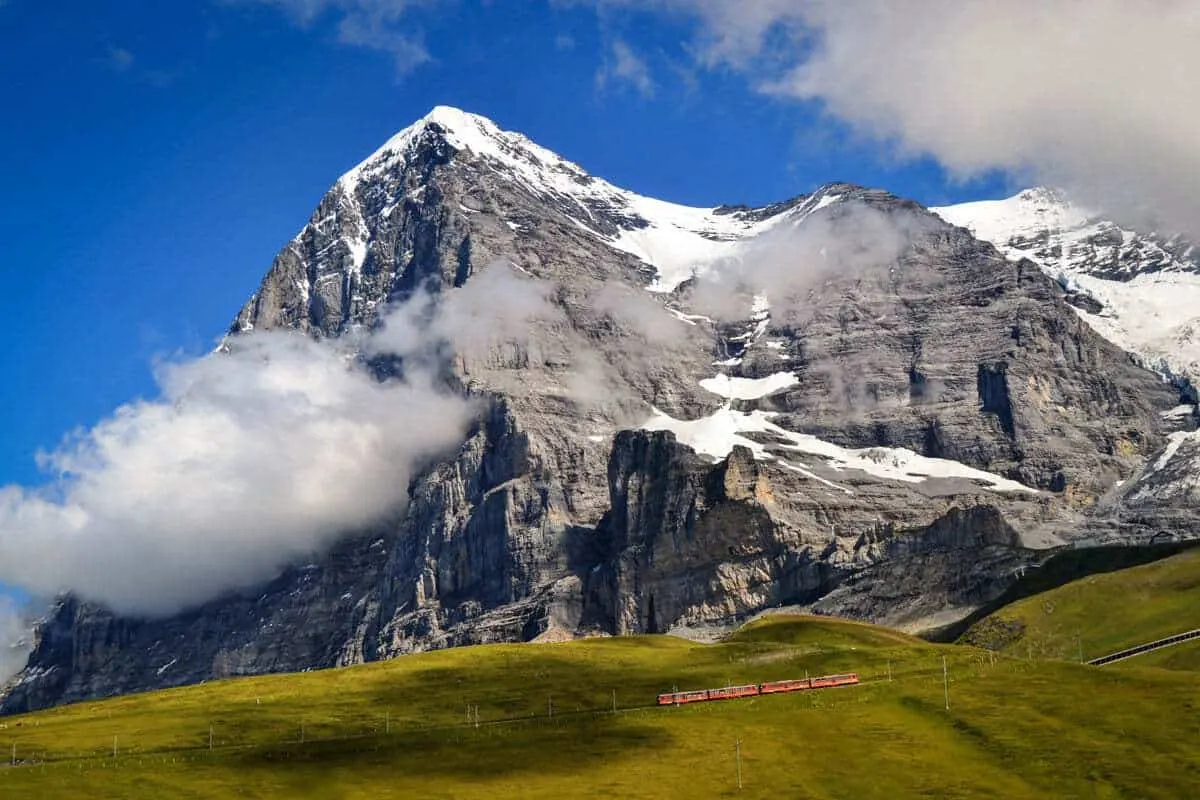 The Golden Pass Train Route
The Golden Pass Trains follow the most scenic routes in Switzerland. Enjoy iconic Swiss vistas of lush green meadows with cows grazing, Lake Geneva, the Swiss Alps, and small charming villages.
You can choose between two styles of trains – 'Panoramic' trains or 'Classic' Trains. Panoramic trains have large windows for unobstructed views as the name suggests. The Classic train, on the other hand, exudes a vintage charm and offers a glimpse into the good old days of train travel.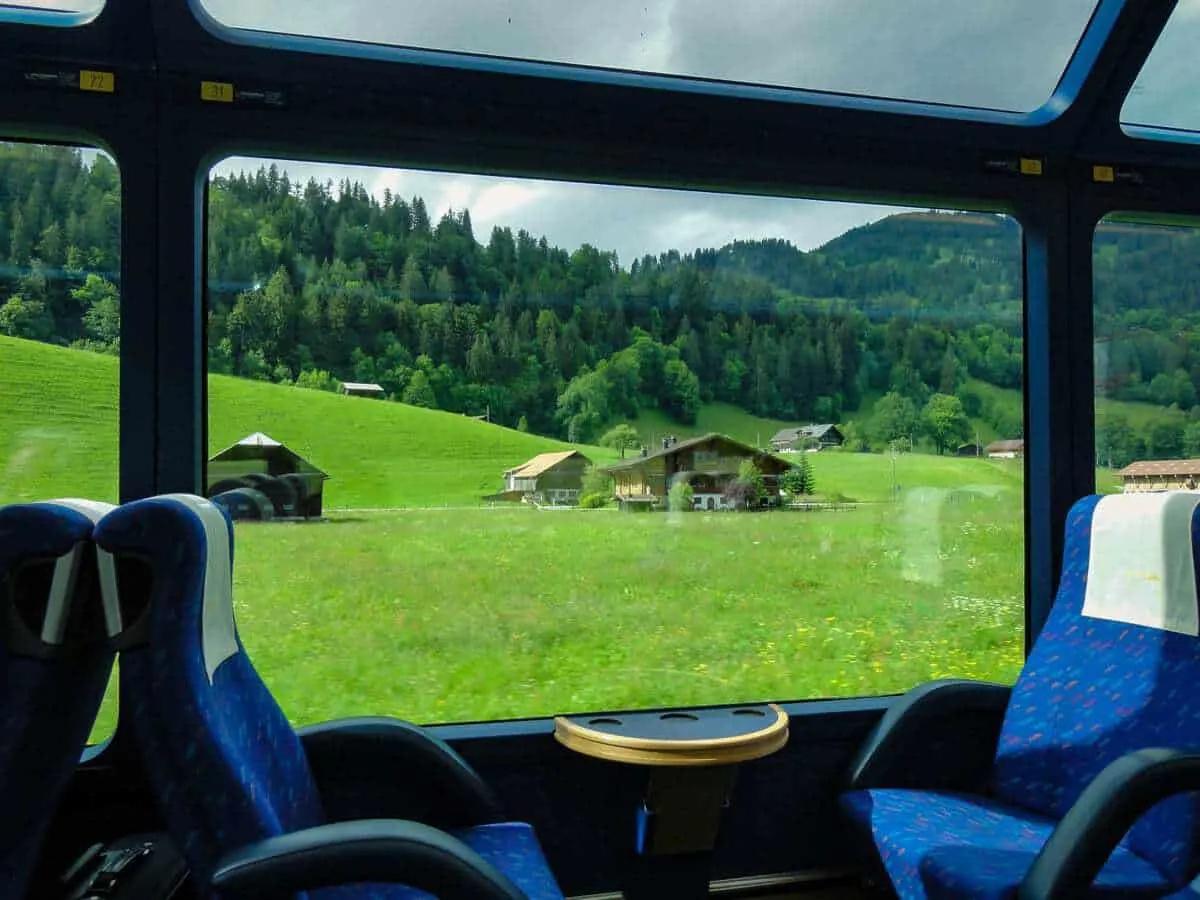 The Golden Pass Trains take three routes running between the city of Montreux to Lucerne stopping at Zweisimmen and Interlaken. You may choose to take one of the routes or book all three.
What better way to see the full beauty of Switzerland than by train.
Rashmi & Chalukya | GOBeyondBounds | Read more about the Golden Pass Train here.
---
These unique winter experiences are really only the tip of what Europe has to offer in winter. Are you ready to start planning your winter in Europe adventure?