More billionaires are living in Moscow than any other city in the world.
Russia adopted equal rights for women in 1918, two years before the United States.
With a population of 12 million, Moscow is the biggest city in Europe.
Known as the "Lungs of Europe" the country's forests are second only to the Amazon.
Russia has 25 UNESCO world heritage sites.
The Best Things to do in Moscow
Moscow is an intoxicating city. With over 800 years of fascinating history, the city is surprisingly modern, with wonderfully sophisticated elegance. You will be taken in by its beauty and overwhelmed by the grandeur of the famous Moscow landmarks.
Plan Your Time in Moscow
Moscow was the last stop on our 13-day Russian river cruise, cruising from St Petersburg to Moscow.
Moscow, much like Paris is a city you could spend a lot of time exploring at your leisure, especially if you are visiting Russia for the first time. However, with so many famous and iconic attractions, you don't want to miss any of the best things to do in Moscow with the time you have available. With this in mind, we recommend you plan your Moscow itinerary wisely.
---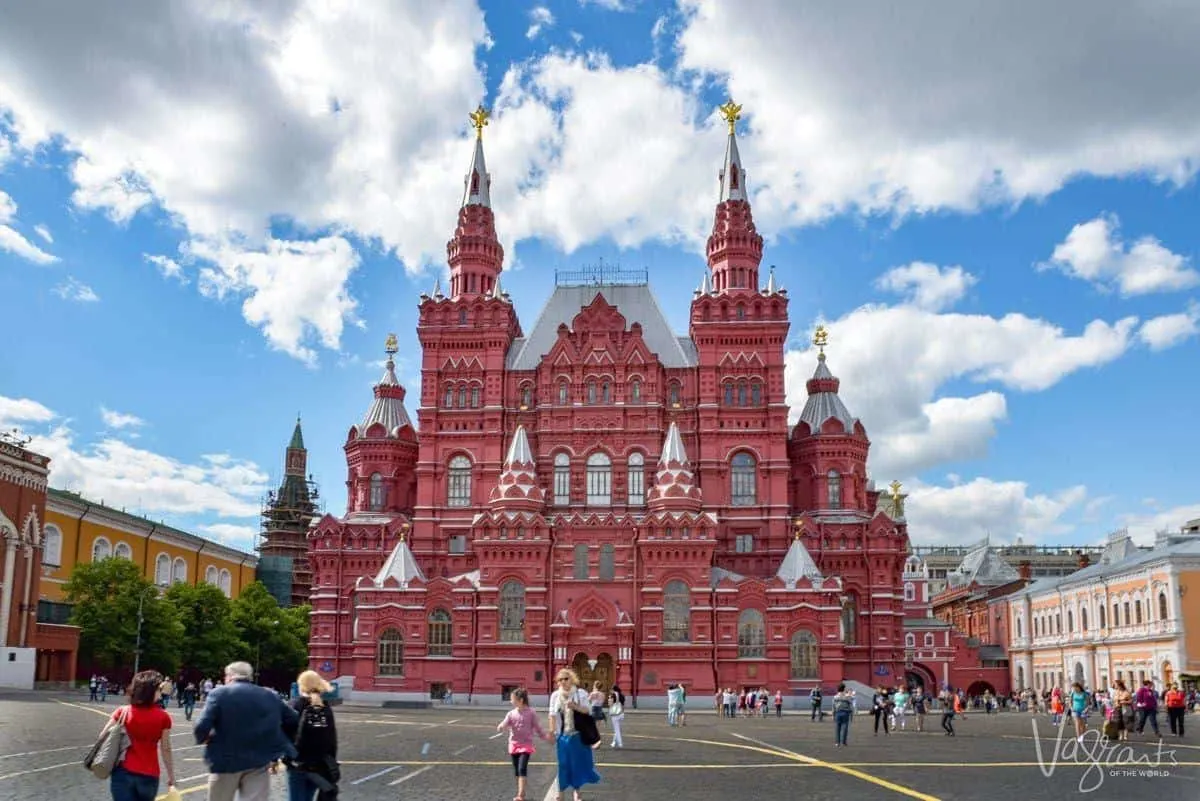 At first, it may not be apparent, but there is a method to the madness in the structure of the colourful domes in that each represents a different chapel. Eight churches arranged around a ninth central church, all said to honour the various struggles.
Tips for Visiting The Kremlin
You cannot go inside the Kremlin walls unless you are visiting a museum or are part of a tour group.
All of the exhibitions and museums have different opening times and entry cost.
Some attractions have allocated viewing times such as the Armoury Chamber.
If you want to visit the Kremlin independently, it is recommended to either buy all of your tickets online before you go to avoid long queues. Also, you should be familiar with viewing and opening times to plan your visit.
We recommend either a private Kremlin tour or group tour as all tickets are included in the price and your guide will know the times and entry procedures for each attraction. Both of these tours are great options.
Tours of the Bolshoi Theatre
Bolshoi Run Tours
The Bolshoi Theatre runs one hour guided tours on the following days-
Tuesdays, Wednesdays and Fridays at 11.00 in Russian and 11.30 in English.
Numbers are limited to 20 people.
Times and days may change seasonally.
Tickets can only be purchased on the day of the tour except on Thursdays when tours are conducted by e-ticket. These are purchased on the Theatre website.
Read Our Complete Guide to the Most Beautiful Moscow Metro Stations
Nearly completely demolished, the 12.2 hectares (30 acres) park has been re-established with new paths, lawns, and flowerbeds: the aim – to transform the park into an eco-friendly recreational zone and one of the epicentres of life in Moscow. It is the first Russian park to compete with some of the leading parks around the world.
Take a Gorky Park and Muzeon Art Park Private Walking Tour
---
Moscow was the final stop on our Viking Cruises 13 day "Waterways Of The Tsars" cruise from St Petersburg to Moscow. See "Cruise Through Russia" for more details on this cruise.
Take This and Other Moscow Walking Guides With You to Read Offline – Download Them Here
---