Have you ever dreamed of strolling through Moscow's Red Square or seeing the ballet in St Petersburg – A city where opulent palaces offer a glimpse into one of the world's most intriguing royal dynasties.
Russia's two great cities still invoke the old school romance of travel – a journey into the enigmatic and exotic. However, in a country as immense as it is fascinating, there is so much to see beyond the metropolis of Russia's great cities.
A Russian River Cruise, St Petersburg to Moscow on Viking Cruises Waterways of the Tsars cruise will take you to Russia's great cities and beyond.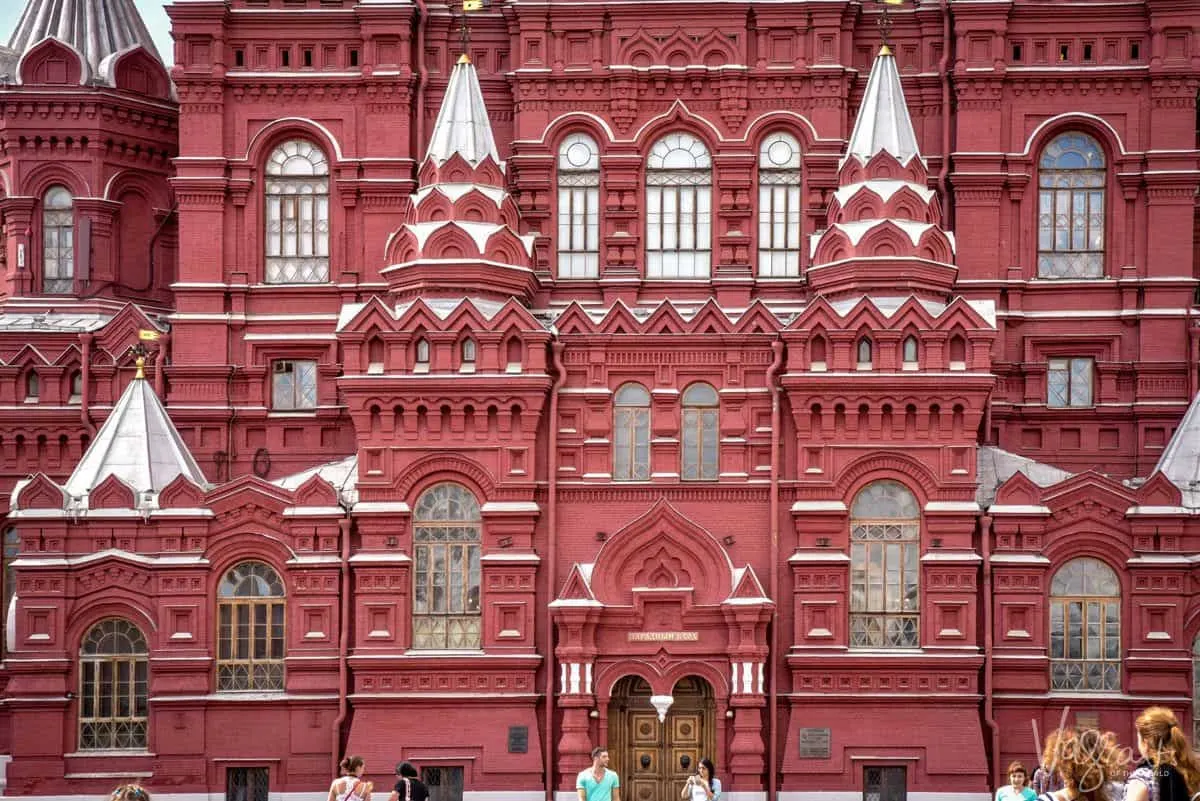 Sailing the rivers and lakes of Russia from St Petersburg to Moscow takes you into Russia's heartland. It is deep in the country where you find the Golden Ring cities, charming towns and iconic, sometimes forgotten monuments that helped define Russia's history.
A Russian river cruise opens up possibilities to visit parts of Russia that may otherwise be logistically difficult. It also offers a very efficient and cost-effective way to see the best of this vast country.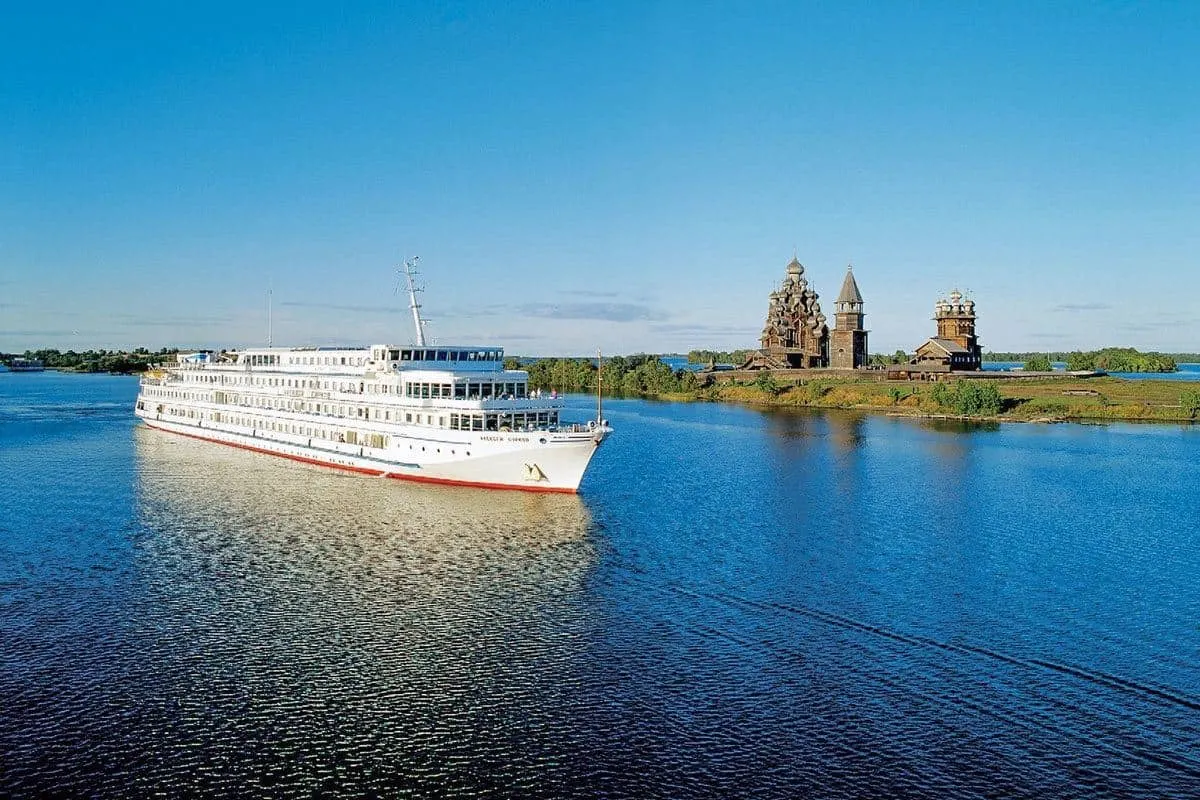 Visiting Russia
Unfortunately, Russia is a country too often sidestepped by many travellers.

It has been more than two decades since Russia emerged from behind the Iron Curtain and began welcoming tourists with semi-open arms and a cold stony smile.
However, Russia still carries the stigma of being a difficult country to travel to and in. Thanks mostly to a reputation of complicated, bureaucratic visa processes and rumoured corruption.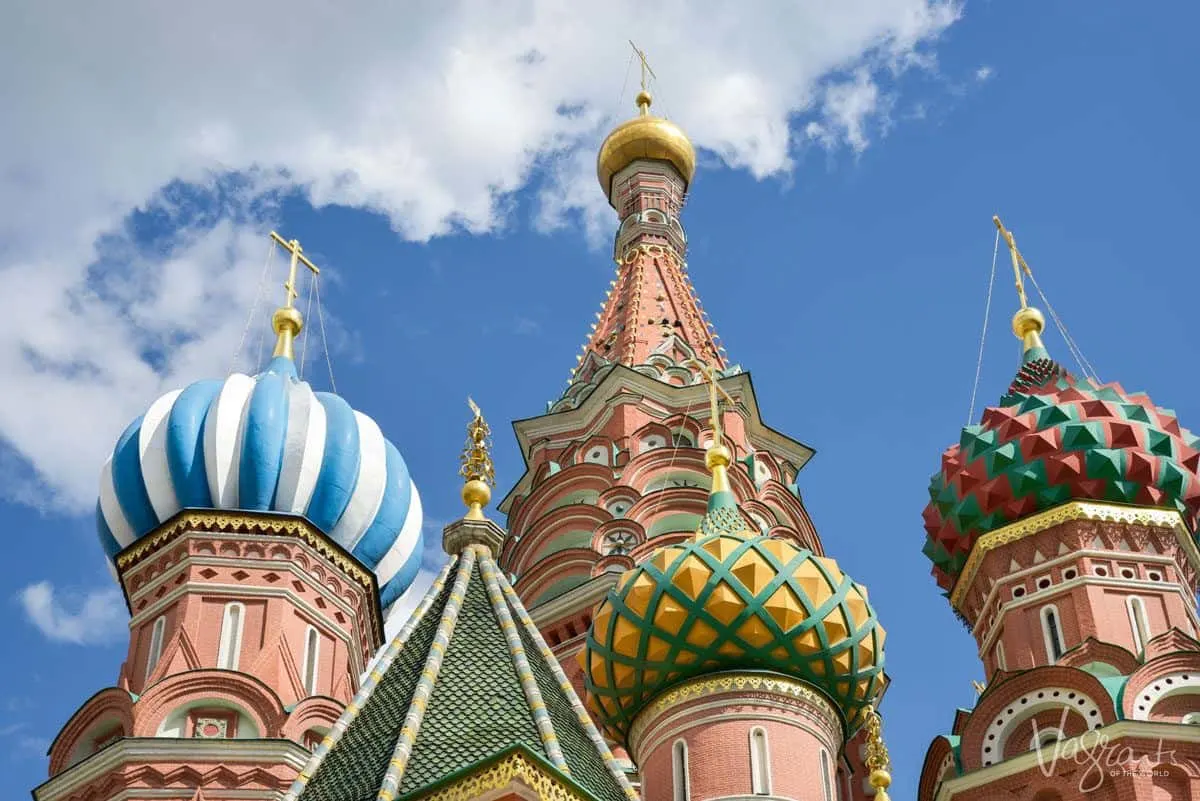 Russian Visa Requirements
If you are travelling through Russia on a river cruise, unless you are eligible for the new 16 day e-Visa, most foreign nationals must have a tourist visa. The Russian visa process can take up to a month or two. It is important to check your visa requirement and make sure you get it submitted well in advance of your intended travel date.
The gradual introduction of the new e-visa is making the process simpler but is restricted for visits of only eight days and specific entry points. Based on this, the e-visa is not suitable for a river cruise in Russia.
Applying online for your Tourist Invitation Letter is quick and simple, allowing you to proceed with your application. You can read more about planning your trip to Russia here.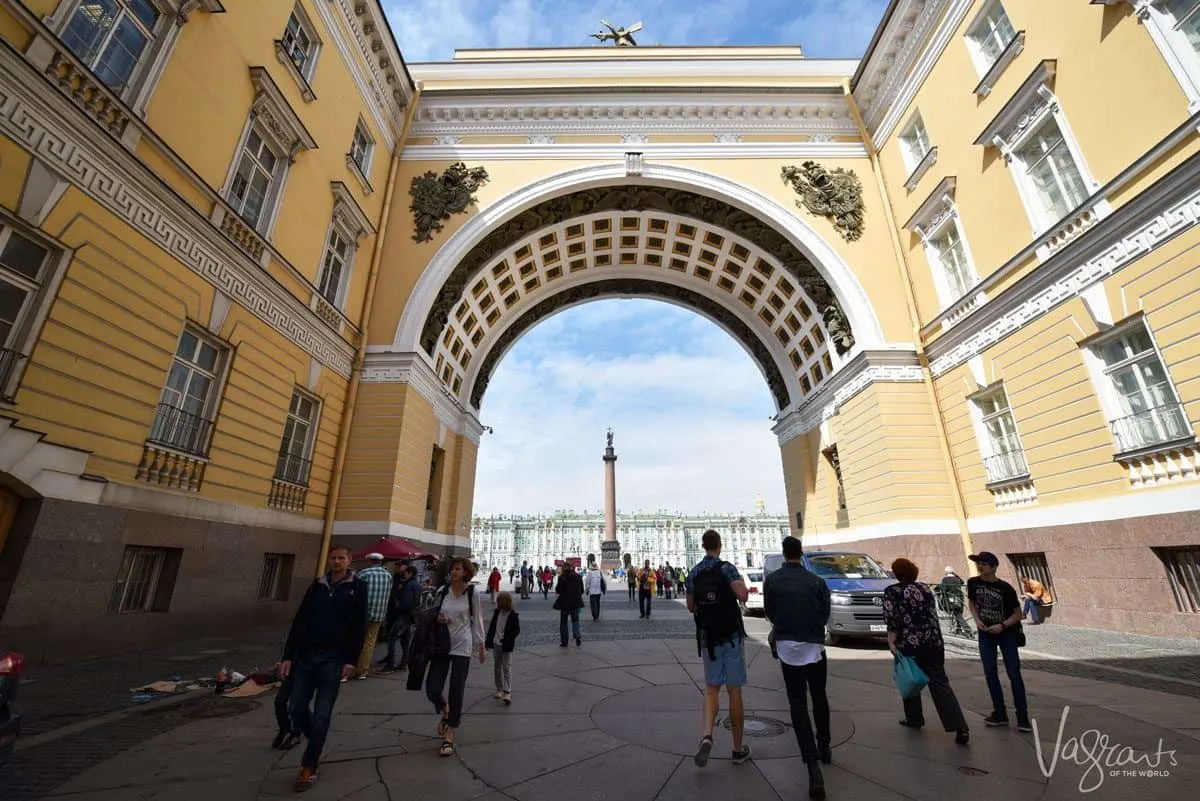 Travel in Russia
As independent travellers, our biggest dilemma with Russia is logistics. Russia covers two continents and nine time zones, and the highlights and must-sees are spread far and wide, with nothing in between.
When you don't have unlimited time or an unlimited budget, the distances can pose some issues. Transport through Russia can be expensive and less than comfortable, and car hire could be a costly alternative.
Is a River Cruise The Best Way To See Russia?
We would say yes, a river cruise is a fantastic way to see Russia. For most, Russia is a once in a lifetime adventure, so, it boils down to how much of Russia do you want to see.
A river cruise makes sense for most travellers to Russia and most travel budgets. A cruise enables visitors to experience more of Russia than perhaps they would on their own.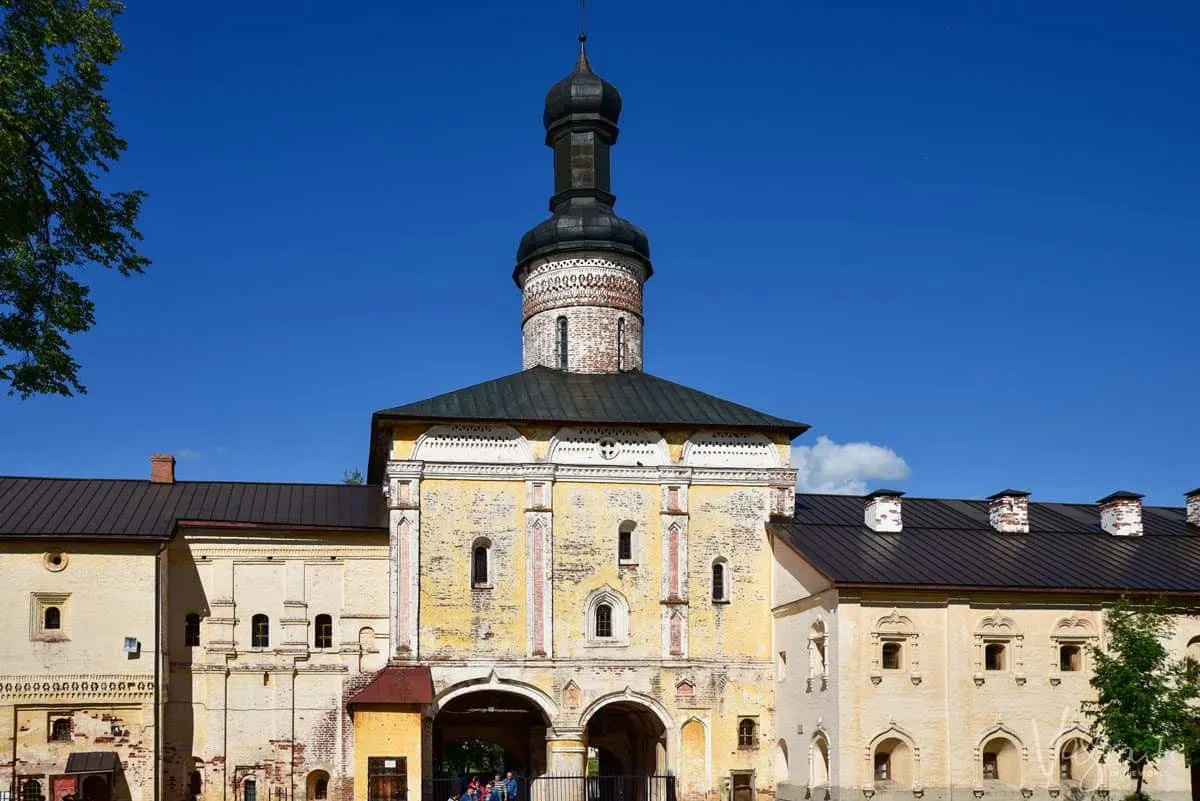 You Might Also Like: What to Take on A Russian River Cruise
Viking River Cruise in Russia
Much like some of the unreliable, uncomfortable transport methods available in Russia, some of the Russian cruise lines are shall we say, still a little Soviet.
Viking Cruises, on the other hand, offers a product in Russia to the same high, 5- star standard as their river cruises throughout Europe. A full-service luxury river cruise from the moment you make your booking to the time you disembark.
And much like Viking's European itineraries, the Viking Russian Cruise itineraries are destination focused with high quality shore excursions and enrichment experiences.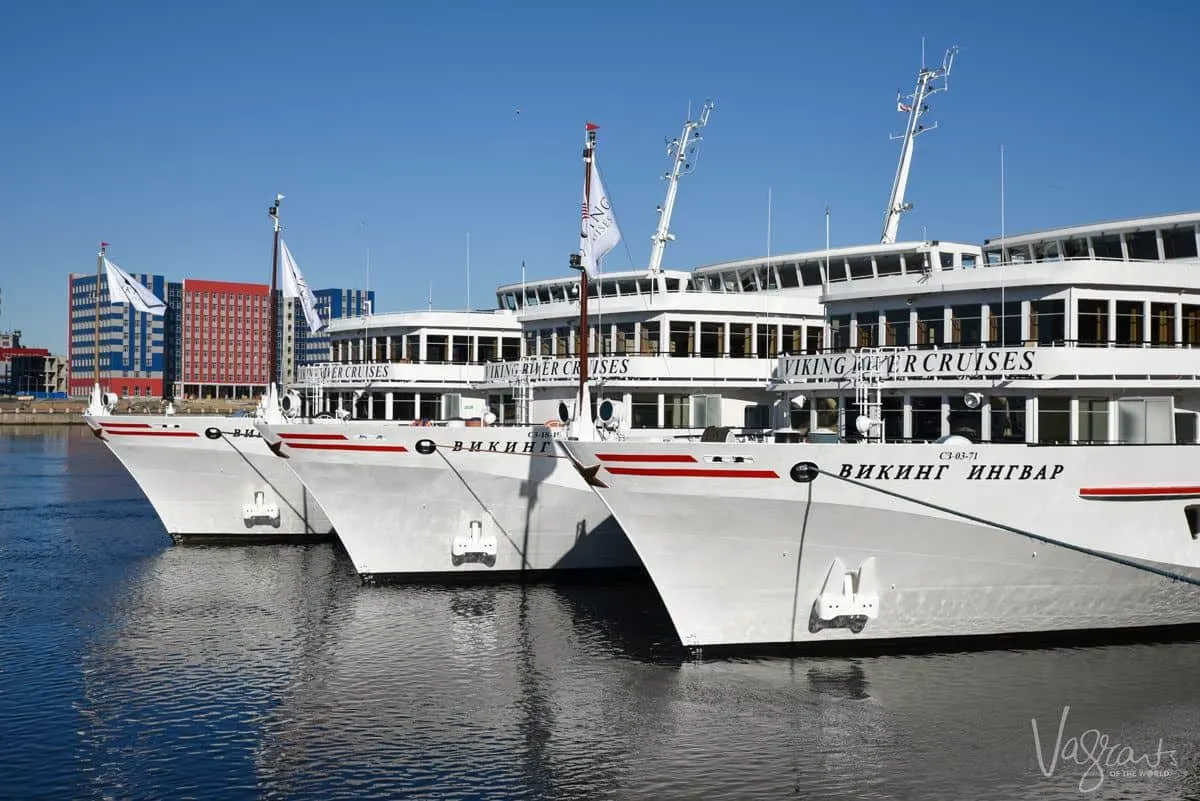 Plan Your Trip to Russia: Know The Best Time to Visit Europe
Viking's All-Inclusive Cruise Packages
The big appeal of cruising for some is the all-inclusive aspect, so they know what to expect. With Viking Cruises, you can expect so much more than just an all-inclusive cruise package of meals and drinks.
In addition to optional excursions, there are also lots of free shore excursions throughout the cruise.
Fly Cruise Packages
You can book your Russian river cruise inclusive of flights from your home port, wherever in the world that may be. An attractive option for those wishing to take the guesswork out of arranging flights, knowing you have access to Vikings Cruises discounted fares and upgrades.
Fly cruise packages include all taxes and airport transfers in Russia. Helpful for those who don't like to navigate the taxi hustle on arrival in a new country. (Speaking from first-hand experience, Russia certainly has some good taxi scams running from the airport).
Information to assist you with the visa process is also included, the most daunting prospect of visiting Russia for many.
More Incredible Viking Cruises You Can Take in Europe: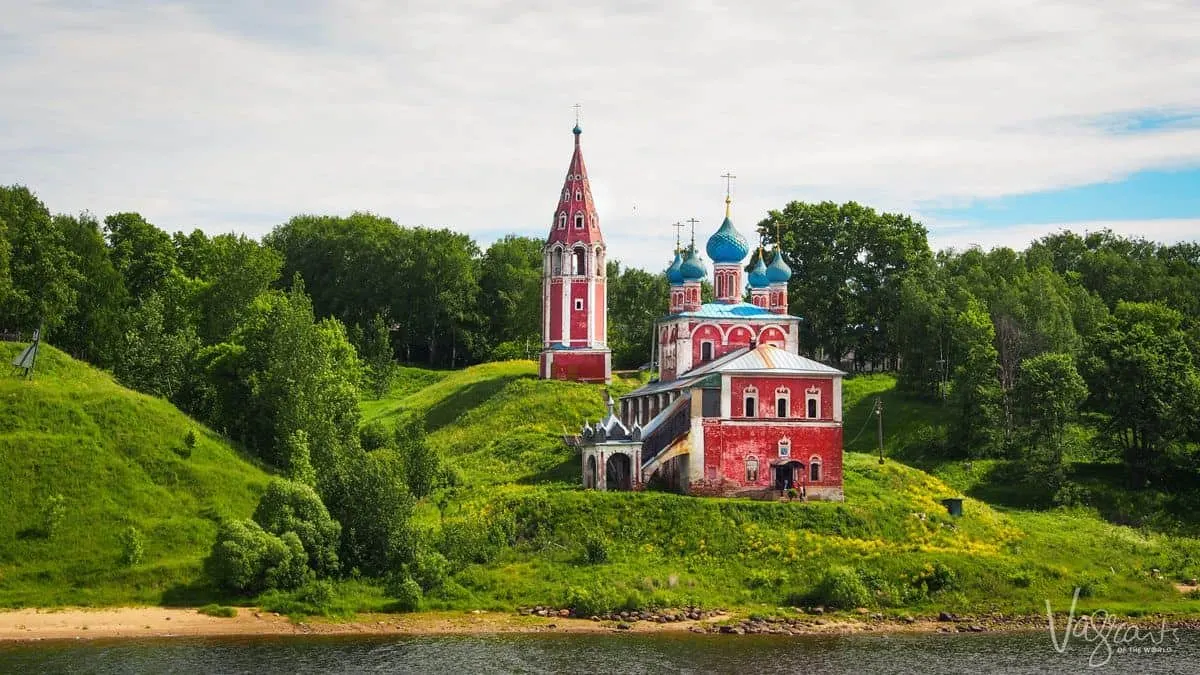 Shore Excursions and Tours in Russia
During the river cruise, a high quality tour itinerary of shore excursions and tours are included to ensure you experience the best things to do in Russia.
There are also some delightful surprises, such as an evening at the ballet in St Petersburg. The tour schedule is designed with the arts and culture in mind, not just the big tourist hot spots.
Additional or Optional Tours can also be purchased at each destination such as our traditional Russian Banya experience in Mandrogy or the vodka tasting on board.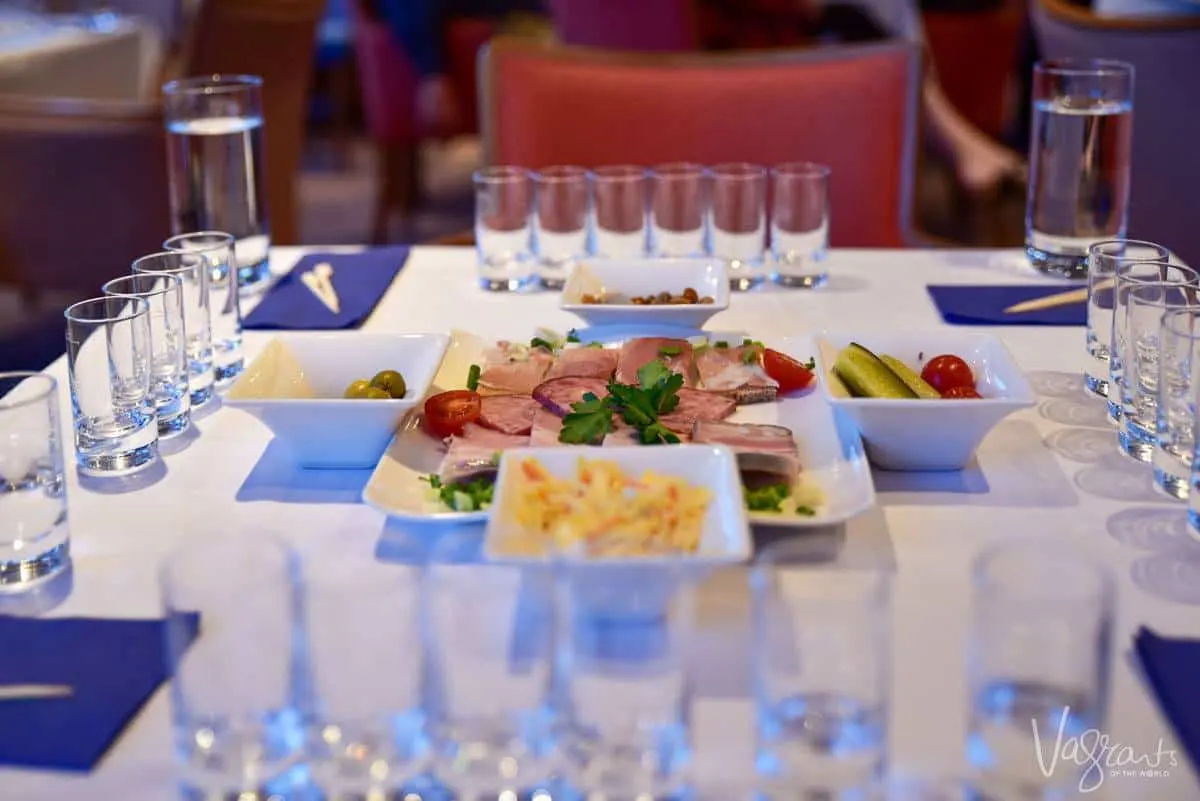 You also have access to some very appealing Exclusive Access tours such as a behind the scenes look at the Hermitage in St Petersburg. All tours include transfers where required, entry fees and extremely knowledgeable, tourism professionals as your guides.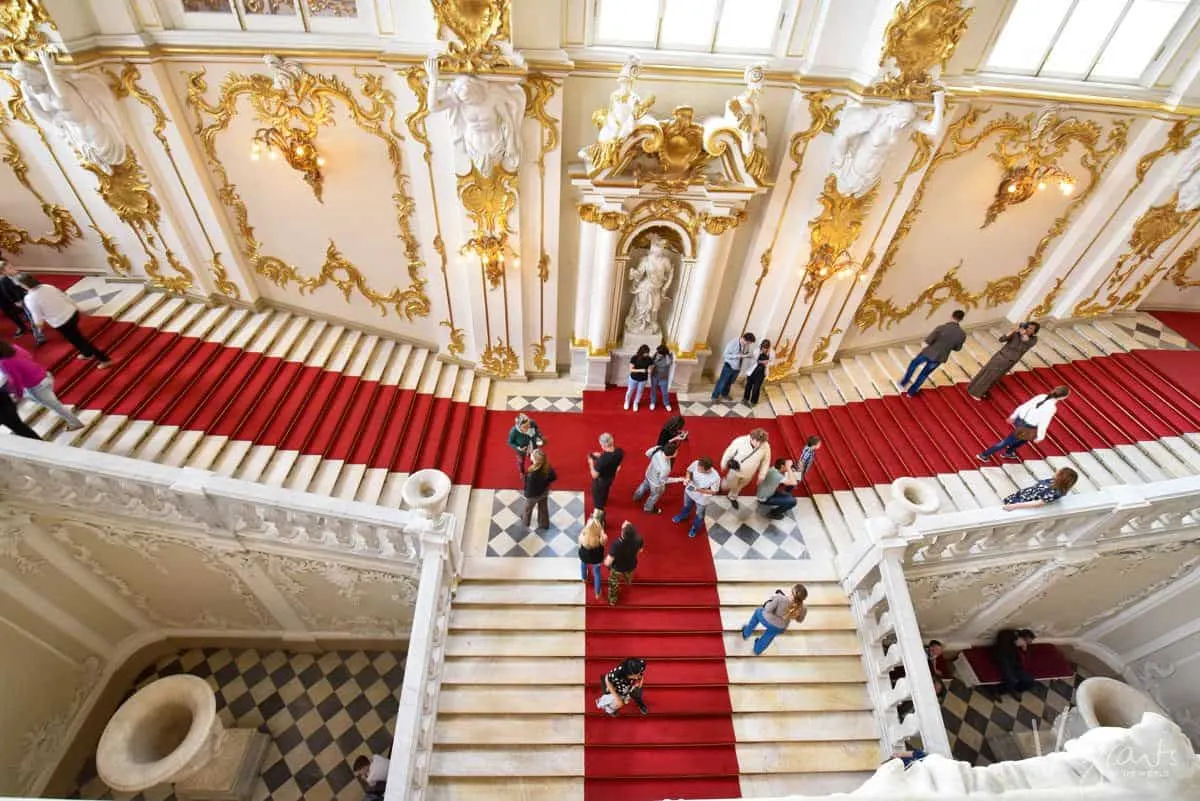 On Board Lectures, Demonstrations and Activities.
In addition to activities during cruising times, such as cooking demonstrations and traditional Russian tea's, the guides also offer daily lectures on Russian history and politics.
The lectures are one of the highlights of the trip. Engaging and well-researched lectures, delivered from a Russian perspective, provide an entirely different and refreshing perspective on Russian culture and politics.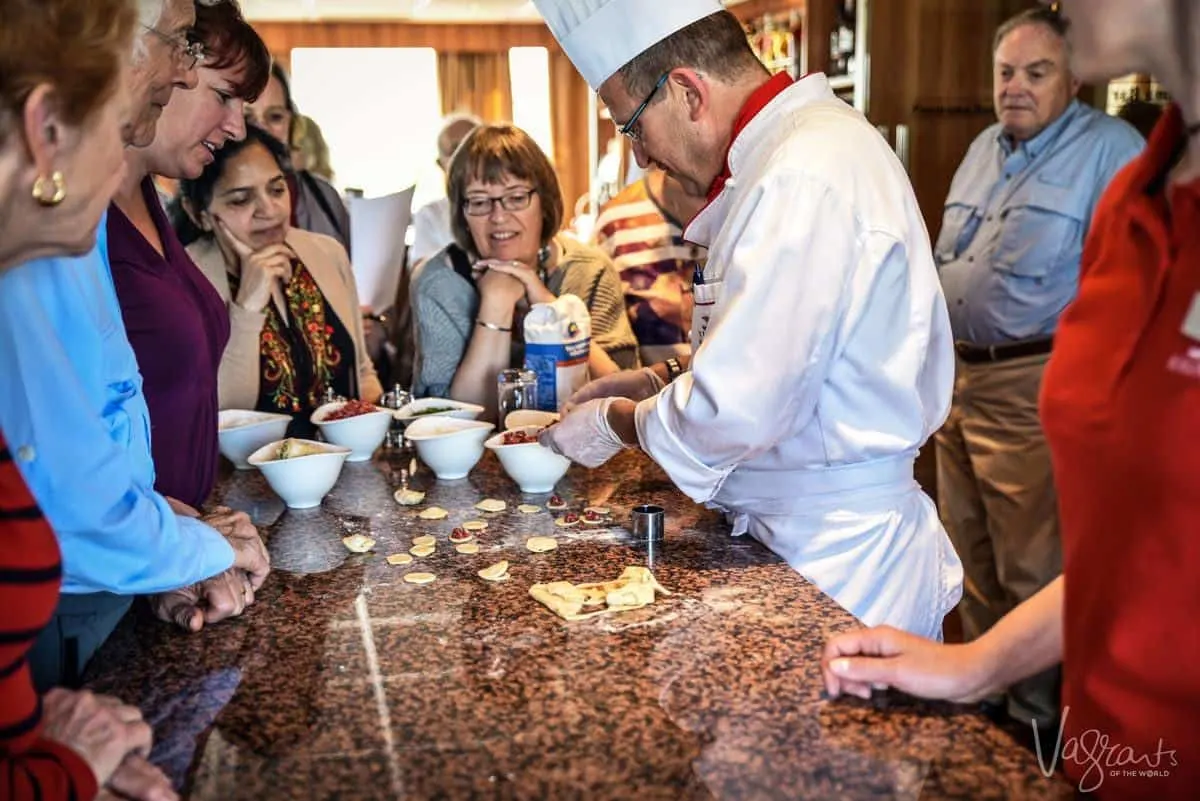 Russian Cuisine on Board
Viking River Cruises always excel when it comes to onboard dining. Interchangeable a la carte menus are available at all meal times showcasing Russian cuisine and produce.
The less adventurous are well catered for with an excellent "always available" a la carte menu. Portions are sensible to allow for all courses to be tried and savoured. Unlike the glutenous portions or "all you can eat" buffet's some cruise ships favour.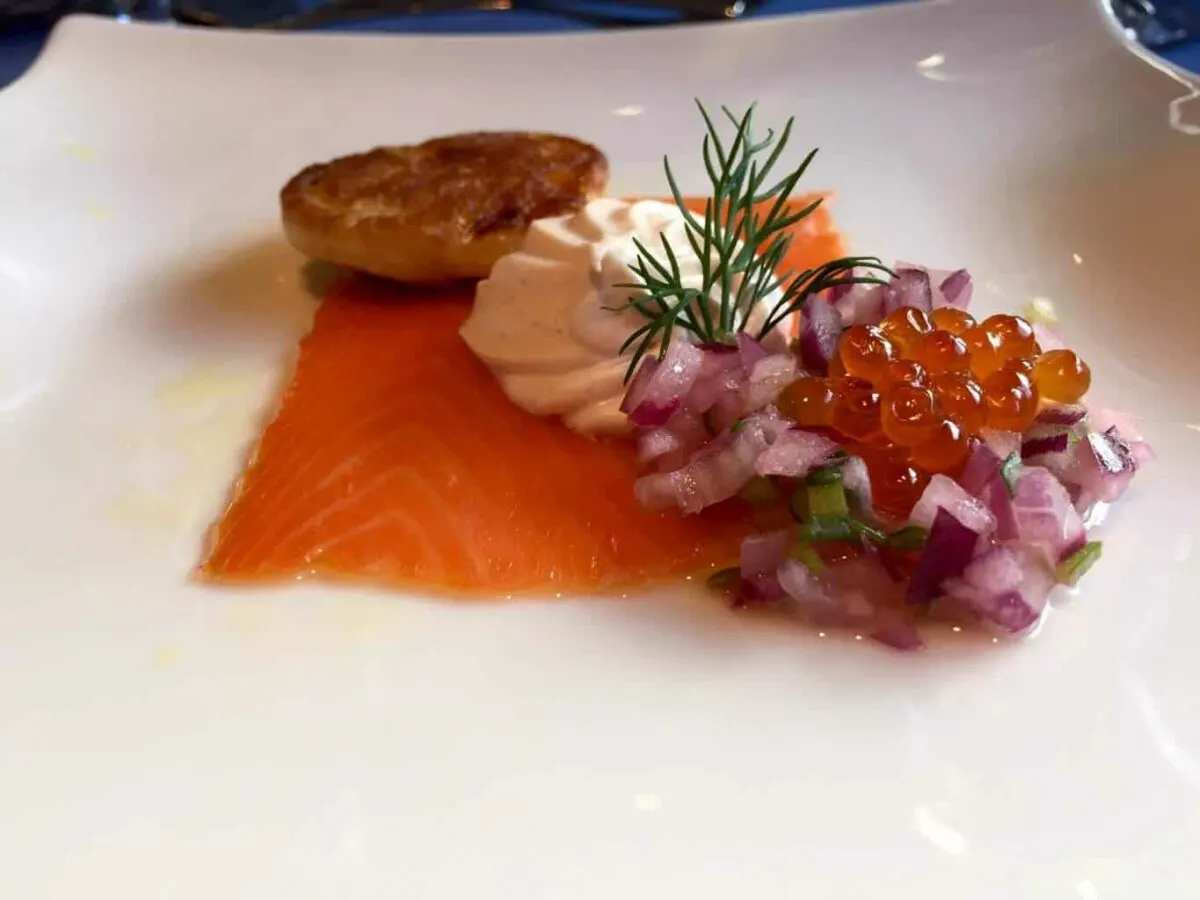 Drinks are complimentary with all meals, including a tipple of champagne at breakfast if you are so inclined.
A Silver Drinks Package can be purchased, which gives you unlimited drinks from the bar for the entire cruise as well as a vast selection of wines.
The Convenience and Comfort of River Cruises
There is a lot to be said for having your floating hotel accompany you on your journey through Russia. Unlike some ocean cruises where the focus can be on shipboard life at the expense of the destinations, on this Russian river cruise, the destinations are the focus.
You get the complete package of the best things to see in Russia without having to navigate multiple modes of transport or having to unpack, pack and move accommodation all the time.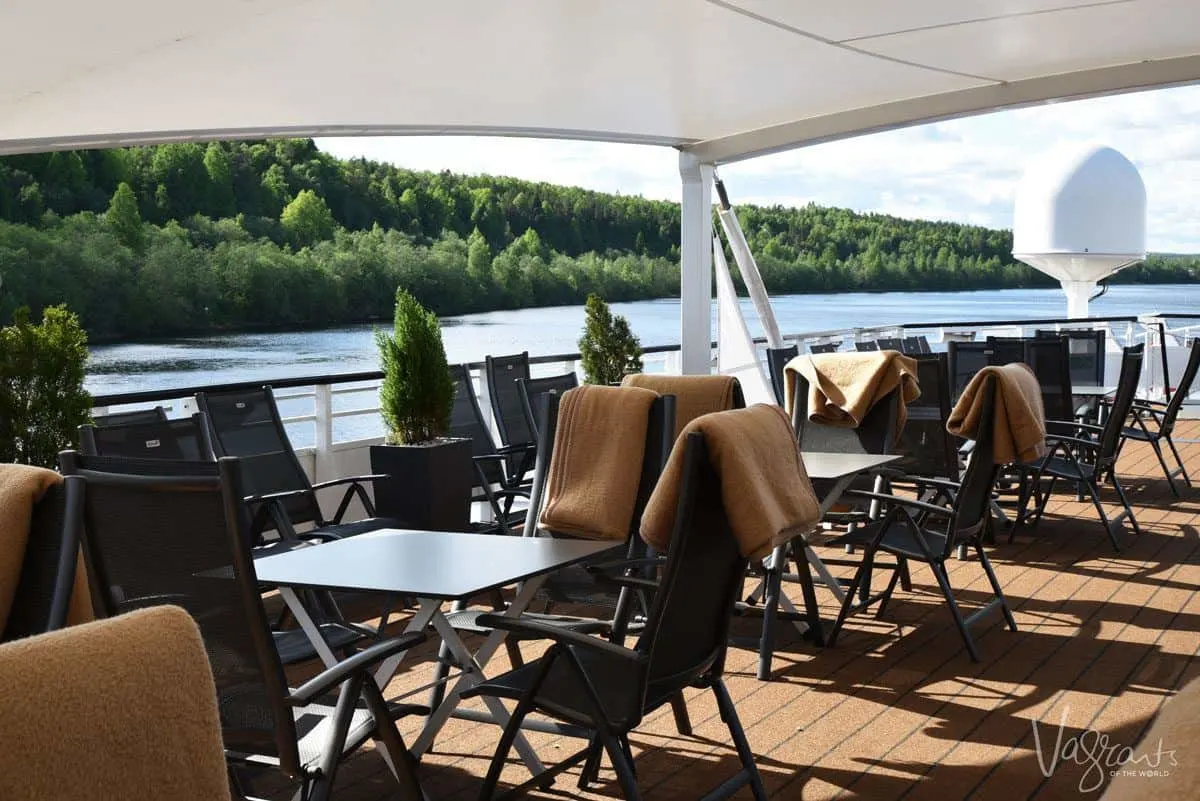 Once you are on board, whether it be in the big cities or the remote countryside, you only need to check in and out once. You do feel like you have your hotel on the road with you – A fantastic boutique hotel.
And it is not only the tour guides who are tourism professionals. You also have at your disposal a 5-star hotel team — professional food and beverage staff, well versed in the art of fine dining and world-class chefs.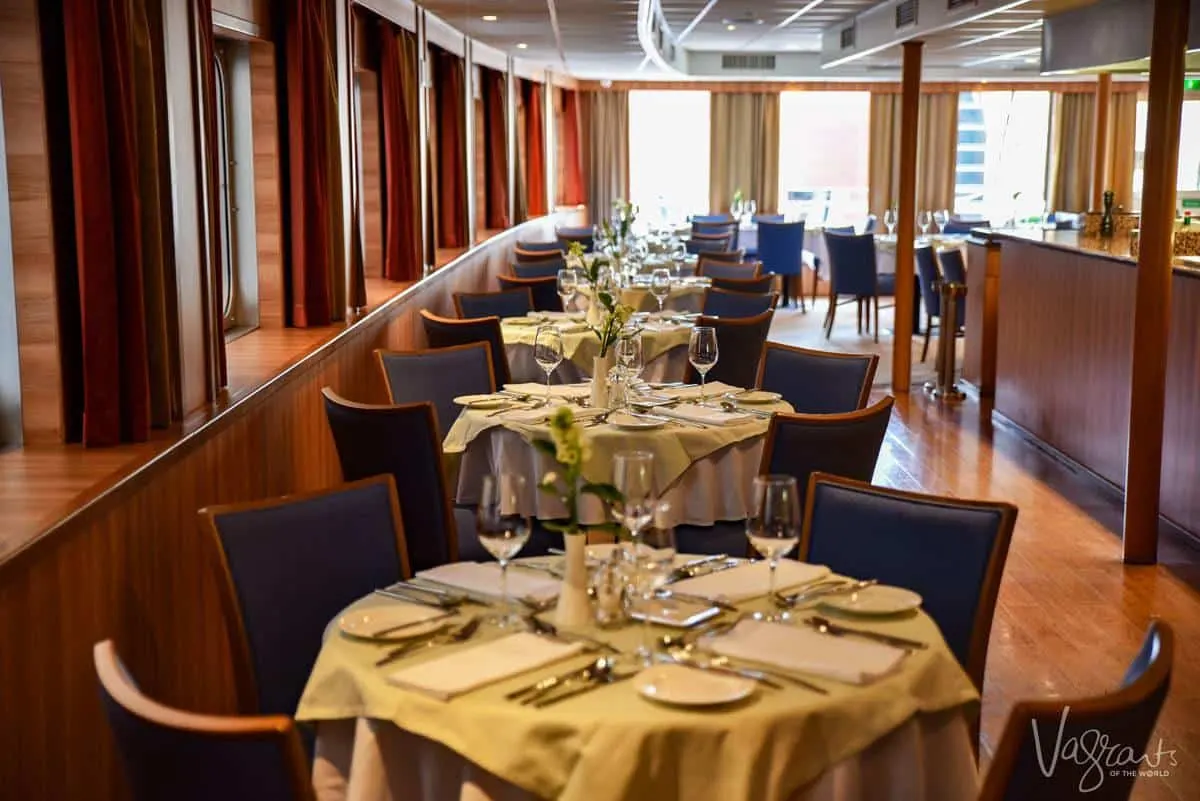 Staterooms
The staterooms are spacious and extremely comfortable. Private balconies, quality furnishings, and enough high tech amenities such as Satellite TV and WIFI to keep you entertained are standard throughout the ship.
There are also plenty of comfortable public spaces, both indoors and out with panoramic views to relax and take in the vista while you are cruising.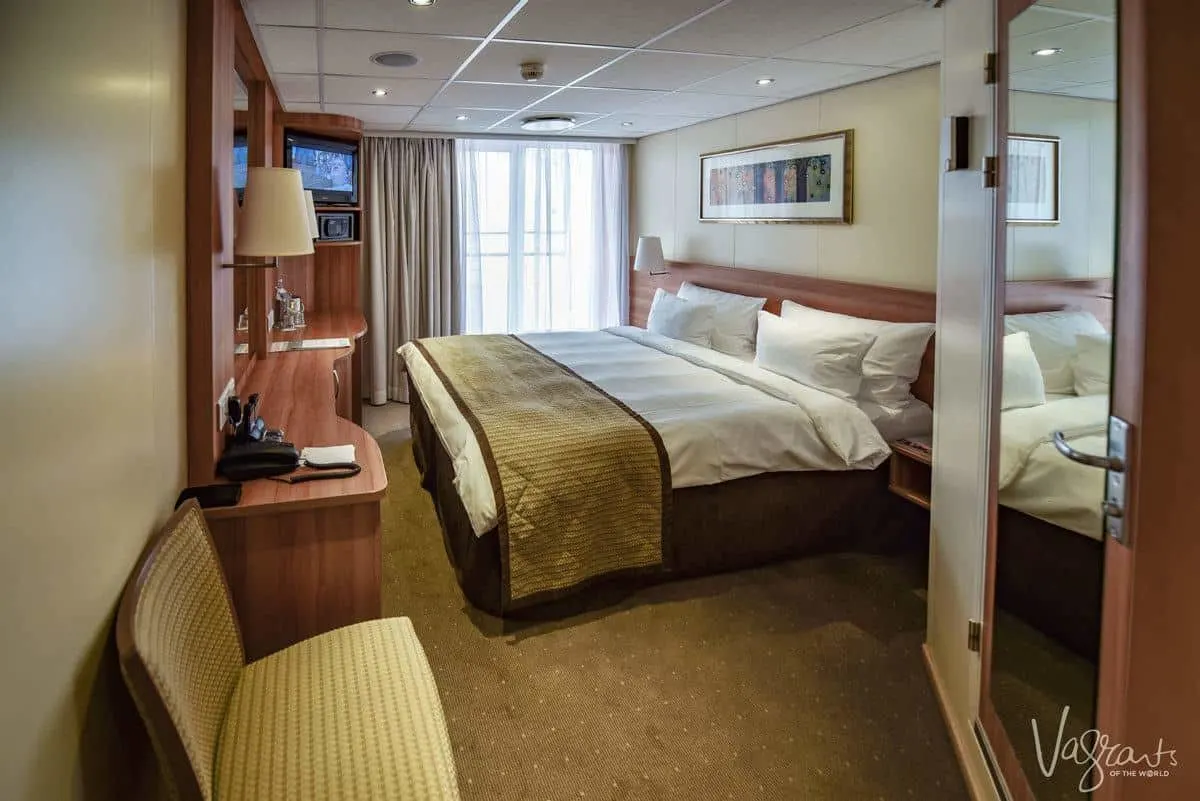 Cruise St Petersburg to Moscow
For us, opting to travel through Russia on a river cruise was primarily motivated by the itinerary. Most people would be happy to visit Moscow or St Petersburg. But why make an effort to visit this intriguing country and miss all the beautiful and exciting things to see outside of the main cities despite the vast geographic distances.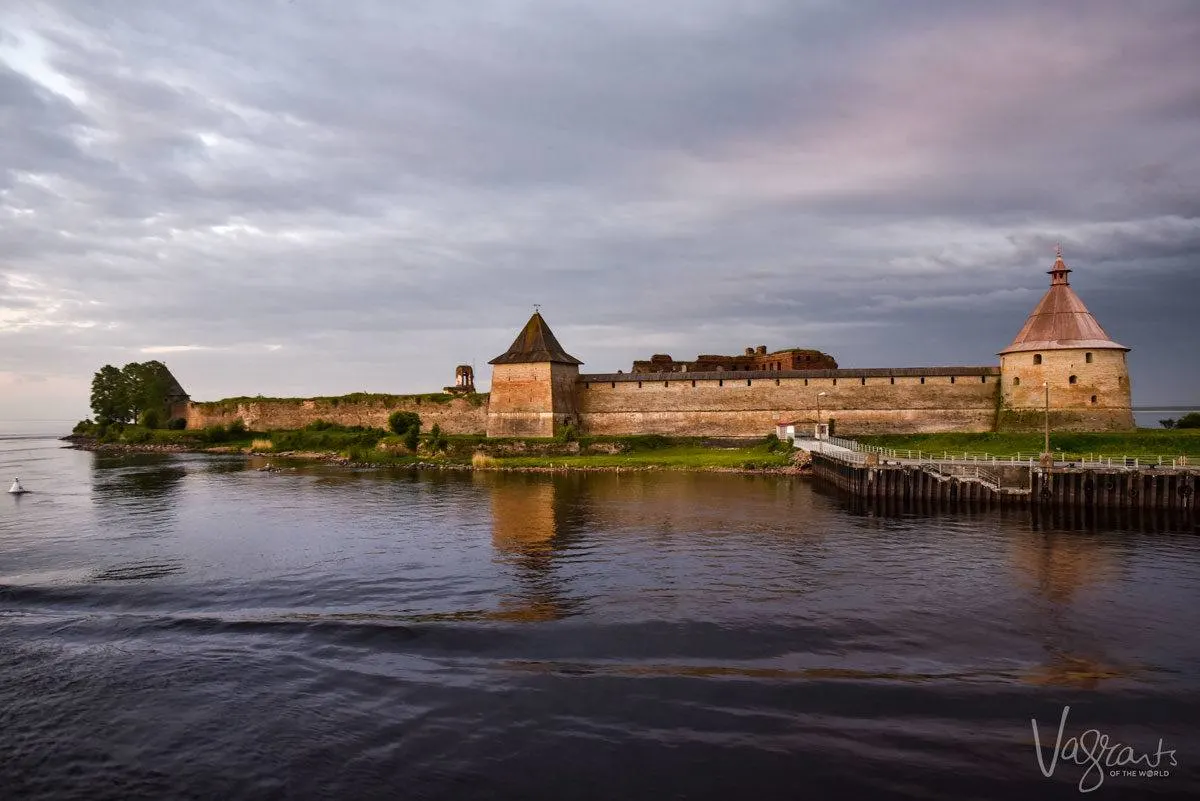 The Cruise Itinerary
The river cruise itinerary is what sold us on this mode of travel. The itinerary enabled us to spend ample time in St Petersburg and Moscow; then with our floating hotel in tow, we took to the river.
It is here where we saw the other Russia. Stunning countryside, small villages, abandoned churches and majestic cathedrals dotted along the river banks. A view of Russia that speaks volumes about the country's history and culture.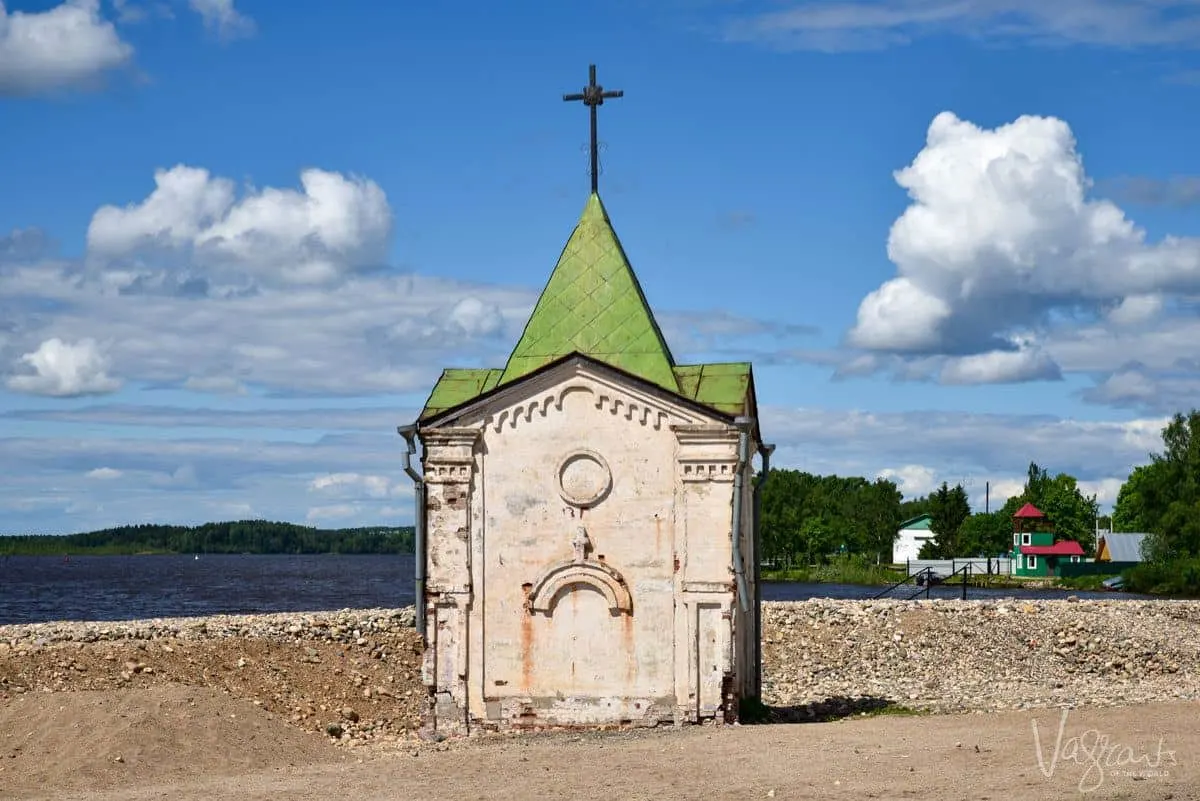 As we slipped down the river, we had the White Nights in our favour so could take advantage of the long days and very short nights of summer. Enjoying the sights of the Russian countryside en route to our next destination. Each day a different destination with a cruising schedule set to maximise time spent ashore.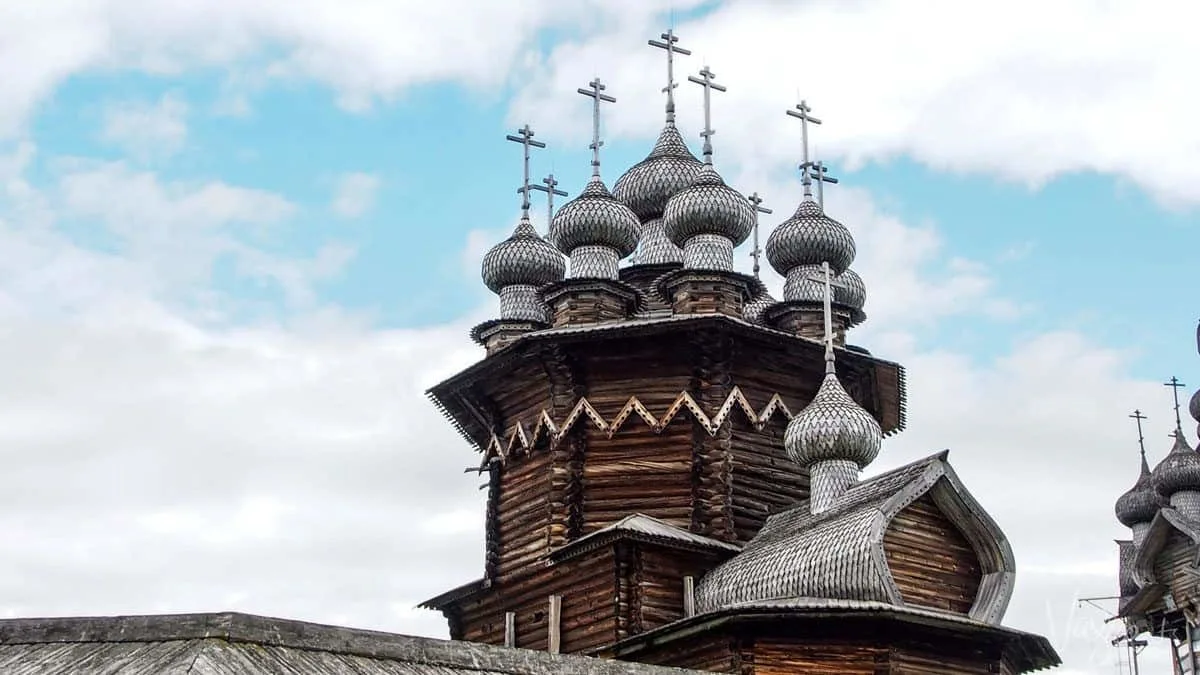 Waterways of the Tsars Schedule
Seven different destinations are visited in the 13 days onboard. This includes three full days in both Moscow and St Petersburg. We would not have achieved this on our own in the two weeks we had.
Viking Cruises Waterway of the Tsars St Petersburg to Moscow Itinerary
Commencing either in St Petersburg or Moscow, the itinerary allows for three days in each city. You can read about the cruise itinerary and shore excursions in St Petersburg and Moscow here.
St Petersburg & Moscow
Between Moscow and St Petersburg, you can experience the beautiful Golden Ring cities and villages of Russia. These are the towns and cities that lie beyond Russia's great cities on the Waterways of the Tsars.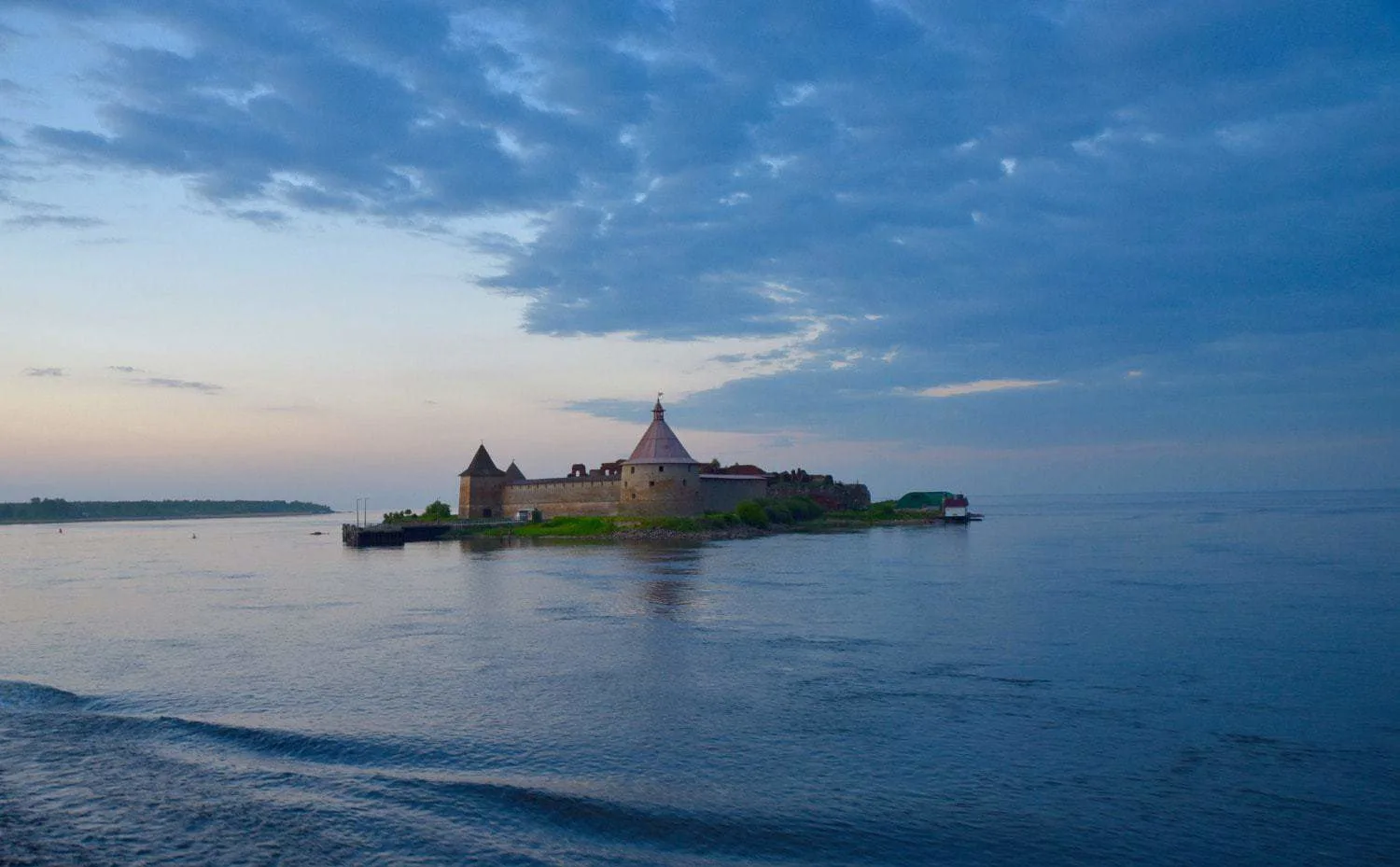 ---
Mandrogy Russia
Mandrogy, built in 1996 as an open-air museum, is a replica of Verkhine Mandrogi, a Russian village destroyed during WWII. The enterprise was intended to give travellers cruising between St Petersburg and Kizhi a feel for traditional Russian life.
Unfortunately, we found Mandrogy to be very much that – a fabricated tourist attraction including costumed craftsmen and women with innumerable craft stalls and workshops selling the same trinkets.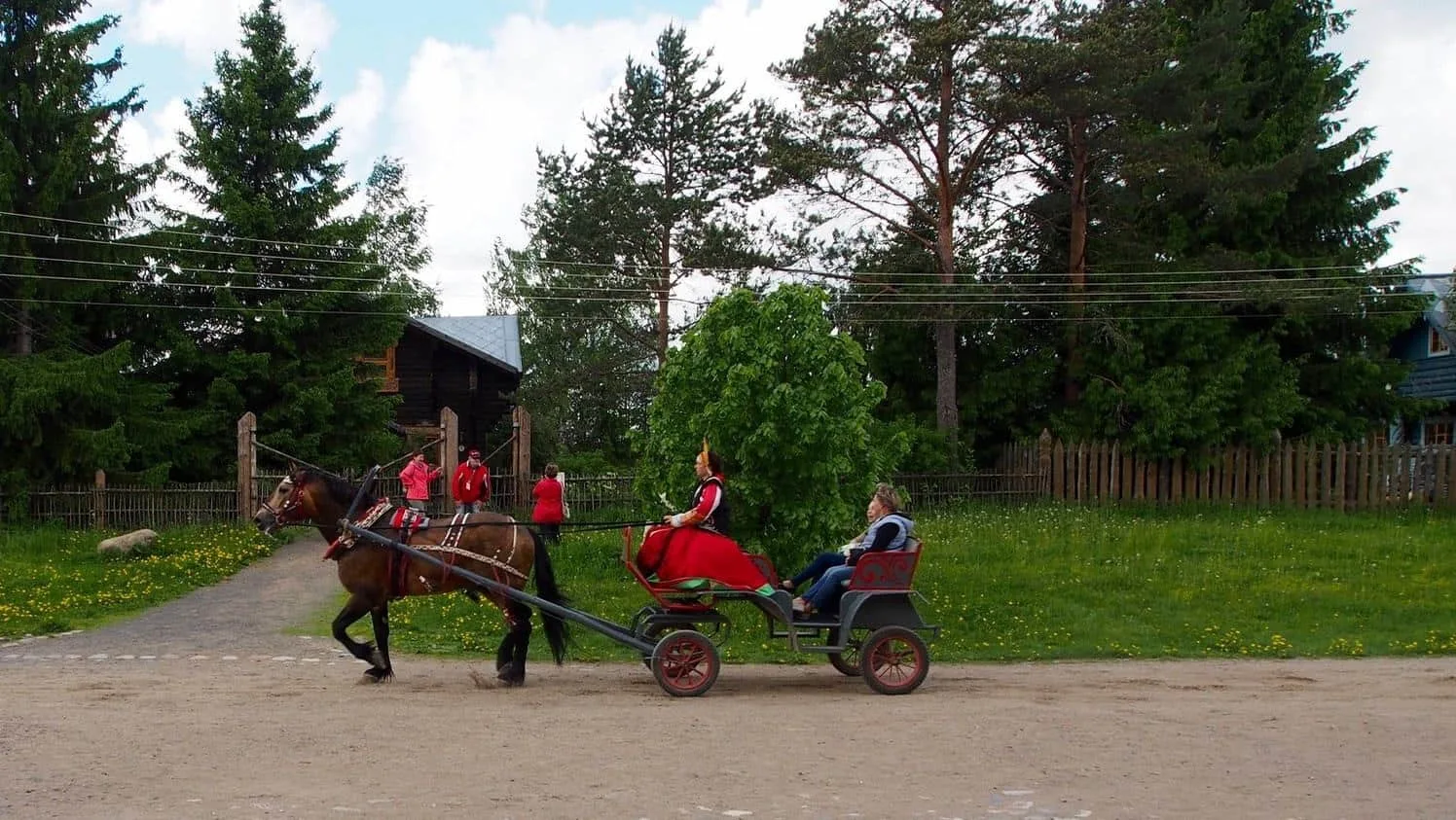 Paint your Own Russian Matryoshka Doll
The central premise for this village appears to be shopping and, of course, the famed Russian Matryoshka Dolls. You can partake in a workshop to learn how to paint your own nesting dolls or, watch any number of the local artists paint dolls in their style. These, of course, are available for purchase.
While Mandrogy was not our cup of tea, there was a silver lining to this little settlement – the traditional Russian Banya.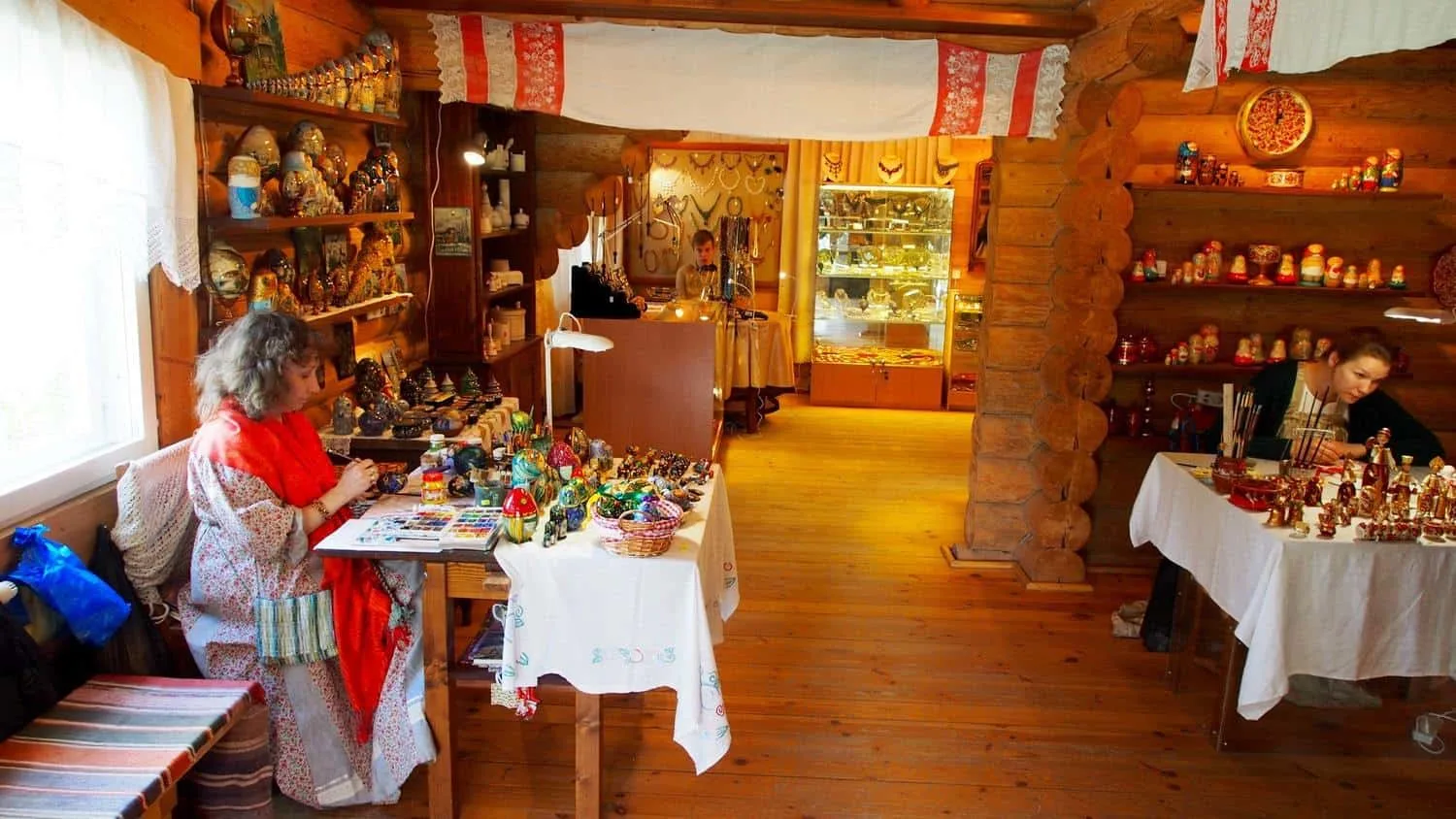 Experience a Russian Banya
The banya is one of those quintessentially Russian experiences. One of the oldest Russian traditions dating back centuries. A tradition that has not lost its appeal and is still popular today.
Essentially the banya is a steam room or sauna where water is poured over hot rocks to create steam with temperatures often exceeding 93ºC. However, the banya comes with a little more ceremony than your average steam room or sauna.
Specific brooms are used in the banya called veniks. These are usually bunches of birch or oak branches which are dipped into cold water in the sweltering steam room. They are then smacked briskly over the body.
Typically, there will be a person responsible for this task – a banschik. As the banya is considered a very social activity, a banschik is often not required as friends will usually smack each other with the veniks.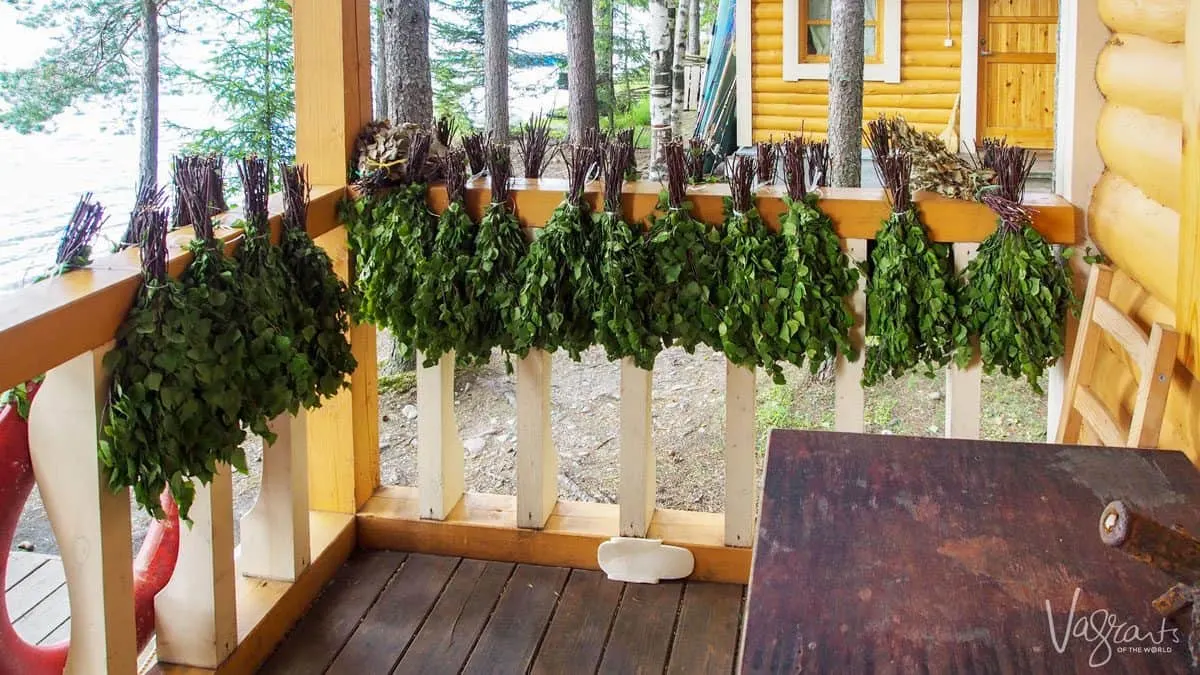 Thankfully our experience included a banschik as we would not have known the sequence of events nor the protocols for polite smacking! So, how does one banya?
Enter the banya and wait for temperatures to become almost unbearably hot.
Relax while the banschick completes a ceremonial beating of everyone's bodies with the veniks. It includes intense rustling of the branches either side of your head, which is repeated several times.
Leave the banya and allow the banschick to pour freezing cold water over you.
Adjourn to the adjacent room for tea and jam.
Repeat steps 1 & 2.
Leave the banya house and run to the river to plunge into the icy waters.
Repeat steps 1 & 2.
Repeat step 6.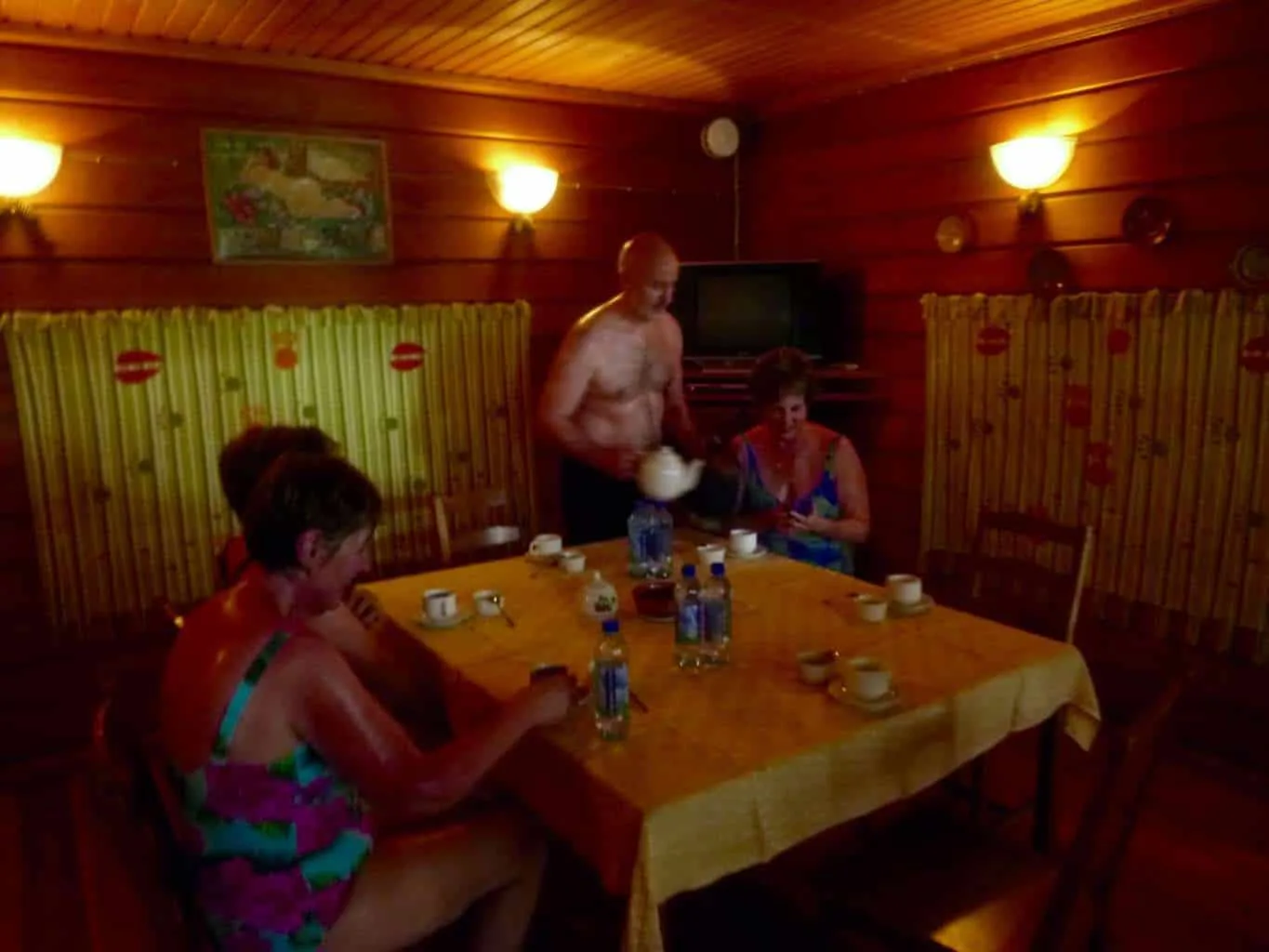 You get the gist! Used as a method of bathing in Russia for centuries, the banya is said to have a myriad of health benefits. There are many communal or public banyas in the cities and towns, and some people still have private banyas in their homes.
The banya is one Russian experience we highly recommend, providing you have the constitution to withstand the intensity of it.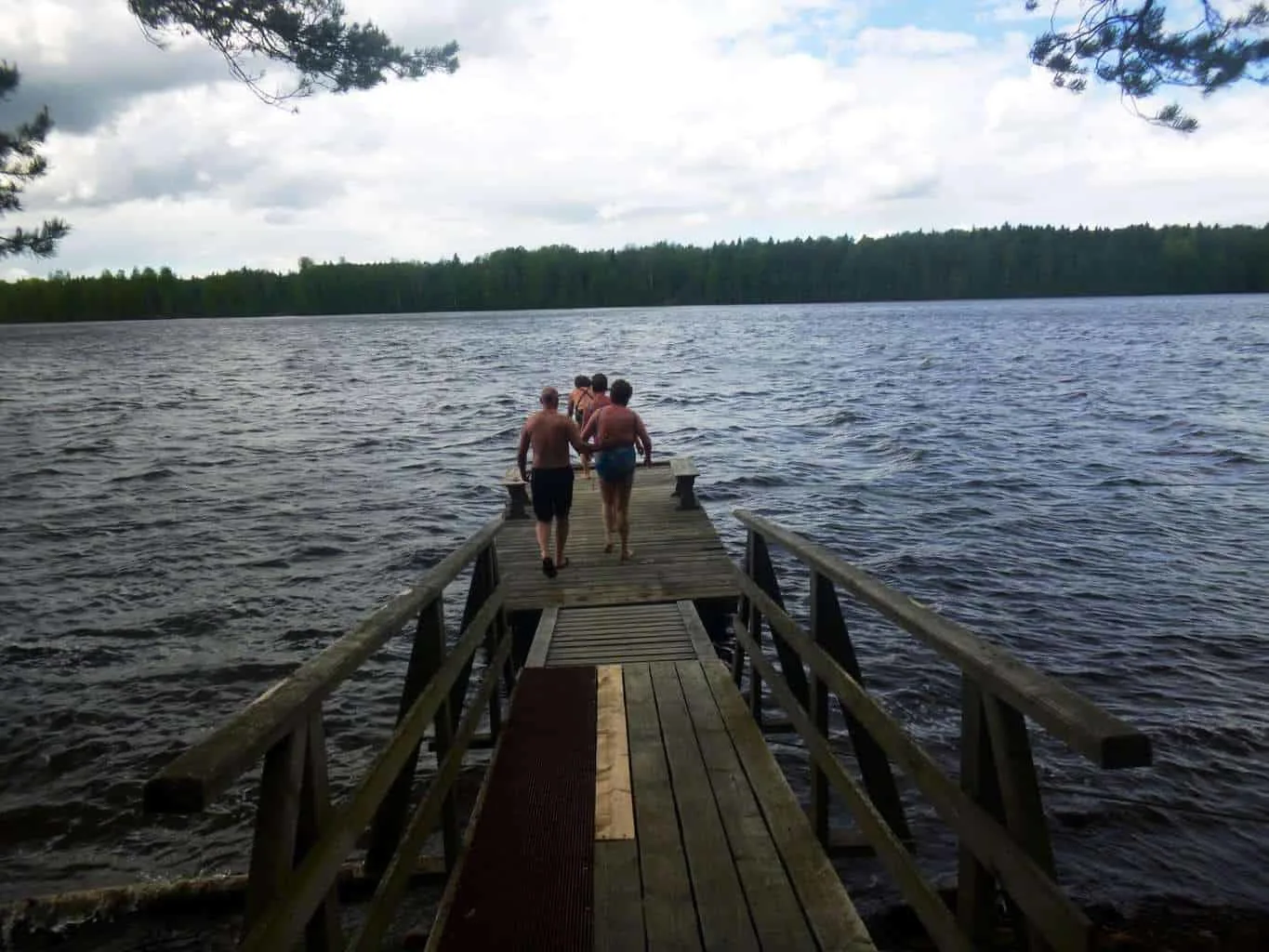 ---
Kizhi
Near the centre of the Lake Onega, the second largest lake in Europe, you will find the wild and isolated island of Kizhi. Kizhi is a UNESCO World Heritage-listed open-air museum.
At only 6 km long and 1 km wide, this tiny island is one of Russia's most visited. The settlements buildings date back to the 15th century, some of which were moved from various Karelian villages during Soviet times to help preserve them.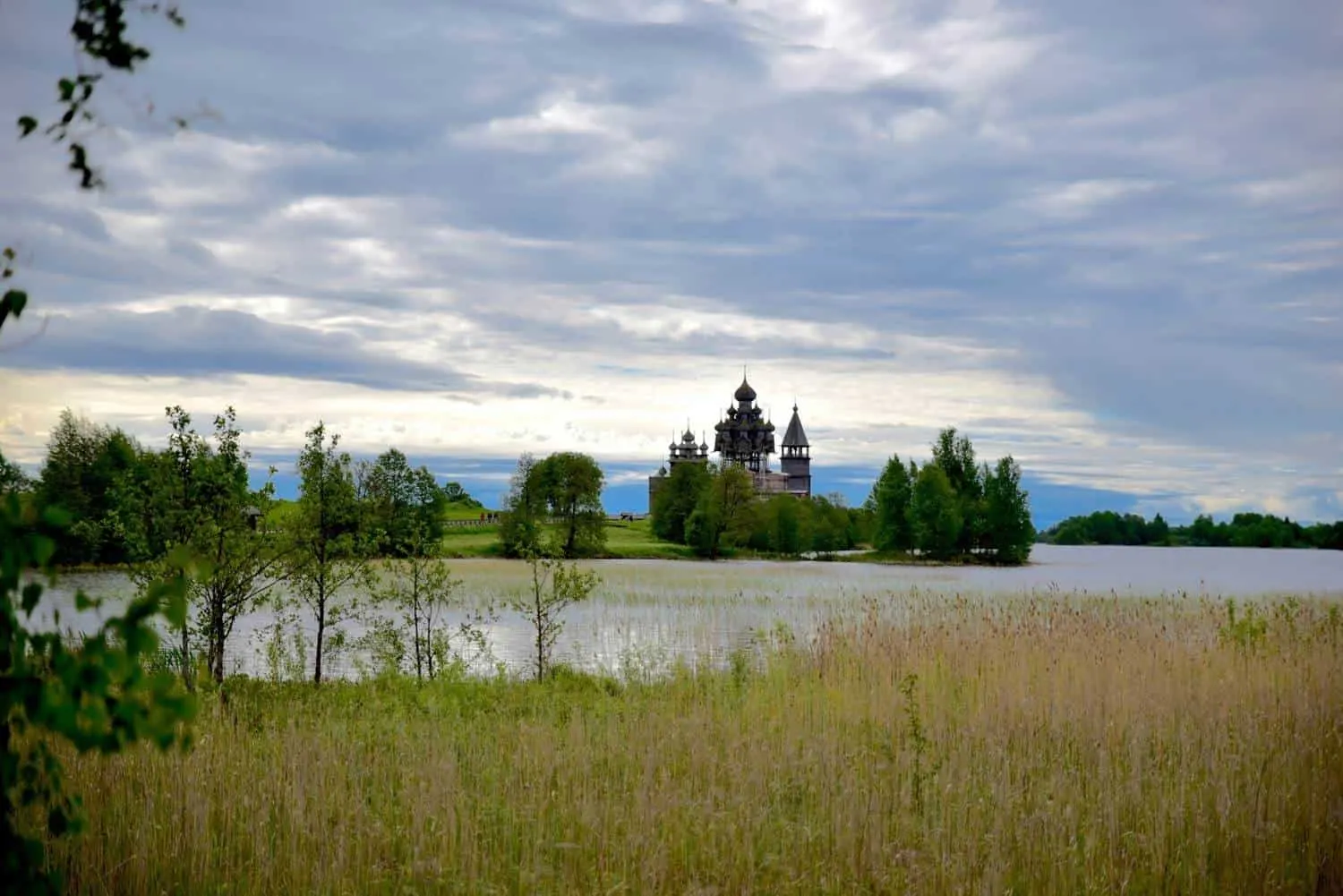 However, the islands most notable and recognisable attractions are the famous wooden onion-domed buildings- the twenty-two domed Transfiguration Church and the nine domed Intercession Church.
Locals will tell you; both churches were constructed without the use of a single nail. The unknown builder is also said to have destroyed his axe on completion of the Transfiguration Church. He is quoted as saying: "There was not and will not be another to match it".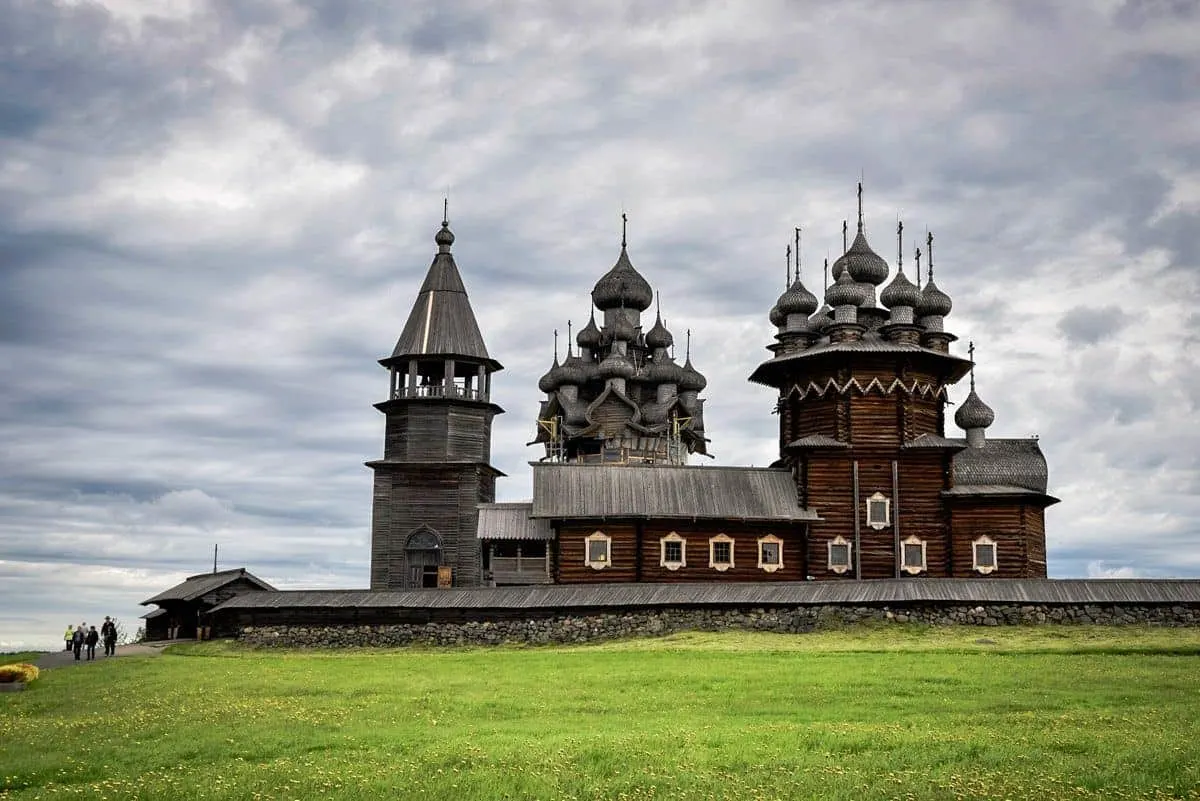 Within the smaller Church of the intercession, you may hear the local clergy, a beautiful and moving baritone choir intone the ancient liturgy. The islands ancient settlement gives insight into the harsh realities of life in the Russian heartland. Places where entire settlements were isolated for much of the year throughout long winters. You can read more about visiting Kizhi Island here.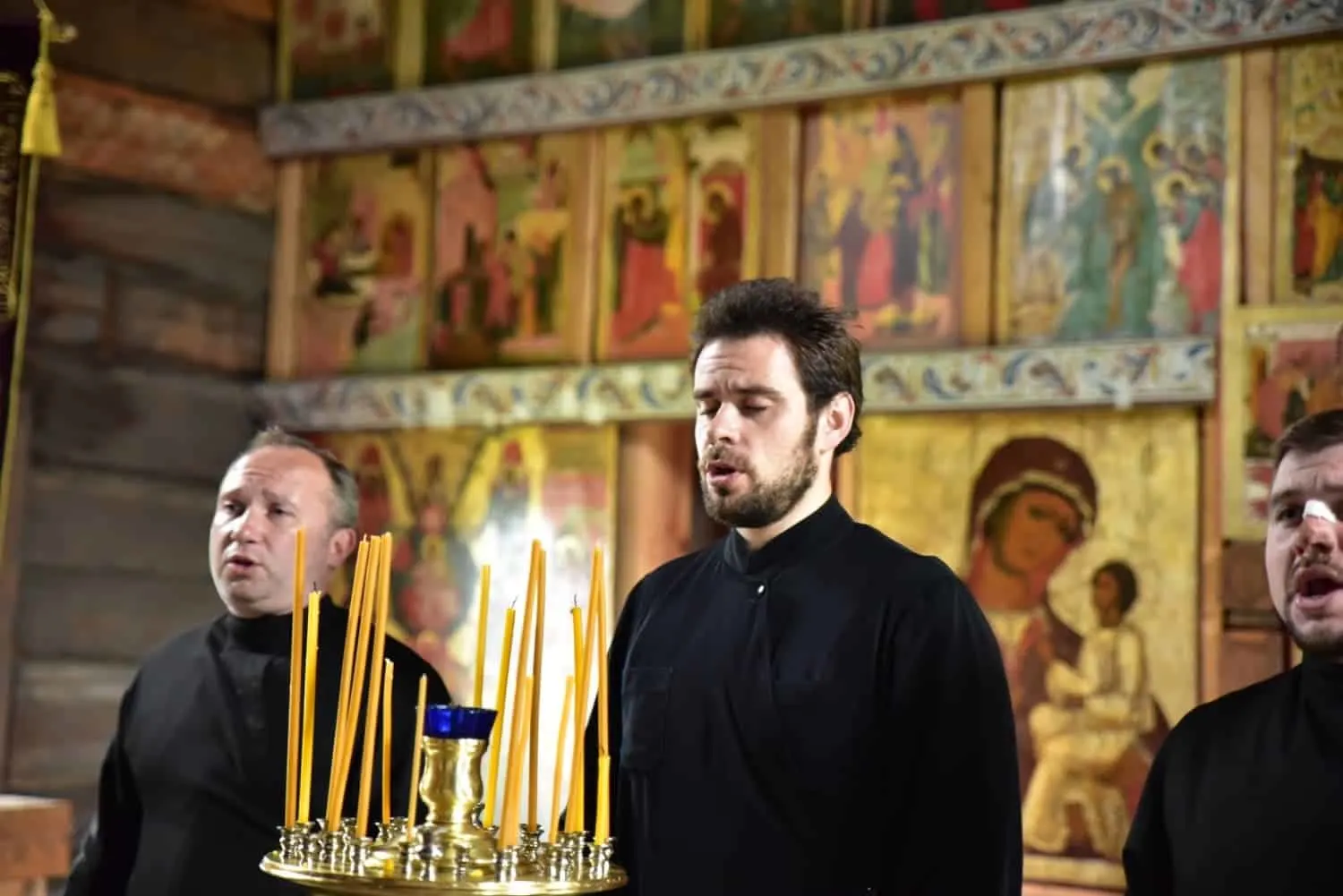 ---
Kuzino
Along the Volga – Baltic waterway you will find the urban settlement of Kuzino approx. 600km north of Moscow.
In addition to some fascinating churches, some abandoned or in various states of repair that are worth exploring, the highlight of this region is the Kirillo – Belozersky Monastery. More like a fortress than a monastery, the magnificent complex sits on Severskoye Lake.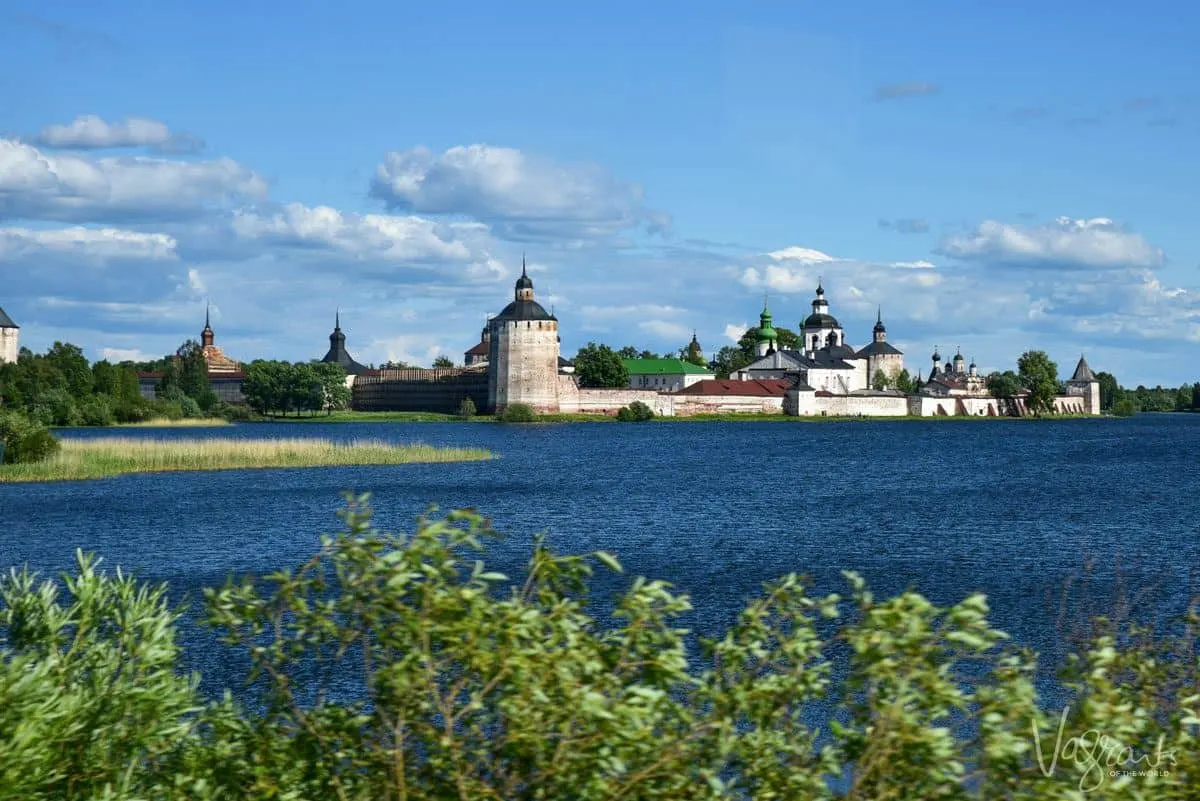 Severskoye Lake is deemed so pure no motorboats are allowed on it. According to urban myth, the waters were blessed, giving them qualities similar to those of the mythical fountain of youth.
From humble beginnings in 1397 when two monks founded the monastery in nothing more than a cave dug by two men. By 1494, now a stone structure, it was the largest church in medieval Russia.
Defended by thick walls and towers it was a refuge for not just monks and peasants, but also a place of pilgrimage for Tsars and so benefited from generous donations and tax breaks. Ivan the Terrible was said to be a regular visitor and big tipper. The financially favourable guest list enabled the monastery to grow in size and importance.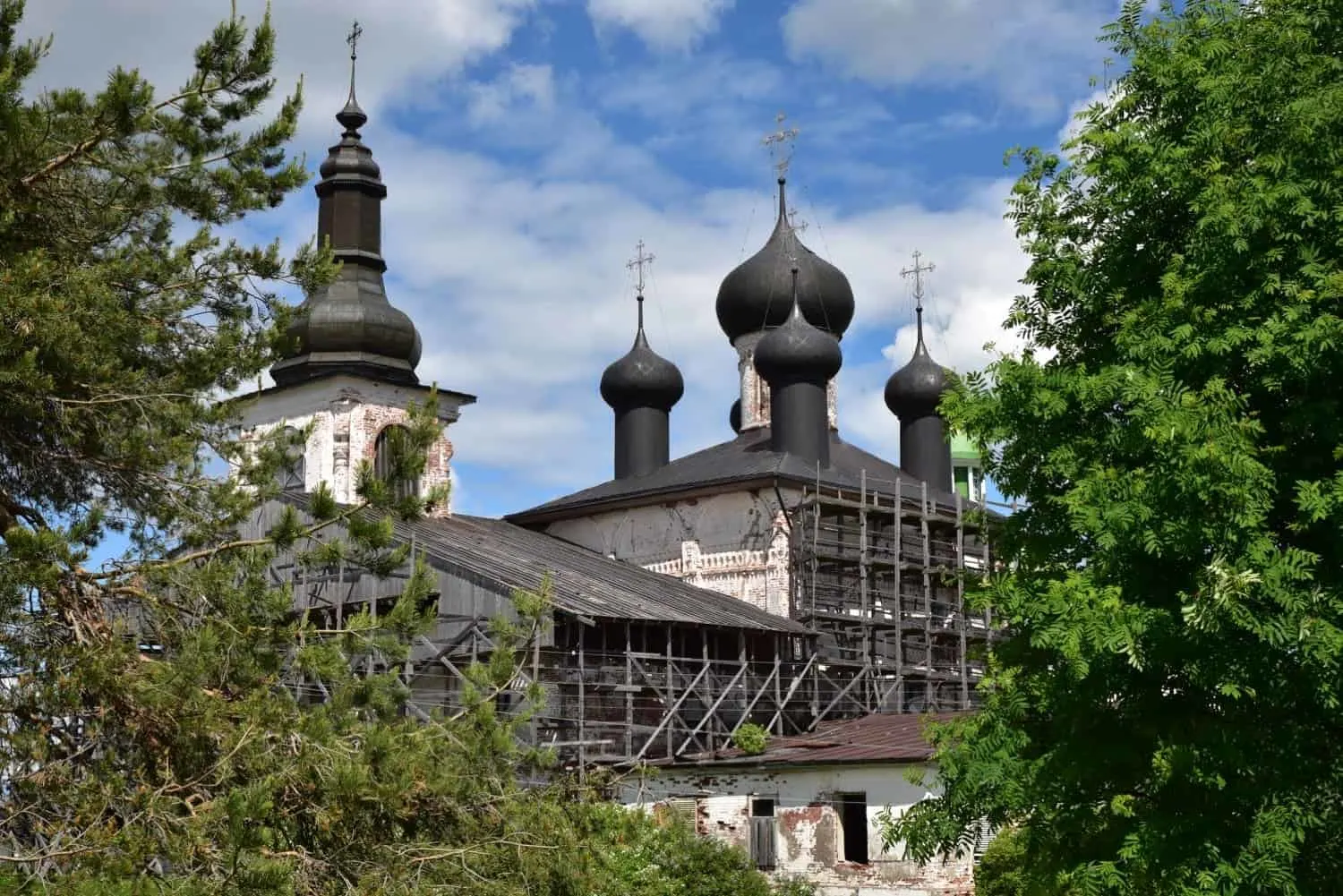 By 1764, Catherine the Great had stripped the monastery of its land and converted the complex into a prison. In 1924 the Bolshevik government shut the complex down and executed or arrested the monks. Interestingly, unlike most monasteries, it was not converted into a concentration camp but rather a museum.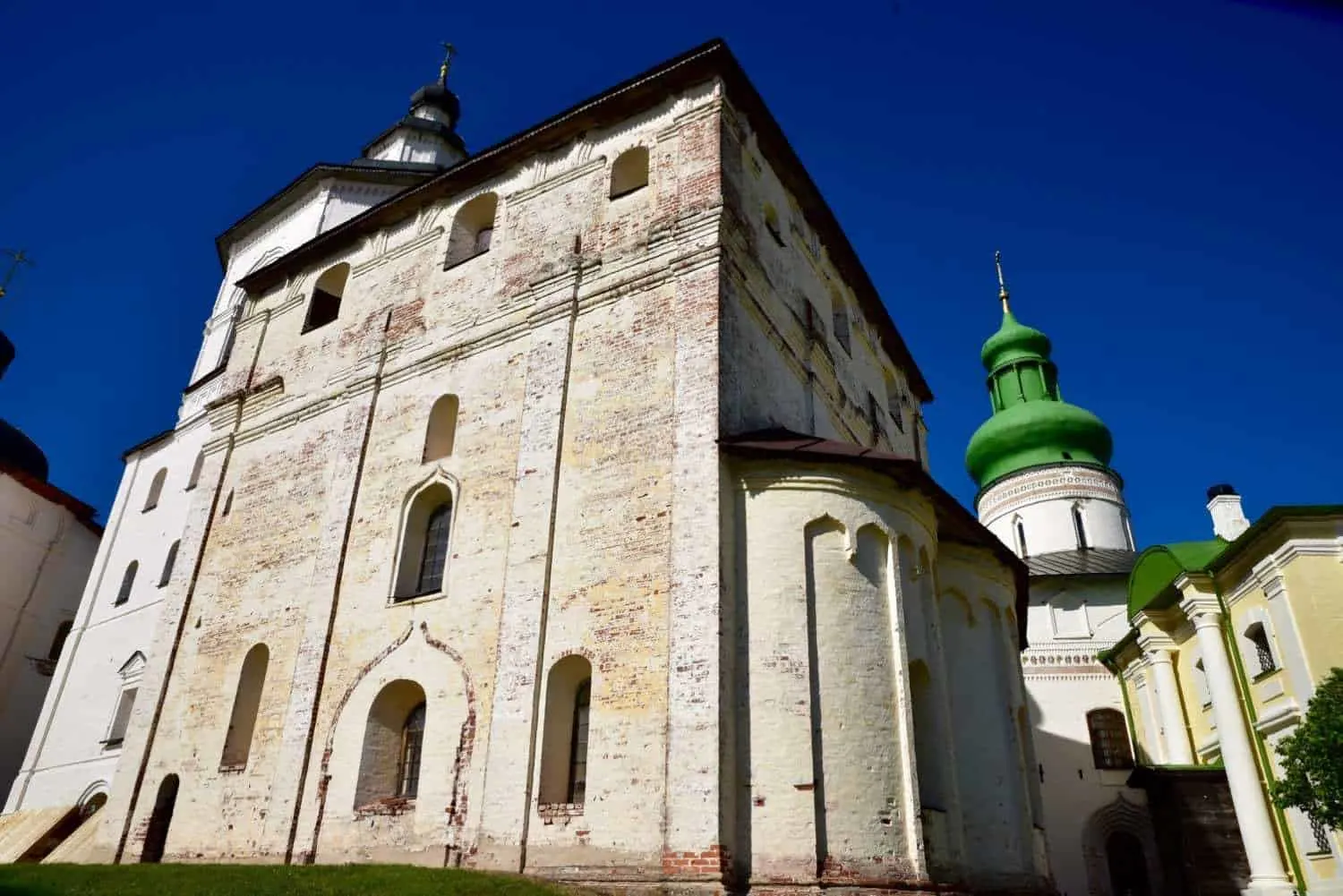 ---
Yaroslavl
Yaroslavl, the largest city on the Volga, lies just 250 km's north of Moscow which makes this Golden Ring city a popular weekend getaway.
Perhaps this quaint city of six hundred thousand should be called the city of churches because here you will find an impressive kaleidoscope of onion domes. At the convergence of the mighty Volga and Kotorosl rivers is the historic part of the city, a listed UNESCO World Heritage site.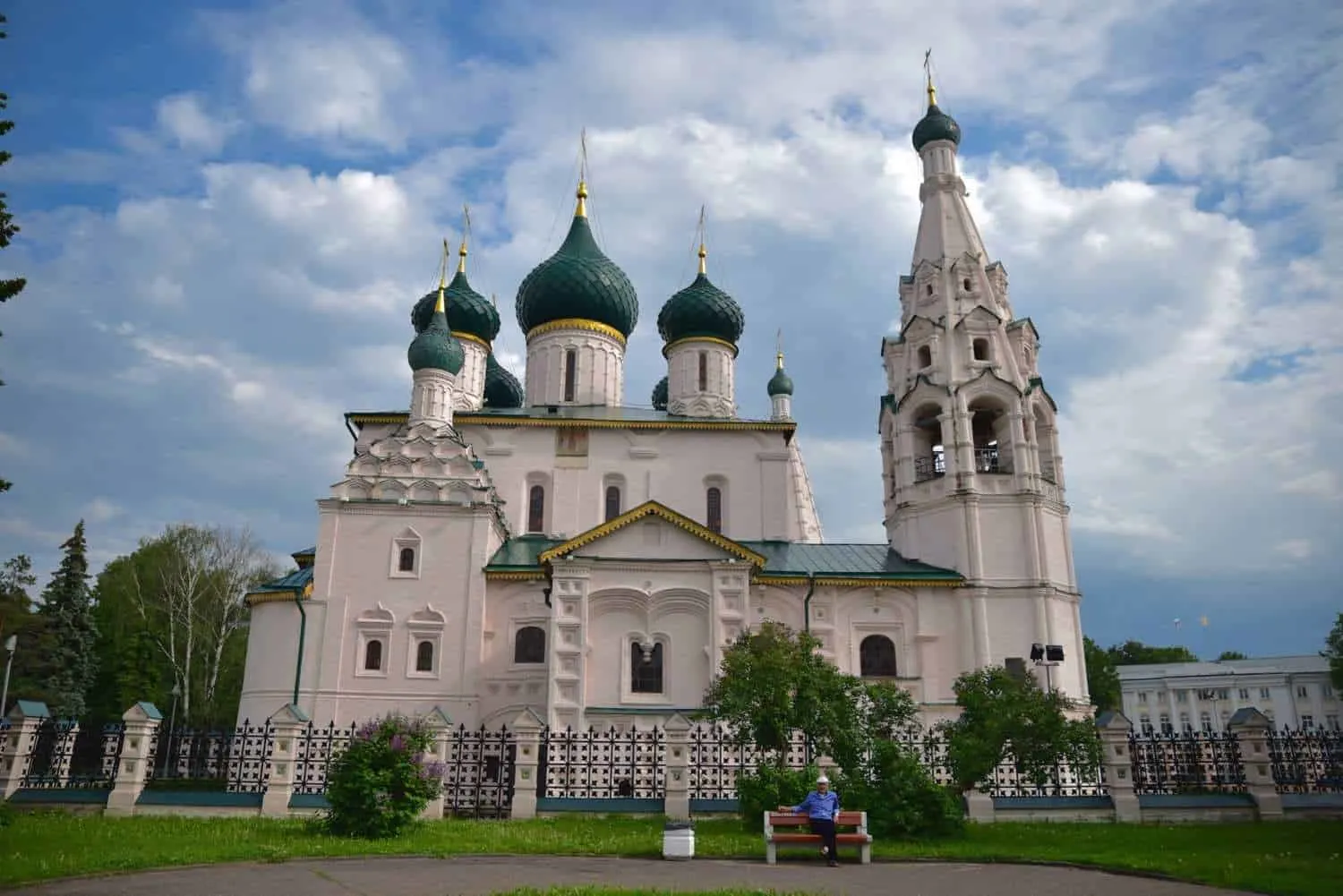 The city dates back to Prince Yaroslav or Yaroslav the Wise when he came ashore in around 998, slew the sacred bear worshipped by the local pagan tribes and converted them to Christianity. Hence, the bear on the city's coat of arms.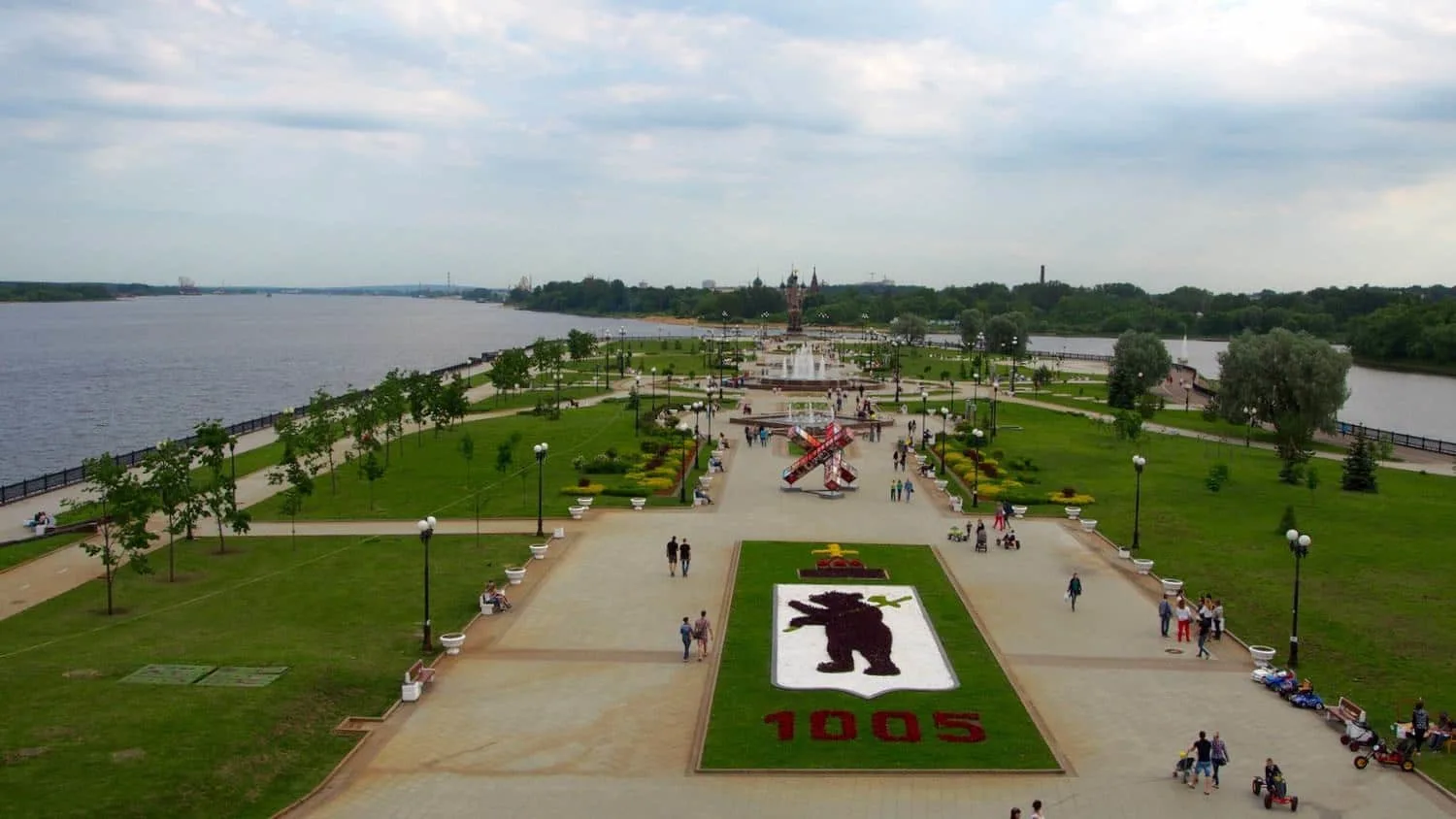 While these events may have attributed to the city's religious fervour – the churches that now adorn the skyline were the work of 17th and 19th century merchants on a quest to outdo each other in a bid to beautify the city. To this day it remains a magnificent city, one that appears to have remained unscathed by the soviet facelift given to much of Russia.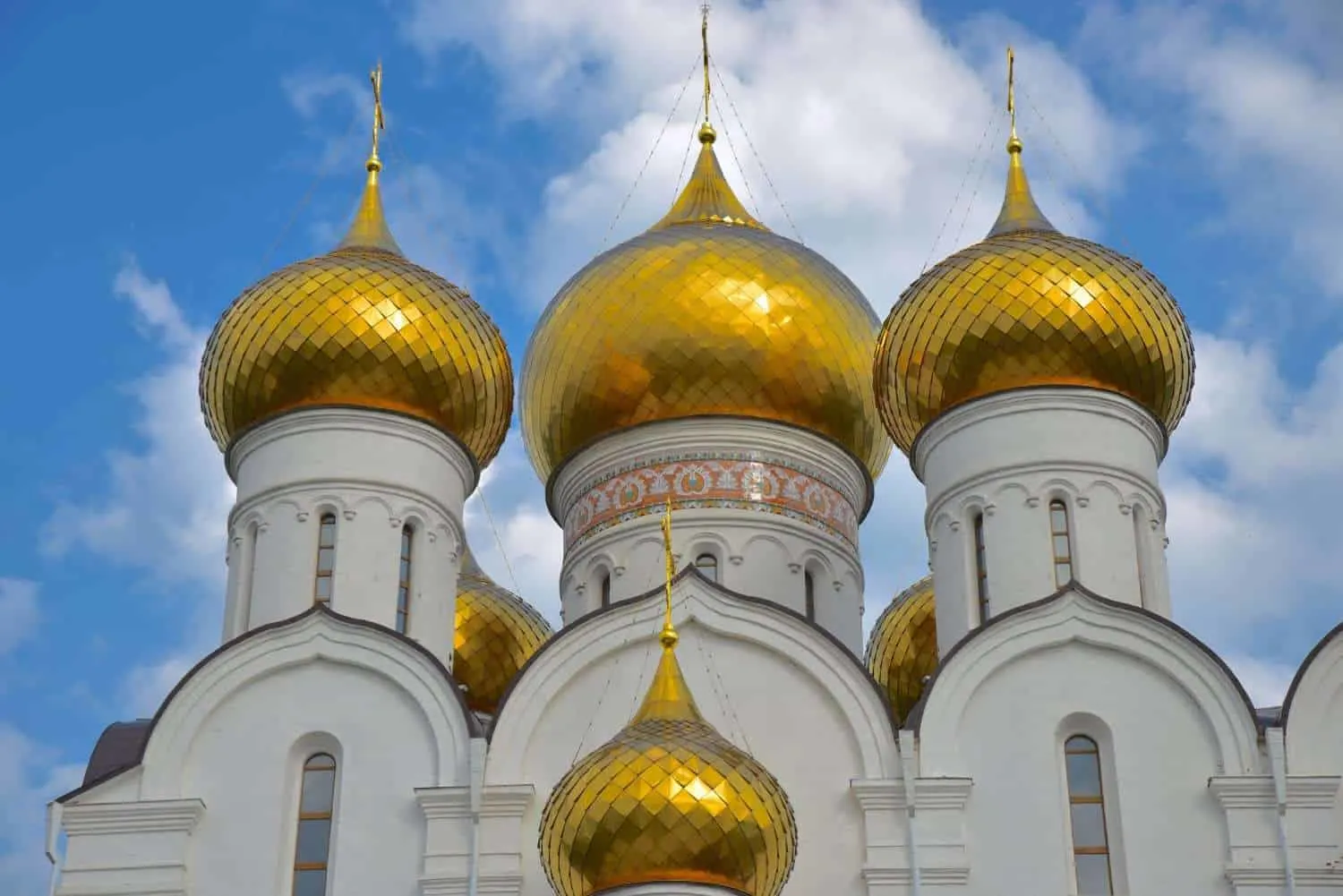 ---
Uglich
Uglich, another of the Golden Ring Cities. A picturesque riverside city filled with inviting parks and brightly coloured church domes. The history of Uglich is steeped in a murder mystery that changed the history of Russia.
Ivan the Terrible was never quite right following the death of his wife Anastasia and so instituted a reign of terror that earned him his name. Although respected for his military victories and management of Russian interests, he was also feared for some terrible deeds.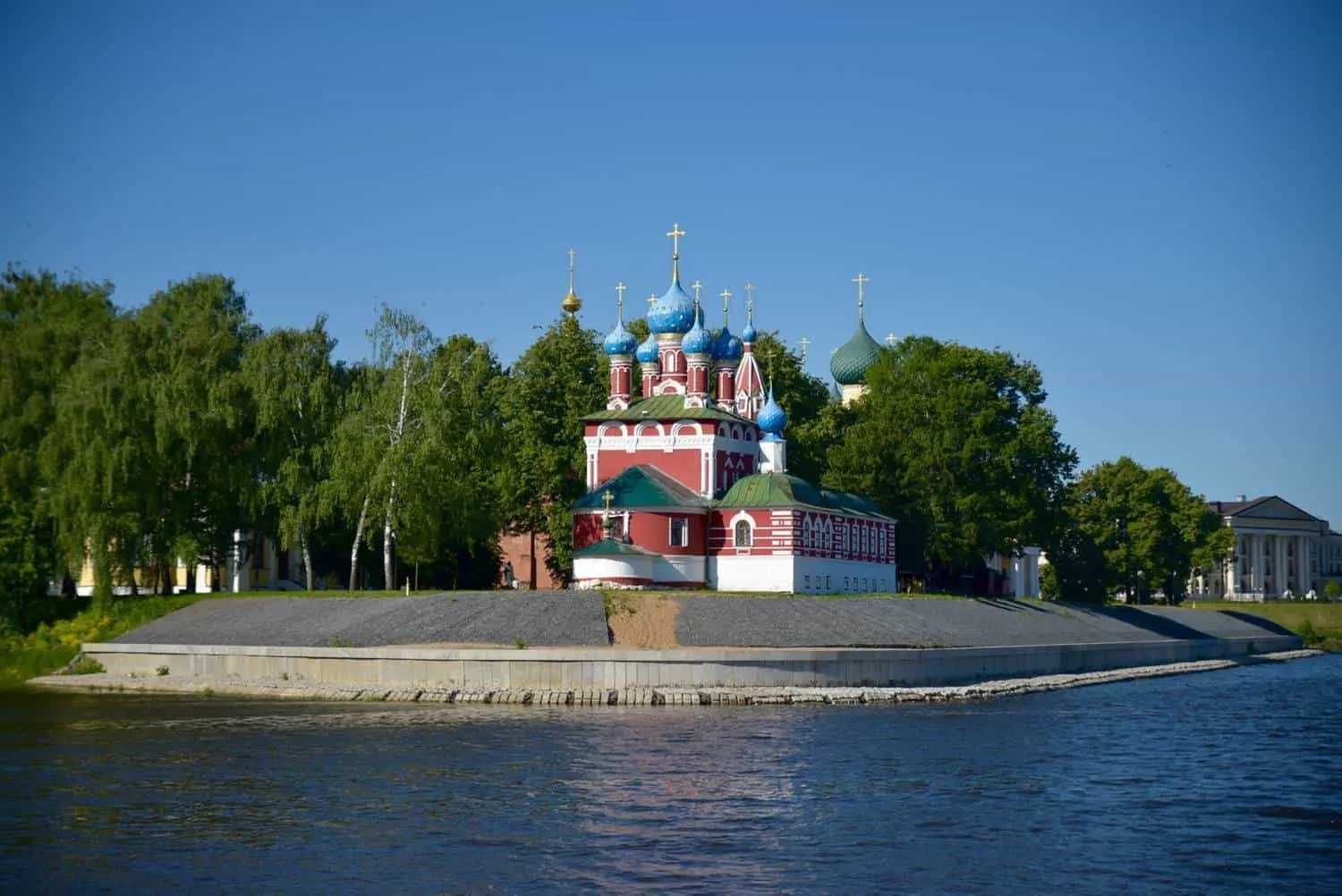 One such deed was accidentally killing his son and heir with a blow to the head. Due to this faux par on Ivan's behalf, his crippled son Feodor, who by all reports was not well in mind or body, ascended to power. However, the country was being run by Feodor's brother in law, Boris Godunov.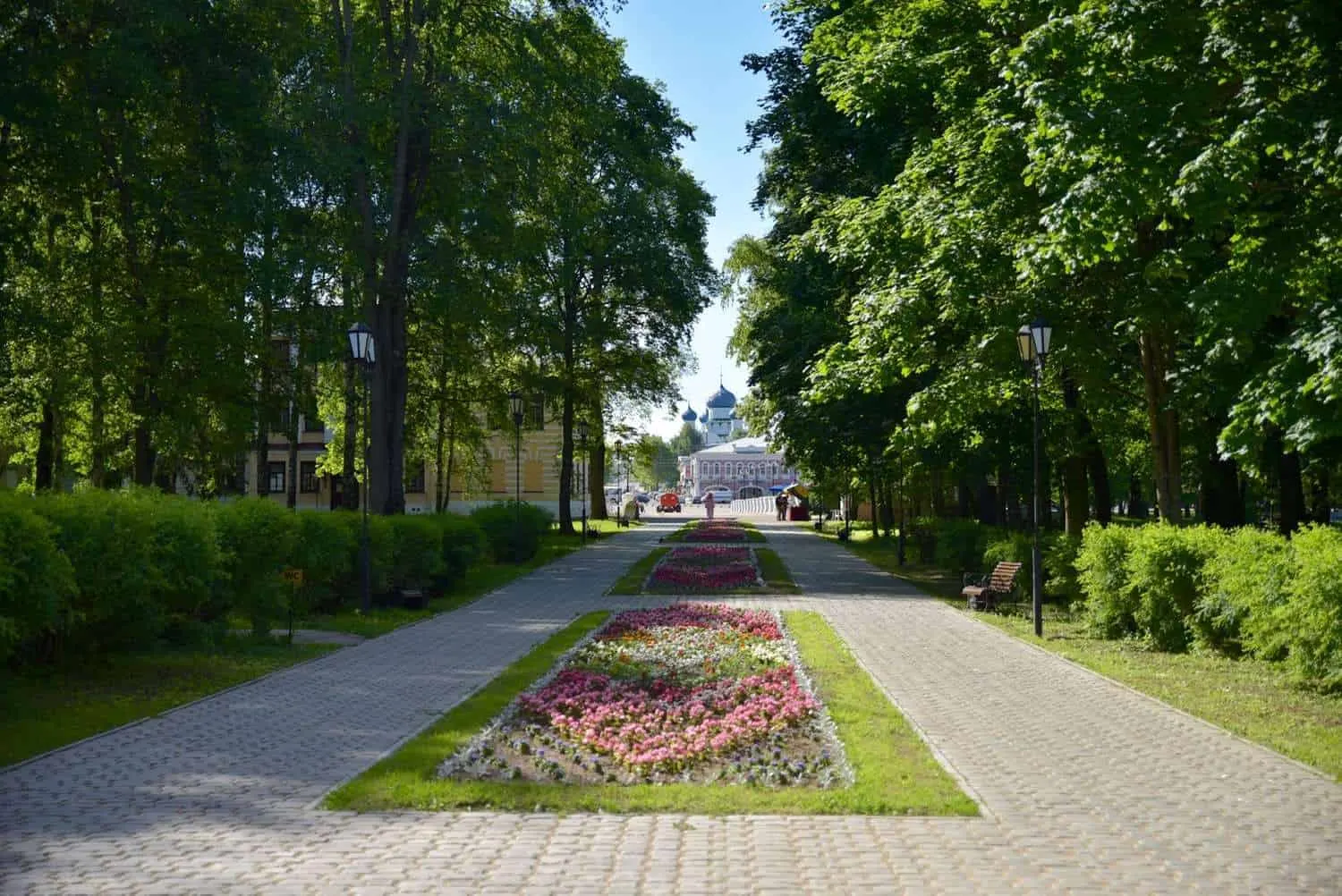 Quietly in the wings was Dimitry, Ivan's younger son who could have succeeded the throne in light of Feodor's lack of interest in political issues. In 1591, at the age of ten, Dimitry was found dead thanks to a stab wound. It was decided Dimitry slit his own throat with a sword during an epileptic fit.
At the risk of stating the obvious – it was widely assumed the boy was murdered. However, those who dared to accuse Boris Gudunov only did so once. The mystery remains, and so does this beautiful city close to Moscow.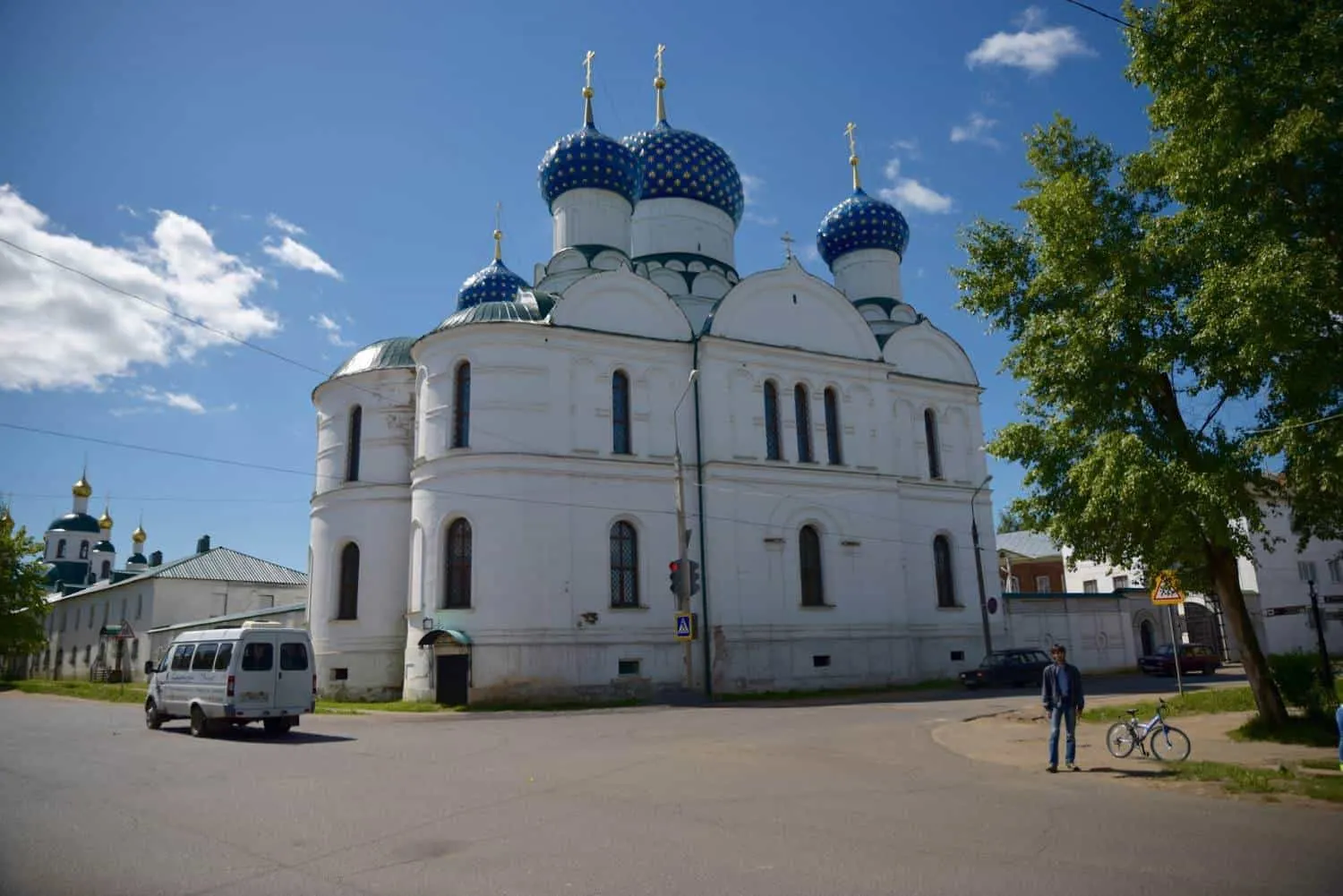 ---
Should You Choose A River Cruise to Travel Russia?
When it comes to visiting a country like Russia, we feel a river cruise is possibly the best way to maximise your experience of this incredible country. Had we decided to travel independently, there is no way we would have had the vast and varied experiences we were able to on this cruise.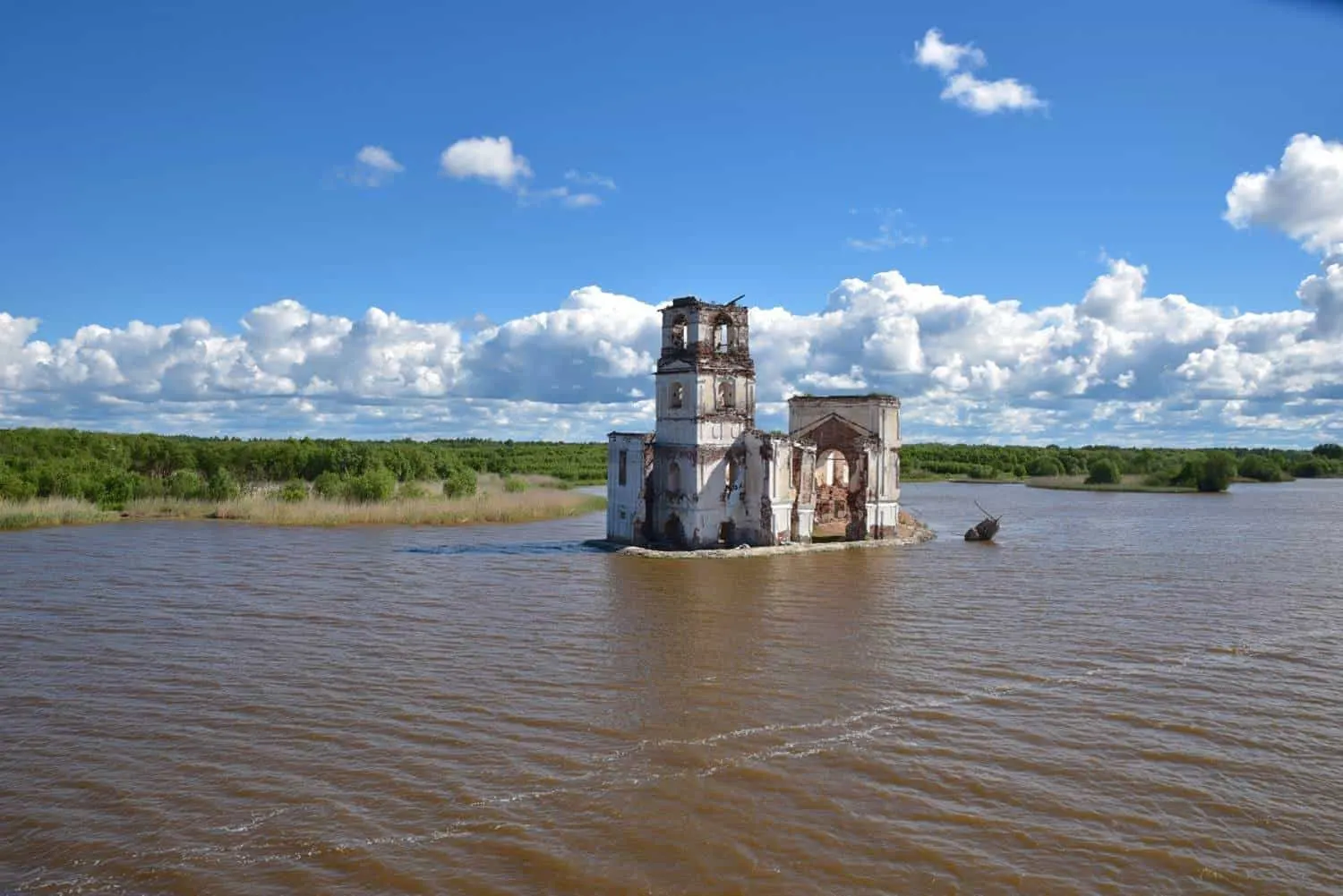 The 5-star hotel service, excellent dining and professional tour organisation far exceeded any of our expectations. We now understand why people often choose river cruises as the best way to experience a country. We have since travelled on a number of river cruises through Eastern Europe and the Danube and still believe it to be a value for money way to travel, especially in Europe.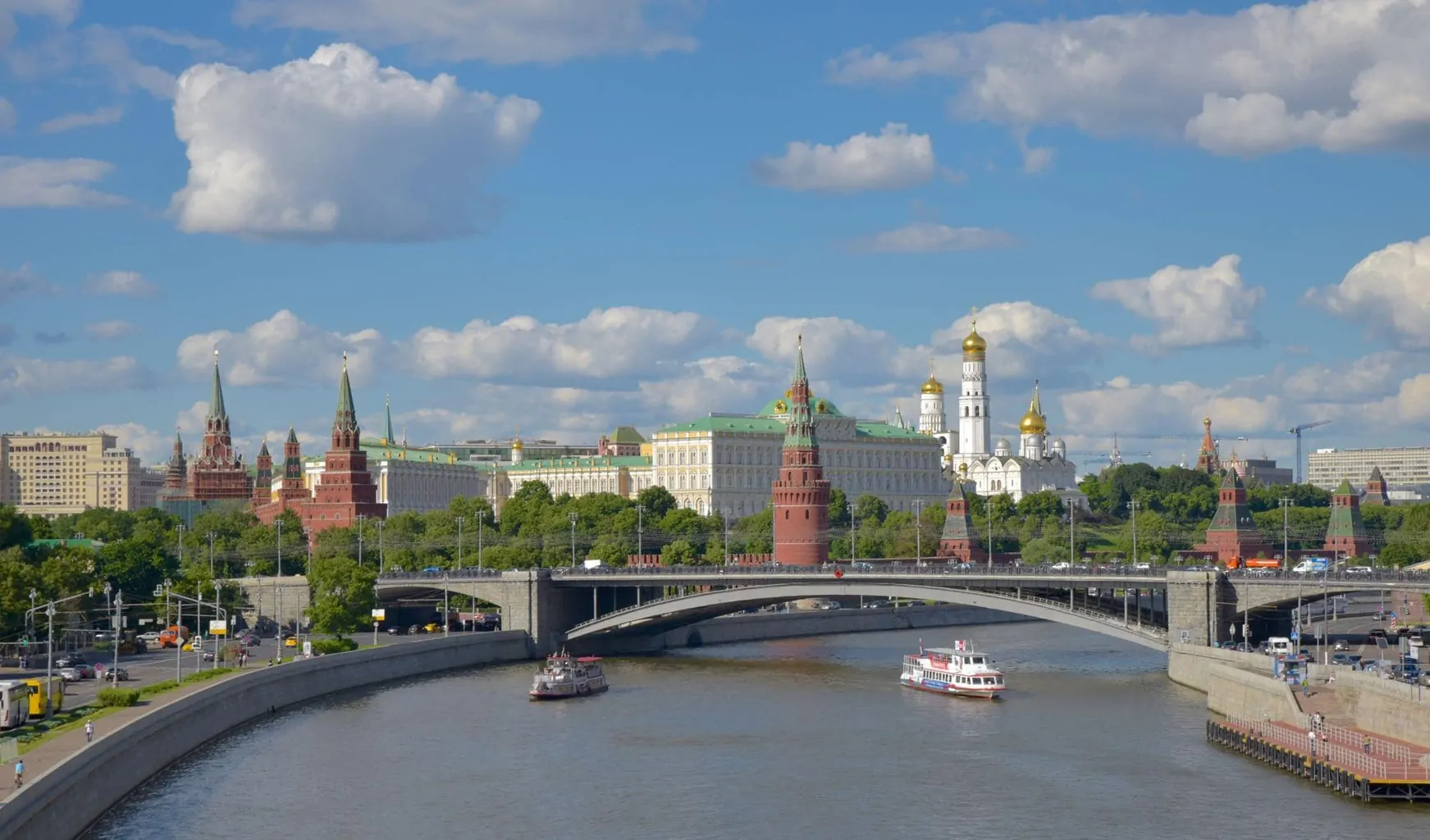 If you are looking to see Russia beyond the big cities, cruising the waterways from St Petersburg to Moscow will reveal the beauty of the towns and the landscapes of Russia's heartland. A river cruise is a fabulous way to travel Russia and a great way to glean a deeper understanding of this mysterious country.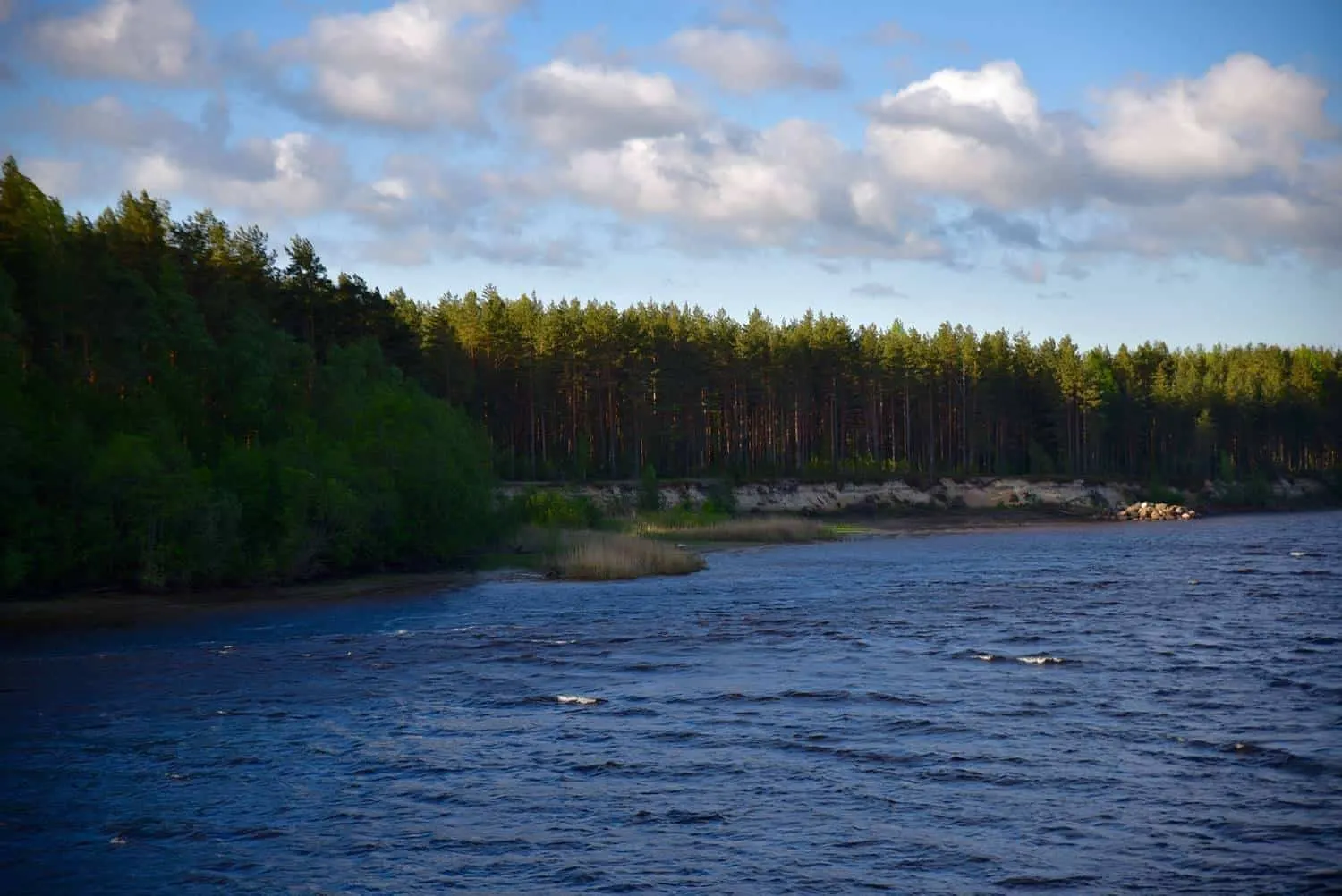 Viking River Cruise In Russia Facts
Viking River Cruises has three vessels operating in Russia offering a 13-day "Waterways Of The Tsars" cruise running between Moscow and St Petersburg.
Prices start at ~USD $4,500. Viking Cruises also offer some great "Early Bird" specials available for advance bookings.
The cruise includes accommodation, all meals, drinks with meals, tours and onboard lectures. Additional or Optional Tours can be purchased on board.
Flights, including taxes and transfers, can be arranged inclusive of your cruise price.
A tourist visa will be required for most foreign nationals to enter Russia, it is important to check if you will require this well in advance of your cruise date.
We would like to thank Viking Cruises for hosting us on the Waterways Of The Tsars cruise to facilitate this article. As always, all opinions expressed are our own and have not been influenced in any way.