Have you ever dreamt of sailing in the Mediterranean on your own private yacht?
If you thought this type of holiday was only within the reach of the rich and famous – Think again!
---
Sailing the calm, unspoilt waters of the southwest Turkish coast and the Greek Dodecanese Islands. Seven glorious days, indulging in the beauty of the Mediterranean. Soaking up the luxury while being treated to secluded coves and bays and the coastal and island villages of The Mediterranean.
Take a look at what one luxurious week sailing on a Turkish Gulet in the Mediterranean looks like, and we challenge you not to rethink your next holiday.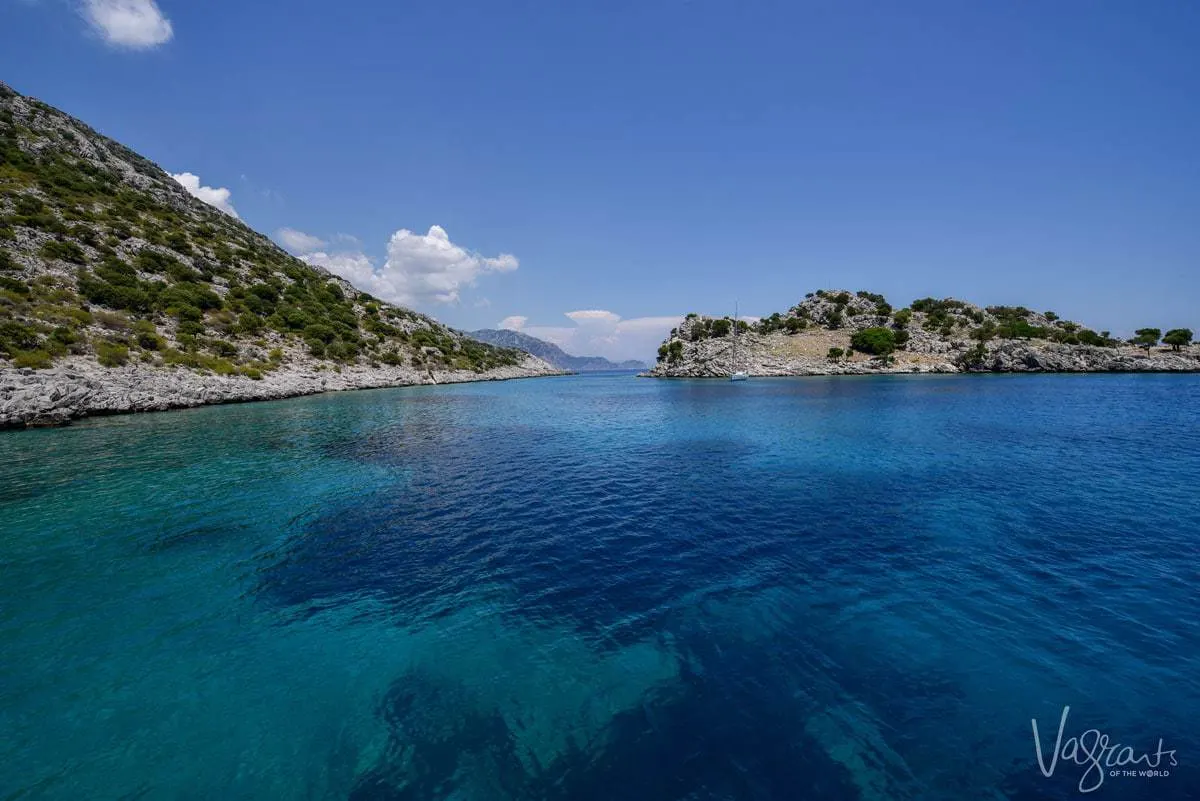 We started our voyage in the Turkish coastal town of Marmaris. An area, along with neighbouring Bodrum, well known for the two or three masted wooden yachts known as Gulets. This is where we met MedSea ES Canada, our home for the next seven days.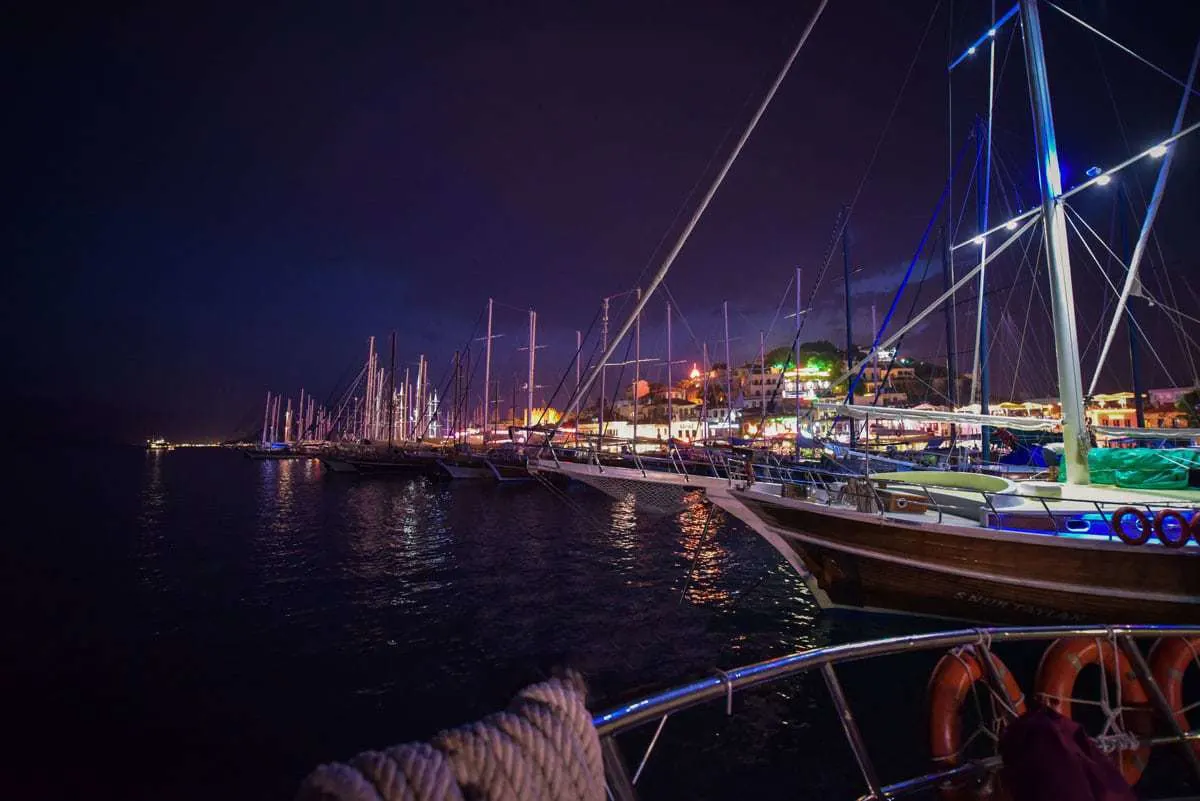 A Traditional Turkish Gulet
Turkish Gulets are a very popular style of charter yacht, and you can see why. They are spacious and quite luxurious. MedSea's fleet of three vessels, including the newest in the fleet, MedSea ES Canada lived up to expectations and then some.
Your Home Away from Home.
Much like a floating hotel, vessels are very well appointed with spacious cabins and ensuites. MedSea ES Canada has eight cabins with ensuites including a huge Master cabin.




Expect loads of deck space and plenty of lounging areas for sunbathing and relaxing, in or out of the sun. Typical of a gulet, the top deck has comfortable sunbeds for 16 as well as large, shaded daybeds on the aft deck and undercover couch areas on the foredeck.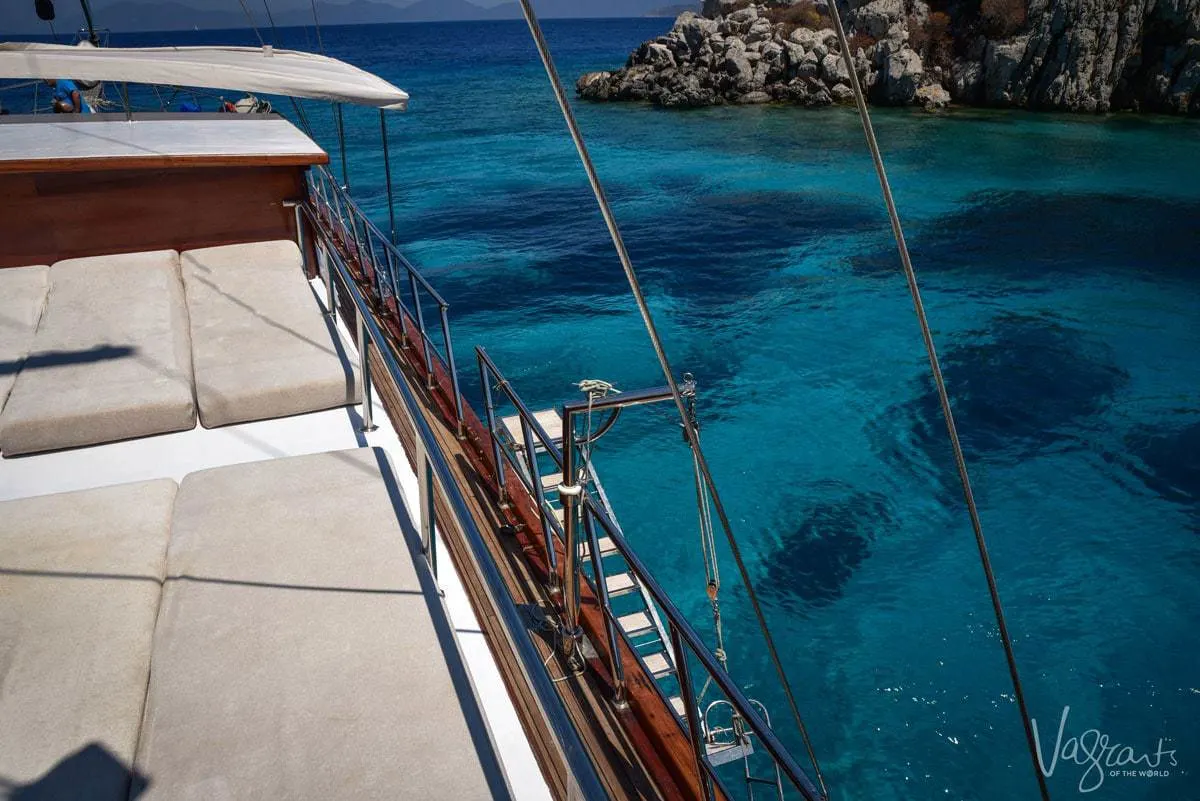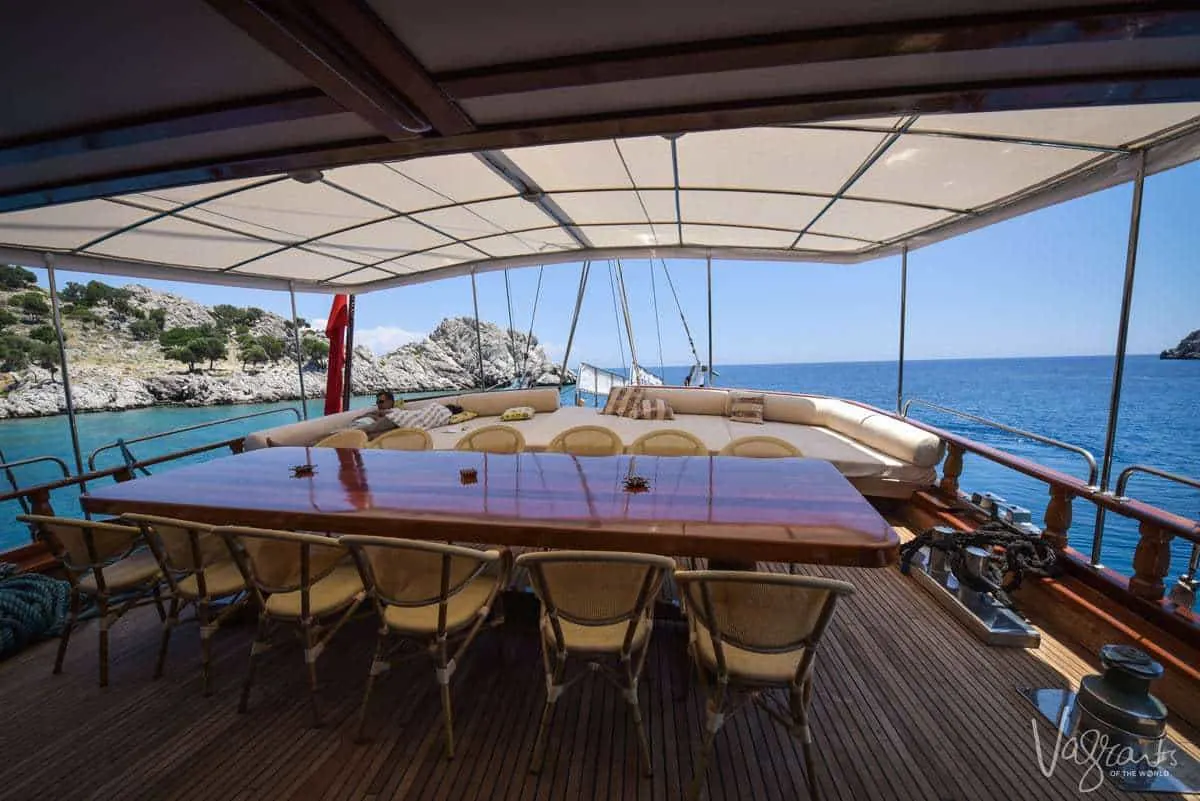 Large dining areas on both the aft and fore decks allow for a different dining outlook when the mood takes you.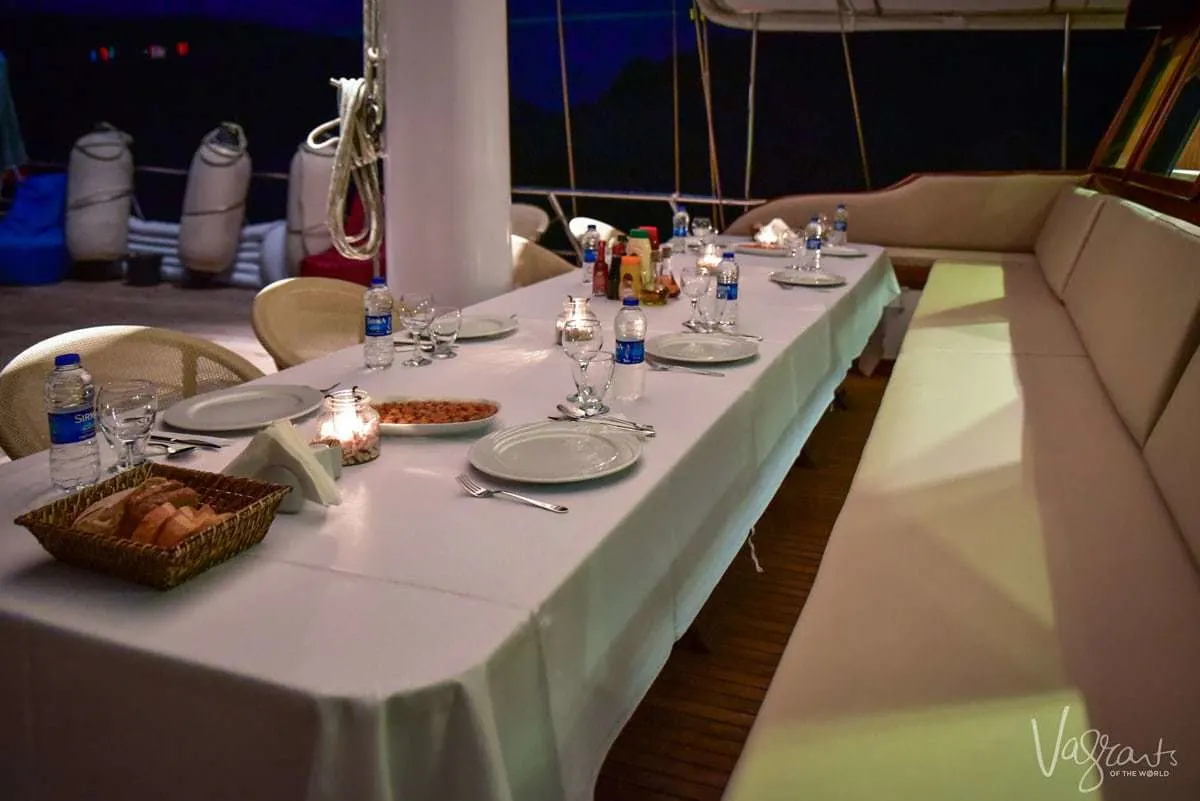 ---
Indulge, Enjoy And Be Thoroughly Spoilt!
With a professional crew of four on board, expect that you will be well catered to. Each day our chef prepared incredible Mediterranean feasts using fresh local produce.
Some so fresh it was procured from the local villages we stopped at along the way or from local vendors that would come alongside in quiet bays.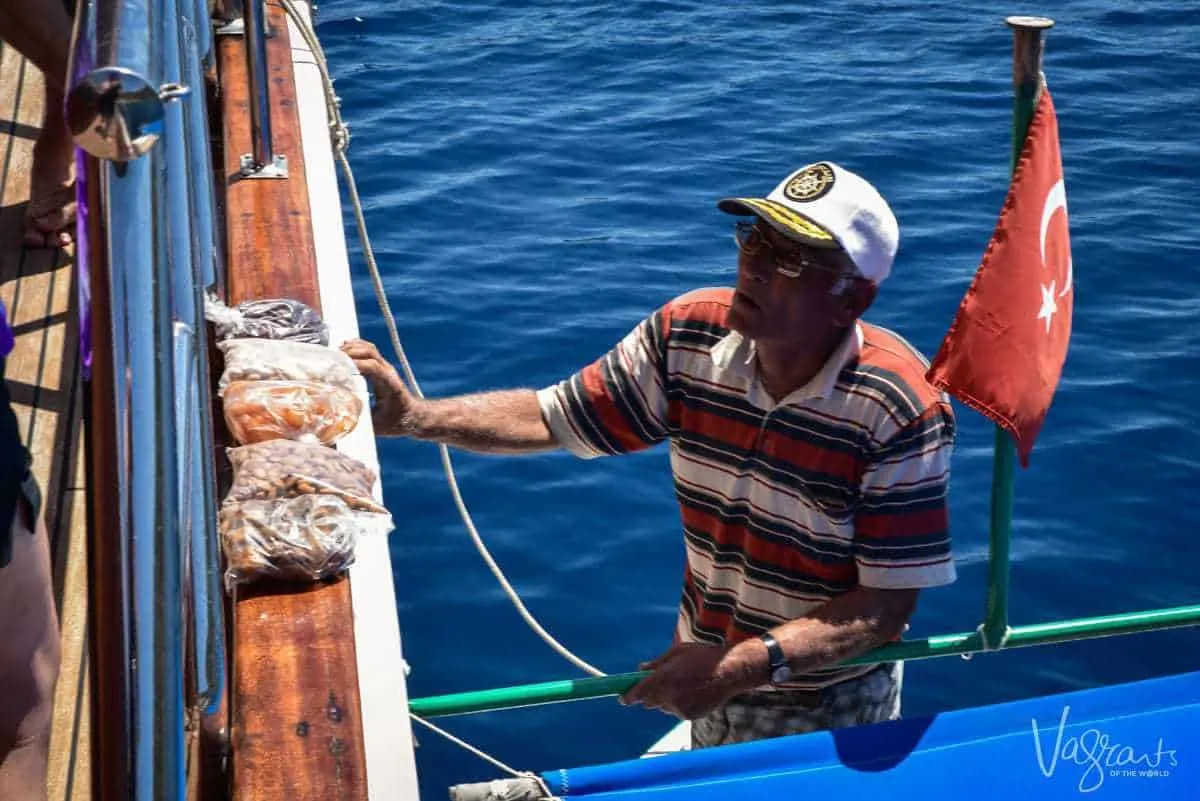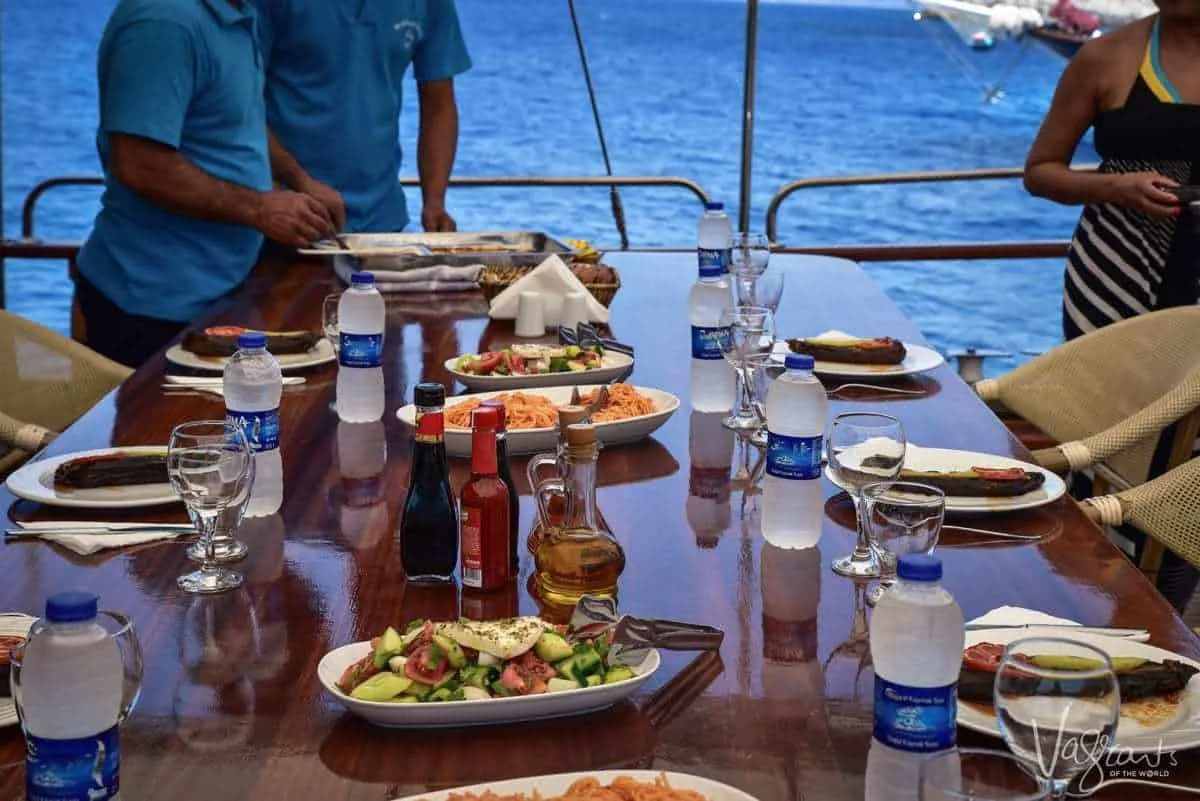 And there is always a crew member at the ready if you want to go snorkelling, need a lilo blown up so you can float your afternoon away or if you wish to try your hand at waterskiing, that too can be arranged. So if complete relaxation isn't your thing, there are plenty of activities to keep the adventurous and active entertained.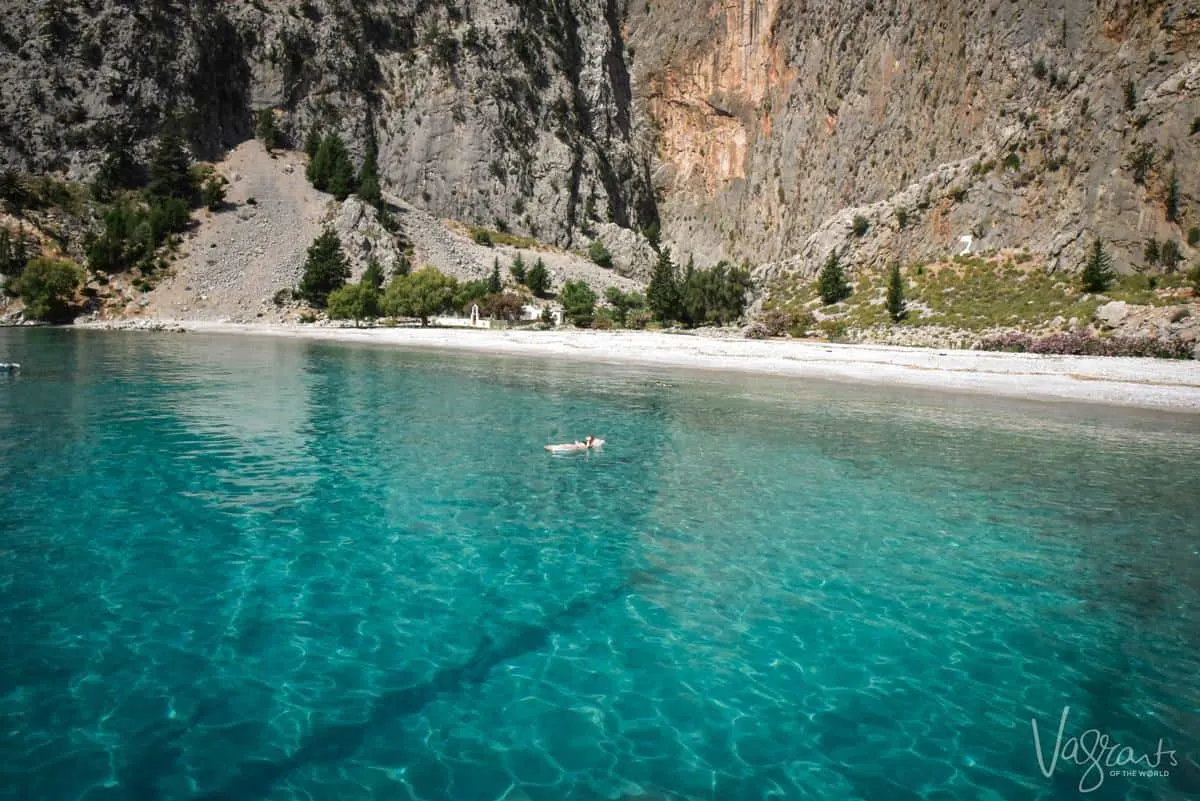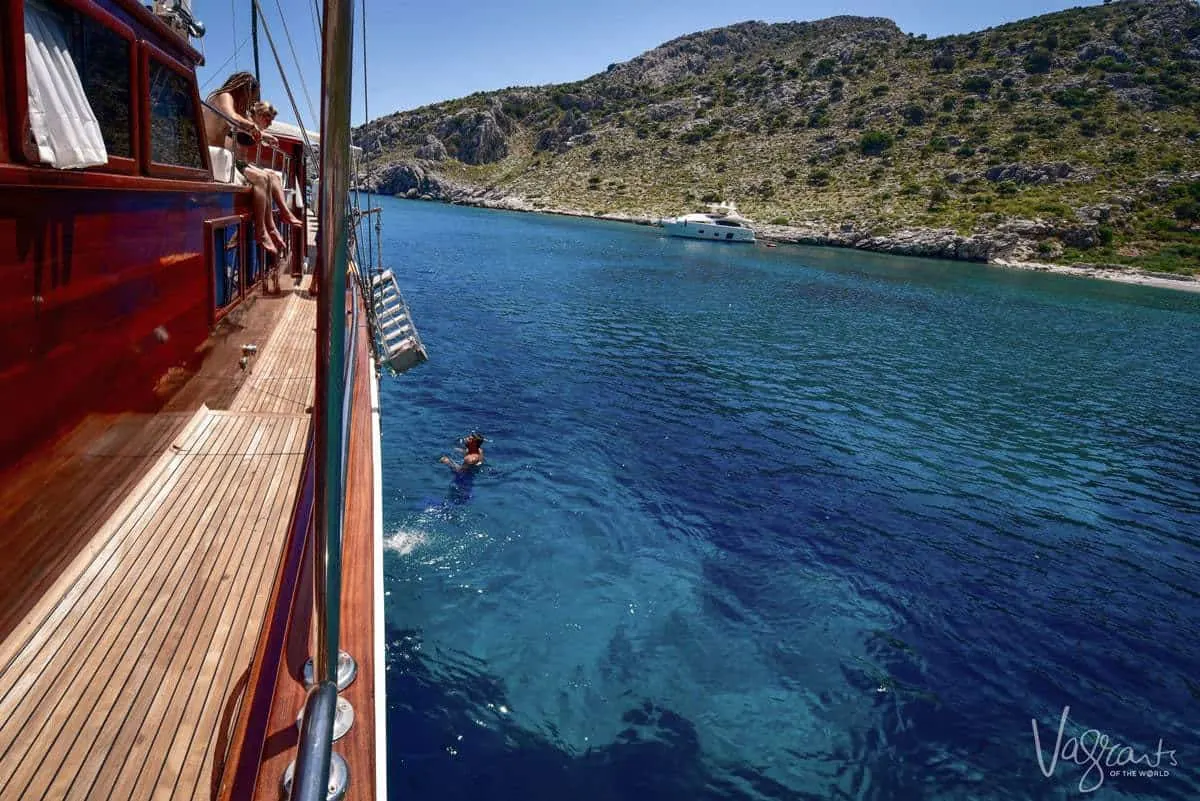 ---
Discover Charming Local Villages And Picturesque Islands Loaded With History.
While we were not indulging our bellies, enjoying the crystal clear waters or succumbing to total relaxation, we were exploring a new village or island.
From the small coastal towns of Turkey, some well off the tourist trail, to the Dodecanese Islands of Greece. Each day was open for a new local experience.
Sailing the Turkish Coast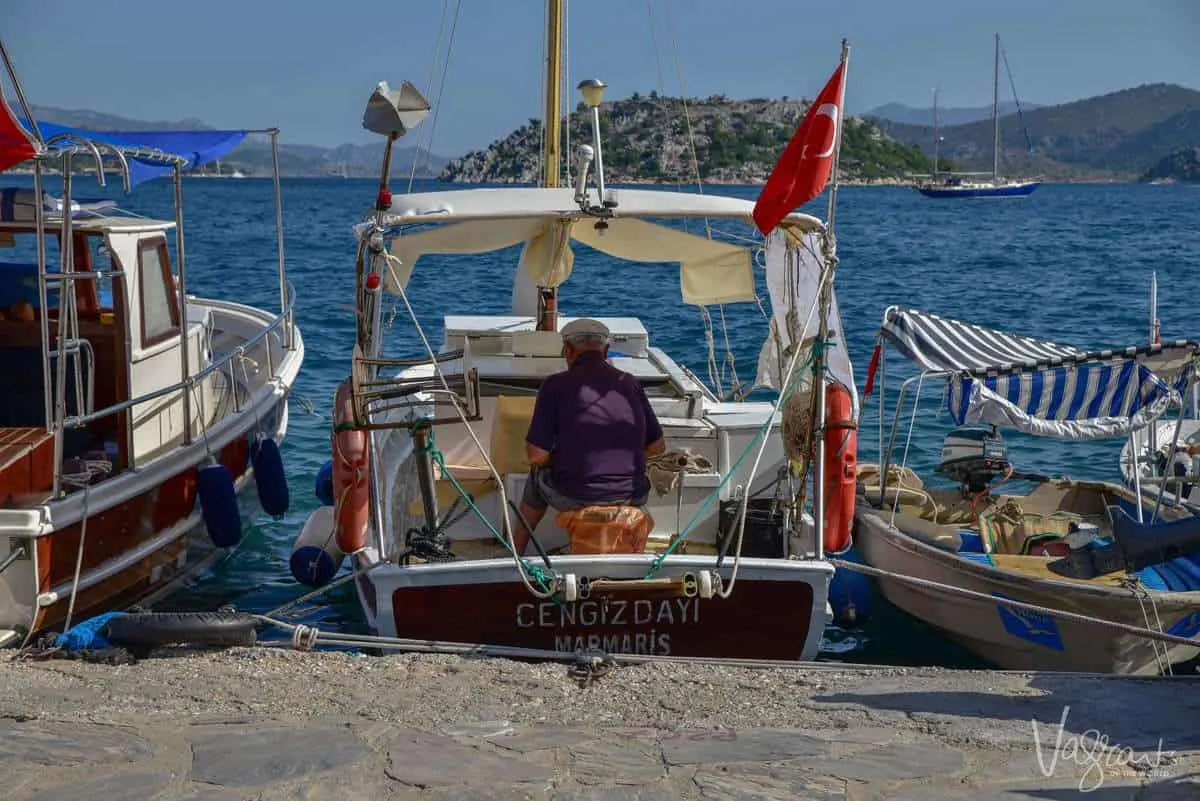 Nights spent between quiet anchorages or alongside in quaint little island ports. We experienced a wonderful mix of tranquil evenings under the stars and the lively Mediterranean village nightlife of waterfront promenades lined with traditional tavernas.
Sailing the Greek Islands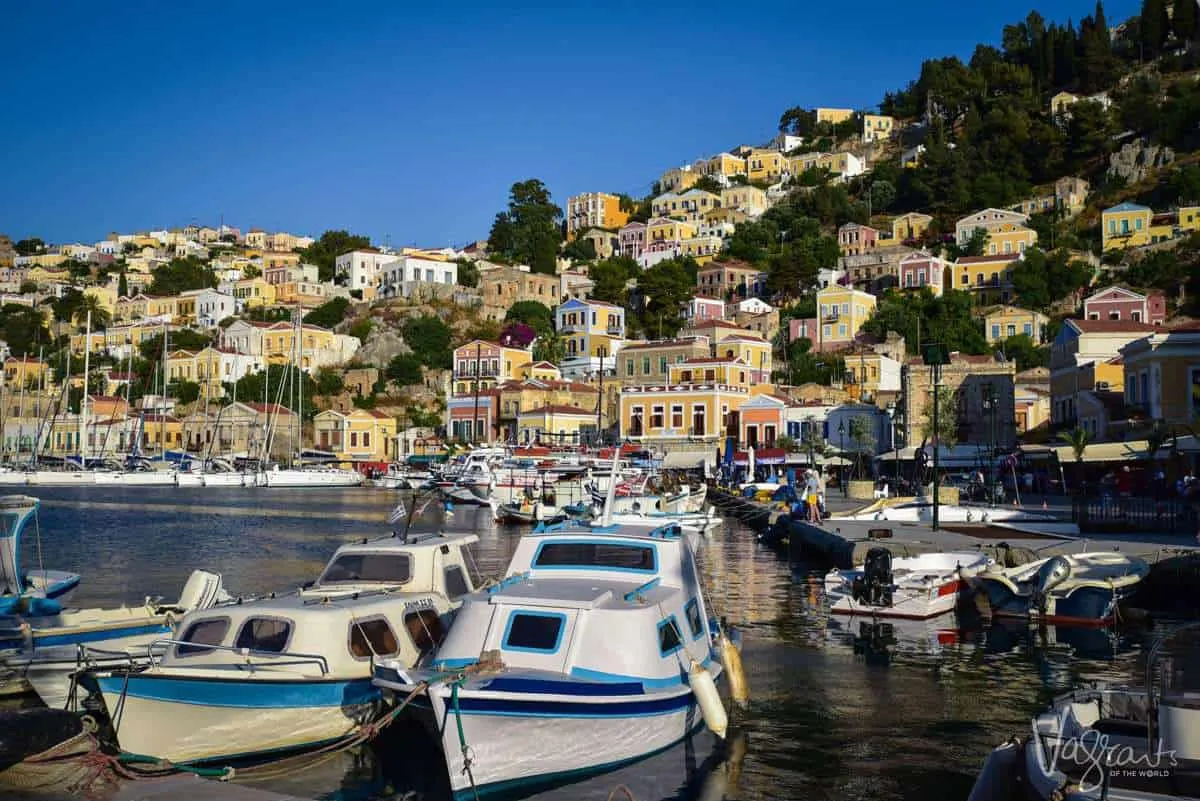 Now, pause for a moment and picture yourself sitting here. Sailing in the Mediterranean on a beautiful yacht is no longer a lifestyle reserved for the rich and famous.
As an all-inclusive price, sailing The Med is now probably more affordable than parking up at a hotel or resort for a week and a whole lot nicer.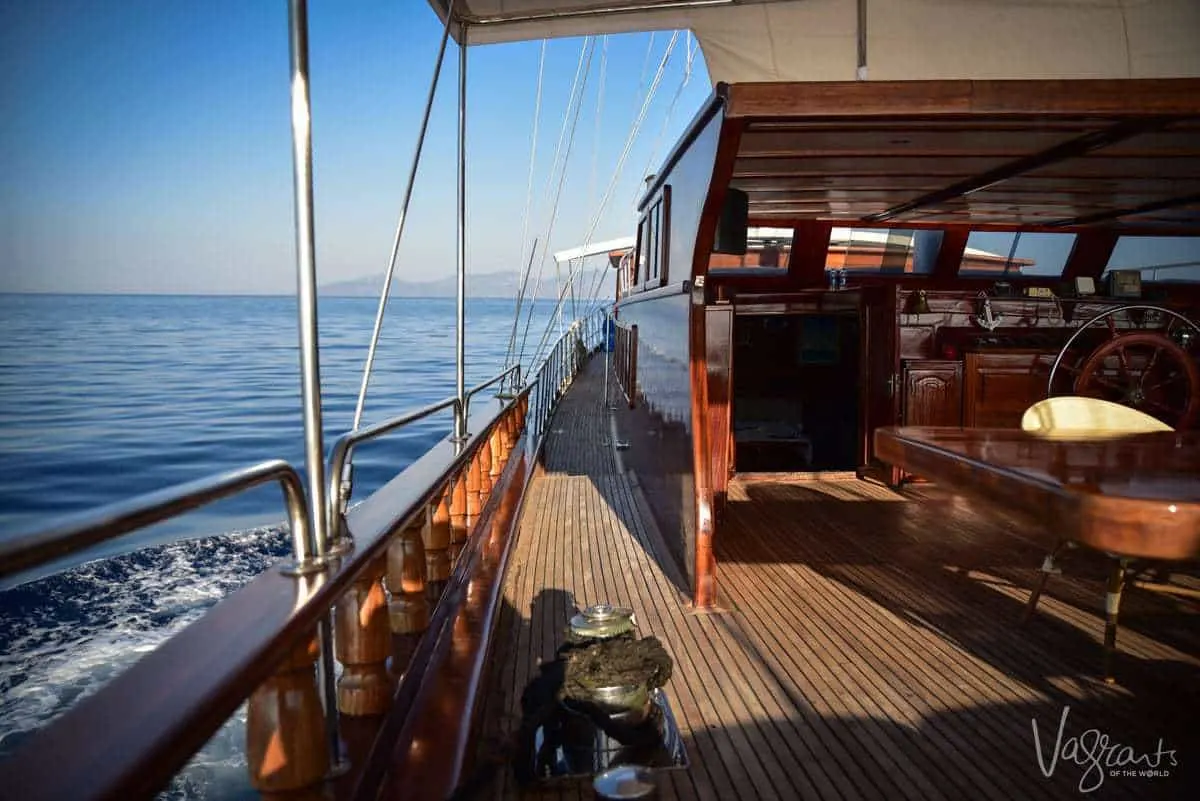 ---
FACTS
MedSea Yachts has three vessels in its fleet ranging from 14 metres in length with two cabins – perfect for families or couples, up to the 30 metre, eight cabin MedSea ES Canada.
Vessels may be booked privately or on a per cabin basis depending on availability.
Prices start at €500 per person per week including meals.
Itineraries for each voyage will vary according to weather and season to ensure the best experiences. Itineraries can also be customised for private charters to suit your holiday.
Charters depart from Marmaris, Turkey which is serviced by Dalaman International Airport. There are direct flights from most international ports with a transfer in Istanbul.
A tourist visa is required for Turkey which can be obtained easily online or now, at arrival in Istanbul Immigration. However, it is advisable to have your visa complete before arrival in Turkey.
Contact MedSea Yachts for up to date rates to suit your Mediterranean holiday needs.
---
As always, all opinions expressed are our own and have not been influenced in any way.