Discover one of the best Greek Island experiences in the Dodecanese Group of Islands – Leros Island
The Aegean hides a little secret just off the Turkish coast, one the millions of tourists who circuit the Greek Islands on package tours and cruise ships don't know about – Yet!
Amongst a group of islands known as The Dodecanese, nestled between Kos and Samos in the azure waters of the Aegean, you will find the island of Leros.
One of the Greek islands where you can still experience authentic Greek island living without the tourist trappings. Leros is one of the last unspoilt Greek Islands.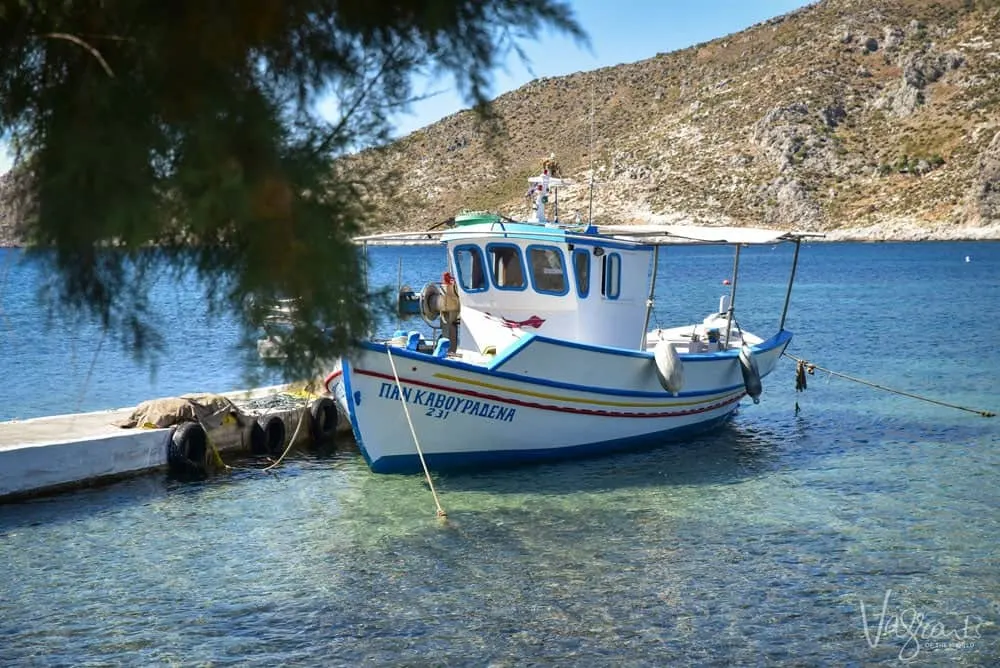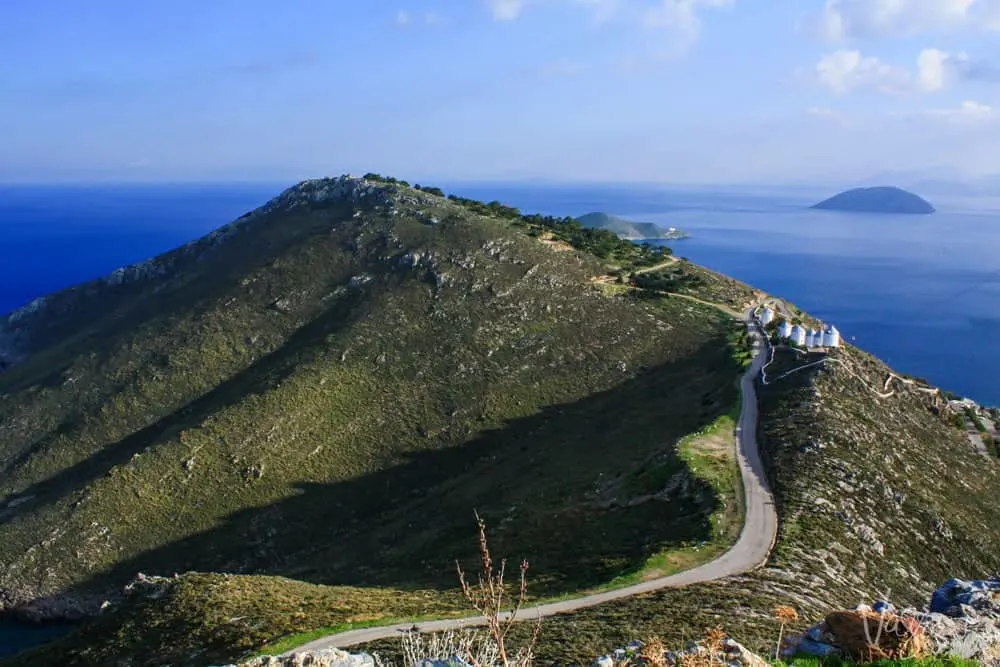 About Leros Island
Leros was an Italian naval base for 30 years. It was then home to a controversial mental asylum and later a penal colony. It is no wonder Leros has not been at the forefront of the holiday scene, but all that has changed.
While Leros may have been a secret haven for discerning holidaymakers in the know, tourist numbers are on the rise as word gets out about Greece's secret paradise.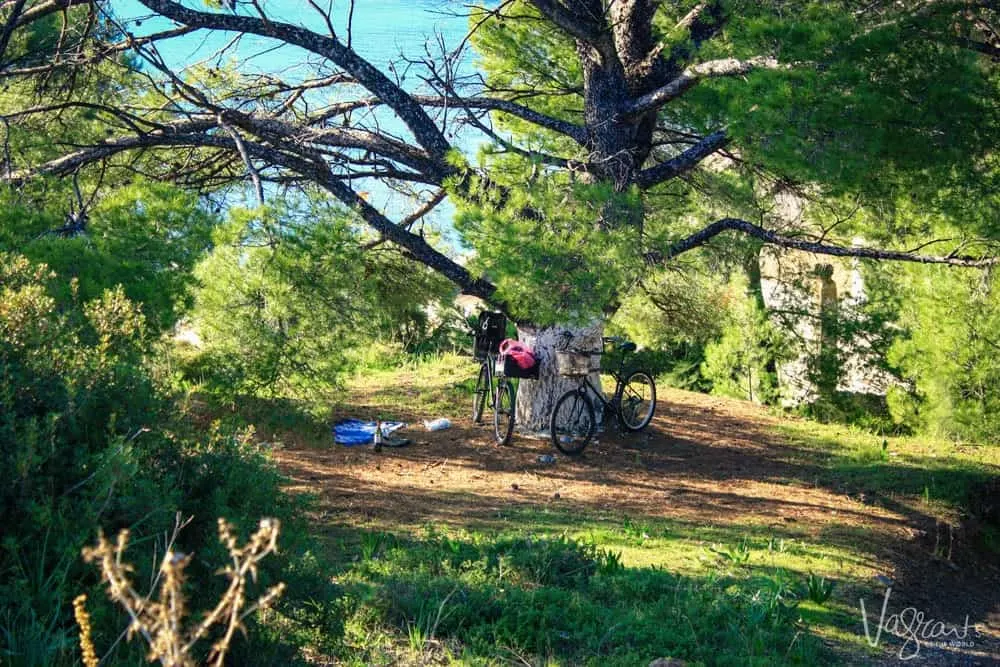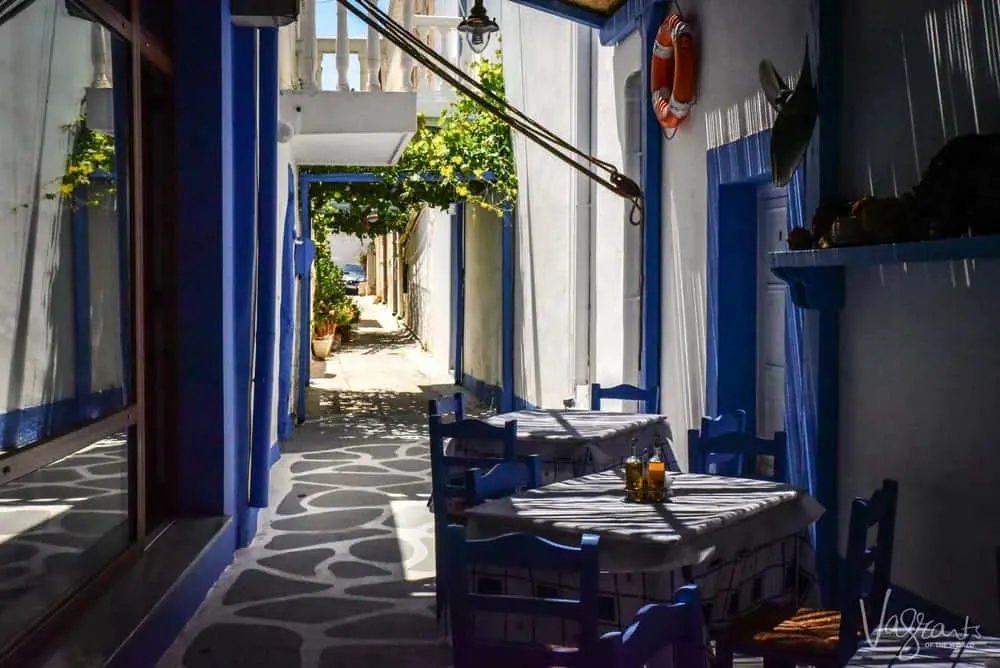 Authentic Greek Island Experience
Leros is both uncomplicated and intimate. With a small population of around 8,000 permanent residents, everyone knows everyone. Visitors are quickly identified and welcomed enthusiastically with lively and affable conversation. Time here is not rushed, siesta is observed daily, and the attitude is friendly and relaxed. It's the perfect Greek Island for couples who want a relaxed and authentic experience.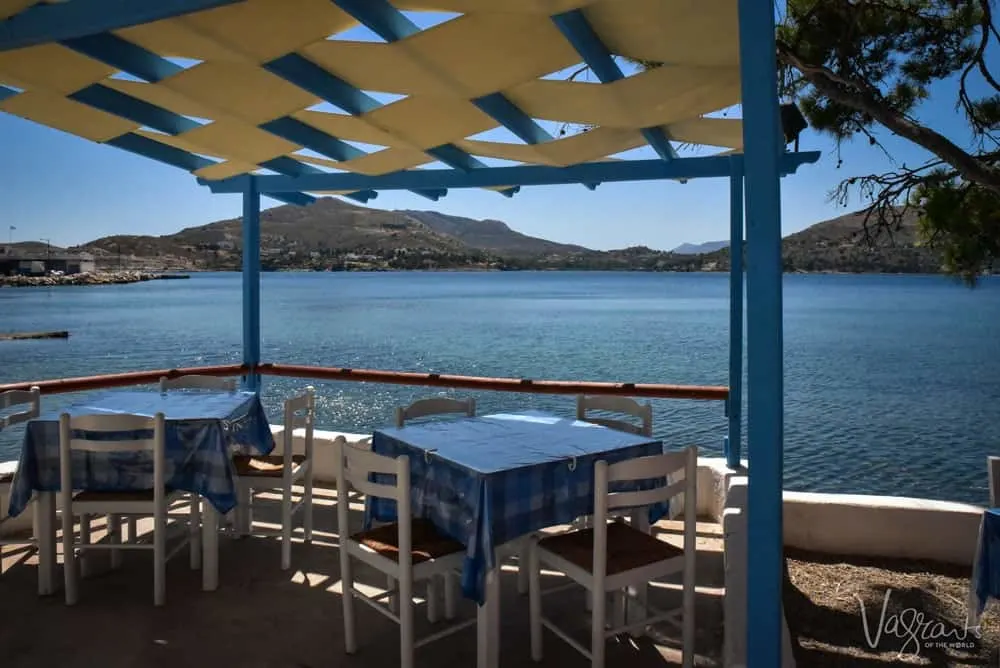 And while Leros does not have stretches of white sandy beaches, it offers deep, crystal clear bays and coves, lined with pebble beaches and traditional tavernas. Perfect for a day of swimming and sustenance; indulging in fresh, local fare so good the stunning view only surpasses it.
This is the picturesque charm lost on so many other Mediterranean destinations.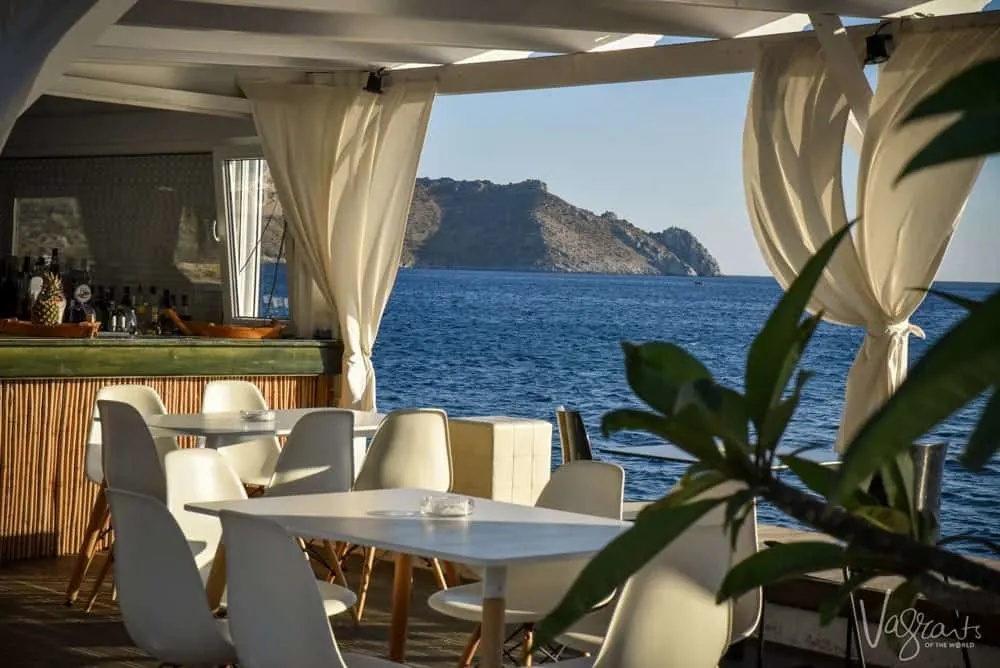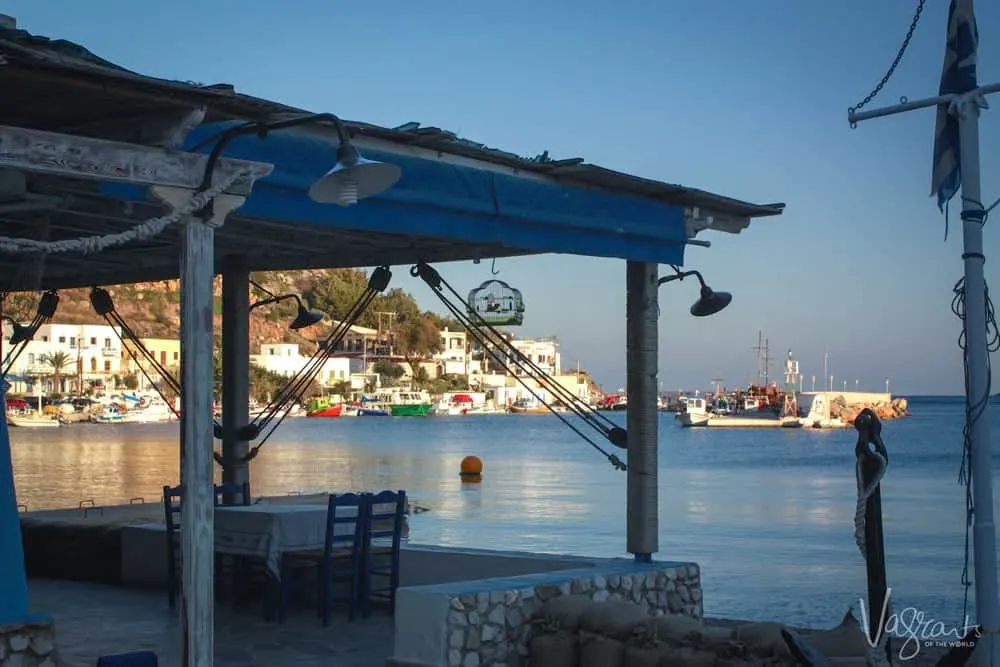 Visit Apitiki Hill – The Castle of Leros
The northern side of Leros Island sets a perfect storybook scene. The medieval castle of Leros sits perched atop the hill with neighbouring windmills lining the ridge, like soldiers in a row, overlooking brightly coloured clusters of picturesque cobblestoned towns.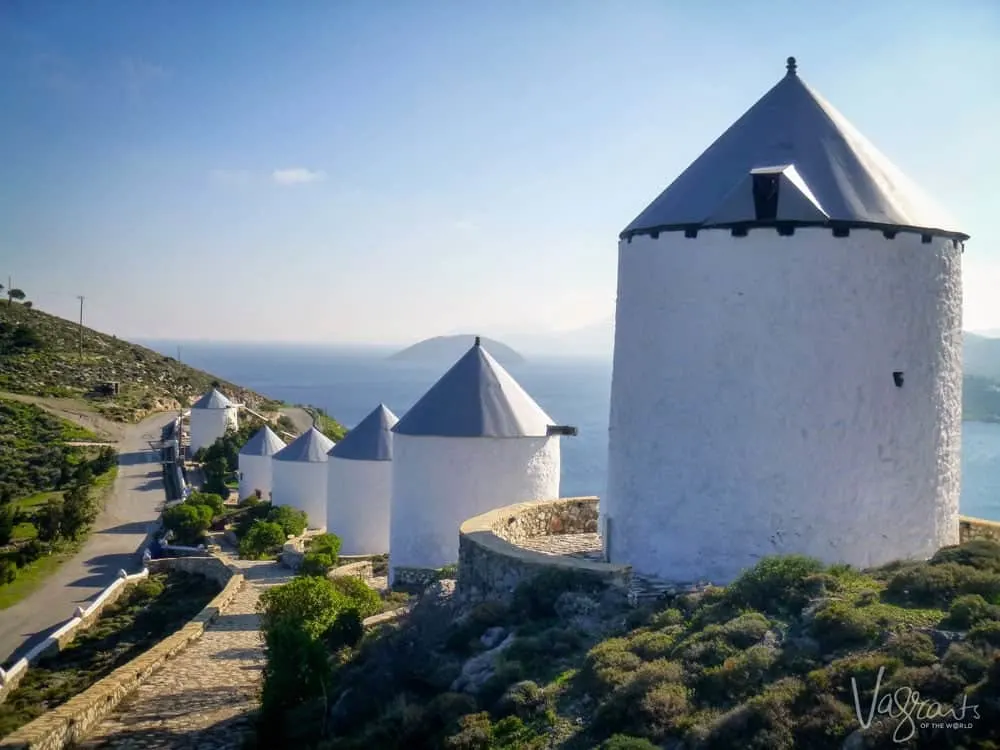 A visit to the 11th-century Castle Of Leros at the peak of Apitiki Hill is a must. A legacy of the Knights of St John in the 11th century, you will encounter a dramatic 360º view of the island, a contrast of quaint villages and rugged coastline set to the backdrop of a medieval castle.
On the 14th of August, the day before 'Feast Day of the Virgin Mary,' thousands of pilgrims arrive in Leros to climb the 400 steps from Agia Marina to the castle to attend the church of Panagia of Kastro in the grounds of the castle to pay homage to the Virgin. Of course, this is followed by a celebration with food and dancing in local restaurants and homes.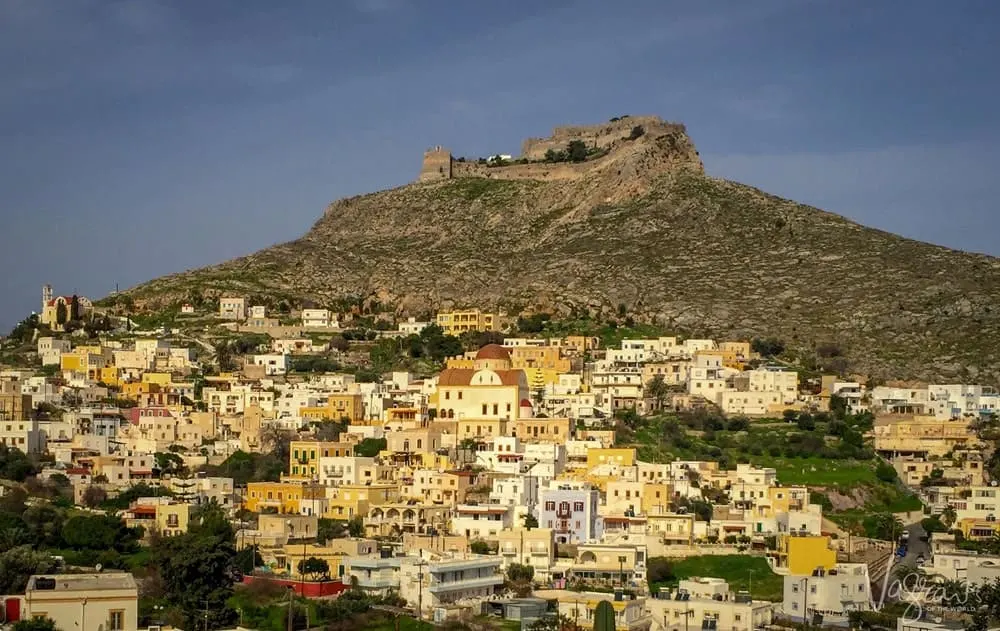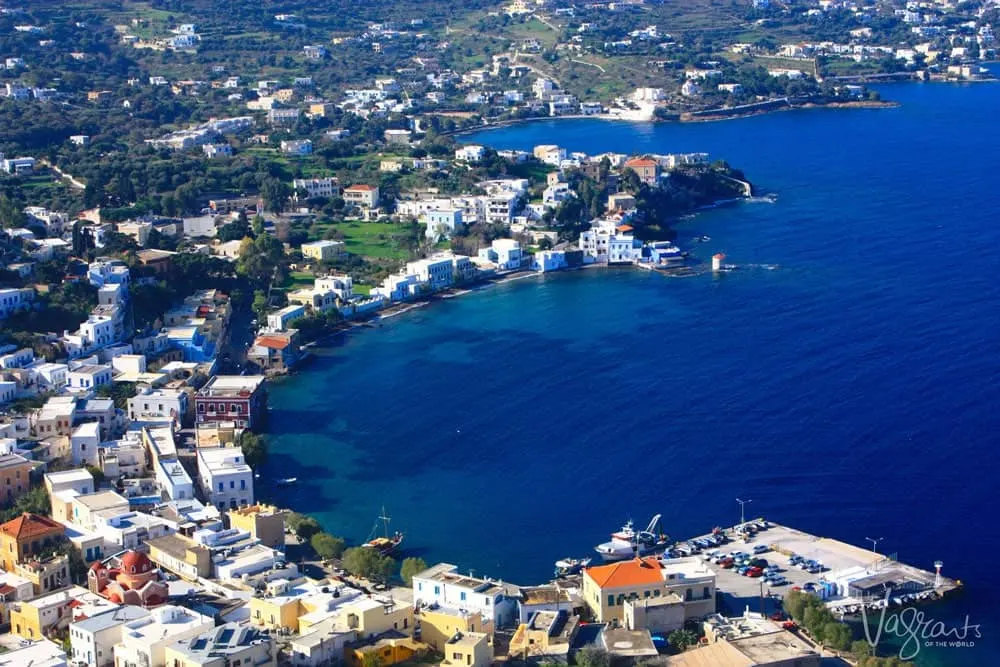 The Northern Towns of Leros
The towns on this side of the island, such as the capital Platanos, the small fishing village of Panteli and the more touristy areas of Agia Marina and Alinda are charming representations of what one expects of the Greek islands.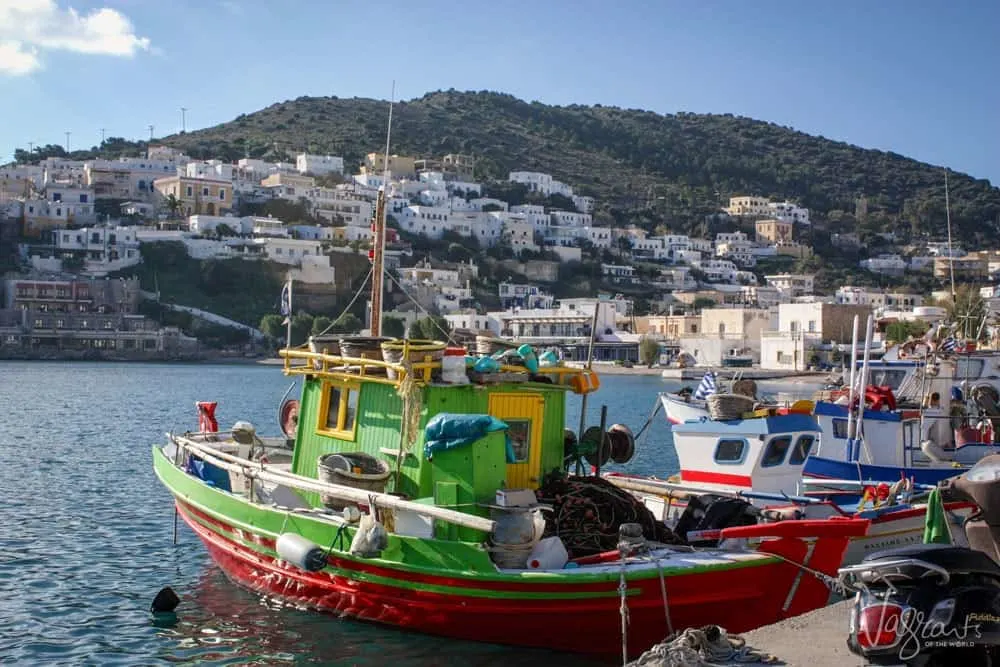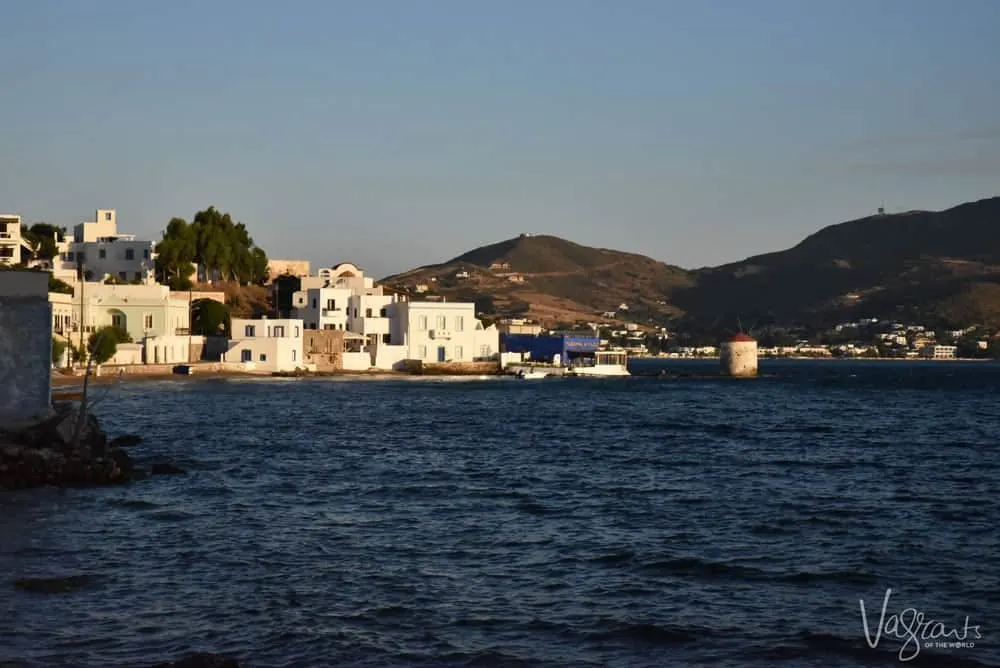 Narrow cobblestone streets, waterfront cafes, traditional bakeries, restaurants and bars. During the peak summer months, the bays will be dotted with yachts on anchor and holidaymakers fill the waterfront tavernas and cafes.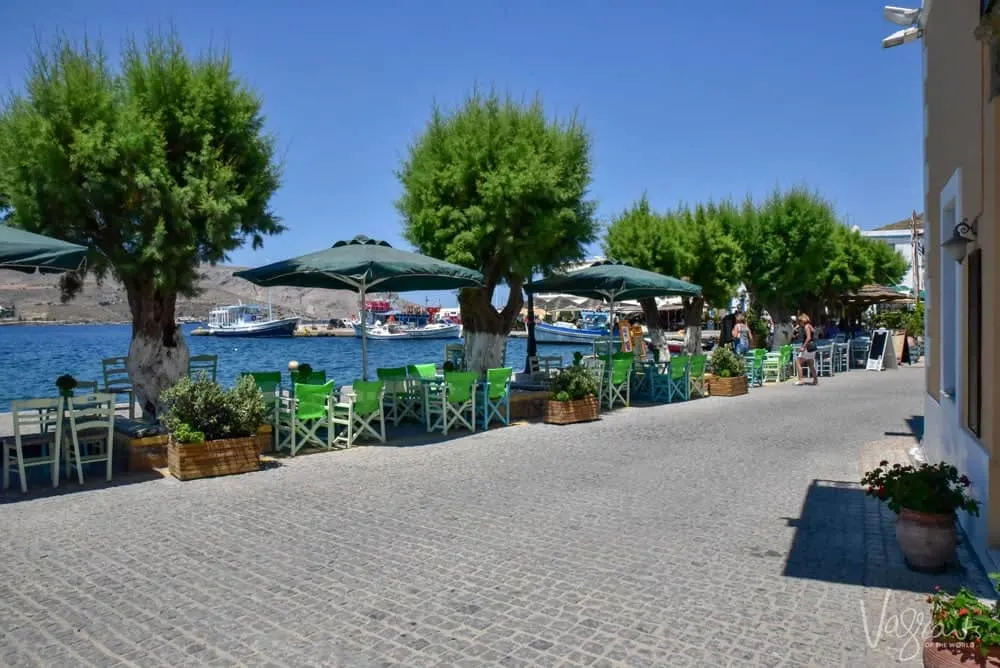 The Southern Towns of Leros
Lakki
Over the other side of the island, the western facing town of Lakki sits in stark contrast. Situated on the largest deep-water harbour in the Mediterranean, Lakki is the legacy of 30 years of Italian occupation. Lakki is a testament to the fascist regime of Mussolini and his vision of creating a second Roman Empire.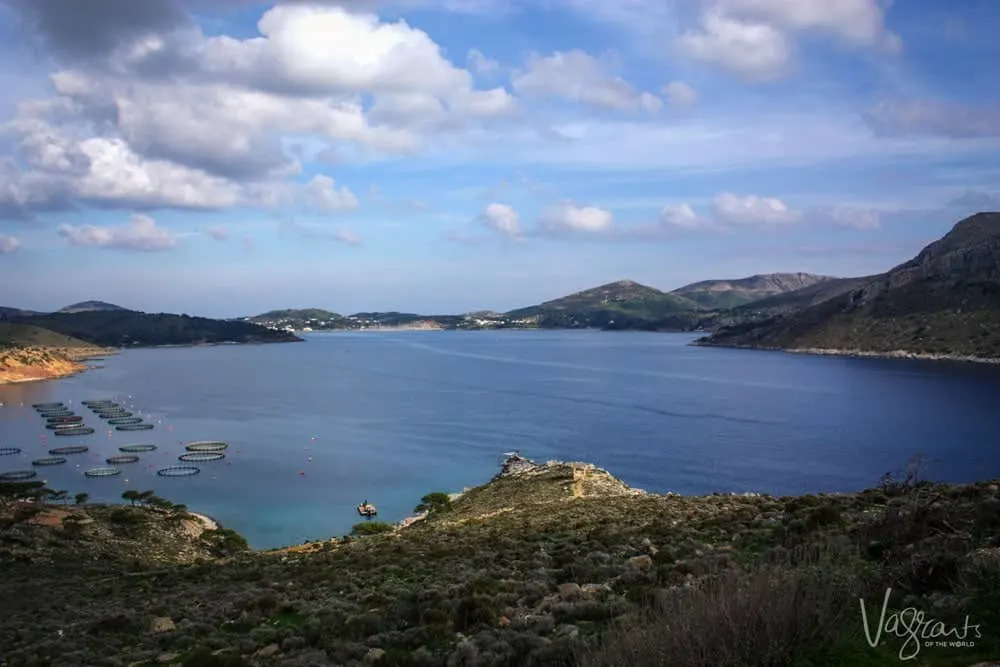 Commissioned by Mussolini in the 1930's, Lakki boasts streets wide enough for an army to parade through, and some of the finest remaining examples of Italian rationalist art deco architecture, including a summer mansion for Mussolini himself.
The main seafront road is lined with great monuments of early 20th-century modernism or 'Mussolini Modernism' as it was known. And while Lakki's art deco architecture and organised town layout are not what people expect of a Greek island, it certainly does not lack any charm.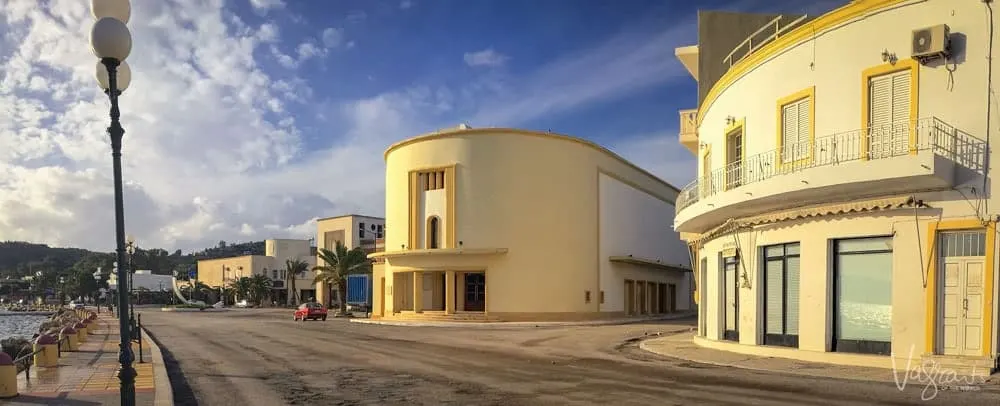 Lakki has now replaced Platanos as the main business centre on the island offering supermarkets, butchers, numerous grocery stores, boutiques, a gourmet deli and many cafes and restaurants. It also has a new marina facility to support the growing yachting fraternity frequenting Leros in the summer months.
Xerokampos
The southern side of the island is also home to the quaint fishing village of Xerokampos which offers a nice beach, holiday studios and traditional tavernas.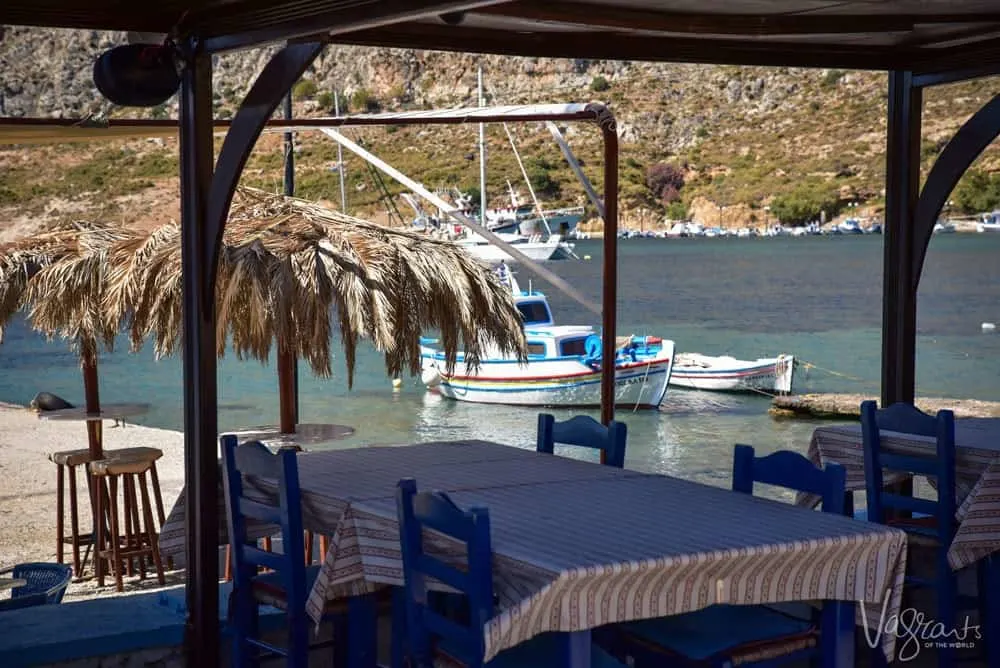 Gourna Bay
Head to the bay of Gourna and out on the narrow causeway to the tiny Agios Isidoros Church. You don't get much more picturesque than this little chapel which stands alone on a small rocky island 50 odd meters from the beach.
Like all the churches in variously hidden coves, cliff sides and hilltops, this is in excellent condition and more than likely you will find fresh incense or a candle burning. You may come across the mystery soul that keeps this, and all the little churches maintained. More than likely you will have this small chapel to yourself to take in the striking beauty of its location.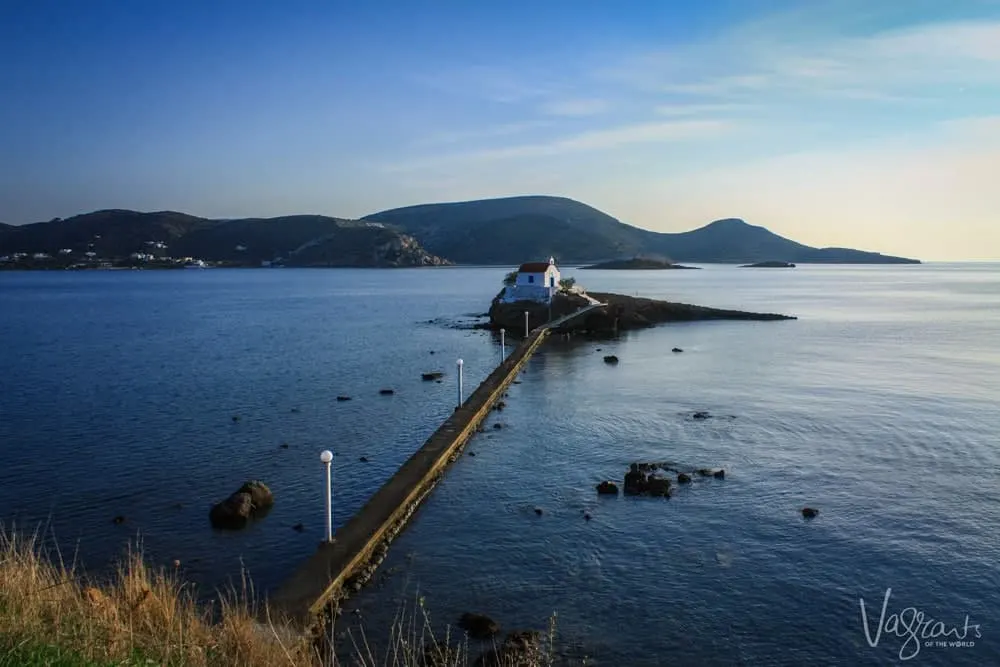 History of Leros
Churches
Leros has a fascinating history, well represented in the 155 churches and monasteries on the island. Dotted around the island you will find churches of all sizes and from all periods. Small, modest churches from the Byzantine period, some built on rocks in the ocean, others on cliff faces and some that trace back to St John in the 10th century. Large majestic cathedrals also grace the island leaving you humbled by the beauty and detail of their interiors.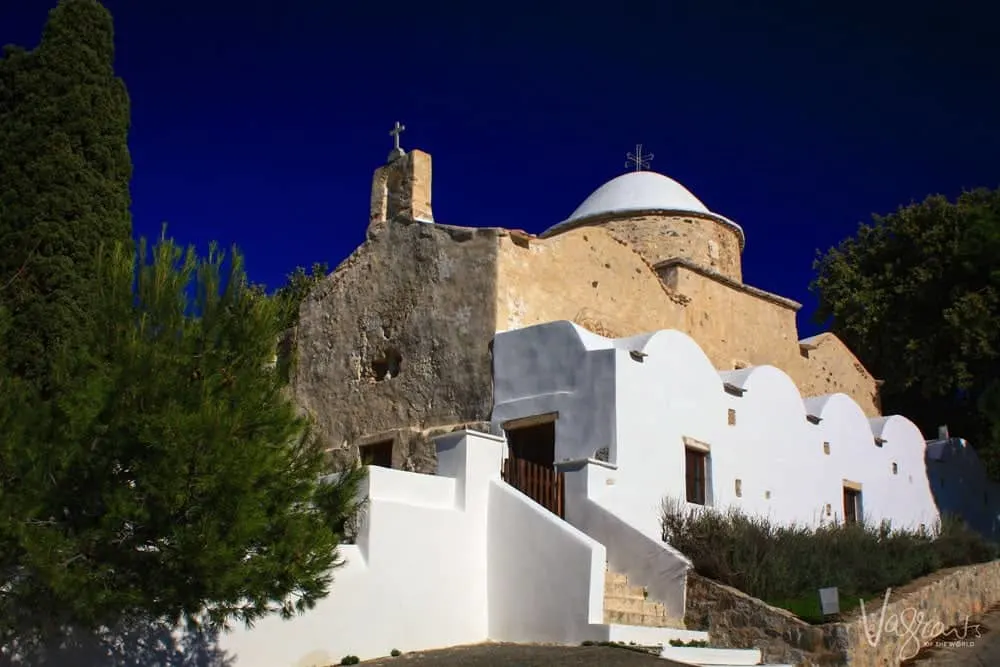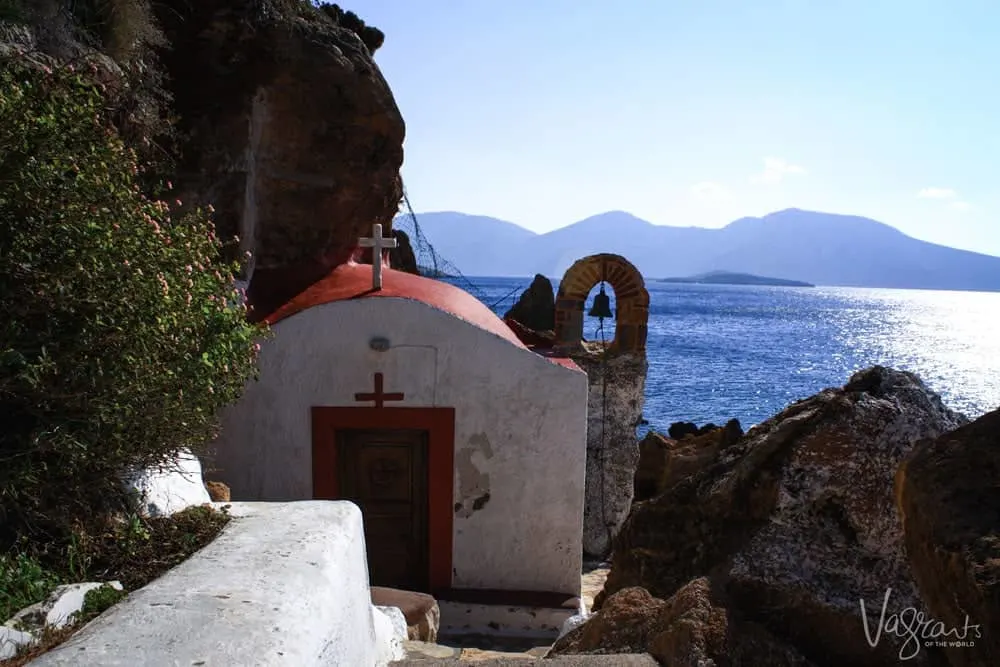 War History of Leros
With Leros Islands rich war history, there are enough museums and ruins to keep you exploring for months. A visit to the war museum is a must on Leros. An actual military tunnel built during the Italian occupation housing relics donated by local families who suffered during the bombing of the Italian Naval base during WW II.
You can also visit the private Paraponiaris Family museum to see an astounding private collection of WW II relics collected from Leros Island.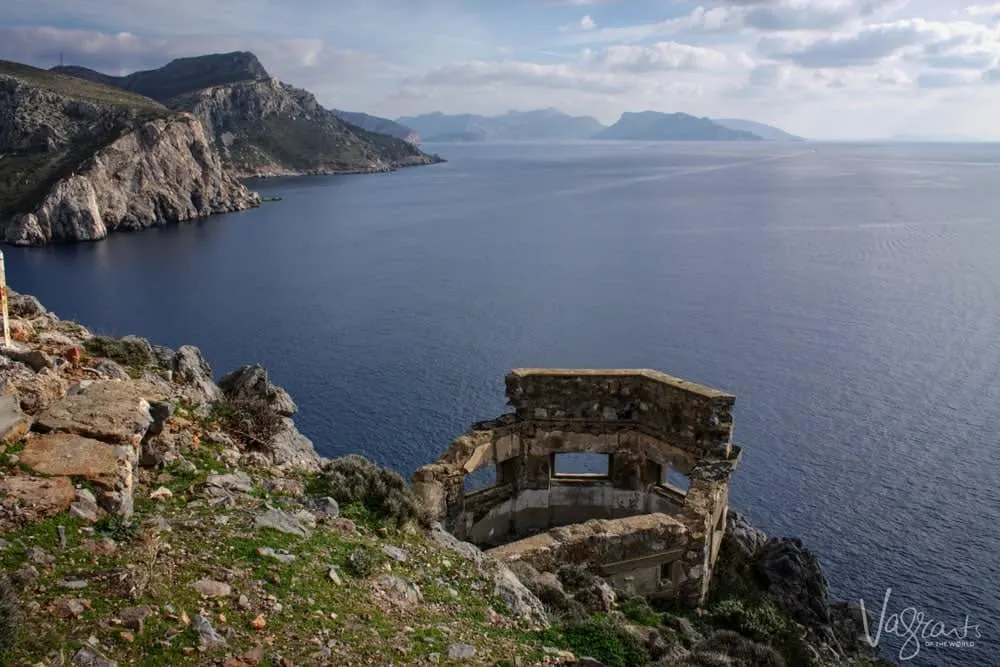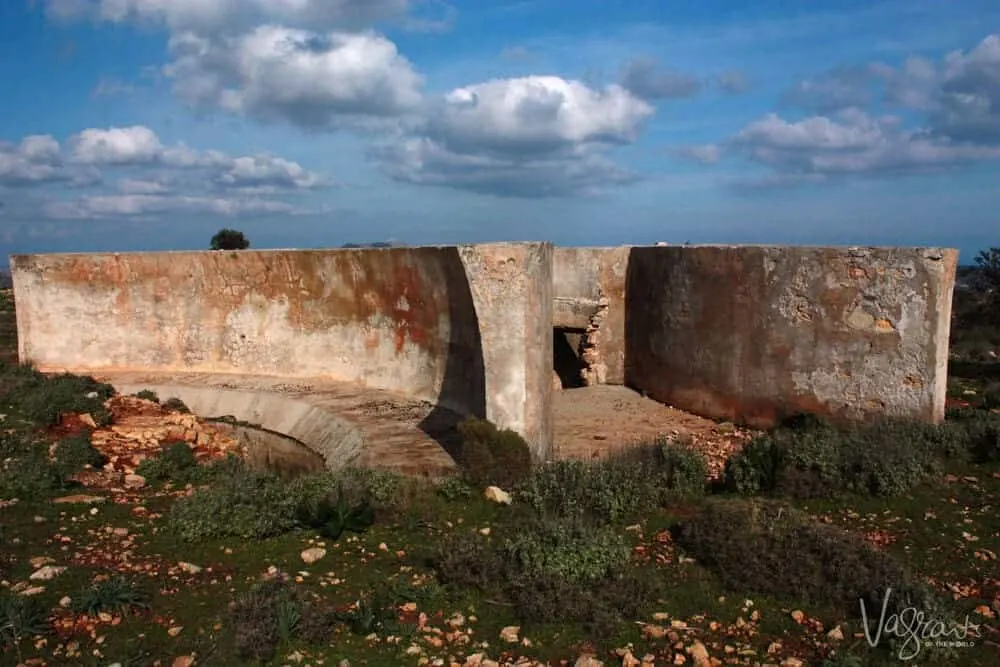 There is an especially fascinating legacy of the Italians fortifying and building a naval base on the island during their 30-year occupation. You can read more about this here.

Hiking on Leros
If hiking and exploring is your thing, Leros has many striking landscapes and interesting hiking trails to explore. Many of the hiking trails lead to the islands abundant archaeological, historical and military monuments.
Diving on Leros
Thanks to a temperate climate all year, clear waters and a fascinating modern history, Leros is considered a premier wreck diving site. Leros is popular with divers for the superb condition and preservation of the wrecks and the low scale of dive tourism in the area.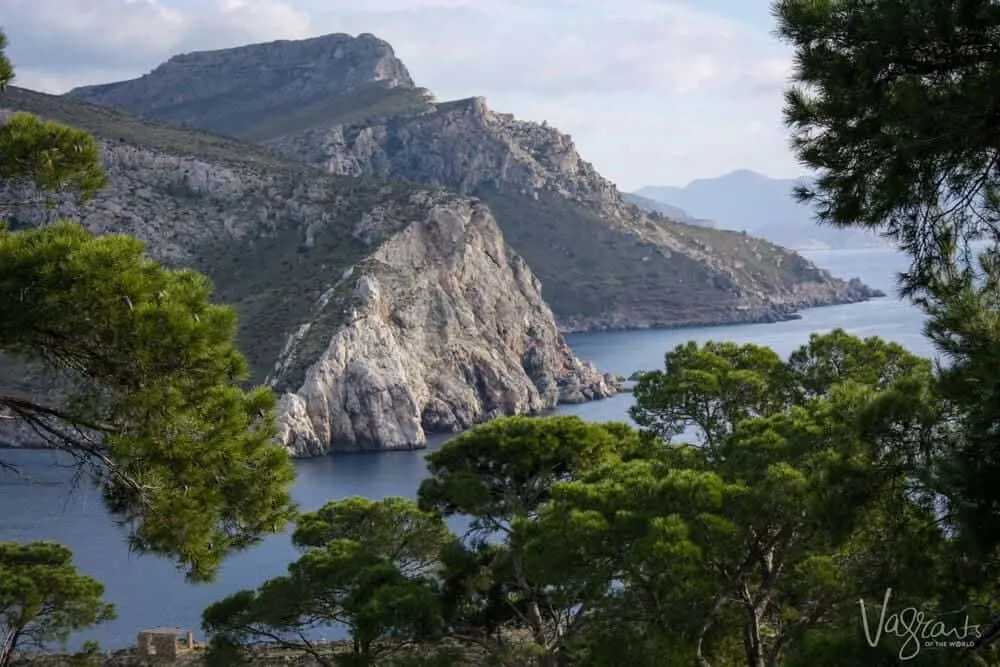 So if it is a relaxing sun-drenched Mediterranean holiday you are looking for without the crowds? Wonderful hospitality and an authentic Greek island experience? Amazing food? An intriguing look at an interesting and chequered past? Leros has it all.
---
Getting to Leros
Fly:
Olympic Air flies daily to Leros from Athens.
Winter schedule may only be once daily; summer schedules increase to twice daily.
Flights are around 1 hr starting from ~ €110.00
Ferry:
Ferries leave Athens 3 – 4 times per week depending on season and schedules. This service takes around 10 hours.
There are regular catamaran and hydrofoil services to Leros from Rhodes, Kos, Kalymnos, Patmos, Agathonisi, Lipsi, Samos, and Symi.
Schedules are seasonal so would need to be checked close to the date of travel.
Search Ferry Schedules for Leros Here
Accommodation on Leros
You will find all ranges of accommodation on Leros from hotel style to self-contained houses and apartments.
Prices can start from as little as ~ €30 per night for a studio or hotel room with sea views (nearly everyone has a sea view on Leros!) to ~ €350 per night for a six bedroom house with, of course, sea views and direct beach access.
Where We Stay
When not staying with friends, we stay at the Hotel Marilen. We like it because of the location; it has self-contained rooms, beautiful gardens and a fantastic swimming pool. It is very good value.
Getting Around Leros
Leros is only 74 square kilometres, so you are never really too far from anywhere.
The most popular mode of transport on the island is scooter which can be rented from a number of places starting at ~ €8/day depending on the season.
A small car such as a Fiat hatchback for ~ €20/day.
The regular bus services all the main towns from Xerokampos to Blefouti and will cost you a couple of Euro.
The bus is a very social event and well worth at least one trip. Remember, everyone knows everyone on Leros! *Note: During the winter months the bus service stops at 2.00pm.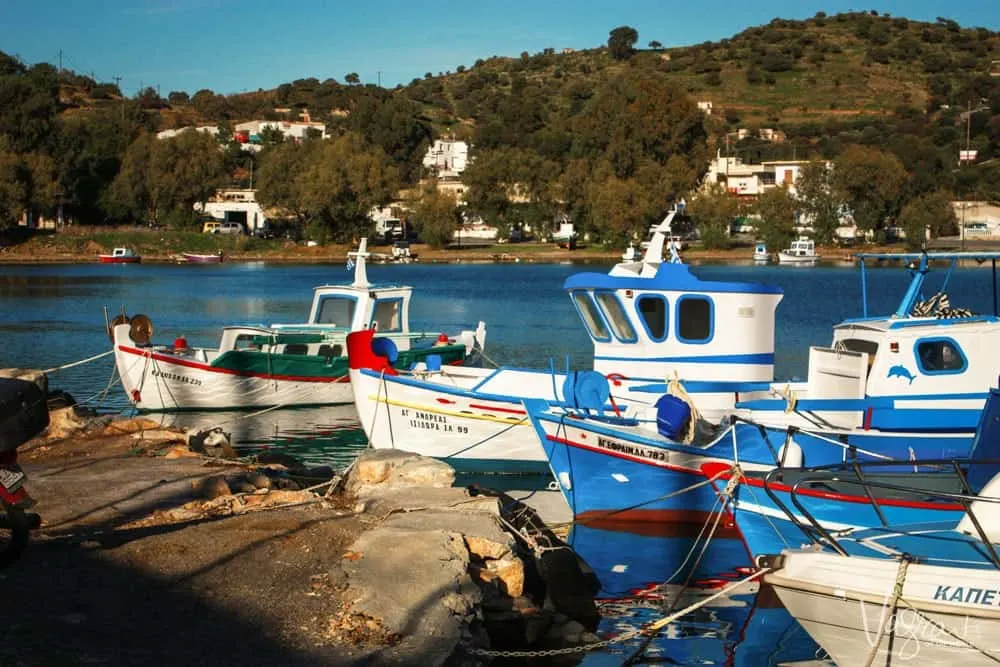 Restaurants on Leros
Enjoy the many excellent tavernas on the island, some of our favourites are El Greco, Taverna Dimitris and Pirofani Tavern in Panteli and Taverna Pardisos at Vromolithos Beach. These are all known for some of the best food on the island as well as great beachfront locations, but Leros has no shortage of great food, sample it all!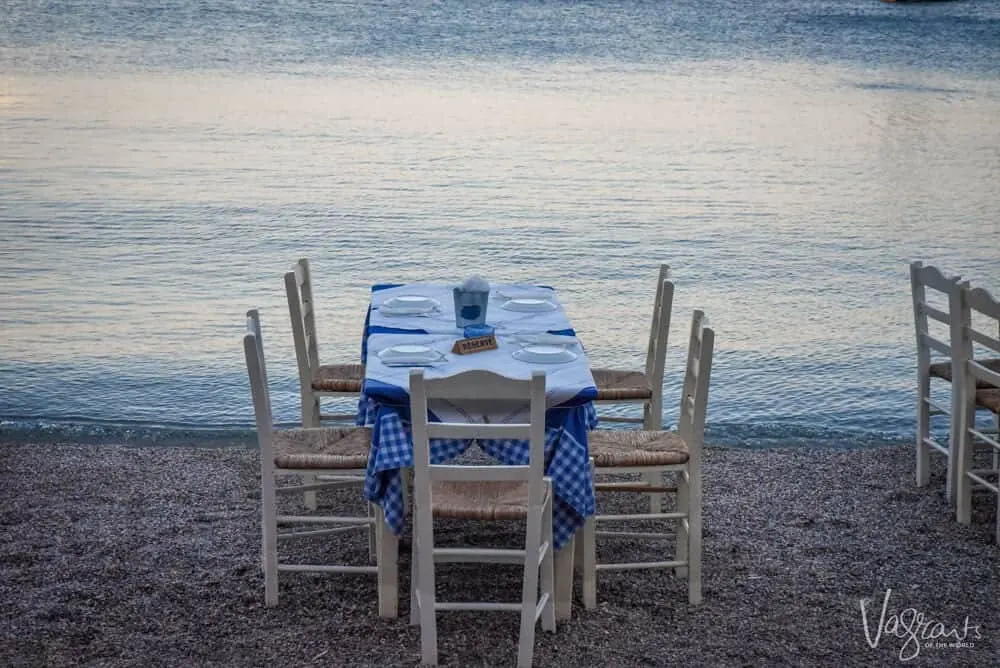 Shopping on Leros
Get to know the local shopkeepers; you won't meet a more friendly community. Lakki has the majority of the shops for everyday shopping. In addition to a few supermarkets and plenty of fresh produce markets, there are some speciality stores worth noting.
All of the stores in Lakki cater well to provisioning the yachting community and understand how to prepare and package fresh produce for boat storage.
Homemade cakes
You must try the homemade Baklava from the liquor store across the road from the cinema in Lakki. Made fresh every day by the owner, this is a dessert to die for!
Delicatessen
Pop into the gourmet deli in Lakki next to the officers club. Run by a charming couple who stock a gorgeous selection of cheeses, meats and other speciality deli items. They also serve mezze plates and have a changing weekly menu of takeaway meals that is Greek home cooking at its finest. And if their wealth of knowledge when it comes to cheese is not enough, they also have some of the best tourist information you will find on the island.
Butcher
We would also like to make a special mention to the lovely family at the Hatzigrigoriou Meat Market in Lakki. This family-run business has some of the best meat we have had in a long time in many countries.
Award-winning butchers; they are very passionate about what they do and about Leros. They too are a wealth of information about local food, places and events. Pop in for an excellent steak and a great chat.