Can't decide which Greek Island to visit? Here are five beautiful, must-see Dodecanese Greek Islands you may never have heard of.
How Many Greek Islands Are There?
A staggering 6,000 Greek Islands are scattered throughout the Aegean and Ionian seas, and 227 are inhabited.
The islands are such an integral part of Greece's history, culture, and tradition. They are also one of Europe's most sought-after holiday destinations and account for some of Greece's best places to visit.
So with so many to choose from, how do you decide where to spend your Greek Islands vacation?
We started with the Dodecanese islands and hunted down five beautiful islands for your next Greek islands vacation.
Why the Dodecanese Islands?
Only a short distance from Turkey's Turquoise Coast in the southeastern Aegean, the Dodecanese group of islands lies in what is called the sunniest corner of Greece, which makes it a great summer and warm weather winter destination.
With twelve larger islands and numerous smaller uninhabited islands and islets, the Dodecanese Islands have the right mix of tourism and tradition, a fascinating history, two UNESCO World Heritage sites and stunning landscapes.
Best of all – it is still possible to escape the tourist and cruise ship crowds many of the more famous Greek island groups attract. The Dodecanese is the perfect couple's Greek Island escape.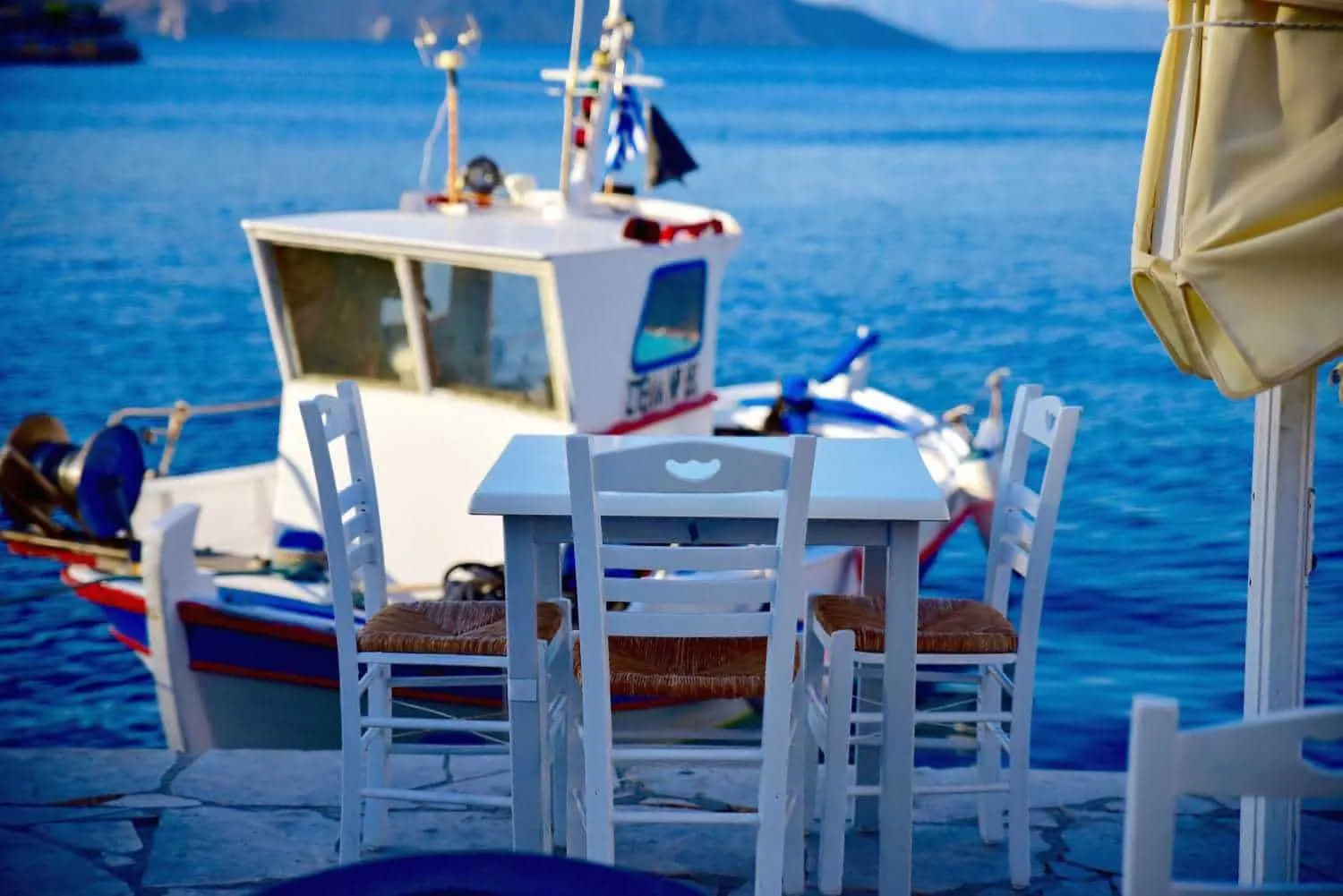 ---
You Might Also Like: Heading to the Cyclades Islands? Spend a day in Mykonos with our One Day in Mykonos Itinerary or one of the best islands to visit in the Ionian Sea for some of the best beaches in Greece – Kefalonia Island.
---
Five Best Dodecanese Islands
These are the five of the best Dodecanese islands we believe will appeal to a range of holiday criteria.
They are some of the best Greek islands for couples, families, and singles. But don't think for a minute you have to choose just one. A regular ferry service means you can have a Greek Island hopping holiday that will tick all the boxes.
---
Leros Island
We really must start with our favourite Dodecanese island and in our view, the most beautiful Greek island. We spent nearly three months on Leros Island one winter, and it is often our first choice for some rest and relaxation during the summer.
Leros is a little off the mainstream tourist trail, so if it is authentic Greek holidays you are looking for, this incredibly friendly island is for you.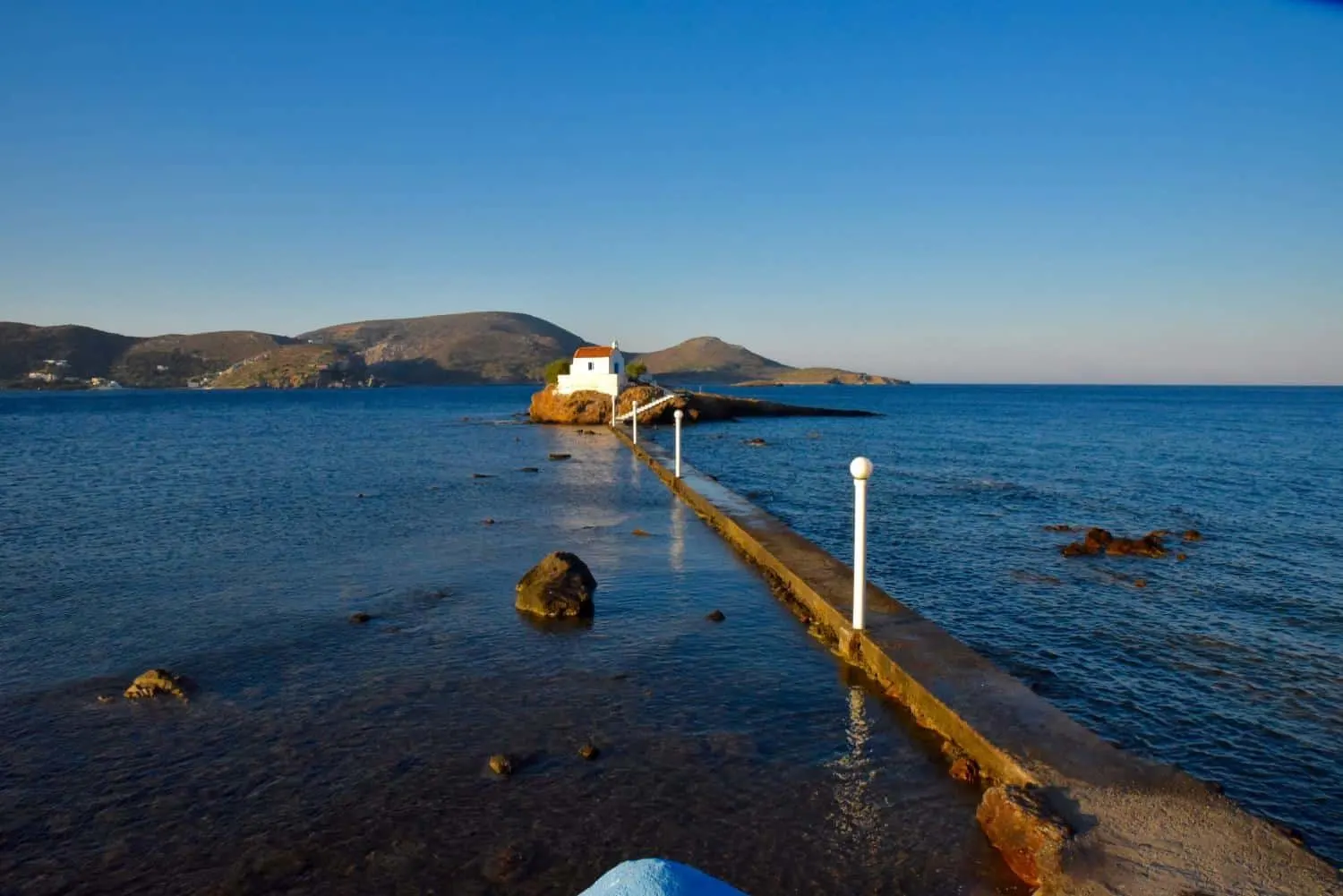 Deep crystal clear bays for swimming, small fishing villages, and a beautiful landscape dotted with quaint little churches. Traditional tavernas across the island serve up some of the best Greek food we have eaten making this an idyllic island holiday setting.
If you want more than just sun-drenched days bathing in the clear Mediterranean waters, the island caters well to the active explorer and history buff. Leros has played many roles throughout history; the most prominent during the Byzantine era with the Knights of St John and in WWII.
The island offers fantastic exploring for hikers and some of the best wreck diving you will find anywhere. Leros has something for everyone without the maddening tourist crowds.
You can read more about Leros HERE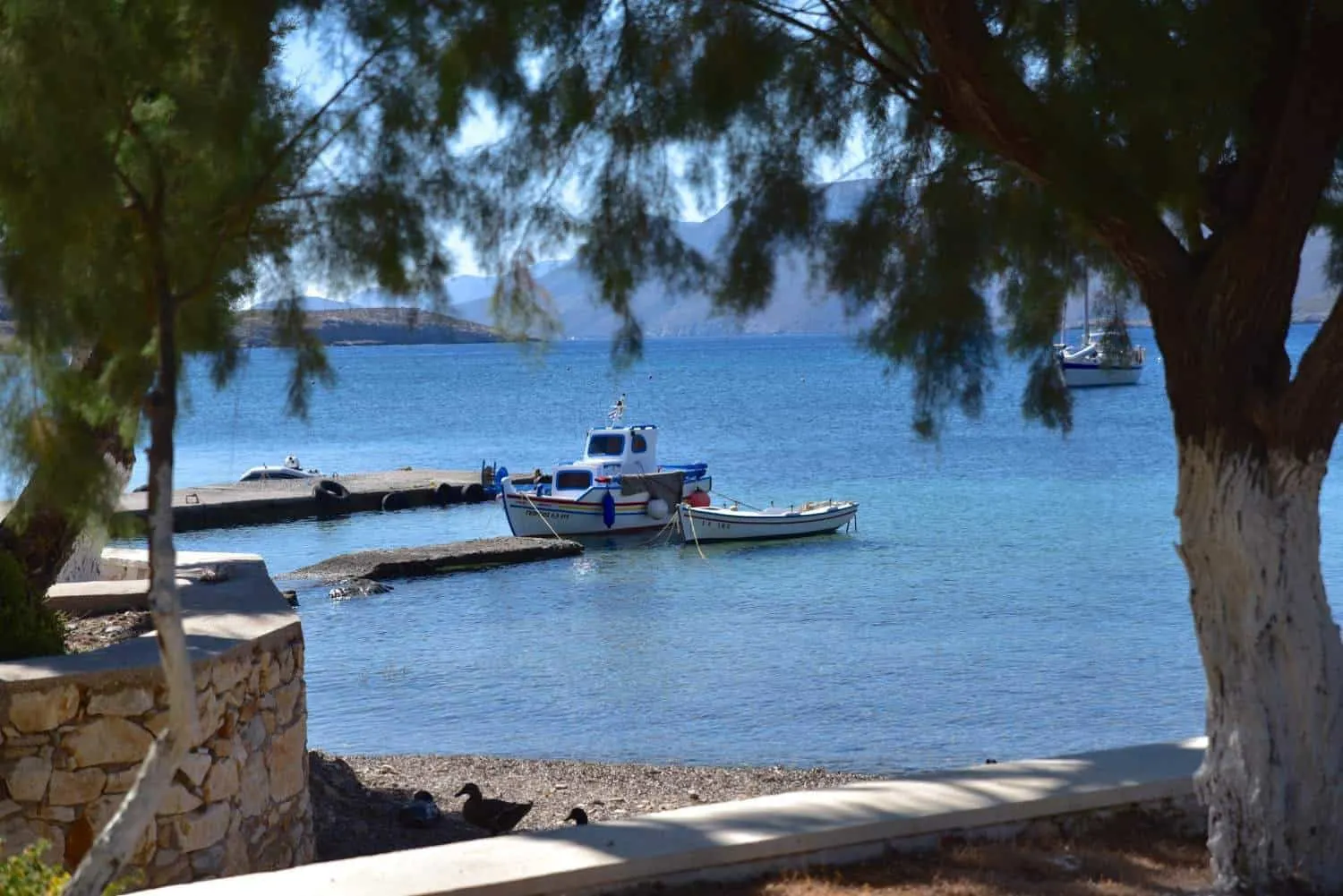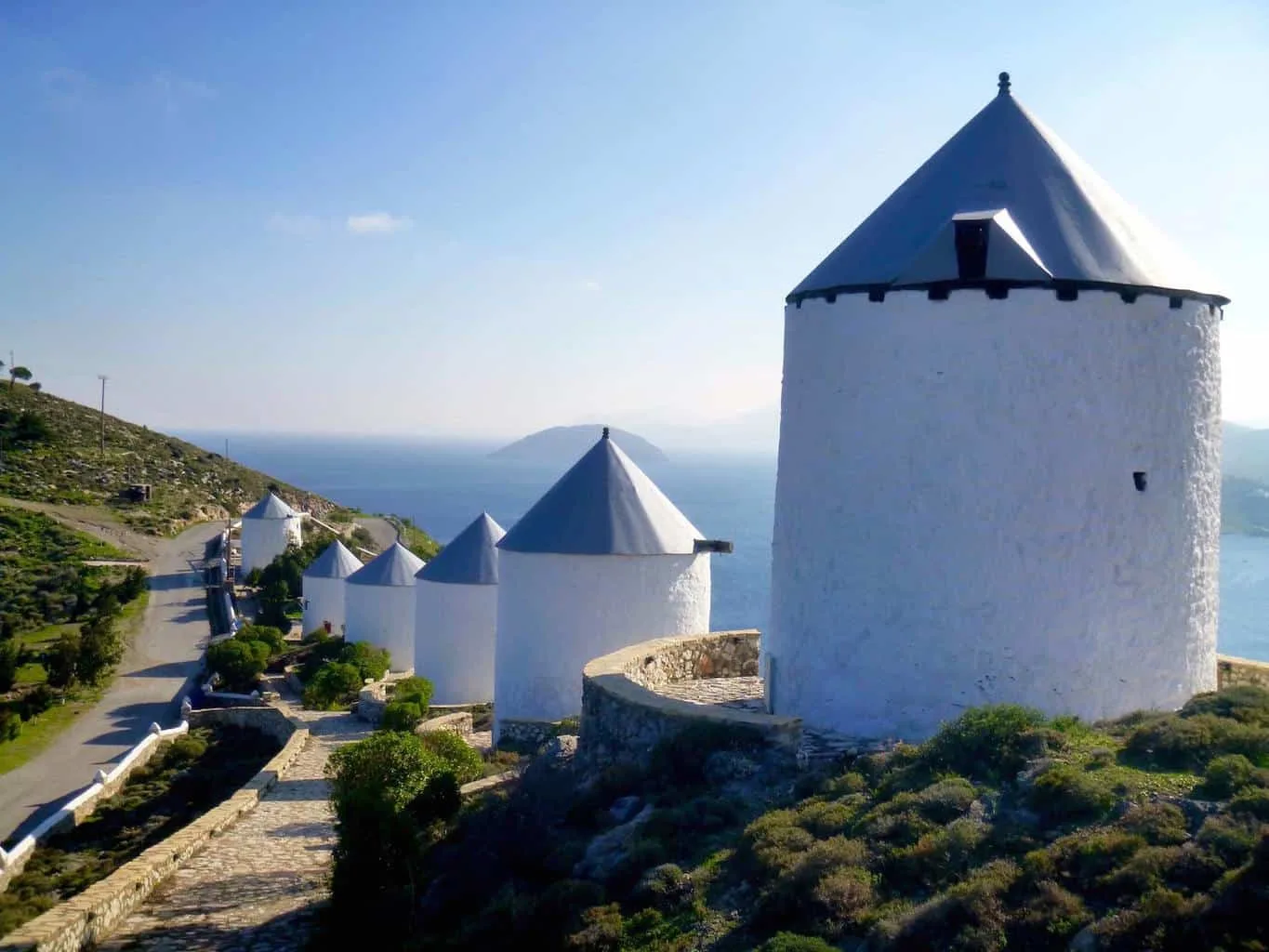 Greek Island Hopping Tip for Leros:
A holiday on Leros can be combined with a stay on Patmos Island as the distances are quite short. As the Patmos ferry service from Leros is fairly regular, it is also possible to visit Patmos Island on a day trip.
Getting to Leros Island
Flights to Leros:
Leros, Kos and Rhodes are Greek islands with airports. There are direct daily flights from Athens taking less than an hour and flights from Rhodes are via Athens.
Ferries to Leros:
Overnight ferries leave Athens taking around 12 hours. Regular fast inter-island ferries leave from Kos and Rhodes daily.
Leros Accommodation:
Check the latest accommodation rates for Leros hotels.
We have stayed at the Hotel Marilen. We like it because of the location, it has self-contained rooms, beautiful gardens and a fantastic swimming pool. It is very good value.
---
Symi Island
Entering the port of Symi, you are struck by the kaleidoscope of colour cascading down the hill. Neoclassical mansions in shades of terracotta, indigo and ochre tumble down the hillside to the port's edge. The approach to Symi Island is a sight you could never tire of.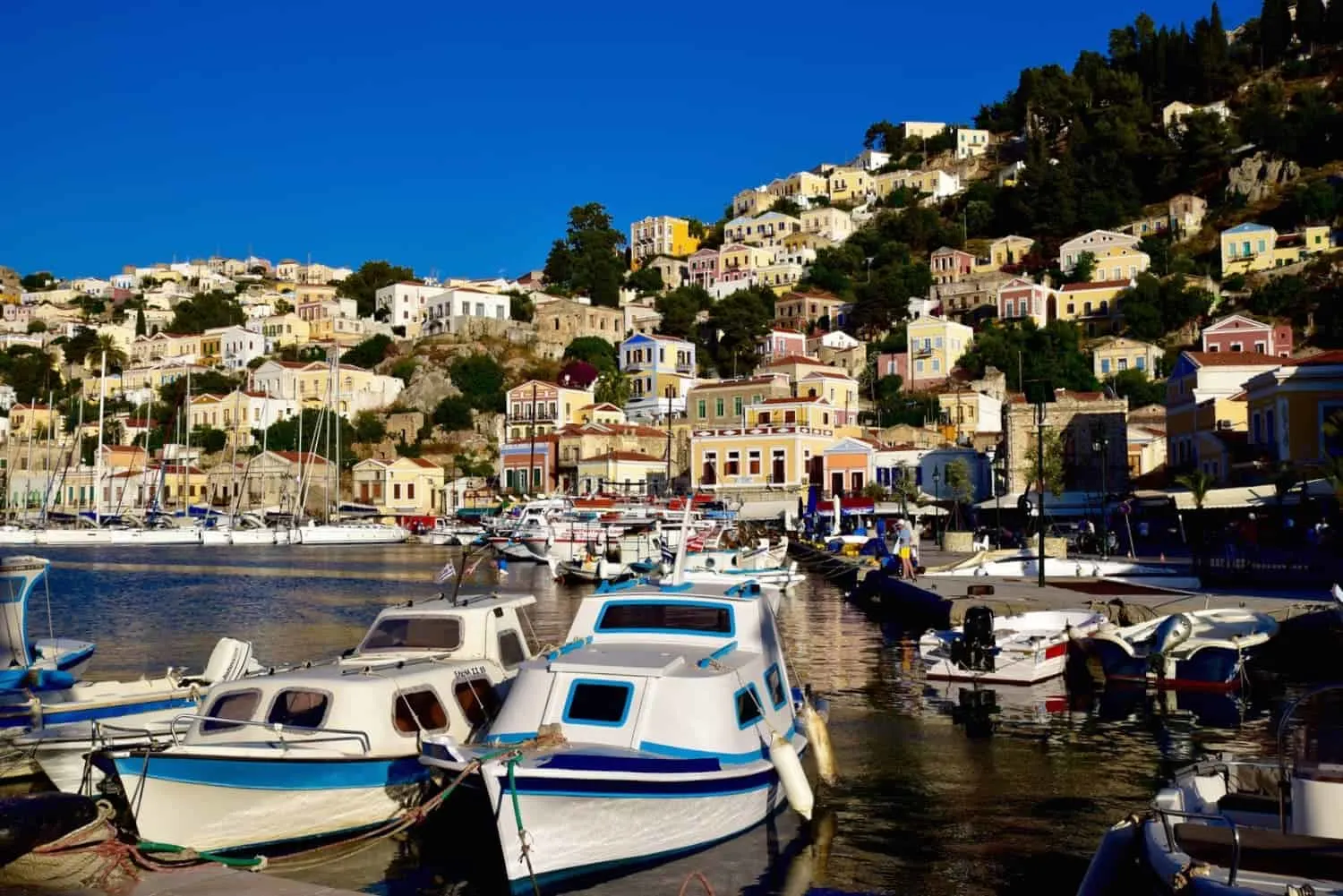 Symi's economy was founded on shipping, winemaking, commercial sponge diving and boat building. These trades are still evident today, but tourism is the prominent industry on the picturesque island of Symi.
While Symi does attract cruise ships and day-trippers from neighbouring islands, you can still enjoy the quiet, laid-back Greek island lifestyle. Most of the day-trippers will not stray far from the main port leaving many pristine swimming beaches free from crowds.
Some Symi beaches can only be reached by taxi boats making them less enticing for the day tripper and perfect for a romantic Greek islands escape.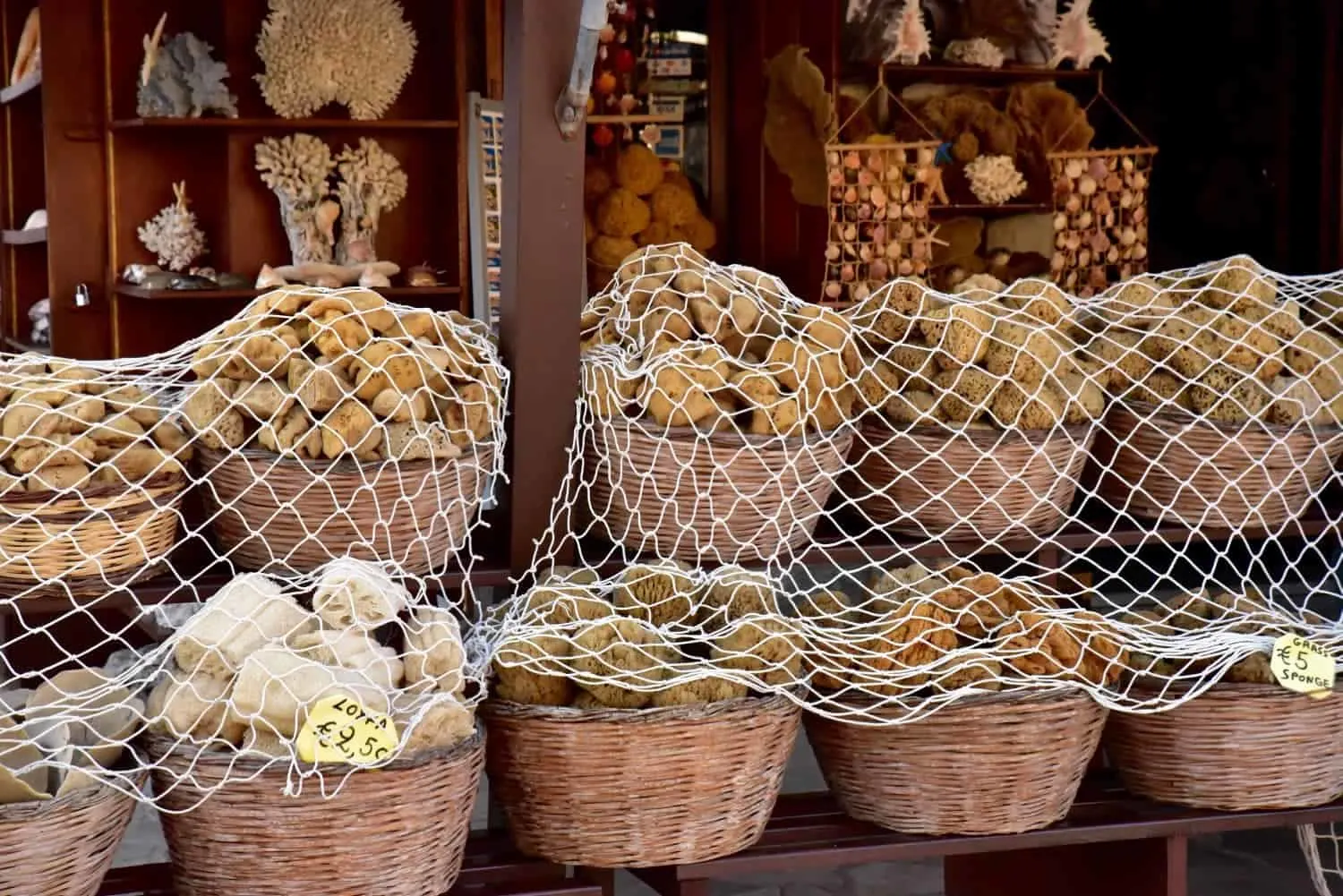 At the end of the day, when the tourists have left, head back to town to wander the quaint little backstreet boutiques in the cool of the early evening and then settle in for some fantastic waterfront dining.
Symi Island may be more touristy than Leros but still retains a rustic Greek Island quality mixed with a sophisticated touch of other high end European destinations.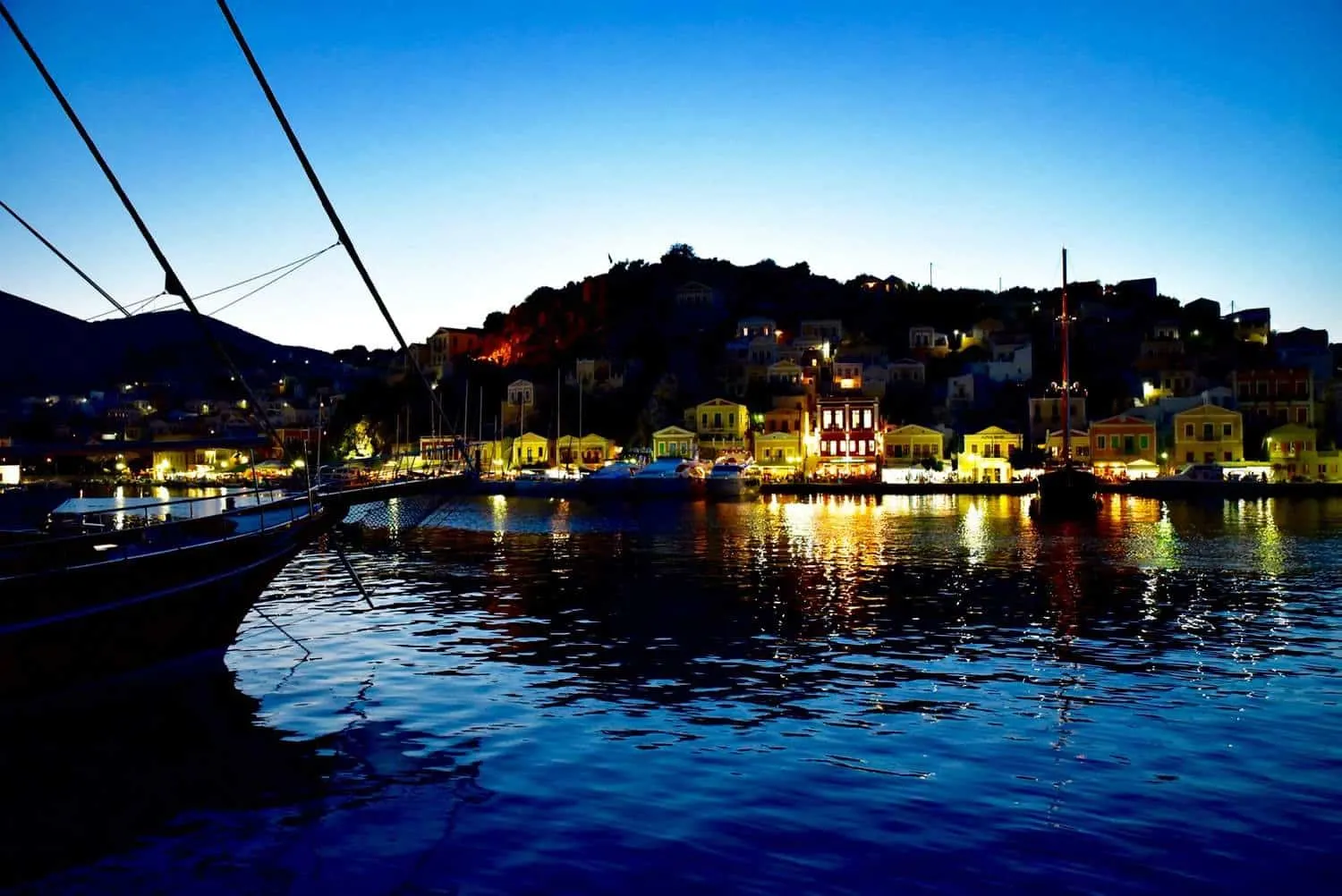 Greek Island Hopping Tip for Symi Island:
Symi would be well paired with a Rhodes holiday due to their proximity. A day trip is also achievable using the regular Rhodes to Symi ferry or by taking a day tour.
Day Trip to Symi Island Tour
You can also take a Rhodes to Symi full day trip which includes:
Return boat transfers
Hotel pickup and drop off
A stop with free time at the Monastery of Archangel Michael Panormitis
A 1-hour cruise around the island's west coast with a photo stop at the famous bay of St. George.
The rest of the afternoon free in Symi Island village and beaches.
Tour prices start at €35 pp. Get full tour details here.
Getting to Symi Island
There is no airport on Symi. Inter-island fast ferries run regularly from Rhodes and Kos. Ferry timetables will vary according to the season.
Search Ferries for Symi Island Here
Symi Hotels:
If you are looking for good value, spacious semi self-contained apartments, The Opera House Apartments are perfectly located in quiet countryside but still within walking distance to the Port of Symi.
Want something a little fancier? The Old Markets Hotel is in a beautifully restored historic building perfectly located near the main port town and beaches.
Search Latest Accommodation Deals on Symi Island
---
Kos Island.
One of the largest of the Dodecanese islands, the Greek island of Kos seems to have more history in the first five minutes of arriving than thought possible. It is also one of the most touristy and cosmopolitan Dodecanese islands.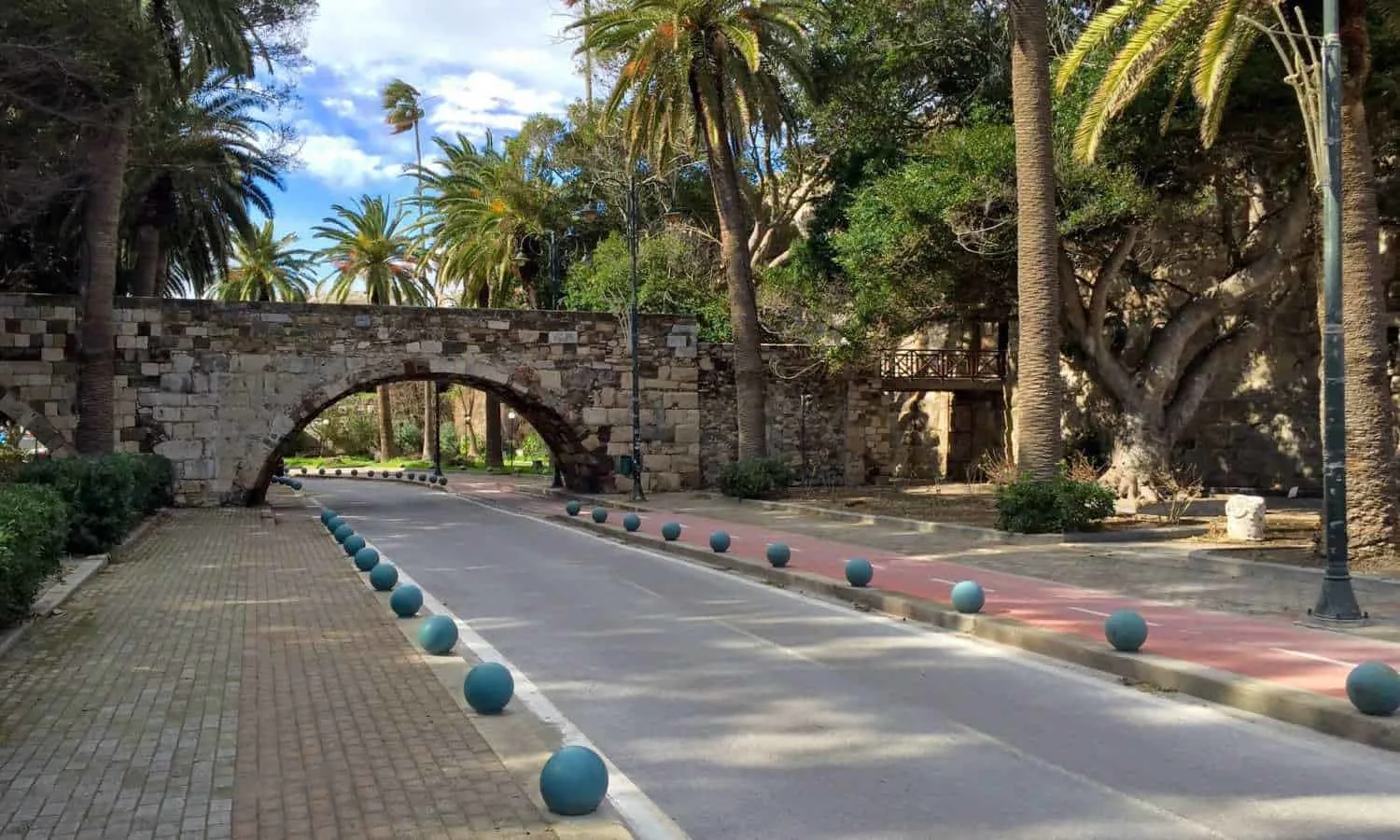 The islands iconic medieval castle greets you at the port, and as you head into Kos town through the castle's walls, you start to realise the ruins of ancient Greece. Ruins where Hippocrates, the father of medicine once taught his students, lie dormant throughout the city.
Kos has so many ruins, you tend to become a bit blasé about passing ancient relics lying on the side of the street or engulfed by weeds in a park. They appear to lie just as they fell thousands of years ago.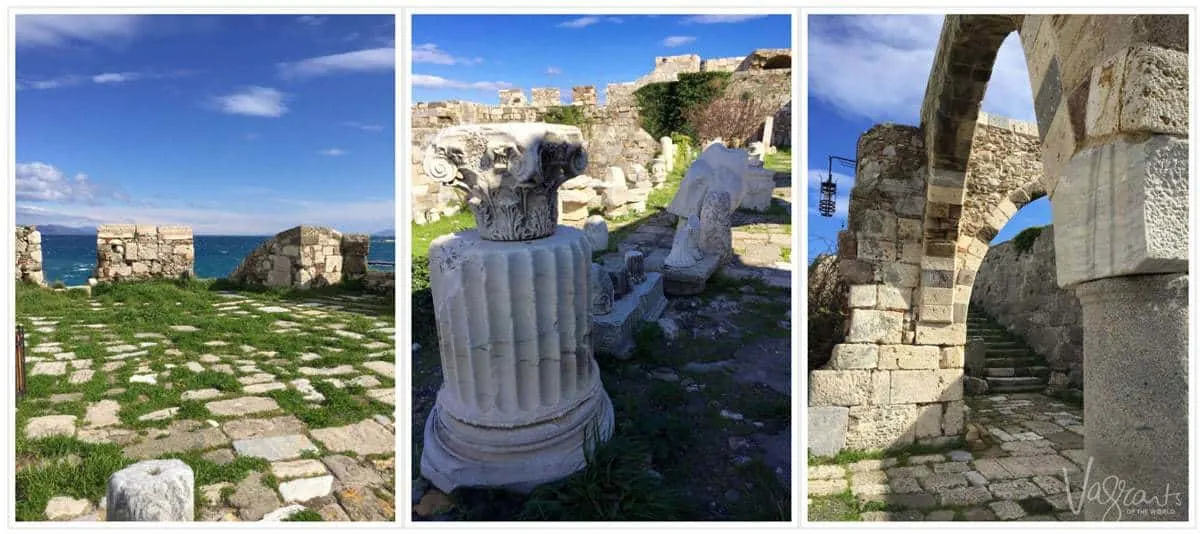 If history is not your thing, Kos has a thriving cafe, restaurant and bar scene, great shopping and is renown for its long stretches of sandy beaches.
Organised beaches cater to the bustling seasonal tourist scene, but you can still escape the crowds and get off the beaten path. Leave the main towns, and you will find a slower more traditional Greek atmosphere, quiet beaches, local villages and scenic landscapes.
You will never run out of things to do in Kos.
Kos will cater to those who want a comfortable, classic tourist holiday experience as well as those who still like to experience some local flavour.
Best Selling Day Tours From Kos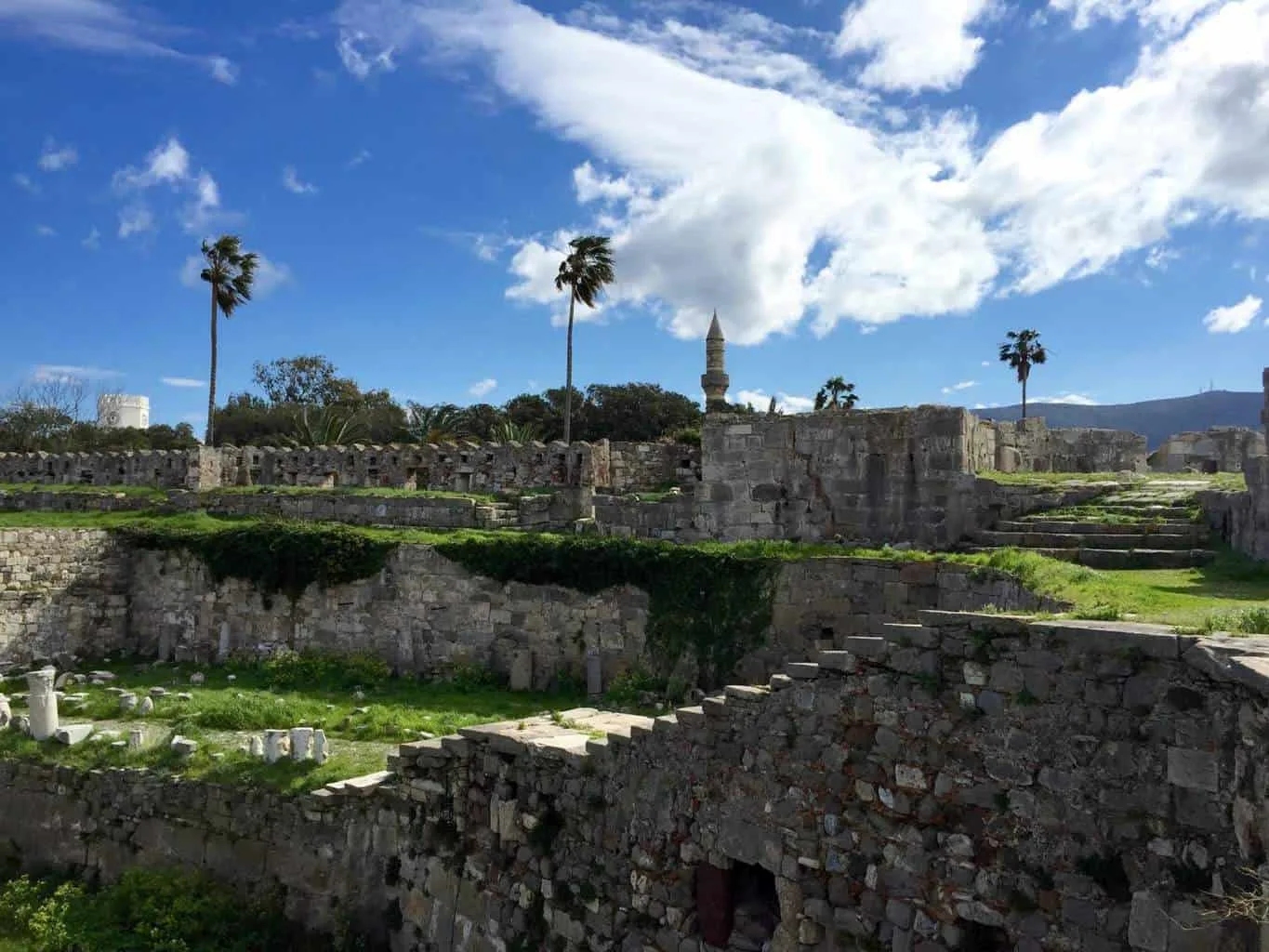 Greek Island Hopping Tip for Kos:
A visit to Kos would be well paired with a trip to Rhodes due to proximity and a regular ferry schedule.
Kos to Turkey Day Trip
Also, consider pairing a visit to Kos with a day trip to the beautiful Turkish coastal town of Bodrum.
A full day tour includes–
Hotel pick-up and drop-off
Return boat ticket to Bodrum Turkey
Port taxes
A full day tour starts from €35 pp. See full tour details here.
Get a Turkish Visa Before You Go
While Turkey is only a short boat crossing from Kos, you are entering another country and will require your passport and visa documents for Turkey. Check your visa requirements before planning a trip.
A visa for Turkey is very straightforward to obtain online. You can check your visa requirement and apply online here. Processing usually only takes around half an hour.
Getting to Kos Island.
Flights to Kos:
There are daily flights from Athens to Kos, flight time of 1 hour.
Ferries to Kos:
Regular ferries depart from Athens. Expect at least 12 hours travel time. Fast inter-island ferries operate between Kos and Rhodes daily as well as services from neighbouring Dodecanese islands.
During summer, there are daily ferries between Kos and Bodrum on the Turkish coast. Transfers take approx 1 hour.
If wanting to make this transfer in winter, check timetables and be prepared for delays as ferries will be cancelled in strong winds (speaking from experience).
Kos Hotels
Kos offers a wide range of accommodation options. Choose from properties like the stunning sea views offered by the 4 star Michelangelo Resort and Spa. The value for money and very popular premier boutique hotel Kos Aktis Art Hotel or the 5 star, adults-only OKU Kos, there is plenty of fabulous Kos accommodation options for all budgets.
Search The Best Accommodation Deals in Kos
---
Rhodes Island.
The largest of the Dodecanese Islands, Rhodes is also the most popular tourist destination. A perfect mix of tourism and tradition, there is so much to do in Rhodes.
A bustling tourist scene set in the UNESCO-listed medieval Old Town. You are instantly transported back to the days of Ottoman invasions and the Crusades of the Knights of St John.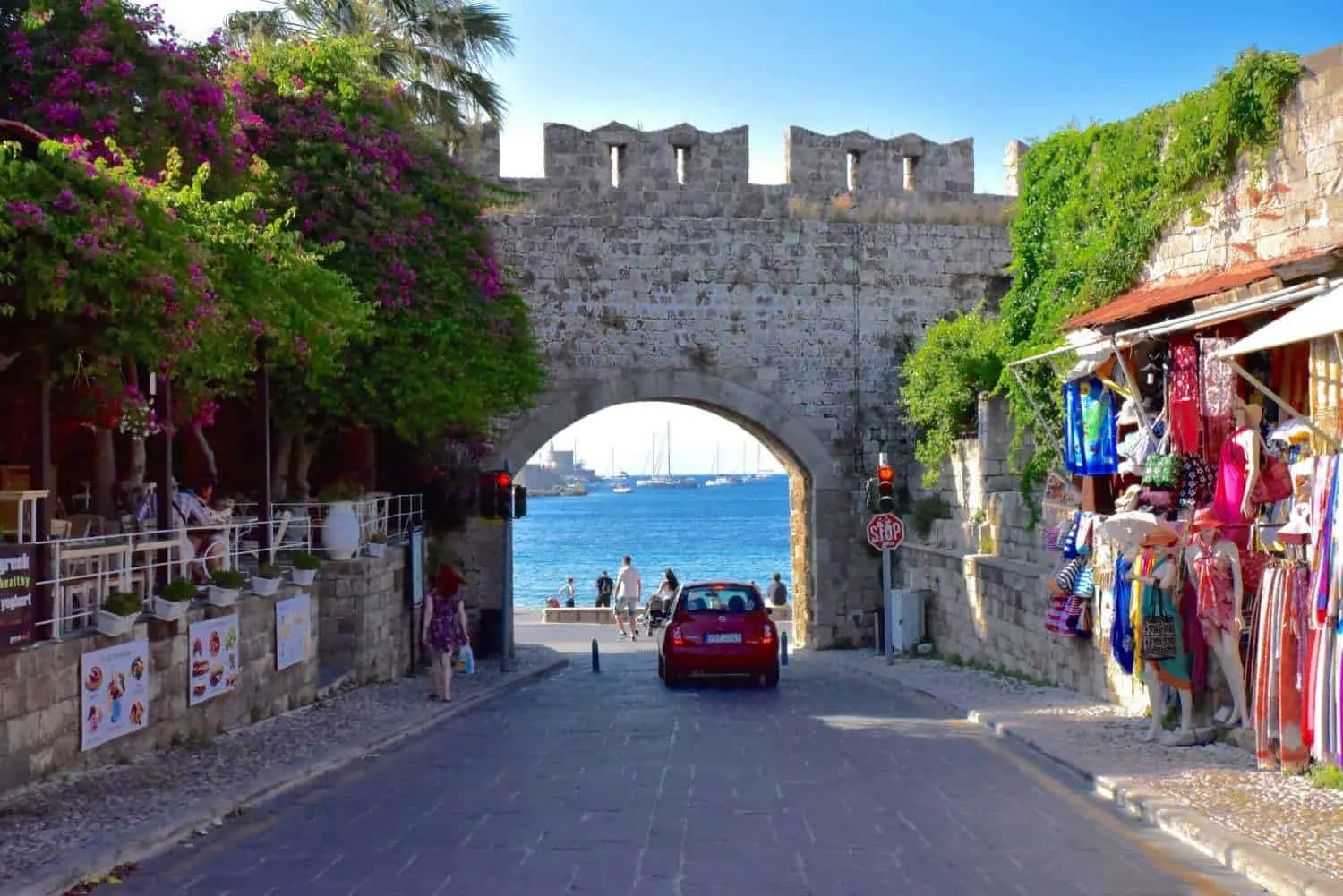 Stroll the maze of medieval streets and laneways and discover different stages of history and the cultures that came with it. You will also be treated to busy restaurants, cool cafes and a plethora of shopping possibilities.
Come nighttime; you will find a pulsing nightlife where tourists can kick up their heels and enjoy good old Greek hospitality. You will even find a casino. Rhodes boasts large hotels and resorts that you will not find on the other islands.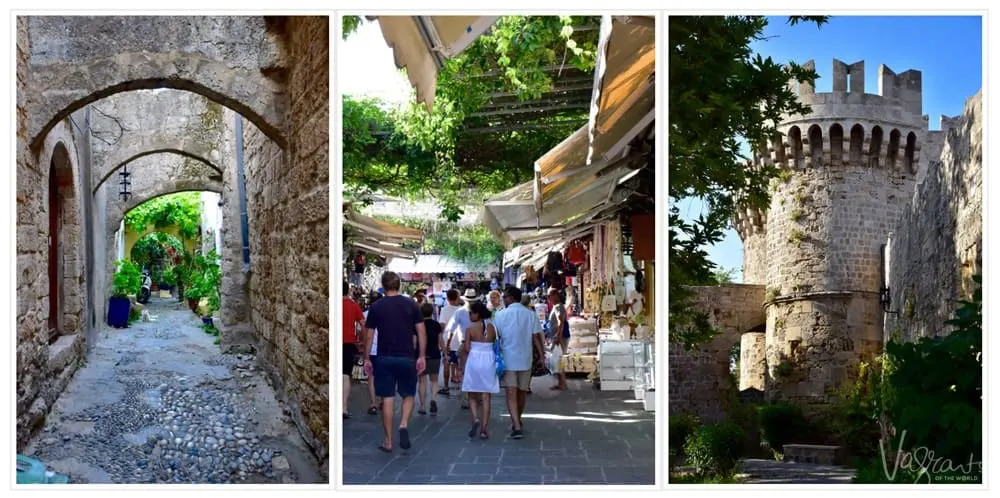 Tourism is mostly centred around Old Town, so there are plenty of opportunities to sneak away and find your secluded slice of this busy island.
Beaches are not in short supply with organised beaches close to town as well as plenty of secluded bays offering pristine swimming conditions. If its water sports and boat trips you are after, head down the waterfront where there are no end of options for exploring both above and below water.
Much like Kos, Rhodes is very cosmopolitan so ticks the box for the perfect tourist getaway as well as satisfying the culture vulture who likes a little bit more of local experience.
Best Selling Day Trips From Rhodes Island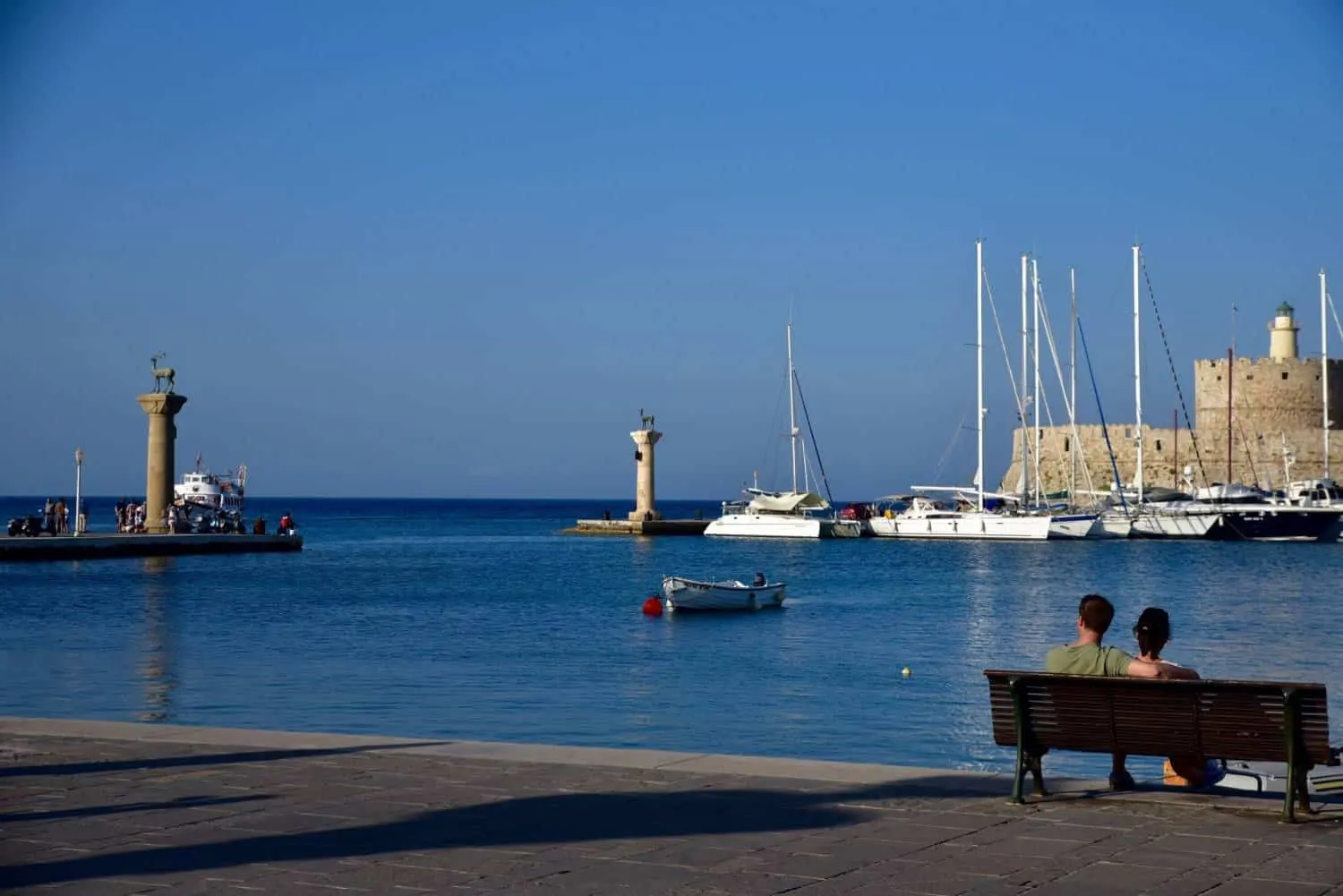 Island Hopping Tip for Rhodes:
A visit to Symi would be well paired with a Rhodes holiday due to their proximity. Or, take the day trip from Rhodes to Symi Island starting at €35pp.
Getting to Rhodes Island
Flights to Rhodes:
There are daily flights from Athens, a flight time of 1 hour. In summer, there are flights from Thessaloniki as well as some direct flights from abroad including low-cost airline flights from the UK.
Ferries to Rhodes:
Regular ferries depart from Athens. Expect 12 hours of travel time.
Fast inter-island ferries connect Rhodes with all of the Dodecanese Islands. There are also ferry connections from Heraklion Crete and some of the Cyclades Islands.
During summer, there are daily ferries between Rhodes and Marmaris on the Turkish coast. If wanting to make this transfer in winter, check timetables and be prepared for delays as ferries are cancelled in strong winds.
Search Ferries for Rhodes Here
Where to Stay in Rhodes
Much like Kos, Rhodes has accommodation for all types and budgets. If you are looking for spacious, self-catering check out the Island Boutique Hotel or the Bellevue Suites.
You will find luxury and romance for couples at the Rhodos Park Suites & Spa and great facilities including a private beach at the adults only Lindos Blu Luxury Hotel
Search the Best Accommodation Deals for Rhodes
---
Patmos Island
The island of the Apocalypse, Patmos is known as a sacred island, the place where Saint John wrote the Book of Revelation.
Designated as a " Holy Island" by Greek Parliament in 1981 and a World Heritage Site by UNESCO in 1999, Patmos also earns the title as one of the most idyllic islands to live. It is a charming, relaxed Greek island.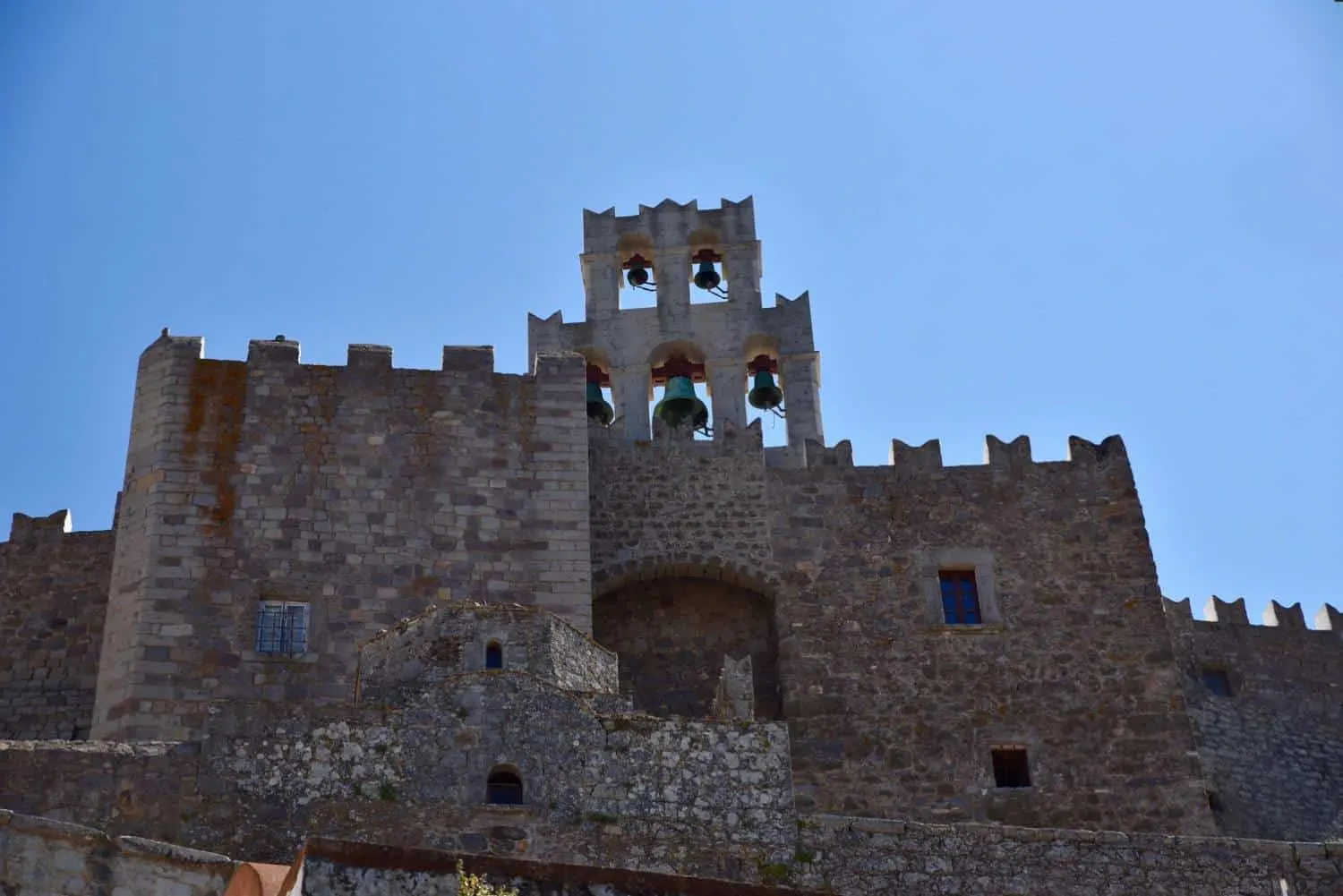 Perhaps this is why the island attracts a more discerning holiday maker and some very wealthy property investors. Patmos is about as traditional as you can get. However, there is also a refined element of upmarket influence on this island, so expect things to be a little pricier than say on Leros or even touristy Rhodes.
Set beneath the majestic monastery of St John and the Cave of the Apocalypse where St John is said to have written the Book of Revelations you will find the town of Chora. A maze of blindingly white alleyways dating back centuries wind through the hillside, lined with houses of all shapes and sizes.
Houses with not much more than a small door in a wall to larger multi-level homes hanging precariously on the hillside with views to die for. The quintessential image of the Greek Islands.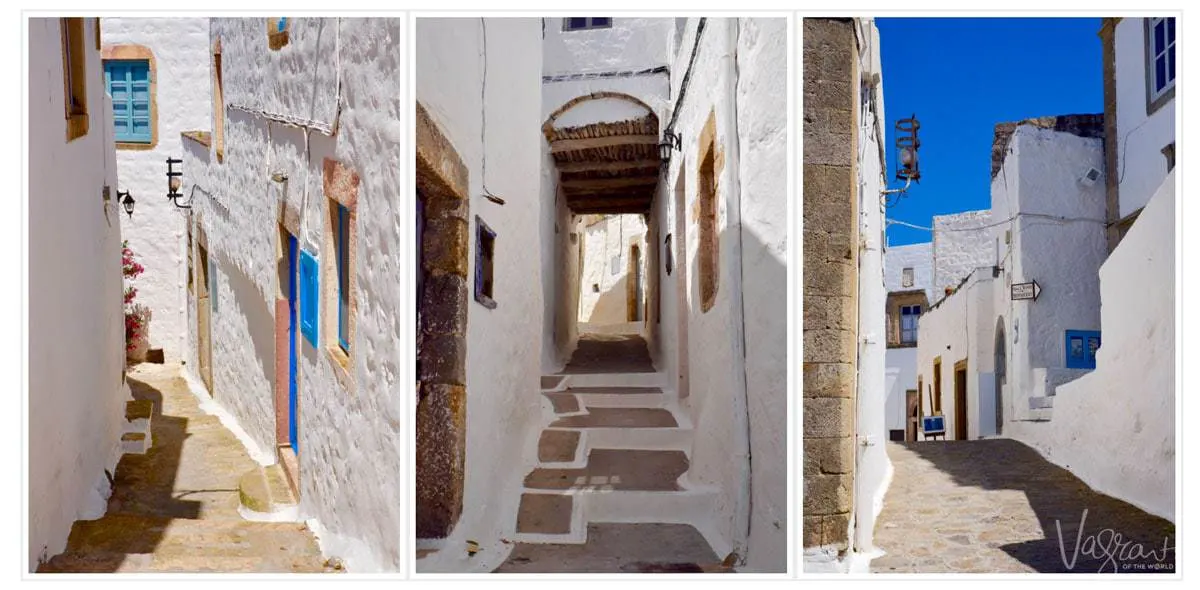 The image is completed by three historic windmills on the ridge to the side of Chora. Beautifully restored, two of the windmills date back to 1588 and the third to 1863.
Patmos has an abundance of beautiful fish tavernas, beautiful restaurants and some very elegant boutiques. So while, at its core, Patmos is a spiritual island, one of reflection and pilgrimage, it is also a refined island where there is a subtlety in the finer things in life.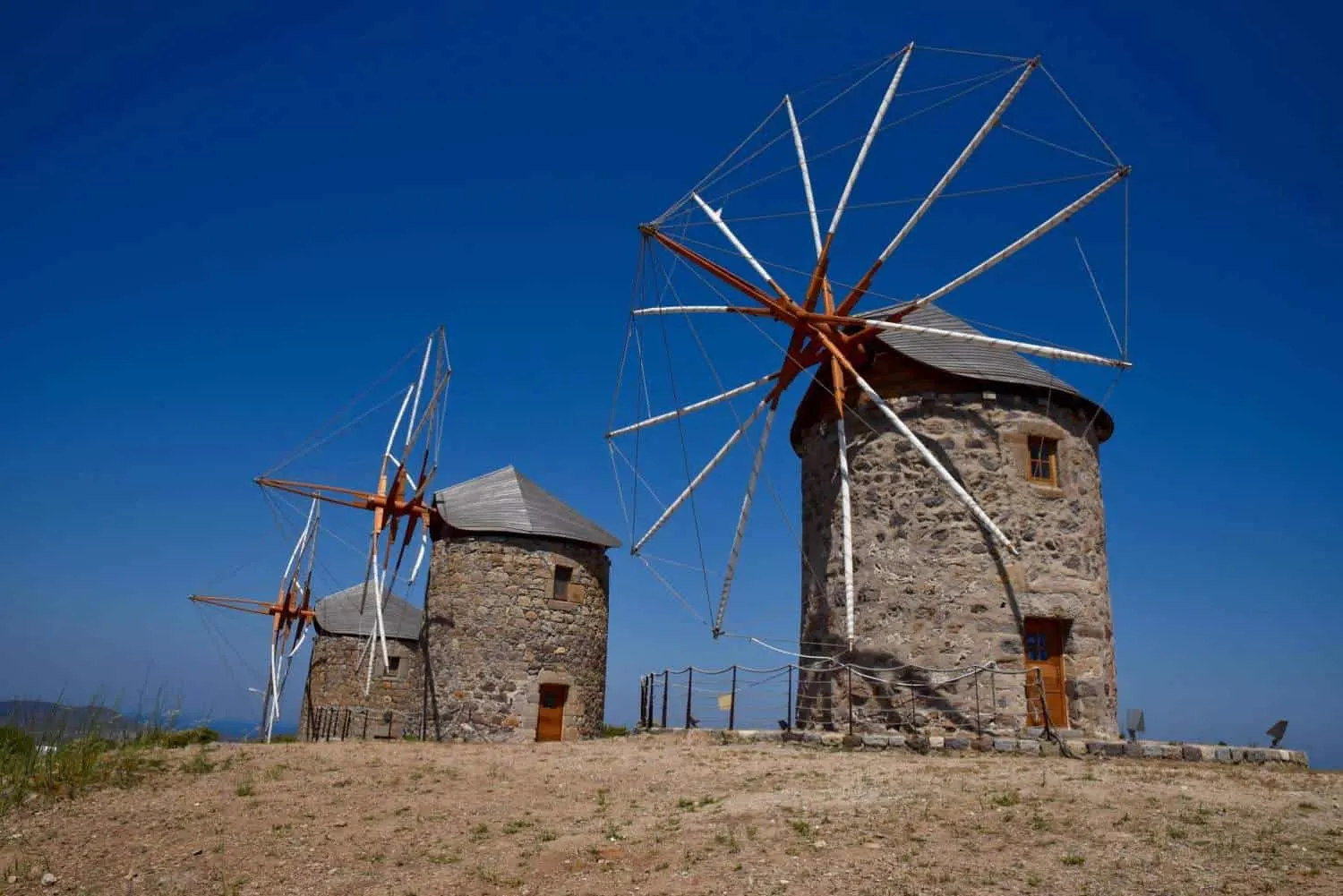 Greek Island Hopping Tip for Patmos:
Patmos would be paired well with a holiday to Leros due to its proximity. A day trip to Patmos is also possible from Leros Island.
Getting to Patmos Island
There is no airport on Patmos.
Ferries to Patmos
There are ferries to Patmos from the port of Piraeus in Athens a few times a week depending on the season. Expect 7-10 hours depending on the boat.
Inter-island fast ferries run regularly connecting with islands with airports such as Rhodes, Kos or nearby Leros. Ferry timetables will vary according to the season.
Search Ferries for Patmos Here
Patmos Hotels
As mentioned, Patmos is a small island so you won't find big resorts on the island. What you will find is charming boutique and luxury hotels and villas like Erini Luxury Villas or the Patmos Aktis Suites & Spa.
And while Patmos may be a little more exclusive than some of the other islands, it's not all high-end accommodation. The family-run Asteri Hotel and Blue Bay Hotel, a favourite with island hoppers both offer value for money options on this slightly more expensive island.
Search Accommodation Deals for Patmos Island
---
Obviously, this is not the be-all and end-all of what the Dodecanese Islands have to offer. It is merely a sample of the islands we feel will appeal to a range of holiday criteria. Each one offers a different experience.
If you wanted our advice, it would be – visit them all. We just love this group of islands.